As a sales team, staying up-to-date on the latest tools and technologies is crucial to remain competitive. UpLead is a prevalent lead generation software platform for optimizing sales teams, but other excellent alternatives can provide you with the same services at different price points. This article explores ten UpLead competitors that can help your business maximize its potential and take advantage of advances in the industry.
Whether you're looking for budget-friendly options or something more comprehensive, our review of these competitors and alternative providers can help guide your decision-making process.
Quick Links:
The UpLead Difference
Data is the lifeblood of any successful sales and marketing team. No matter how good your team or product might be, it will never reach its full potential without access to invaluable insights that empower it to make informed decisions based on reliable business intelligence. To meet these objectives, many businesses turn to B2B intelligence providers like UpLead. What sets UpLead apart from other data solutions? UpLead is quickly becoming the go-to database tool for sales and marketing teams thanks to its commitment to accuracy and value for money.
UpLead's Data
UpLead's commitment to accuracy sets it apart from other databases. Each entry in the database is subject to an extensive email validation process before it's added to the system. This process ensures that all entries are up-to-date, which makes it easier for sales and marketing teams to make well-informed decisions about their leads. With UpLead's guarantee of accurate data, or you won't be charged policy, users can rest assured knowing they will only be paying for quality leads.
The platform uses proprietary algorithms and processes to analyze and label contact data to ensure you get the most up-to-date information. UpLead also licenses its data from trusted third parties and has a rigorous validation and testing process for all B2B contact emails to ensure accuracy.
UpLead has over 108 million B2B contact email addresses, as well as 16 thousand technologies tracked, giving your team more opportunities for targeted success. In addition, UpLead provides real-time verification at the point of the customer downloading contact data, which helps eliminate any potential errors. Plus, manual researchers get updates on inaccurate data to make the database more accurate for your use.
UpLead Key Features
As a sales and marketing team, you understand the importance of having clean, up-to-date contact data. You need to quickly and easily access company information to make efficient decisions. UpLead is a powerful lead generation software that can help your team do just that.
UpLead provides verified, accurate contact data from millions of companies worldwide, so you know you're getting reliable information. This information means that you never have to worry about whether or not your contacts are real people who work at their respective companies. UpLead allows you to pay only for valid emails, so you don't waste money on invalid contacts.
UpLead offers more than 40 attributes for each contact record which helps you get an in-depth understanding of each person or company on your list. With such comprehensive data, your team can make more informed decisions on how best to pursue leads and close deals more efficiently. UpLead easily exports this data into various formats or integrates it with other tools like Salesforce and HubSpot for further analysis.
In addition to providing verifiable contact data and more than 40 attributes at once, UpLead also provides technographic information about each company on your list. Technographics includes technology solutions companies use, such as CRMs, CMSs, and eCommerce platforms, giving your team an idea of a company's online infrastructure and capabilities. Knowing this information allows you to tailor your messaging to better reach each lead or customer.
Other notable features include:
Technographic information
Access to company news
Chrome extension
Access to intent data
Advanced search filters
Team account management
UpLead Integrations
UpLead integrates with many popular CRMs, including HubSpot, Zoho, and Pipedrive. These integrations allow you to sync customer data between platforms quickly and efficiently so that you can access the latest information whenever you need it. These integrations help ensure accuracy in your customer profiles and make it easier for you to keep track of customers' preferences across multiple channels.
UpLead also integrates with Zapier to automate tedious tasks like updating contact information or creating new leads from web forms or emails. With Zapier integration, you can create customized workflows that automatically trigger different actions when certain events occur — such as sending an email when someone visits a page on your website or creating a task in HubSpot when someone fills out a form — saving time and effort for everyone involved in the lead generation process.
Below are additional notable integrations:
HubSpot
Insightly
Zoho
Pipedrive
Microsoft Dynamics 365
Start Your 7-Day Free UpLead Trial
Lead generation doesn't have to be all that painful. With UpLead, you can easily connect with high-quality prospects and leads to grow your company.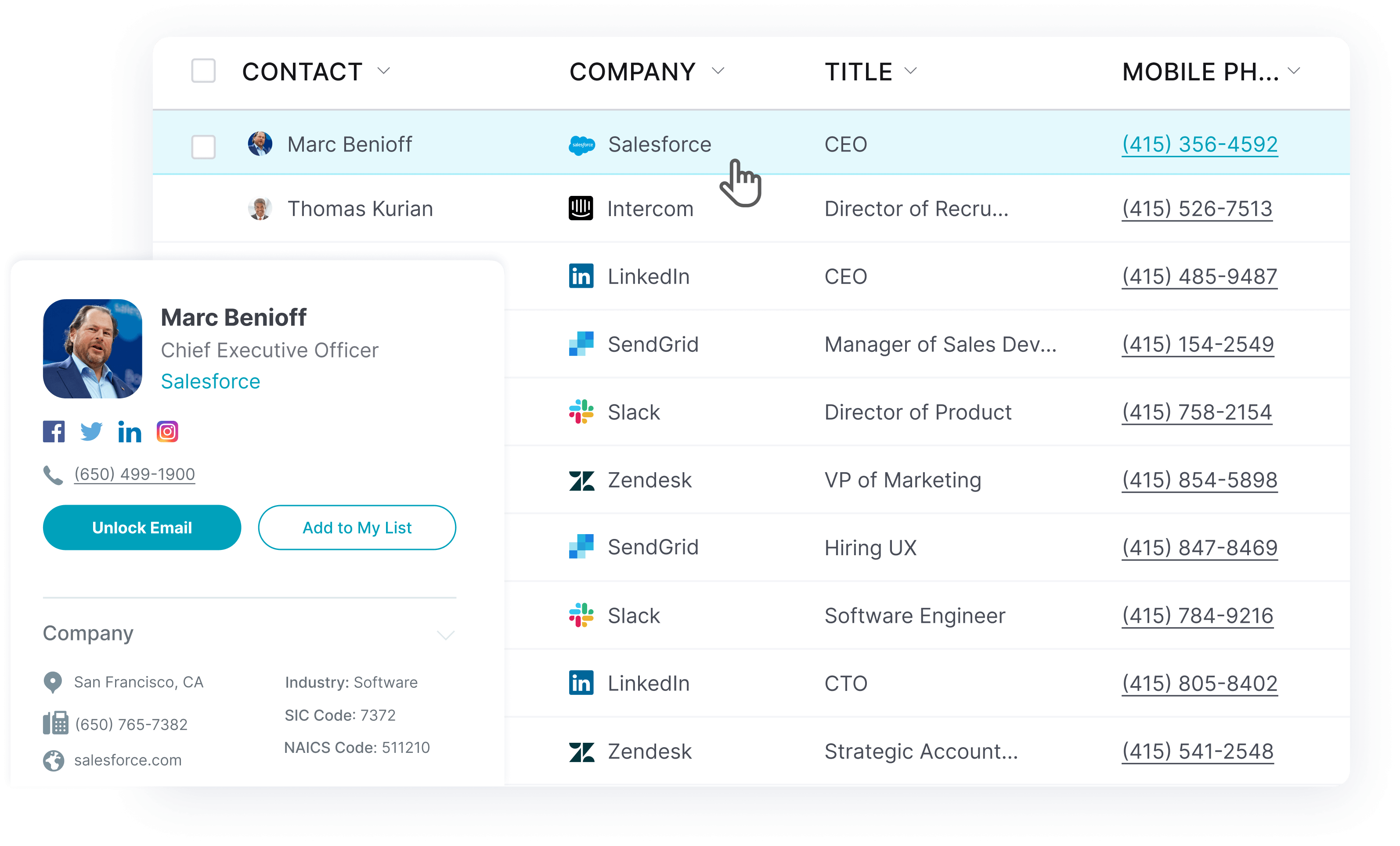 10 UpLead Competitors & Alternatives for Your Business
The right lead generation software solution can significantly impact your sales and marketing processes. From advanced automation capability to better customer experience features, many potential solutions like UpLead could help simplify tasks and maximize results. This guide will provide you with an overview of 10 top competitors & alternatives to UpLead that will fit into various scenarios — from small businesses to established enterprises — so that you can make the best decision for your particular sales needs.
1. Lead411
Lead411 provides a cutting-edge sales intelligence platform that equips users with the quality intent data they need to make informed decisions. Companies and contacts can be easily accessed while tracking key events that could instigate spendings, such as new funding or changes in executive leadership. The comprehensive Lead411 dashboard allows users to find the information they need quickly, affording an insightful overview of all activity— all while being built to support smaller companies striving to increase revenue, particularly in the IT and service industries.
Key Features:
Advanced searching capabilities
Analytics dashboard for users
Customizable email lists
RSS news feed
Pros:
Includes automated task management
96% accuracy in B2B data
Reasonable pricing
Cons:
Some usability issues with LinkedIn prospecting
Integration with Gmail could use improvements
Better filtering for an improved search experience
2. ZoomInfo
ZoomInfo is the ideal solution for large enterprises, giving marketers and recruiters access to a comprehensive network of over 300,000 publisher domains. With advanced features that automatically generate real-time B2B intent data, such as insights on prospects interested in your product or service, ZoomInfo makes it easier to identify key decision-makers and build smarter, more efficient automated sales processes. It also offers powerful team management capabilities and an extensive database with over 300 intent data attributes. With custom pricing, ZoomInfo offers a robust lead generation tool for a company with complex sales needs.
Key Features:
Flexible integrations
Apps to help engage your audience
Conversation intelligence
Pros:
Provides company and contact background data
Largely accurate database
Enhanced business prospecting insights
Cons:
The search functionality needs improvement
Customer support could be improved
Small business visibility isn't as robust
We compared the best ZoomInfo competitors in an article recently.
3. RocketReach
RocketReach is a robust sales intelligence platform providing users with bulk lookup capabilities, an API, and easy integrations into ATS, CRMs, and other marketing tools. With a database of over 700 million professionals and 35 million companies worldwide, it offers unparalleled accuracy of 85%. RocketReach is best for small-to-medium marketing teams in companies under 200 employees looking to unlock new levels of growth and scale their revenue.
Key Features:
Advanced search with specific keywords
Browser extension
Real-time contact validation
Pros:
Ease of use
Searching capabilities are best-in-class
Chrome extension enhances user experience in finding lead data
Cons:
The database is not large enough
Many private company data is left out
UI could use improvements
UpLead is one of the top RocketReach alternatives available.
4. Lusha
Lusha is an easy-to-use B2B database that allows you to generate high-quality leads. Several integrations, including Salesforce, Hubspot, Outreach, Microsoft Dynamics, and Pipedrive, help sales teams boost their deals. Lusha's data enrichment feature also allows access to accurate contact information for any person or company you're looking for. Overall, its user-friendly interface is effective for small teams that want to maximize their lead-generation efforts with minimal effort.
Key Features:
Easy-to-use prospecting tools with access to direct phone numbers and emails
Analytics dashboard
Robust Team management tools
Pros:
Ease of use
Customer support
Seamless integration with LinkedIn
Cons:
Many profiles have missing phone number information
Some usability issues with exporting data
Not as many credits in the free version
5. Apollo
Apollo offers access to over 220 million contacts and 30 million companies. The data enrichment feature can further enrich this data, allowing you to add missing information points to your contact lists. It has an impressive network of over 500,000 contributors to ensure its database remains robust and up-to-date. Furthermore, Apollo offers a satisfaction guarantee by refunding every bounced email – perfect for cleaning B2B contact lists. Apollo is ideal for small marketing teams of businesses crossing 10M in revenue in the professional services sector.
Key Features:
A/B testing
Advanced dashboards and reporting tools
API and Zapier Integrations
Pros:
Fully customizable email sequences
Reliable contact validity
Best-in-class Integration support
Cons:
UI can be overwhelming
Could use improvements in CRM list-building
Usability issues with duplicate account records
Here are some alternatives to Apollo you can consider.
6. LinkedIn Sales Navigator
LinkedIn Sales Navigator offers a comprehensive solution for any sales team looking to grow, allowing them access to over 500 million prospects worldwide. It offers support for various use cases, from freelancers to large enterprises. With its real-time data and contact management features, it helps teams stay organized, capture leads, communicate more effectively and close more deals.
Key Features:
Save important contacts and keep up with their updates
View profiles for 1st, 2nd and 3rd-degree connections
Dashboard of sales performance
Pros:
Advanced contact segmentation tools
Easy-to-use InMails
Deep searching and filtering options make it easy to target sales searches
Cons:
Potential saturation of LinkedIn inboxes can lead to lower engagement rates
No CRM integration 
Some countries don't have as many leads on LinkedIn
At UpLead, we consider ourselves the best Sales Navigator alternative.
7. LeadFuze
LeadFuze makes it easy to connect with leads and get better results. It uses AI automation to eliminate duplicates while verifying emails and providing near 0% bounce rates. LeadFuze also integrates perfectly with popular ATS tools — enabling you to sync automatically and easily. Easily accessible for startups with limited resources and revenue under 1M, LeadFuze is the ideal solution for scaling businesses quickly, blending great affordability with robust capabilities.
Key Features:
LinkedIn URL lookups
De-duplication tools
Search based on markets and accounts
Pros:
Cons:
UI could use accessibility improvements
Salesforce integrations could be more advanced
Maximum list sizes
8. Hunter.io
Hunter.io is a user-friendly tool for marketing agencies. With its free pricing tier, you can access the email addresses of potential customers quickly and easily. Plus, Hunter.io offers a variety of additional features to help increase your reach when searching for leads, such as contact limit per month, searches per month, and a range of technology to choose from.
Key Features:
Custom tracking domain
Attachments and images in emails for enhanced engagement
Domain search full results and downloads
Pros:
Easy to find emails by domain research
Affordable pricing structure
Helpful customer service
Cons:
Lack of social media cross-referencing
Email verification could be improved
The availability of company numbers could be enhanced
Check out other Hunter alternatives here.
9. Clearbit
Clearbit is a versatile tool providing valuable insights into your customers and prospects. It has an expansive database containing more than 100 B2B attributes from 250+ data sources. It automatically refreshes contact information as changes are detected, making it easier to keep track of customers and prospects. On top of that, Clearbit's machine learning-powered recommendations improve over time, resulting in a deep understanding of customer behaviors and interests. The lead generation platform also boasts noteworthy integrations with popular tools like HubSpot and Salesforce—making it especially welcoming for tech companies proliferating.
Key Features:
Automatically identifies companies lurking on your website
Scheduling tools to help you connect with more new accounts
Lead scoring and high-value account identification
Pros:
Targeting companies based on size and job seniority
Provides insight into Linkedin profiles of B2B contacts
Best-in-class customer support
Cons:
Segmentation could use improvements
High price point
Email validation could be improved
10. Seamless.ai
Seamless.ai is a comprehensive lead data platform that provides access to over 1.9 billion contact and company records, giving users access to targeted lead lists and missing information from their existing contacts. Robust search tools make it easy to find the right contacts to add to their pipeline, and further, integrations with Salesforce, Hubspot, and more make sure that their data is secure and stored in one place. Seamless.ai offers a vast range of features at an affordable cost, making it an excellent choice for any organization looking to streamline its outreach process.
Key Features:
Enterprise-level security and compliance
Advanced user management
The dedicated customer success manager
Pros:
Refreshes new data consistently and quickly
Export contact lists are easy to use and helpful
Tracking job changes help target your search
Cons:
Search functionality could be improved
Industry filtering is too complex
Data enrichment quality could use enhancements
FAQs About UpLead Competitors
Below are a few critical questions about UpLead alternatives.
How accurate is UpLead?
UpLead is a trusted data intelligence platform offering up to a 95% data accuracy guarantee. The tools have been praised for delivering high-quality and accurate customer insights quickly and cost-effectively. Every customer dataset is processed using certified AI-driven algorithms, providing reliable real-time customer analytics that can be easily integrated into any existing business infrastructure. Furthermore, UpLead's validation process helps increase the accuracy of customer data by confirming the source of each entry before adding it to its databases, ensuring there are no discrepancies or gaps in your data points.
Do UpLead credits roll over?
In addition to allowing users unprecedented access to potential customers, the platform's pricing model provides maximum flexibility. UpLead credits roll over each month, meaning you never have to worry about losing the value you've paid for. With no annual commitment and no requirement to lock yourself into an arbitrary fee, UpLead lets its customers choose the best rate for them – giving you the edge over your competitors.
How does UpLead work?
UpLead helps marketing and sales teams take their efforts to the next level by building qualified leads quickly and efficiently. Using extensive email recognition and contact verification services, UpLead helps you reach the right people every time. Furthermore, UpLead also offers data enrichment services to ensure that the accounts you are targeting are up-to-date with accurate information and insights.
Where is UpLead based?
UpLead is headquartered in California and has a satellite office located in Romania.
How does UpLead get its data?
UpLead utilizes the most reliable and trustworthy third-party sources to acquire its data. Its cutting-edge verification system ensures that each email contact is 100% verified, saving you the time and effort of manually double-checking each connection yourself.
What You Need to Remember About UpLead Competitors
If you're looking for a new leads platform, it's important to remember your options and what each one offers. UpLead is an effective option because it allows you to verify lead information. At the same time, there are other options out there that differ in how they approach lead generation strategy. Keep in mind what your needs are and choose the best option for you and your sales team.