If you're looking for an effective way to discover and connect with the email addresses of professionals, Hunter.io is worth considering. With plans that range from free to a customized enterprise-level solution, there's something for everyone when it comes to using Hunter.io's products. This email finder tool provides users with reliable access to accurate contact information, and its intuitive tools can help sales and marketing teams optimize their outreach strategies for long-term success. This article analyzes Hunter.io's pricing plans, features, and capabilities in 2023 to help you decide the best sales intelligence tool for your sales goals. 
Quick Links:
What is Hunter.io?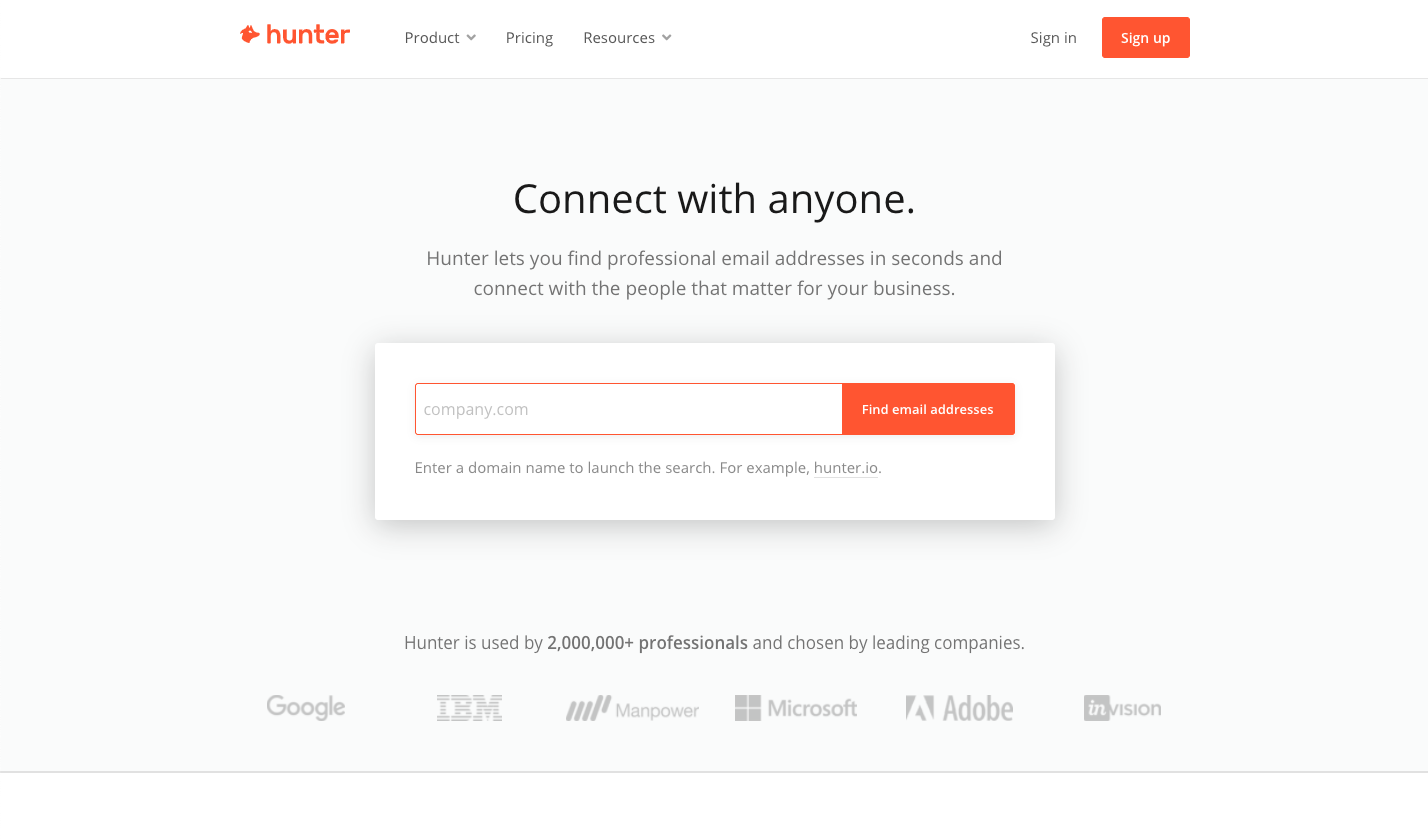 Hunter.io is designed to help your businesses access verified email addresses, streamlining your sales and marketing efforts. Similar to email finders like UpLead, Hunter.io boasts an extensive database of over 102 million email addresses collected and stored over the past few years.
The platform is an effective tool for finding email addresses on platforms like LinkedIn for individuals and businesses, with a high success rate. Like other B2B email data providers such as UpLead, Hunter.io offers various pricing plans and features, making it a strong contender in the email extraction and verification market.
Designed to help businesses find personal and professional email addresses, Hunter.io's domain search feature provides a list of the people working in a company with their name and email address, all gathered from the web. With over 100 million email addresses indexed, robust search filters, and deliverability checks, Hunter.io is an invaluable tool for businesses looking to connect with people that matter.
It's worth noting that Hunter.io offers a free plan, allowing users to conduct 25 free searches per month while offering several pricing plans that provide more advanced features and increased search volumes. The platform also enables sales teams to create email templates for outreach campaigns, giving sales and marketing teams what they need to forge valuable connections for their sales pipelines. 
Hunter.io Key Features
Hunter.io offers a range of features designed to help sales and marketing professionals connect with potential clients and verify email addresses. Below is a breakdown of these features in detail. Some key features include finding email addresses in bulk, an email verifier API, and the option to send cold email campaigns. This combination makes it a powerful sales tool for teams looking to maximize their outreach efforts. 
Domain Search
The Domain Search feature is an email-finding tool that helps identify whom to contact within a business. By searching for a specific domain, you can find relevant contact information for individuals associated with that domain. The corresponding API allows you to access this information with a simple workflow. 
Email Finder
One of the biggest challenges in networking is finding the contact information for the professionals you want to connect with. Luckily, Hunter.io's Email Finder API has made this task much more accessible. This sales intelligence tool allows you to quickly and efficiently locate the email address of anyone you need to contact. Simply input the person's name and company, and the Email Finder API does the rest. This tool reduces the need to guess email addresses before reaching out to prospects.   
Email Verifier
The Email Verifier tool validates professional and personal email addresses at the format, domain, and mail server levels. This tool helps ensure your outreach efforts are not wasted on undeliverable email addresses. With the email verifier API, you can verify any email address with an API call, determining whether it's deliverable. 
Bulk Tasks
With Hunter.io's bulk domain search, you can quickly obtain a comprehensive list of email addresses from multiple companies in just a few clicks. In addition, its bulk email finder uses data from over 76 million domains to enrich your email address data, ensuring your outreach efforts are targeted and fruitful. 
Campaigns
One of the standout features of Hunter.io is its Campaigns tool, which allows users to execute cold email campaigns effectively. You can personalize the emails, schedule when they go out, and track their performance to see how well they resonate with your audience. Adding custom attributes enables you to tailor each email to specific targets and create a more personal touch. Plus, the fact that Hunter.io integrates with Gmail and Outlook makes it a versatile tool for any professional looking to streamline their email outreach.
Hunter.io Chrome Extension
The Hunter.io Chrome extension lets you easily find email addresses behind any company website. With just a few clicks, this extension can provide you with a wealth of information that can help you reach out to the right people at the right time, ultimately leading to stronger business relationships and increased success.
Start Your 7-Day Free UpLead Trial
Lead generation doesn't have to be all that painful. With UpLead, you can easily connect with high-quality prospects and leads to grow your company.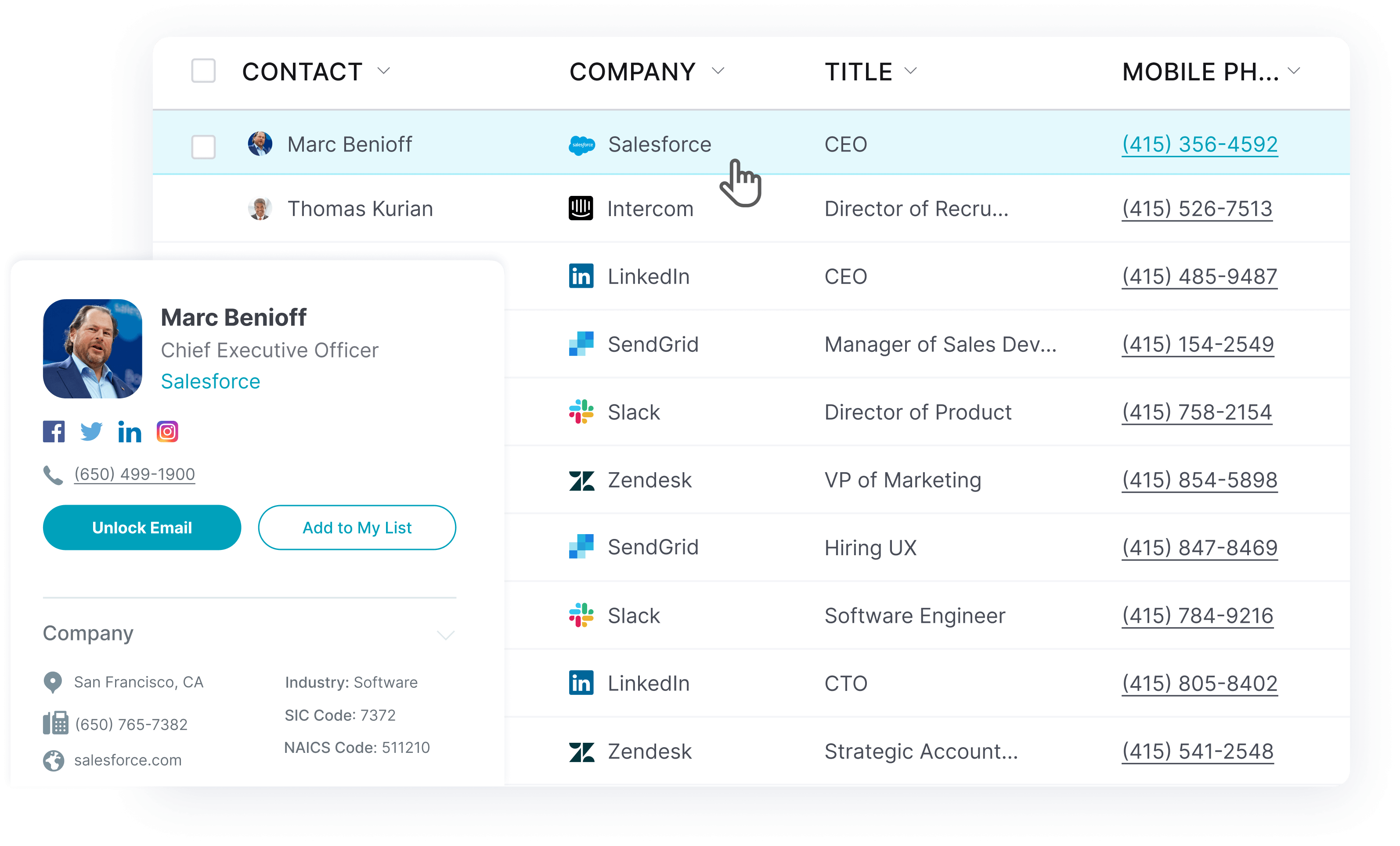 Hunter.io Pricing & Plans
The email marketing software offers four pricing plans, each tailored to the needs of different user types. These plans are the Free, Starter, Growth, and Business plans. Below is a breakdown of each plan and which it best suits.
Free
Hunter.io's free plan allows you to make up to 25 monthly searches and supports one email account. This plan is best for individuals or small businesses who want to test the service before committing to a paid plan. With this plan, you can send campaigns to up to 500 recipients per month. 
Starter
The Starter plan costs $49 per month, billed monthly, or supports up to three email accounts, with the option to add more at $10 per month. This plan is suitable for small businesses that need a modest number of email searches and verifications. It includes up to 1,000 email verifications and allows you to send campaigns to 2,500 recipients per month.
Growth
The Growth plan is priced at $149 (billed monthly) or $99 per month, billed annually ($1,188 per year). This plan is designed for growing businesses that require more email searches, verifications, and campaign recipients. The Growth plan supports up to 10 email accounts, with the option to add more at $10 per month per account. It also includes a custom tracking domain and allows you to send campaigns to 5,000 recipients per month.
Compared to the Starter plan, the Growth plan includes a higher number of email searches and verifications and campaign recipients. It also adds a custom tracking domain, which can help improve deliverability rates and email reputation.
Business
If your business is looking to up its game in the world of email marketing, the Hunter.io Business plan may be the ticket. At $499 per month for up to 20 accounts (with an additional $10 per account per month), this plan boasts an impressive 50,000 monthly searches and the ability to reach up to 10,000 recipients per campaign. In addition, the plan includes priority support and an account manager to help ensure everything is running smoothly. 
Hunter.io Integrations
With Hunter.io integrations, users can seamlessly combine their favorite tools to create a more comprehensive and effective workflow. Integrating with popular productivity platforms, Hunter.io brings flexible possibilities to its users.
Salesforce
Hubspot
Pipedrive
Google Sheets
Hunter.io API
Hunter.io API is a robust tool allowing you to perform domain searches, find email addresses, and verify them all in one place. Using this API is simple. You can make API calls and receive the results in real time. With Hunter.io's multiple features, you can swiftly find and verify professional email addresses, making communication with clients and colleagues seamless.
Hunter.io Google Sheets Add On
The Hunter.io Google Sheets add-on allows you to find and verify email addresses directly within Google Sheets. Authenticating your account with a secret API key lets you easily find email addresses related to specific companies or domain names. In addition, the email finder tool can help you find email addresses based on names, saving you time and effort. On top of that, this add-on is completely free, making it an essential tool for businesses of all sizes who want to streamline their email outreach efforts. 
UpLead is the Best Hunter.io Alternative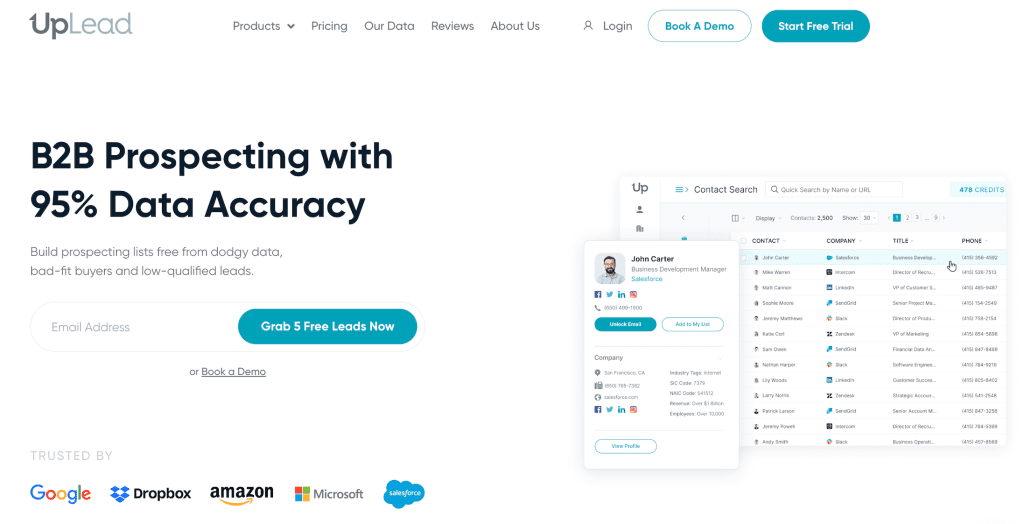 When assessing the competitiveness of Hunter.io's pricing structure, it's crucial to compare the platform to other tools in the market. For example, UpLead, an outstanding alternative, offers plans starting at $74/month (billed annually) with a range of features, including a 95% data accuracy guarantee, an easy-to-use platform, and machine learning and human components for email validation. UpLead provides more value for a lower price point than Hunter.io. It also includes a CRM integration in its free tier, giving you access to unparalleled features at an accessible price.
Key Features
UpLead offers a range of features designed to facilitate your sales workflow. These include:
95% data accuracy guarantee (you get your credits back if you don't use them)
Easy-to-use tool for finding high-quality leads
Integrations with top CRM tools
Enrichment API
Pricing
UpLead offers a 7-day free trial with CRM integration. Its priced plans include:
Essentials: $74/month (billed annually): 2040 credits annually, featuring mobile direct dials and company news. This plan fits individuals or small teams who need a simple solution. 
Plus: $149/month (billed annually): 4,800 credits annually, with enrichment API and email pattern intel. 
Professional: $299/month (billed annually): 12,000 credits annually, with access to team accounts and competitor intelligence. This plan is best for large teams with complex customer acquisition needs. 
Explore UpLead's free trial today for an easy-to-use experience with your sales prospecting efforts. 
More Alternatives to Hunter.io
Searching for effective and reliable lead-generation tools, especially with the ever-changing online landscape, can be challenging. Fortunately, teams from the sales and marketing sector now have more alternatives to Hunter.io to find new prospects quickly, accurately, and effortlessly. Below are some of these new options that are enhancing how sales and marketing teams generate leads. 
Snov.io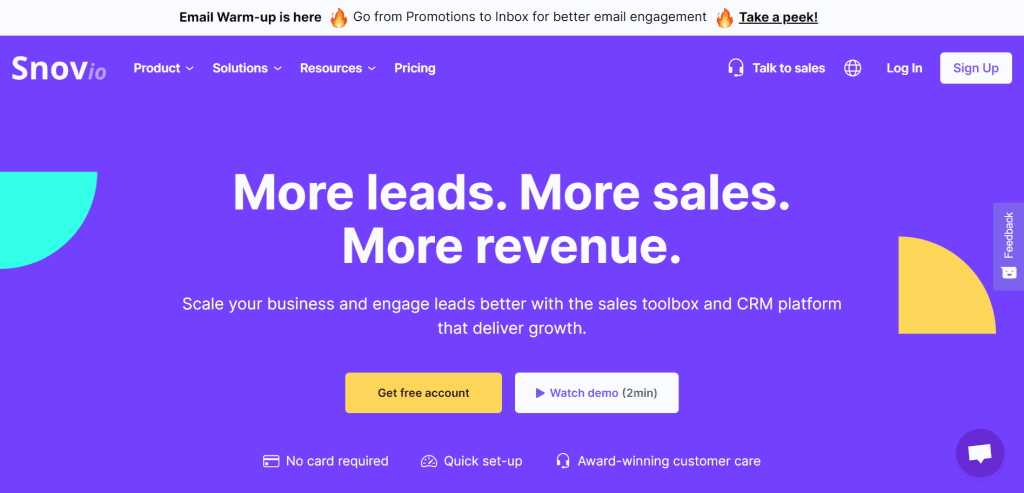 Snov.io is a sales automation platform that combines lead generation, email verification, and email-sending tools to streamline outreach. Additionally, Snov.io provides a complete platform for prospecting and cold outreach, allowing users to construct drip campaigns that boost their email marketing efforts. 
Key Features:
Snov.io creates a package of features centered around guiding sales and marketing teams. These features include:
5,000+ integrations, including Dropbox, Canva, Zendesk
Robust support, including implementation manager and extensive help center
Chrome extension
Pricing:
Snov.io offers a free trial with 150 credits and plans starting at $30 per month (billed annually) for 1,000 credits and 5,000 email recipients. Annual plans cost 25% less than month-to-month plans. Snov.io includes the following plans:
Starter: $30 per month (billed annually) for 1,000 credits and 5,000 email recipients
Pro: starting at $75 for between 5,000 and 100,000 credits, sliding scale of credits
Custom: starting at $999 per month, including custom lead gen strategy and copywriting services
Seamless.ai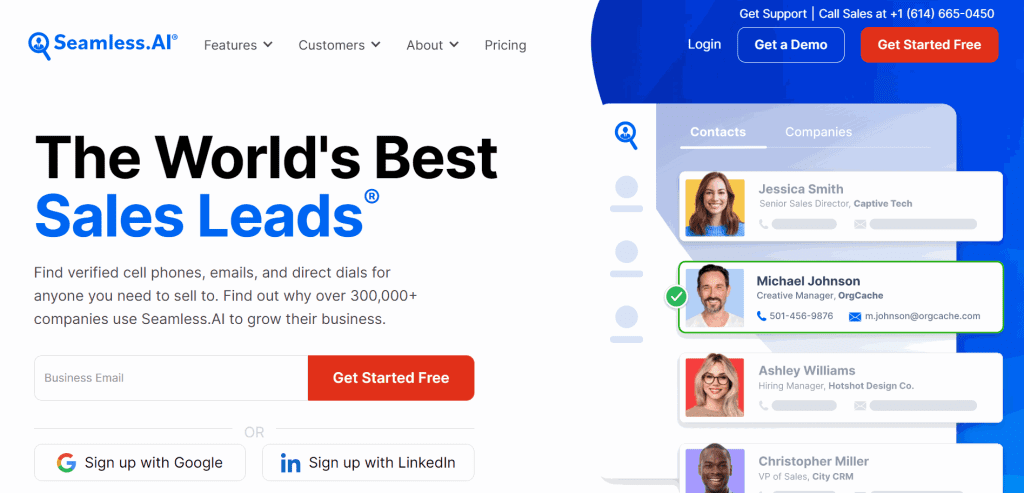 Seamless.ai features an innovative search engine explicitly tailored for B2B sales leads. With this search engine, users can input various criteria such as industry, location, company size, and more to quickly and efficiently locate potential prospects that align with their target audience. Furthermore, Seamless.ai's database is continuously updated, ensuring users can access the latest and most accurate contact information. This comprehensive solution is designed to help sales teams maximize their outreach and prospecting efforts. 
Key Features:
Seamless.ai prioritizes security in its feature set— across all pricing tiers. The platform features:
Real-time search engine for phone numbers and emails
Enterprise-grade security and compliance
Data enrichment and intent data
Pricing:
Seamless.ai provides a free plan with up to 50 credits, and its Basic plan costs $147 per month (billed annually), offering up to 250 credits with enterprise-grade security and compliance. Pro and Enterprise plans are available with custom pricing, depending on your business needs.
FAQs About Hunter.io Pricing
Below are some of the most frequently asked questions about Hunter's pricing.
Is Hunter io free?
Hunter.io offers a free plan that allows you to get 25 free monthly searches. The free plan includes access to search for domains, which provides a list of the people working in a company with their names and email address.
Is Hunter.io worth it?
Whether Hunter.io is worth, it depends on your needs. Hunter.io offers a free plan that allows users to get 25 free searches per month, which can be a good starting point for businesses just starting. The paid plans offer more features and higher search volumes, with prices ranging from $49 to $199 per month, depending on the plan and billing cycle. 
How many searches do you get on Hunter io?
Hunter.io offers a free plan for 25 free monthly searches and 50 email verifications. The free plan is limited, and you may need to opt for a premium plan if they require more searches— up to 50,000 monthly searches in the Business plan.
What You Need to Remember About Hunter.io Pricing
When considering Hunter.io's pricing, weighing the tool's features, pricing, and search volume against your business needs and budget is vital. Offering a range of features, including bulk domain search, email finder, email verifier, bulk tasks, campaigns, and integrations, Hunter.io aims to streamline sales and marketing efforts. The platform provides options for individuals and businesses of varying sizes with four pricing plans (Free, Starter, Growth, and Business) tailored to different user types. Take the time to explore the various pricing plans and compare them to top competing platforms, such as UpLead, to find the ideal solution for your lead generation and sales prospecting requirements.