No matter what industry you're in, lead generation is an extremely important growth factor. Without solid foundational lead generation strategies, your business will have a hard time increasing revenue and generating profits. 
So much of what we do is centered around technology, which means competition is high. Tech companies need to focus on highly effective lead generation strategies to stay in the game. Here are 12 lead generation strategies for technology companies with guaranteed results.
Quick Links:
How Do Tech Companies Generate Leads?
Technology companies generate leads just like any other company—by using proven lead generation strategies. If you're unfamiliar with the term "lead generation," it's defined as proactively identifying prospective customers to contact them and convert them into paying customers.
Lead generation strategies fall into two broad categories: inbound lead generation and outbound lead generation. Inbound lead generation strategies are typically passive, long-term strategies that focus on the prospective customer making initial contact with a company. Common inbound lead generation strategies include search engine optimization (SEO) and content marketing. Outbound lead generation strategies are intentional campaigns to make direct contact with potential customers. Typically driven by a sales team, these strategies can include cold call campaigns or cold email campaigns.
Let's take a look at 12 effective lead generation strategies for technology companies that you can start using today.
12 Effective Lead Generation Strategies for Technology Companies
As we've mentioned, lead generation is vital for a business to grow. It's important to consider both inbound and outbound lead generation strategies for your business. Let's take a look at our 12 recommended strategies to increase the number of high-quality leads your business receives significantly.
Contact ideal customers via email
One common outbound lead generation strategy is a cold email campaign. Cold emails are a simple, effective way to contact your ideal customers. With your target audience, leverage UpLead's email finder and verifier tools. You'll get on-demand, accurate email contacts for key decision-makers in the companies you want to contact.
While open rates average at approximately 20% (meaning out of 100 emails, around 20 will actually open be opened), return on investment is almost $40 per $1 spent, making cold email campaigns a lucrative lead generation strategy.
Cold call pre-qualified prospects with the help of a prospecting tool
Just as impactful as a cold email campaign is a cold call campaign. Rather than reaching out to key contacts via email, a cold call campaign involves calling potential customers to discuss your product or service. While it may be difficult to connect with a customer via phone, it's certainly worth the effort. Hear from some sales experts to understand how cold calling can impact your business.
Take your cold call campaign to the next level with UpLead's prospecting tool. Its streamlined, intuitive interface lets you quickly build a high-quality list of contacts. And with a 95% data accuracy guarantee, you can spend less time worrying about the veracity of your data and more time driving a successful campaign.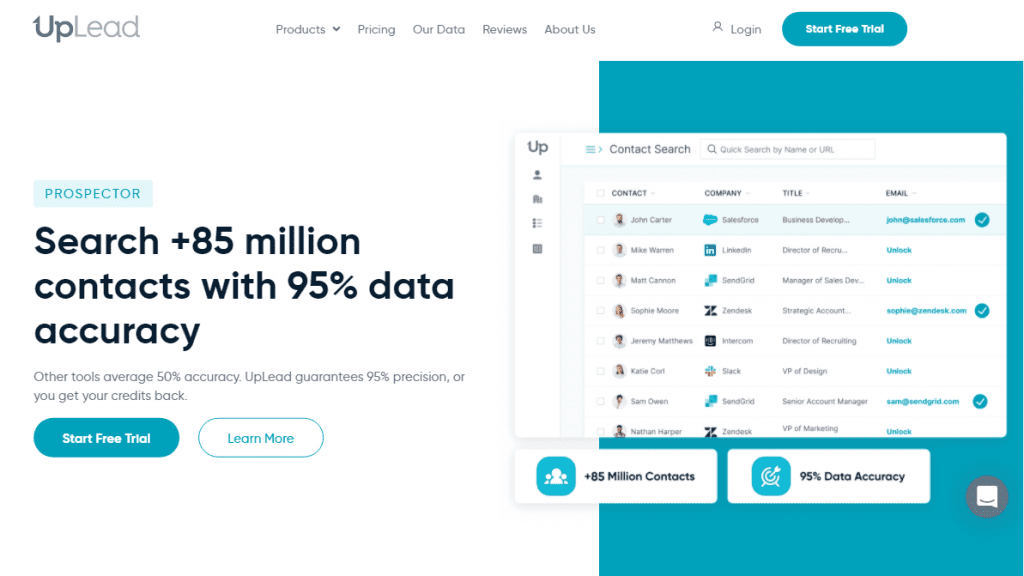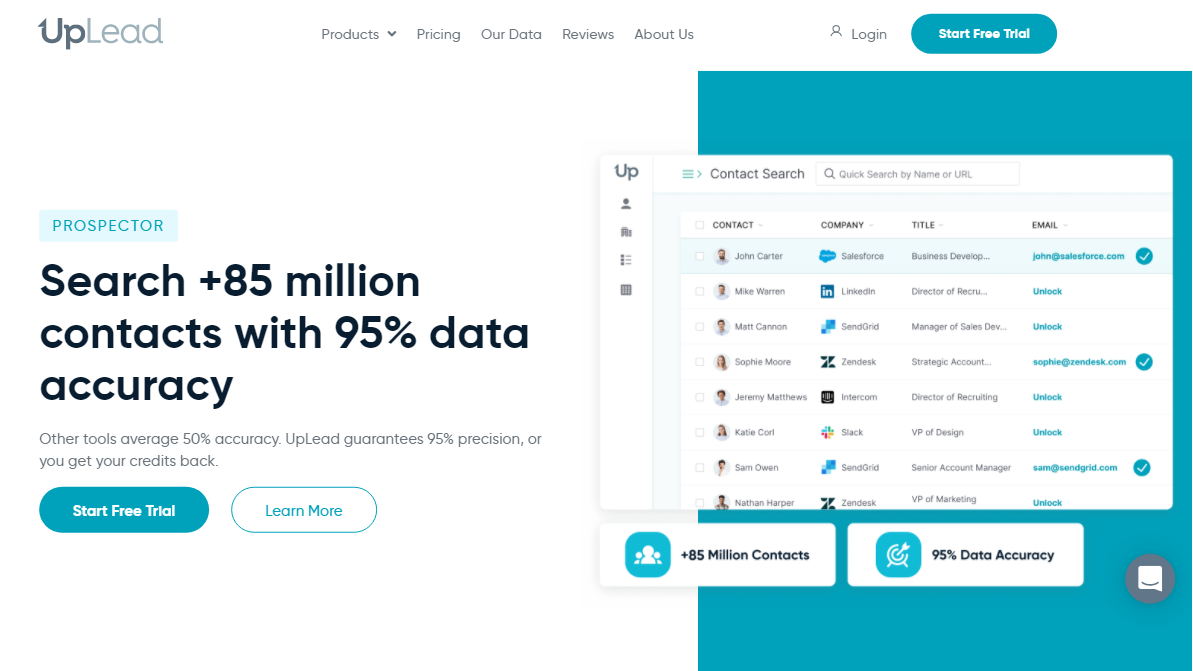 Start Your 7-Day Free UpLead Trial
Lead generation doesn't have to be all that painful. With UpLead, you can easily connect with high-quality prospects and leads to grow your company.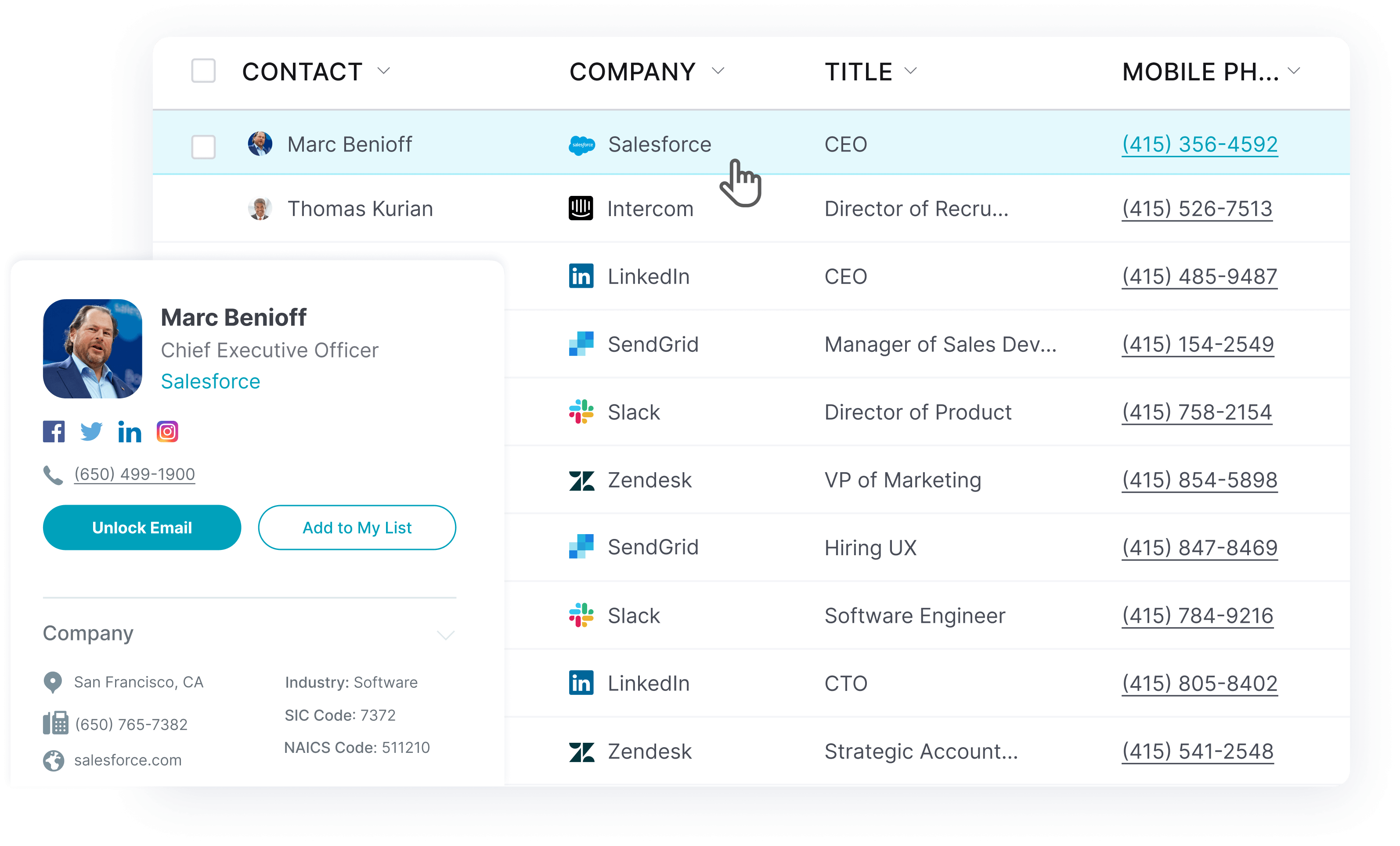 Offer live demonstrations of your products or services
What better way to generate leads for your technology business than offering live demonstrations of your product or service? Highlighting how your technology can be a solution for other businesses is a simple, effective, and free way to generate interest in your brand and product. B2B customers want to know how your product can solve their problems, and a live demonstration will answer their questions and trigger organic engagement with your business.
Xerox offers a robust live demonstration lineup for businesses, both in-person and online. With multiple platforms and various topics and services available to demo, B2B customers can fully understand Xerox products and services before making a purchase.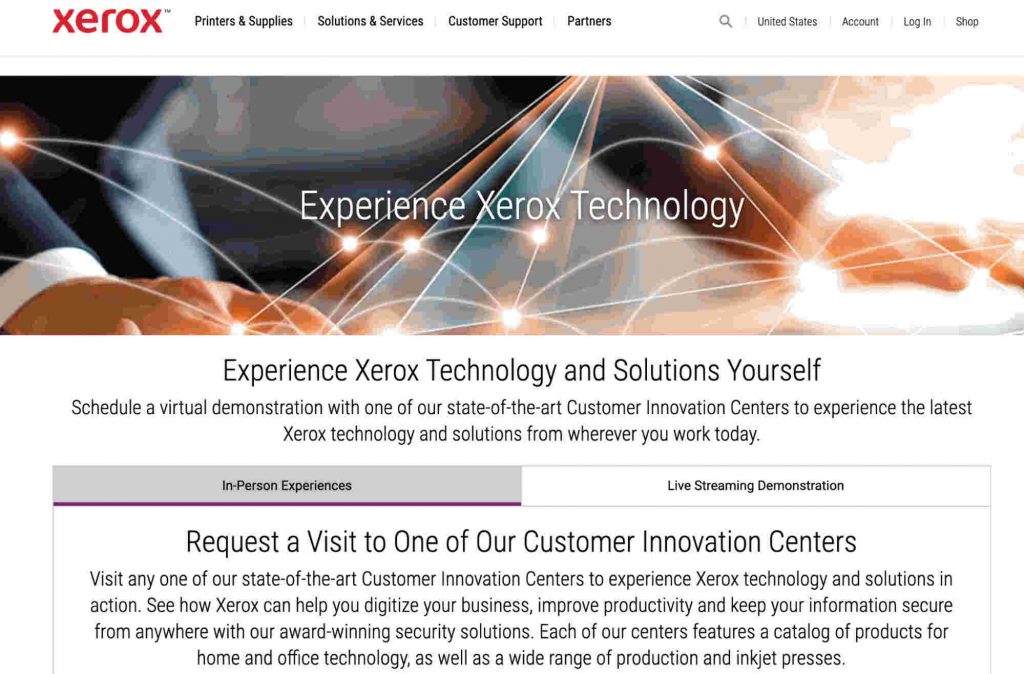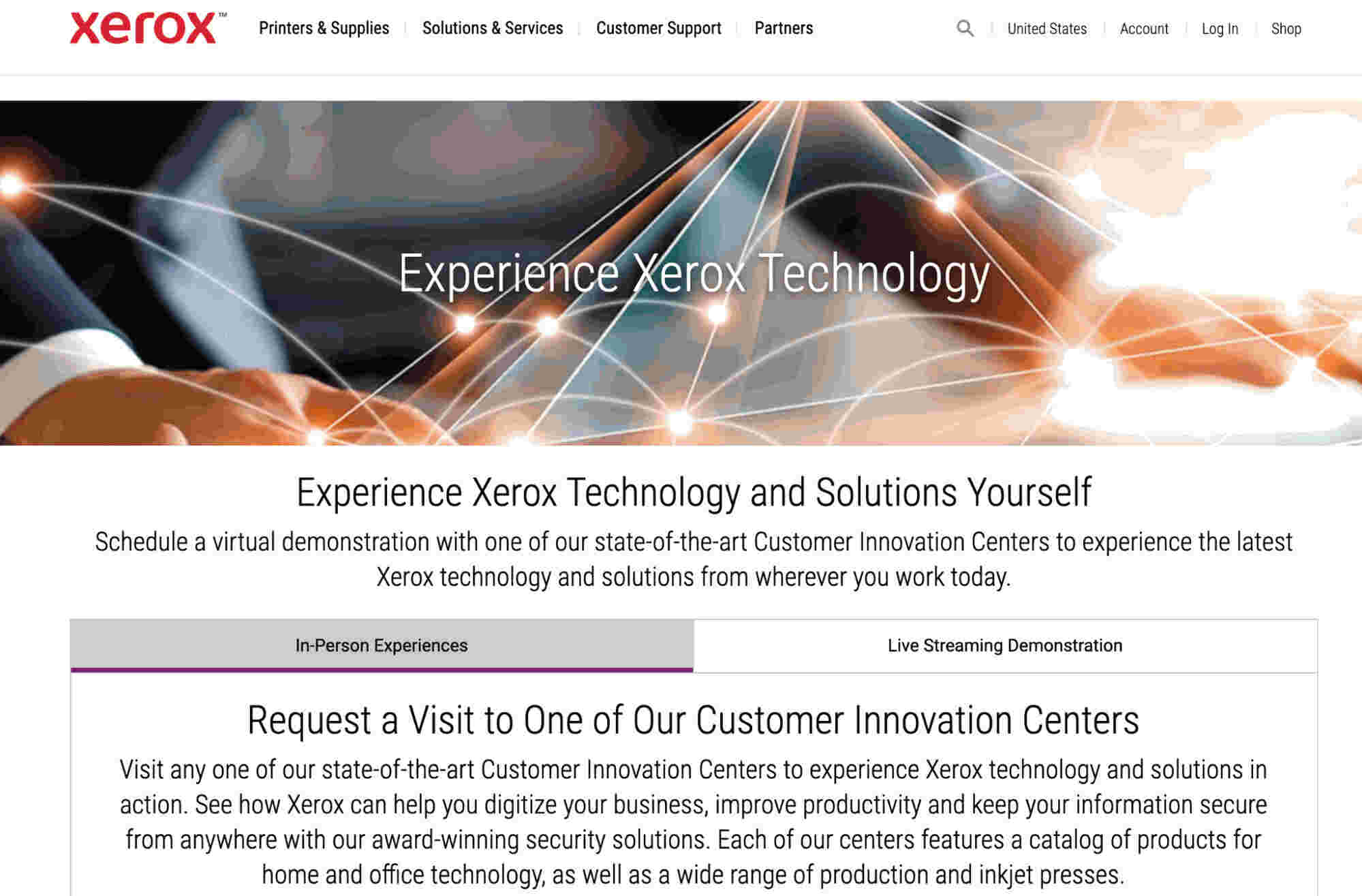 Attend industry-related events
Getting in front of potential customers and interacting with them face-to-face is a powerful lead generation tool that allows you to build genuine relationships with potential customers. Technology trade shows are excellent venues to boost brand awareness and generate significant interest in your business.
Unsure where to start? Take a look at this year's technology conferences, both in-person and virtual. With countless attendees across all conferences this year, the opportunities to generate leads and grow your business are endless.
Provide free trials
Like offering free demonstrations of your product, free trials is another proven way to generate leads and convert prospects into paying customers. Free trials let your product or service do the talking. Allowing your prospective customers to try your technology for free gives them the confidence to make a purchase. By letting them discover for themselves how your product can solve their problems, they're getting a real-time understanding of what solutions they need.
Still not sold on free trials? Check out this case study showing how Spotify leverages free trials and ends up with an impressive 46% conversion rate.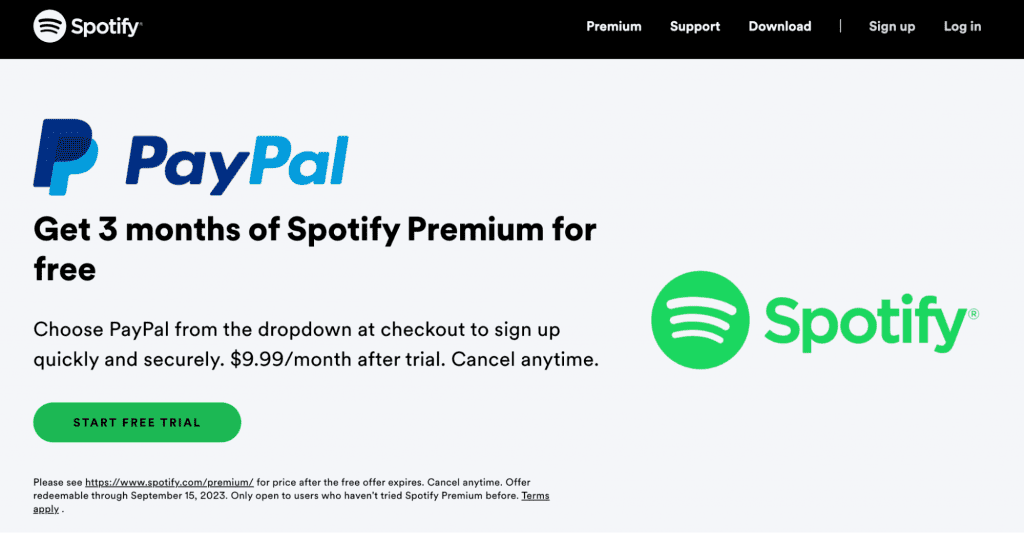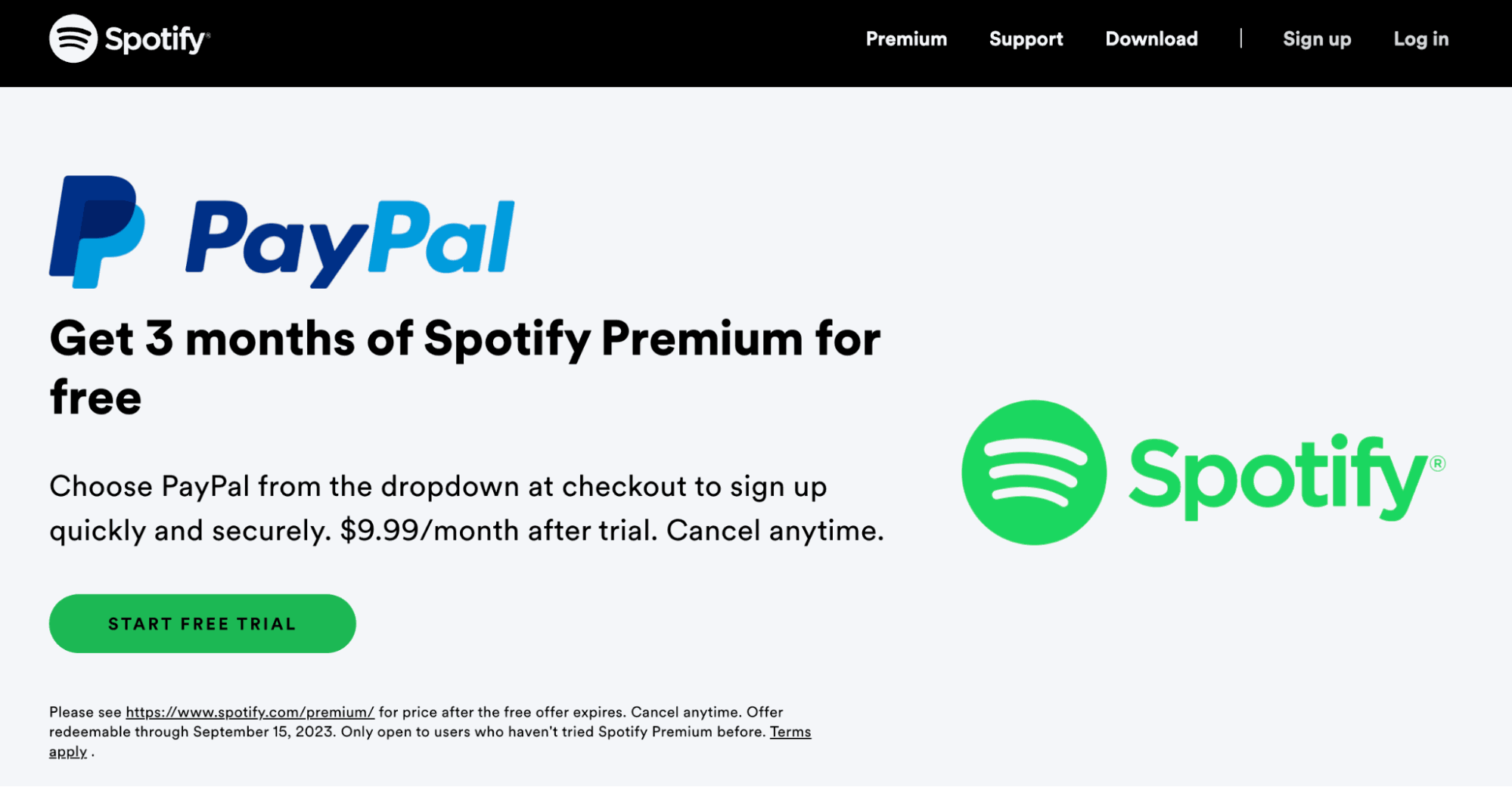 Host events that will attract your ideal audience
Take in-person events one step further by actually hosting events for your target audience. No technology conferences in your area or none that quite fit your business? Hosting your own event can draw hundreds, if not thousands, of potential customers directly to your company.
If you can't swing an in-person event, or if an in-person event doesn't make sense for your business, you can run a highly-successful virtual event. Some of the largest technology companies in the world, such as Qualtrics, Cisco, and Microsoft, have hosted incredibly successful virtual events for prospective customers.
Sponsor relevant events
Part of successful lead generation is simple brand awareness. Getting your business's name out there is crucial and can be a key factor with inbound lead generation strategies. Sponsoring relevant events is a timeless marketing strategy. Sporting teams or other local events are the first things that come to mind when thinking of sponsorship marketing.
However, as a technology company interested in generating B2B leads, you can also sponsor industry events without actively participating in them. If you cannot participate due to bandwidth or resourcing, a simple sponsorship ensures your brand is visible to all attendees, which may generate high-quality leads.
Host educational webinars
Take your organic engagement further by hosting educational webinars. Whether it's a webinar on your product or service, a presentation on something relevant to the industry, or hosting others within the industry as a collaboration, educational webinars are great tools for providing potential customers with valuable information and generating high-quality leads.
Gartner does a fantastic job of regularly hosting webinars on industry-relevant topics, such as data and statistics, the latest powerful tools and resources, and tips for business growth.


Work closely with influencers
If your business hasn't embraced social media as a lead generation tactic, now is the time. The social media landscape has drastically changed in just a few short years, with influencers dominating online spaces and connecting with millions of followers across the globe.
One example of a world-renowned influencer in the technology space is Marques Brownlee. With billions of views across YouTube and Instagram, he is seen as an authority in technology reviews. He can be an extremely beneficial partner for technology companies looking to promote their products.
Develop a referral program
Word-of-mouth marketing is one of the oldest, most powerful forms of lead generation. A referral program incentivizes your existing customers to promote and refer your product or service to others that may find them beneficial. Let your customers do the marketing work while rewarding them for their efforts. Referral programs are easy to set up and can result in a significant number of new leads and paying customers.
Mainstreet is a great example of a successful referral program in action. This SaaS company, which focuses on helping businesses identify tax credits, offers a $200 gift card for each qualified referral.
Start a YouTube channel to help educate your audience
Video content is a common theme for technology lead generation strategies. YouTube, launched in 2005, is the world's leading video platform that your technology business can leverage to connect with potential customers. The simple user interface and its extreme popularity make it an ideal platform to boost brand awareness and generate leads.
Over 70% of B2B marketers leverage video content, and there's no better platform than YouTube. Post free courses to connect with your audience, promote your products, and show potential customers how your business can solve their problems.
Partner with a related company for co-marketing opportunities
Last but certainly not least on our list is partnering with a related company for co-marketing opportunities. Technology companies with complementary software or services can partner with each other in a mutually beneficial way. Whether the partnership is purely for marketing purposes or if there's a plan to combine services, tapping into another company's customer base is an efficient way to generate new leads.
One example of co-marketing comes from Verizon and Apple, two of the largest technology companies in the world. Verizon often includes Apple Music as part of a phone purchase, with up to 12 months free during specific promotions. With this partnership, both companies benefit by tapping into the other's current customer base.
What Makes B2B Lead Generation for Technology Companies So Hard?
Now that you have 12 efficient lead generation strategies you can start using today, it's important to understand the challenges you may face when generating leads as a technology company. One of the biggest challenges is simply the technology landscape; the market is extremely saturated, and fierce competition. That's why it's so crucial to implement multiple lead generation strategies, both inbound and outbound.
Depending on your product or service, your customer base may be narrow. While virtually any company can use some technologies, others may be niche products serving specific customers in a highly competitive market. Software designed for specific needs or industries will have a clear target audience but may also run into limits regarding growth.
Here's How To Make B2B Lead Generation for Tech Companies Easier
Lead generation can be challenging no matter what industry you're in, but with the right tools, strategies, and partners, you can make it much easier for your business. Here's how to make B2B lead generation easier for technology companies:
Evaluate Past Successes and Failures
It's important to assess each lead generation campaign that you implement. Whether it's a targeted outbound cold calling campaign or a long-term SEO campaign, you need to continually evaluate past successes and failures.
You may have heard of A/B testing; A/B testing involves creating two versions of a landing page, cold email, or other customer-facing content and tracking its success. This tactic allows you to track, assess, and adjust in real time. Taking the time to evaluate past successes and failures informs future strategies.
Know Your Audience and Where to Find Them
Your lead generation strategy isn't going to be successful if you don't meet your customers where they are. Take the time to truly know your audience and where to find them.
It's safe to assume that technology customers are going to want easy access to information and data, meaning it's often a good idea to leverage video content and other forms of online engagement. However, don't discount the power of in-person events; if you can attend a conference or trade show, you may be surprised at the results.
Use the Right B2B Lead Generation Tools
A marketer is only as successful as their tools. Partnering with UpLead is proven to boost lead generation results. If you need high-quality leads for your technology company, look no further than UpLead. With a host of tools and features at your disposal, you can hit the ground running with targeted outbound campaigns guaranteed to reach your target contacts.
Common Questions About Lead Generation For Technology Companies
Here are some top questions about lead generation for technology companies and what you need to know about lead generation tactics.
What is the best lead generation strategy for technology companies?
The best lead generation strategy for technology companies, and for any company for that matter, is the one that meets your target audience where they are. B2B technology customers are often tech-savvy, meaning they appreciate information at their fingertips. Our list of top tactics had a number of video-focused ideas, and for good reason.
Online engagement is key. Demonstrations, free trials, and educational videos are fantastic tools to showcase your product or service as a solution for other businesses.
What are the best B2B lead generation tools for tech companies?
While the technology industry is very saturated, there are also plenty of B2B customers to reach out to. UpLead's tools allow you to quickly and accurately compile a list of top contacts so you can focus on outreach. Manually researching contact information would take valuable time away from your sales team, meaning they'd spend less time actively reaching out to potential customers.
UpLead's tools, such as the email verifier, email finder, and prospector, are industry-leading tools that can take your lead generation strategies to the next level.
Is lead generation for technology companies expensive?
Lead generation for technology companies can be extremely affordable, and many tools allow you to start your lead generation strategies immediately. Not only can lead generation be affordable—several tactics have an impressive return on investment. Check out UpLead's pricing information to see just how affordable lead generation can be.
Key Takeaways
Technology companies should focus on high-engagement content that's easily accessible and simple to digest. Take time to assess your target customers and how they interact with your business. Leverage the right strategies, tools, and partners to launch your next campaign. For industry-leading tools your company can take advantage of today, look no further than UpLead.