Nowadays, you don't need a huge sales team to boost your sales. All you need are the right sales acceleration tools. Sales acceleration tools can help you improve every step of your sales process, from generating leads all the way to post-sale interactions.
This article will cover the best sales acceleration tools for you and your sales team. We'll show you the right tools to grow your sales efforts, improve conversion rates, and even revamp your entire sales process if necessary.
Let's get started.
Quick Links:
What Is Sales Acceleration
Sales acceleration typically refers to strategies and efforts to streamline the sales process. This can include finding prospects, qualifying them, and converting them into paying customers efficiently.
Through sales acceleration, businesses aim to find and reply to buying signals earlier, move leads through the sales funnel faster, and manage customer and lead data as effectively as possible. In the past, sales acceleration had more to do with long audits and the creation of in-house sales accelerators. Today, you can use digital sales acceleration tools designed to make the process far easier.
Sales acceleration software helps marketing and sales teams alike to shorten sales cycles and move prospective buyers through the sales process as efficiently as possible.
What Are Sales Acceleration Tools?
Sales acceleration tools help sales and marketing teams manage their sales process. These tools can help both teams manage their data far more effectively, providing them with the insights they need to accelerate conversions.
Sales acceleration tools come with a variety of options. They help users generate the leads they're looking for through lead databases, help streamline research through lead research tools and assist with lead outreach via email and phone tools. Once the lead has been contacted, sales acceleration tools can be used to follow up with them, nurture them through an automated process, and make it as easy as possible for them to make a purchase.
The best sales acceleration tools are often the ones that can integrate with the tools you're already using while providing the accurate insight you're looking for.
The Best Sales Acceleration Tools & Software
Here are some of the best sales acceleration tools for your sales and marketing teams:
Sales list building tools
Sales list-building tools help you build and download lead lists for your cold outreach campaigns. Since these tools are only as good as their data, you may need to use them with data verification software—or you could simply choose list-building tools with highly reliable data.
UpLead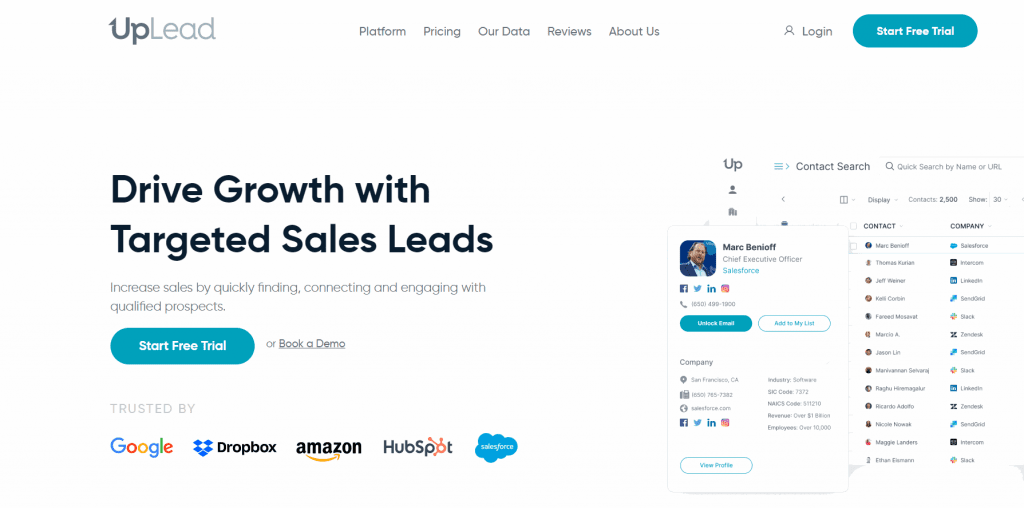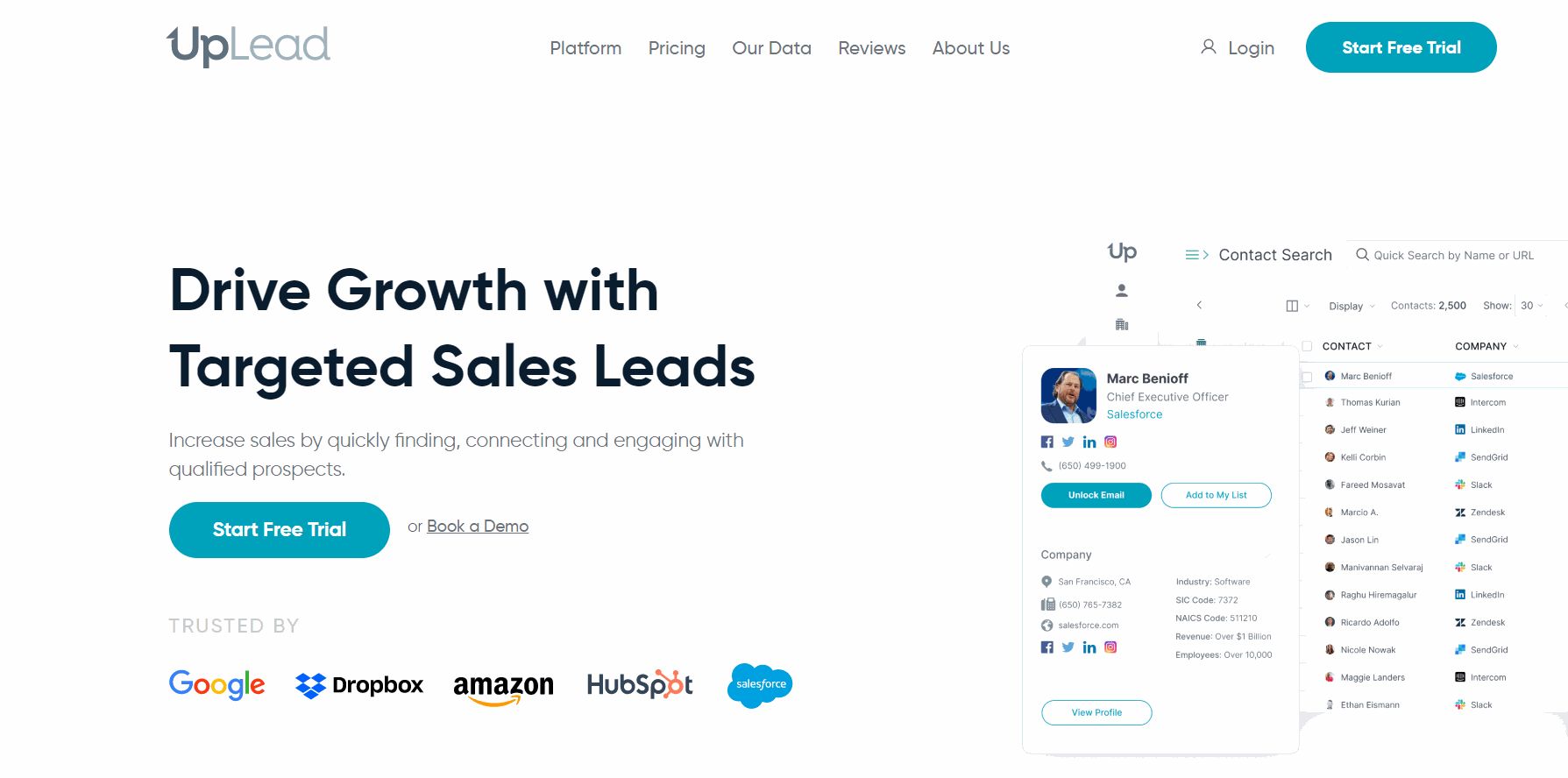 UpLead is a powerful sales B2B list-building tool that allows you to generate lead lists almost on command.
Featuring a huge and highly-curated database of B2B customer profiles, UpLead makes it easy to find the leads you need. Simply input the information of your customer persona using over 50 search criteria, and filter through millions of business profiles to find the ones you're interested in.
Unlike many lead generation tools, UpLead's data comes with a 95% data accuracy guarantee, verifying email addresses in real-time before you download them. This sales intelligence tool will expedite the time needed to generate a lead, allowing sales reps to get straight to selling through cold approaches.
Try UpLead for free today and see if it's the right fit for your company.
Start Your 7-Day Free UpLead Trial
Lead generation doesn't have to be all that painful. With UpLead, you can easily connect with high-quality prospects and leads to grow your company.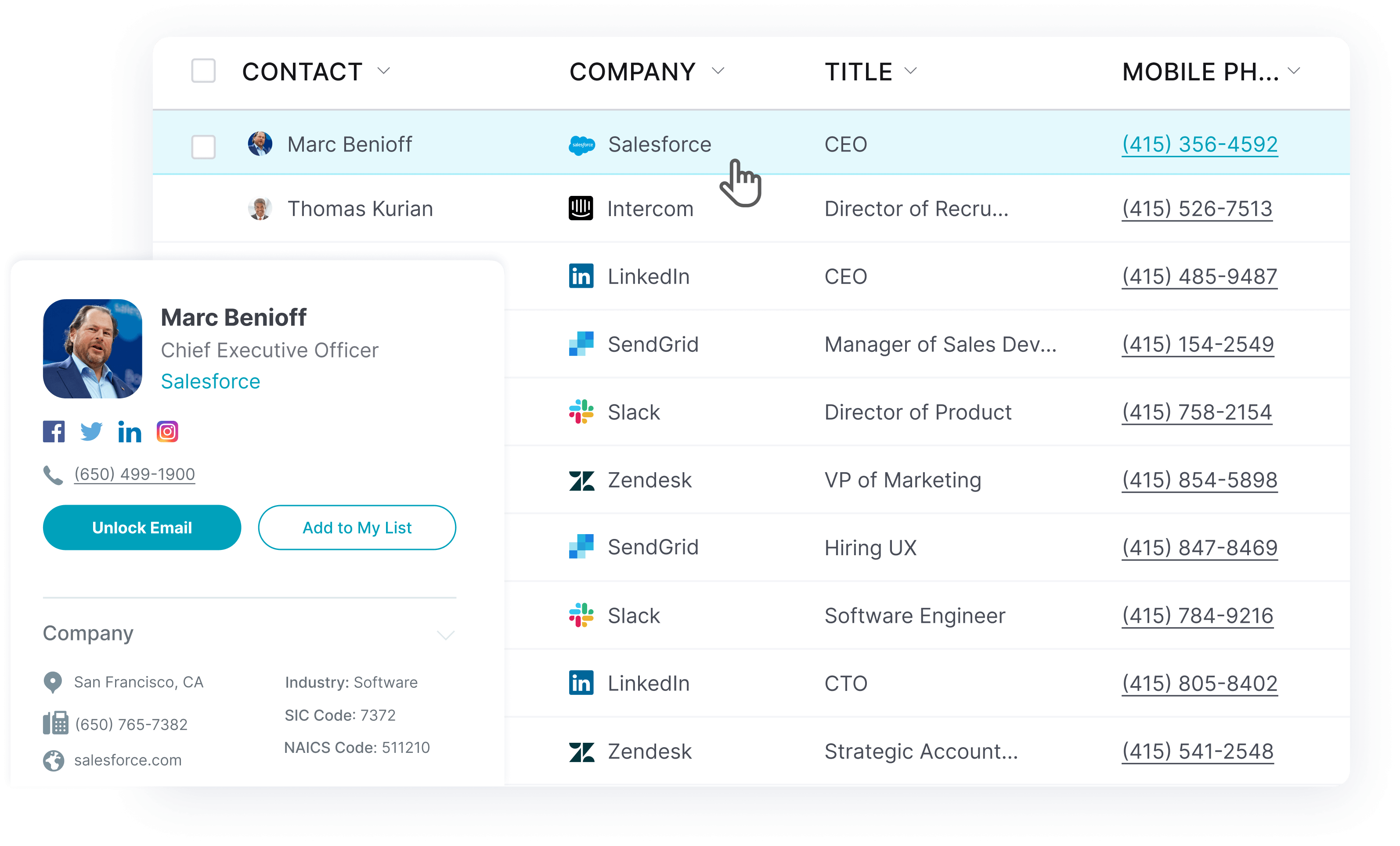 ZoomInfo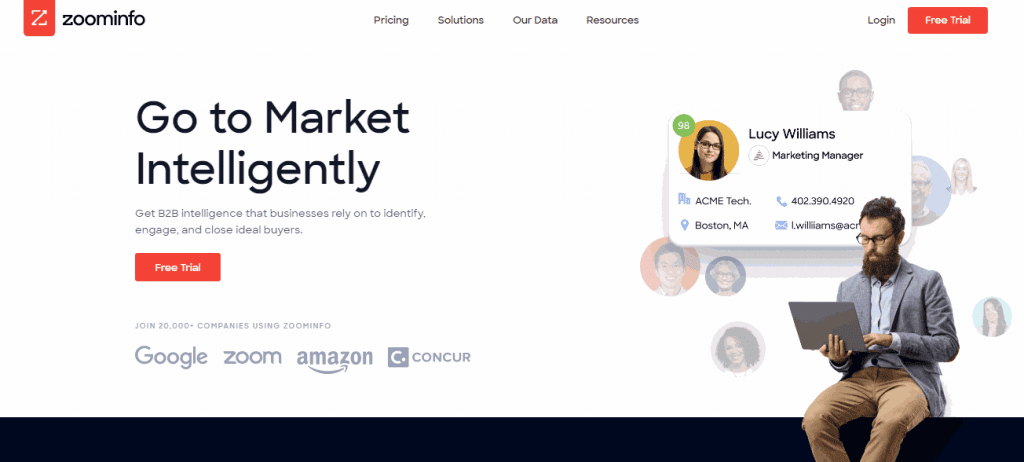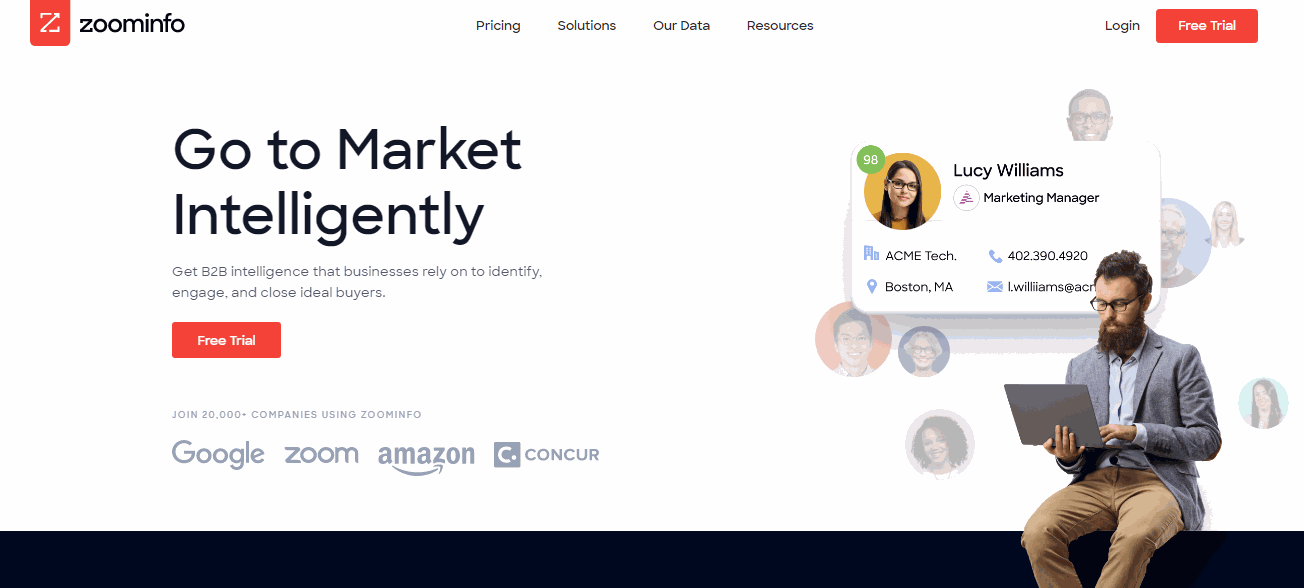 ZoomInfo is another list-building tool with an accurate, albeit small, business profile database.
This platform allows users to take advantage of advanced search fields to find specific profiles. It also comes with data enrichment features, and the data offered is reportedly largely accurate.
However, with a high price tag and a limited database, it's probably not the best tool for users looking for bulk lead generation.
Bonus: check out our UpLead vs. ZoomInfo comparison.
Crunchbase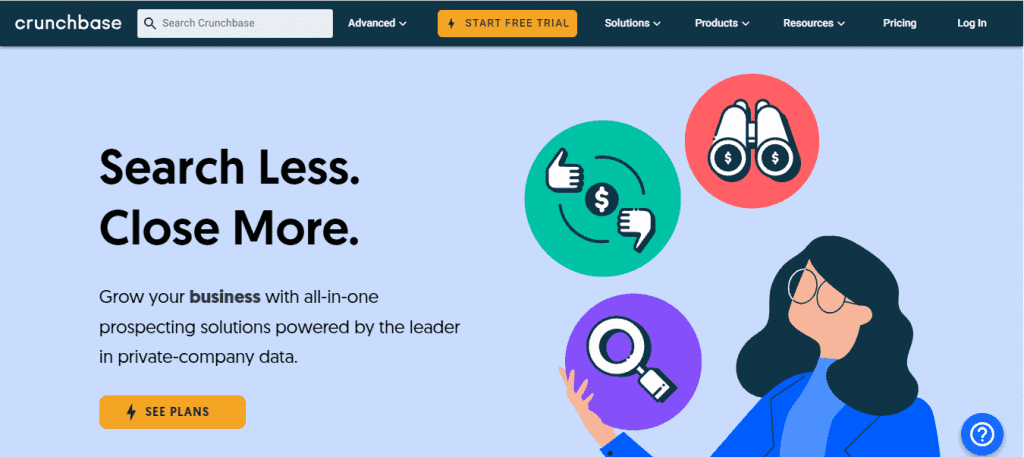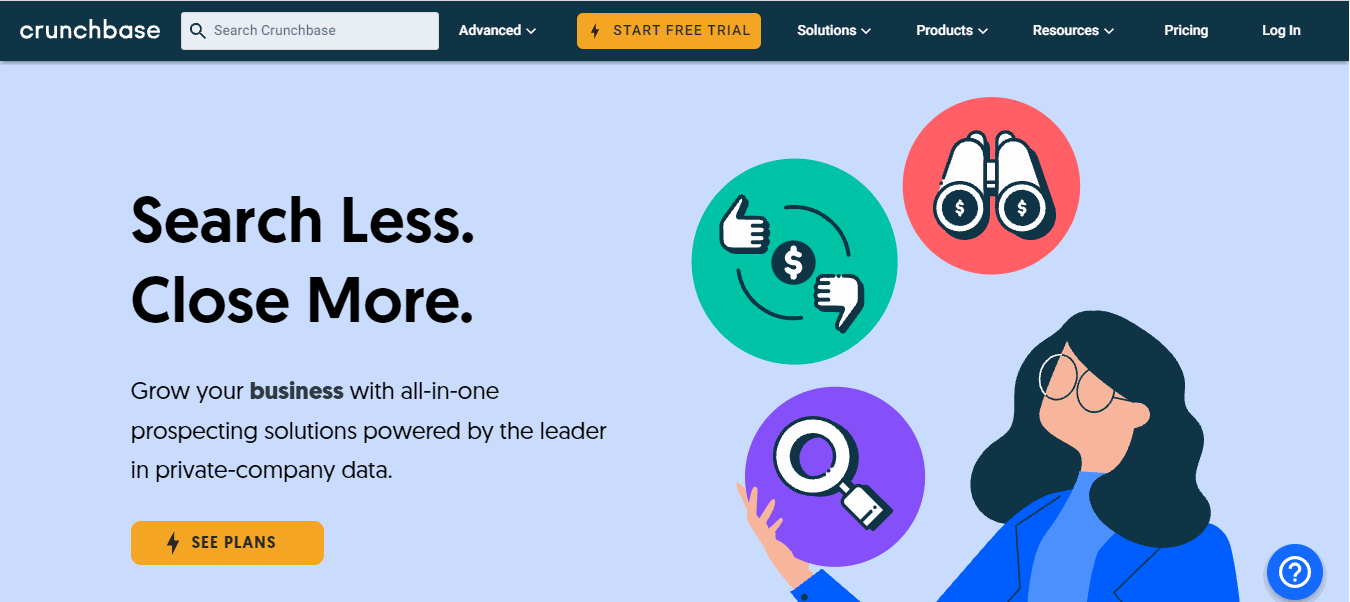 Crunchbase is another list-building option that gives users access to over 60 million profiles and a robust API.
This platform features a large database of potential prospects and investors. However, some users have sounded the alarm regarding inaccurate information on this system, so you may want to pair Crunchbase with a data verification tool.
Sales data cleaning and enrichment tools
Already have a database? Sales data cleaning and enrichment tools help you update your data with new and validated lead and contact information.
Here are the best data cleaning and enrichment tools out there:
UpLead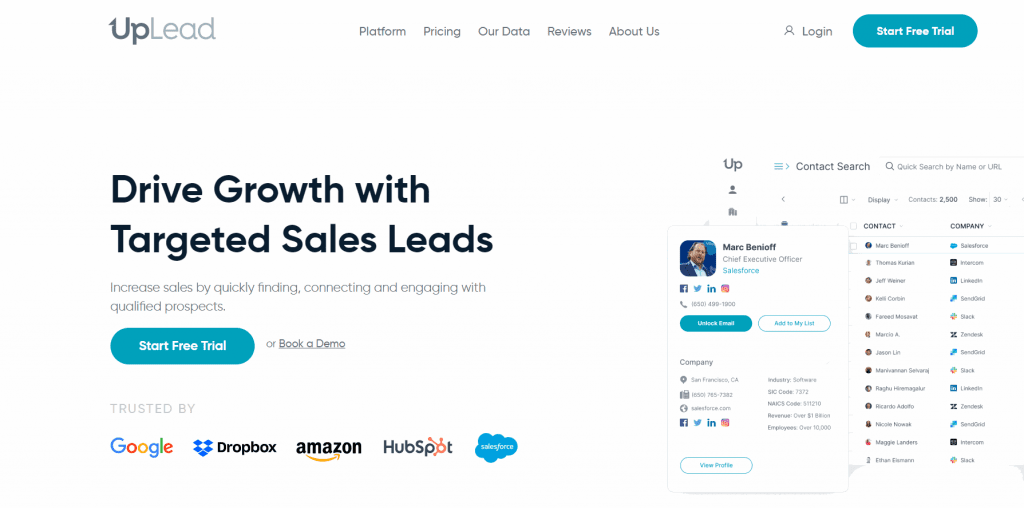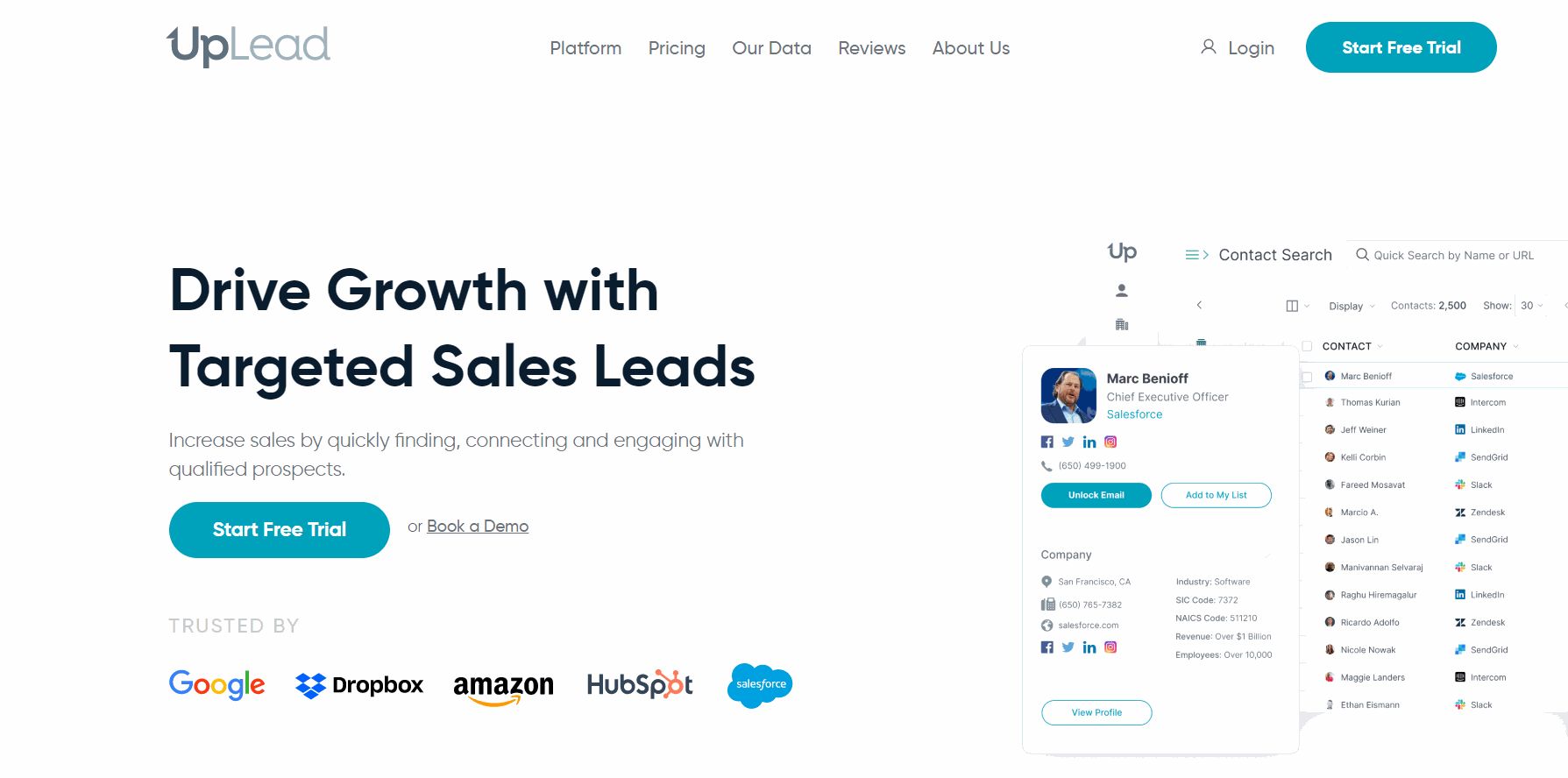 With UpLead, it's easy to ensure that your lead list is updated. Simply upload your existing lead list to UpLead. It will automatically search each lead, replace outdated information, and give you the lead's validated contact information.
UpLead makes it easy to update old lead lists or enrich the ones you have with over 50 accurate data points. Use this data to help accurately segment and convert your leads. It also includes intent data.
Learn more about UpLead's data enrichment capabilities.
DiscoverOrg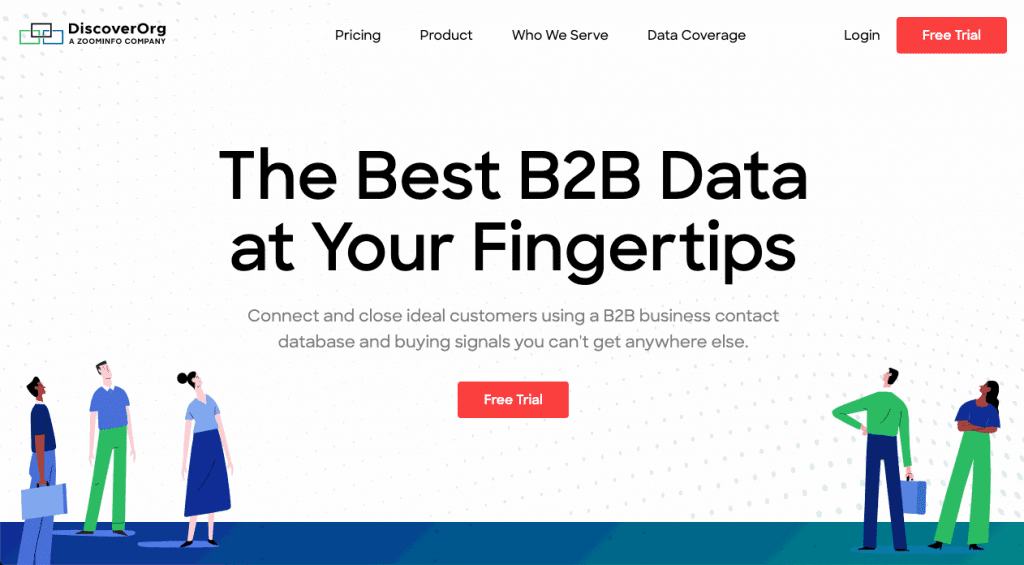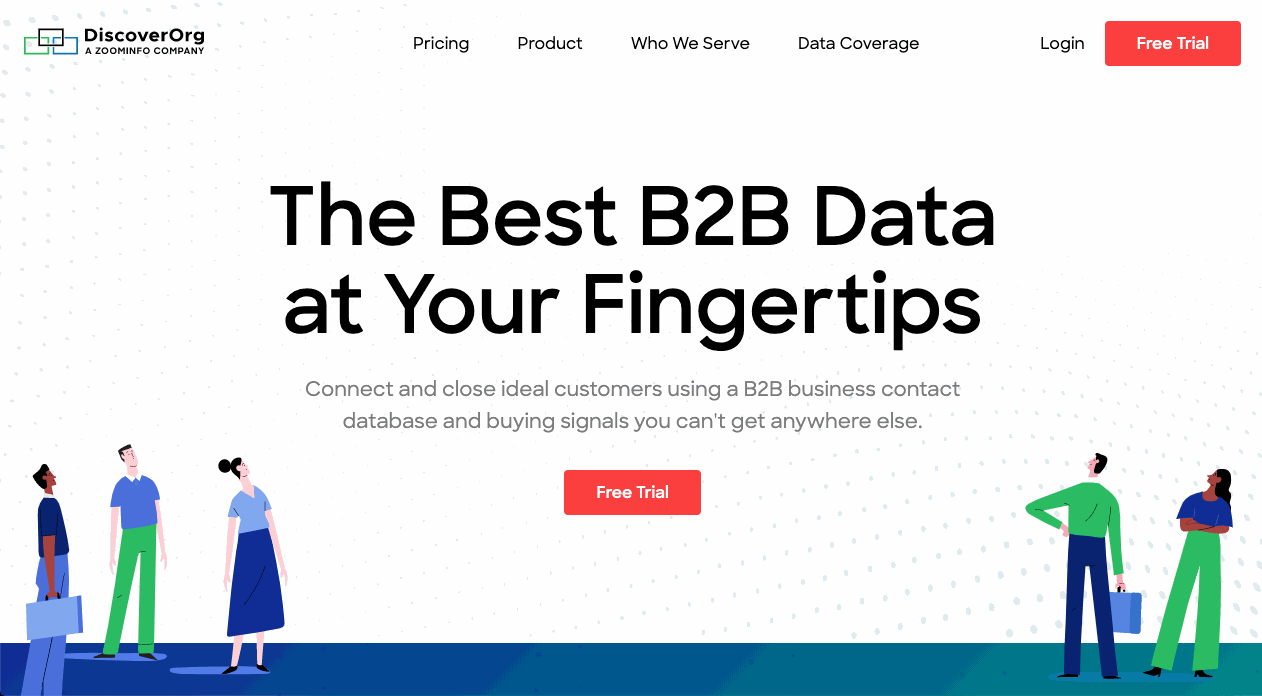 DiscoverOrg is another lead generation platform (now merged with ZoomInfo) used to look up leads and enrich existing databases. This platform offers multiple sales acceleration and recruiting features, allowing users to act on buying signals to improve sales efforts.
DiscoverOrg features a multifaceted platform with multiple integrations and advanced features. However, its high price is best suited for larger companies that need to take advantage of the platform's various features.
UpLead is a strong DiscoverOrg alternative.
InsideView


InsideView helps users update their database with fresh information from over 40,000 business data sources.
Designed primarily for medium to large companies, this platform has multiple features to help users find and manage leads. However, with so many features, the platform can require a lot of effort to manage and can be an unnecessary expense if users are more interested in a basic lead enrichment tool.
Here are other Insideview competitors.
Email automation and tracking tools
Email automation and tracking tools help sales and marketing teams automate email follow-ups and design email campaigns to contact leads across the sales funnel.
Here are the best email sales tools:
Sendinblue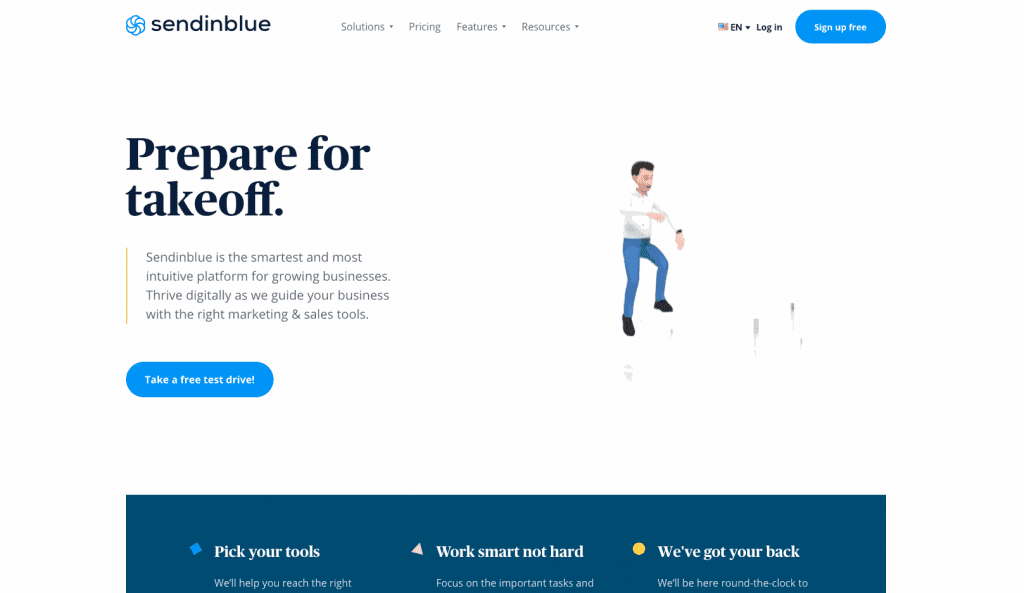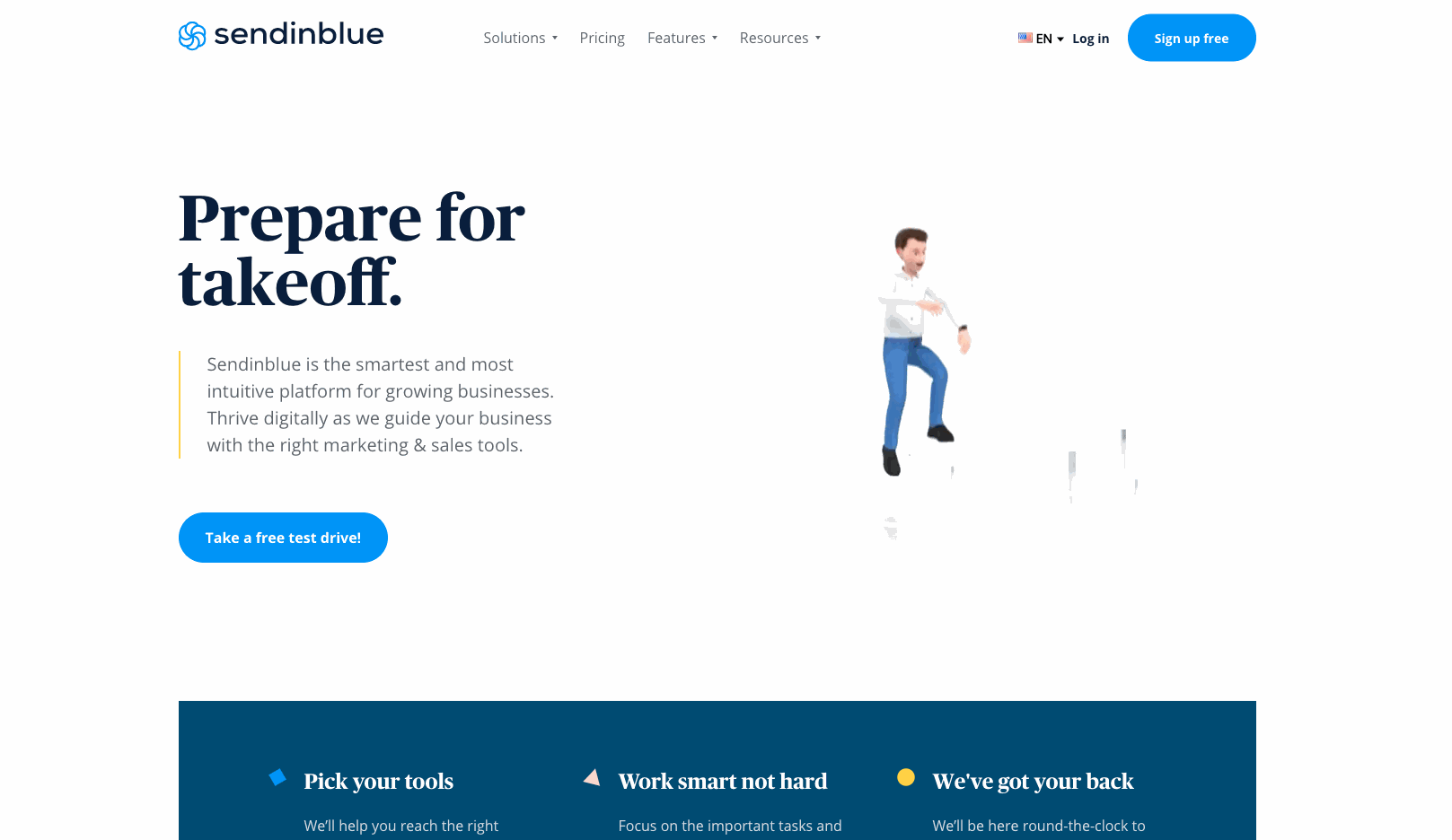 Self-described as the "smartest and most intuitive platform" out there, Sendinblue is a popular marketing tool with very robust email automation capabilities.
This platform also offers powerful marketing automation features allowing users to set up workflows and optimize performance.
Mailchimp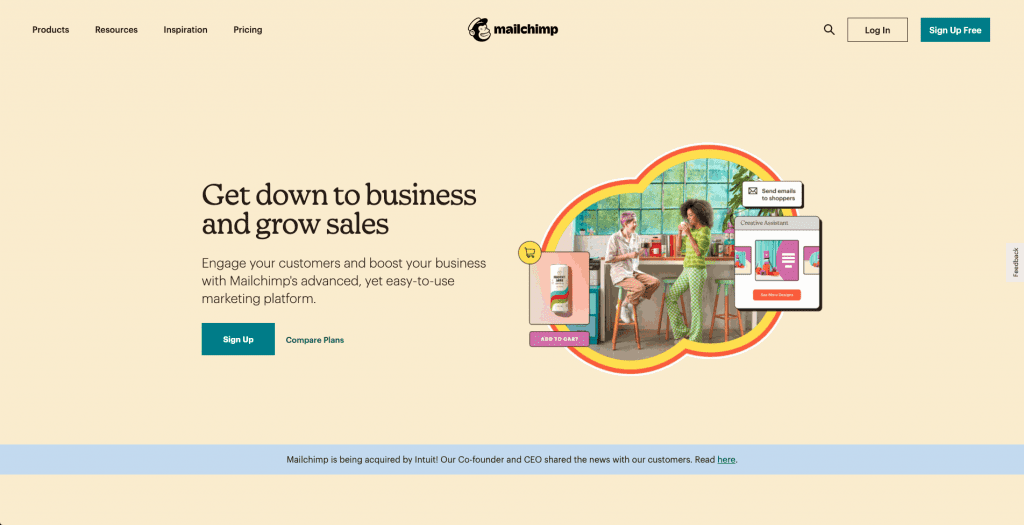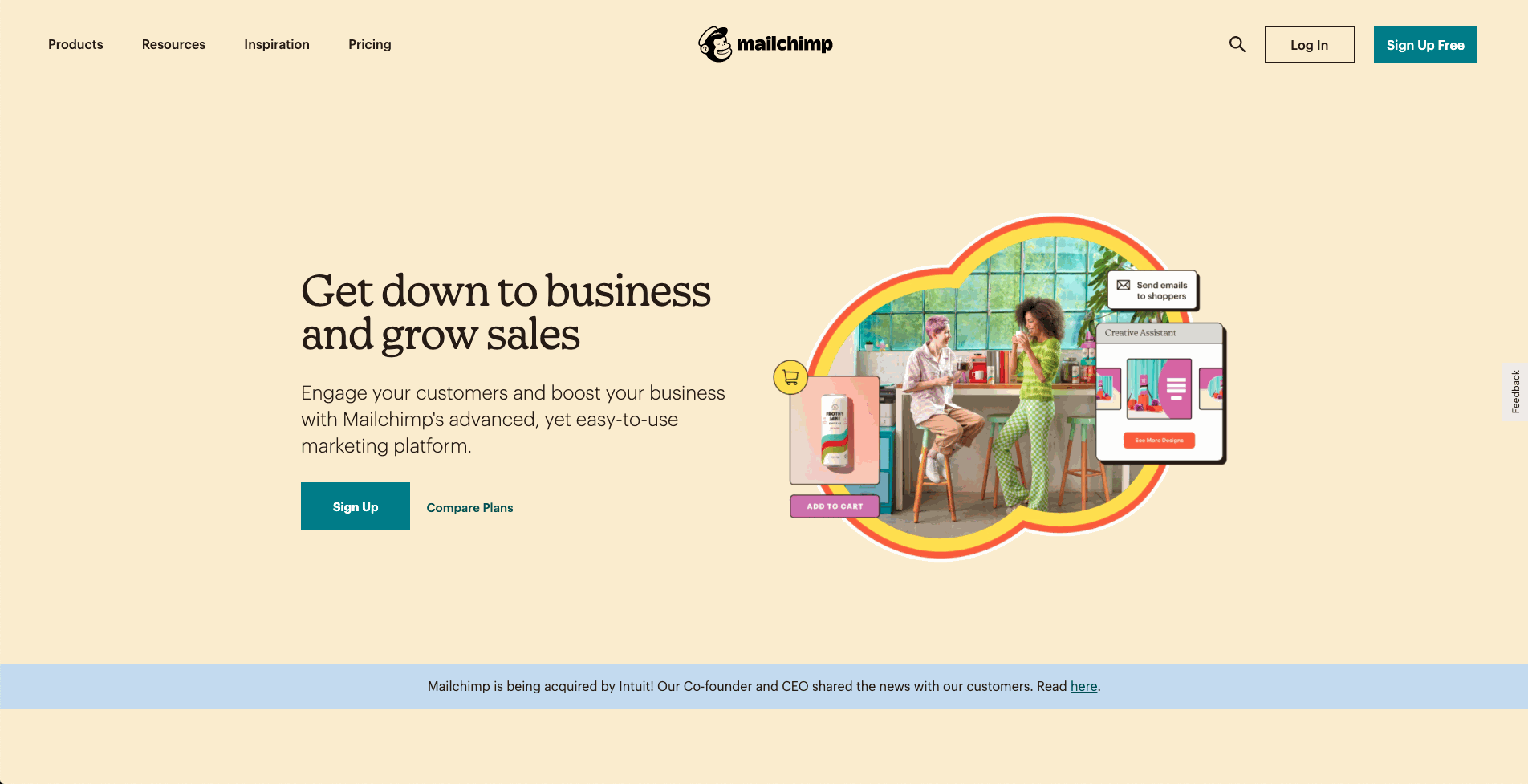 MailChimp has always been a popular email marketing tool thanks to its generous free version and its simple UI.
Users can quickly create very appealing emails through its powerful email editor and can count on decent deliverability rates to ensure their emails reach their leads. Although lacking in sales features, Mailchimp offers affordable pricing tiers and is a fast and robust platform.
Mailjet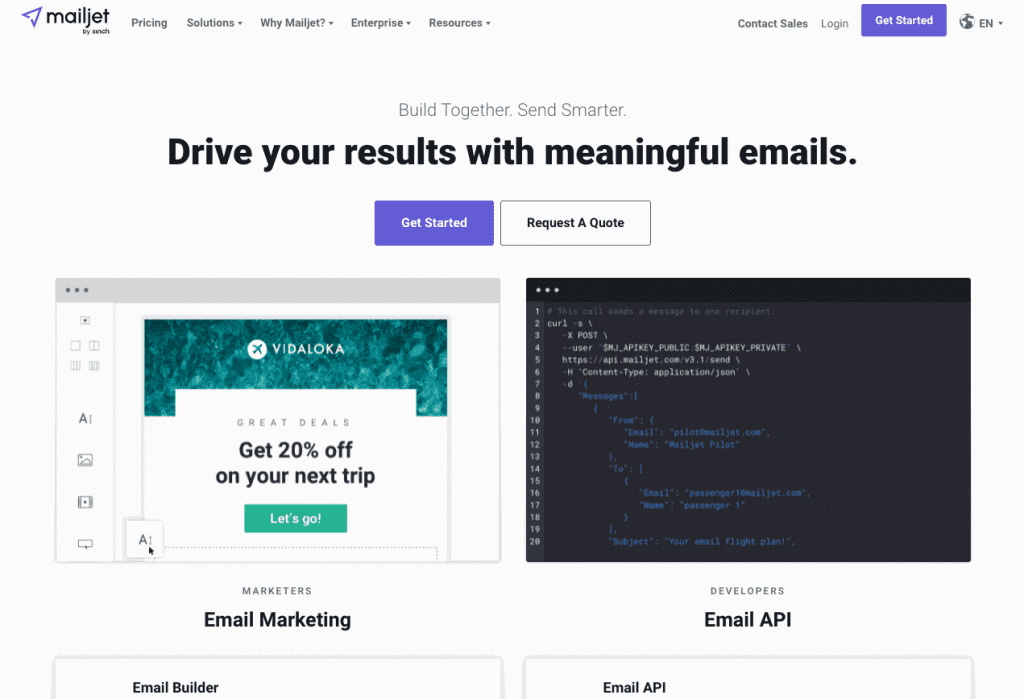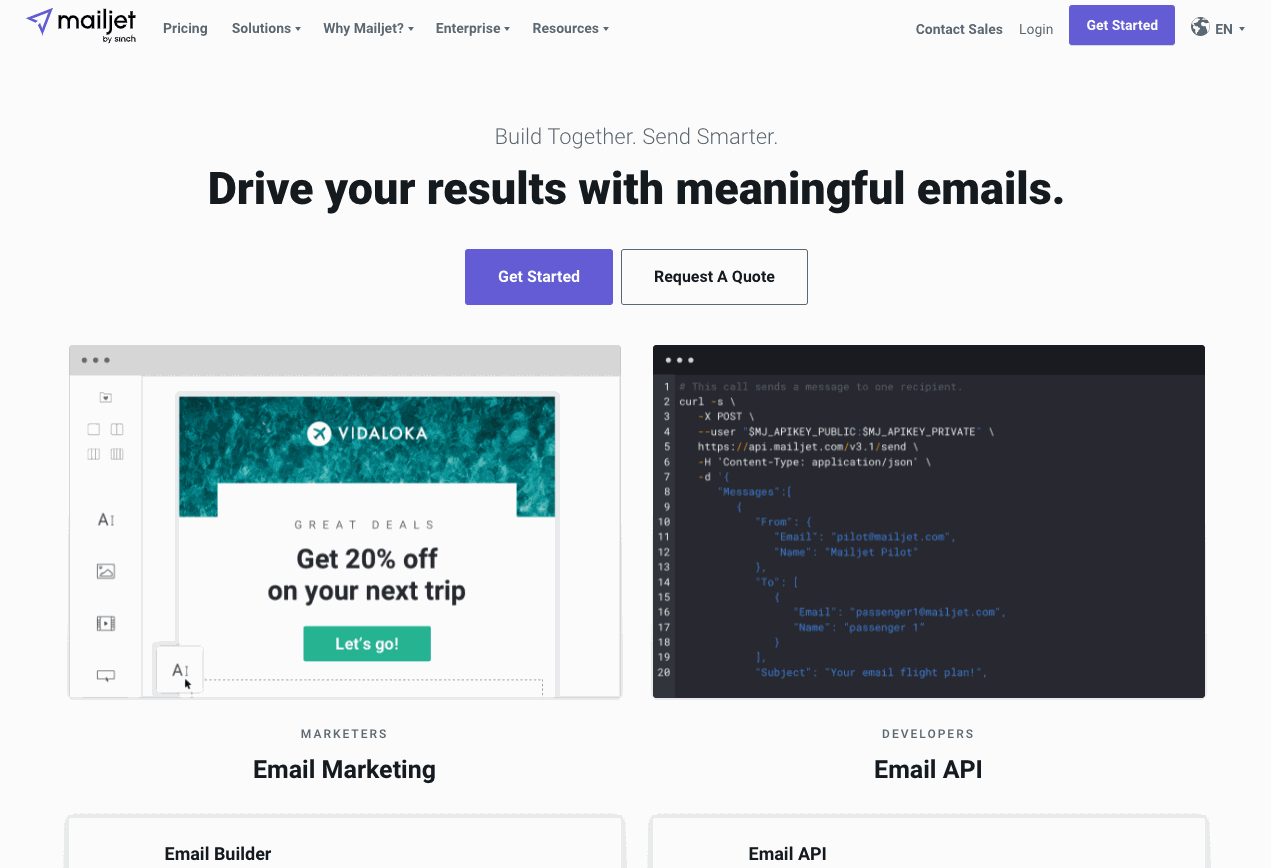 One of the most affordable email services on the market, Mailjet is somewhat of a hidden gem regarding email automation and tracking tools.
In addition to email automation, this service includes SMS capabilities and a robust team collaboration feature. This feature allows marketers and developers to work on the same email simultaneously. Users can also test their emails with A/B testing and take advantage of its multiple integrations to use the platform and other tools.
A pretty impressive range of features for its affordable pricing!
Sales Productivity Tools
Sales productivity tools help sales professionals stay as productive as possible by streamlining their tasks and allowing them to measure their results.
Here are some of the best sales productivity tools available:
Toggl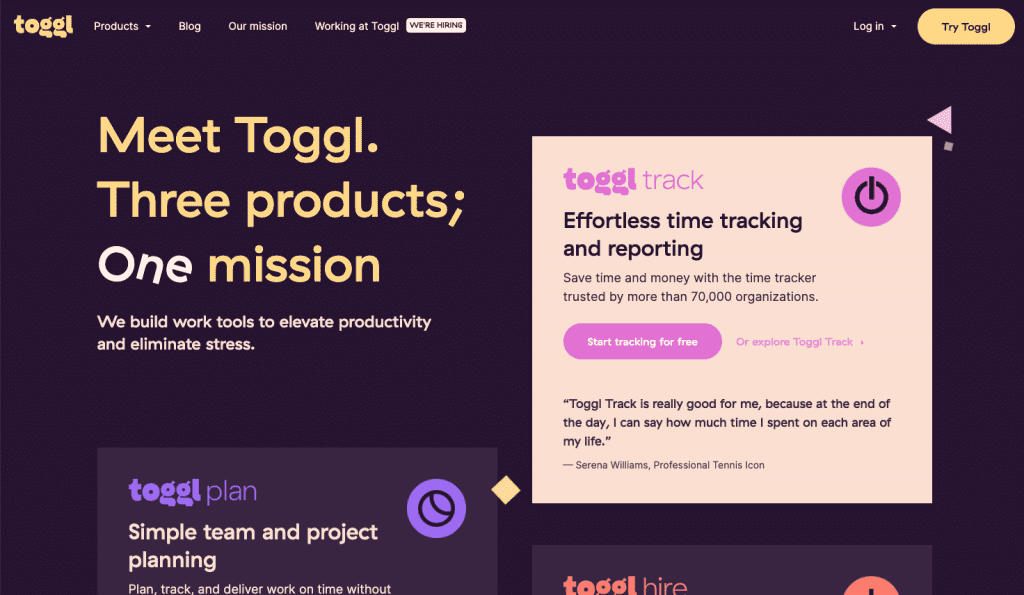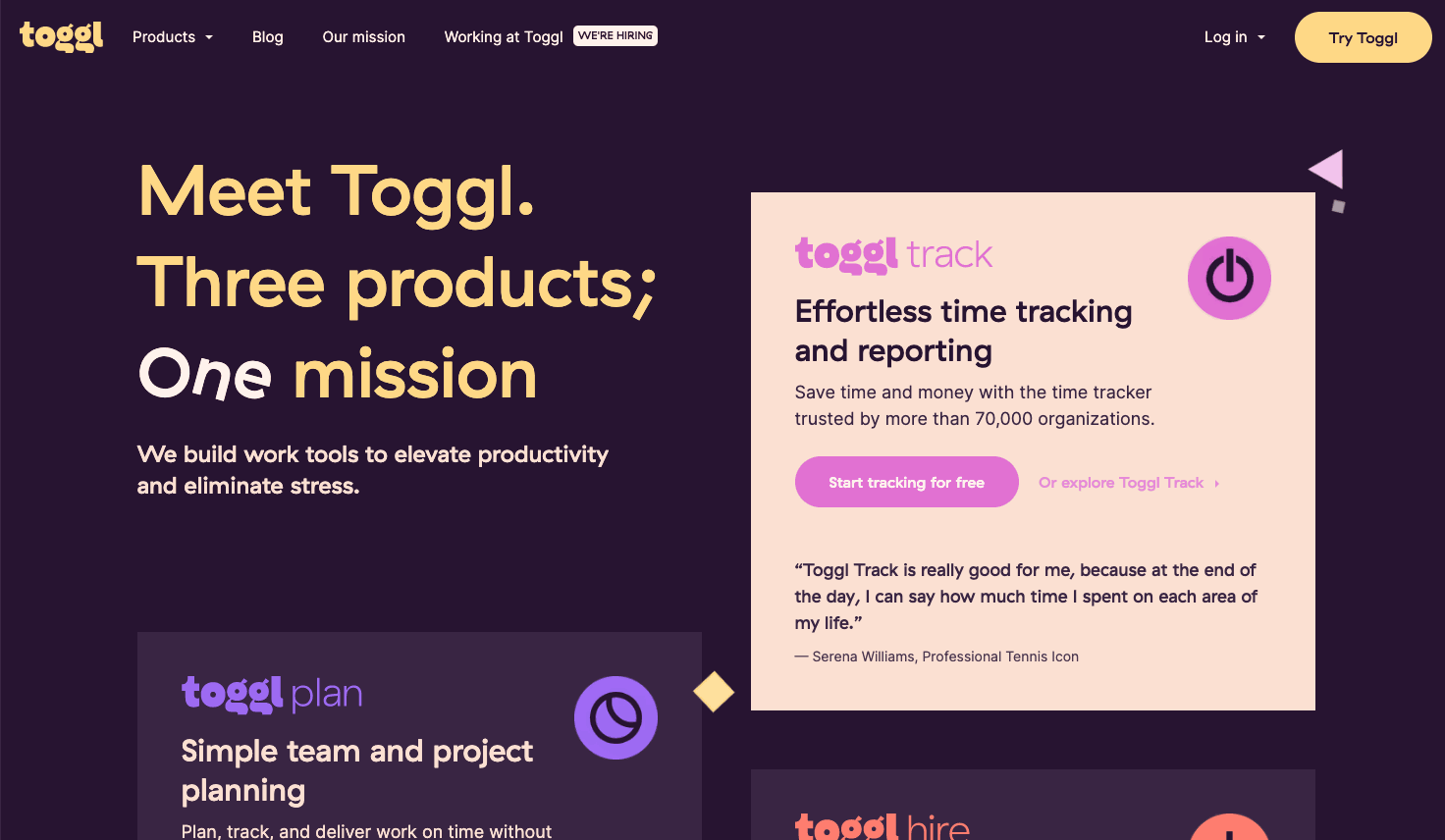 Toggl is a popular and easy-to-use app that allows users to track their time on any given task.
This tool works both online as a browser extension and as a computer and smartphone app. It is designed to track time seamlessly while operating in the background. Its UI is intuitive, allowing users to set it up and forget about it until they need it again.
With a free platform for up to 5 team members and affordable prices for larger teams, it's easy to see why Toggl is so popular.
Calendly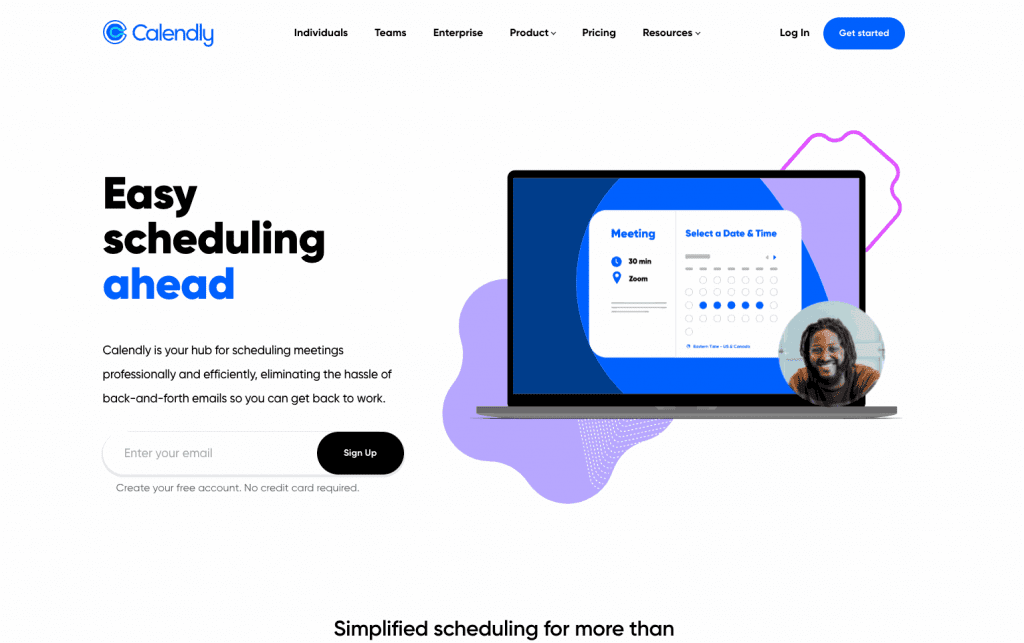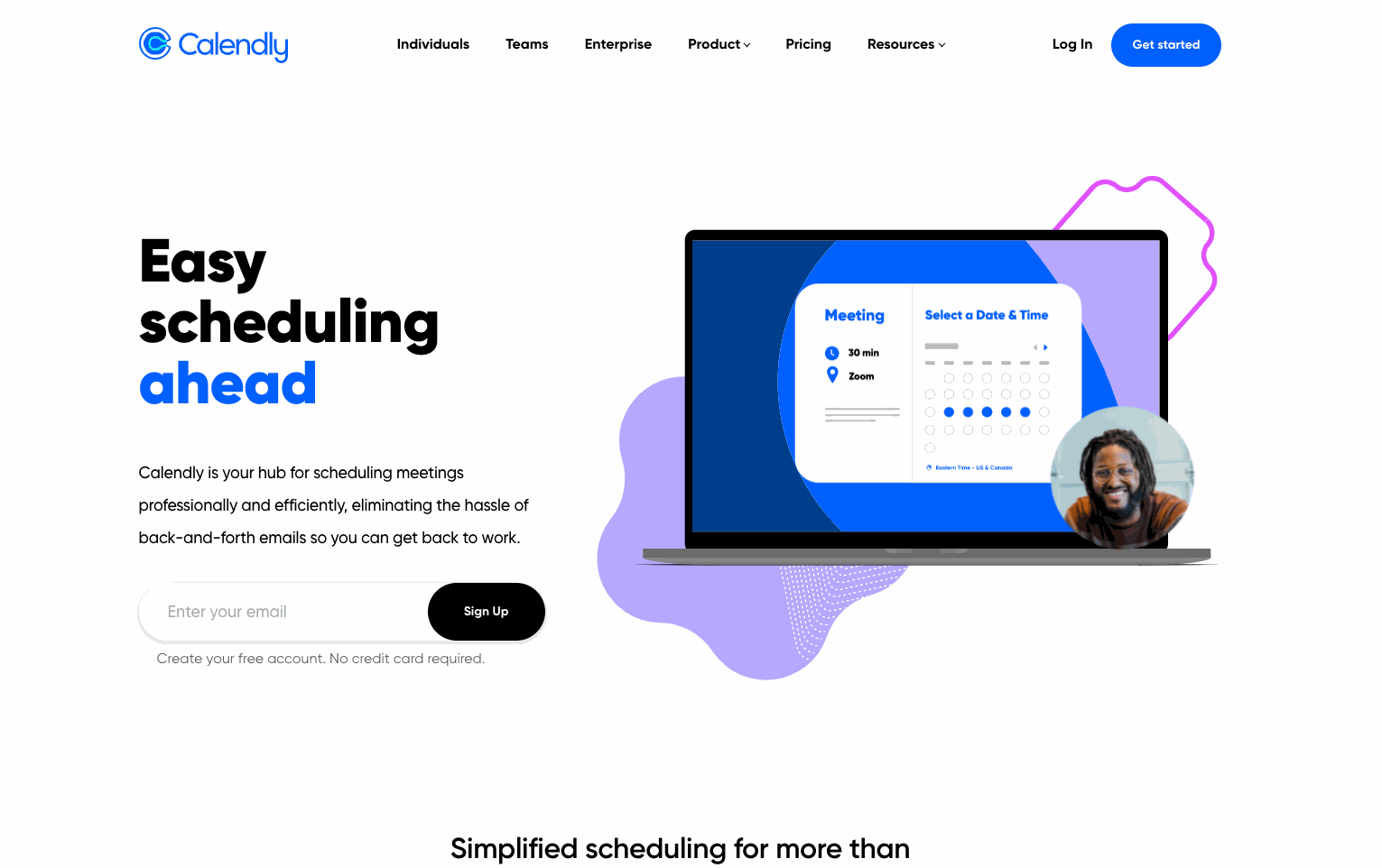 This simple and free platform features both iOS and Android apps to keep track of appointments on the go and offers access to even more powerful capabilities at accessible prices.
Zoom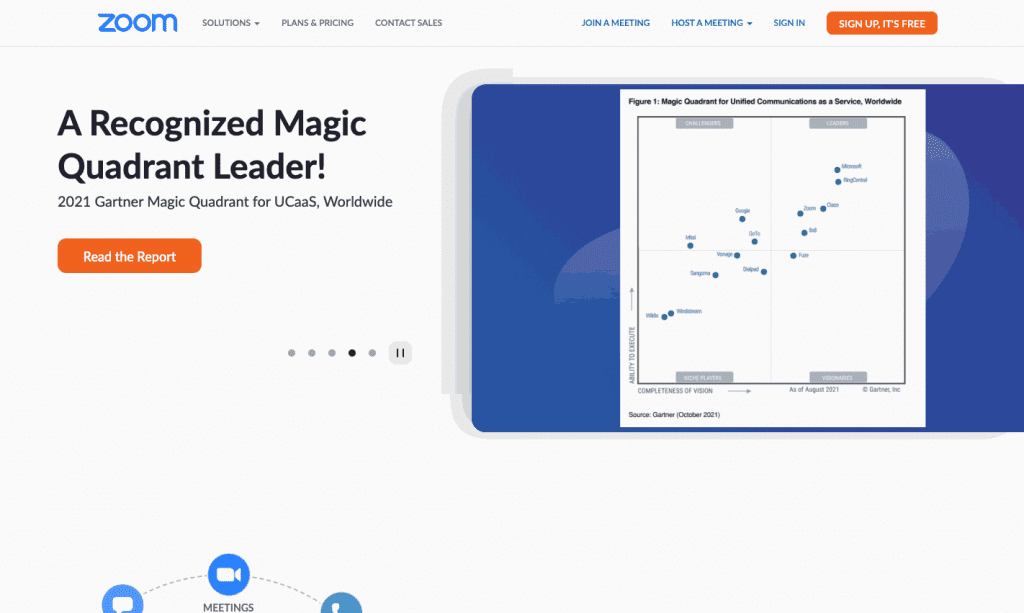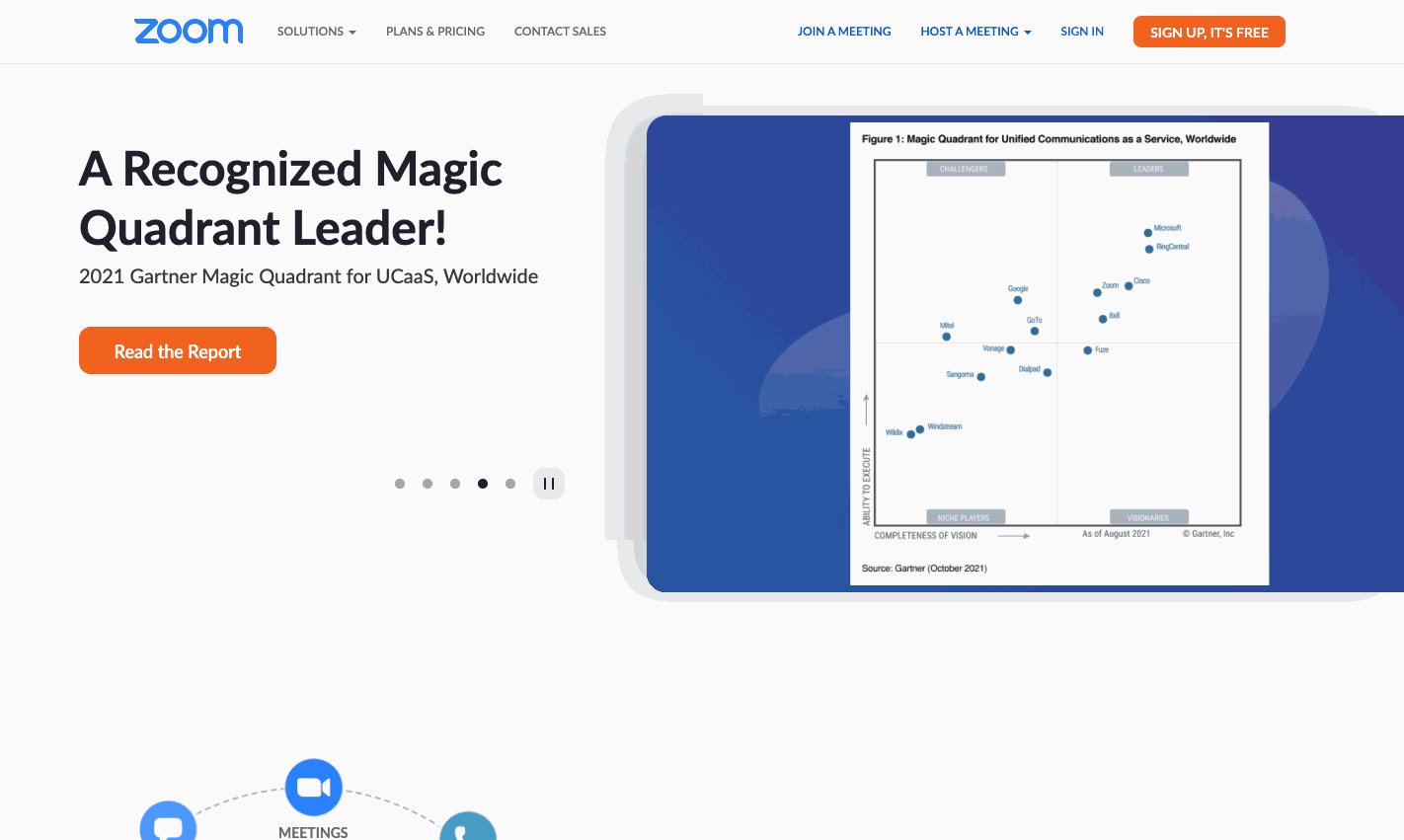 Popularized in the last few years, Zoom's powerful and easy-to-use platform has practically made it a default video calling option.
Zoom offers its users a generous free account, reliable audio and visual channels, and other powerful features. It is a must-have for any salesperson selling remotely. This platform features multiple add-ons and integrations by third parties on its marketplace, making it easy to customize the app for sales purposes.
Apploye

Apploye is an employee time tracking tool (also check out their guide on time tracking software for comparison) with employee monitoring features. It enables employees to stay productive, keep track of ongoing tasks, and provides insights into workplace performance.
Live feed is a unique feature of Apploye, helping you see the currently involved employees. Remote employee monitoring features like Screenshots, URL tracking, and app usage are some essential features of it. Additionally, your employees can create multiple tasks under various projects, and you can manage payroll according to accurate billable hours calculation.
Apploye offers a competitive pricing range from $4/user/month to $7/user/month. However, choosing the annual pricing will help you get a 50% discount.
CRM Tools
Customer relationship management tools (or CRMs) allow businesses to manage relationships and interactions with clients and prospects. They help sales reps and customer service teams share data about leads and prospects and help keep track of potential customers and their needs.
Here are the best CRM tools out there:
HubSpot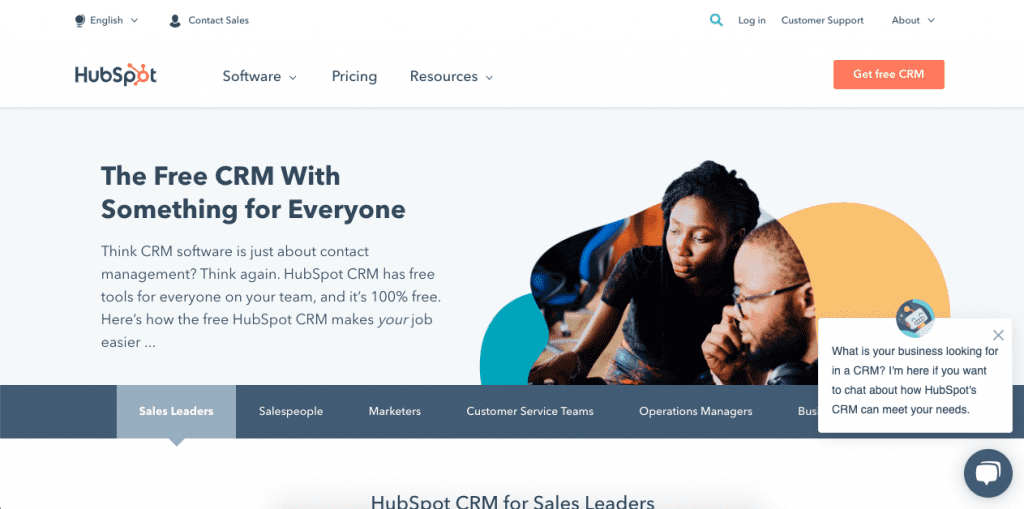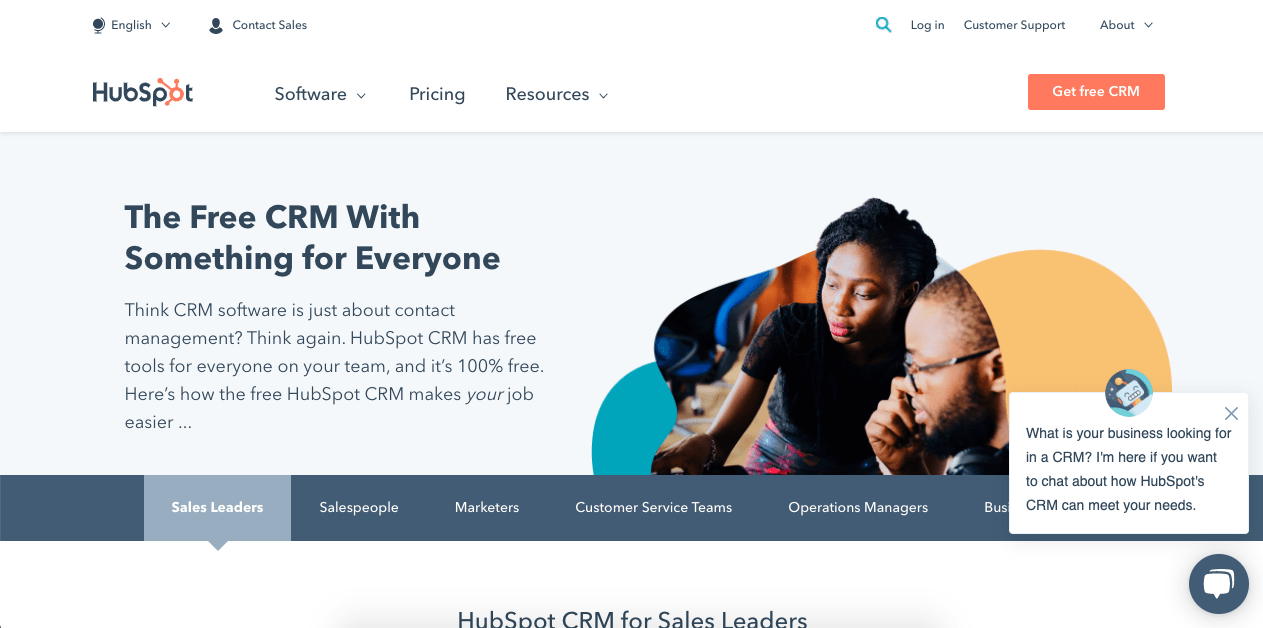 This award-winning CRM is a popular and powerful tool for you and your sales team to keep track of leads and clients.
HubSpot offers a popular forever-free tier with generous capabilities, allowing users to supervise and control the sales pipeline, keep track of leads, handle scheduling, and much more.
Made for small and large businesses alike, Hubspot CRM can be a powerful and affordable sales acceleration asset.
Salesforce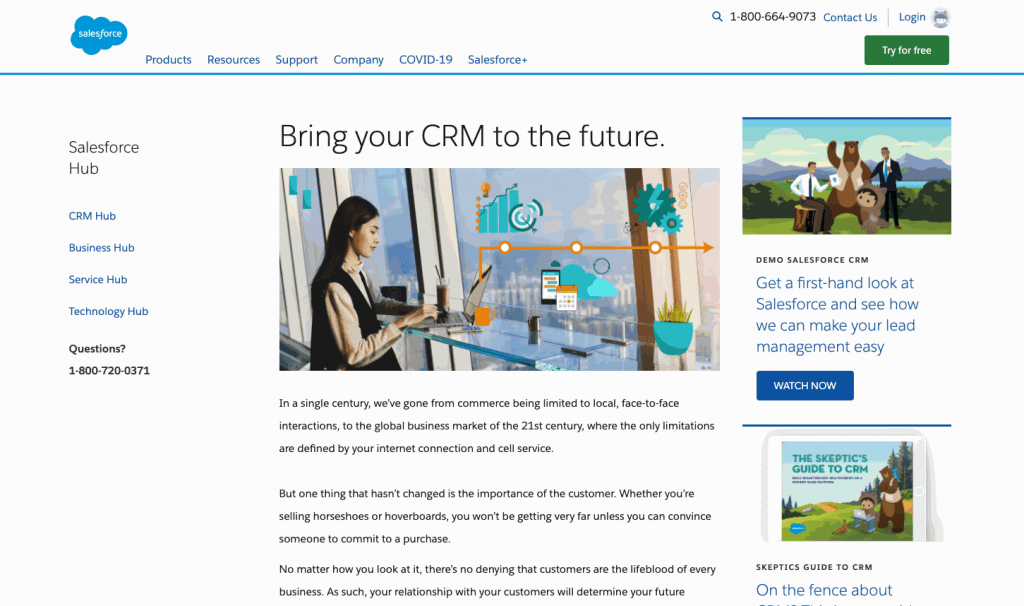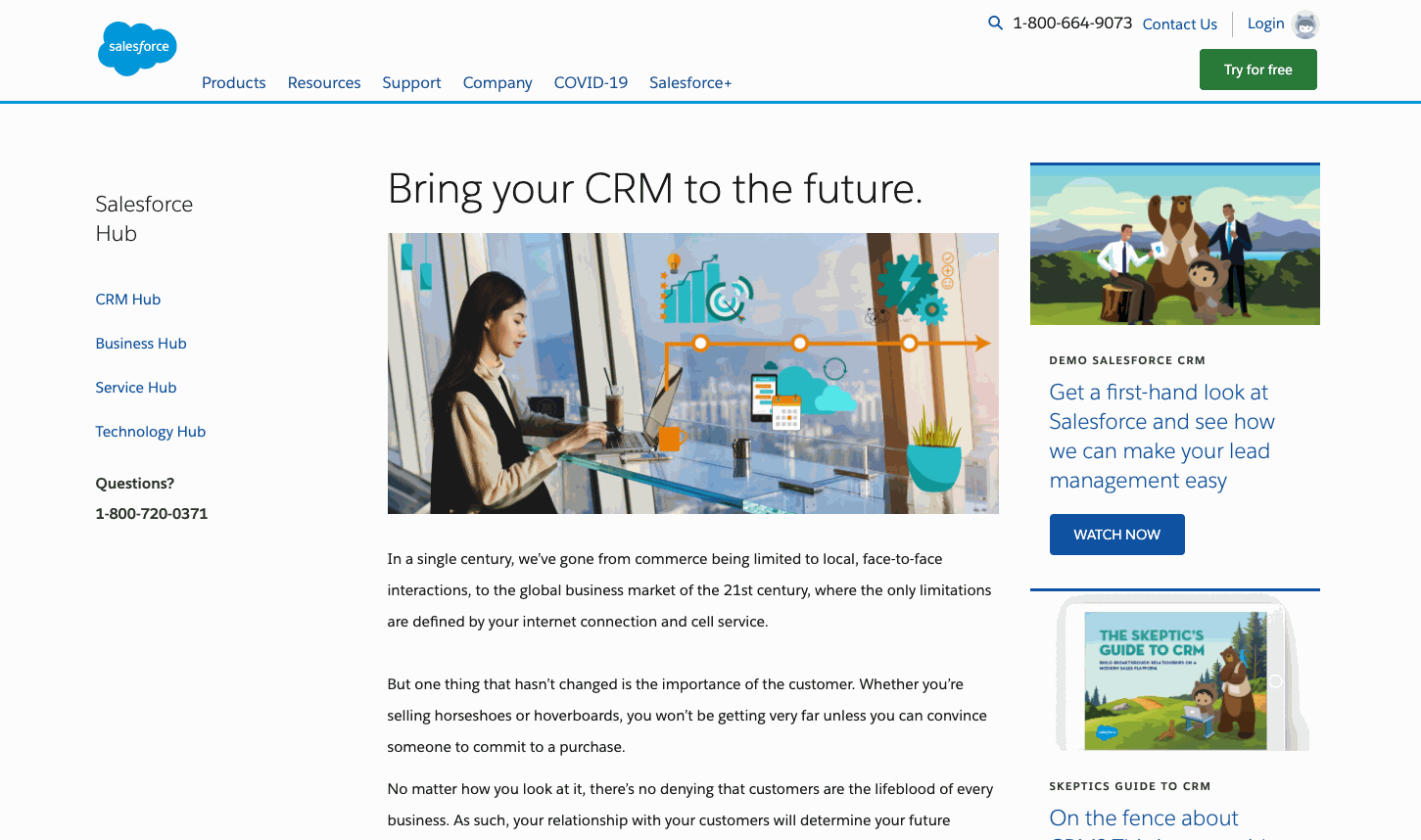 Salesforce CRM is a powerful tool for businesses to streamline their sales process while keeping track of all prospects and customers.
This platform offers multiple CRM categories, including the sales-focused Sales Cloud. This feature allows users to monitor and improve their revenue performance, develop robust virtual selling campaigns, get sales forecasting insights, and manage all of their contacts simultaneously.
Salesforce also provides responsive mobile apps for sales reps selling on the go and has a very intuitive interface despite its powerful capabilities.
Zoho CRM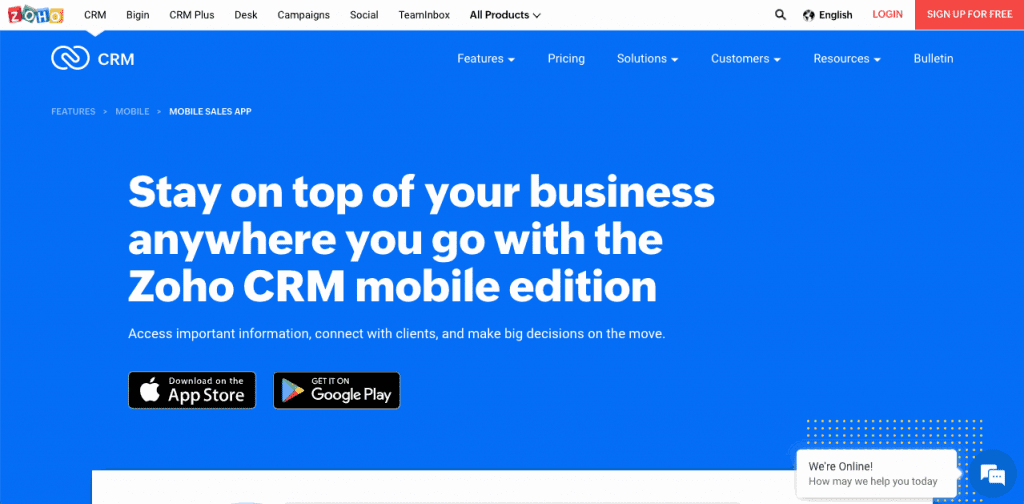 Zoho's popular CRM comes with multiple sales automation and lead management features.
This tool allows users to automate interactions with simple workflows and comes with native integrations for the most popular tools out there. Zoho's mobile app has the same capabilities as the desktop version, making it perfect for salespeople on the move.
Seamless integration with the rest of the Zoho suite makes it an attractive option for anyone already using Zoho tools.
Predictive analytics & lead scoring
Predictive analytics and lead scoring tools use big data and machine learning to preemptively and automatically qualify leads, ensuring salespeople engage with those closer to conversion.
Here are the best predictive lead scoring tools:
SalesWings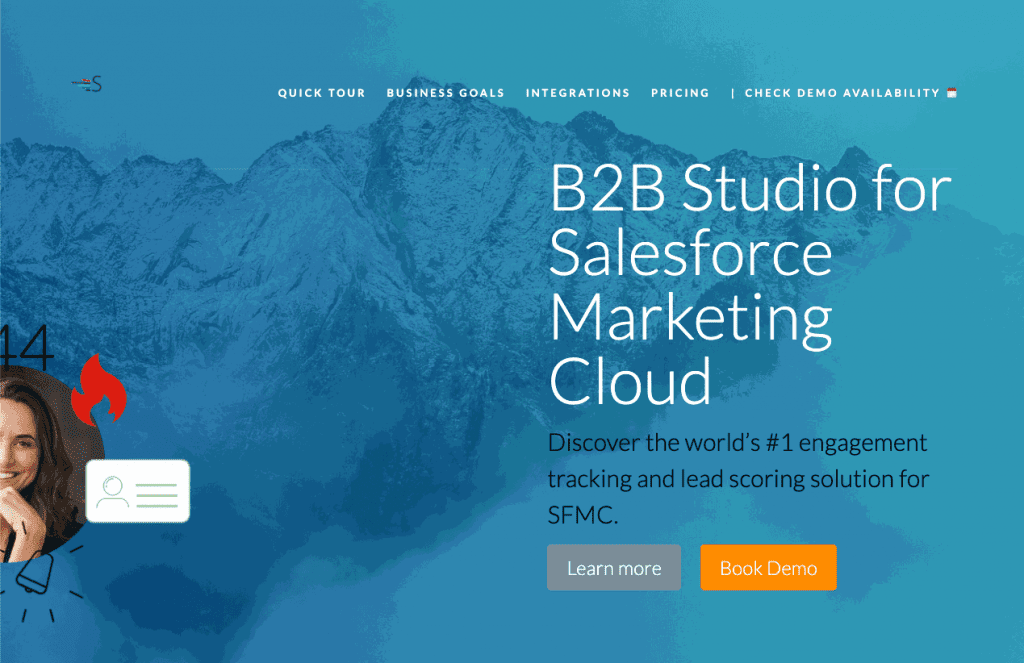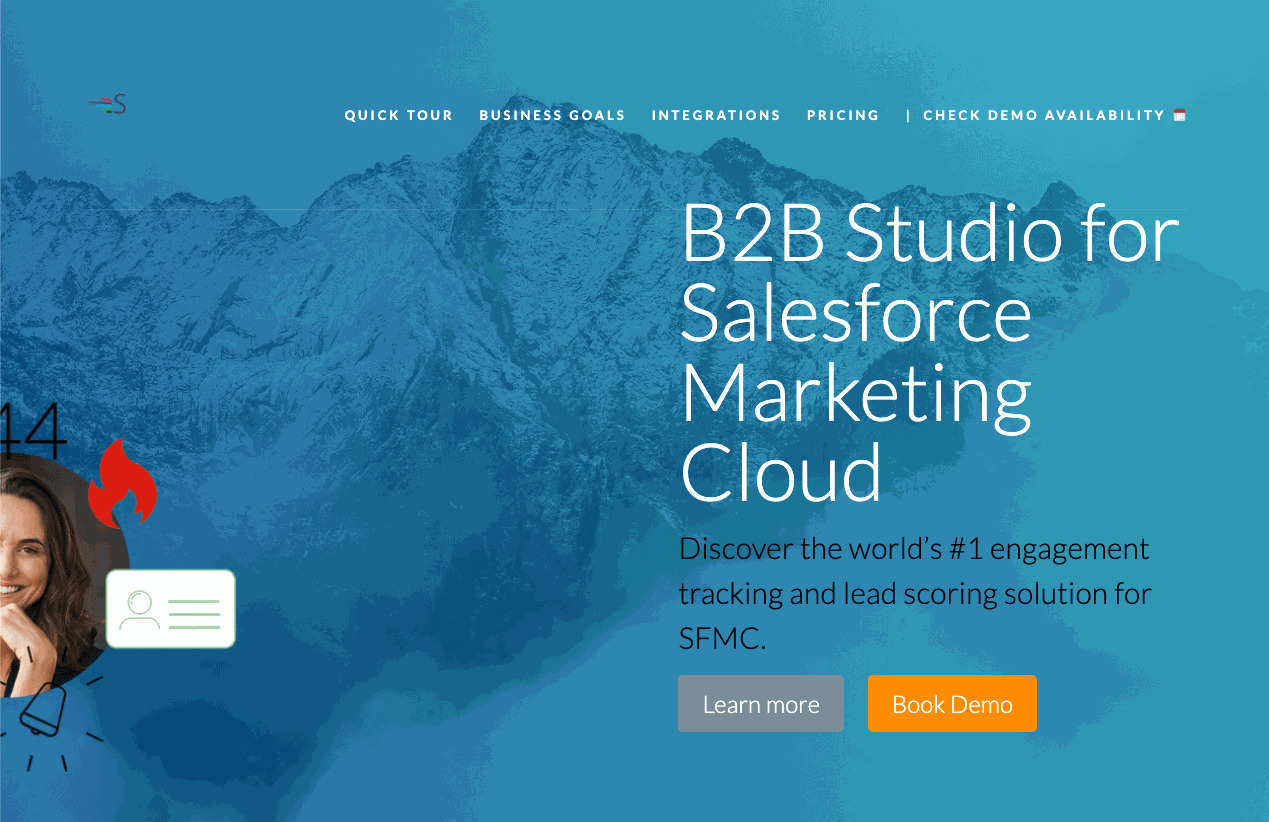 Based in Switzerland, SalesWings is a powerful lead scoring tool that allows users to collect and analyze behavioral data to qualify their leads.
With SalesWings, users can analyze the website activity of their leads and use a powerful scoring engine to determine the hottest 10% of leads for their sales team to tackle. This platform can generate reports of hot leads in real time and automate email interactions based on leads' behavioral information.
InsideSales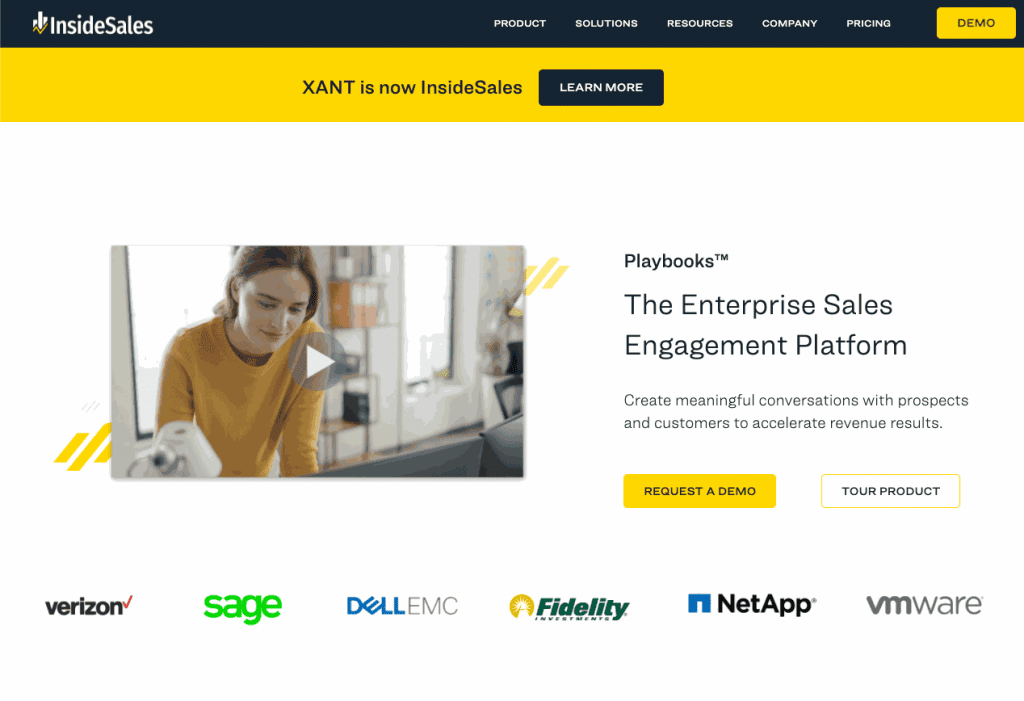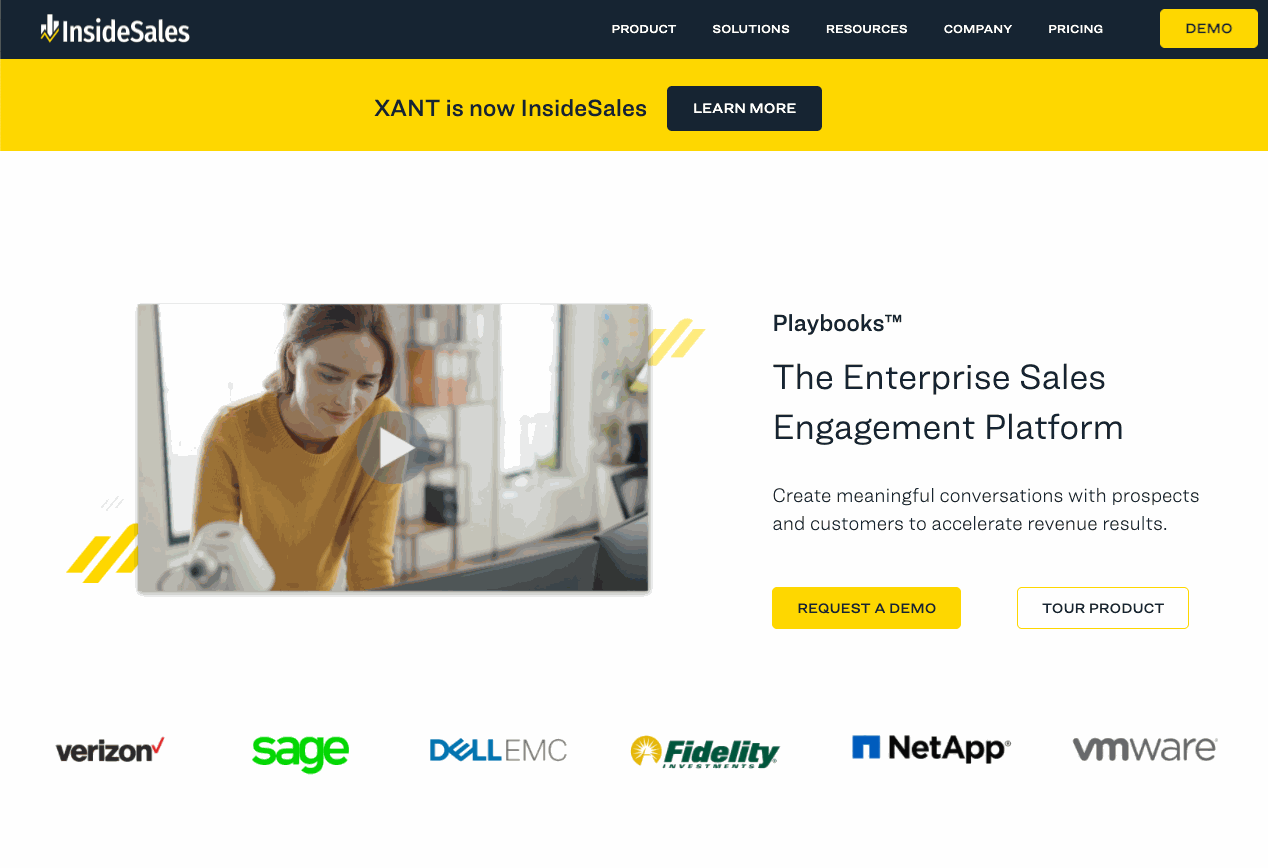 As the name suggests, InsideSales is a major player in inside sales data.
This tool has a robust platform and includes a useful Chrome plugin for sales managers. This plugin can be used to gain more information from specific users or companies as they qualify leads.
InsideSales includes multiple integrations, allowing sales teams to use it and other sales acceleration software.
Crystal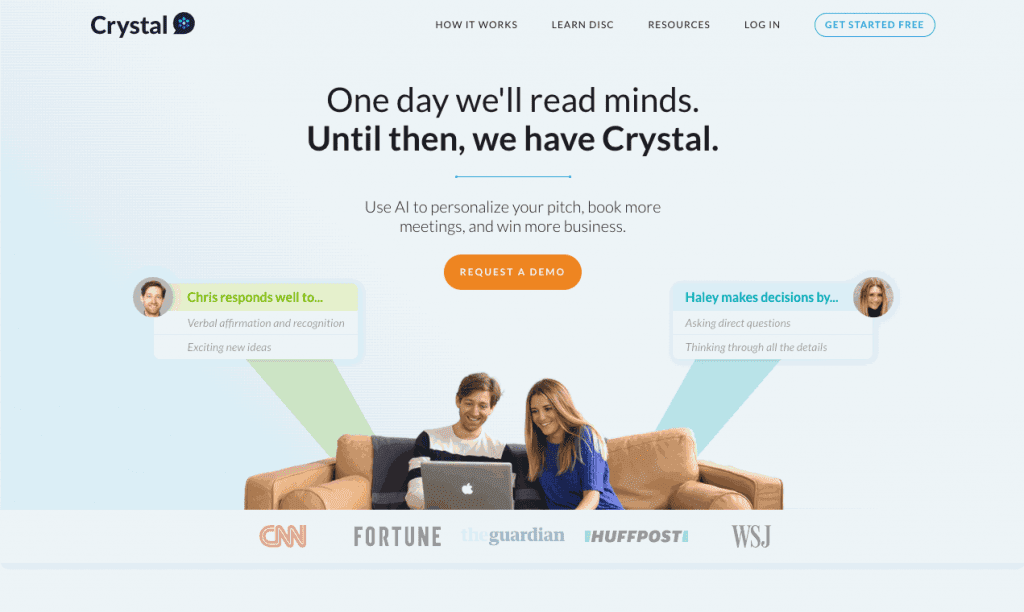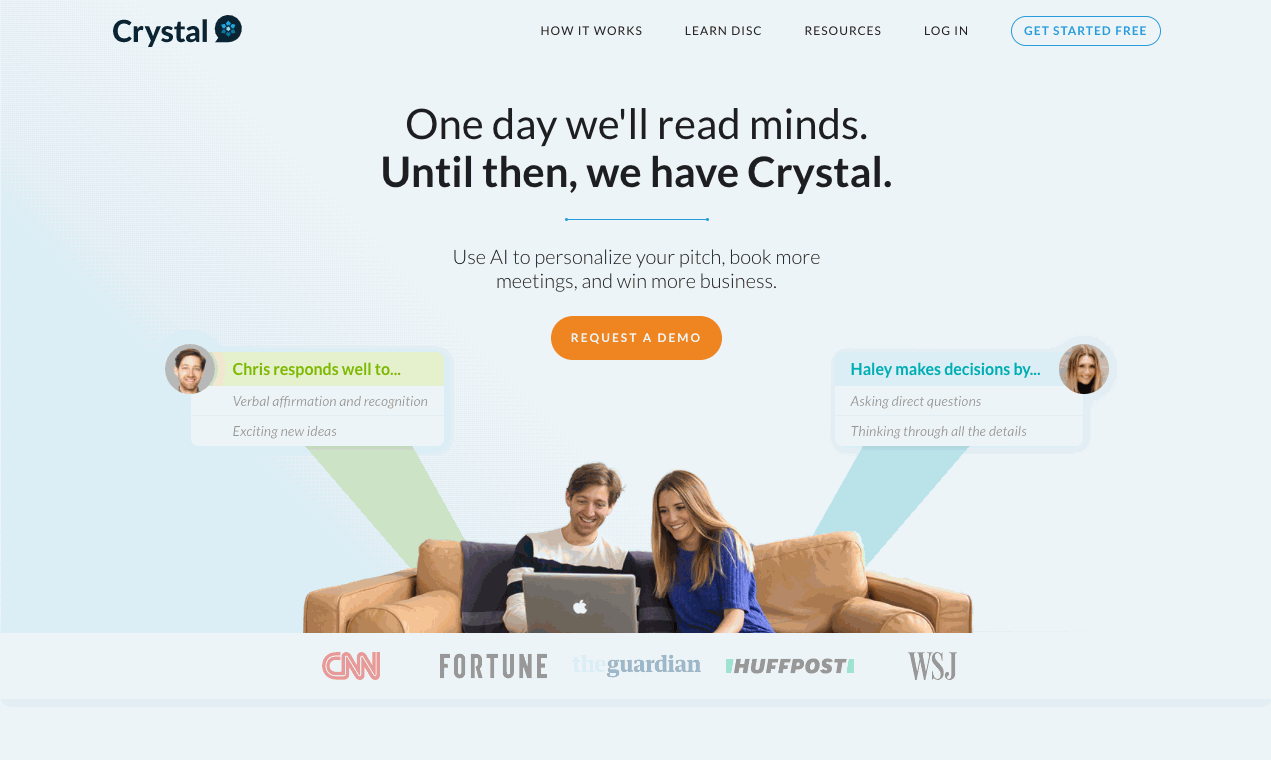 Crystal allows users to access research-based personality theories to optimize sales prospecting and lead qualification.
This tool combines personality psychology with AI to allow users to predict people's behavior. This allows sales teams to provide their leads with better-tailored solutions to fit their needs. Crystal can accelerate multiple parts of the user's sales cycle and can also support hiring and training processes.
Domo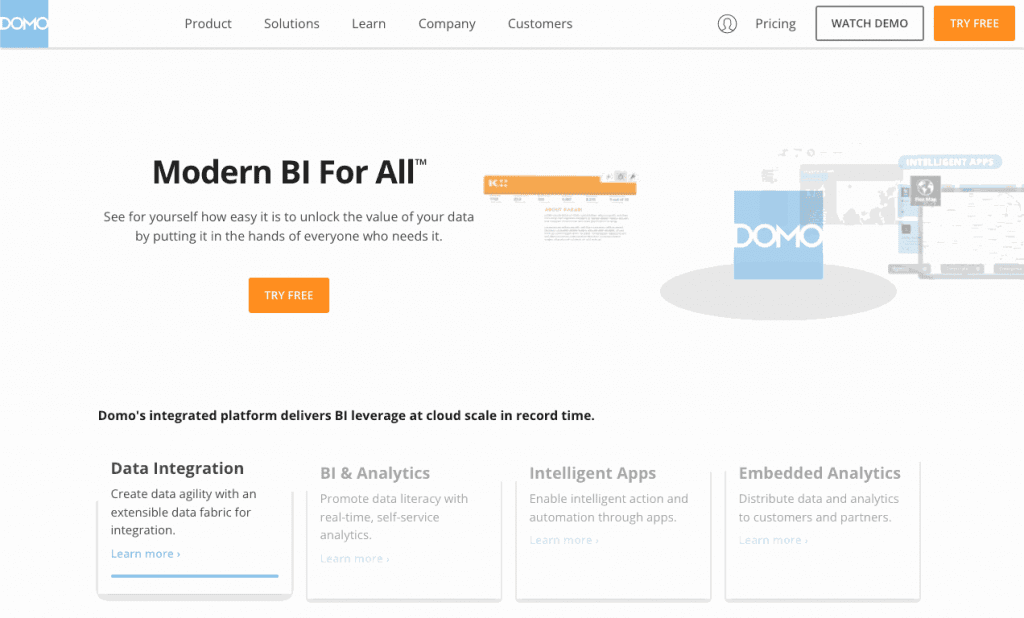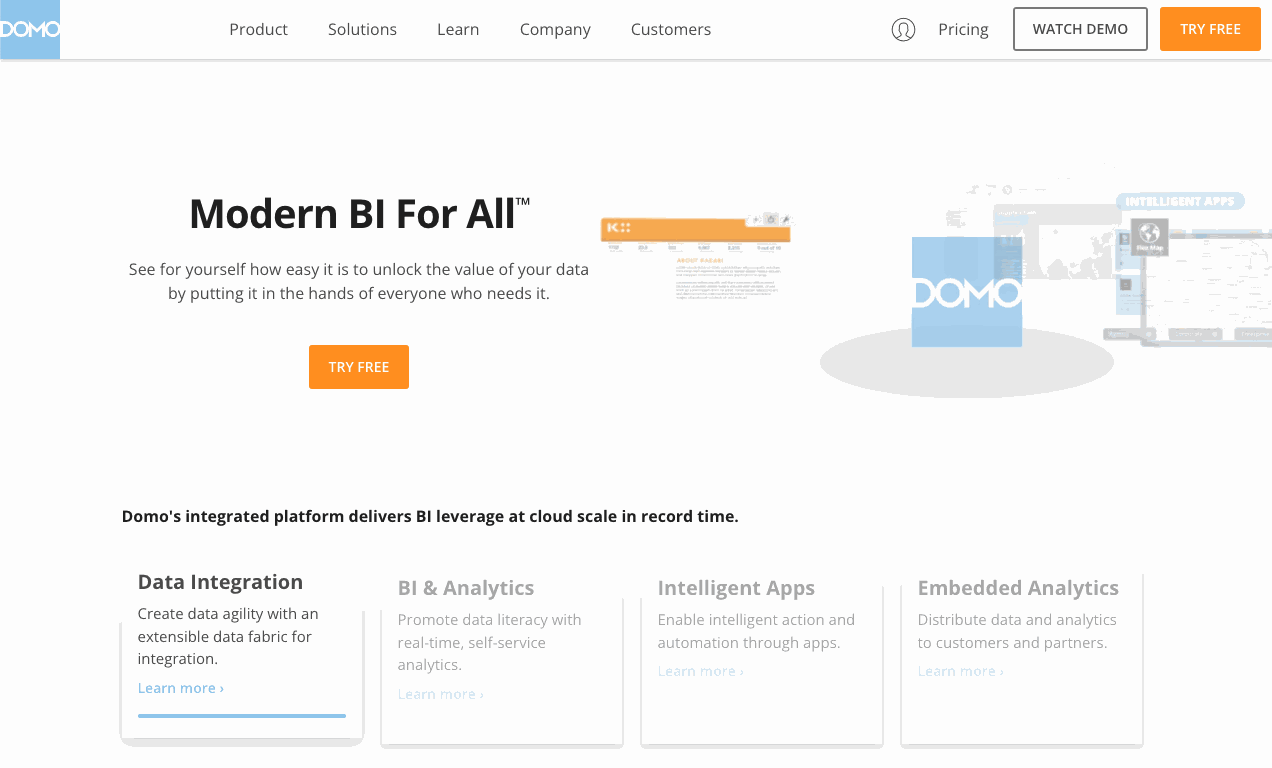 Domo is an affordable self-service business intelligence tool. It's tailored to users looking for a few simple features to handle their data.
Although this platform doesn't feature machine learning or natural language generation, you can find apps and add-ons from third parties on its internal app store that integrate these tools MI and natural language, into the platform.
Domo's pricing and capabilities make it an attractive choice for larger companies with business intelligence experience in the market for a less expensive tool to build upon.
Sisense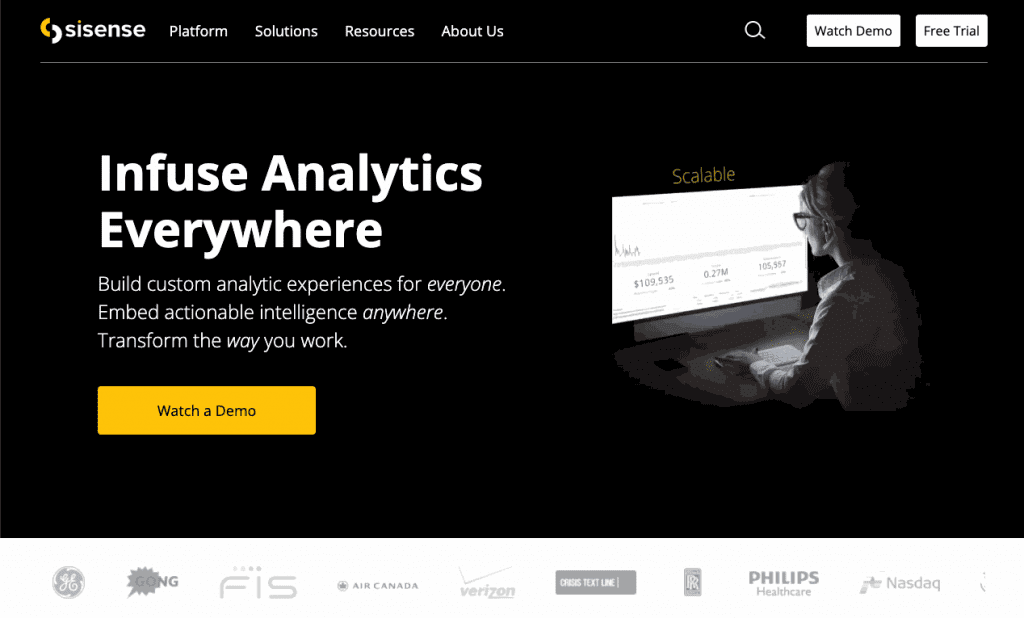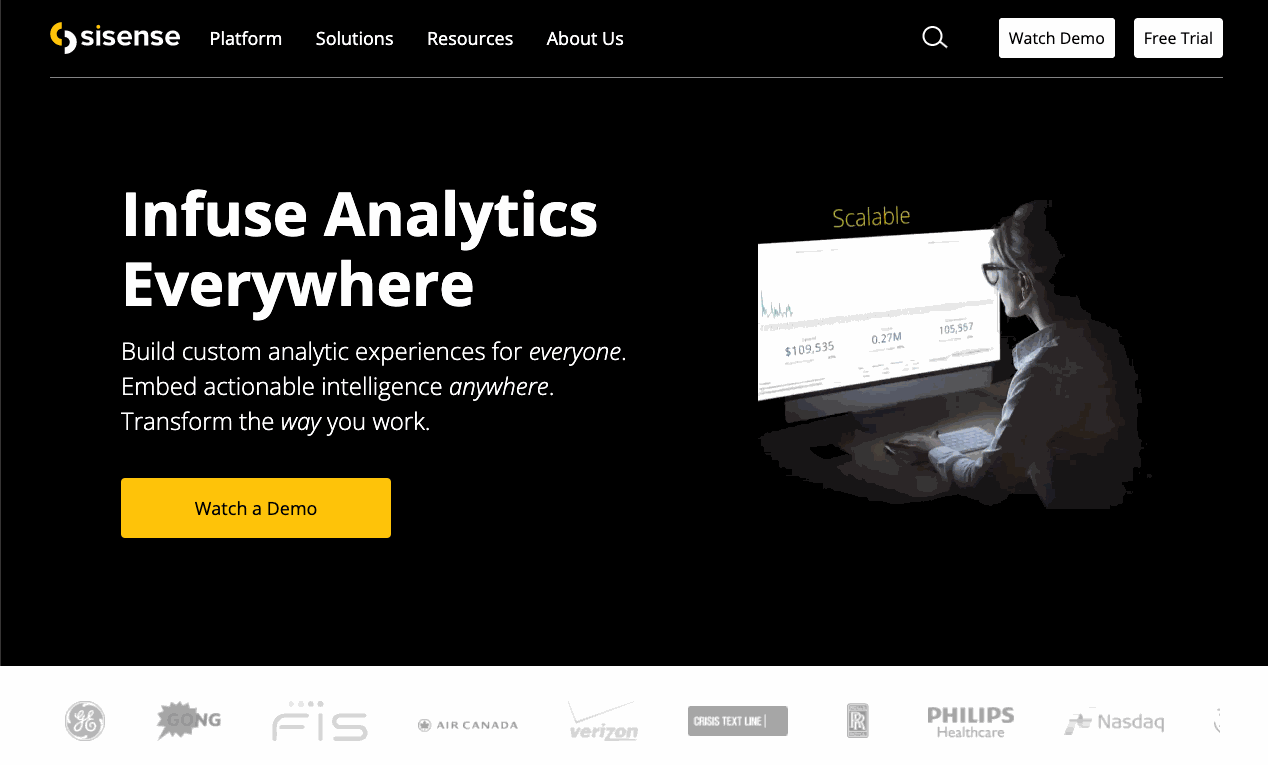 Sisense is a business intelligence tool that is quickly becoming a market leader by offering impressive features at a lower price.
Although the tool doesn't provide comprehensive natural language support, Sisense allows users to develop natural language commands to use on third-party apps. This helps make it compatible with other tools involved in your sales pipeline.
Benefits of Sales Acceleration Tools
There's only so much you can do on your own to accelerate your sales cycle. Sales acceleration software helps you use the power of automation to streamline steps across all sales cycles.
Good sales automation tools allow your sales teams to be as productive as possible, ensuring they spend less time on boring and repetitive tasks and more time meeting their sales goals. These tools can help sales managers keep track of their teams and analyze productivity and can also help marketers develop better strategies.
Sales intelligence and acceleration tools grow more powerful daily, helping businesses meet their sales goals like never before. As a result, the benefits of these tools typically offset their costs within a very short period of time.
FAQs Regarding Sales Acceleration Tools
Here are answers to common questions about sales acceleration tools:
Are sales enablement tools and sales acceleration tools the same thing?
Not exactly. While sales acceleration tools focus on shortening the sales cycle—moving prospects through it faster—sales enablement focuses more on helping sales teams turn prospects into customers. Many sales tools have both enablement and acceleration features.
How do you accelerate sales with the use of tools?
Tools allow users to access the power of automation to expedite their prospect's journey through the sales cycle. As a result, sales reps can reduce the number of steps needed to convert a customer. Sales acceleration tools can also provide a better overview of the sales cycle. They'll help increase sales through data-driven insights, so your team can convert prospects in less time.
Conclusion
Sales acceleration software can help your marketing team craft better strategies and allows your sales reps to make selling their sole focus.
Get started by filling your sales funnel with accurate leads generated by UpLead. With UpLead, you don't need to invest time developing lead magnets and inside sales campaigns. Simply look for your needed leads, download them, and start growing your business.
Try UpLead for free today and see if it's the right fit for your company.
Start Your 7-Day Free UpLead Trial
Lead generation doesn't have to be all that painful. With UpLead, you can easily connect with high-quality prospects and leads to grow your company.