As a marketer, you know the importance of finding the right tools for the job. When it comes to online lead generation, Hunter.io is one of the best tools out there. But what if Hunter.io isn't right for you? What are the best Hunter io alternatives?
We'll explore eleven of the best Hunter.io alternatives available. Whether you're looking for a more affordable tool that offers extra features or suits your needs better than Hunter.io, we're here to help with your decision.
Quick Links:
11 Best Hunter io Alternatives
A few top Hunter.io alternatives offer similar features at a reasonable price. However, each tool has unique use cases that may make it a better fit for certain users.
We've compared each tool's feature set, data accuracy, integration suite, and pricing level to Hunter.io's offering. 
1. Uplead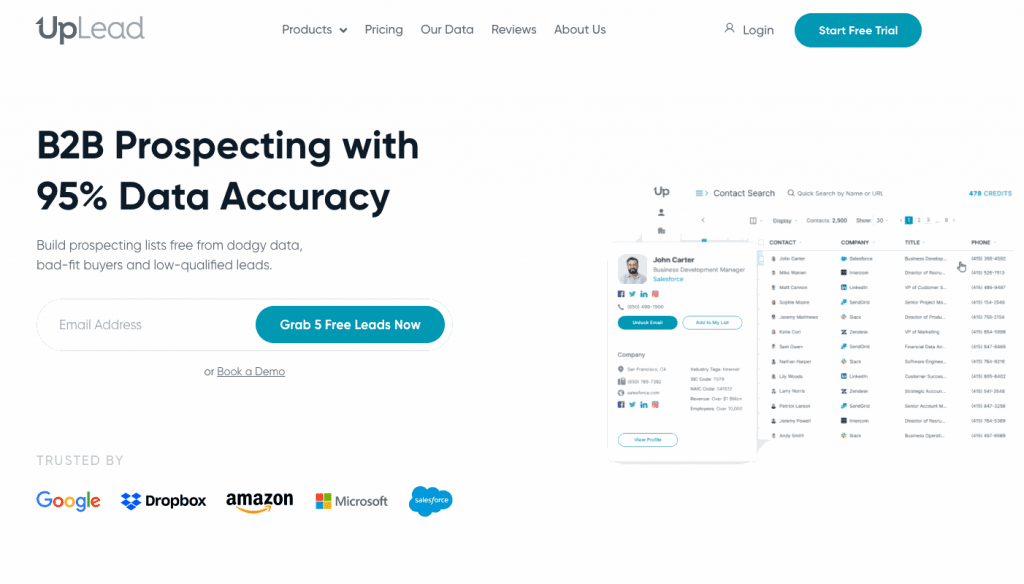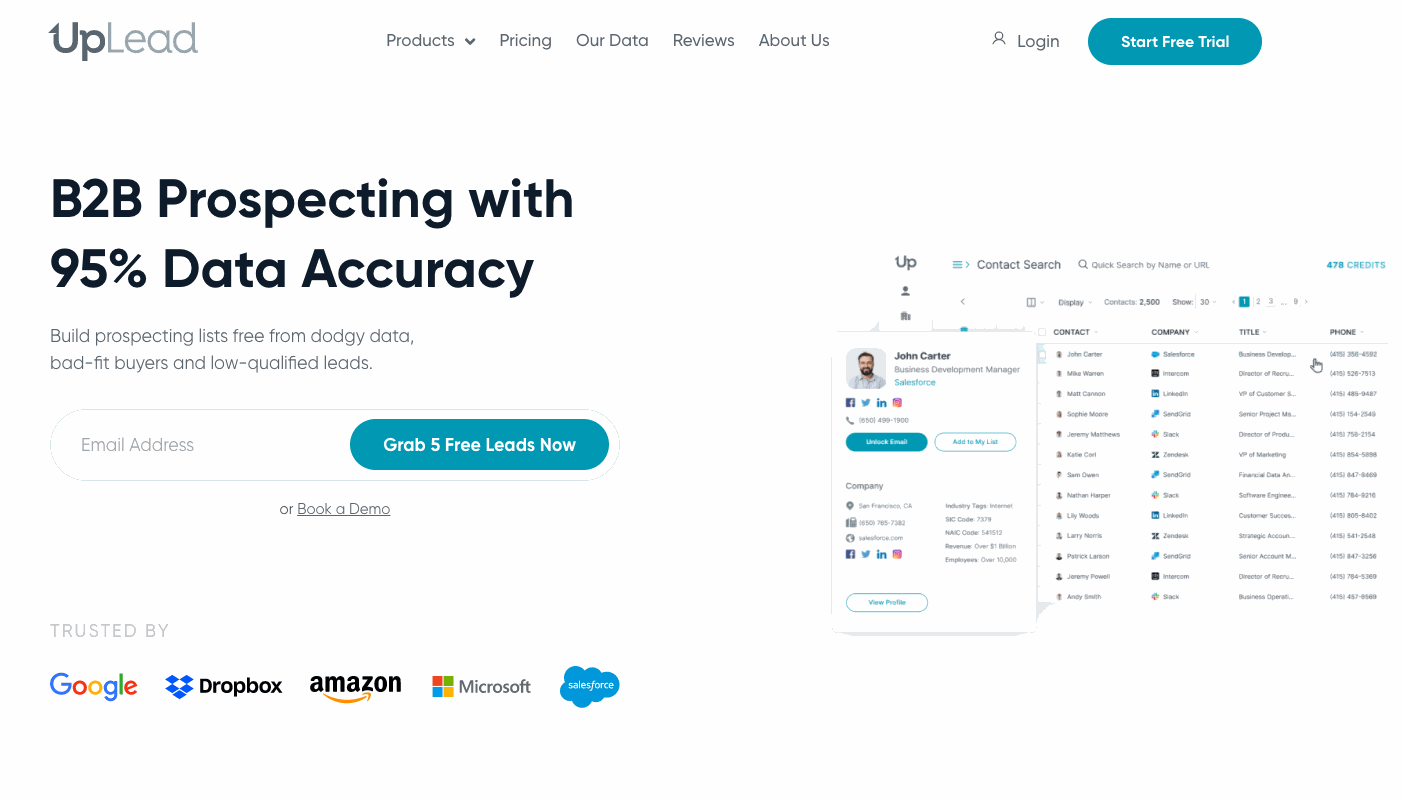 UpLead is a top-of-the-line business lead and contact provider boasting more than 108 million B2B contacts in its database. What sets Uplead apart from the competition is its commitment to quality data – all of the information in its business database is verified in real-time using machine learning, rule-based learning, and proprietary algorithms. Only high-quality data is guaranteed and provided to your marketing teams. In addition, Uplead offers detailed company profiles for 14 million businesses, ensuring that you have all the facts you need to make informed decisions about potential leads. Uplead's 95% accuracy guarantee is the perfect solution for anyone looking for reliable, up-to-date business contact information.
While Hunter.io's email database is larger than Uplead's, the Uplead platform's methods to gather contact data are more extensive. In addition, Uplead offers real-time verification and a warning on each contact with degrees of confidence in data accuracy. Compared to Hunter.io, Uplead boasts more certainty in providing accurate lead information. 
Uplead's pricing model offers a free trial and several tiers with varying degrees of features and usage limits:
Free Trial: 5 credits, verified email addresses and phone numbers, CRM integration, and Chrome extension
Essentials: $74 per month (billed annually) with 2,040 credits annually and company news
Plus: $149 per month (billed annually) with 4,800 credits annually, data enrichment, advanced search filters, and technographic information
Professional: $299 per month (billed annually) with 12,000 credits annually, team accounts, API access, and competitor intelligence
Start Your 7-Day Free UpLead Trial
Lead generation doesn't have to be all that painful. With UpLead, you can easily connect with high-quality prospects and leads to grow your company.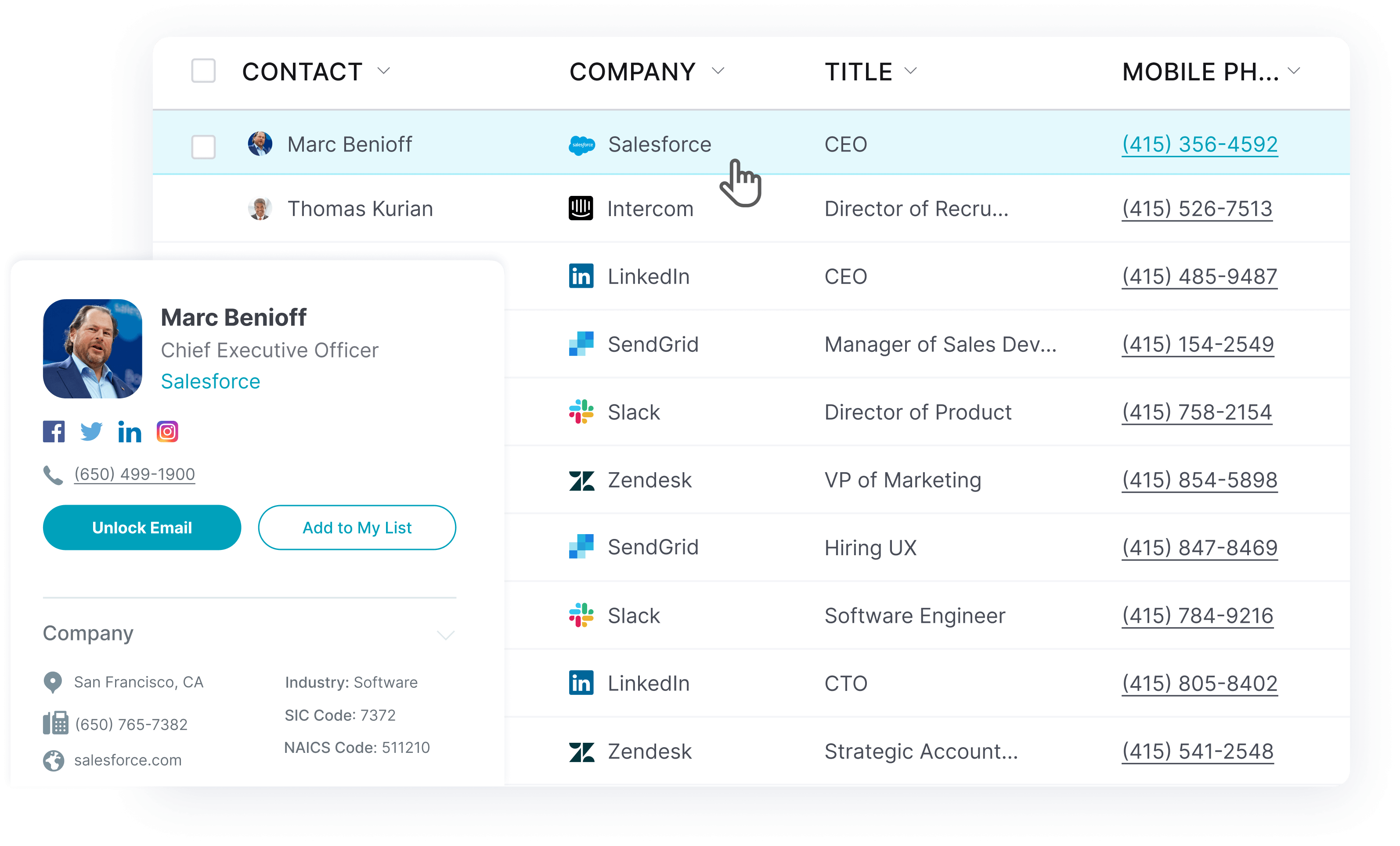 2. Snov.io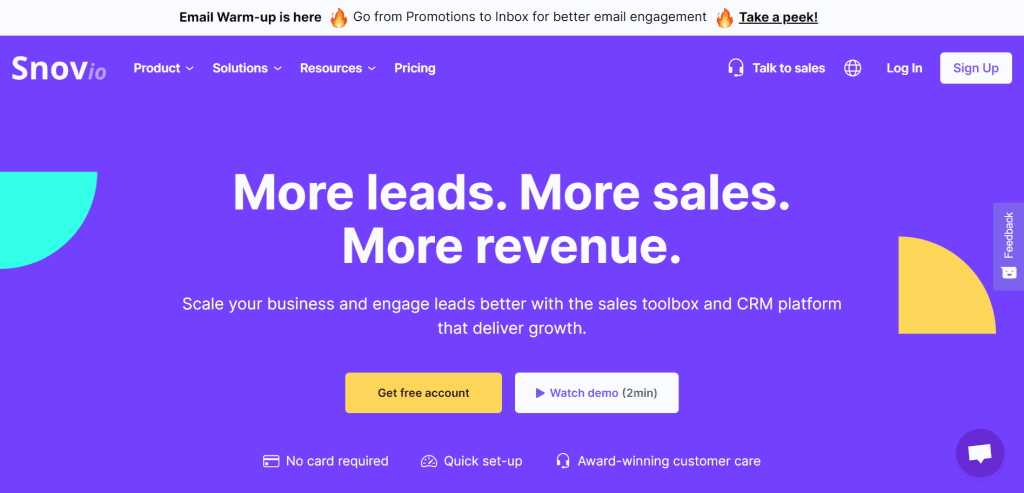 Snov.io is a powerful email tracking tool that offers unlimited email tracking, source from LinkedIn, drip campaigns, and more. With over 260 million leads in its database, Snov.io allows users to track an unlimited number of emails and people. The tool integrates with HubSpot, Salesforce, Zoho CRM, Pipedrive, Asana, and other popular applications.
The key differentiator Snov.io brings to the table is its robust drip campaign functionality that includes A/B testing, email/mailbox warmups, and custom pipelines with CRM. In contrast, Hunter.io emphasizes the deliverability of email addresses.
Snov.io offers a two-month free trial for all of its plans, which range from the S (Small) plan to XXL (Extra Extra Large). They differ in functionality and usage limits. Snov.io's plans include the following: 
S: $33 per month (billed annually) with 1,000 credits, 5,000 unique recipients, unlimited users, and CRM
M: $83 per month (billed annually) with 5,000 credits, 10,000 unique recipients, and three mailbox warmups
L: $158 per month (billed annually) with 20,000 credits, 30,000 unique recipients, and six mailbox warmups
XL: $308 per month (billed annually) with 50,000 credits, 50,000 unique recipients, and 12 mailbox warmups
XXL: $615 per month (billed annually) with 100,000 credits, 100,000 unique recipients, and 25 mailbox warmups
UpLead is a solid snov.io alternative.
3. Anymail Finder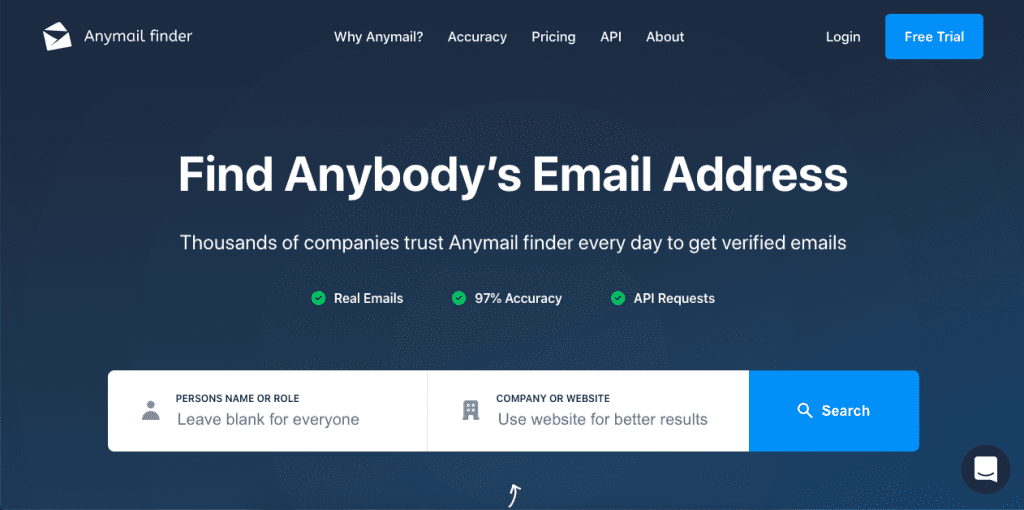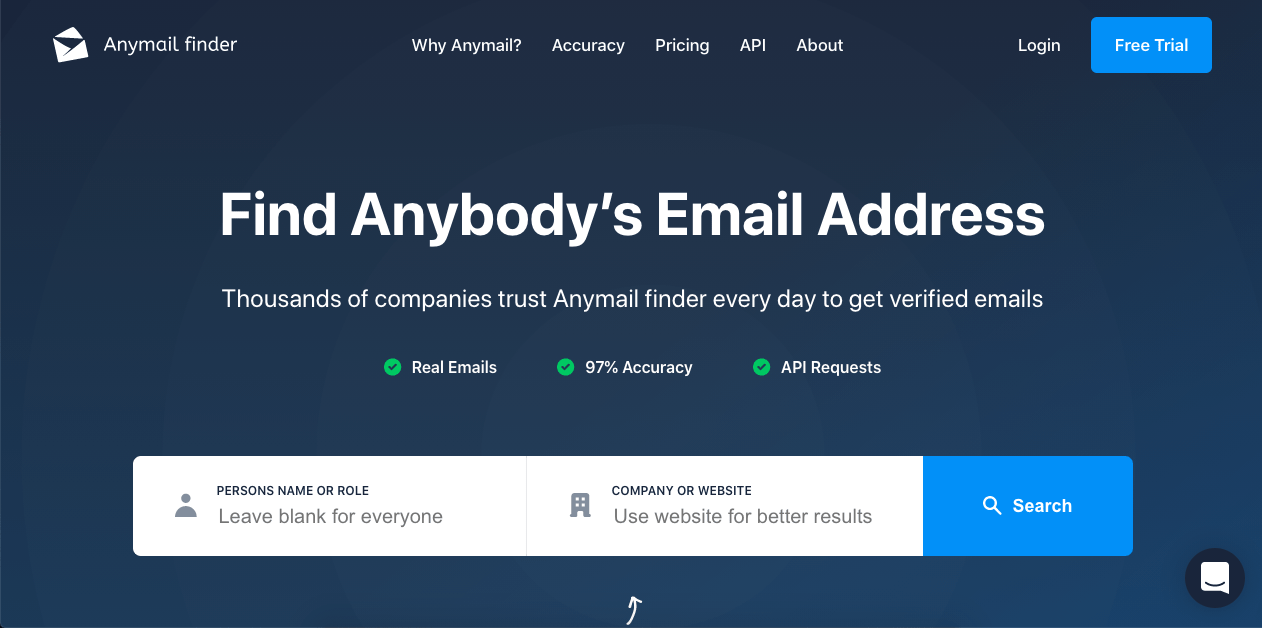 Anymail Finder is a robust email lookup tool that can help you get in touch with the right people at any company. The tool's database is 100% verified, ensuring you get valid email information. The platform uses a simple rest API lookup that makes it simple to see if an email has been verified.
In addition, Anymail Finder offers free test credits for new applications, so you can try out the tool without worrying about your budget. The tool's easy-to-use interface makes it a breeze to find the contact information you need. It also includes free unverified email, the ability to search by job title, and bulk domain search, which Hunter.io does not offer. The Hunter.io platform also doesn't allow for credit rollover, which is important when considering your billing cycle.
Its pricing plan is based on email size and includes the following:
Free trial for 20 verified emails per month
1,000 verified emails: $49 per month
5,000 verified emails: $99 per month
10,000 verified emails: $149 per month
30,0000 verified emails: $299 per month
4. ClearBit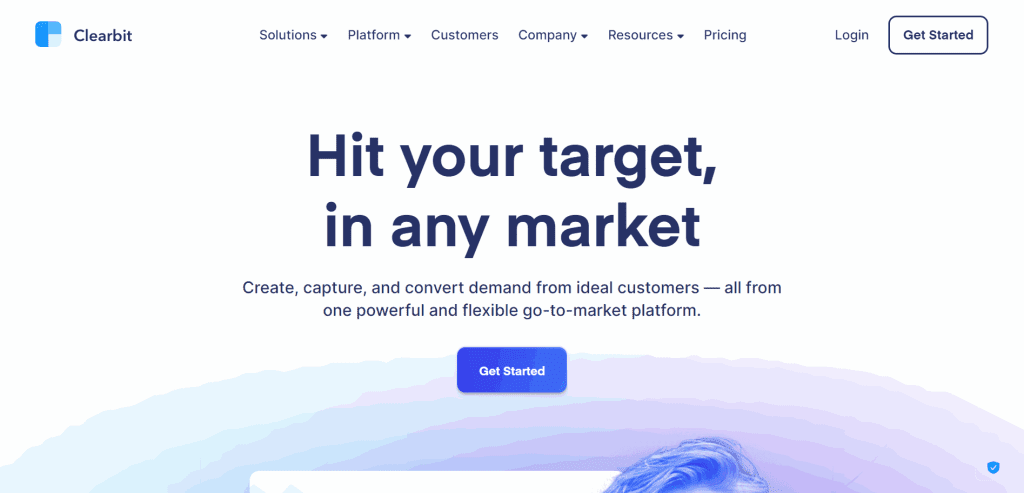 Clearbit is a powerful, all-in-one lead intelligence provider that gives valuable insights into your customers and prospects. The tool's massive database, which contains over 100 different B2B attributes from 250+ data sources, provides access to millions of data points that can help you better understand your target audience.
In addition, Clearbit's key features include the ability to automatically refresh contact information as changes are detected and machine learning-powered recommendations that improve over time. This feature helps enhance your targeting accuracy and ensures you don't get stuck with old contact data.
Clearbit also offers noteworthy integrations with popular platforms like HubSpot, Salesforce, Facebook, Slack, and Zapier. Clearbit is an extremely powerful and versatile customer intelligence tool that businesses of all sizes can use.
The Hunter.io and Clearbit platforms offer similar customer data integration, email marketing, and automation features. Hunter.io's reviews indicate that the platform is easier to use and set up than Clearbit.
Clearbit's pricing is customized to the organization using it and varies by feature package and volume of usage. Here are other Clearbit alternatives.
5. ContactOut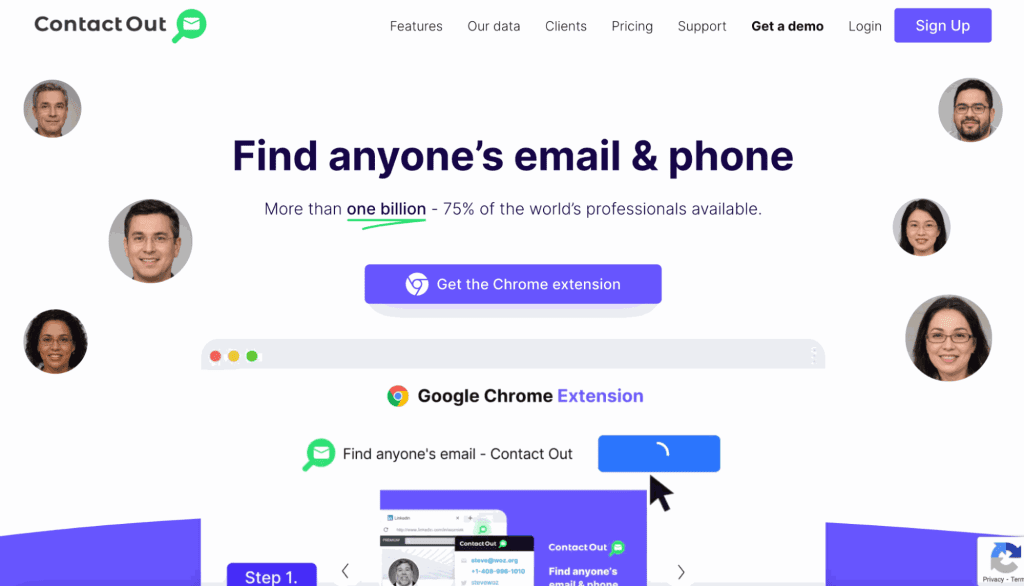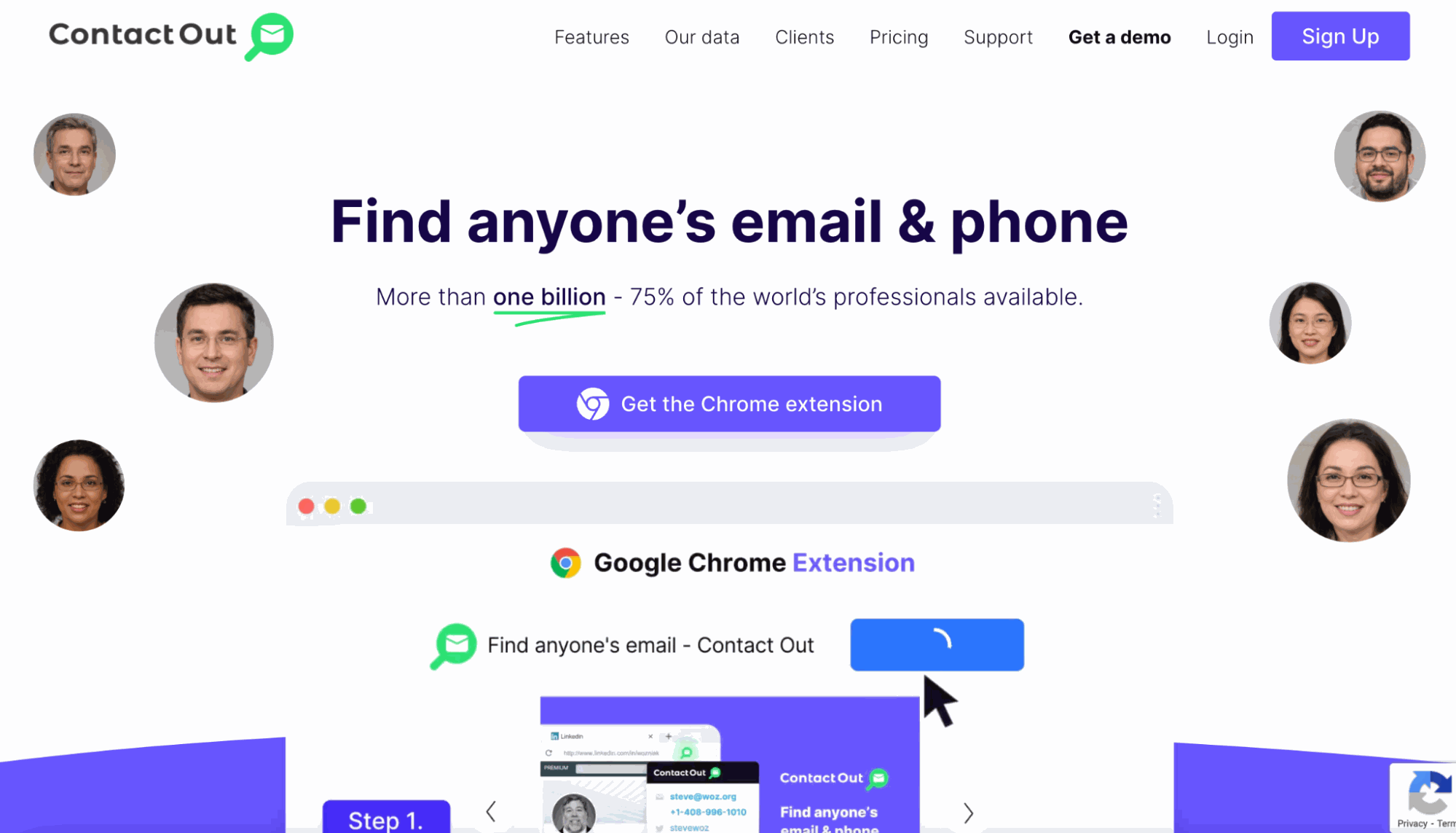 ContactOut is a sourcing tool that offers an easy way to contact business prospects via email or phone. The tool's database includes over 200 million work emails, 250 million professional profiles, and 30 million company profiles. ContactOut has key features that stand out, such as its email search portal for 75% of the world's professionals.
In addition, ContactOut offers an AI compose feature that helps you save time and energy in writing new email messages for your leads. ContactOut is also noteworthy for its integrations, such as with ATS tools and popular email clients like Outlook and Gmail. Overall, ContactOut is a powerful sales intelligence tool that can be a valuable asset for businesses looking to scale their sales operations.
The ContactOut email finder tool lets you capture verified email addresses from LinkedIn profiles. While Hunter.io gives you details of email IDs for a web address, it does not give you access to LinkedIn profile emails.
ContactOut's pricing varies by usage and includes a one-user-per-company limit. The platform contains the following pricing plans:
Free plan: 40 emails per month, three phone numbers per month
Personal: $29 per month (billed annually) with 1,800 emails per year, 180 phone numbers per year
Sales: $99 per month (billed annually) with 6,000 emails per year, 600 phone numbers per year, LinkedIn Recruiter and Sales Navigator, ATS and Salesforce integration
Recruiter: $199 per month (billed annually) with 12,000 emails per year, 600 phone numbers per year, all versions of LinkedIn, Full ATS, and Salesforce integration
Team: Custom with enterprise support
6. VoilaNorbert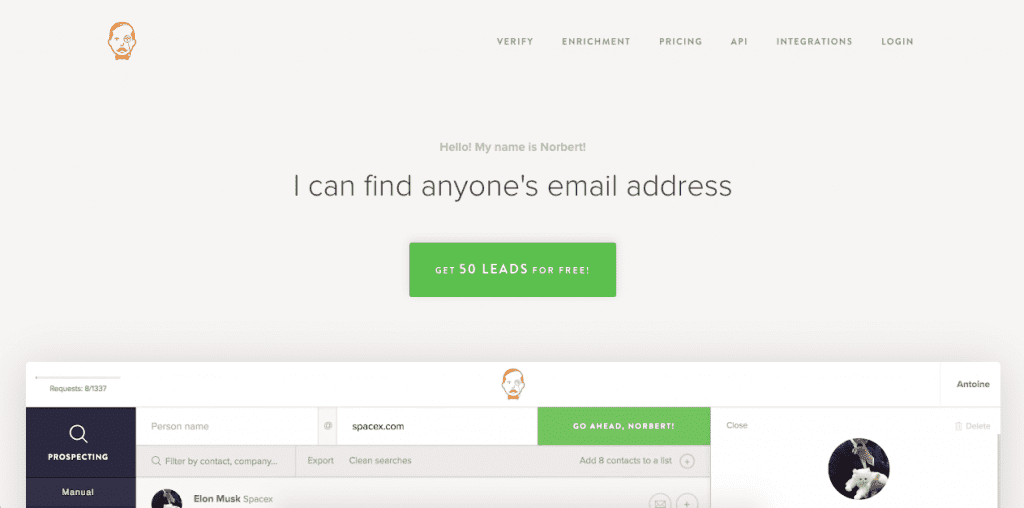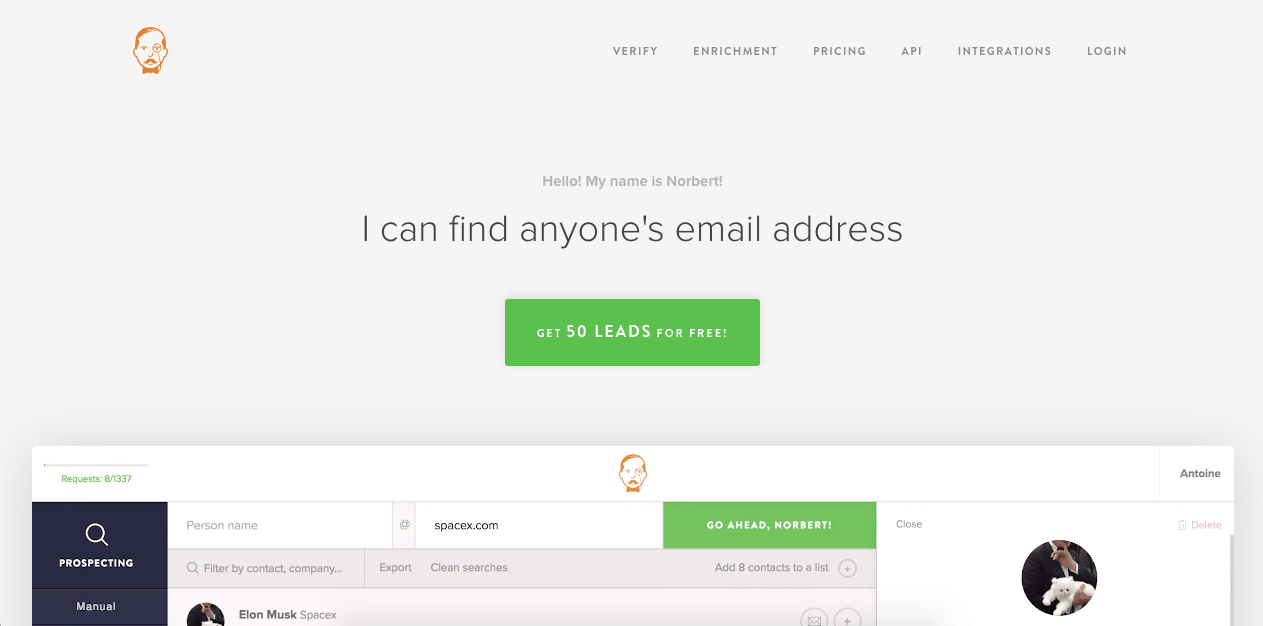 As far as sales intelligence tools go, VoilaNorbert is a terrific option. With an email deliverability rate of 98%, it's one of the most accurate tools on the market. You can use the platform's Chrome extension or access the API using PHP, Python, Ruby, or .Net. The tool is handy for sales, recruiting, and PR professionals who must ensure their emails are delivered.
All of VoilaNorbert's plans include a free trial. The plans include the following:
Valet: $49 per month with up to 1,000 leads per month, unlimited team members, and API included
Butler: $99 per month for up to 5,000 leads per month
Advisor: $249 per month for up to 15,000 leads per month
Counselor: $499 per month for up to 50,000 leads per month
While VoilaNorbert and Hunter.io share many of the same features as lead generation tools, Voila Norbert's plan at the same price gets you double the number of leads as Hunter.io.
7. RocketReach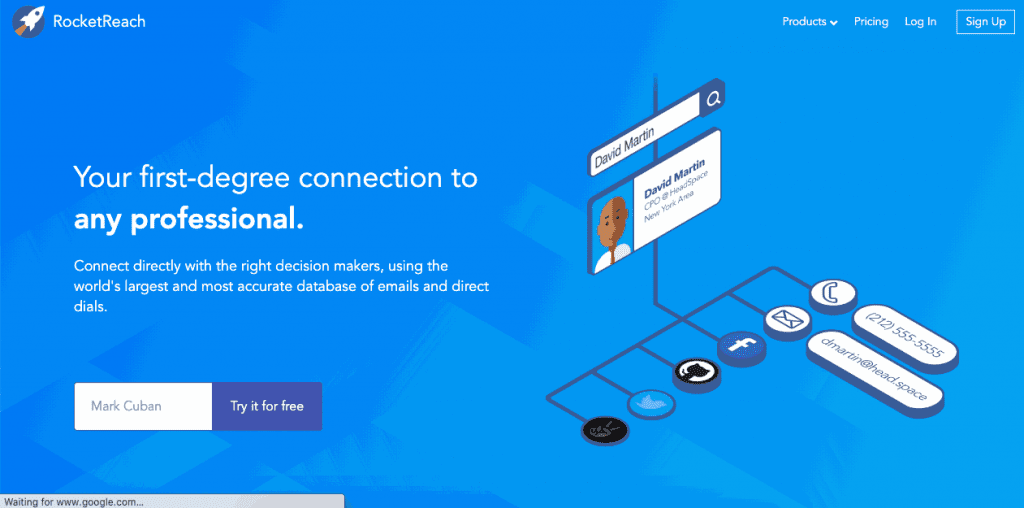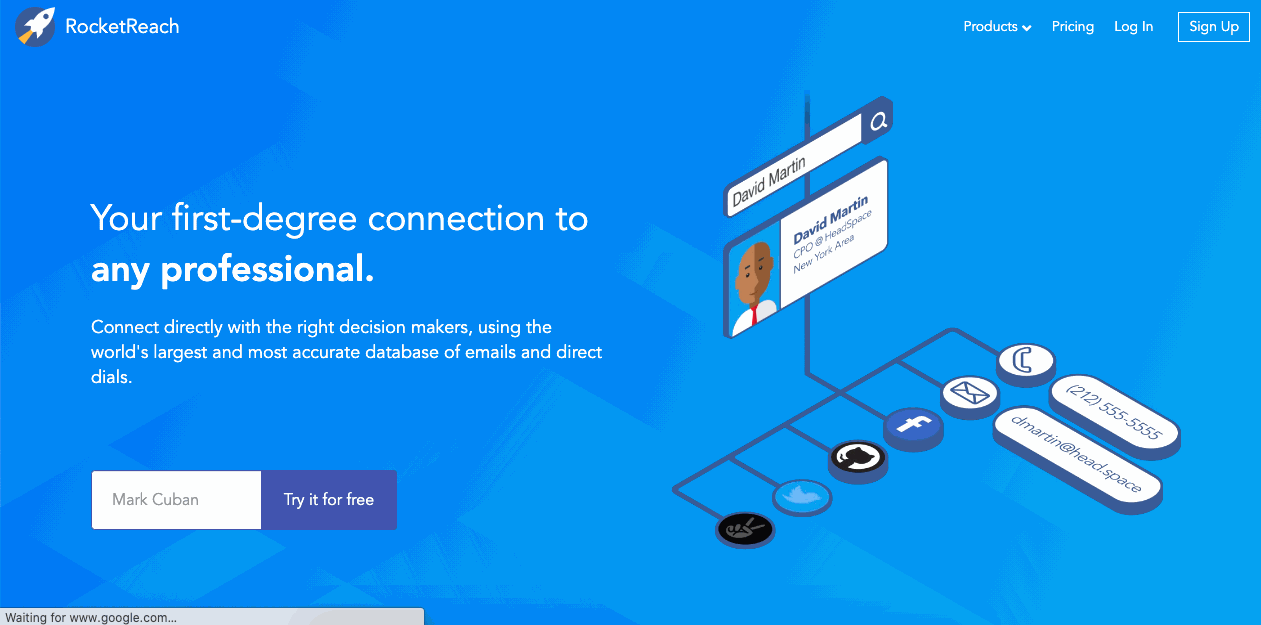 RocketReach is a sales intelligence tool providing accurate real-time data from 700 million professionals across 35 million companies worldwide. It is used for digital marketing and recruiting purposes and features bulk lookup, API, and integrations into ATS, CRMs, and more. RocketReach has a database of over 700 million professionals and 35 million companies worldwide. It provides real-time verified contact details that can be used for marketing or recruiting purposes and includes a data accuracy of 85%.
RocketReach's plans include the following Individual plans: 
Essentials: $39 per month (billed annually) with up to 1,200 annual lookups per user and only email Search
Pro: $99 per month (billed annually) with up to 3,600 annual looks per user and includes phone search as well as certain CRM integrations
Ultimate $249 per month (billed annually) with up to 10,000 annual lookups per user, API enabled, and CRM Enrich
The platform also offers Team plans:
Team Pro: $93 per user per month (billed annually) with up to 3,600 annual lookups per user and only email search
Team Ultimate: $207 per month (billed annually) with up to 10,000 annual looks per user and includes phone search as well as certain CRM integrations and CRM Enrich
Enterprise: custom pricing with unlimited annual lookups per user
Overall, Hunter.io has more accessible plans than RocketReach, making it ideal for companies that are scaling with a low-cost model.
8. Lusha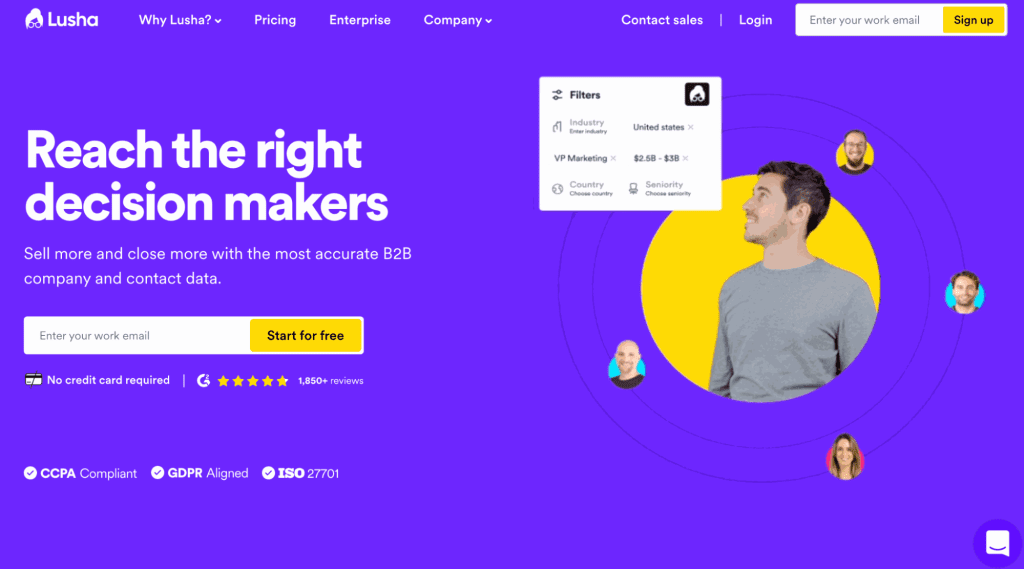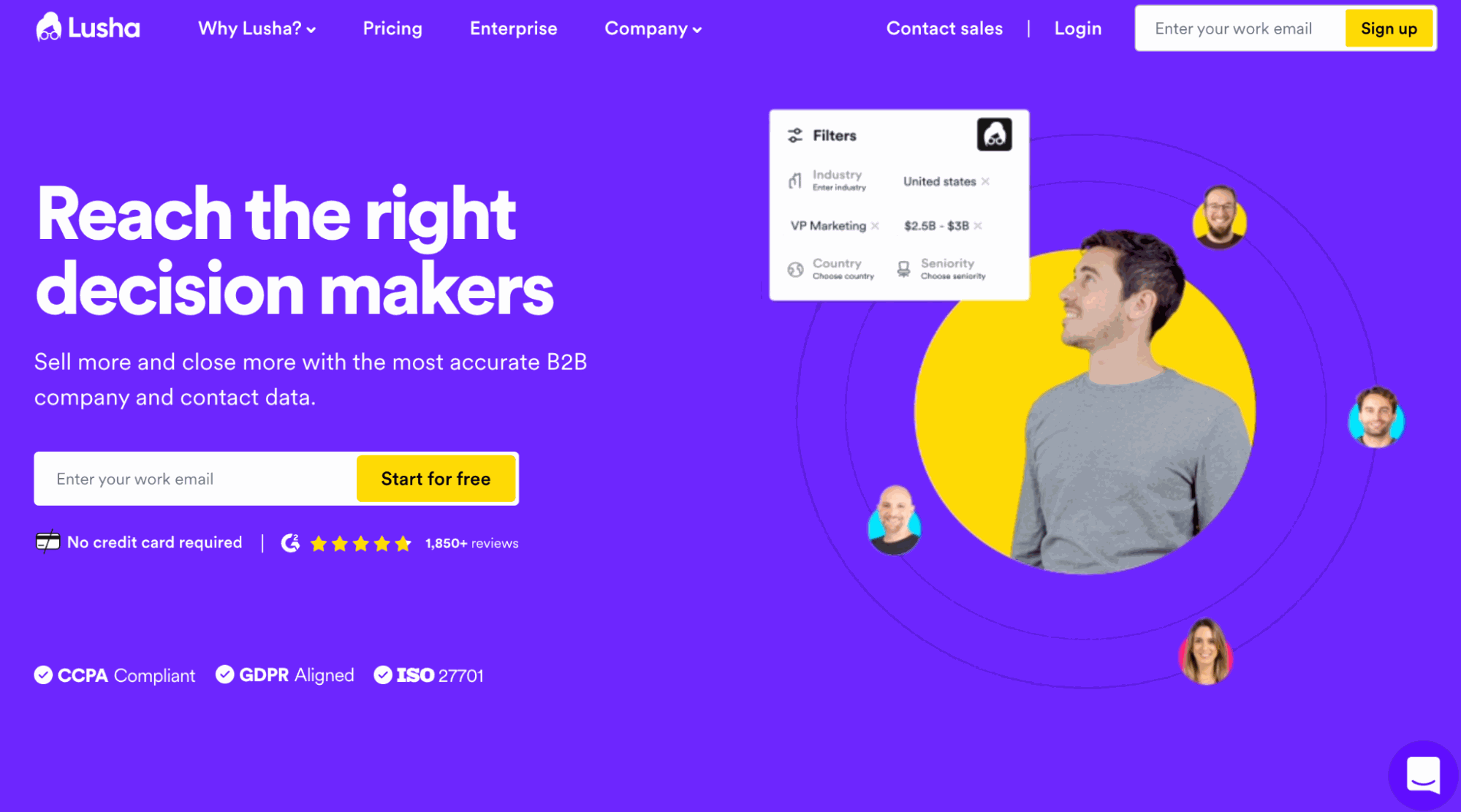 Lusha is a sales intelligence software that provides users with data from public records and business directories. The software is easy to use and offers several features designed to help users turn their leads into customers, such as lead enrichment and real-time alerts. In addition, Lusha is GDPR compliant, making it a safe and reliable choice for businesses of all sizes. The platform's integration suite also makes it easy to access, which includes Hubspot, Zoho, Pipedrive, and Bullhorn.
Lusha helps sales teams narrow down prospects more likely to buy a product and react positively to your sales pitch. Hunter.io offers the differentiated ability to see an organization's email format and scale prospecting.
Lusha's plans include the following: 
Free plan: 5 credits and up to 1 user
Pro: $29 per user per month billed annually with 480 credits per user, list management, and basic team management
Premium: $51 per user per month billed annually with 960 credits per user, bulk prospecting, CRM integrations, and usage analytics
Scale: custom pricing with robust CRM integrations, advanced sales team management, usage analytics, and a customer support manager
Lusha has a list of competitors as well.
9. Apollo.io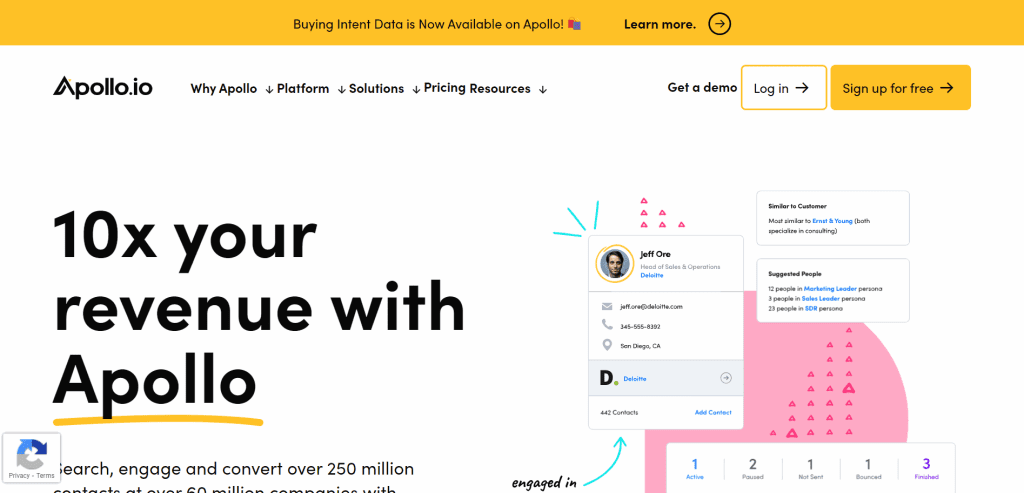 Apollo.io's sales intelligence platform provides users access to over 250 million contacts and 60 million companies. The platform offers a variety of features designed to streamline the sales process, including CRM integrations, flexible pricing plans, and the ability to sign up with Google or Microsoft.
Apollo.io has a wide range of data enrichment capabilities, making finding the details you need to make informed decisions easy. The tool provides enhanced analytics to help you engage with the right leads at the right time. With its comprehensive database and robust search tools, Apollo.io is a powerful platform for your sales and digital marketing teams. 
While Apollo and Hunter offer similar features, Apollo is best used for contact discovery on LinkedIn. Hunter.io lets you see an organization's email format to guess what other contacts' emails may be.
Apollo.io's pricing includes the following: 
Free: unlimited credits with ten export credits a month and the ability to send 250 emails per day
Basic: $39 per user per month (billed annually) with 25 phone numbers and 250 export credits per month, as well as A/B testing
Professional: $79 per user per month (billed annually) with 100 phone numbers and 1,000 export credits per month, as well as bulk prospecting, customizable reports, and advanced permission management
Custom: starting at $5,000 per year with custom phone number and email credits and account manager
if you're looking for an Apollo io alternative, give us a try.
10. ZoomInfo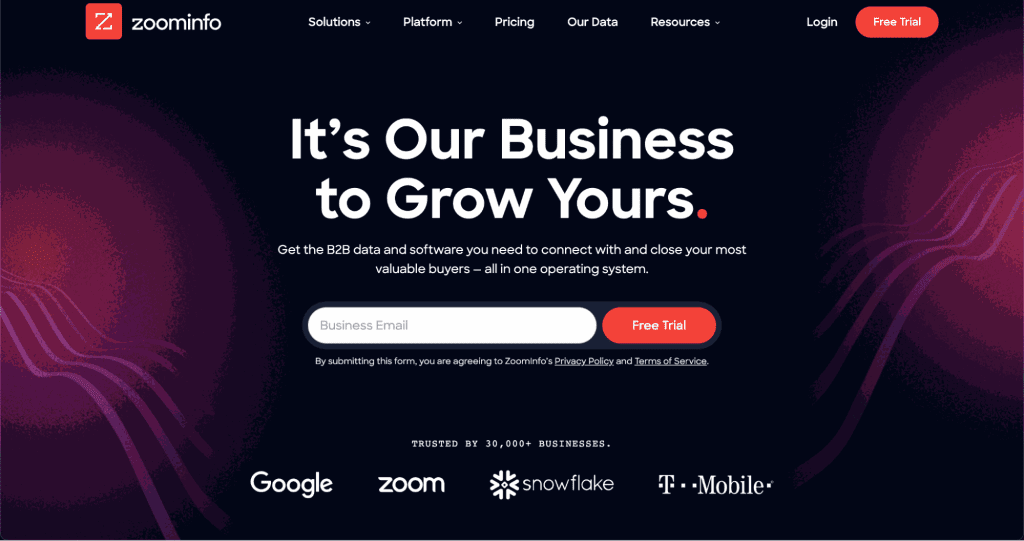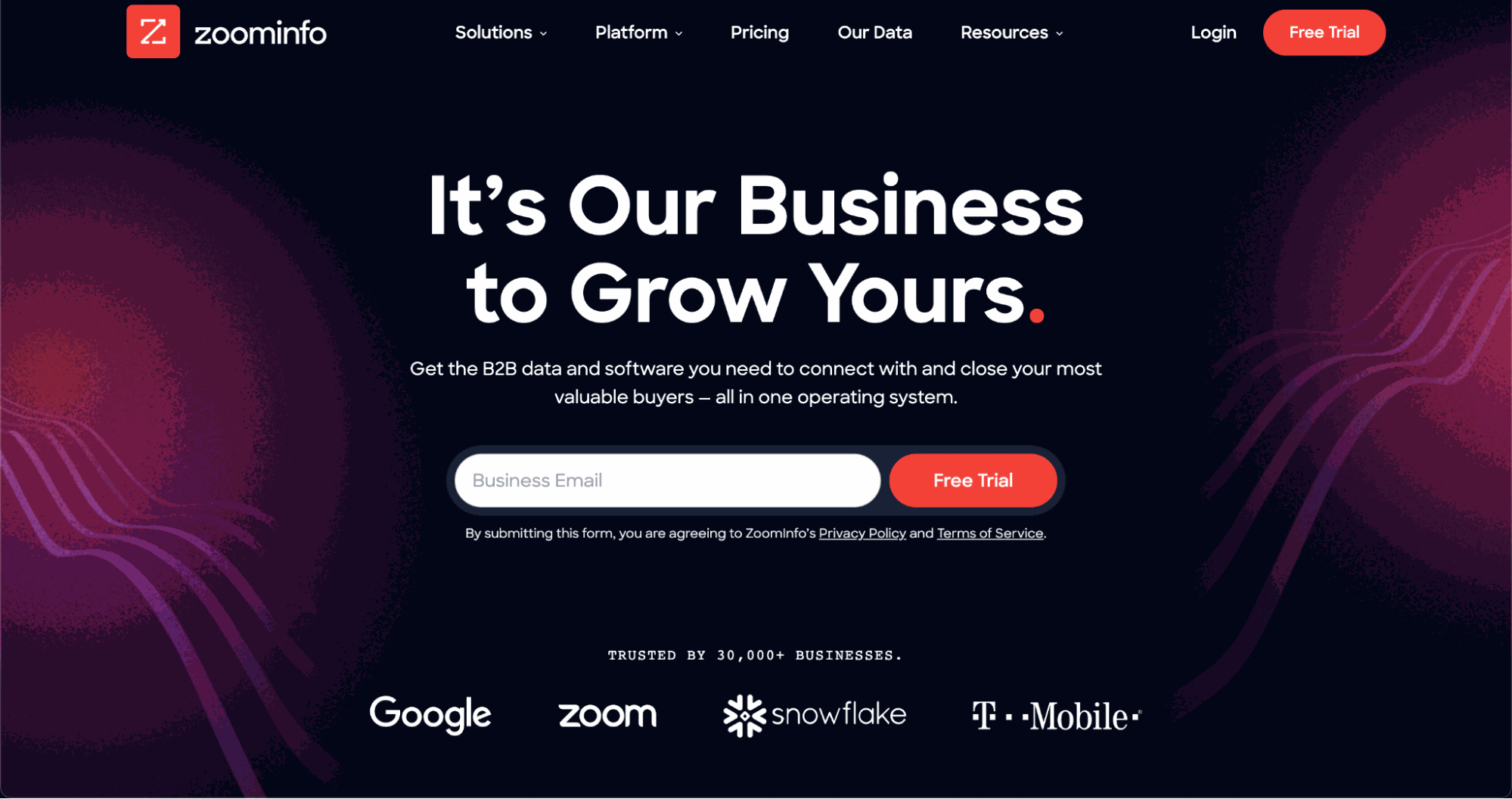 ZoomInfo's sales intelligence software provides data from more than 50 million businesses,230 million professionals, and 300,000 publisher domains. The platform gives real-time intent signals and lets you build automated workflows that integrate into your existing tools like CRM and other sales platforms. These features make it easier for you to plug your existing workflows and make sense of your data.
In addition, ZoomInfo's intent data enrichment capabilities make it a valuable resource for marketing and sales teams. By enriching customer records with actionable intent data, ZoomInfo helps you close more deals and enhance your sales pipeline. While ZoomInfo is best used as a supplement to CRM data, Hunter.io is best known for quickly finding contact information using its Chrome extension.
ZoomInfo's pricing is largely custom, with the following tiers for its sales platform:
Professional+: contact and company profiles, verified phone numbers and email addresses, and CRM functionality
Advanced+: location data, hierarchy information, and social media profiles
Elite+: real-time buyer intent signals and advanced company attributes
Zoominfo has a ton of competitors and is one of the biggest on this list.
11. LeadFuze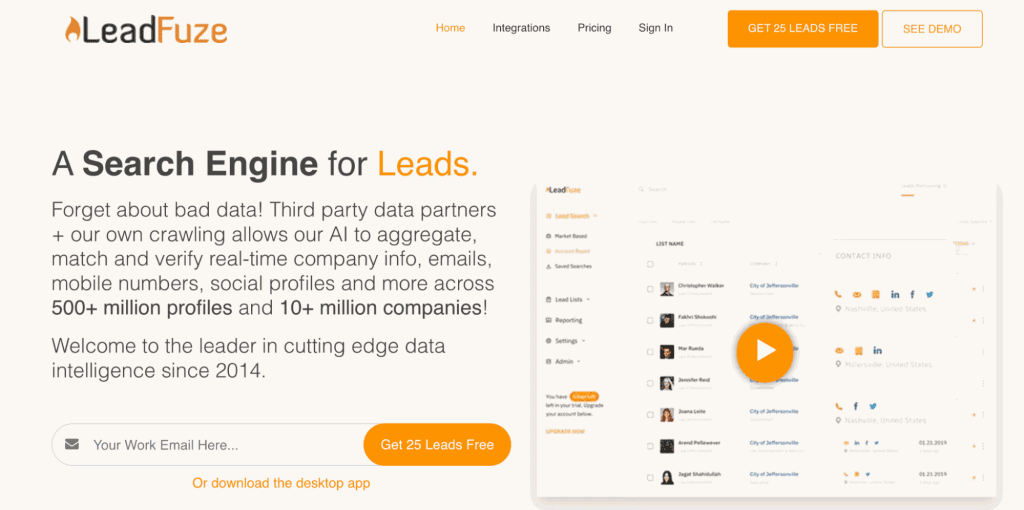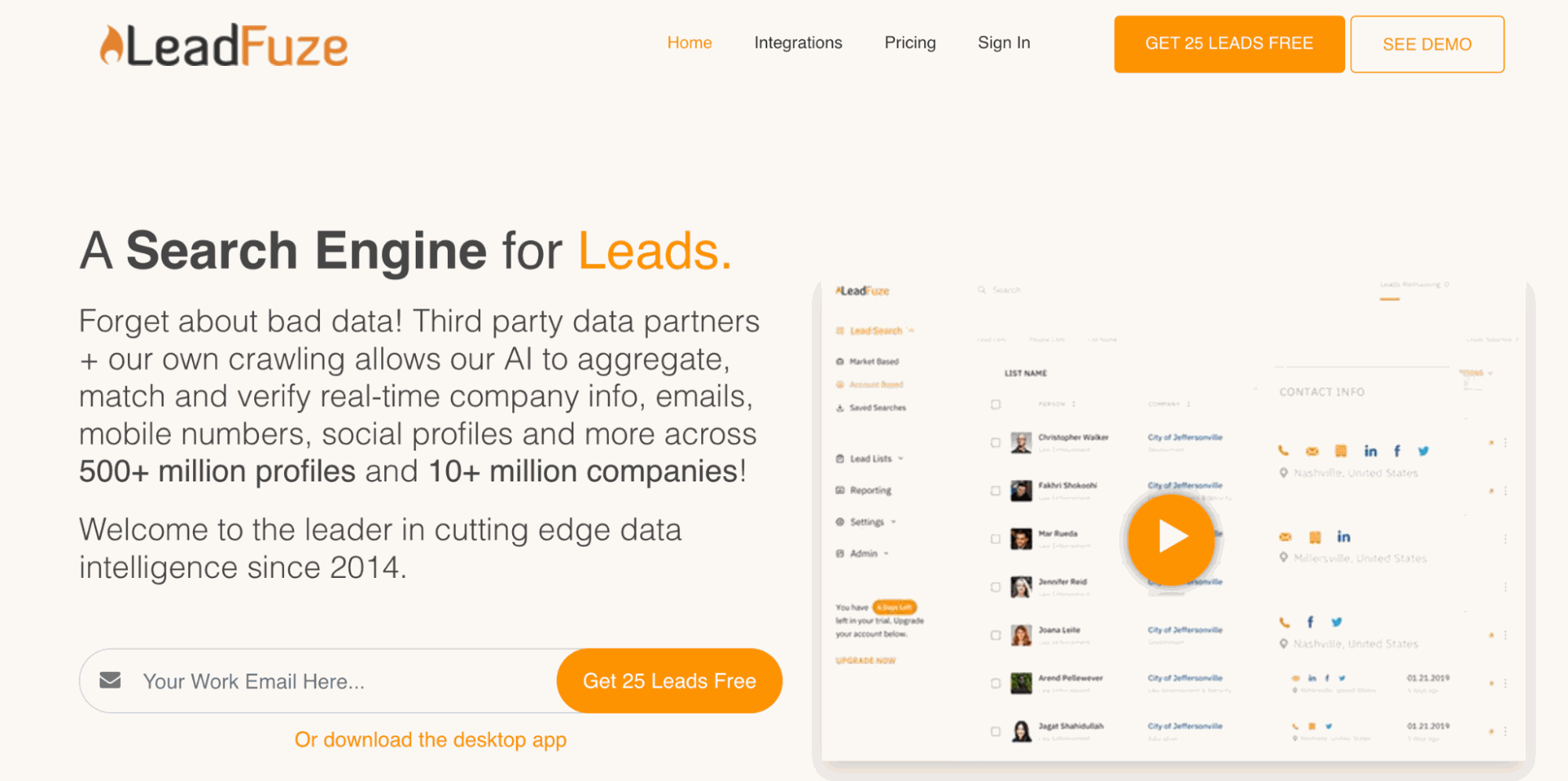 LeadFuze is a sales intelligence platform that helps you find and connect with your ideal prospects. With LeadFuze, you can sync your email lists with your CRM, find prospects based on their technologies, and use AI automation to avoid duplicates and get verified emails for close to 0% bounce rates. Plus, LeadFuze integrates with popular ATS tools and allows you to export your data to Google Sheets and CSV. Its API is under development but will include searching for prospects in bulk using proprietary technology.
Unlike Hunter.io, LeadFuze provides A/B testing and email integration, which can be essential for improving your outreach campaigns. On the flip side, Hunter.io has an API and marketing automation, which can assist your marketing teams in scaling lead generation.
LeadFuze's pricing breaks down into the following tiers:
Starter: starting at $132.30 per month with 500 lead credits per month, unlimited lists, and automation
Scaling: starting at $447.30 per month for 2,500 lead credits per month
Custom: you can customize your LeadFuze plan based on usage and feature needs
How to Choose the Best Hunter io Alternative
If you're in sales or marketing, you know how important it is to have accurate and up-to-date contact information for your leads and customers. That's where an email verifier comes in. This software lets you quickly find any person or business's email address. There are a few factors to consider when choosing the best email finder tool for your business.
Database Size & Quality
One of the most important factors to consider when choosing a lead generation tool is the size and quality of its database—the bigger and more accurate the database, the better. You'll want to ensure that your lead generation tool has an extensive database of businesses and individuals. The last thing you want is to waste your time searching for an email address that doesn't exist or is no longer active.
Ease of Use
Another important factor to consider is the ease of use. You don't want a complex email finder that's difficult to use. You'll want something simple and easy to use to get the information you need quickly and without any hassle.
Plans & Pricing
 When choosing a lead generation tool, you'll also want to consider plans and pricing. Many email finder platforms offer both free and paid plans. The free plans usually have limitations, such as a smaller database or fewer features. On the other hand, Paid plans will usually give you access to more contacts and features like integrations.
FAQs about Hunter io alternatives
There are a few frequently asked questions about Hunter.io alternatives, including:
How reliable is Hunter.io?
Hunter.io is a reliable tool for finding email addresses. It has a sound customer support system and is relatively accurate. The tool is also easy to use and accessible from anywhere. Hunter.io is a good choice for those who need to find email addresses quickly and easily. However, it is important to note that the tool's accuracy depends on the quality of the inputted data.
What is Hunter.io used for?
Hunter.io is a tool designed to help businesses access verified email addresses. It can be used to find personal and professional email addresses and offers a variety of features to make the search process as efficient as possible. Hunter.io also allows users to check the accuracy of an email address before sending any correspondence, ensuring that messages always reach their intended recipient.
What You Need to Remember About Hunter io Alternatives
Hunter.io is a fantastic tool for finding email addresses, but it's not the only option. If you're looking for an alternative, we recommend considering one of the tools listed above based on your specific needs and team composition. No matter which email finder tool you choose, test it out and see how well it works with your existing workflows.