Getting ahead of the competition means having the most relevant customer data in your arsenal. After all, the more you can learn about your target market and their willingness to purchase, the better equipped you'll be to serve their needs. That's where intent data providers come in.
Intent data can help you track and interpret the online behavior of your target market. By understanding what people are searching for and how they interact with your website, you can gain valuable insights and adjust your marketing efforts.
We've compiled a list of the best intent data providers to help optimize your lead generation efforts in 2022.
🔥 Hot tip: If you want faster ROI, use sales intelligence tools like UpLead to find in-market leads looking for a solution like yours today.  Grab 5 free leads today.
Quick Links:
What Is an Intent Data Provider?
Intent data providers help marketing teams make better decisions by understanding the digital body language of your customers. These providers collect and analyze data signals to identify buying patterns and trends. By understanding what potential customers are interested in, companies can create targeted content and experiences that resonate with them.
Third-party intent data providers also help companies track the performance of their marketing initiatives. By understanding how customers interact with their content, companies can make adjustments to improve results.
Ultimately, intent data providers give organizations a deep understanding of their customers, providing insights that can drive better data collection methods and decision-making.
Why Should You Use an Intent Data Tool?
In today's data-driven world, having the right information can mean the difference between success and failure in account-based marketing. Purchase intent data is a powerful tool that provides real-time insight into customer behavior, allowing you to make more informed decisions about your go-to-market strategy.
By further understanding customer behavior, you can segment your audience more effectively. As a result, you'll be able to target your marketing and sales efforts accordingly to reach higher conversion rates.
In addition, intent data providers can help you identify new opportunities and optimize marketing campaigns. Understanding your customers' intent can help improve the quality of your leads to enhance your sales team's performance.
What Should You Look for When Choosing Intent Data Software?
With the vast array of intent data software on the market today, knowing which one is right for your business can be difficult. There are a few key factors to keep in mind when it comes to third-party intent data software.
Integrations: First, you'll want to ensure that the software integrates with your marketing stack. This will ensure that you can easily access and use the data in your campaigns.
Customization capabilities: Robust filtering and segmentation capabilities will allow you to target your campaigns more effectively and ensure that you reach the right audience.
Robust reporting: Insightful analytics help you track your progress and measure the effectiveness of your campaigns while giving you the signals you need to adjust your strategy.
Pricing: You want to be sure that you're getting a tool that fits within your budget and offers a good value for the price. To determine whether intent data tools are priced appropriately in accordance with your budget, evaluate the platform's features and cost per month.
Reviews: While no customer review can definitively tell you whether or not a particular B2B intent data tool is right for you, it can be a valuable part of the decision-making process. Reviewing reviews lets you know how well the tool works, what features it offers, and whether or not it comes with robust support.
12 Best Intent Data Providers Compared
Now that you know what to look for in an intent data provider, we've narrowed the wide range of options to a select few worth considering.
Our breakdown includes the pros and cons of each tool to help you evaluate which third-party intent data provider is best for your marketing and sales teams.
UpLead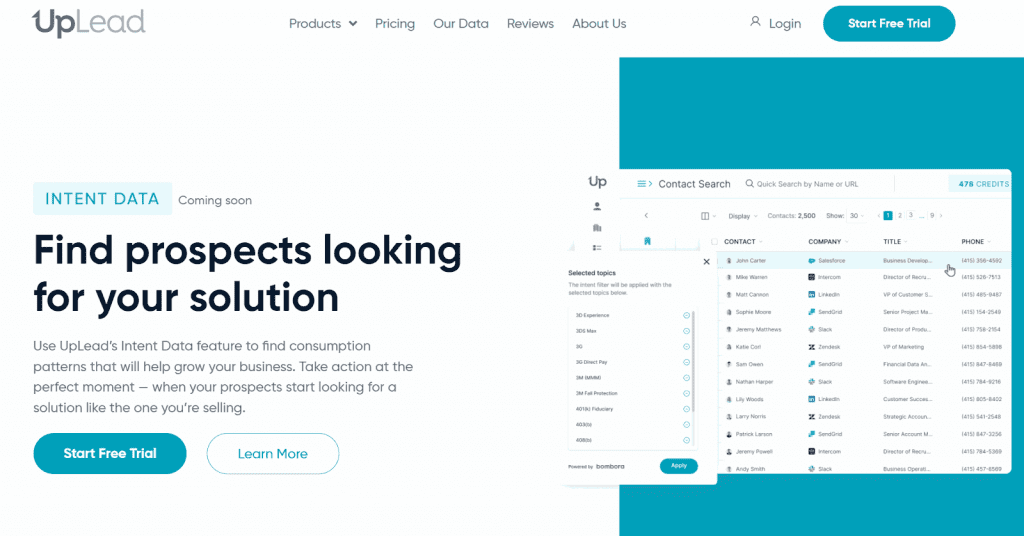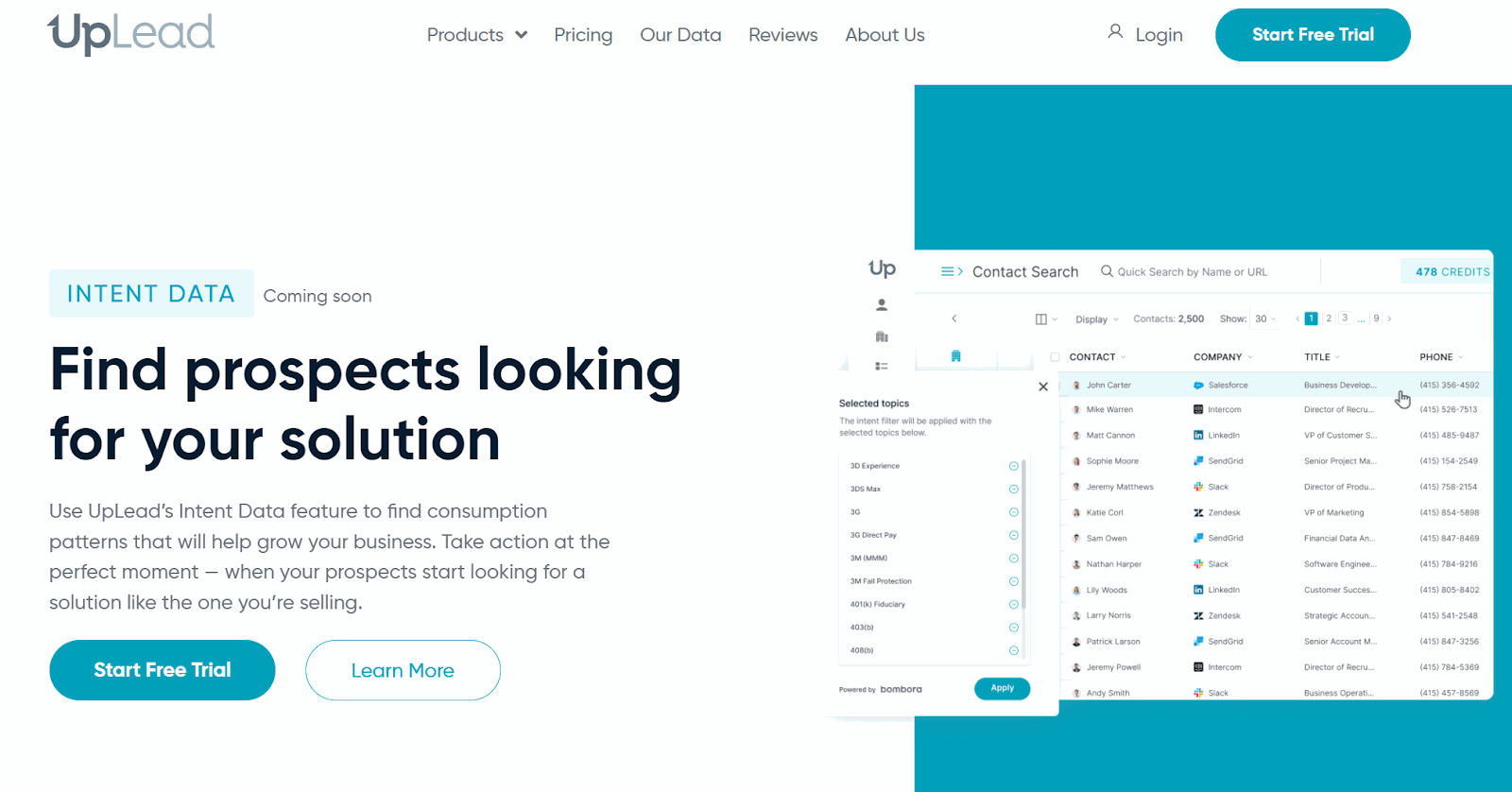 UpLead is a lead generation platform that helps sales teams identify prospects interested in their solution, so you can take action when it matters. With comprehensive B2B data, you can access a prospect's most accurate intent data. As one of the leading marketing automation platforms, UpLead helps optimize your outreach strategy.  
In addition, UpLead allows you to customize your marketing messages to better appeal to your target audience. This saves you time and money by ensuring that your marketing efforts focus on getting the right message to the right people at the right time.
Key features:
Access contact and company data from over 200 countries
Enable robust API and CRM integrations to help you connect to your workflows
Use email marketing and mobile direct dials to reach your targets in a personalized way
Receive competitor intelligence and company news to stay up to date with the market
Leverage advanced search filters to enhance your sales process
Pros:
Current and accurate lead info
World-class customer support
Robust search tool
Easy-to-use interface
Cons:
Some contact data is not the most up-to-date
Pricing:
Free trial
Essentials: $74/month
Plus: $149/month
Professional: $299/month
Start Your 7-Day Free UpLead Trial
Lead generation doesn't have to be all that painful. With UpLead, you can easily connect with high-quality prospects and leads to grow your company.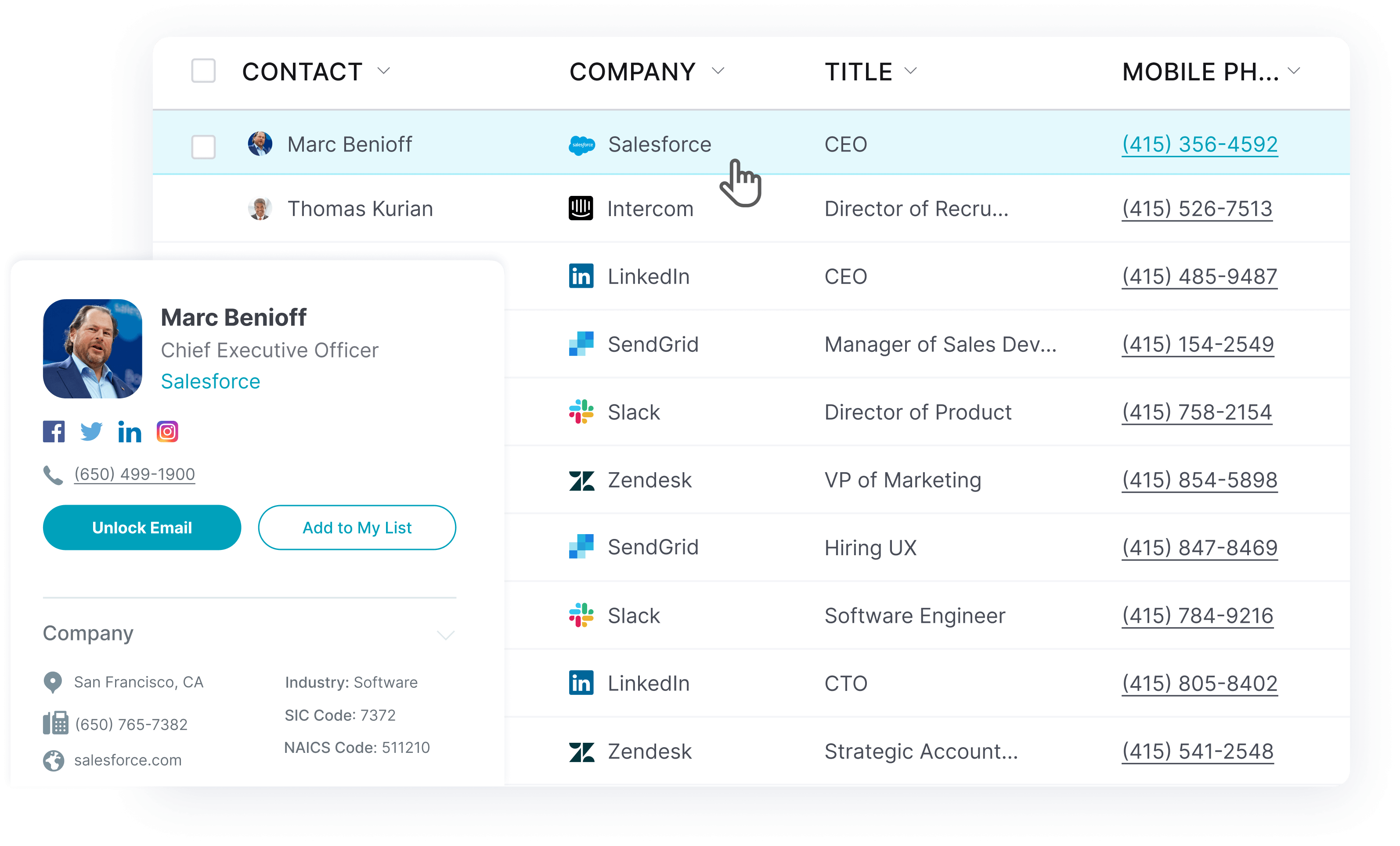 Bombora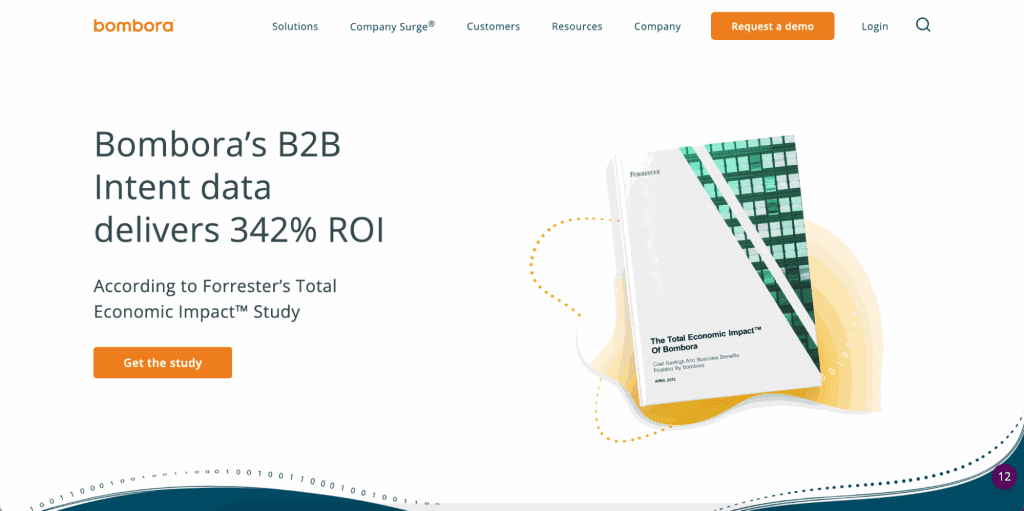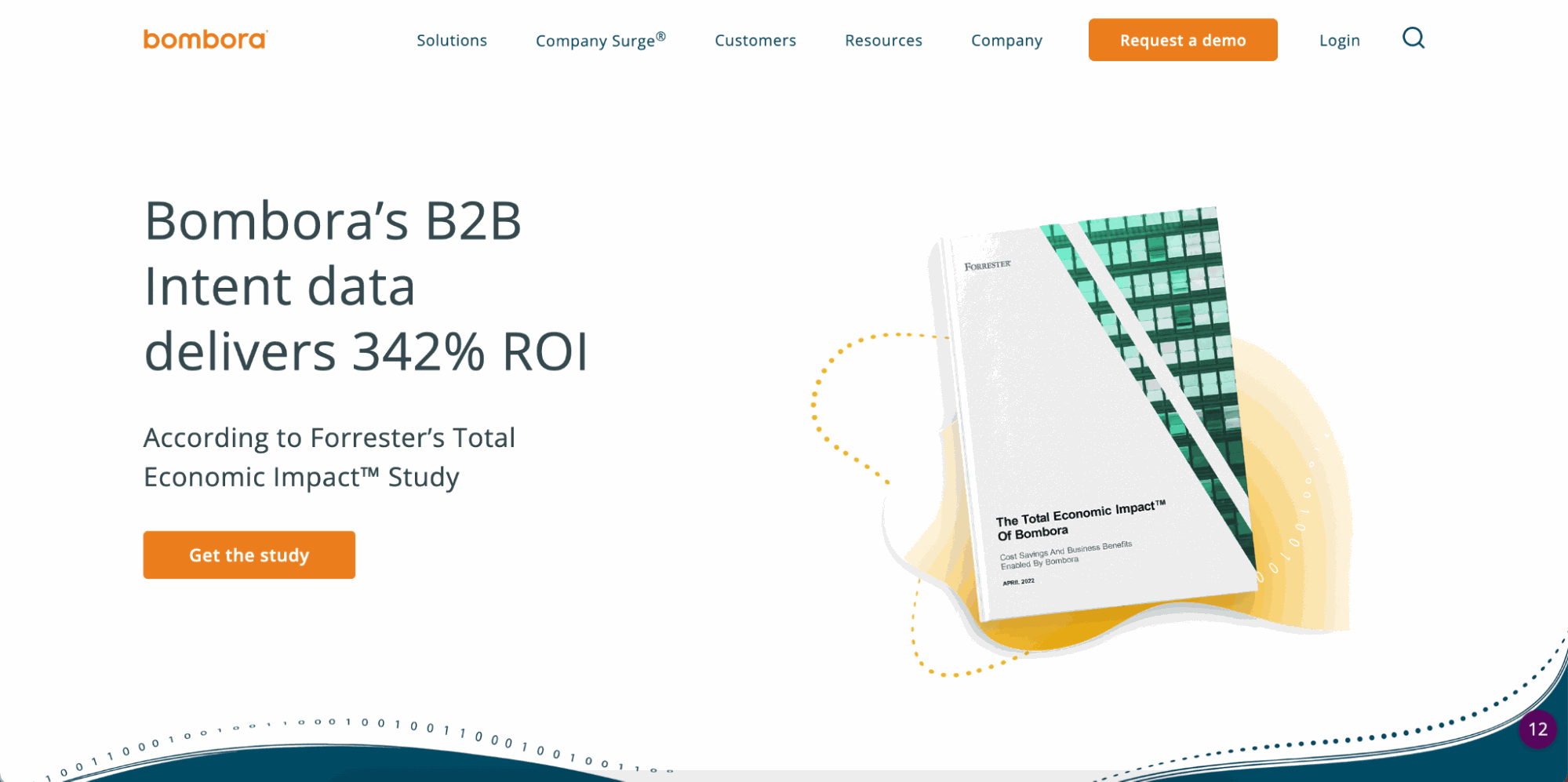 Bombora offers proprietary B2B contact data sets and access to ad tech platforms to give users up-to-date customer intent information.
With Bombora, you no longer have to waste time and money on ads that no one will see or outreach that will go nowhere. Instead, you can focus your efforts on those who are already interested in what you have to offer, meaning you're more likely to make a sale.
Key features:
Evaluate data across your prospects' customer journey
Access aggregate data from over 3 million B2B organizations to understand which organizations might be increasing their spend
Work with comprehensive B2B intent data that has a proven track record
Receive access to fully compliant data across a vast majority of B2B websites
Use pre-purchase intent data signals processed through a patented method that uncovers real companies interested in your solution
Pros:
Integrates well with CRM
Comprehensive search categories
Effective customer service
Cons:
Website tracking could be improved
Only an intent data provider
Segmentation could be more robust
Pricing:
ZoomInfo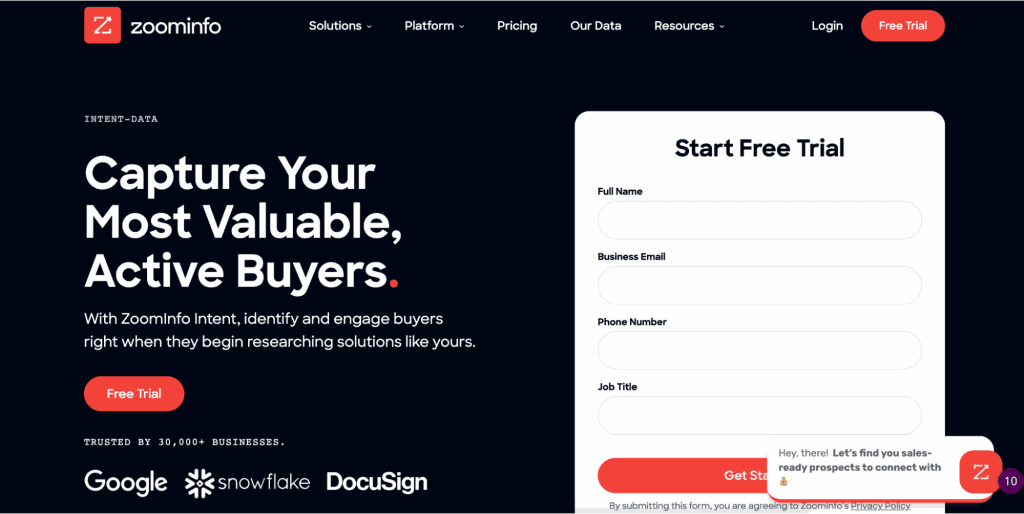 ZoomInfo allows you to search for detailed information on over 50 million businesses and 230 million professionals. As one of the most widely used sales and marketing tools, ZoomInfo provides real-time intent signals and lets you build automated workflows that integrate into your existing tools.
In addition, ZoomInfo's intent data enrichment capabilities make it a valuable resource for marketing and sales teams. By enriching customer records with firmographics and actionable intent data, ZoomInfo helps you close more deals and accelerate revenue growth. ZoomInfo is one of the most popular UpLead alternatives available.
Key features:
Access a network of over 300,000 publisher domains
Receive real-time B2B intent data to help you identify your key decision-makers
Build automated workflows to make your sales process smarter
See insights on prospects interested in topics related to your solution with Streaming Intent
Access a B2B database that provides over 300 intent data attributes for CRM processing
Keep your team in the loop on potential opportunities
Pros:
Company and employee insights at a glance
Integrates with most CRMs
Valuable Chrome extension
Cons:
Some intent data is not up to date
Segmentation tools are limited
UI is not intuitive
Pricing
Demandbase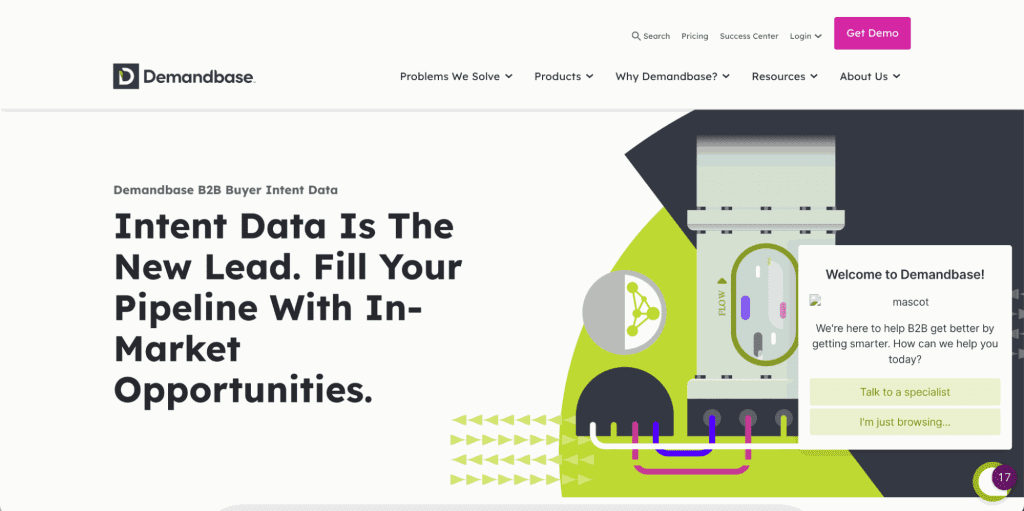 Demandbase lets you see who's interested in your solution and others like yours. That way, you can cut through the noise and reach the prospects closer to making a purchase. The tool tracks over 500 billion signals per month across over 300,000 intent keywords.
Demandbase features several products that help you automate your sales and marketing efforts, including Sales Intelligence Cloud and Advertising Cloud. Combined with Account Intelligence, these marketing products help you build an effective marketing strategy.
Key features:
See accurate intent data backed by robust processes that ensure its quality
Access data from several partner sources to enhance the extent of your data
Provides intent data at many stages of the buyer journey
Zero in on ideal targets based on the technologies they use
Stay connected with your target companies' news
Pros:
Users can add custom tags and fields
Easy-to-use interface
Provides company insights
Cons:
Reporting functionality could be improved
Manual set-up
Opportunity for more keyword customization
Pricing:
6sense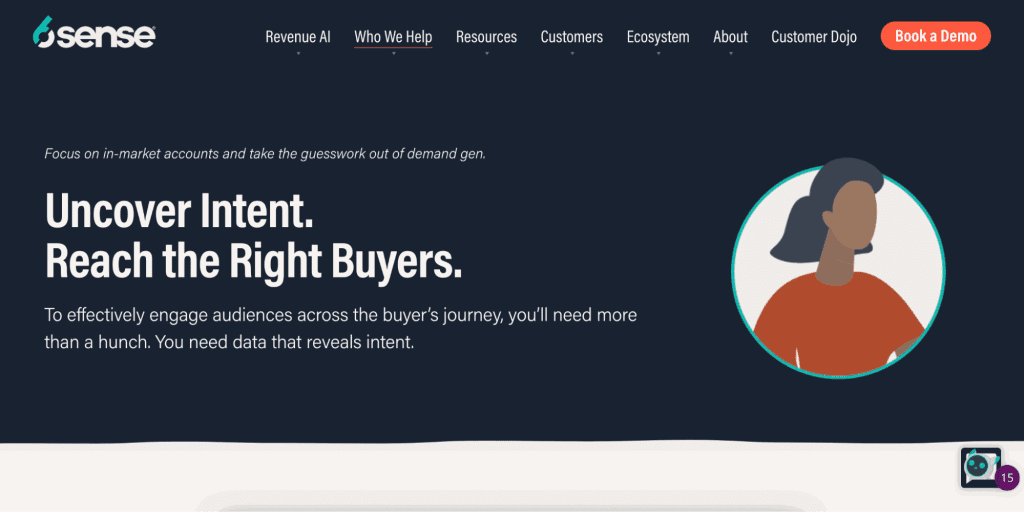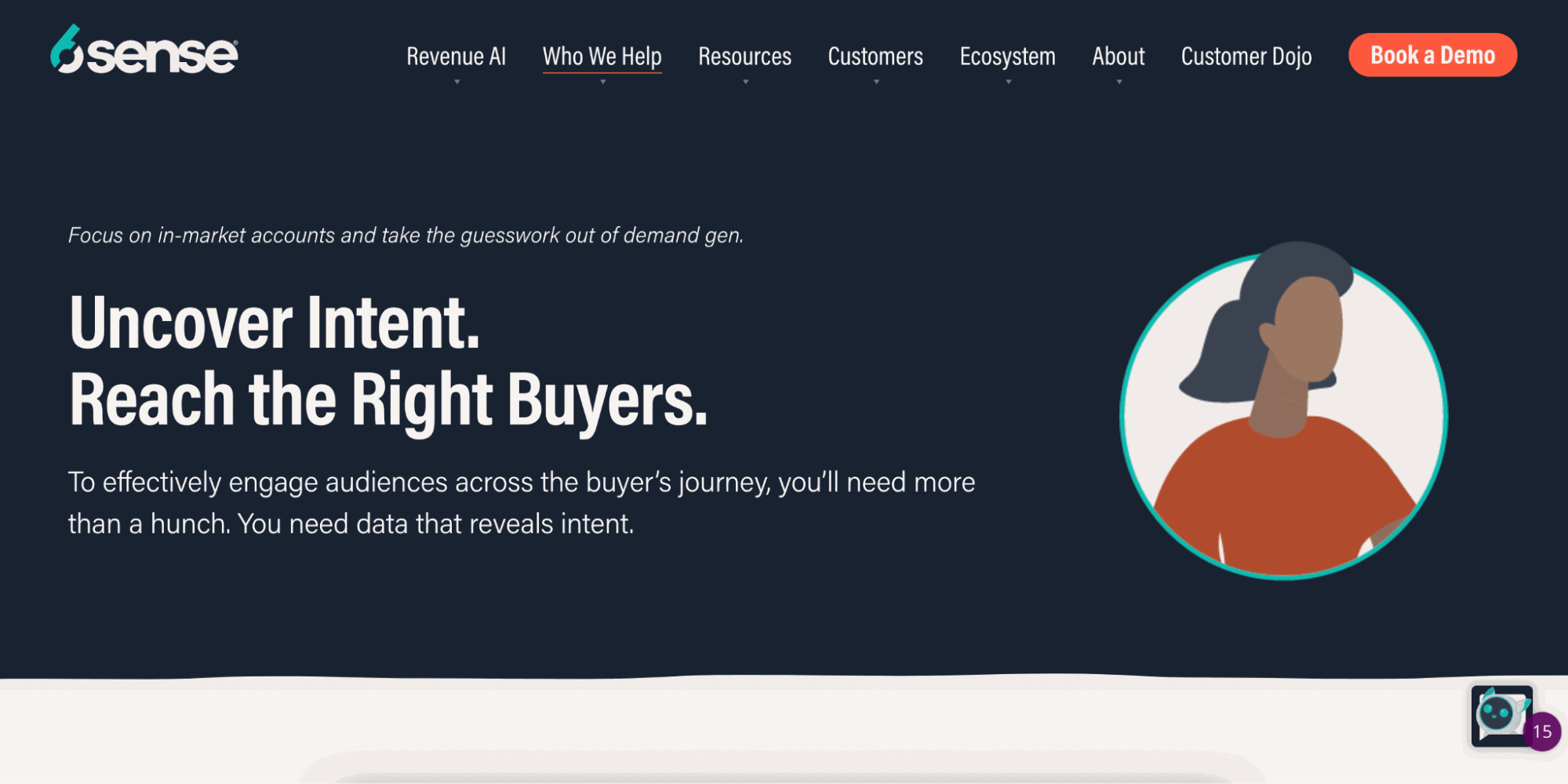 6sense leverages AI technology to pull detailed insights on marketing and sales teams' targets. The platform enhances customer segmentation so users can create compelling, multi-channel campaigns that drive conversions.
The platform provides real-time insights into which accounts are in-market for a product or service, their needs, and when they're likely to buy. 6sense also offers a suite of tools to help users optimize their campaigns, track performance, and measure ROI. In addition, 6sense provides professional services to help customers get the most out of its behavioral intent data.
Key features:
Capture insights from trusted and relevant B2B sources
Get visibility into the entire prospects' buying team information
Leverage AI to predict better when to engage with leads
Gather buyer activity from website visits and competitor sites
Get help from a customer service team that's committed to helping you drive marketing efficiency
Pros:
Advanced segmentation capabilities
Best-in-class customer support and onboarding experience
The right set of features for value
Cons:
User experience impacted by lags and slow load times
Issues with integrations like Salesforce
UI issues with intent data visualization
Pricing
Lead Onion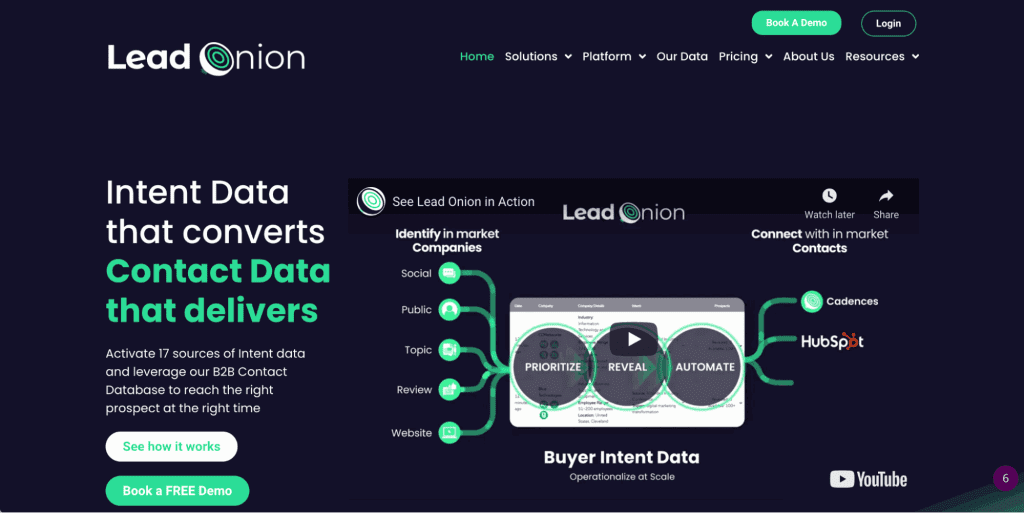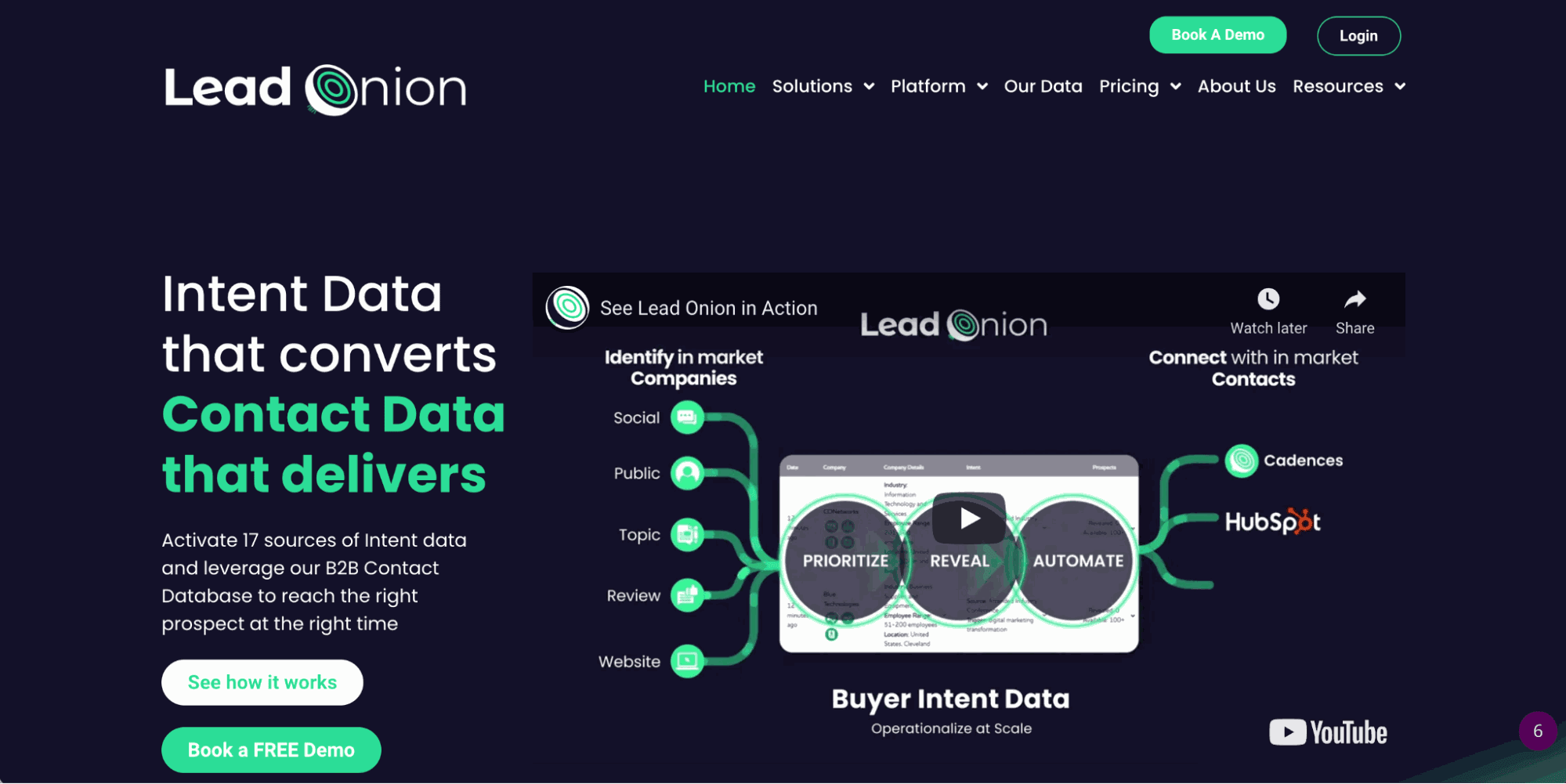 Lead Onion helps sales teams identify relevant, up-to-date purchase intent data. It also allows users to segment lead lists and align with your buyer persona. In addition, the platform features built-in communication tools to help marketers reach out to their most interested leads instantly.
Lead Onion's platform is designed to be easy to use, with a user-friendly interface that makes it simple for businesses of all sizes to get started. In addition, Lead Onion provides several resources to help you get started with intent data marketing, including tutorials, case studies, and best practices.
Key features:
Build contact lists that match your buyer persona
Integrate workflows with your existing tech stack for easier adoption
Find similar leads using the LookAlike tool to expand your reach
Filter your prospects with advanced segmentation tools that help you drill down on the right ones to engage
Get unlimited contact storage for your lead management
Pros:
Access to topic, social, and website intent
Easy to use and small learning curve
Reliable and accurate B2B intent data
Cons:
Some leads may be out of date
Lacking detailed data on contacts
Some technical issues and bugs
Pricing:
Leadfeeder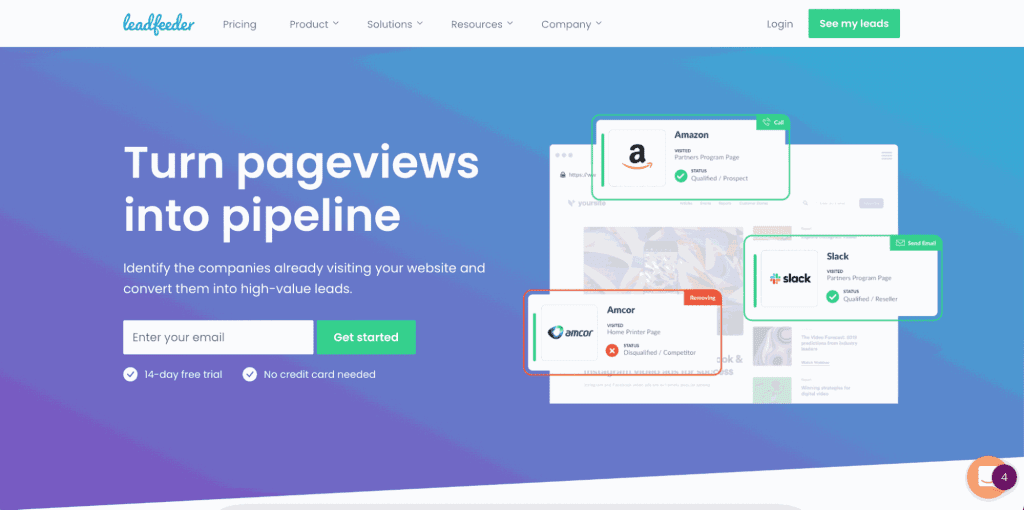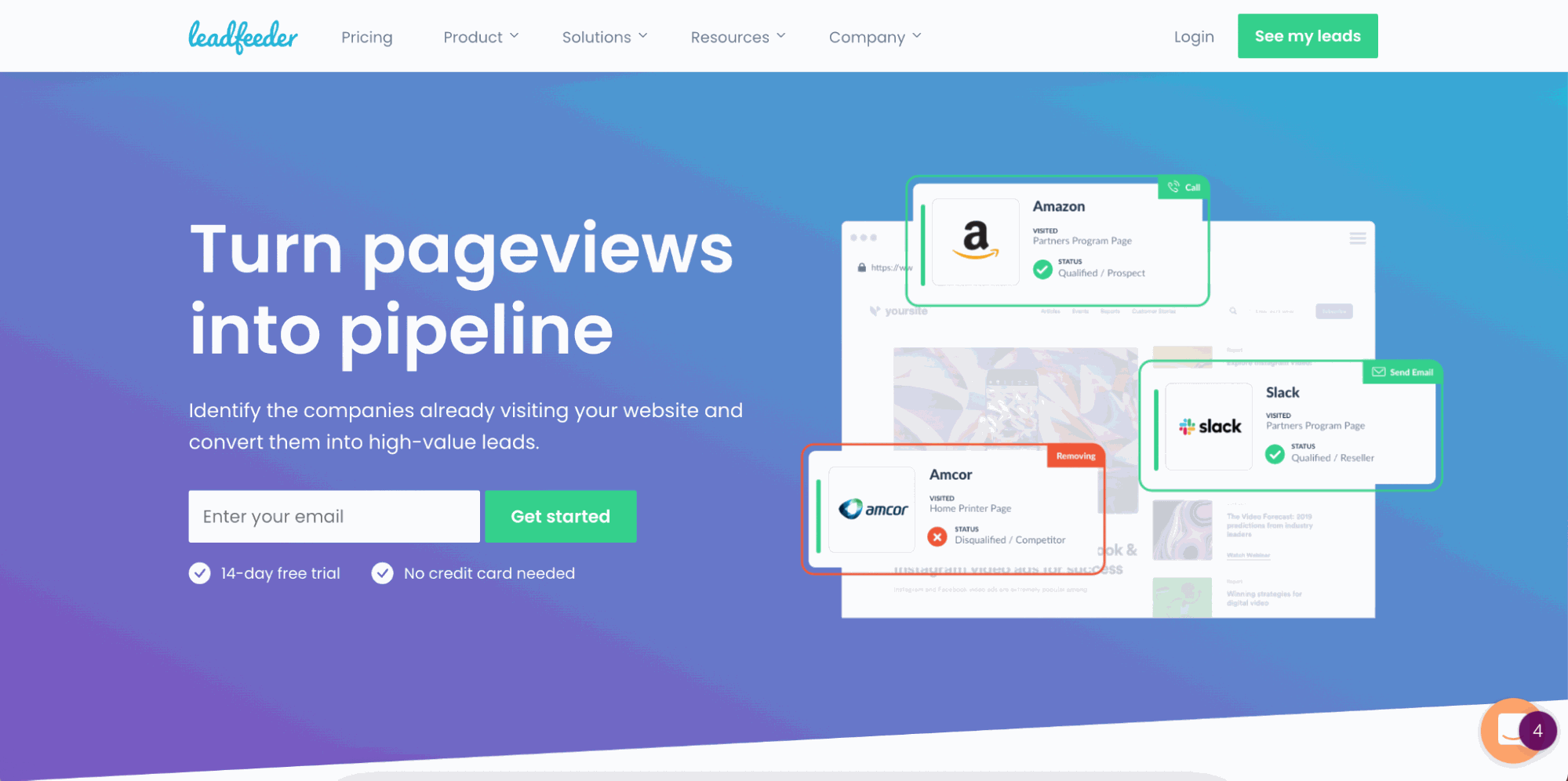 Leadfeeder saves marketing teams time evaluating inbound leads by providing real-time B2B intent data sourced from an extensive database. As a result, you can focus your marketing efforts on leads that are ready to take action.
With a history of delivering high-quality leads to marketers, Leadfeeder provides an effective way to gather GDPR-compliant intent data. Leadfeeder also offers a range of tools to help your team identify potential leads, including a lead scoring system and a contact management system. In addition, the platform provides a range of reports and insights to help your business understand its online traffic.
Key features:
Cut through the clutter of traffic to identify actual companies to target
Create segments of prospects based on demographic filters so you can personalize your outreach messaging
Find and export LinkedIn and email information from identified profiles
Build insightful reports with B2B intent data from your visitors
Rank your leads automatically based on their level of engagement
Pros:
Effective customer support
Easy-to-use workflows
Real-time data updates
Cons:
Analytics could be more robust
Some issues with usability
Opportunity for more detailed contact information
Pricing:
Lite: $0
Premium: $79/month with a free trial
DemandScience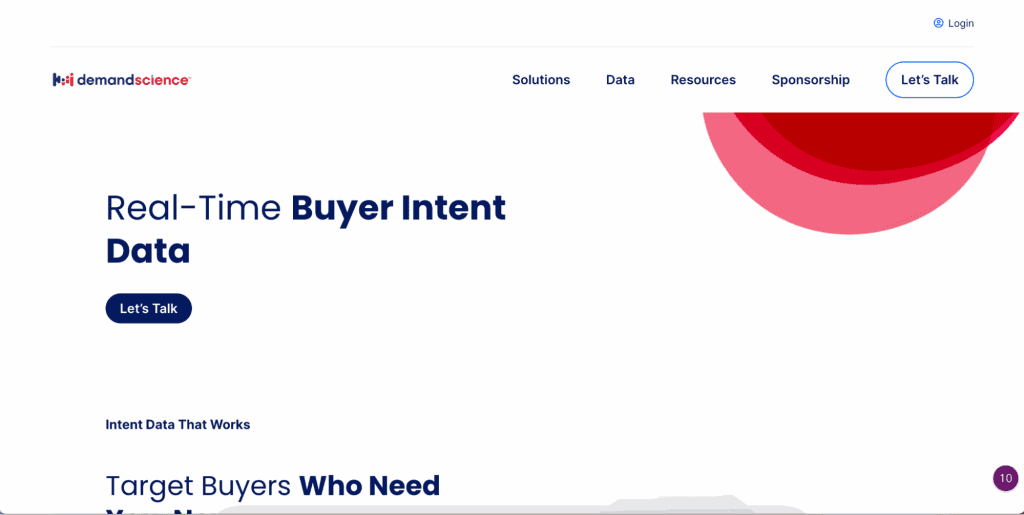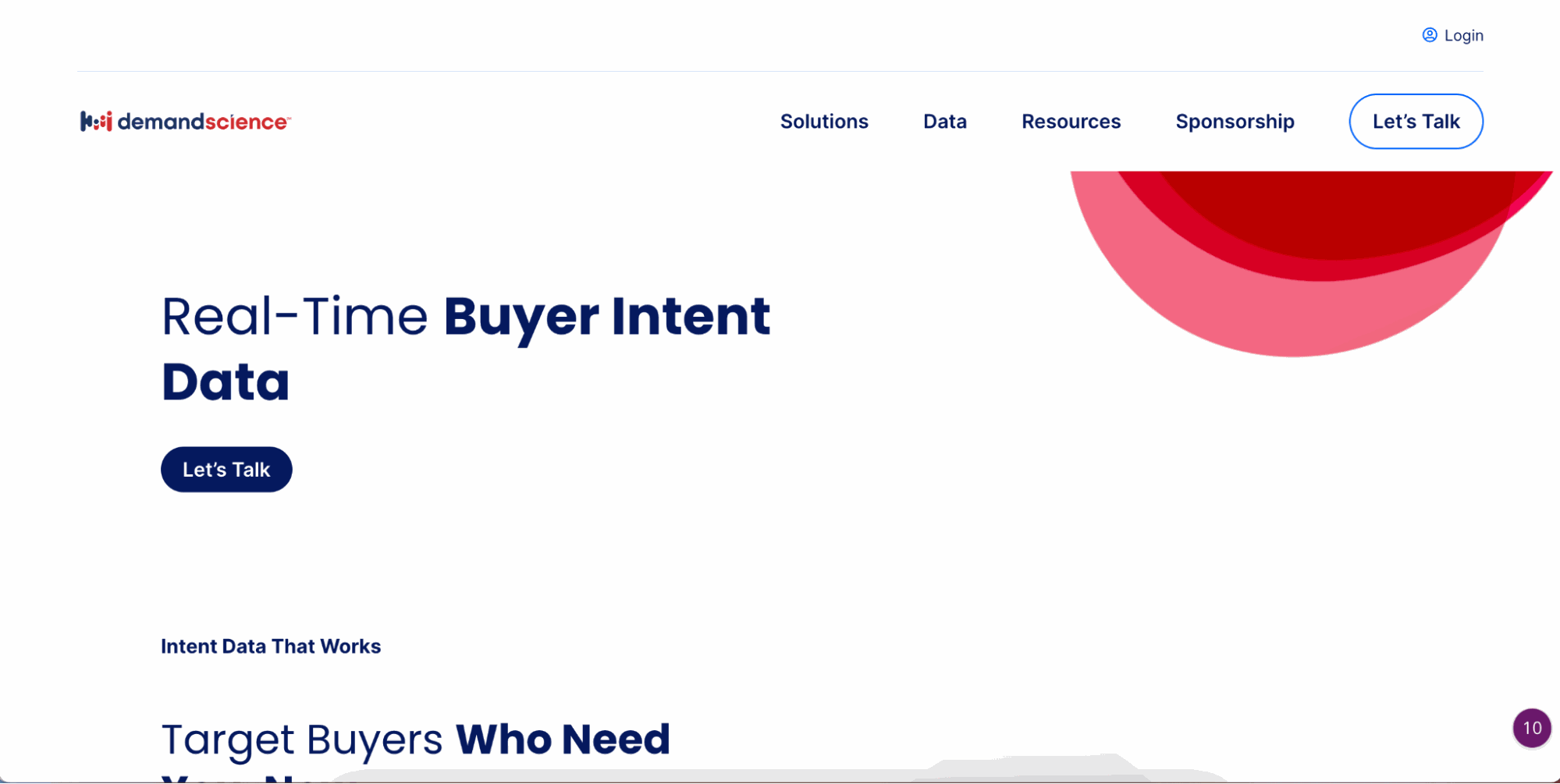 DemandScience delivers GDPR-compliant contact information with behavior and high-quality intent data. This means a more targeted approach to reaching out to leads and enhanced conversion for sales teams. With DemandScience, you can easily connect their data sources, automatically enrich your data sets, and access advanced analytics tools.
In addition, DemandScience provides features specifically designed to help you make better decisions with your intent data, such as forecasting. The platform's data visualization tools allow users to quickly and easily understand their buyer intent data.
Key features:
Search over 70 million vetted contacts across the world
View the likelihood of purchase to tailor your sales outreach strategy based on the customer journey stage
Target users that are a right fit with their tech stack
Uncover markets you haven't targeted to reach new customer segments
Access tracking across multiple IP addresses and devices to ensure you're reaching the right person
Pros:
Premier UX design
Top-notch customer success team
Detailed analytics on the success of campaigns
Cons:
Some issues with contact info not being up to date
Minor issues with delays in getting intent data
The technical interface could use some improvements
Pricing:
Terminus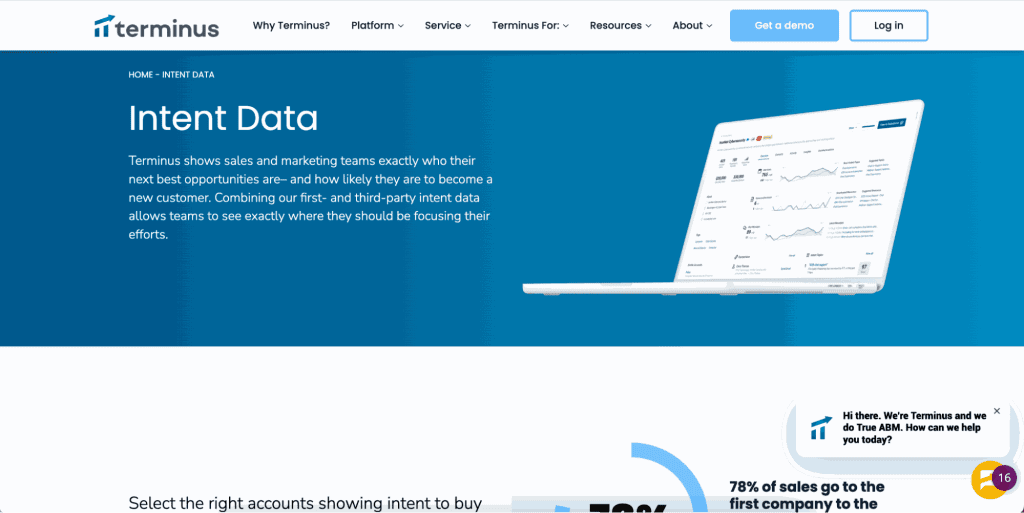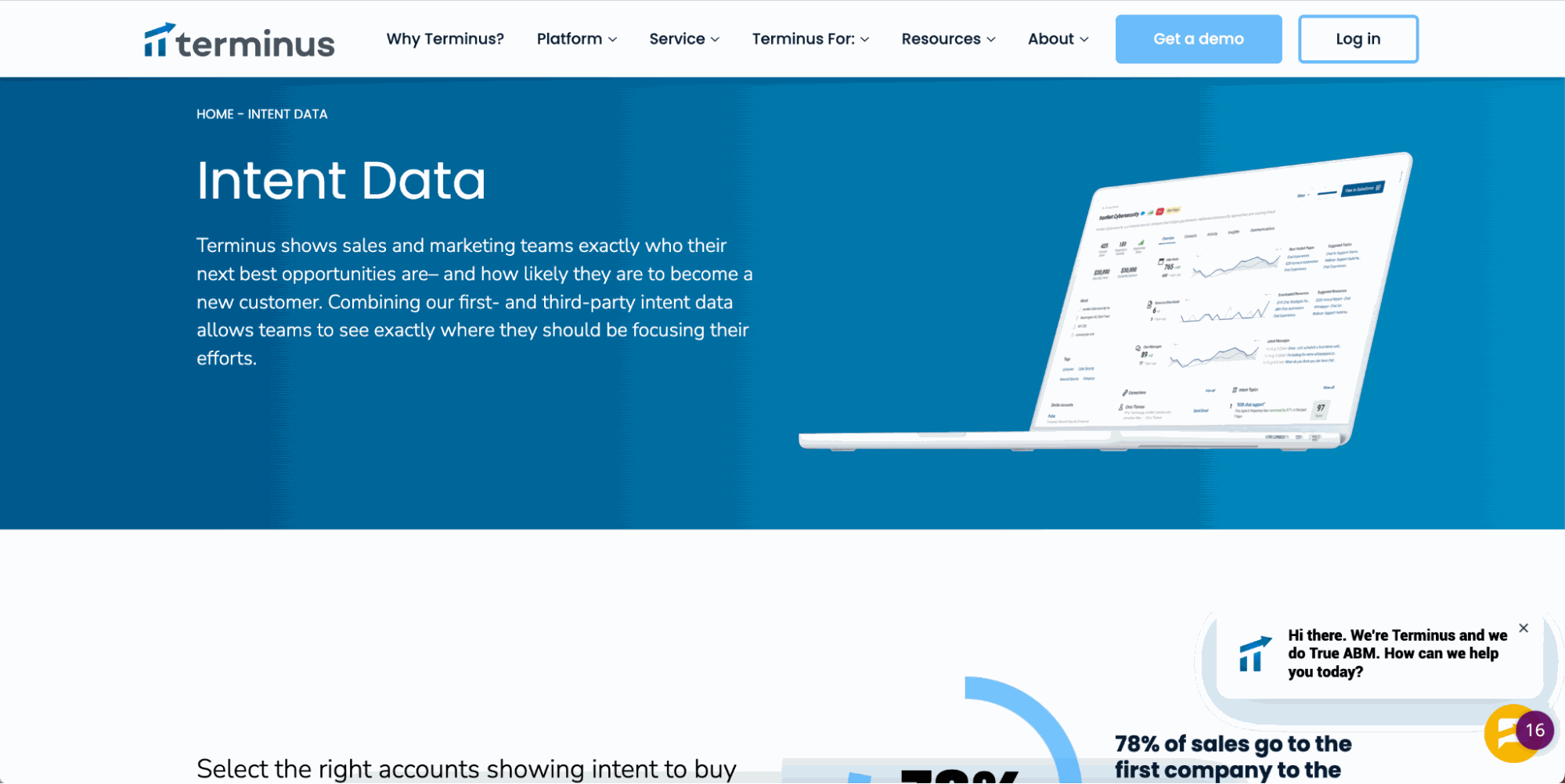 The Terminus platform helps sales and marketing teams zero in on the companies searching for their solutions. The platform provides intent data that is consistently updated and cleaned to give you the most accurate contact information.
You can build data-driven outreach strategies that enhance conversion with robust multi-channel targeting and relationship mapping. It also integrates into your favorite CRM software to keep track of your prospects without manual input.
Key features:
Target people looking for your or your competitors' solution
Get access to robust B2B intent data signals with partnerships with G2 and Bombora
Discover relationship data that helps understand your prospects' team and context
Keep your sales team in the loop on company updates
Prioritize leads based on the strength of intent signals
Pros:
Integrates with G2 intent signal data
Responsive customer success team
Easy to onboard and get started
Cons:
Not compatible with Android
Some manual data entry required
Minor technical issues
Pricing:
Basic: Custom pricing
Advanced: Custom pricing
Professional: Custom pricing
Enterprise: Custom pricing
Datarade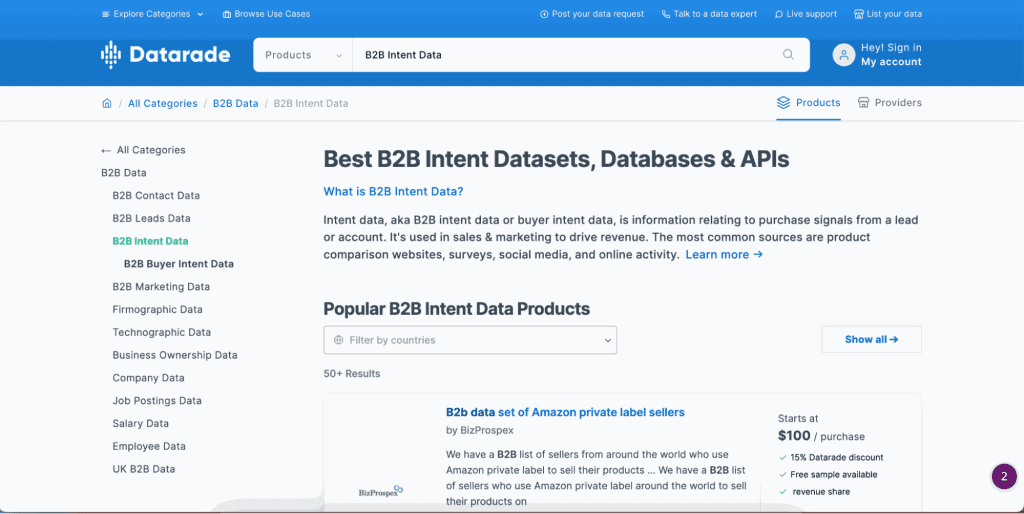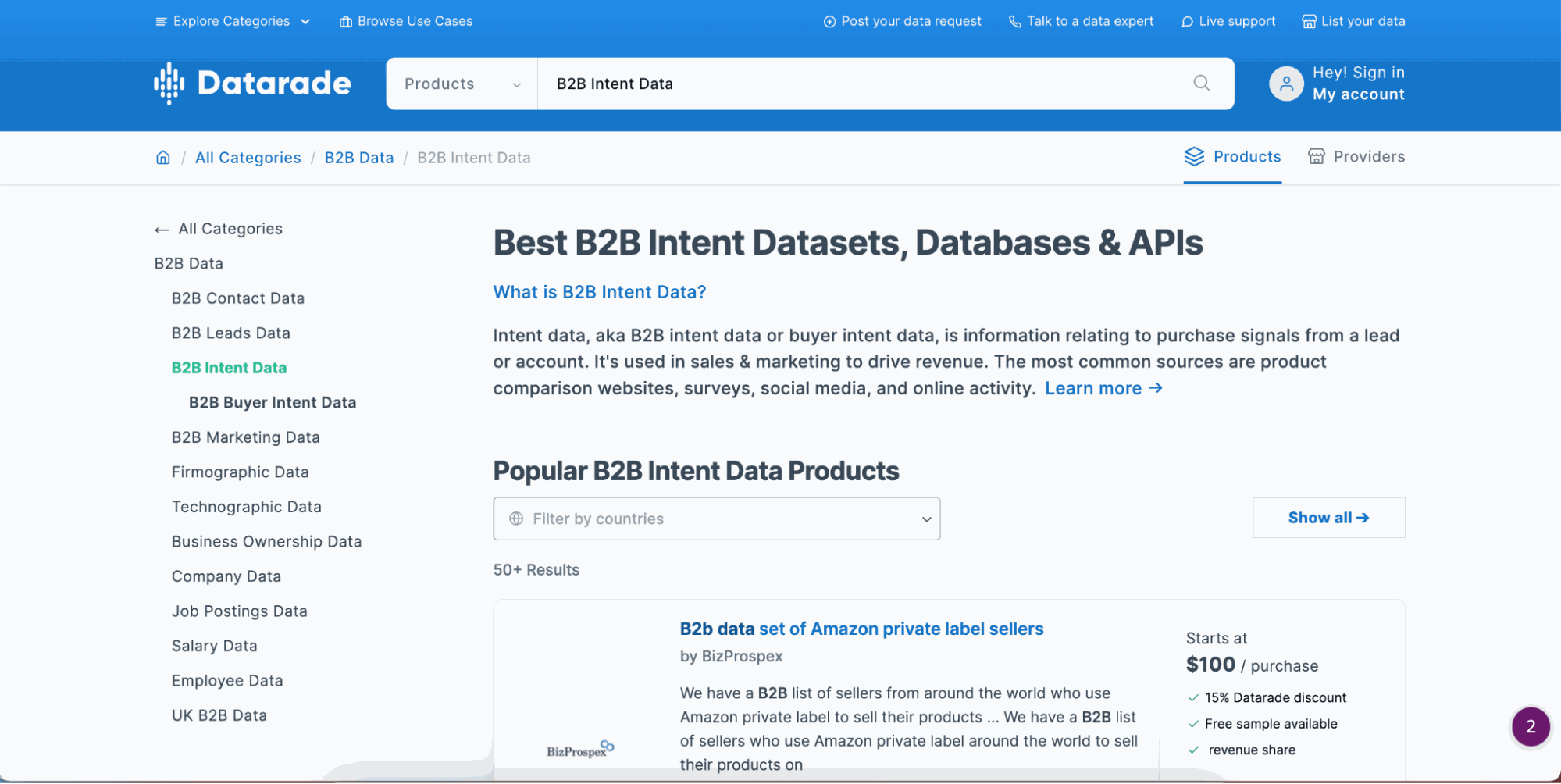 Datarade helps marketers automate their lead sourcing and connect them to the right point of contact that can drive a sale. The Datarade team also provides sourcing advice to help sales and marketing teams evaluate data provider options at a glance.
Datarade's powerful search engine helps organizations find the right data for their specific needs, and its intuitive interface makes it easy to access and analyze buyer intent data.
Key features:
Source from 2,000 data providers to engage with quality leads
Access global market insights
View location, ESG, and identity graph data
Use an extensive set of data categories to refine your outreach strategy
Get help from leading industry experts to optimize your B2B intent data
Pros:
Comprehensive lead info
More than 500 data categories
Sourcing advice
Cons:
Pricing:
IntentData.io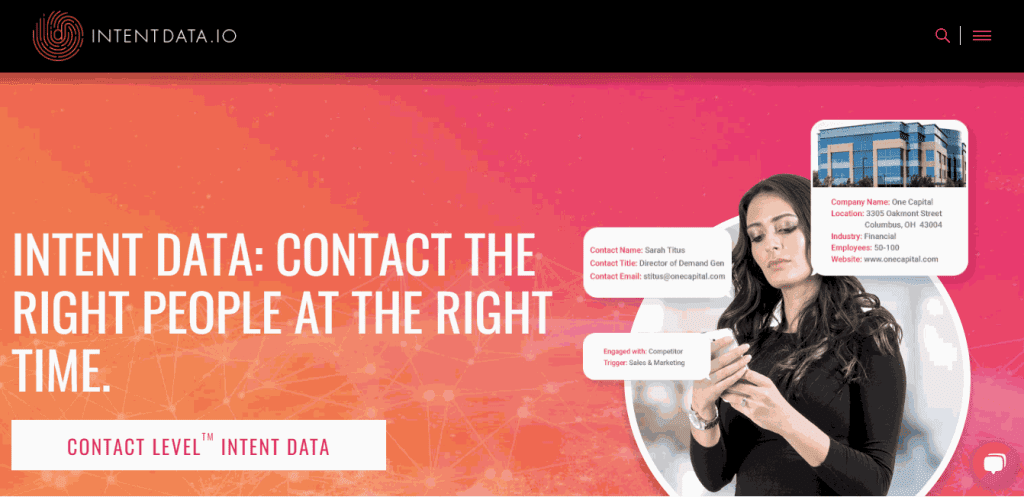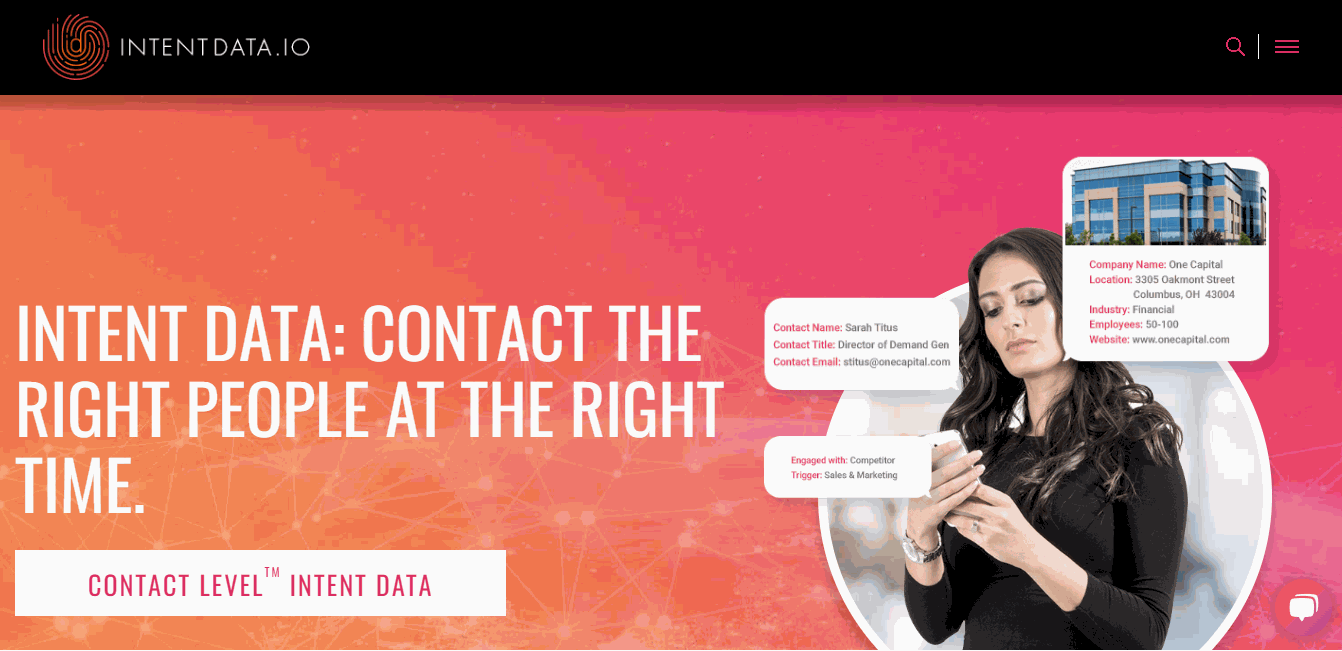 To combat inefficient lead communication, IntentData.io helps marketers see contact-level intent data. That way, sales and marketing teams can enhance their marketing strategy and increase their close rates.
IntentData.io is a powerful marketing tool that provides valuable insights into customer behavior. Its online activity tracking reveals how interested someone is in your product or service and their intent. This information can help tailor outreach campaigns and enhance your sales pipeline.
Key features:
Access actionable B2B intent data in real-time
Set up robust integrations with various CRMs like Hubspot, Salesforce, and more
Source buyer intent data using publicly available and GDPR-compliant methods
Pros:
Transparency in buyer intent data sourcing
Easy to use
Custom filters for data sorting
Cons:
Limited segmentation capabilities
Not enough regular updates to the platform
Contact management features could be improved
G2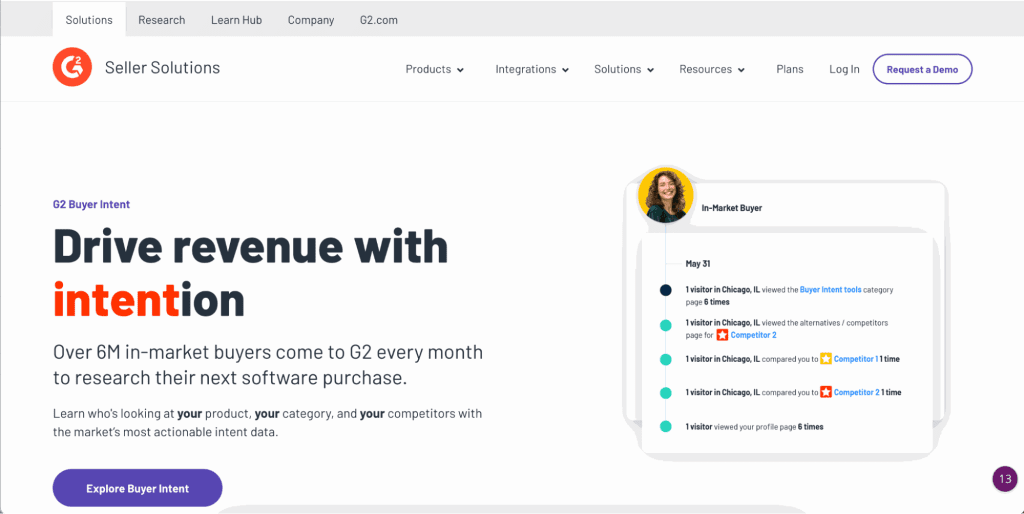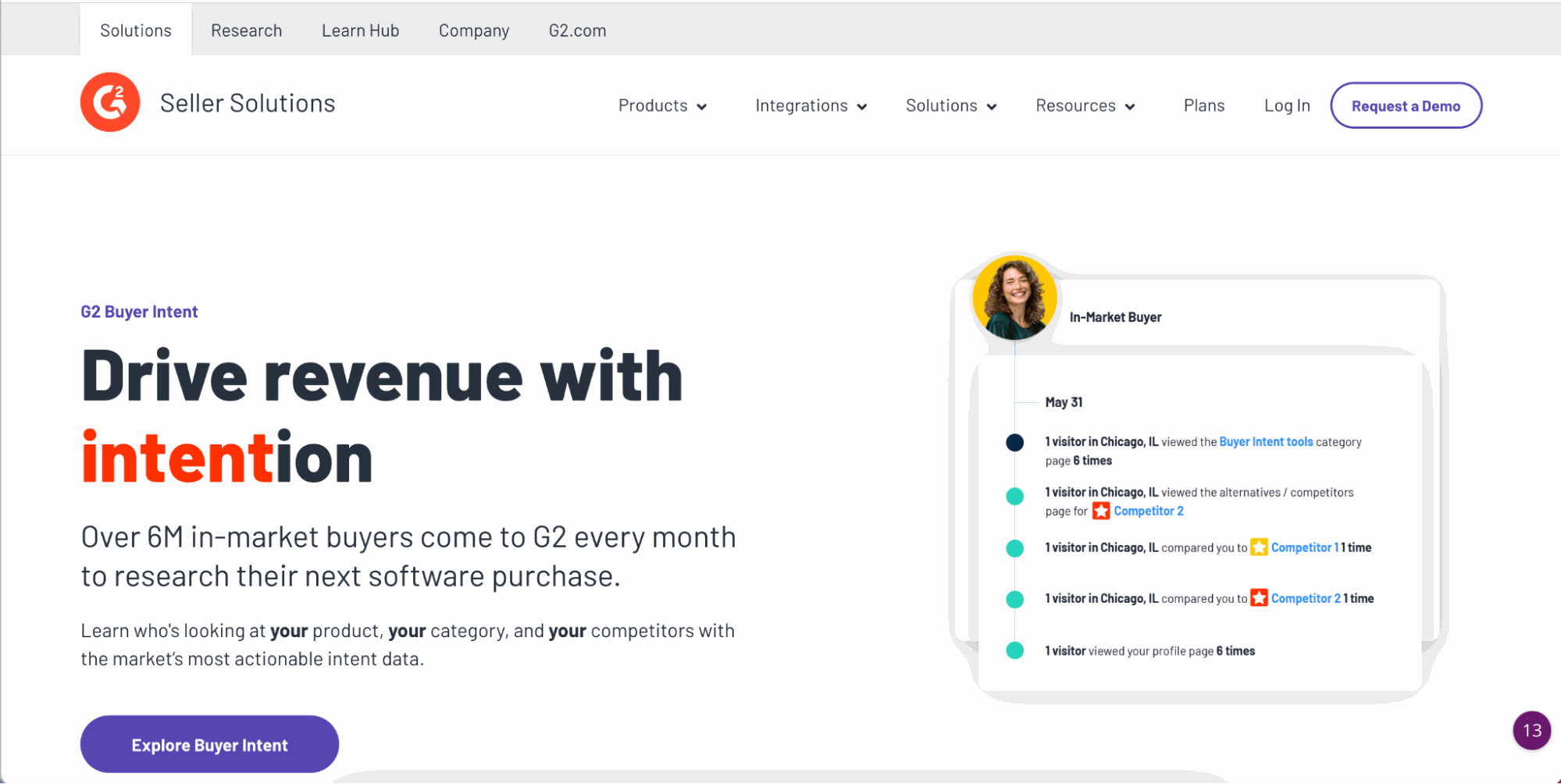 G2 draws millions of buyers looking to make their next software purchase and provides key data on buyer intent. It provides a platform for business-to-business software reviews, ratings, and comparisons. It also helps companies with lead generation and market intelligence.
G2's reviews and ratings can be used to understand better how customers feel about a given product. This feedback can then improve the product or adjust marketing campaigns accordingly.
In addition, you can use G2's database of past buyers to generate new leads and target potential customers more effectively. G2's market intelligence reports help you gain insights into trends and find new growth opportunities.
Ultimately, G2 provides a wealth of data that can be extremely helpful for marketing teams looking to improve their performance.
Key features:
Integrations with a variety of tools like Salesforce to engage with leads seamlessly
Churn risk insights
Multi-channel attribution
Pros:
Significant reach as one of the biggest software review platforms
User-friendly interface
Extensive knowledge base and resources
Cons:
The user base skews towards larger company size
It doesn't display an activity dashboard
No APIs
Pricing:
FAQ: Intent Data Providers
These are some of the most frequently asked questions regarding intent data.
How Do Companies Get Intent Data?
There are a few different ways that companies can get intent data. One way is through first-party data, which the company collects through its platforms and channels. This could include website data, app data, CRM data, and more.

Another way is through second-party data, which is data that the company gets from partnering with another company. For example, a company could partner with an email provider to access an email list.

Finally, third-party data is collected by an independent party and then sold to companies. This is usually anonymized data, meaning it can't be traced back to an individual. Companies use all three data types to understand their customer's needs and intentions comprehensively.
How much does intent data cost?
The cost of subscribing to a B2B intent data provider varies widely, with most intent data vendors charging less than $50,000 per year. However, some intent data providers charge more than $100,000 per year to access their data.

The main factors that affect the cost of a subscription are the amount and quality of the data. Providers with a large or high-quality data set can charge more for their services. In general, subscription costs for intent data range from $30,000 to more than $100,000 per year.
What is B2B intent data?
Business-to-business (B2B) intent data is information that captures the online research activities of potential B2B buyers. It helps sales and marketing professionals understand what their target audience is interested in and when they will likely be ready to purchase. This data can be collected from various sources, including search engine results, social media activity, and website interactions.

Marketers can develop more targeted and effective marketing campaigns by understanding their audience's intent. As a result, B2B intent data can be one of the essential marketing tools for any team looking to scale.
What to Remember About Intent Data Providers
Intent data is integral for understanding your customers' intents and motivations. When picking a B2B intent data provider, it is important to consider the features that will be most helpful in achieving your business goals.
The top intent data providers we listed offer a variety of features and settings, so take the time to explore what each has to offer. With the right intent data provider, you can gain insights into your customers' behavior that will help you create more effective campaigns and improve your sales efficiency.
Get comprehensive B2B intent data from the platform that invented it. UpLead partnered with Bombora so instead of simply scraping data, you get access to data that's directly collected with consent from Bombora's proprietary data source. You don't just get accurate data, you get the most accurate intent data on the market. Try UpLead's data intent today.