What is ZoomInfo?
ZoomInfo is a business information provider based in Vancouver, Washington. The company offers a subscription-based service that provides access to business contacts and company profiles. Originally founded as DiscoverOrg in 2007 by Henry Schuck and Kirk Brown, it operated until February 2019, when it acquired its competitor Zoom Information, Inc. and subsequently rebranded as ZoomInfo.
The company's original focus was on providing business contact information. However, it has since expanded its scope to include company profiles and other business intelligence data. If you're looking for a less-expensive alternative, we recommend checking out Uplead.
Quick Watch: Is Zoominfo REALLY worth it? Maybe! Find out in this in-depth ZoomInfo Review vs. UpLead. Review on price, product, and customer service. 🔥 Try UpLead and see it for yourself.
Quick Links:
What is ZoomInfo Used For?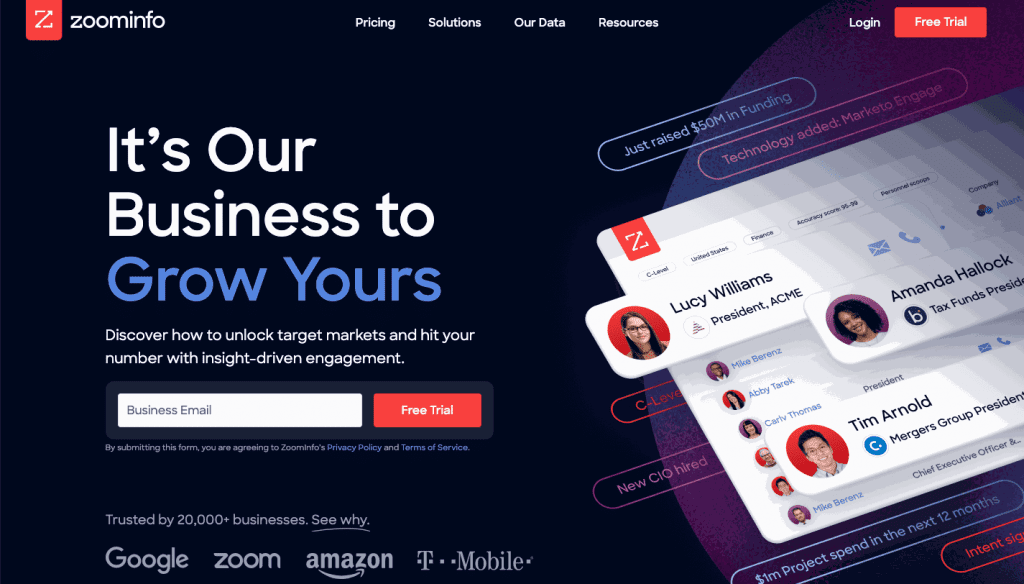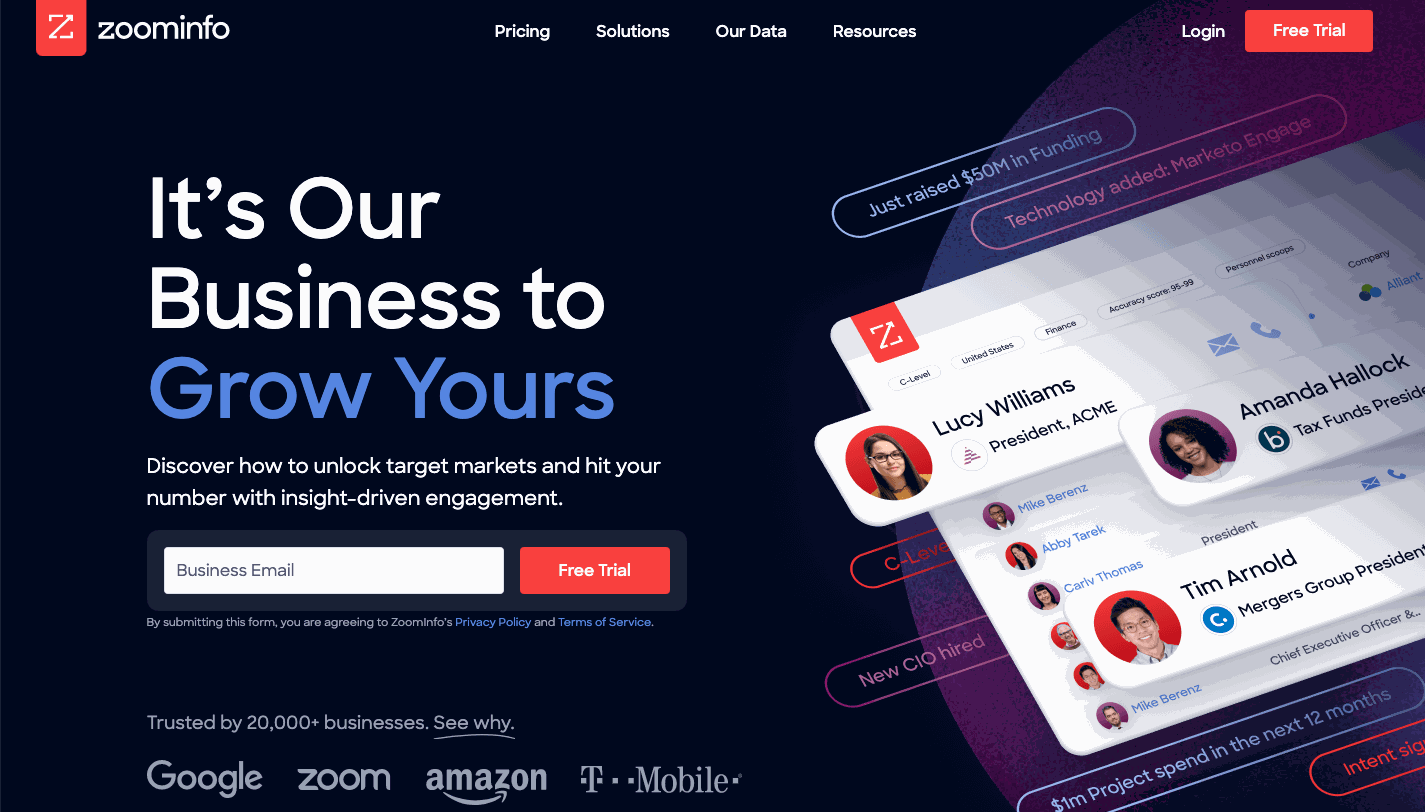 ZoomInfo is primarily used for sales, marketing, and talent acquisition. The platform provides users with access to contact information and company profiles, which can be used to research potential customers and create targeted lists.
ZoomInfo can also help with lead generation and marketing research. The platform's extensive database can be used to find potential customers that match your target criteria. The company profiles can also be used to research competitors and find new partner companies.
How Does ZoomInfo Work?
ZoomInfo's database is compiled from various sources, including public records, business websites, and annual reports. The platform also uses what's known as "web scraping," which is a technology that can gather data from sources not typically available to the public.
This information is then organized and made available through the ZoomInfo platform. Users can access the data by searching for specific companies or contacts or using the platform's advanced search criteria.
ZoomInfo Plans
ZoomInfo offers a variety of subscription plans that vary based on the features and functionality included. The company offers a free trial and a free edition (AN with a few strings attached.
Users can search ZoomInfo's data for free with the "Community Edition," (Zoominfo's free edition), which gives access to the entire database. It allows users to download 10 contacts each month. ZoomInfo then requests that trial participants install an Outlook plugin that "automatically shares" the user's business contacts with ZoomInfo's platform.
This allows ZoomInfo to obtain email addresses and pull data from email headers and signature blocks. The platform scrapes this information to keep its data fresh and up to date.
SalesOS Plans
ZoomInfo's SalesOS plans are designed for sales organizations and start at $14,995 per year. These plans include features such as LeadIQ, which allows users to create lists of leads that match specific criteria; Click-to-Dial, which makes it easy to call leads directly from the platform; and Email Integration, which allows users to send emails directly using ZoomInfo's software.
The most basic package, Professional+ ($14,995/year), is best suited for small businesses and startups. This plan offers the following key features:
Find information about individuals or businesses by searching for keywords or business/contact names
List of phone numbers and email addresses of experts and key contacts at various firms
Tailored prospect lists and email notifications to inform you when new information is added that matches your search criteria
Professional profiles will be detailed, including job titles, company names, and contact information
Export data in a range of file types, including Excel, PDF, and CSV
Detailed information included in some company profiles, such as revenue, employees, or web address
If you're a mid-sized business already, you might consider Advanced+ ($24,995/year). It includes all of the key features from Professional+, as well as:
Company locations, hierarchy data, and department organization charts
Social media profile links, financial info, and tech adoption trends
Intent signals and website visitor data
Smart filters and buyer recommendations
Designed for large businesses/corporate enterprises, Elite+ ($39,995/year) has all the features of the previous two plans and also includes:
Real-time intent data
Sales automation
Ability to track contacts
Departmental employee counts and advanced company characteristics
Customized client profiles based on the company's customers, prospects, and existing clients
ZoomInfo Alternatives
There are numerous business research and lead-generation tools on the market. Comparing ZoomInfo to some of its competitors makes sense to ensure you find the right platform for your business.
There are a few reasons one might consider using an alternative to ZoomInfo. Some businesses need different features; others may be in search of more affordable software.
UpLead
UpLead is a tool that is very similar to ZoomInfo. It offers many of the same features, including searching for leads, creating lists, and actively tracking sales.
One of the main differences between the two tools is that Uplead offers a free plan with no strings attached. This lets you test the platform and data right away.
It includes access to up to 100 leads per month, more than what ZoomInfo offers in its free trial.
UpLead also has several more affordable plans than those offered by ZoomInfo. For example, Uplead's Essential Plan starts at $99 per month, while ZoomInfo's SalesOS Professional+ Plan starts at $14,995 per year.
For a detailed breakdown, check this UpLead vs. ZoomInfo article.
Start Your 7-Day Free UpLead Trial
Lead generation doesn't have to be all that painful. With UpLead, you can easily connect with high-quality prospects and leads to grow your company.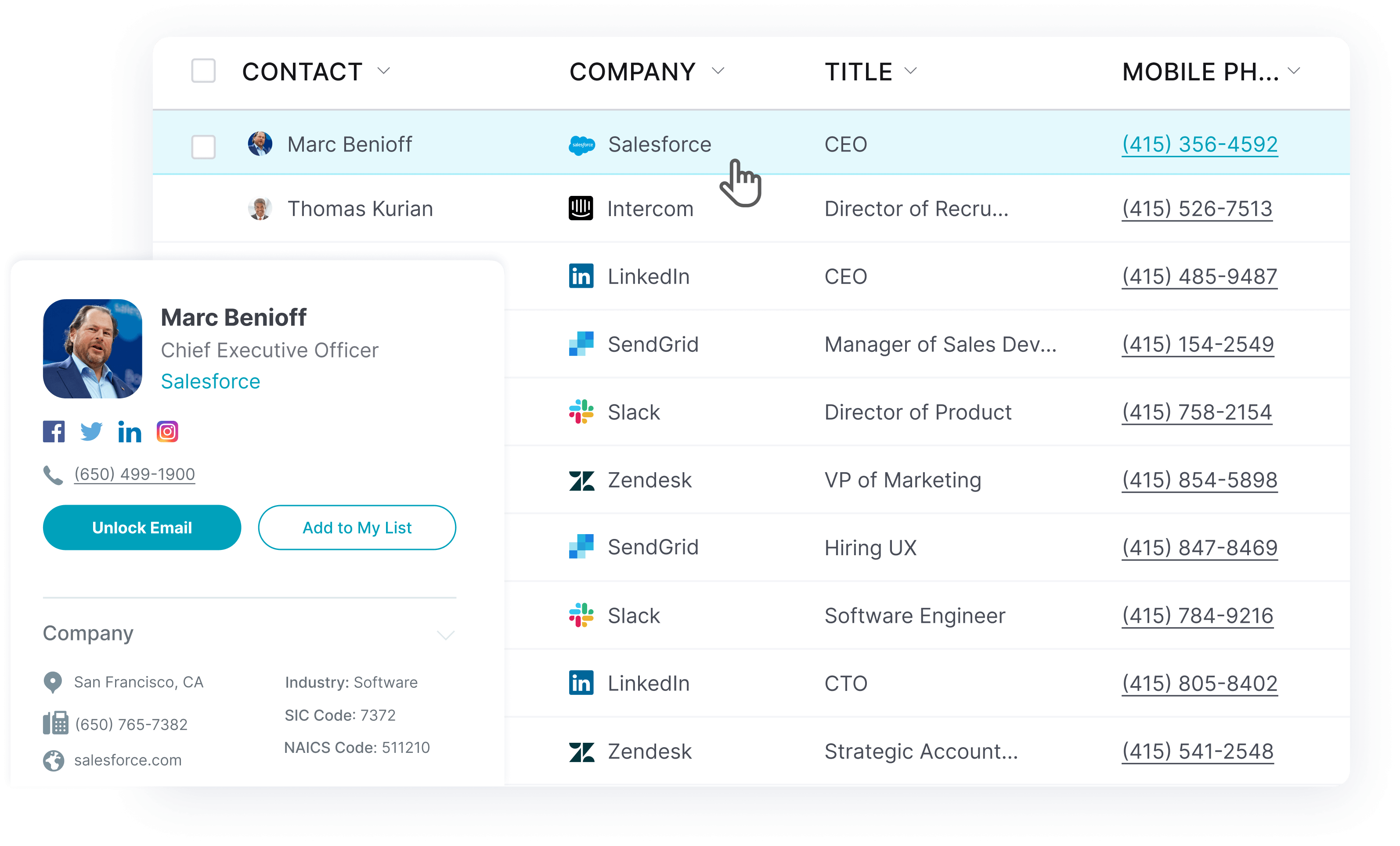 Other ZoomInfo Alternatives
There are a few other ZoomInfo competitors. Some of the most popular programs include:
SalesforceIQ
HubSpot Sales
Outreach.io
LeadGenius
FAQ: What Is ZoomInfo?
Below we'll answer some common questions when it comes to ZoomInfo.
Is ZoomInfo worth it?
If budget isn't a problem for you, ZoomInfo is worth it if you need a research and lead generation tool. It offers many features that can be very helpful for sales teams.
How much does ZoomInfo cost?
The cost of ZoomInfo depends on which plan you choose. The most basic plan, SalesOS Professional+, starts at $14,995 annually.
Is ZoomInfo legal?
ZoomInfo claims to process only business-related data, making the company's data-collection methods legal.
Conclusion
ZoomInfo is a powerful research and lead-generation tool that can be very helpful for businesses of all sizes. It offers several features, including searching for leads, creating lists, and actively tracking sales.
While ZoomInfo is not the least expensive option on the market, it's still reasonably priced compared to similar platforms. ZoomInfo is a great choice for anyone needing a research and lead generation tool.
But if you want a more affordable AND reliable tool, you have to give UpLead a try right now. Grab 5 free leads today.