Drive Growth with Targeted Sales Leads
Increase sales by quickly finding, connecting and engaging with qualified prospects.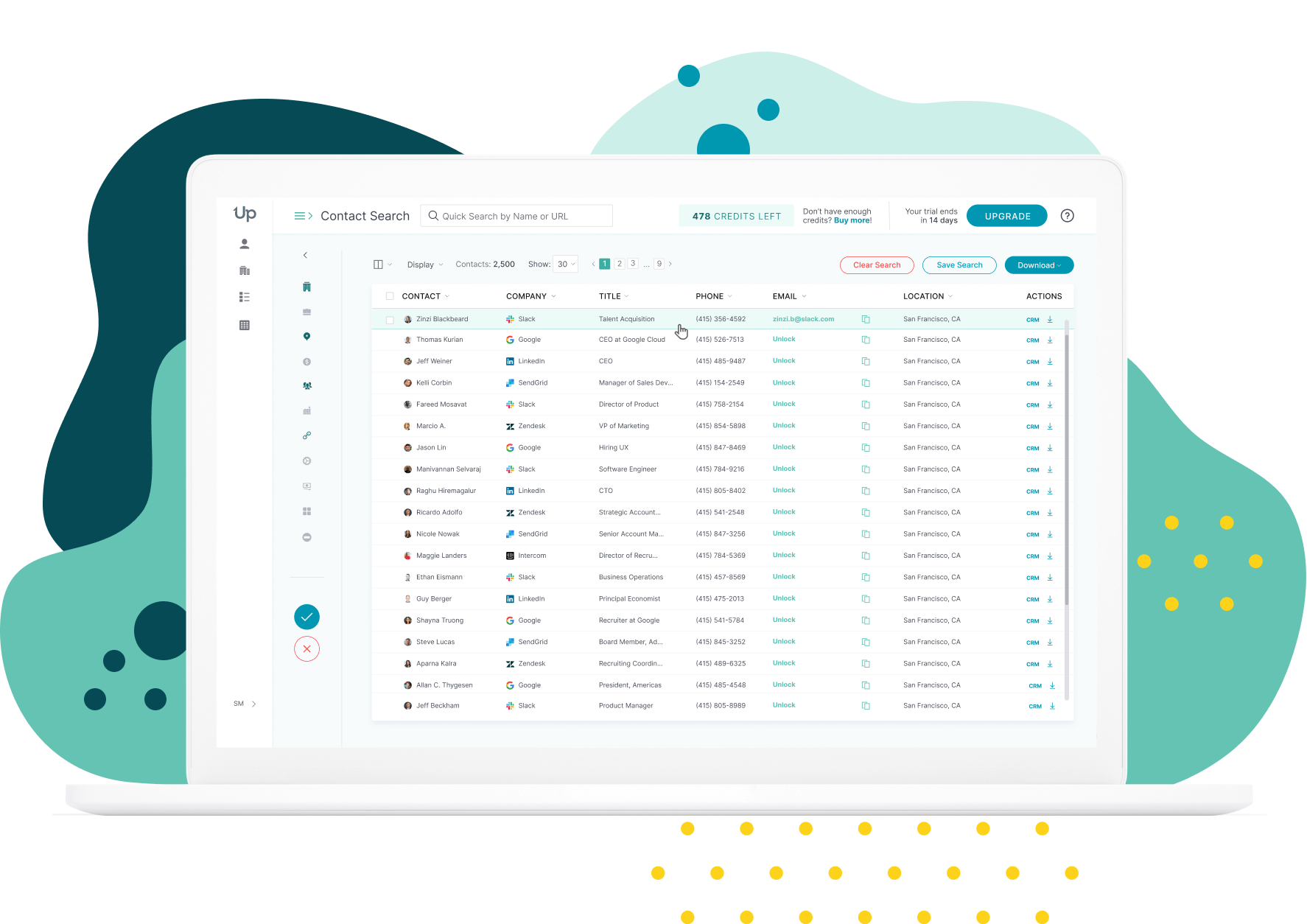 Closed $150,000 in New Business within the First 60 Days of Using UpLead
UpLead is a Lead Generation Platform that Connects you to the Right Contacts
Build targeted prospect lists with access to over 46 million business contacts worldwide. Search by title, job function, management level, industry, location, company size, technologies used and more.
High Quality Verified Data
What sets UpLead apart is our built-in real time email verification. Meaning anytime you download or export leads, we verify the email address in real-time. Clean and verified data leads to greater conversions and more sales.
Search Specific
Contacts & Companies
Strategically target and engage with the right contacts at your best fit accounts. UpLead's platform gives you the ability to search by contact name, company name or company URL.
Enrich and enhance your data by appending fields such as contact name, email address, title, company name, address, website, phone number, sic code, industry name, revenue, number of employees and more.
Immediate access. No credit card required.
A Sales Intelligence Tool that Works for you
For Marketing Professionals
Generate high-quality leads, build your pipeline, and create ABM campaigns.
"We were looking for very specific titles within a group of specific companies, and the tool managed to provide us with very good results."
"Accurate and affordable. I source all my leads from UpLead. So 90% of my business comes from it."
"A good alternative to Zoom Info without annual engagement. UpLead is really easy to use and is really efficient. It was easy for me to find my target persona."
"The data seems to be both accurate and up to date. We received almost no email bounces which is great."
"UpLead is a very intuitive platform and cross references different filters to make fine tuning a search more effective. "
"It has never been so easy to search for prospects - and it has never been so accurate. Just try it - and you will never regret. Choosing UpLead - is my best decision this year."
"UpLead over Zoominfo! It is simple to use and very affordable. I was able to sign and start using within minutes. While the others took days just to call me back."
"User friendly interface for isolating the leads you need. Great pricing to enable building a custom tailored database at reasonable cost."
"Easy to use platform, Great Value for money. I can affordably prospect, many tools out there that offer a similar service are very expensive."
"As a marketer, UpLead helps me to generate leads for our B2B sales team's email outreach."
"It has fulfilled everything that it has advertised and so much more. Highly recommended for people who use email as a channel for acquisition."
"Easy to search, UpLead is least expensive compared to other options, UpLead verifies leads before export which is fantastic."
"My contact database is growing exponentially, and I can reach more people in my area. Reaching more people gives me the ability to talk to more prospects and generate more business."
"Ease of use on finding the leads, and the automatic removal of bad leads that are tested before assigning."
Immediate access. No credit card required.
Need company & contact data to power your business? Try the powerful UpLead API.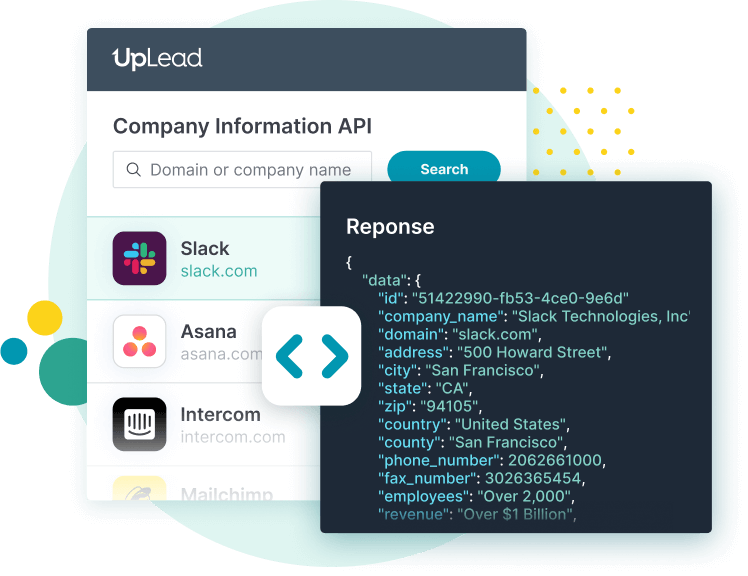 Easily export leads directly to your CRM



You'll Be in Good Company
Fast growing companies of all sizes and sectors trust UpLead
Sign Up For a FREE TEST-DRIVE!