Lead generation companies are designed to help boost your business and find the leads you need. The right B2B lead generation companies can streamline your marketing strategies by generating leads and helping your sales team focus on making sales instead of finding prospects.
Let's take a closer look at B2B lead generation companies and find out what they can do for you.
Quick Links:
What Do B2B Lead Generation Companies Do?
B2B lead generation companies allow users to generate leads instantly. Most lead generation companies give users access to large databases where they can find potential customers who fit a specific user persona. Users can download a list of their leads and incorporate them into their cold marketing efforts.
Other lead generation companies may include additional sales features like appointment setting, sales automation, and more. However, the best lead generation companies aren't necessarily the ones that come with the most bells and whistles—they're the ones that can generate high-quality leads and have the data to prove it.
The 15 Best B2B Lead Generation Companies
Let's take a closer look at the top lead generation companies, and find out which service is best for your company:
1. UpLead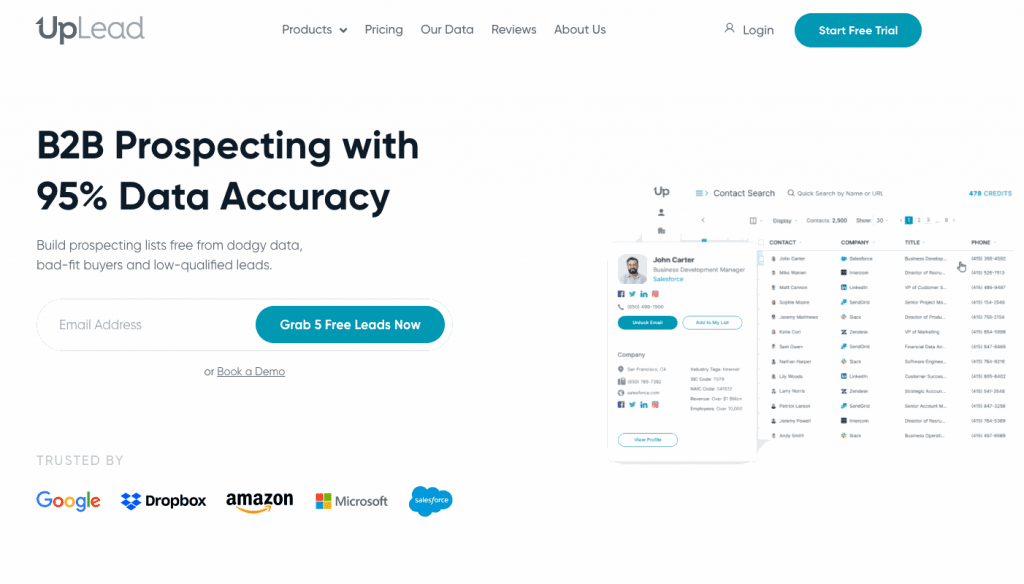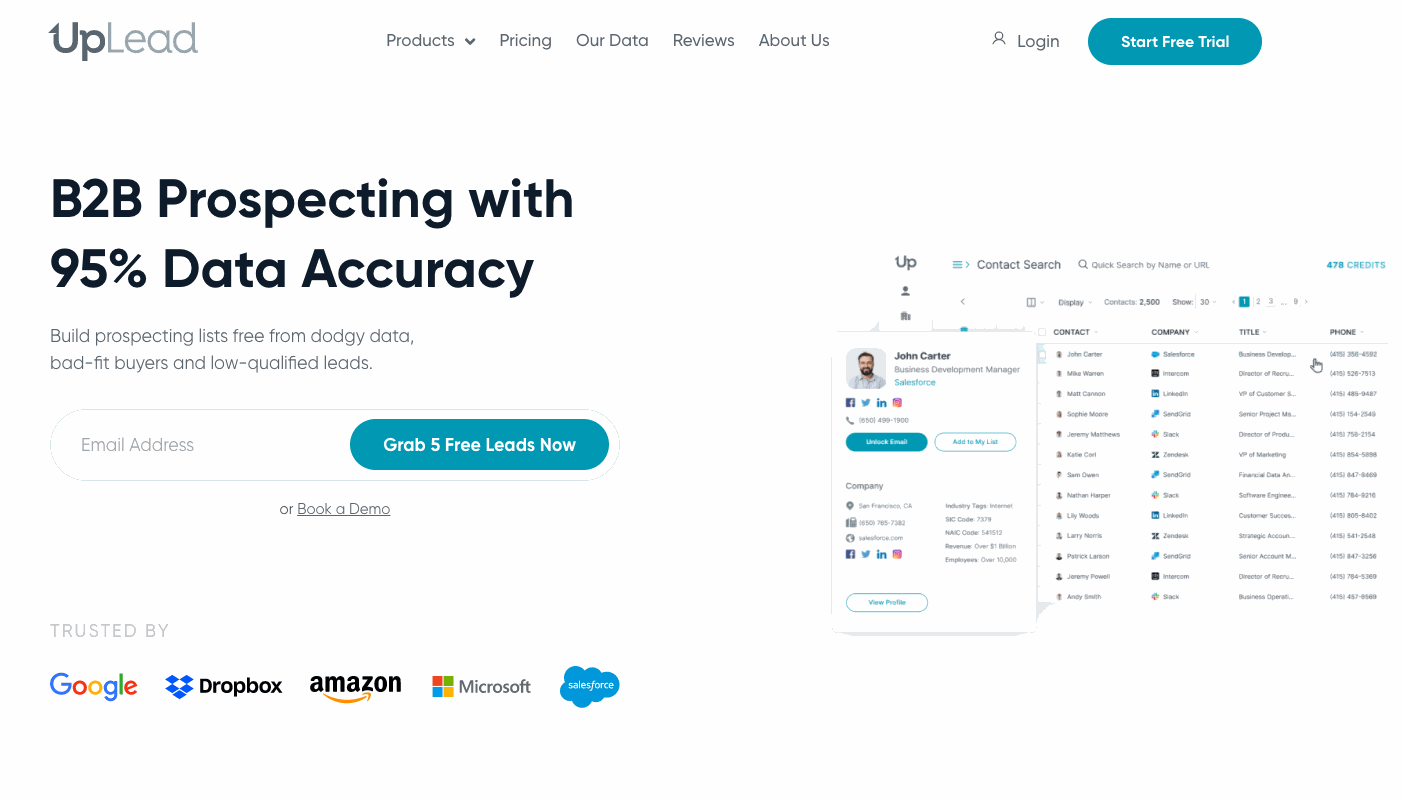 UpLead is a powerful lead generation company that allows you to generate high-quality leads as quickly as possible.
With UpLead's massive database, finding the right potential customers is simple—just input your customer personas' characteristics and select as many leads as you need.
Here are some features that make UpLead such a powerful tool:
High-quality data
UpLead's data is carefully curated and updated from public and private sources. They're one of the few tools that guarantee 95% data accuracy.
UpLead can also display lead data through vibrant user profiles, making it easy to get to know your leads quickly before writing an email or picking up the phone.
Data enrichment capabilities
Already have a database? Use UpLead to refresh and enrich your existing data with updated and valid information. This will help you learn more from your existing leads and ensure that you can easily segment them into the right marketing or cold outreach strategies.
Real-time data validation
UpLead validates your emails in real-time right before you download them to ensure deliverability. That way, you know you're only paying for leads you can actually use.
UpLead has everything you need to update existing leads and generate new ones, making it a great choice for companies of all sizes looking for a simple and quick way to jump-start their sales process.
Try UpLead today and see if it's a good fit for you.
Start Your 7-Day Free UpLead Trial
Lead generation doesn't have to be all that painful. With UpLead, you can easily connect with high-quality prospects and leads to grow your company.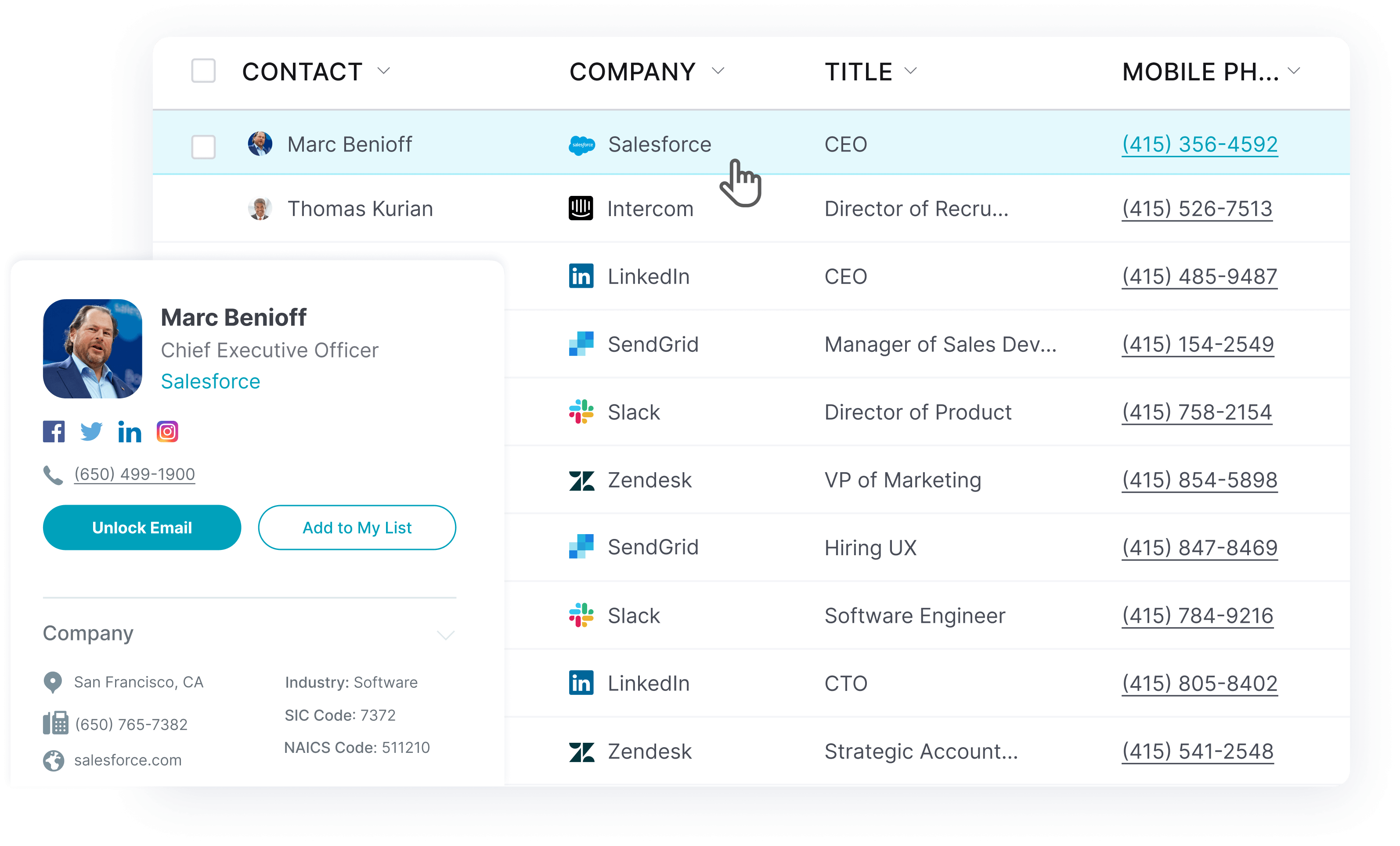 2. Belkins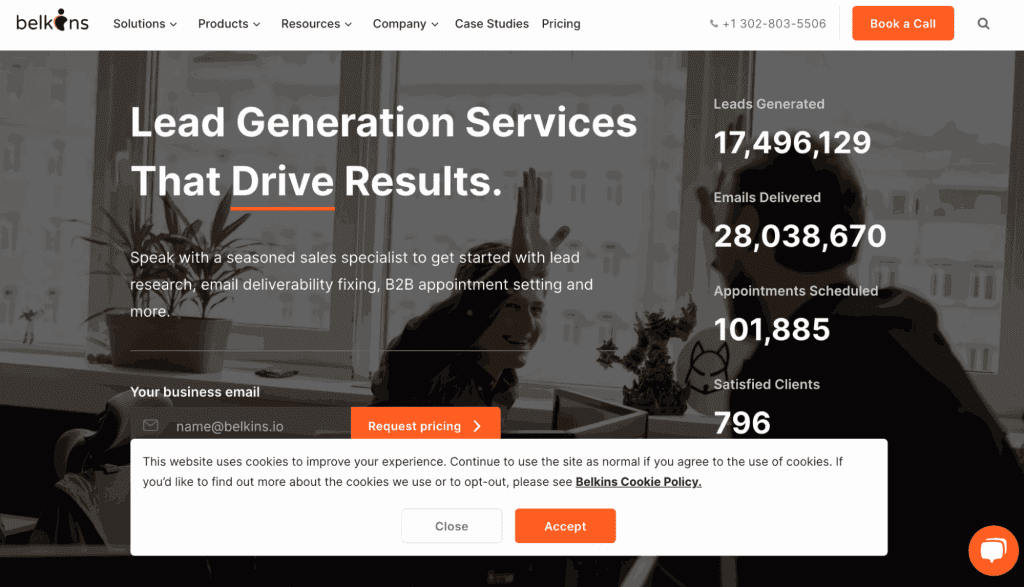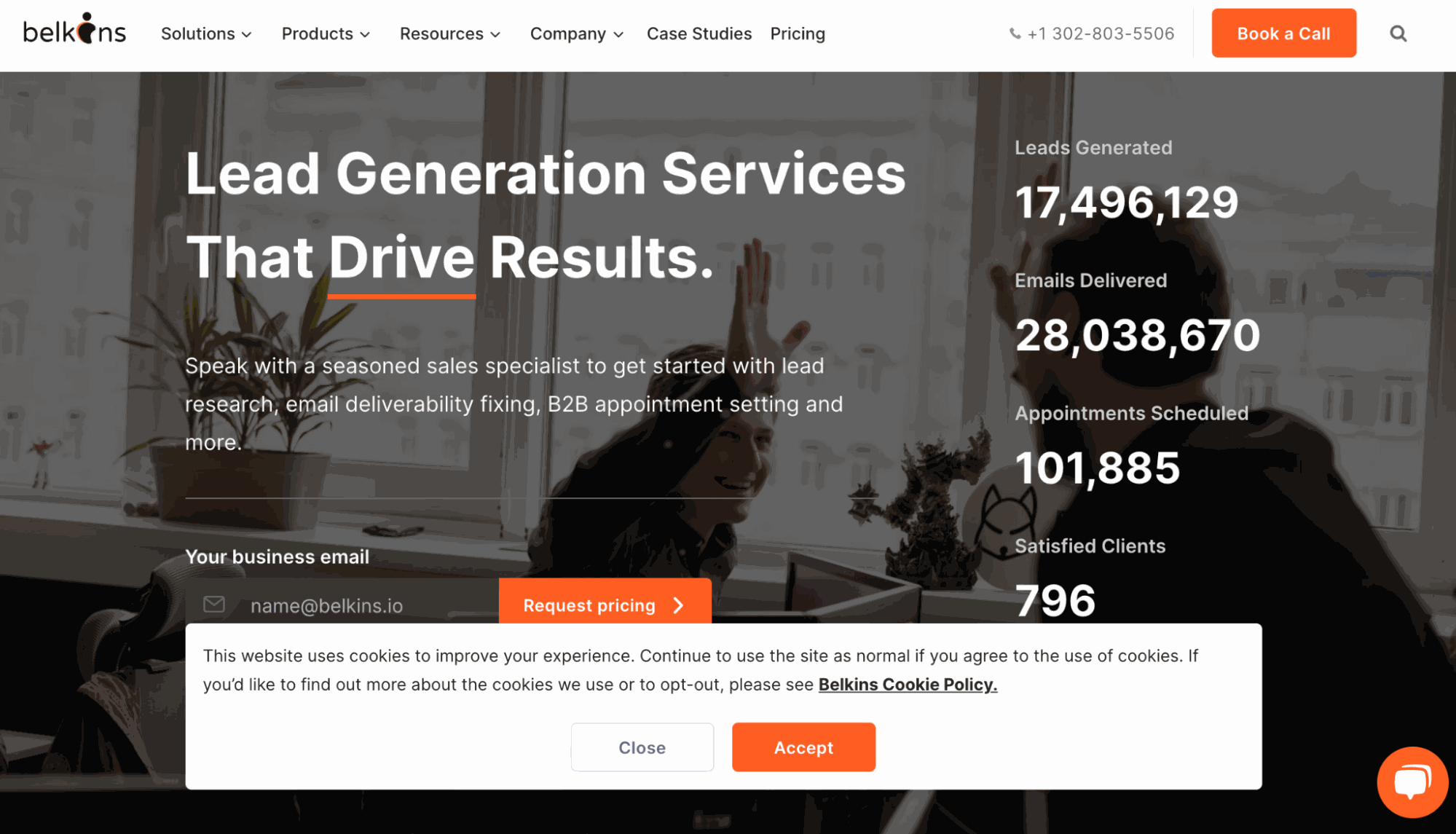 Belkins is a company that helps B2B companies facilitate their lead generation process through multiple channels.
This platform can generate leads by manually accessing multiple data sources and building lead lists tailored to the user's needs. Once the user's sales team has established a successful connection with the lead, Belkins can handle the appointment setting process while the user's salesperson moves on to the next lead.
Pros:
Here are some of Belkins' pros:
Manual and personalized lead generation service
Can handle appointment setting
It can be used to generate both leads and influencers
Cons:
Here are some of Belkins' cons:
High prices may be prohibitive for many companies
Cannot automatically and instantly generate leads
Belkins is a good fit for companies looking for personalized service to generate leads manually and for companies willing to collaborate with the Belkins team throughout the sales process.
3. CIENCE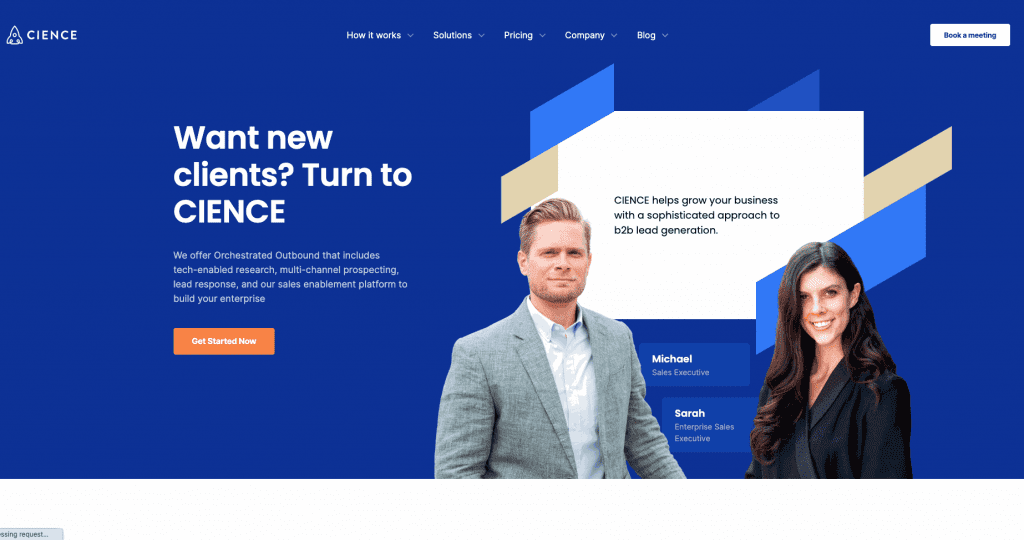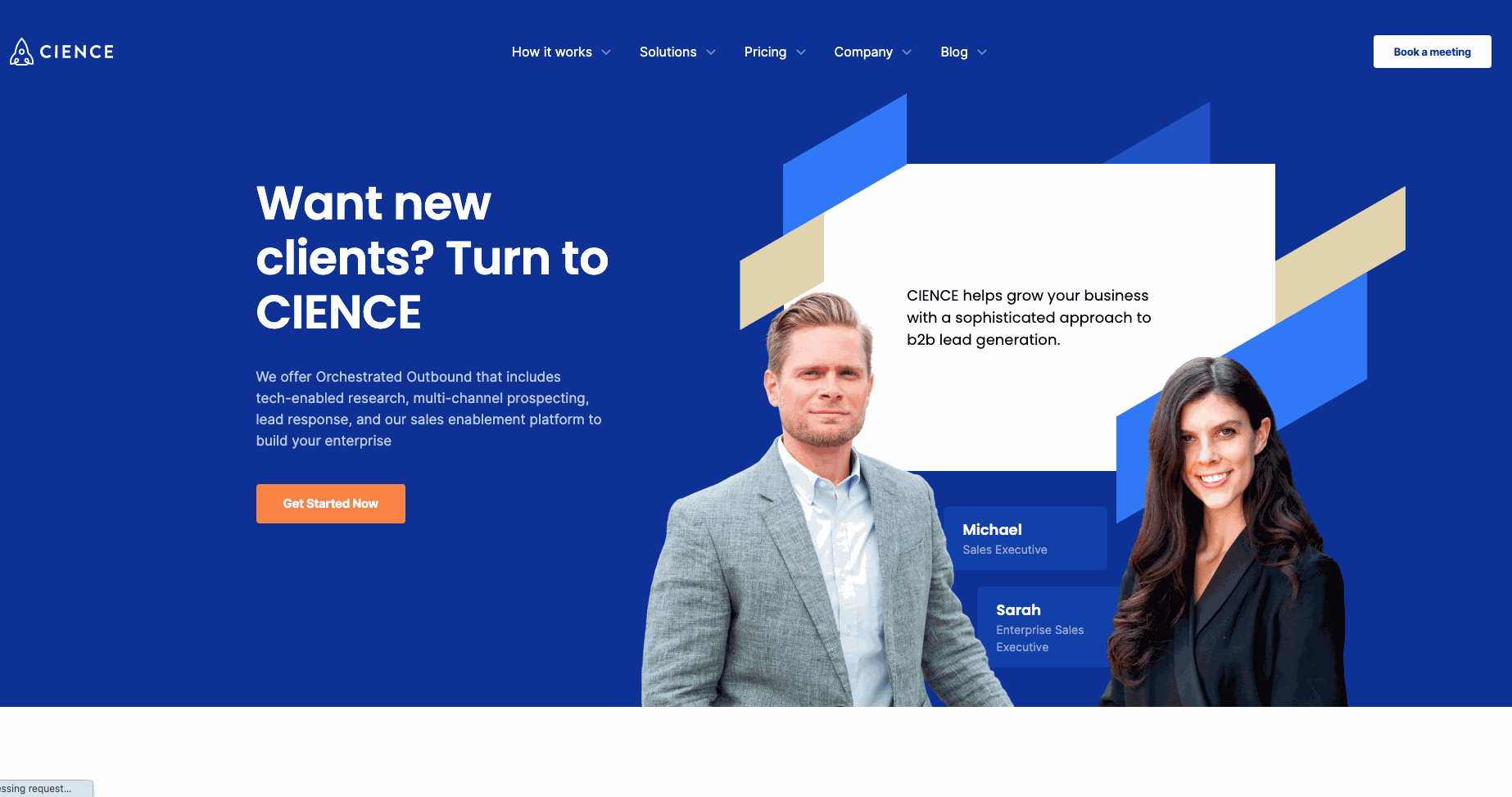 CIENCE is another lead generation company that uses multi-channel prospecting to generate qualified leads.
This service claims to perform highly accurate research and use it to provide lead generation and outbound sales services to their clients. Users can also generate integral marketing campaigns to generate leads through content marketing and other lead generation strategies.
Pros:
Here are some of CIENCE's pros:
Integral lead generation services
Can generate qualified leads
Dedicates a team to work along with marketing and sales teams
Can develop and deploy full lead generation strategies
Cons:
Here are some of CIENCE's cons:
Fairly high price
Reportedly large team turnover
This lead generation company is best for users looking for an integral lead generation service with a multi-channel approach and who can afford to delegate lead generation to an off-site team.
4. Sapper Consulting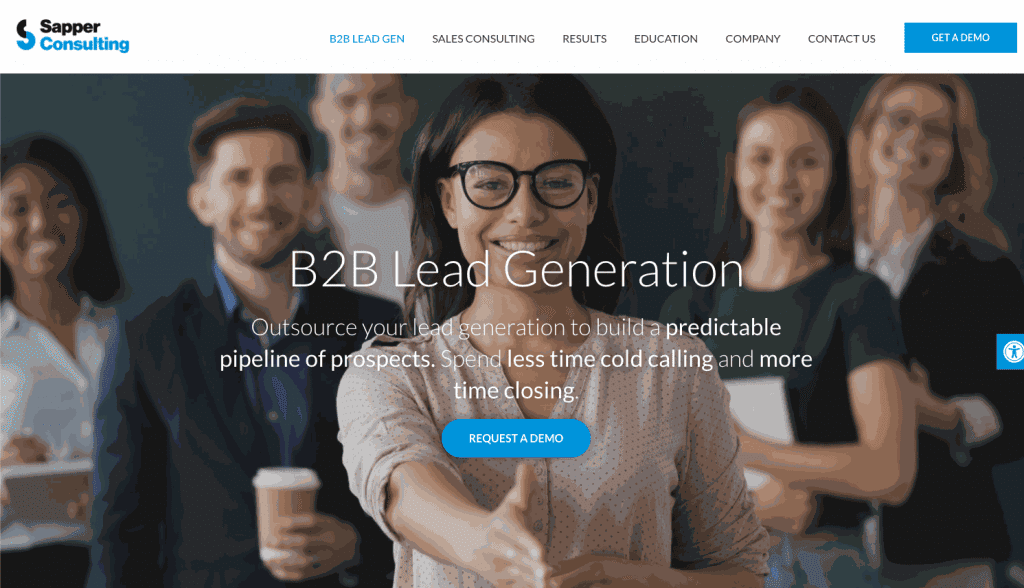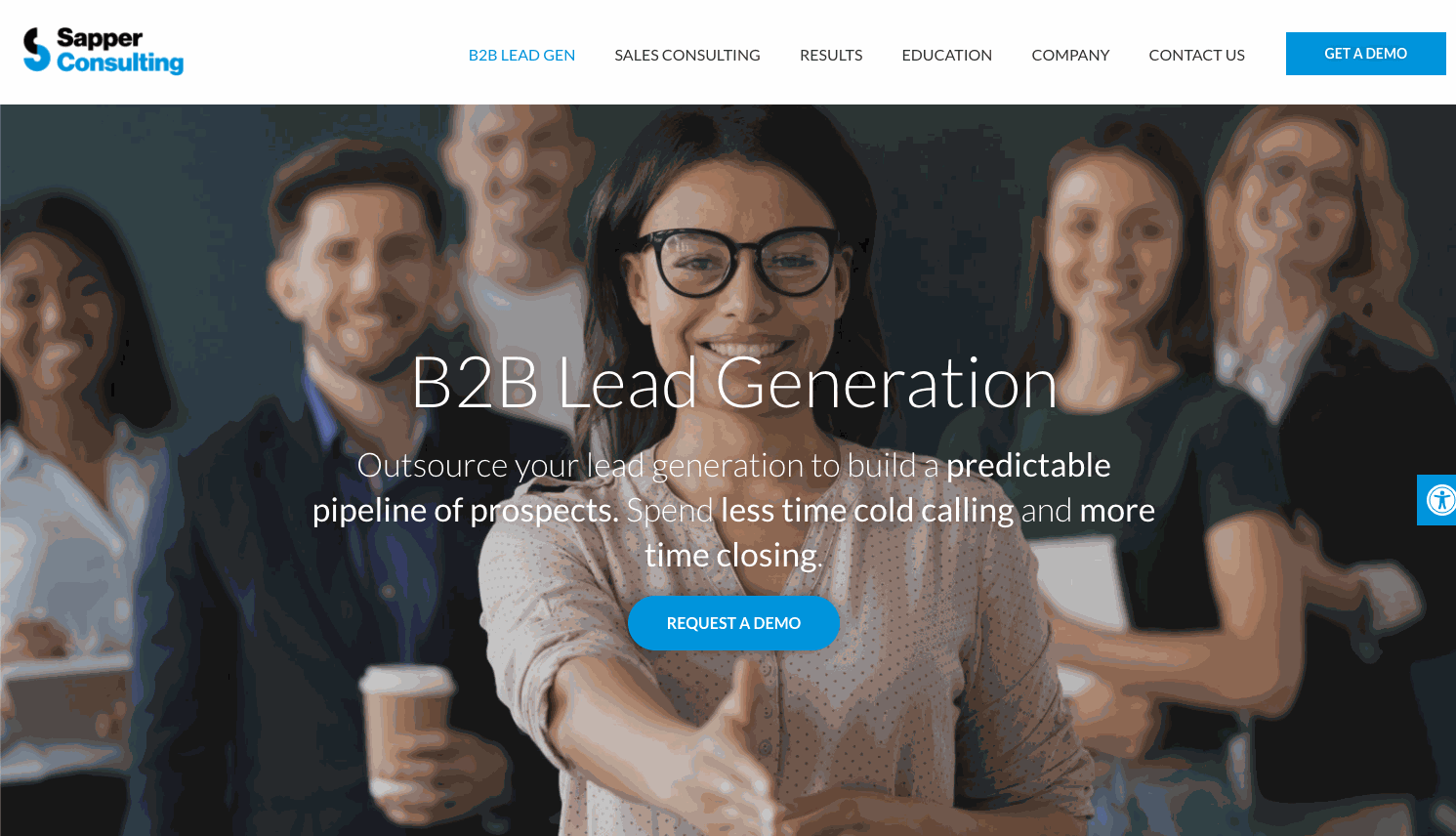 Sapper Consulting is another multi-channel B2B lead generation company. With this service, users can delegate not only B2B lead generation but appointment setting, sales consulting, and more.
This platform claims to give users their first sales meeting in an average of just five days and can generate leads for all stages of your sales pipeline.
Pros:
Here are some pros of Sapper Consulting:
Integral lead generation
Can aid sales and marketing teams
Develops personalized lead generation solutions
Cons
Here are some cons of Sapper Consulting:
Their approach can reportedly be hit-or-miss
User investment isn't guaranteed to pay off
Sapper Consulting is better for users looking for a cheaper integral lead generation service, although not without some added risks.
5. D7 Lead Finder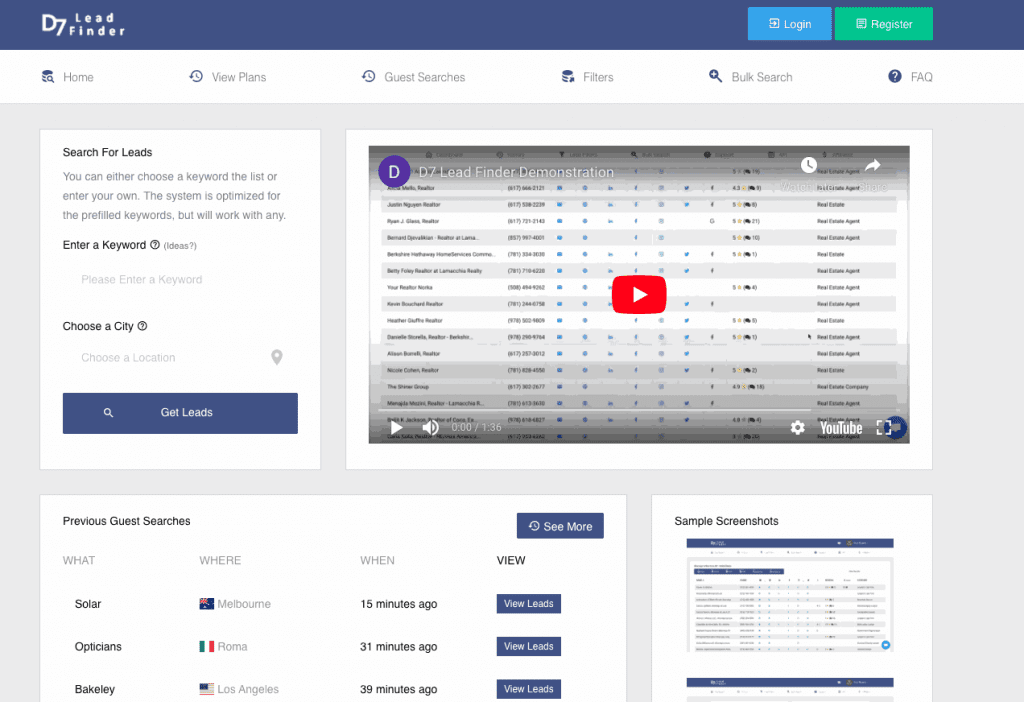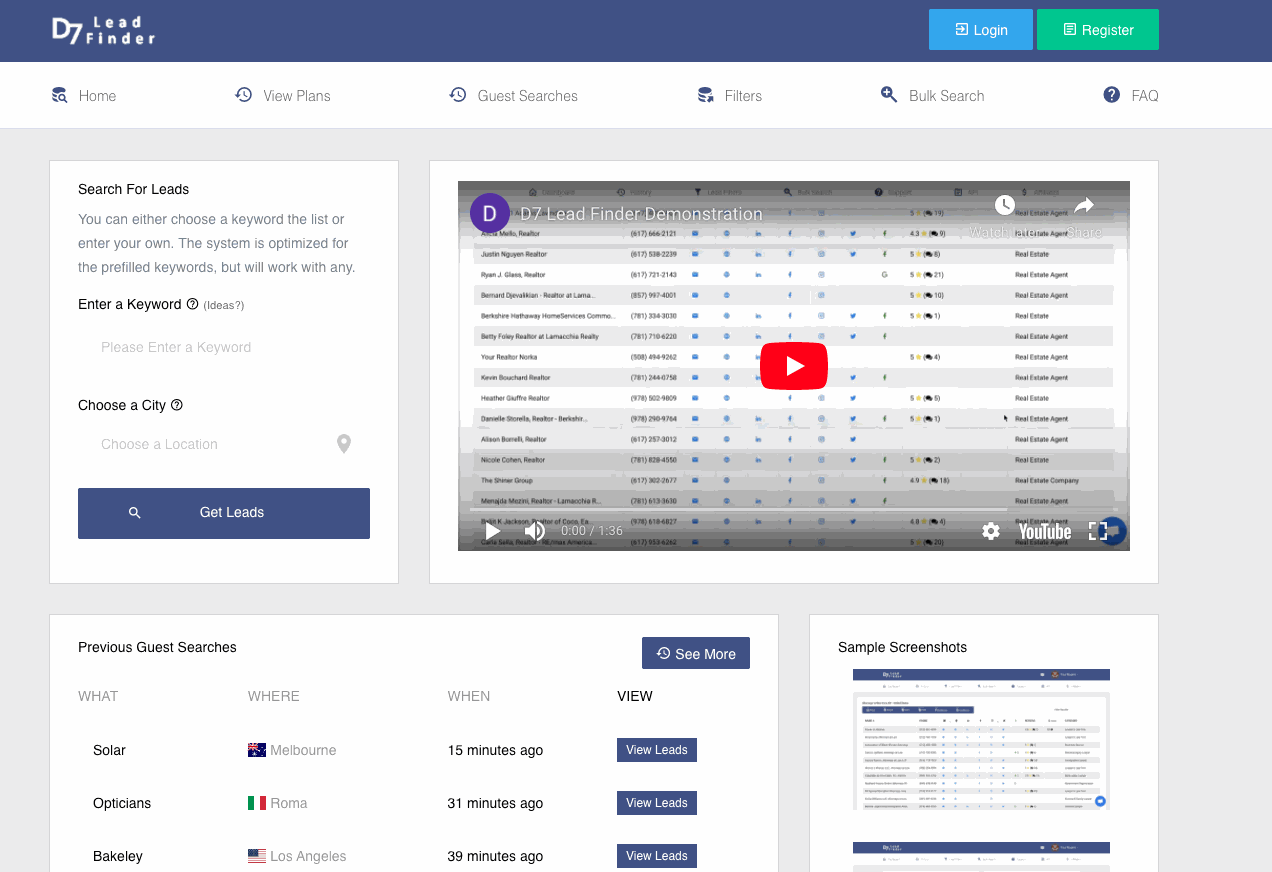 D7 Lead Finder is a lead generation service focused on allowing users to build and buy personalized lead lists. This company claims to have a database with over 65 million profiles. D7 Lead Finder is a reliable tool, although not without its flaws.
Their platform offers users 5 free searches per day and access to a larger-than-average database.
Pros
Here are some benefits of using D7 Lead Finder:
Good for limited free searches
Simple and streamlined platform
Bulk search capabilities
Cons
Here are some downsides of using D7 Lead Finder:
No data accuracy guarantee
Limited data—focused mostly on local leads
With pricing starting at $26.90 per month, D7 can be attractive for smaller companies needing affordable lead generation. However, since the platform doesn't guarantee their data, users may want to use D7 and a data verification tool.
6. Abstrakt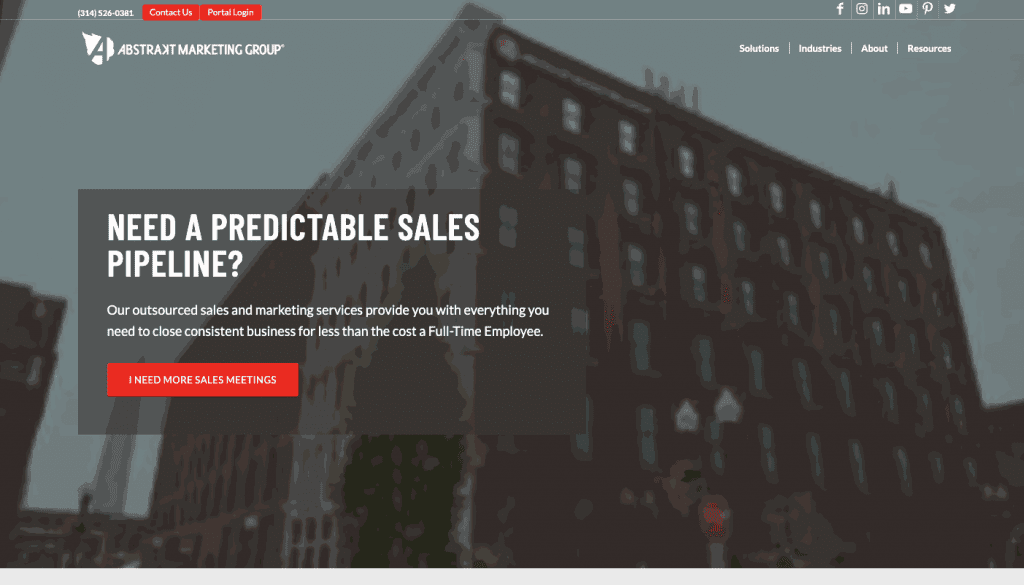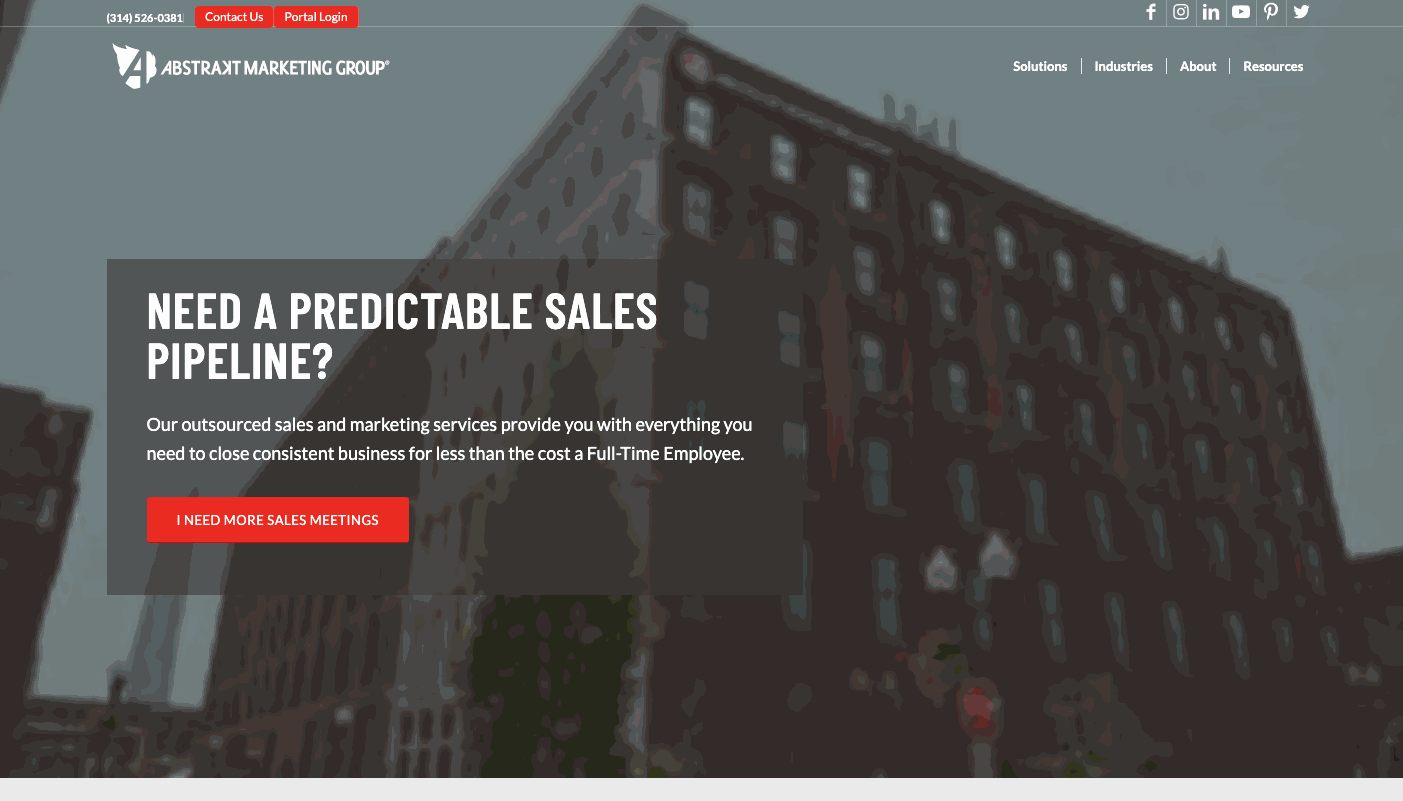 The Abstrakt Marketing Group is another B2B lead generation agency offering both inbound and outbound marketing strategies.
With an integral approach to lead generation, this service promises predictable results through successful sales pipeline creation and management. Abstrakt can handle appointment settings, develop personalized lead generation and marketing services, and offer salesforce consulting to companies of all sizes.
Pros:
Here are some pros of Abstrakt:
A number of good online reviews
Integral lead generation service
Specialized in B2B lead generation
Cons:
Here are some cons of Abstrakt:
Users may need to train the Abstrakt sales team
Priced per lead
Abstrakt may be a good choice if you need a company capable of generating, contacting, and following up with B2B leads.
7. Martal Group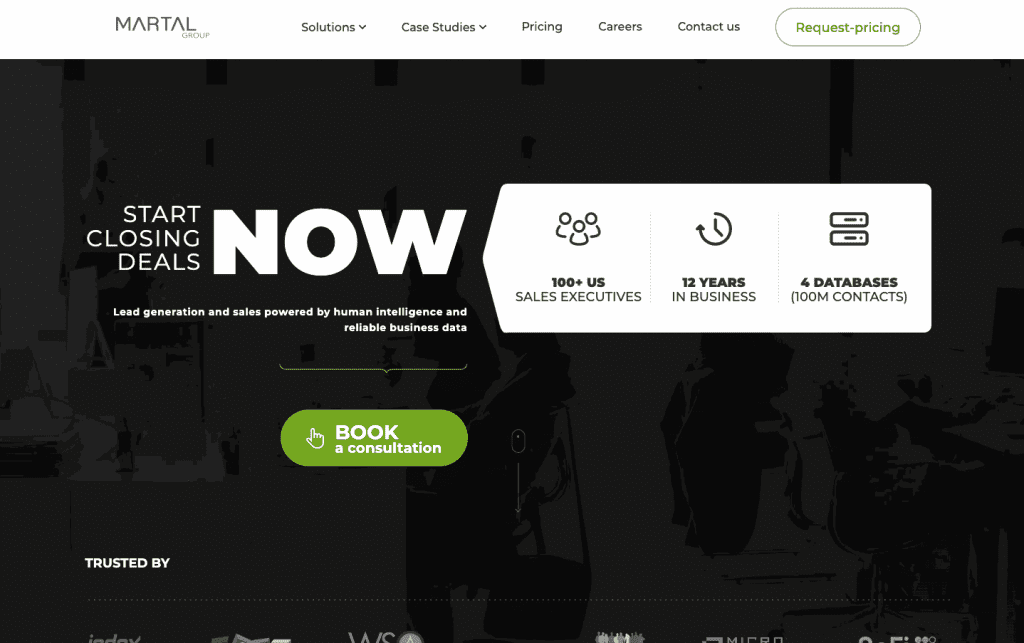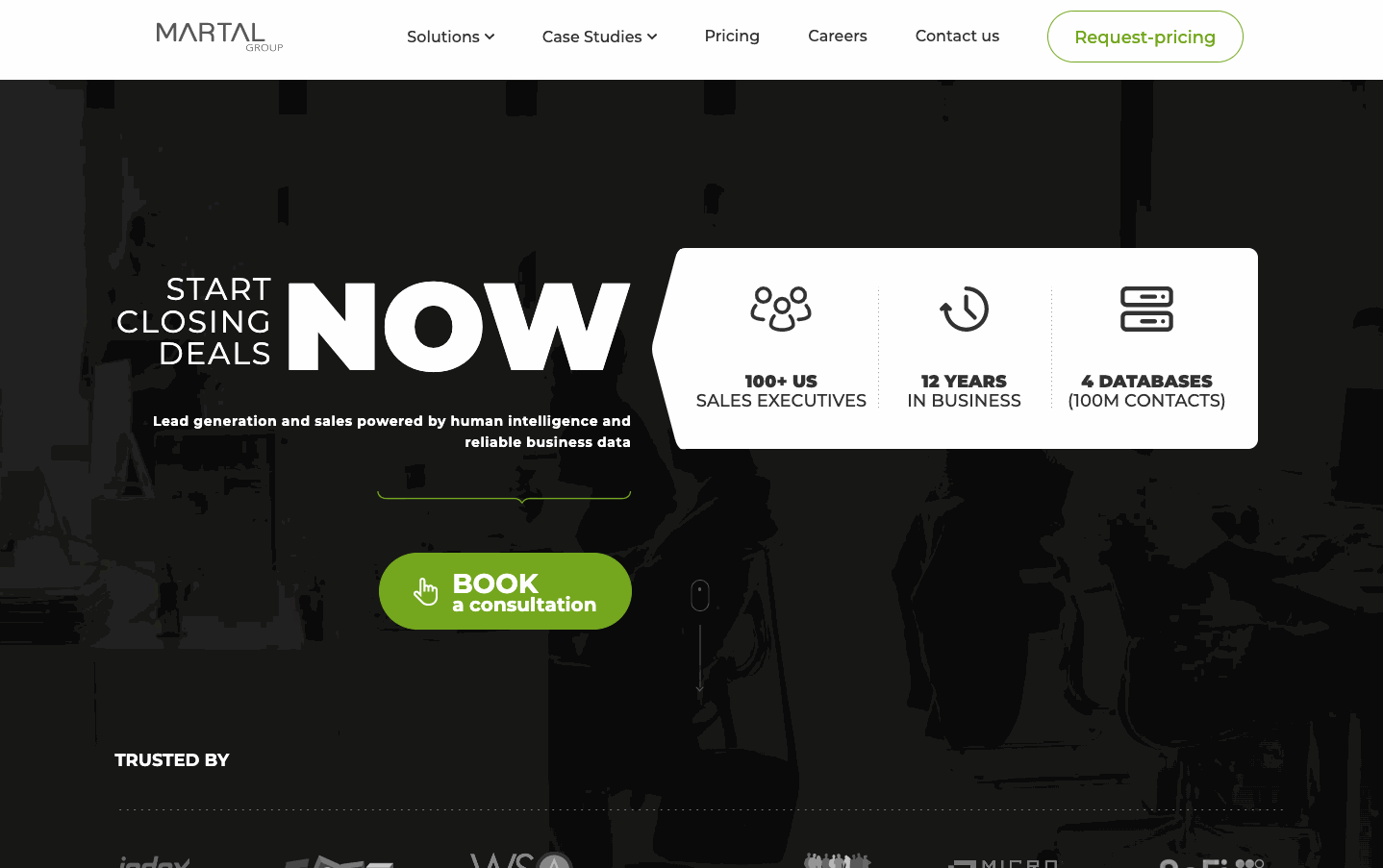 Martal Group is a sales and lead generation service for B2B tech businesses and SaaS, allowing them to improve their in-house sales team with the help of Martal's own team of sales experts.
This platform can help users generate an accurate customer profile, write effective lead qualification questions, and perfect sales call scripts to generate more leads. It can also help users build highly-targeted lead lists and marketing campaigns to attract them.
Pros:
Here are some pros of using Martal Group for lead generation:
Detailed and integral lead generation approach
Good for tech businesses and SaaS leads
Specialized in B2B lead generation
Cons:
Here are some cons of using Martal Group for lead generation:
Not great for non-SaaS companies
Higher-than-average costs
Martal's features and pricing makes them a good fit for mid-sized companies looking to delegate lead generation to an off-site team fully.
8. demandDrive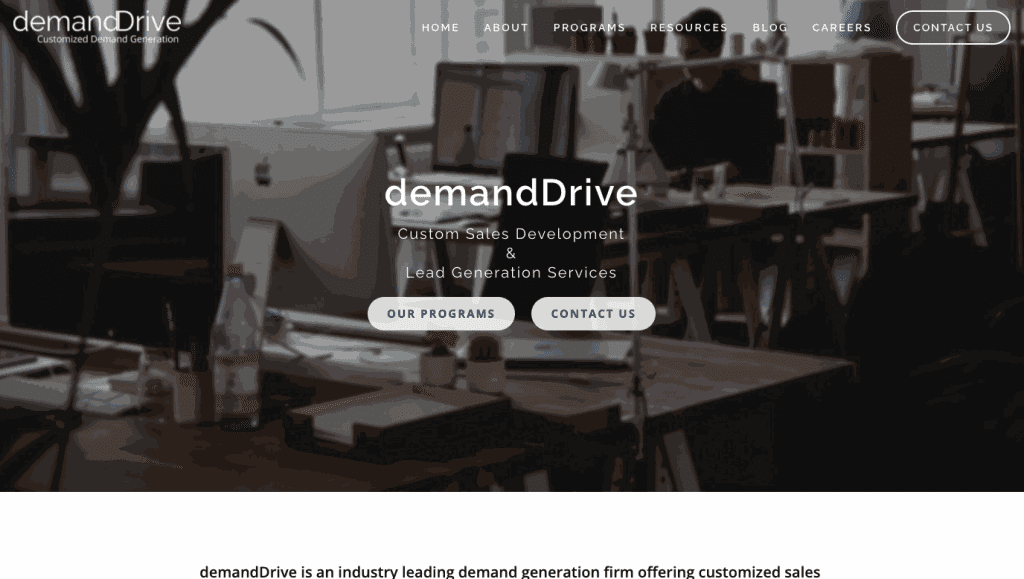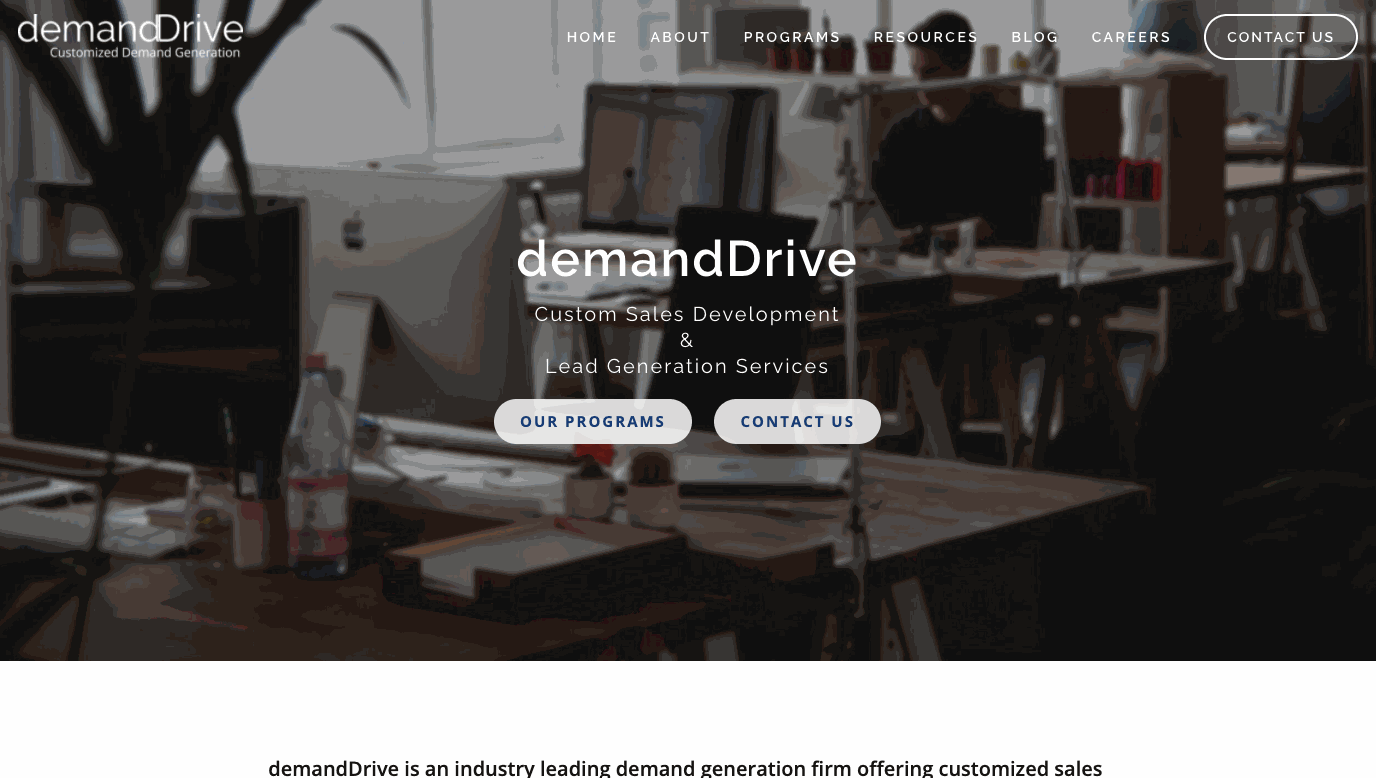 demandDrive is another lead generation company focused on generating B2B leads through custom strategies and consultations.
With demandDrive, users can create and supervise remote inbound and outbound lead generation efforts, generating and scoring leads to move them through the sales funnel faster.
This platform also offers lead generation features through its partnership with DataFuel, allowing users to generate hot and cold leads through content syndication and account-based intelligence.
Pros
Here are some advantages of using demandDrive:
Access to fully-trained, off-shore, affordable sales teams
Can handle all aspects of the lead generation and sales processes
Reportedly affordable
Cons:
Here are some disadvantages of using demandDrive:
Lead generation happens off-platform
Very few online reviews
With few reviews online, this platform may be better for companies looking for an affordable off-shore sales team and those that are willing to go through the process of training and monitoring them.
9. OnBrand24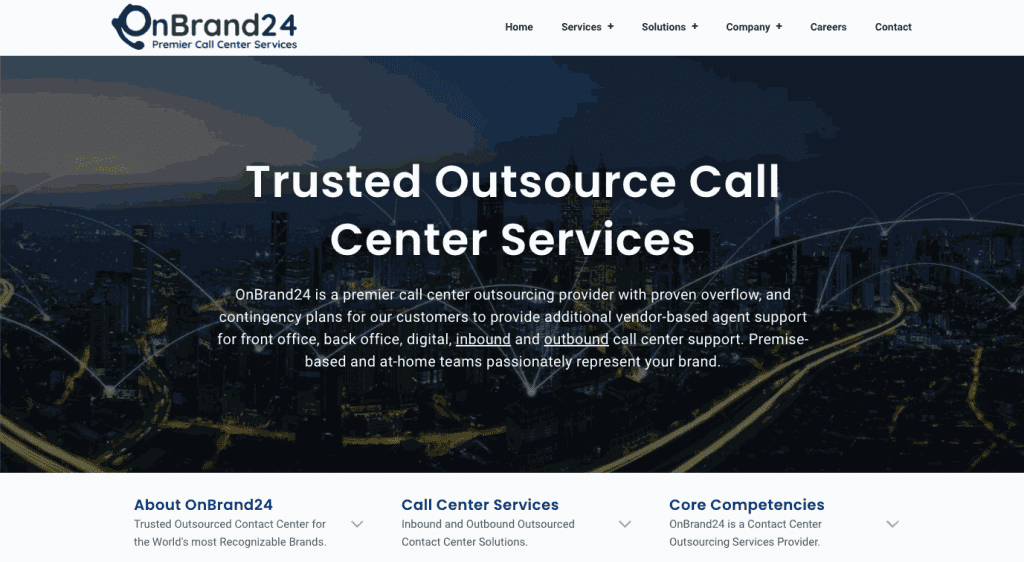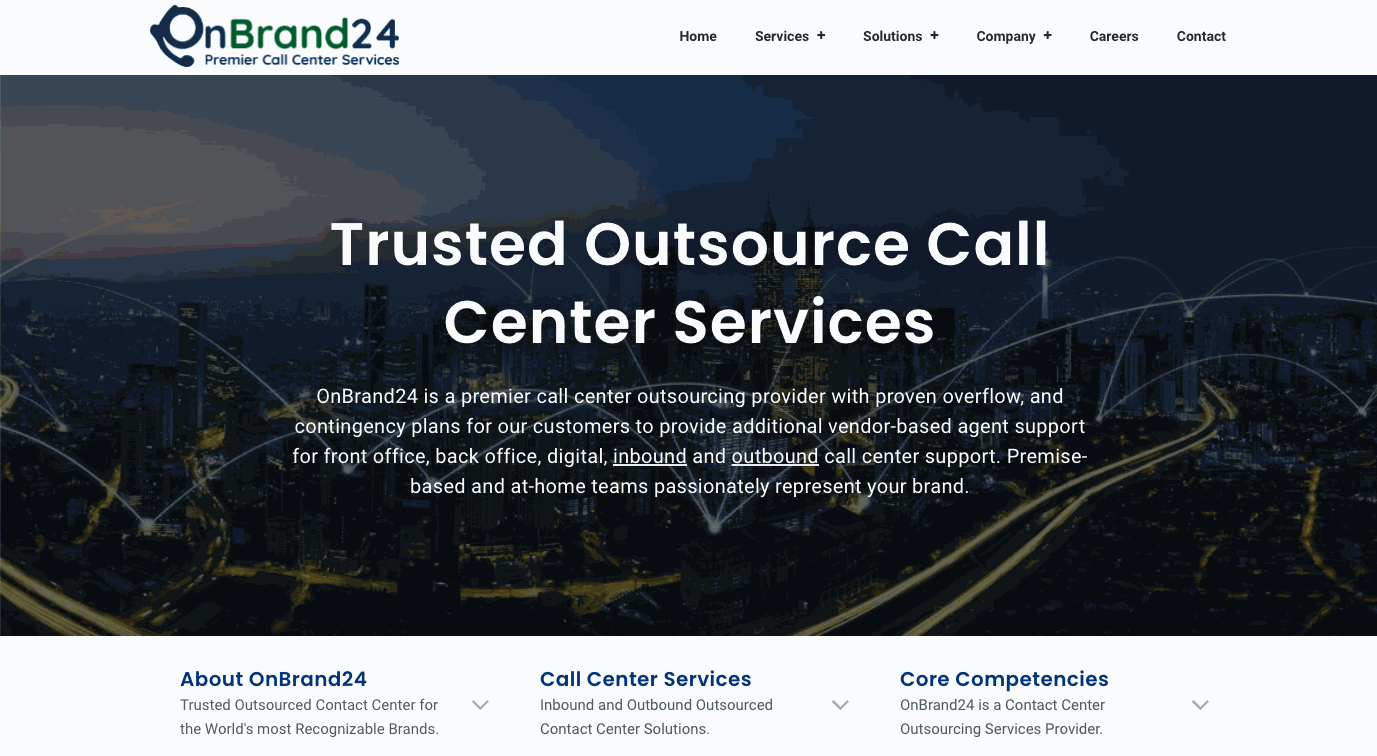 OnBrand24 is another company offering lead generation services through inbound and outbound call centers and multi-channel lead generation features.
With over three decades of experience, the platform provides services to companies from almost all industries. However, OnBrand24 specializes in e-commerce, healthcare, as well as sales, and lead generation, to mention a few.
Pros:
Here are some of OnBrand24's pros:
Can generate leads along with the scripts to sell to them
Inbound and outbound lead generation
Extensive call center solutions
Cons:
Here are some of OnBrand24's cons:
Fairly expensive
Charges a monthly minimum
With monthly prices starting at $2,500, this platform is better for mid-sized to large companies looking for a full set of remote lead generation services.
10. OutboundView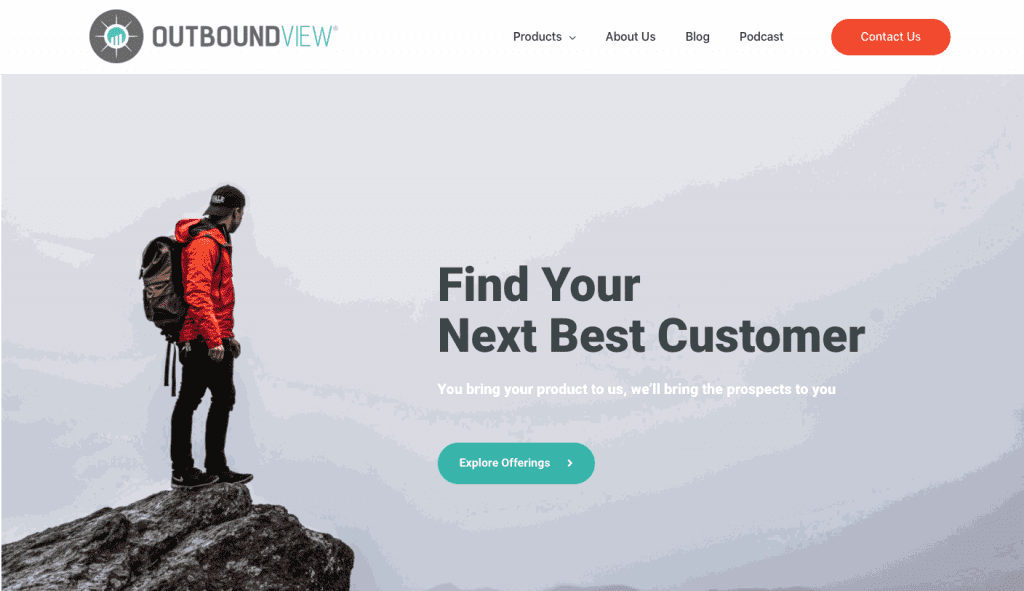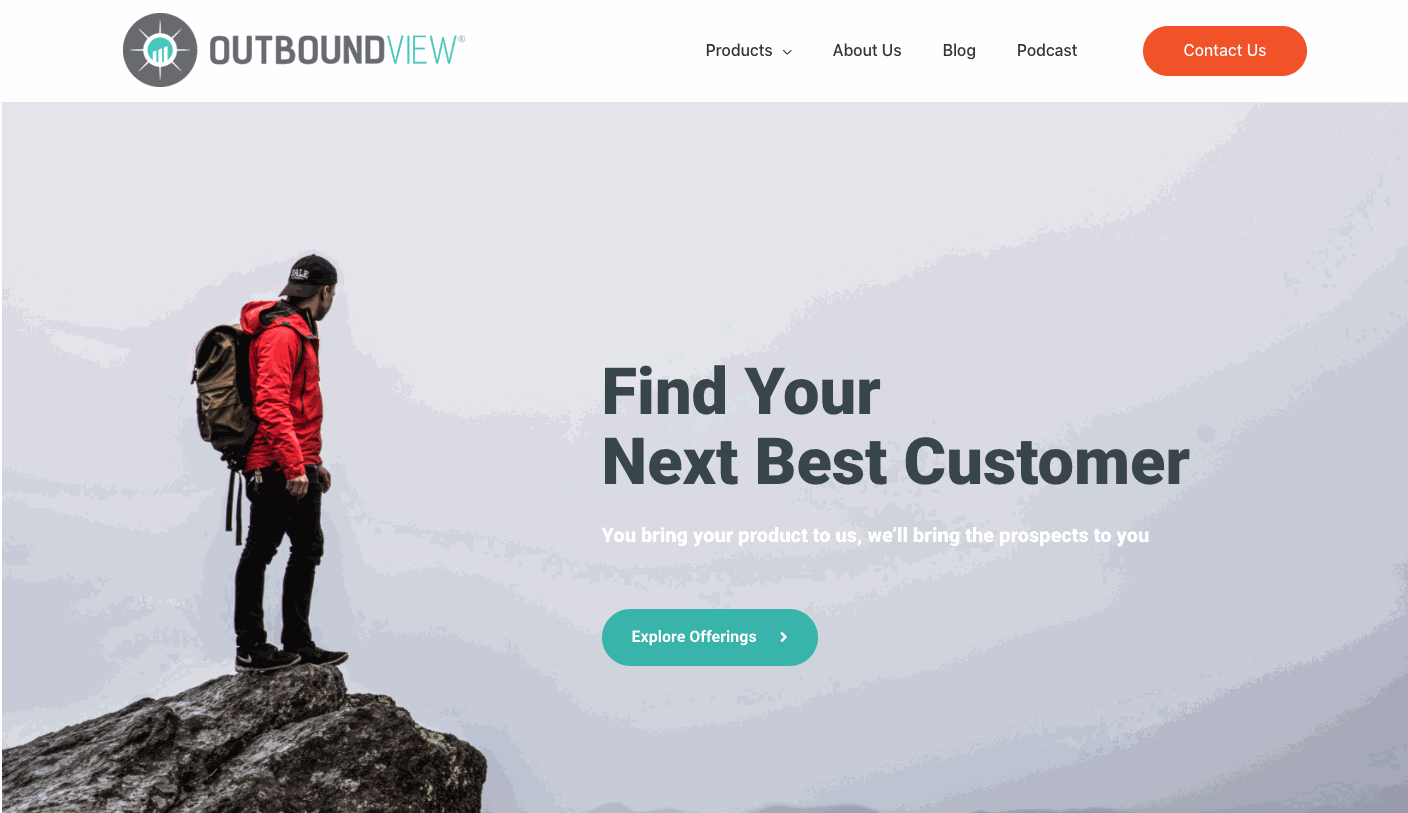 A new company founded in 2016, OutboundView is one of the freshest B2B lead generation companies out there.
OutboundView can handle a company's appointment setting, lead generation, and lead qualification. Their platform also offers well-established companies a guarantee of 10-20 qualified appointments after one month, making it attractive for companies hesitant to hire lead generation services due to an expected adjustment period.
Although the company lacks many reviews, you'll generally find positive ones from satisfied OutboundView customers.
Pros:
Here are some pros of using OutboundView:
Attractive 10-20 appointments guaranteed within one month
Advanced intent data research and sales funnel services
Can handle lead generation and qualification
Cons:
Here are some cons of using OutboundView:
Very few user reviews
New and unproven company
With their appointment guarantee and somewhat-affordable pricing, OutboundView may be attractive to small, well-established companies looking to handle lead generation and acquisition offsite.
11. SalesPro Leads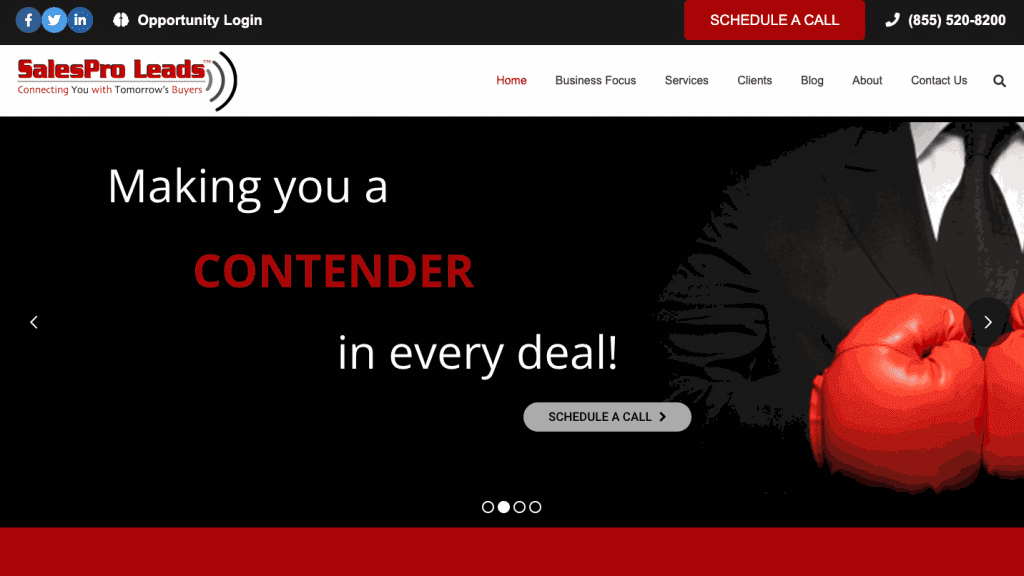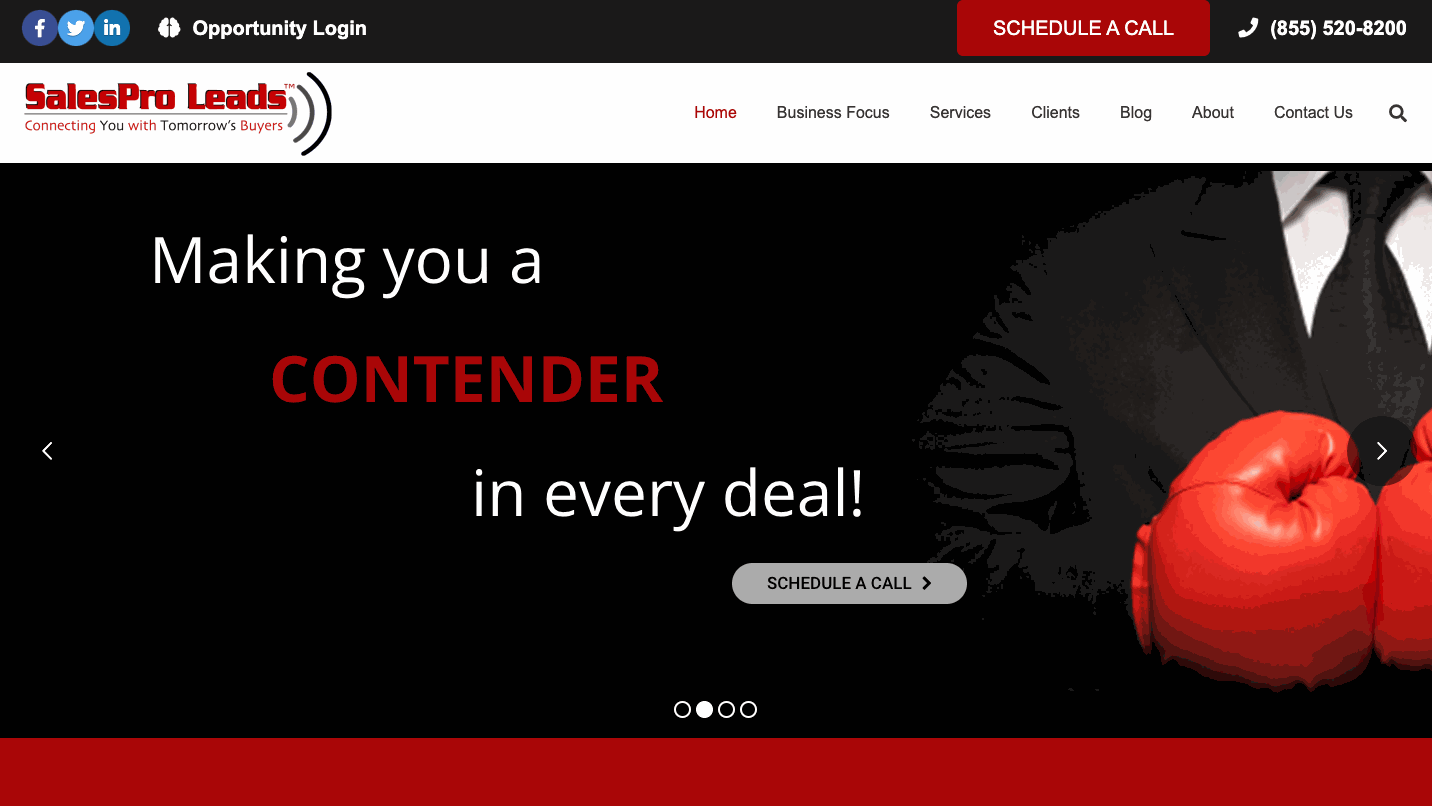 Specializing in SaaS, healthcare, telecom, and other industries, SalesPro Leads provides lead generation and sales qualification services to companies worldwide.
This platform comes with robust sales intelligence and leads nurturing features made to expedite the sales cycle and raise the number of converted leads.
However, finding reviews for SalesPro Leads is surprisingly hard, with a few positive comments on their website and another few scattered around the web.
Pros:
Here are some advantages of SalesPro Leads:
Affordable B2B appointment setting services
Inbound and outbound marketing services
Cons:
Here are some cons of SalesPro Leads:
Very little third-party information on the platform
Although the platform is somewhat affordable and promises multiple lead generation efforts, SalesPro Leads is probably most attractive to companies that can afford to invest in an external lead generation and marketing team and supervise it closely.
12. LeadGeneration.com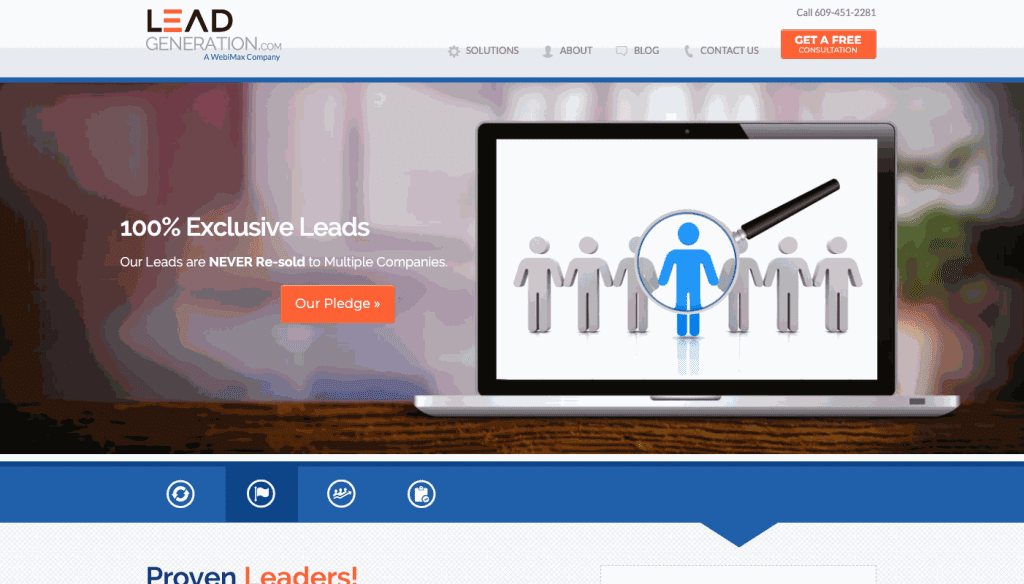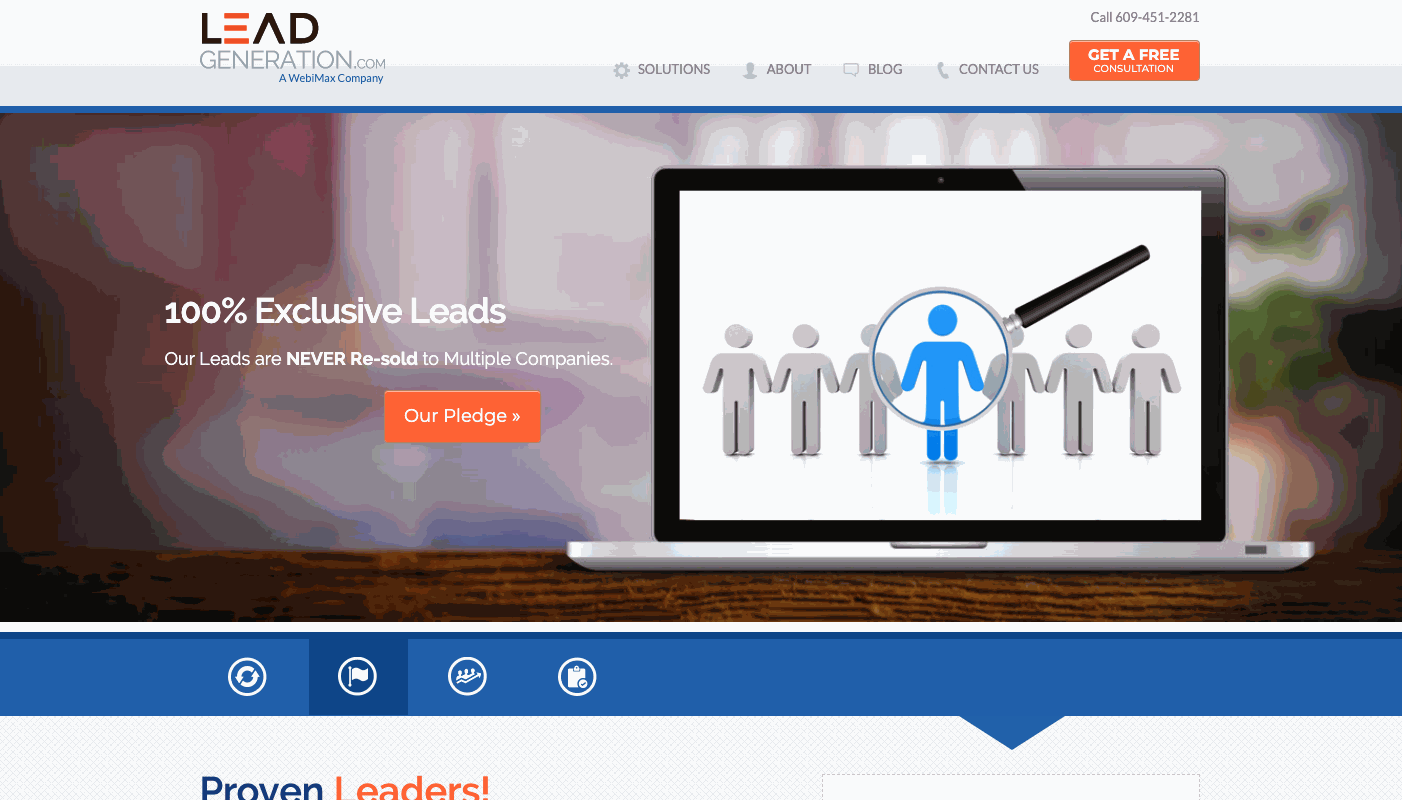 Established almost a decade and a half ago, LeadGeneration.com is one of the most well-established B2B lead generation companies on the market.
This platform allows users to access its LeadGen App to build forms for any lead generation and marketing strategy, embed it into their website, test it, and use it to manage leads. With LeadGeneration.com, users can keep an eye on all leads, improve their brand reputation, and easily manage multiple lead generation channels.
Pros:
Here are some pros of using LeadGeneration.com:
Well-established company with a large client list
Diverse multi-channel solutions
Can handle all steps of the sales process
Cons:
Somewhat lacking in lead generation channels
No sales research or engagement features
With clients like Toshiba and Aéropostale, LeadGeneration.com is great for mid to large companies looking for brand engagement and reputation management.
13. RevPartners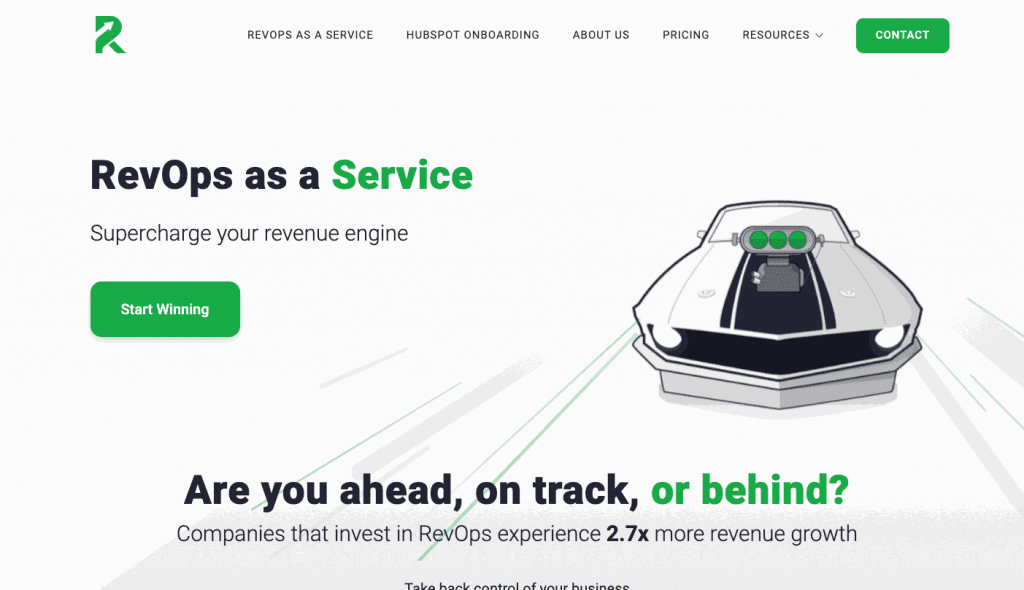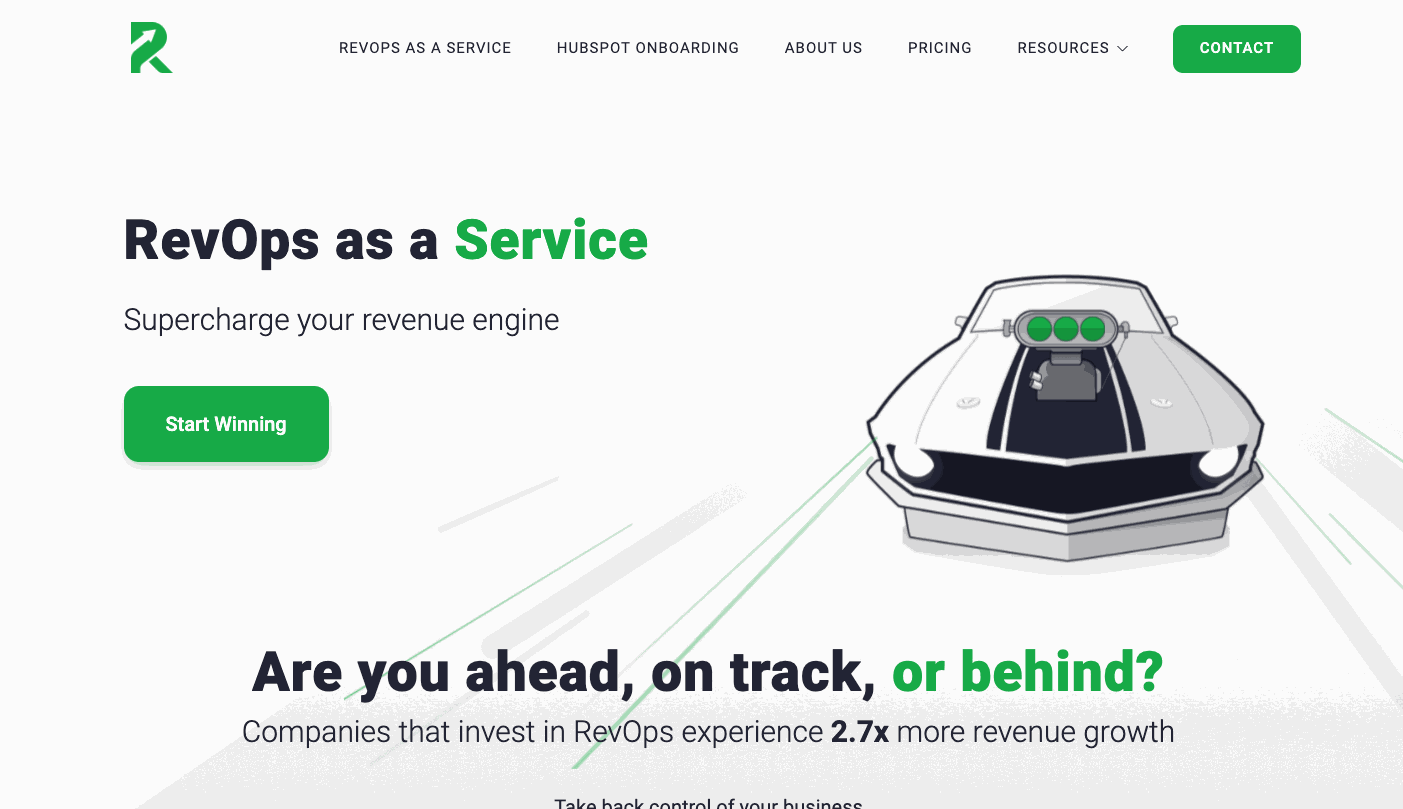 RevPartners is a group of revenue operation experts specializing in HubSpot CRM services. The company has a proven record, becoming one of the 2% Diamond Tier partners at HubSpot faster than any other platform.
Companies can delegate lead generation and marketing tasks to RevPartner's sales ops team so that it can develop and implement plans for them.
The platform promises users a 15% lift in profitability, proven and sustainable growth, and more.
Pros:
Here are some of RevPartner's pros:
A proven and ambitious company
Multiple guarantees on results
Great for companies already using HubSpot
Cons:
Here are some of RevPartner's cons:
Cannot handle full lead generation and scoring
Can't offer a full off-site marketing or sales team
RevPartner is best for companies using Hubspot and looking for a solution to aid their existing sales and marketing teams.
14. Pearl Lemon Leads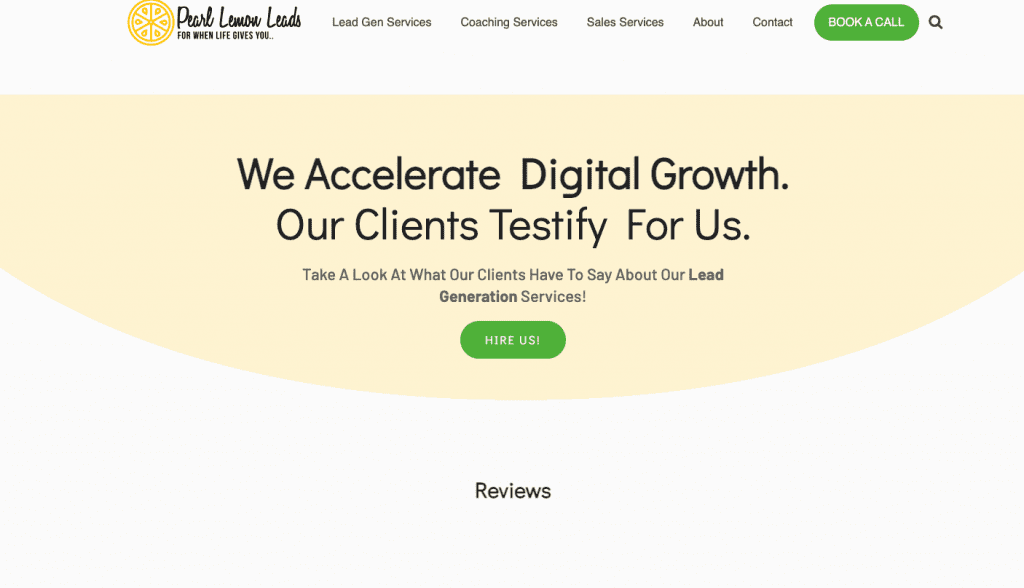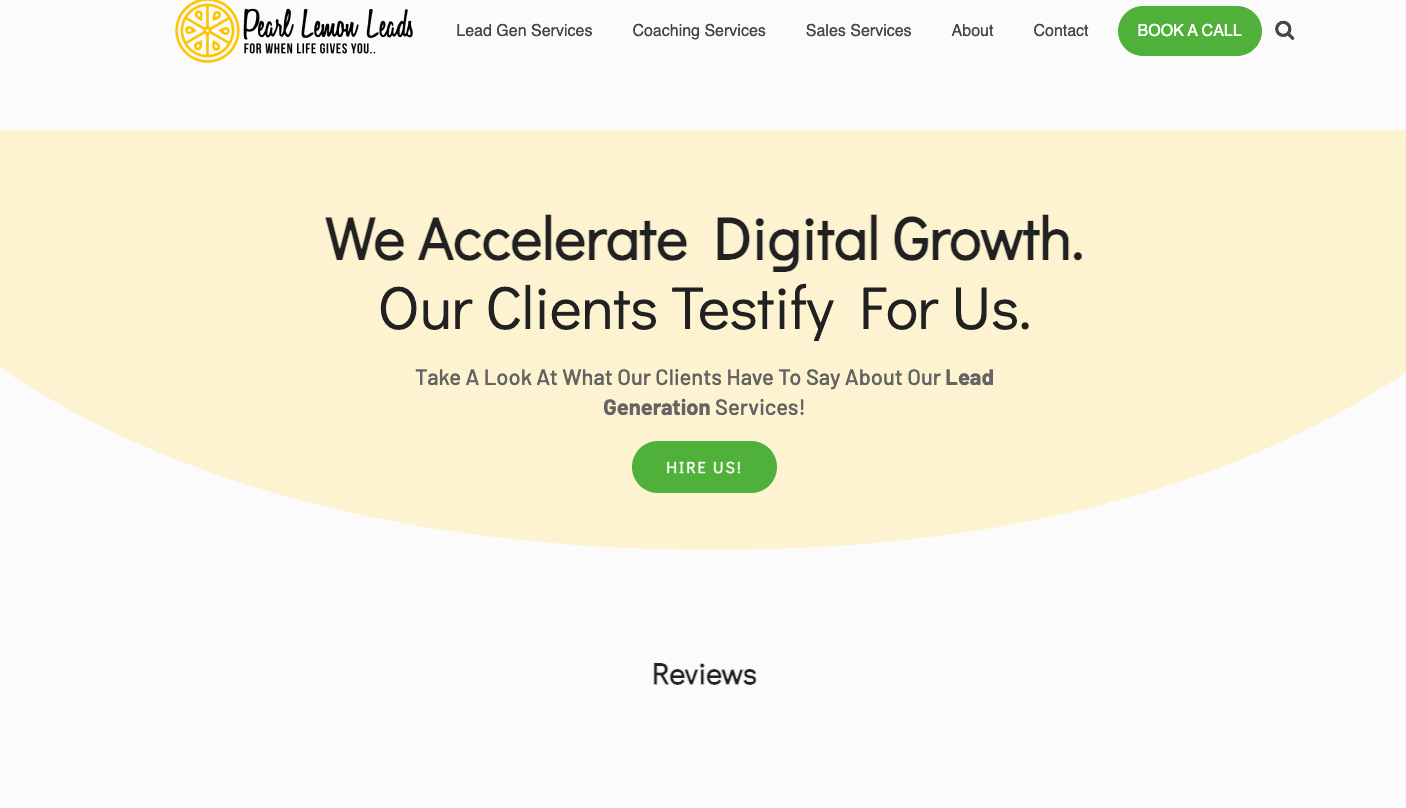 Pearl Lemon Leads is an award-winning lead generation agency based in London. Their stated focus is to help companies achieve sustainable and predictable growth.
This firm closely looks at the user's company and its long-term goals, allowing it to build long-term client relationships. Users can outsource their whole B2B lead generation needs to the platform, secure in the knowledge that the platform has an excellent understanding of their business.
Pros:
Here are some pros of using Pearl Lemon Leads:
Good for B2B and B2C lead generation
A close relationship between client and service
Great for SEO and multichannel lead generation services
Cons:
Here are some cons of using Pearl Lemon Leads:
Slightly more expensive than average
No physical location
With a focus on building close client relationships, Pearl Lemon Leads is great for mid to large businesses looking for a hands-on approach to remote lead generation.
15. LeadGenius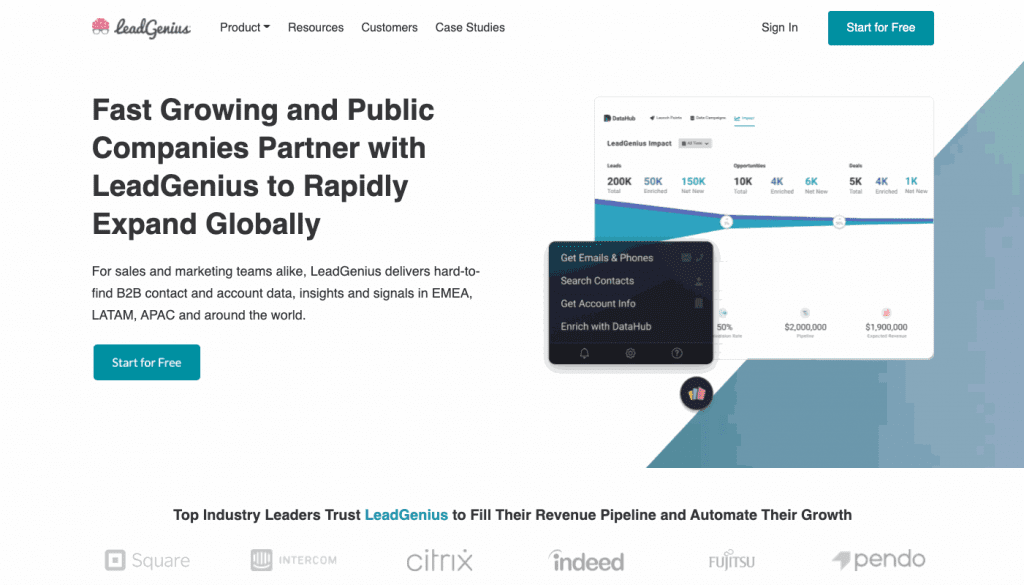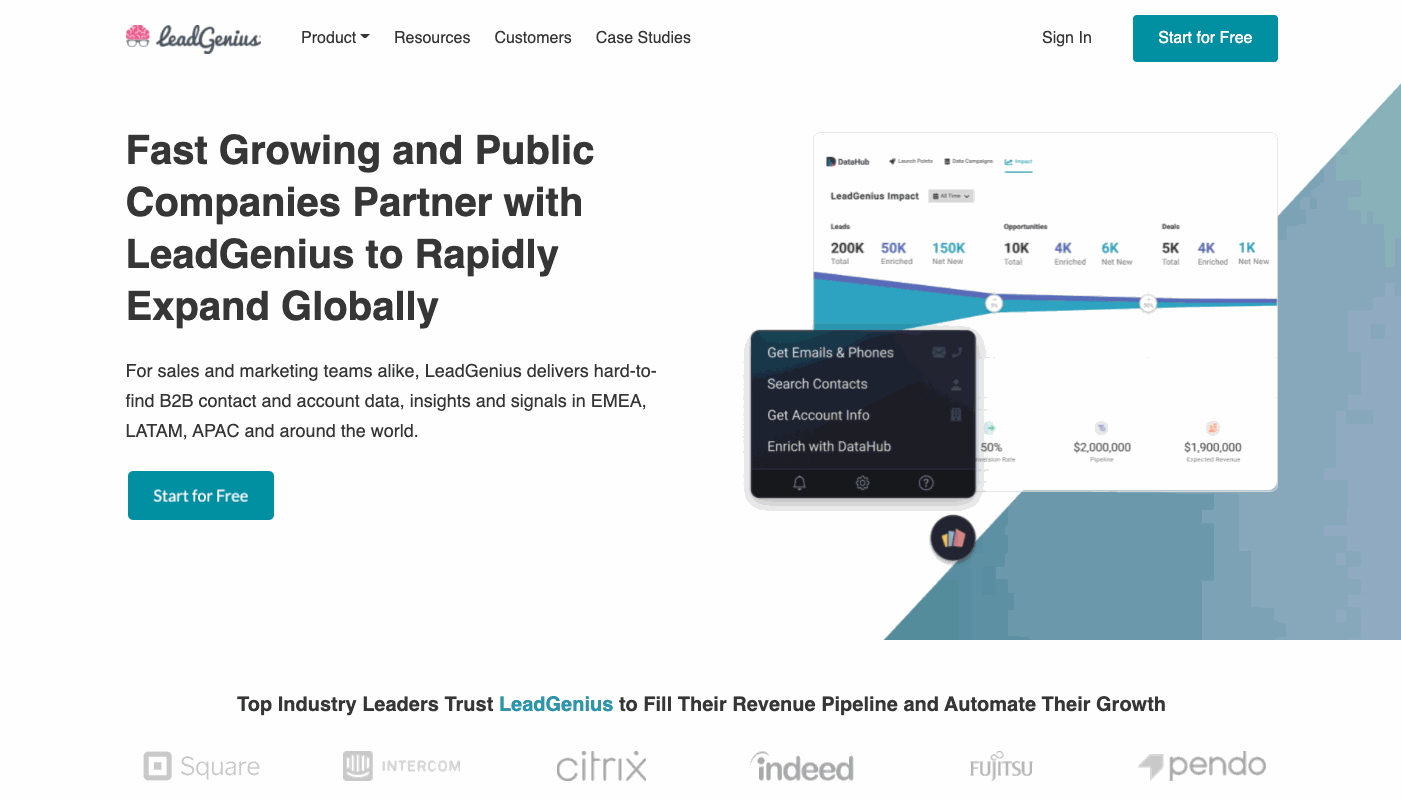 LeadGenius is a B2B data generation tool specialized in helping SaaS companies develop the right sales and marketing strategies.
This platform allows users to filter through its large libraries for vertical-specific data and find what they're looking for. Users can then create targeted account lists, reach out to their target audience, run A/B tests, and implement improved marketing strategies to attract and convert leads.
Pros:
Here are some pros of using LeadGenius:
Can create and enrich lead lists
Fairly large database
Can create personalized marketing strategies
Cons:
Here are some cons of using LeadGenius:
A limited number of customer reviews
Pricing above the industry standard
LeadGenius is better for mid-sized to large companies looking to fully outsource their lead generation to a simple and proven platform.
Frequently Asked Questions About B2B Lead Generation Companies
Here are answers to some commonly asked questions about lead generation companies:
What are the benefits of B2B lead generation companies?
Lead generation companies streamline sales and marketing team tasks, allowing businesses to focus on other priorities, such as developing products and services.
Depending on their size and scope, lead generation companies can not only generate leads through a lead database; they can also help with strategies like lead magnets and content marketing.
How much do B2B lead generation companies charge?
Lead generation companies have different pricing depending on their services and features. While some comprehensive lead generation companies can charge from $2,000 to $20,000 per month, companies offering basic services can charge as little as a few cents per lead.
B2B lead generation companies: Key Takeaways
Lead generation services and companies are a great asset for businesses looking to streamline their sales process and expedite lead generation. They can even help create a sustainable and repeatable lead generation system.
Get started today with UpLead, and generate all the leads you need for your cold marketing efforts.
Start Your 7-Day Free UpLead Trial
Lead generation doesn't have to be all that painful. With UpLead, you can easily connect with high-quality prospects and leads to grow your company.