Lusha is a popular B2B database provider that helps you find high-intent prospects for your marketing and sales campaigns. It can be used to identify the best companies and key decision-makers to target. Lusha has several pricing plans, including a free version and a customizable enterprise plan. But how does it compare to other B2B sales intelligence platforms?  
In this article, we'll cover everything you need to know about Lusha, including:
What is Lusha?
The Lusha database
Lusha's key features
Lusha's pricing and plans
Lusha integrations
UpLead: The best Lusha alternative
More Lusha alternatives
Frequently asked questions
Let's get started.
Quick Links:
What is Lusha?
Lusha is a B2B sales intelligence tool that simplifies lead generation. The cloud-based platform offers its users access to a vast contact database. It includes more than 100+ million business profiles and 15+ million full company profiles. Lusha is similar to email finders like UpLead.
Lusha is used to create targeted prospect lists for B2B marketing and sales campaigns. It's an ideal solution for business-to-business brands that want to generate more high-intent leads. The platform is used by businesses of all sizes: sole proprietors, SMBs, and large enterprises.
Lusha's strengths include its large contact database, comprehensive suite of features, and extensive integrations. It's a capable solution that compares favorably to other similar tools on the market.
Lusha Database
Sales intelligence platforms are only as good as the leads they provide for their customers. The Lusha database is very large; it includes 100+ million business profiles and 15+ million company profiles. There are also 60+ million decision-maker email addresses and 50+ million decision-maker direct dials.
Lusha supercharges your marketing and sales efforts by making it easy to build targeted prospect lists. You can use the prospecting features to sift through the database and uncover email addresses, direct dials, and phone numbers.  
The Lusha database features several data types, including company and contact attributes. For example, you can find out a key decision-makers name, job title, seniority, role, email address, and phone number.
There are also firmographic data points that help you identify companies that are suitable prospects for your products and services. These attributes include company name, industry, number of employees, revenue, and geographic location.
Lusha's contact database boasts an 81% data accuracy rate—an above-average mark. (Industry standards hover somewhere between 60 to 70%.) However, 81% pales in comparison to some of the best B2B database providers. For instance, UpLead has a 95% data accuracy guarantee.
It's also worth mentioning that Lusha's data is third-party validated. Volunteers manually validate the accuracy of contacts within the B2B database. Lusha meets industry compliance standards, such as GDPR and CCPA.
The Lusha database sources its data from several places, including social media feeds, public databases, and government sources. It uses a proprietary algorithm as well as its network community to bolster its database.
Lusha Key Features
Lusha has a robust suite of features you can use to find and verify the contact information within its extensive database. You can use these tools to accumulate high-quality leads for your sales and marketing campaigns. In total, there are 12 contact attributes, which include the following:
Full name
First name
Last name
Middle name
Organization Name
Job title
Seniority
Role
Email addresses
Phone numbers
Country
State
These attributes can be used to uncover critical demographic information about key decision-makers at your target companies. You can identify and enrich up to 1,000 contacts per search of the database. You can also find 25 company attributes:
Company name
A description of the company
Website domain
Homepage URL
Year the company was founded
Logo URL
Facebook link
Twitter link
LinkedIn link
Company location
Country
Country code
State
State code
Region
City
Street
Zip code
Company contact phone number
Industry tags
Industry category groups
Industry primary group
Number of employees
Company revenue range
Company key people list
These firmographic data points make it easy to find the best brands for your company to market and sell to. As with the contact search feature, you're able to pull up as many as 1,000 results from a single company search.
All of your contact and company search results can be converted and cleaned into accurate prospect lists. These can be exported to your CRM platform or as a CSV document in one click. Lusha integrates with tools like HubSpot, Salesforce, Zoho, SalesLoft, Pipedrive, and more. 
Above are just some of Lusha's capabilities. Here's a comprehensive list of the web-based tool's features:
100+ million business email addresses
60+ million decision-maker contacts
15+ million full company profiles
Contact search
Company search
12 contact attributes
25 company attributes
Technology tracking
Seven-step data verification
CRM integration
Dashboard analytics
Google Chrome extension
Instant onboarding
Person API
Company API
Lusha Pricing & Plans
Lusha has three pricing plans: Pro, Premium, and Scale. There aren't any free trials, but there's a free plan available. You can pay on a monthly basis or save money and purchase an annual contract.
Here's what you need to know about Lusha's plans:
Free
The Lusha free plan gives you access to one user and five credits per month. These credits are used to uncover contact information from the database. One credit entitles you to all the available contact information on a single contact. This includes email addresses and phone numbers.
You're given access to Lusha's extensive B2B contact database. You can use it to find direct phone numbers, landline numbers, and email addresses. The free plan also comes with a Google Chrome extension.
Lusha's free plan is very restrictive compared to its three paid packages. Although you get access to the database, you can only uncover five leads per month. The Pro plan, in comparison, provides 480 annual credits per user, which is 40 leads per month.
Pro
The Pro plan costs $29 per user per month if paid on a yearly basis. You get a total of 480 credits per user. If you decide to pay month-to-month, it's $39 per user per month. You get 40 credits every month for each user you purchase. Buying an annual contract saves you 25%.
The Pro plan is most suitable for new startups, sole proprietors, and small businesses. At only $29 per month, this plan's pricing makes it affordable for various small ventures. You're able to find up to 40 unique leads per month with this package. However, if your company is looking to reach more customers, you'll need a more advanced plan.
Features:
Standard search filters
List management
List export
Basic team management
Shared credit pool
CSV exporting
The Pro plan is the cheapest of the three Lusha pricing plans. It provides more features than the free plan; you get list management, list exporting, and basic team management. It also gives you significantly more credits to uncover leads from the database.
However, the Pro plan might not be ideal for larger companies. The Premium and Scale plans offer more credits for those that need them. Advanced features like technographic filters and CRM integration can only be found in the Scale plan.
Premium
The Premium plan costs $51 per user per month for an annual contract and comes with 960 credits per user. A monthly plan is priced at $69 per user per month and gives you 80 credits per user per month. Paying annually is 25% cheaper than paying monthly.
The Premium plan is an ideal lead-generation solution for larger small businesses and new startups. It's affordable, easy to use, and has all the features you need for effective prospecting. This plan is ideal if you need to uncover more than 40 new prospects per month; however, you should upgrade to the Scale plan if you need more than 80.
Features:
Database bulk search (up to 25 contacts at once)
Google Chrome extension bulk search (up to 25 contacts at once)
Usage analytics
The biggest difference between the Premium and Free and Pro plans is the number of credits you get. The Free plan is limited to five credits per month, while the Pro plan gives you 40 per user per month. The Premium plan provides you with 80 credits per month.
The Premium plan also has more features compared to Lusha's Free and Pro versions. You can perform bulk searches in the contact database and with the Google Chrome extension. Usage analytics give you a level of visibility that's unavailable in Lusha's more basic plans.
Scale
The Scale plan is a customizable enterprise package for larger companies. Its price varies depending on your specific needs and circumstances. The pricing packages come with unlimited credits. This plan includes the option to use Lusha's API; however, it must be purchased as an add-on.
The Scale plan is an optimal package for larger SMBs and enterprise-level businesses. With unlimited credits, you can uncover as many high-quality leads as your company requires. However, as this is an enterprise-level package, new startups, small businesses, and sole proprietors may find the Scale plan too expensive.
Features:
CSV enrichment
Database bulk search (up to 1,000 contacts at once)
Advanced team management
CRM integration (HubSpot, Salesforce, Zoho, Pipedrive, etc.)
SSO
Custom SAML 2.0
Customer Success Manager
The Scale Plan also has several add-on features that can be purchased. These include the following:
Job changes
Technology tracking
Salesforce data enrichment
Lusha API
Purchase intent signals
As the most expensive Lusha pricing package, the Scale plan offers more features, functionality, and credits. While the other three plans have credit limits, this one doesn't. You're free to source as many leads as you like.
Lusha Integrations
A lead generation tool is only as good as its integrations. It must be able to sync with its customers' existing technology stacks. Strong integrations save time, ensure accurate data, increase productivity, and improve sales performance.
Lusha is a capable web-based software that will effortlessly integrate with your company's technology stack. It works with several types of technologies, including CRM systems, email marketing platforms, and sales engagement platforms.
CRM platforms are used by businesses to increase revenue by optimizing the sales process and improving customer satisfaction. Lusha easily integrates with popular CRM systems like HubSpot, Salesforce, and Pipedrive. Leads from the Lusha database are imported into your company CRM and tracked as they move through the sales cycle.
Email marketing is a big part of modern marketing and sales strategies. Lusha integrates with email marketing platforms like Gmail, Outlook, Aweber, and Mailchimp. Leads from the Lusha contact database can be sent directly to these platforms to maximize efficiency.
These are just some of the types of technologies that Lusha integrates with. Below is a more comprehensive list of the most notable Lusha integrations:
Salesforce
HubSpot
Outreach
Salesloft
Pipedrive
Bullhorn
Gmail
Zoho
Microsoft Dynamics
Outlook
Zapier
Aweber
Mailchimp
UpLead is the Best Lusha Alternative
Lusha is a strong B2B database provider, but it's not perfect. There are some concerns regarding data accuracy. Fortunately, there are several other high-quality sales intelligence tools on the market. If you're looking for an accurate B2B database provider, look no further than UpLead.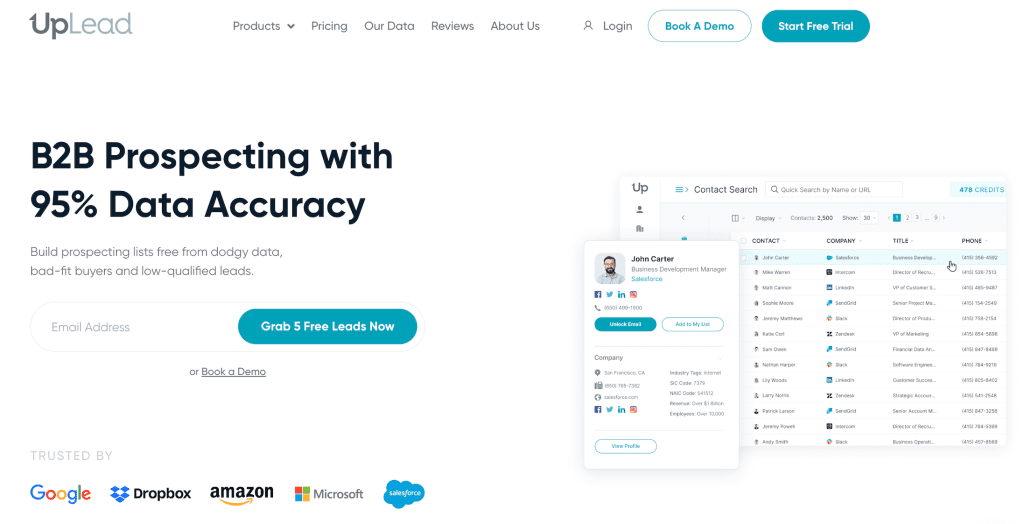 UpLead is a web-based B2B lead generation platform that empowers your marketing and sales teams. The cloud-based solution simplifies prospecting, making finding high-intent leads to fuel your campaigns easy. With UpLead, you can construct targeted prospect lists for your sales pipeline.
With over 108 million B2B email addresses, 14+ million company profiles, and 16,000+ technologies tracked, UpLead's contact database is unmatched. It also has a 95% data accuracy guarantee—one of the best marks in the industry.
UpLead is the number one Lusha alternative because of its superior data accuracy. A lot of sales intelligence databases are riddled with incorrect or outdated information. UpLead offers email addresses, direct dials, and mobile numbers that are 95% accurate.
UpLead is suitable for companies of all types and sizes. It's just as capable for sole proprietors and new startups as it is for SMBs and enterprise-level businesses. UpLead's competitive pricing makes it a scalable sales intelligence solution.
Key Features
UpLead has many valuable features that can be used to find the best leads for your business. There are more than 50 search filters to choose from, including demographic, firmographic, and technographic data points.
Firmographic filters help you identify target companies that align with your ideal customer profiles. These categories include industry, number of employees, annual revenue, and geographic location.
Technographic filters are used to search through the database and determine which technology stacks companies use. Demographic filters provide information on the key decision-makers within your target companies. These search filters are just a glimpse into UpLead's functionality.
Here's a comprehensive list of UpLead's features:
108+ million B2B contacts with email addresses
14+ million company profiles
16,000+ technologies tracked
95% data accuracy guarantee
50+ search filters
Real-time email verification
Purchase intent data
Organizational charts
Data Enrichment
Google Chrome extension
Competitor intelligence
CRM integration
Pricing
There are three UpLead pricing plans: Essentials, Plus, and Professional. You can pay monthly or save money and purchase an annual contract. A free trial is available as well. Here's a quick summary of each plan:
Essentials Plan: Costs $74 per month for an annual contract or $99 per month when you pay monthly. You get access to one user and several useful features, such as competitor intelligence and data enrichment.
Plus Plan: Costs $149 per month for an annual contract or $199 per month when you pay monthly. You get access to one user, all Essentials plan features, as well as advanced search filters, technographics, and more.
Professional Plan: Costs $299 per month for an annual contract or $399 per month when you pay monthly. You get access to a team account, which includes up to five users. All Plus plan features come with this package, as well as full API access and all search filters.
Interested in testing out UpLead? Sign up for UpLead's free trial today to get five free leads.
Start Your 7-Day Free UpLead Trial
Lead generation doesn't have to be all that painful. With UpLead, you can easily connect with high-quality prospects and leads to grow your company.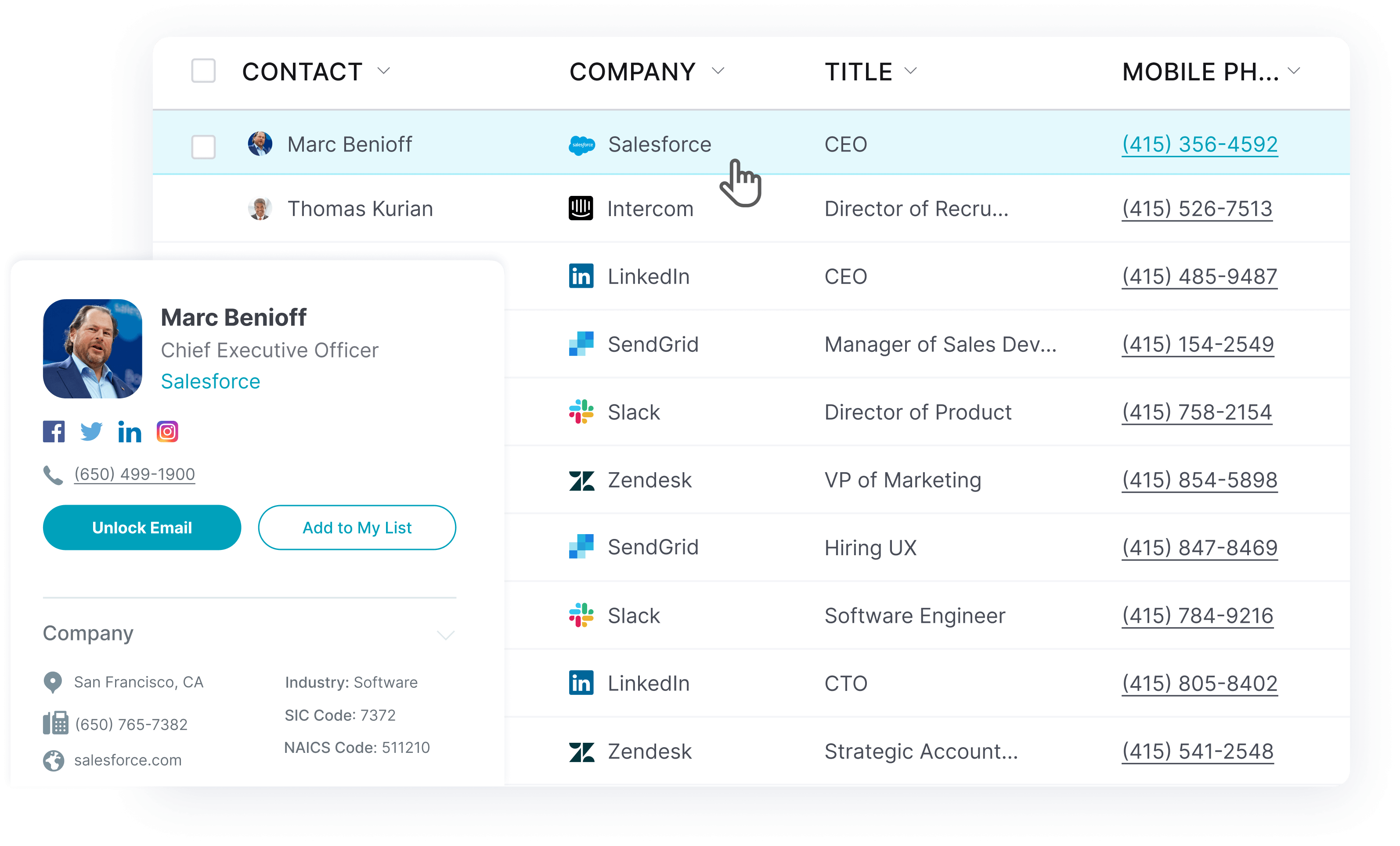 Explore More Alternatives to Lusha
UpLead isn't the only Lusha alternative. We've listed two more options on the market below.
ZoomInfo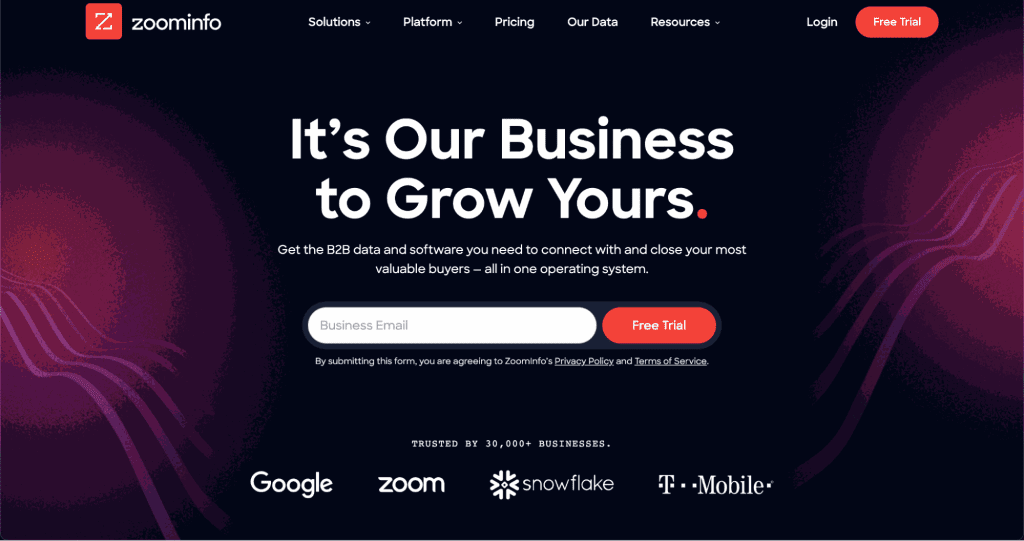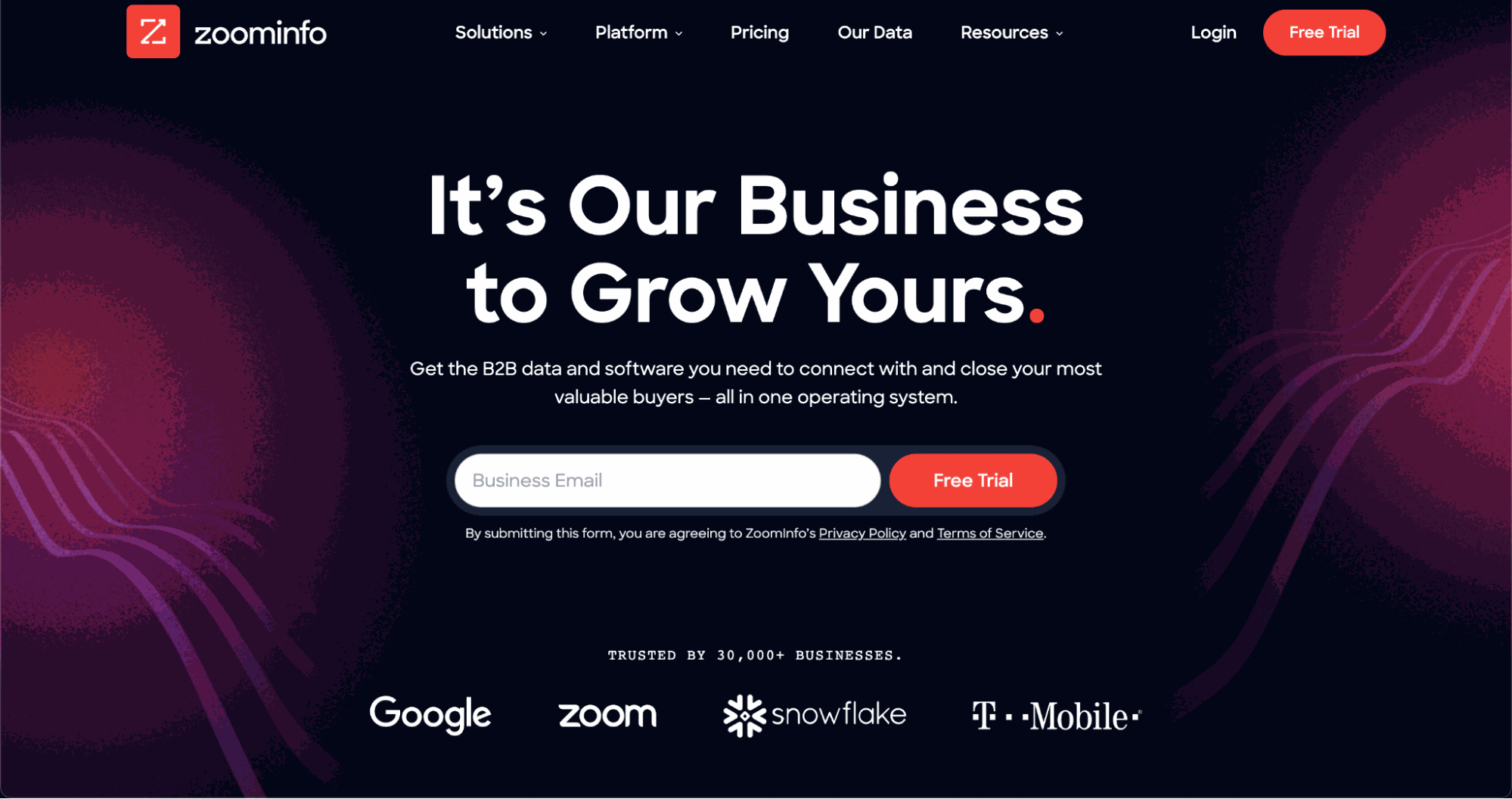 ZoomInfo is a cloud-based sales intelligence platform that makes lead generation easy. It has a large B2B contact database that customers can use to identify high-quality leads. These can be used to fuel your marketing and sales campaigns.
The ZoomInfo contact database includes 129+ million business email addresses and 50+ million direct dials from the United States. You can create targeted prospect lists by using the lead builder feature. Search filters ensure your searches are granular and specific. Purchase intent data helps you identify high-intent prospects in real time as they're interacting with your brand.
With a minimum cost of $15,000, ZoomInfo is one of the most expensive sales intelligence platforms around. This makes it more suitable for larger companies and enterprise-level organizations. It makes sense for small businesses, new startups, and sole proprietors to look elsewhere for more affordable Lusha alternatives. Here's our Lusha vs. Zoominfo comparison.
Key Features:
Lead builder
Organizational charts
Purchase intent data
Google Chrome extension
Phone dialer
Email automation
Tailored prospect lists
Real-time alerts and notifications
Lead enrichment
Deep integrations
Website chatbot
Pricing:
ZoomInfo has three pricing plans: Professional+, Advanced+, and Elite+. The Professional+ plan is the least expensive and starts at $15,000 per year. It has a 14-day free trial available.
Hunter.io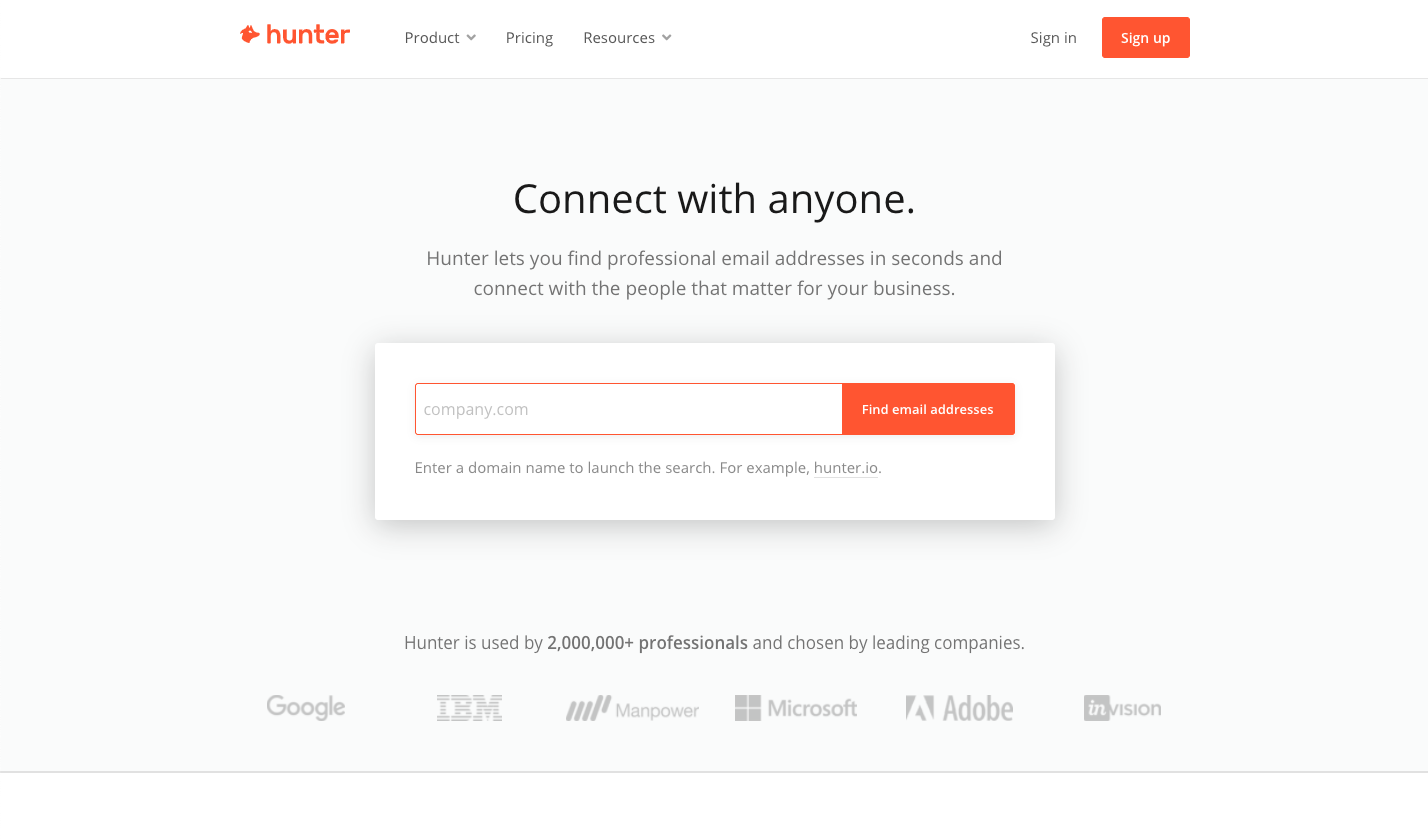 Hunter.io is an email prospecting tool that identifies business email addresses for your marketing and sales campaigns. It searches publicly available data from several online sources, such as social media, company websites, job boards, and more.
The web-based tool has a host of useful features that simplifies and streamline email marketing. You can use the Domain Search functionality to uncover email addresses associated with a specific company website. The TechLookup feature identifies websites by what technologies they use. These are just a few of Hunter.io's capabilities.
Due to its lightweight design and affordable cost, Hunter.io is ideal for businesses of all types and sizes. Its free plan is decent but lacks advanced features; it's limited to email addresses and has a questionable database.
Key Features:
Email finder
Domain Search
Technographic search
Email verification
Bulk email finder
Email outreach
Email templates
CRM integration
APIs 
Pricing:
Hunter.io has five pricing plans: Free, Starter, Growth, Pro, and Business. The cost ranges from as low as $49 per month to as much as $399 per month.
FAQs About Lusha Pricing
Is the Lusha extension free?
Yes, Lusha's Google Chrome extension is free. All you have to do is create an account on the main website. You'll get an initial ten free credits to uncover contact information. Every month you get five additional free credits for phone numbers and email addresses.
How reliable is Lusha?
Lusha is more reliable than most competitors on the market. It has an 81% data accuracy rate, which is above average, but still below some providers. For example, UpLead sports a 95% data accuracy guarantee.
Is Lusha better than Apollo?
Lusha and Apollo both have inherent strengths and weaknesses. Apollo has a more robust suite of features, but Lusha is more affordable. The databases are comparable in size and accuracy. The integrations are similar as well.
Is Lusha only for LinkedIn?
No, Lusha isn't only for LinkedIn; you can use it to find high-quality leads from several other sources. Lusha's database indexes publically available data from other websites and social media platforms, such as Twitter, Instagram, and Facebook.
What You Need to Remember About Lusha Pricing
Lusha is one of the best lead generation tools available. It can be used to find highly-relevant leads for your marketing and sales efforts. This article covered everything you need to know about the web-based platform, including its database, key features, integrations, and pricing plans.
Although Lusha is a great B2B database provider, it's not perfect. We presented three capable alternatives to consider. UpLead is an affordable option with lots of features and an unrivaled database. ZoomInfo is a higher-priced enterprise-level solution, and Hunter.io is a lightweight, email-only tool.