Any business knows that without strong lead generation strategies, it'll struggle to grow. Having a dedicated lead generation plan sets your business up for success. Thankfully, there's no shortage of high-impact lead generation strategies that are straightforward and simple to implement.
We'll show you 23 proven lead generation strategies you haven't heard of that you can implement today.
Quick Links:
What Are Lead Generation Strategies?
Before we dive into our list of highly-effective lead generation strategies, it's important to understand what lead generation strategies are. Simply put, lead generation strategies are techniques businesses use to connect with potential customers and convert them into paying customers.
There are various lead generation types, and some work better than others. When deciding which strategies to use, it's important to consider your specific product and target customer base. 
There are two primary categories for finding leads for your business: inbound lead generation and outbound lead generation.
Inbound Vs. Outbound Lead Generation Strategies – What's The Difference?
While there are countless types of lead generation strategies, they all fall under two primary categories – inbound and outbound. Most businesses use a combination of both to maximize their lead growth.
What is outbound lead generation?
Outbound lead generation happens when a business reaches out to connect with potential customers to convert them into paying customers. Outbound simply means that the business initiates the first contact and is directed toward the potential customer.
Common outbound lead generation campaigns include cold calling, cold emails, and direct mail.
If you don't yet have a dedicated outbound sales team, it may be time to look into how one can help grow your business. Outbound lead generation is often a numbers game; the more contacts your team reaches, the more sales they'll make.
What is inbound lead generation?
Conversely, inbound lead generation happens when a potential customer proactively connects with a business, specifically with the intent to learn more about the product and the potential to become a paying customer.
Inbound lead generation can be more cost-effective than outbound lead generation. However, an inbound strategy can take much longer to pay off. Outbound is a great place to start if you're looking for fast, high-impact lead generation.
For long-term, consistent lead generation, you can implement plenty of inbound strategies that work in tandem with outbound campaigns.
Proven inbound strategies include strong content marketing and focusing on your website's SEO to drive organic traffic to your site.
23 Lead Generation Strategies To Boost Your Business
Strategizing and determining which inbound and outbound lead generation methods will work for your business is important. Remember, leveraging both inbound and outbound techniques results in higher success rates.
Let's take a look at 23 lead generation strategies to boost your business.
Outbound Lead Generation Strategies
Targeted outbound techniques are ideal for aggressive, high-impact lead generation campaigns. Here are nine effective outbound lead generation strategies your business can leverage today.
1. Cold call a qualified list of prospects with the help of UpLead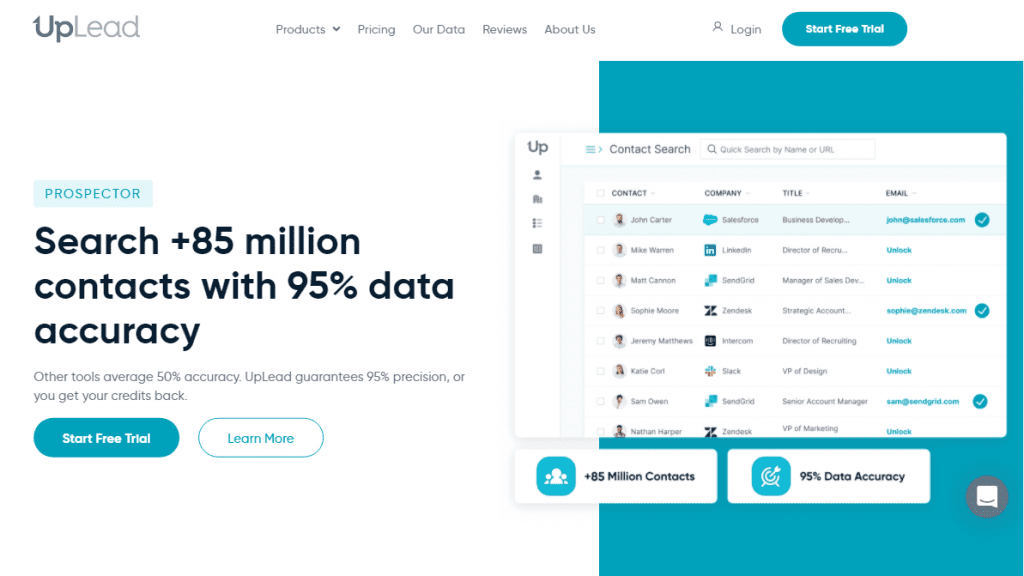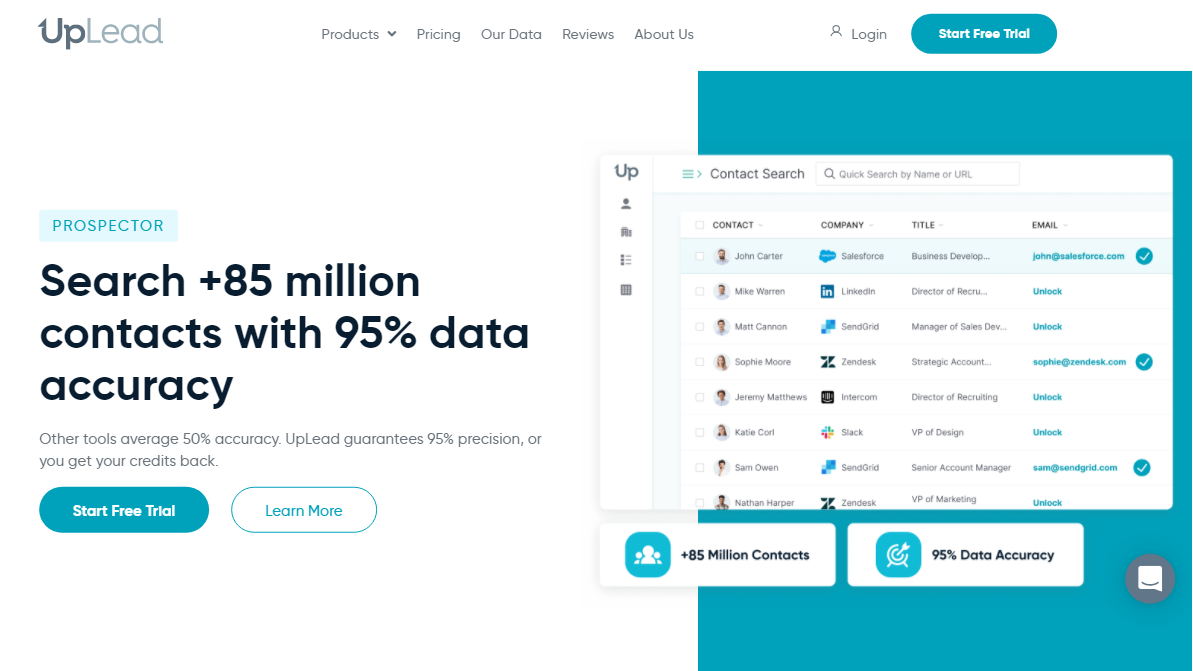 Cold call campaigns are a fantastic way to connect with potential customers, and UpLead's platform can help you create a qualified list of prospects. Our industry-leading prospector tool guarantees 95% data accuracy, so you can focus less on data verification and more on connecting with potential B2B customers.

Start Your 7-Day Free UpLead Trial
Lead generation doesn't have to be all that painful. With UpLead, you can easily connect with high-quality prospects and leads to grow your company.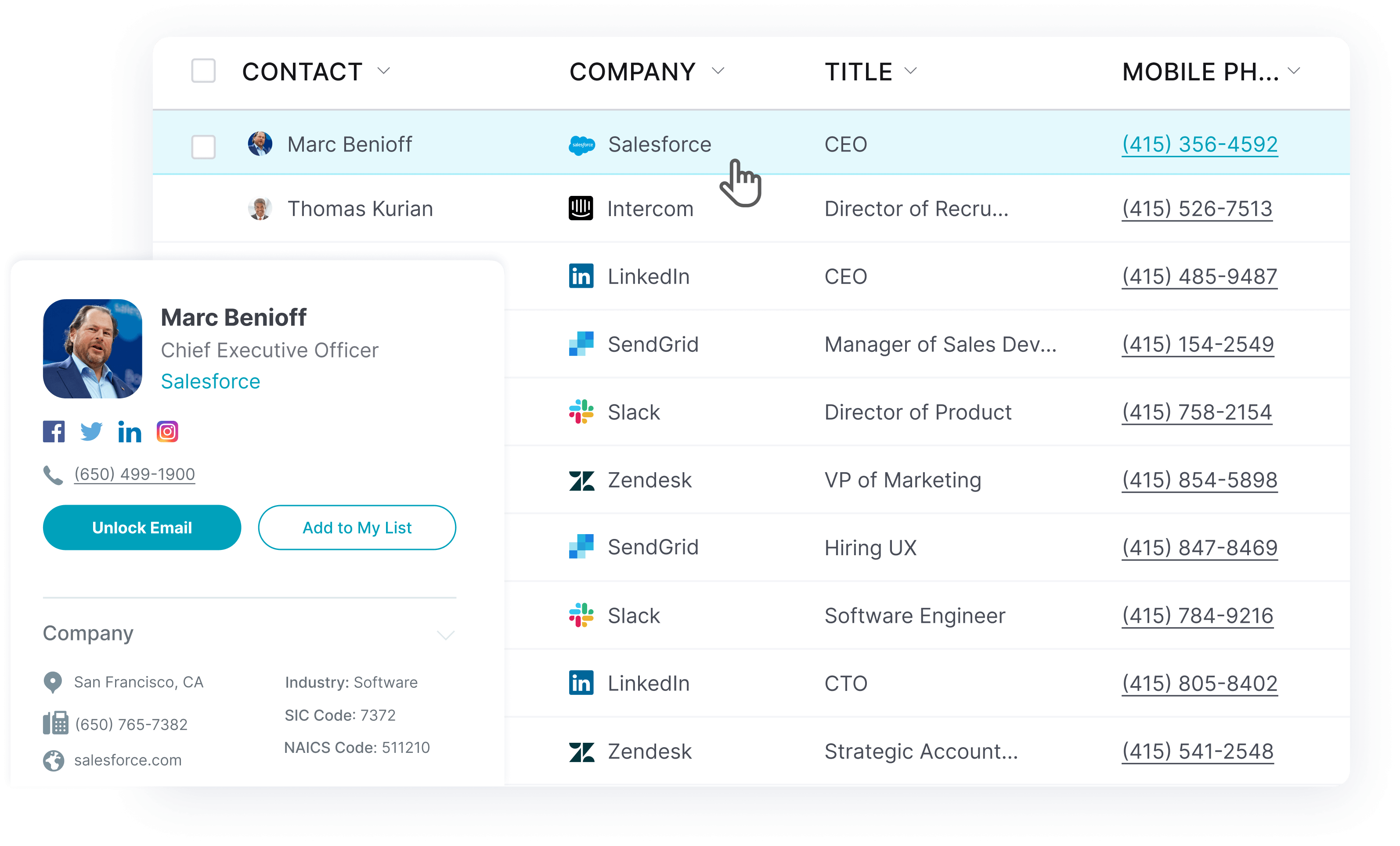 2. Check out industry events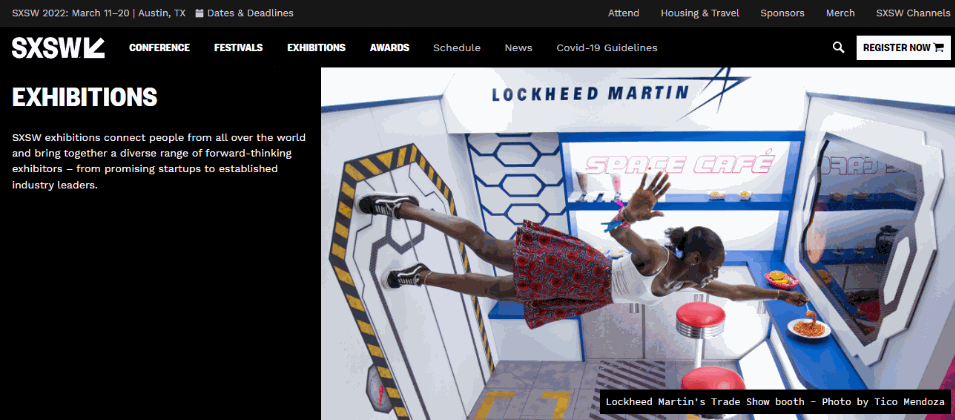 B2B lead generation requires creating strong, genuine connections, and what better way to establish those connections than in person? Industry events are an ideal way to establish your brand within your industry.
There are many B2B focused networking events and conventions that you or your representatives can attend to generate quality leads.
SXSW is a week-long SaaS conference hosted in Austin, Texas that hosts speakers, concerts, panels, and more. With over 250,000 visitors annually, SXSW exhibitions are a great way to showcase your product on a much larger scale and help your business connect with potential customers.
3. Reach out to prospects via LinkedIn


LinkedIn is a valuable resource for organic outbound lead generation. By posting content and engaging with other users, your business can quickly create a name for itself on the platform. This will help your business reach out to potential customers and generate organic traffic to your site. LinkedIn lead generation is a popular strategy.

Microsoft recently leveraged LinkedIn to increase its event registration. They reached out to prospects directly using LinkedIn's InMail, a premium feature that allows users to directly contact other LinkedIn members to whom they're not connected. InMail messages have a 48% open rate, which resulted in ten times as many event registrations as prior events for Microsoft. You can check out the case study here.
4. Send cold emails to your top prospects with the help of UpLead's Email Finder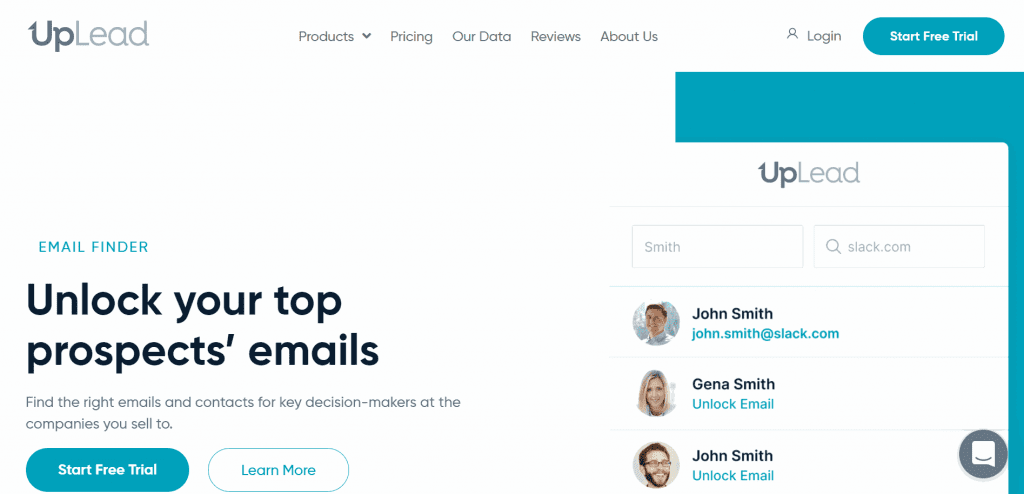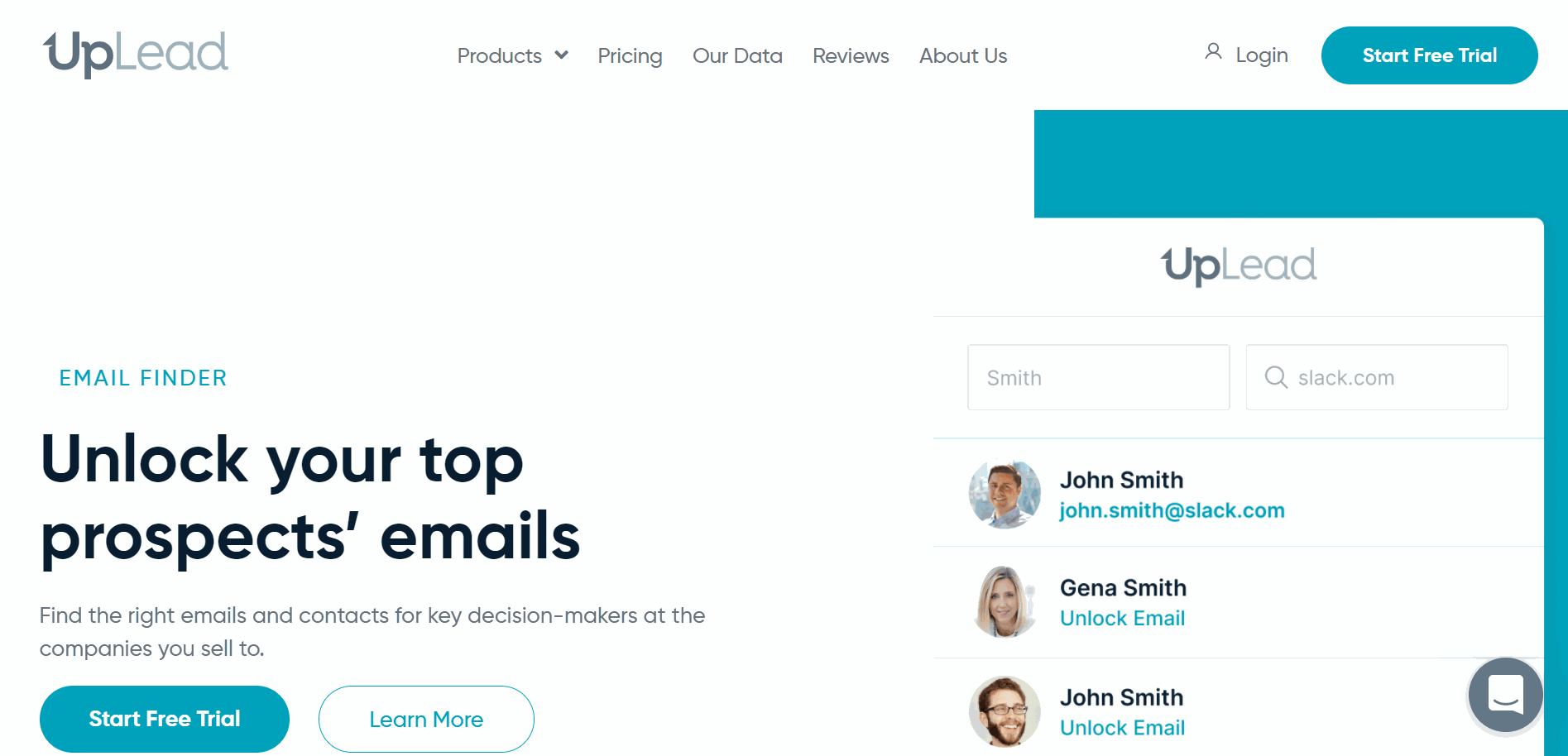 While a cold call campaign may be one of the most well-known outbound lead generation techniques, a cold email campaign can be just as successful. If you can create high-impact, targeted content, cold email campaigns can have an impressive return on investment.
With UpLead's email finder, you'll never have to second-guess if your email is reaching the right contact. They give you access to key decision-makers' email addresses in a streamlined, easy-to-use platform.
Start Your 7-Day Free UpLead Trial
Lead generation doesn't have to be all that painful. With UpLead, you can easily connect with high-quality prospects and leads to grow your company.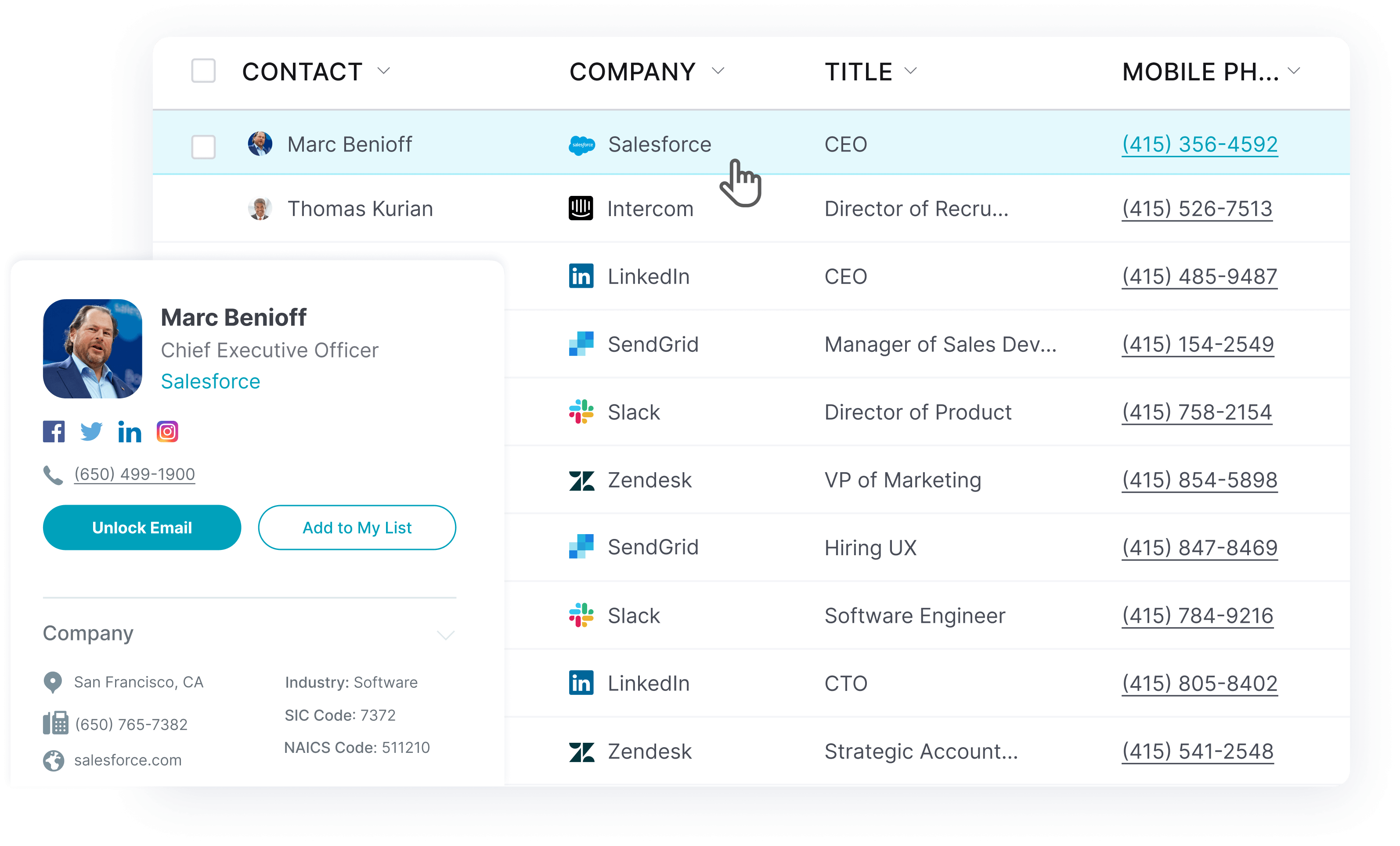 5. Implement drip marketing with a follow-up email campaign
Once you have prospective customer email addresses, a drip marketing campaign is an impactful way to maintain consistent contact with your prospects. A drip email campaign involves sending a series of emails over time to foster continued engagement with your business.
When setting up automated drip campaigns, make sure the content is relevant enough to your B2B customers to create genuine engagement and response. (Generic drip campaigns can drive potential customers away.)
Trunk Club is a great example of a company that uses drip campaigns to generate strong conversion rates. This fashion company creates a personalized experience throughout the entire campaign, driving engagement and creating value. Even though they use email automation, the customer experience feels truly genuine. If customers don't feel like they're valued or spoken to directly in a drip email communication, chances are they won't interact with the email.
6. Harness the power of direct mail
Direct mail can have a significant impact on B2B lead generation. Sending direct mail to potential business customers can get your product in front of decision-makers.
Emails can be deleted, and calls can be ignored, but direct mail to a business is usually delivered to the intended recipient, meaning the decision maker you send it to is likely to see it. A common strategy is to follow up on a direct mail campaign with a personalized email.
In recent years, some of the biggest SaaS companies have leveraged direct mail for B2B prospecting. Google recently launched a direct mail campaign to promote Google Ads and connect with prospective customers.
7. Introduce an account-based marketing (ABM) approach
Account-based marketing (ABM) involves targeting a set of contacts within a specific industry or area and is an increasingly popular B2B lead generation strategy. The cross-functional approach of sales and marketing makes for a powerful outreach campaign. ABM involves targeted, personalized messaging, white-glove support, and specialized care for large accounts.
Alida leveraged ABM along with LinkedIn's professional network and was able to increase conversions by over 120%. They achieved their outstanding results through sponsored content, lead generation forms, and a robust ABM approach.
8. Engage with your prospects online via live chat
B2B prospects, just like B2C consumers, want on-demand answers and reliable communication when learning about a new product. Live chat is a modern way to connect with potential customers where they are.
Businesses need innovative ways to create meaningful connections with prospects. Live chat can occur directly on your website or, if you're running an outbound campaign, on sites like LinkedIn or popular email platforms like Gmail. LinkedIn messaging and Google Hangouts are live chat options, you can use to connect with new and established contacts.
9. Ask your customers for referrals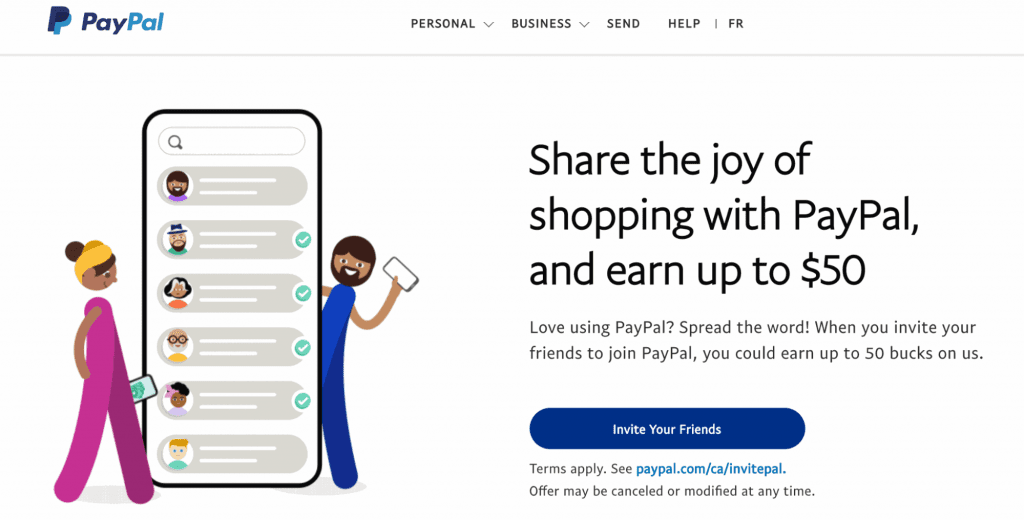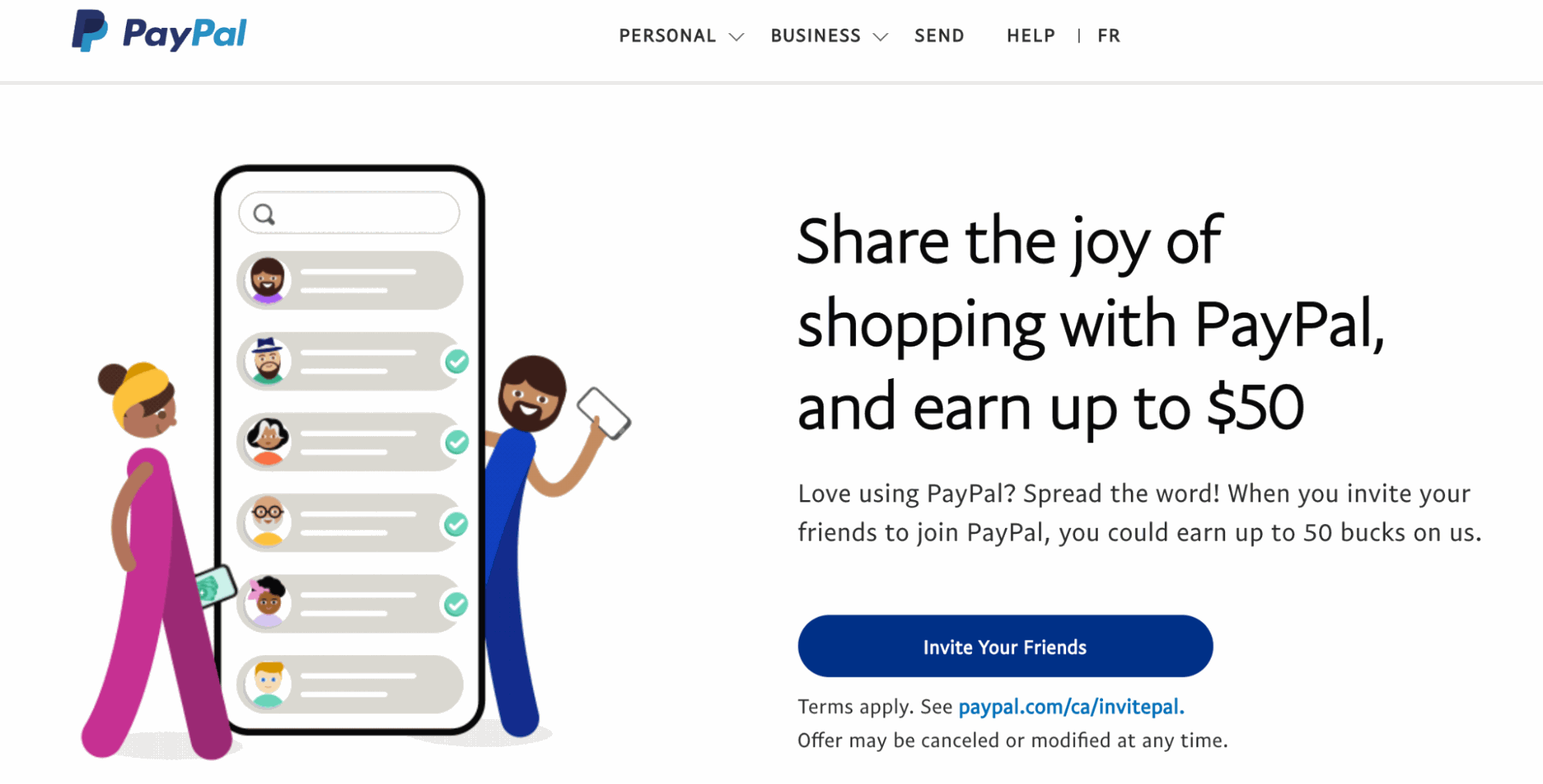 While referrals are typically a passive lead generation strategy, you can take the initiative by asking your existing customers to facilitate word-of-mouth marketing campaigns.
Offering an incentive for your B2B customers to provide honest referrals and reviews is a low-cost, high-impact way to generate high-quality leads for your business.
PayPal's referral program led to its massive growth and success. By incentivizing referrals through cash rewards, PayPal rapidly grew to over $300 million in net annual income.
Inbound Lead Generation Strategies
Inbound lead generation strategies often take longer than outbound campaigns, but that doesn't mean they are less impactful. Inbound campaigns can create long-term funnels and can be extremely cost-effective. Let's take a look at some high-impact inbound lead generation strategies your business can implement.
10. Build an online community on Facebook, Slack, or Discord


Social media is ubiquitous. If your business doesn't have a strong online presence on social media, it's time to focus on creating meaningful engagement online through various community platforms.
B2B prospects use social media and other platforms to connect with new products and business partners, creating significant opportunities for your business to create engaging content online.
Genesys built its brand around online communities. In fact, their community-building software is what enabled their steady growth. While they used their own software to build a community, the results are a testament to building a place online where customers and prospects can connect.
11. Host an event
It may be worth hosting your own if you can't find a local event to connect with B2B prospects. Engaging with your community is a simple way to promote your business and generate local leads. Whether it's an event for specific industry contacts or a general community event, connecting in person is a valuable way to generate B2B leads.
In today's online world, digital events are increasingly popular. Clio, a SaaS business focusing on law firm software, hosted an online event with over 4,000 paid attendees, generating significant revenue from the event alone.
12. Guest host a relevant podcast
Podcasts have skyrocketed in popularity in recent years. If you're not prepared to dedicate time and effort to hosting your own podcast, try guest-hosting a relevant podcast in your industry. It will help establish your business as an authority in your niche and generate organic engagement with potential customers.
13. Reach your audience with a webinar
The most important theme when it comes to inbound lead generation is engagement. Webinars are a valuable tool for interacting with leads in the SaaS world.
You'll create organic engagement and generate high-quality inbound leads by providing free webinars highlighting your product and demonstrating how it can solve problems. These leads will be more likely to truly connect with your product and see it as a valuable solution to their business needs.
BlackLine leveraged LinkedIn's InMail to consistently generate a 50% year-over-year growth rate. They did so by connecting directly with prospects to increase webinar registrations.
14. Provide free tools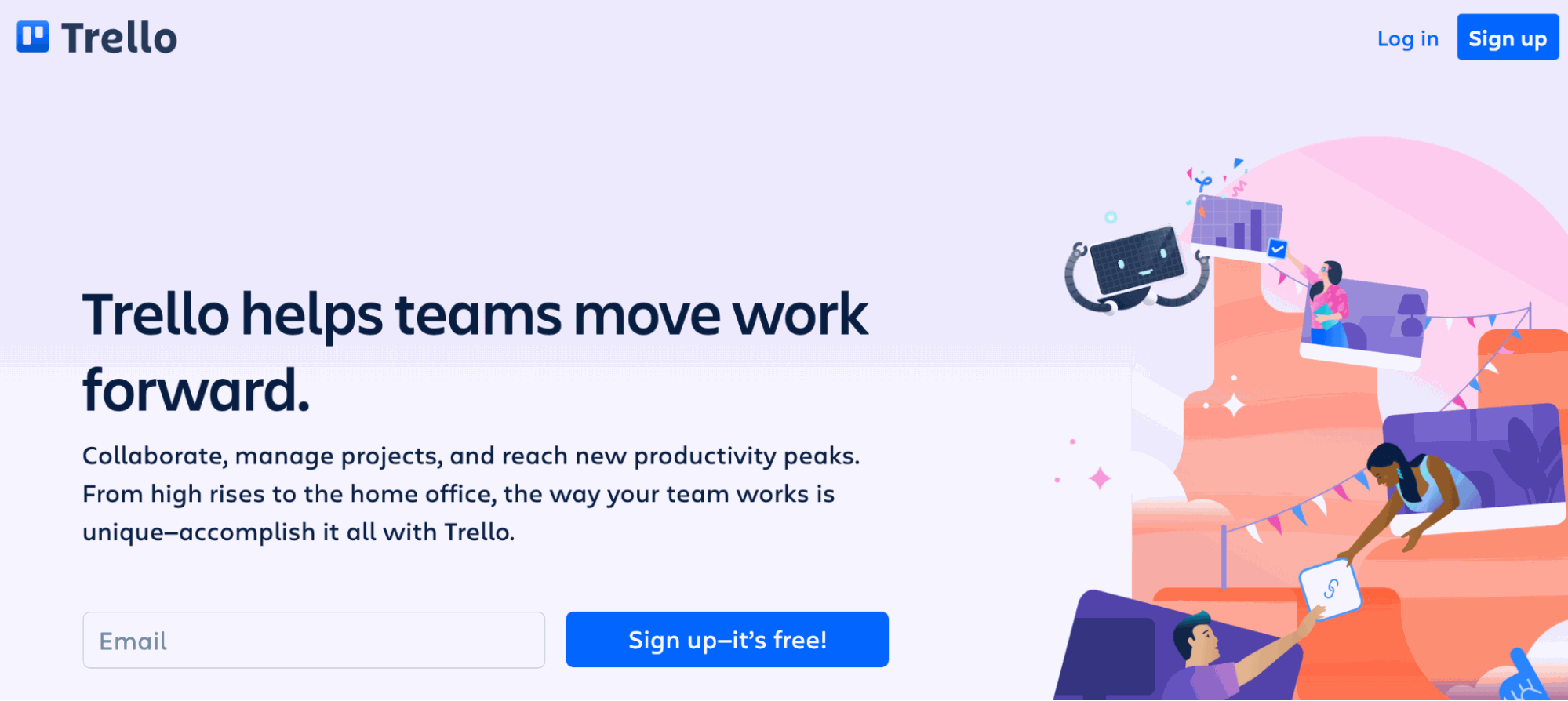 Potential customers respond well to freebies, whether they're businesses or consumers. Offering free tools for your potential B2B customers is a powerful way to create engagement and build customer relationships. Consider offering a free basic tool with no purchase commitment or free tools as a limited time offer when your customers sign up.
Trello takes a unique approach to free tools by essentially providing their software for free. They are still able to convert millions of users into paying customers by charging for advanced features and integration capabilities, striking the perfect balance between free and paid services.
15. Nurture relationships with brand ambassadors
Much like influencers, brand ambassadors promote your business to targeted audiences. They are typically employees who generate engagement with your brand and help generate high-quality leads. Brand ambassadors can foster organic relationships while actively reaching out to prospective customers.
16. Host an AMA (Ask Me Anything) online
B2B customers want to ensure that your product fits their business correctly. Open dialogue creates trust with prospective customers and allows them to connect with key contacts within your business. 
An AMA session lets potential customers ask relevant questions and personally connect with your business. Talkwalker and Hootsuite partnered on an AMA session to discuss their platforms' integration. They answered top questions from current and potential customers, showing transparency and generating organic customer engagement.
17. Work with influencers
In today's world, social media and influencers seem to be at the forefront of marketing strategies. Businesses can partner with popular influencers to connect with consumers and B2B prospects. Using popular social media platforms such as Tik Tok and Instagram, influencers promote products and services to millions of dedicated followers.
Startup Applango recently leveraged influencer insights to create a thorough whitepaper that identified key pain points and goals for their market. They also developed professional relationships with the influencers, which helped generate organic leads and grow their business.
18. Focus on SEO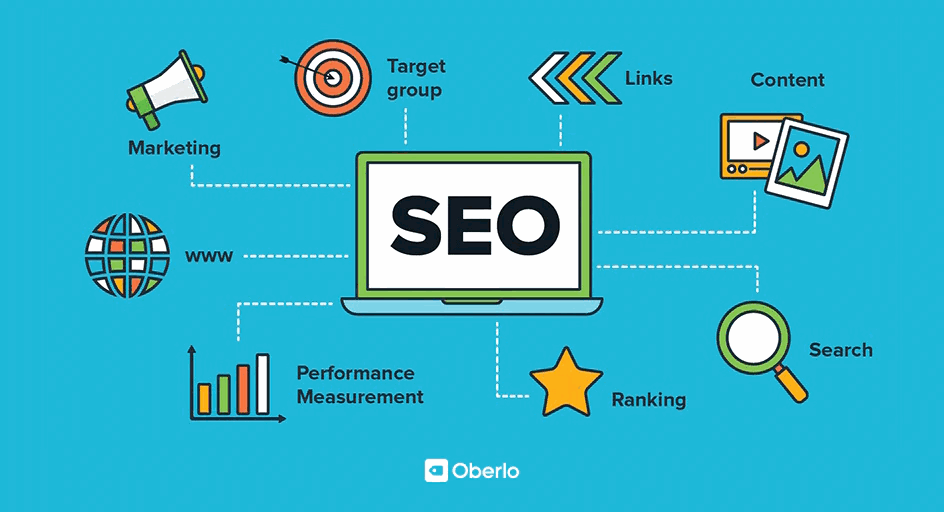 Search Engine Optimization (SEO) involves optimizing your website to appear higher in search engine results. The higher your business appears in a Google search, the more organic traffic your site will receive.
SEO can propel your business forward and generate more high-quality inbound leads through relevant, engaging on-page content and accurate meta tags. With low costs and high-impact returns over time, SEO is a valuable investment and should be at the forefront of your long-term lead generation strategy. Don't believe us? Check out this case study on Northmill, a Fintech company that leveraged SEO techniques and saw a 1,000x increase in its unique visitor count.
19. Develop mutually beneficial partnerships with related companies
Competition is important for growth and innovation, which is why creating meaningful partnerships with other companies in your industry is important.
Mutually beneficial partnerships encourage collaboration, increase your pool of prospective customers, and improve the products and services of everyone involved. These partnerships can also bring together two brands or multiple product lines to create something even greater. For example, Nike and Apple's partnership combines fitness apparel with cutting-edge technology to create a 'smart apparel' line in the Nike+ line.
20. Harness the power of educational videos
SaaS businesses that leverage educational videos are likely to see higher conversion rates than those that don't. Videos are ideal for breaking down complicated topics or software and are a great medium for practical product demonstrations.
Videos are a cost-effective way to provide high-value resources for your prospects. But they do more than just provide product information—they also connect customers with your brand, mission, and values.
Salesforce is a fantastic example of educational videos done right. With a robust video library, users can quickly and easily access information and guidance on virtually every platform aspect.
21. Use Google Trends to identify topics of interest in your industry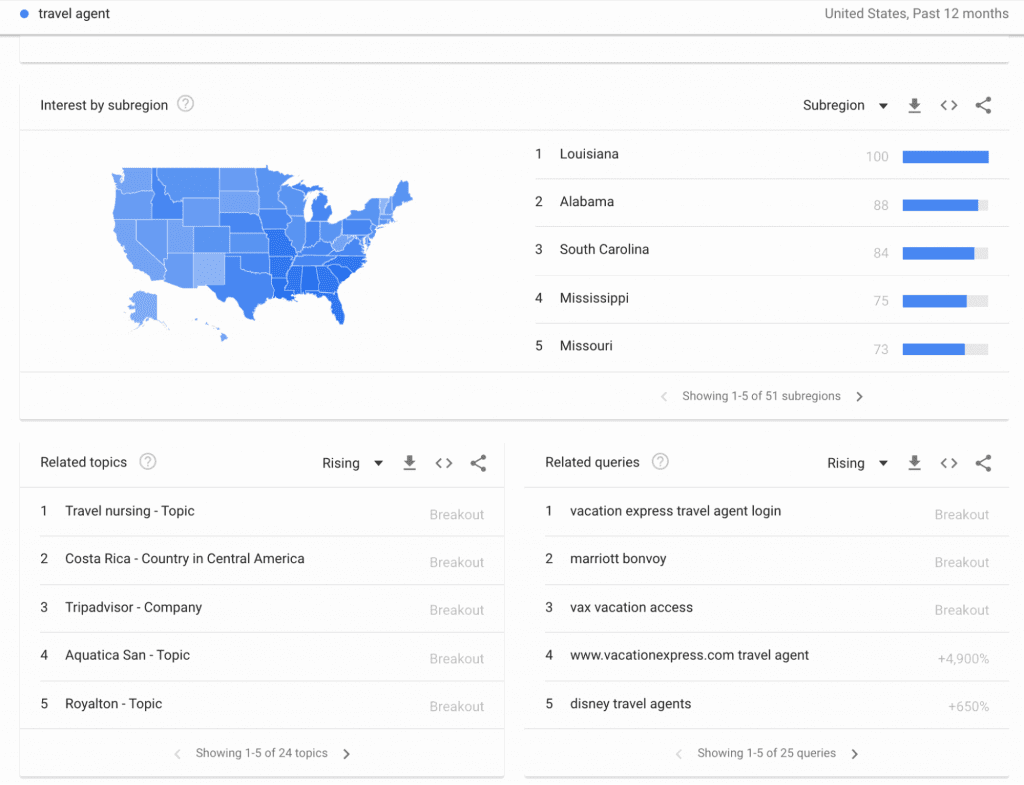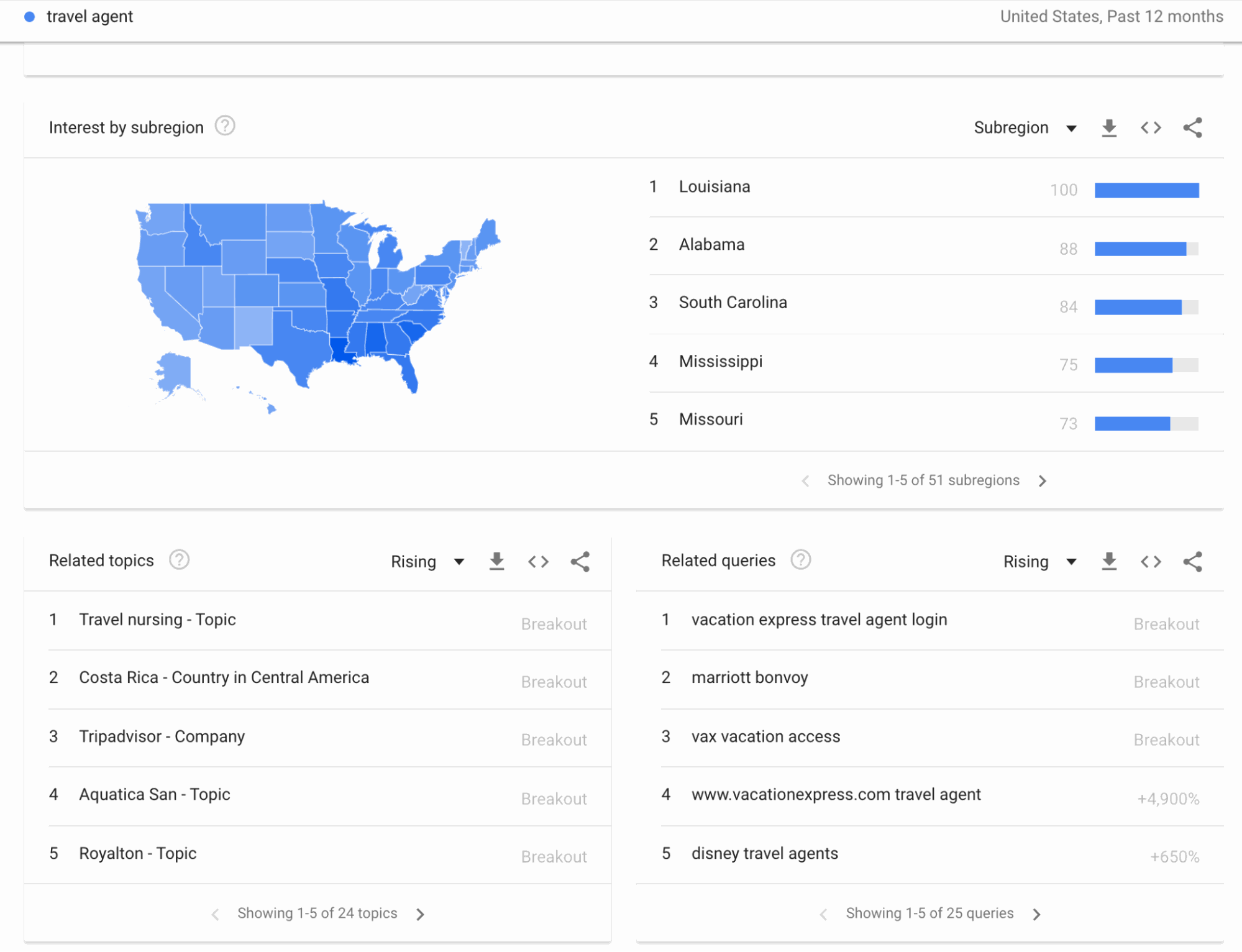 Google Trends is a free tool that delivers search engine data right to your fingertips. This tool helps you discover what potential customers are searching for, understand your target audience, and decide which keywords to focus on.
Plug in a few keywords for your industry, and you'll gain access to valuable information you can use to market your business. For example, searching the phrase 'travel agent' in Google Trends will show you where the search is most popular, related topics, related queries, and popularity over time. This data can guide you in adjusting your keywords and creating targeted ads for maximum return.
22. Get on board with gamification
Engagement is the name of the game when it comes to inbound lead generation. Gamification is a unique way to foster high levels of engagement with potential customers. Online quizzes or other interactive activities on your site can help set your business apart. Whether the gamification is to unlock deals and discounts or to learn more about your product, this method is a unique spin on inbound lead generation.
Asana implements simple gamification through fun milestone celebrations. With animation that celebrates a milestone and well-defined milestone visuals, interacting with their software becomes engaging and fun.
23. Leverage review sites and directories like Yelp, G2, and Capterra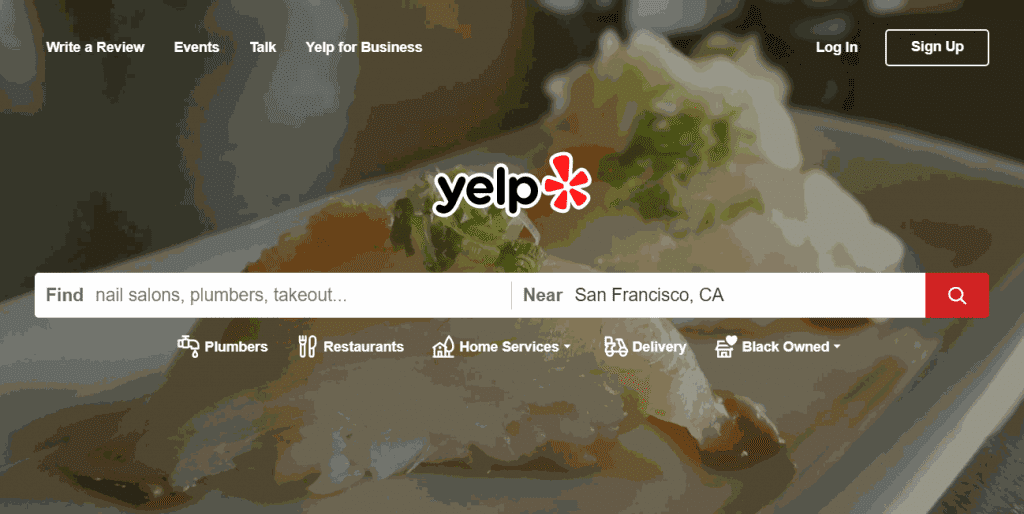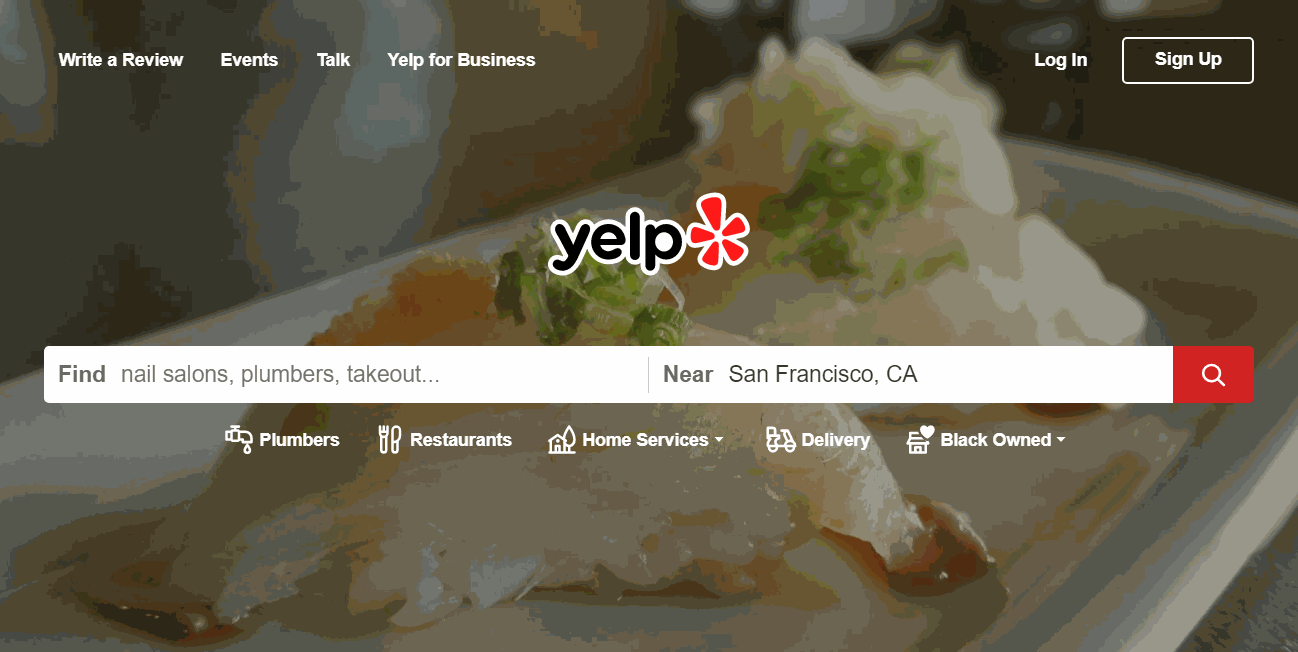 Last but certainly not least on our 23 lead generation strategies list is leveraging popular review sites and directories. These searchable, high-traffic review sites are a great way for your satisfied customers to drive more business to your website.
The popular video conference software Zoom integrates feedback capabilities at the end of calls. These reviews are captured and centralized for others to see and collected internally to improve processes. Review site integration is a key feature that gives prospects transparency from current customers.
By having your business actively listed on review websites or incorporating a feedback platform directly on your website, you're allowing your customers to provide real-time feedback that may persuade others to buy from your business. Customers trust other customers, meaning reviews from existing customers can be a powerful lead generation strategy.
Take Your Lead Generation Strategies To The Next Level With These Tips
Now that you have 23 highly-effective lead generation strategies, it's time to boost your lead generation with these helpful tips from the UpLead team.
Use the best lead generation tools
You can strategize all day, but if you don't have the right lead generation tools at your fingertips, your campaign isn't going to get very far. These tools go hand in hand with effective lead generation strategies. They make campaigns effective and efficient and will significantly increase your return on investment.
When searching for tools for your next lead generation campaign, UpLead has your back. Our proven B2B lead generation tools far outperform the competition. With a prospecting tool that offers 95% accuracy and a host of powerful tools at your fingertips, UpLead can help take your business to the next level.
Personalize as much as possible
Personalization can make all the difference in lead generation.f There are many examples of automatic name filling gone wrong during email campaigns. Don't be that company. Take the time to personalize your messages, especially if you're focusing on an outbound lead generation campaign.
Although outbound lead generation is a numbers game, you shouldn't sacrifice quality interactions to reach more customers. Take a moment to learn something about your contact, and you'll see just how impactful a personal connection can be.
Use a single call to action in your emails
Consistency is key, especially when it comes to emails. Whether it's a targeted email campaign to boost leads or you're following up with an established contact, use a single call to action. Keep it simple and clearly actionable.
Use consistent language like subscribe, try, or sign up for a SaaS call to action. Make the call to action clearly visible so your contacts can easily take the next step to connect with your business.
Common Questions About Lead Generation Strategies
There are countless lead generation methods out there. It's best to use multiple strategies to maximize your business's success. Below are answers to some common questions you may have about lead generation strategies.
What are the best B2B lead generation strategies?
Remember, there are two broad categories of lead generation: inbound lead generation and outbound lead generation. Regarding B2B lead generation strategies, we recommend some techniques more than others.
First, consider implementing a strong outbound lead generation strategy, such as a cold call campaign, a cold email campaign, or both. While inbound strategies are equally vital, they can take much longer to produce tangible results. We recommend an outbound B2B lead generation strategy for a targeted, intentional campaign.
What is the best email lead generation tool?
UpLead has a host of world-class lead generation tools. One of our favorites is the Prospector tool, which combines 95% data accuracy with an easy-to-use platform. When compared to other prospecting tools that typically provide 50% data accuracy on average, our tool is truly world-class and a must-have for any lead generation campaign.
Remember This About Lead Generation Strategies
Lead generation strategies will vary depending on your company's size and industry. However, every business should consider both inbound and outbound lead generation techniques.
Remember, a campaign is only as strong as the lead generation tools used to run it. So the next time you implement a lead generation campaign for your SaaS business, look no further than UpLead.
Start Your 7-Day Free UpLead Trial
Lead generation doesn't have to be all that painful. With UpLead, you can easily connect with high-quality prospects and leads to grow your company.