Businesses need leads to sell to, but leads aren't always easy to find. And lead data can be scarce even when a sales team is capable of finding it.
UpLead is a lead generation platform aimed to help businesses in their lead generation efforts. Unlike other lead generation tools, UpLead gives you access to over 54 million contacts worldwide and offers you a 95 percent data accuracy guarantee so you can be sure you'll receive data you can use.
From generating leads as you browse online, to fleshing out your prospects through vibrant profiles, UpLead makes lead generation software easy and effective.
In this article, we'll focus on lead generation alternatives, UpLead competitors, and more, focusing on their pros and cons.
Here are the top alternatives to UpLead, and how they stack up against UpLead:
Quick Links:
Why Should You Choose UpLead?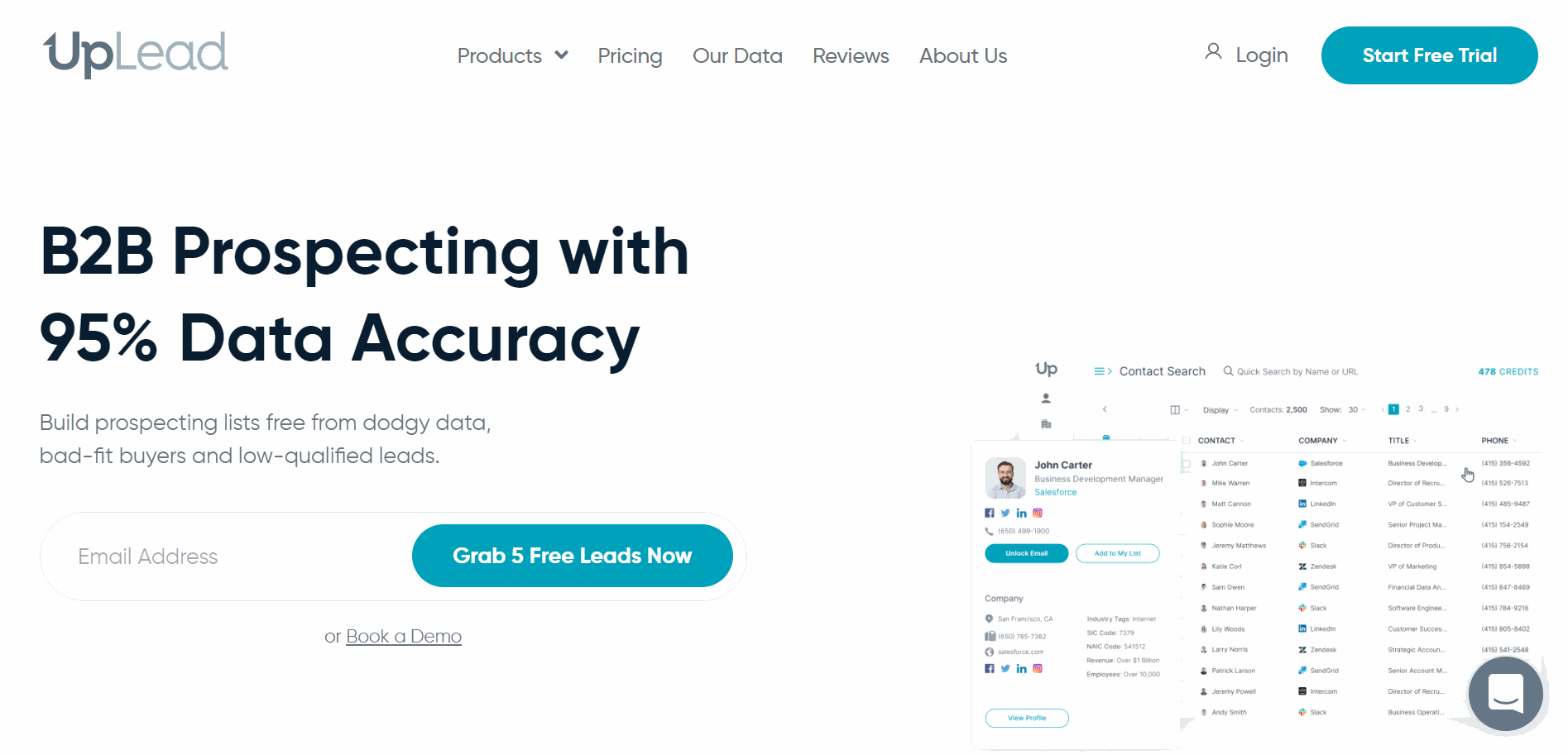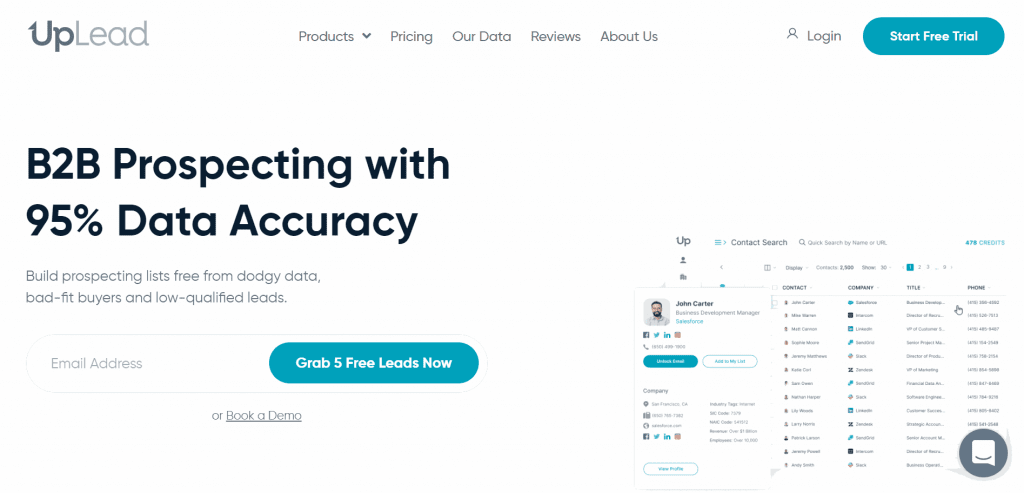 UpLead
helps you reach the right prospects in more ways than most alternatives to UpLead out there.
UpLead's data is carefully collected, stored, and updated from multiple public and private sources. Instead of simply offering you someone's contact information, UpLead allows you to get valuable marketing data, like a lead's location, industry, and technographic information.
All data is tested and validated to remove inaccurate information. And all emails are validated in real-time right before you download them to ensure deliverability. This makes UpLead the best software when it comes to valuable, trustworthy lead gen data.
UpLead is one of the very few platforms capable of backing up its data with a 95 percent accuracy guarantee .
And UpLead doesn't just generate company data, it helps you learn from it too. Through vibrant profiles, anyone in your sales teams can instantly get to know who's in their sales pipeline, their business career, and their potential pain points, all at a glance. The profiles also link to the lead's social media and, when possible, display a photo of the lead.
All of this helps your sales teams see their sales leads for the people they really are, instead of just a name and contact information.
Whereas most other UpLead alternatives may give you data, UpLead gives you accurate data your sales reps can use at each step of the sales funnel.
UpLead vs ZoomInfo
Unlike ZoomInfo and other UpLead alternatives, UpLead is far more affordable. It gives you more flexibility and offers you higher-quality data:
Pricing
At UpLead, pricing starts start at just $99 per month. More expensive plans, costing up to $399 per month, are still affordable and include bonuses like additional credits and unlimited access. ZoomInfo's pricing, in comparison, starts at $10,000 per year for its cheapest plan. That's over 100 times more than UpLead, and many other UpLead competitors out there.
Flexibility
ZoomInfo also locks customers into year-long contracts. Besides being extremely expensive, these contracts force users to keep paying a premium for their services regardless of what happens. UpLead bills customers on a per month basis and rolls over unused credits to the next month.
Data
Although a pricier competitor, ZoomInfo's data isn't as high quality as UpLead's. UpLead not only guarantees its data, but it also verifies data in real time. This allows you to make sure you're getting the best possible data at the last possible second and ensures you only pay for verified emails. That's why we are considered one of the best Zoominfo competitors available.
UpLead vs InsideView
UpLead gives you a better database that's updated and priced more clearly than InsideView:
Simpler navigation
Although InsideView offers more features than UpLead, UpLead offers simpler navigation that seamlessly connects your lead generation efforts to the rest of your tools.
This allows you to use UpLead exclusively for lead generation instead of paying for a bloated competitor filled with features you'll never need. We are one of the best Insideview alternatives.
Update Frequency
InsideView relies on multiple data sources to build a large database. However, it also relies on those sources to keep their information up to date, so not all data will be updated at the same frequency, and some may not be updated at all. In contrast, UpLead validates email addresses in real-time at the last possible second before it's downloaded to ensure deliverability.
Pricing
InsideView offers a free trial but doesn't list its pricing, likely making people have to contact them to get a subscription quote. UpLead's pricing is not only completely transparent, but it's also consistently priced well below the industry's average.
UpLead vs Hunter
UpLead is far cheaper and offers better data and more flexibility than this UpLead alternative:
Pricing
Hunter offers a free trial for each of its tiers and a very limited "free" pricing feature. However, based on the platform's own verification procedures, Hunter's seems to use the free pricing feature as a lead generator for themselves. And even at a lower price, data isn't worth much if it's not validated in real-time and if it doesn't come with a data accuracy guarantee, like with UpLead.
Better data
Although Hunter's database is larger than UpLead's and many other competitors, thanks to their data-fetching and crawling methods, Hunter has to "warn" their customers with varying levels of confidence associated with its sales leads.
UpLead, instead, simply offers three simple verification categories to choose from instead of offering a certainty score per contact. This allows you to generate accurate leads throughout the complete customer lifecycle.
Contract Obligations
UpLead doesn't trap any customers into long pre-paid contracts. Instead, UpLead focuses on maintaining customers through the quality of the platform alone, having a no-contract payment system, and rolling over new, unused monthly credits to the next month.
With UpLead, you won't be stuck with a platform regardless of your experience, but you can stick with a platform based on the results you get from your lead generation efforts. And, you can easily adapt your spending according to the needs of your sales pipeline. That makes us a solid Hunter alternative overall.
UpLead vs DiscoverOrg
Unlike other competitors and alternatives like DiscoverOrg, UpLead doesn't trap any marketing teams into long-term contracts and offers better data at a better price.
Contract Obligations
UpLead's pricing isn't based on long-term contracts meant to get money regardless of your situation. Instead, customers can pay as they go and even get their new monthly credits rolled over to the next month. DiscoverOrg's model requires an upfront 12-month commitment, making it harder for businesses to pay if the platform doesn't perform as expected.
Database Size
At the time of this writing, UpLead offers a database that's more than eight times the size of DiscoverOrg's database, and many other competitors.
Pricing
Although there's a free trial available, DiscoverOrg's pricing is seemingly made to attract larger companies and persuade them to spend a lot of money for access to less data. In comparison, UpLead offers businesses access to thousands of potential customers at much lower prices.
Check out other DiscoverOrg competitors here.
UpLead vs D&B Hoovers
UpLead is more flexible and affordable than D&B Hoovers and other UpLead alternatives:
Flexibility
D&B Hoovers only accepts full-year subscription payments. UpLead offers users more flexible pricing. Since UpLead doesn't charge users annually, users can pay month to month, and their new credits can be rolled over to the next month. That way, users stay with the platform thanks to the positive results they receive, instead of being locked into a yearly plan regardless of their results with competitors.
Pricing
D&B Hoovers offers a free demo, but does not list its pricing online. This makes it difficult to shop around and compare their pricing to UpLead's. However, UpLead offers very transparent and simple pricing that's consistently kept below the industry's average. Here are some other D&B Hoovers competitors.
UpLead vs Clearbit
Uplead offers better special features and better data at a lower price than Clearbit:
Special Features
Although Clearbit does offer products like Clearbit Enrichment and Reveal, those don't come with the Prospector software. Instead, you'll need to pay for them separately if you want to use them. UpLead opts to give you the lead generation software you need at the level you need them. This includes Data Enrichment, so you get the right business and contact data to place the lead into the right marketing campaigns. Plus, UpLead's features are built into its main B2B data service, giving you more value for money.
Update Frequency
Although Clearbit does claim to be committed to data upkeep through rebuilding profiles monthly, it simply cannot compare with UpLead's "real-time" data updates. Instead, UpLead offers you verified emails to make sure you're only getting (and paying for) valid data.
Pricing
Clearbit's pricing is clearly not for everyone. Sitting at about $12,000 per year for the most basic package, its pricing alone is reason enough not to use this lead generation tool, even if they offer a free trial.
However, even if you chose to pay for the UpLead's Plus Package for a year, you'd get 18,000 sales leads for less than $4,800. Credits roll over to the next month, and UpLead even offers a 25 percent discount to sales and marketing teams that want to commit to a full year. UpLead is clearly far better priced and poses as a great Clearbit competitor.
Conclusion
UpLead is one of the best alternatives to some of the most expensive and more "advanced" lead generation software.
Unlike most tools, UpLead's pricing is kept under the industry's average to help all companies as they need it. The data itself is backed by a 95 percent accuracy guarantee, validating all emails you get in real-time right before you download them.
And, unlike other larger, more expensive UpLead alternatives, UpLead doesn't bog down its lead generation tool and raise its pricing for features you'll never use. Instead, you can easily connect UpLead to the tools you're already using, paying for UpLead as you go, instead of being forced into long and expensive yearly contracts.
Get started with UpLead for free, today.
Start Your 7-Day Free UpLead Trial
Lead generation doesn't have to be all that painful. With UpLead, you can easily connect with high-quality prospects and leads to grow your company.