To generate prospects, sales, and marketing teams need to stay up-to-date with the latest tools, trends, and technology. Getting accurate information can be challenging with a constantly evolving landscape of online tools. When finding the right sourcing platform for your business needs, you need reliable pricing information to make an informed decision – enter Snov.io. This article provides all the up-to-date Snov.io pricing and plans information you need in 2023.
Quick Links:
What is Snov.io Used For?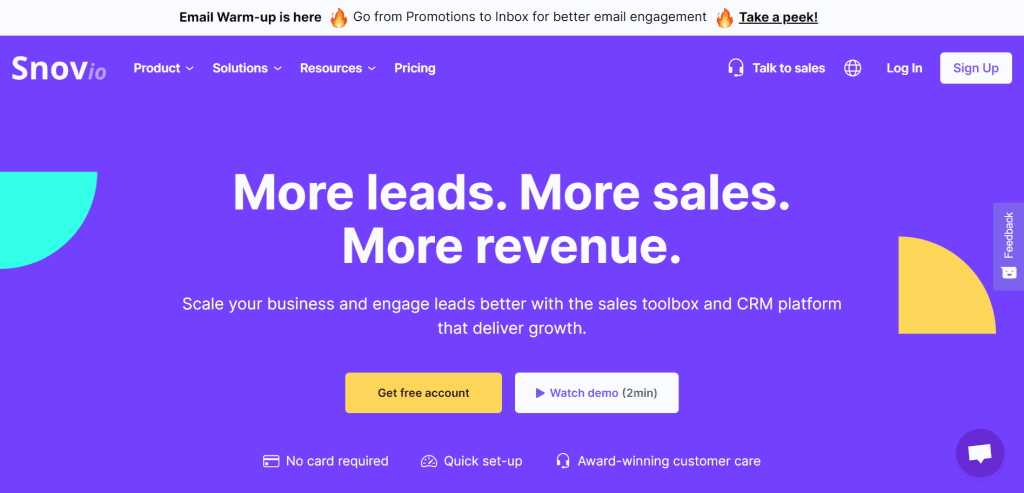 Snov.io is a versatile outreach automation platform designed to help businesses optimize their email prospecting, drip campaigning, lead generation, and customer relationship management (CRM) processes. Like email finders like UpLead, Snov.io is a comprehensive sales automation platform combining various tools, such as prospecting, email verification, and email sending. These tools create a seamless and efficient outreach experience.
The platform enables businesses to generate, verify, nurture, and ultimately convert leads into customers. Snov.io facilitates creating and managing drip campaigns to enhance email marketing efforts and expedite the transition from potential future revenue to substantial present income. Snov.io offers integrations with over 5,000 tools and apps, allowing you to automate tasks, centralize data, and manage campaigns more effectively. Snov.io helps your sales team save time, improve targeting, and maximize your sales and marketing potential by providing a complete prospecting and cold outreach solution.
With features like email collection and lead generation, you can quickly capture emails and enrich your Buyer Persona profile with valuable data. Additionally, you can create targeted Facebook ad campaigns focusing on the audience most likely to convert into paying customers. The ability to create lookalike audiences is just one of the many features that make Snov.io a potent marketing tool.
Snov.io also provides everything you need to contact writers and publishers directly with link-building and guest-posting offers to enhance SEO and drive legitimate traffic to your website. One of the standout features of Snov.io is the Email Finder extension, which saves hours of time on contact searches. With this feature, you can find content creators' or editors' emails directly on article pages and blogs and bypass generic submission forms for faster replies and more lucrative opportunities.
Snov.io Key Features
Snov.io is a comprehensive platform designed to assist businesses in generating, verifying, nurturing, and converting leads into customers. By offering a suite of robust tools and integrations, Snov.io streamlines the prospecting and cold outreach processes, enabling users to maximize their revenue potential in the present rather than the future. With localization in English, Chinese, Portuguese, and Ukrainian, and more languages on the way, Snov.io caters to a global user base.
Some of the critical features of Snov.io include the following:
Email Verification: Snov.io utilizes a 7-tier verification process to ensure that the email addresses collected are accurate and reliable. By verifying email addresses, businesses can minimize bounce rates and maintain a good sender reputation.
Email Finder: The tool is designed to help users discover potential leads by providing accurate email addresses and other contact information. Using various search parameters such as name, domain, job title, and more, the email finder enables users to create a targeted list of leads, saving time and effort.
Email Drip Campaigns: Snov.io offers an intuitive and easy-to-use interface for creating, scheduling, and managing email drip campaigns. These email campaigns are essential for nurturing leads and staying top of mind with potential customers. With Snov.io, you can schedule emails, create triggers based on recipient behavior, and set delays between follow-ups.
Integrations with thousands of Tools and Apps: Snov.io's integration with Zapier provides access to over 5,000 apps and tools, simplifying the process of connecting with various customer database platforms. This enables your sales team to automate tasks, centralize data, and manage their email campaigns more efficiently.
Bulk Domain Search: This feature allows users to discover bulk email addresses associated with specific domains. This can be particularly useful for targeting specific industries or companies to identify key decision-makers and influencers within those organizations.
​​
Start Your 7-Day Free UpLead Trial
Lead generation doesn't have to be all that painful. With UpLead, you can easily connect with high-quality prospects and leads to grow your company.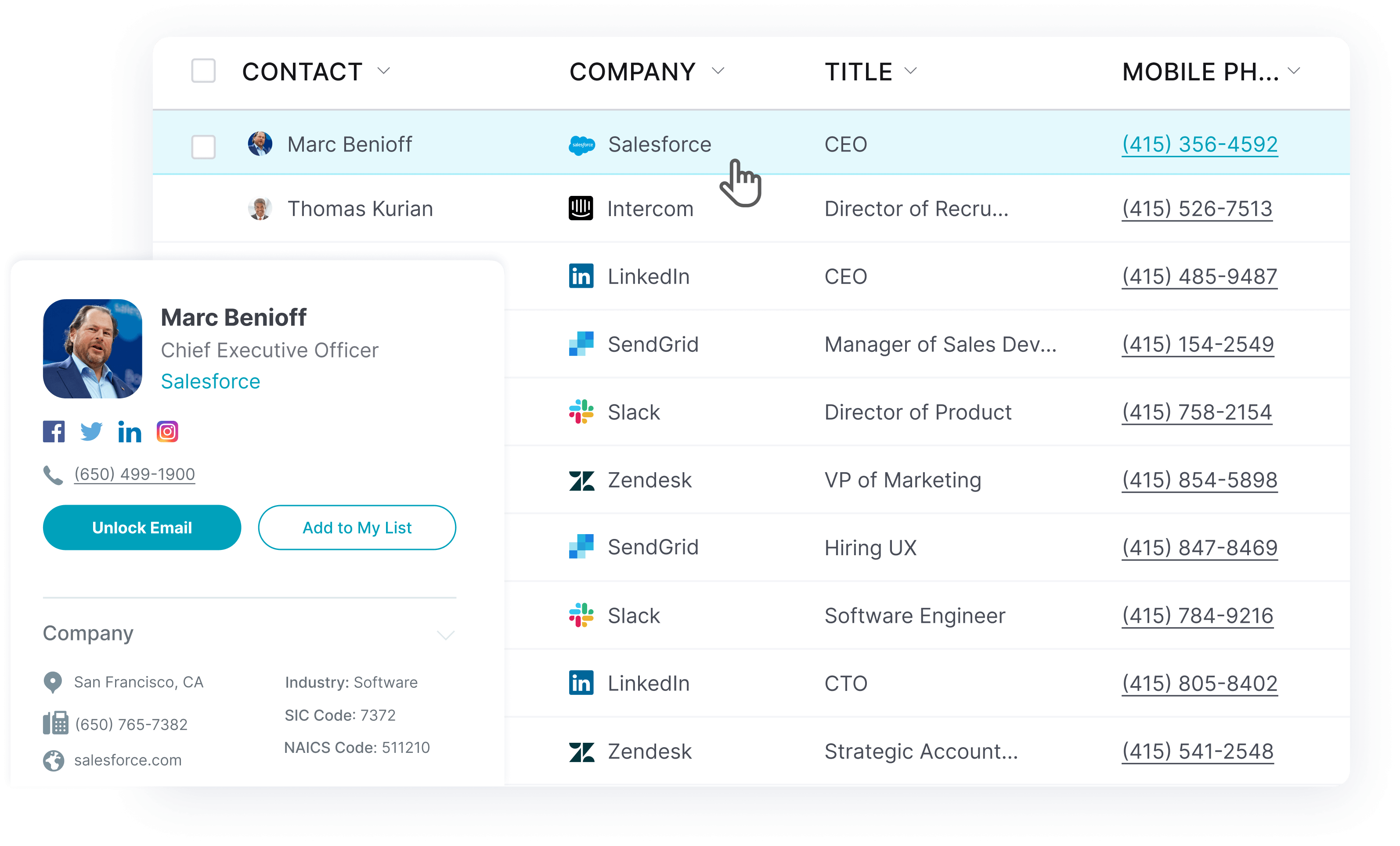 Snov.io Pricing & Plans
Snov.io offers several pricing plans, including a free and Starter plan that costs $30 monthly. The pricing plans are based on the number of credits and unique recipients needed. There's also a 25% discount if you pay annually.
Trial
The free plan is ideal for testing the platform and its basic features without financial commitment. It includes a limited number of monthly credits, allowing you to perform up to 150 basic email verification and search.
Starter
The Starter Plan includes more credits and features like bulk lead search, making it suitable for small businesses and startups needing a more robust solution. You can reach up to 5,000 email recipients and make up to 1,000 email searches, making this plan a great option for growing companies.
Pro
Pro plans come with A/B testing and team data sharing. The plan is divided into different pricing tiers depending on the number of credits you need. These plans include:
5K credits: $75 per month
20K credits: $142 per month
50K credits: $277 per month
100K credits: $554 per month
Pro Plans are designed for users with higher email finding and marketing needs. These plans include A/B testing, team data sharing, and varying credit allotments. Pro Plans are further divided into four tiers based on monthly credits:
5K credits: $75 per month
20K credits: $142 per month
50K credits: $277 per month
100K credits: $554 per month
Custom
Custom Plans are tailored to the specific needs of large enterprises or businesses with unique lead generation and marketing strategies. Pricing and features are customized to suit individual requirements. This plan includes custom lead-generation strategies, copywriting services, and an email warm-up strategy.
Snov.io Integrations
Snov.io integrations facilitate seamless connections with various software, allowing you to automate tasks, centralize data, and manage your email campaign strategy more efficiently.
By integrating Snov.io with other tools, you can unlock the full potential of your email marketing and lead generation efforts. The extensive range of integrations ensures a cohesive system that caters to your needs.
Key integrations include:
Zapier: Snov.io integrates with over 5,000 apps via Zapier, enabling you to automate tasks between different platforms
API Tools: Snov.io provides API tools such as email verifier, email finder, and bulk finder to incorporate its features into your applications
REST API: This integration allows you to integrate Snov.io's features directly into your platform for a customized experience
Calendly: Combining Snov.io with Calendly can help you schedule meetings and events, simplifying connecting with prospects and clients
Pipedrive: Integrate Snov.io with Pipedrive to manage your leads, deals, and contacts more effectively within your CRM
UpLead is the #1 Snov.io Alternative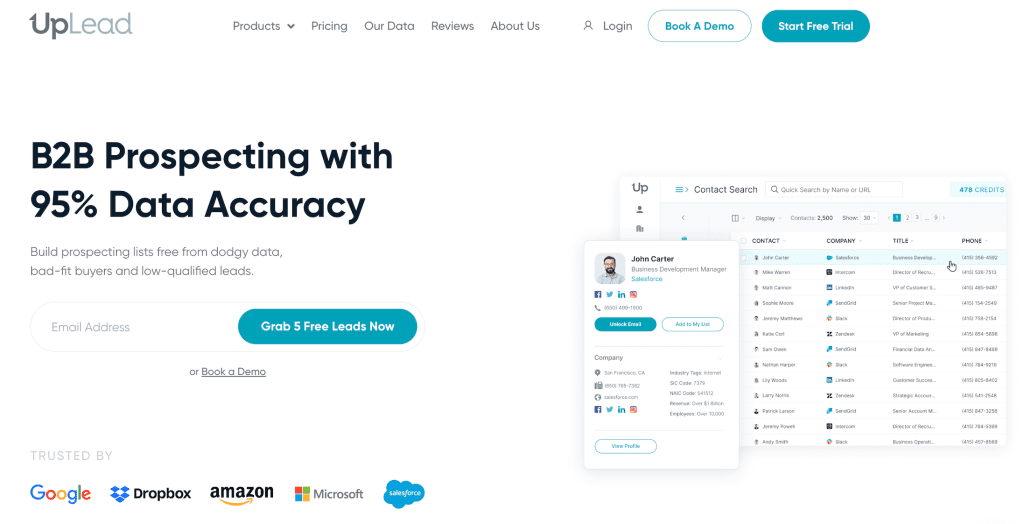 UpLead stands out as the top alternative to Snov.io, offering a comprehensive solution for businesses seeking accurate, high-quality data for their lead-generation efforts. The platform caters to various industries and is ideal for sales, marketing, and recruitment professionals. In addition, the site ensures maximum security for enterprise-level requirements. 
UpLead is known for its 95% data accuracy, achieved through a combination of human and machine learning email verification processes. This results in more reliable data than Snov.io, ensuring your outreach efforts are more effective. Additionally, UpLead offers excellent customer service to support your lead generation journey. The platform also offers native integrations built for ease-of-use and security.
Key Features
UpLead's key features include the following:
User-friendly platform
Real-time email verification for higher-quality leads
Access to over 108 million contacts worldwide
Over 50 filters to find leads that fit your ICP
Pricing
Begin your journey with UpLead's 7-day free plan with CRM integration. The platform's pricing plans include the following:
Essentials: $74/month (billed annually): 2,040 credits per year, offering mobile direct dials and company news updates. This plan is perfect for solo users or small teams needing a simple solution.
Plus: $149/month (billed annually): 4,800 credits per year, featuring enrichment API and email pattern intelligence.
Professional: $299/month (billed annually): 12,000 credits per year, providing team account access and competitor insights. This plan is well-suited for large teams tackling complex lead growth challenges.
Experience the power of high-quality leads and an easy-to-use platform. Give UpLead a try today for free.
Check Out More Alternatives to Snov.io
Discover more alternatives to Snov.io that cater to your lead generation, sales, and marketing needs. These tools offer unique features designed to suit a range of users, from small teams to large organizations.
Lusha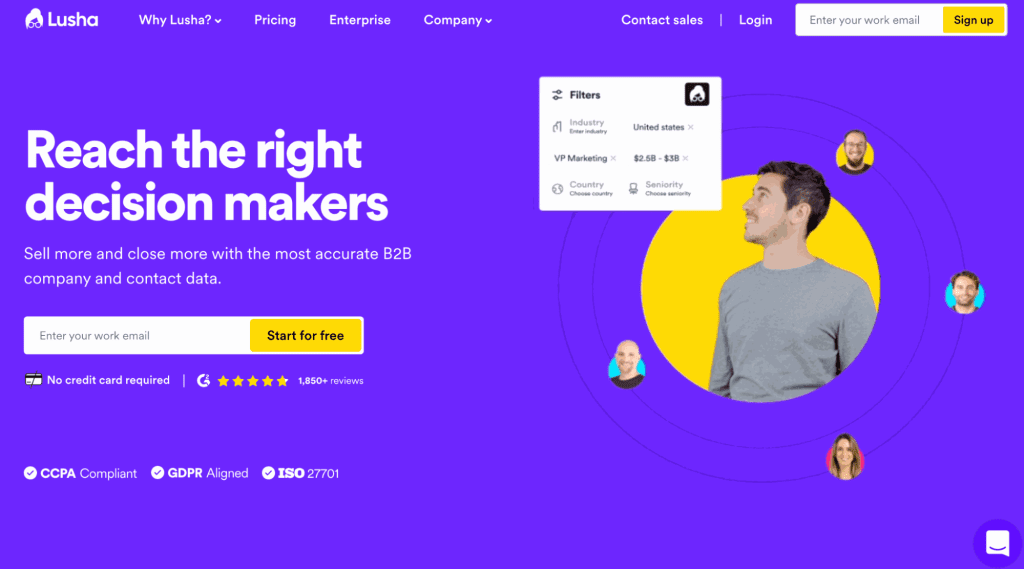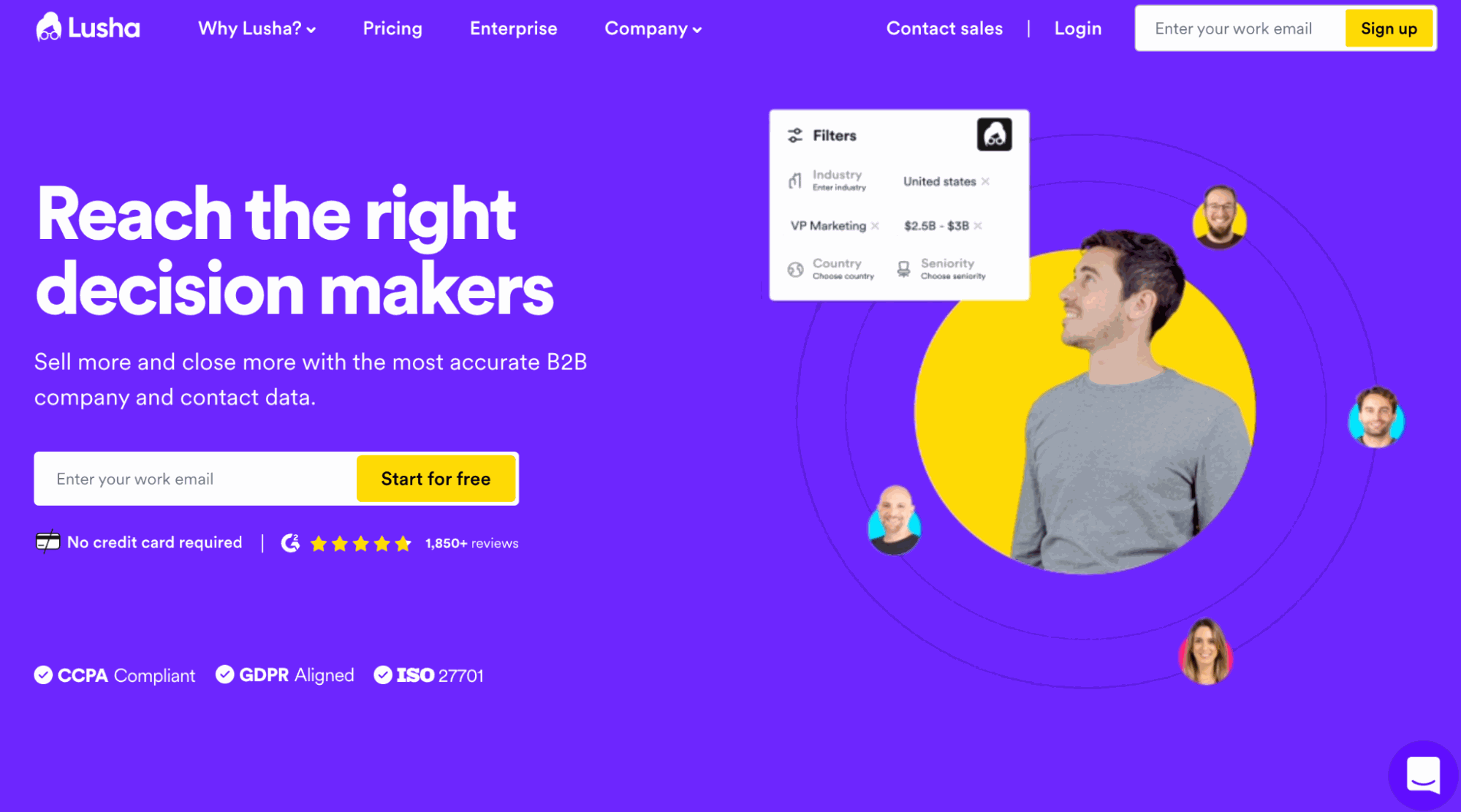 Lusha is a go-to-market intelligence platform for sales, marketing, and recruitment teams. Lusha provides a comprehensive database of contacts that is easy to navigate and use. Using cutting-edge AI and machine learning technology, Lusha's data is collected from public records, publicly available information, and business directories.
Key Features:
Lusha offers a wide range of features, including:
Access to direct phone numbers and emails
List management and exporting capabilities
Intent signals and technologies tracked
Pricing:
Lusha offers a free plan with up to 5 credits. Unlike UpLead's free trial, Lusha does not allow access to integrations until its Scale plan. Plans start at $29 per user per month (billed annually). Lusha's priced tiers include anywhere from 480 credits to more than 960 per user.
Apollo.io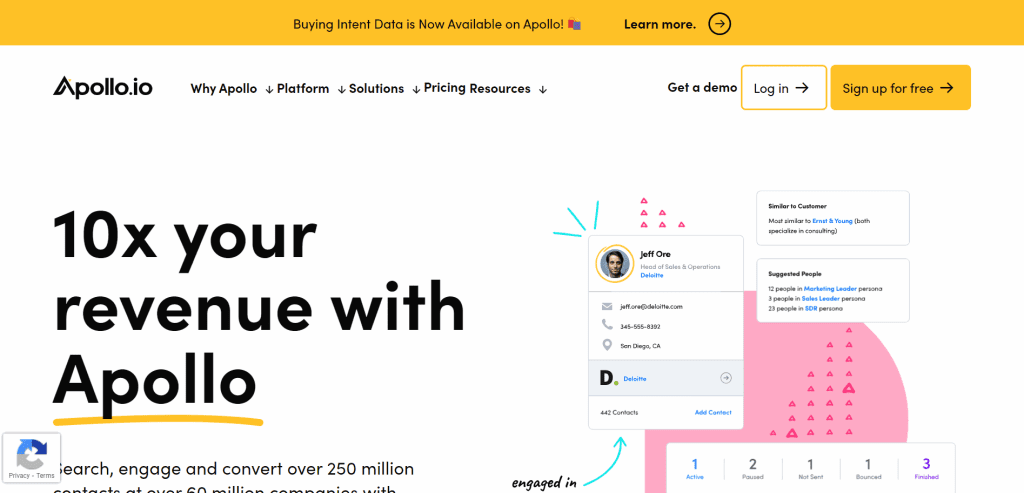 Apollo.io is a data-first engagement platform that delivers accurate B2B contact data, integrated engagement tools, and intelligence features to help businesses find and convert leads. Similar to UpLead, Apollo provides a free trial and access to various integrations.
Key Features:
Apollo.io provides a range of features for sales teams, including:
AI-driven prospecting
Create personas to align with your ICP
Buying intent data
Pricing:
Apollo plans start at $39 per month and is billed annually. The starter plan includes access to at least 3,000 exports and 300 mobile credits, and unlimited email credits per year. Its most advanced plan, Organization, starts at $79 per user for at least five users. Here are other Apollo competitors worth considering too.
FAQs About Snov.io Pricing
Below is a breakdown of frequently asked questions about Snovio pricing.
Is Snov.io email finder free?
Snov.io offers a trial with up to 150 credits. You must sign up for a paid plan if you want more email credits, which gives you access to over 1,000 monthly credits. 
Is Snov.io a CRM?
Snov.io includes CRM functionality. To access the CRM, log into your Snov.io account and navigate to the "Deals" tab. Users can add up to 20 pipelines in the CRM system. 
How does Snov io work?
Snov.io employs a rigorous 7-tier email verification process to ensure the accuracy of email addresses. The process begins with a syntax check to confirm proper spelling and symbol arrangement, followed by a gibberish check to identify randomness, indicating possible invalid or disposable emails that may be malicious bots. Next, the domain existence check ensures the associated domain exists, while the MX record check validates that the mail exchange entry is a registered and hosted domain accessible online.
What You Need to Remember About Snov.io Pricing
Snov.io is a versatile outreach automation platform offering a comprehensive suite of tools to assist businesses in optimizing their email prospecting, lead generation, and CRM processes. With up-to-date pricing and plan information available, users can decide based on their specific needs. Snov.io's key features include email verification, email finder, personalized drip email sequences, integrations with over 5,000 tools and apps, and bulk domain search. Offering a range of pricing plans, including a free trial, you can choose the best option based on their credit and unique recipient requirements.
When considering Snov.io for your sales efforts, remember that the platform offers various plans tailored to suit different needs, from its free trial to custom enterprise solutions. Always assess each plan's features, integrations, and pricing to determine the best fit for your business. In addition, don't forget to explore alternatives like UpLead to ensure you're making an informed decision for your lead generation and email marketing needs.