Whether you're sending an individual email or launching a mass cold email campaign, it's important to verify that your messages are going to valid, active email addresses. Without knowing if the email address is valid, your lead generation efforts may go to waste. In this guide, we'll show you how to check if an email address is valid and how UpLead can help ensure your cold email campaign is a success.
Quick Links:
What is Email Validation?
Email validation ensures that an email address is active and tied to the person you are trying to contact. Without an email validation method, you're guessing if the email is live and valid. In the context of a marketing campaign, this often leads to many emails not going through successfully. Fortunately, with UpLead's email verifier, email validation is just a few clicks away.
Let's take a look at why email validation is an important part of any lead generation campaign.
Save time and money: By validating email addresses, you'll save both time and money on your next email campaign. If you aren't validating your emails, all the time and effort spent on building your high-quality content may go to waste.
Reduce email bounce: Email bounce happens when an email is not active or valid, meaning the email can't be delivered. Validating email addresses significantly reduces email bounce, meaning your emails are reaching the right contacts.
Improve engagement: Verified email addresses are tied to actual contacts, which leads to increased engagement rates. Rather than sending emails to mass lists within a company or target group that may not include the right individuals, email verification allows you to target your specific, individual contacts directly.
How to Check if an Email Address Is Valid: 4 Ways
Now that you know why it's important to validate email addresses before contacting your contacts, let's look at four ways to check if an email address is valid.
Method 1: Send an Email
The first method to check if an email address is valid is by simply sending an email. While it may not prove that the email address is tied to the contact you're trying to reach, sending an email is a simple way to quickly validate if the email address is active (although it doesn't do much else in terms of full validation). If an email address is not active, you'll typically receive a message that the email was undeliverable or that no email was found.
While you may want to send a generic email to check if the email address is valid, such as asking the recipient to confirm if they received the message, that method may not always generate results. Even if the email address is active, sending that type of generic email may be off-putting to the recipient, as they may not know the intent of the email or may suspect they would receive unwanted contact after confirming.
Method 2: Google the Email Address
A quick Google search may be useful when you're searching for a small list of email addresses. If you're contacting someone in a senior position at a well-known company, you may have luck with Google. However, Google search results are not always accurate, so your results may not always be reliable.
With countless pages of information in a single Google search, it may be difficult to find a valid source of information that lists email contacts. Additionally, a Google search won't tell you if the email address is a fake or dummy email; it can simply help determine if the email address exists.
Method 3: Restore the Password
Attempting to restore an email password can help you validate if an email address is active and valid; going to the email provider's account recovery page allows you to enter the email address to recover. If the email address is not active or valid, you will receive an error message that it cannot be found.
This method can be extremely time-consuming, even if you only have a short list of emails to go through. Additionally, if the email address is valid and the end-user gets a notification that someone tried to recover their account, it not only creates a bad experience for the intended contact, but they may opt to deactivate the account entirely and create a new one for security purposes.
Method 4: Use an Email Checker Tool
An email checker tool is the most effective, accurate way to validate an email address. No email checker tool is as accurate and impactful as UpLead's email verifier, which gives you virtually instant access to valid email addresses. Let's look at some of the best email validation tools you can use today.
7 Best Email Verification & Validation Tools in 2022
An email validation tool is a system designed to confirm that an email address is active and associated with the intended contact. These tools are designed with marketers in mind, allowing quick and easy access to a validated email address database.
Here are the 7 best email verification and validation tools in 2022.
UpLead
UpLead's email verifier tool is an industry-leading email validation platform that virtually any marketer can use. Whether you're a small company or part of a large corporate marketing team, UpLead's email verifier can help your business succeed in your next email campaign. The streamlined, easy-to-use platform allows marketing teams to access valid, accurate email addresses, build lists, and seamlessly launch email campaigns.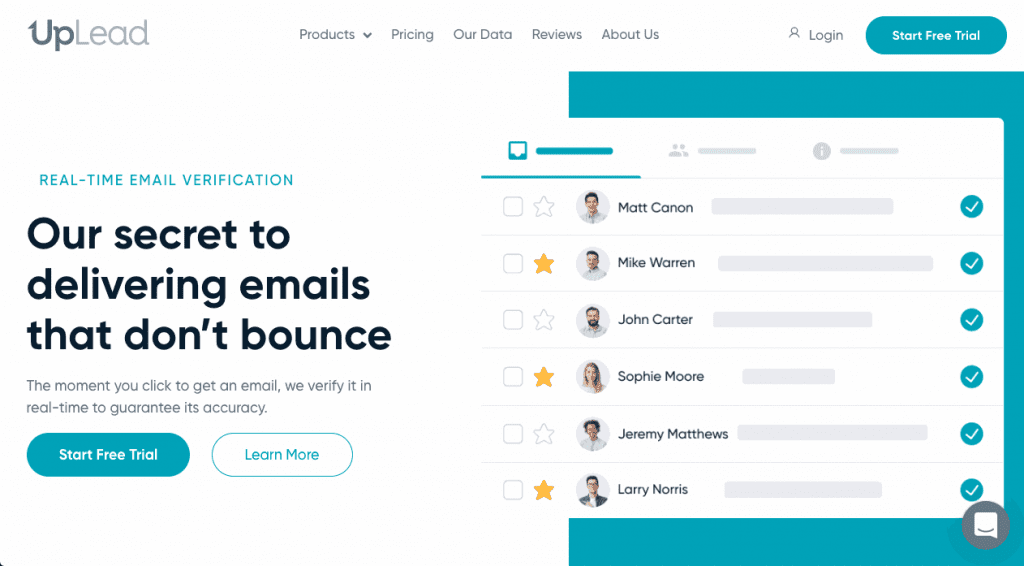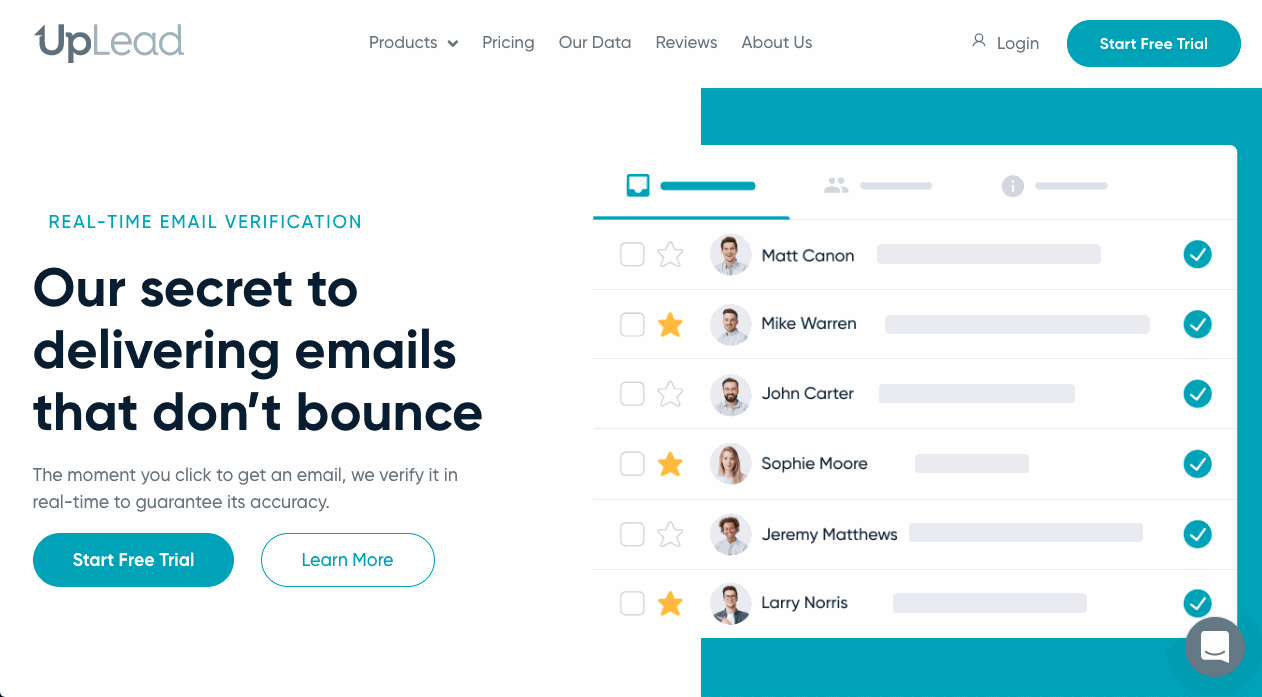 With the UpLead email verifier tool, you can validate thousands of email addresses in seconds and download those email addresses in just a few clicks. Download only the validated contact data or all results – either way, you'll only pay for verified data.
UpLead's transparent pricing plan makes it easy for your business to budget for quality lead generation technology. With four tiers to choose from, including a free trial, you'll know exactly what costs to expect each and every month.
Start Your 7-Day Free UpLead Trial
Lead generation doesn't have to be all that painful. With UpLead, you can easily connect with high-quality prospects and leads to grow your company.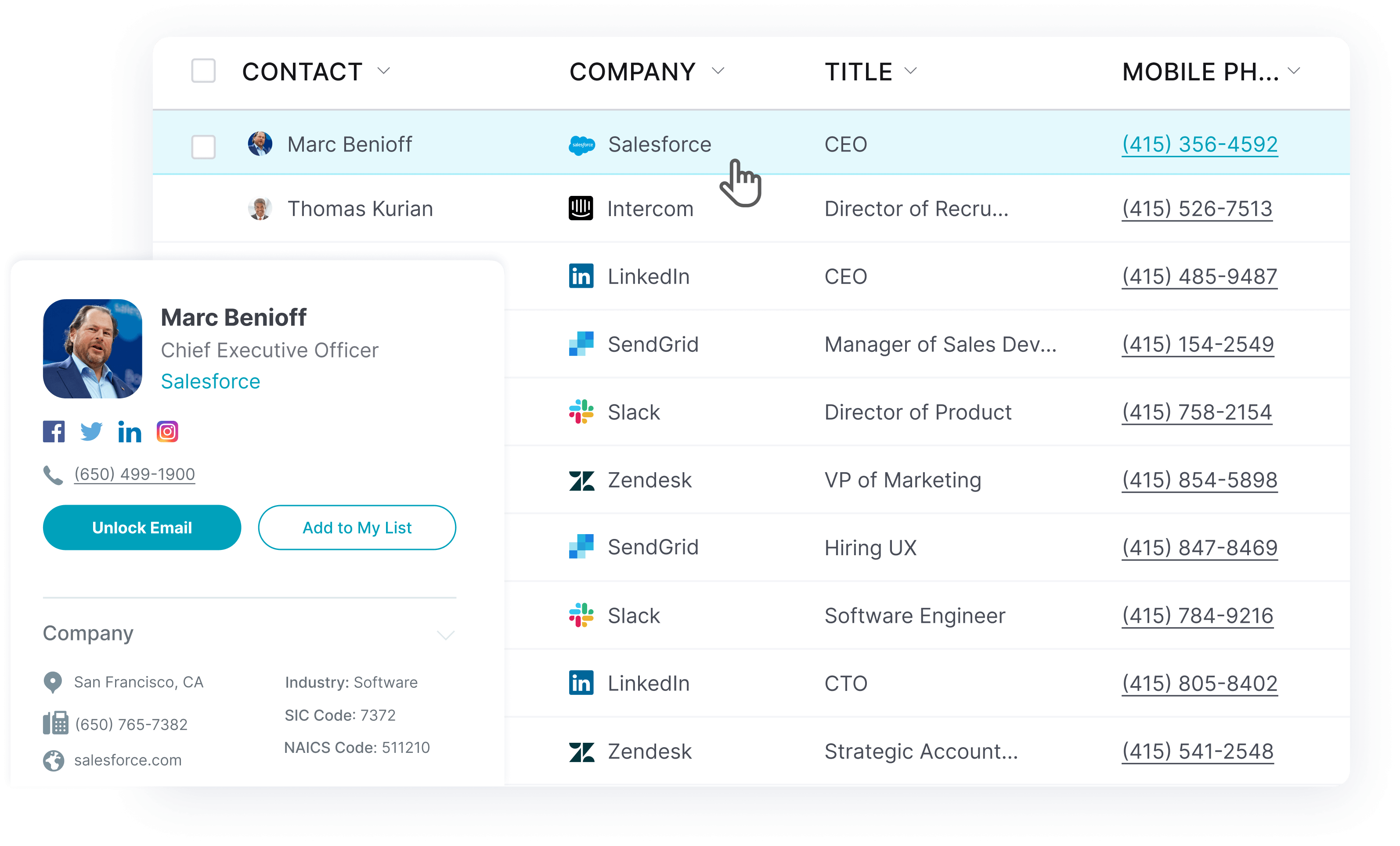 Zero Bounce
Zero Bounce is another popular email validation tool that allows users to pay for email validation on a monthly basis or a pay-as-you-go plan. The platform is dedicated solely to email validation, meaning you won't get additional tools like you would with UpLead's monthly plans. If you're only interested in email validation, the pay-as-you-go option may make sense for your company. However, you're required to make a minimum purchase of 2,000 email validations. The monthly options start at $15 for 2,000 email validations per month.
The Zero Bounce tool is best for large marketing teams that have to send tens of thousands to hundreds of thousands of emails. The bulk email validation process is straightforward and fast, and the more emails you pay to validate, the less expensive it will be per email.
Zero Bounce does not charge for invalid email addresses and has duplication removal built into the platform, which ensures you're paying for unique, individual email addresses.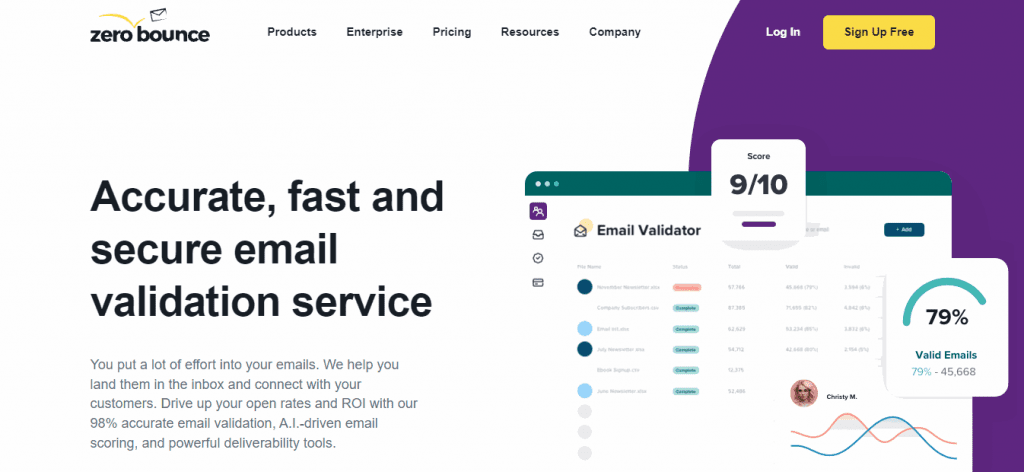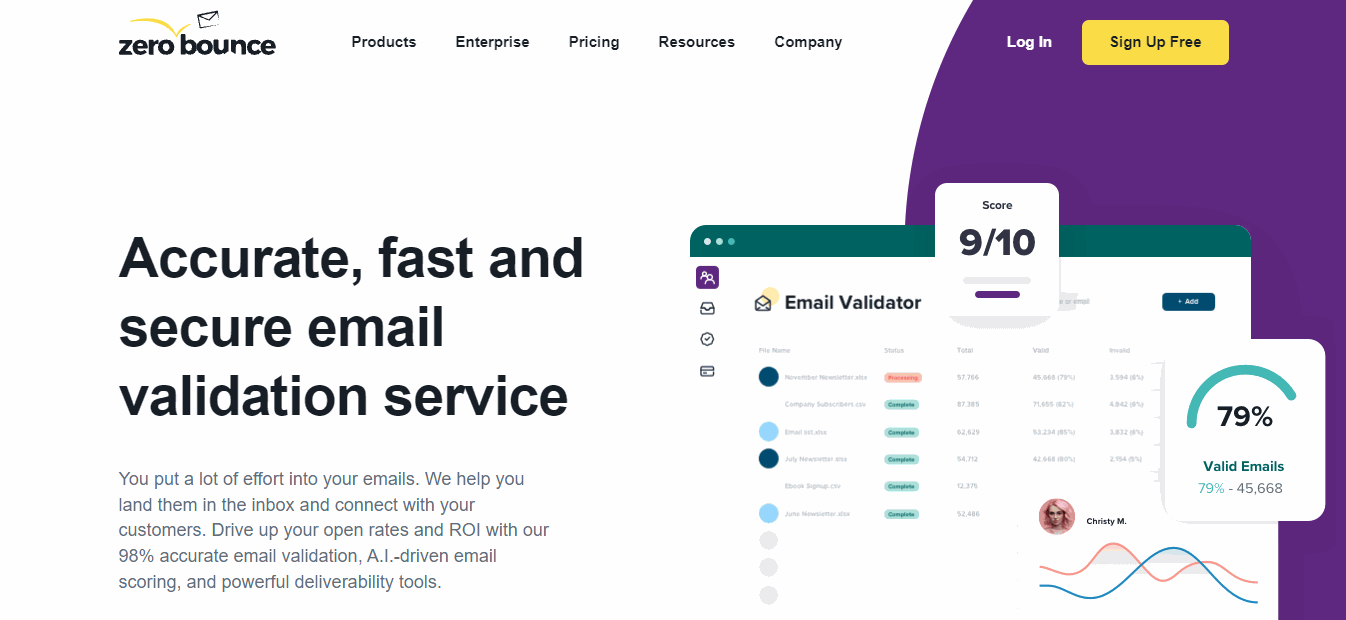 MailerCheck
Similar to Zero Bounce, MailerCheck is a popular platform solely focused on validating emails. The platform allows you to upload bulk email lists and quickly sort out bad email addresses. It also predicts the likelihood of your email reaching the inbox vs. the spam folder.
With a pay-as-you-go and monthly subscription option, MailerCheck is more expensive than Zero Bounce and does not offer more tools and services than UpLead. The ability to test emails before sending and the prediction of success may make MailerCheck a good tool for smaller marketing groups just starting out with email lead generation campaigns. For larger companies with a long history of email campaigns, there may be better tools out there that offer a broader lineup of features and options.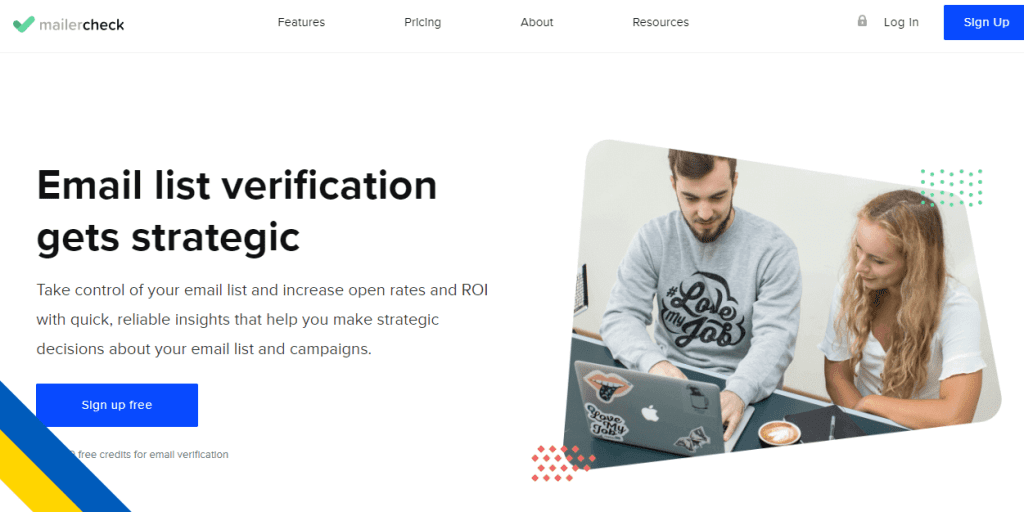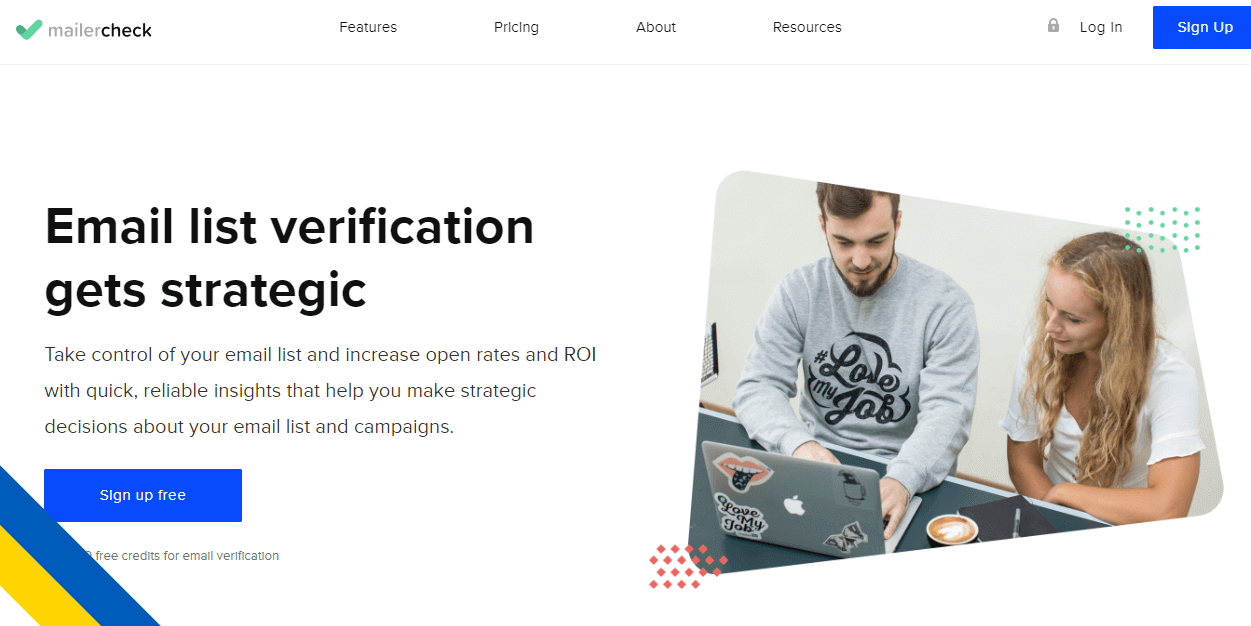 Hunter
Hunter is service focuses on email address verification and outbound email campaigns. This basic toolkit supports outbound cold email campaigns and lets you organize a campaign right on the platform.
You can get started on Hunter in just minutes and gain access to a few simple tools, including the domain search, email address finder, and verification platform. However, the features are rather limited, and the data accuracy is not as consistent as some of the other top tools on this list. One added feature is the ability to create streamlined email campaigns directly on the platform, which other email verification tools may not offer.
Hunter has both monthly and yearly pricing options. However, a standalone email verification tool, may be overpriced for small businesses looking to leverage an email validation platform.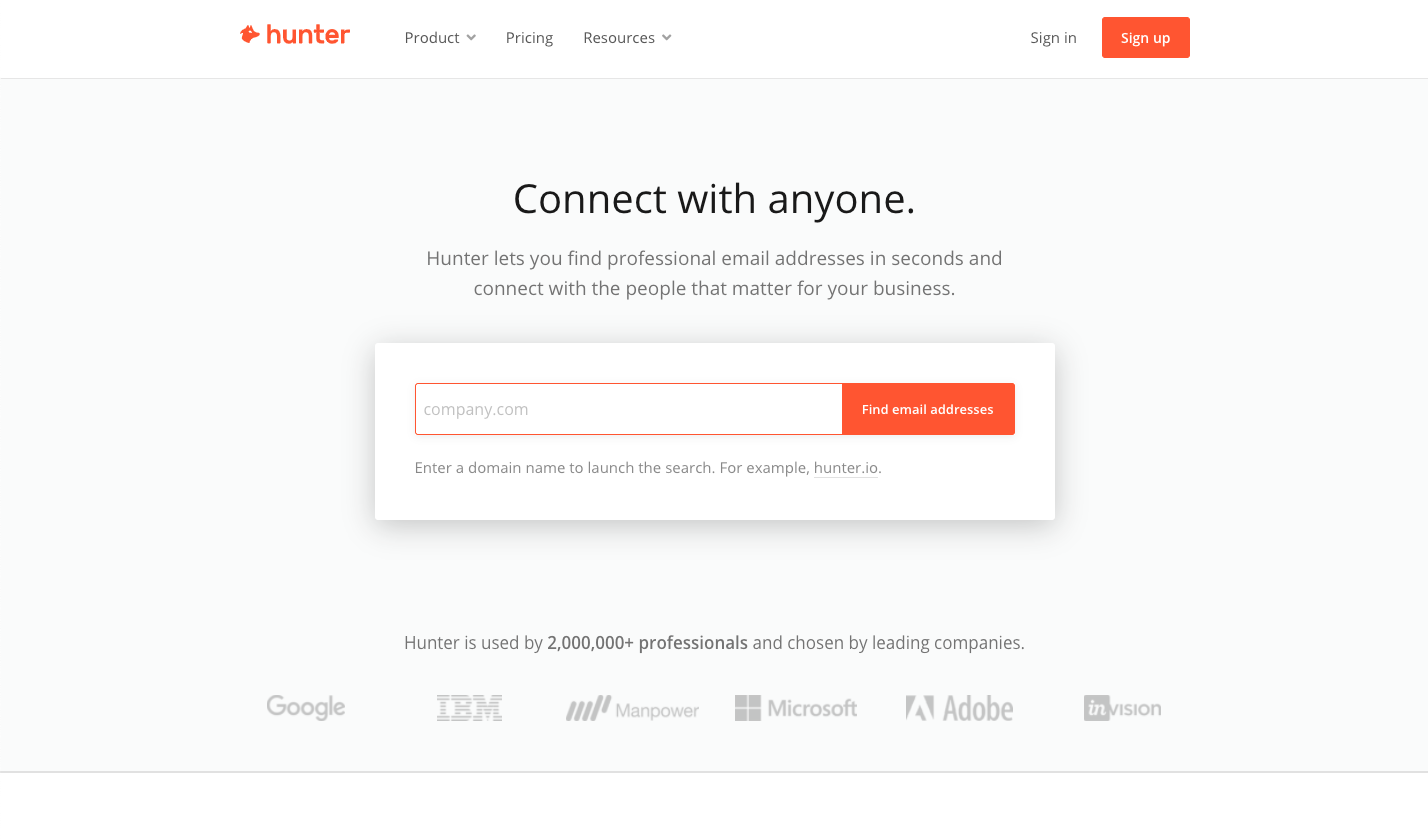 NeverBounce
NeverBounce offers three primary email verification services: bulk list cleanup, email verification, and automated list cleaning. The simple platform is fairly user-friendly and includes bounce analysis and email testing. It also focuses on integrations with popular platforms such as Mailchimp and Salesforce.
The pricing plans are either pay-as-you-go, monthly, or yearly. The fewer email addresses you have to validate, the more expensive it is for each one. Be sure to play around with the pricing tool, as it may be more cost-effective to use the pay-as-you-go pricing vs. the monthly subscription price with lower volumes. The somewhat confusing pricing options may require some review before signing up.
The tool was designed with high-volume users in mind. That being said, the highest-volume packages are still rather pricey.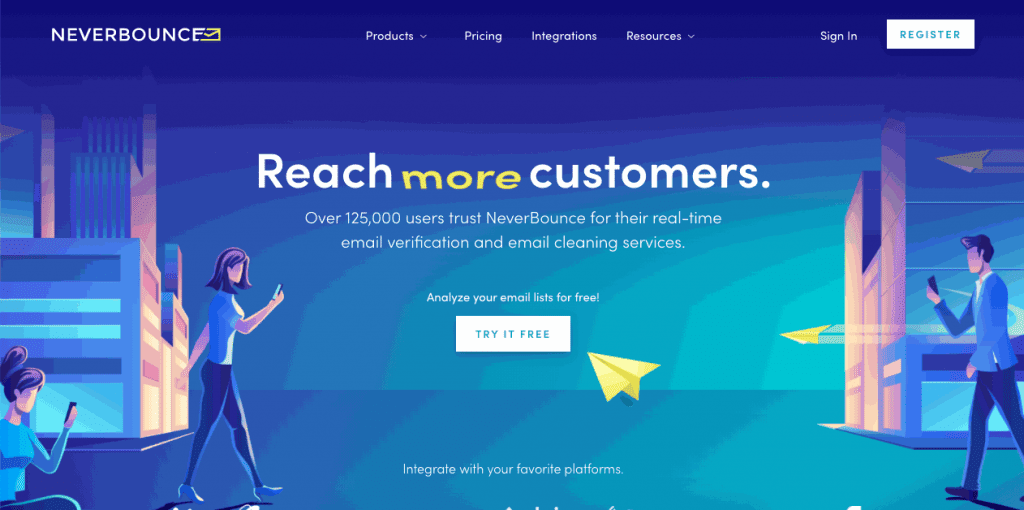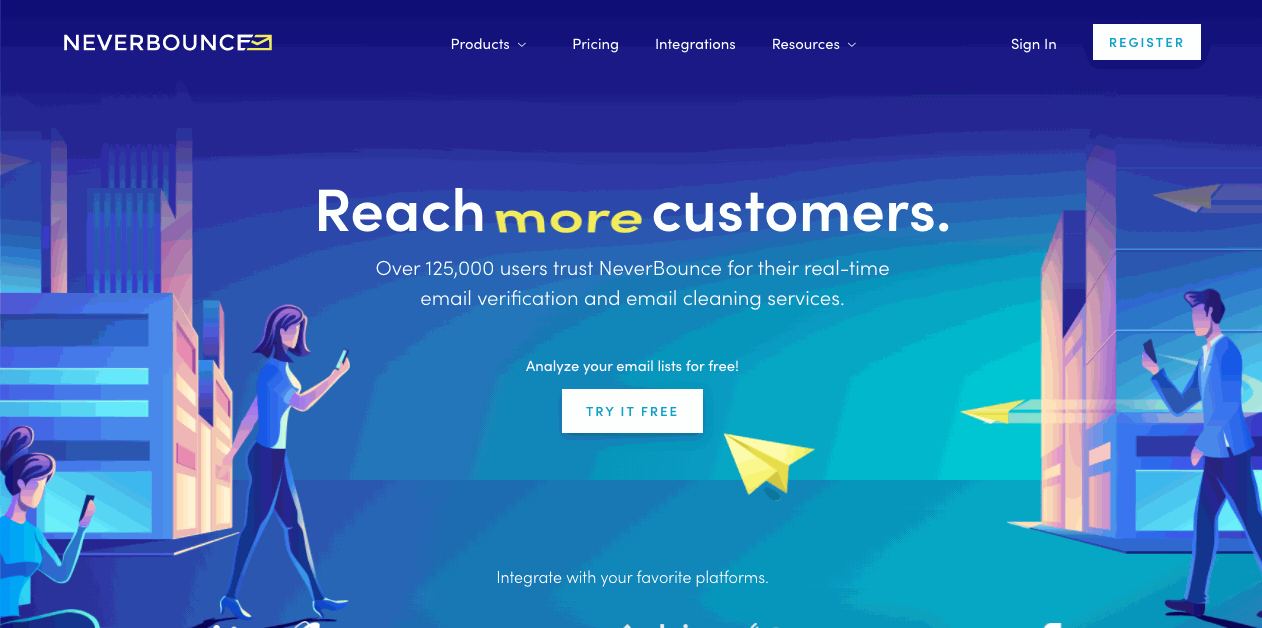 Clearout
Clearout is a popular email verification tool that includes some other features, such as direct integration with Google Sheets. This can make validating your email addresses on the Google platform easy without manually entering or uploading a bulk file.
The pricing is consistent with other email verification platforms that only offer email verification services, with pay-as-you-go, monthly, and annual subscriptions. One major drawback of Clearout is the cluttered, overwhelming website, making searching for information difficult. The pages are packed with content, and it takes some time to understand and digest all the data on the screen.
While this may not necessarily translate in all areas of the platform, it's certainly an important consideration when choosing the right tool for your company.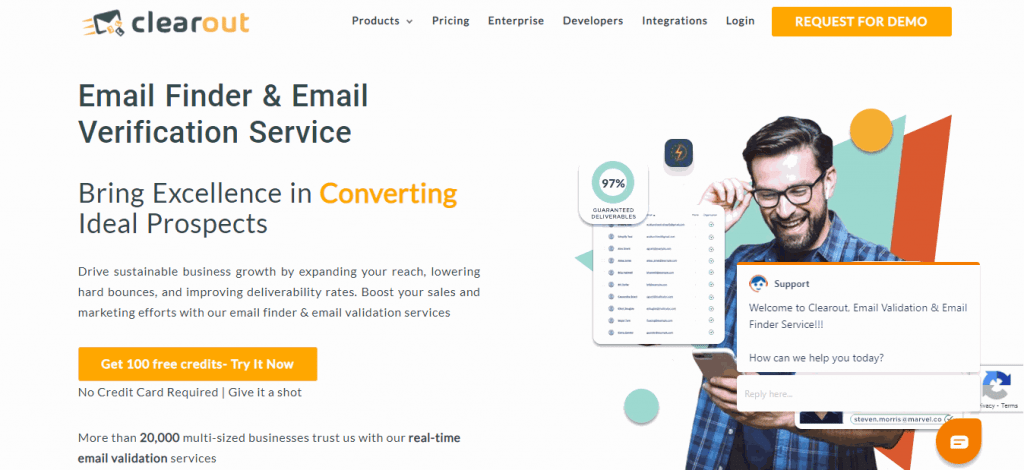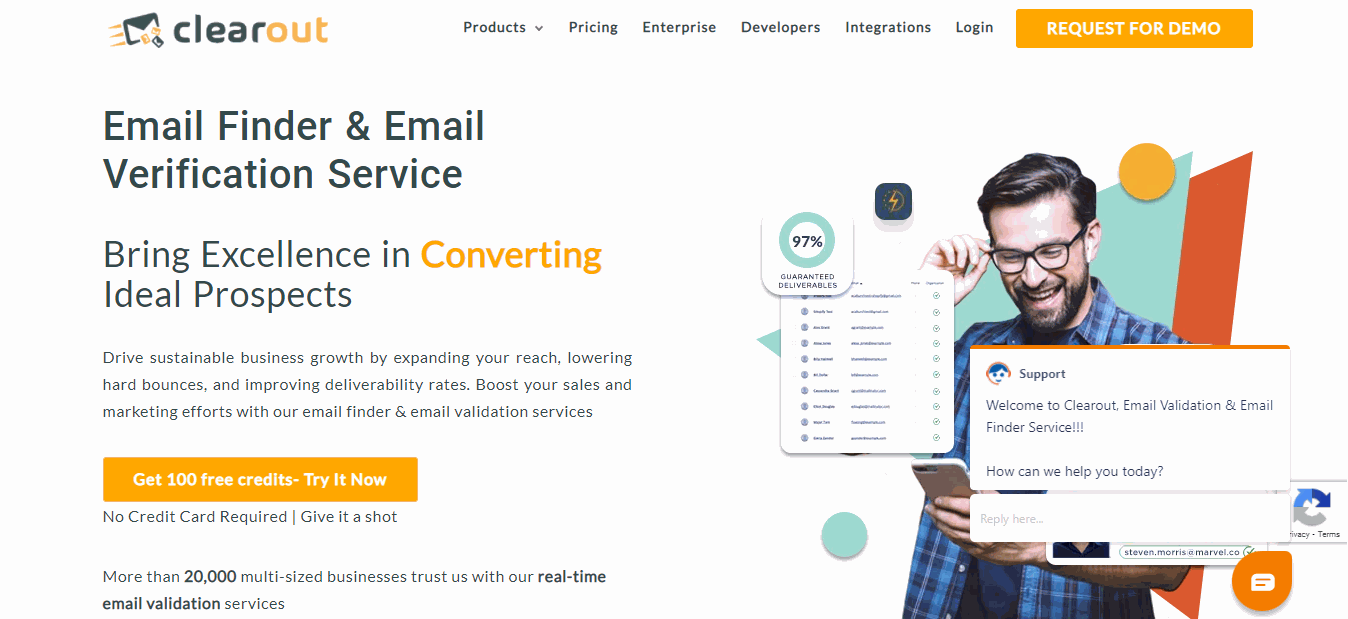 EmailChecker
If you're looking for a completely free, bare-bones email verification tool, check out EmailChecker. The extremely simple tool is web-based, allowing you to enter an email address to validate manually. It does not allow you to upload a list, run formal A/B tests, or receive any analytics on results.
This tool is great for someone just starting out or looking to try just a few email addresses. Once your campaigns become larger, you'll need to move to an automated platform.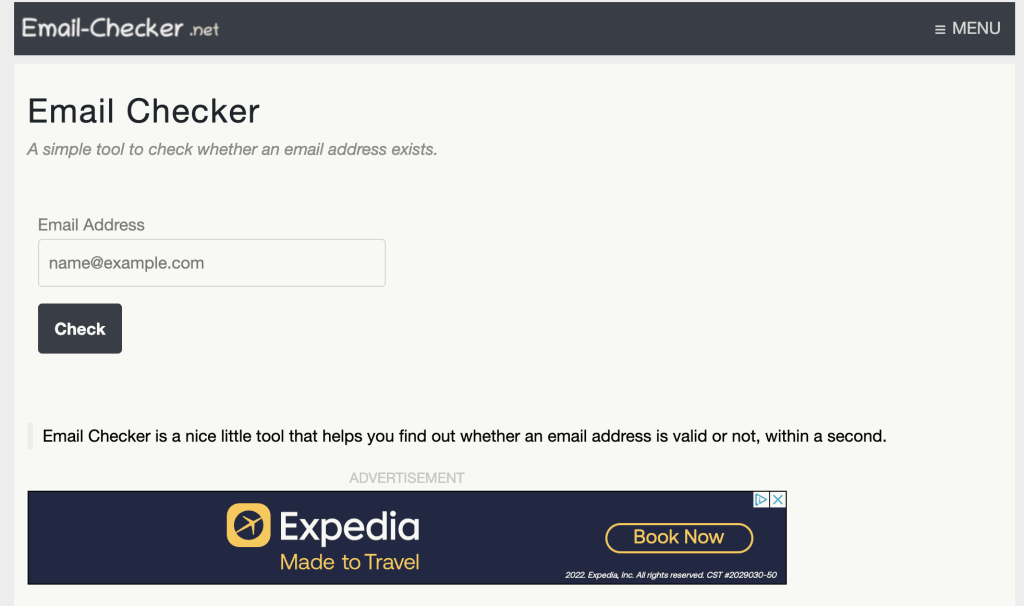 What to Consider When Choosing an Email Validation Tool
With so many email validation tools available, there are many factors to consider when choosing what's right for your company. Let's look at what you should consider when choosing an email validation tool and why these factors are important.
Can it verify emails in bulk?
Simply put, the ability to verify emails in bulk saves you both time and money. Efficient, accurate bulk email validation is crucial in order to achieve scalability in your campaigns. Without a tool that can verify in bulk, you'll have a difficult time efficiently managing large campaigns.
Can it integrate with your email provider?
Integrations further streamline the validation process, and a tool that can integrate with an email provider is often a major asset for a marketing team. Through that integration, the tool can automatically validate email addresses in the email platform itself.
Can it catch a spam trap?
You'll want an email verification tool that helps you identify spam traps or email addresses designed to trap automated emails and send them to spam (or even flag all emails from the email address moving forward as spam). Tools that identify spam traps significantly increase your chances of successful contact.
Can it find invalid domains?
Not only should the tool be able to validate emails, but it should be able to identify invalid domains as well. Invalid domains allow you to quickly eliminate email addresses with a specific domain from your contact list.
Can it detect syntax errors?
Your email verification tool should be able to detect syntax errors or mistakes with the email address itself. Whether manually entered or uploaded in bulk, mistakes happen, so you want to look for a tool that can help catch your mistakes and correct them accordingly.
Can it do more than email validation?
Finally, you don't have to sign up for an email verification platform that only offers email validation. There are many services out there that offer so much more than email validation, such as email finders and prospecting tools. If you're looking for an email verification system that includes the above additional tools and so much more, look no further than UpLead.
Email Validation FAQs
Here are some top questions and answers regarding email validation.
What is a valid email?
A valid email is an active email that is not a spam or dummy email address and, ideally, is associated with your target contact.
Can a valid email address bounce?
Yes – this is called a hard bounce. Hard bounces can occur for a number of reasons, but it may mean that there is a strict security filter on the valid email address.
How can I check if an email address is valid for free?
There are several ways to check if an email address is valid for free, such as a Google search or on the EmailChecker platform. However, if you regularly need to validate a large number of email addresses, you should sign up for a paid platform to access powerful email validation tools.
What You Need to Remember About Checking if an Email Address Is Valid
Remember, there are plenty of ways to validate email addresses—whether it's a list of ten email addresses or 10,000. However, the quality of the email verification tools available can vary drastically. With UpLead's powerful lineup of lead generation tools, you'll have just what you need to launch your next email campaign.
Start Your 7-Day Free UpLead Trial
Lead generation doesn't have to be all that painful. With UpLead, you can easily connect with high-quality prospects and leads to grow your company.