In this article, we'll go through the best bulk email verifier tools on the market. We'll review each bulk email verification service and its characteristics, such as:
Features
Capacity
Price
Advantages
Disadvantages
By the end of the article, you'll know exactly which bulk email verifier you need to verify your emails in bulk, and you'll have a few free email verification tools in your digital toolbelt.
Let's get started.
Quick Links:
What Is a Bulk Email Verifier (and How Do They Work)?
Bulk email verifiers are vital online tools for any person or company sending mass emails, especially after buying new email lists.
A bulk email verifier can scan your list of email addresses, verifying each address is valid within seconds. With an email verification service, you'll know that you're sending emails to valid addresses, avoiding bouncing problems and extra costs for hosting unused addresses.
These tools verify your list of email addresses through a series of processes that depend on the tools themselves, so they can confirm that the email addresses are valid.
The process usually looks something like this:
Syntax check: verifies that the email address is properly written and formatted.
Domain and records check: verifies that the email address domain is valid, meaning the website hosting the email is a valid website.
Role-based detection: checks and flags email addresses that aren't necessarily from an individual, like "no-reply," "admin," "sales," etc.
Throwaway check: verifies that the email address isn't a disposable address meant for collecting spam.
Spam trap verification: ensures that the email address isn't a blacklisted address or one designed to detect spam.
Final verification: if all processes come back fine, the algorithm will usually perform one last check by pinging the address to ensure that it exists.
Although it looks like a lengthy process, bulk email verifiers go through these and more steps with hundreds or even thousands of emails in a matter of minutes.
Best Bulk Email Verifier Software: 20+ Tools Compared
Here are the best bulk email verifier tools currently on the market:
UpLead Email Verifier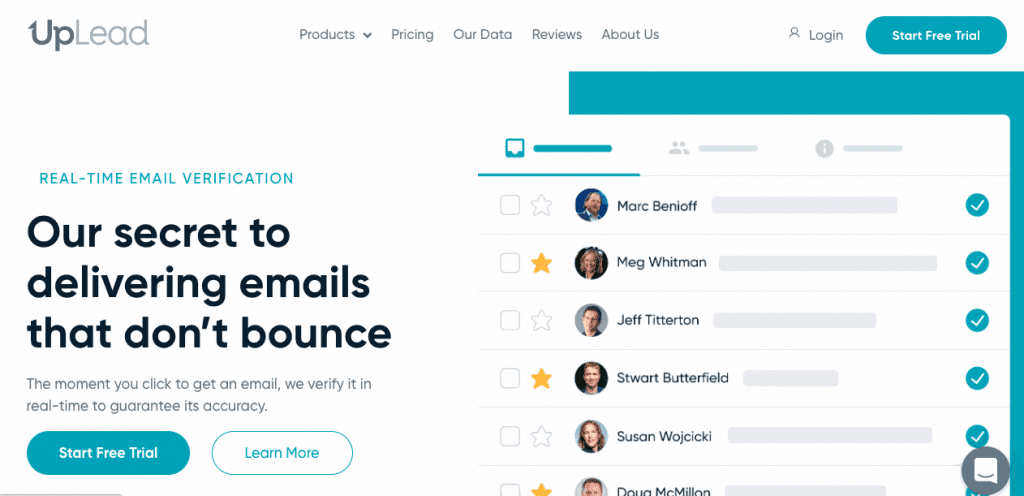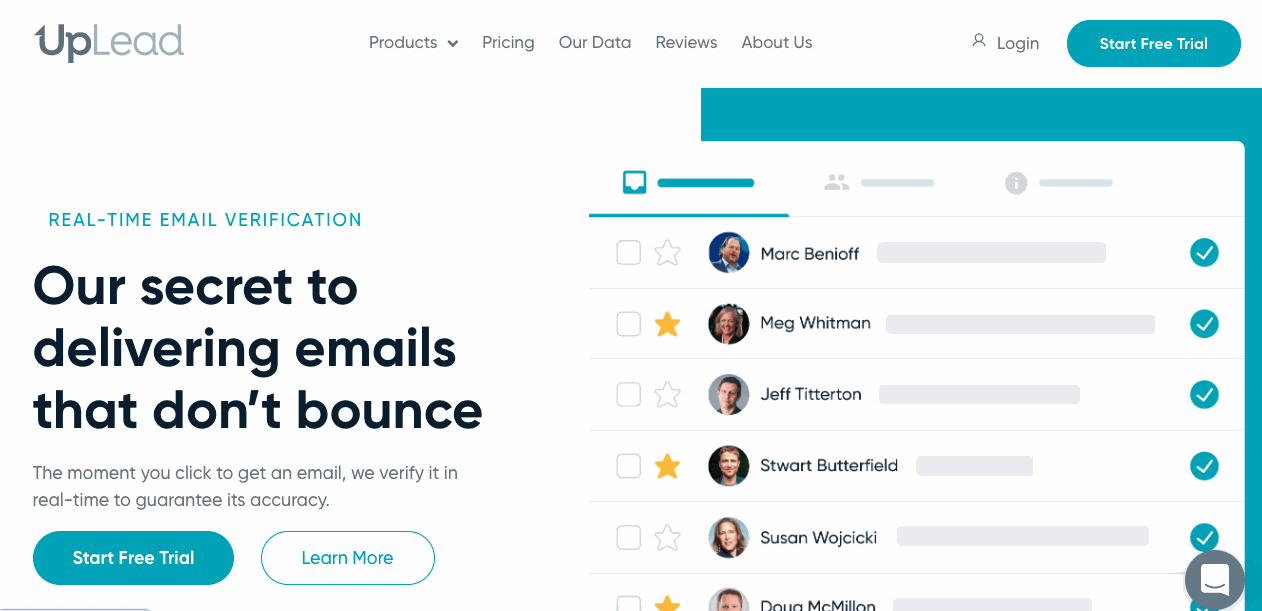 With UpLead, you can find anyone's email address and phone number and easily verify all of your email addresses in no time. 
You can review all the email addresses you get from our leads within seconds before you download your profiles.
You can begin by clicking the email address below the lead to start the verification process. If it's valid, it will be revealed. If it's not valid, you can still download the rest of the information from the lead for free.
If you're downloading leads in bulk, you don't need to verify them individually. UpLead real-time email verification right before you download, so you'll know whether the emails are valid. You protect your sender's reputation and diminish your email list bounce rate.
You can verify thousands of emails in a matter of seconds and even enrich your data to do some email list cleaning and add important data, like names, companies, industries, technology, and much more.
Prices start as low as just $0.003 per verification. There are no mandatory demos and no annual contracts.
Start Your 7-Day Free UpLead Trial
Lead generation doesn't have to be all that painful. With UpLead, you can easily connect with high-quality prospects and leads to grow your company.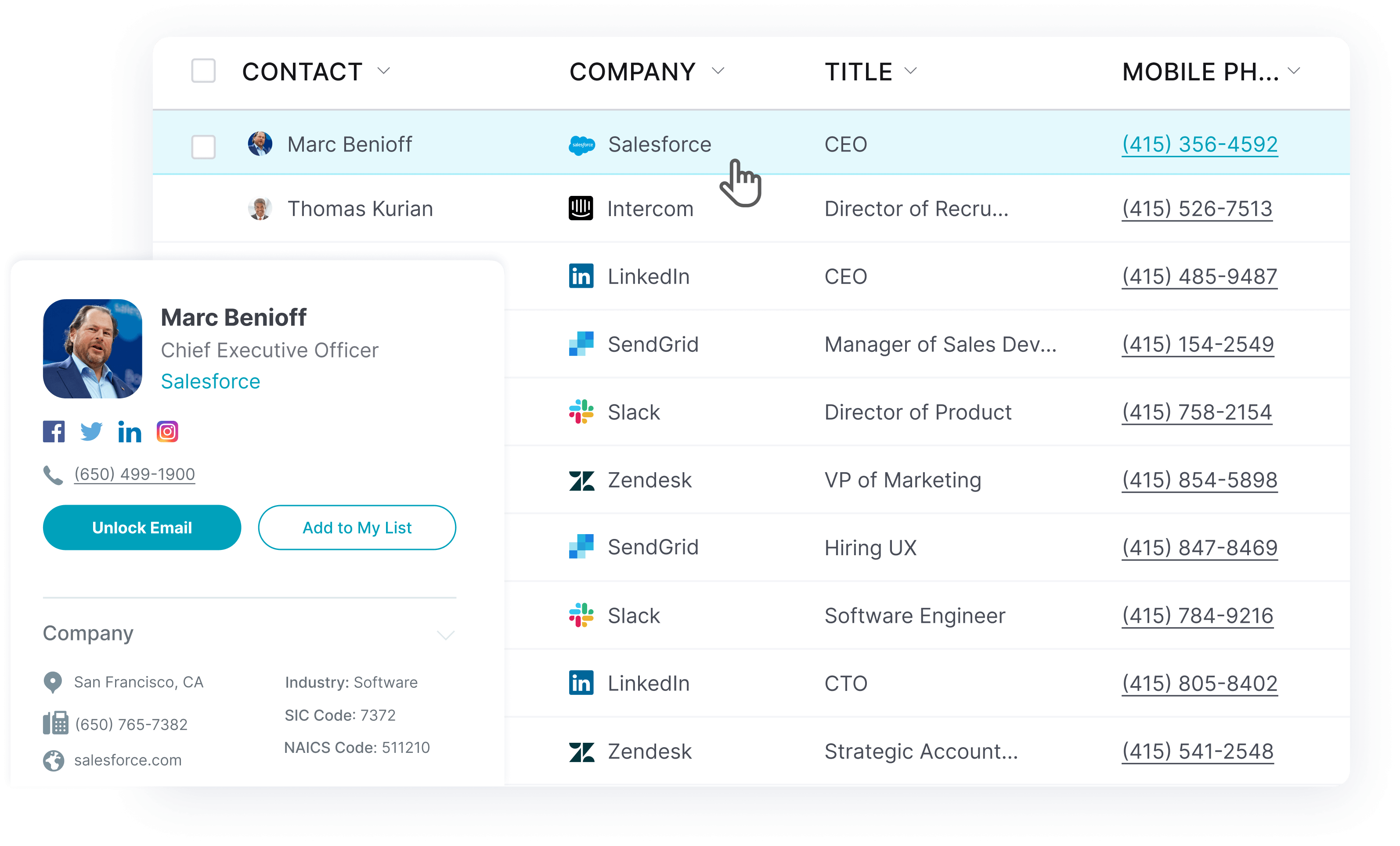 Pros
Very affordable
Can enrich your existing data
Highly accurate data
Very easy to use
Great for bulk verification
Cons
No mobile app
Not great for one or two emails to be verified per month
MyEmailVerifier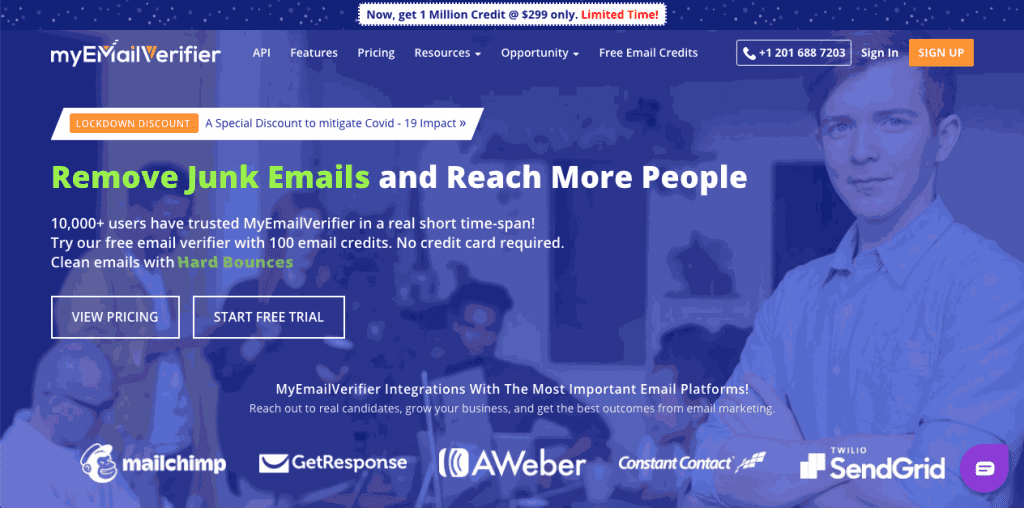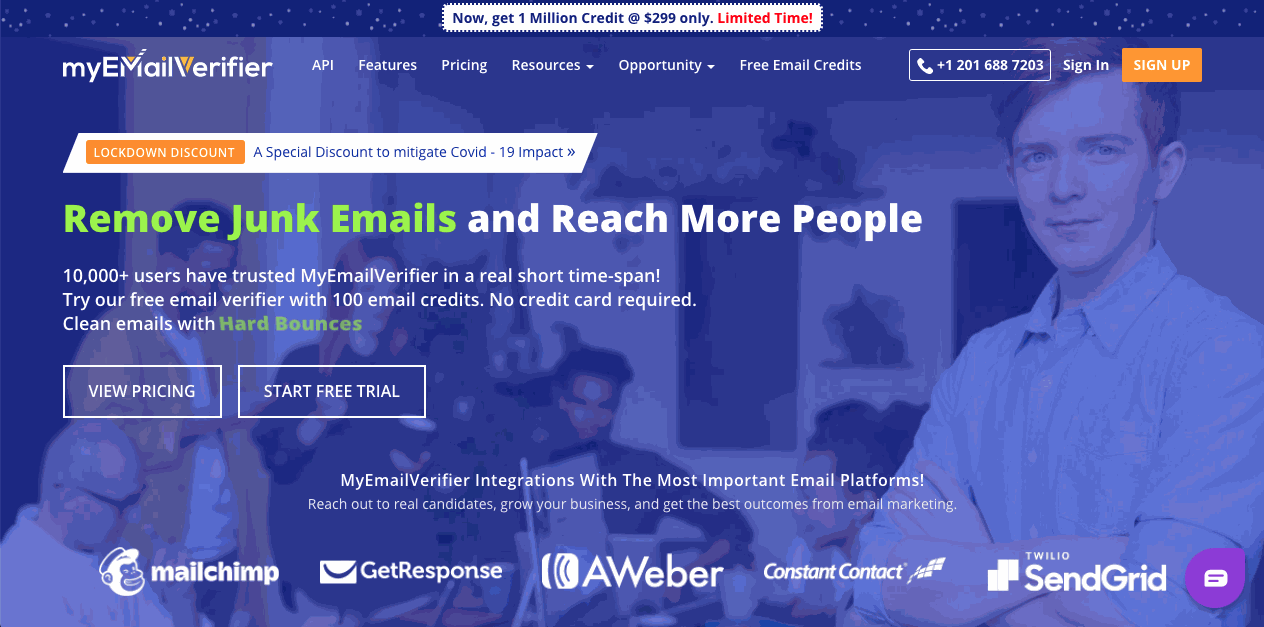 MyEmailVerifier is an email list verification service with bulk verification capabilities. The service offers a 98% email deliverability guarantee and is known for detecting "disabled users" in Yahoo/AOL email addresses.
Pros:
Pay as you go, with no monthly payments or fees
Good deliverability guarantee
100 free verifications for new users
Live online support
Cons:
Slow service, taking five minutes to process one thousand email addresses
Can only download results in TXT
EmailListVerify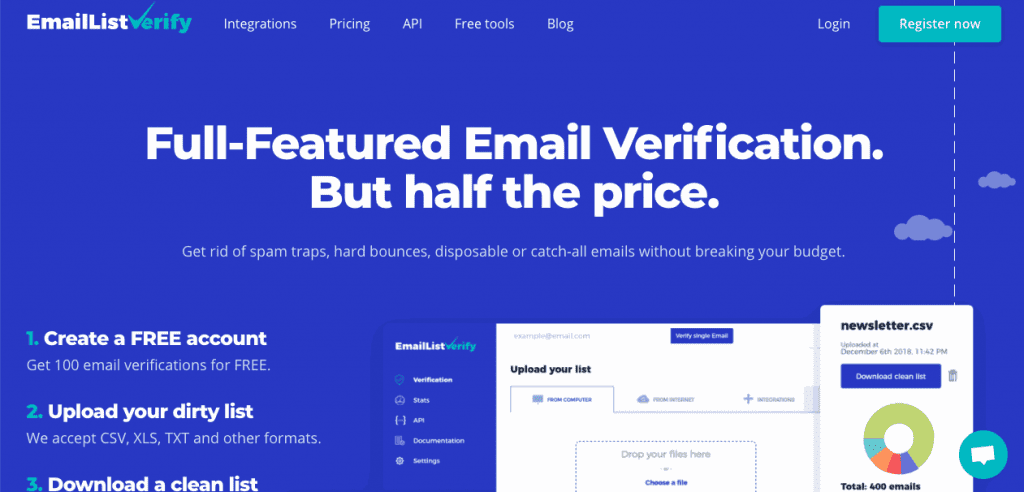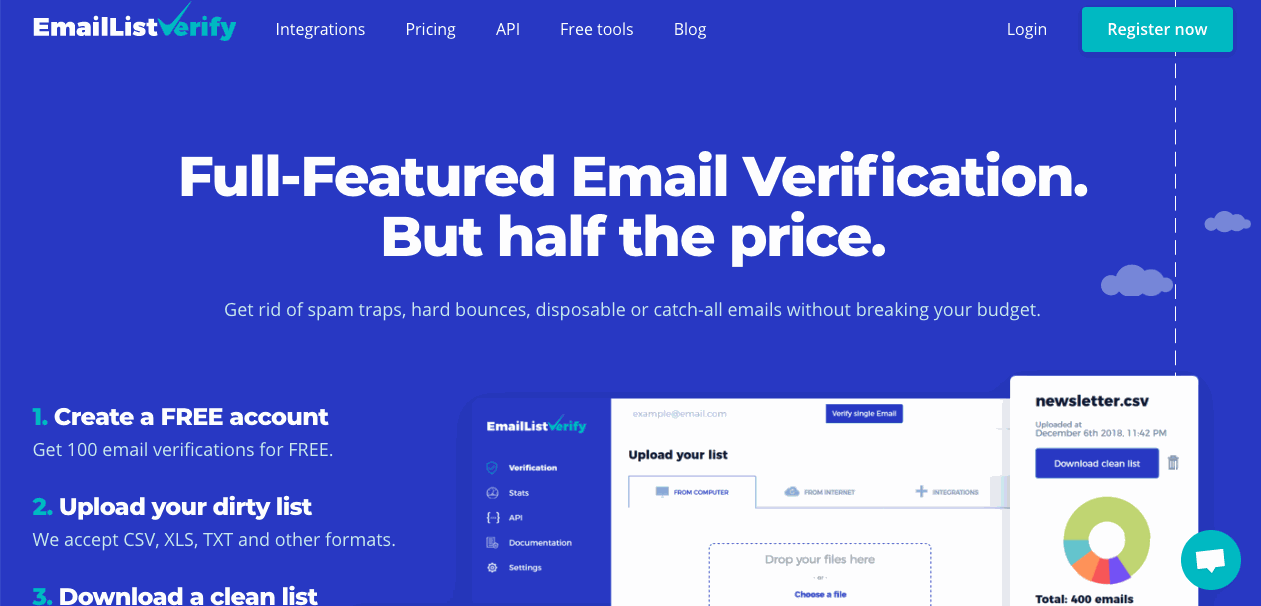 EmailListVerify is a fairly popular email verification platform with a client list that includes names like Shopify and MailChimp.
The platform offers multiple points of verification for emails, can handle bulk email addresses, and can integrate with most emailing platforms, so you can validate addresses right before sending an email.
Pros
Good for bulk email verification service
Over 99% deliverability rate
Multiple upload file types options, like CSV, TXT, XLS, and XLSX
Cons
Undisclosed data security or processes
No money-back guarantee
QuickEmailVerification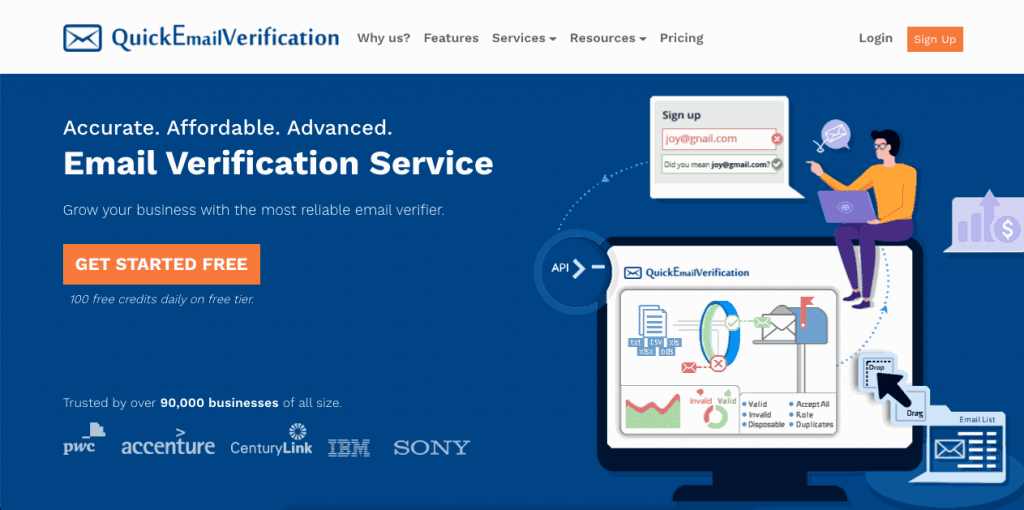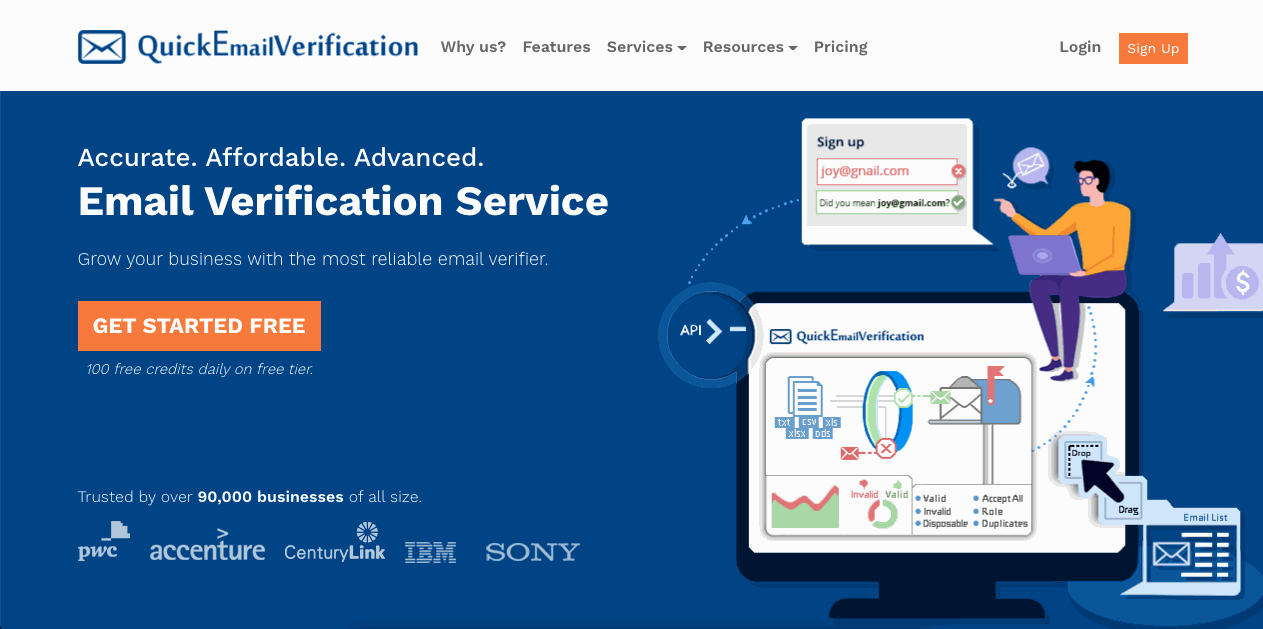 QuickEmailVerification is another email validation tool with bulk capabilities. Marketing itself as "the most reliable email verifier" offers a 99% deliverability guarantee.
The platform adapts to email marketers or developers looking for an email verification API to program their email verification capabilities into another process.
Pros
Transparent with the verification process
Possibility to scale up
Good for both marketers and programmers
Reliable customer support
Cons
Slow service that can take up to 2.5 seconds per email
Lacking advanced features
Clearout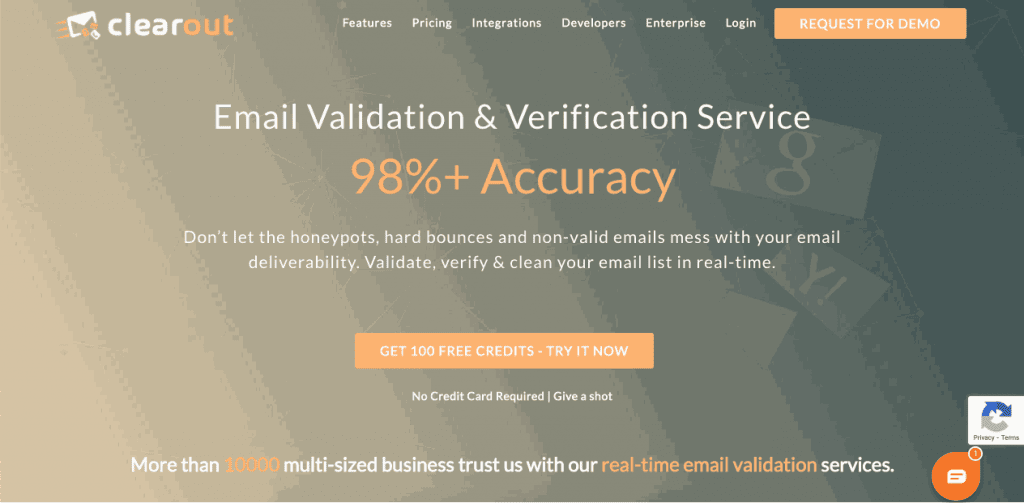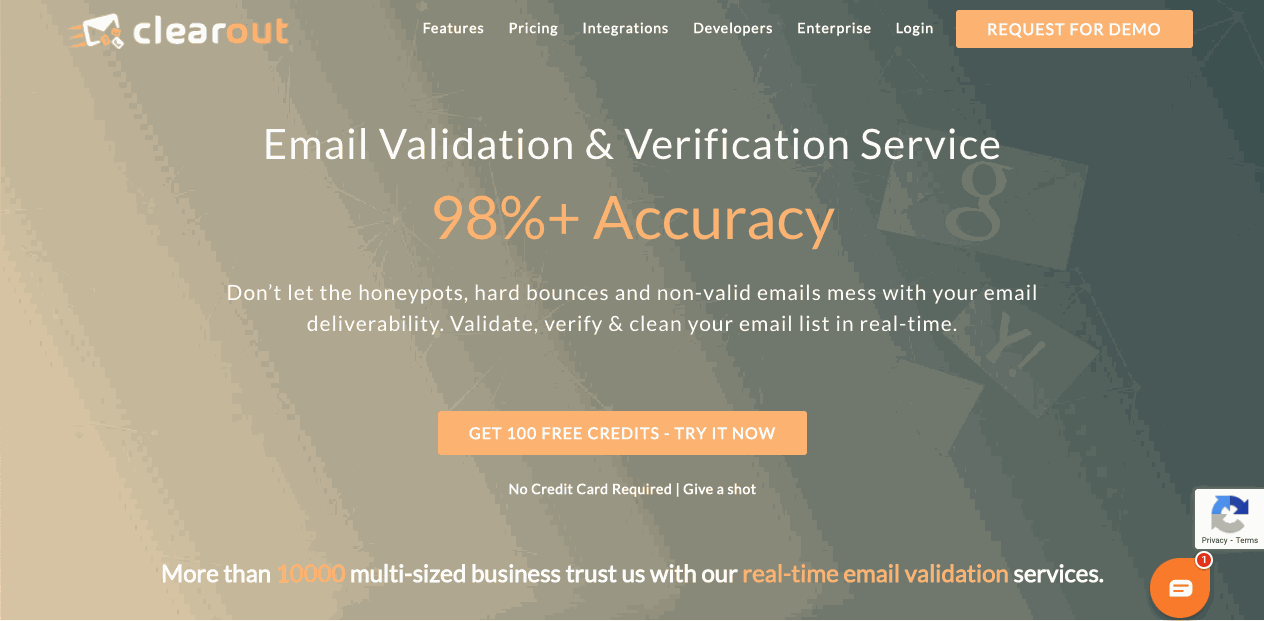 Clearout goes through all steps needed for full email verification in its platform, which can handle up to one million emails at a time for bulk verification.
Clearout also has powerful integrations and its own REST API for developers to add email verification API forms for real-time verifications of any list of email addresses.
Pros
Can handle a bunch of emails in one shot
REST API available for developers
Integrations with a handful of tools, including Zapier
Cons
Slightly lower accuracy at 98%
Customer service may take 10–15 minutes to respond
ZeroBounce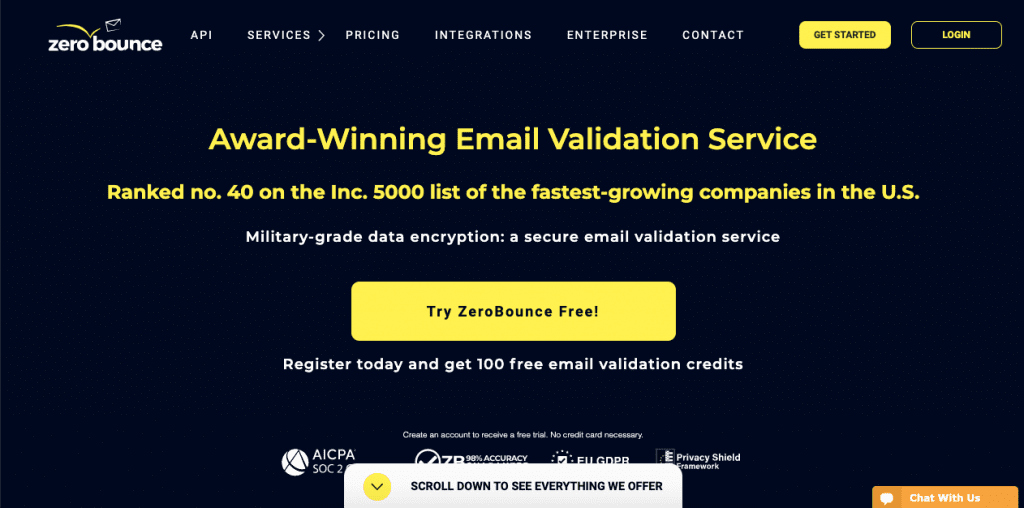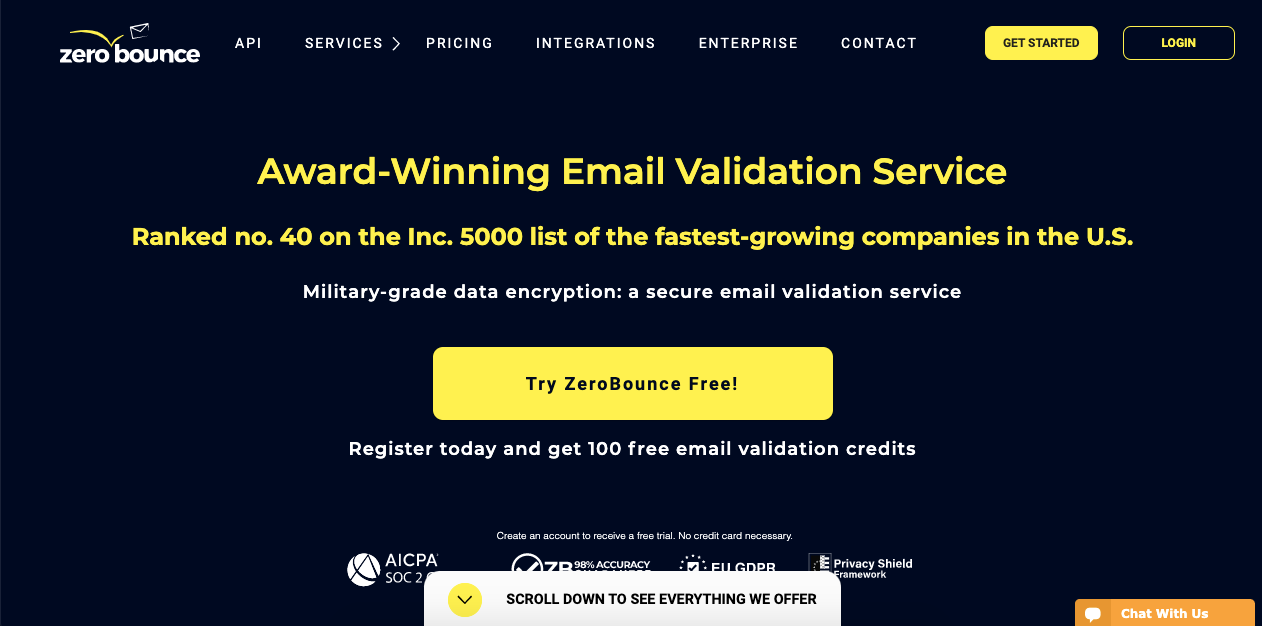 ZeroBounce is an email verification software used by multiple companies like TripAdvisor, Sophos, and Allstate.
The tool has many integrations with CRMs and emailing platforms. It also has its own email verification API API to use with other tools. Its AI validates email addresses against multiple filters, deleting or correcting email addresses and getting rid of SPAM traps without taking as long as other platforms. This is exactly what you'd expect for its price, far higher than the average.
However, it does have a lesser accuracy rate than other options.
Pros
Good for bulk email verification
Fast verification
It can be used for data enrichment
Multiple integrations, including Zapier
Cons
Slightly lower accuracy rate at 98%
Far more expensive than the industry average
Debounce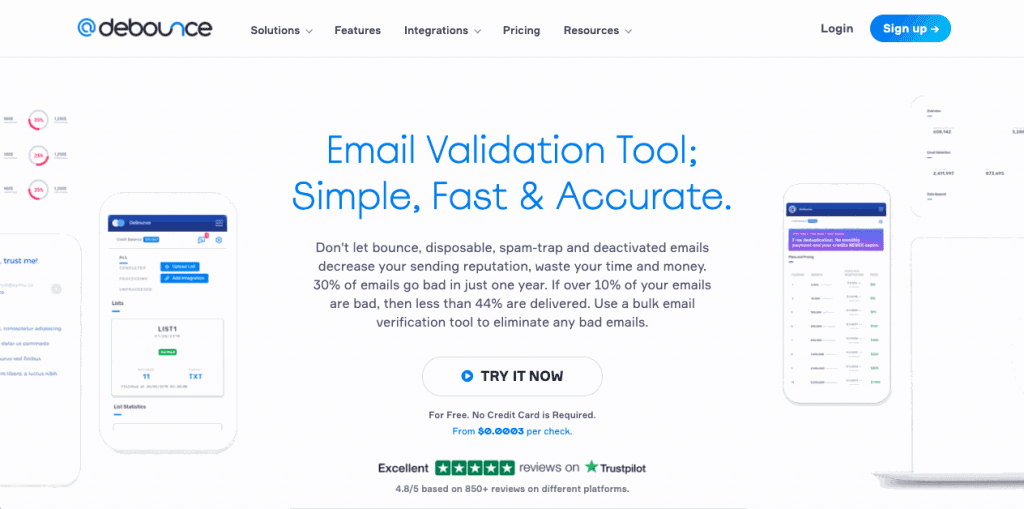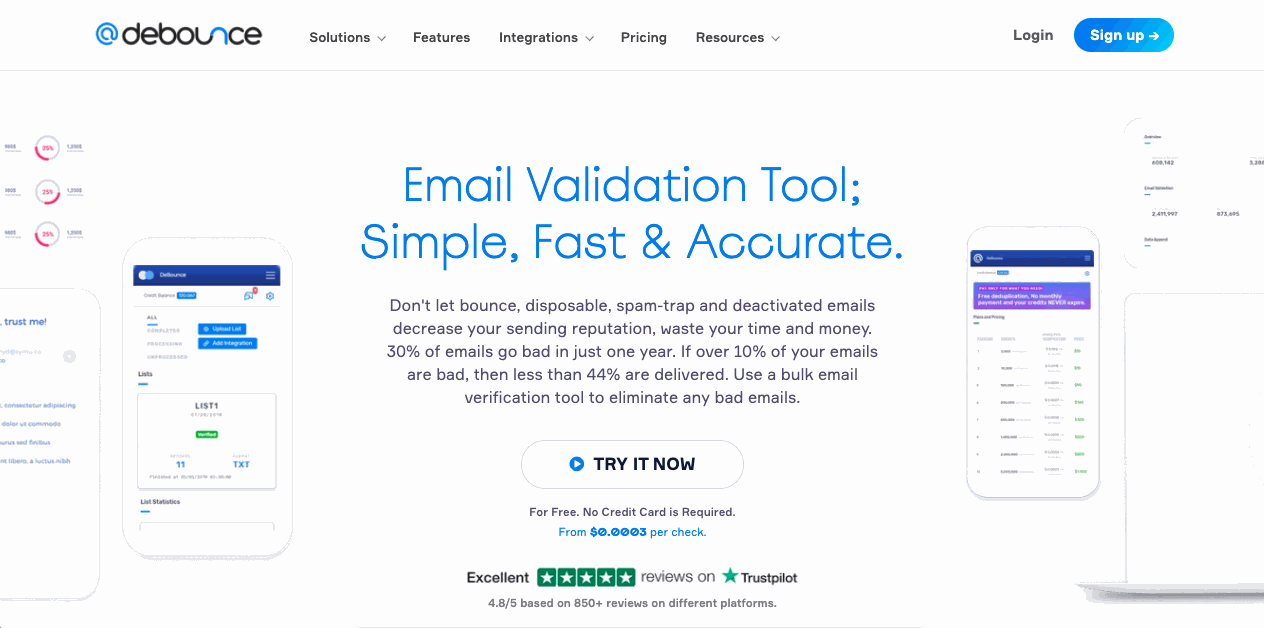 Debounce is another bulk email verifier that offers unlimited free email verification of disposable emails through API, giving it an edge over other platforms offering APIs.
The platform effectively cleans up your list of email addresses from invalid, spammy, or non-operational mailboxes and integrates with a handful of platforms to adapt to the tools you're already using.
Pros
Over 80 available integrations
Good customer support
Very easy to use
Free disposable email verification with its API
Very affordable
Cons
Lacks advanced features
Users report invalid email addresses being qualified as valid
NeverBounce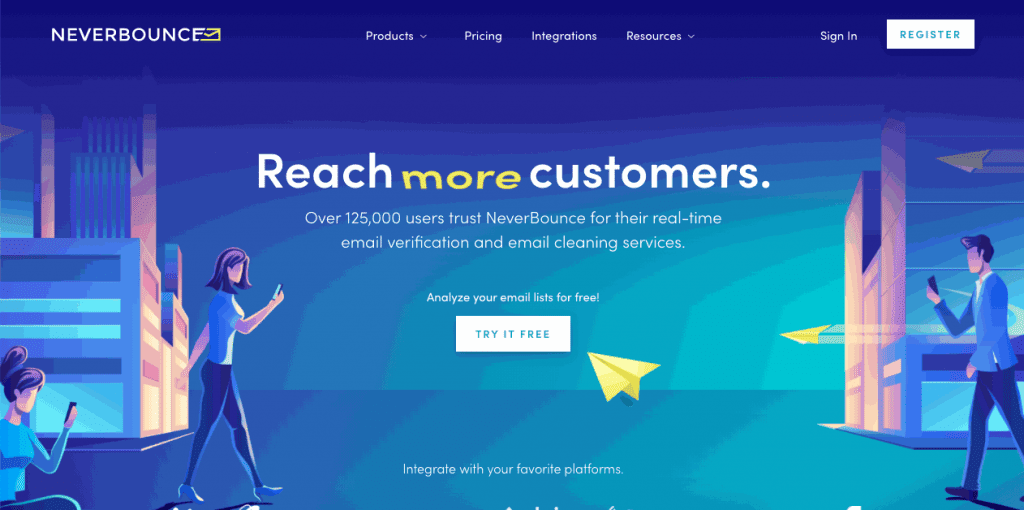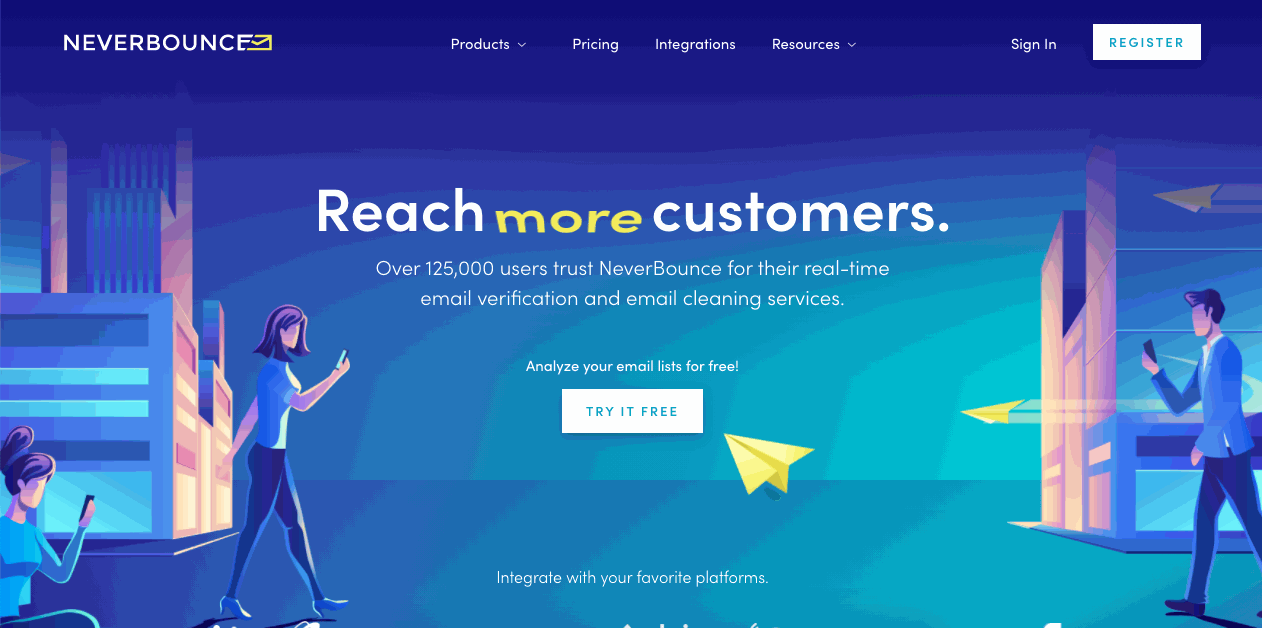 NeverBounce launched in 2014 and has quickly gathered over 100,000 customers, including notable clients such as Uber, Dell, and Harvard Medical School.
With NeverBounce, you can quickly and easily verify individual addresses or a full list of email addresses. It also offers up to 1,000 free email address verifications per month and integrates with over 80 tools, including Zapier.
Pros
Multiple free verifications per month
Well-positioned platform
API for developers
Very easy to use
Cons
Users have reported overcorrection issues
Low accuracy complaints
Not very affordable
Blaze Verify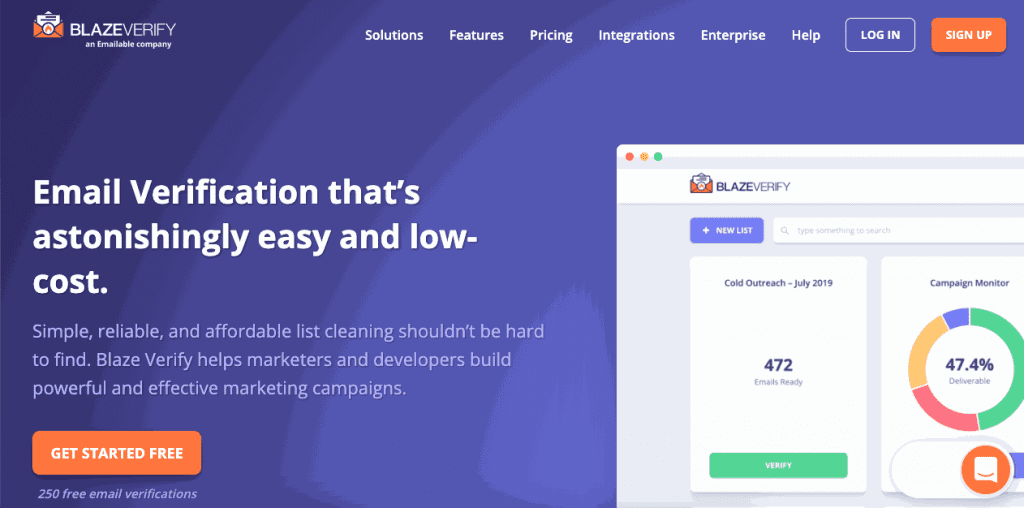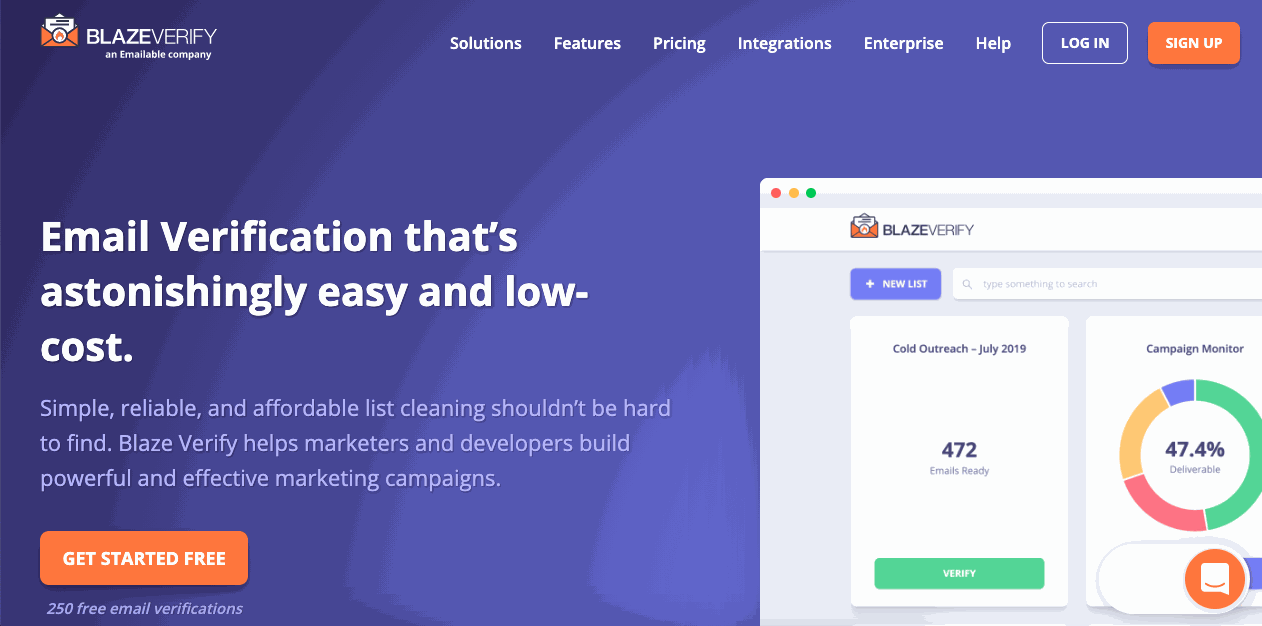 BlazeVerify is another reliable and free bulk email verifier with good capabilities.
With a drag-and-drop interface and intuitive UI, the platform is designed to be as easy to use as possible while remaining powerful and affordable. Plus, the platform has an effective and fast customer service team to solve your issues as quickly as you verify emails.
However, users do report issues when integrating into some popular tools, and its features, however easy to use, are also fairly basic.
Pros
Very easy to use
Great customer service
Very fast
Surprisingly affordable plans
Cons
Issues with some integrations
Lacking advanced features
CaptainVerify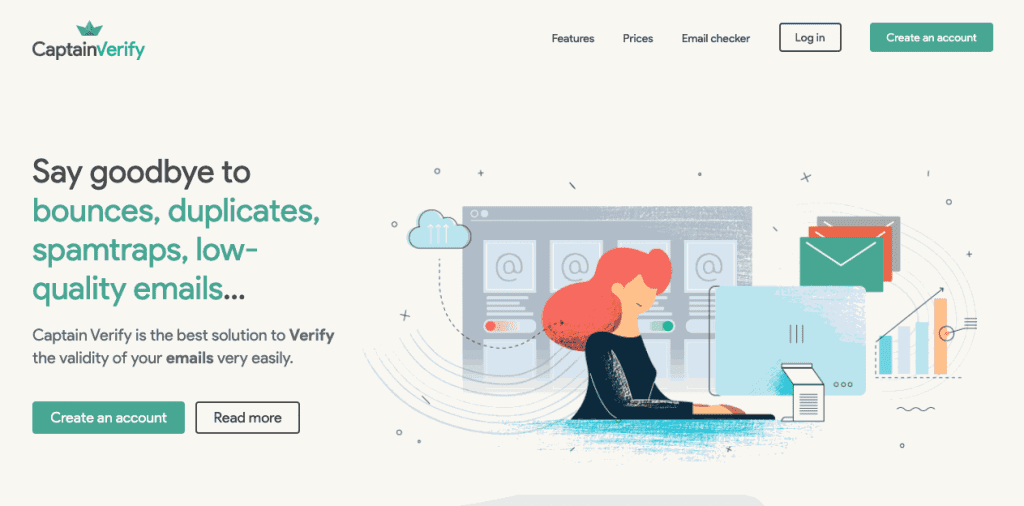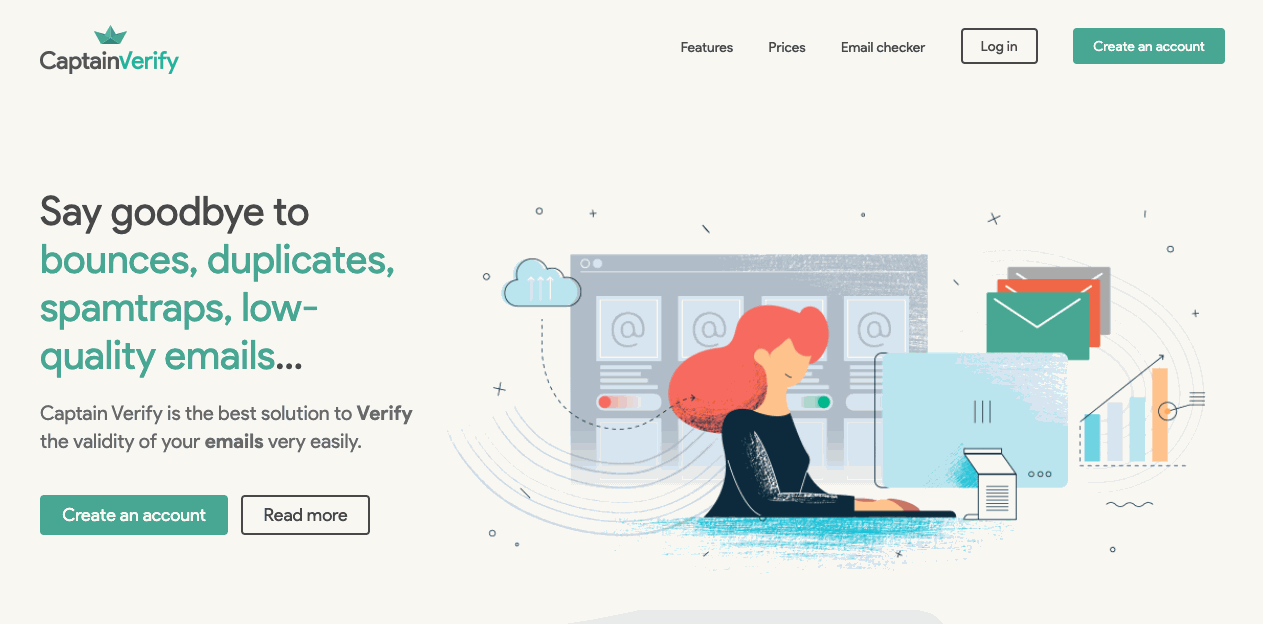 CaptainVerify is a very simple and strong email tool that's quite easy to use.
It offers an API for developers and detects multiple kinds of false or invalid email addresses to improve your deliverability rates. It also offers multi-language support, and companies like Michelin, Weekendesk, and Subway use it.
Pros
Multilingual platform and support
Fairly affordable platform
API available for developers
Cons
On the lower accuracy end at 96%
Fairly slow, taking almost two hours to validate 100,000 emails
It can only download in XLSX
No live support
MillionVerifier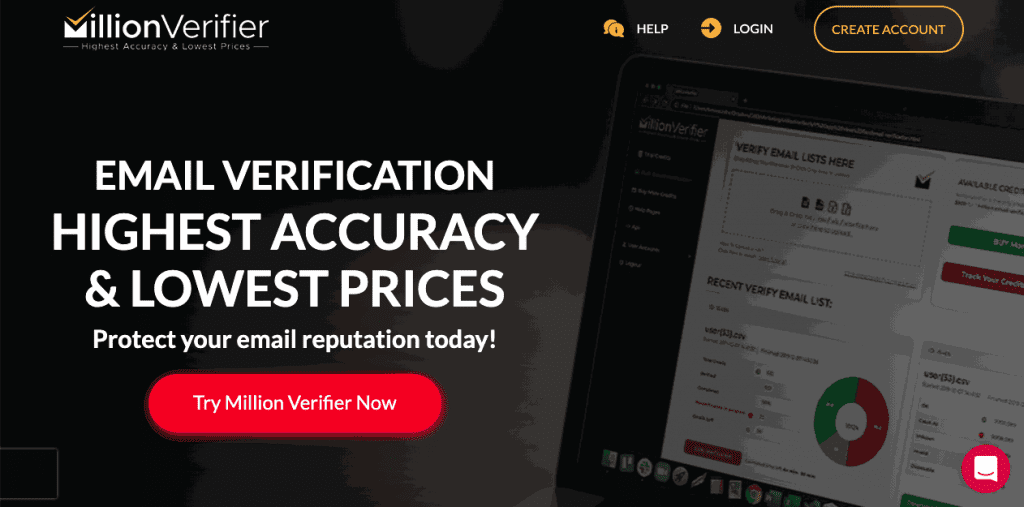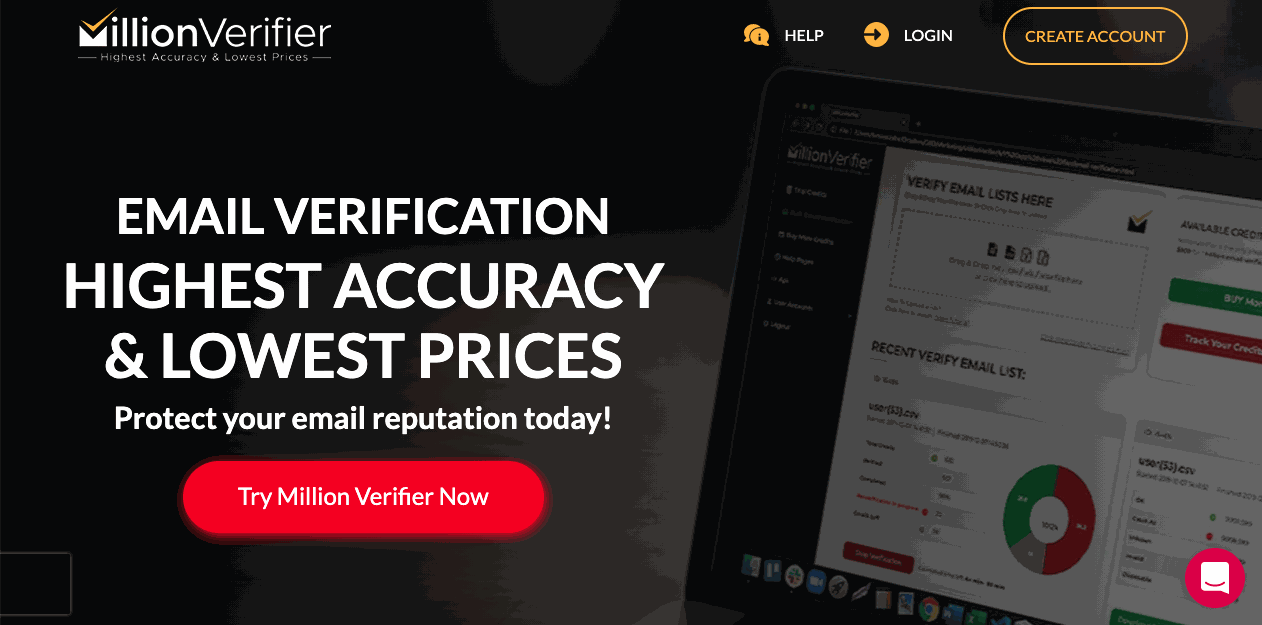 MillionVerifier is a highly accurate bulk email verifier with fair prices. At a surprising 99% email verification accuracy, it's one of the most accurate services out there.
However, you don't have to pay a premium for its services. You can validate emails for as low as $0.000299, which is below the industry average. The fully GDPR compliant service offers a 100% Money Back Guarantee.
All these capabilities come at a price in their UI. MillionVerifier isn't the most intuitive tool out there, and without 24/7 support, you'll sometimes have to figure out how to use it by yourself.
Pros
Affordable
Very accurate results
Credits don't expire
Cons
UI isn't very intuitive at first
No 24/7 support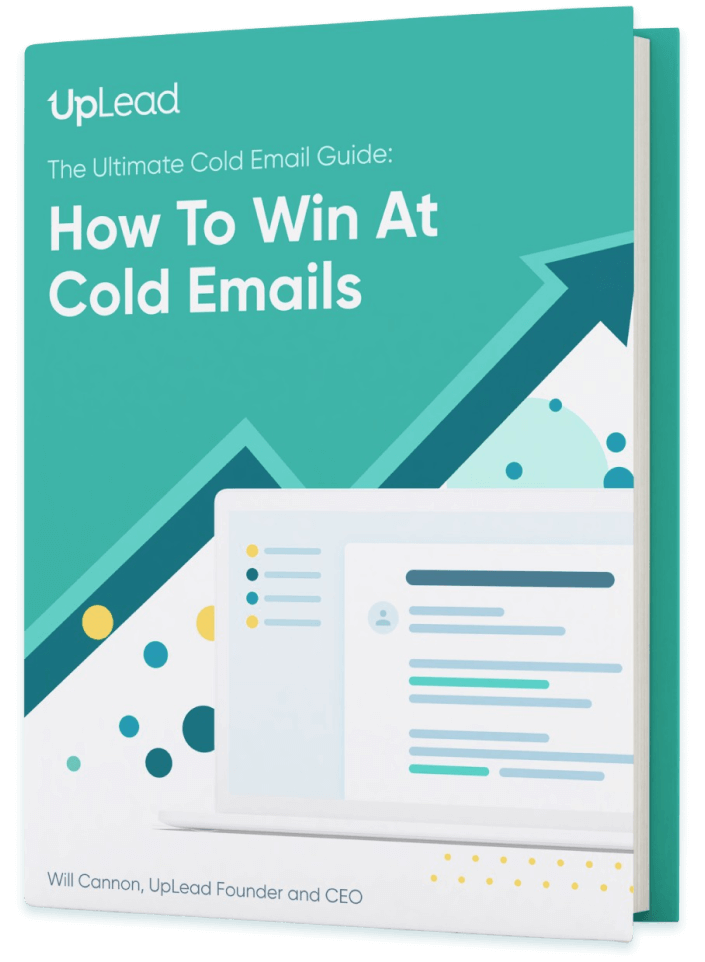 Download our free eBook full of valuable insights and take your cold emailing strategy to the next level.
I agree to receive emails from UpLead, and can unsubscribe at any time.
Hunter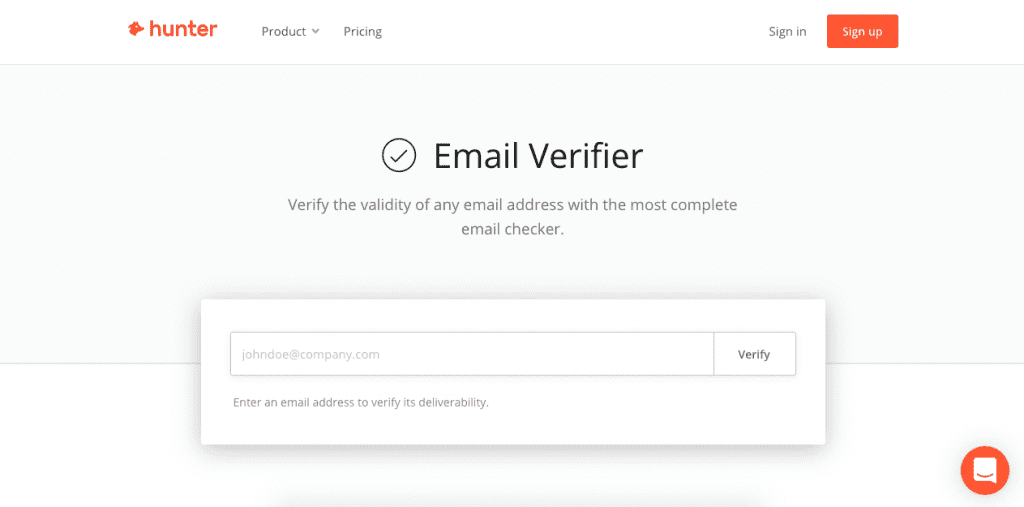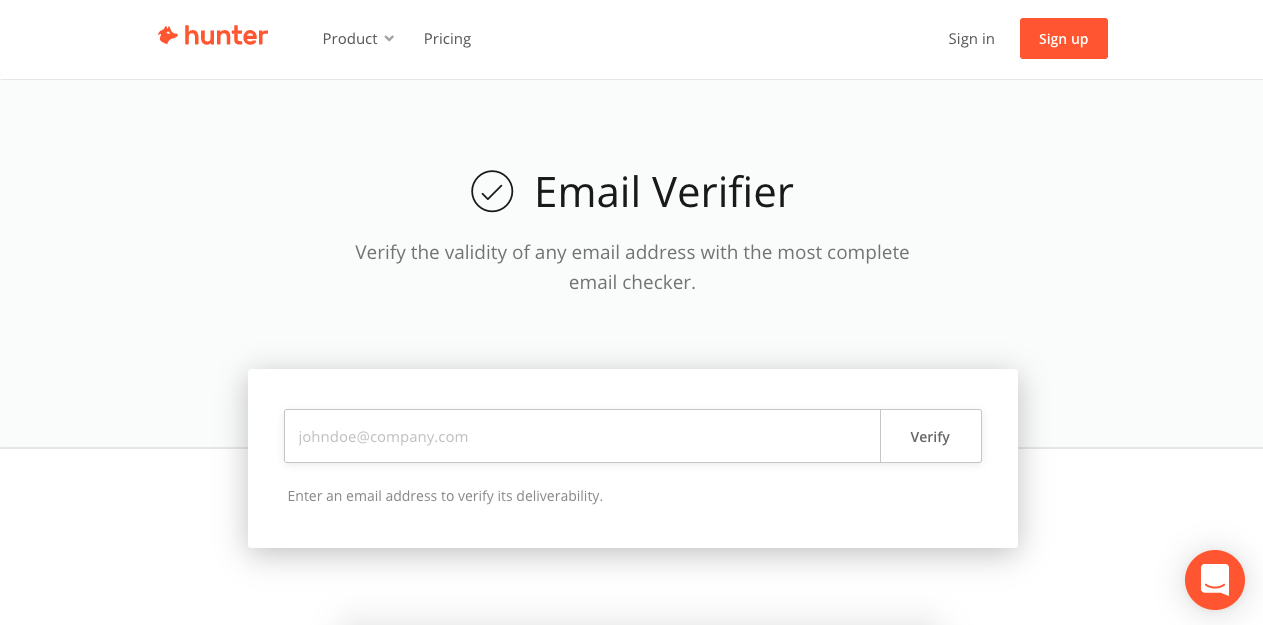 Hunter is a lead finder with an integrated email verifier to improve its results. Although its primary function is to find business leads, its email validation tool is fairly functional and inexpensive.
Hunter offers a bulk email list verification service, single email verification (free on-site), and API verifications to integrate with the tools you're already using.
Pros
Good for finding and validating leads
Very easy to use
A fairly fast verification tool
Cons
Mixed reviews on the accuracy of verification capabilities
Somewhat expensive
If you're looking for an affordable Hunter alternative, give us a try.
AeroLeads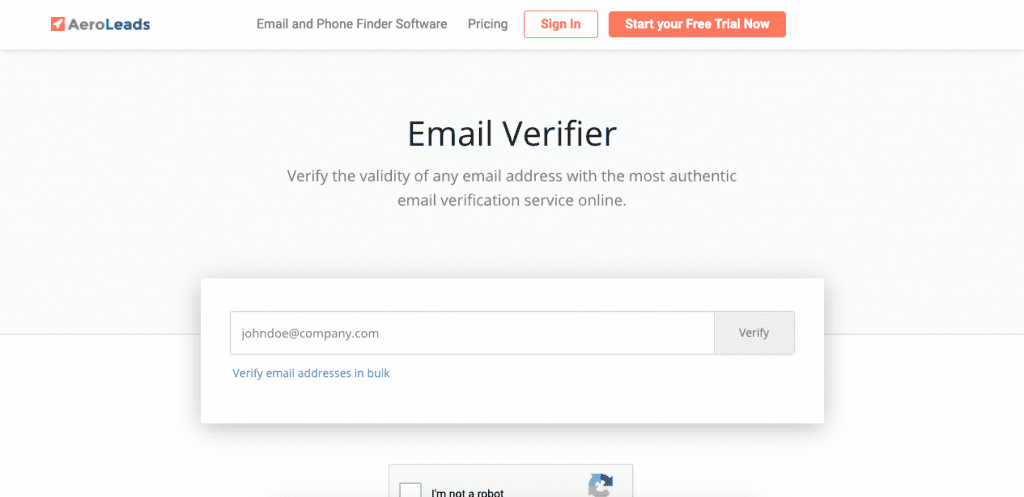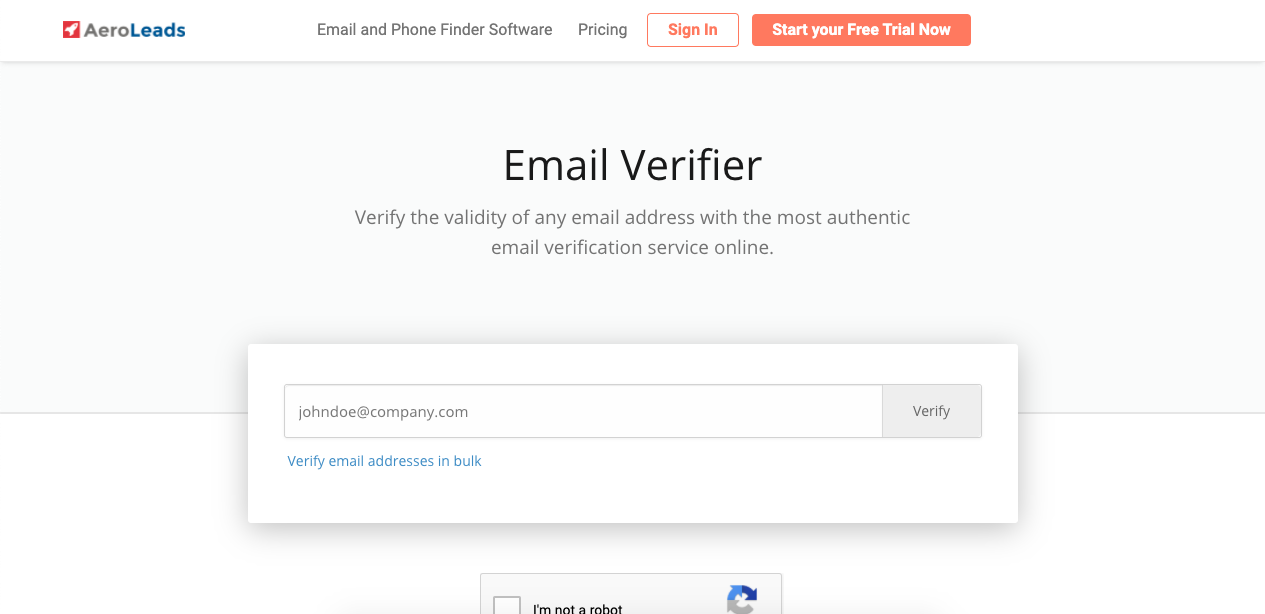 AeroLeads is another lead finder tool with email verification capabilities. Although the platform claims to catch unknown and catch-all addresses, there isn't any information about the process involved. Its accuracy rate is just 95%, which is lower than most other similar tools.
Pricing starts at $49.00 per month, with a limited free version available.
Pros
Very easy to use
Fairly fast when verifying emails
Cons
Poor accuracy at just 95%
A more expensive option for email verification
TheChecker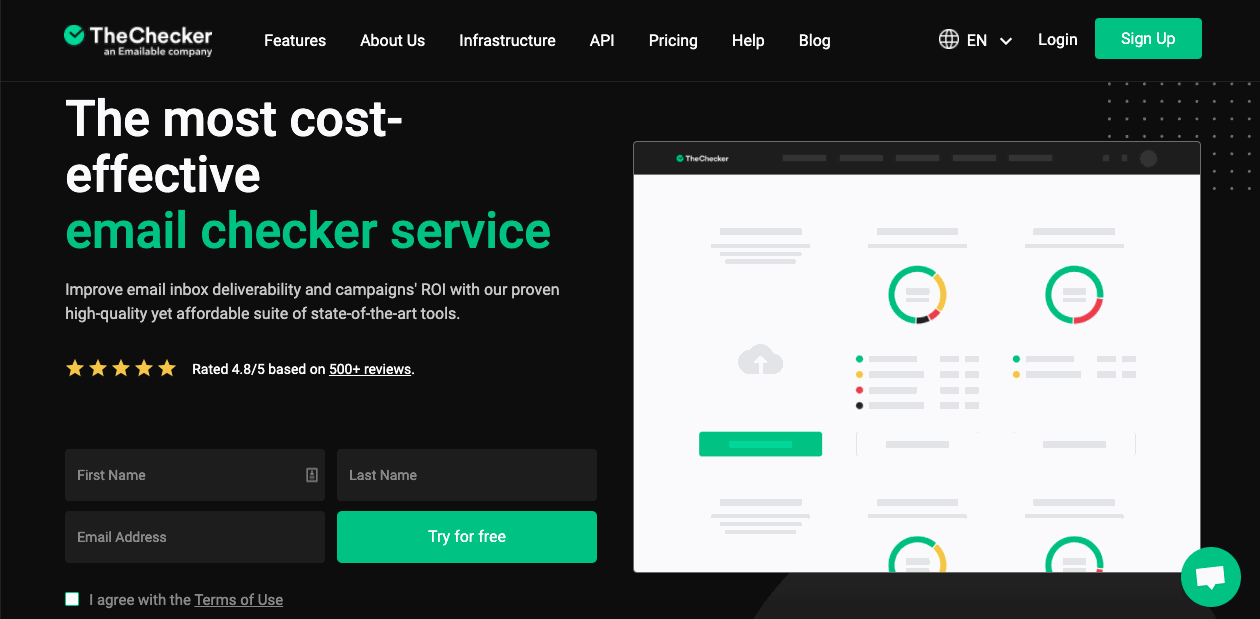 Self-labeled as "the most cost-effective email checker service," TheChecker is an affordable bulk email verifier.
This tool will check your emails against all criteria, including syntax, domain, blacklist, and many more. It also integrates with a handful of tools and offers a surprising 99%+ accuracy, plus the improved email deliverability
Pros
Lifetime credits
Very affordable
Surprisingly high accuracy
Good integrations
Cons
Doesn't provide a money-back guarantee
Limited advanced features
SendPulse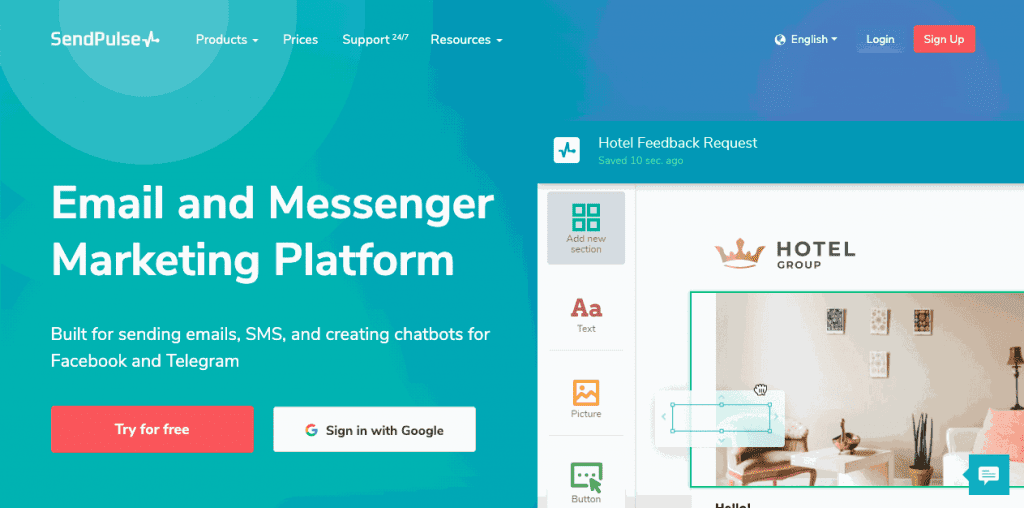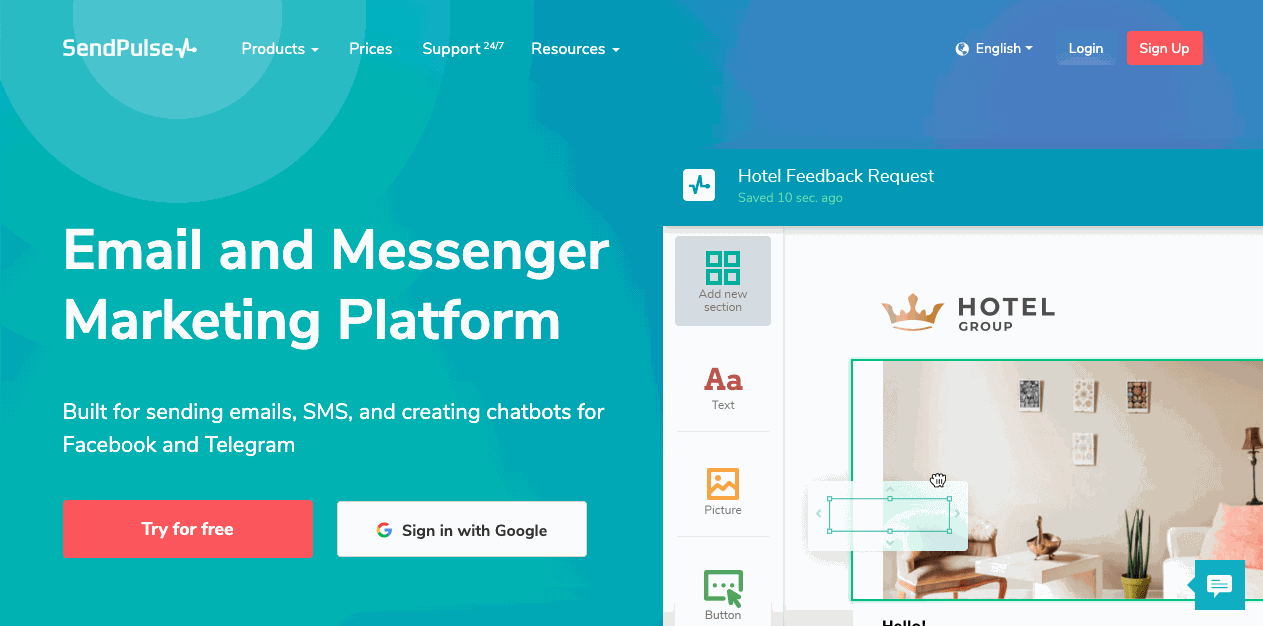 SendPulse is a multichannel marketing automation platform with email validation capabilities.
Although it focuses more on marketing emails, notifications, and promotional SMS, SendPulse has a decent bulk email verifier for its customers as an added feature. With it, your email addresses are verified against domain health, invalidity, and high risk, removing spam traps in real time.
Pros
API available for developers
Good for marketers looking to validate email addresses quickly
Good integrations to connect to your CRM, mail server, and more
Cons
Not great if you're looking to verify email addresses
No info on their effectivity
TrueMail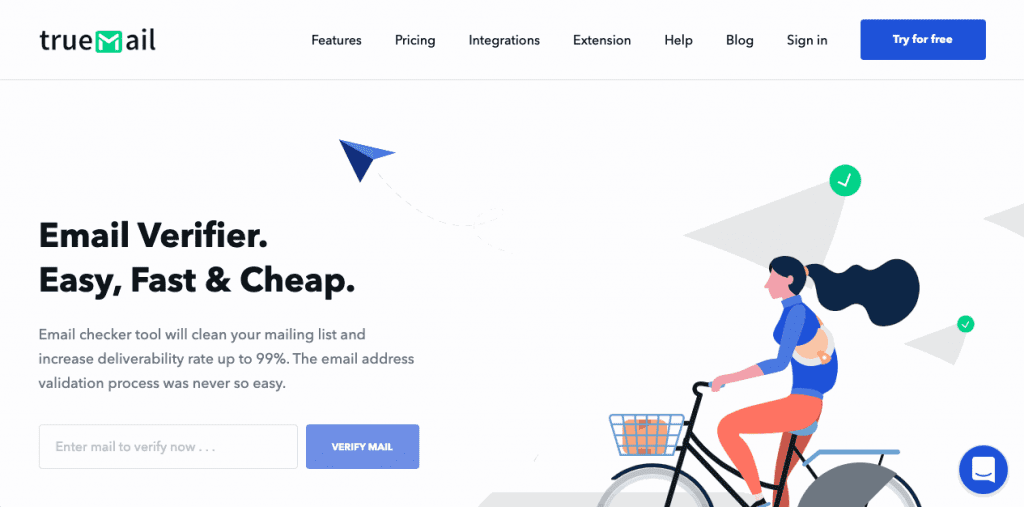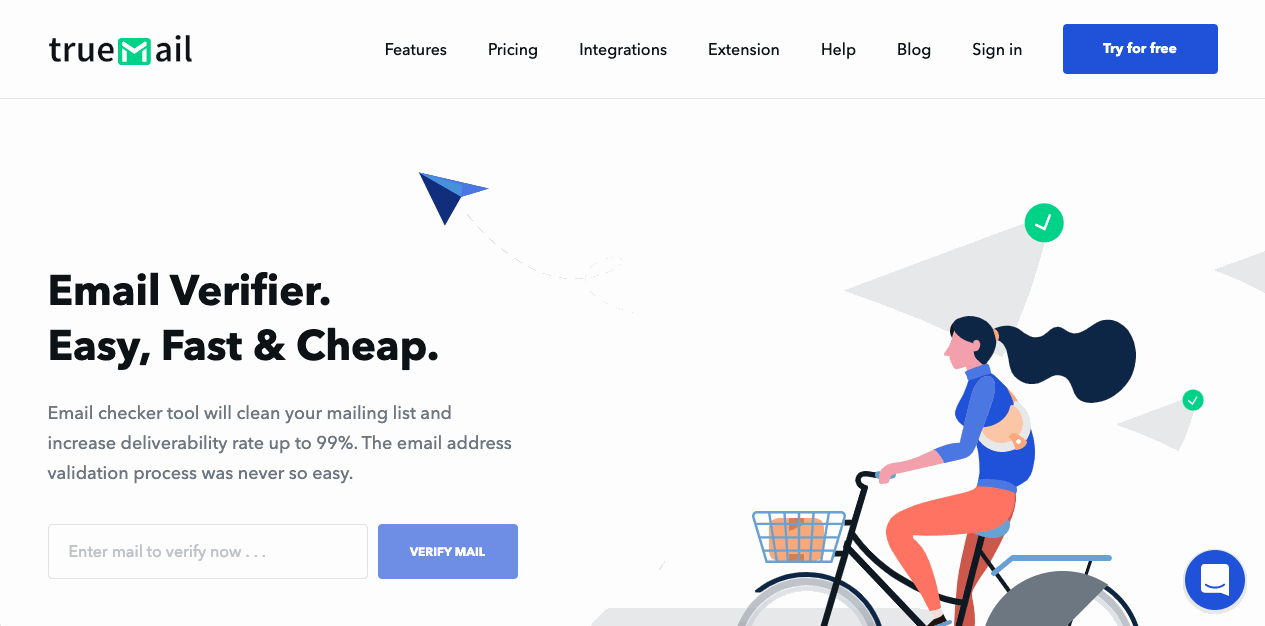 TrueMail is a bulk email verification system offering 1000 free credits for new users. It's also fast and easy to use, even when using it for bulk email verification.
With TrueMail, you get a surprising 99% email accuracy, and you even get the option to segment your email lists for better email deliverability within the platform. However, this tool isn't the best for anyone looking for advanced features for email validation.
Pros
Easy-to-use Chrome extension
Very affordable
Great for verifying a small batch of emails with free credits
Great accuracy rate
24/7 support
Cons
Limited advanced features
Mailgun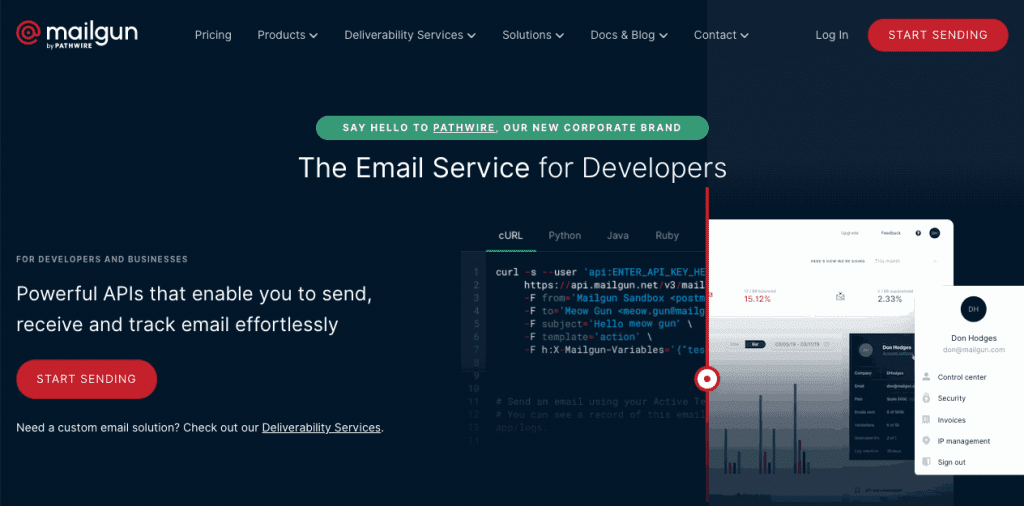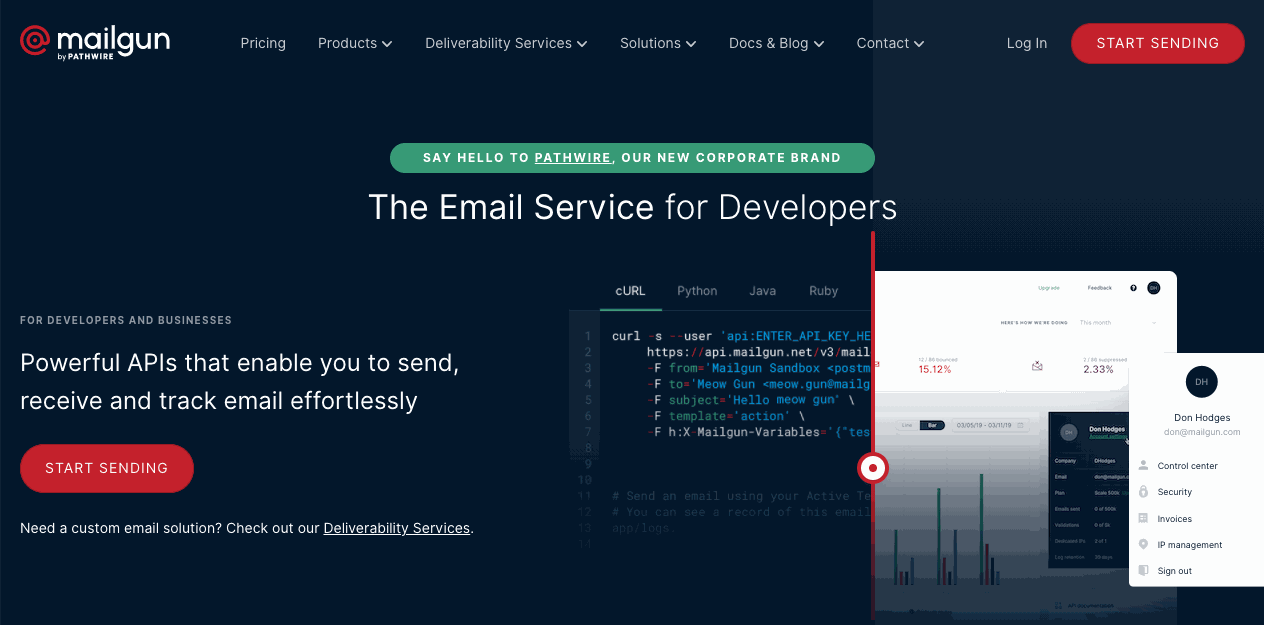 Self-described as "the email service for developers," Mailgun is the fastest-growing bulk email validator. 
Mailgun used to offer 10,000 credits for free to try the system, but starting in 2020, they decided to remove any free service, forcing you to purchase their service to use it.
The platform works for more than just email validation. You can use it to send emails, get powerful email analytics, and improve deliverability… if you have developer skills.
Pros
Great for developers
More than just an email validator
Powerful email management features
Cons
Not very intuitive for non-developers
Can't replace your email marketing platform
Limited support in lower tiers
Bouncer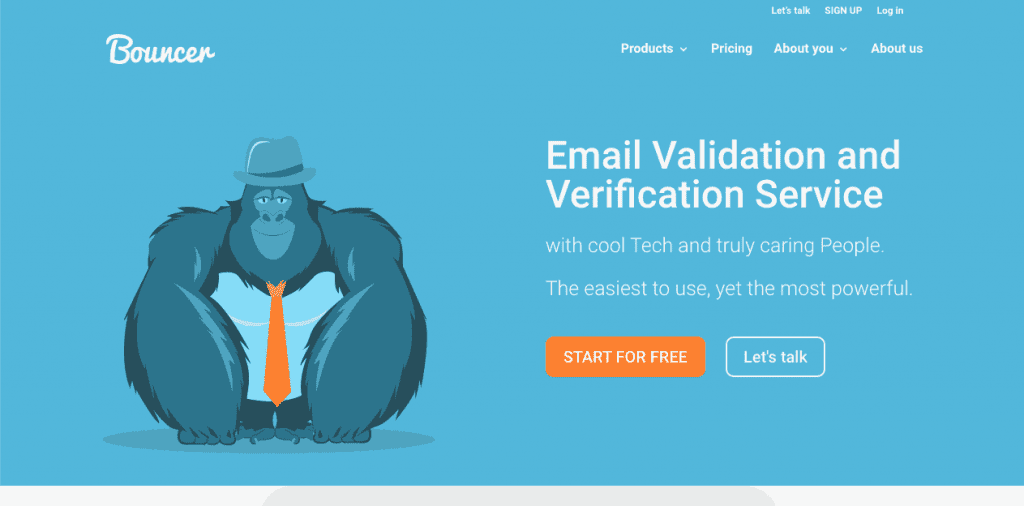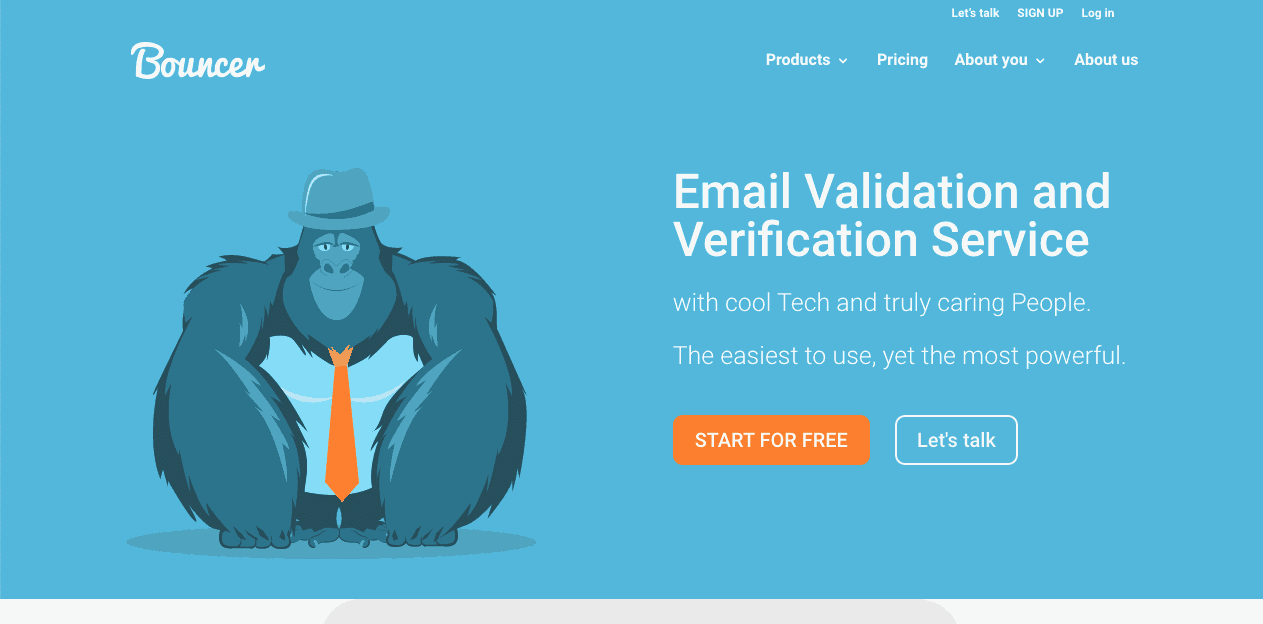 Bouncer is an email validation tool with a quirky look. It is great for both single and bulk verifications.
Although fairly new to the market, Bouncer is already collecting some high-profile names among its clientele. The platform is easy to use, with a good-looking UI and an instant email verification service.
Pros
API for developers
Alleged +99.5% accuracy rate
Great integrations
Great UI design
Cons
You can only upload CSV files
Not many advanced features
Breadcrumbs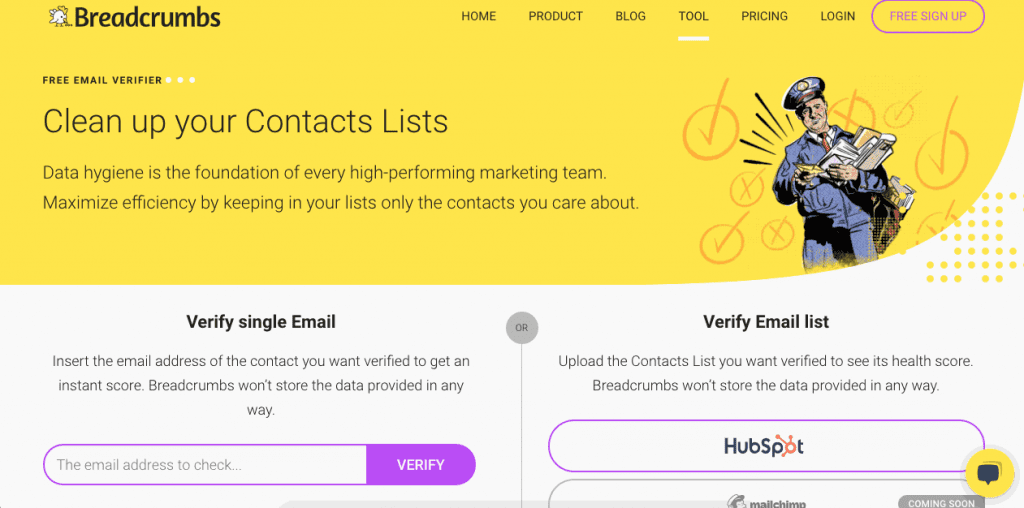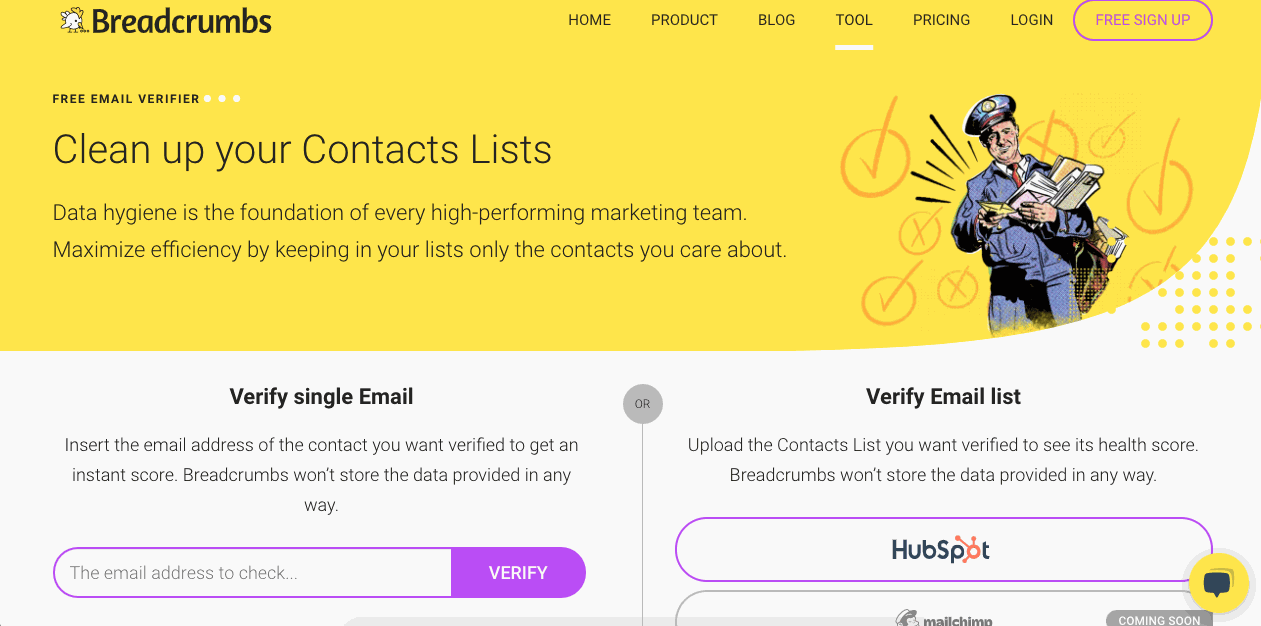 Breadcrumbs' Email Verifier is an email validation tool that is very easy to use.
You can start by uploading your email list directly from your mail server, like Mailchimp and Hubspot, or a CSV file. Then Breadcrumbs will quickly verify it, faster than other options out there. Although it's good to note that if you have many emails to verify, you'll be there for a while since you can only verify up to 10,000 emails at a time. 
As Breadcrumbs isn't just for email verification, you also get access to its lead-scoring capabilities.
Pros
Free monthly plan with 500 credits per month
Good for lead verification
Very easy to use
Cons
Can only check up to 10,000 emails at a time
No official data on its accuracy
Email Checker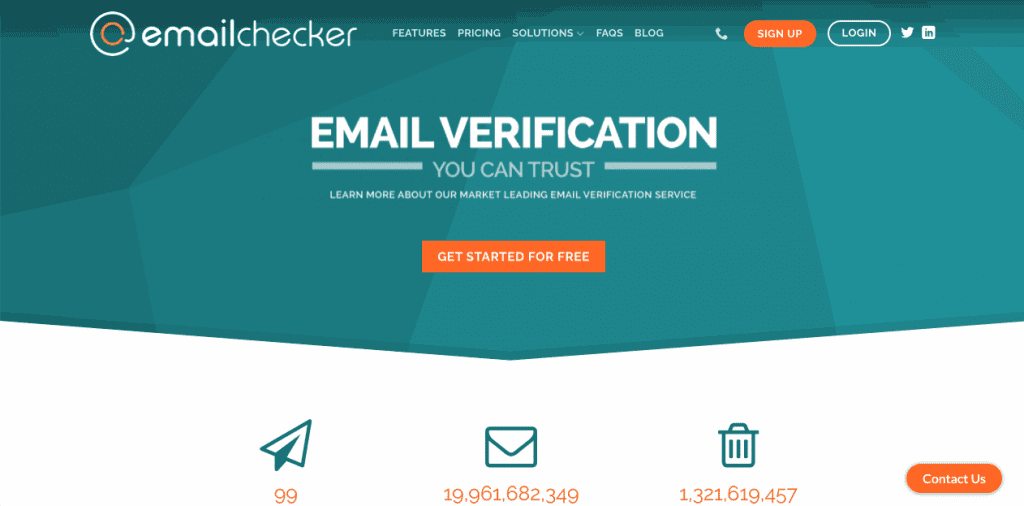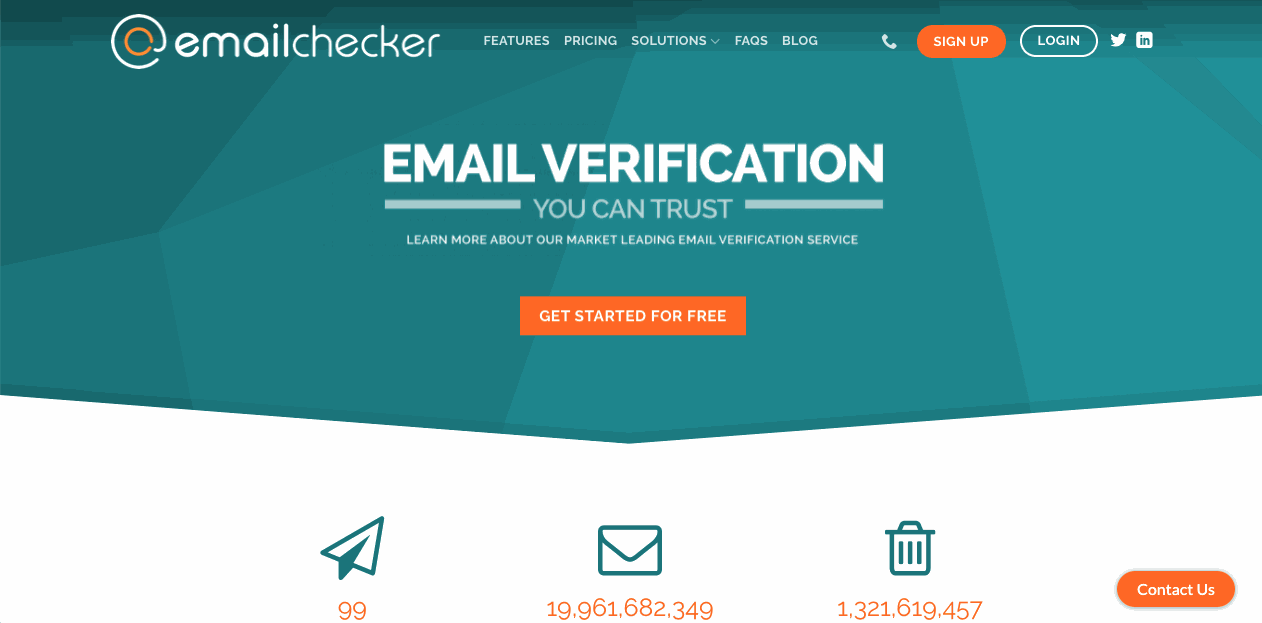 Email Checker is another popular email validation service, with almost 20 billion emails processed to date.
Its powerful capabilities filter email addresses and correct them quickly and effectively to avoid a bounce. It is one of the oldest and best-proven email verification tools, with over eleven years of service and a long track record of awards and positive reviews, which is why its prices are fairly higher than average.
Pros
A popular and proven tool
Very powerful verification
Advanced analytics
Friendly UI
Two powerful APIs for developers
Cons
Fairly expensive
Doesn't disclose the reason emails aren't verified
Mailfloss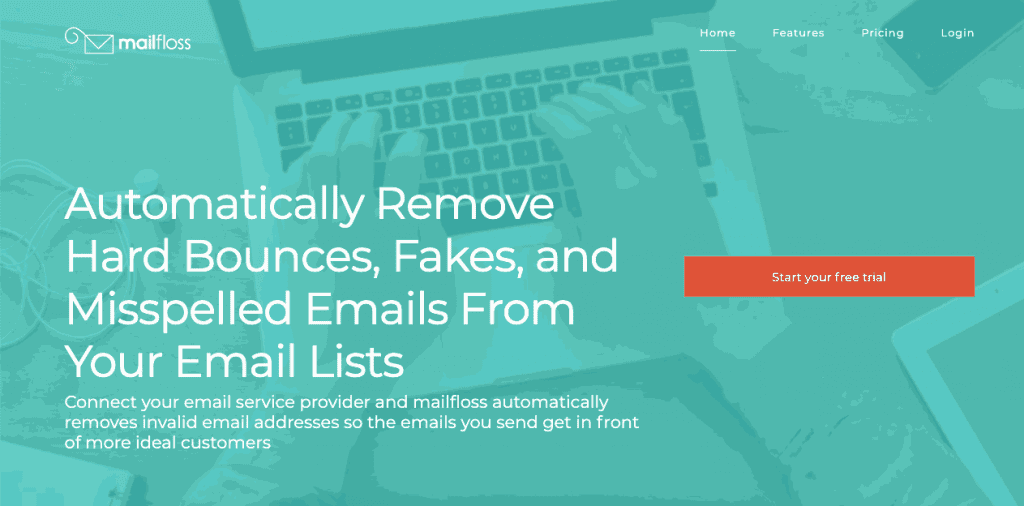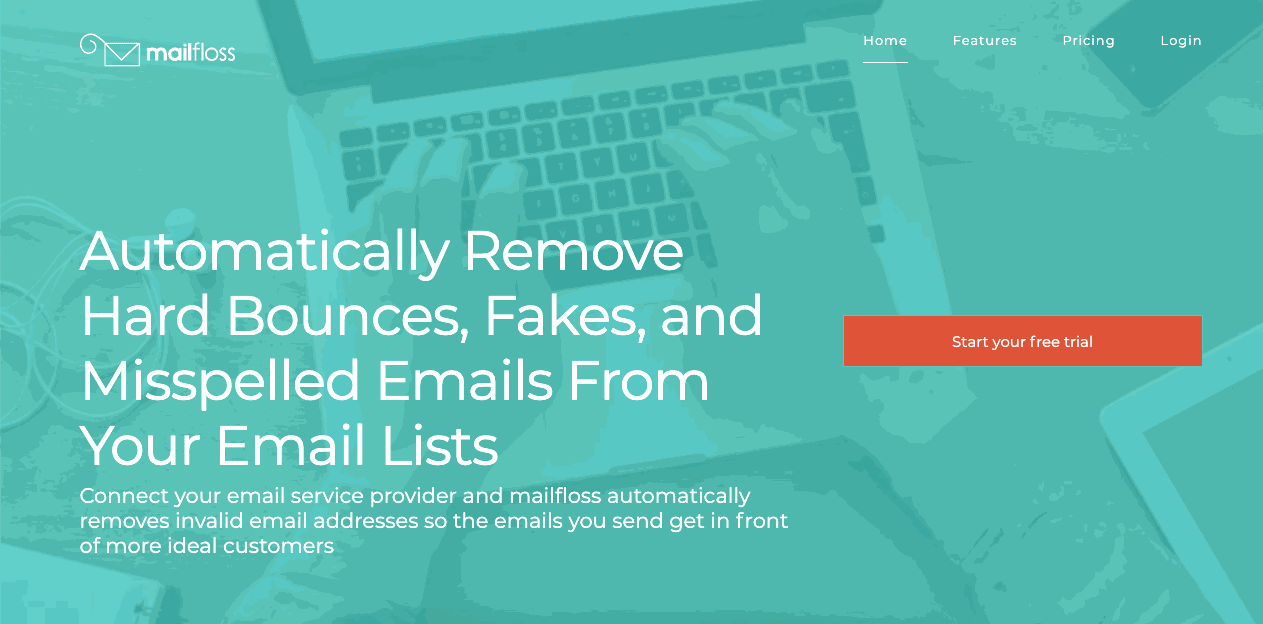 Mailfloss is a simple bulk email verification service with multiple integrations and good capabilities.
With it, you can upload and download lists of email addresses directly from your email platform, regardless of the platform. It's also very well-priced, and its customer support is highly rated.
Pros
Good customer support
Affordable
Very easy to use
Can clean up your data daily and automatically
Integrates with nearly all email marketing platforms
Cons
Doesn't disclose its accuracy rate
Doesn't offer 24/7 support
Bulk Email Verifier FAQ
Here are the answers to a few common questions about bulk email verifiers.
What is the best email verifier?
The best email verifier is the one that adapts to your needs, budget, and tools. It should have accurate verification capabilities, connect to the tools you use, and let you expand your marketing efforts.
What is the best free bulk email verifier tool?
Depending on your needs, many free bulk email verifiers may be good for you. AeroLeads, TrueMail, and Mailgun have free account capabilities, with Mailgun having the most generous capabilities of them all. UpLead offers a free trial too.
How do I verify bulk email addresses?
Start by downloading your list of email addresses to a CSV or TXT file, then upload it to your email validation tool. The tool will start verifying your email addresses for you and can take a few minutes to a couple of hours, depending on the number of emails and the tool's capabilities.

Once the tool has finished working, the email addresses will be separated into verified and unverified.
Conclusion
Email verification tools are vital to ensure deliverability and reduce costs. After all, no one wants to pay to send emails that won't be delivered.
If you want to verify email addresses as you download your leads, try UpLead for free today.