Sales prospecting can be a daunting task for any business. With so many different tools out there, it's hard to know which ones are worth your time and money. This blog post will compare 20+ of the most popular sales prospecting tools on the market today, including our favorite tool for each category.
Quick Links:
What Is Sales Prospecting (and What Does It Involve)?
Sales prospecting is a process that helps you identify and develop relationships with potential customers. It involves identifying your target market, researching their needs, reaching out to them, following up on leads and connections, and more.
Sales prospecting often comes in the form of cold calling or email outreach where you contact people who do not yet know about your business. While this might seem like a daunting task to some, it can be done successfully with the right tools and strategies.
It also involves prospect verification, which is a process of making sure the person you are trying to reach is who they say they are. For example, before calling someone and asking them if they want your product or service, it's best to verify that this person actually works for the company or organization listed on their LinkedIn profile.
It is important to remember that quality is more important than quantity when it comes to sales prospecting and finding contact details. You don't want to be spamming people with emails; you need customized outreach that speaks directly to their needs.
20+ Best Sales Prospecting Tools
Now that we have covered sales prospecting and what it involves, let's look at the 20+ best tools on the market for this process. We will compare each tool in terms of ease-of-use, cost, reliability, security, features offered (and if they suit your business needs), and more.
List Building Tools
List-building tools are great for targeting leads and reaching out to people who do not yet know your business (similar to sales prospecting). These tools are ideal for sales teams or anyone looking to grow their email list.
UpLead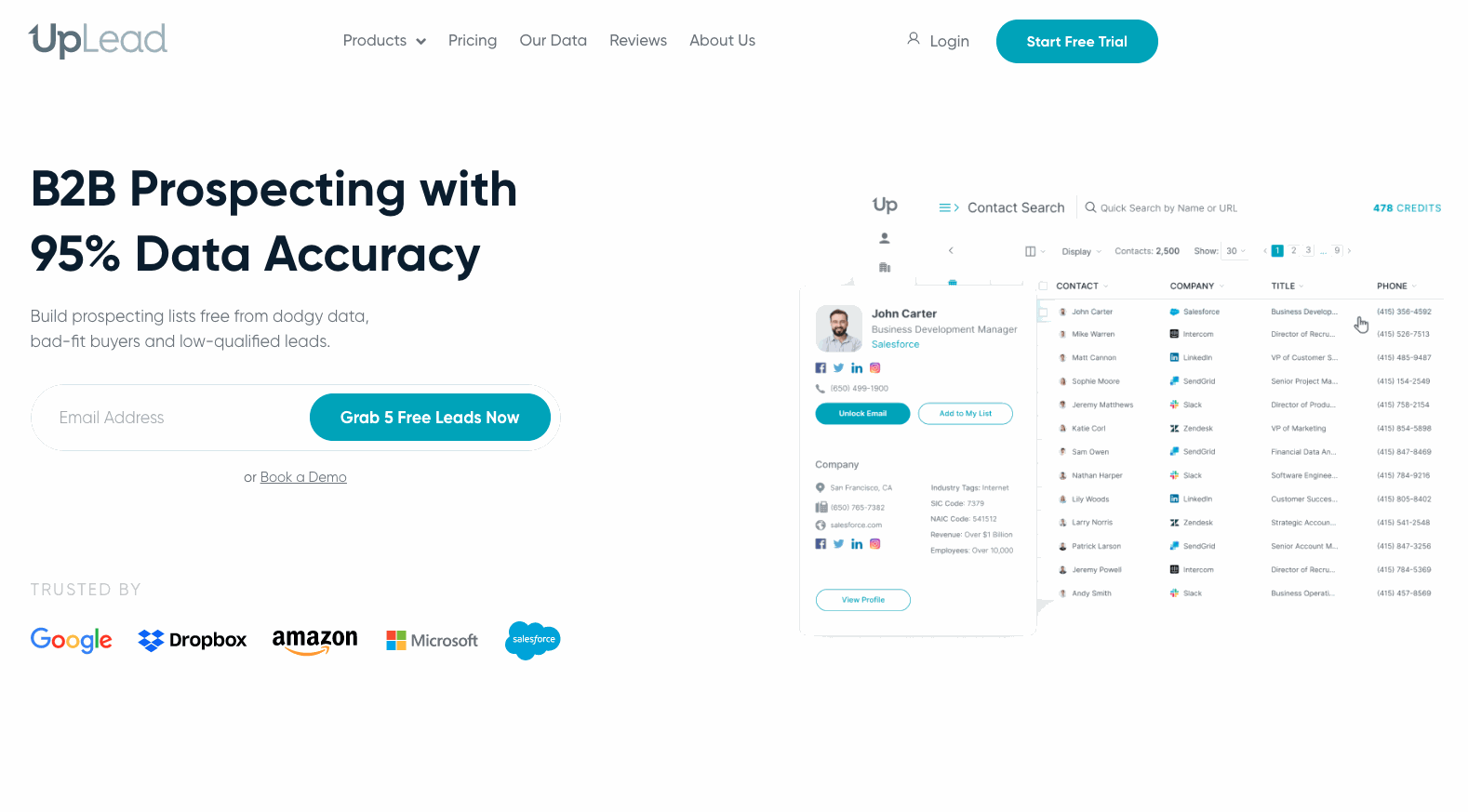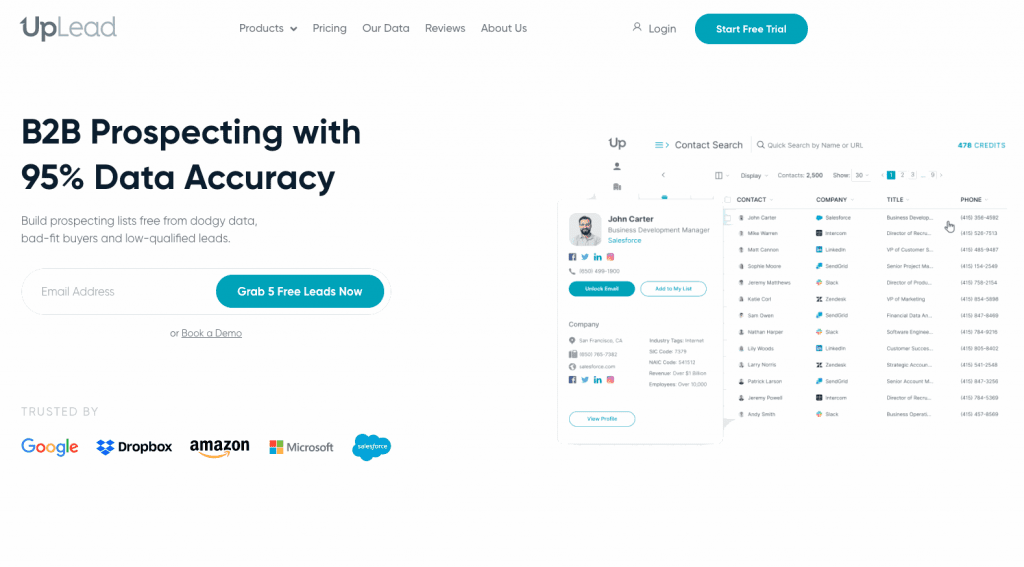 UpLead is an all-in-one sales prospecting and list-building tool that allows you to build, track, and manage your leads. After a 7-day free trial, UpLead offers customers the option of signing up via three pricing levels, starting at $99/month for 200 credits monthly.
UpLead is the ultimate lead generation platform for marketing, sales, and recruitment teams. It helps your business grow by creating leads that will increase revenue for you in a cost-effective way.
With UpLead, you can target potential customers by building targeted lists of contact details. The data is not only accurate but verified. This means that the conversion rates and sales are even higher than expected.
Pros:
Gives true contact information with job titles
Updated real-time email verification
Excellent filtering system
Everything works together seamlessly
Time-saving ability to export directly into the CRM
Cons:
The credits system may not suit everyone
Start Your 7-Day Free UpLead Trial
Lead generation doesn't have to be all that painful. With UpLead, you can easily connect with high-quality prospects and leads to grow your company.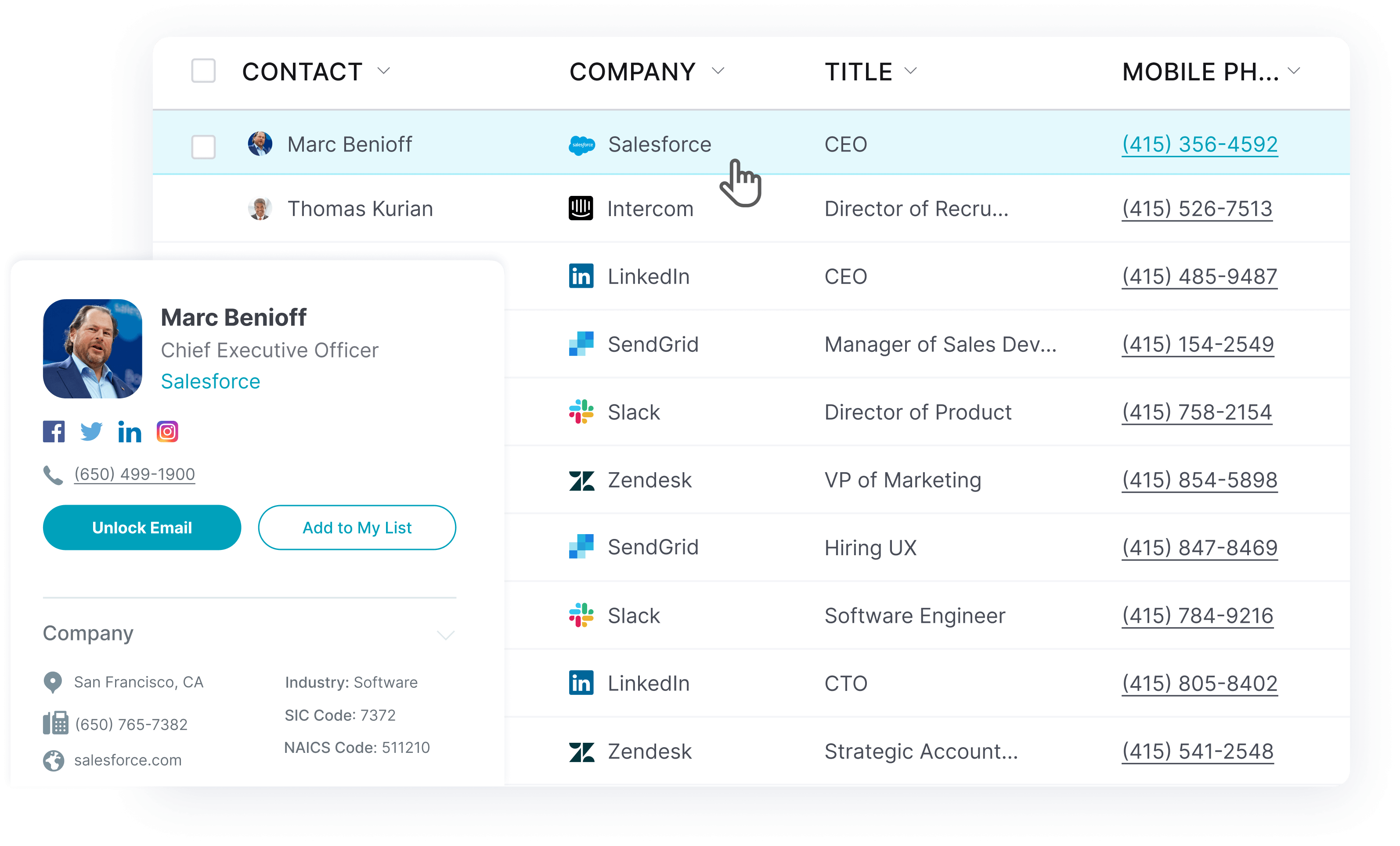 ZoomInfo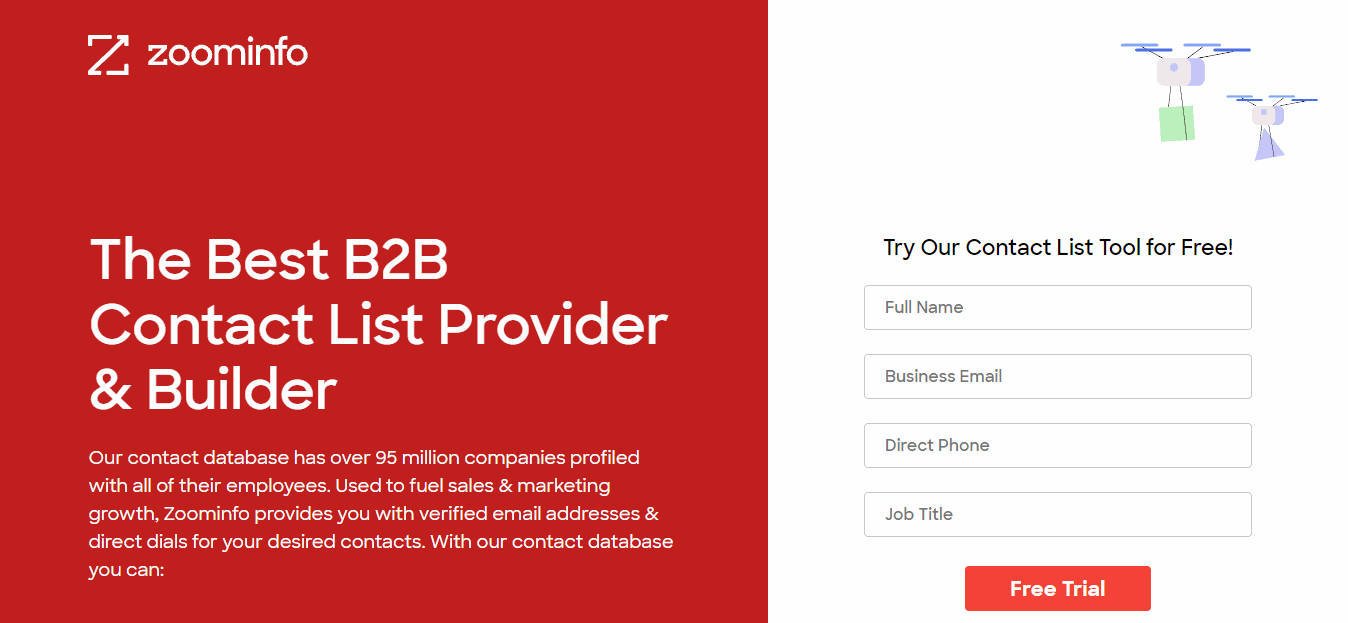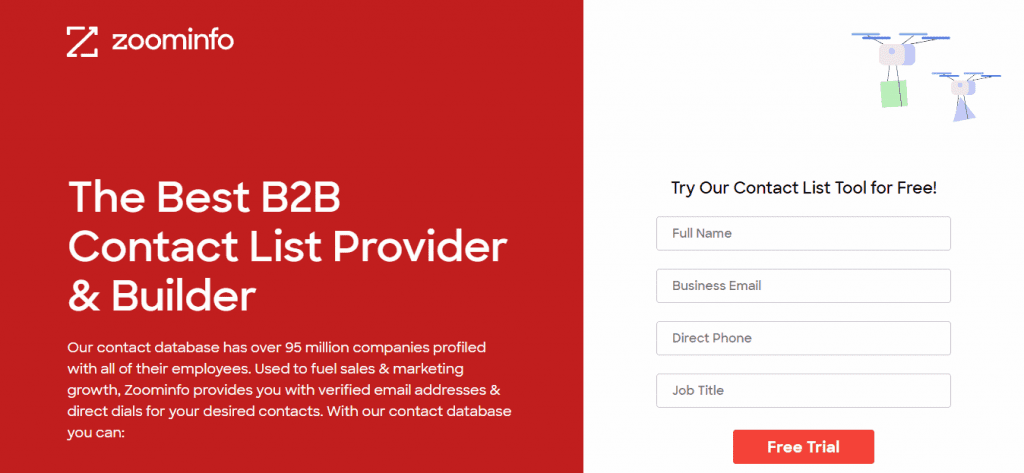 ZoomInfo delivers B2B contact information that can be utilized with their sales insights, engagement software, and workflow solutions. As such, ZoomInfo is a powerful tool for anyone in sales, marketing, or recruiting who wants to optimize their efforts and find new leads.
Prices are provided individually, but reports show quotations of $15,000, $25,000, and $40,000 price ranges for these sales prospecting tools.
Pros:
Easy to connect and share data with other tools
Updated on regularly
Accurate data
Cons:
The UI is slightly older than other platforms
Even though this is one of the most powerful and best sales prospecting tools, it can be expensive for many people
InsideView


InsideView is a respected business intelligence company that provides access to more than 40,000 sources of information.
They glean insights and relationships from these diverse data sets with their SaaS platform, which helps you uncover hidden opportunities for growth.
CRM and marketing automation solutions can be integrated with InsideView, which means your contact profiles become more personal than if you hadn't used the tool.
Furthermore, the tool allows you to tap into market sales intelligence through APIs for a personalized data solution.
The tool starts at $99, although prices significantly increase with each extra feature.
Pros:
The Watchlist is a good tool for obtaining quick information about businesses you're following
Allows for easy exporting of data
Provides a large variety of options to discover new leads
Cons:
The UI is not as user-friendly as other platforms on the market (like UpLead)
Some features are limited in free trials
Crunchbase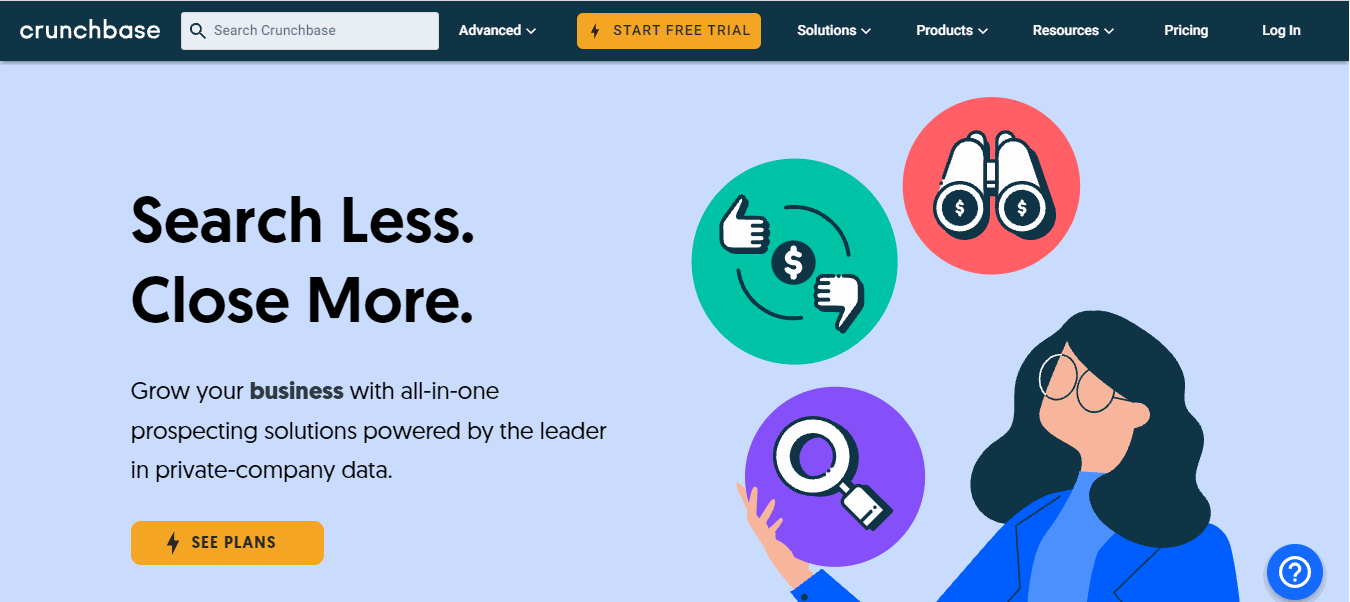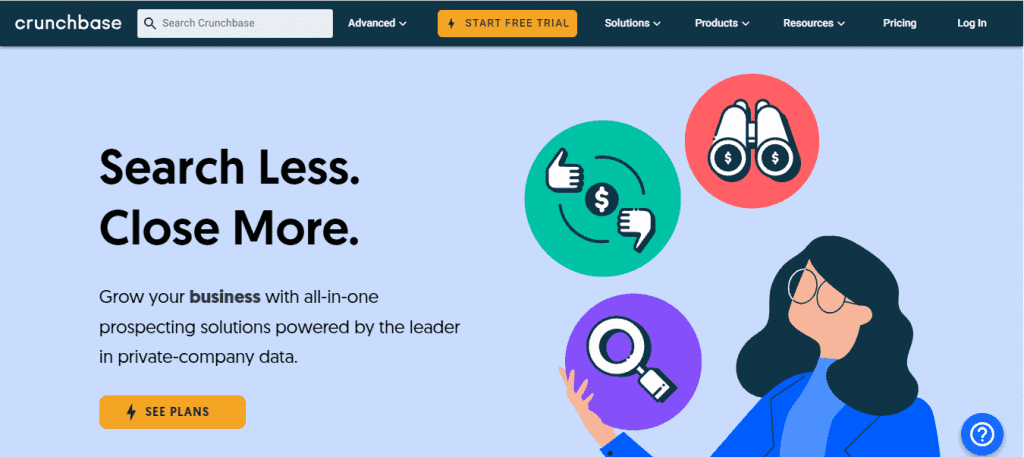 Crunchbase gives you the inside scoop on your favorite companies with their data collection service. The Pro version comes with relevant account recommendations, account qualification tools, and CRM integrations to help you find your next big lead.
Pricing starts at $29 per month for a Basic account of the sales prospecting tools, but you can upgrade to the Pro account, the most popular option, for an extra $20.
Pros:
Good customer service
Provides helpful tools for finding contact details
Extremely easy to use
Cons:
Information can sometimes be outdated
Mobile UI can be improved
DiscoverOrg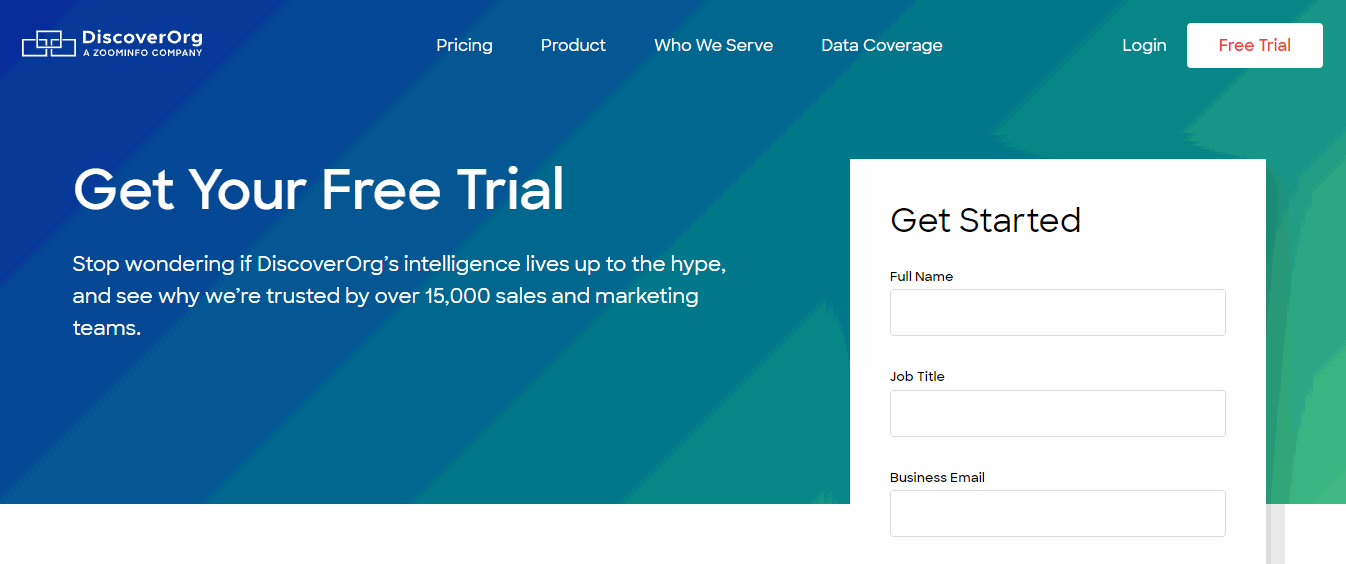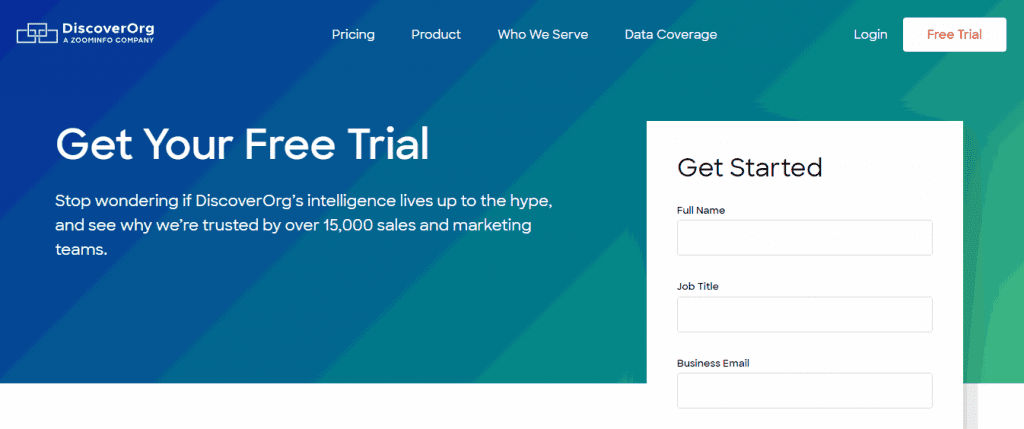 DiscoverOrg is next on our list of the best sales prospecting tools. With access to data, organizational charts, and real-time projects, you'll be able to enjoy plenty of insights.
There is a lot of valuable information that can be collected by conducting competitive intelligence. For instance, it helps your sales team see what changes have been made in leadership strategies and tactics from their competitors, as well as any new appointments or firings within those organizations.
Pros:
Easily integrates with other platforms, like HubSpot CRM
The user interface is extremely easy to navigate
Cons:
Too expensive for many small businesses
AeroLeads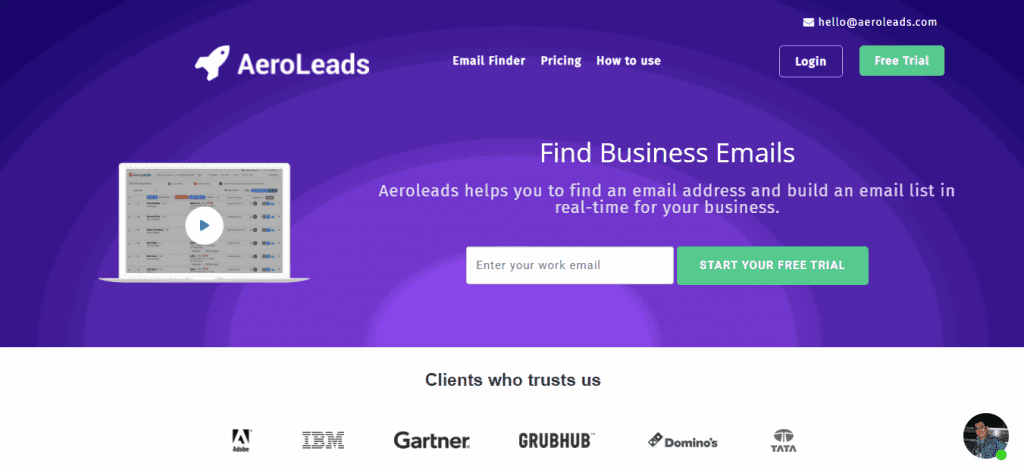 This prospect generation software is a powerful tool for finding the email and phone numbers of businesses and individuals, and it's great for B2B list building.
As one of the best sales prospecting tools, AeroLeads is easy to use. In fact, it's a matter of using the chrome plugin on LinkedIn, CrunchBase, and other websites. You'll receive the business email addresses of decision-makers with the job titles, locations, company addresses, phone numbers, email addresses, and more.
Once your sales teams have the desired data, you can simply import it into CSV or transfer it to other marketing software, which can significantly help with lead generation.
Pricing starts at $49 for a month of service, but there is a free trial if you would like to try it out first.
Pros:
Excellent value for the money
Easy to use
Does not require a lot of tech knowledge
Cons:
Email Verification Tools
The best verification tools are great for verifying phone numbers, email addresses, and more. If you're not sure about the legitimacy of an email address — or whether it's even real — there are many tools available that can help.
UpLead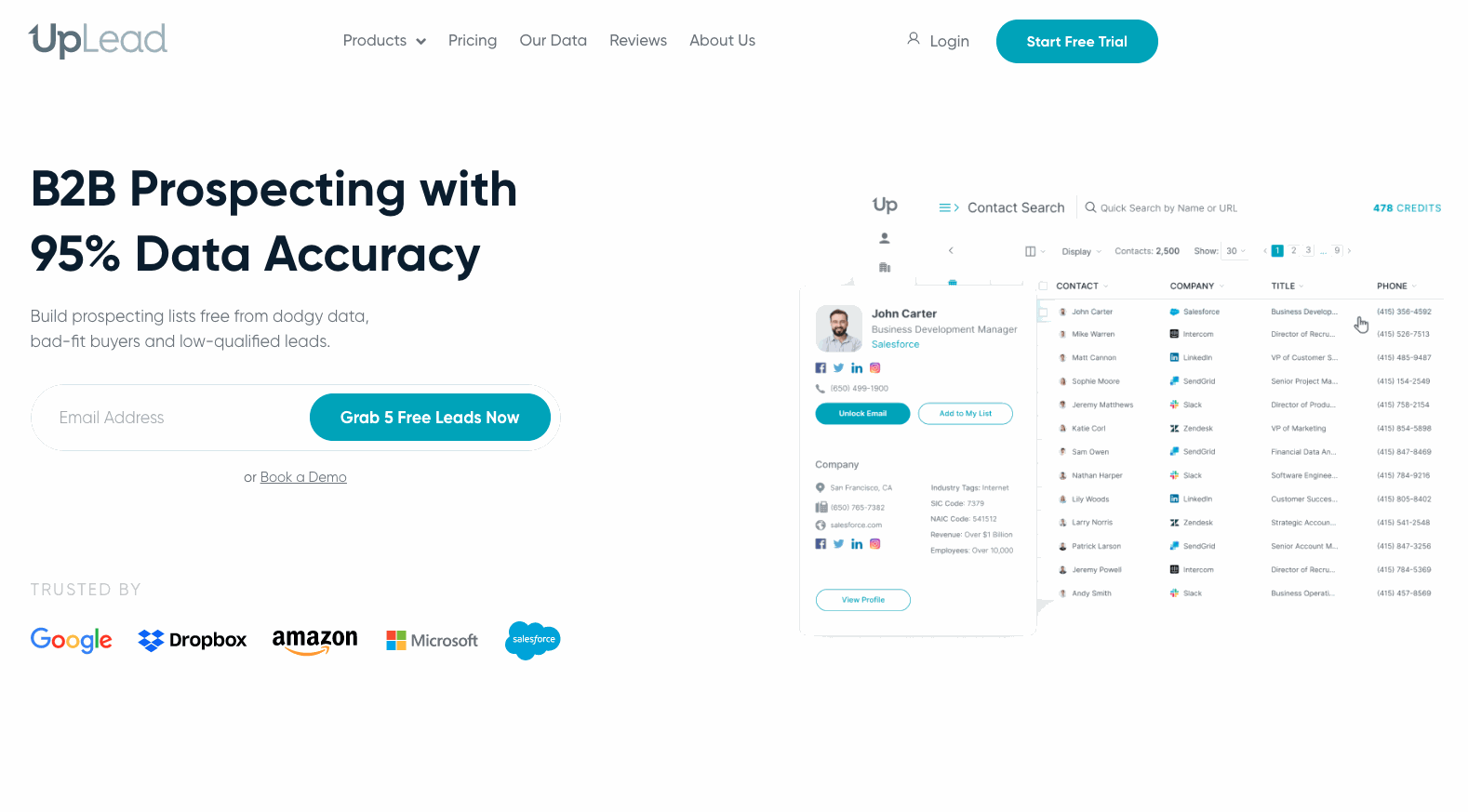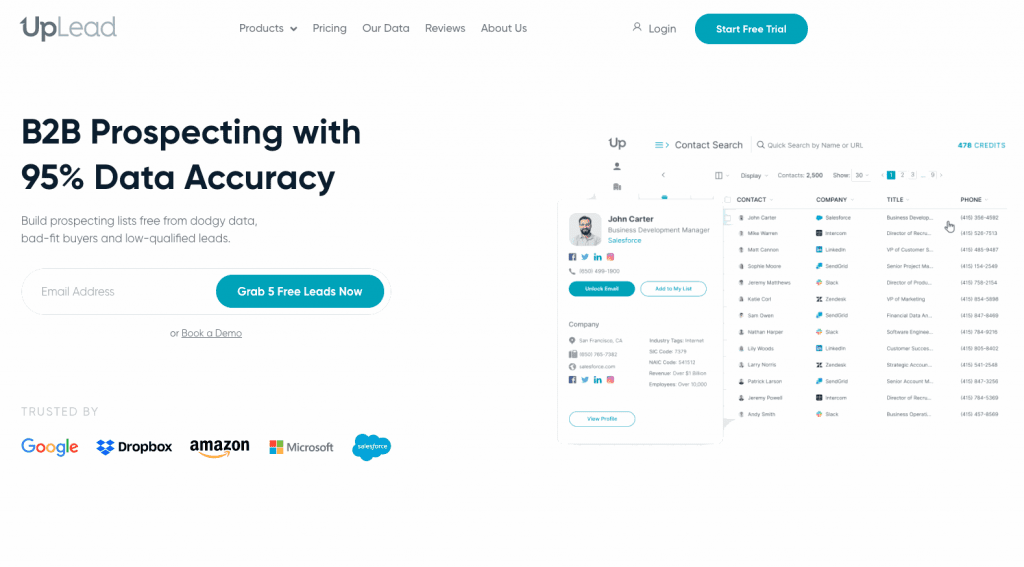 UpLead is a sales and marketing lead generation platform that helps you identify, qualify, target, and engage your future customers through AI-powered automation technology.
We authenticate every email address, so you will spend less time chasing dead leads. If an email address UpLead locates is found to be false, it will not be displayed, and you will not be charged for it.
Furthermore, each email is verified in real time to ensure it's valid and you're not wasting your time.
Pros:
Valid emails have a guaranteed accuracy rate of 95%
Verification is instantaneous
The cost of each verification is as low as $0.003
Cons:
As only verified data is displayed, data can be limited
Start Your 7-Day Free UpLead Trial
Lead generation doesn't have to be all that painful. With UpLead, you can easily connect with high-quality prospects and leads to grow your company.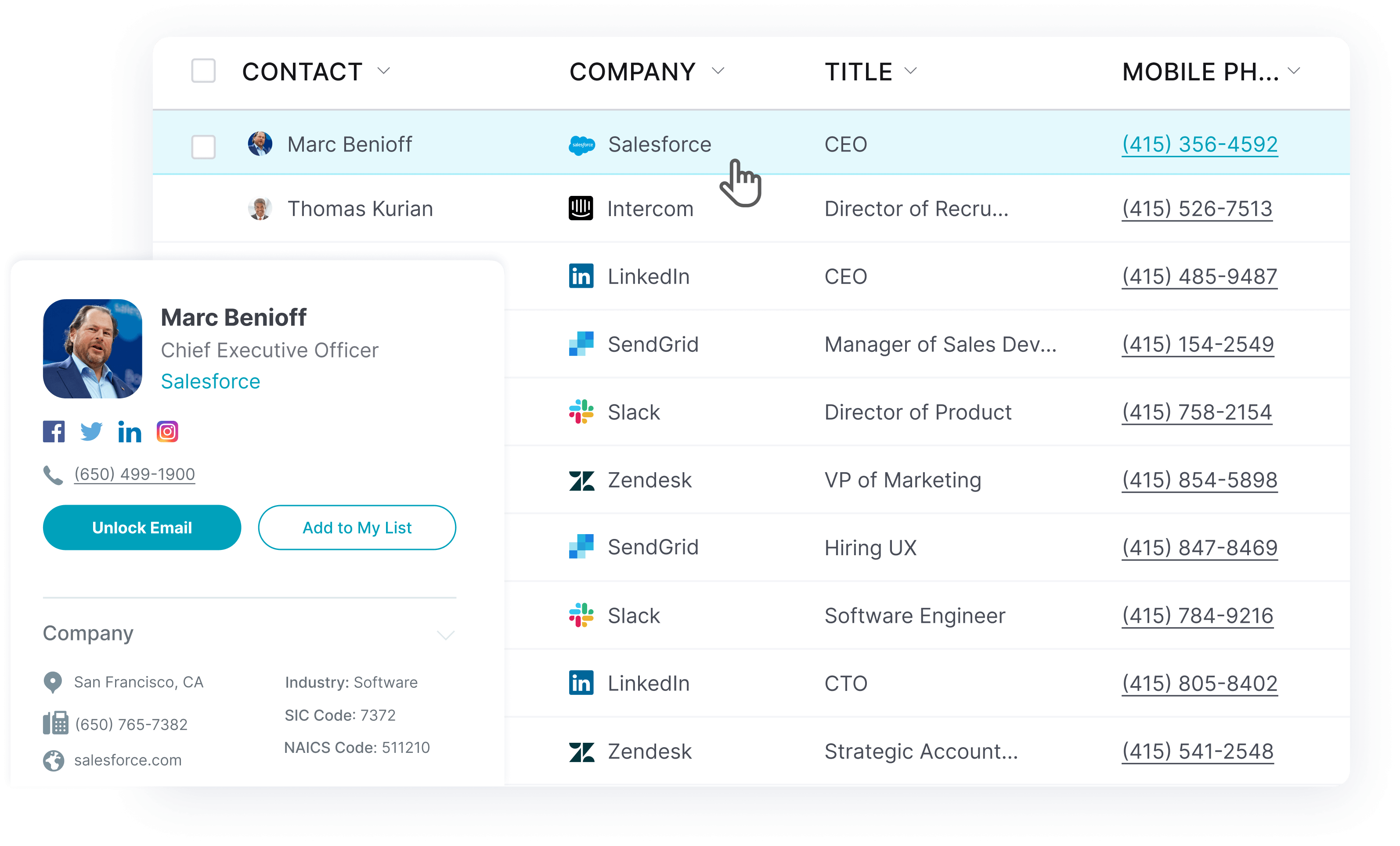 MyEmailVerifier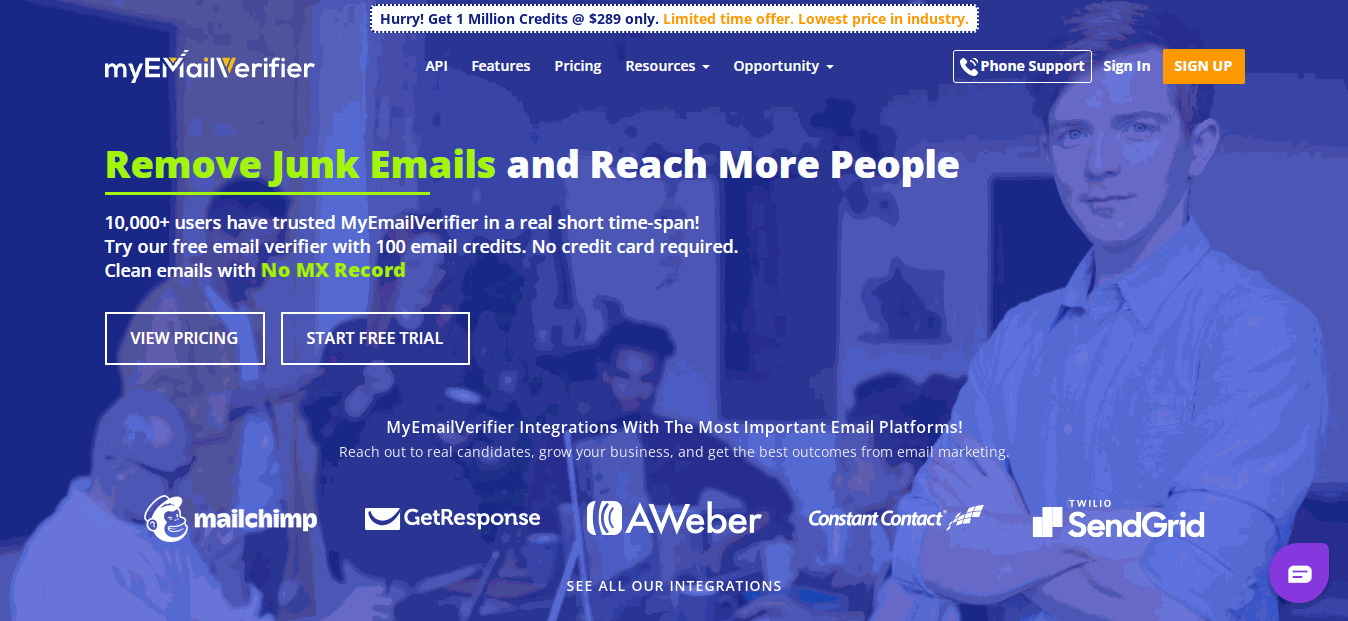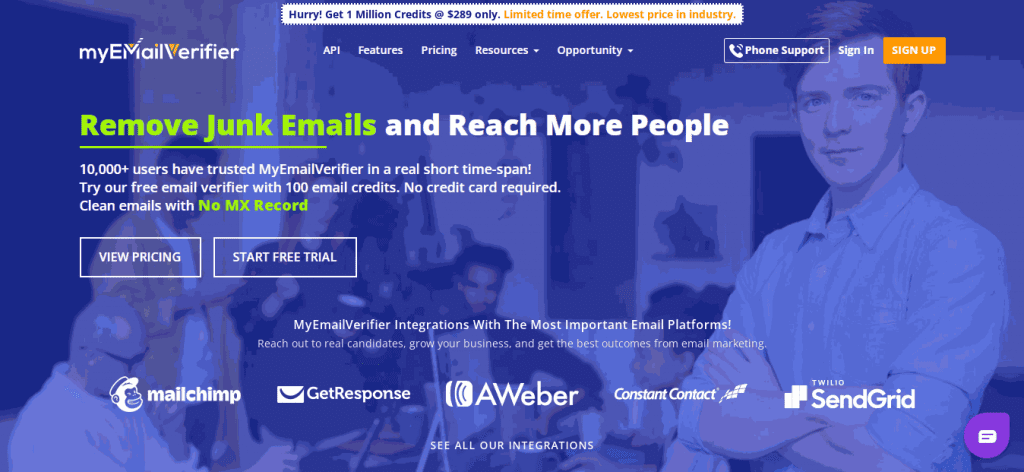 MyEmailVerifier is used for verifying email lists and contact details. It can detect Yahoo/AOL email addresses that have been disabled, which ensures your messages are delivered and protected against spam filters.
The tool has a credits system, which starts at $4.80 per 1000 credits.
Pros:
No large upfront costs
New users are given 100 free verifications
Cons:
Long processing time
The only option is to download results in TXT
QuickEmailVerification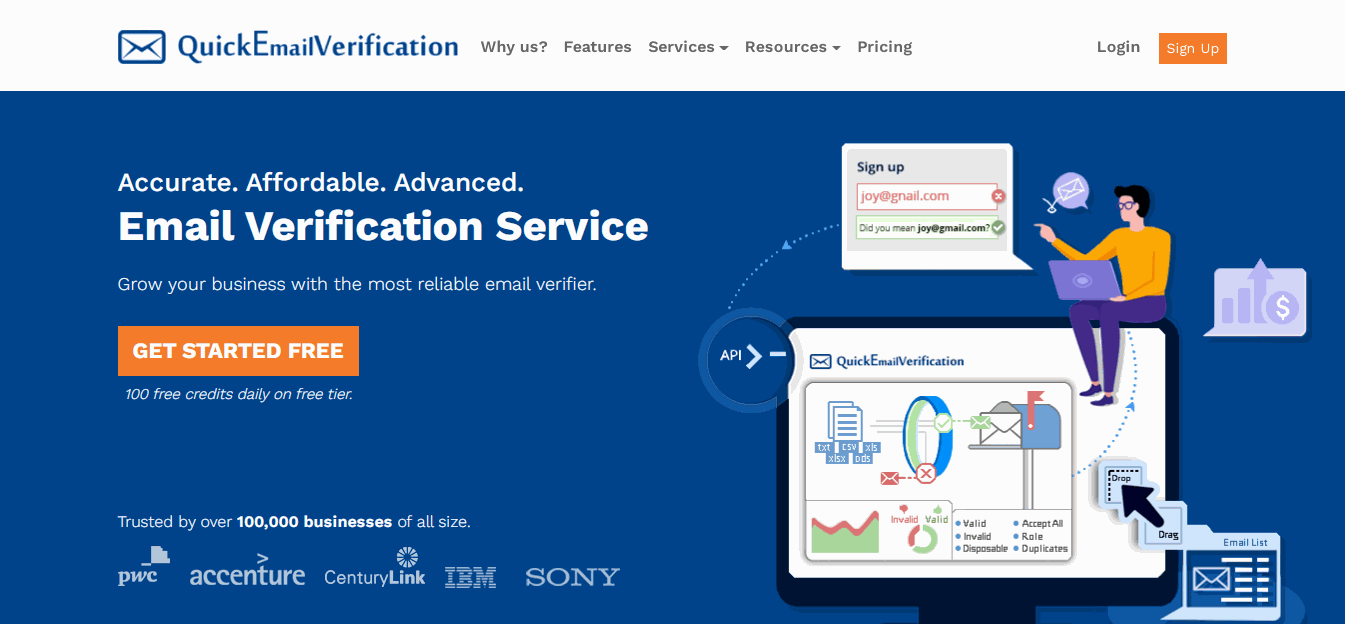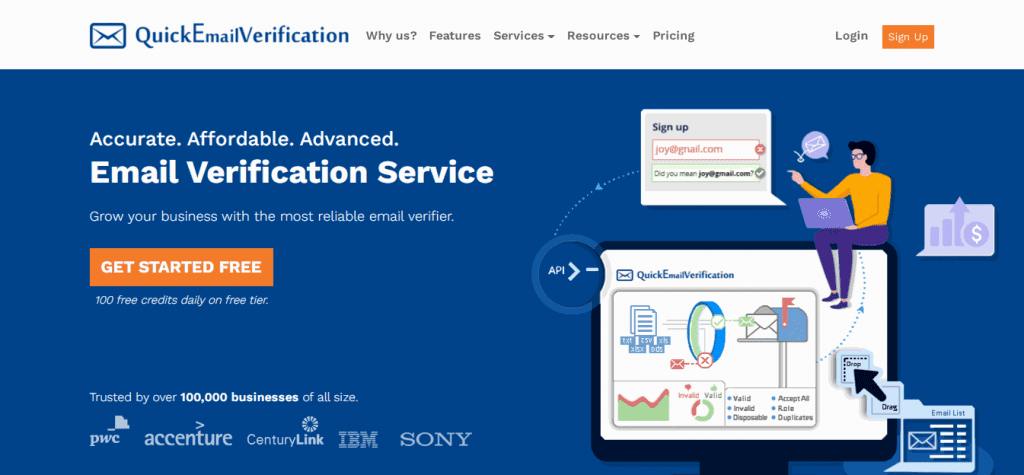 Claiming to deliver 99% of all emails, this is another bulk email verification tool. The platform adapts to email marketers and developers looking for an email verification API that to used in their own systems.
Pricing starts at $4 for 500 email verifications.
Pros:
Can choose to upload results in CSV, XLS, TXT, and XLSX
Cons:
Lack of refund guarantee
Private data security procedures
Clearout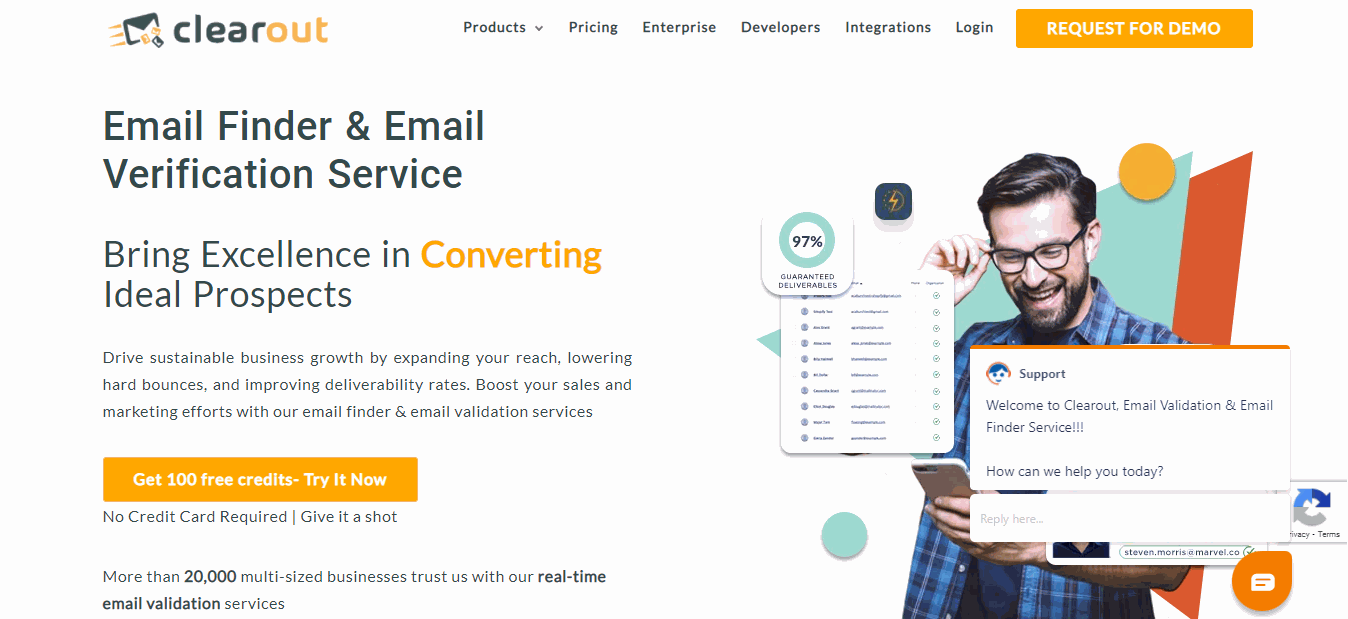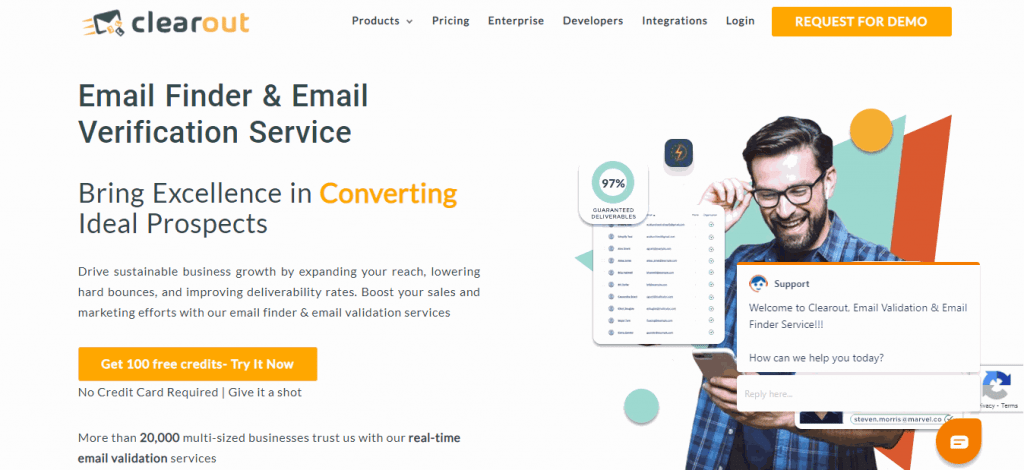 Clearout's software can handle batches of emails at a time, and it does this by following each step needed for full email verification in a clear-cut fashion.
Clearout's integrations mean users can easily verify any list of email addresses. The sales intelligence tools offer an API that developers can use for real-time verifications on sites or apps.
Pricing starts at $16 per month, but the tool gives you 100 credits every month for free.
Pros:
Easy to use
97% verification accuracy
Cons:
No habitual complainer detection
ZeroBounce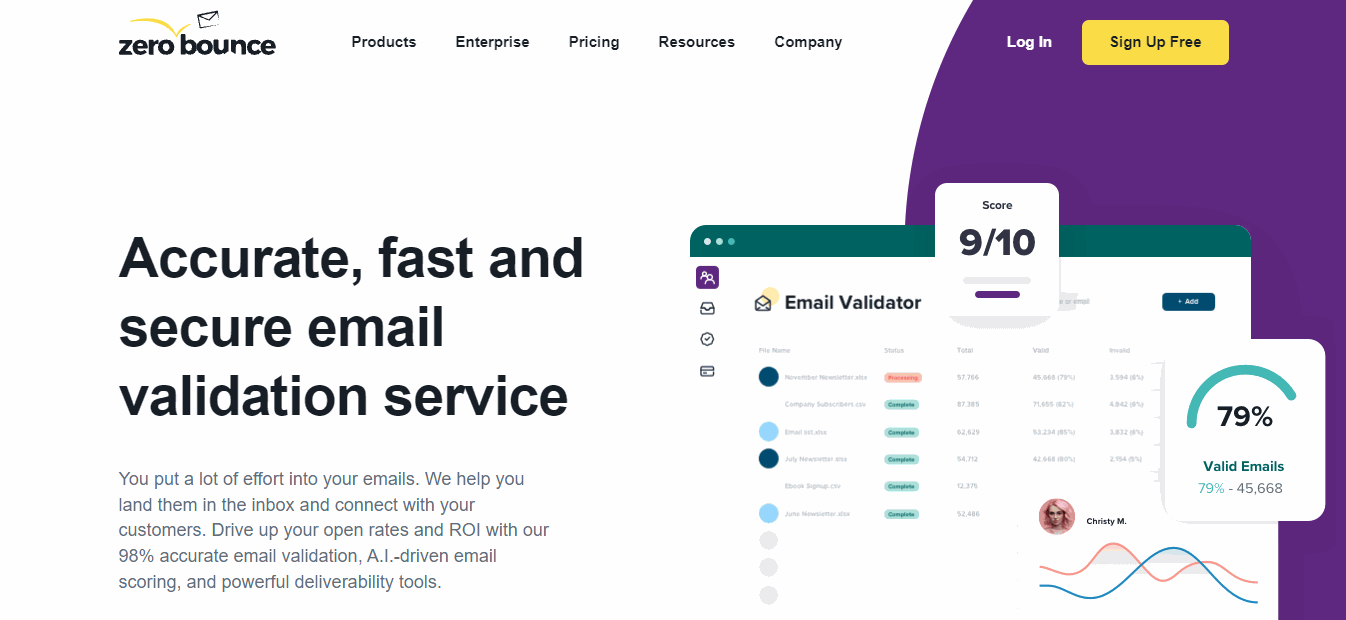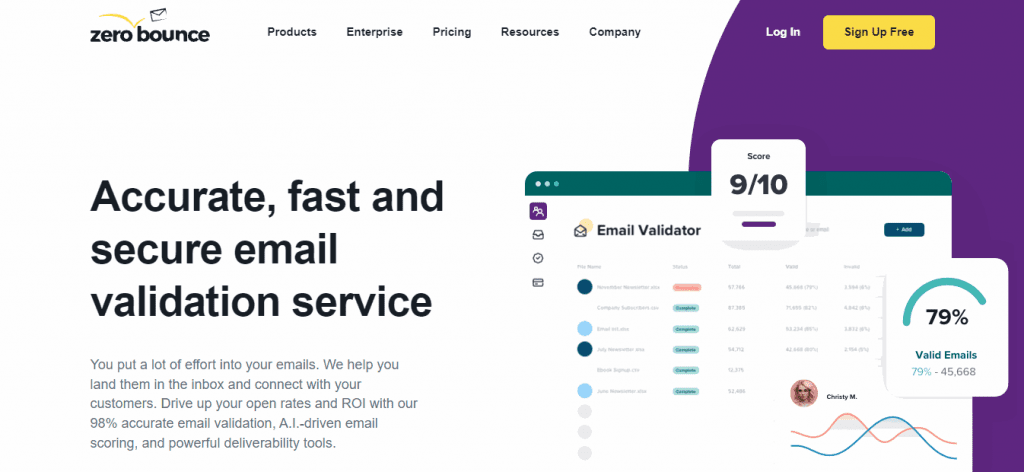 ZeroBounce is a popular email verification software used by many respected companies.
It is priced higher than other tools, but the AI makes it worth it for many sales reps with a larger budget. Their AI works to check against multiple filters and gets rid of spam traps while ensuring email addresses are correct.
The pricing starts at $16 for each 2,000 email addresses you validate.
Pros:
Good security
Inexpensive to get started
Cons:
DeBounce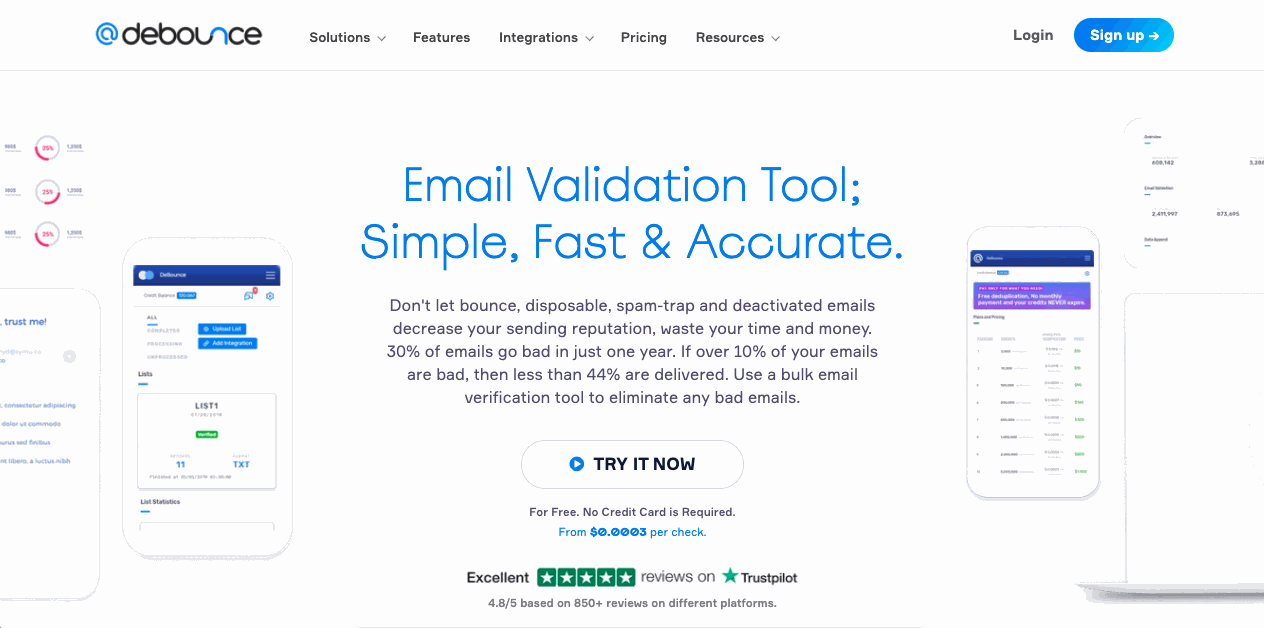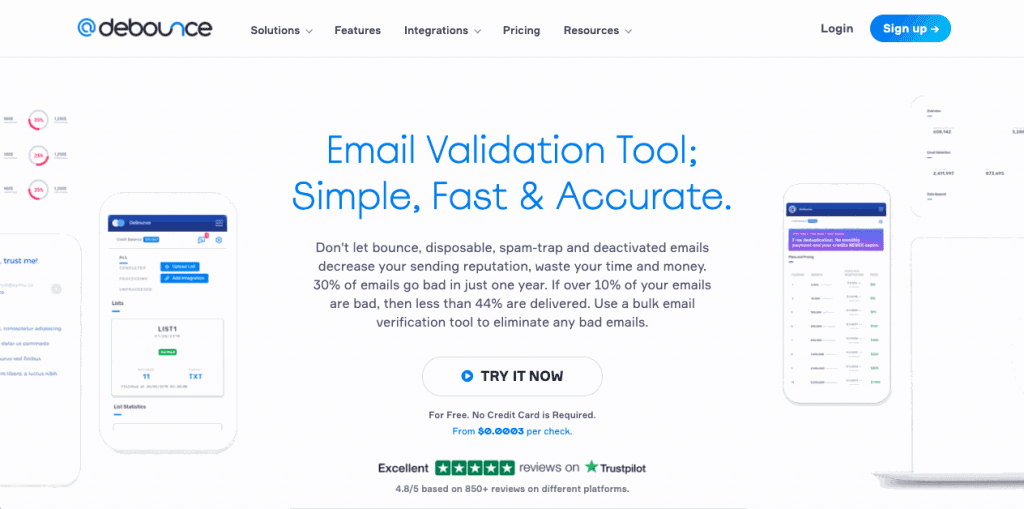 Unlike other bulk email verification services, DeBounce offers unlimited free email verifications through an API, which is great for many businesses. The tool also automatically cleans and consolidates your emails to ensure a more professional and polished look.
The tool runs on a credits system that starts at $10 for 5000 verifications.
Pros:
It's simple to operate
It is cheap/affordable
Cons:
It lacks sophisticated features
Email addresses can sometimes be wrong
NeverBounce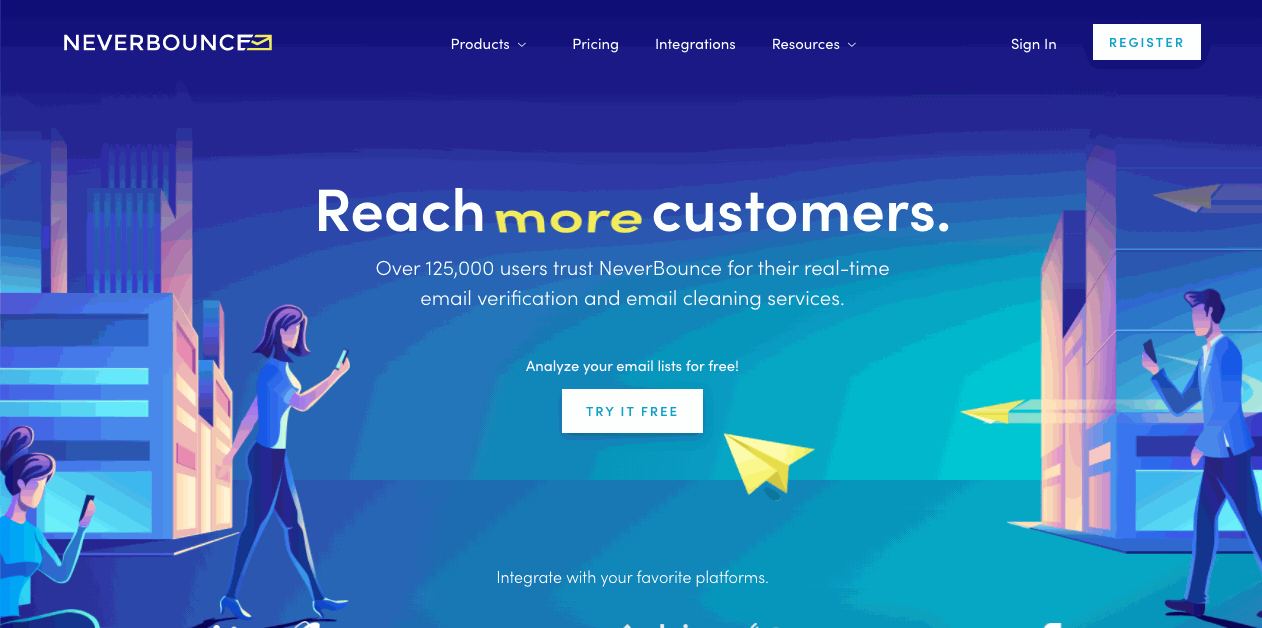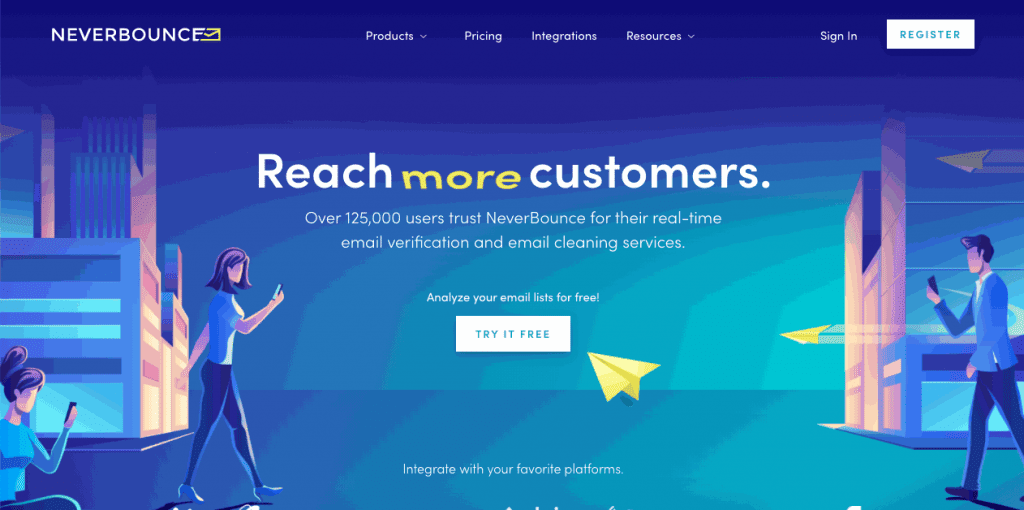 NeverBounce is a new service that allows sales reps to verify an individual's email address in a short amount of time. It integrates with over 80 tools, including Zapier. In addition, you can get up to 1,000 free email address verifications per month.
The tool costs $0.008 per email (up to the first 10,000 emails).
Pros:
Multiple free verifications per month
Comes with an API for developers
Cons:
Users have reported overcorrection difficulties
The tool isn't always accurate
There are similar tools for lower prices
Outreach Tools
Outreach tools are great for reaching out to and connecting with new prospects. These tools range from email outreach platforms to scheduling software.
Email Prospecting Tools
Email prospecting tools are great for reaching out to new prospects and getting them on your email list.
Klenty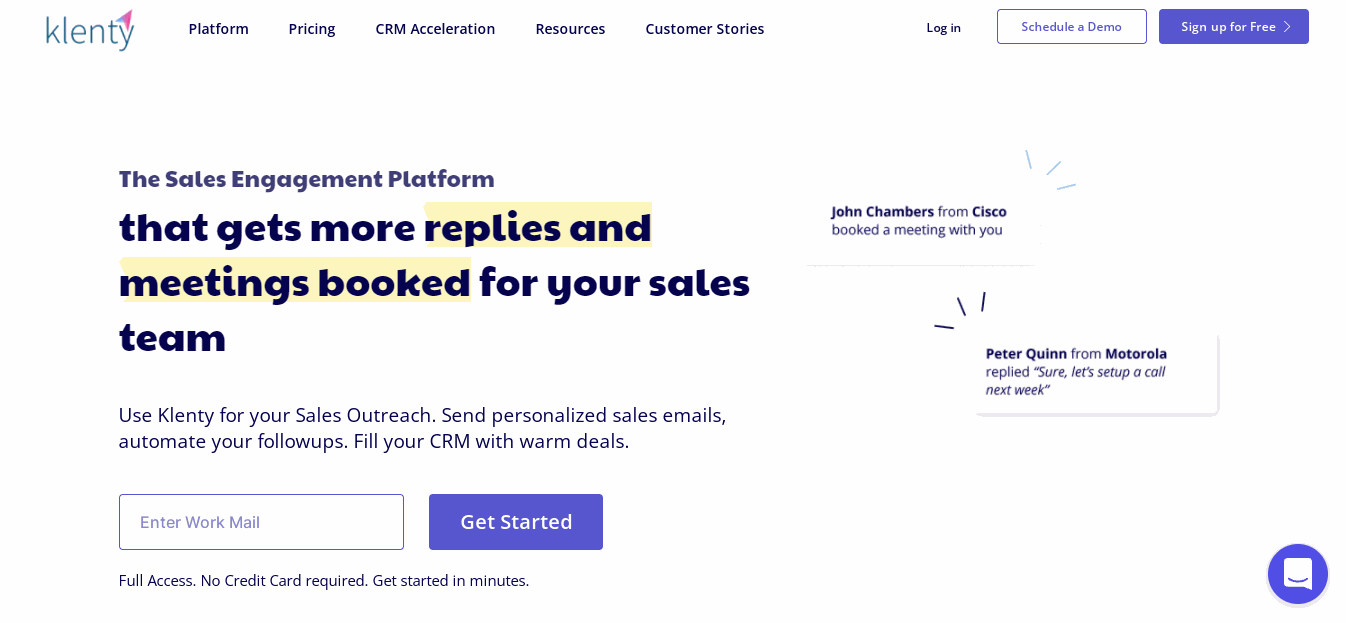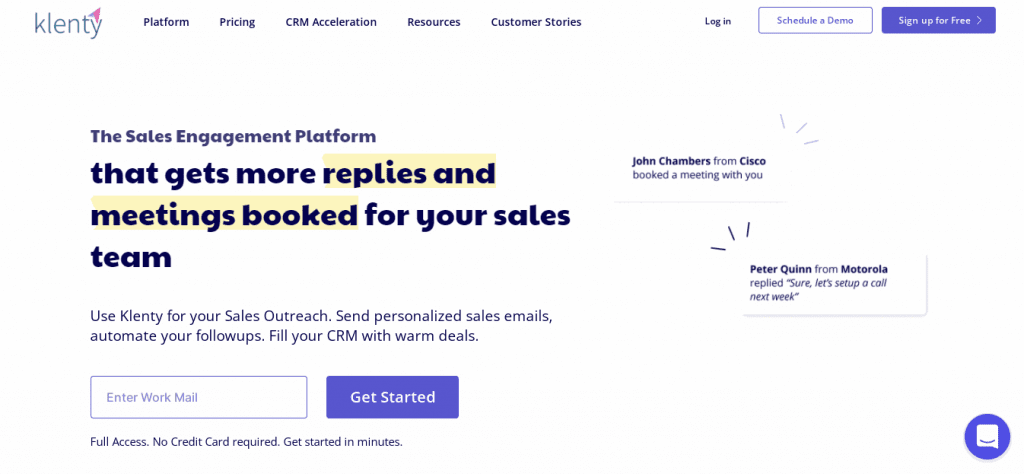 Klenty is a sales engagement platform that helps sales reps reach out to prospects at scale. The emails and automated follow-ups are customized for each unique customer, so you can send them exactly what they want.
The cold email software has three different pricing plans to meet your needs. The cheapest plan is just $30/month, whereas the premium "Venti" plan will set you back $100/month.
Pros:
Affordable plans
UI is easy to use
Kenty emails appear to have been individually written
Cons:
Would be better with more filters for reporting
One or two glitches from time to time
You must upgrade to the higher plan for Salesforce integration
Overloop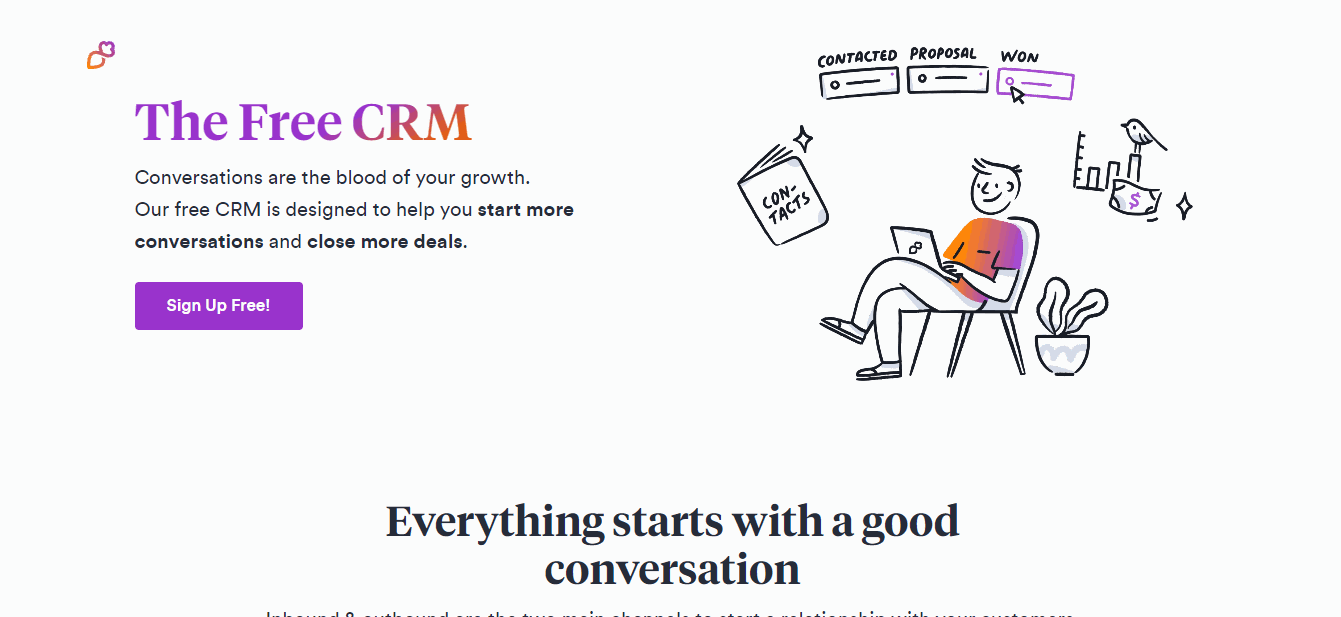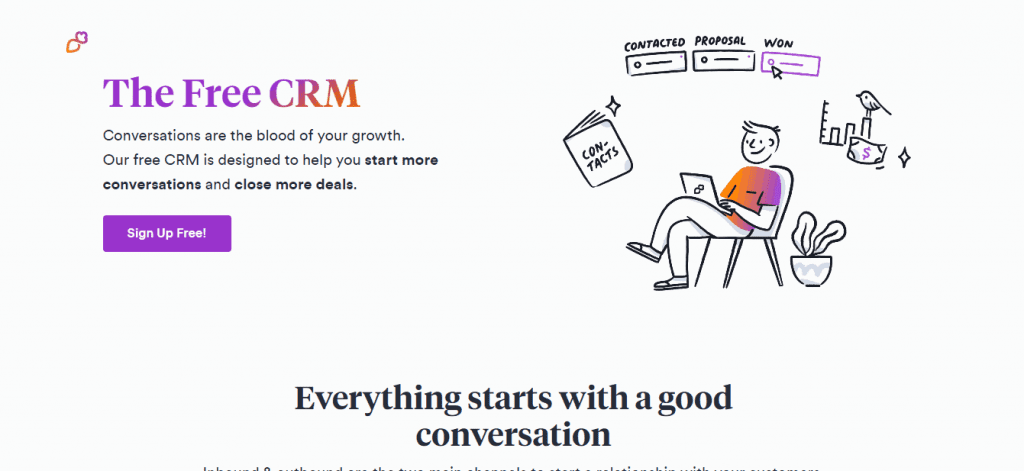 Overloop is a powerful tool for prospecting efforts, allowing you to build email lists and send campaigns with measurable results. The tool comes with a Chrome extension to find email addresses, or if you import your own addresses, they will verify them for you.
The tool has a credits pricing structure that starts at 1,000 credits for $99/month. This ranges up to 100,000 credits for $1,699/month, which allows you to find the perfect amount for your business without wasting resources.
Pros:
Integrates well with all current CRMs
Clear and easy to use UI
Cons:
It can sometimes slow down
Customer support could be better
Reply.io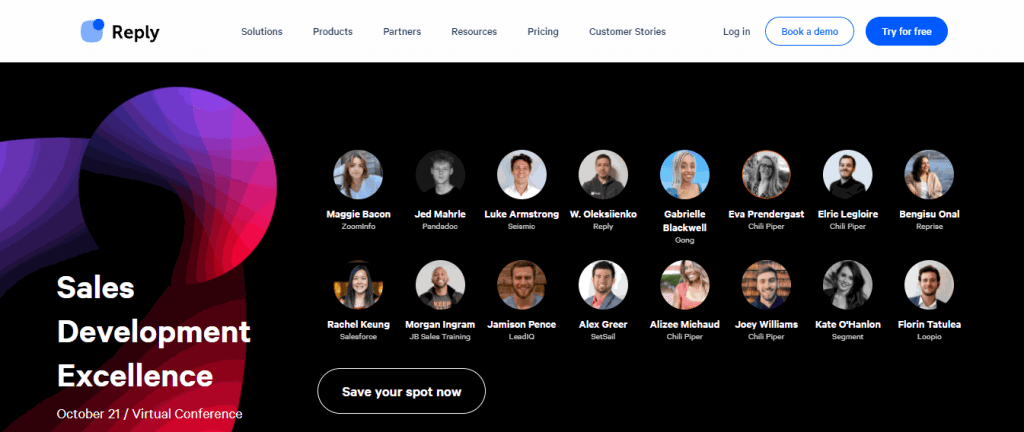 Reply.io provides the tools you need to engage with customers and prospects on their preferred communication channel. It automates follow-up, improves customer experience across channels, and increases conversion rates by providing personalized messages tailored for each lead — all while scaling like never before.
You can also log all activities to your CRM automatically. The app will track progress and create reports for you, so there are no more spreadsheets or lost records.
Features with a monthly subscription cost $70.00 each. Unfortunately, they do not have a free version. However, they do offer a free trial, so your sales reps can test out the tool before buying.
Pros:
Reasonable pricing
Easy to create tailored and personalized templates
Works automatically and seamlessly
Cons:
Support service could be better
Takes a while to set up
Mailshake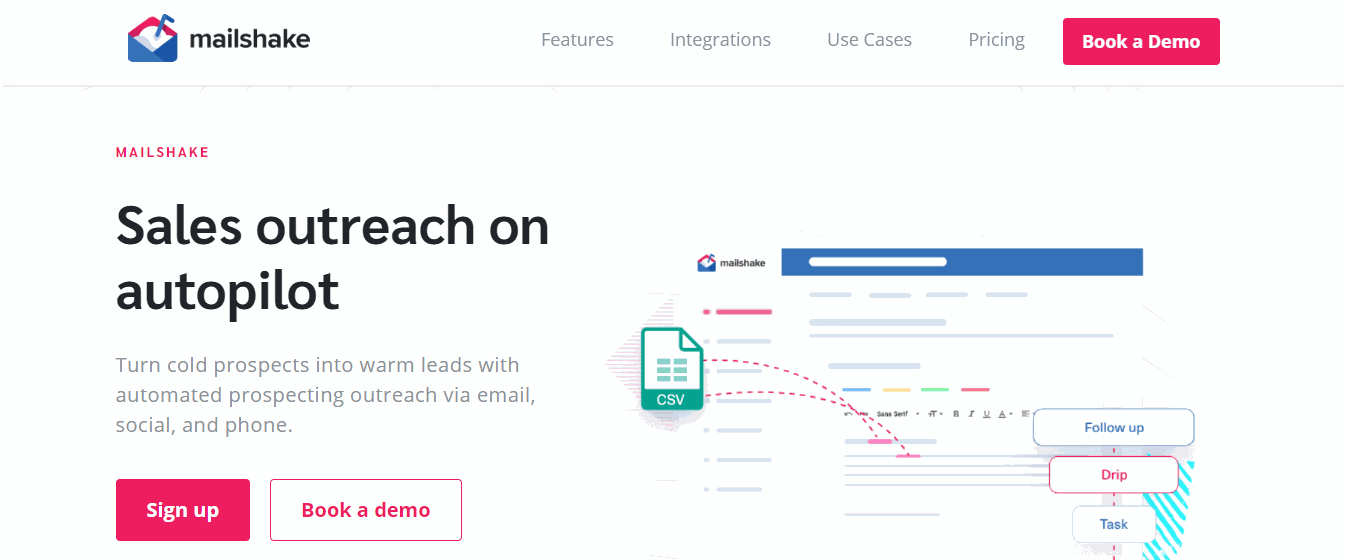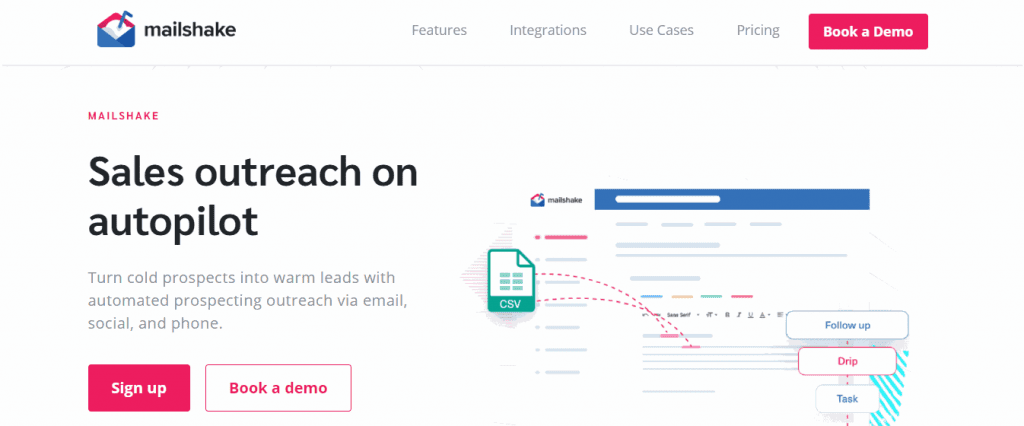 Mailshake is an automated sales engagement platform that sends targeted cold emails to prospects through your existing email software solution. With Mailshake, you can connect with all major providers for a low monthly fee.
If you're spending too much time on email outreach, MailShake could be worth the money. It's particularly useful for sales reps who have campaigns that need constant follow-up or send hundreds of emails every day.
MailShake is only useful if you already own a great email list. It is not an all-in-one tool. Instead, you'll need to build your own email list. The good news is that the integration between Salesforce and MailShake is fantastic.
The tool starts at $44 per month for their email outreach plan.
Pros:
A straightforward interface that's simple to use
The cost is reasonable for the features provided
The program's unique real-time analysis technology helps you avoid spam filters and get your emails read by consumers
Cons:
Salesforce is the only CRM integration option
The Mailshake campaign review, which is available as an add-on, could be more effective
LinkedIn Prospecting Tools
LinkedIn prospecting tools are great for reaching out to your ideal clients on LinkedIn. They are also great for researching new prospects and finding contact information.
LinkedIn Sales Navigator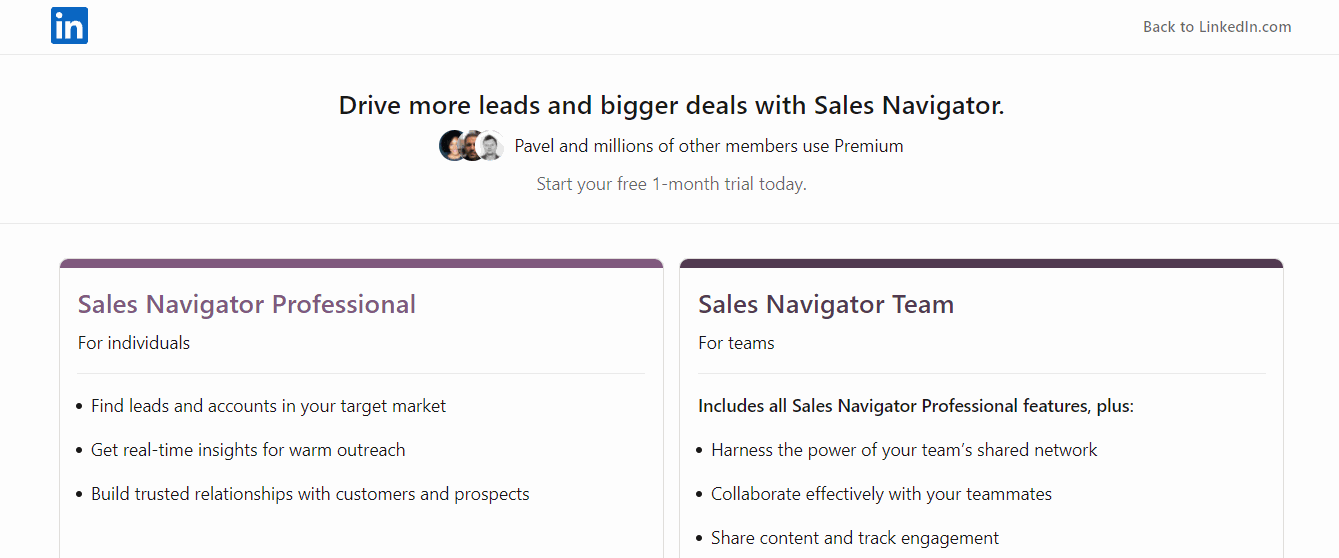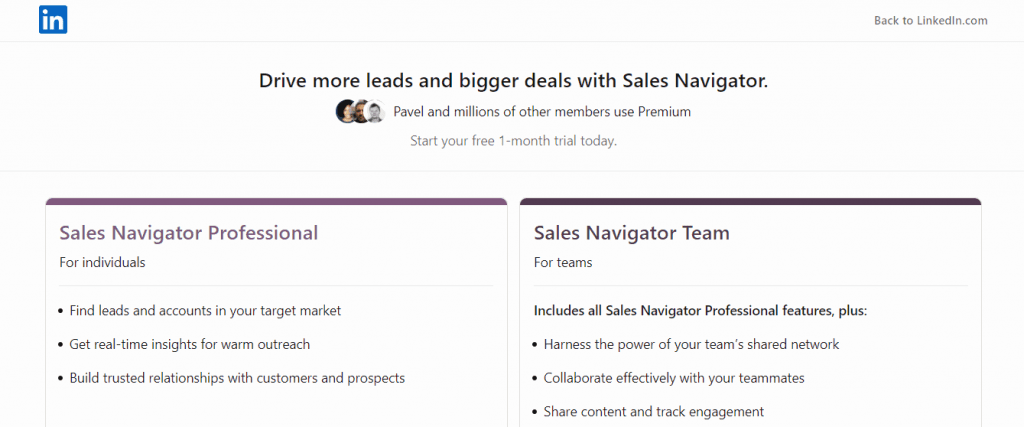 LinkedIn has evolved to become the ultimate platform for professionals looking to build their businesses. The LinkedIn sales navigator is an essential tool to help you find prospects, get introductions with potential clients, and maximize your visibility on LinkedIn so everyone will know what great work you do.
The tool is $99.99 per month to use, but there is a free trial to test the tool before you purchase.
Pros:
The search tool is excellent for hunting down high-quality leads
The content it offers, combined with InMail, will assist with the outreach effort
It makes LinkedIn more user-friendly and easier to use
Cons:
The individual LinkedIn sales navigator plan is not very affordable
If you aren't using LinkedIn on a daily basis, it isn't worth it
The features will be overkill for many
Dux-Soup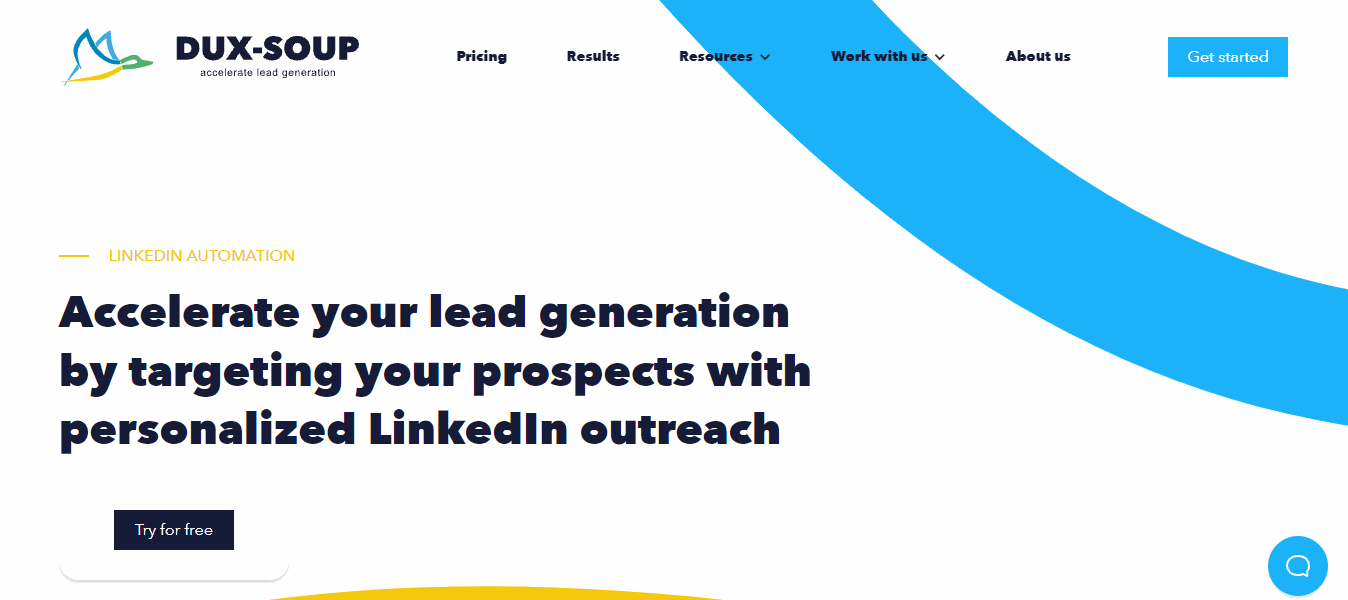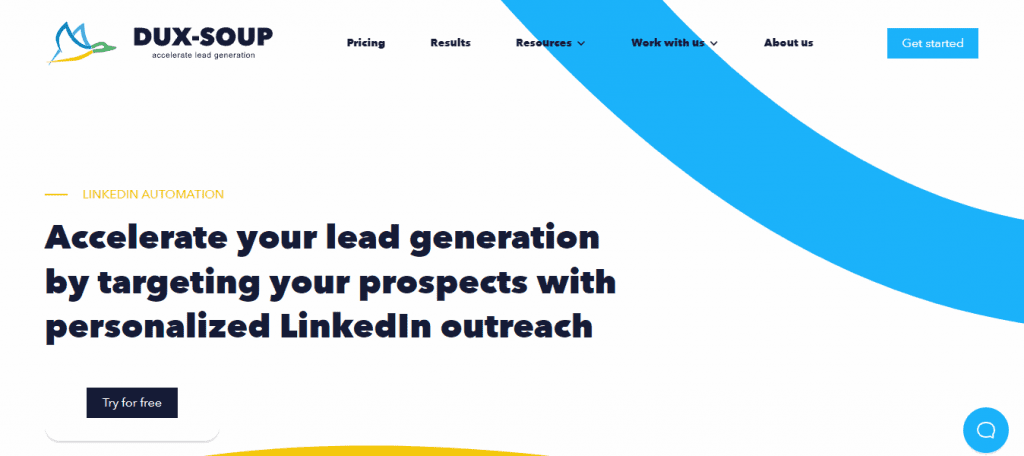 Dux-Soup automatizes the process of connecting with targeted LinkedIn prospects so you can spend more time focusing on what really matters — gaining access to potential customers' networks. Prospects are endorsed, sent connection requests, and given personal messages.
The price is split between three plans, which are Starter (free), Professional ($14.99), and Turbo ($55.00). This means the tool is ideal for those who want to spend less than $50/month on LinkedIn prospecting tools.
Dux-Soup provides a 30-day money-back guarantee, so you can try it out risk free.
Pros:
Price is affordable for all
Helps with scaling your outreach on LinkedIn
It's simple to use and offers continuous performance while you're away
Money-back guarantee for 30 days
Cons:
Potentially not allowed according to LinkedIn's ToS (could get your profile banned)
LinkedHelper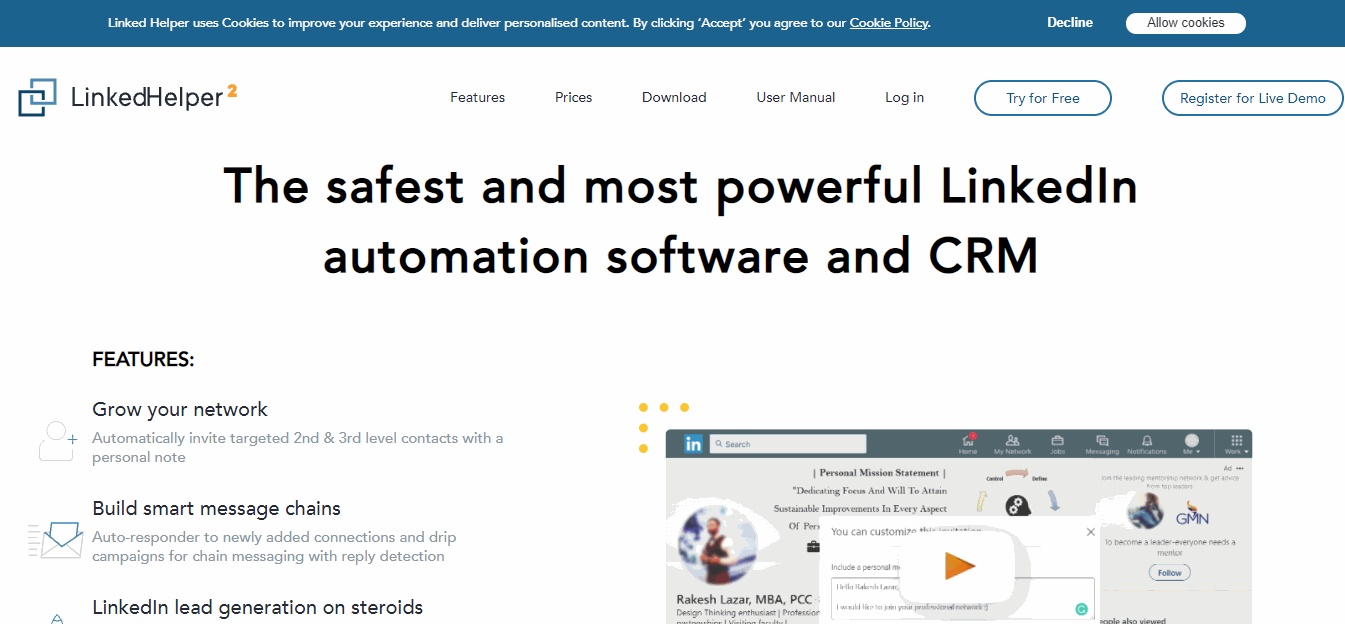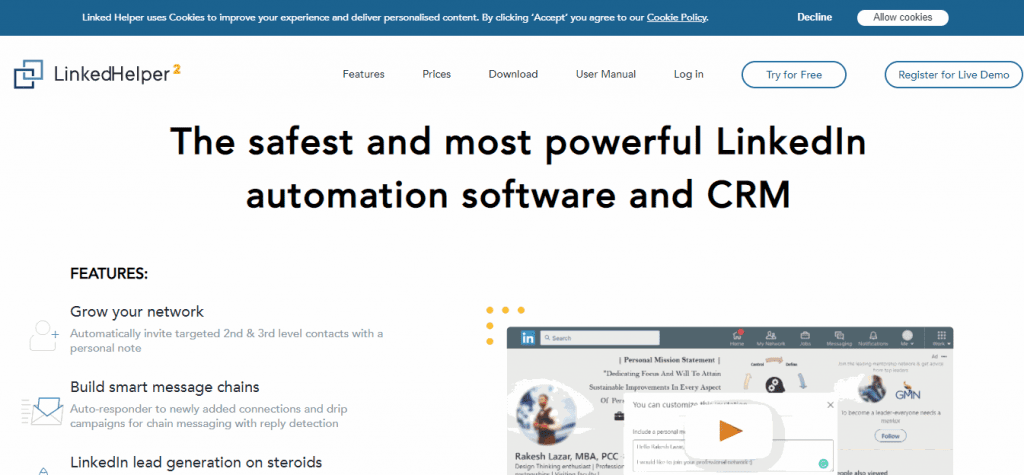 The LinkedHelper Chrome plugin is a great way to automate your LinkedIn connections and messages. This easy-to-use tool may be used to invite individuals to connect, message first connections, and create autoresponders for new connections.
At just $15/month, this tool offers great value for the money and is perfect for mid-sized businesses with a small team.
Pros:
It's great value for the price, especially given that you can try it out free of charge
The plugin works on Chrome browsers with no need to download additional software
It offers many features while staying simple enough to use right away
Cons:
Its functions go against LinkedIn's terms of service
Expandi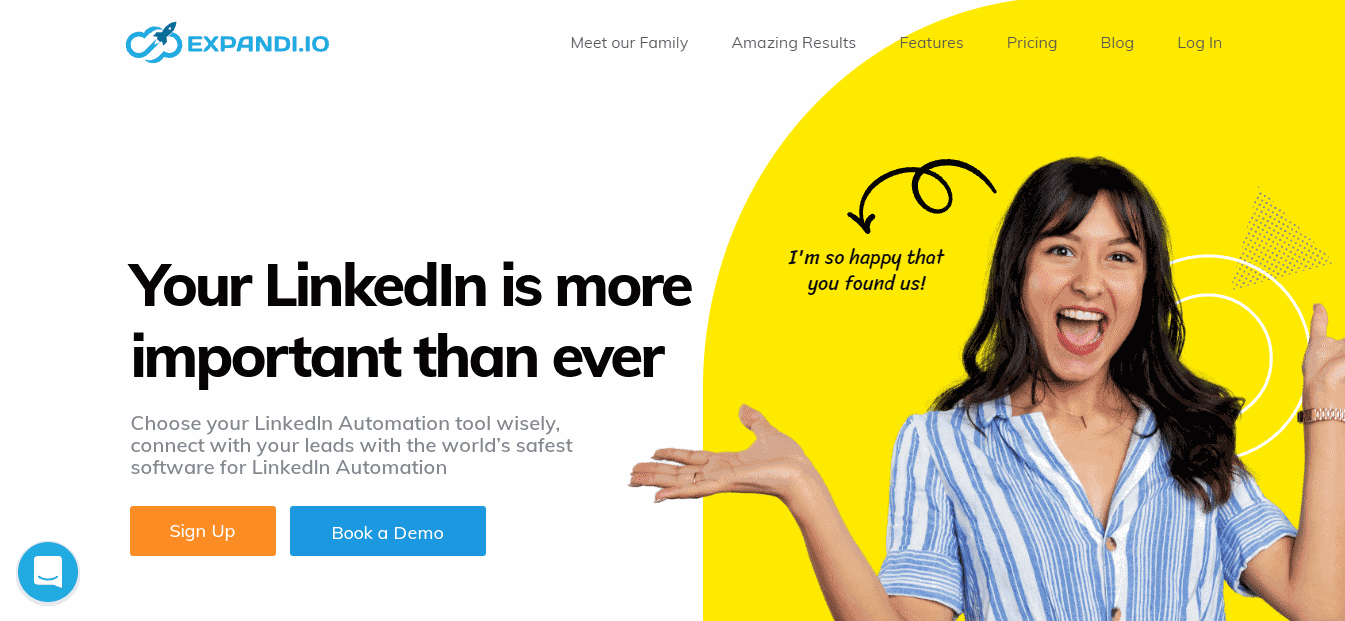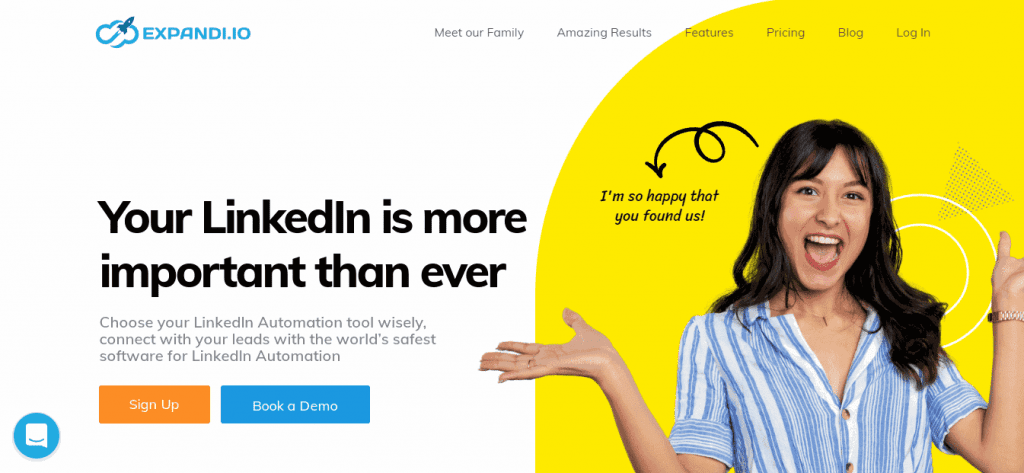 Expandi provides a way to automate the process of generating new leads for your company on LinkedIn. The tool takes information about who you are and what kind of business or organization you have in mind. It then refines its search so only people with similar preferences come up as potential prospects.
Expandi costs $99 per month.
Pros:
Cons:
Poor-quality support
Limited features
Puts your LinkedIn profile at risk of being banned
What to Consider When Looking for a Sales Prospecting Tool?
There are lots of great tools on the market for identifying and reaching out to new prospects, but it's important to make sure you choose one of the best sales prospecting tools that fits your sales pipeline and sales process. Some things you might want to consider include:
All-in-one vs. best of breed
The first step is to determine if you want to buy one of the sales prospecting tools that does everything or one that specializes in just one niche area. For example, if you simply want to prospect using LinkedIn and scrape company data from Facebook, it might be best to buy a single tool that is the best at what it does.
On the flip side, sometimes buying an all-in-one solution is the ideal choice. For example, maybe you need to verify email addresses and build an email list, so you would prefer to have all of your prospecting, research, etc. needs to be met by a single tool.
Channels
The next thing to consider is the channels you want your prospecting tool to cover. For example, maybe you are only concerned with LinkedIn, or perhaps email outreach is more important for your business goals.
Automation vs. Manual
The next thing to consider is how much automation you want. Some of the best sales prospecting tools have a high level of automation, while others require more manual work on your end — especially when it comes to outreach.
Tracking and Reports
The best sales prospecting tools have some sort of built-in reporting system. This way, you can track your outreach and see which channels are most effective for reaching new prospects and then focus on those.
Integrations
You'll want to see if the tool integrates with any of your other tools. This can help simplify things and ensure everything is in one place (instead of having multiple pieces that need to be used separately).
Now it's time for you to go out there and find the best sales prospecting tool for your company!
Frequently Asked Questions and Answers on Sales Prospecting Tools
We get a lot of questions about these types of tools, so I wanted to list some frequently asked questions below:
What is a sales prospecting tool?
A sales prospecting tool is any software that helps you identify new prospects and get in touch with them. This can be through email outreach, phone number verification, and more.
How do you create a prospect list?
There are many ways to create a prospect list, but most people use a combination of tools and strategies in their sales pipeline. Some common ones include:
Cold calling companies
Gathering information from a company's website or LinkedIn profile
Sending an email outreach campaign with help from a sales prospecting software such as UpLead
Using a web scraper to find email addresses
Using a tool like ZoomInfo to gather contact info and other details about a company's employees
What are the best sales prospecting tools?
No two sales teams need exactly the same thing. Here's a list of some different types of tools and some of the best sales prospecting tools for each category.
Lead Generation Tools: UpLead
Verification Tools: MyEmailVerifier
Outreach Tools: Mailshake
Research Tools: ZoomInfo and Crunchbase
Social Prospecting Tools: Dux-Soup
Scheduling and Meeting Coordination Tools: Calendly and Doodle
Conclusion
In conclusion, there are loads of great sales prospecting tools on the market for reaching out to new prospects. However, it's important to make sure you choose the best sales prospecting tool for your business needs, so be sure to do some research first.
Start Your 7-Day Free UpLead Trial
Lead generation doesn't have to be all that painful. With UpLead, you can easily connect with high-quality prospects and leads to grow your company.