As a sales manager, you've got one task: selling products or services to people. Sounds easy. Sell some of the stuff here and a few units to reach your quarterly goals. But, of course, it isn't that simple – especially if you don't know much about your potential customers. Let's face it, without having the right data about your prospects and best-in-class sales intelligence tools, you won't sell anything.
That's the reason why sales prospecting software is indispensable to sales teams and businesses today. These technologies help you collect, analyze, and present vital information to assist you and your sales teams in keeping up to date with new leads and insights.
For example, sales intelligence technology supports you by generating and prioritizing lead lists for businesses. Additionally, most of the available sales intelligence tools help you track relevant company changes by alerting you, as a salesperson, to the opportunities in your target companies and increase B2B sales.
In this article, we take a detailed look at 17 of the best sales intelligence tools to grow your business. So, let's jump right in!
The 30 Best Sales Intelligence Tools
1. UpLead – Build Targeted Prospect Lists
Companies such as Salesforce, IBM, and Amazon use UpLead to access its lead database of more than 108 million verified B2B business contacts in 200+ countries worldwide. UpLead is a powerful B2B data provider and a sales intelligence tool that lets you build targeted prospect lists.
Start Your 7-Day Free UpLead Trial
Lead generation doesn't have to be all that painful. With UpLead, you can easily connect with high-quality prospects and leads to grow your company.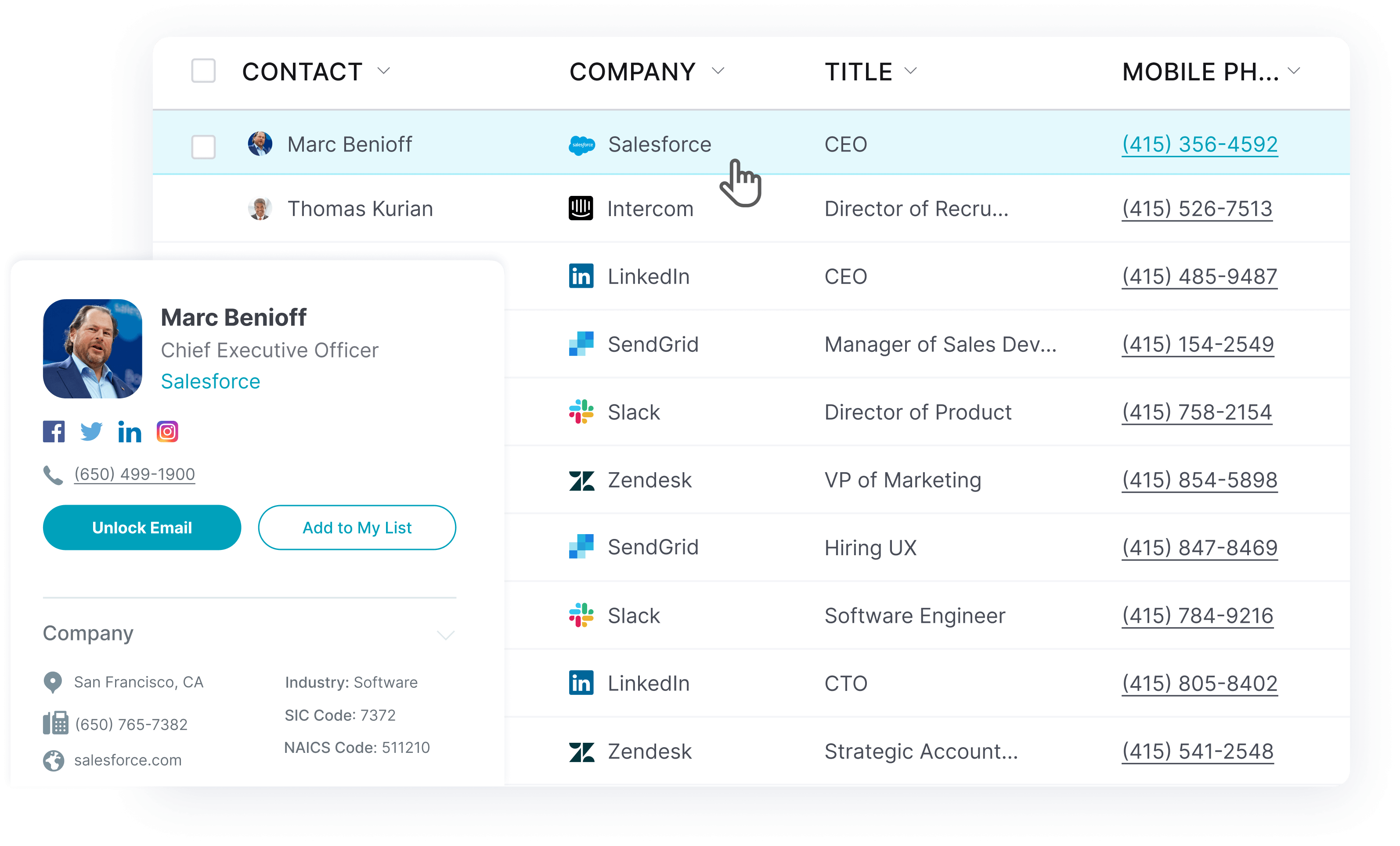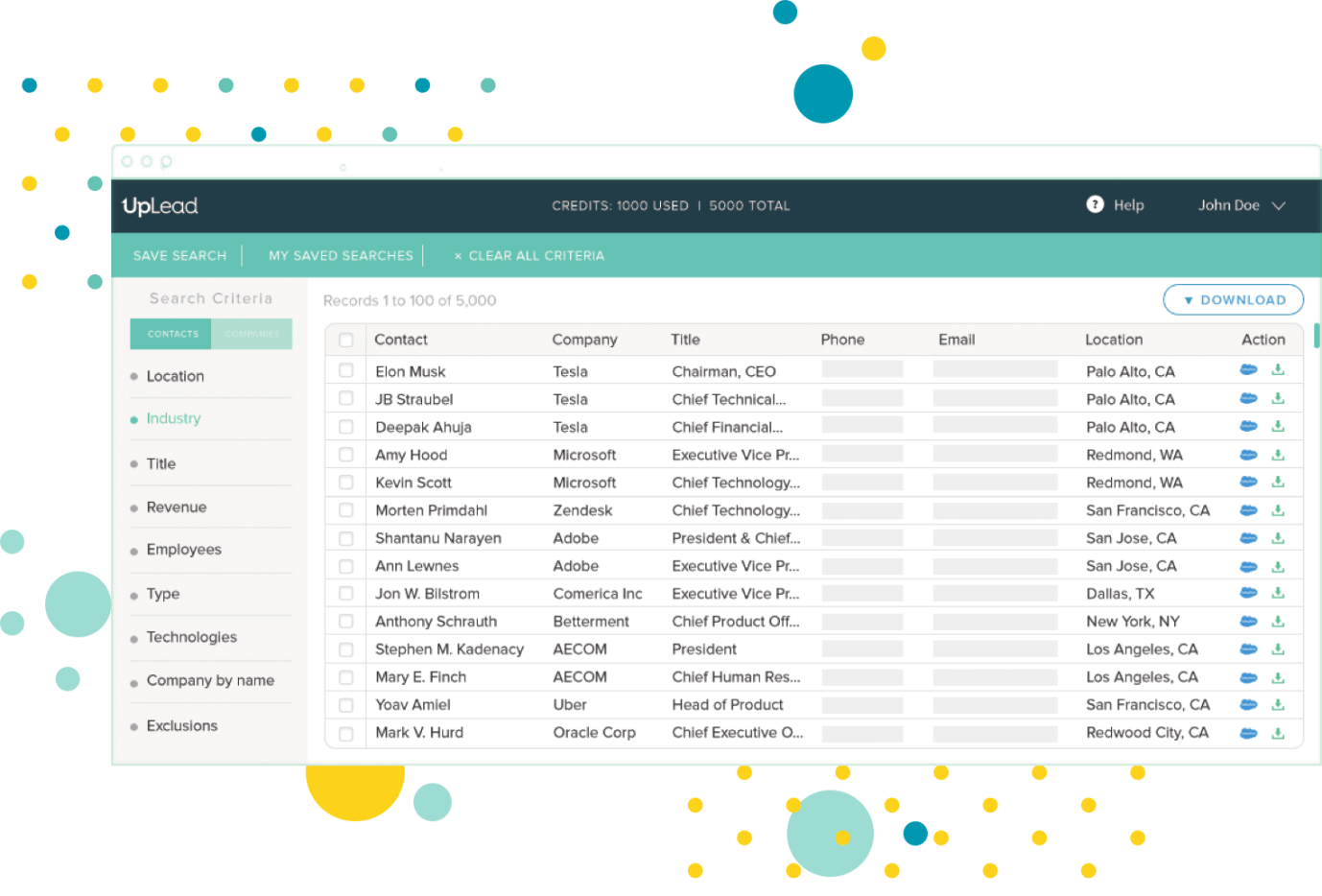 Targeted prospect lists in UpLead
You can search for prospects by using over 50 filters, such as job title, technologies used, revenue, company's location, and the company's size, to get the right data to boost your sales efforts.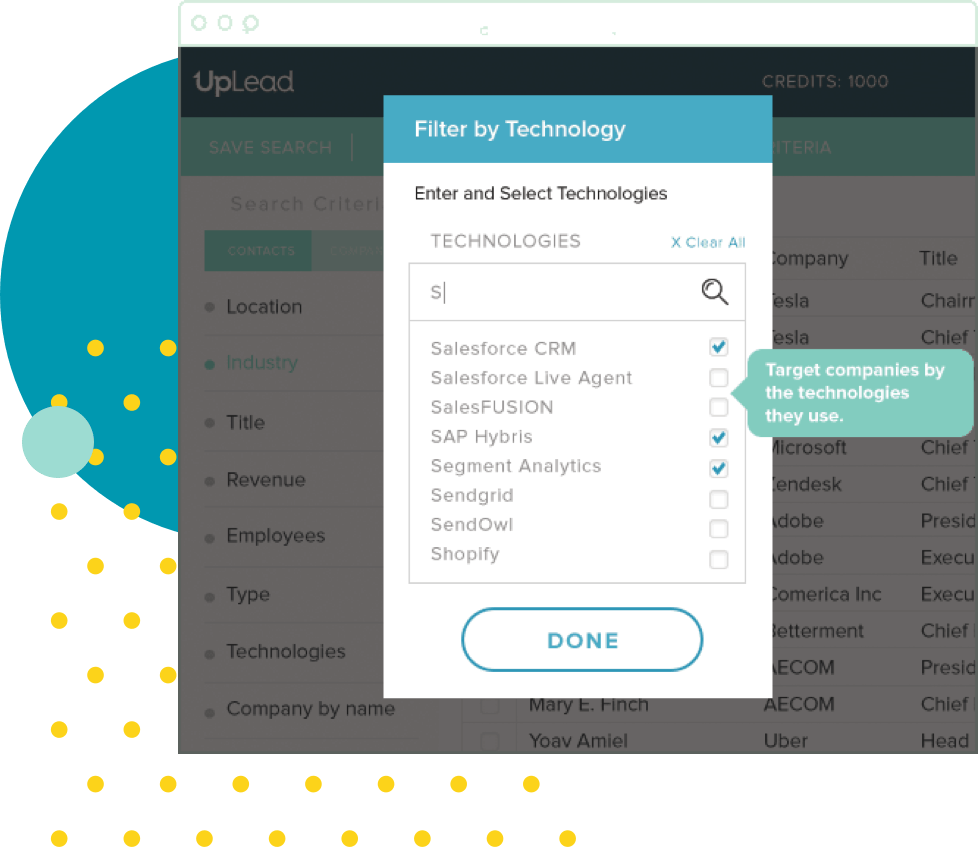 Technology filters in UpLead
You're probably wondering if all of this data is up to date. It is. UpLead has built-in real-time email verification. Each time you export a lead, the email address is verified. In this way, you can ensure that you only reach out to validated contacts. Additionally, UpLead integrates with major CRM providers such as HubSpot, Salesforce, Pipedrive, Zoho, Microsoft Dynamics 365, Outreach, Reply, Woodpecker, Mailshake, Lemlist, Copper, Nimble, Insightly, and others.


Some of UpLead's integrations
UpLead is the right pick for you if you want to build targeted and verified prospect lists to connect you to the right contacts.
We charge $99/month for our basic plan, $199/month for our plus plan, and $399/month for our professional plan. Check out our pricing page to learn more.
2. Winmo – Find the Right Contacts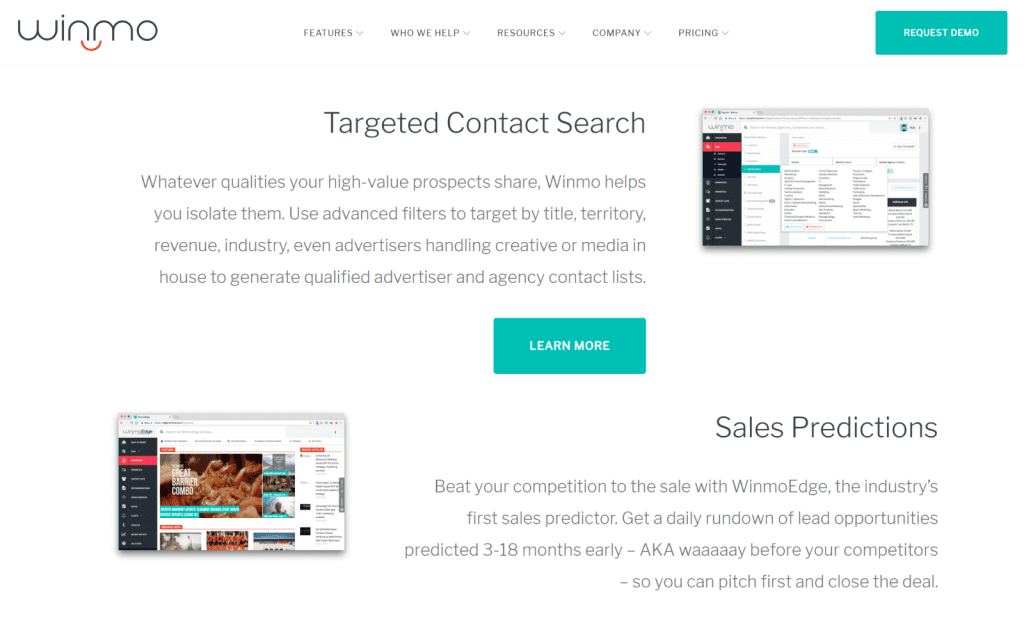 Winmo allows you to easily find the right person to contact using its targeted contact search. It's a versatile sales intelligence tool with a lead database regularly updated and populated by its team of researchers. They don't use any bots, and all work is done manually.
Additionally, WinmoEdge provides you with sales prediction functionality that can inform you early about potential sales opportunities. You can also set up specific alerts and recommendations to avoid missing any hot leads.
The software provider doesn't provide any information about the costs on the pricing page, so you'll need to request it if interested.
3. Datanyze – Learn More About Your Competitors' Tech Stacks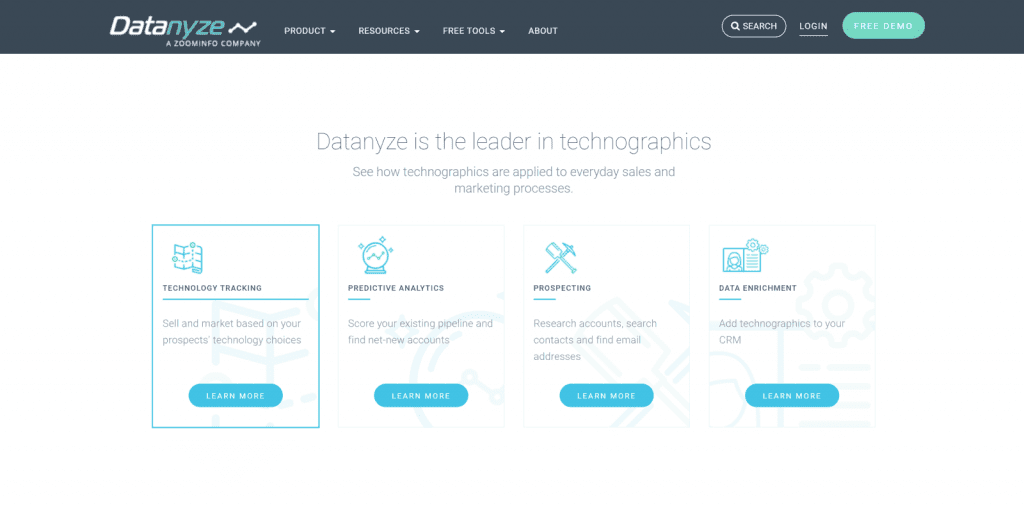 Datanyze is built for sales and marketing leaders. They mention on their website that they're the leader in technographics. Another new buzzword you never heard? Don't worry. Basically, they provide useful information about your prospects' tech stacks.
For example, they help you to understand what kind of live chat solution YAHOO! is using or what content management system Product Hunt is built on. Additionally, Datanyze lets you analyze your best customers and provide you with similar prospects (based on their technology and further attributes).
You can also search based on different filters and enrich your existing contact information.
Unfortunately, we can't provide you with any information about the costs, but you can request it on their website if interested.
4. Clearbit – Enrich Your Records Without Any Hassle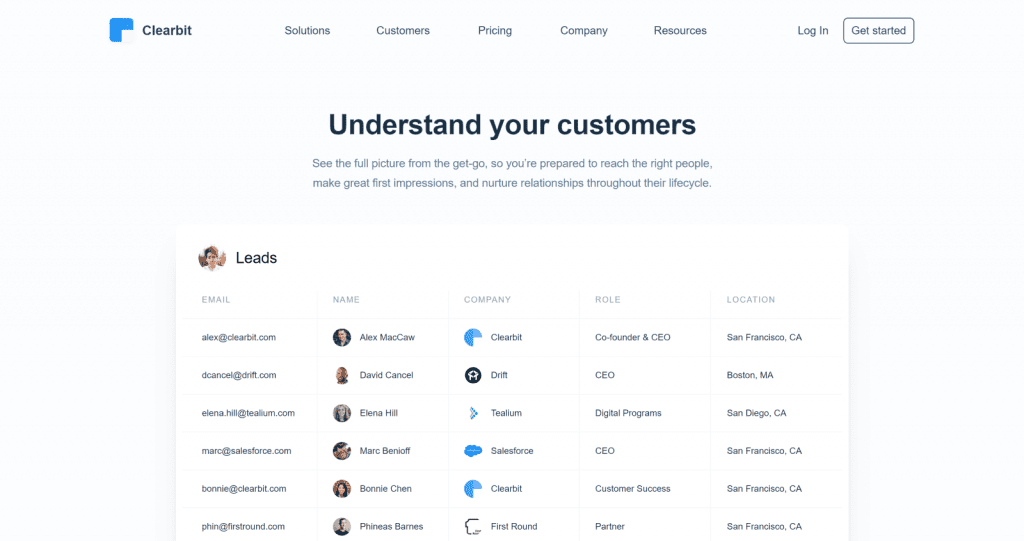 Clearbit offers four main products. Enrichment (Enriching existing contacts), Prospecting (Finding new contacts), Reveal (Translating your website traffic into contact data), and Forms (Autofilling your forms based on your visitors' email addresses and contact information).
Prospecting and Enrichment can be especially useful services for sales managers.
Enrichment allows you to enrich your available contacts, for example, in your CRM, and add relevant information, like company size, number of employees, or funding. Prospecting might be the right fit for you if you're struggling to generate enough leads. It lets you build targeted prospects lists so that you can focus on closing deals.
Enrichment starts at $99 (for enriching 1,000 contacts) per month. Prospecting, integrated with Salesforce, starts at $12,000/year.
5. Detective – Learn Everything About Your Prospects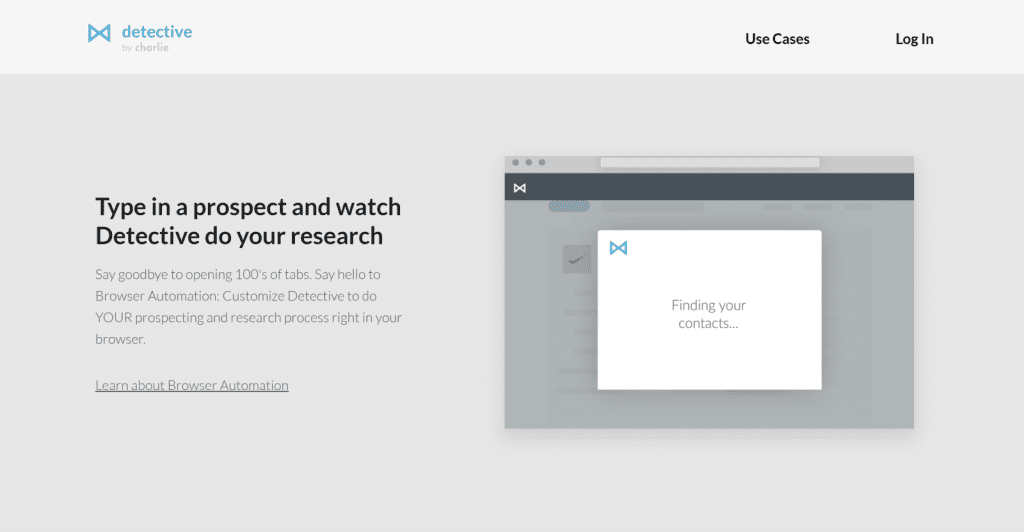 The name says it all. Detective is a sales intelligence tool that ascertains all your prospects' little secrets (and sales triggers). For example, it tells you if you've already done business with your lead's competitors. Pretty helpful for your next sales call, right?
And not only can you use this data for your cold calling session – but it also allows you to send personalized emails at scale.
As is often the case, you'll have to request a demo to learn more about their pricing.
6. HQ Data – Get Reliable Email Lists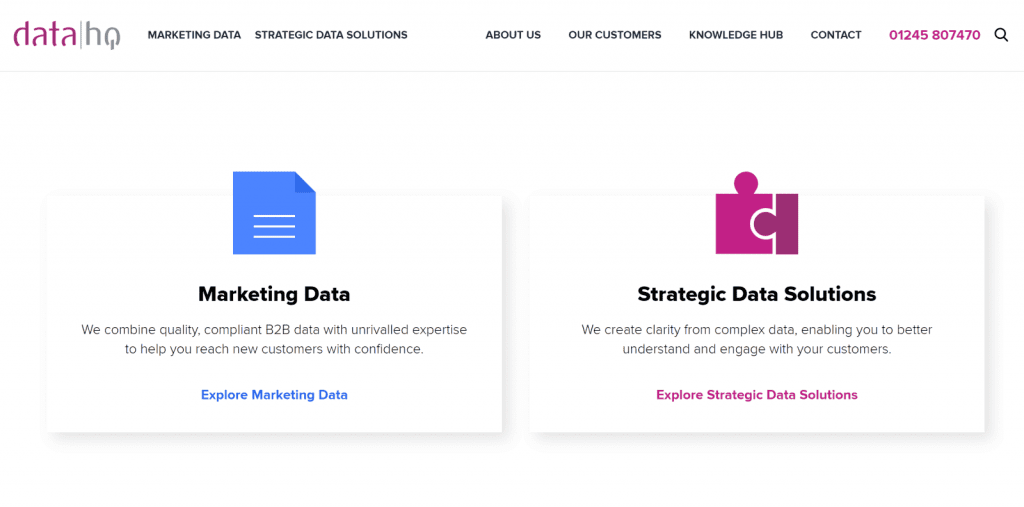 If you're about to run out of leads, HQ Data's mailing list feature might interest you. You can search for your ideal prospects and build reliable lead lists based on different filters (such as company size or household income).
Additionally, HQ Data helps you understand your existing customer data to derive the right learnings and decisions. The sales intelligence tool also assists you in contact segmentation and campaign management.
The mailing list service starts at £150 per 1,000 for one contact information channel (postal, email, or telephone).
7. DiscoverOrg – Receive Actionable Information About Your Prospects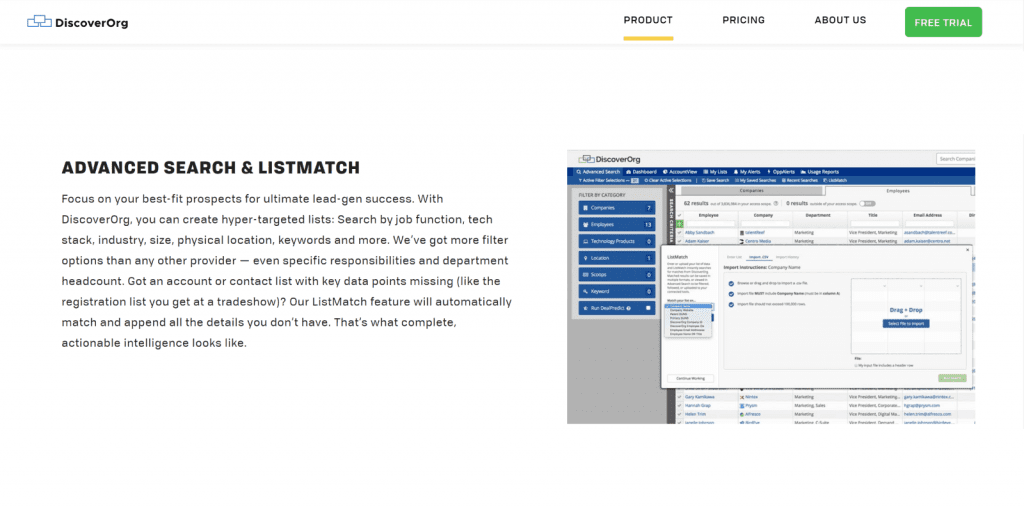 Software that drives up to 60x ROI by providing actionable information about your prospects? Discoverorg's promise sounds too good to be true. Let's have a look at how they want to achieve that. The sales intelligence tool lets you find buyer personas and score them based on fit and purchase intent. Different filters allow you to quickly analyze the data sources and learn more about potential leads. Discoverorg makes it easy to send personalized messages at scale while ensuring their data is at least 95 % accurate.
Discovering isn't publically mentioning its pricing, so you'll have to request a demo if you want to learn more.
8. Crystal – Analyze Your Prospects' Personality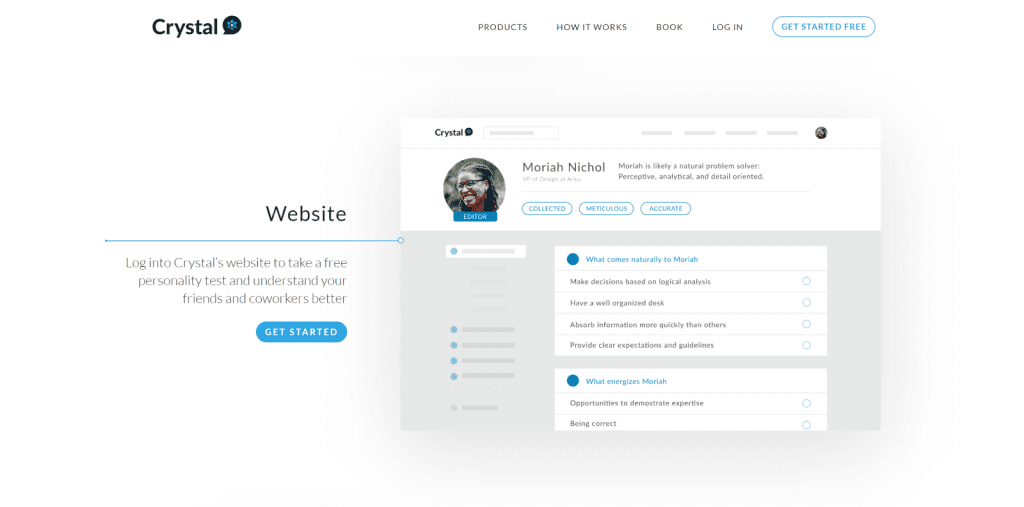 Would it help you to know more about the personality of the next prospect you call? Crystal provides you with exactly this kind of data. Based on social media profiles or written texts, the sales intelligence tool uses the DISC approach to assess a person's personality. In that way, it not only helps you to learn more about the person but also about their connections to other people.
You can get started with Crystal for free. For unlimited psychological information and access to personality profiles, Crystal charges $29/month.
9. Lead411 – Use Sales Triggers to Make Smarter Decisions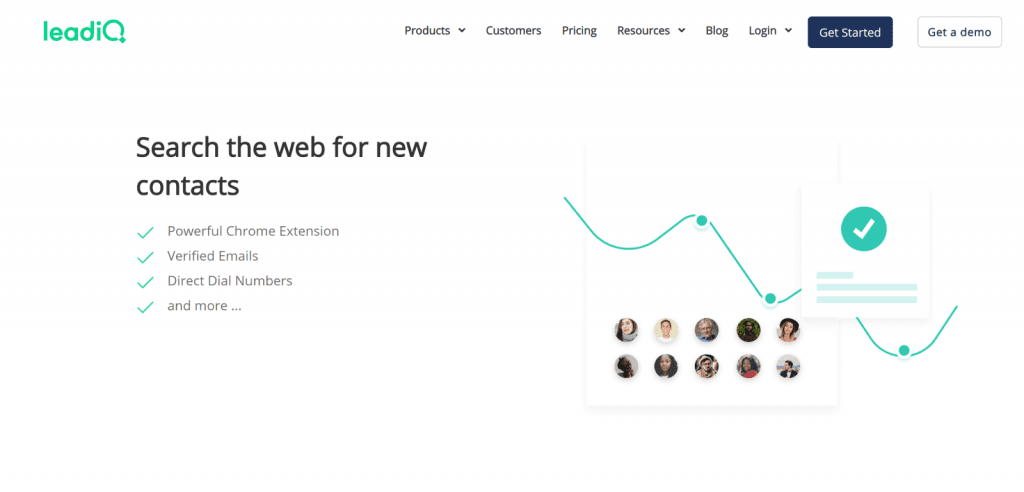 Lead411 offers a trigger-based sales platform. That means the software analyzes specific sales triggers, such as revenue growth or a new executive joining one of your prospects, to identify potential sales opportunities. Using its sales intelligence features, you can make profound decisions and recognize the right moment to reach out to your prospects.
Lead411's pricing starts at $75 per month (200 exports).
10. LinkedIn Sales Navigator – Leverage LinkedIn for Sales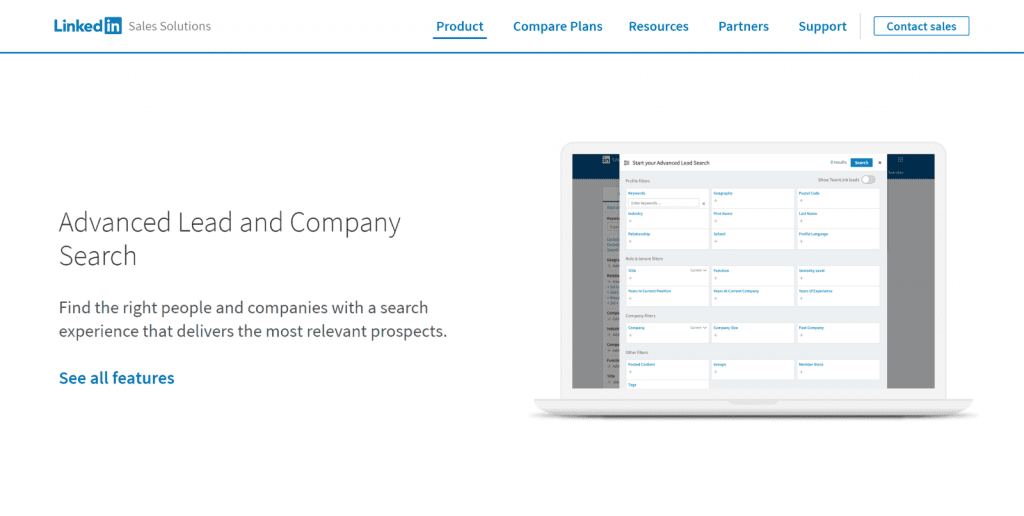 562 million people. That's the current number of people using LinkedIn. Almost 50% of all American inhabitants are signed up. That says a lot about the successful social business network. But only a fraction of these people use the paid version of LinkedIn: the LinkedIn Sales Navigator.
It allows you to conduct advanced prospect and company searches while getting lead recommendations that might fit your requirements. You can easily integrate the LinkedIn Sales Navigator with your CRM and sync all prospect information. LinkedIn Sales Navigator also provides you with real-time updates on relevant events, such as job changes.
The Sales Navigator Professional plan starts at $79.99 per month (while the first month is free).
11. Insideview – Use Real-Time Insights to Make Strategic Choices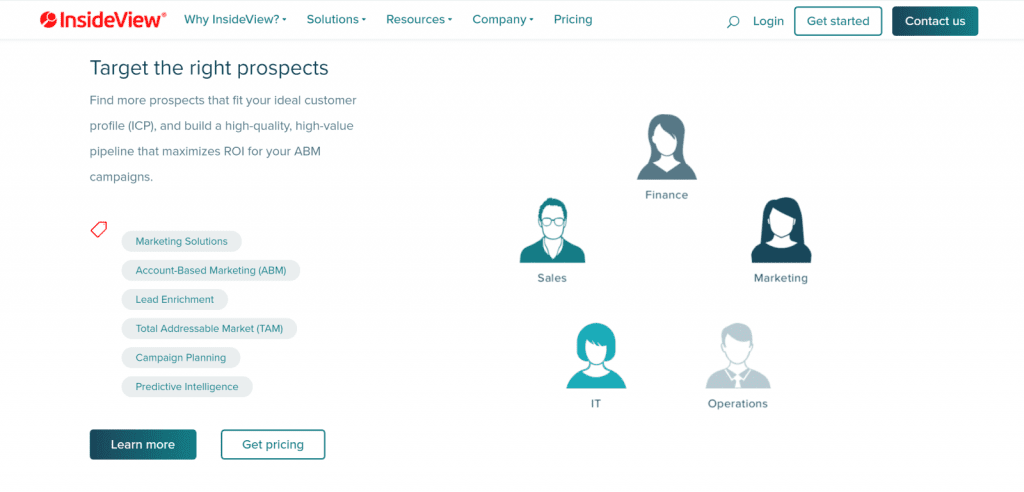 Insideview is all about healthy data and efficiency. Get rid of irrelevant and duplicate information to find the right people and companies that really care for your product or service!
With this unifying targeting, marketing, and sales intelligence platform, you gain real-time insights into the market that allow you to make the right strategic choices. Insideview's Go-To-Market Decision Engine helps you to discover growth opportunities for your company.
Get in touch with Insideview to learn more about their individual pricing.
12. Vainu – Find Patterns in Your Sales Data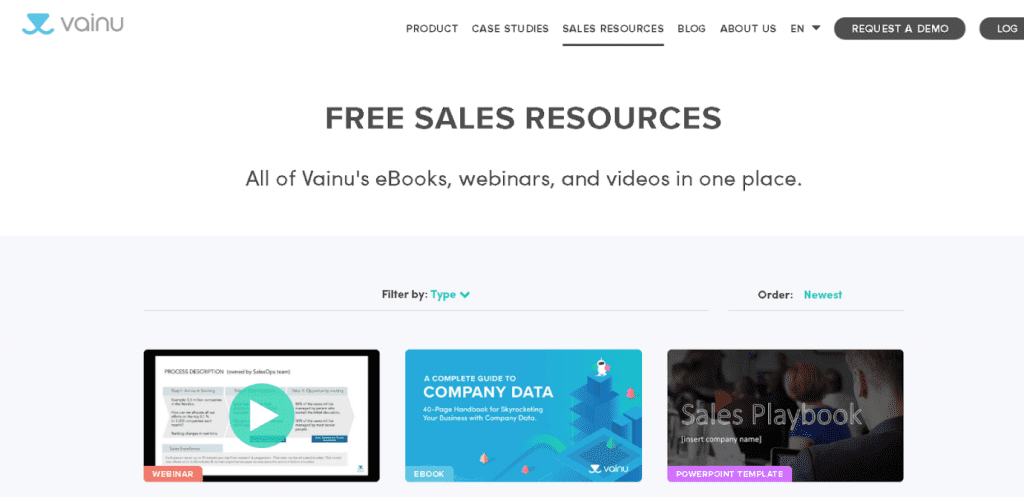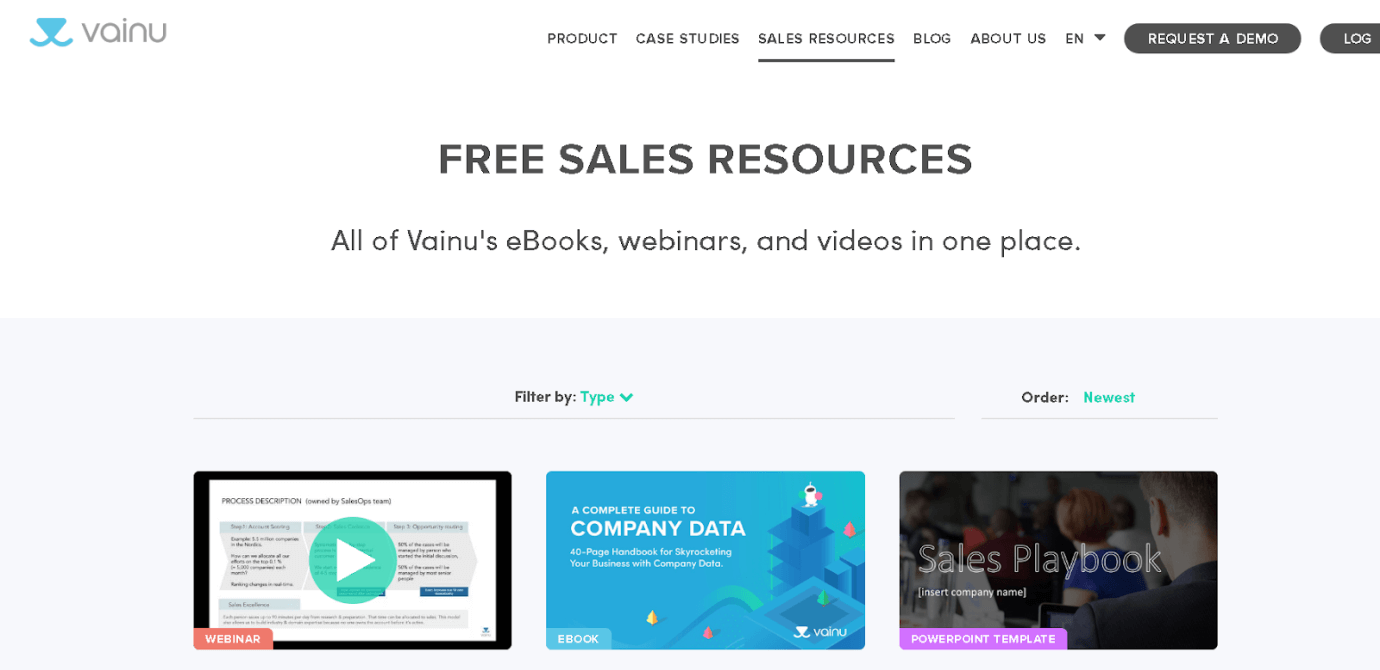 Do you want to save time while having more and more sales? Vainu makes it possible. With hundreds of filters, data visualization, and notifications about the best timing to contact prospects, the sales intelligence tool makes it easy for you to close the deal.
With this sales intelligence software, you will get precise and up-to-date data. Machine learning algorithms constantly analyze information to find patterns and give you advanced search filters. All this will help you to find people that need your product or service.
Contact Vaniu to get more information on pricing.
13. ZoomInfo – Find the Right People to Target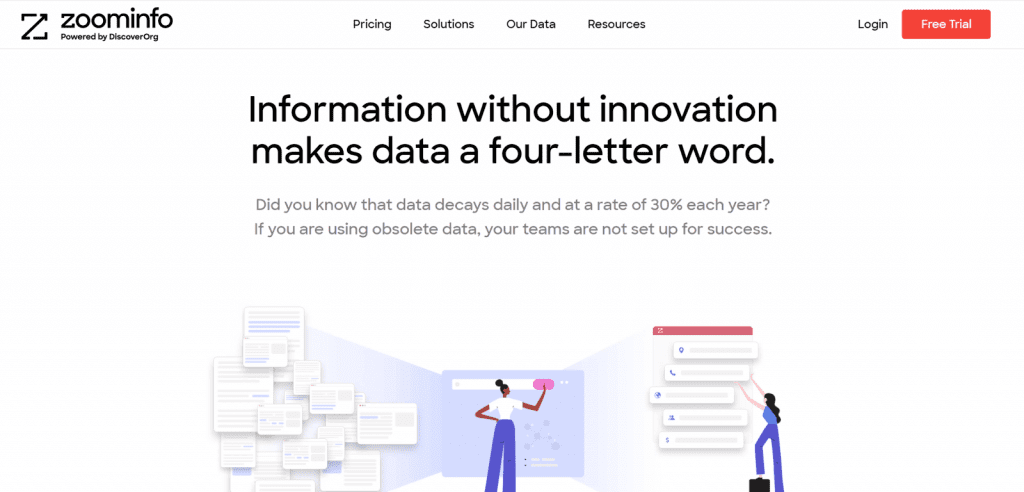 The sales intelligence tool ZoomInfo is backed by a comprehensive B2B database to ensure that you find the right people for your company. The tool allows you to filter by location, industry, job title, company revenue, and more to make the search as simple as possible and help you find only the information you need. With ZoomInfo, you will get the most direct contact information, leading to more sales and bigger growth for your company.
The price for the tool is set individually for each company based on different aspects. ZoomInfo recently merged with Discover org, but here are some nice alternatives to ZoomInfo.
14. DataFox – Enricht Your CRM Data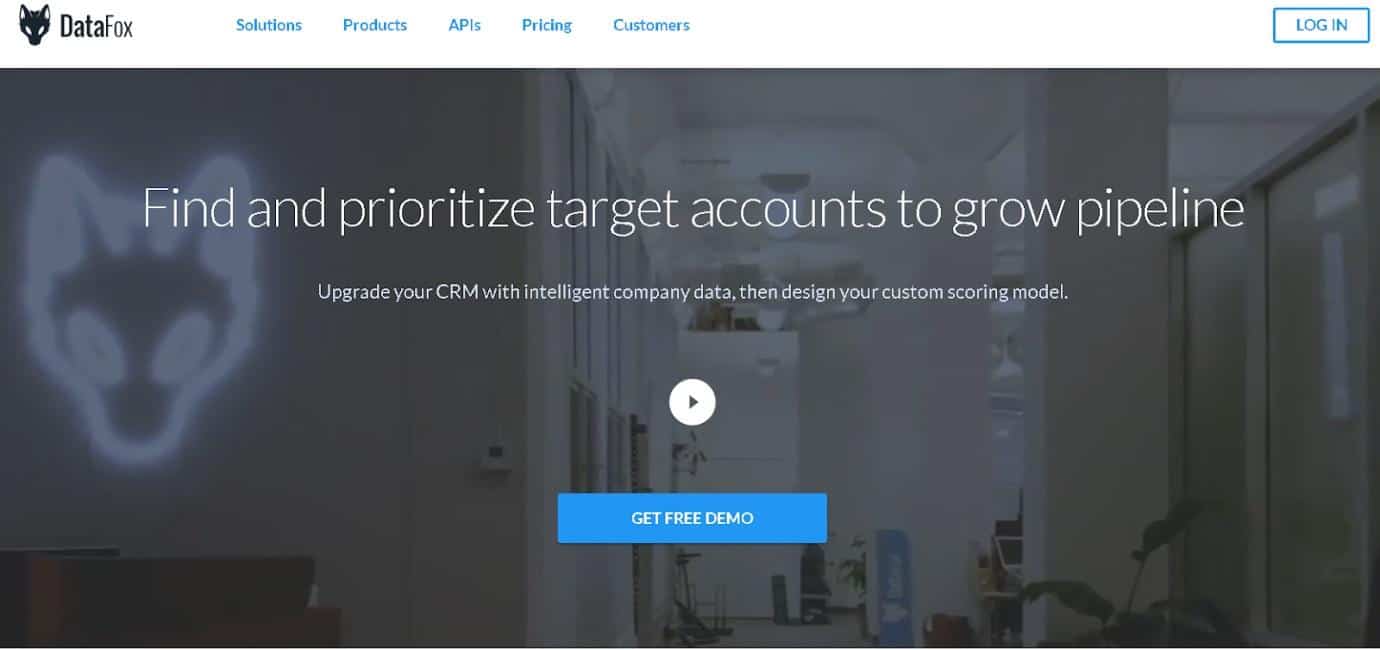 DataFox knows that data is the key to a successful business. This sales intelligence tool, therefore, provides you with everything you need to have your CRM stacked up with intelligent company data. This won't only help you to have better communication with existing clients and to get more leads, but it will also give you a chance to concentrate on more strategic tasks. With DataFox, data anomalies or duplicated entries will come to an end. The sales intelligence software scales with your needs.
The pricing depends on the size of your company, the volume of managed data, and a number of data sets.
15. Everstring – Use Data Science to Find New Customers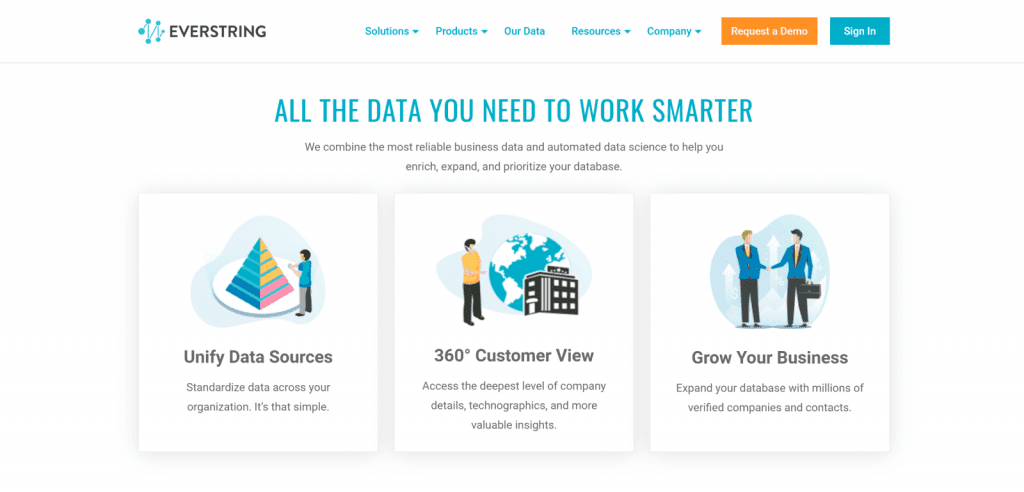 Everstring is an intuitive software that uses automated data science to ensure that you will find your next customer most efficiently. With accurate, comprehensive, and recent data, the sales intelligence tool will help you to reach the ultimate goal: closing more leads. Everstring fully integrates into your workflow and gives you all the information you need for personalized communication with potential customers.
The tool's pricing varies depending on different aspects of your company and needs.
16. Hunter.io – Connect With Any Prospect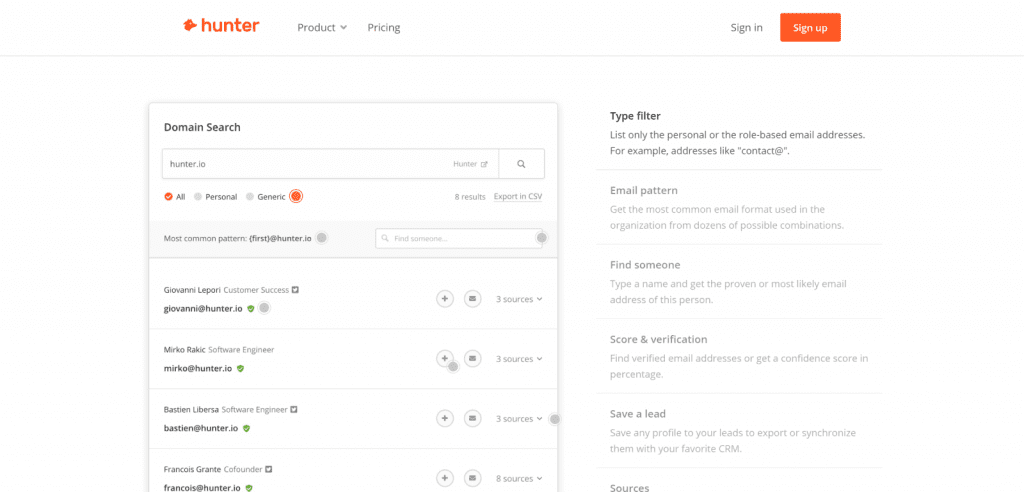 Hunter is a sales intelligence tool that helps you connect with anyone who can make a difference to your business while being transparent regarding sources and dates of information. The tool boosts your business's sales by providing you with the email addresses and contact information you need within a few seconds.
The pricing plans on Hunter range from €0–€319 per month, allowing you to make 100 to 50,000 requests per month.
17. LeadIQ – Find New Emails and Enricht Existing Data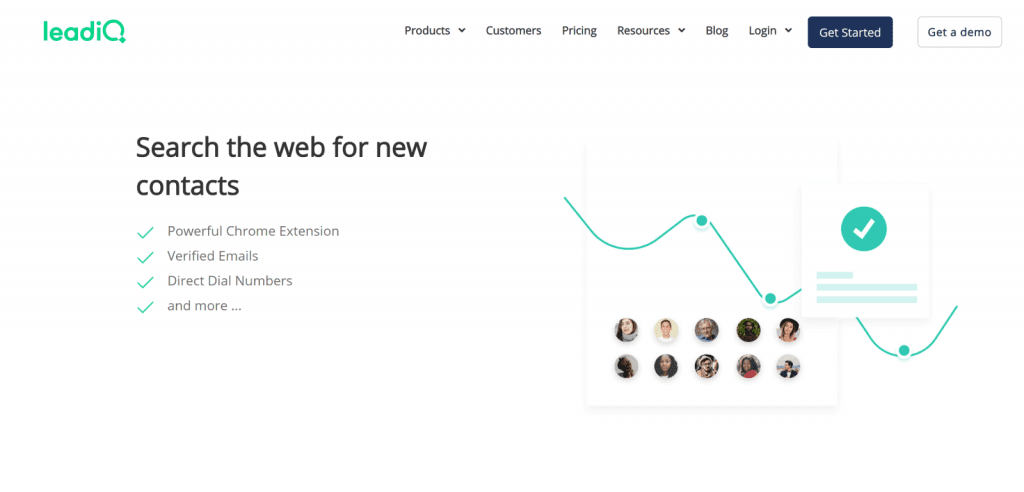 Do you want to find your prospects faster and without any manual data entry? Then you should definitely try LeadIQ. It removes all the hassles involved in prospecting by providing you with only the high-quality data you need. The tool gives you emails and contact information and enriches your data with social media profiles and company information.
The trial version of LeadIQ gives you 100 credits to use for free. For $60 a month, you can build campaigns of up to 300 prospects per month and see millions of crowdsources emails.
18. HubSpot Sales Hub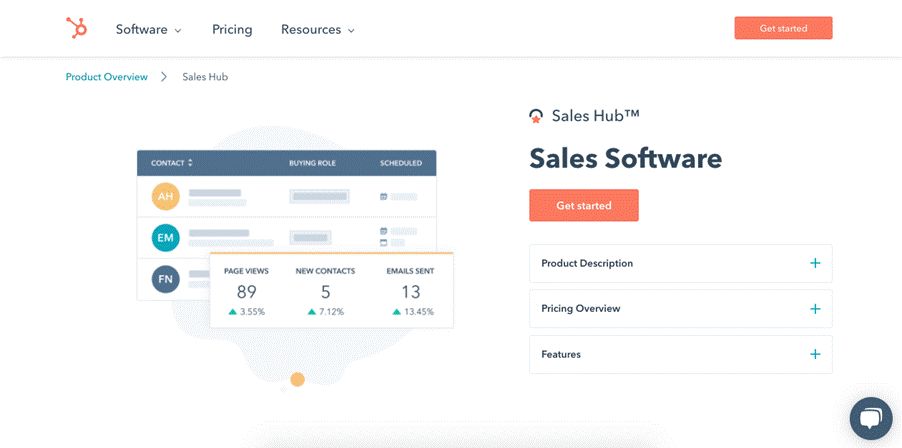 HubSpot Sales Hub is a sales intelligence tool developed by Hubspot to improve and scale up your sales process.
With it, you can automate data entry, develop email sales and marketing campaigns, and reach more potential customers in less time. You can also keep track of your KPIs and your leads, knowing exactly where they are in their buyer's journey to know when to approach and make a sale.
Although HubSpot's CRM is free, the Sales Hub starts at $50 per month.
19. Adapt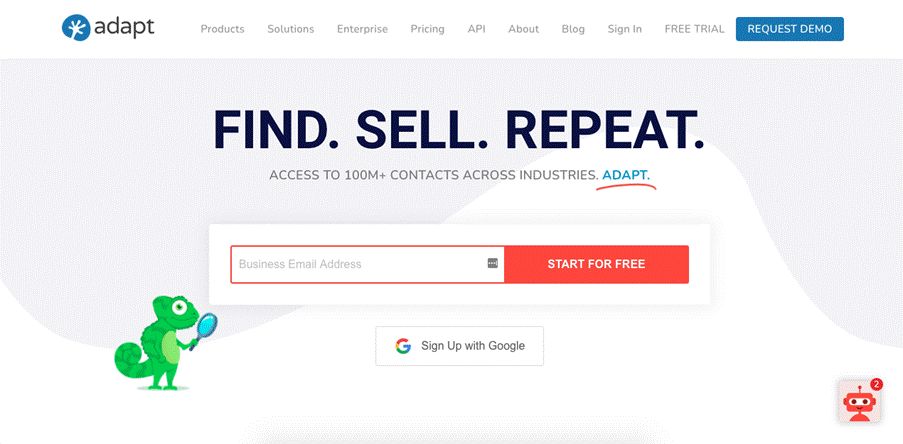 Adapt has a product suite that perfectly fits most B2B sales-focused companies' needs for qualified leads. It offers access to over 100 million professional contacts so you can find the leads that better fit your needs. 
With its LinkedIn Chrome extension, you can also use its database to find people's emails as you browse through LinkedIn.
Although the tool cannot score or prioritize qualified leads, it's still an affordable option that allows you to generate leads quickly.
Adapt.io does offer a free version, and you can get a basic plan starting at $39 per month.
20. Lusha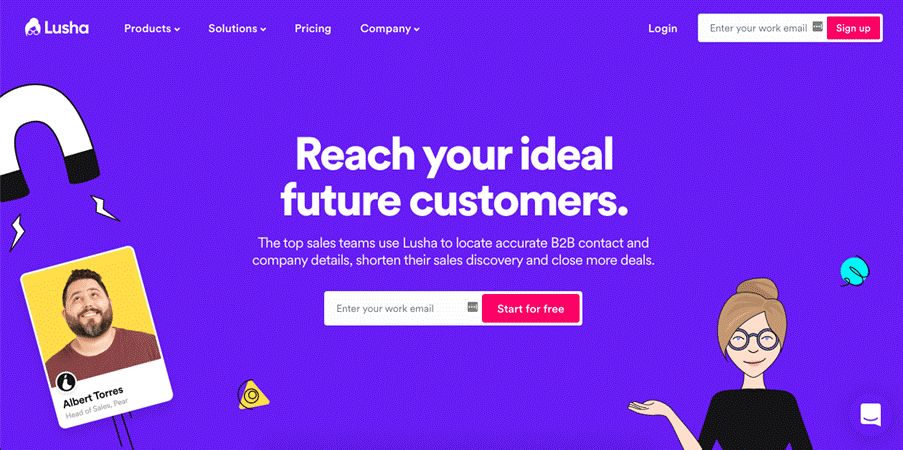 Lusha is a great sales intelligence tool that allows you to enrich your data and verify your profiles. It also has a Chrome extension to verify leads as you browse LinkedIn, and it seamlessly integrates with Salesforce to automatically update your leads there.
Unlike other options listed here; Lusha can also score and route leads, making it easy for the right sales reps to connect with the right leads.
With its free version, you can start using Lusha for free, and its basic pricing starts at $23 per user per month. Here's another solid Lusha alternative.
21. Seamless.ai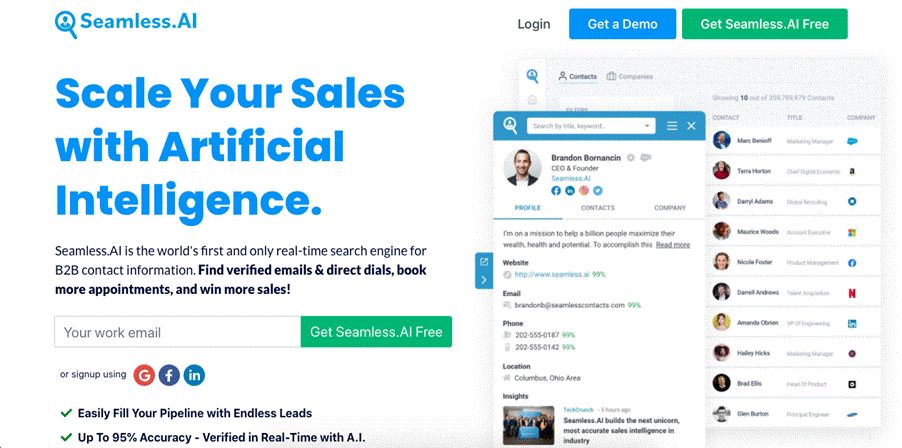 Seamless.ai is a real-time search engine to generate B2B leads and find the right ones for your sales strategies.
Instead of having a database for you to browse through, Seamless.ai lets you browse the web with a lead's search engine. Instantly connect with your prospects, giving you data that's been verified in real-time by a powerful AI engine. This verification includes emails and direct dials, making it perfect for people needing high-quality phone numbers.
You can also use its AI to look up leads, update you with notifications, and work 24/7.
This is a pricier platform, with its pricing starting at $65 per month with an annual contract.
22. Cognism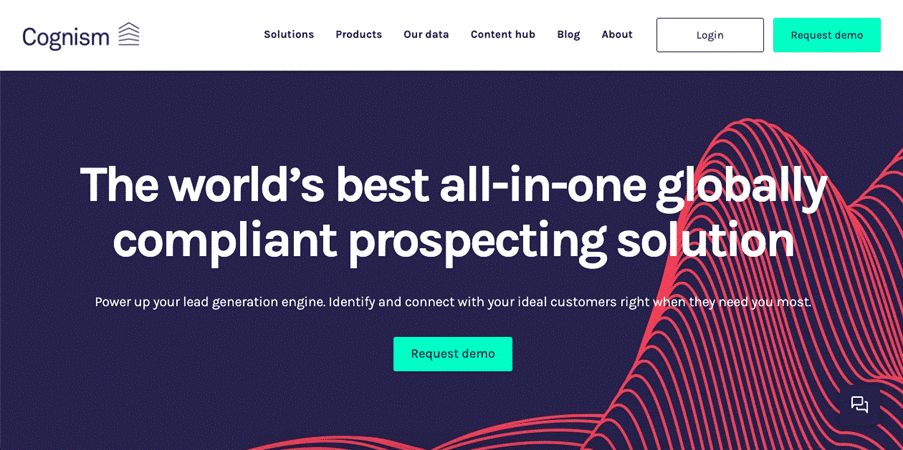 Cognism is an all-in-one prospecting solution that allows you to find B2B prospects and reach them through powerful sales and marketing campaigns.
Cognism gives you access to over 400 million leads and allows you to automate your contacting approach through sales triggers. It also integrates with multiple tools, like Salesforce, Pipedrive, Hubspot, and Zapier.
You can use it for sales teams to generate leads or for marketing efforts, giving you the data you need to build strong campaigns in the platform.
Since it's a powerful tool, it also comes with a higher price tag, starting at $750 per month.
23. Leadfeeder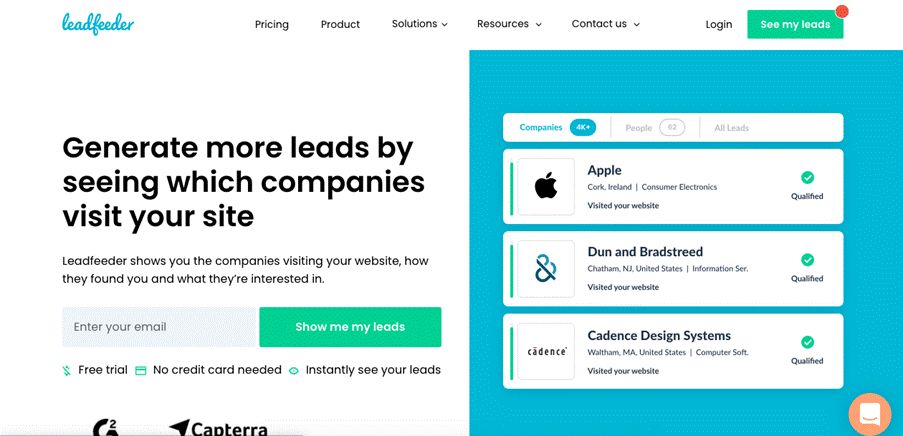 Leadfeeder is a sales intelligence tool that uses your Google Analytics to let you know who is visiting your websites and gather powerful customer data.
With it, you get a real-time view of user activity, letting you know how many users are on your website, what they're doing, and how long they remain engaged. It then analyzes this data to find the users, tracing back to their companies when they show interest in your brand so your sales reps can approach to close the sale.
That way, you ensure you always act when a lead is ready to make a purchase and nurture the lead to prepare them to convert.
Leadfeeder has a basic limited version completely for free, with its Premium tier starting at $63 per month.
24. Priority Engine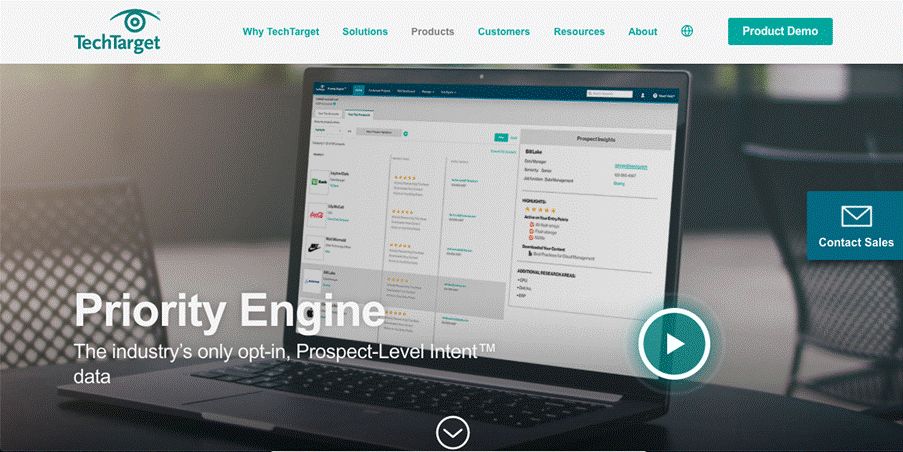 Developed by TechTarget, its Priority Engine is a cloud-based platform that acts as a search engine to provide you with real-time access to accounts and leads' data.
It can rank leads based on their likelihood of purchasing and engagement to help SaaS B2B companies increase their sales efficiency and productivity. You also get access to third-party intent insights to understand better your leads, the technology they're using, and their usual considerations when acquiring new technology.
Unfortunately, TechTarget doesn't reveal its pricing for Priority Engine, so you'll have to contact a sales associate to know how much you'll be paying per month. However, most companies place Priority Engine on the upper side of pricing.
25. Klue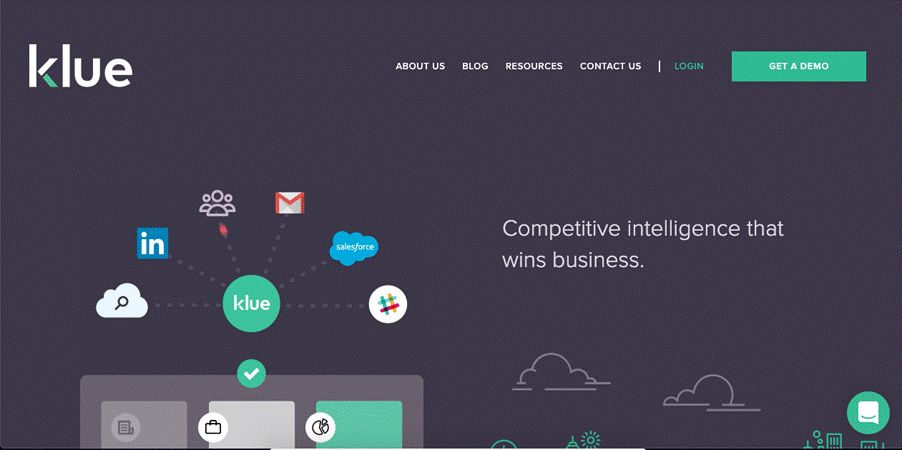 Klue is a competitive intelligence platform powered by AI to help you find and understand competitor insights to improve your sales process.
With Klue, you can know what your competition is doing, collecting all relevant sales intelligence data to ensure your solution is better than yours. It uses external and internal intel to assess your competitors and integrates with your sales intelligence tools to use the data and create campaigns to get an advantage. That way, you can make data-based decisions to keep you ahead of the competition and improve your brand to make it more appealing to customers.
Klue doesn't provide its pricing to the public.
26. Drift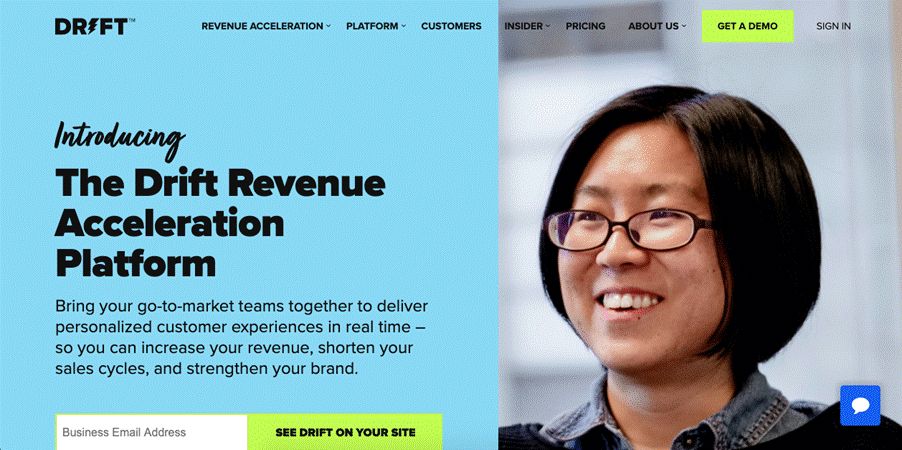 Drift allows you to link email and chat, personalizing your approach to each customer. That way, you can continue conversations you started on an email through chat and vice versa.
You also get the help of chatbots to qualify visitors and connect them to the best associate to start a conversation.
Drift has a forever-free limited account but doesn't list its prices for advanced, premium tiers.
27. 6sense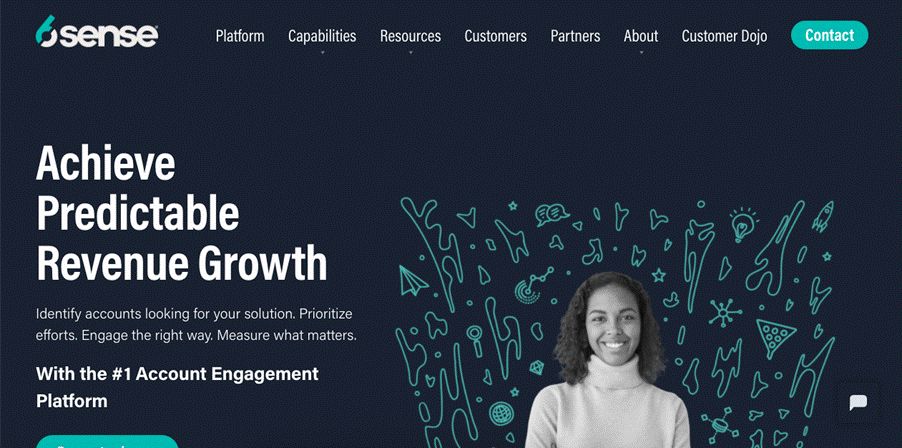 6sense is a platform focused on helping the sales team identify the right demand and buying intent signals from a lead, allowing them to react appropriately to nurture the lead into a conversion.
Aided by AI, the platform makes it easy for you and your team to see your leads across their customer journey, allowing you to act when they need you.
The platform does not provide any pricing information.
28. CIENCE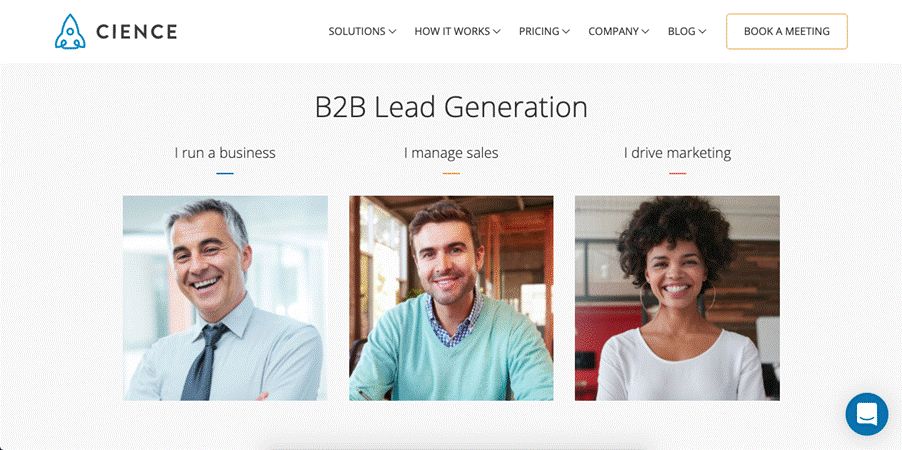 Cience is a lesser-known sales intelligence platform that allows you to outsource your lead generation and sales process through remote workers, AI, and industry experience.
With them, you can build a strong sales pipeline to focus exclusively on sales.
Its pricing isn't listed, but it's likely decided based on your needs.
29. Owler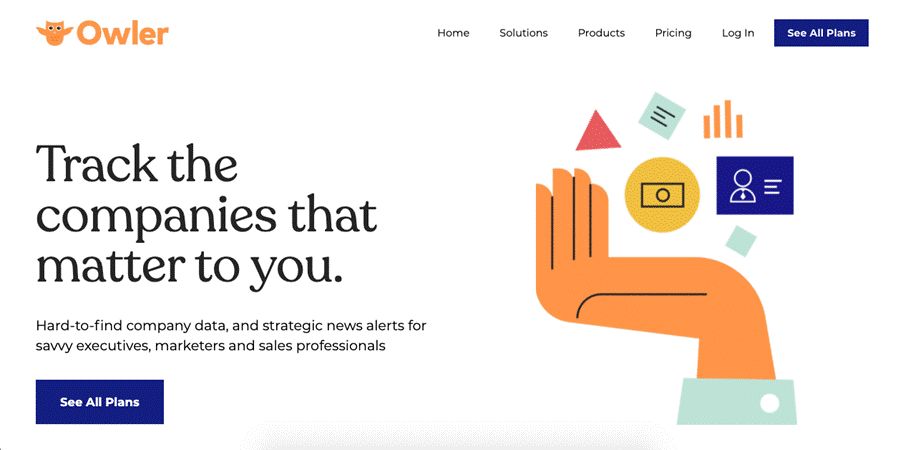 Owler is a sales intelligence platform that lets you keep track of your leads to know the best time to sell.
The platform gives you access to exclusive company data of over 13 million businesses, letting you browse through them and find news updates to keep track of their likelihood to convert.
Owler offers a forever free plan, with paid tiers starting at $99 per year.
30. HG Insights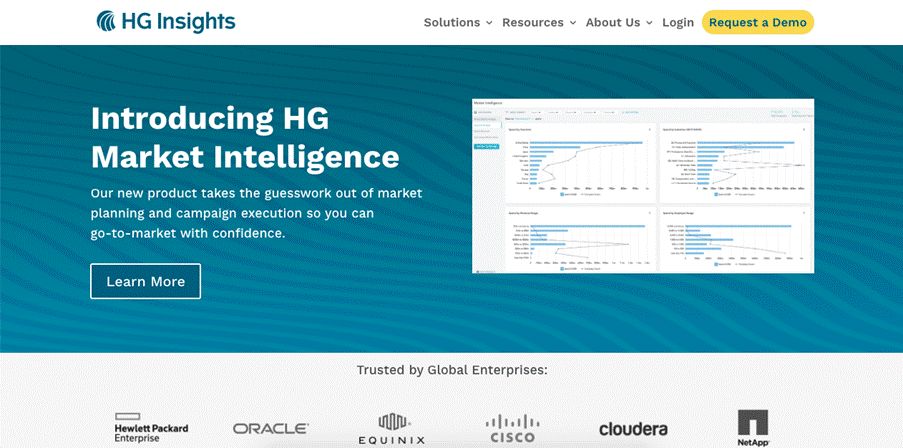 HG Insights is built to give marketers the insights they need to target their campaigns and build better forecasts.
With it, you can access technographic, data-based insights and use the platform as a prospecting or sales and marketing tool to make better decisions and build stronger strategies.
Its pricing is reportedly around $9,300 per company per year.
Sales Intelligence Tools: Conclusion
In today's world of infobesity, it isn't easy to know which information is crucial and which is irrelevant. Having the right data at the right time is a challenge that every company faces. It's only when you're able to understand who you should target and how you can connect with that person that you'll be able to drive growth.
Luckily there are sales intelligence tools that give us a hand. They help us to collect accurate marketing data more quickly, give us valuable insights into the market and allow us to anticipate the future outcome. Using such software, your sales team can ditch the research and concentrate on what they do best – selling.
FAQ: Sales Intelligence Tools
Here are the answers to the most commonly asked questions about sales intelligence tools:
What are sales intelligence tools?
Sales intelligence tools are digital technologies meant to help marketers and sales teams gain the information they need on their prospects to develop better strategies and find the leads they need to sell. With sales intelligence tools, you can generate leads around the clock, gather relevant information, and know when to sell something and who to sell them to.
Why should you use sales intelligence software?
You should use sales intelligence software to understand better who your leads and customers are. Sales intelligence software allows you to gather and understand data in better ways and know how to improve your sales. It helps you find leads, increase conversion rates, personalize your approach, and increase customer satisfaction.
Who should use sales intelligence tools?
Sales intelligence tools should be used by salespeople looking to generate leads, find more about them, and make sure they act on time to customer buying signals. Sales intelligence tools can benefit anyone looking to find and convert more leads.
What is Sales Intelligence CRM?
Customer relationship management (CRM) lets you understand and analyze customer data to make better decisions. CRMs also help you keep track of your leads and customers, knowing when and why you've interacted with them and improving your relationship with them.
How much does sales intelligence software cost?
Sales intelligence tools are differently priced. Many have limited free trials and tiers that allow you to do very few tasks without paying anything. Most sales intelligence tools are priced on a monthly or annual subscription model, and they can start from $20 or $30 to hundreds of dollars per month, depending on capabilities, integrations, and solutions.