You can't make sales if you can't find leads. It's as simple as that. So top lead generation is an integral part of your sales pipeline. If you're unsure of what the sales pipeline contains, check out this post. But finding lead providers can be a challenging task.
How do you get leads through the door? Manually digging through the internet certainly isn't efficient. So choosing one of the best lead providers is frequently advised, especially if you want to get a higher number of leads more quickly.
So What's a Lead Provider?
It's in the name, really. B2B lead providers provide leads. Lead generation companies help other companies with their B2B lead generation. The best lead generation is done when B2B lead generation companies let you buy qualified leads for your sales and marketing campaign. This helps the sales team since it can focus on selling instead of looking for someone to sell to.
There are different types of lead providers, as you'll discover in the list below. In some way or another, they all use databases to grab leads for you. The main difference is the origins of these databases.
Some have internal databases (which is what we use). Others use ready-made databases such as LinkedIn.
Top 13 Lead Providers of 2022
Below, you'll find a list of the 13 best lead providers to integrate into your sales pipeline.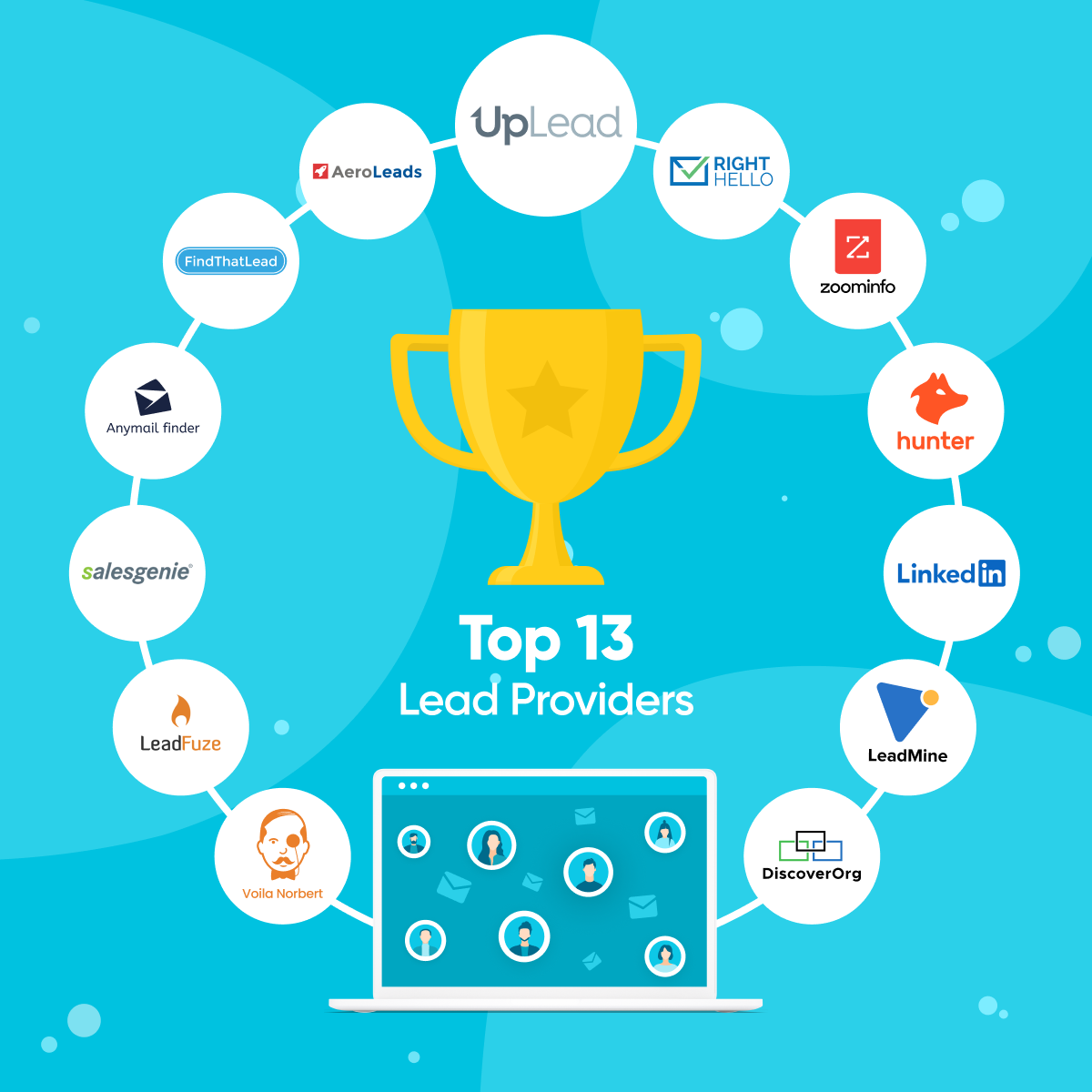 UpLead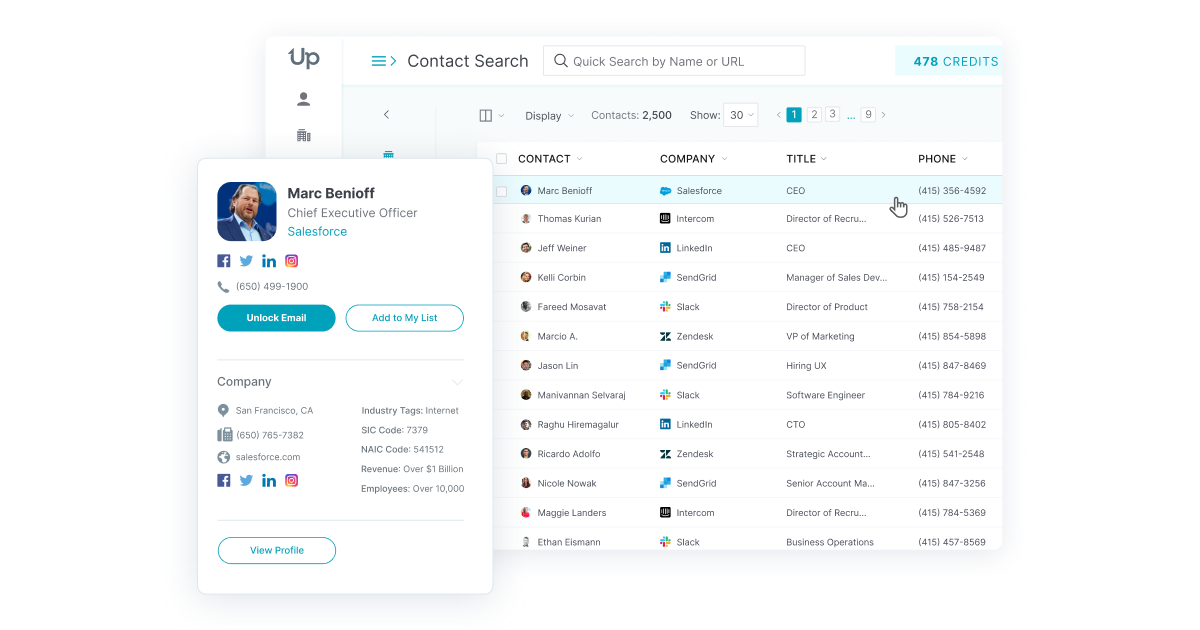 UpLead is one of the best B2B lead generation services on the market. The B2B lead generation process places a huge emphasis on getting you top lead providers.
It has a huge database of leads with rich profiles, which gives you more than just a name and contact details. Aided with details like their social media and LinkedIn profile, these profiles help anyone in a call center or sales and marketing team to contextualize the lead, even without any market research.
With UpLead, you'll be able to learn just a little bit about your lead before you make contact. And with data enrichment, you can learn even more before that first message. As we all know, getting to know your lead is a crucial step in marketing. UpLead is an excellent B2B lead generation platform and one of the few that guarantee top lead generation by giving you a 95% guarantee.
Start Your 7-Day Free UpLead Trial
Lead generation doesn't have to be all that painful. With UpLead, you can easily connect with high-quality prospects and leads to grow your company.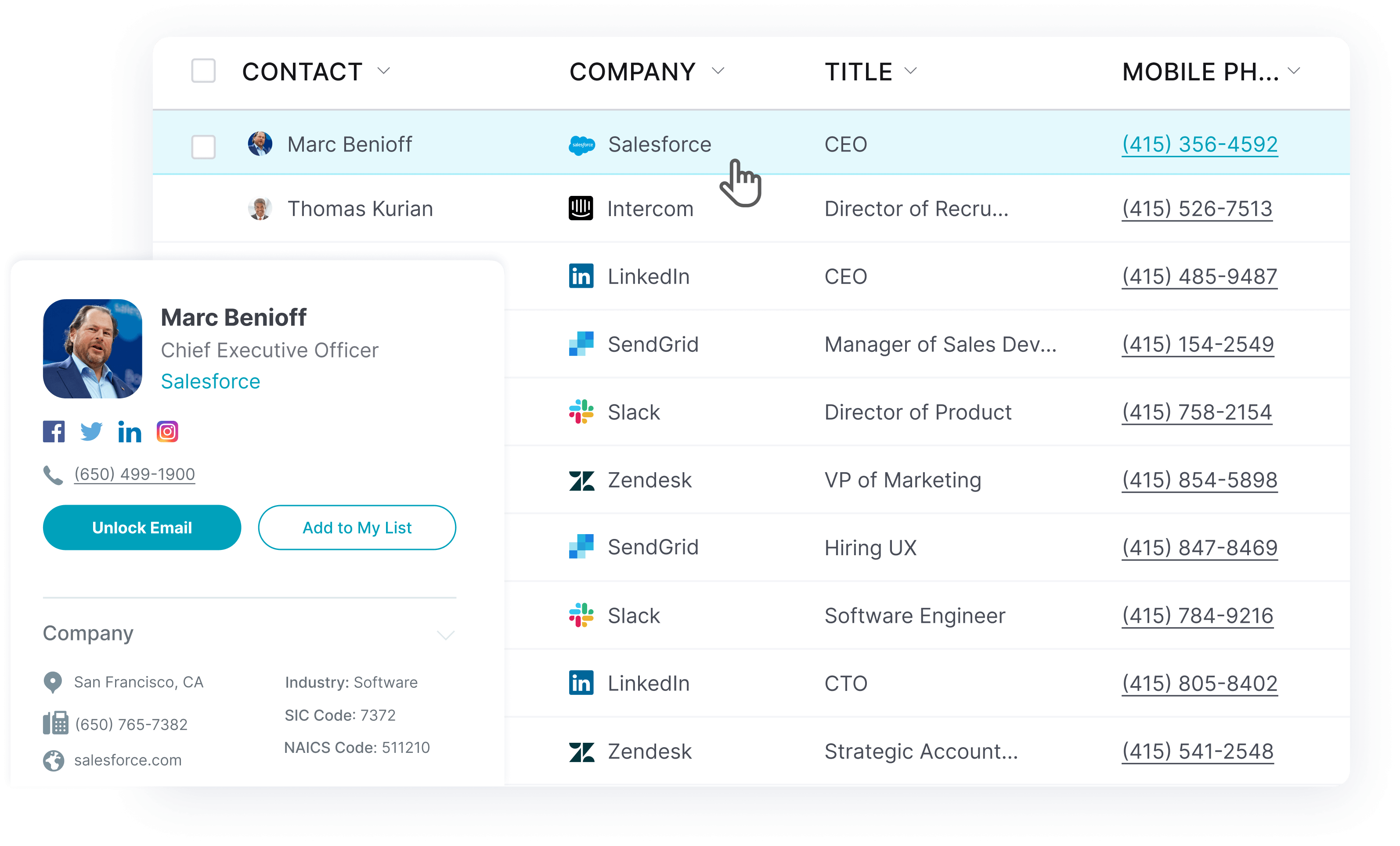 Here's a recent review on G2Crowd:
"They are the best out there, by a mile!"
What do you like best?
"With UpLead the interface is easy to use. I loved that fact that I can upload a list of URLs and it spits out contacts from those companies with verified emails.
Other providers want you to bring your target's first and last name and sometimes the company name.
With UpLead, they do all the hard work for you. It is the easiest lead tool and, by far, the most accurate. And for the price, you can't beat it."
– Beverly A.
You can view the UpLead Pricing or grab a free trial now, head over here.
DiscoverOrg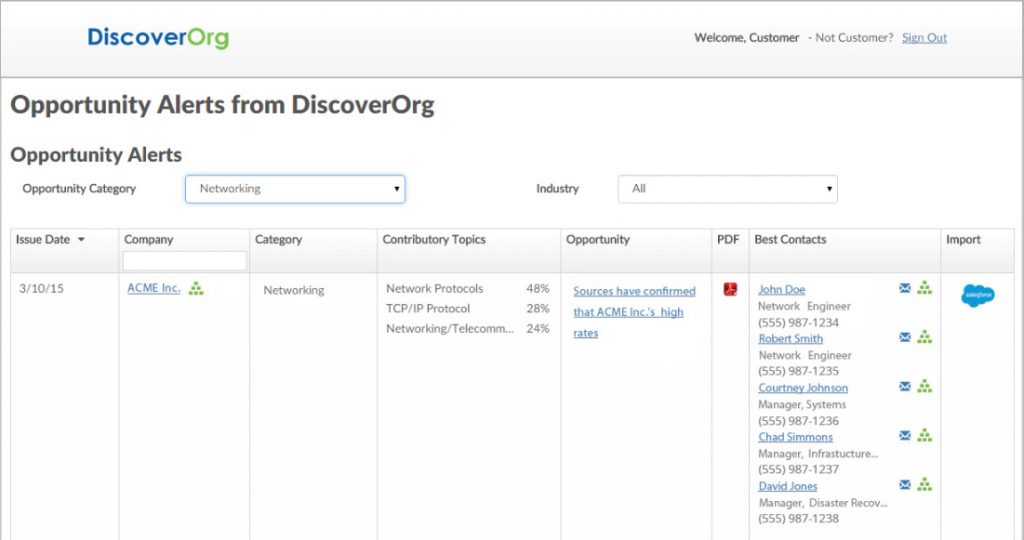 DiscoverOrg places its B2B lead generation on information-rich profiles that help you learn more about your prospects before making initial contact.
They have a big database filled with rich information, and they can help you get leads for a wider variety of applications—from sales and marketing to recruitment. As a side note, UpLead is one of the top DiscoverOrg competitors you could try.
Here's an extract from one of their reviews on G2Crowd:
"Great program with up to date info"
What do you like best?
"I love the option to see valuable insights on the company to include the technologies their leveraging. It's important for our selling organization to have an idea of what they're utilizing to date and where- network, applications, CRM, etc. Also, the org chart information is very extensive- not only does it show me the executives and their ranking but it also routes me to their LinkedIn. Similar companies tab can also help when it comes to identifying competitors."
– Francesca B.
Hunter.io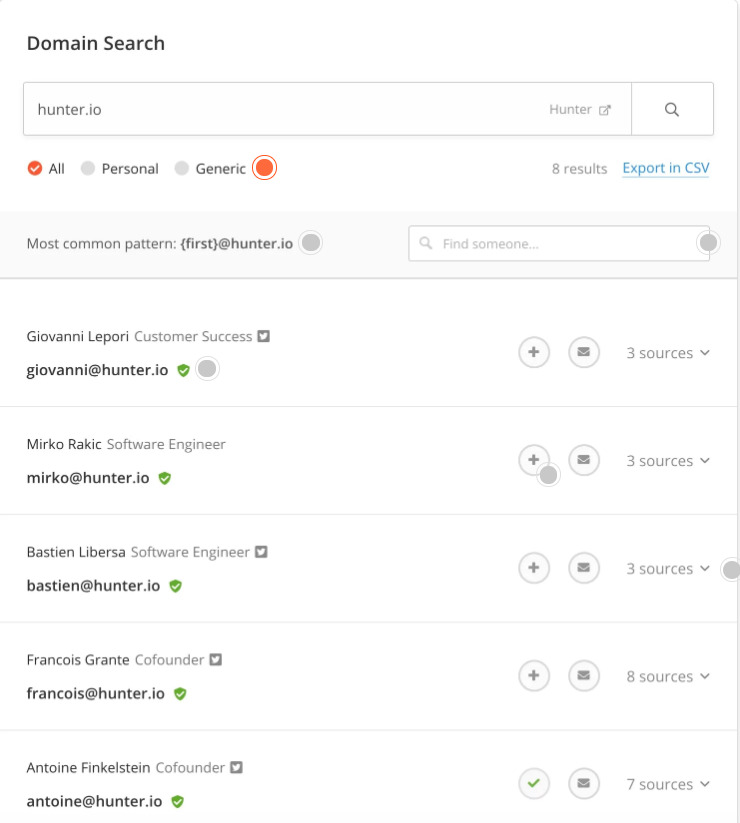 Hunter lets you start your B2B lead generation process by finding email addresses for key contacts at the companies you want to target.
They offer lead generation for both email finding and email verification. You can find your first email address on their website, but you'll need to create a free account.
They have a free plan and other options, depending on how much lead gen you want to do. If you're looking for a solid hunter.io alternative, give us a try.
"Email Hunter is great when you are trying to bypass phone calls to get a key person's info."
What do you like best?
"I like that I can plug in a domain, and it will find the emails for folks attached to that company. It also lets me know the structure of emails (ex [email protected], [email protected], etc). Even if the system cannot pick out the individual I want… as long as I have the person's name and company email format, it's pretty easy to figure out :)"
– Brittany M.
Voila Norbert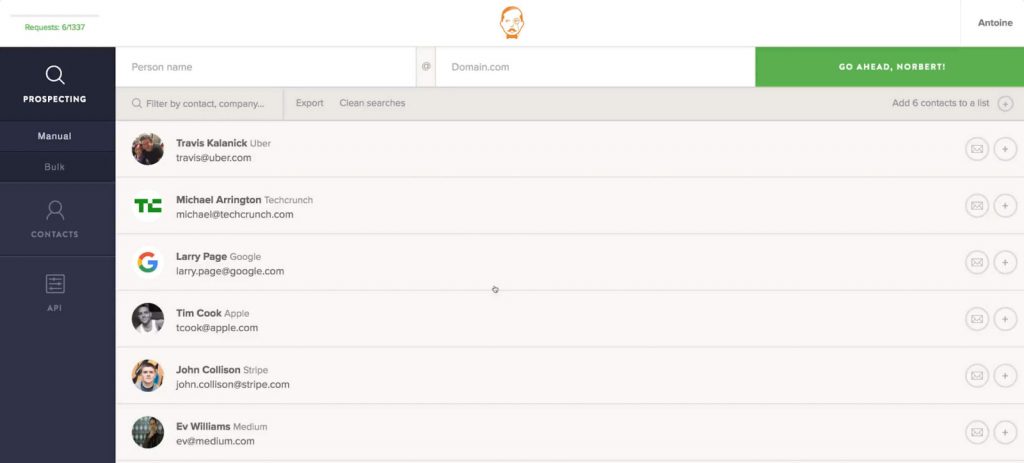 Voila Norbert is another B2B lead generation tool that allows you to generate qualified leads. Like most lead generation companies, Voila Norbert helps you get the most out of that initial contact by discovering a little about your lead.
They also have an API and various integrations available, so they can fit into your marketing stack.
Here's a recent review about them on G2Crowd:
"Norbert does exactly what you need it to do."

What do you like best?
"I love how it displays accuracy scores for emails it has found. It's either 60, 80 or 100. The system is quite strict with itself, too: I've had quite some good results even when using the email address Norbert marked with 80% confidence. In fact, accuracy may be this software's strong point. You get quality."
– Matthew C.
Aeroleads

While Aeroleads is a decent lead B2B lead generation tool, there are some complaints. For instance, some of the numbers and email addresses don't seem to be current.
Nevertheless, it's a great platform. With email verification and data enrichment, they could become one of the best lead providers.
"A good tool to generate prospects"
What do you like best?
"Aeroleads is a good CRM tool for generating leads or prospects. It is a multipurpose tool, unlike other tools, which can only find emails or just can add leads to the CRM databases Aeroleads has a floating button whenever you open a LinkedIn profile, you can just click the Aeroleads icon and add the leads to your Aeroleads dashboard. Now when you Aeroleads dashboard, you can find the added prospect with name, title and employer in addition to it you can find the email and phone number of the prospect and an option to add that lead to your CRM tools such as salesforce etc."
– Aravind N.
LinkedIn Sales Navigator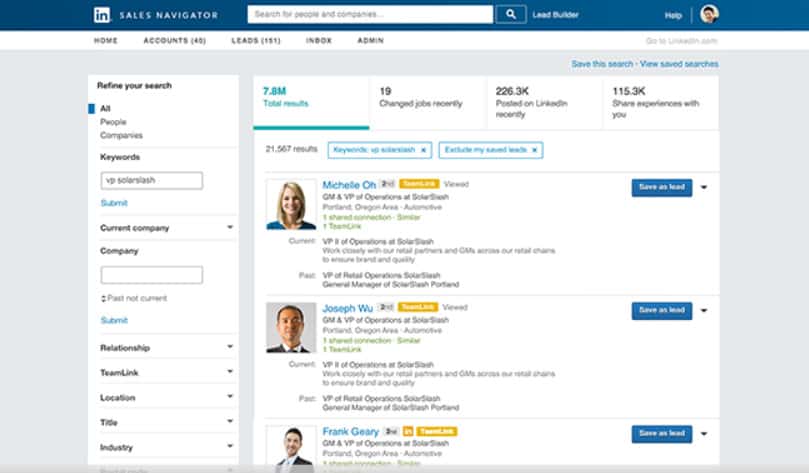 LinkedIn's Sales Navigator allows you to rove the site for the right leads for your business. It has several advantages, including finding like-minded people to join your circle.
But it also has its drawbacks. For example, they don't know whether the lead you're targeting is active on LinkedIn.
Responses on LinkedIn can also be slow. Nonetheless, it's a great tool for finding leads, and it shouldn't be overlooked, as it can stay within any budget.
"LinkedIn Sales Navigator is great for finding potential customers."

What do you like best?
"I love how LinkedIn and Sales Navigator complement each other perfectly, they have facilitated the search for interested clients and interested people, my account, and an automatic storage system. It also offers very useful analysis, thanks to its excellent storage. It is much better than normal LinkedIn, and I can keep track of what my prospects say in the news, roles they have changed, promotions, anniversaries, birthdays, etc."
– Yelitza B.
RightHello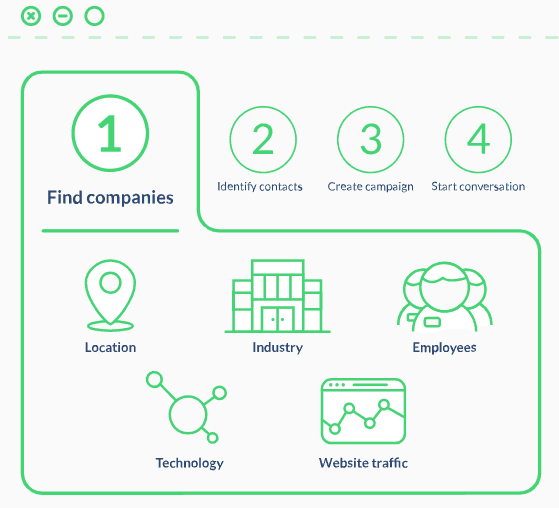 RightHello's website has a more professional feel than some of its competitors. But with a score of only 3.6 on G2Crowd, it's not a good fit for everyone.
While they have a huge database with plenty of qualified leads to sift through, there have been complaints about the speed of the software and the quality of the data.
However, they do offer a free trial. As shown below, some users have found immense value in RightHello.
"Lead generation experts"
What do you like best?
"RightHello is a unique combination of actual data, the best email content writers, and lead generation experts to boost your email campaigns. I appreciate my opportunities to work with our Account Manager and Content Writer Team. They've created very personalized emails which we use even today. They are truly lead generation experts."
– Patryk M
ZoomInfo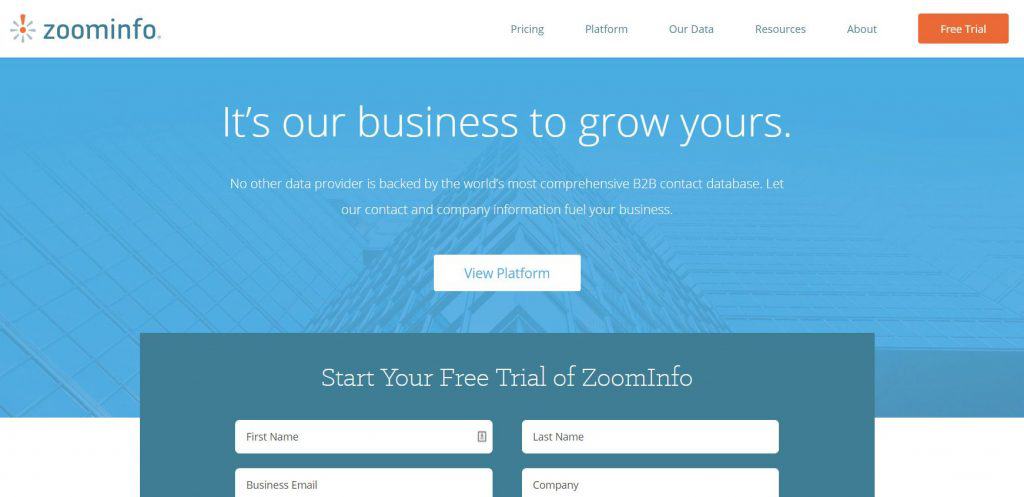 Zoominfo is another lead provider that places emphasis on the quality of information. They help you build segmented, highly targeted lists that are based on many filters. Consider using UpLead as a Zoominfo alternative if you want a more affordable solution.
They're another great lead provider with a very healthy 4.3 out of 5 stars on G2 Crowd.
"Great data mining for prospecting potential clients"
What do you like best?
"Accurate data and easy-to-sort specific, targeted lists on companies in every industry but category. Improves ability to prospect effectively. Best tool for garnering information on companies in the industry. Great training and easy to use the system."
– Jeffrey G.
Salesgenie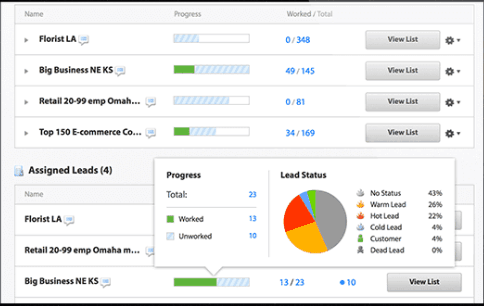 Salesgenie bills itself as a turnkey marketing solution. The staff offers lead provider packages for individuals and teams, and they even offer solutions at the enterprise level. They also offer a free trial.
"Salesgenie is great for small to medium businesses looking for a sales lead / prospecting tool."
What do you like best?
"We use Salesgenie almost every day. Our reps have access to every business in the US with contact details. We also use it to qualify prospects and to send out direct mail. We can build a list and send high-quality postcards to prospects. We've had a great response with the direct mail. Postcards are extremely high quality. Heavy, quality cardstock with a smooth coating."
– Tom B.
Leadmine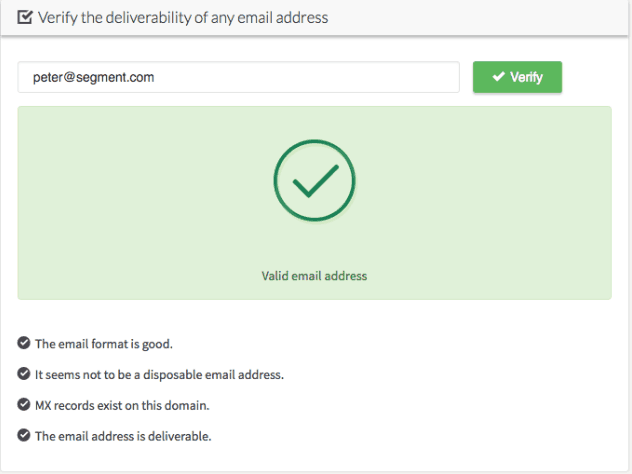 Leadmine offers highly targeted B2B leads with filters, an email finder, and email verification. They also have a Chrome extension, so you can use some of their features in your browser.
"A great tool to increase Sales Pipeline"
What do you like best?
"We can find highly targeted B2B leads with their email address in no time, and we can save and export the data easily. We can run our search using their easy dashboards, which have advanced functionality to filter the exact data."
FindThatLead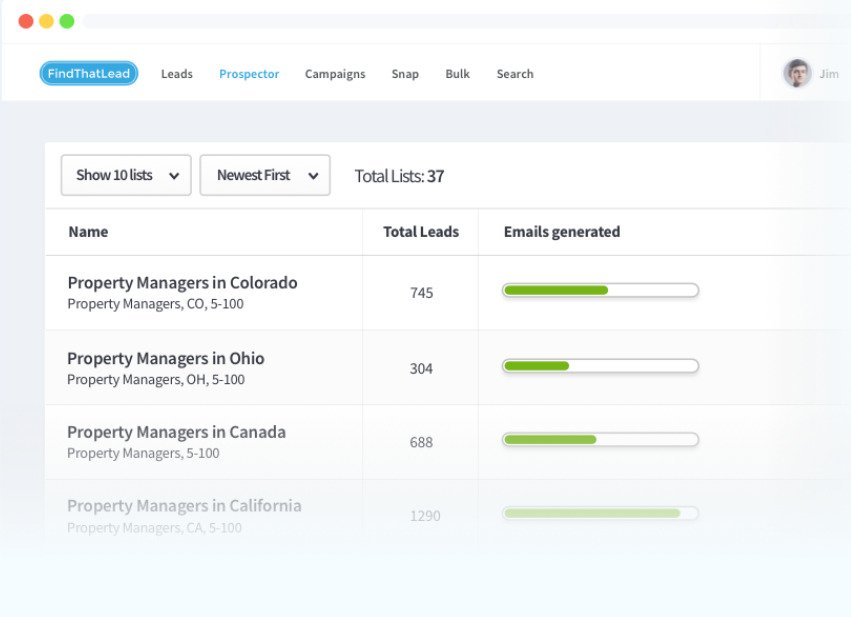 FindThatLead has your standard lead search and email verification tools, but it also has a social search option. However, it seems to be lacking a data enrichment service, which is fine because FindThatLead focuses on speed of delivery. Daily leads are delivered in seconds. What more could you ask for?
They have a free plan available, but it prevents a lot of functionality. But at least you can get a feel for the software to decide if it's for you.
"One of the best Platforms to find emails. Period !! "
What do you like best?
"I really like getting email data from visiting the potential LinkedIn profile of a prospect and finding emails of a certain niche. I really like both the platform and the founder who loves FindThatEmail."
– Iniyavan T.
LeadFuze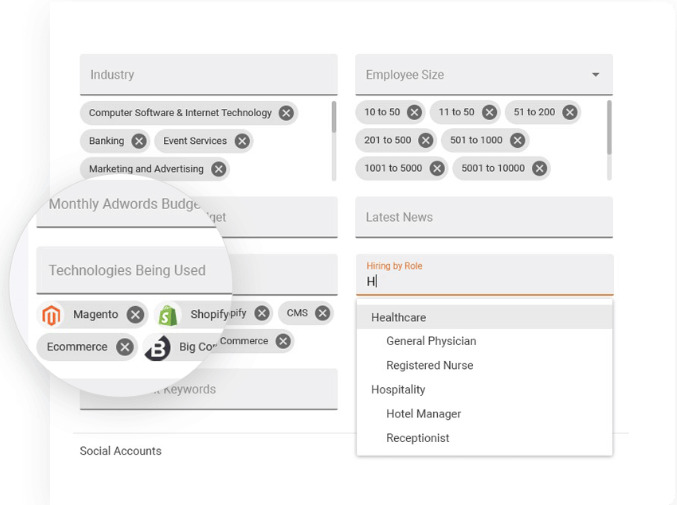 In addition to a host of filters and search options, LeadFuze offers an AI assistant, which we liked. It isn't super advanced, but it allows you to automate your B2B lead generation a bit. We haven't tried this option ourselves, but I'd imagine there would be some sorting afterward.
Nevertheless, people seem to love LeadFuze on G2Crowd. Why not let us know about your experiences with LeadFuze in the comments below?
"Solid tool to navigate acquiring those tricky Linkedin leads"
What do you like best?
"It's a one-stop shop. That it connects to Zapier gives a huge amount of freedom in process and how to automate your outreach. I personally link up to Mailshake, which is fantastic. So rather than Dux + Sales Navigator, exporting and importing… will save you time. Personal support also deserves mention."
– Gareth E.
Anymail Finder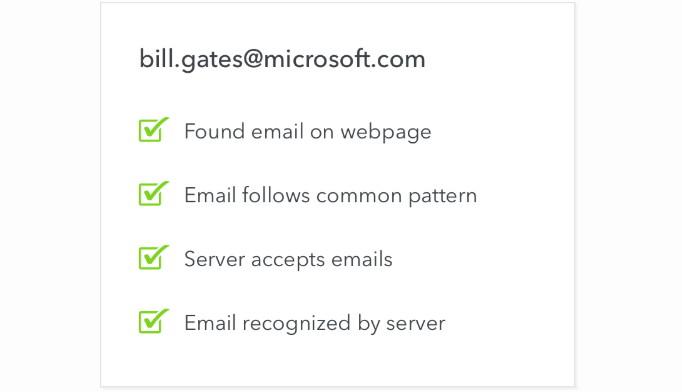 If you've been an email marketer for a while, you'll know that bounce rates affect the health of your email server. So Anymail Finder puts a premium on finding thoroughly verified emails. With this method, you don't just find emails but concrete emails that won't bounce.
Most other providers on this list do more or less the same, but Anymail is your go-to if your bounce rates are significantly climbing.
They haven't gotten much love on G2Crowd (2 stars), but they have a full 5 stars on Product Hunt.
Here's a review from G2Crowd:
"Anymail Finder for Marketing"
What do you like best?
"The ability to find emails of lists we already have in a fast way."
What do you dislike?
The conversion rate is not great. Anymail finder will not find emails for all contacts but possibly 70%. It would be great if it were 100%.
– Anonymous
FAQ: Everything About Best Lead Providers
Here are the most commonly asked questions about lead providers:
What industries pay the most for leads?
Usually, the industries that pay the most per lead are the healthcare and insurance industries. Both are also the most expensive industries to advertise in.
This is typical because of the value of the leads for both industries since leads can become life-long customers and generate a lot of revenue throughout the years. That's why both industries have companies that compete to get the customer's attention, sometimes paying above $100 per lead to lead generation companies.
Which tool creates the best quality leads?
UpLead is one of the best B2B lead generation tools to create and generate quality leads because of its capabilities and data quality.
With UpLead, you can simply input your ideal customer's information and instantly generate high-quality leads. And, unlike other tools, UpLead's information is so trustworthy that it offers a 95% accuracy guarantee on its leads.
How do I find the best leads?
To find the best leads, you need to optimize your brand image to attract customers and use the right tools to generate the right leads.
Start by defining who your ideal lead is. Then, you can start optimizing your brand's image to appeal to them.
You can generate leads through networking and business events and find relevant prospects on platforms like LinkedIn.
Finally, if you want to generate leads quickly and effectively, use a tool like UpLead to generate leads based on your customer profile.
Are B2B lead providers worth it?
Yes, as long as you know how to use them. To make the most out of B2B lead generation providers, you need to optimize your customer persona since the leads you generate with them will be based on it.
You also need to ensure the information you're generating through B2B lead generation companies is trustworthy and up to date. That's why, with UpLead, you get a 95% accuracy guarantee, as well as email validation right before you download your information. Hence, you ensure you're only paying for information you can use.
How do you get 100 leads in a day?
There are multiple ways to generate 100 leads per day, including:
By using lead generation platforms such as UpLead

Through a strong inbound marketing strategy

Buying ads in social media and search engines

With great SEO landing pages
How can I get free leads?
You can get free, high-quality leads through referrals. These leads are not just free, but easier to convert. You can also get free leads through SEO efforts, making it easy for your ideal customer persona to find and engage with your website.
Lastly, multiple B2B lead generation platforms have free options to generate the first few leads.
Lead Providers are the Future of Your Business
Selecting a B2B lead generation tool should never be taken lightly, as it could impact your business for years.
It may be wise to select a few tools to use if it's in your budget. But that may spread your B2B lead generation expert a bit thin. To ensure you make the right choice for your business, many factors must be considered.
As a final thought… We don't like to boast. But out of all the tools listed above, UpLead has the highest user rating on G2Crowd: a near-perfect 4.7 out of 5 stars. And we're proud of that fact and thankful for these reviews.
We hope you'll find the tools you need above to experience faster growth. We want you to reach all your targets for 2021!