If you want to make sales, you need internet leads. There's no way around it.
Luckily, there are multiple ways to get internet leads with free and paid tools and strategies. The most effective one will likely depend on you, your business, and your budget.
Here, we'll review the best lead generation companies, strategies, and tools to get internet leads. We'll compare all options and give you advice so you can start getting the internet leads you need with the resources you have.
By the end of the article, you'll know which tools and strategies you'll need to use to start generating leads without breaking the bank.
Let's dive right in.
Quick Links:
What Are Internet Leads?
Internet leads usually refer to online users who are potential buyers. They either fit the right description, or they've taken a step toward making a purchase.
These leads are highly sought after, so getting the right ones can be tricky. Fresh leads, or leads who are prime to conversion, are the hardest leads to get. They are usually fresh for a very short time, so they need to be found and targeted as early as possible.
Aged internet leads may be harder to convert but can be easier to find. Since they're not as easy to convert into paying customers, you can redirect these leads into low-cost marketing strategies to engage them.
Whichever leads you get, internet leads are clearly vital for any business, online or otherwise.
Common Types of Internet Leads
Here's an overview of the most common types of internet leads:
Life Insurance Internet Leads
Life insurance internet leads are some of the most expensive leads out there. Since prospects are required to think about their own death, and since they can become lifelong clients, life insurance leads are extremely valuable and hard to find.
Mortgage Internet Leads
Mortgage internet leads are prospects looking to get a large loan using their house as leverage. Since these leads can bring a lot of revenue, they're also hard to find and can be almost as expensive as insurance leads.
Final Expense Internet Leads
Final expense leads are prospects looking for affordable options for burial expenses and services. These leads are usually older users looking to avoid any hardships on their family or close friends of looking for burial options once they're gone.
Like life insurance leads, these prospects also convert into lifelong clients because once they make a purchase, they're unlikely to want to go through the process again.
Real Estate Internet Leads
Real estate leads are prospects looking to buy houses, apartments, land, and other properties online. These leads have a lot of purchasing power and often look to buy property from the best and most affordable realtor.
Internet Leads for Lawyers
These internet legal leads are usually prospects with a pressing need for legal advice. Since they're looking for lawyers online, they're usually younger and more tech-savvy than offline leads.
Automotive Internet Leads
Automotive internet leads are prospects looking to get a new vehicle. They will go online to compare prices, read reviews, and learn more about their potential choices.
MLM Internet Leads
Multilevel marketing internet leads are users online with the potential of joining a network and looking for their own leads. Although the right MLM leads will change from network to network, they are often middle-class women looking to earn extra income.
Of course, there are leads in many other verticals such as commercial cleaning, SEO, web design, roofing, lawyers, etc. You can generate leads if people are looking for a service in any industry.
How to Generate Internet Leads
Here are a few ways to generate internet leads:
List Building Software + Cold Outreach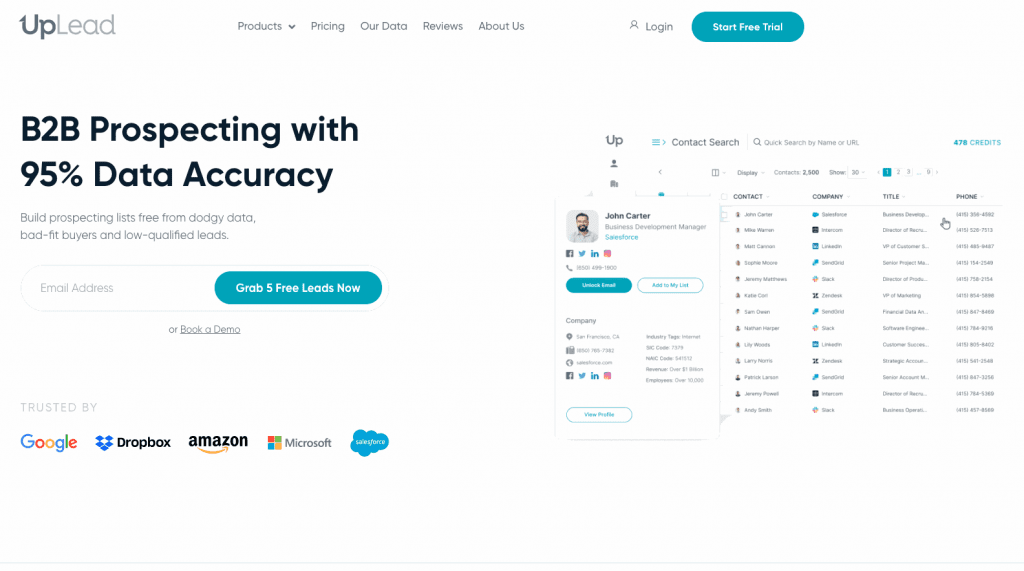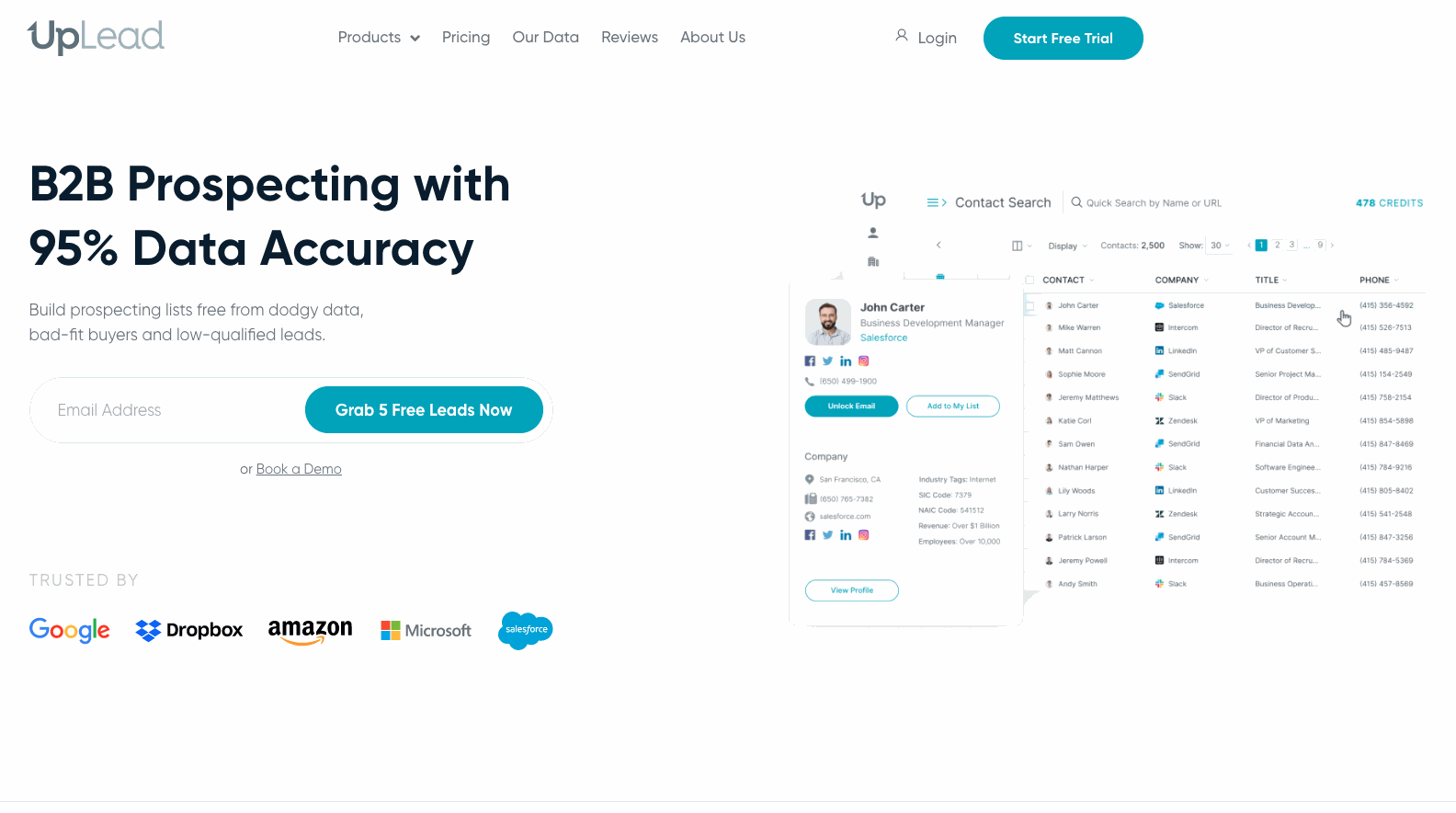 One of the easiest and fastest ways to generate internet leads is by using a lead provider like UpLead as a part of your lead generation strategy.
A lead provider can help you generate a list of leads to pitch your solution to. Once you generate enough leads, you can simply focus on developing an effective marketing strategy to reach out to them.
How to get started with a lead provider:
Unlike many other lead providers, UpLead helps you generate the right leads with valuable data you can trust. UpLead's data is backed by a 95% accuracy guarantee, allowing you to browse through millions of profiles to generate leads and verify their emails in real time right before you download them.
Instead of simply showing you the leads in boring spreadsheets, UpLead gives you vibrant profiles that make it easy for you to get to know your leads quickly and organically.
All you need to do is to input your target customer's information into UpLead. Then you can browse through the leads and download lists filled with potential customers to contact.
Try UpLead today, and see if it's a good fit for you.
Start Your 7-Day Free UpLead Trial
Lead generation doesn't have to be all that painful. With UpLead, you can easily connect with high-quality prospects and leads to grow your company.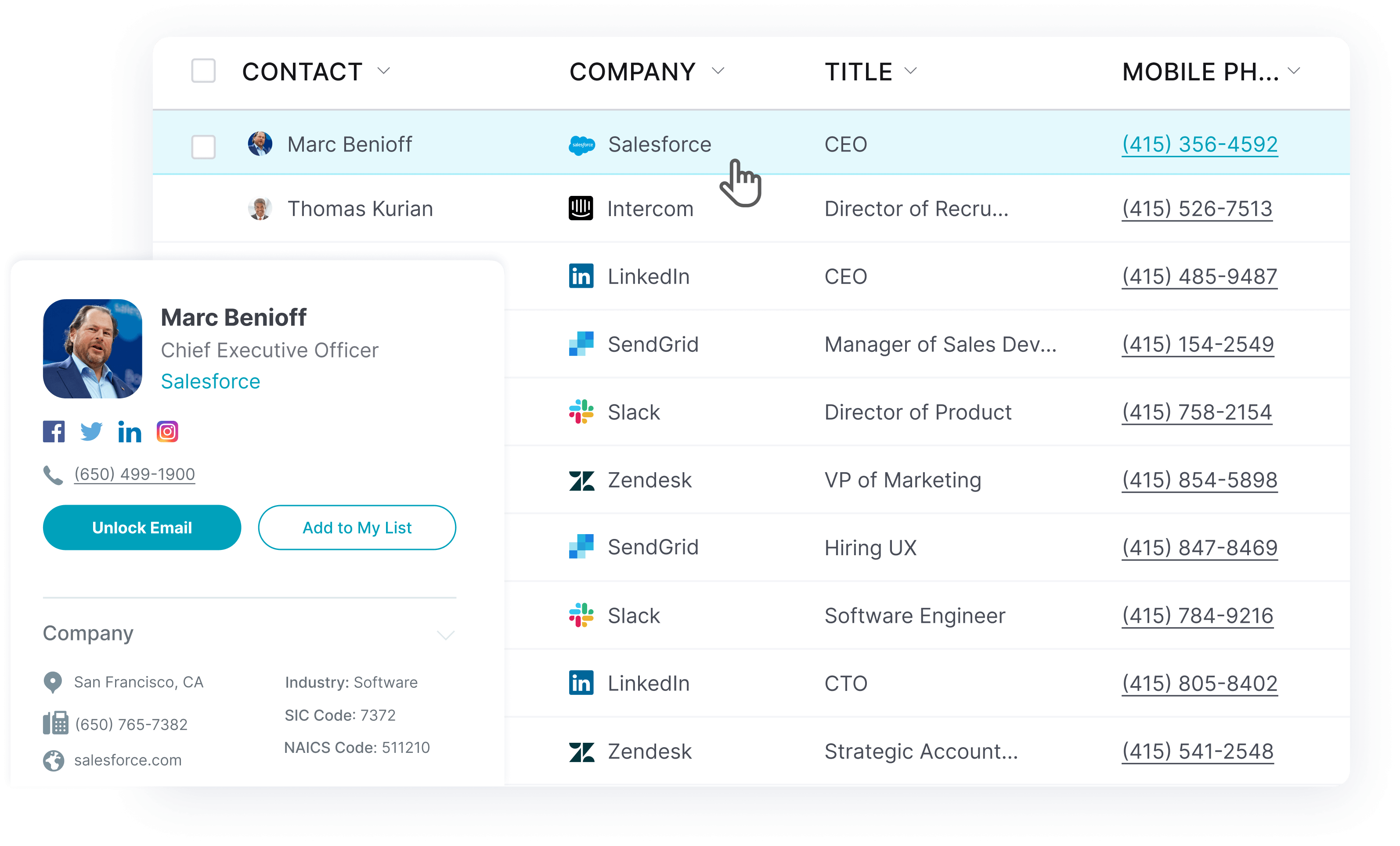 Webinars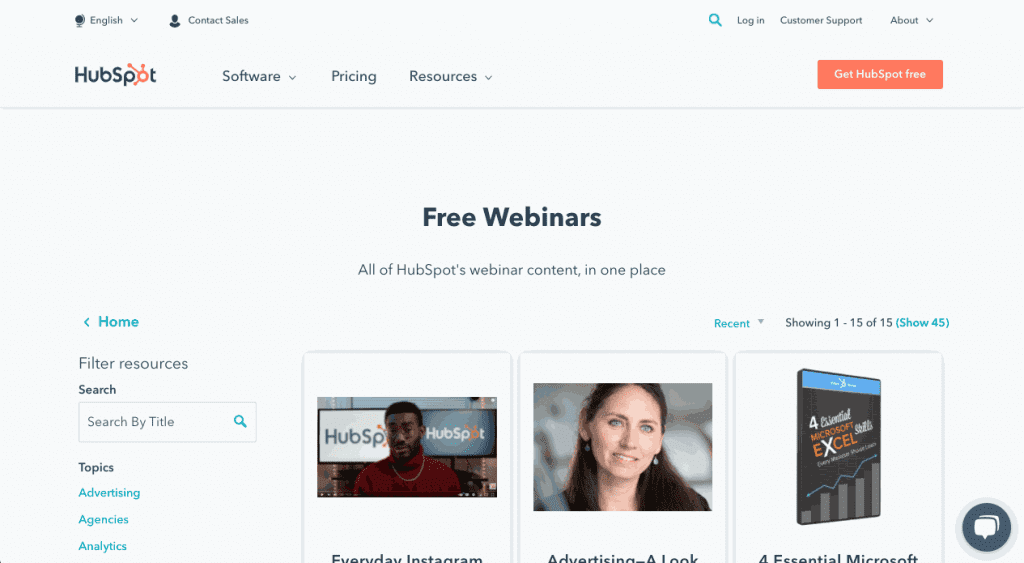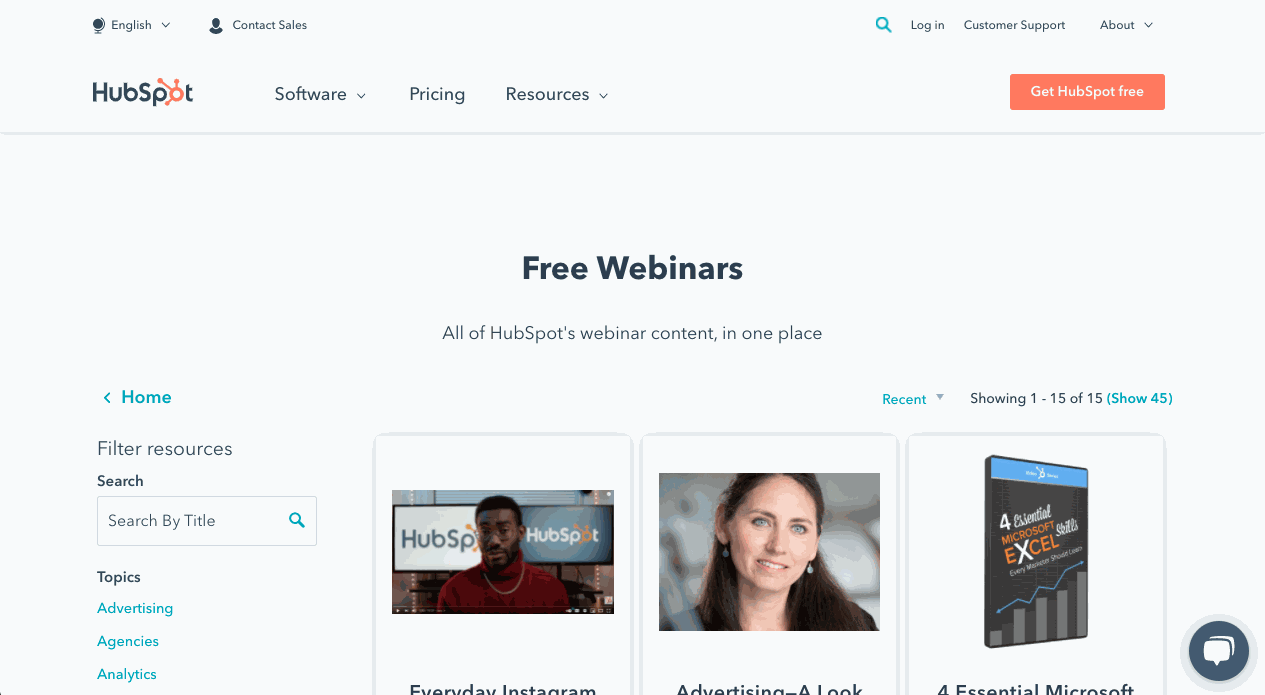 Webinars can be powerful lead magnets in an online lead generation strategy. Besides helping users position themselves as a brand authority, high-quality webinars can help users generate inbound leads for a long time.
For a webinar to be effective, however, it has to have high perceived value. With so much information available for free online, webinars work best when they have good production value and are easy to watch and understand.
Luckily, there are multiple tools to help users create effective webinars without the need for coding or video editing experience. These can even help with tracking leads and creating an effective web form for the user to fill out before they can access the webinar.
How to develop webinars for online lead generation:
The first thing you need is the topic you want to cover. Find a topic that fits within your brand identity, and start developing a script for it.
Recording both audio and video can save you time in trying to decide between animations and developing visual content. If you want the instructor to be on camera, ensure you have the right lighting and background and the instructor has good teaching skills and can perform well on camera.
Confirm that the audio is as clear as possible, and consider using professional audio recording equipment to ensure the best quality possible.
Once your webinar is recorded, edit it and develop visual aids to make it easy to follow and improve the customer experience. Develop the webform your potential customers will fill out in exchange for the webinar. This webform should have your lead's name and contact information to help you place them in the right marketing strategy and allow you to follow up with them later.
PPC Ads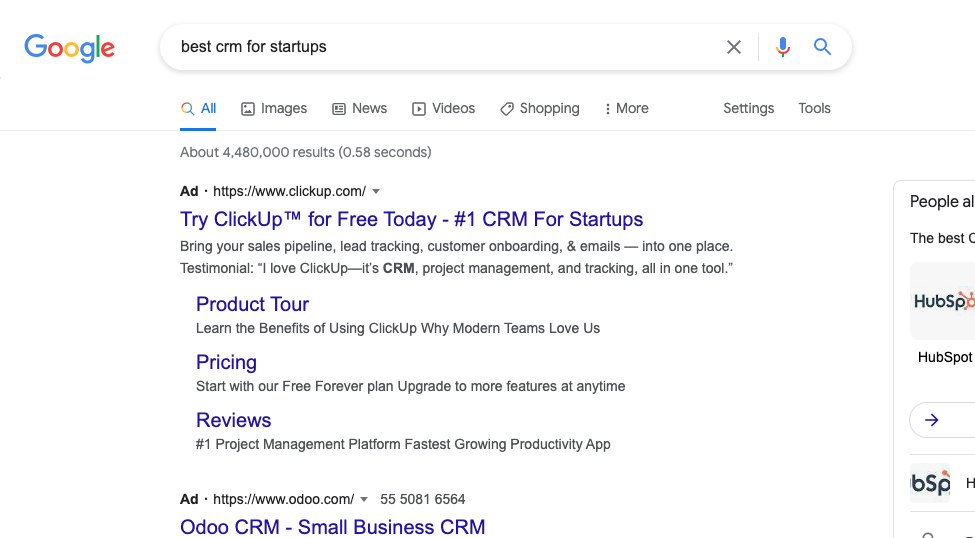 PPC or Pay-Per-Click ads are another great way to generate leads online, although at a higher cost.
Effective PPC ads are made with the right user persona in mind, focusing on their needs and figuring out where users will go to try to fulfill those needs.
Developing effective PPC ads involves extensive research to find the right keywords and the right user personas. Then they can be made more effective through constant testing to ensure the PPC ads are converting as many users as possible.
How to develop PPC ads for your lead generation strategy:
Start by identifying the platform you want to use. Whereas Google may be the preferred choice for many, other search engines may offer access to more exclusive leads with less competition and at lower prices.
Once you have your keywords and ads, test all of them with smaller budgets to figure out which ones give you the highest conversion rates. Once you've identified what is most effective, you can confidently place more of your budget on proven ads.
Display Ads
Display ads are also an effective form of advertising. These attract users to a landing page, social media profile, or other digital mediums to take action.
Display ads are usually charged on a cost-per-click basis and can be extremely effective when used in retargeting campaigns. These ads can target users who have already visited the website and are already familiar with the brand and its solution. They don't need to be reintroduced to the company.
How to get started with display ads:
Like PPC ads, you'll want to do enough research to identify which ads you'll use and how you'll use them.
Depending on your strategy, you may choose site placement ads, contextual ads, or remarketing ads to reach the right audience. When creating your ads, optimize them for mobile devices first, and keep them compelling, concise, and with a clear design. Then, you can test several ads to choose the most effective ones. Keep testing and updating your display ads to ensure they're as optimized as possible.
Content Marketing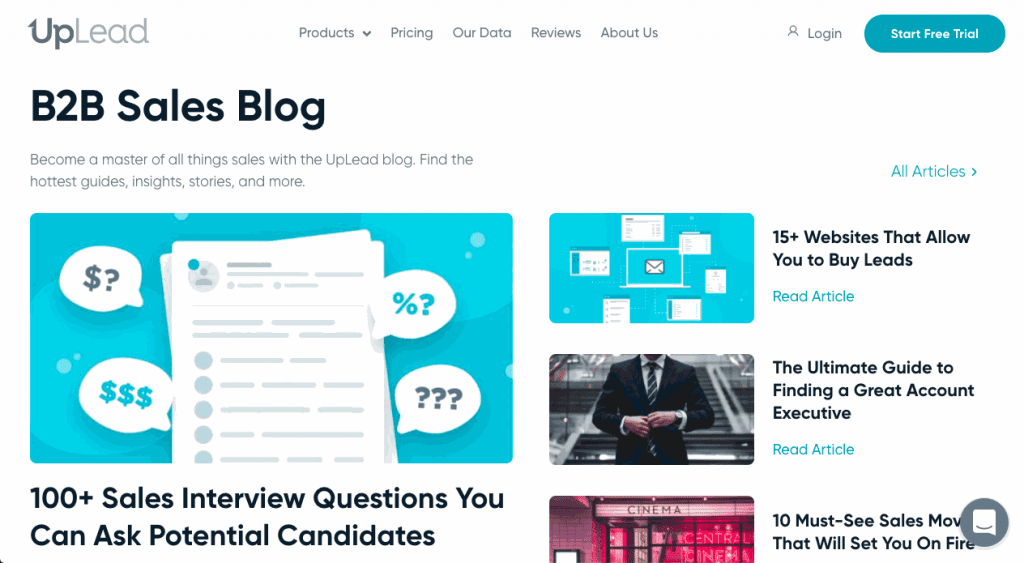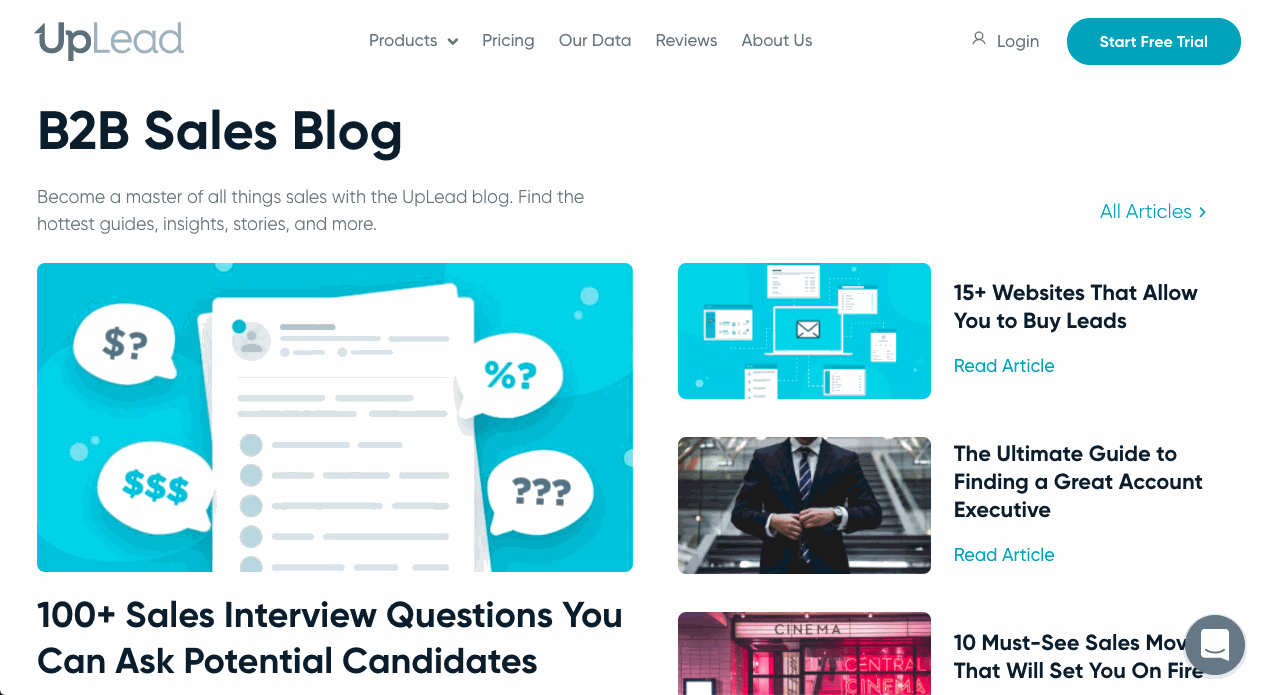 Content marketing is becoming an increasingly popular and valuable method of generating leads.
The most common way to develop a good content marketing strategy is by simply starting a blog. Blogs can be an effective and affordable way to generate leads through outbound marketing and SEO-friendly content. These allow users to find the content as they look something up online and position the right solution as the answer to their queries.
Guest posts can also greatly help users reach other audiences while generating backlinks and increasing organic traffic.
How to get started with content marketing:
Content marketing is one of the most cost-effective marketing strategies because all you need is a title and time to write about it.
Use tools like Google Trends and AnswerThePublic to identify trends and find potential topics to write about. Keep your articles as tight as possible, avoiding repetition or fluff. You'll want to meet your audience where they're at, so keep in mind their level of understanding of the topic when developing an article.
Once your blog has enough content, you can reach out to other non-competitor companies who share a similar audience to yours, and offer to create guest articles in exchange for a link back to your website. These will help people find your blog directly when clicking through it and indirectly by helping your SEO efforts with valuable backlinks.
Everything About Internet Lead Generation
Here are answers to common questions regarding internet lead generation:
How do I get Internet leads?
You can get internet leads through multiple ways, like content writing, developing effective lead magnets, or using lead providers. Content writing and lead magnets act passively, waiting for users to find them and collecting user information around the clock.
Lead providers are a simple way to generate effective B2B leads to contact and place them in your sales funnel. The best way to generate the right internet leads will likely depend on your business model and target audience.
What is the best website for leads?
There are multiple websites for leads. Ideally, a lead generation tool will allow you to access exclusive leads for your sales process, helping you develop lists of potential customers you can contact. To avoid getting unreliable or aged leads, you can use UpLead, which offers users a 95% data accuracy guarantee and vibrant user profiles to become familiar with the leads even before the initial contact.
How can I get free internet leads online?
You can get free leads online through content marketing, aiming to solve user queries and positioning your solution as the answer to their pain points. You can also use webinars and other lead magnets to position your brand and generate new customers in exchange for highly valuable content.
Tools like UpLead also give you a few leads for free to test out the platform and quickly find the right leads and their contact information.
Conclusion
Internet leads aren't hard to find if you're using the right tools. If you want to increase your client base and quickly generate mailing lists filled with exclusive leads, use UpLead.
Try it out for free today, and get the bulk internet leads you're looking for.