If you want to have a successful business, you need web design leads. In this article, we'll look at the best ways to get web design leads and find the potential clients you're looking for.
We'll discuss various strategies and show you tools that will help you get high-quality leads and expand your business.
Let's get started.
Quick Links:
What Are Web Design Leads?
Web design leads are potential clients looking for web design services. These lead profiles usually come with the lead's name and contact information.
Cold web design leads are users who are yet to interact with you or your business but who fit a customer's profile. Warm leads are users who have been contacted and have engaged with the company before. These may be SEO leads who find the company organically and fill out a web form to be contacted. A curious fact is that agencies also buy SEO leads to help them improve their visibility in the SERPs.
Since getting the right leads is vital to any web design business, multiple lead generation strategies and tools exist to get quality leads.
How to Find Leads for Web Design
Here are a few ways to get leads for web designers:
B2B List Building Software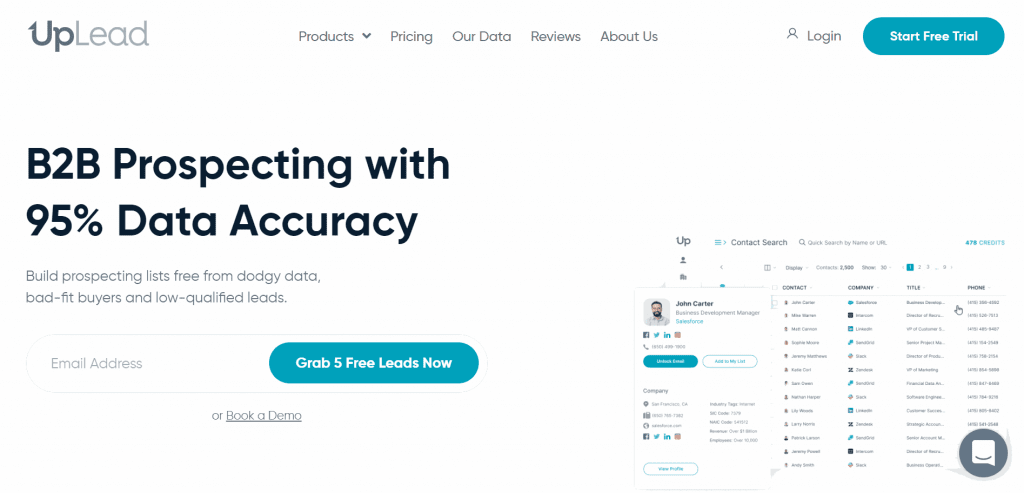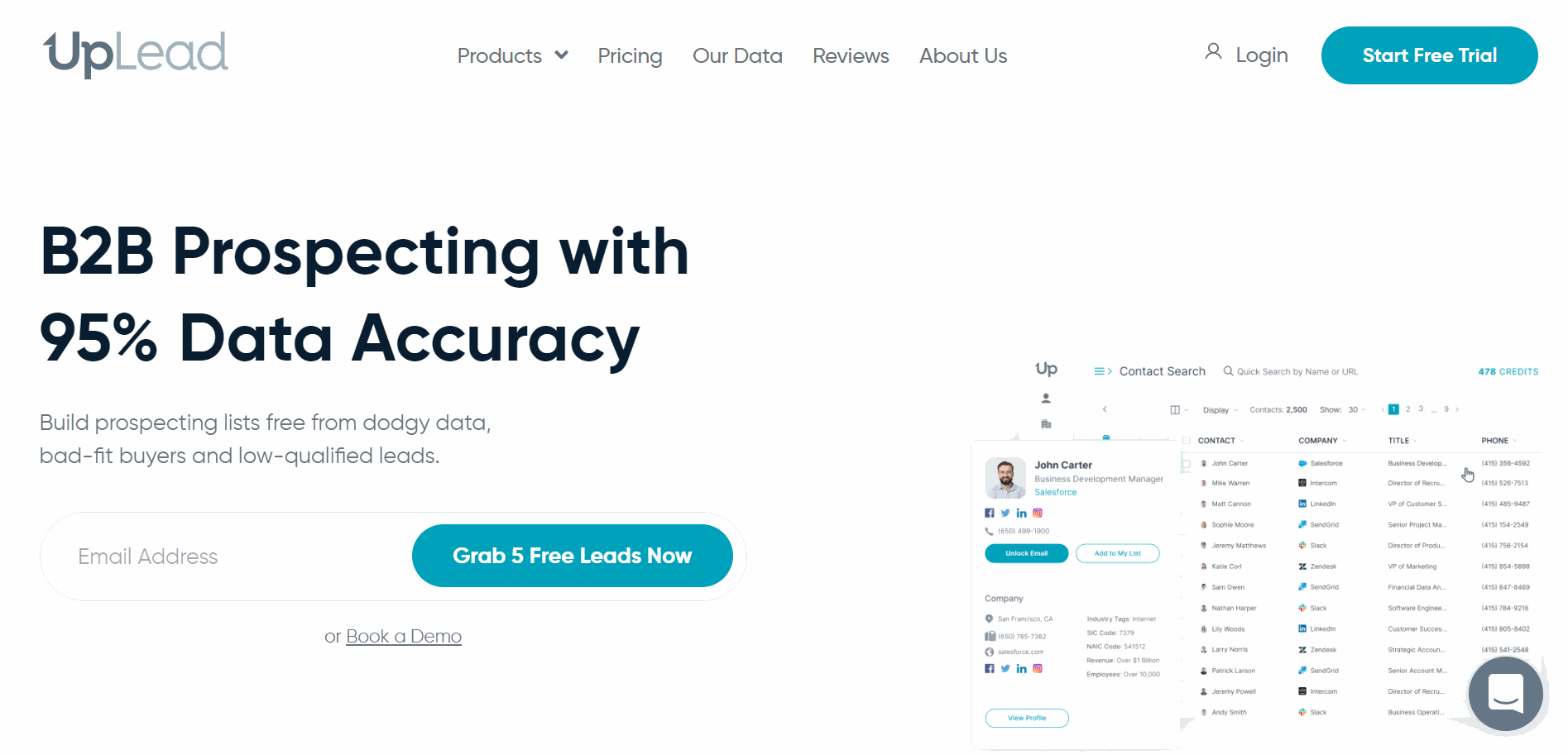 B2B list-building software can be a great option to quickly get as many website design leads as you need.
These tools often feature a database of profiles users can browse for lead generation purposes, filtering with various criteria to find a good lead. That's why list-building software is only as good as its data.
UpLead is a B2B Lead Generation service that allows you to browse an extensive database with a 95% data accuracy guarantee. All you need to do is input the information of the customer persona you're looking for.
Once you've collected all the leads you need for your web design agency, download your lead list. As you do, UpLead will validate every email address in real-time to ensure you're getting data you'll actually use. If UpLead can't validate an email, you're not charged but can still download the profile.
You can incorporate these lists of validated customer profiles into your digital marketing strategies, finding web design clients almost on command.
Data Enrichment
Already have a list of leads? Use UpLead to enrich and validate your data.
Simply upload your email list to UpLead. UpLead will then enrich your data with profile information, validated contact information, and even social profiles and photographs when available. That way, you can segment your audience quickly and efficiently and engage them with relevant campaigns tailored to their user persona.
Vibrant Profiles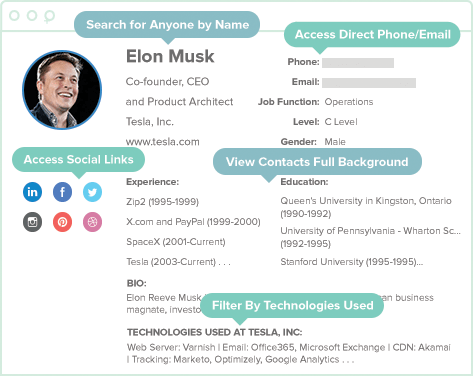 Thanks to its vibrant profiles, UpLead makes it easy for you and your sales team to learn all about their leads.
With UpLead's profiles, you get all the information in organized cards, including details about the user, their work history, and the rest of the information collected. This helps to flesh out the leads, humanizing them instead of making them just another phone number or row on a spreadsheet. We are one of the top intent data providers available.
Try UpLead today, and see if it's a good fit for you.
Start Your 7-Day Free UpLead Trial
Lead generation doesn't have to be all that painful. With UpLead, you can easily connect with high-quality prospects and leads to grow your company.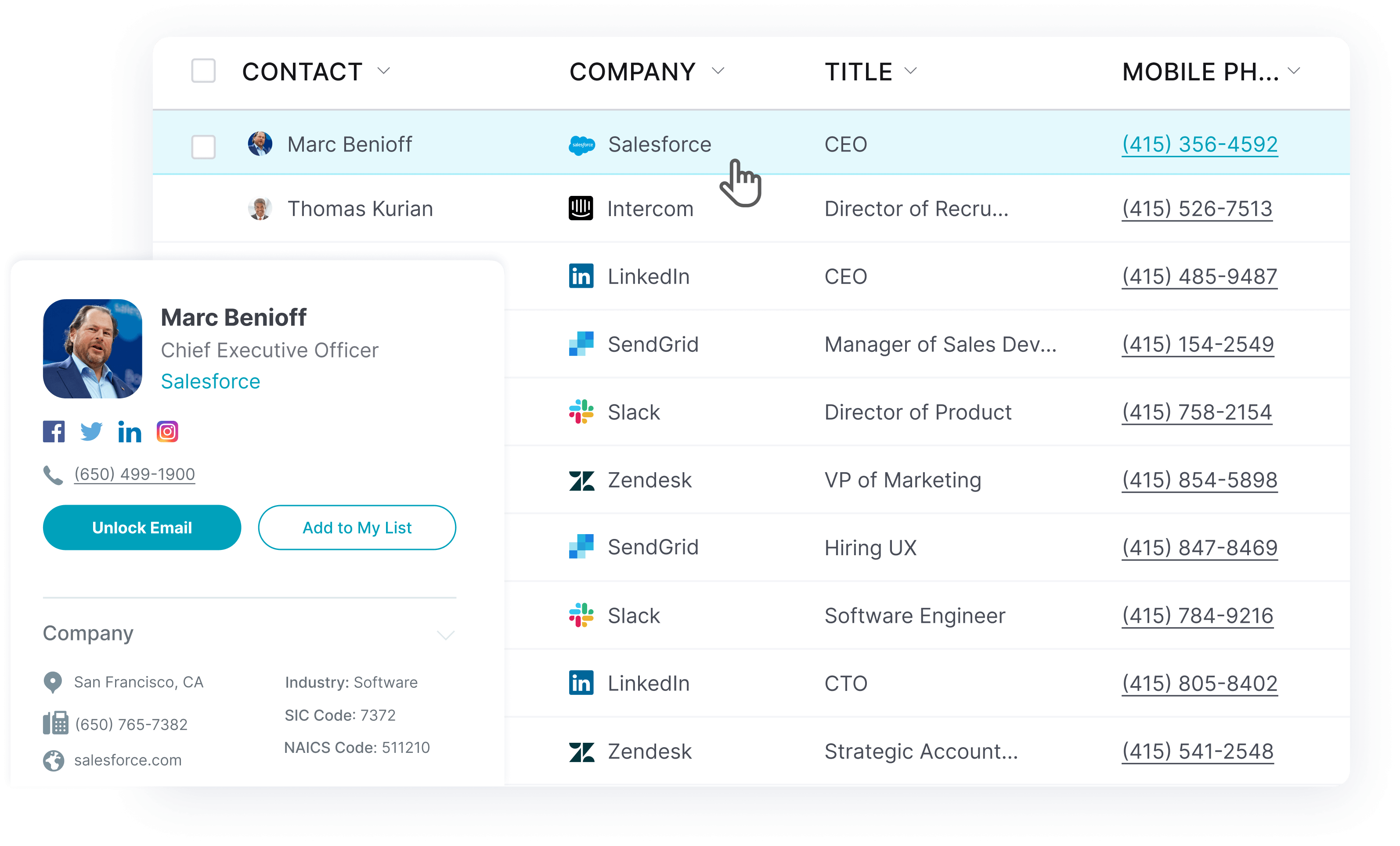 Social Selling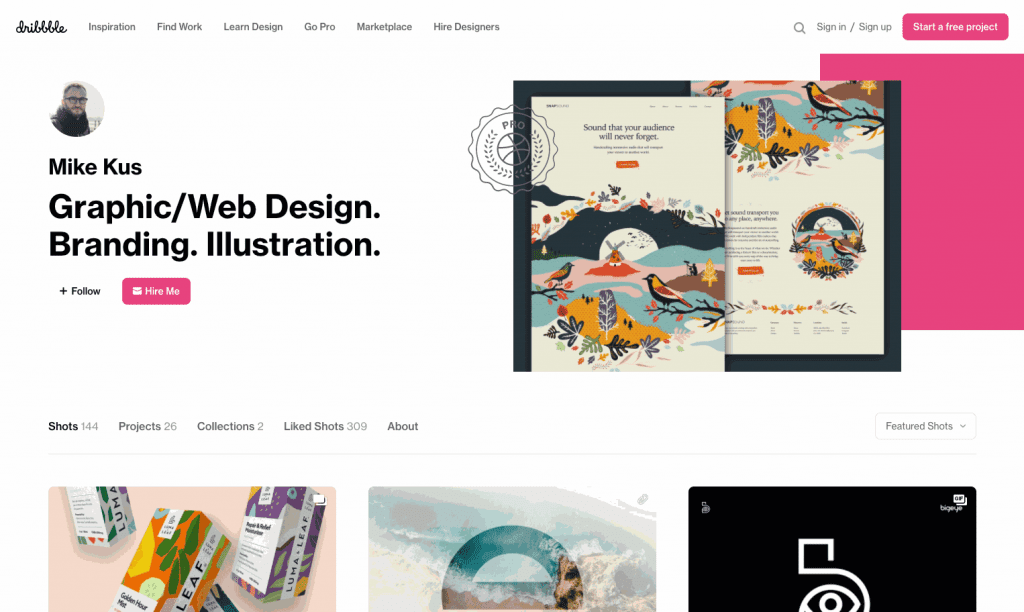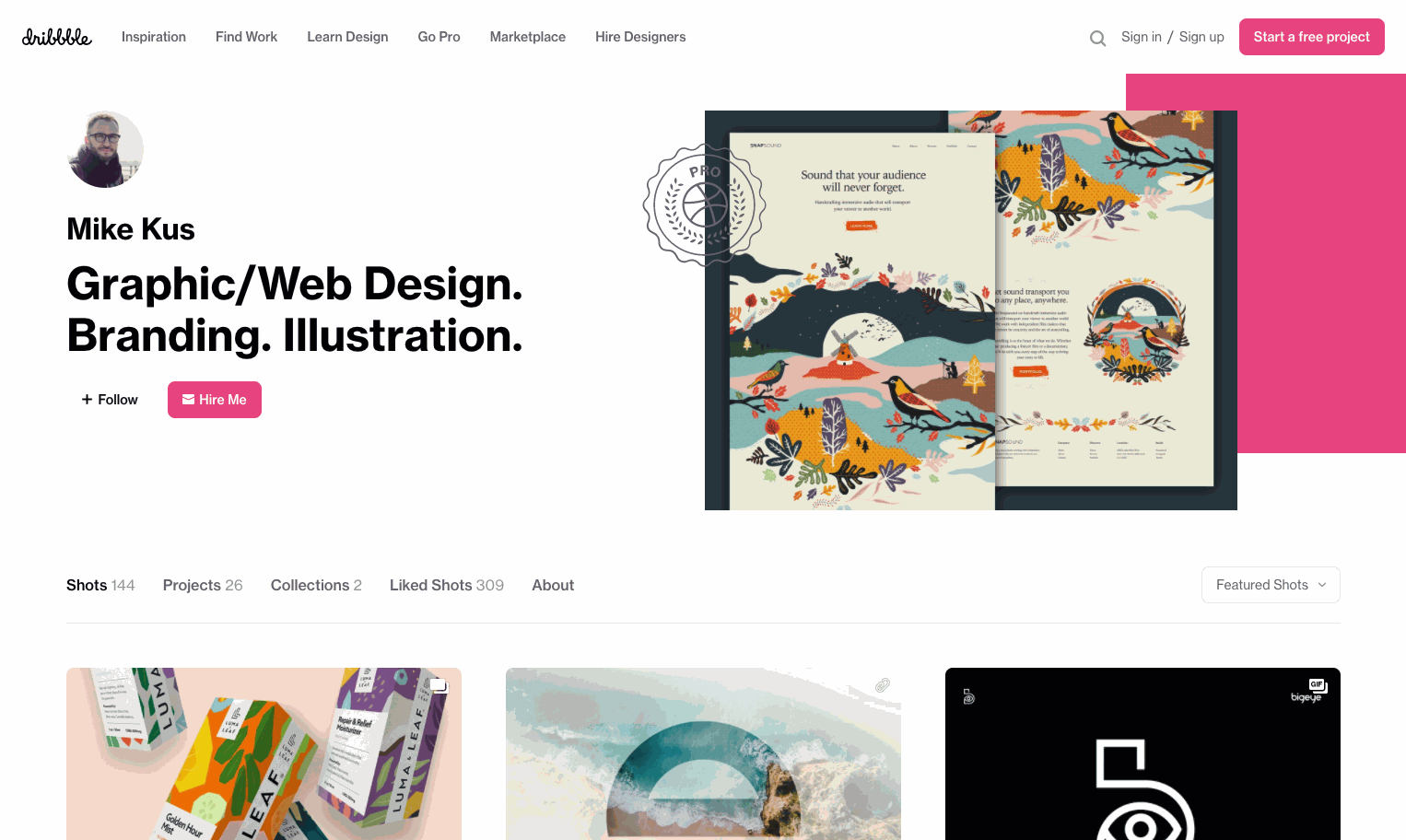 Source: Mike Kus on dribble
Social selling is the process of leveraging social media channels to find and engage with potential customers.
Given the rising popularity of social media and its huge adoption by the market, social selling has become a vital way to generate leads. With it, users can develop connections with potential customers, fostering their attention until they're ready to make a purchase.
However, not every social media profile will have all the data you need to offer your services proactively. To counter that, you can use lead generation tools to complement the information you find online.
How to get web design clients with social selling:
When using social selling for lead generation, developing your profile and cold outreach is important. This will help you get organic leads and offer appeal to your customers.
The first thing you need to do is know where to find your potential client. Use customer profiles to determine which social media platforms to use based on where your client persona looks for digital services.
Some web designers may have a presence on Instagram or Twitter. You can complete your social selling strategy with a presence in designer communities. This allows them to expand their network and engage their potential leads through multichannel social selling strategies.
PPC Ads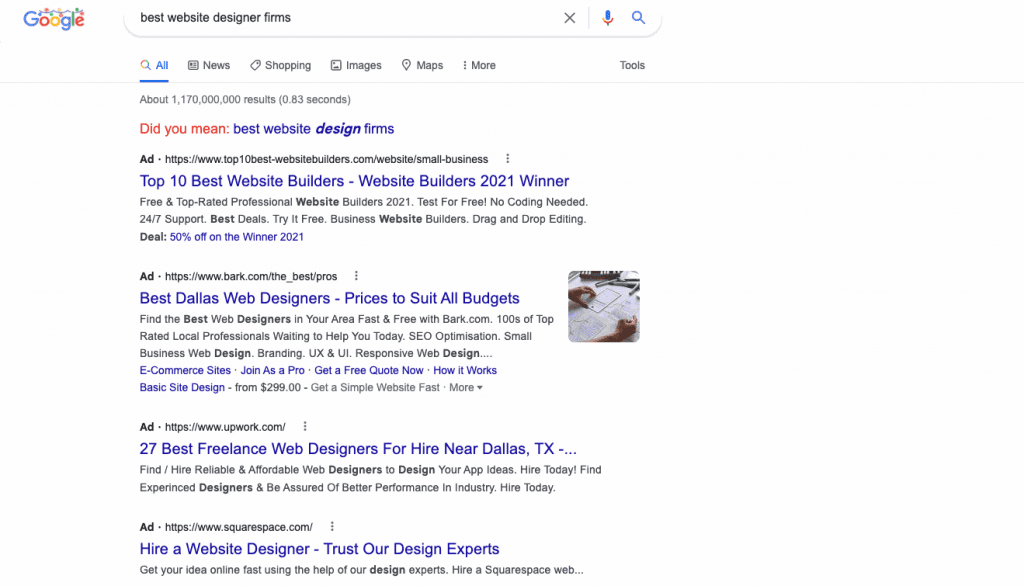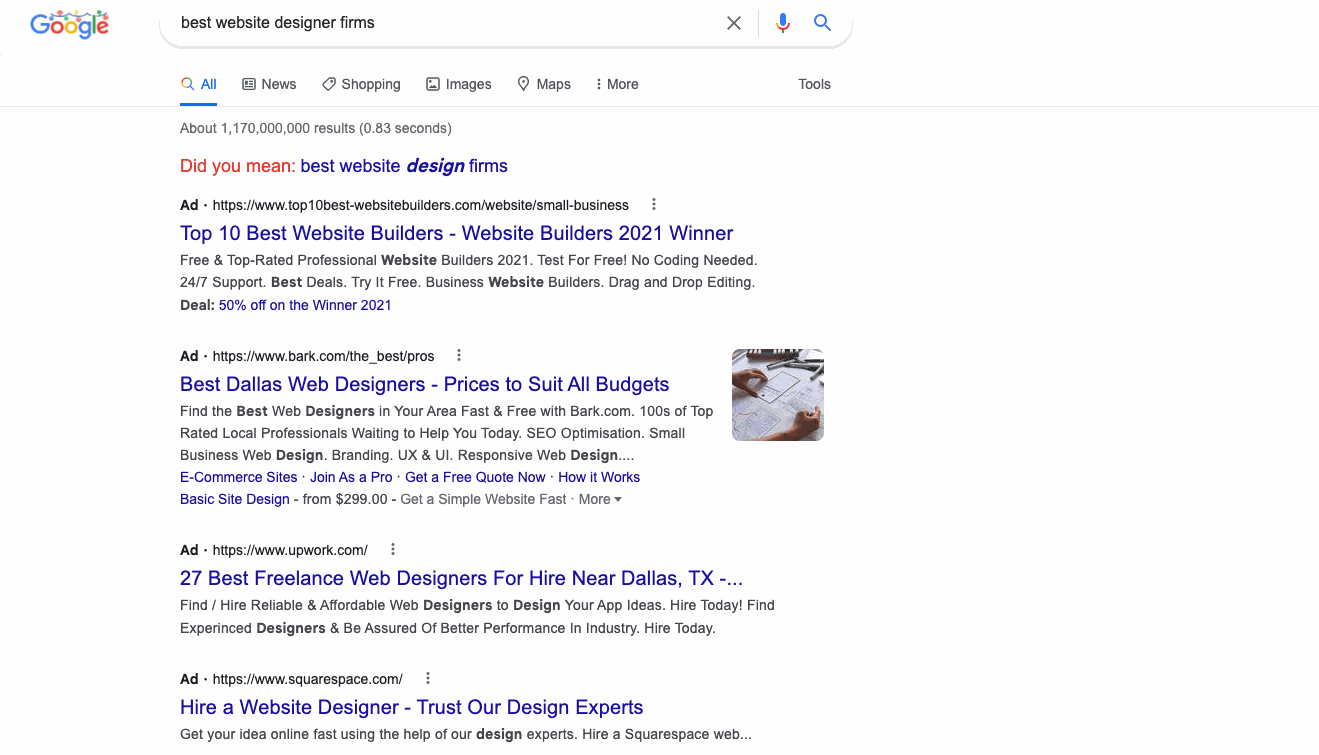 PPC or Pay-Per-Click ads are another powerful tools to find web design clients, although at a higher cost per lead.
PPC ads allow you to bid on keywords or advertise a digital ad for your web design business. When done right, PPC ads allow you to show the right ad to the right user, helping you target specific users in specific demographics.
With proper research and a good budget, PPC ads allow you to generate leads quickly. Good keyword and user persona research can also help you develop ads informing your leads about your services, even if they don't click through.
PPC ads are usually used alongside other tools to generate enough leads while remaining affordable.
How to advertise web design services with PPC ads
Good PPC ads are created around the needs and characteristics of your user persona. This starts with research to define the user persona, including details such as their age range, gender, and relevant demographic characteristics. Then, you can look into the keywords and platforms you'll want to use to understand their prices better.
Once you've defined who your client is and where they spend their time, you can allocate a budget to get started with PPC ads. Start by developing PPC ads based on your research. When you have different versions of the ads, narrow them down to the best few. Then you can place your ads with a small budget behind them, allowing enough time to see which ads perform the best.
Finally, once you know which ads get the best results, you can allocate a larger part of your budget to backing those ads.
Keep testing your ads, find ways to improve them, and look for new keywords and user personas to show your ads to.
Freelancing Sites (like Upwork)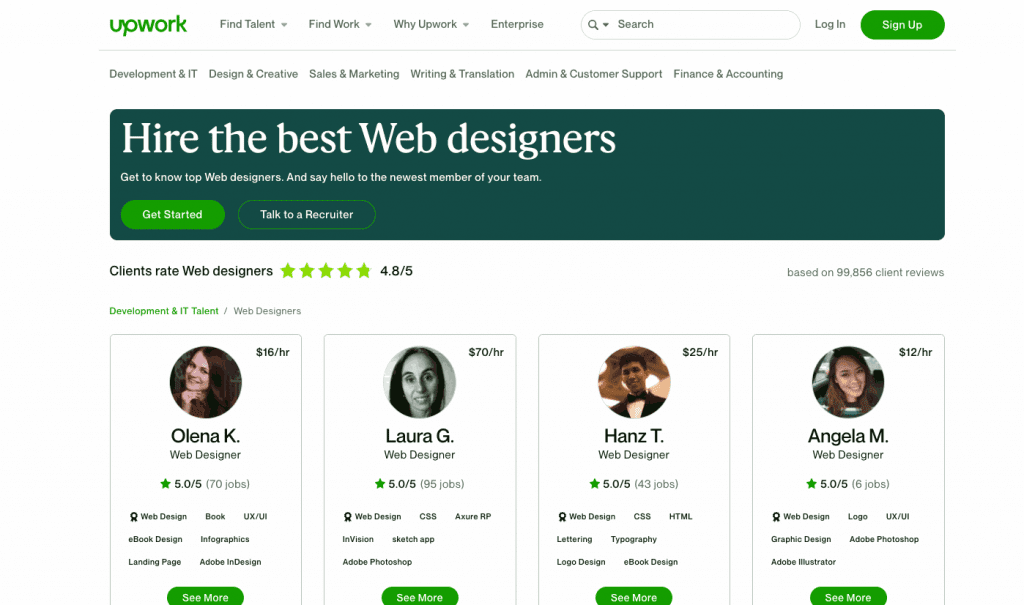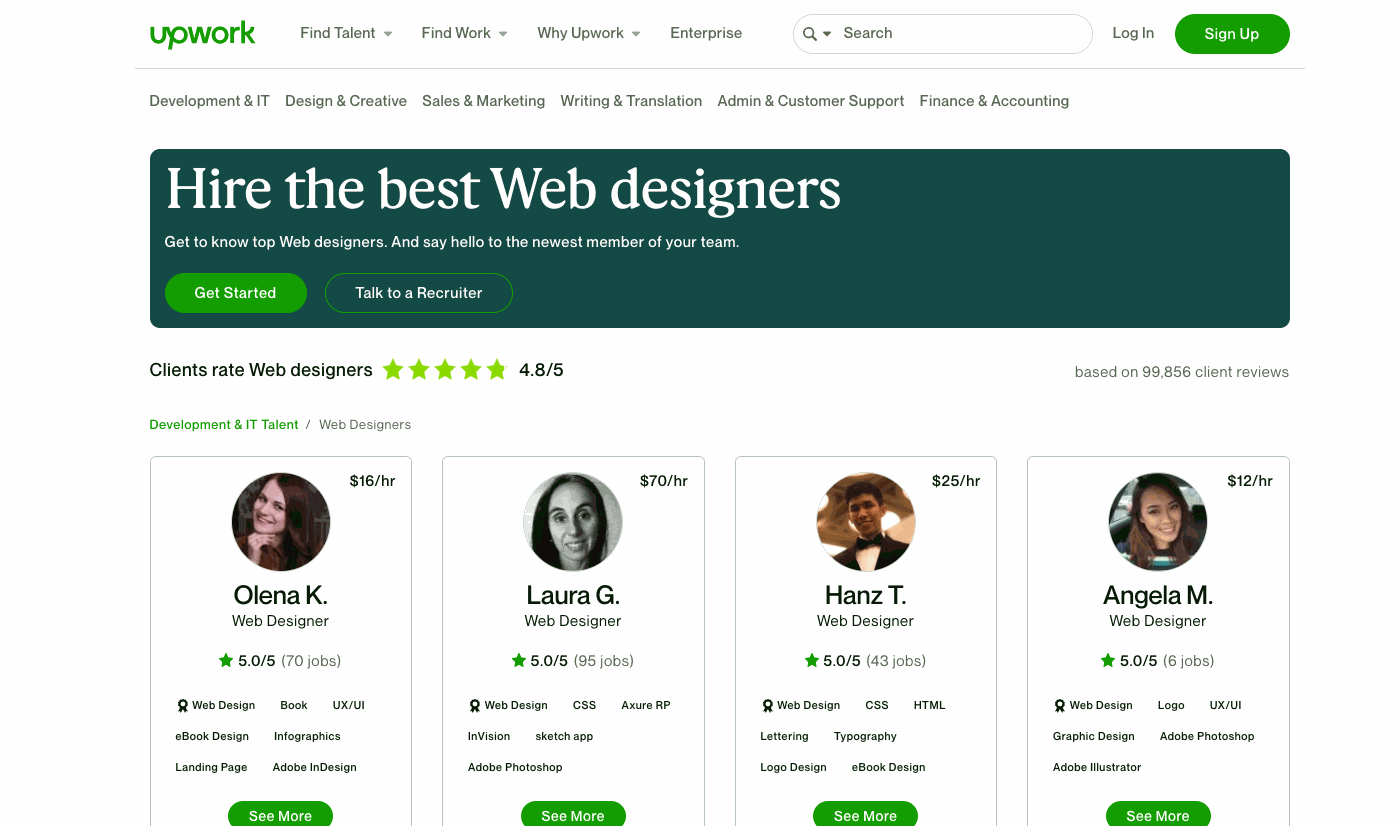 Freelancing sites are great places for web design freelancers to find leads and advertise their design services.
These platforms offer freelancers the opportunity to connect with multiple potential customers worldwide and contact clients they wouldn't have met otherwise. Although an agency owner may want to look for more reliable or proactive lead-generation techniques, freelancing sites are especially attractive to individuals and small firms.
However, with so much competition, platforms like UpWork can be overcrowded, making it harder for new freelancers to break through. Multiple platforms are exclusive for artists and designers, although large websites like UpWork are still the most popular.
How to get started with freelancing sites
Just like when creating PPC ads, you'll first want to start by researching to figure out where your potential clients are.
Look into large platforms like Upwork and Fiverr, and compare them to smaller, more niche freelancing sites and forums. Take into account the kind of clients you can get on each platform and how easy or hard it will be to progress on the platform and get bids.
Perfect your profile by filling in all relevant information and showcasing the best examples of your work. You'll want to encourage visitors to have an "aha! moment" while reviewing your profile, so try to answer any questions they may have about you and your work.
Once you start bidding for jobs, you'll often have to lower your prices and perform jobs for less revenue to improve your profile's reputation. Make sure to calculate in advance how much it'll cost you to progress until your reputation is good enough to charge your desired fees.
Content Marketing (start a Blog)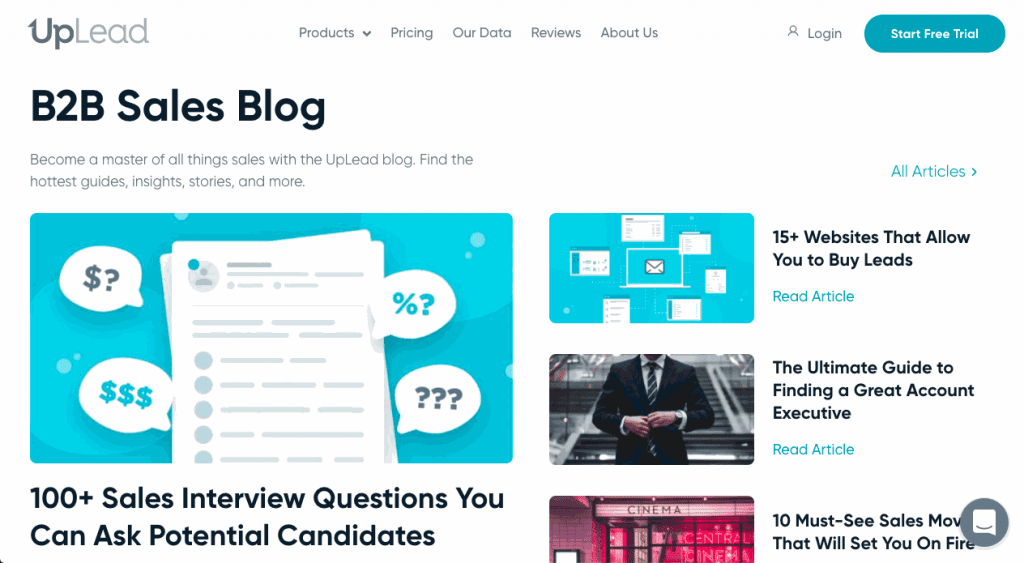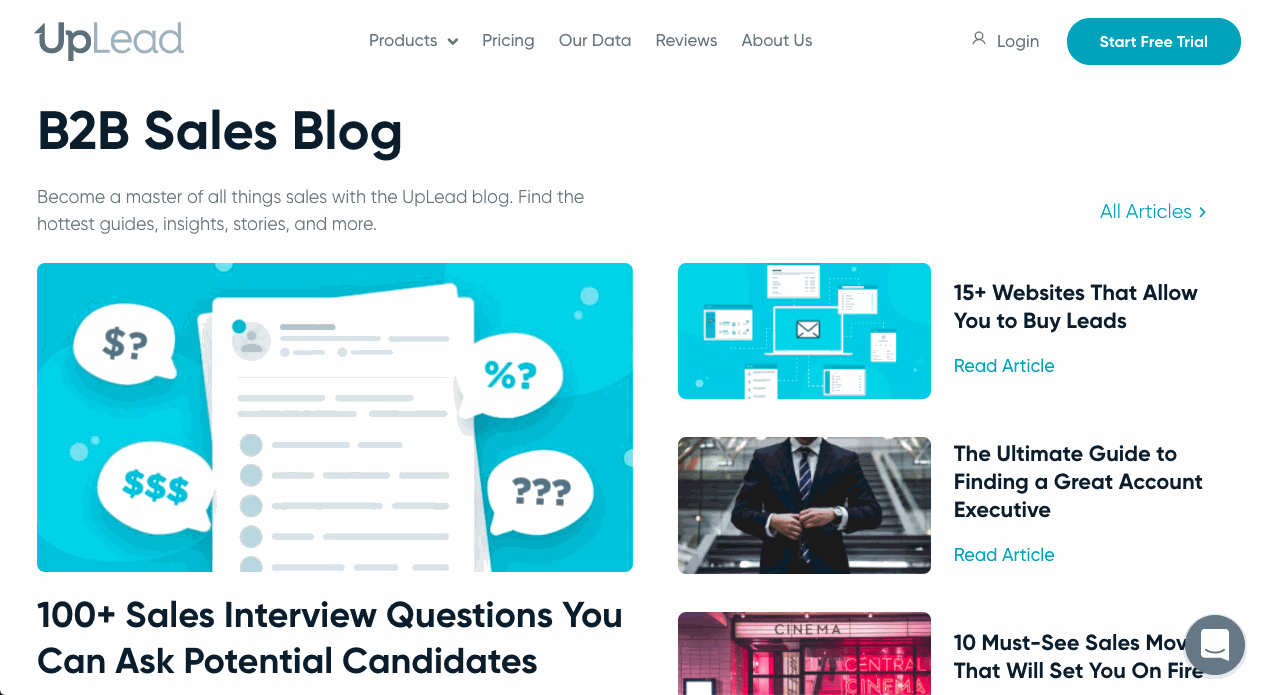 Content marketing is quickly becoming a reliable and popular way of getting leads organically. Once the content is written and optimized, it can generate free leads with little maintenance.
Blogs allow you to find leads through inbound marketing and SEO-friendly content. They can also humanize your brand, allowing readers to make a personal connection and see it as a brand authority.
By developing content at multiple steps of the customer journey, you can also nurture leads, educating them and engaging them until they're ready to make a purchase.
Blogs are also a great place to give and receive guest posts, encourage collaboration, generate backlinks, and expose your web design company to other audiences.
How to use content marketing to generate leads
Creating a good content marketing strategy is similar to creating a PPC ad strategy.
With PPC ads, you want to target the number of keywords you can afford, but with a content marketing strategy, you target the keywords you're able to rank for. Then you have to create content around those keywords and make it SEO-friendly so it's easy to crawl.
To generate leads with content marketing, you'll need to identify queries your user may make along their customer journey. Then, locate the keywords you can rank for and create content that fulfills the query. You can also describe how your web designing services fit into the query and give them a quick pitch on your work.
Ensure you end your inbound blog posts with a strong CTA to engage with potential customers.
Social Media Groups (like Facebook or LinkedIn)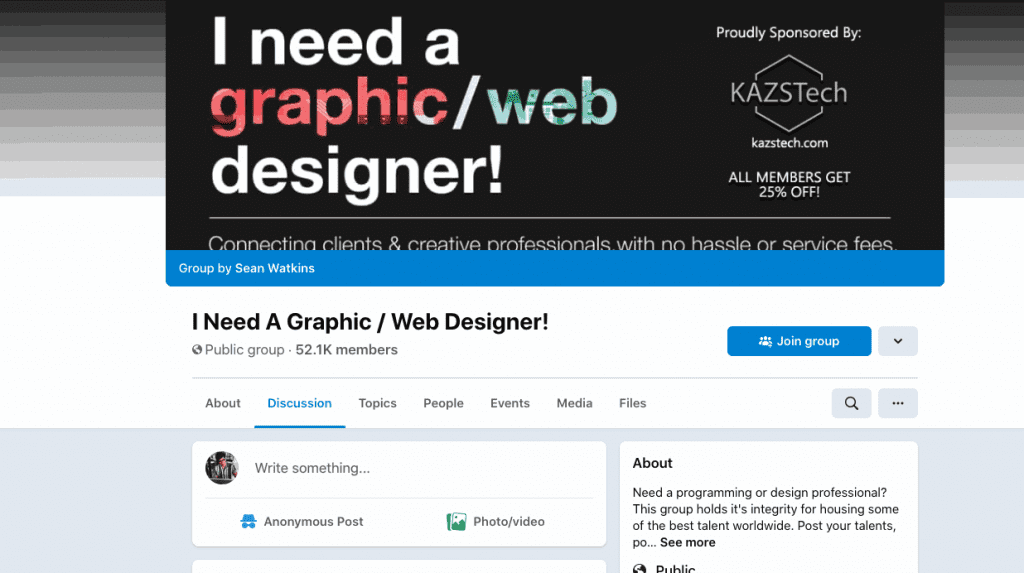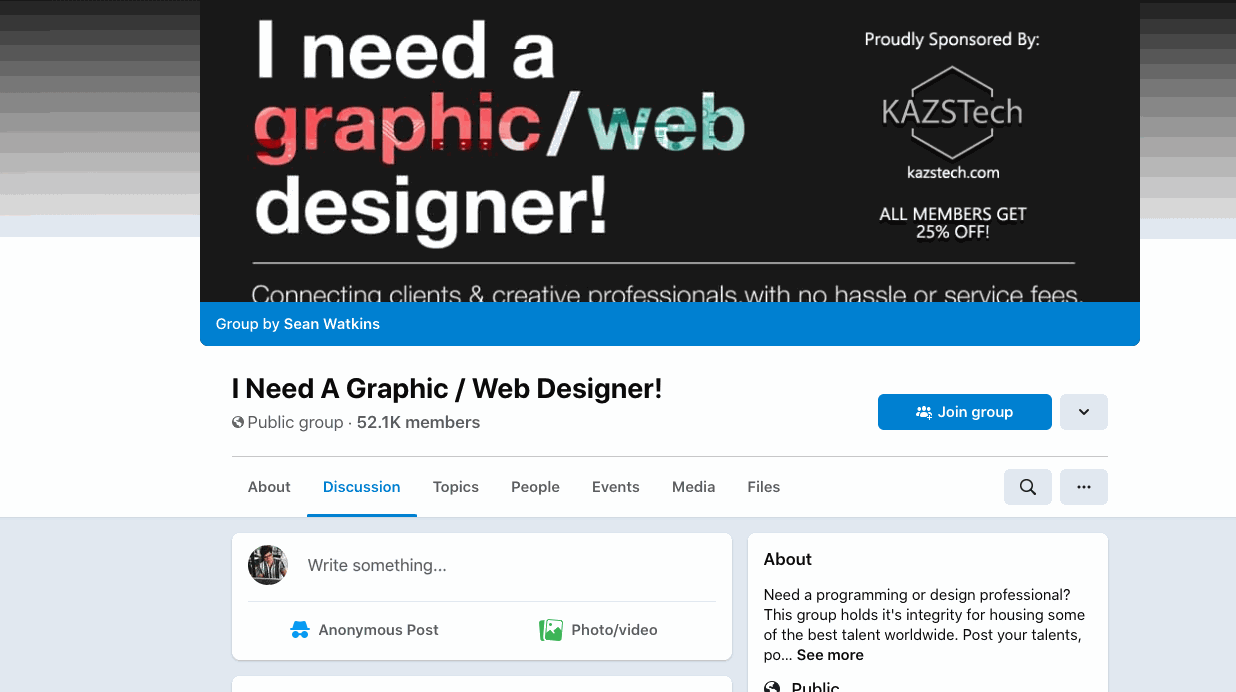 Social media groups on Facebook and LinkedIn allow you to connect with potential clients and like-minded individuals.
Besides sharing knowledge, these groups allow users and leads to find each other by advertising their work or posting about their design needs. These groups often work as a free discourse, with people either searching through posts or posting a question to find the leads or services they're looking for.
Since these groups are usually privately moderated, and since the group is only as effective as the moderation, finding a good group can be challenging. However, these groups can effectively find leads in very small niches.
How to use social media groups to find leads
First, you'll want to update your portfolio, ensuring it's easy to access and browse so that you can send the link to potential clients. You may also want to polish your public profile, making sure it looks professional enough for the website.
Then locate the social media groups that leads go to when searching for web design services. Although these are popular, they can also be highly competitive. That's why you may want to check the group regularly to ensure you reply to anything relevant as it's posted.
You can also use your user personas to find the social media groups they are likely to belong to. Then you can either advertise there directly or create inbound content they can engage with to generate the leads you need.
Should You Buy Web Design Leads?
Although using social media, ads, and content marketing can be effective, the process is slow. You'll have to invest a lot of time and money before you get your first lead. Besides planning and researching your user persona, you'll also have to plan and research your marketing strategy to get users who fit that persona.
However, buying web design leads is as simple as inputting your user persona and buying as many leads as you need. With tools like UpLead, you can instantly create lists of users to pitch your web design business. All you have to do is send them an email or give them a call.
With the UpLead Chrome extension, you can also expand your social selling capabilities, allowing you to generate leads as you browse online. And with UpLead's data enrichment capabilities, you can quickly learn everything there is to know about your current leads, wherever they may come from.
Try UpLead for free today.
Start Your 7-Day Free UpLead Trial
Lead generation doesn't have to be all that painful. With UpLead, you can easily connect with high-quality prospects and leads to grow your company.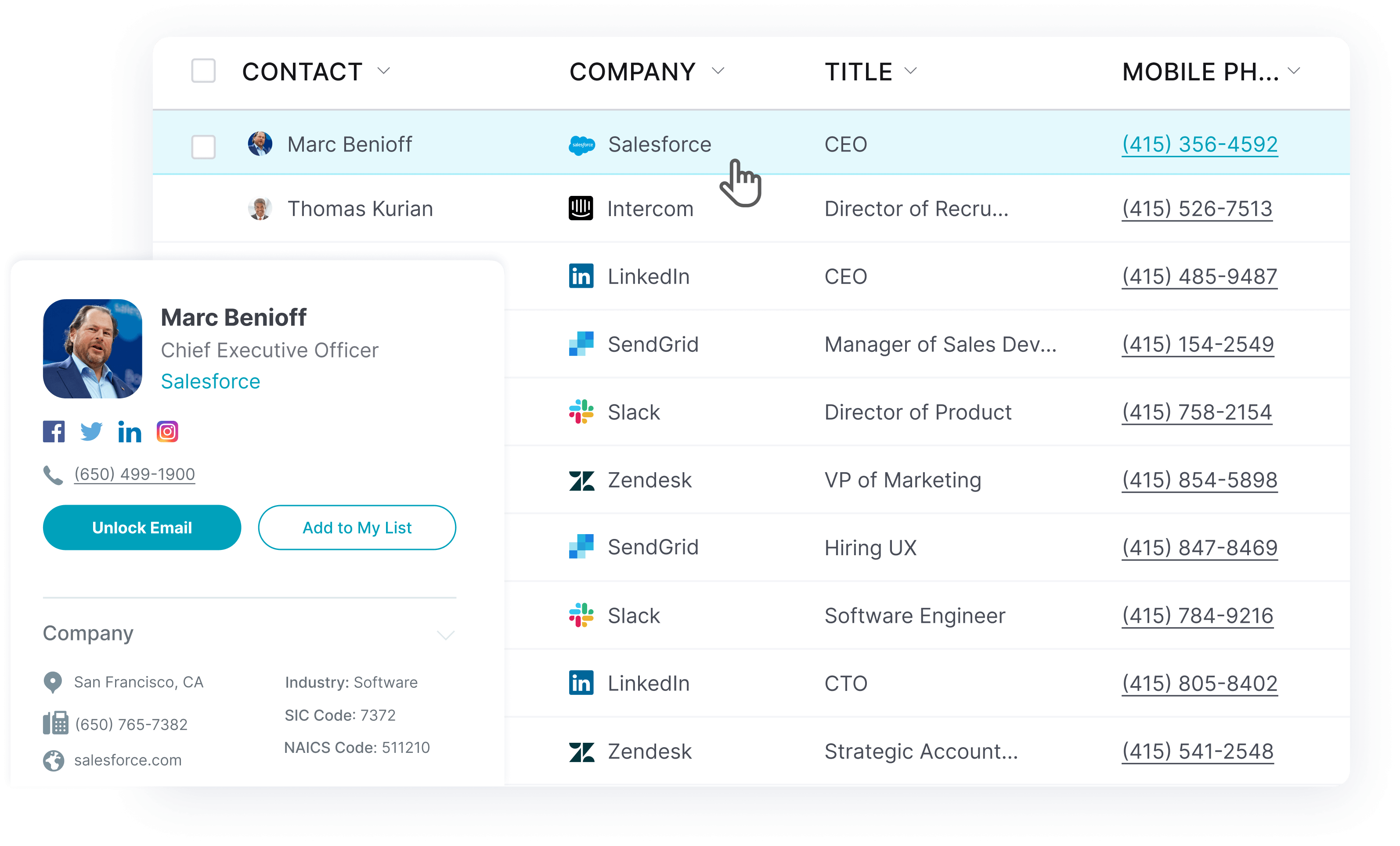 –
FAQ About Web Design Leads
Here are the answers to common questions about web design leads:
What are web design leads?
Web design leads are potential customers who may be interested in hiring a web designer or a web design agency. These leads can range from an individual or a small restaurant looking for web design from a simple website to large transatlantic companies looking to revamp their online presence.
How do you generate web design leads?
You can generate web design leads through PPC ads, placing ads for people to find. You can also use social selling and professional freelancer profiles so users can find and contact you, or you can use platforms like UpWork to tap into larger markets.

However, buying them through a lead generation platform is the fastest way to generate cold web design leads. Lead generation tools allow you to generate quality leads almost on command by simply inputting your client persona into the search criteria. The platform then searches the database, allowing you to select the leads you want and download leads in bulk. Then you can tailor your cold approach and proactively generate sales.
Is it legal to buy web design leads?
Buying leads of any kind is legal as long as they meet certain criteria. Lead generation platforms archive public information and crawl public directories and professional websites. Then they separate them into lead profiles so a web designer or a web design agency can purchase the leads they're looking for.

When using leads (purchased or any other kind) in email marketing campaigns, you should also comply with anti-SPAM laws and provide a clear way to unsubscribe from your email list. 
Web design leads: Conclusion
Generating web design leads doesn't have to be hard. With the right lead-capturing tools and strategies, anyone — from freelancers to agency owners — can find the leads they need.
Start by developing and updating your portfolio and study cases. Then you can start planning a marketing campaign to get leads or buy them with a lead generation platform.
Platforms like UpLead expedite the process and immediately allow you to get the web leads you want. Simply input your customer persona information and buy as many leads as you need.
Try UpLead today, and see if it's a good fit for you.
Start Your 7-Day Free UpLead Trial
Lead generation doesn't have to be all that painful. With UpLead, you can easily connect with high-quality prospects and leads to grow your company.