Inbound leads are at the heart of your inbound marketing strategy. The right inbound leads are generated at affordable costs and are already aware of and ready to purchase your brand and solutions.
Here, we'll tell you everything you need to know about inbound lead generation. You'll learn how to attract your target audience through an inbound strategy and discover which inbound lead generation tools you can use.
By the end of the article, you'll know how inbound lead generation works and how to improve your lead generation efforts.
Let's get started.
Quick Links:
What are inbound leads?
An inbound lead is a user who interacts with the content of your inbound marketing strategies. Inbound lead users may have attended your webinars, completed a survey, or interacted with any of your lead magnets.
Not all inbound leads are the same. However, inbound leads will likely know more about your company and solutions than outbound leads. This is due to the educating nature of inbound marketing efforts, which nurture prospects' interest through valuable content.
Once an inbound marketer has leads, they'll likely segment them according to their differences, ensuring each lead goes through the right customer path.
Inbound vs. outbound lead generation
Outbound lead generation focuses on initiating the first contact with a prospect through phone calls, direct mail, and other direct reaches. Here, the sales team is cold calling (using scripts) and cold emailing outbound leads to try to get a conversion.
Inbound marketing focuses on campaigns to get prospects to establish their first contact with the company. Here, the sales team focuses on receiving phone calls or responding to emails or messages from leads interested in more information.
Most successful lead generation efforts focus on generating both inbound and outbound leads. This allows for inbound and outbound marketing efforts to target users who are ready to convert and leads who require nurturing before converting.
Types of inbound leads
Here are the different types of inbound leads:
New lead
A new lead is a potential customer with little knowledge about your company or its products or services. Among them are first-time website visitors who've subscribed to your newsletter or interacted with any of your early lead magnets.
Working lead
A working lead is a potential customer with whom your company has already established a conversation. Working leads are, for example, users who've interacted with your live chat or users who have already responded to your emails.
Nurturing lead
Nurturing leads are users who are interacting with your inbound marketing strategies but aren't ready to make a purchase yet. These may be social media followers, newsletter subscribers, or any other user who shows interest in the company and may convert to a customer later on.
Unqualified lead
Unqualified leads are simply leads who are uninterested in your business offers.
Qualified lead
Qualified leads are potential customers who have already shown an interest in making a purchase.
Here are the types of qualified leads:
Marketing Qualified Lead (MQL)
Marketing-qualified leads are inbound and outbound leads who have interacted with your marketing efforts.
Sales Qualified Lead (SQL)
Sales-qualified leads are leads who have already had an interaction with a salesperson and have shown purchase intent.
Product Qualified Lead
Product qualified leads are users who have interacted with your product or service, such as those who have received a free trial or sample and are ready to become paying customers.
Service Qualified Lead
Finally, service-qualified leads are users who have told your service team that they're interested in making a purchase. This could include people who have asked a customer service rep about upgrading their service or acquiring a new product.
Benefits of inbound lead generation
Here are the main benefits of inbound lead generation:
Increasingly effective: Modern buyers want to be educated before committing to purchasing a product. Inbound lead generation captures and directs potential leads toward your sales funnel.
Time-saving: With many inbound marketing tactics, more time is spent initiating a strategy, with little time spent on maintaining it. With multiple marketing automation, larger inbound marketing tasks use AI models, so an inbound marketer will often spend more time setting up new strategies.
Cost-effective form of marketing: Unlike buying outbound leads for direct sales efforts, some inbound techniques can be implemented at practically zero cost, and once established, they can keep generating leads for free.
Creates brand and product awareness: Inbound tactics ensure that users who are doing their research find your brand. The right inbound strategies will generate leads and help you increase your brand's authority on any topic.
Long lasting: Unlike outbound lead generation, where you need to generate leads to engage with constantly, inbound marketing efforts, like SEO-friendly content and other lead magnets, can often yield positive results long after they've been created.
How to generate inbound leads
Here are a few ways to generate inbound leads:
Follow the 4 stages of the inbound lead generation process
A simple way to create a strategy is to follow the inbound approach with these stages:
1. Attract
Start with attracting prospects to generate traffic. In this stage, prospects seek valuable content to help them with a pain point.
Find ways to attract prospects by providing the information to solve their issue and ensuring they know where to find it. You can start by researching where your buyer personas go to find answers to a question and figure out ways to include your solution.
2. Convert
Once you have their attention, it's time for conversion. Here's where you ask for something — usually contact information — in return for the content you're offering.
The more value the content is perceived to have, the more you can ask at this stage of the inbound lead generation process. A newsletter subscription request may be all you can ask a blog reader for. However, you may be able to ask for more valuable data if you're providing more valuable content, like webinars or ebooks.
With valuable content, you may be able to ask for someone's time for a demo or a phone call.
3. Close
Once the lead is ready to convert, you can close the sale and transform the lead into a paying customer.
It's important to ensure that your leads have everything they need to make a purchase, like access to customer service and knowledge of how and where to make a purchase.
4. Delight
Finally, when the right lead has met the right solution, the last phase of inbound lead generation is the delight they feel by solving their pain point.
This final stage ensures you establish long relationships with your customers and help them become brand ambassadors.
At this stage, you can ensure excellent customer service through a personalized thank you message and can even ask for referrals from your most positive customers.
Use a lead generation software that provides high-quality data
You can aid your inbound strategy with the right lead generation software. These tools allow you to generate leads for outbound campaigns and enrich your inbound and outbound marketing campaigns.
The best B2B lead generation tools allow you to enrich all your lead information so you can easily segment your audience, qualify leads, and convert more leads into paying customers.
Why Uplead is one of the best tools to generate inbound leads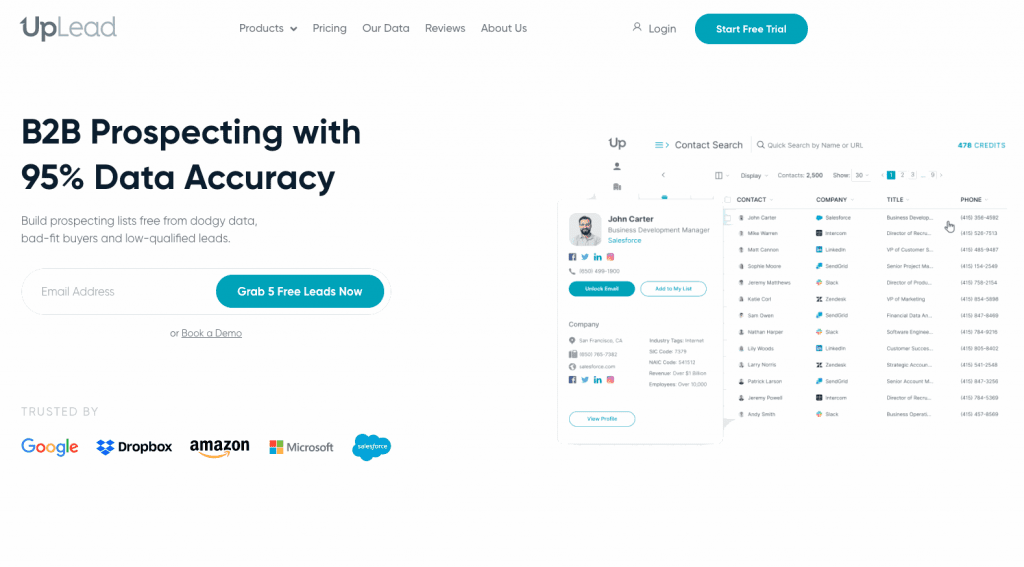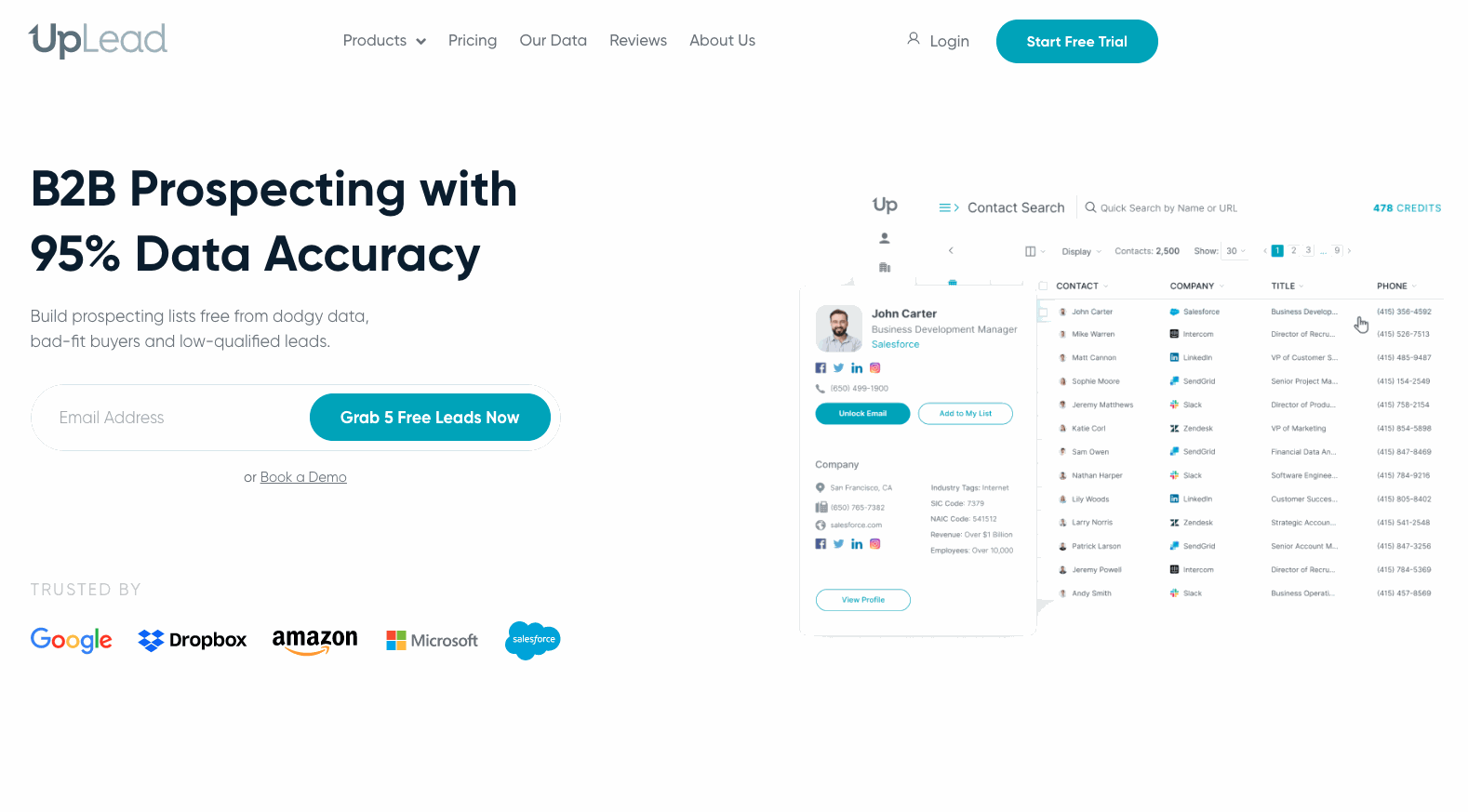 UpLead is a powerful lead generation tool that can boost your inbound and outbound marketing campaigns.
With UpLead, it's easy to establish cold-calling campaigns while improving your inbound efforts with the right lead information. Simply upload your email list and let UpLead enrich your lead information with relevant business information, like job titles, industries, technographic data, and more.
Then you can easily segment your newest inbound leads into the right strategy according to their customer profiles. That way, you're sure to send valuable content to the right leads and improve your sales process with powerful, accurate data.
Try UpLead for free today, and see if it fits your needs.
Start Your 7-Day Free UpLead Trial
Lead generation doesn't have to be all that painful. With UpLead, you can easily connect with high-quality prospects and leads to grow your company.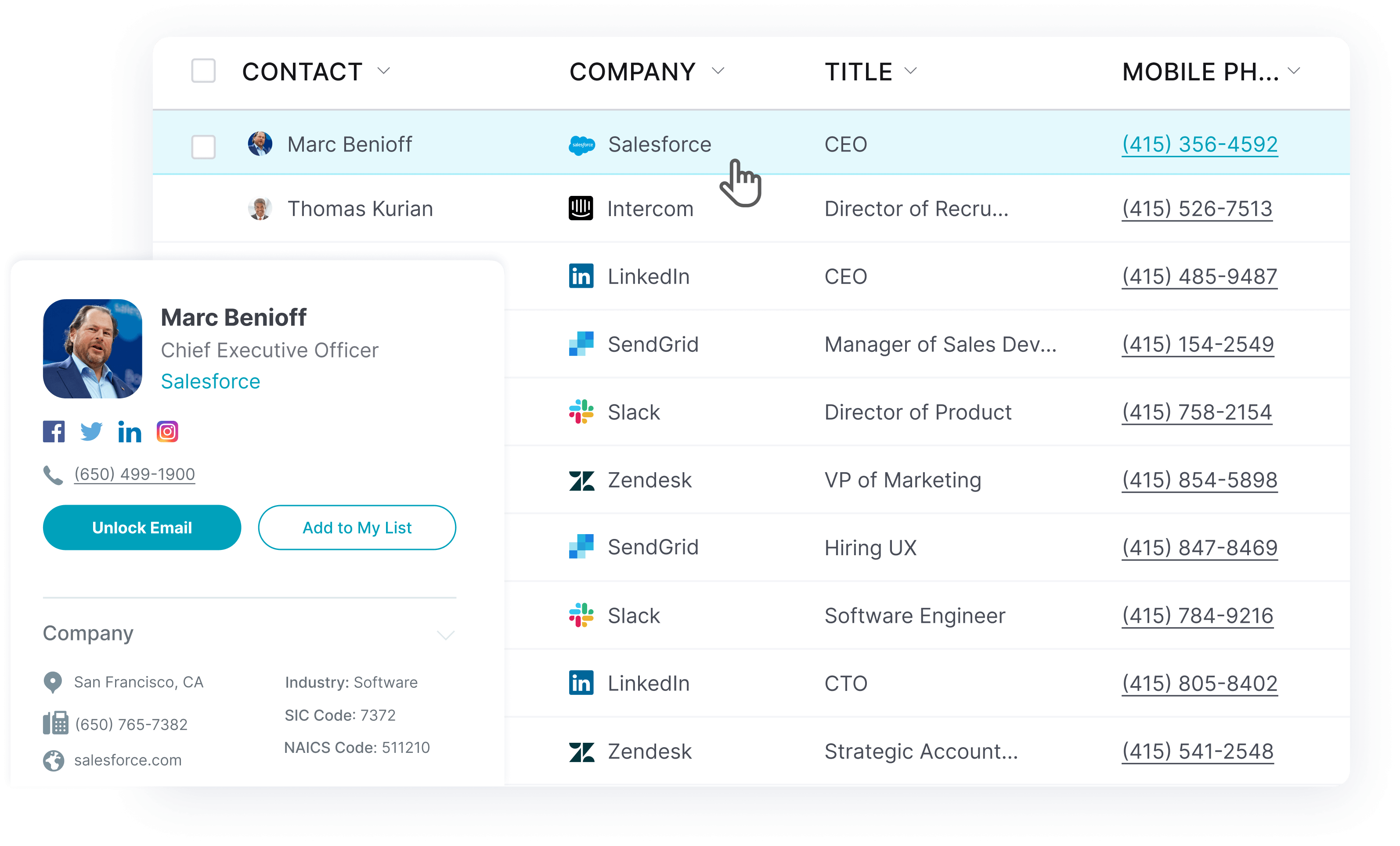 Work out a strategy that attracts interested prospects and converts them into leads
Another popular inbound approach is developing strategies that attract prospects at different stages of their customer journey through valuable content.
With it, users can develop strategies to educate customers and compete with larger companies through high-value content creation.
Main tactics that work in inbound marketing
Here are the primary inbound marketing tactics:
Blog posts & informational articles
Writing articles and blog posts is one of the easiest ways to create valuable content. By their nature, these posts allow you to develop content that can target multiple keywords and attract different user personas.
Instead of focusing on creating an engaging blog that people read every week, the best approach is often to develop SEO-friendly, evergreen content. This content can be designed around the customer journey, answering questions the user may search for and competing to get their clicks.
When properly designed, these articles can generate an exponential number of inbound and outbound leads alike.
Social media posts
Social media posts are great ways to generate leads and nurture prospects not ready to purchase.
Improve the quality of your social media posts by using social media listening tools to tap into what your audience is talking about and get their feedback. Make sure to respond to social media interactions and channel them to the proper customer service efforts.
YouTube videos
YouTube videos are a less competitive form of content creation. Original YouTube videos act like SEO-friendly written content, although the cost of producing a high-quality video may be higher than the cost of producing written content.
Gated content
Gated content refers to any kind of lead magnet that asks for something in exchange for anything of perceived value.
Gated content can include ebooks, video courses, or access to a thriving niche community. It can provide leads with an incentive to learn more about your company.
Podcasts
Podcasts have never been more popular. People search for podcasts to fulfill even passing queries and can easily engage with a high-value podcast.
If you develop podcasts around your audience's interests, you can quickly start generating the leads you need and gather a valuable niche audience.
Classes & webinars
A highly effective inbound marketing tactic is to help users learn in real time with classes and webinars.
Today's People are used to educating themselves online and actively looking for information to better themselves. Start a class or webinar with good audio and framing, and you can quickly target highly engaged users.
Press releases
Although they are used less frequently, press releases still have a place in the inbound and outbound lead generation strategy.
With press releases, you can target a specific portion of your audience and initiate contact with users who wouldn't have heard of your solution otherwise.
Email marketing & newsletters
One of the most popular inbound marketing campaigns, email marketing, and newsletters are highly affordable and, when used right, extremely effective.
The key to developing effective email marketing efforts is audience segmentation. By segmenting your audience in the right inbound and outbound campaigns, your leads will be better qualified and ready to make a purchase.
Inbound Leads: Conclusion
Inbound leads are vital to generating sales. The right inbound marketing efforts will help your sales team stay busy with highly engaged leads who are more likely to convert.
Start enriching your data to segment your audience and engage them in the right inbound marketing strategy with UpLead.
Try UpLead today, and see if it's a good fit for you.
Start Your 7-Day Free UpLead Trial
Lead generation doesn't have to be all that painful. With UpLead, you can easily connect with high-quality prospects and leads to grow your company.