Finding customers for your cleaning service company might be a tough nut to crack. 
The mediums we can advertise our services through are numerous — from Facebook and Google to Newspapers — making it hard to stand out.
However, that doesn't mean success is unreachable. The point is to implement the right strategy that will bring quality commercial cleaning leads to your doors and help you scale your business effortlessly.
And we're here to help you make this happen. We'll provide you with the best tips your sales team can use to get high-quality janitorial leads quickly and efficiently.
Quick Tip: In a hurry? Find leads that need janitorial services, window cleaning, condominium maintenance, and even industrial cleaning. 🔥 Try UpLead using the SIC codes to search hospital, restaurant, and industrial companies. First 5 leads are free.
Quick Links:
What Are Commercial Cleaning Leads? 
Leads are organizations or individuals that show signs of interest in a service or product. We make distinctions between various types of leads — hot, cold, qualified, paid, free leads, and so on — depending on their nature. This allows us to assess and approach them better.
Commercial cleaning leads are (most commonly) organizations that express the need for any type of janitorial service. We can find janitorial leads nearly anywhere since they exist in almost every niche and industry.
How to Get Commercial Cleaning Leads
These are some methods you can use to create a successful lead generation campaign to acquire commercial cleaning leads. 
B2B List Building Software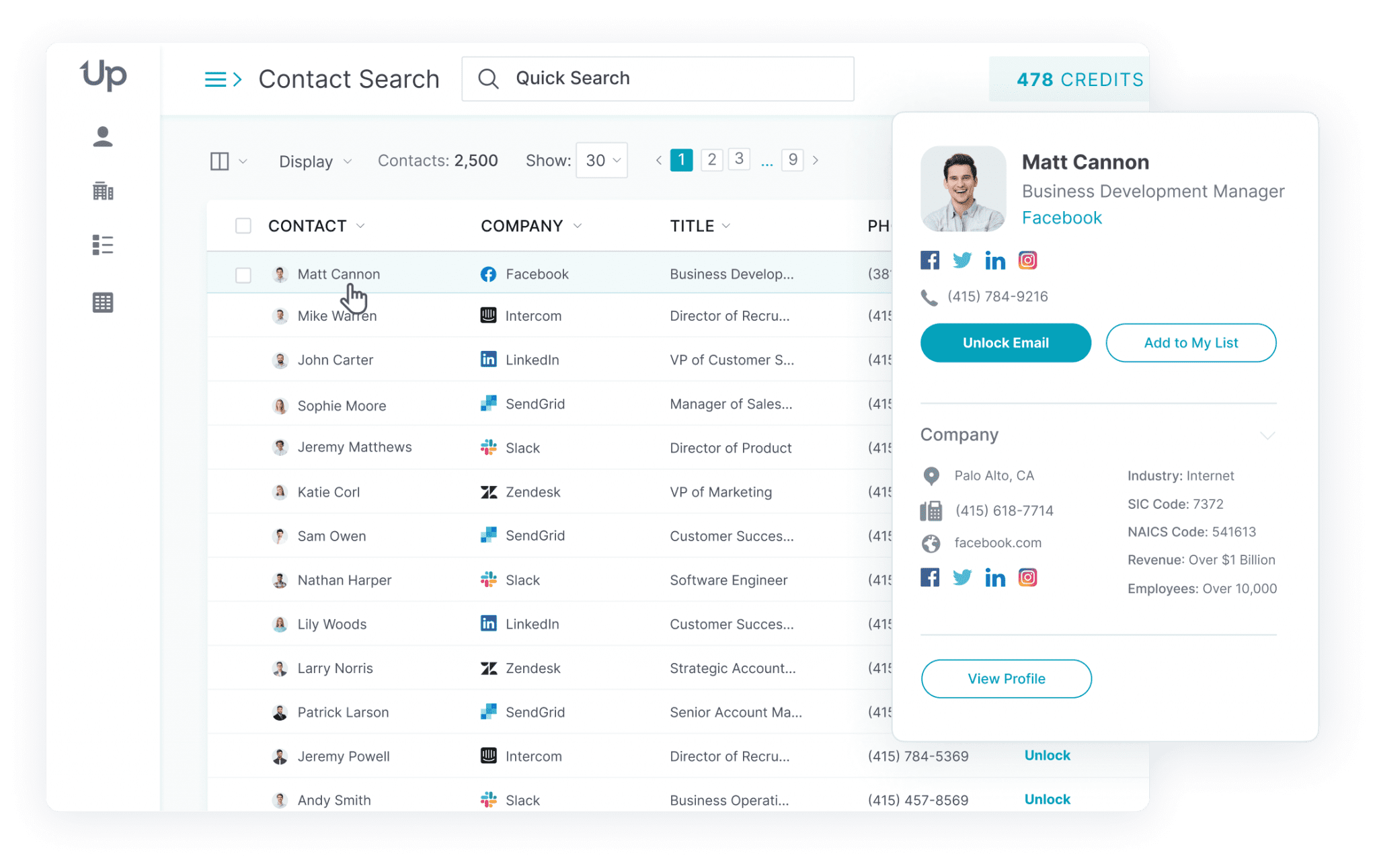 The digital era has brought about plenty of distractions that have a huge impact on our productivity, but it also brought plenty of tools that make our lives much easier. B2B list-building software is a useful tool for acquiring leads.
If you're struggling to find the time to try more traditional and time-consuming strategies for finding new leads for your business, subscribing to a B2B list building software might be just the right solution for you.
UpLead is one of the best lead generation tools on the market. It provides high-quality, accurate, and verified data to its customers. With contacts in over 200 countries, UpLead offers plenty of useful features such as account-based marketing, competitor and email pattern intelligence, and integration with many CRM tools, including Salesforce.
You can use SIC codes for more specific prospecting. For commercial cleaning leads, for example, you may use US SIC Code 8062 (General Medical and Surgical Hospitals). When you do, you'll see hospital leads categorized into the following: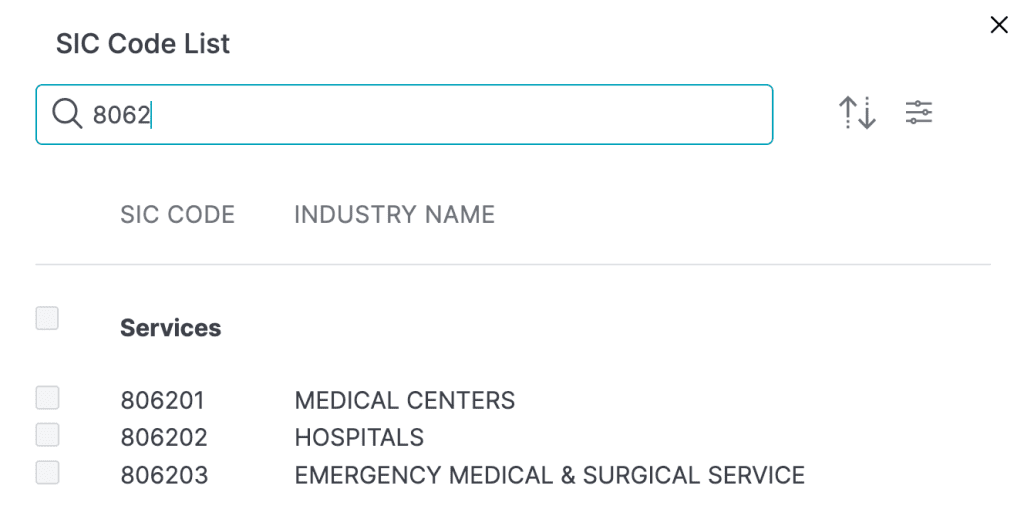 You can also target restaurants, manufacturing, government offices, fitness centers, car dealership and more using the SIC codes.
What's more, you don't have to spend a dime to try it out. UpLead offers the possibility of signing up for a free trial that enables you to assess its value before switching to a paid plan.
Start Your 7-Day Free UpLead Trial
Lead generation doesn't have to be all that painful. With UpLead, you can easily connect with high-quality prospects and leads to grow your company.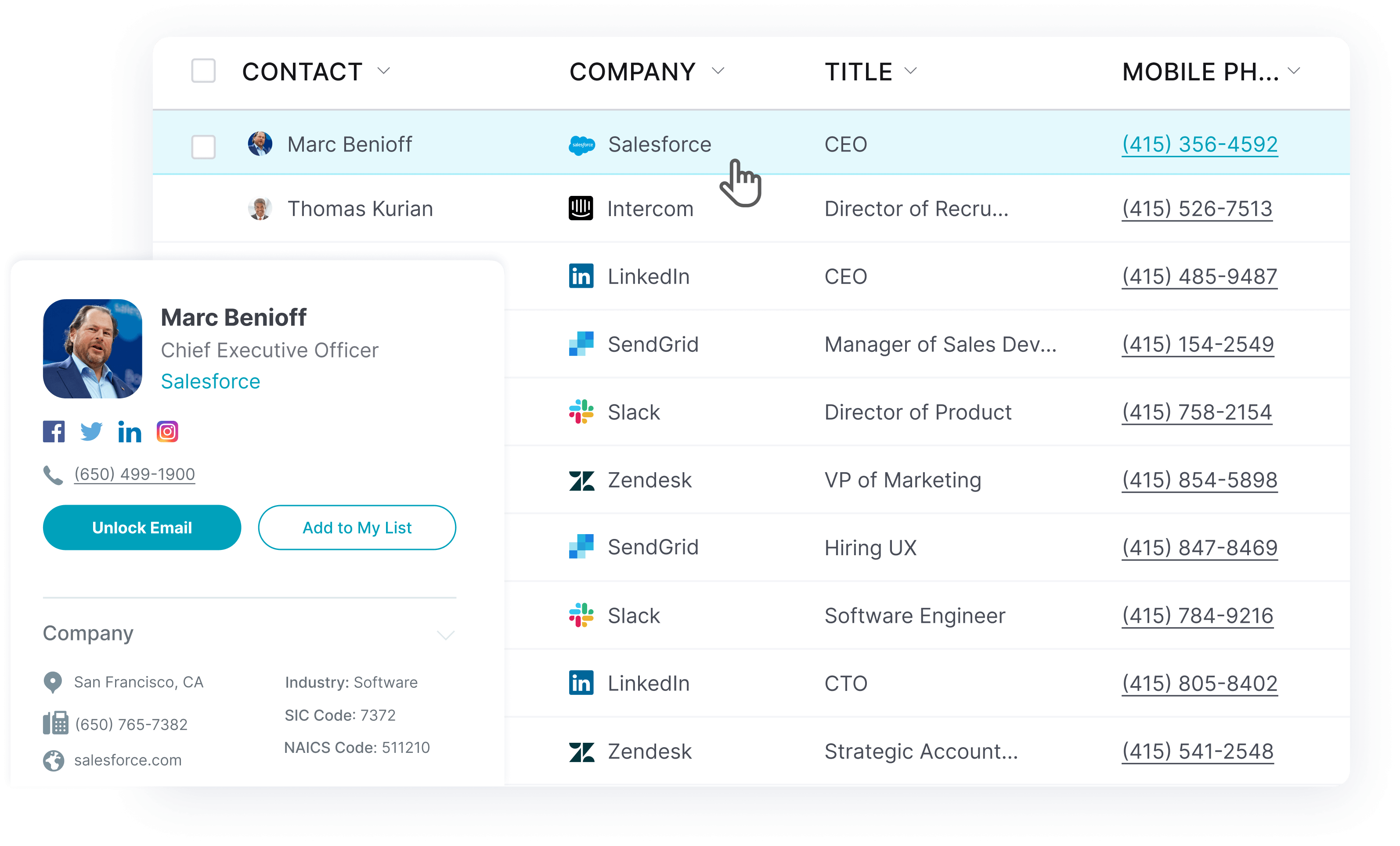 Referrals
Word of mouth is one of the best ways to attract new customers since those who recommend you have already tried your services and can share first-hand experience on how you do business.
The best advice for acquiring referrals is to always offer impeccable service and boost your customer service efforts. However, there are a few ways you can incentivize your existing customers to refer you, including the following:
Offering referral bonuses. You can always incentivize existing customers to recommend your business by offering bonuses and discounts if they do so. For instance, you can offer 20%, 30%, or 50% percent off their next booking if a referral makes an appointment.
Gamify the process. Getting your existing customers to refer your business doesn't have to be a dull task. You can incentivize them to do so by introducing fun in the whole process. For instance, you can make a points system where each referral gives your customers a certain number of points they can use to get discounts for your services.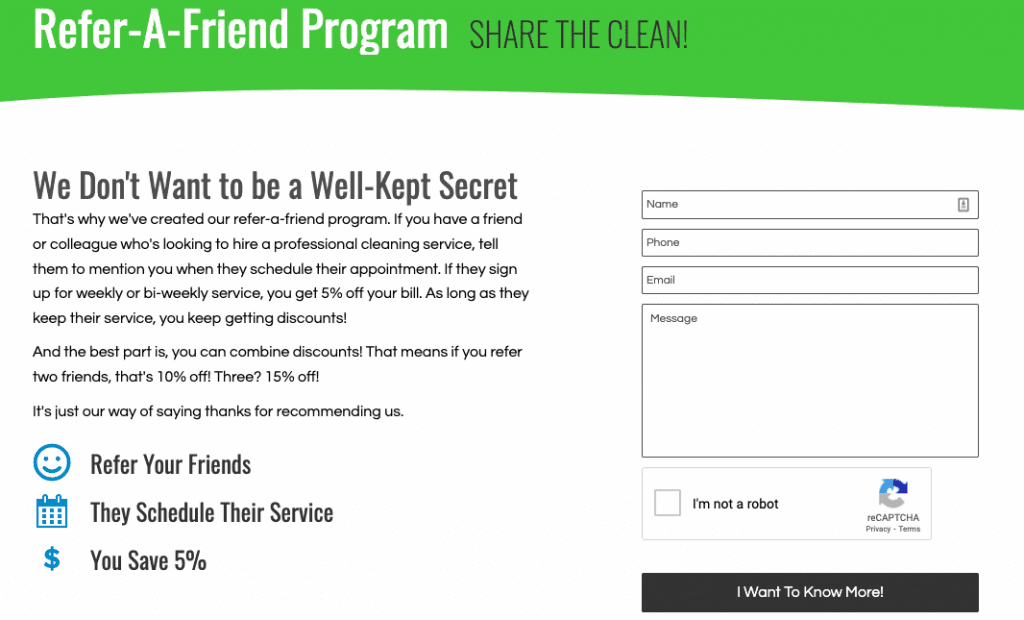 (Source)
Local Newspaper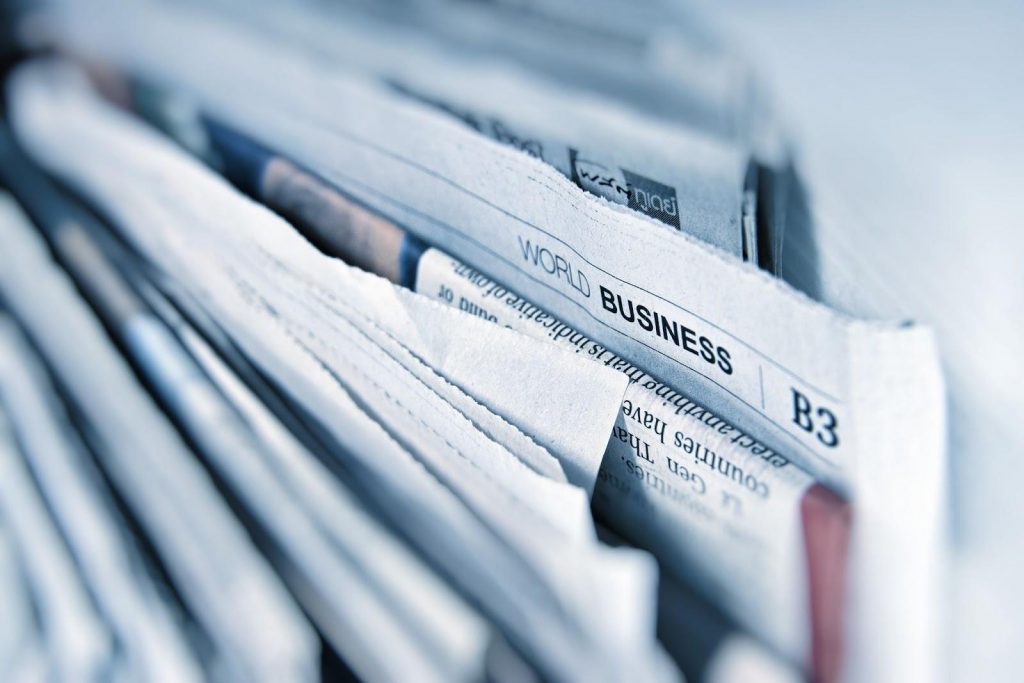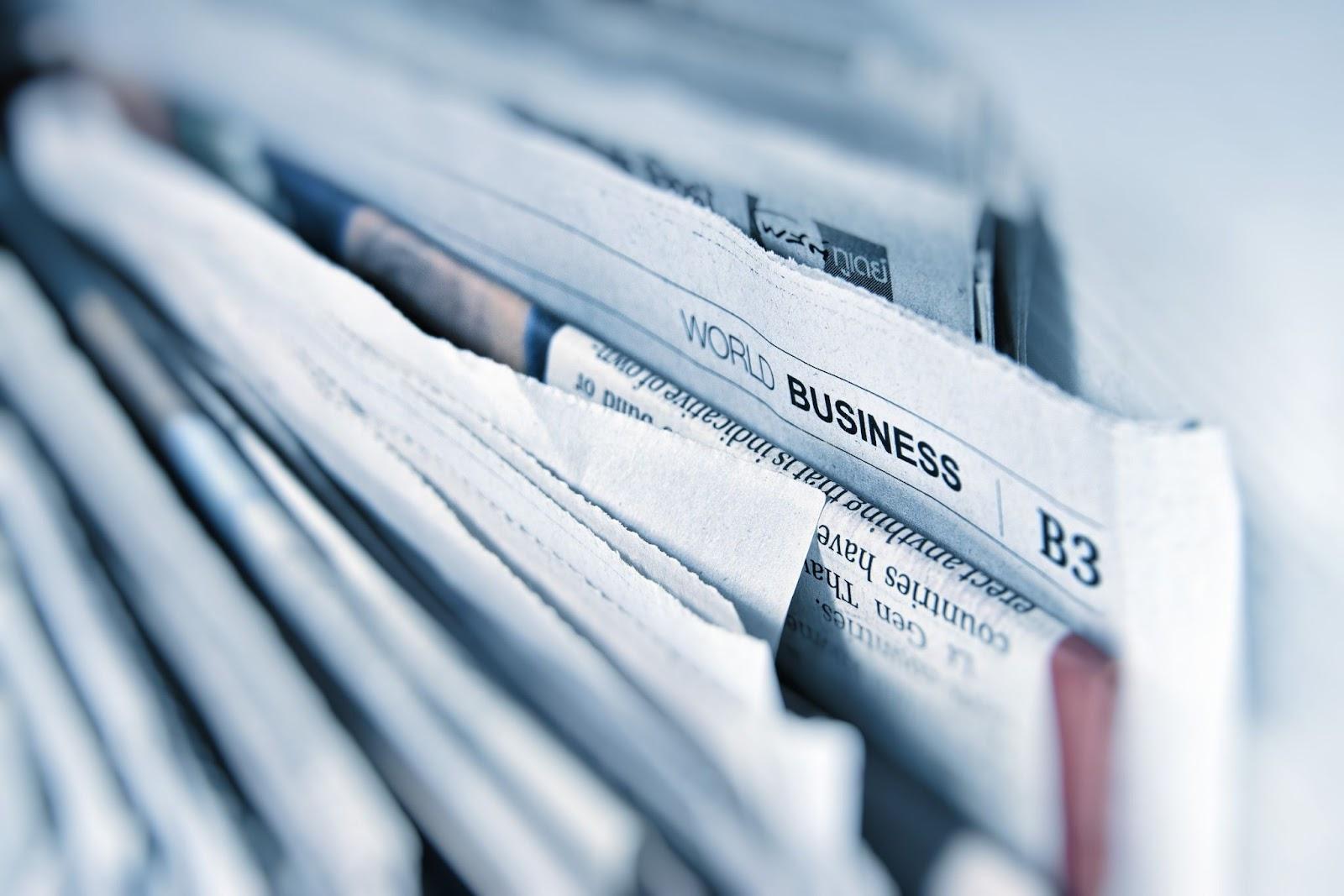 (Source: Unsplash)
Local newspapers can be a great source to acquire janitorial service leads. 
You can use them to keep an eye on which businesses are opening or expanding in your area. You can then contact them and offer your services. 
It's always advisable to go to a business in person. Since you are also a local business, share your success tips, and be welcoming and supportive. 
However, you shouldn't forget to follow up with an email about your business and how you can help them.
Another way you can use newspapers is to advertise your business and wait for leads to call you instead.
Social Selling on LinkedIn
You can also use social selling on LinkedIn to get janitorial leads for your business. The idea behind LinkedIn posts is to be informative and provide value without sounding like you're making a sales pitch. 
You can always share tips with other business owners — even about non-cleaning related subjects — to build relationships and trust. Furthermore, you can make informative posts on how you can help businesses improve, the most common mistakes businesses make, and so on. 
After a while, you can strike a conversation with other business owners and move the conversation to the "what can I do to improve your business?" side.
SKG Commercial Cleaning uses LinkedIn as a platform to educate followers about the importance of a clean environment when it comes to running a business. This drives engagement and makes them a reputable source, which, in the end, results in new medical office cleaning leads.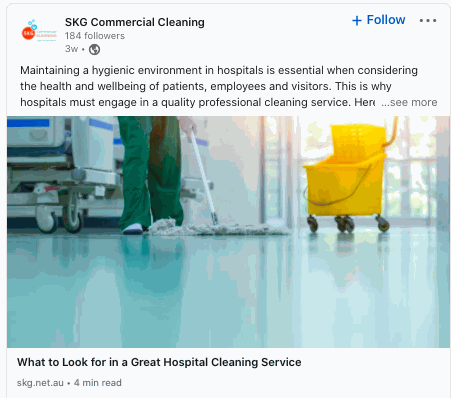 Social Media Groups (Facebook and LinkedIn)
One of the best ways to generate free leads is to use social media groups such as Facebook and LinkedIn groups for advertising your services. 
You can start by searching for business groups in your area and joining them. However, you shouldn't be too "in your face" when marketing your services. 
Instead, try a milder approach. Introduce yourself at first, and try building up your reputation by advising others on business aspects that are familiar to your business until you slowly become more recognizable to others. Only then can you start telling the story about your business and how it can help others in their daily operations.
Below, we can see two specialized posts in Facebook groups about commercial cleaning.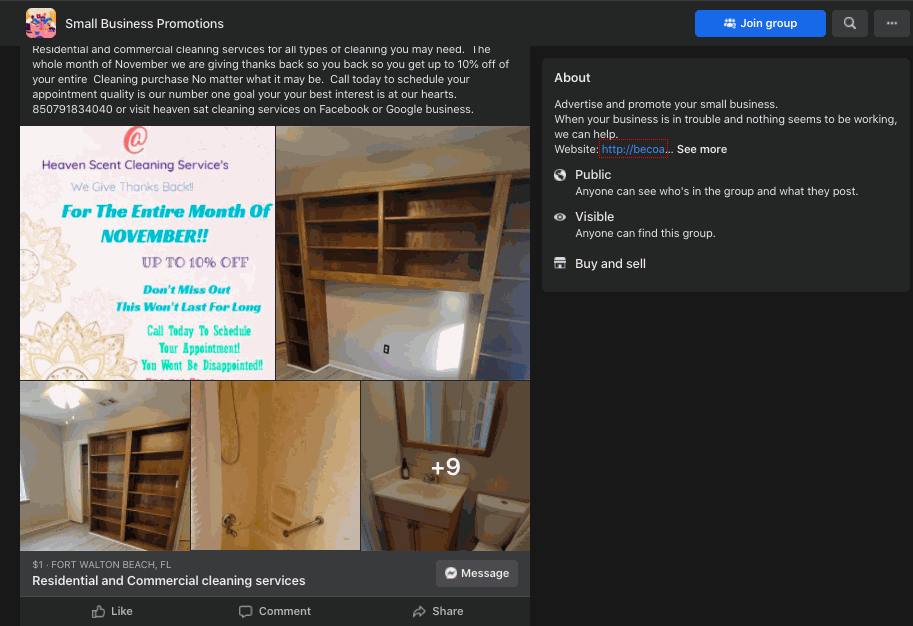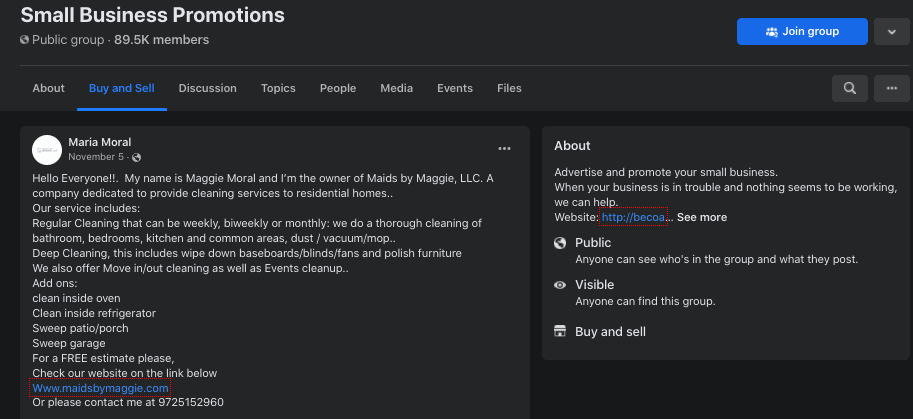 SEO and Content Marketing
One way you can make your business more visible is by optimizing it for search engines and boosting your content marketing efforts. SEO is an extremely important part of marketing since it helps you show up among the first results in a Google search.
Furthermore, improving your website's content marketing will increase your reputation among potential customers, highlight you as an expert in the industry, and help to convince your target audience they need your services.
On your website, you can share the most common tips and tricks, provide insights on why some things are important and why they should be handled by professionals, and explain the most common mistakes businesses make and how to fix them.
To generate leads, you can provide a form for a free quote that will allow you to gather contacts you can use in lead generation campaigns.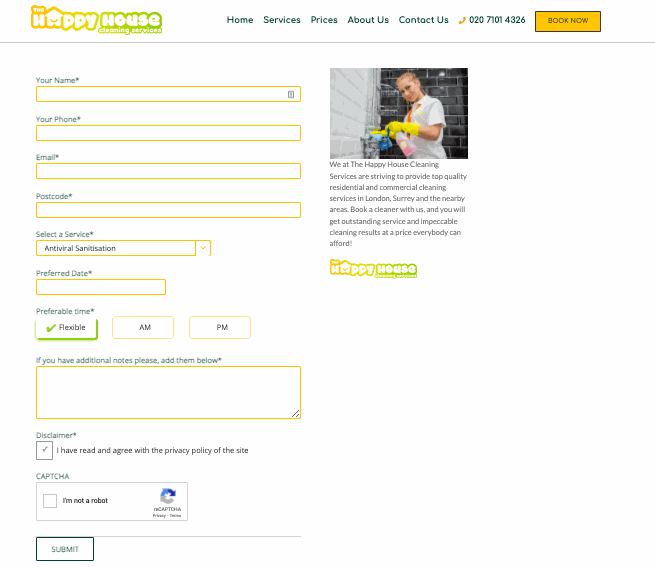 PPC Ads
Another great way to get leads for your janitorial business is to use pay-per-click (PPC) ads. PPC ads are great for people and organizations that are already aware of their need for the type of services you provide.
These prospects are usually better than others since they already recognize that they need your service and they just need to find the right provider. 
You can go ahead of the competition by carefully choosing your keywords, mastering the copy for your ads, and offering discounts for first-time users. You can also provide a quote for free. 
Your ad should lead to your website's page with a form where clients can fill out specifics about their business and the type of service they need, leave their info (such as their email address), and wait for your quote. 
Later on, you can use the contact information they provided to contact them and turn them into warm prospects.

Is It Possible to Get Free Commercial Cleaning Leads? 
If you are just starting your business, you might have some problems dedicating resources to generating prospects. However, it's still very possible to find them for free.
Many platforms, like UpLead, work on a free-trial basis. By subscribing to a free trial version, you'll get five credits you can use to get leads' contact information, such as a cell number or email address, and find high-quality leads that are likely to result in a sale.
Secondly, you can use social media channels such as TikTok to generate free leads for your cleaning company. However, you'll have to spend some time on content creation. Many companies (and individuals) that offer commercial cleaning services use TikTok as a platform to promote their business subtly. Usually, they share relatable and funny Karen skits; however, there's a whole #cleantok trend where people enjoy seeing people bring things back to their natural order.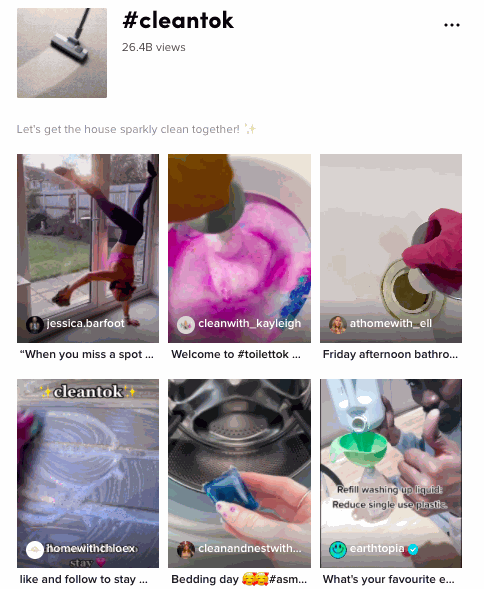 FAQ on Commercial Cleaning Leads
Here are the answers to our most frequently asked questions about acquiring commercial cleaning leads.
How do I get leads for my commercial cleaning business?
There's a wide variety of ways to get leads for a commercial cleaning business, including running PPC campaigns, posting on social media, buying them from lead generation services, engaging in content creation, or subscribing to dedicated software. Usually, the best results come when you combine all of these tactics.
How do I get commercial cleaning contracts?
Getting janitorial leads isn't that hard — you just need to know where to search for them. You can buy them from a trusted provider, subscribe to dedicated software, or implement detailed and well-organized marketing campaigns that will provide value and turn followers into customers.
How much do I have to pay for commercial cleaning leads?
You can always buy leads and decrease the time you'd spend searching for them. The price of janitorial leads varies, depending on the type of leads you're likely to purchase (exclusive leads or shared leads, for instance). Our experience tells us the price range generally starts at eight dollars.
Find customers for your cleaning services
Now you know where and how to find great leads for the commercial cleaning industry. We know that finding qualified leads takes time and effort, and that is a long and well-calculated process.
However, it's a process that gives results and helps you stay afloat, and more importantly, can increase your business beyond your expectations.
It helps if you laser-focus on niche businesses like hospitals, manufacturing plants, car dealers, and the like. This way, you can easily find these companies using a prospecting tool like UpLead. Saves you time for sure!
Try searching for 5 leads for free and see it for yourself.