Lead generation is one of the most vital tools for keeping an insurance agency up and running. However, getting leads isn't as easy as it seems. To help you skyrocket your goals, we'll explain everything you need to know about insurance leads and how to get them.
Quick Links:
What Are Insurance Leads?
An insurance prospect can be described as someone who shows a general interest in a service insurance agents provide. Insurance leads are potential clients who've requested quotes about specific insurance products.
However, expressing interest isn't enough for a person to be considered an insurance lead. Agents need to know a certain amount of information about the person, such as their name, contact information, type of insurance they want to get, etc.
If we want to make a broad distinction, we can say that there are two types of insurance leads:
Cold insurance lead: a person (or company) still unaware of the need for a certain type of insurance.
Warm insurance lead: a person (or company) aware of the need for a certain type of insurance and has already expressed interest in a service.
Generally, insurance leads are important to agents because their salaries depend on lead conversions. Sometimes, however, it is difficult for agents to find leads independently, so they reach out to providers who sell leads that will ultimately help them scale their business and meet their quota.
These Are the Most Relevant Types of Insurance Leads
Not all insurance leads are created equal. Since different people have different needs that vary depending on their lifestyle, medical condition, and age, there are nuances between the types of insurance each person might want to take. This is how we make a distinction between several types of insurance leads. Here, we will list the most relevant types of insurance leads you should be aware of.
Life Insurance Leads
To explain what life insurance leads are, we need to explain what life insurance is and who it is for.
Life insurance is a contract between a person and a policyholder where an individual pays a sum of money in exchange for a premium issued upon a person's death or a set period. A life insurance agent usually sells life insurance.
A life insurance lead would be a person who expresses a desire for it.
Since the coronavirus pandemic, many people have purchased life insurance to secure their families in case of untimely death.
When qualifying for a life insurance lead, insurance companies will usually ask for information such as a person's zip code, gender, date of birth, height, weight, credit ranking, and overall health information.
Social Insurance Leads
Social insurance protects against economic risks such as loss of income due to unemployment, sickness, old age, etc. Most countries make social insurance compulsory, and it's often used interchangeably with the term "social security."
Social insurance leads are all residents of a state. Social insurance is usually deducted from the payroll by an individual's employer.
Health Insurance Leads
We can describe health insurance as coverage for medical expenses included in the contract between an insurer and a provider. Health insurance usually covers medical or surgical interventions, prescribed medications, rehabilitation, etc.
A health insurance lead can be any company that offers their employees insurance packages. The health insurance business is one of the most lucrative niches in the insurance business as it's something most people choose to have.
Auto Insurance Leads
Auto insurance is a contract between a person and an insurance company that protects a person from financial loss in case of theft or a car accident. Usually, auto insurance will cover damage to your car, your liability, medical bills in the case of an accident, or funeral costs.
Auto insurance leads are individuals who own a vehicle and require auto insurance.
Commercial Insurance Leads
Commercial insurance usually protects a business from possible risk and includes property damage, legal issues, employee grievances, etc.
Commercial insurance leads are usually business owners, entrepreneurs, and businesses who wish to bulletproof their businesses and avoid loss.
Home Insurance Leads
Home insurance is a type of insurance that protects homeowners and renters against damage and theft. This insurance usually covers damage to a property's exterior and interior, personal liability for harm to others, and theft.
Home insurance leads are either homeowners or renters whose landlords require they purchase this type of insurance.
Insurance Leads Costs: What Do You Need to Know?
There's an ongoing debate about what's better: lead generation or buying insurance leads. Both options have their own set of pros and cons. If you buy insurance leads, you'll save a lot of time. However, it will cost you more than it would if you used lead generation techniques.
Before discussing the price of leads and whether a certain price is too high or low, a better question would be how a lead provider sources its leads.
Maybe they're sourcing them through ad services, organic search, or referrals. All these things are very important when it comes to forming the price of the leads. Organic leads are the best leads since they immediately need your services.
The amount of information the lead provider has about insurance leads comes into the equation when forming the price of a lead. The more information a provider has, the more a lead will cost.
Another important instance is whether the lead is exclusive or shared, sold to multiple agencies.
Based on various criteria, a typical price for a lead can cost anywhere between $20 and $50.
How to Get Insurance Leads: 5 Ways Explained
If buying leads is not an option for you, you can use several types of insurance lead-generation techniques that will benefit your business if used properly. We'll list some of those techniques below.
List Building Software
The most efficient way of acquiring insurance leads is by using list-building software such as UpLead.
As an online lead generation platform and one of the best lead generation tools in the market, UpLead can help you build accurate and precise target lists of leads that ultimately lead to greater overall conversion.
Furthermore, by choosing UpLead, you can access amazing features, including real-time email verification, competitor and email pattern intelligence, social profile links, numerous CRM integrations, and more. 
And you don't have to spend a dime to check it out. You have to sign up for a free seven-day trial to see what benefits it can bring to your business.
Use PPC and Social Ads
Pay-per-click advertising (PPC) combined with social ads is a great way to acquire leads since it's inexpensive and not a great upfront investment. Here are its greatest benefits.
Google Ads
PPC advertising is a form of online advertising where you pay based on a user's interaction with an ad instead of paying based on how many people saw the ad. When we say PPC, we usually refer to ads that run on Google, Yahoo, or Bing.
PPC campaigns are very useful and a great lead source because they're shown to the people who have already expressed their desire for certain products or services. If campaigns are set up properly, they usually offer great lead quality. They're convenient, too, since users don't have to navigate through organic results but instead, see your offers first.
Facebook Ads
Facebook ads are another great solution for generating leads in the insurance industry since they're cheaper than Google ads. Running Facebook ads to get new leads is a great option because the market isn't as saturated as Google's market. Furthermore, since you can include pictures and text in Facebook ads, you have a greater chance of attracting leads with engaging content.
By creating a Facebook insurance lead generation campaign, you'll be able to leave the capture form on the call-to-action button that turns regular users into leads much faster.
If users click a call-to-action button, Facebook will allow them to automatically fill out the form, saving time and decreasing the abandonment rate.
Running Facebook ads allows you to reach your targeted niche, the people who need your services.
Another thing that sets Facebook apart is that you can add an image and text to your ad, making it more appealing to the end-users, who are more likely to click on it if they find it to resonate with their needs and expectations. Plus, by using this feature, you can teach your audience something and occupy their attention, making them more prone to clicking on your ads.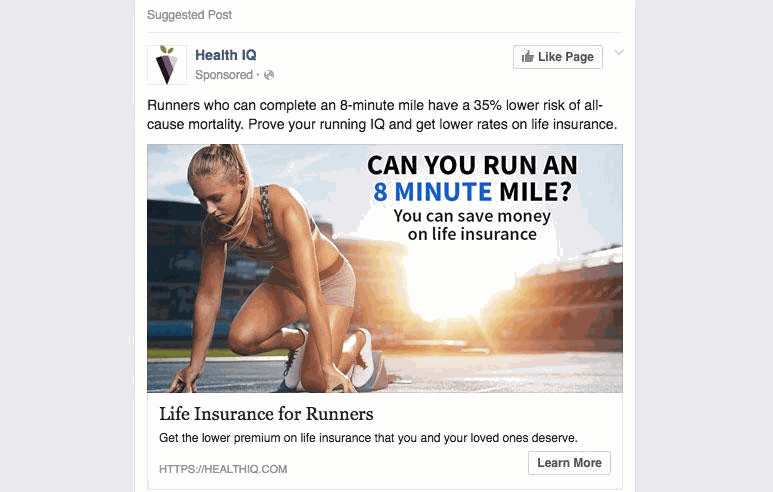 Cold Calling
Cold calling can be one of the most efficient strategies for getting leads. However, to execute it properly, you need to be well prepared. That includes making a list of targeted prospects who expressed a desire for your services and can purchase them.
The first thing to do in your effort to get the best telemarketing leads is to assess how many potential customers live in your area. Then create a buyer persona that includes what type of coverage they might be interested in, their age, their gender, their problems, etc., to make the most out of the call.
We've created an amazing collection of cold-calling scripts you can use to acquire customers.
Social Selling
Social selling is one of the best ways to get free leads. The idea behind it is to put a social marketing strategy in place that will use social networking websites and applications to generate leads.
The best social selling examples are sharing content that resonates with a target audience, interacting with buyers and customers, working on company branding, and social listening.
For instance, as an insurance agent, you can make LinkedIn posts that include numbers, educate your audience on the importance of getting insured, respond to their questions, and make polls or surveys to engage them.
In Facebook groups, you can offer your professional opinion to gain customers' trust and credibility. You can answer the most commonly asked questions or help resolve doubts to gain the trust that will lead to customers calling you. Here's an example of social selling you can recreate as a new agent who wants to establish yourself in the field.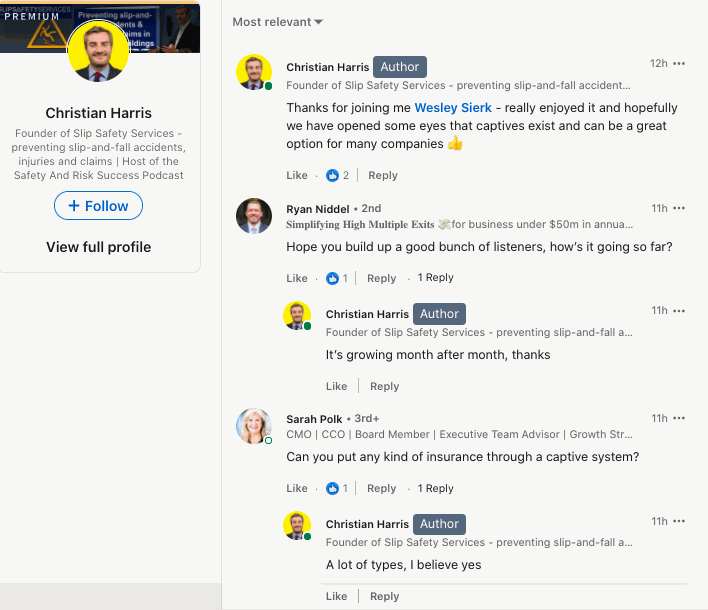 Free Content
Free content is one of the best lead sources out there. The point is simple — instead of creating ads, create informative and engaging content that can be published on your website's blog or YouTube, educate your audience about the benefits and perks of your services, build trust, and show that you're an expert in the field. The best part? Unlike traditional ads, running a blog or making videos won't cost you anything. This is great for new agents who must establish themselves in the field.
Blog
Writing blog posts is yet another great way of getting free insurance leads. By writing blog posts, you can share your expertise, demonstrating that you're not afraid to share your knowledge for free and establishing yourself as an expert in the field. Maintaining your blog section is a great way to get free exposure and high lead quality.
YouTube Channel
Making YouTube videos is yet another great way to get leads for free. YouTube is the second largest search engine, and it's a great resource any business or entrepreneur should use to grow their operations.
You can start by filming short-form videos about the most common topics clients want to cover, describing what they should pay attention to, vouching for your services, explaining why they need them, and so on. It's like a blog post but in a video for those who need to see the person behind the words. Creating a YouTube channel works great for most agents and doesn't cost any money.
Webinars
Hosting webinars is another great option if you want to become a lead hero. They're generally better than live seminars since they're online and reachable by prospective clients anywhere and at any time. Webinars share content that will draw in more clients in the long run.
Furthermore, webinars might be more appealing to the general audience as they're not "salesy" at first. Ensure that they're interactive and engaging, provide value, and they educate prospective clients on the value of insurance, making them more likely to convert.
Everything Else You Need to Know about Insurance Leads
Now that we have a clear overview of insurance leads, we'll discuss the main types of acquiring leads and which tactics are the most effective if you want to run a lead generation campaign.
To recap, we've already discussed the following:
What are insurance leads?
Insurance leads are people who have expressed a general interest in any insurance and people we have some information about.
How do you generate insurance leads?
We've seen how to generate leads. We can use several types of lead generation tactics, such as utilizing dedicated software for those purposes, using insurance lead providers, content creation, running ads, etc.
What types of insurance leads can you buy?
If you want to buy leads, there are several types of insurance leads and lead programs, including:
Internet Insurance Leads. Many websites offer the possibility of purchasing prospects. These websites usually don't offer insurance services, but they help leads get additional information and make money selling their information.
Shared leads or exclusive leads. Shared and exclusive leads are purchased leads. Shared leads are resold to multiple insurance agents, while exclusive leads are only sold to one buyer.
Direct Response leads. Direct response insurance leads come from companies that send mail campaigns containing various brochures, flyers, and surveys, later selling clients' information to insurance agents.
Telemarketing. Telemarketing insurance leads are collected via phone, either by you or a third-party company that will sell contacts. They are most commonly proven to be good leads, as many agents that speak to them over the phone can gather plenty of useful information.
Pre-Set Appointments. Pre-set appointments are one of the most expensive types of prospects. Usually, a telemarketing company will contact the prospect and book an appointment on your behalf, providing you with all the information you need to make an offer and close the deal.
Referrals. Referrals are considered the highest quality prospects, and many agents view them as good news. This happens because they're sent by the people who already use your services; they think you're a reliable source and are the most likely to buy the service you offer.
Insurance Leads: Conclusion
Even though buying leads might seem like the perfect option since it saves precious time and effort, knowing how to acquire leads yourself might prove more lucrative in the long run. By doing lead generation yourself, you'll be able to vouch for the quality of the prospects, whereas you cannot do the same if you purchase them. In the end, the decision is yours.