UpLead is a affordable Hunter alternative. Here's why you should consider switching…
Searching for the right B2B data solution means carefully comparing options based on database size, value, and special features. Make the smart choice by taking a look at how Hunter compares to the Hunter alternative UpLead. We want every business considering our platform to feel well-informed and confident that UpLead will fulfil their expectations before they commit.
Hunter and UpLead both advertise verified B2B data intel. Compare their selling points side-by-side to find the best choice for your business.
Your business needs a platform that can do everything, right? You already know from other platform investments (or personal experience) that no product can perfectly fulfill every need and want on your list. To make sure your business is still making the smartest possible data intelligence investment, you need a strong understanding of your organizational priorities and the platform capabilities that will unlock the data you'll really use.
Once you understand your needs, you won't be blinded by data platform advertisements promising that perfect fit for every small, medium, and large business across every industry—you'll be an informed customer seeking a balanced comparison.
You've already learned how UpLead stacks up against competing platforms like ClearBit and InsideView. Next, let's take a look at Hunter. We can find out whether Hunter or the Hunter alternative UpLead is the stronger choice by putting their offerings side-by-side in five essential categories: database size, pricing, contract obligations, update frequency, and special features.
Database Size
On its website, Hunter boldly claims it is "the most powerful email-finding tool ever created," offering a Domain Search feature that organizes contacts by company. The Hunter database includes more than 200 million email addresses backed by "effective search filters and scoring." The database's accuracy is primarily rooted in crawling email addresses made public on the web.
The platform emphasizes half-second crawl times, but that speedy rate does come with a disclaimer. As the website explains, the accuracy of the email addresses returned by Hunter's Email Finder depends "on the data [they] have." Some emails come with backed with a high degree of confidence while others pose "a higher risk" to the businesses using them regarding potential inaccuracy. Hunter uses a "verified" icon to distinguish which email leads the platform is confident about versus those higher risk results.
There is one other big disclaimer Hunter doesn't advertise on its website: as of April 2017, Hunter was rejected from LinkedIn integration. As the platform's blog explains, "LinkedIn was the most important source of leads on Hunter…[this] will make this part of the service less useful."
UpLead's B2B intelligence database includes more than 85+ million business contacts operating in more than 200 countries. UpLead's email addresses are returned in real-time with no "half-second" disclaimer. The platform offers verified business contacts each sorted into one of three clear categories: Valid, Invalid, or Accept All. The validation process initiates automatically when you download a contact. Valid indicates an email address is live and ready to use; Invalid indicates the need for an UpLead team member to manually review the contact information; and Accept All allows businesses to make their own decision, as those email addresses can never be fully validated based on their email server policies. Businesses can easily choose to forgo downloading Accept All and Invalid email addresses based on their outreach strategies.
The Verdict: UpLead Wins!
Hunter's sleek data-fetching methods incorporating public crawls are appealing, and their database is larger than UpLead's at 200 million emails. The site details its crawling methods more extensively than its verification process and offers a soft warning to businesses that returned contacts may have varying levels of confidence associated with them. With a smaller database at 85 million, UpLead still offers a bit more certainty, handing businesses three simple verification categories to choose from instead of a varying certainty score they may need to weigh per contact.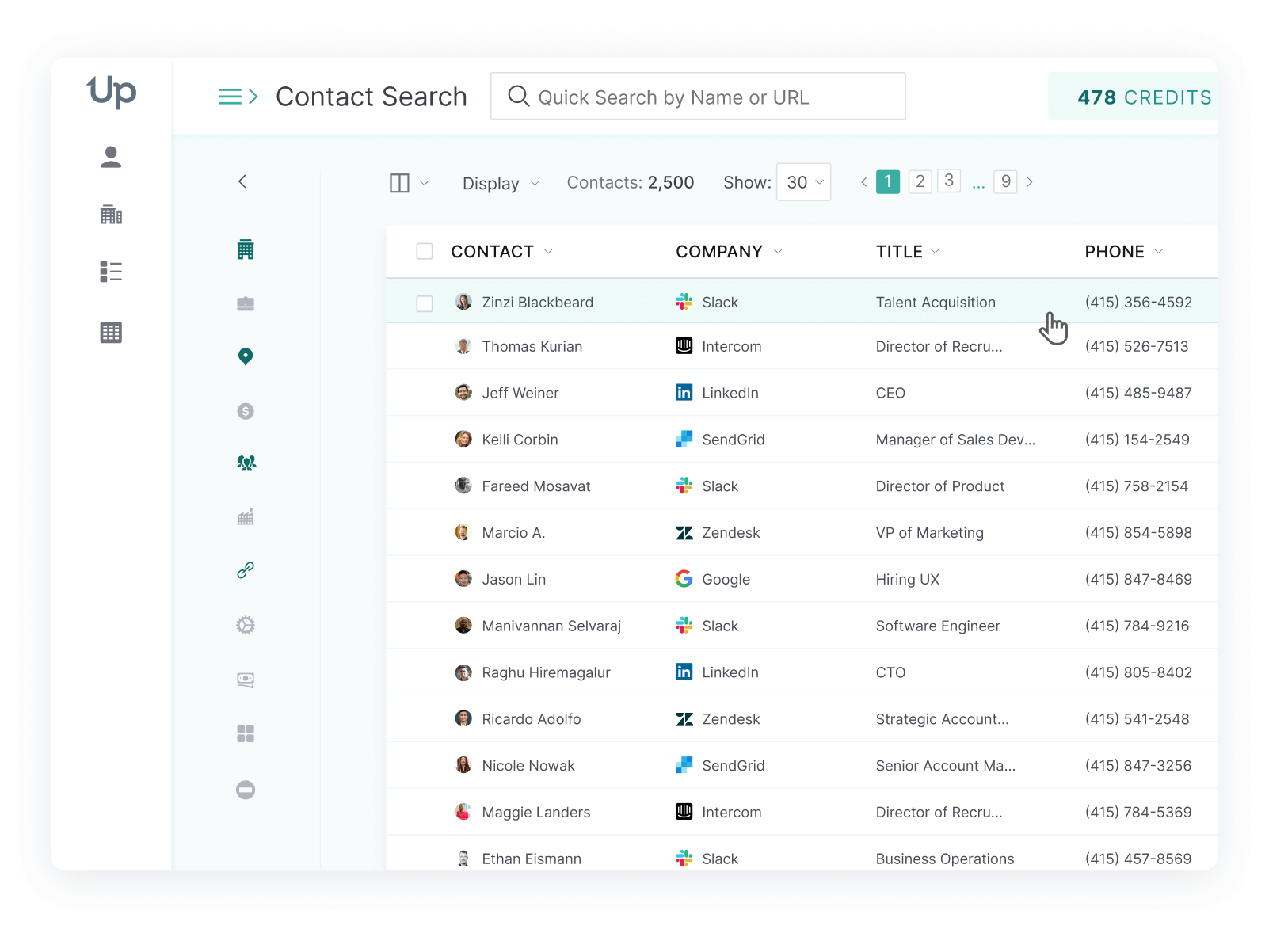 Pricing
Hunter pricing includes a five-level price breakdown:
Free

$0 per month
Up to 100 requests
No CSV downloads

Starter

$39 per month
Up to 1000 requests
CSV downloads

Growth

$79 per month
Up to 5,000 requests
CSV downloads

Pro

$159 per month
Up to 20,000 requests
CSV downloads

Enterprise

$319 per month
Up to 50,000 requests
CSV downloads
Hunter emphasizes on its Pricing page that subscriptions can be shared with an unlimited number of fellow team members at no additional charge—however, team members share the request limitations, so all their requests will contribute to the request cap of their business's pricing tier. The platform invites businesses to contact Hunter directly if they are in need of a solution for a large team, a high volume of data, or other custom needs.
UpLead calls its requests "credits" and offers an equally simple and transparent pricing structure with four tiers:
Essentials:

$99
170 credits per month

Plus

:

$199
400 credits per month

Professional:

$399
1,000 credits per month

Enterprise:

Pricing and credit numbers customized based on business needs
10,000 credits per year and above
Both platforms offer free trials so potential adopters can test-drive key features before they commit.
The Verdict: UpLead Wins!
Hunter offers one pricing feature every business will leap at: "free." Based on the platform's verification procedures, Hunter's goal is likely to use the free tier as a way to entice businesses to upgrade. Out of 100 contacts, if only one or two turn up verified, businesses will quickly find themselves considering whether to upgrade. In an industry in which pricing information is often buried deep in the sitemap or incomplete, UpLead and Hunter cost outlines are fairly straight forward—but there's a catch when it comes to contracts, which we'll explore next.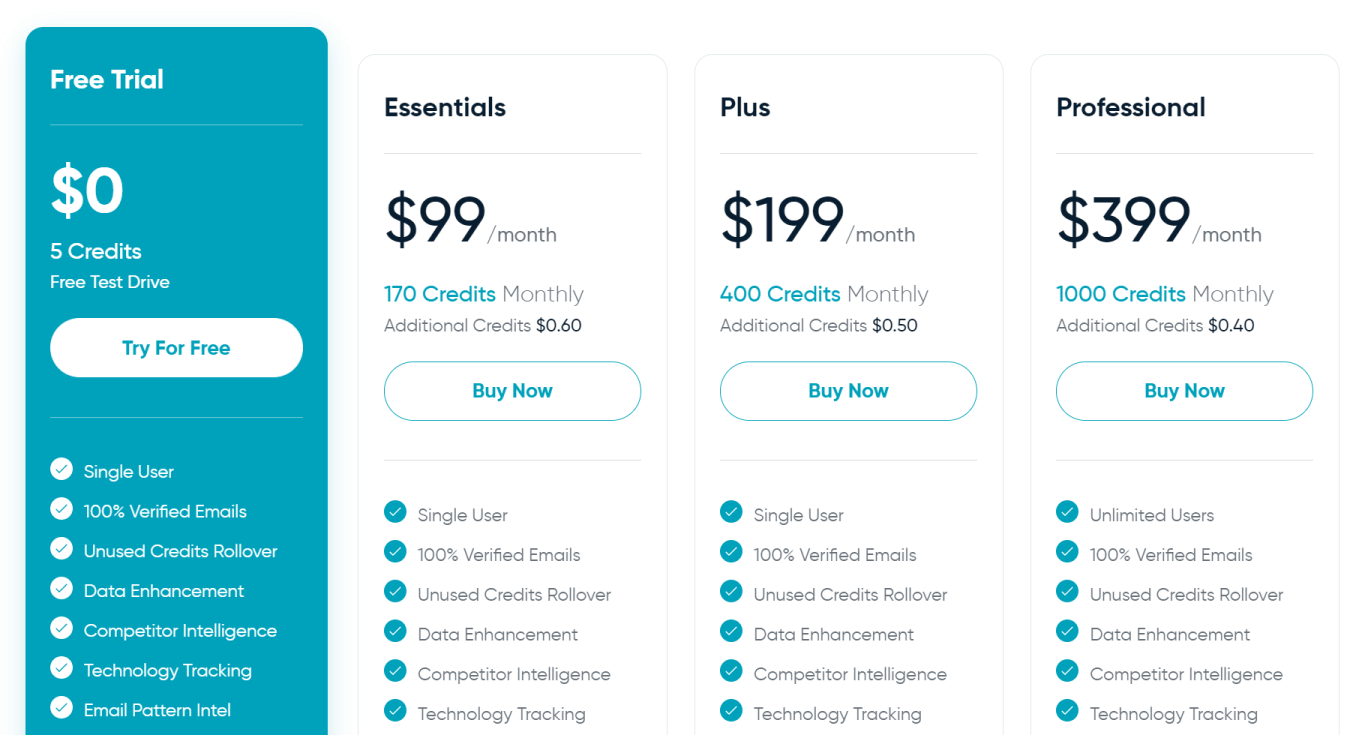 Contract Obligations
Hunter's breezy pricing page offers two contract or "subscription" categories: Billed Monthly or Billed Yearly. While the platform does offer anytime plan cancellation, upgrade, or downgrade services, once a business cancels their subscription, purchased request allotments expire when the subscription month ends. That means a business that decides to cancel its Enterprise subscription a few days before the end of the month may have a short window in which to use or lose purchased requests from Hunter.
Hunter appears to be aware of the potential disadvantage of this model: the first FAQ item on the platform's Pricing page assures businesses "you're free to take a subscription for just one month and cancel it when your work is done." Businesses will need to be responsible for managing subscription start and end dates and request fulfillment on their own or lose their investment—or lock themselves in for another month.
UpLead simply does not expect businesses to lock themselves into contracts with use-it-or-lose-it stipulations. Businesses can invest in any UpLead tier, cancel at any time, and still hold on to purchased credits—they never expire, meaning absolute flexibility and minimal commitment for cost-conscious businesses.
The Verdict: UpLead Wins!
No business wants to feel trapped in a contract with any kind of platform or service, from accounting software to staple suppliers. Particularly for small- and mid-sized businesses regularly scrutinizing cost and benefit, UpLead's no-contract system and infinitely-available purchased credits offer a clear advantage.
Update Frequency
In its marketing, Hunter doesn't drill down on verification and validation the way other B2B data intelligence platforms do. The platform notes "verifications are never totally sure" above 95% but doesn't manual review or correction. UpLead boasts real-time validation on every email address made available to businesses, but also commits to manually reviewing contacts that are flagged as Invalid.
The Verdict: UpLead Wins!
UpLead offers the advantage of human interference in manual verifications for invalid email addresses.
Special Features
Each platform offers a few additional considerations for interested businesses:
Offers discovery dates and public sources along with the email contacts it returns from crawling the web
Contacts can be emailed, or verified, individually or en masse
API integration and Google Sheets add-on options, but no LinkedIn integration (shut down as of April 2017 based on a request from LinkedIn)
CRM integration (all integration features are available at every tier)
Standalone platform dedicated to B2B data intel
Technology install base identifies whether prospects are using more than 16,000 hardware and software options for better targeting
The Verdict: UpLead Wins!
The special features UpLead and Hunter offer differ in value depending on a business's priorities. Want to know exactly where email data came from, and when? Hunter claims data transparency as a core value. Want full-power verified data with perks that aren't limited by pricing tier? UpLead is your solution.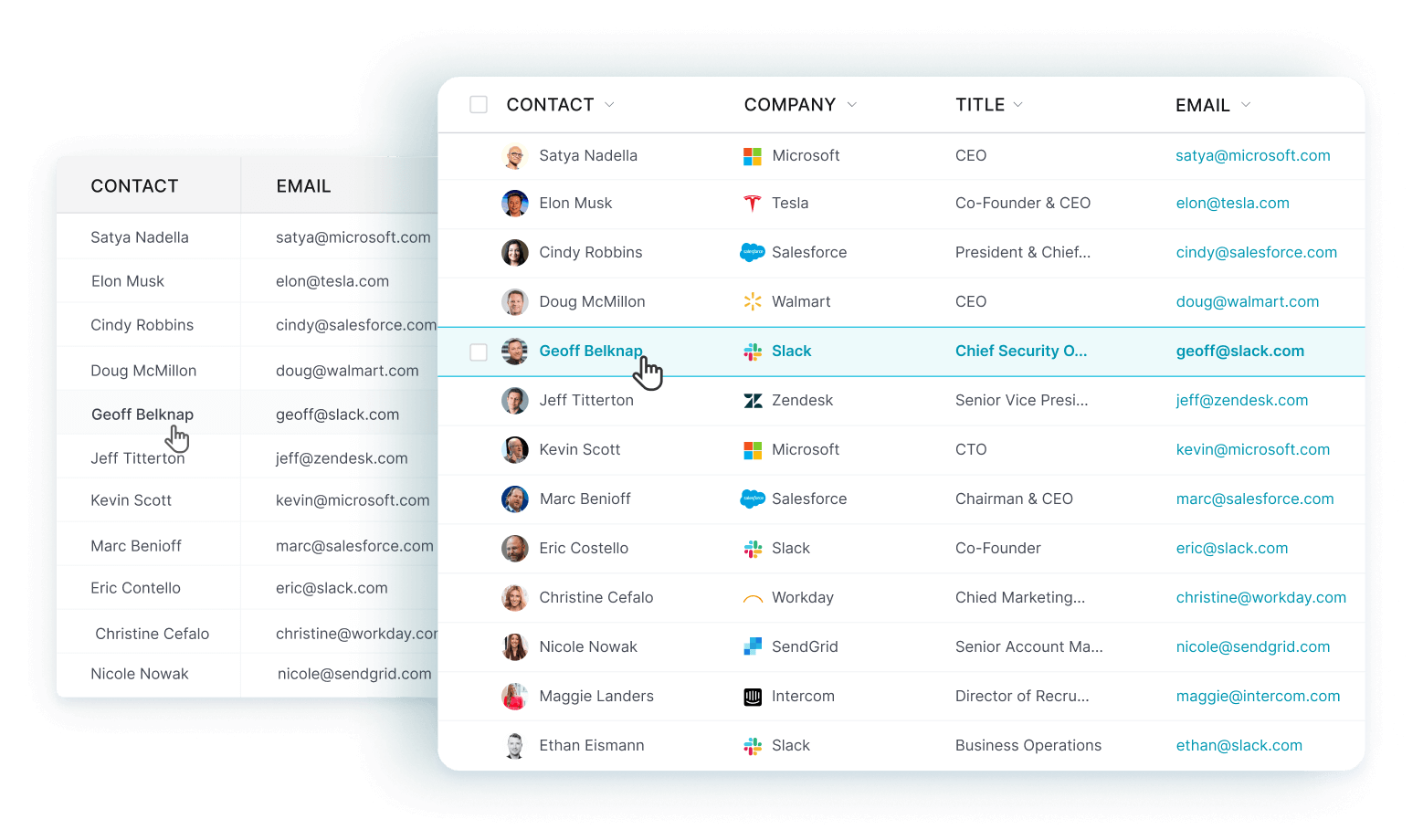 Final Verdict: UpLead Beats Hunter!
With similarly transparent pricing breakdowns, Hunter offers a larger database but with a more significant disclaimer regarding verification. UpLead offers a smaller database with stronger verification, including manual review, along with one benefit Hunter can't match: credits that never expire cushioned by the freedom of contract-free data discovery. Ideal for cost-conscious businesses, UpLead offers some of the lowest risk in the industry paired with B2B data features to rival contract-driven competitors.
Ready to give UpLead a try?
We hope you enjoyed out comparison guide between UpLead and Hunter. Getting started with UpLead is easy and can be done in just a few minutes. To start your 100% free 7-day trial (no credit card required), just click here.
If you still have questions simply click the chat widget in the bottom right-hand corner of this screen. We hope you enjoy UpLead.
Want to grow your business faster?
Sign up for a 100% free no-risk trial today!
Try UpLead free for 7 days. No credit card required. Plans start at just $99/month with no contract.
Disclaimer: The third party's name is utilized for comparison purposes only and is the trademark of its respective owner. UpLead claims no rights whatsoever in the use of such name and/or any related trademarks. UpLead is not affiliated with the third party referenced on this page.