If you want to market your business effectively, it's essential to identify your target audience and find the most efficient ways to reach them. One practical way to get started is by accessing a database of business contacts. This article provides an overview of 20 B2B databases of all industries you can use to reach your target market.
🔥 Hot tip: Need to build your pipeline quickly? Use UpLead to build prospecting lists free from dodgy data, bad-fit buyers, and low-qualified leads. Grab 5 free leads today.
Quick Links:
Why Your Business Needs the best B2B databases of all industries
A business-to-business (B2B) database is critical for any company that wants to succeed in the modern marketplace. Maintaining a database of contacts and clients allows your business to quickly and easily connect with sales leads and partners. In addition, a B2B database can help you track performance over time. By keeping detailed records of past interactions, you can identify patterns and trends that can be used to improve future sales and marketing strategies. 
20 B2B Databases From All Industries To Scale Your Reach
If you work in sales, you know a great database is key to scaling your reach. But so many B2B data providers are available—knowing which one to choose can be hard. Below is a comprehensive list of the 20 best business databases to help you connect with potential customers and partners.
1. UpLead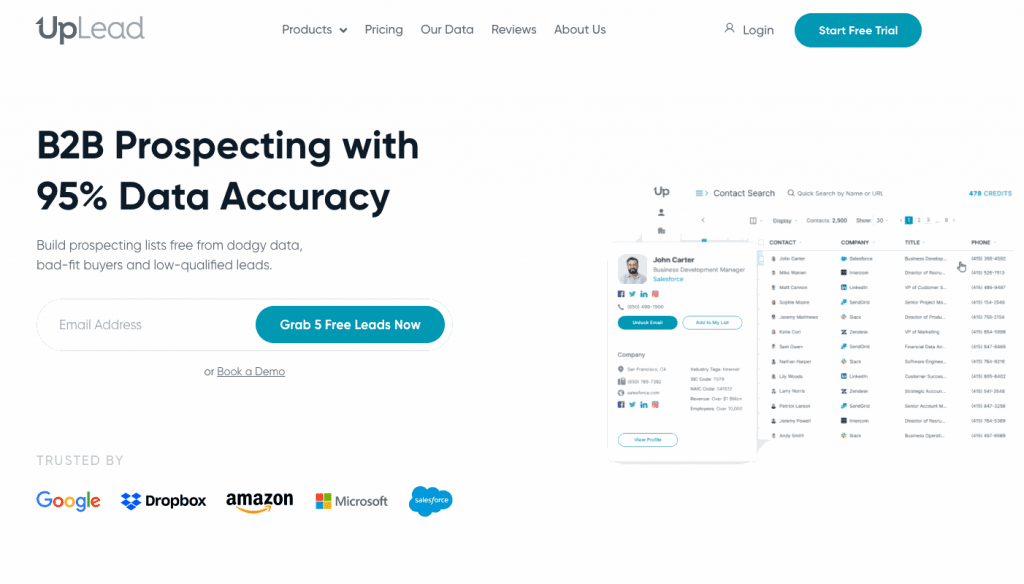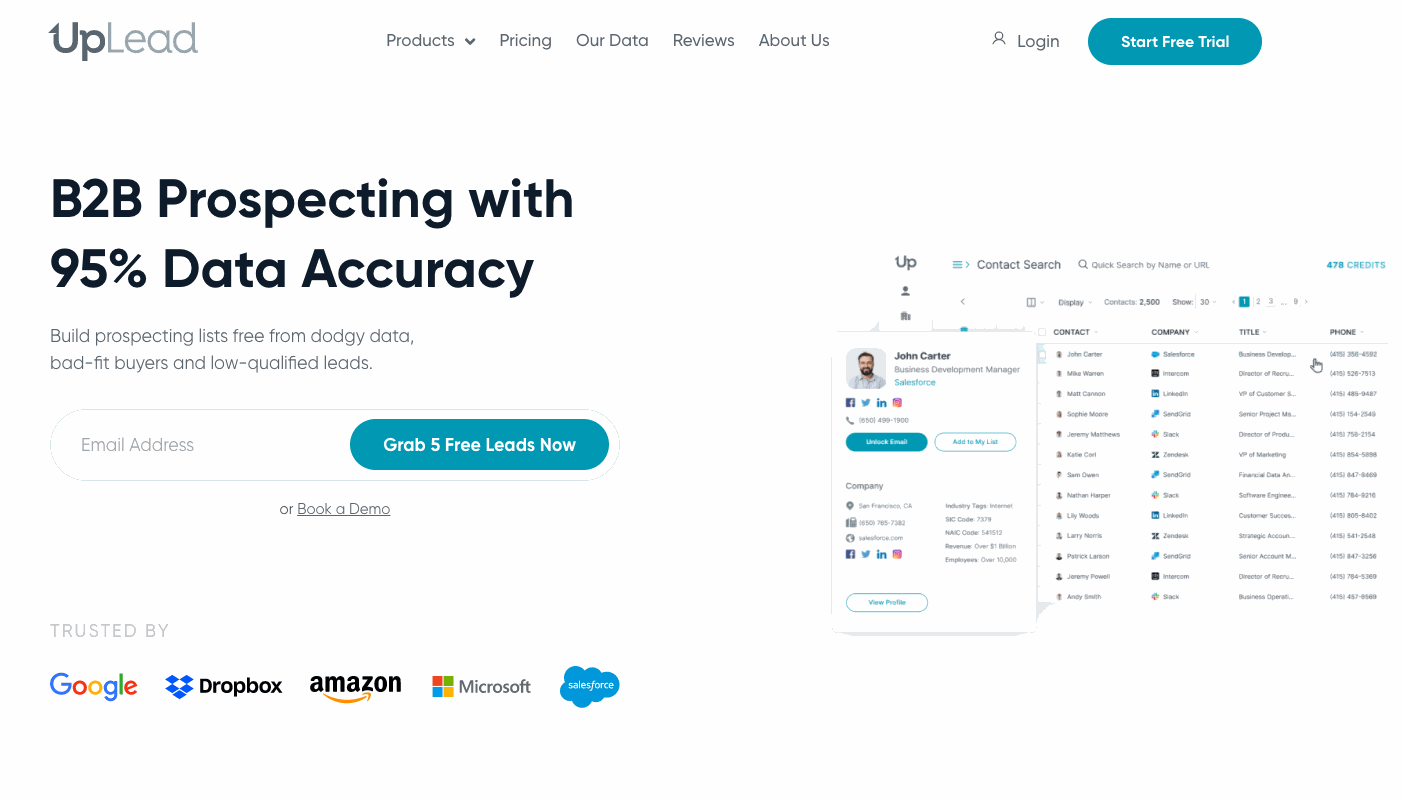 UpLead is a best-in-class lead-generation tool that helps sales and marketing teams quickly find and connect with the right customers.
With a high level of data accuracy for over 135+ million organizations, UpLead makes it easy to find the right contact information for decision-makers at every level. Plus, with real-time email verification, you can be confident that your messages are getting through. UpLead integrates seamlessly with popular CRM tools, making adding new leads to your pipeline easy. The platform's free plan gives you 5 credits to access and download contacts and enable B2B data enrichment features.
Key Features:
Start Your 7-Day Free UpLead Trial
Lead generation doesn't have to be all that painful. With UpLead, you can easily connect with high-quality prospects and leads to grow your company.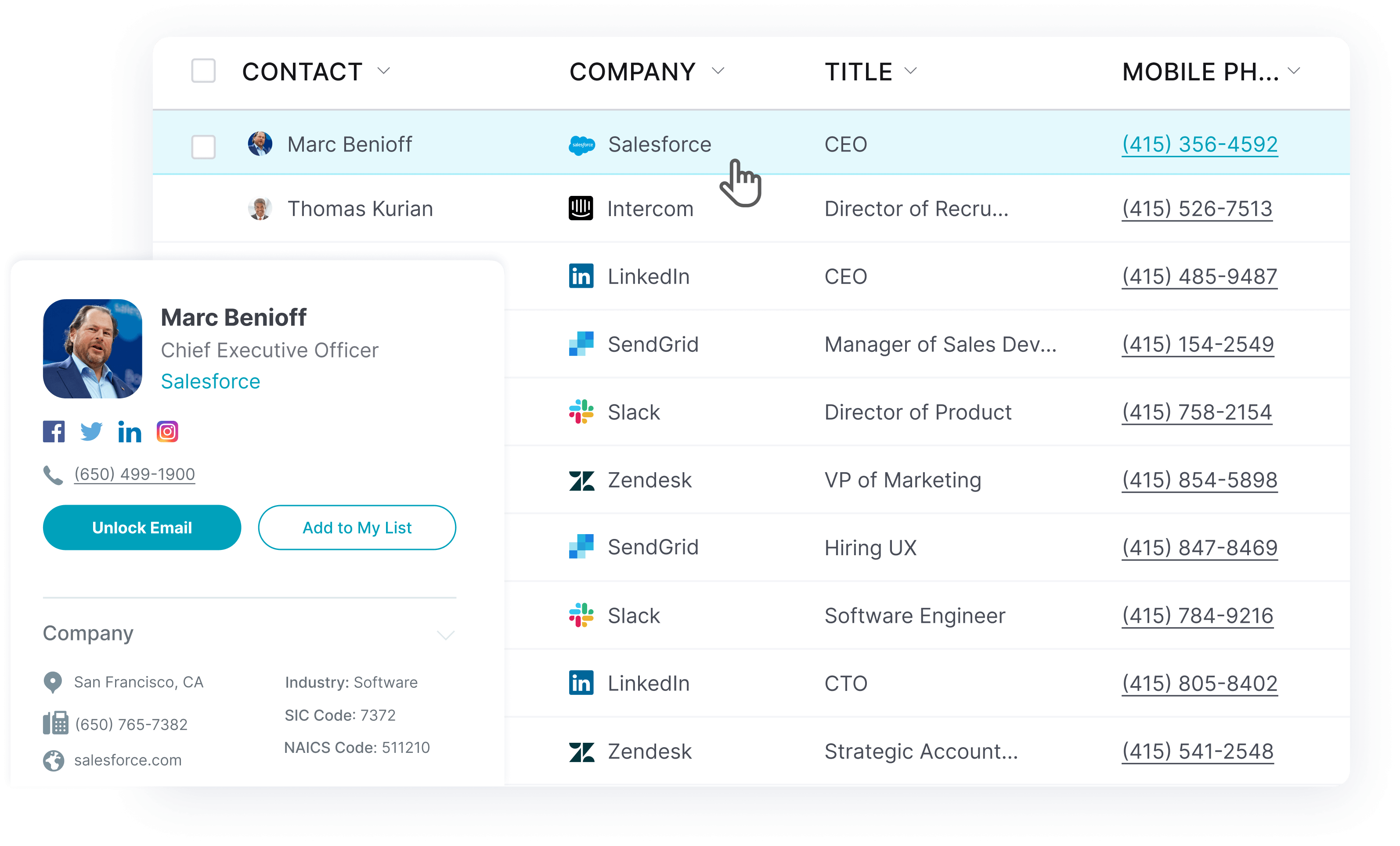 2. ZoomInfo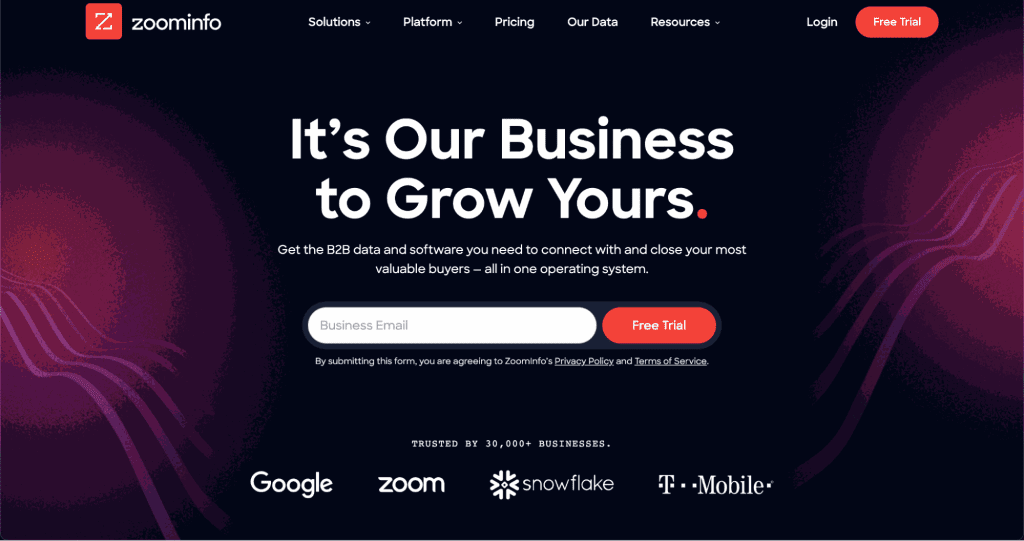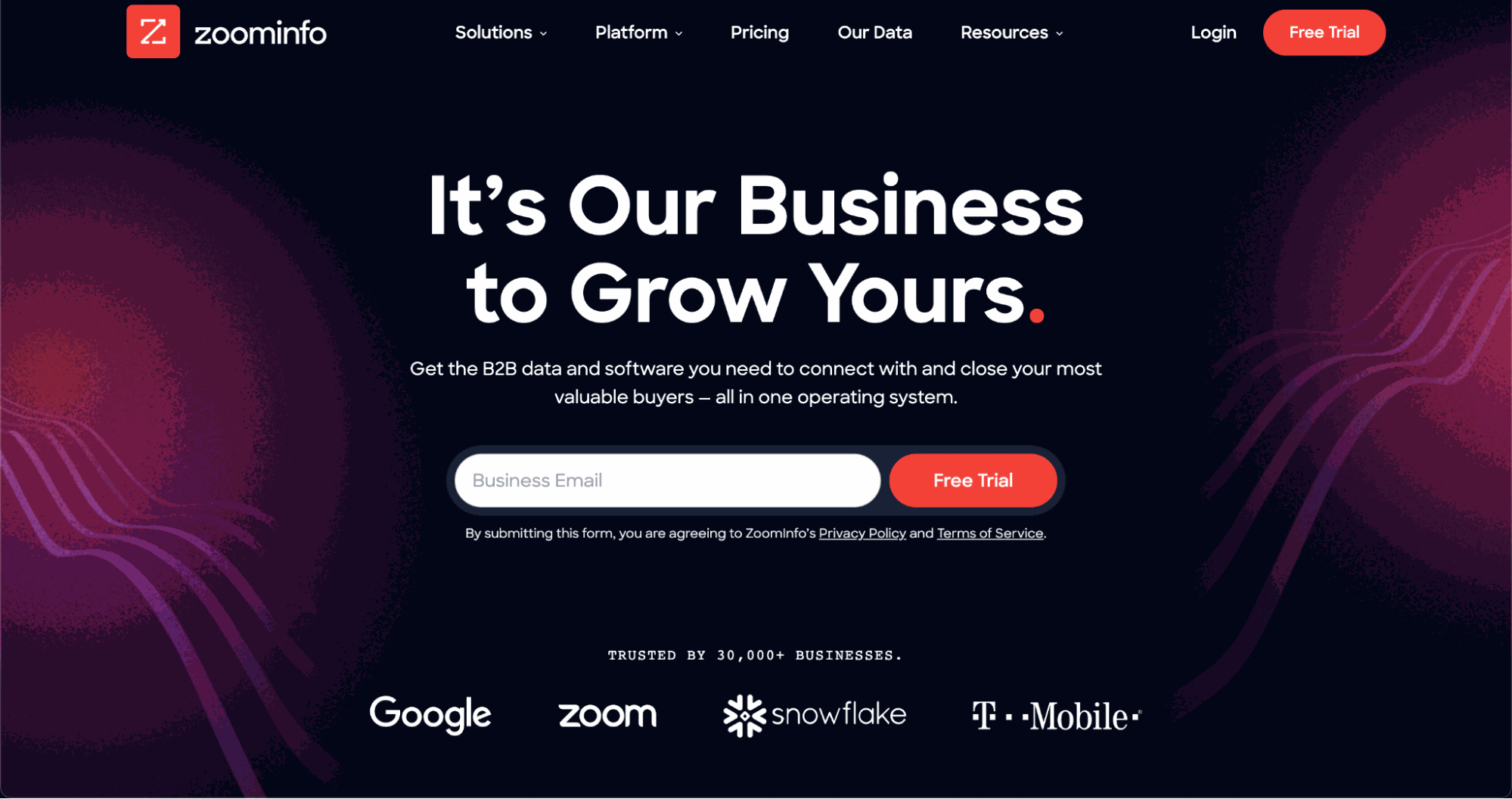 ZoomInfo is one of the largest B2B contact databases on the market, with over 65 million direct dial phone numbers and 150 million verified email addresses. It's an essential tool for sales teams, helping them identify prospects at the beginning of the buyer journey. IT and software are just some of the top industries using ZoomInfo. ZoomInfo does not provide exact pricing information without first understanding your business's needs, but its plans are broken down into three pricing tiers.
Key Features:
Comprehensive company profiles
Customized prospect lists
Website chat tools
Bonus: Check out some of the top Zoominfo competitors here.
3. Apollo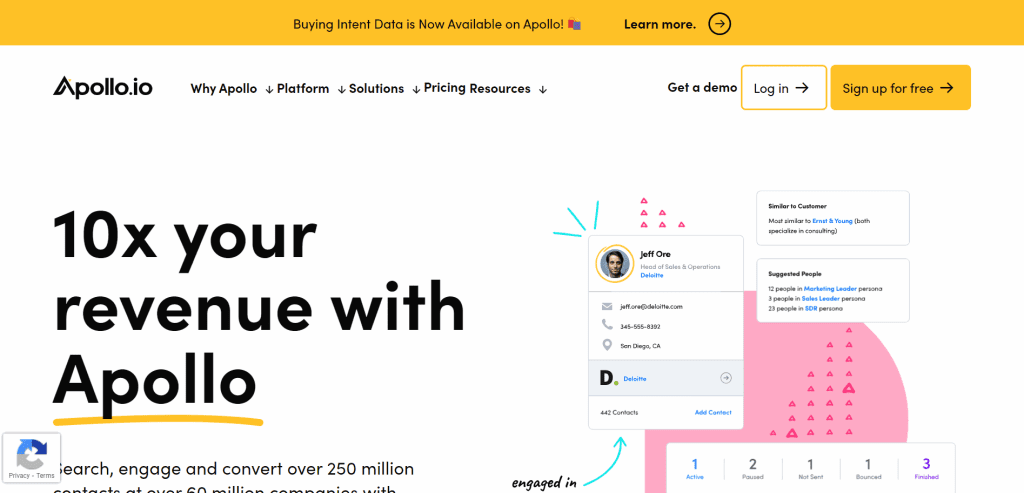 The Apollo sales intelligence platform is a practical choice for small businesses. It gives access to over 250 million contacts at over 60 million companies. The platform's automated workflows make it easy to engage with prospects. With Apollo, you can find the right decision-makers, connect with them on the proper channels, and close more deals. With Apollo, you can automate your sales pipeline and get more out of your B2B data.
Key Features:
Chrome extension
Enrich CRM
Recommendation system for improved sales strategies
Check Apollo's pricing and alternatives in our articles.
4. RocketReach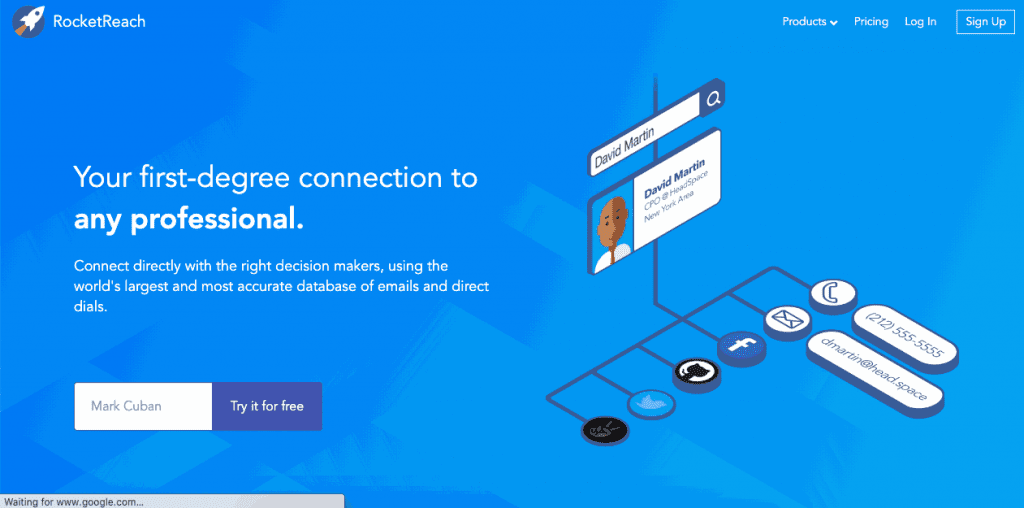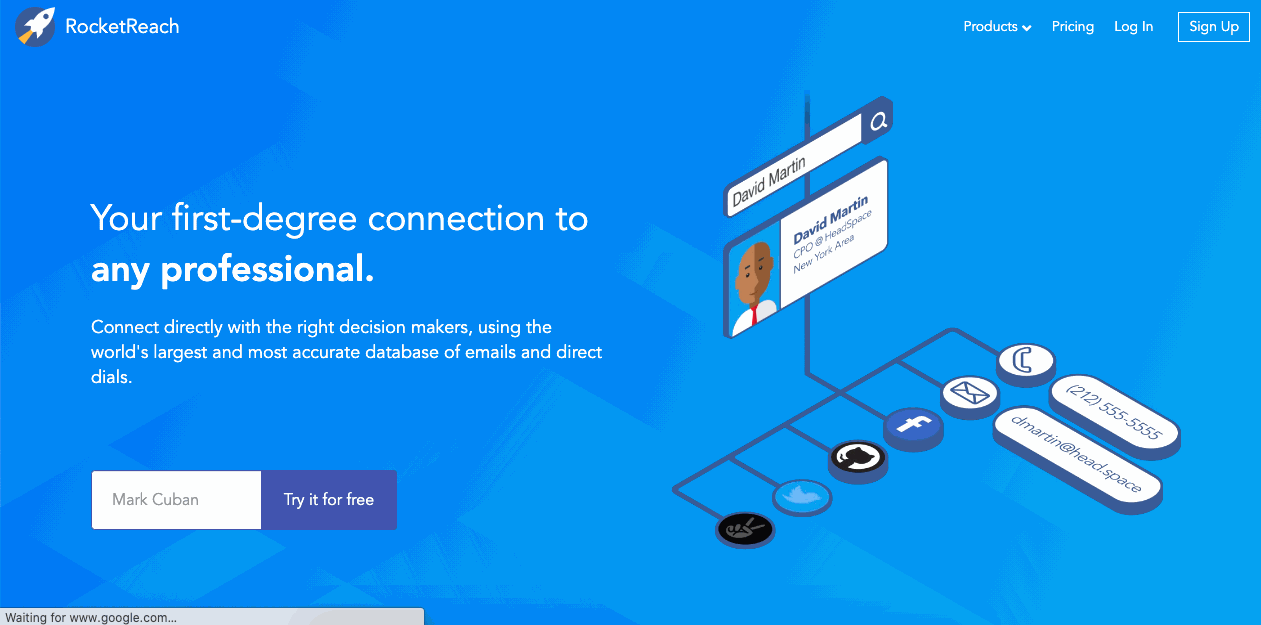 RocketReach is a powerful tool that sales, recruiting, and marketing teams can use. It provides verified B2B data for over 700 million professionals and 35 million companies. This makes it an invaluable resource for finding critical data points about business professionals. The information on RocketReach is constantly updated, so you can be confident that you're getting the most accurate B2B data. 
Key Features:
Advanced contact search
Browser extension to find leads on LinkedIn and more
Bulk lookups
Integrations with Salesforce, Hubspot, and other CRMs
5. Hunter.io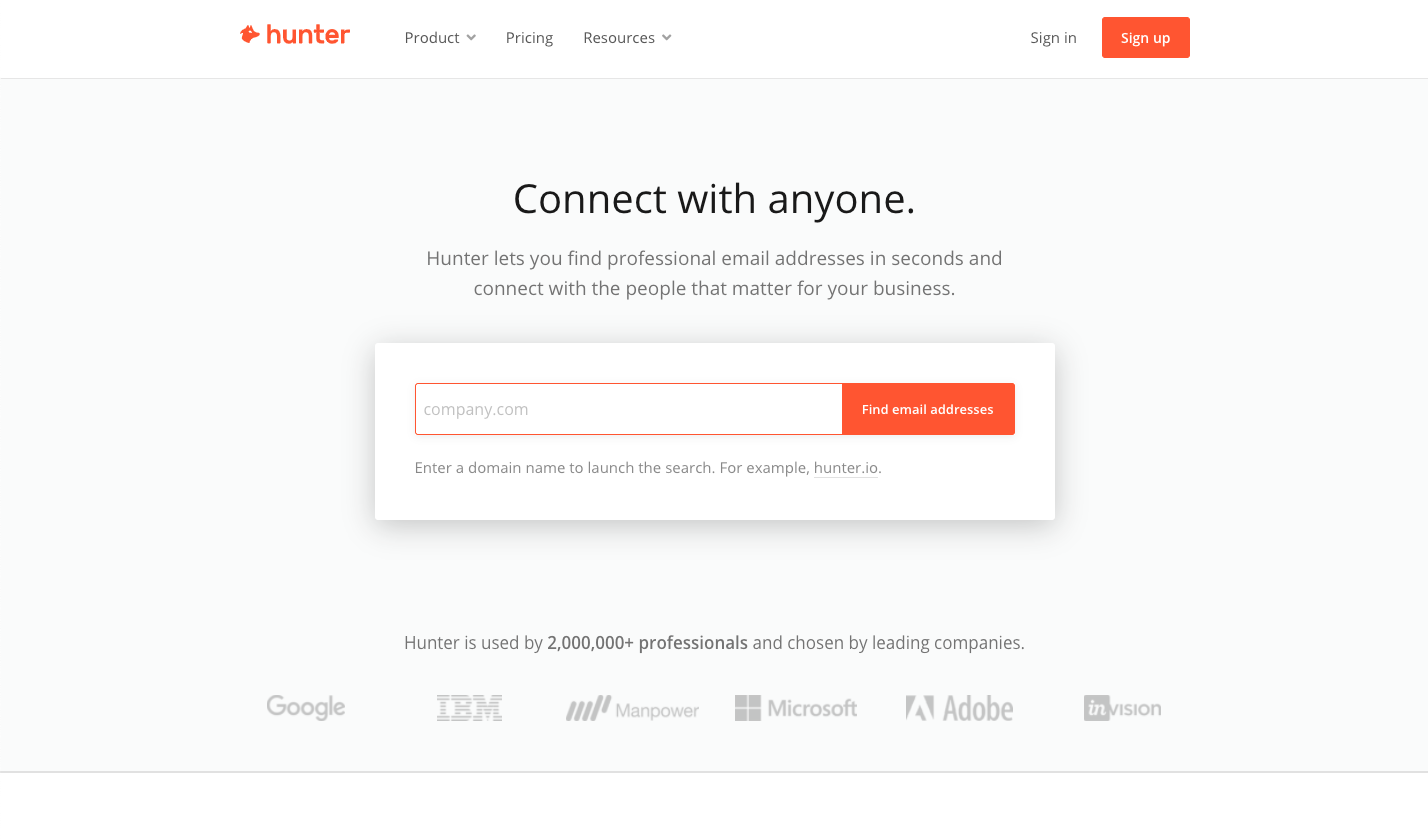 Hunter.io is a robust email-finding tool that can find contact information for a wide range of professionals. The platform has over 100 million email addresses, making finding the right person to contact easy. Additionally, Hunter.io allows you to save leads and import them into your CRM, making it a valuable tool for account-based marketing teams. 
Key Features:
Custom tracking domain
Attachments and images in emails
Link tracking
Here are other hunter.io competitors to consider.
6. Lusha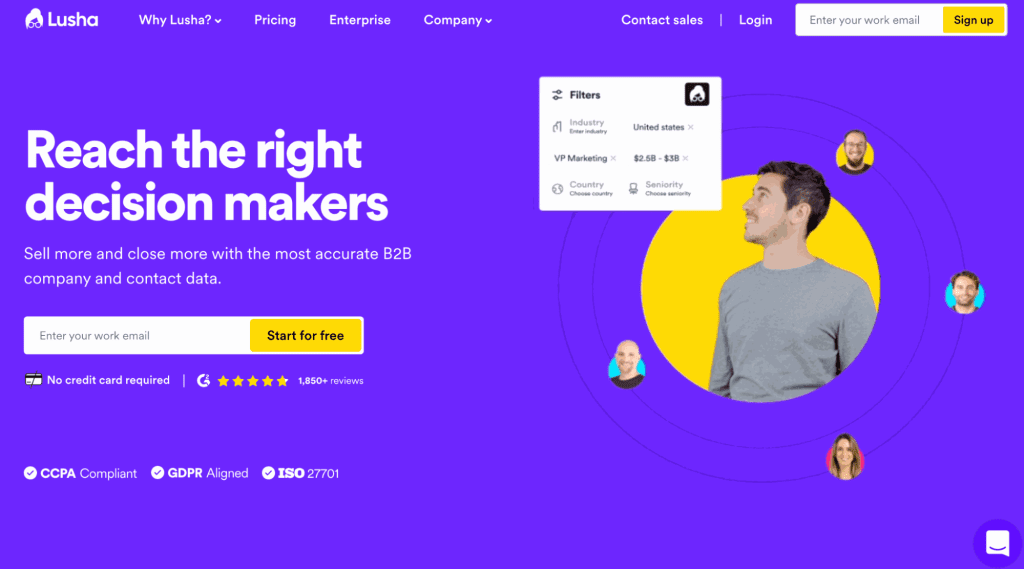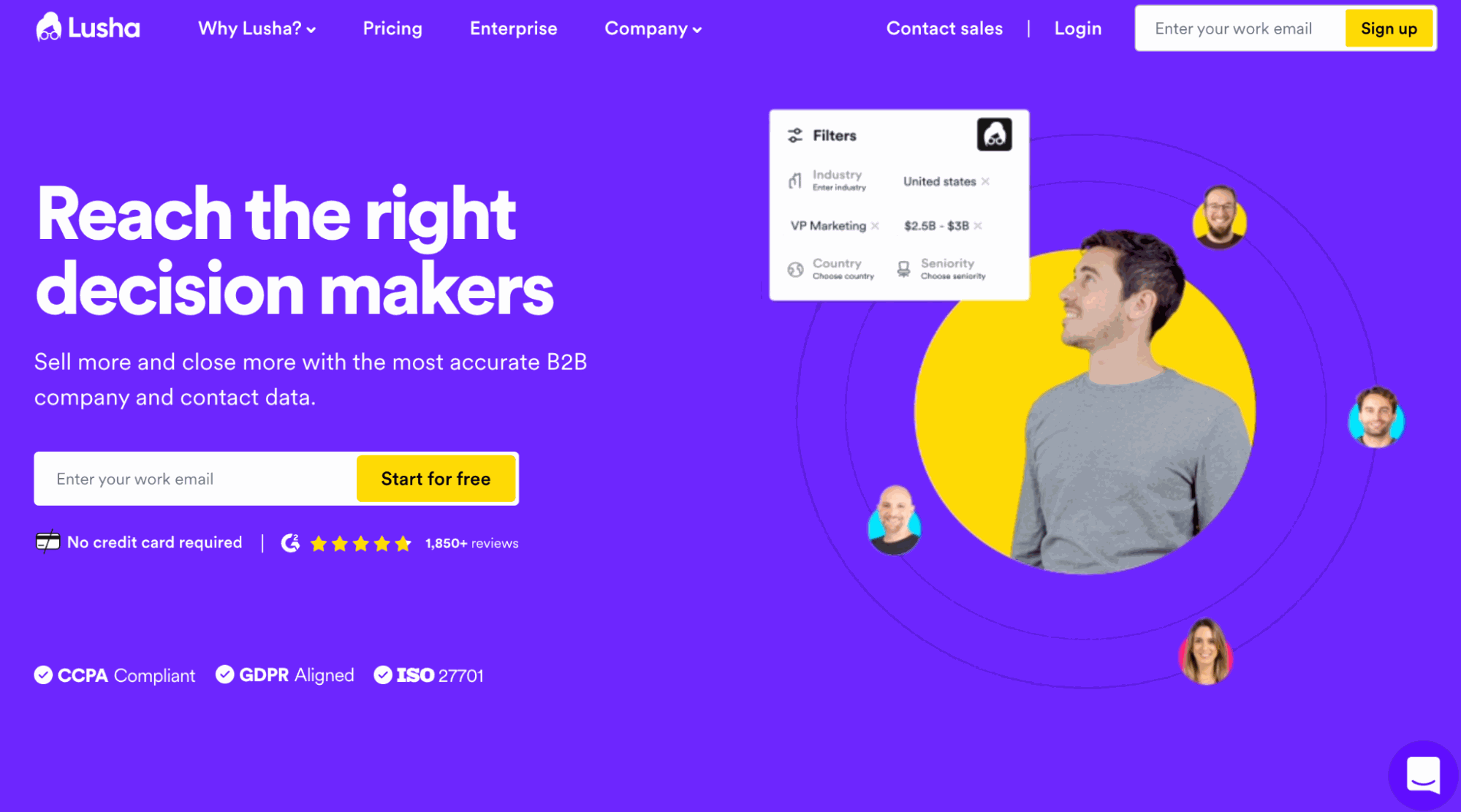 Lusha is a powerful lead-generation platform providing instant business contact information access. With Lusha, you can quickly and easily find the contact information you need, including email addresses, phone numbers, and social media profiles. Best of all, Lusha's B2B data is GDPR compliant, so you can be sure that your leads are always up-to-date and accurate. 
Key Features:
Prospecting platform with access to direct phone numbers
Usage analytics
Team management
More information about Lusha's pricing plans is available here.
7. AeroLeads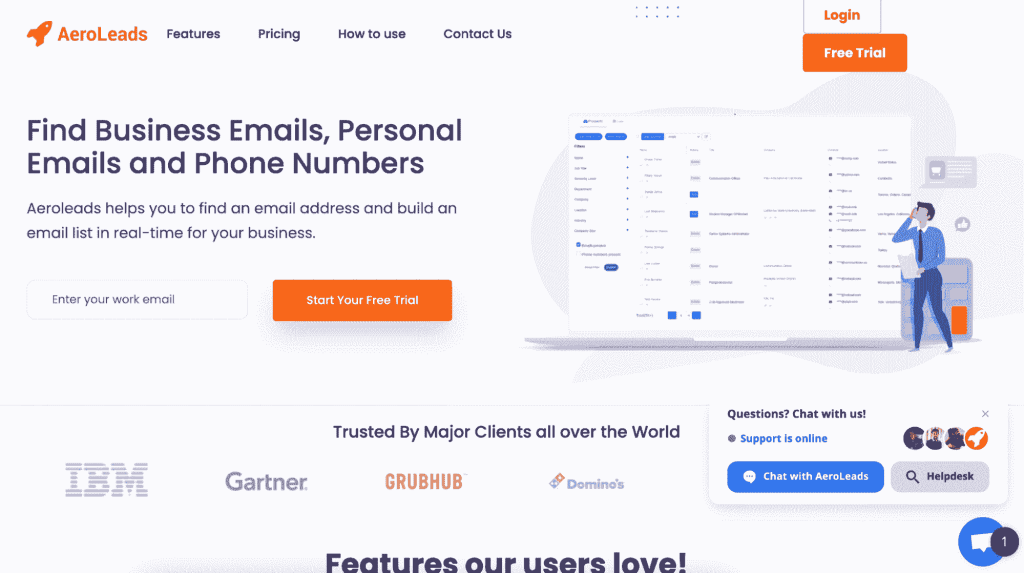 AeroLeads is a lead generation platform that gives you access to over 650 million prospects. With AeroLeads, you can quickly and easily find potential customers for your business. The software's extension also helps automate prospecting, making it easier to find leads faster. AeroLeads is used mainly by small businesses and tech companies, but any business can benefit from its various features.
Key Features:
Find prospects on LinkedIn, Crunchbase, and more
Import and export CSV business data
Access to support via email, chat, and phone
8. Snov.io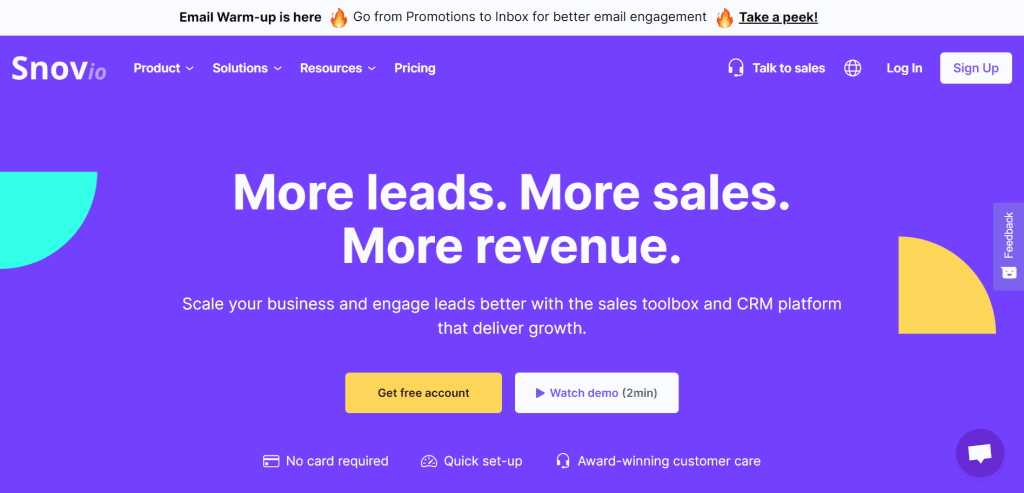 Snov.io is a robust email verifier that recruiters and sales prospects use to ensure accurate data. It provides users with structured contact data, making finding and connecting with potential leads easier.
Key Features:
Ability to automate and send drip campaigns
Browser plug-in
Email verifier API
9. Clearbit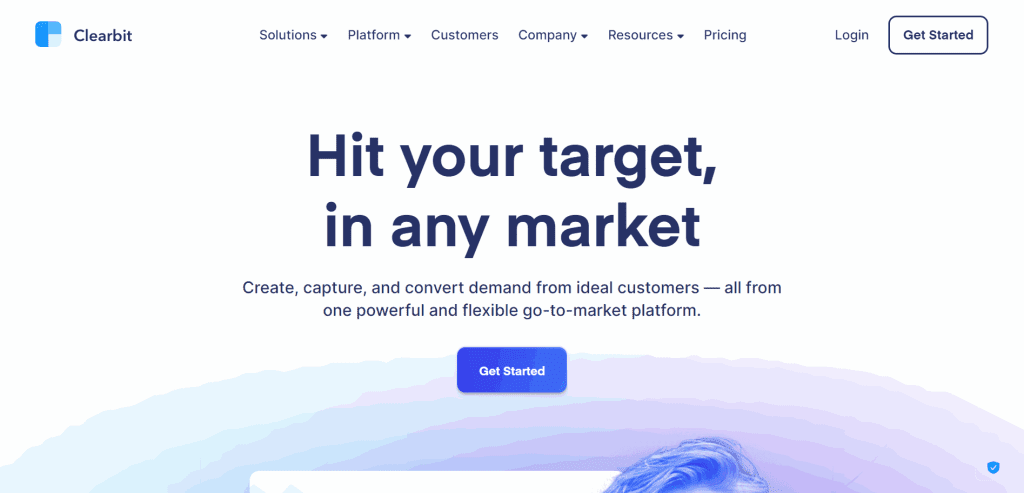 Clearbit is a sales intelligence platform that provides accurate and up-to-date information on companies and buyers. The platform combines company and buyer intent data to give users a complete picture of their target market. Clearbit offers over 100 firmographic and technographic data points, making it an effective resource for marketing, sales, and operations teams.
Key Features:
Connect B2B data sources and CRM
Ability to segment contact data
Access to 44 million companies and 350 million contacts
10. LeadFuze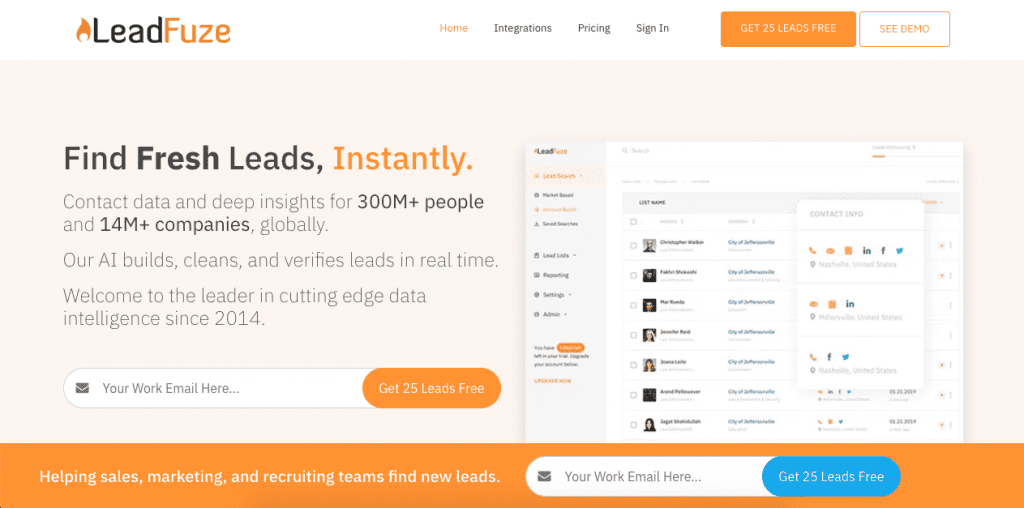 LeadFuze is a lead automation tool that offers verified contact information for 500+ million people. The tool is built for sales and recruiting teams and provides several features, including the ability to create multiple lists, add team members, and track leads. LeadFuze also offers several integrations, making it easy to use with other tools.
Key Features:
Account-based search
Proprietary AI to help scale marketing efforts
Ad targeting
11. GetProspect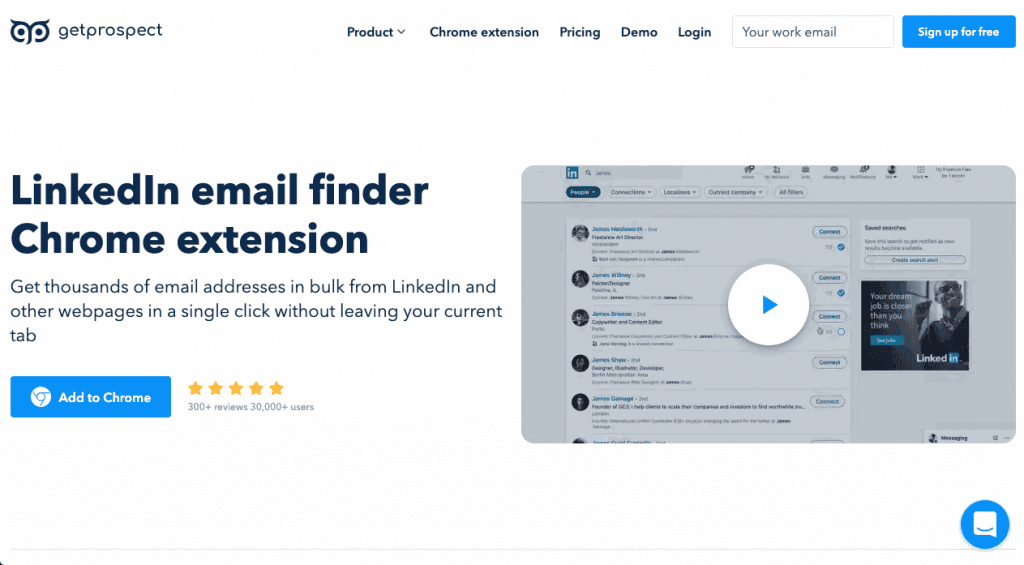 Access to accurate and up-to-date contact information is essential for any sales or marketing team. GetProspect helps businesses segment leads and personalize outreach, making it easier to connect with potential customers. With over 200 million contacts in its database, GetProspect is one of the most comprehensive prospecting tools on the market.
Key Features:
Database of over 7 million companies and 50 million contacts
Bulk email validation and search
API access and integrations with productivity tools
12. Voila Norbert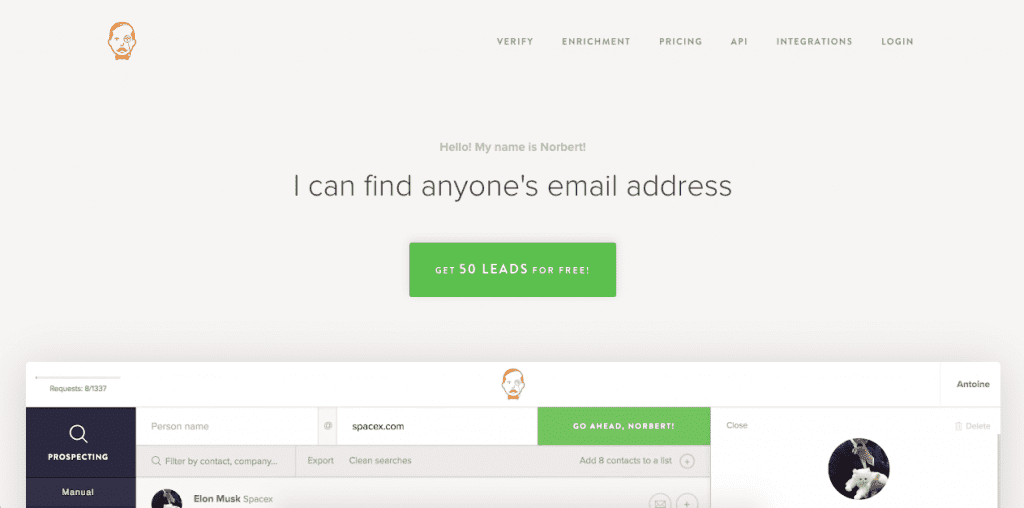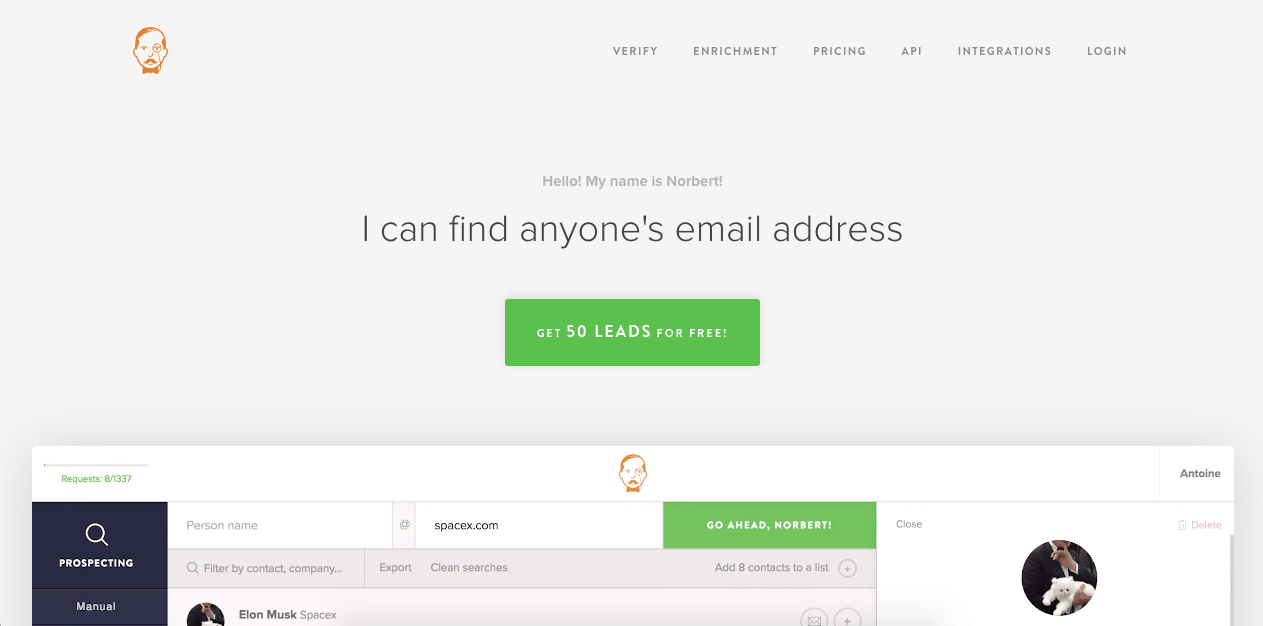 Voila Norbert is a helpful tool that can help sales and recruiting teams find leads and enrich their contacts. The platform allows you to search for leads and get real-time contact information. The Voila Norbert Chrome extension helps you prospect as you navigate search platforms, making it easy to find potential customers and make connections.
Key Features:
Integrations for Salesforce, Mailchimp, and Zapier
API for email verification automation
Gmail plug-in for pipeline tracking
13. LinkedIn Sales Navigator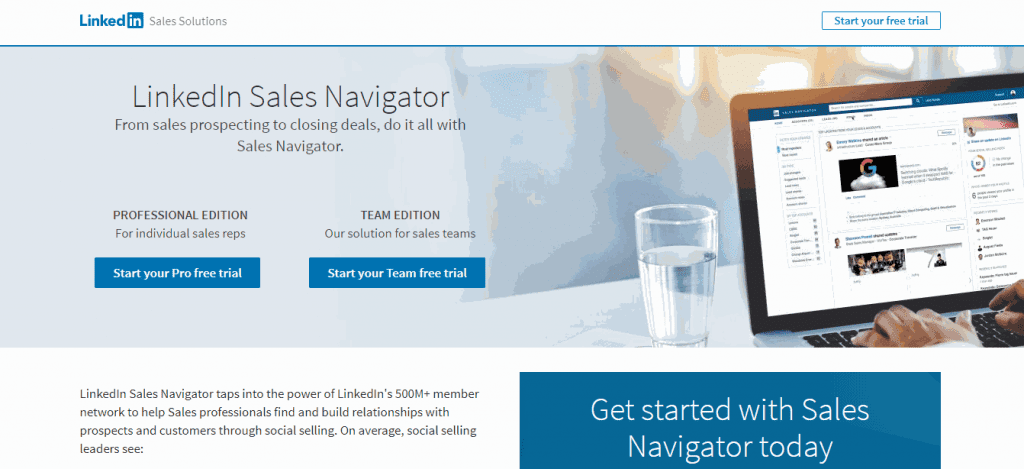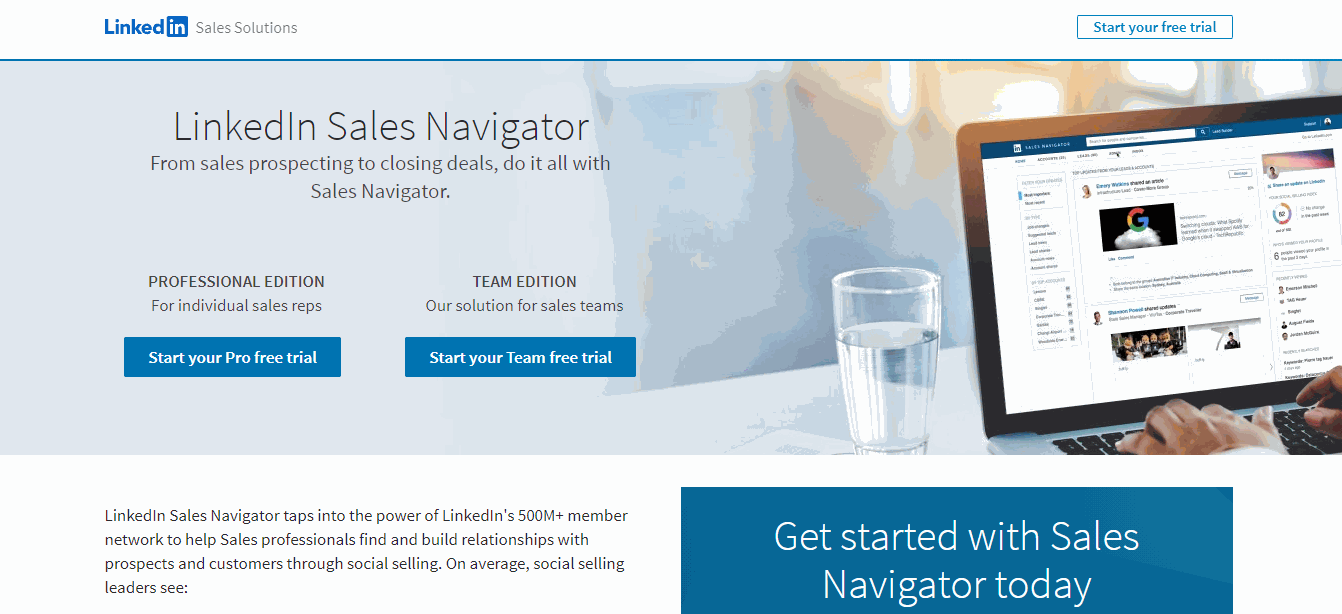 LinkedIn Sales Navigator is a powerful sales tool that provides a seamless search experience while finding contacts and connecting with prospects. Over 58 million companies use LinkedIn Sales Navigator. Its built-in features, such as account and lead recommendations, help sales professionals save time and close more deals. In addition, exporting contact information and saving searches makes it easy to keep track of prospects and manage customer relationships. 
Key Features:
Easy-to-use CRM integration
Insights into who's viewed your profile
Ability to reach over 500M LinkedIn members
14. Owler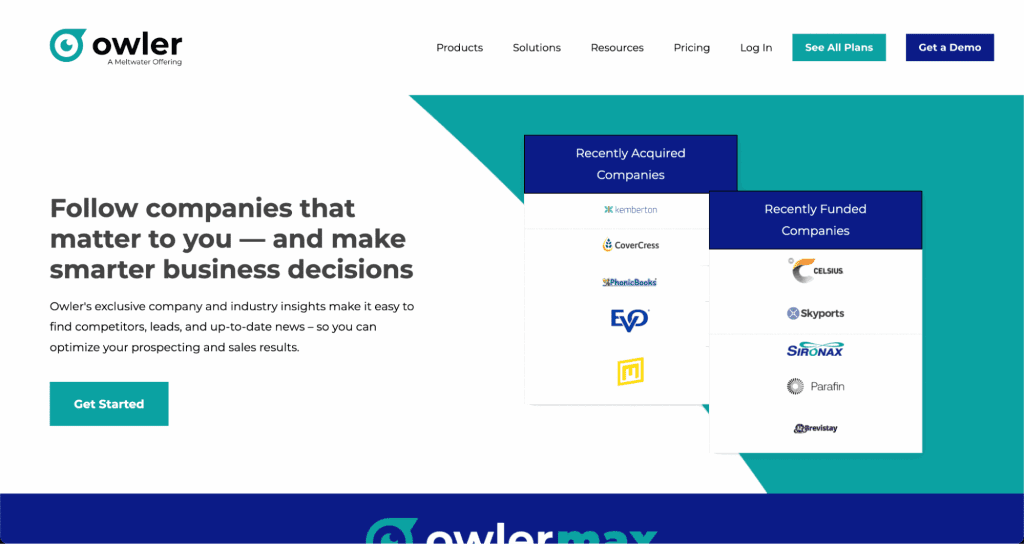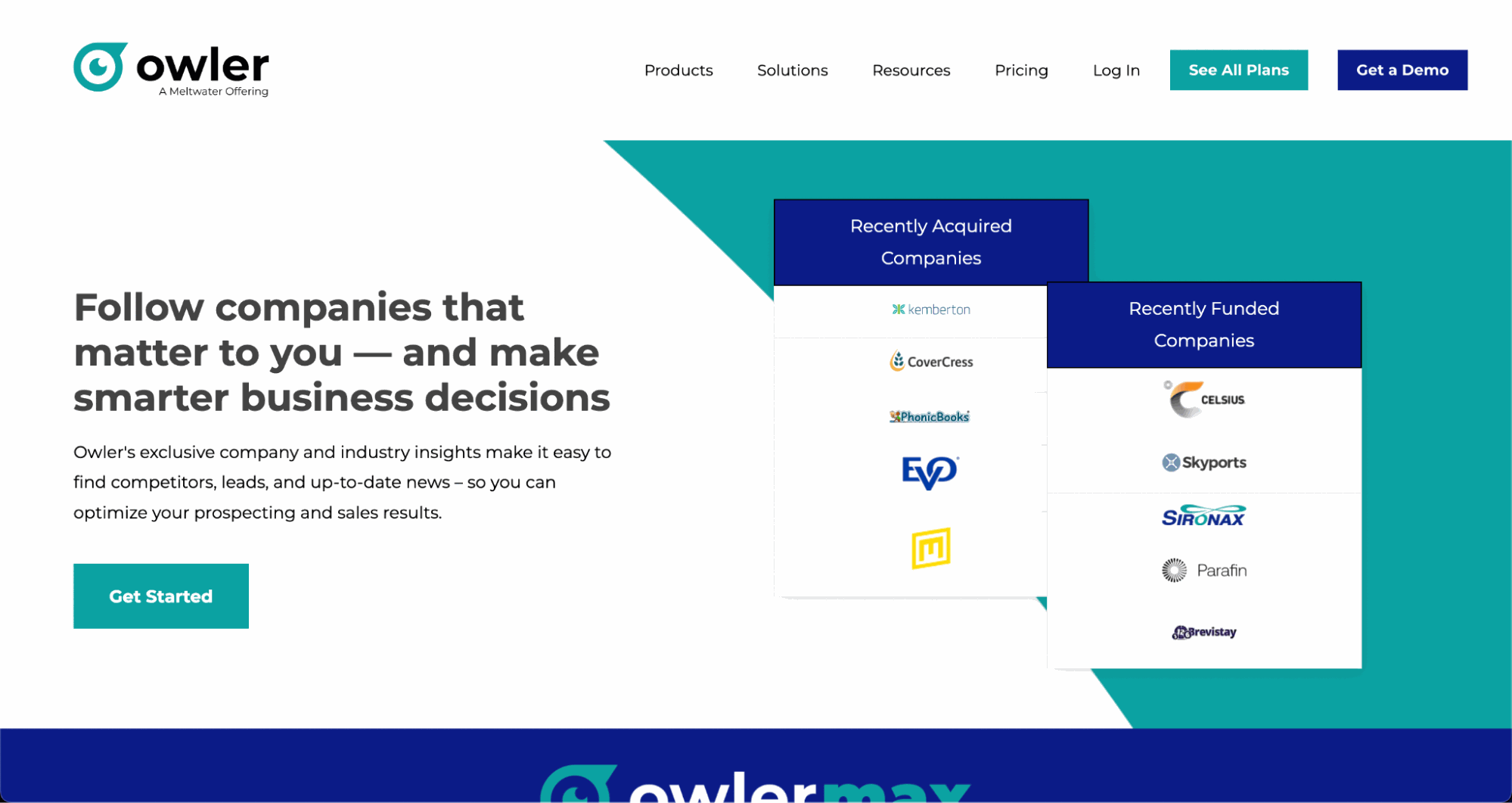 Owler is a sales intelligence tool that helps you make smarter decisions in prospecting by finding relevant industry insights into your target companies. Mid-size businesses and tech companies primarily use the platform. With Owler, you can find detailed information and get up-to-date B2B data on many organizations.
Key Features:
Integrations with Hubspot, Slack, and Microsoft Teams
Access to over 15 million company profiles
The database can be filtered by revenue, location, industry, and more
15. Adapt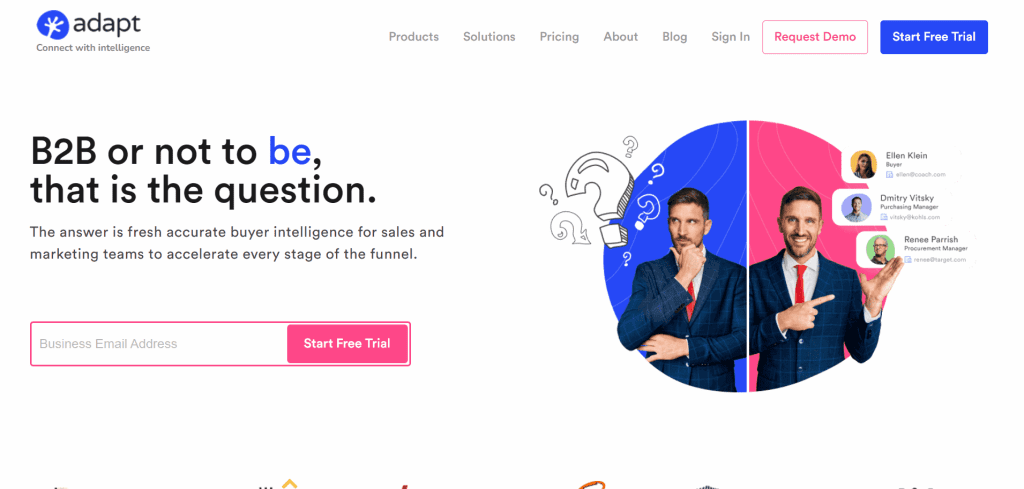 Adapt is a buyer intelligence platform that helps marketing and sales teams target prospects at scale. With over 61 million contacts and 25 million companies in its database, Adapt makes it easy to find the right people and enrich your contact information.
Key Features:
Chrome extension
Over 2 million updates per week for the most current data
Delivers company insights to help increase personalization
16. Lead411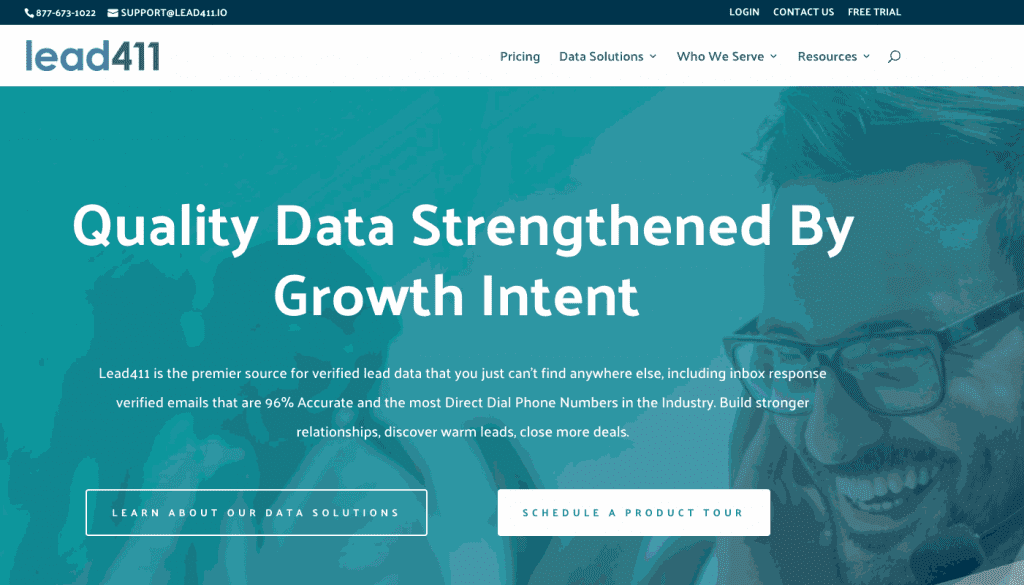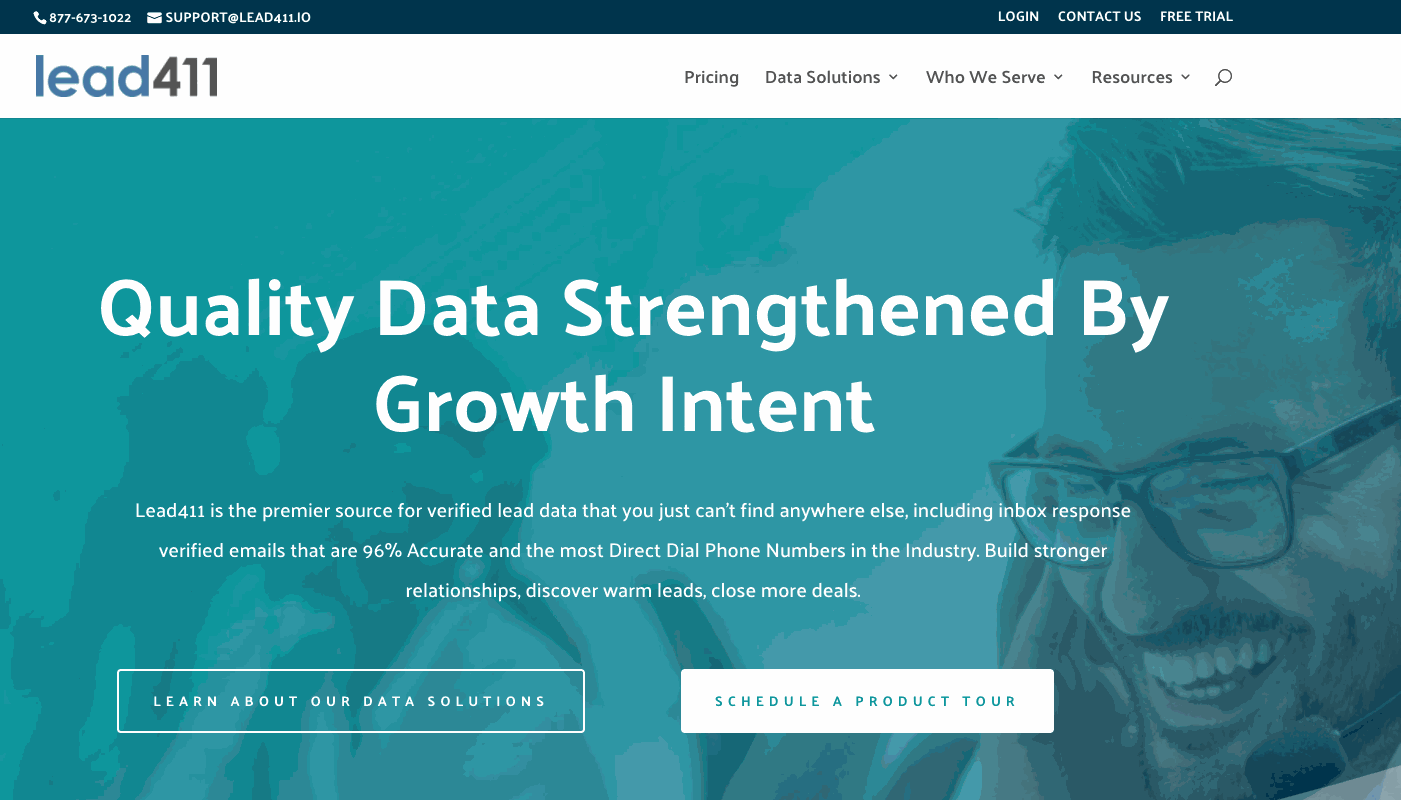 Lead411 is a B2B direct dial and intent data intelligence tool. The company has a 96% accuracy rate and primarily provides data to sales teams through its Bombora intent data product. SaaS companies and their sales teams use Lead 411's products to increase leads and conversions.
Key Features:
Verified email addresses
Over 25 integrations with productivity tools
Lead scoring
17. Datanyze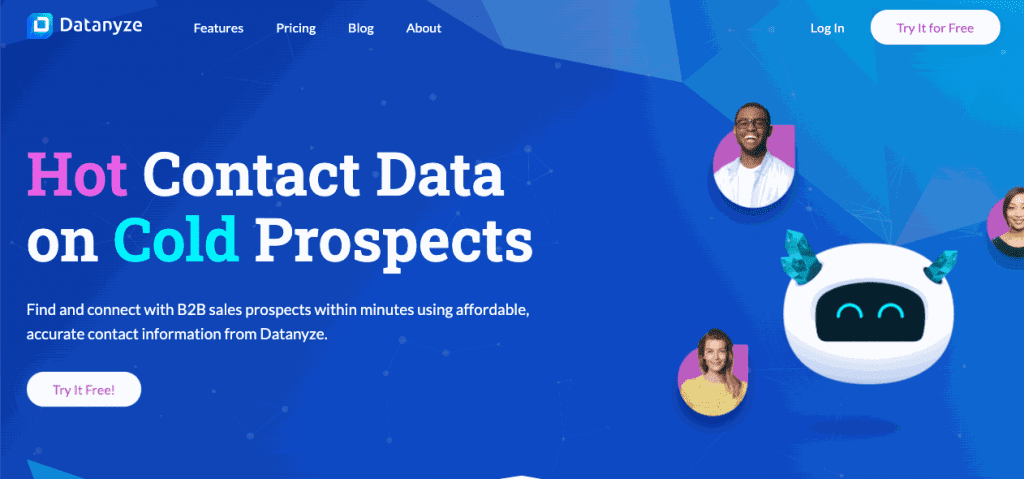 With a focus on cold prospects, Datanyze is an affordable way for businesses to get the information they need to make decisions about their marketing and sales strategies. Mid-size companies below 1,000 employees are the most common users of Datanyze, but small businesses and large enterprises also use the platform.
Key Features:
Easy-to-use Chrome extension
Access to over 120 million contacts
GDPR and CCPA compliant
18. Seamless.ai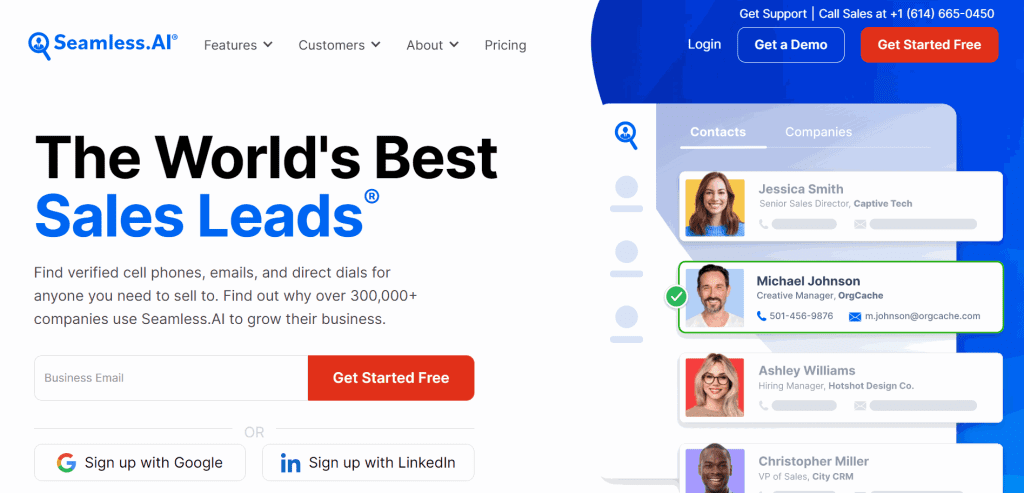 Seamless.ai benefits companies by helping them build lead lists and find missing data points for their existing contacts. Used by over 300,000 companies, Seamless.ai has access to over 1.9 billion pieces of contact data and company records. This ensures you can find the contact information you need, even when it comes to hard-to-reach prospects. In addition, Seamless.ai's powerful search features make it easy to find the right contacts within your target companies.
Key Features:
Integrations for Salesforce, Hubspot, and more
Enterprise-level security and compliance
Advanced user management
19. EasyLeadz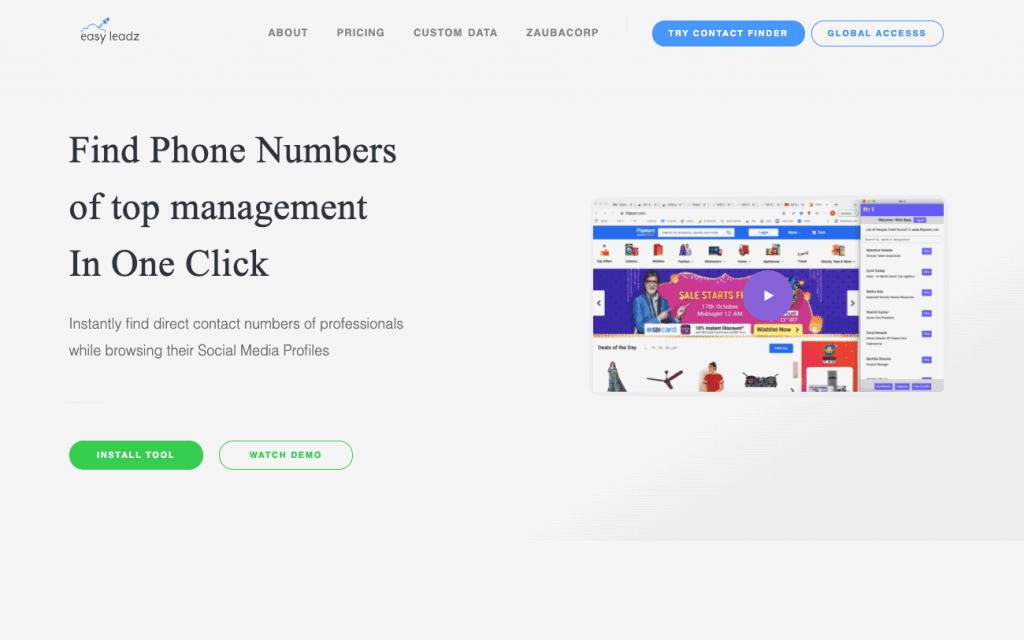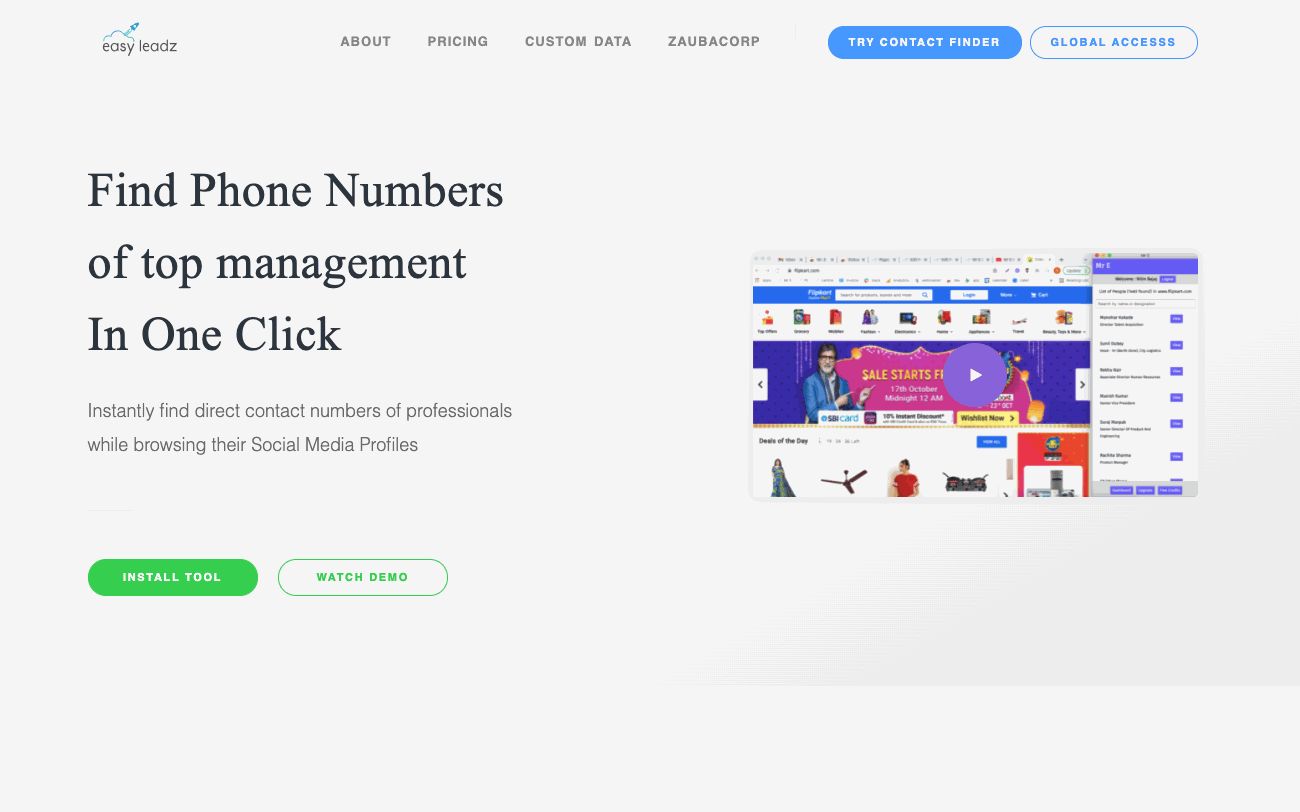 The EasyLeadz database contains firmographic and demographic data, making it easy to find the most relevant contacts for your company. The service offers a free trial with five contacts, so you can try it out before committing to a subscription. 
Key Features:
100% accuracy assurance; only pay for valid data
Custom B2B data
Search companies by keyword and industry
20. SalesIntel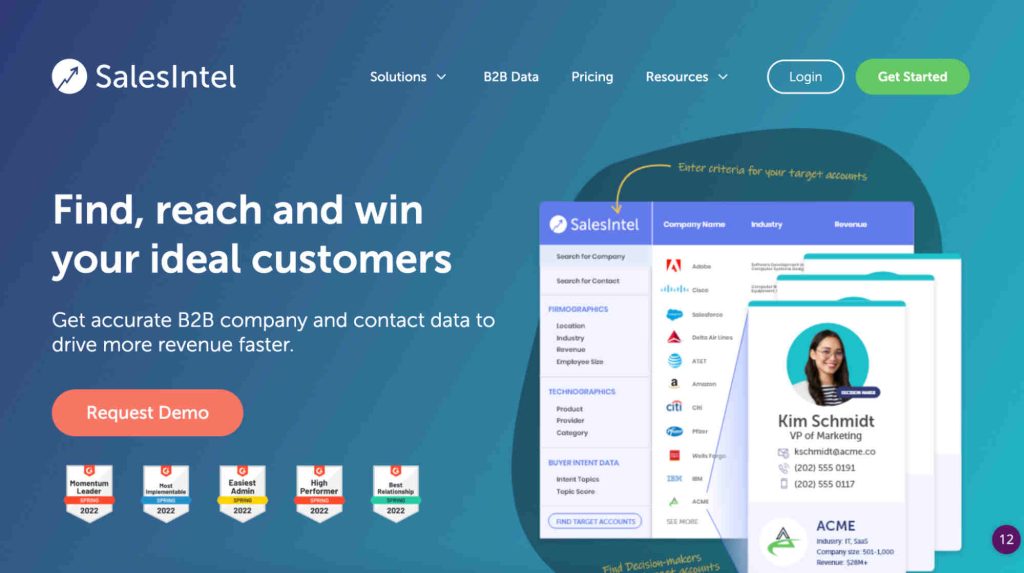 SalesIntel is an essential tool for business development teams who want to be sure they always reach the right person. They have over 1,900 researchers tasked with verifying data, so you can be confident you're getting accurate direct dials for your target contacts. And with a 90-day re-verification system in place, you can be sure that your data is always up-to-date. 
Key Features:
Enrich CRM
Filter by technographic and firmographic data
Integrations with Salesforce, Microsoft 365, Zoho, and more
How to Choose the Best B2B Database for Your Business
Businesses of all sizes rely on databases as an important source of data collection. There are several factors to consider when looking for a reliable business database.
Type of Data
The type of company data stored in a B2B database will determine how useful it will be for your business. Ensure that it contains relevant information about your target market, including contact information such as names, phone numbers, email addresses, and mailing addresses. It should also contain demographic and psychographic information so you can better understand your target audience and their needs.
Database Size & Quality
Size and quality are two very important factors when choosing the right B2B database for your business. The database must have enough records; you should be able to reach a large number of potential customers without running out of leads quickly. Ensure that the platform's data is accurate and up-to-date. Otherwise, you'll waste time reaching out to people who've changed their contact information or people who no longer work in your target market.
Price
Depending on what features you need, database software prices can vary significantly from one provider to another. It's important to compare different providers side by side. It will help you find one that fits your budget and offers all the features you need for successful marketing campaigns.
FAQs About B2B Databases of All Industries
Below are a few frequently asked questions about B2B databases:
What is a B2B database platform?
B2B database platforms typically include a contact management system, which helps businesses keep track of their customers' contact information. Some of these platforms also provide tools for managing sales and marketing campaigns and features to track and analyze customer data. Using a B2B database platform can help businesses better understand their customers and improve sales and revenue.
Which B2B database is best?
There are several great B2B database options to choose from. However, selecting one that's right for your business is important. Platforms like UpLead and ZoomInfo provide industry-leading solutions for a large number of companies. 
What is a B2B data list?
A B2B data list is a compilation of information regarding businesses located within a certain geographical area. This B2B data may include the business name, address, contact information, and other relevant details. Companies use B2B data lists for various purposes, including market research, data management, and sales.
How much does B2B data cost?
B2B data can be costly, depending on the provider. Some providers charge by the record, while others charge a monthly or annual subscription fee. Pricing can also depend on data quality and how often updates are made. Businesses typically pay anywhere from 1 cent to 3 dollars per contact record. 
What You Need to Remember About B2B Databases
There are a few things you should keep in mind when it comes to B2B databases. It's important to consider price, database quality, and the type of data being offered. There are several high-quality B2B data platforms out there that will optimize your sales and marketing efforts. Be sure to compare and contrast their offerings so you can choose the right software for your business.
The best way to use business databases is with a tool like UpLead, which guarantees data accuracy, shows lead information through vibrant profiles, and can be used while browsing prospects on the web and LinkedIn.
Try UpLead to find 5 leads for free today. Get their emails or mobile direct dials and start conversations with best-fit leads.