As a marketer, one of your main goals is generating leads that your sales team can convert into customers. High-quality sales intelligence data is essential. Many software options on the market can provide you with this data, including ZoomInfo and Lusha. So, how do you know which one is right for your business? Here's the ultimate Lusha vs. ZoomInfo comparison!
We'll deeply dive into the features of both programs and compare and contrast them to help you make a decision.
Quick Links:
Lusha vs. ZoomInfo Comparison Guide
Which is better for lead generation: Lusha or ZoomInfo? This comprehensive guide will help you decide which is right for your business based on each tool's features, pricing, usability, and integrations.
Lusha Overview
Lusha is a powerful lead generation software that offers detailed information from over 100 million business contacts and 15 million companies. The platform also includes features to help you turn leads into customers, such as enriched data for better targeting sales outreach.
With a robust feature set and emphasis on quality data generation, Lusha is an excellent choice for mid-market companies looking to grow their businesses by expanding their sales pipeline. The platform complies with GDPR norms, making it a safe bet regarding security protocols. Moreover, the Lusha platform is designed with ease of use in mind, making it simple for sales teams to learn the platform in just a matter of clicks. As it has grown, more and more Lusha competitors are becoming available.
ZoomInfo Overview
ZoomInfo is an excellent resource for any professional marketing searching for new potential clients. The platform's email search engine provides detailed information on over 150 million professionals. Its intent signals empower your team with automated workflows that integrate seamlessly into many of your company's existing software. In addition, ZoomInfo's data enrichment tools make it possible for marketers to find exactly what they need when reaching out to target demographics.
While the ZoomInfo platform has established itself as a leader in the sales intelligence space and boasts a competitive data set, it's a complex tool. It can be relatively difficult to customize and integrate into your existing processes.
Start Your 7-Day Free UpLead Trial
Lead generation doesn't have to be all that painful. With UpLead, you can easily connect with high-quality prospects and leads to grow your company.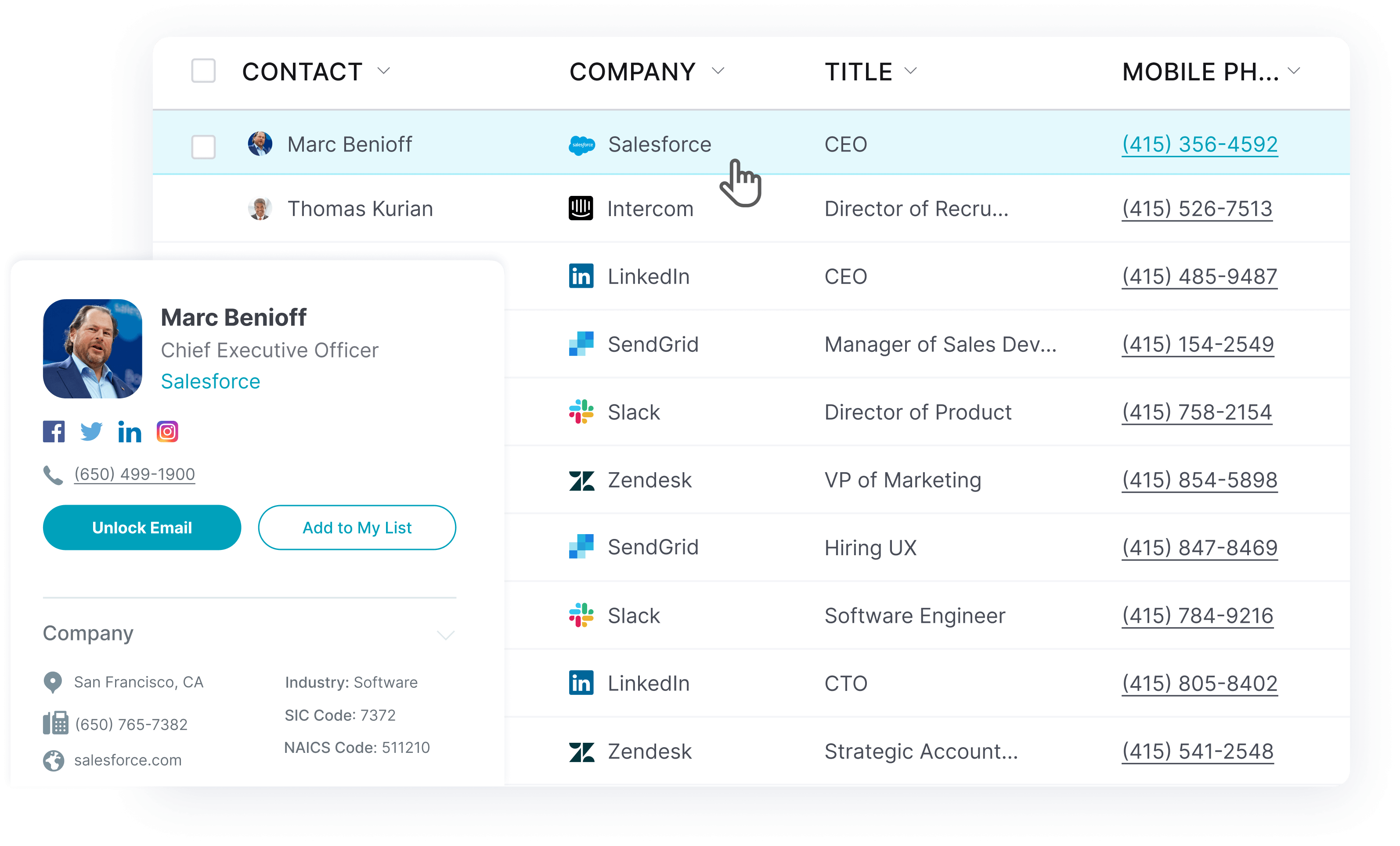 Main Difference Between Lusha vs. ZoomInfo
Prospecting for new sales leads can be a time-consuming and frustrating process. To make matters worse, bad data can lead to wasted time and effort pursuing dead ends. That's why it's important to have a reliable source of information when building a list of potential customers.
Lusha offers users access to direct phone numbers and email addresses, while ZoomInfo focuses on providing detailed background information on companies and individuals across a variety of categories.
ZoomInfo is more expensive than Lusha, but its highly accurate database makes it a worthwhile investment for enterprise sales teams. When evaluating lead generation providers, consider the features and pricing plan most suited to you and your sales team.
Key Features
One of the main differences between Lusha and ZoomInfo is their pricing models. Lusha offers a self-service, product-led model that is affordable for startups. ZoomInfo takes a more traditional sales approach with enterprise pricing plans that can be prohibitively expensive, especially for small businesses looking to scale.
While Lusha is easy to adopt due to its self-service model, ZoomInfo's strength lies in the platform's ability to garner high-quality data from over 130 million contacts in the B2B space.
Lusha Key Features
There are several integral features of Lusha's platform, including:
A simple, user-friendly interface that makes it easy to find the data you need
Access to both business and personal contact data, including email addresses, phone numbers, and social media profiles
The ability to verify email addresses and phone numbers in real-time to ensure accuracy
Regular updates to ensure that your data is always current
ZoomInfo Key Features
There are a few key features ZoomInfo has to offer, including:
Powerful search functionality that allows you to find the contacts you need quickly and easily
The ability to segment your search results so that you only see the most relevant data
Detailed contact data, including verified email addresses, direct dial numbers, and LinkedIn profiles
Access to 300,000 publisher domains
Lusha vs. ZoomInfo Data
Choosing a sales intelligence tool is challenging. There are many variables to consider; one of the most important aspects is data quality. After all, what good is a platform if it doesn't have accurate, up-to-date information? Let's look at the quantity, quality, and types of data each platform offers.
Lusha's Data
Lusha is a global data provider with over 60 million profiles in its business database. The platform verifies the accuracy of its data, so you can be sure you're getting quality information. In addition, Lusha has an active community of volunteers who contribute to its database, helping to keep it up-to-date and comprehensive.
Data Quantity
Lusha offers 60 million profiles and 15 million companies, while ZoomInfo boasts over 150 million emails and 50 million direct dials. So in terms of raw data quantity, ZoomInfo has a clear advantage. However, it's important to remember that quantity is not the only factor in data accuracy.
Data Quality
One strong aspect of Lusha's offering is its data quality. Their proprietary algorithm filters for verified accounts to ensure you get reliable contact details. In addition, its machine learning technology gives you access to contact data and valuable company information. This makes it easy to find the right leads and connect with them meaningfully.
Data Types
The data Lusha generates is verified for accuracy and enriched with additional information such as location, industry, revenue size, title, seniority, and more. This makes Lusha's data an invaluable resource for sales and marketing professionals looking for reliable leads across various dimensions.
ZoomInfo's Data
ZoomInfo is a business information provider that offers a variety of data-related products and services. The platform is best known for its vast database of business and individual profiles, one of the largest in the industry. In addition to offering general information about companies and people, ZoomInfo provides a data enrichment tool to help customers get more out of their data. Overall, ZoomInfo is a great choice for companies that need a robust quantity of data and advanced data enrichment tools.
Data Quantity
A dominant player in the business intelligence space for years, ZoomInfo has more data than Lusha. ZoomInfo boasts 300 thousand publisher domains and over 150 million email addresses, while Lusha has over 60 million. If you only consider the sheer quantity and plan to cast a wide net for your outreach, ZoomInfo is the clear winner.
Data Quality
ZoomInfo and Lusha claim to have the industry's most accurate and up-to-date data. But how do they back up those claims? ZoomInfo offers an "Enrich Contact Data" feature, which uses API & Webhooks to update contact information constantly.
Data Types
ZoomInfo's expansive database offers a range of data types to enhance your prospecting process. Their data types include contact, company, intent, and website visitor data.
Who Has Better Data, Lusha or ZoomInfo?
When it comes to data, ZoomInfo has the upper hand. Its granular data enrichment and segmentation features give users a reliable data set. Lusha, on the other hand, has dealt with reports of inaccurate or outdated company data, which aren't uncommon when it comes to popular sales intelligence tools.
Lusha vs. ZoomInfo: Integrations
When considering sales intelligence software, it's important to consider each tool's integrations. This essential feature of every reputable sales intelligence tool can make or break your experience on the platform. You're stuck with manual, time-consuming methods of handling your key processes without an easy way to make your systems talk to each other. When it comes to lead generation software, the more integrations a tool has, the more value it can add to your company.
Lusha only offers out-of-the-box integrations with Salesforce, Hubspot, and Outreach CRMs. You'll have to rely on custom APIs to connect other tools with the software. On the other hand, ZoomInfo offers integrations with 14 CRMs, including Salesforce Pardot and ATS tools like Greenhouse and JobDiva.
In addition, it's important to consider the variety of integrations offered in each platform. With Lusha, you're limited to a few CRM integrations. If you're not using one of those CRMs, you're out of luck and have to rely on a custom API. With ZoomInfo, however, you have a lot more flexibility. Many apps are constantly being added to the integrations list, which serves a wide range of business types.
Lusha Integrations
Lusha's key integrations include the following:
Salesforce
Hubspot
Outreach
Microsoft Dynamics
Gmail
Pipedrive
Zoho
Bullhorn
ZoomInfo Integrations
ZoomInfo's most notable integrations include the following:
Marketo
Hubspot
Salesforce
Google Cloud
Microsoft Dynamics
Greenhouse
Slack
Zoho CRM
Plans & Pricing
ZoomInfo and Lusha offer different pricing models. ZoomInfo provides a free trial and customized plans based on the user's needs. Lusha has a free-forever plan for small businesses and self-service plans with incremental usage limits.
Both tools offer a variety of features, but ZoomInfo's focus on customization means that users may end up paying more for the same features offered by Lusha. Lusha offers a self-service approach that makes onboarding easy.
Lusha Pricing
Lusha offers a free trial and has a basic, free-forever plan. In contrast, ZoomInfo does not offer a free plan. It's also worth noting that Lusha offers a 25% discount for buying an annual plan as opposed to monthly subscriptions.
Lusha's pricing model breaks down into four tiers:
Free: 5 credits and up to 1 user
Pro: $29 per user per month (billed annually) with 480 credits per user, B2B list management, and basic team management
Premium: $51 per user per month (billed annually) with 960 credits per user, bulk prospecting, CRM integrations, and usage analytics
Scale: custom pricing with robust CRM integrations, advanced team management, and usage analytics, and a customer support manager
ZoomInfo Pricing
ZoomInfo's pricing brings a more complex pricing model, with add-ons and support levels that vary based on each customer's use case. While the exact prices depend on the level of customization and usage needed for your organization, ZoomInfo is one of the most expensive tools on the market.
The platform's pricing structure includes three tiers:
Professional+: contact and company profiles, verified phone numbers and email addresses, and CRM functionality
Advanced+: location data, hierarchy information, and social media profiles
Elite+: real-time buyer intent data and advanced company attributes
Which is Better, Lusha or ZoomInfo?
Lusha and ZoomInfo offer a wealth of information that can be extremely helpful for sales and marketing teams. When it comes down to selecting the most effective sales intelligence tool for your business, there are a couple of factors to consider.
Consider which program is most affordable on your current budget. ZoomInfo offers three different pricing tiers customized based on your organization's needs. Lusha, on the other hand, has a free tier and starts at just $29 per month. So if the price is a major consideration for your business or you're a startup looking to scale at a relatively low cost, Lusha may be the better option.
Lusha and ZoomInfo offer many features, including contact and company information, email addresses, social media profiles, and more. However, ZoomInfo's data is generally considered higher quality than Lusha's; the former has been in business longer and has had more time to build a robust database. So if you're looking for reliable data that you can count on for a large enterprise, ZoomInfo may be the right choice to meet your complex needs.
When evaluating sales intelligence tools, there's no one-size-fits-all solution. The right tool for your business will depend on your organization's specific needs, budget, and goals.
Why Choose Uplead Instead
Choosing the right sales intelligence software is crucial for the success of your business. The tools you use to gather data about potential customers can make or break your marketing efforts. ZoomInfo and Lusha are popular options, but they're not the only ones.
Here are a few excellent reasons you should choose Uplead for your marketing needs:
Great for All Business Sizes
Uplead offers pricing plans for all use cases, whether you're a solopreneur just getting started or a large enterprise with a big budget.
Reliable Data
With Uplead, you can be confident that the data you're collecting is accurate. The platform boasts a high data accuracy rate, so you don't have to waste time worrying about whether or not the data is valid—you can focus on using the information to close deals.
Ease of Use
Uplead's platform is designed with the user in mind. Sales intelligence software can be complicated, so the software is designed with a straightforward interface ready to be adopted immediately.
When choosing sales intelligence software, there are many factors to consider. In a direct comparison, it's clear that Uplead is a worthy competitor of ZoomInfo and Lusha. With its flexible pricing plans and reliable data, Uplead is the perfect business intelligence tool for businesses of all sizes. Its excellent usability makes it a breeze to start, so you can start seeing results immediately.
What You Need to Remember About Lusha vs. ZoomInfo
When choosing between Lusha and ZoomInfo, there's no easy answer. Both platforms offer a wealth of features and benefits that can be extremely helpful for sales and marketing teams. The best way to determine which sales intelligence platform is right for you is to carefully consider your specific needs and budget restrictions. Consider using Uplead, which combines the best of both worlds into one robust, accessible tool.