An email marketer is only as good as their email list, and their email list is only as good as the tools they use to build it. This article is dedicated to helping you find email addresses. There is no shortage of email search engines to cultivate your email marketing list, but it's important to choose the right one for your business.
🔥 Hot tip: Want to build a list filled with hot leads searching for a service like yours right now? Use the UpLead's intent data. 🔥 Try it free here.
Here are the 14 best email search engines to build your list and how they can help your business grow.
Quick Links:
14 Top Email Search Engines to Find Anyone's Email Address
To help you build the highest-quality contact list possible, here are 14 top email search engines to find anyone's email address.
1. UpLead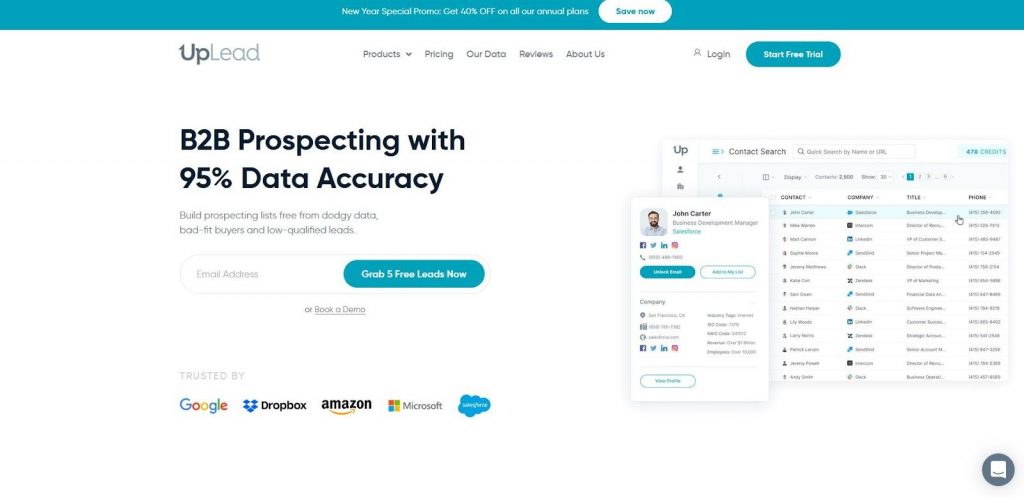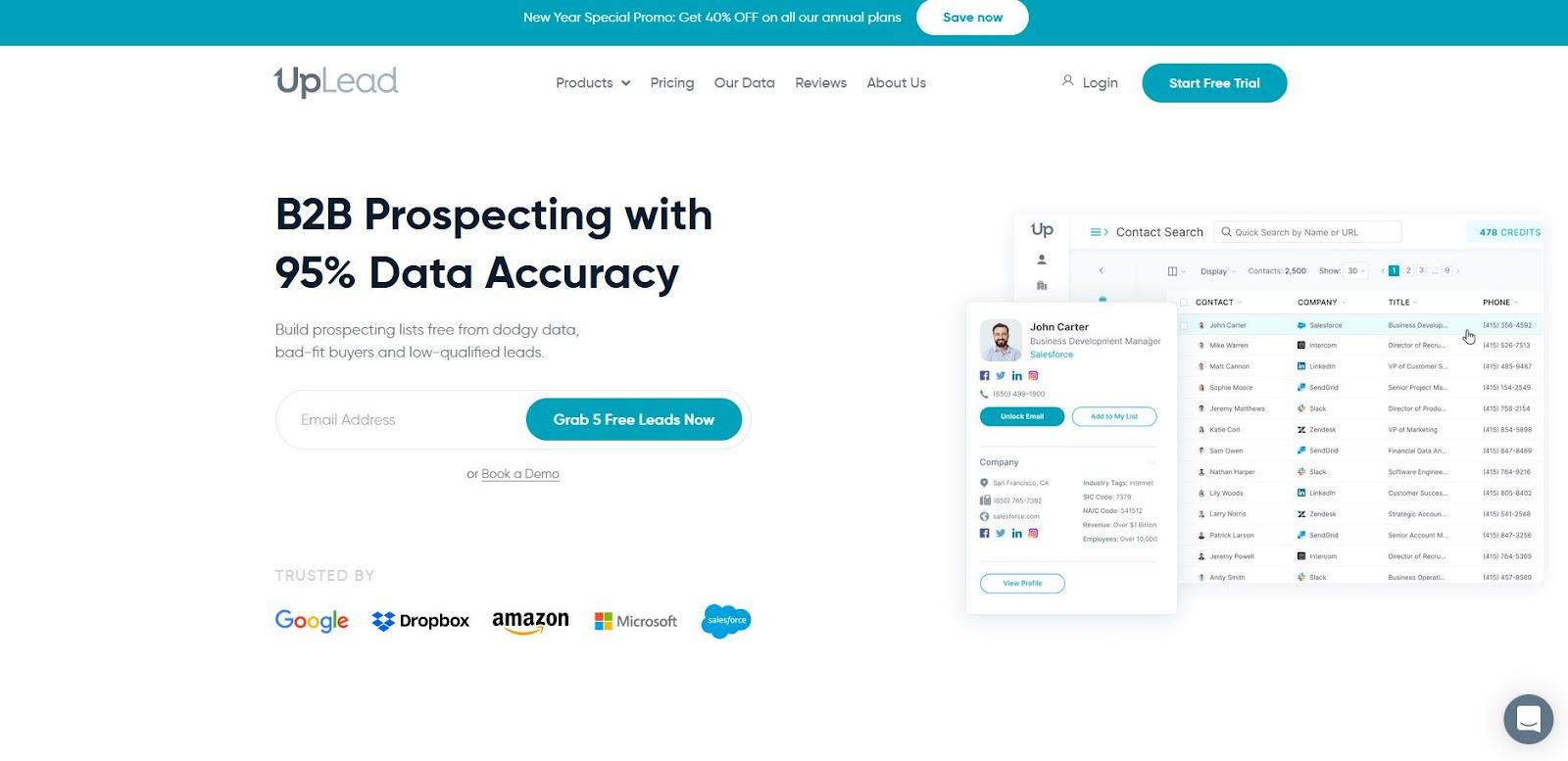 UpLead's email finder is an industry-leading tool that is simple, streamlined, and extremely reliable. With a 95% data accuracy guarantee, you know you'll get high-quality data each and every time.
This tool isn't just an email search engine; it also allows you to mass search, validate emails, and start building your contact list. Here are some top features of UpLead's email finder:
A simple, streamlined platform that makes it easy to find email addresses
Intent data lets you find prospects that are looking for a solution like yours
Validate and save your email lists in real-time
Only pay for verified data
Prices range from $74 to $299 per month, and you can even try the full UpLead platform for free
Start Your 7-Day Free UpLead Trial
Lead generation doesn't have to be all that painful. With UpLead, you can easily connect with high-quality prospects and leads to grow your company.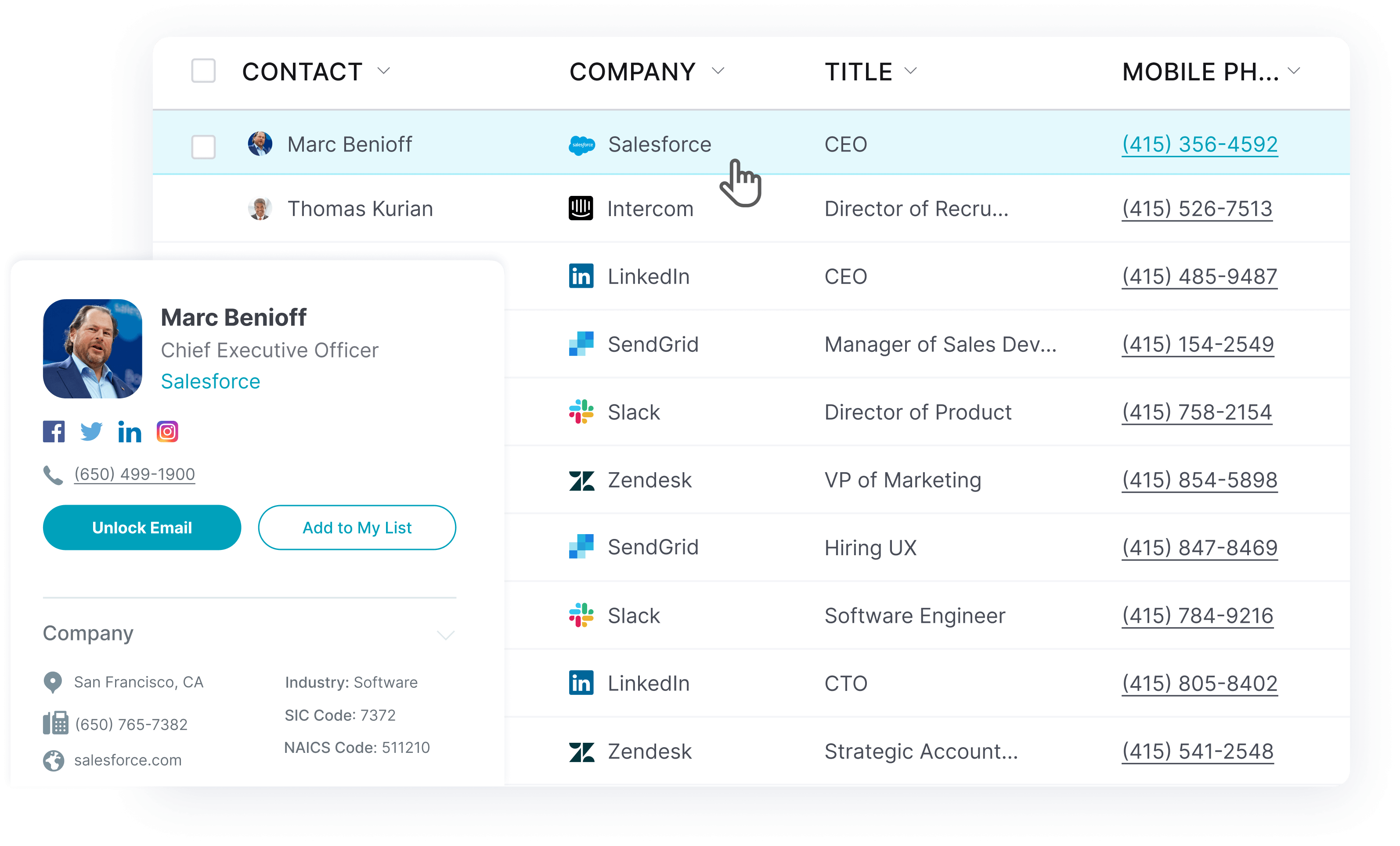 2. EmailSearch.io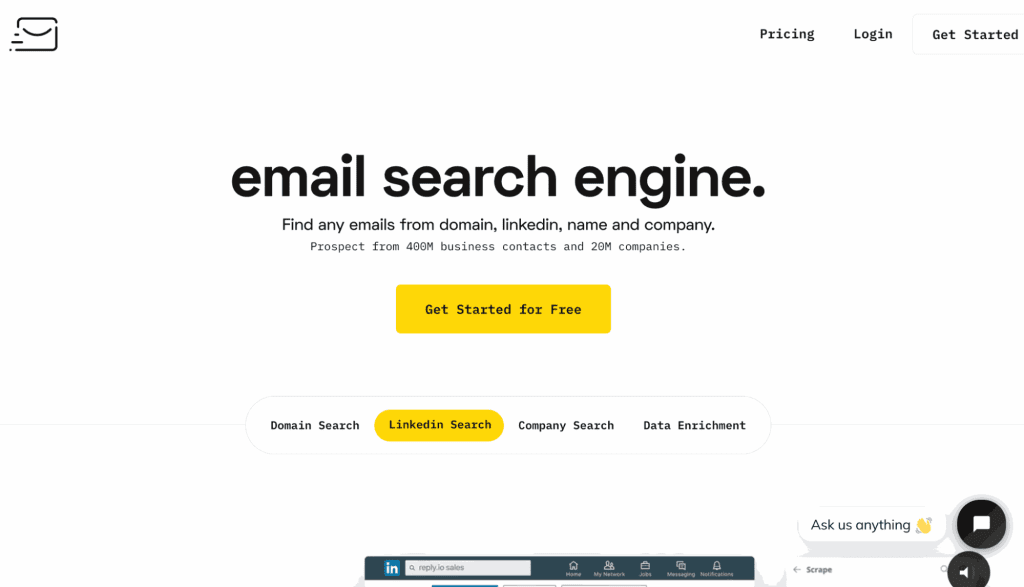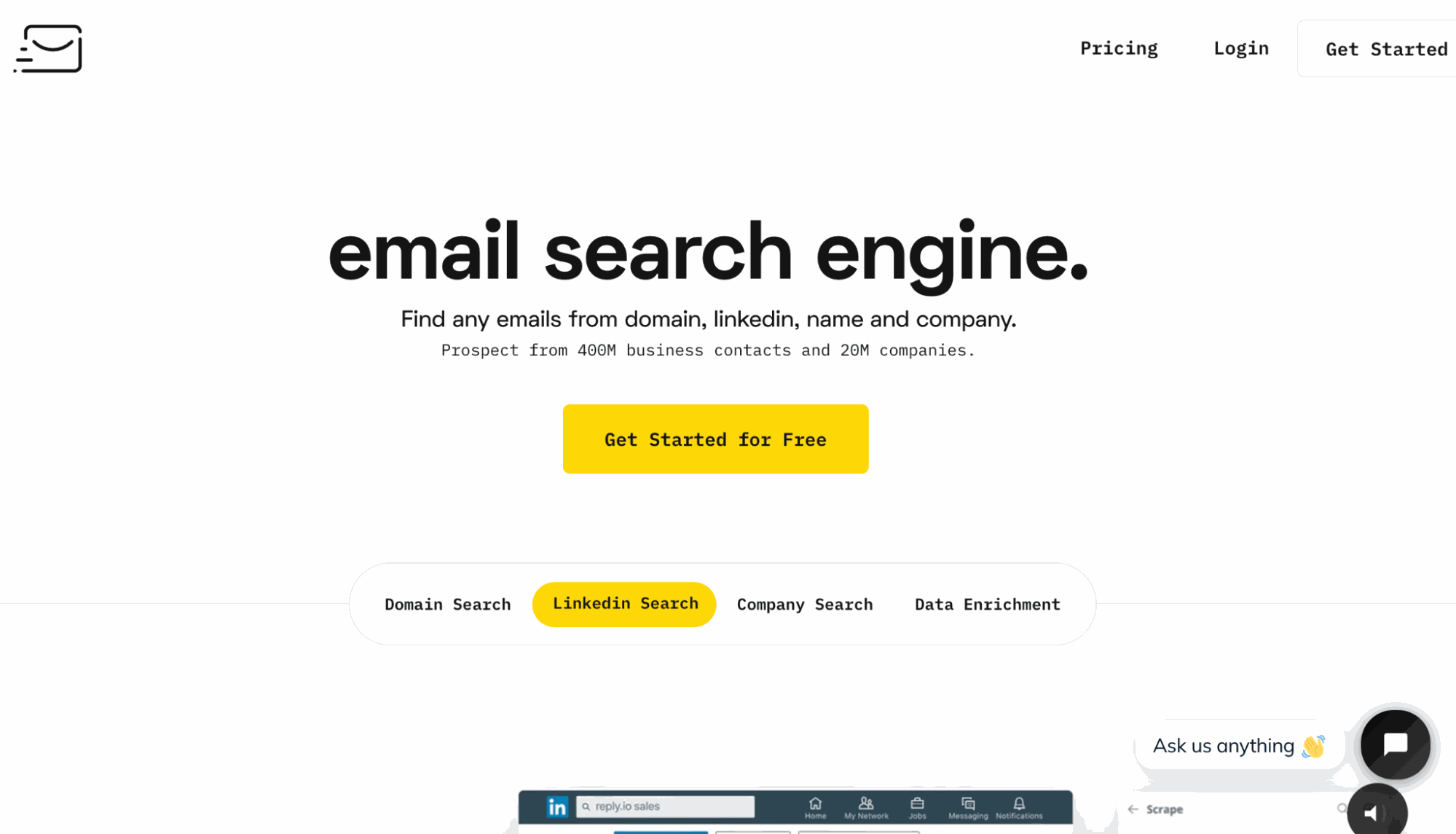 EmailSearch.io is a simplified search engine that operates on a bare-bones interface and has a narrow scope of service. While they only offer an email search engine, it's a fairly powerful one. You can find email addresses through a domain, LinkedIn, or company search. Their platform has contacts from over 20 million companies worldwide.
Here are some important things to know about EmailSearch.io:
Platform is very easy to use
Narrow scope, only an email search engine
Have to pay extra for email verifications
No free trial—prices range from $29 to $99 per month
3. Find That Email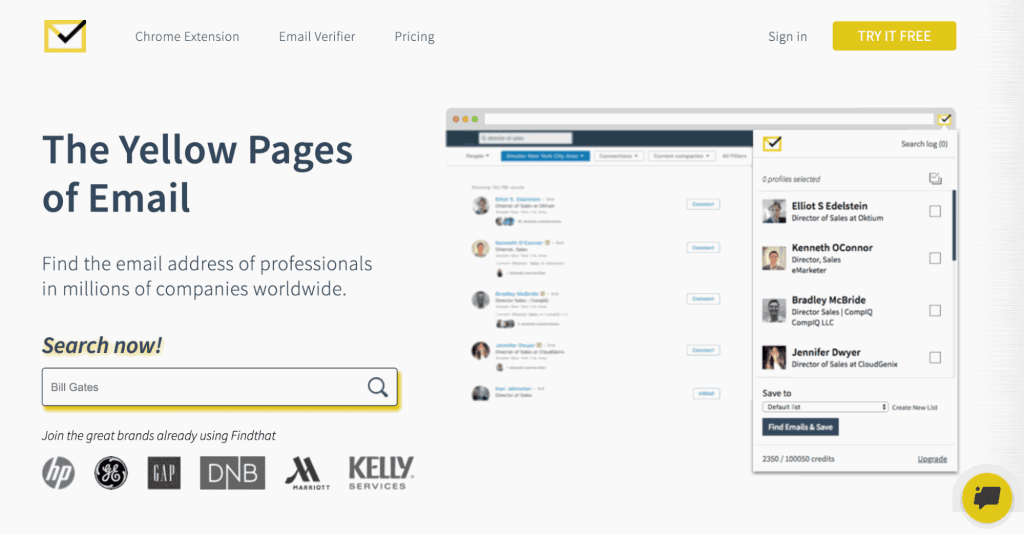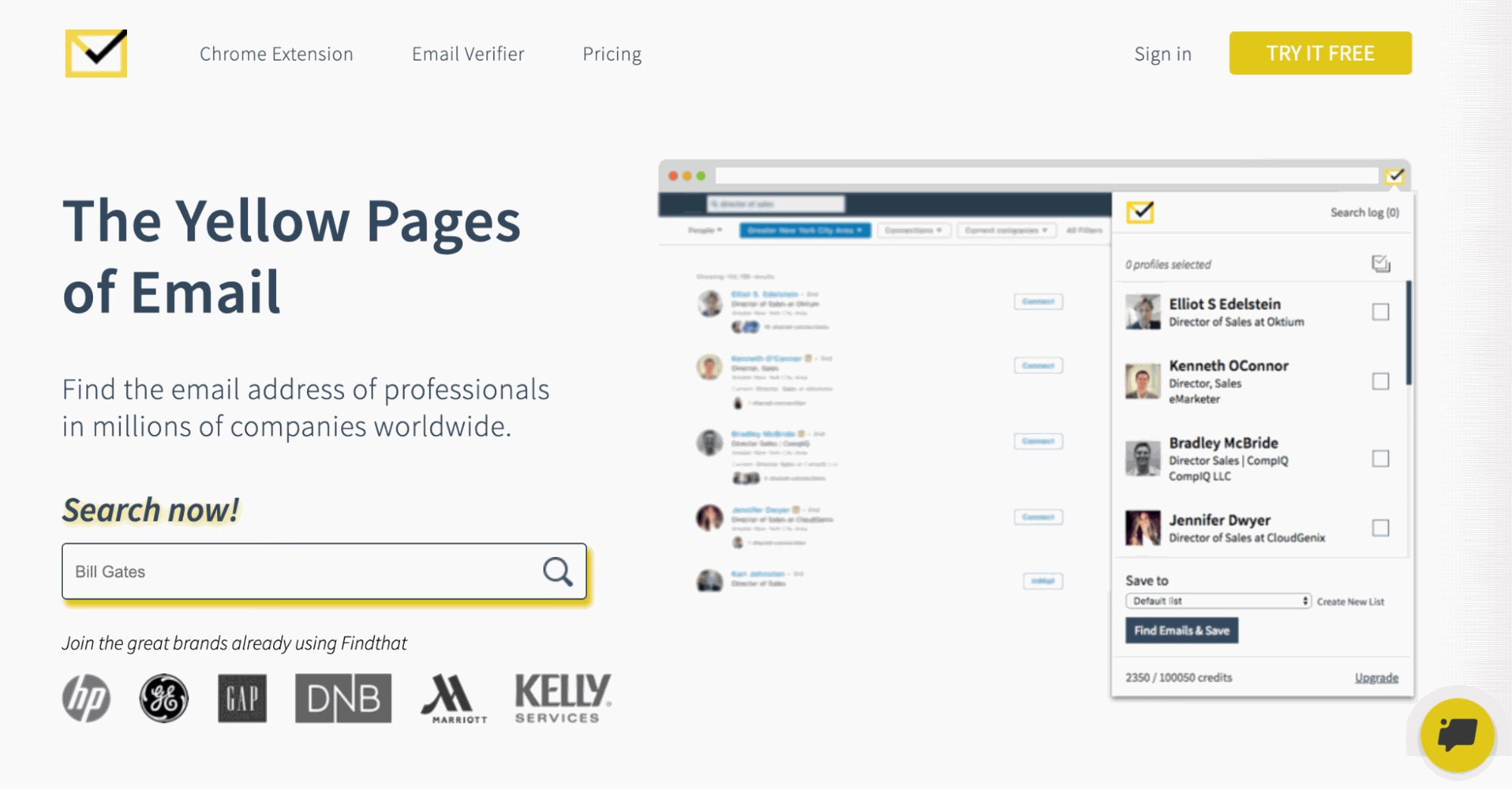 The self-proclaimed "Yellow Pages of Email," Find That Email is another popular email search engine that offers impressive integration with popular apps. While the website and interface may seem slightly clunky, the search engine is quite versatile. You can search by company, name, or domain. They also offer the ability to search in bulk.
Here's what you should know about Find That Email before signing up:
It can be used to find email addresses on social networks
Includes a bulk email finder
Verifying email addresses costs extra
Integrates with over 500 apps
Complex pricing structure is broken up into find, verify, or a combination of both.
Prices range from a free version to over $2,000 per month, depending on your search needs.
4. Lusha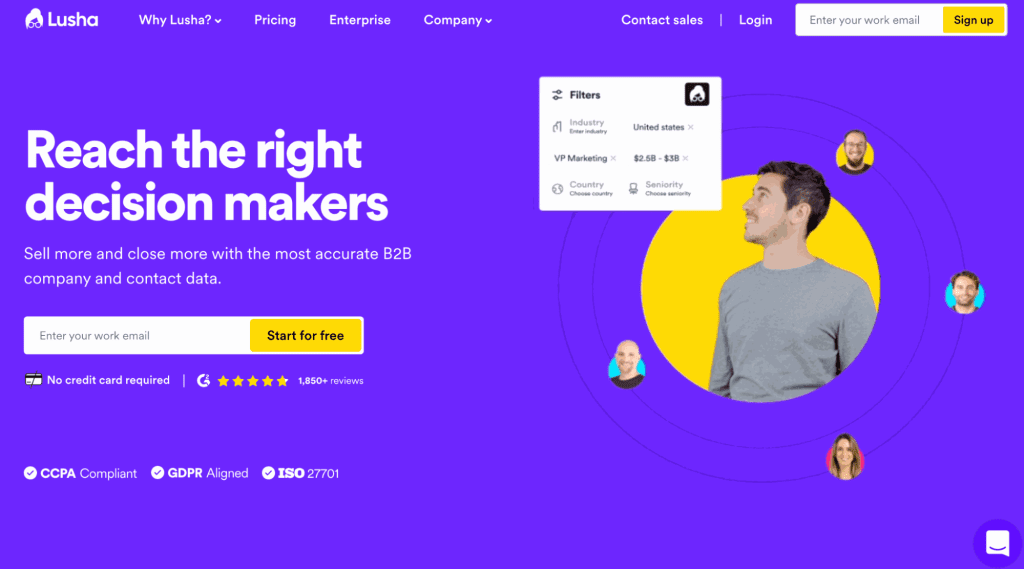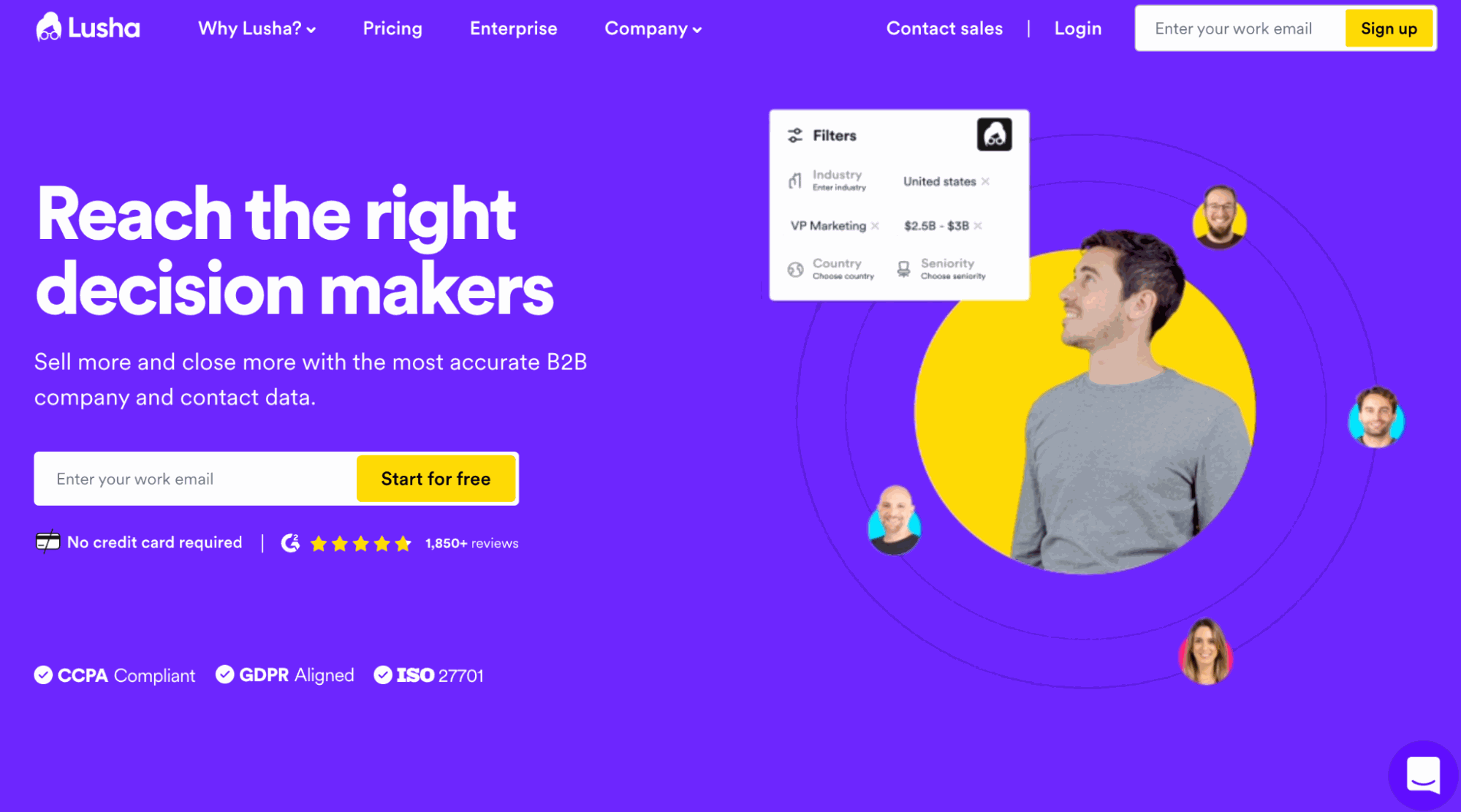 Built with large businesses in mind, Lusha is an all-inclusive email search engine and B2B prospecting platform. Here's what you should know about Lusha:
Offers a prospecting platform and various integrations
Intuitive, easy-to-navigate platform
Cost may not be as straightforward as it seems—pricing is determined per user (as opposed to a single plan price that includes a set number of users)
5. Hunter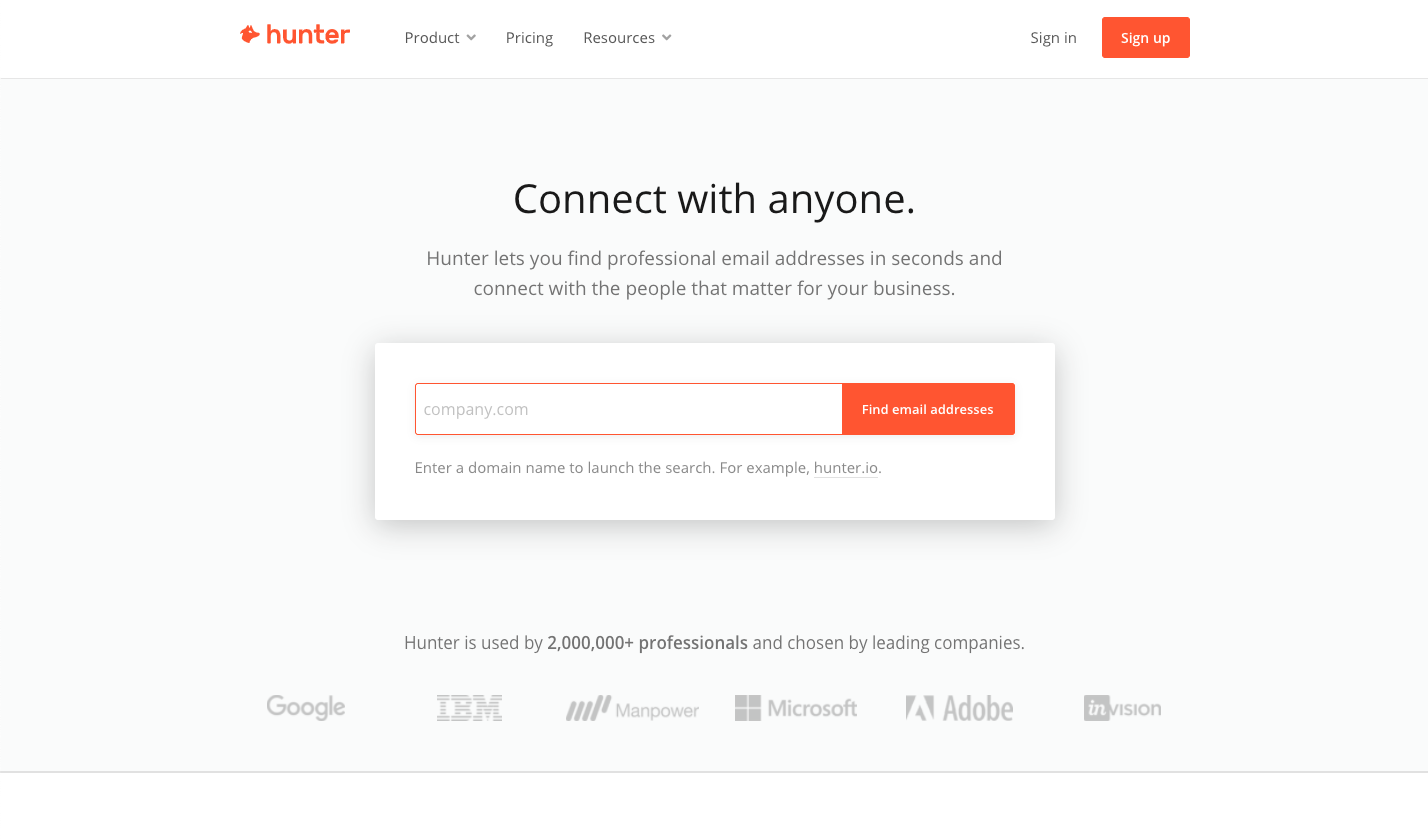 Hunter is a platform that is primarily focused on email address searches and verification. The platform is easy to use and makes searching for email addresses—and validating them—a breeze. Here are some things you should know about Hunter:
Somewhat broader scope of service—allows you to find and verify emails as well as manage campaigns
Prices can get a bit expensive depending on your business needs
If Hunter doesn't seem like the right fit for you, here are some alternatives you can try.
6. Voila Norbert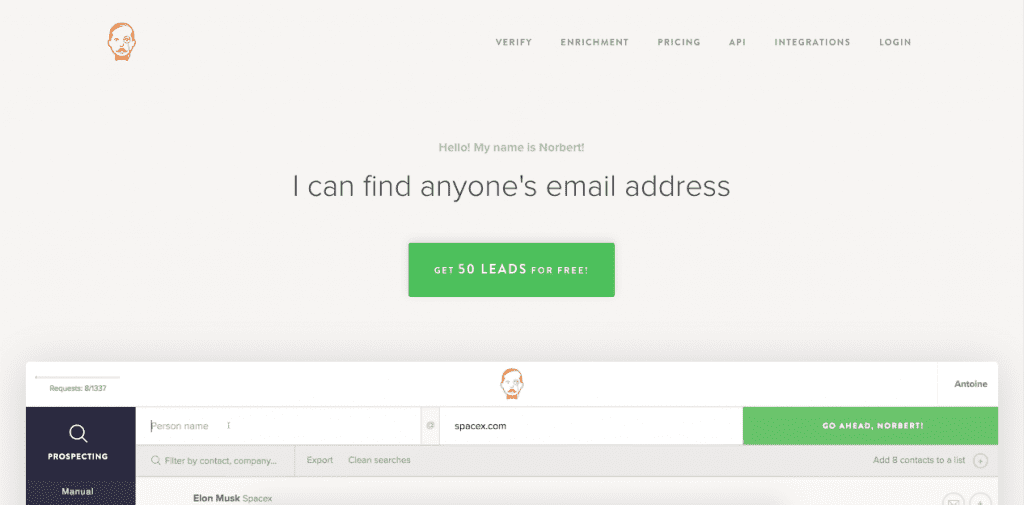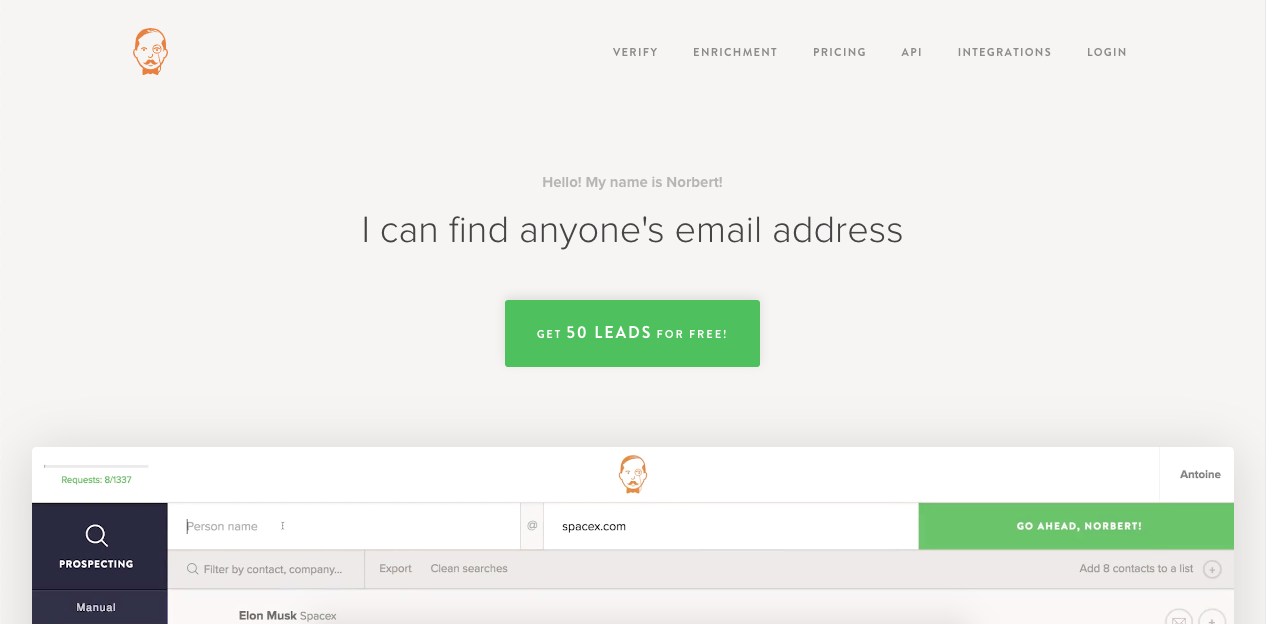 Another strong contender in the lineup, Voila Norbert allows you to search for email addresses in a variety of ways. From manual entry to bulk lookup, Voila Norbert is a fairly simple platform that can benefit users looking to find and validate a small number of email addresses.
Here's what you should know about Voila Norbert:
Pricing can be very complex and is broken up into three categories: Prospecting, Verify, and Enrich. Do your research about each plan before purchasing
Intuitive platform that's easy to use
Some of the site's content is poorly written. While this doesn't reduce the tool's effectiveness, it does make the platform seem less professional
7. FindEmails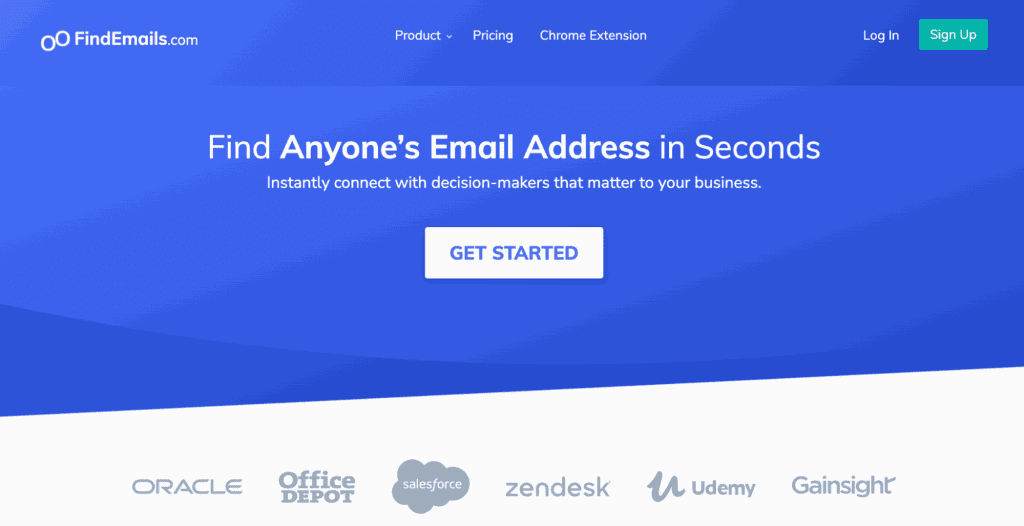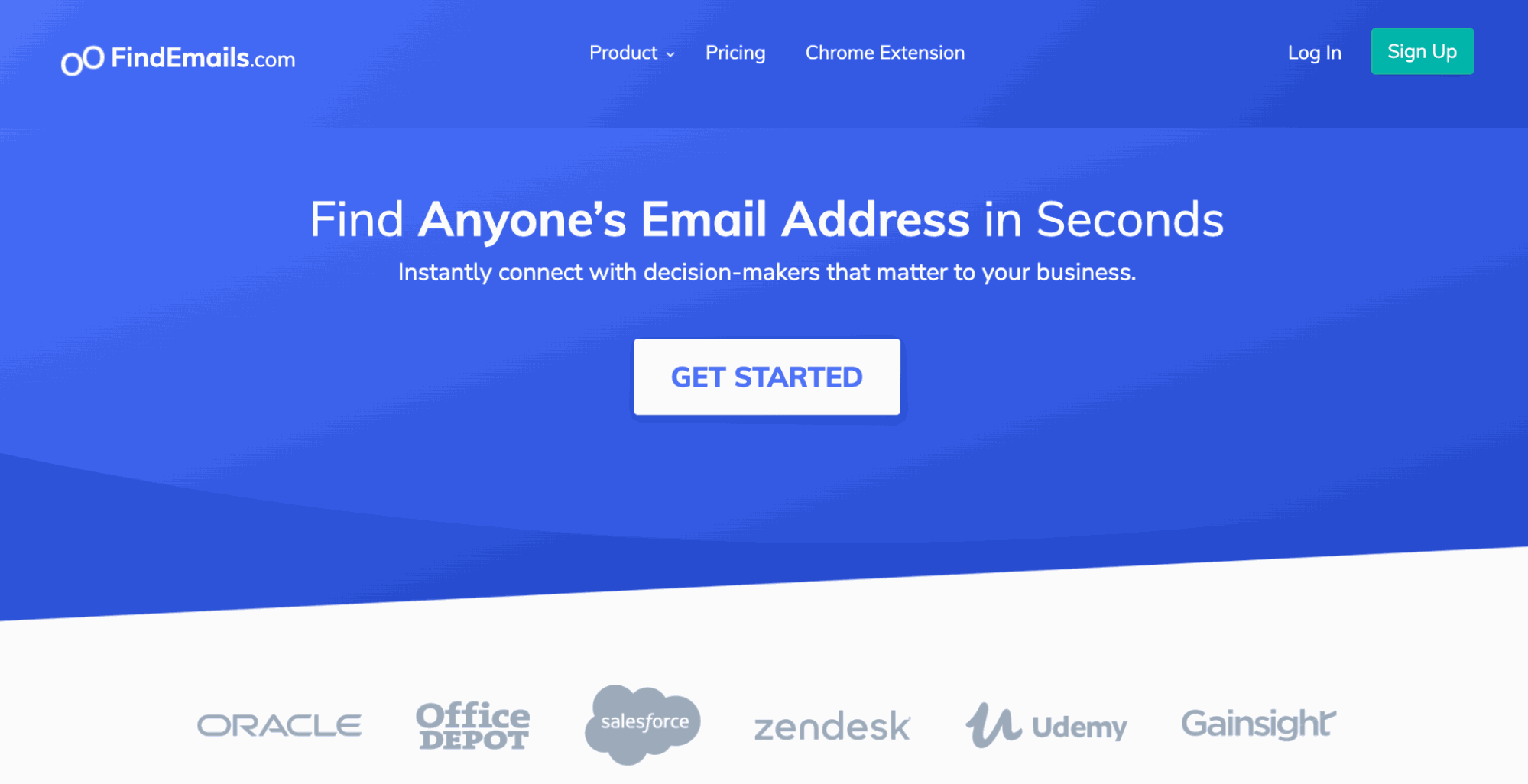 FindEmails is solely focused on email search and verification and is designed for low to medium-volume email search, as well as verification. Here are some key points to focus on when considering FindEmails as an email search engine tool.
Clean, easy-to-use interface with verification services included
Pricing is straightforward, ranging from $29 to $99 per month
Not ideal for high-volume users, even at the most expensive price point
8. Clearbit Connect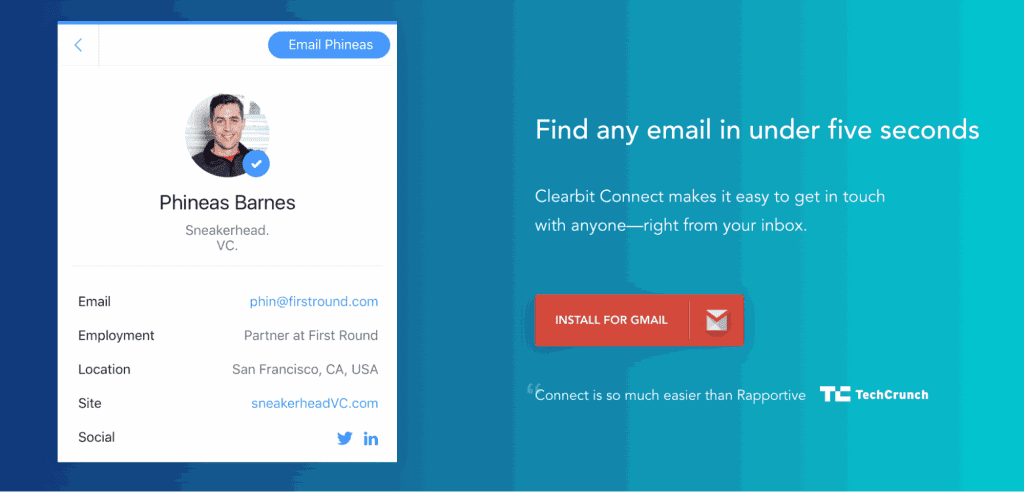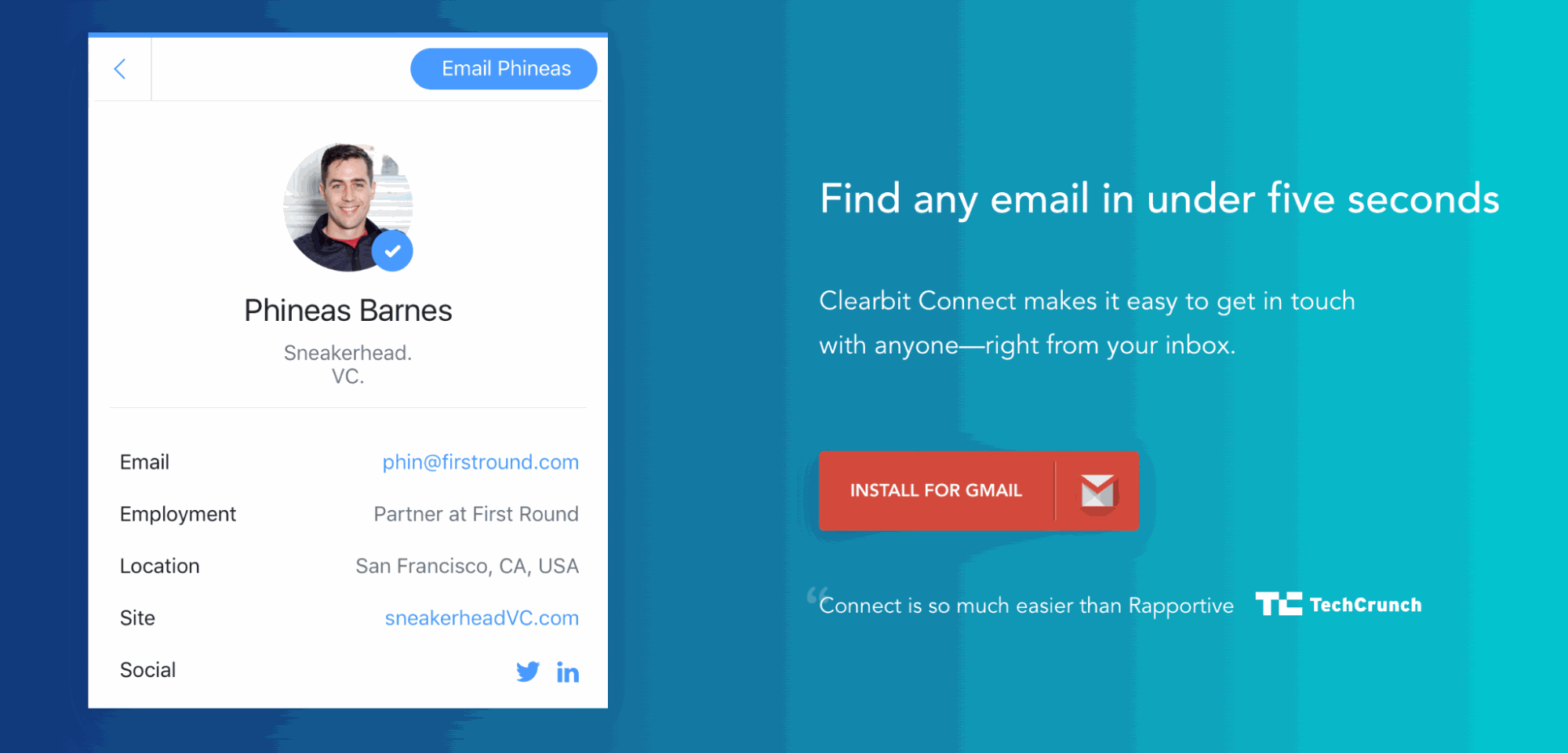 Clearbit Connect has a unique approach to finding and verifying emails. Their tool works directly through your email inbox. Integrating major email providers lets you search and verify while signing in to your email platform rather than an external, separate database. Here are some other highlights of Clearbit Connect's service:
The plugin is free, making it a great option for teams with low budgets or those wanting to test out a few tools
Limited platform scope – with no dedicated search engine or external tool, campaign management and list building isn't included
9. AnyMail Finder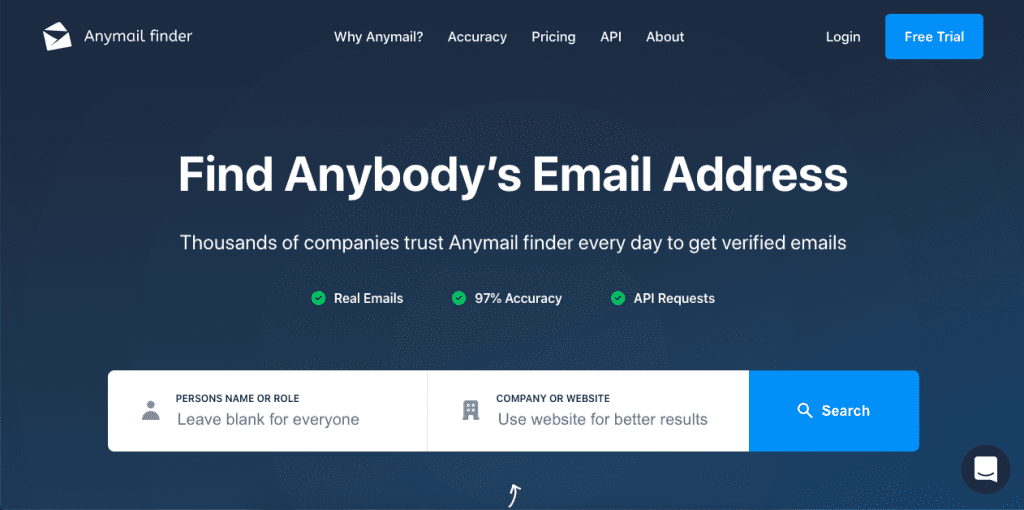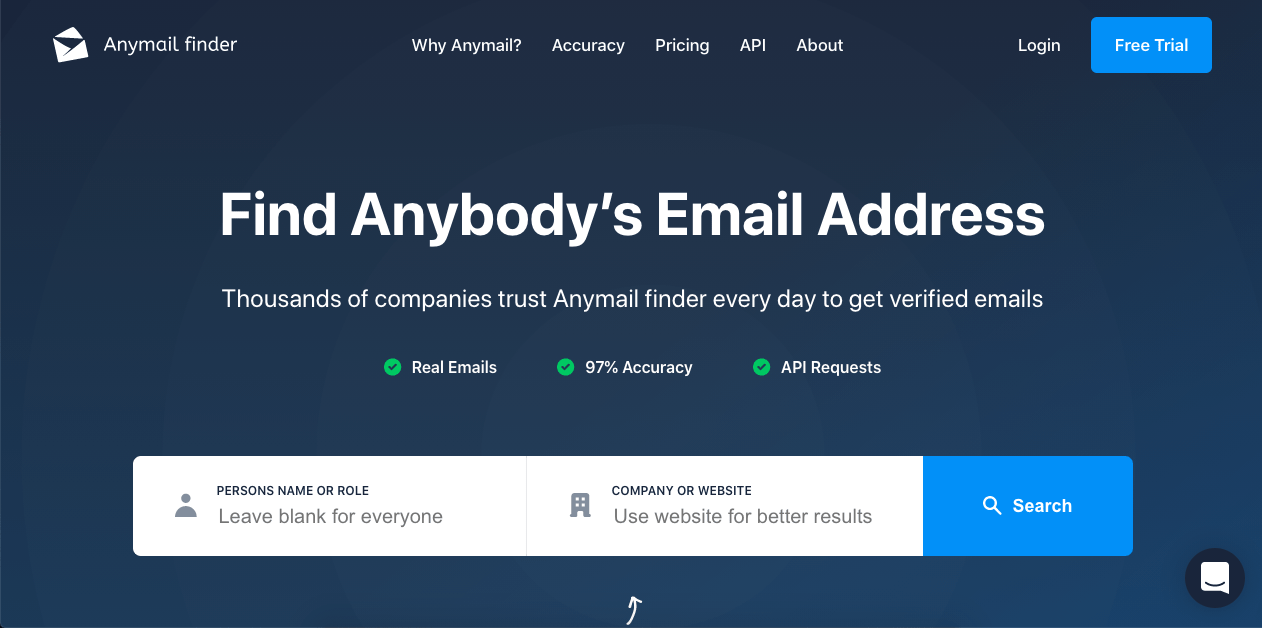 Search for verified email addresses individually or by the company with AnyMail Finder. With a focus on accuracy and real-time verification, AnyMail Finder is another good service for teams that aren't working with an extremely high volume of email searches. While on the pricier side, the platform is modern and intuitive, and you only pay for valid data. Here's what else you should know about AnyMail Finder:
Only pay for valid, verified email addresses, and never pay for any duplicates
Not ideal for high-volume searches, and more expensive than other services with similar features/price structures
Streamlined integration
10. ContactOut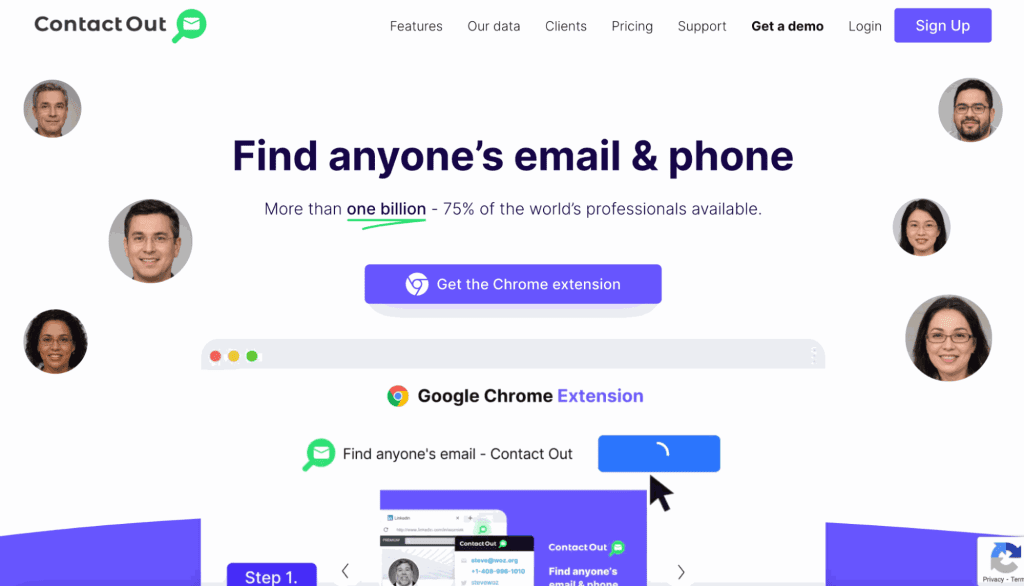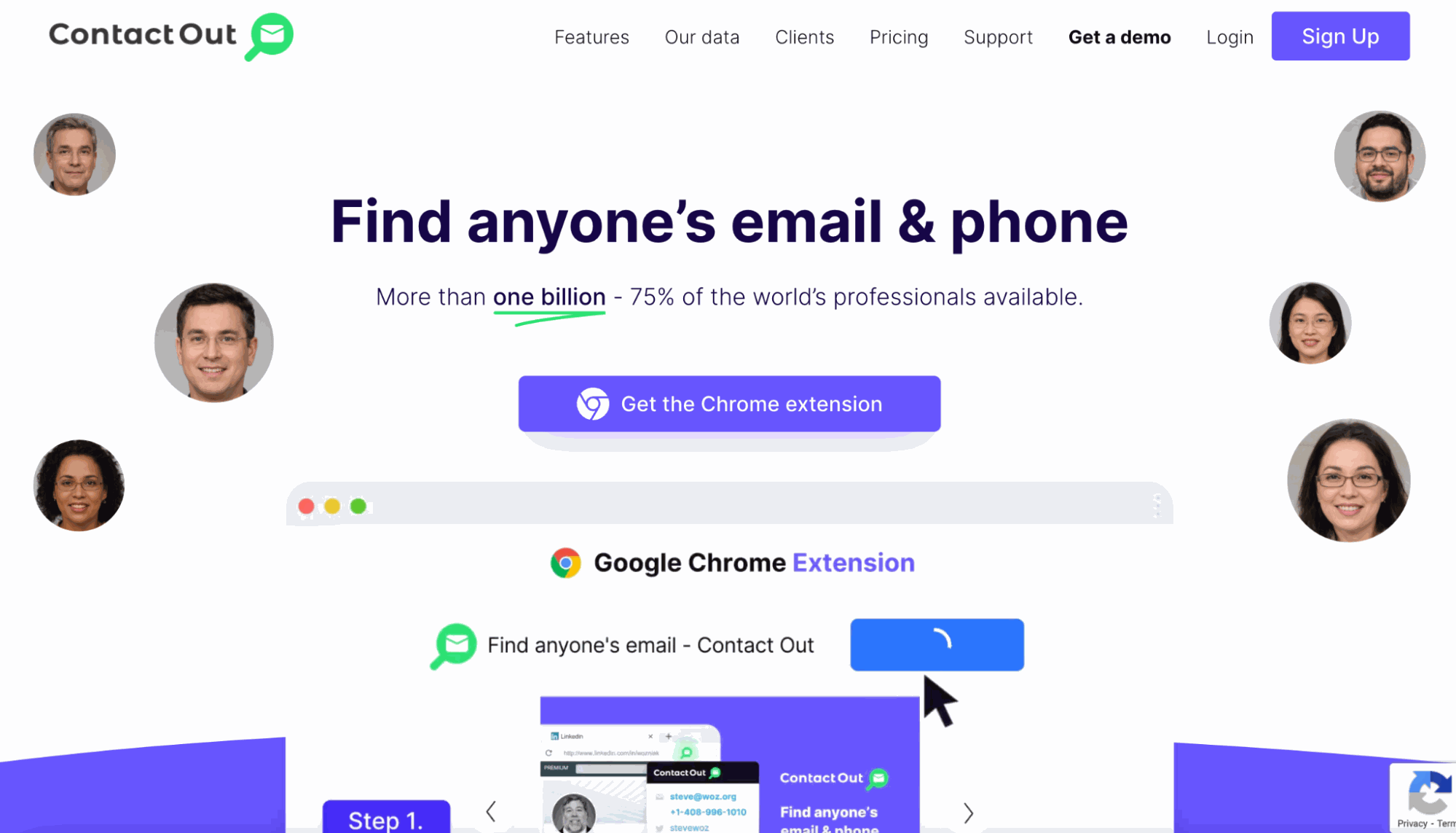 Designed with full campaign management in mind, ContactOut has a good lineup of tools included with their monthly subscription. If you're looking for a search engine that also focuses on email campaign management, this may be a good option.
With LinkedIn sourcing options, the ability to save profiles, and data enrichment, ContactOut is designed for a team ready to launch a comprehensive email campaign. Here's some additional information you should know about ContactOut:
Expensive when compared to other services, however, you'll get a large lineup of tools as opposed to just an email search engine
Unlimited searches directly in the browser extension, meaning you don't pay per search
Focuses on LinkedIn contacts but also has the ability to source contacts outside of LinkedIn
11. Discoverly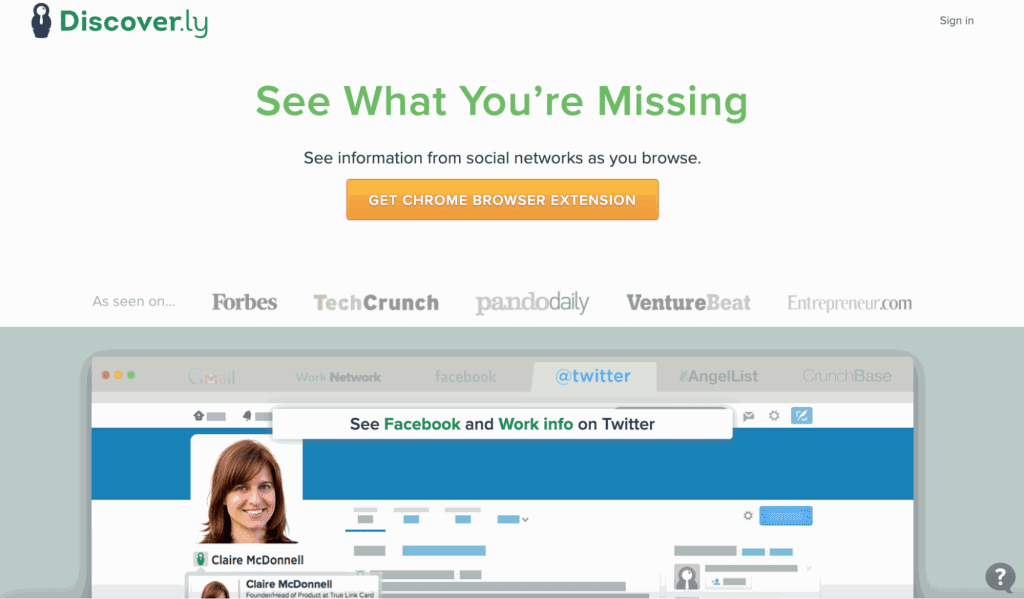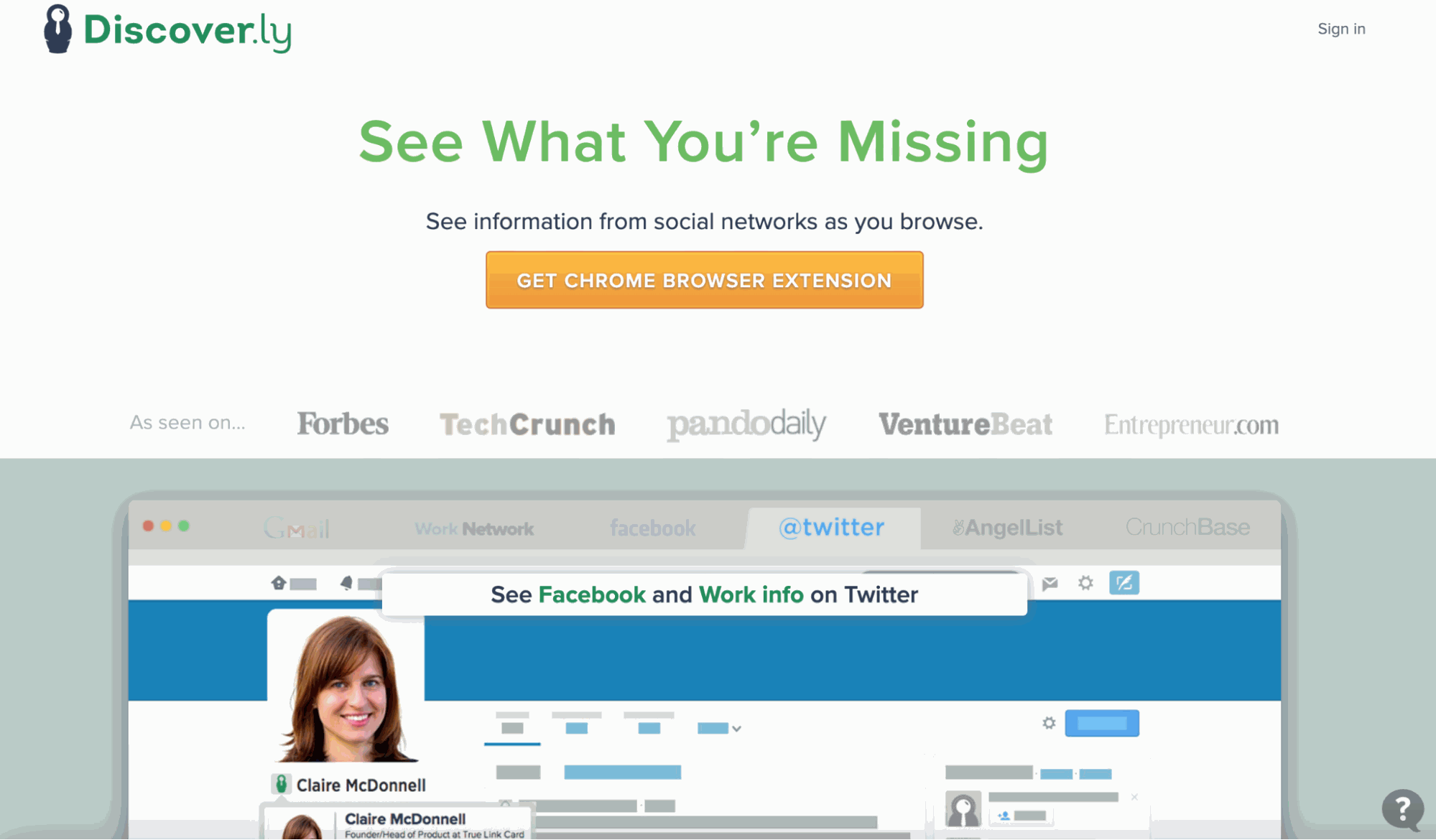 Discoverly is a tool that integrates directly into Gmail, Facebook, Twitter, and other popular platforms, allowing you to see full contact information as you're reaching out to someone. While it doesn't work like a traditional email search engine, it can help you gain insights and information about potential contacts. Here's what else Discoverly can do for you:
Connect to Gmail to see work and social media information about a contact
Connect to social media accounts to view cross-platform contact information
Discoverly can be integrated for free
12. RocketReach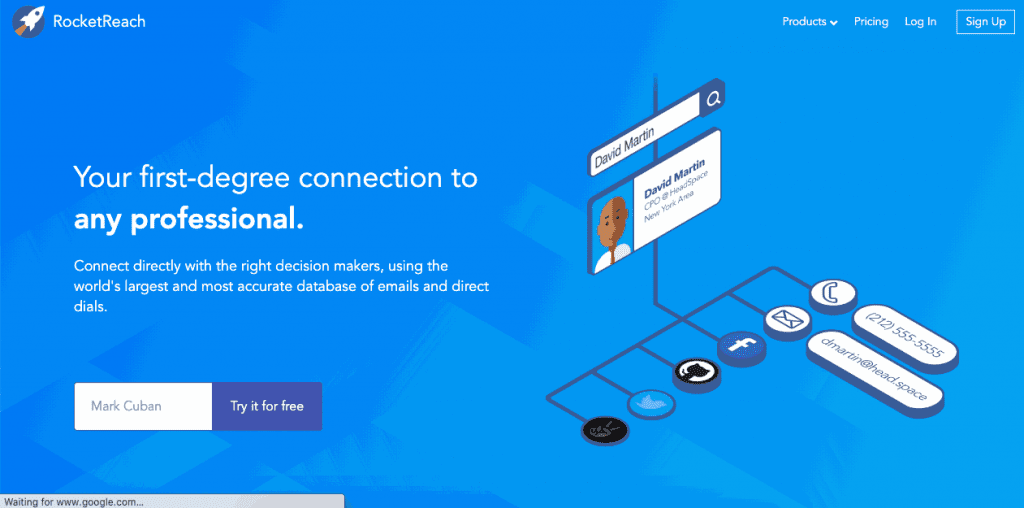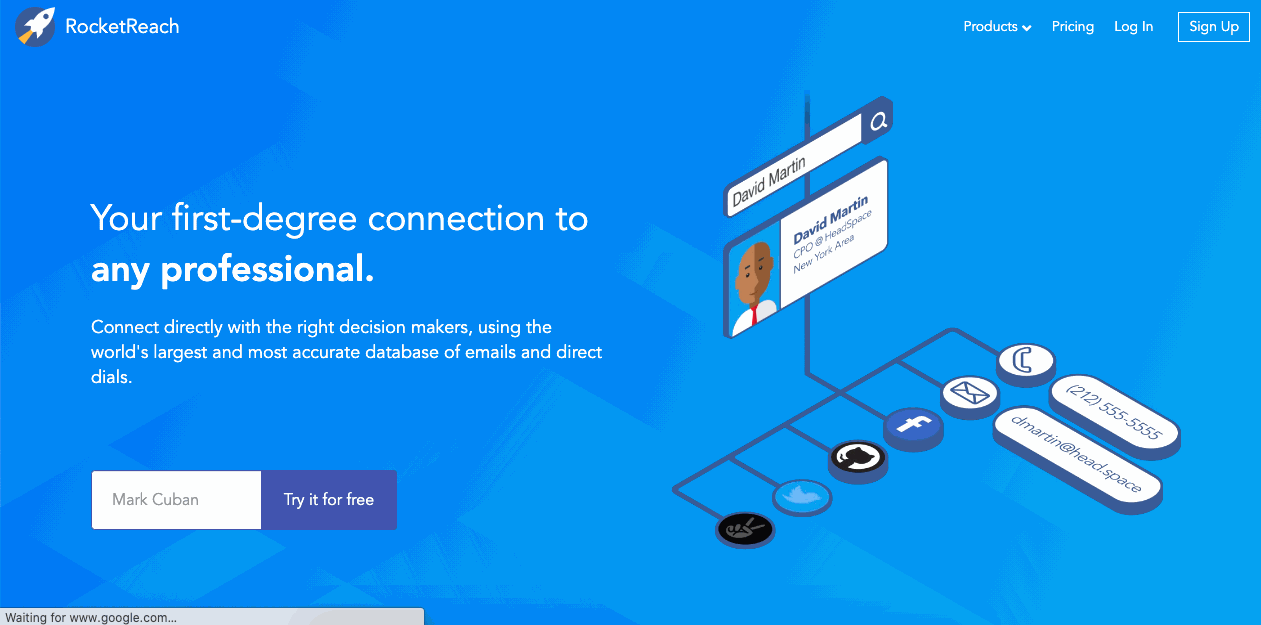 RocketReach is an email search engine that's relatively expensive for individual use, however, it can make sense for large teams and enterprises. If you're part of a bigger team looking to complete bulk email searches, here are some things you should know about RocketReach:
Uploads bulk lists for mass searches
Integrates into popular platforms
Locates email, phone, and other contact information
Enterprise and team pricing not visible online – costs are determined after speaking with a sales team, which isn't ideal
13. LeadFuze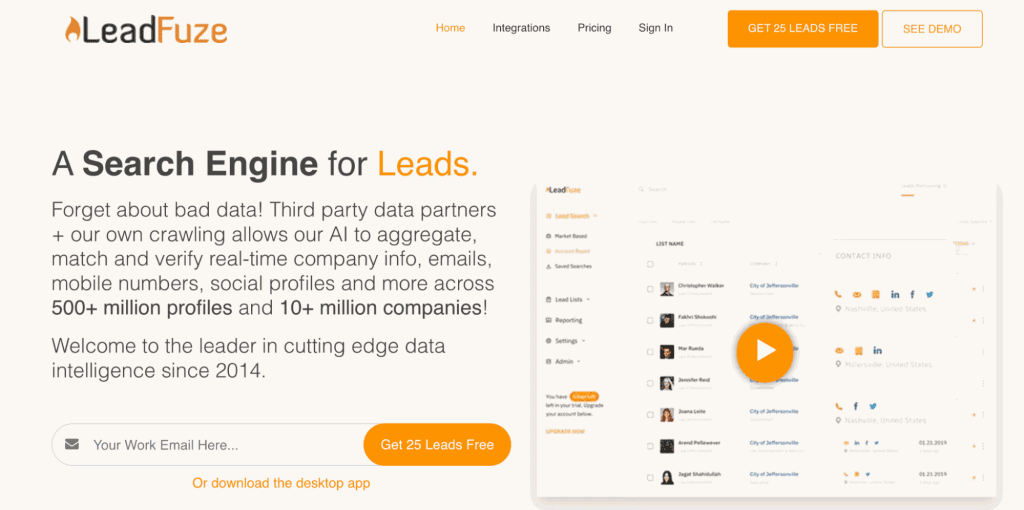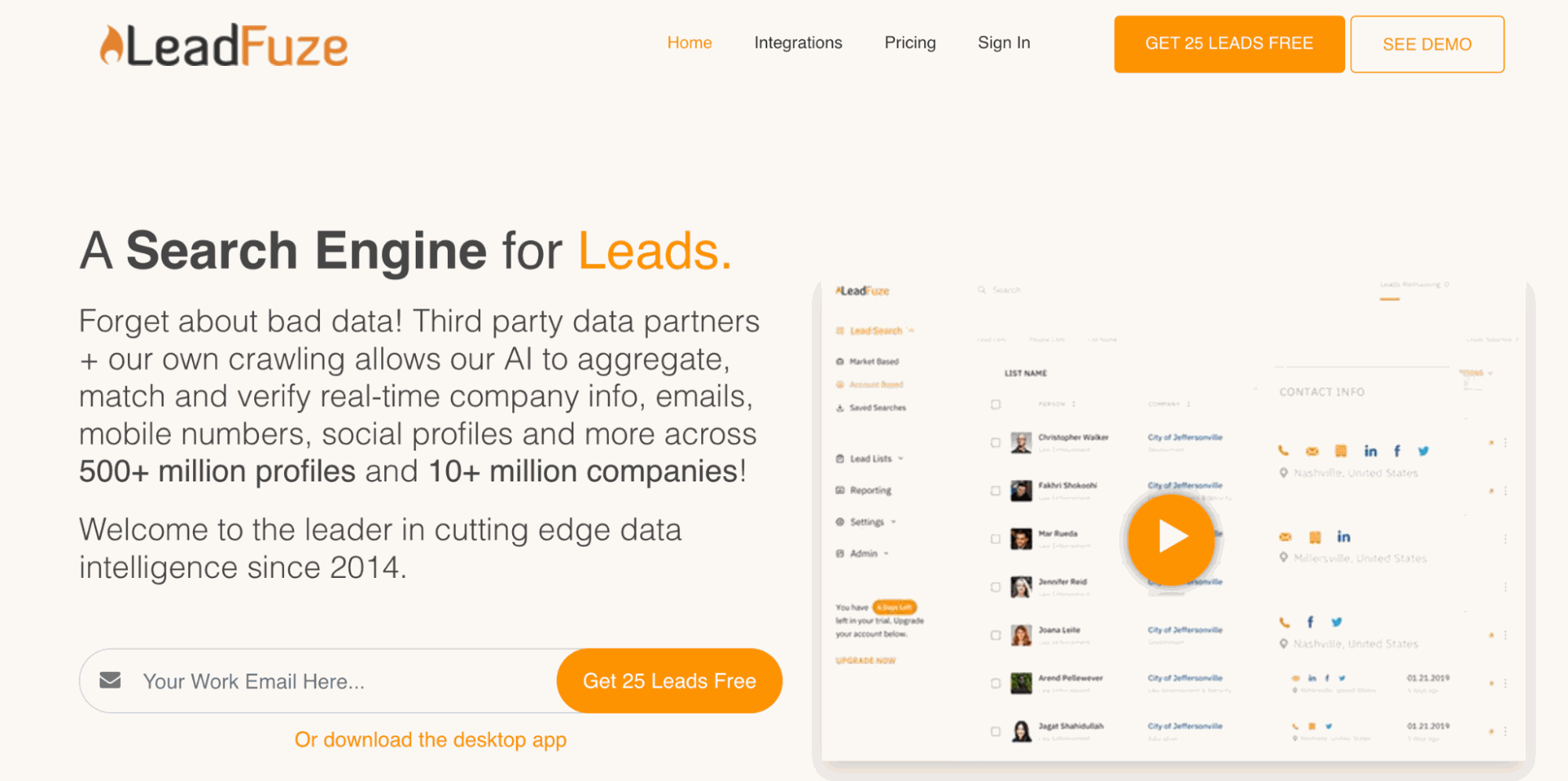 Built for sales, marketing, and recruiting, LeadFuze is a popular prospecting tool that allows you to integrate the platform into some of your favorite programs. While the site design seems a bit outdated, the platform is streamlined and easy to use. Here's what else you should know about LeadFuze:
Integrates with top platforms such as Mailshake, Zapier, and Google Sheets
Limited plan options—the base plan is fairly expensive compared to other companies
Runs deep searches with queries that go beyond name and company
14. SellHack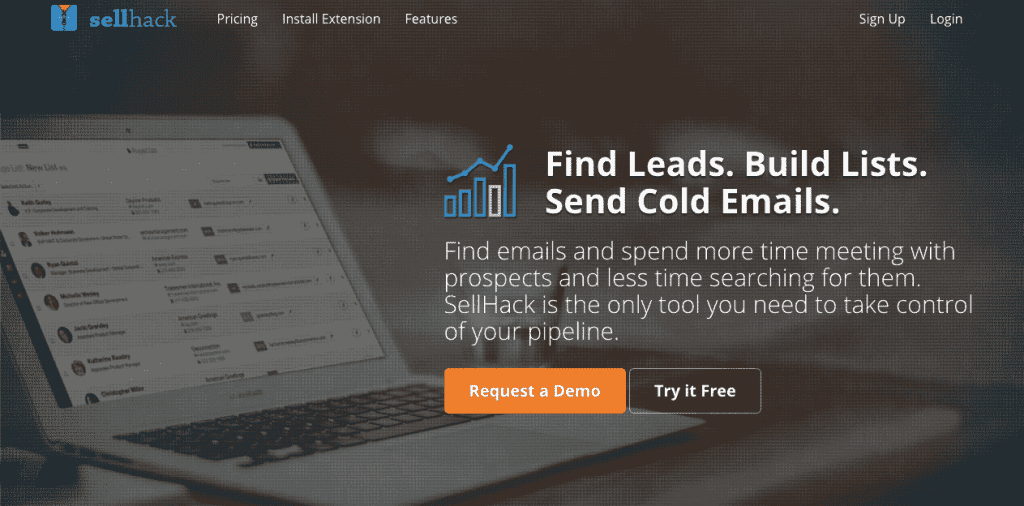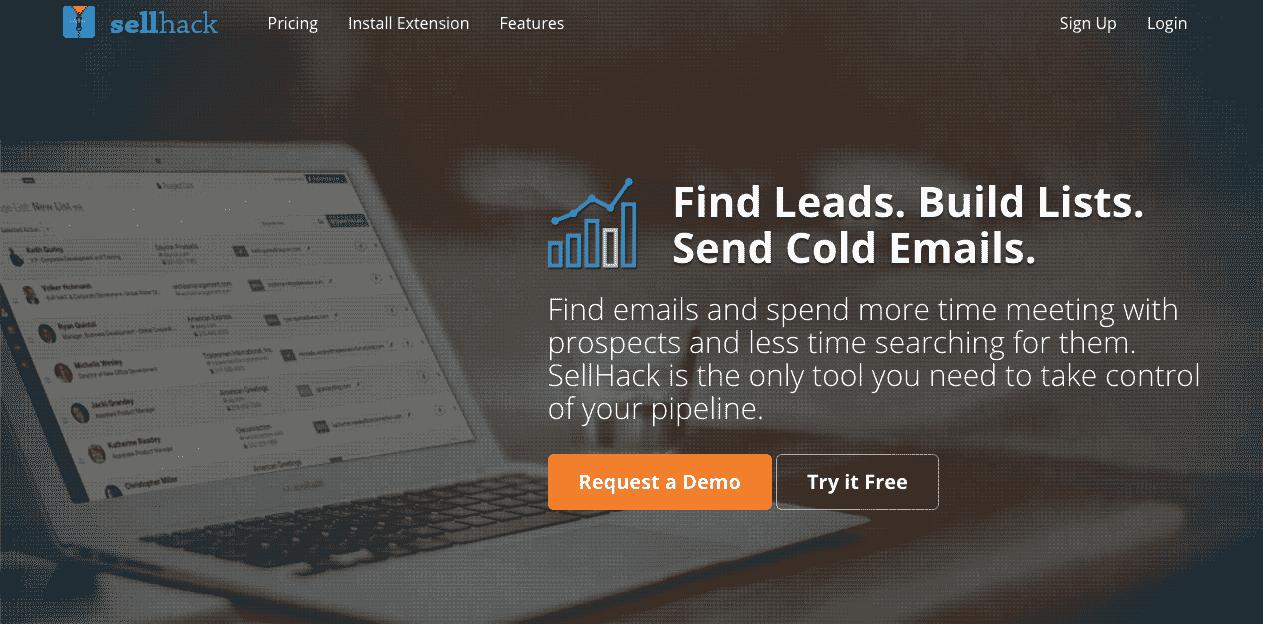 SellHack offers email verification, bulk email searches, and a sales dashboard to automate your next campaign. This tool is ideal for small teams looking to start a low-volume campaign. It's a good option for startups or teams just getting into email marketing. Here are some more key points about SellHack:
Great for low-volume campaigns
Prices range from $3 to $60 per month
Not ideal for high-volume email search requirements. Highest tier plan aligns with low-end plans at other services
Easy-to-install Chrome extension
How to Choose the Best Email Search Engine
When choosing the best email search engine, consider more than the service price. The factors below will help you assess and choose the right email search engine for your business.
Accuracy Rate
A good accuracy rate is a vital part of a successful email search engine. How accurate is the tool? You don't want to pay to access a database that doesn't have valid data. How often does the database update?
Sources of Information
Consider where the information is being pulled from. Many search engines will allow you to perform searches from various sources; i.e., a domain search, social media search, or company search. Think through the source options and where you may find the best results for your search. You may also want to consider a service capable of searching for personal email addresses.
Additional Functionality
What does the platform provide beyond an email search engine? Are there verification services, app integration capabilities, campaign management tools, and more? Do you have to pay more for these additional services? Some search engines come with a multitude of built-in features, while others require you to pay for each additional service you might need.
Email Search Engine FAQs
Here are some top questions and answers when it comes to email search engines.
What is the best email search engine?
As you can see, there are tons of email search engines out there—some better than others. The best email search engine is the one that meets all of your needs and can help your business grow.
UpLead's email finder is just one of the many tools you can access as part of your monthly subscription, meaning you'll have even more ways to help your business succeed.
Is there a free email lookup?
While there are free email lookup tools, they're often inaccurate and outdated. If you aren't paying for an email search engine service, chances are you will be spending a lot of time manually cleaning up and validating your email lists. That being said, free tools or free trials are a great way to test out a service before you commit to a purchase.
How do I find an accurate email address?
Finding an accurate email address always comes back to the email search service that you're using, which is why UpLead provides a 95% data accuracy guarantee. Pay close attention to accuracy rates. If you can use the tool for free, try a few searches to find email addresses you already know and see if you get accurate results.
The Best Email Search Engine Gives You High-Quality Leads
Remember, the quality of your email contact list is only as good as the tools you use to build it. Choosing the right email search engine is an extremely important decision. You don't want to waste money on a service that doesn't work for you and your business. The right search engine is about more than just the price. You should also consider the tool's features and accuracy rates when deciding.
Building high-quality and engaged email lists requires time, effort, and strategic planning. Supplement your efforts with organic list building methods and invest in reputable list building tools like UpLead for quick wins and long-term success.
Try UpLead for free today to see if it's the right email list generator for you.