If you want to make sales, you need to have leads. And the easiest, fastest way to get leads is through business databases. Business databases help you generate leads for your sales pipeline. However, not all business databases are created equal.
If you want quality leads, you need a quality business database that's constantly updated, verifies its information, and guarantees the accuracy of its data.
That's why, in this article, we'll review a comprehensive list of business database sites to help you find the right leads with accurate data.
Let's get started.
Quick Links:
15 Business Databases to Help You Find Leads (Free + Paid)
Here are the best business databases available, in no particular order:
1. UpLead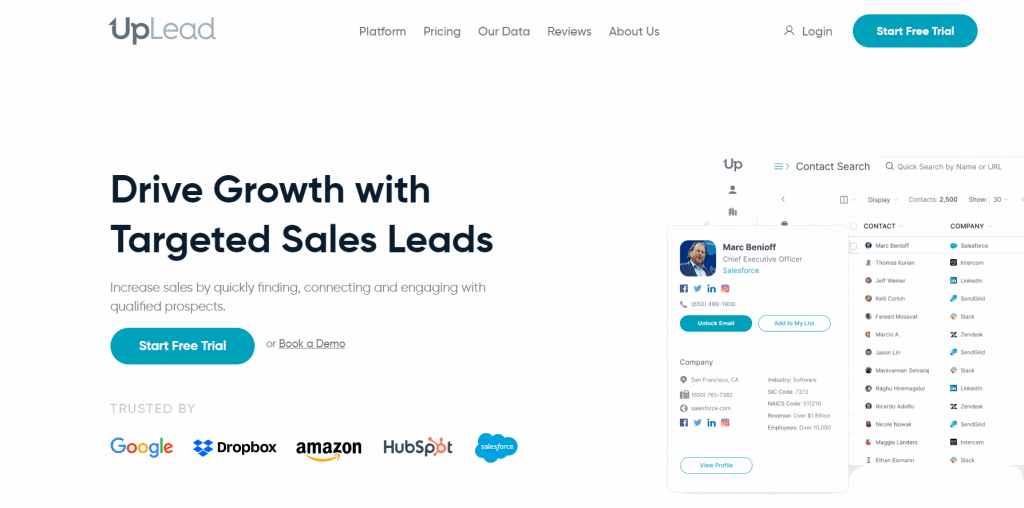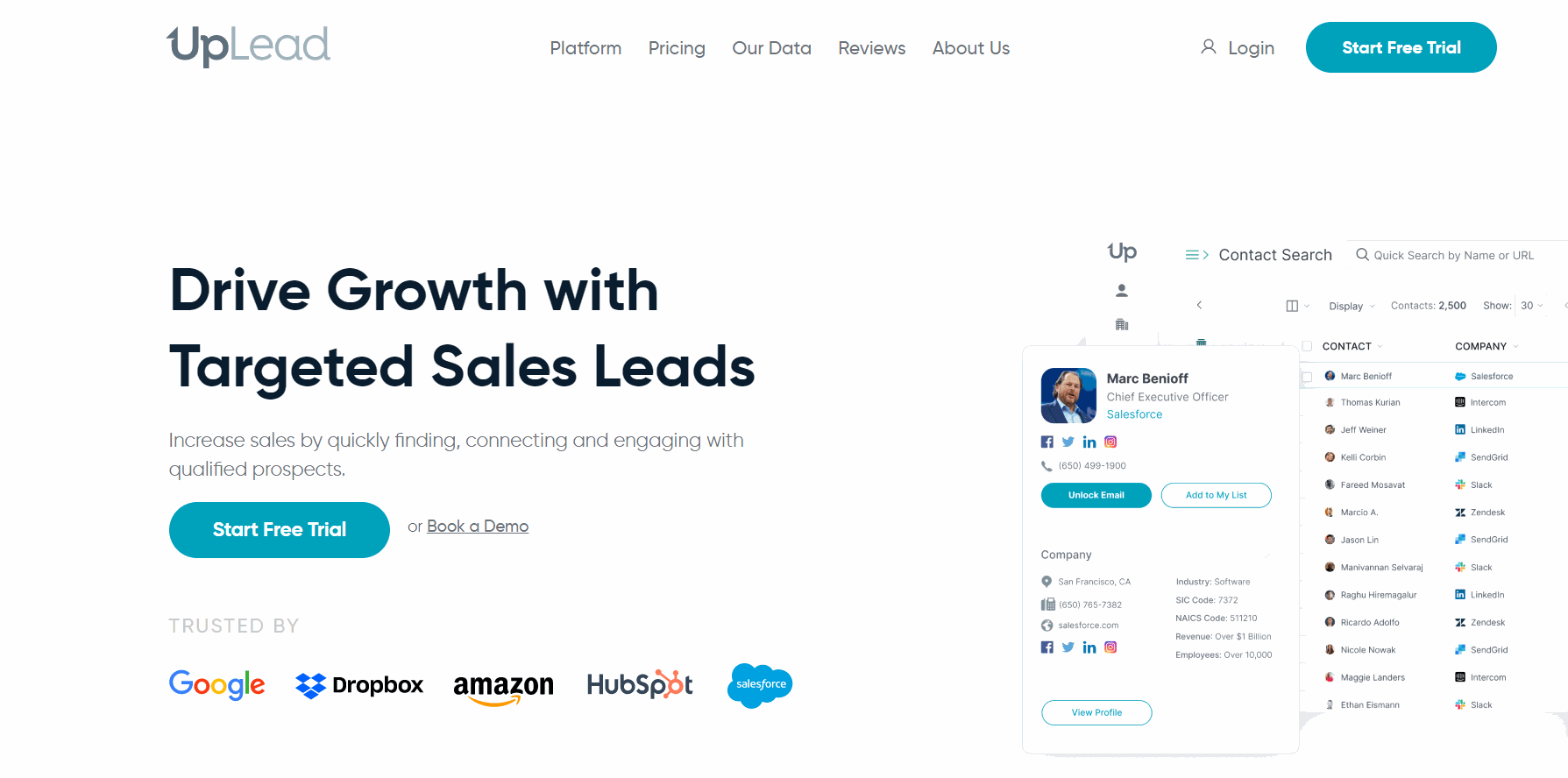 UpLead
has one of the best business databases on the market. UpLead was created exclusively to help you connect with the right contacts.
Unlike several other options we'll list here, UpLead offers a 95% data accuracy guarantee . This helps you avoid wasting your time contacting leads that go nowhere.
Business database lookup
Searching for leads with UpLead's business database is incredibly simple. You can search through over 108 million profiles of worldwide contacts, filtering with over 50 criteria (such as job title, industry, age, gender, and location) to narrow down your ideal leads among your target audience.
You can also search the database to find individual leads so you can connect with them.
Once you're ready to contact leads, you can start downloading the data. UpLead will validate the email addresses before you download them so you can ensure the emails are working immediately before using them.
Chrome extension
With UpLead, you can also get access to a Chrome extension, which will help you find your lead's phone number and other contact information all within your browser, and you can generate leads as you browse through LinkedIn.
Rich Profiles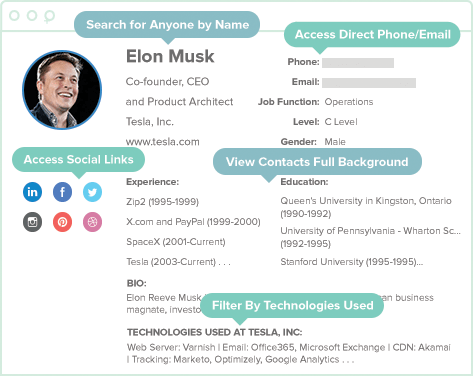 Once you download your leads' information, it'll be easy to learn everything you need from the data.
UpLead shows you the data you've downloaded through vibrant profiles. These profiles give you accurate information and flesh out your sales prospects so you and your sales team can get to know leads before contacting them. With vibrant profiles, your sales team can adapt their process to more easily reach their goals.
Free Trial Policy: UpLead offers you a free trial with 5 credits. Paid plans begin at $99/month.
Start Your 7-Day Free UpLead Trial
Lead generation doesn't have to be all that painful. With UpLead, you can easily connect with high-quality prospects and leads to grow your company.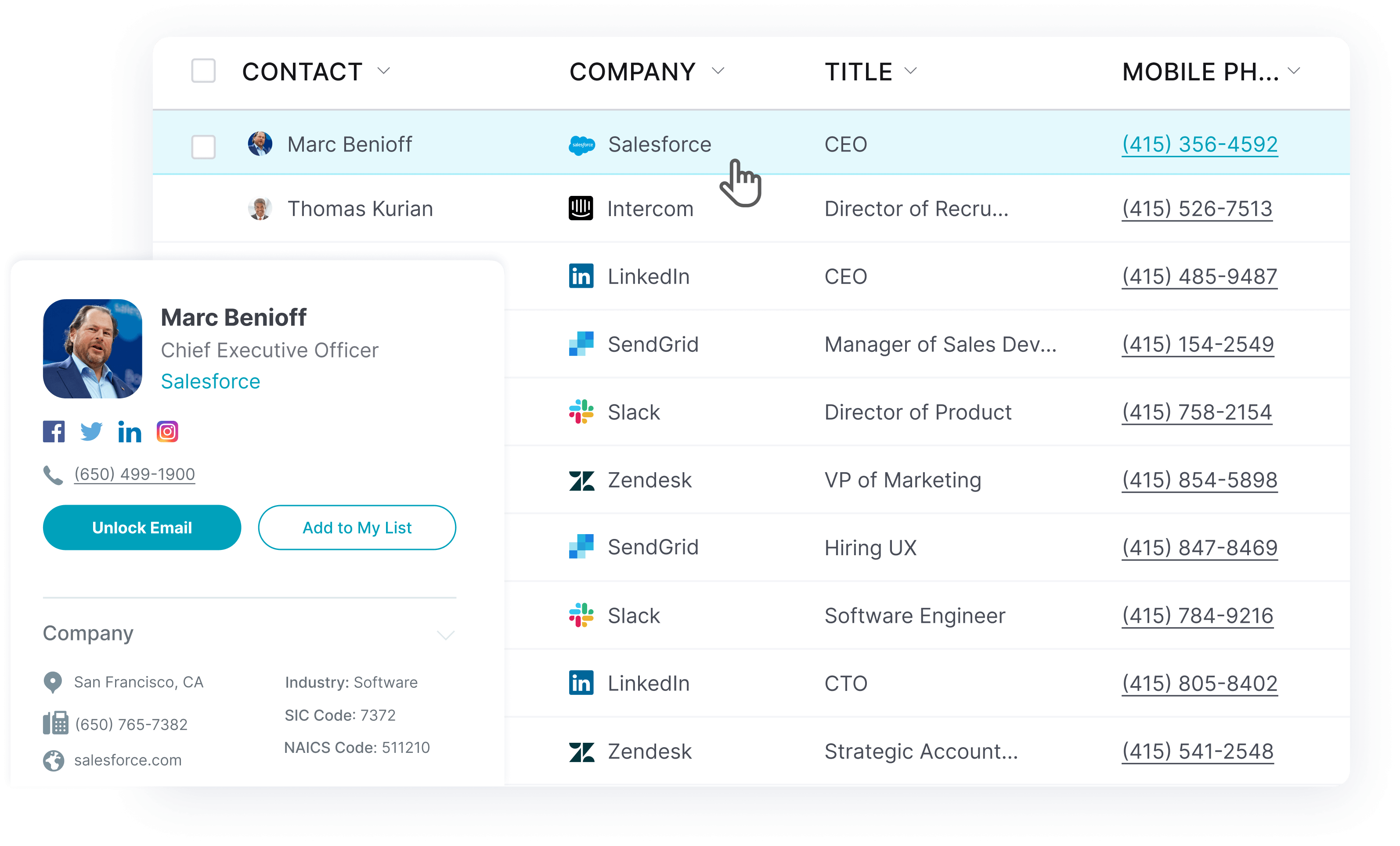 2. LinkedIn Sales Navigator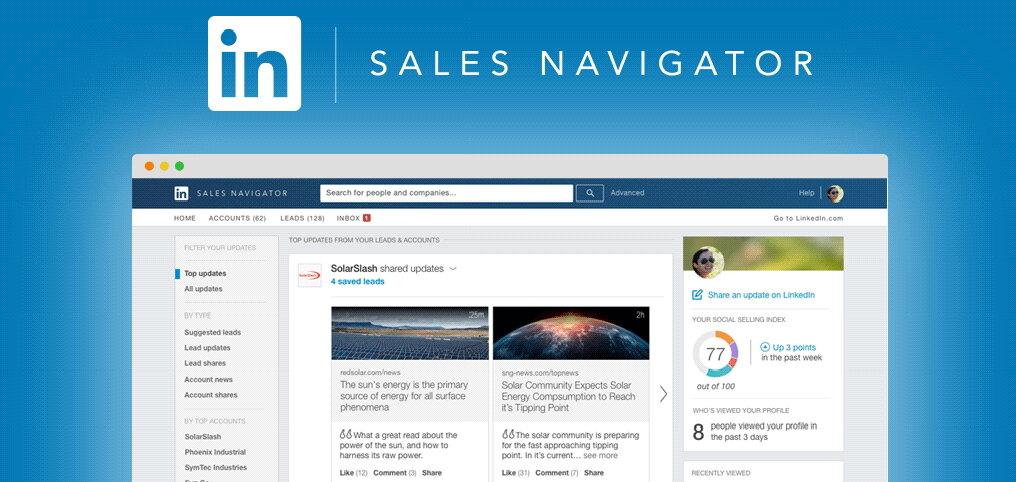 LinkedIn Sales Navigator allows you to use LinkedIn as a fully-fledged business database. With it, you can search through the LinkedIn database to identify qualified leads, filtering by their registered company, job position, and the rest of their LinkedIn profile information. 
This database is limited by the number of LinkedIn users, but it can be a good tool if you're already using LinkedIn and want a better way to find leads to place in your sales funnel.
Free Trial Policy: LinkedIn Sales Navigator allows users to sign up for a 30-day free trial after entering their credit card information.
3. Lusha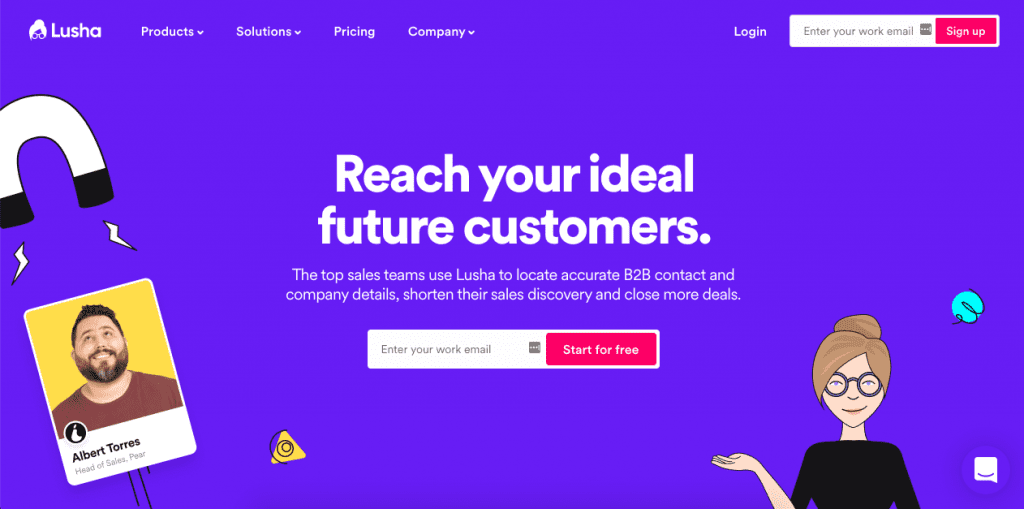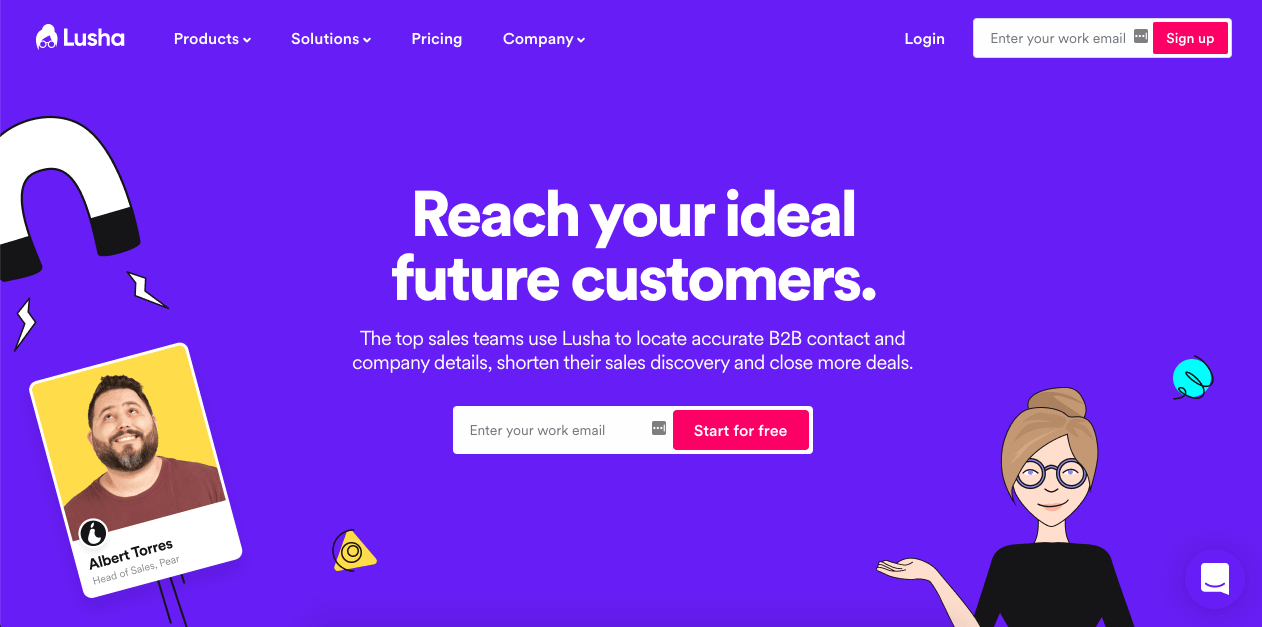 Lusha is a popular business database that allows users to find leads' contact information, such as email addresses and even phone numbers, with a vibrant UI.
The simple UI can integrate with Salesforce, LinkedIn, and Twitter. Plus it has an API to integrate it with the tool you're already using. You can also search the database for personal email addresses, not just professional ones.
Free Trial Policy: Free account with up to 5 searches per month. Professional pricing starts at $25.
4. Snov.io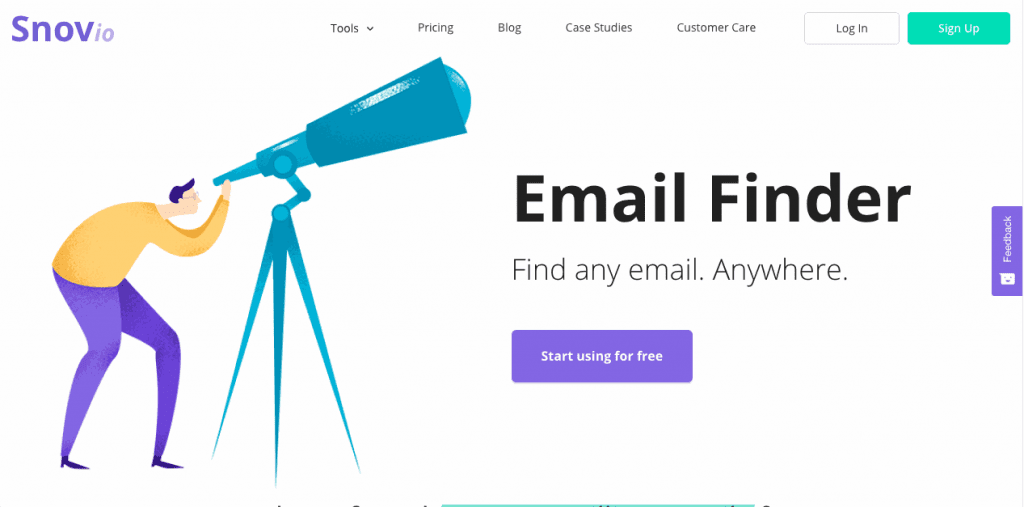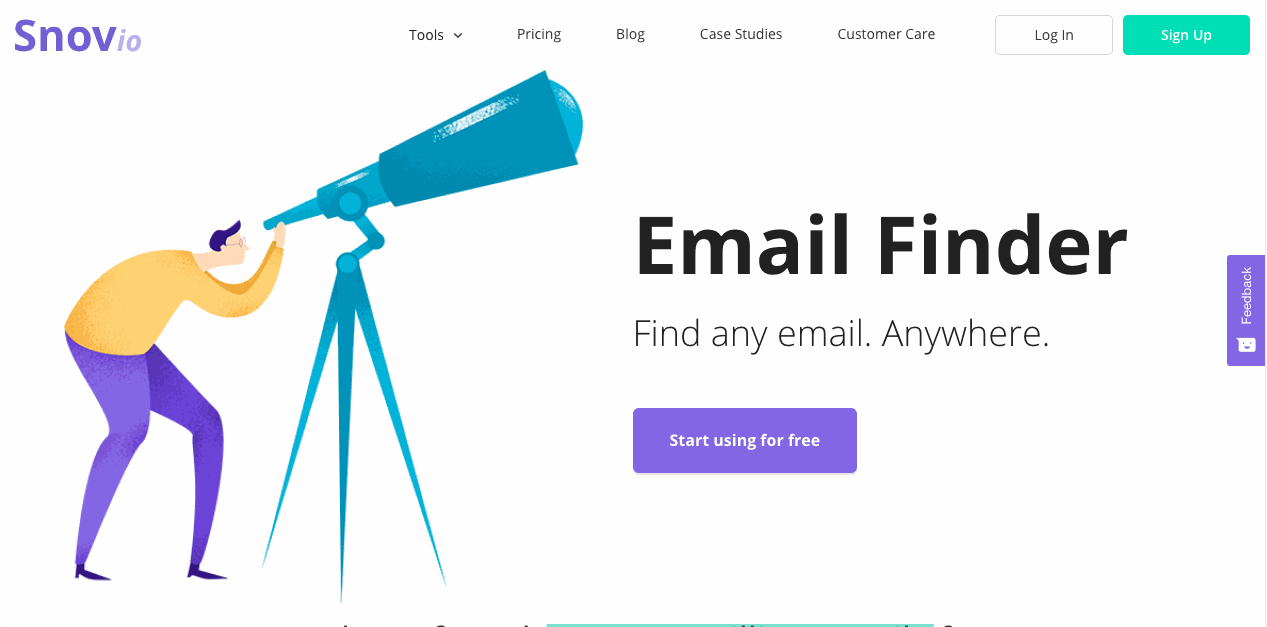 Snov.io allows users to browse its business database by domain, name, or company profile. Users may also find the contact information of potential prospects by searching its database and sorting by industry, location, company size, and many more options.
Notably, Snovio's business database may have multiple email addresses associated with a single lead, so users can have a better chance of ensuring their leads hear from them.
Free Trial Policy: Freemium account available with 50 monthly credits and 100 drip campaign recipients.
5. VoilaNorbert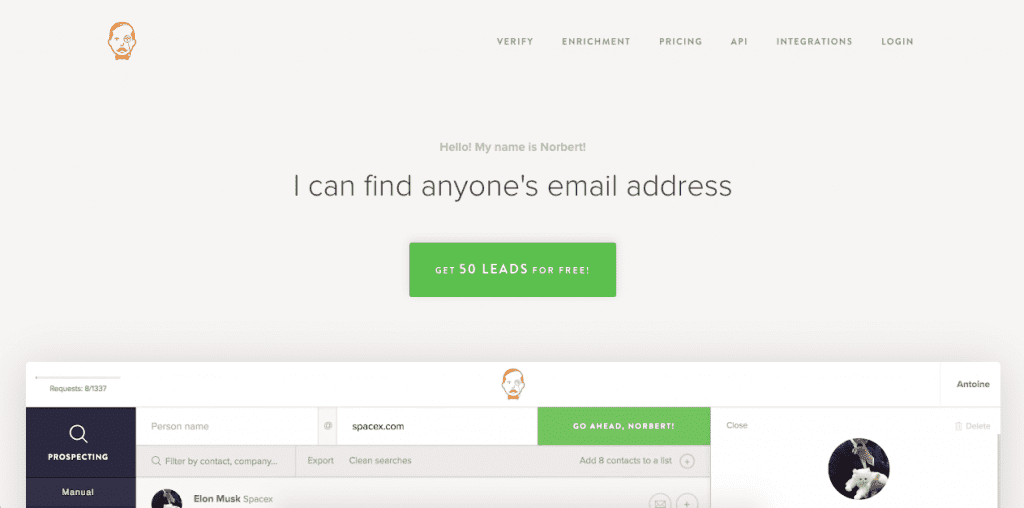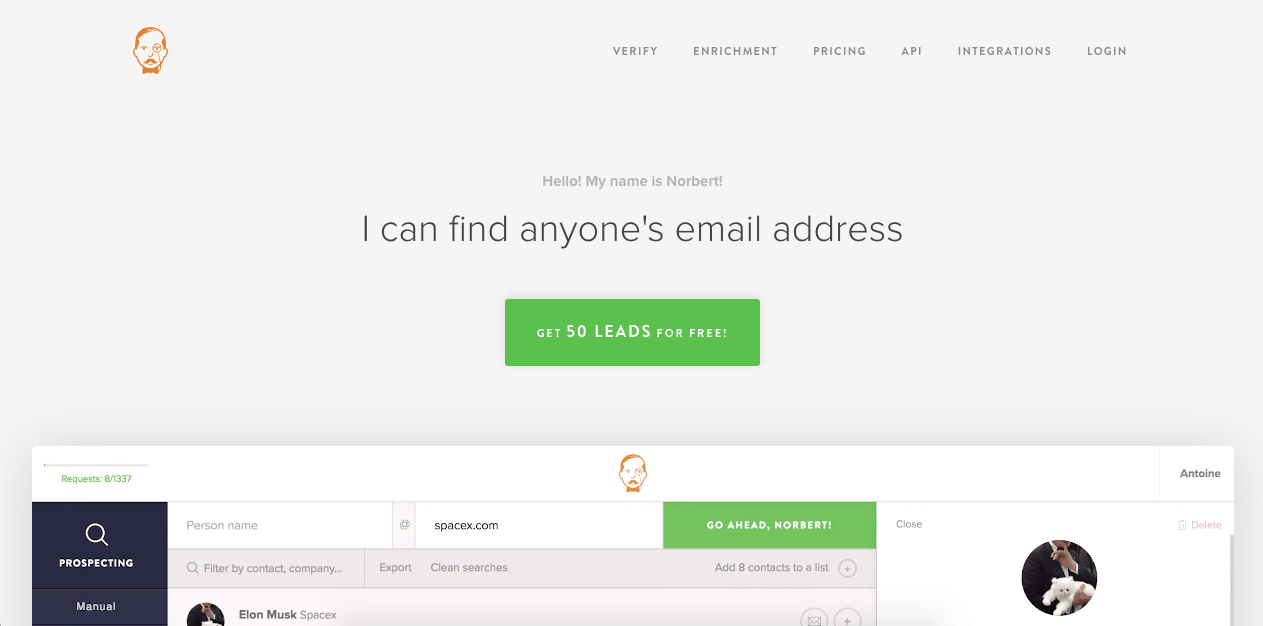 VoilaNorbert is another platform with a business database that allows users to look up leads by name, company domain, and platform to find their contact information.
Although the platform is somewhat limited, it's still affordable enough to find the email addresses of leads users may already know. The platform is fairly straightforward, dedicated to corporate leads, and has a decent amount of information.
However, users have reported some inaccuracies with the information they've received from the database, and it's worth noting that the platform does not offer any guarantee of the accuracy of their data.
Free Trial Policy: 50 free searches per account. Failed searches don't count toward search credits.
6. Hunter.io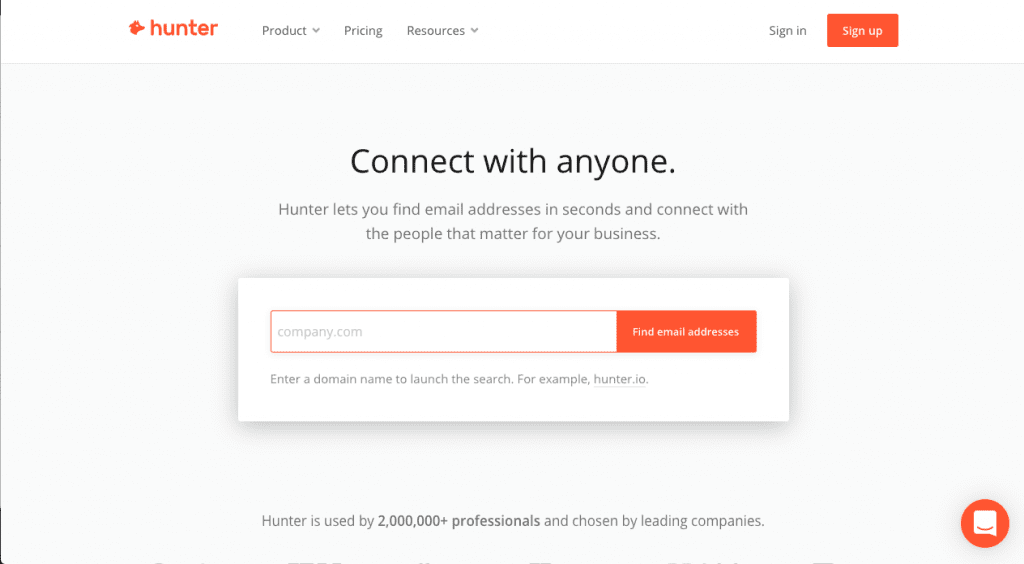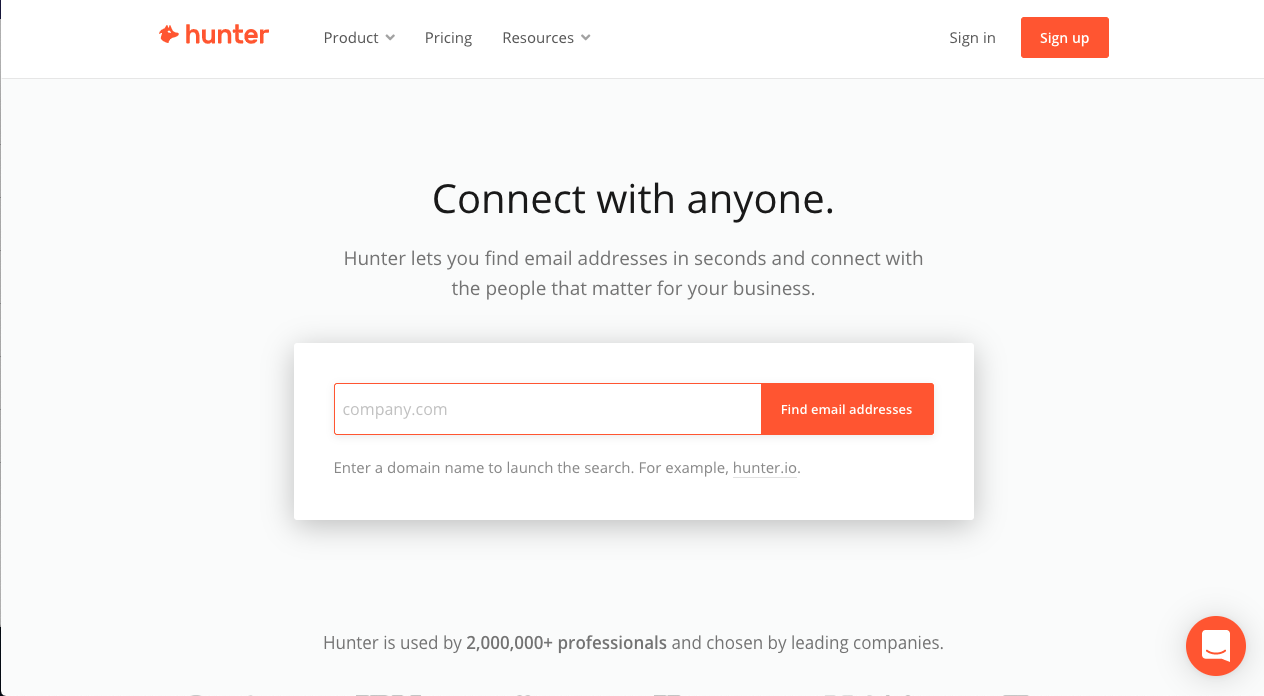 Hunter is another platform with a decent business database that allows users to find leads by name or business name as well as through specific industries and companies.
The database focuses on searching for business email addresses, although it does not offer any data accuracy guarantee on its information. Here are other Hunter.io competitors in the market.
Free Trial Policy: Up to 100 leads for free before having to pay for the account.
7. ZoomInfo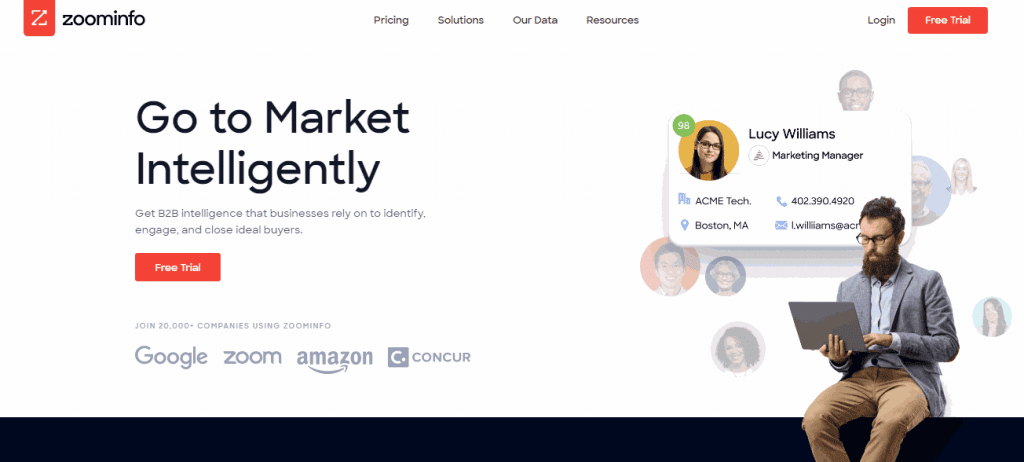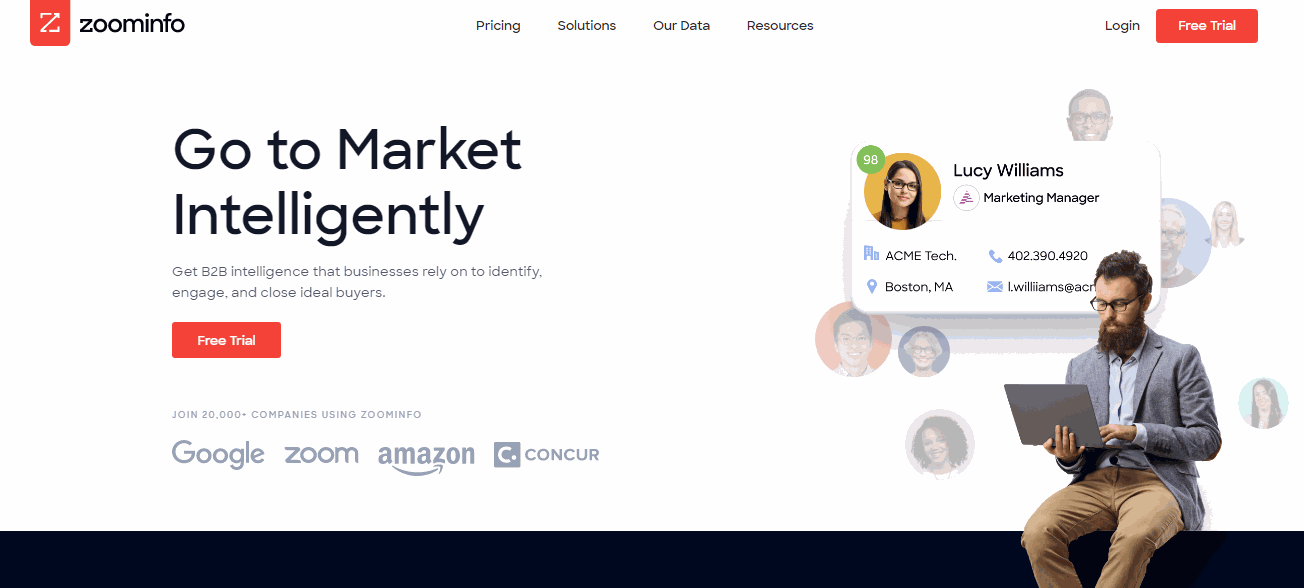 ZoomInfo is another business database that allows users to buy B2B leads. The database was created and crafted with the help of an AI that crawls the web to find relevant users and data. Thanks to this, the platform has over 14 million companies and 46 million direct dials. 
To browse the database, users may customize over 200 data points to find relevant leads. They can also use the database to enrich the data they may already have. Free Trial Policy: Free 7-day trial with no credit card required.
If you're looking for a ZoomInfo alternative because of the pricing, give us a try!
8. AeroLeads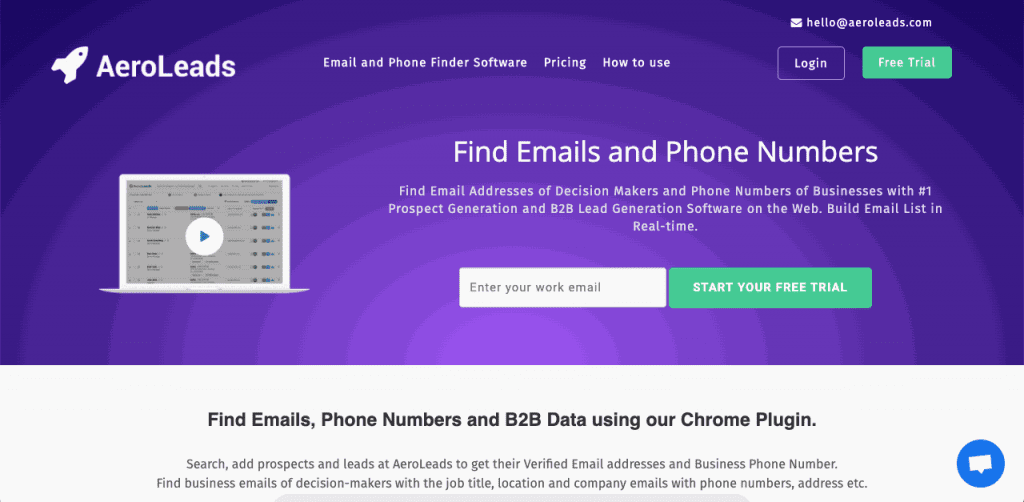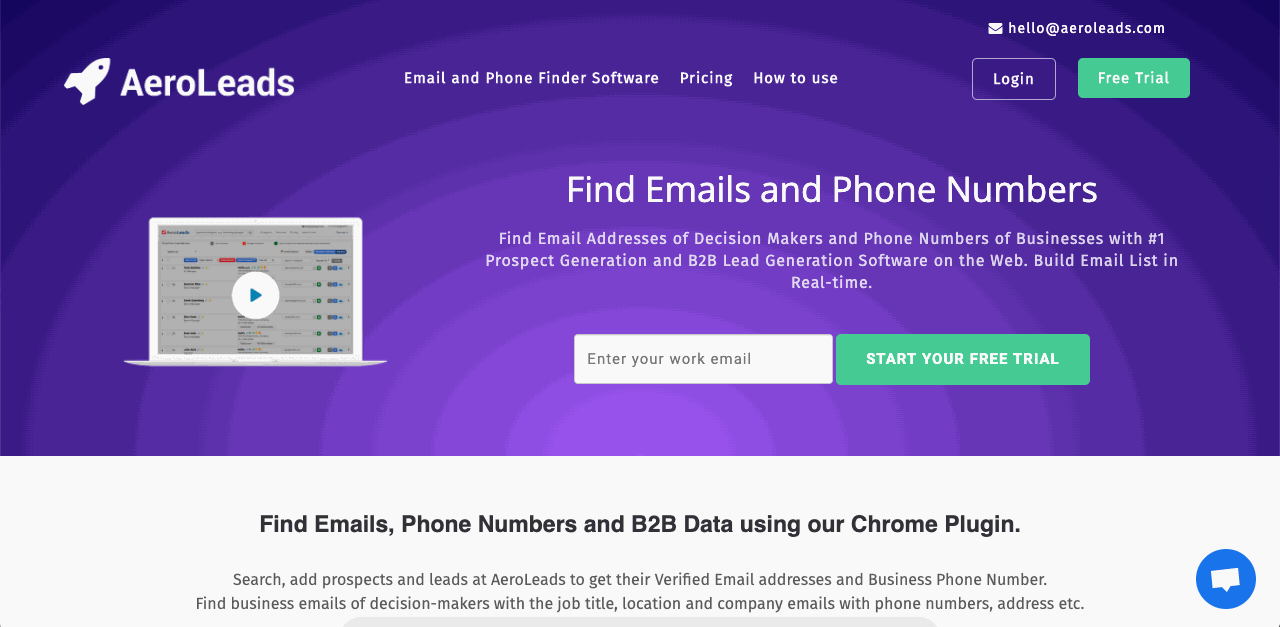 AeroLeads' business database is accessible through a Chrome extension that allows users to find contact information as they browse the web.
With that Chrome extension, AeroLeads can find leads' contact information like phone numbers, email addresses, and more. It's fairly easy to use, although the platform doesn't offer a data accuracy guarantee and doesn't give users any bulk search capabilities to search its database.
Free Trial Policy: Free 14 days trial after creating an account.
9. Lead411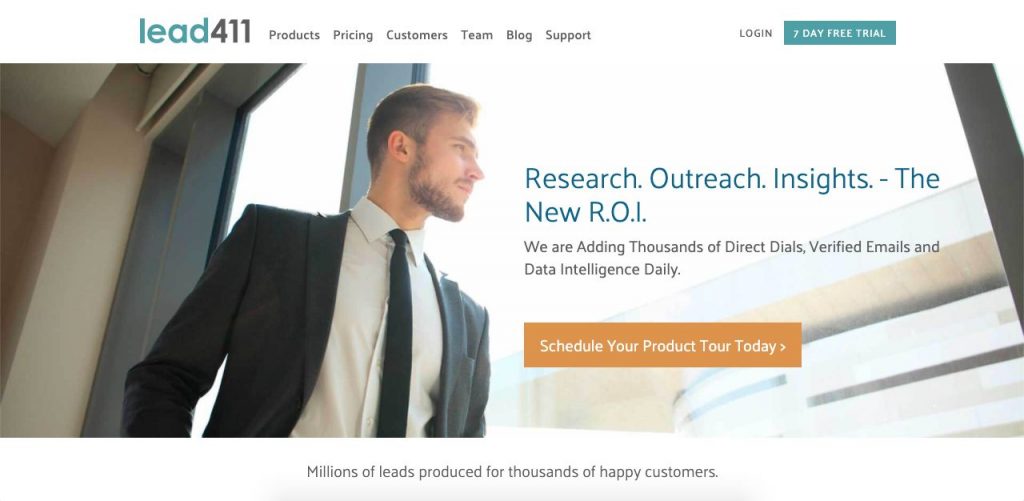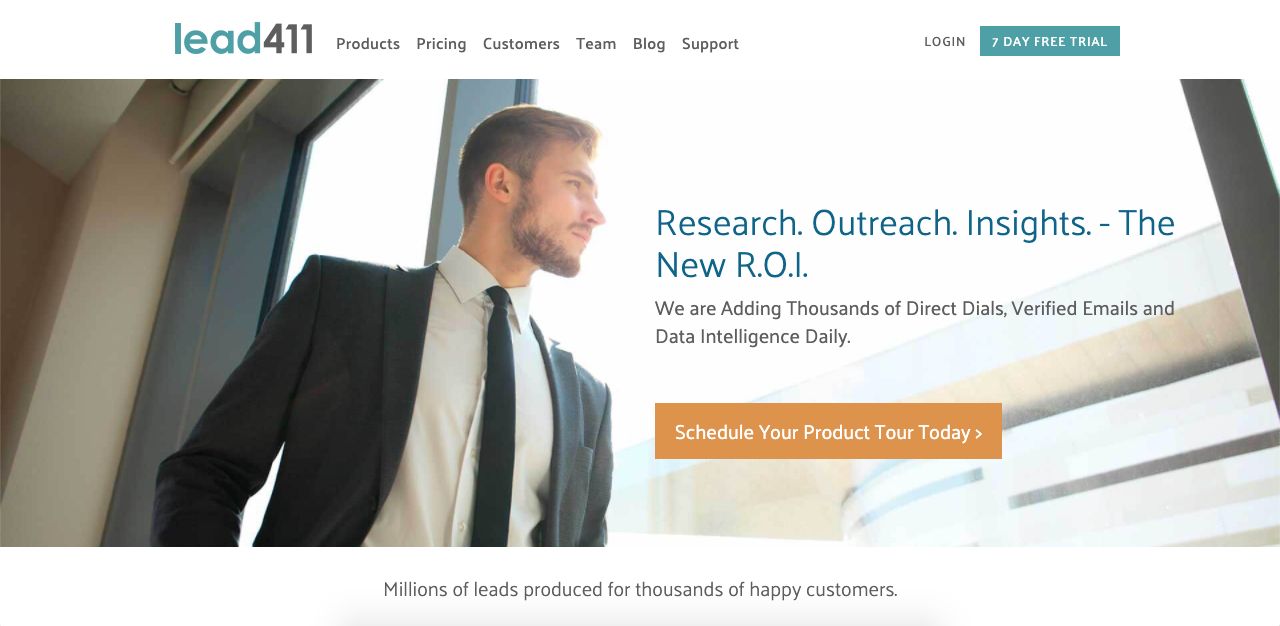 Lead411's award-winning platform focuses on helping B2B companies find the right leads through its business database. With it, users may use Lead411's in-house search technology to find and create more credible user lists.
Since the platform doesn't only generate lists, users also use it to get all necessary information from the database about the businesses they target. Users can search, find, and download bulk lead information to learn more information about their leads besides their basic contact information.
However, the platform doesn't seem to offer a data accuracy guarantee, so the data in its business database may not be accurate.
Free Trial Policy: Freemium option with 30 contacts per month.
10. LeadIQ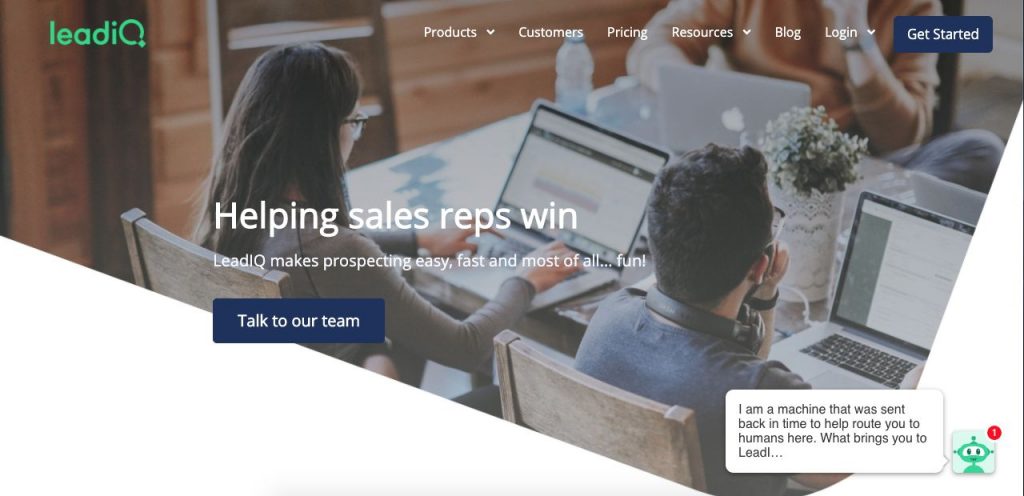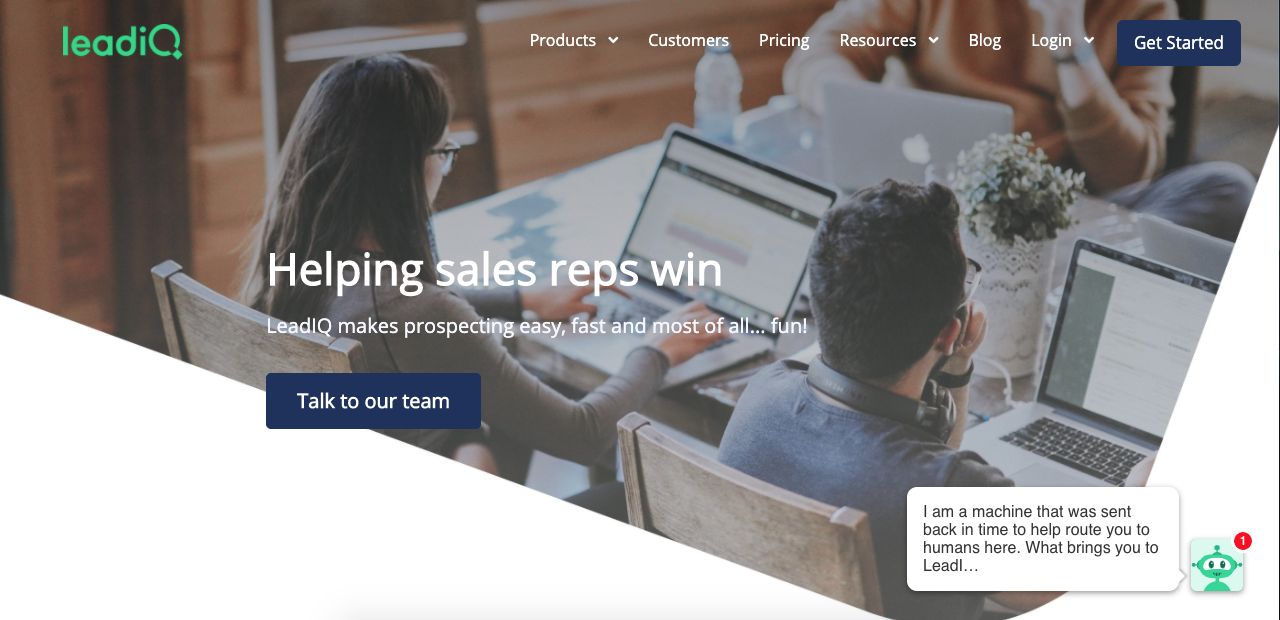 LeadIQ is another business database option that can help users find leads through its Prospector extension.
With it, users may look up leads and find their contact information from LeadIQ's business database as they browse the web. Then users can save their leads and download the information to contact them later.
LeadIQ's business database has over 100 million contacts with verified email addresses. According to the platform, they have a success rate that's greater than 90%. However, the platform doesn't offer a data accuracy guarantee, and it's not a good option for users wanting to look up leads in bulk.
Free Trial Policy: No free option. Paid plans start at $75 per user per month ‍with a maximum team size of 3 users.
11. FindThatLead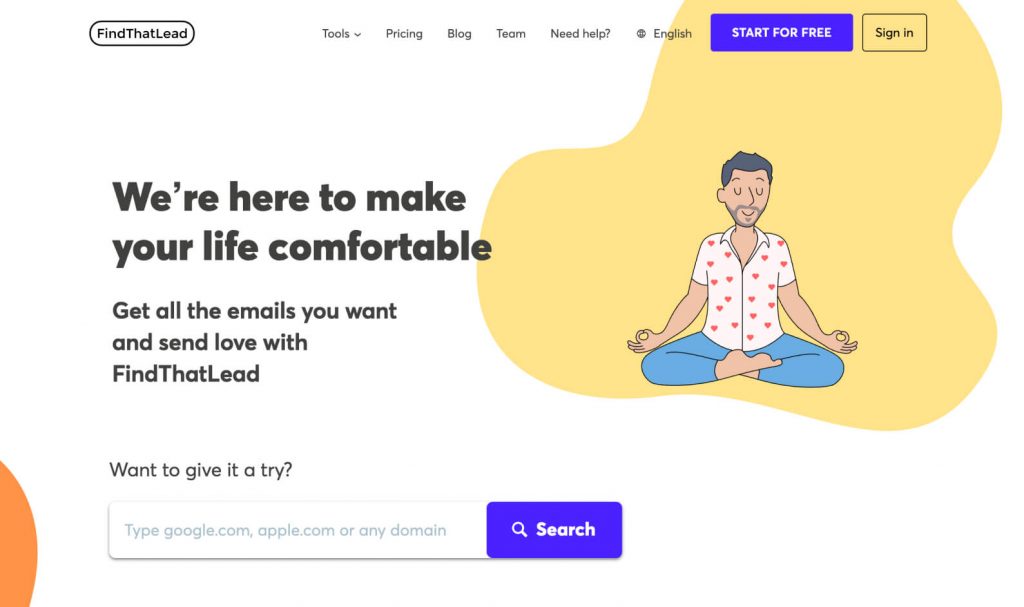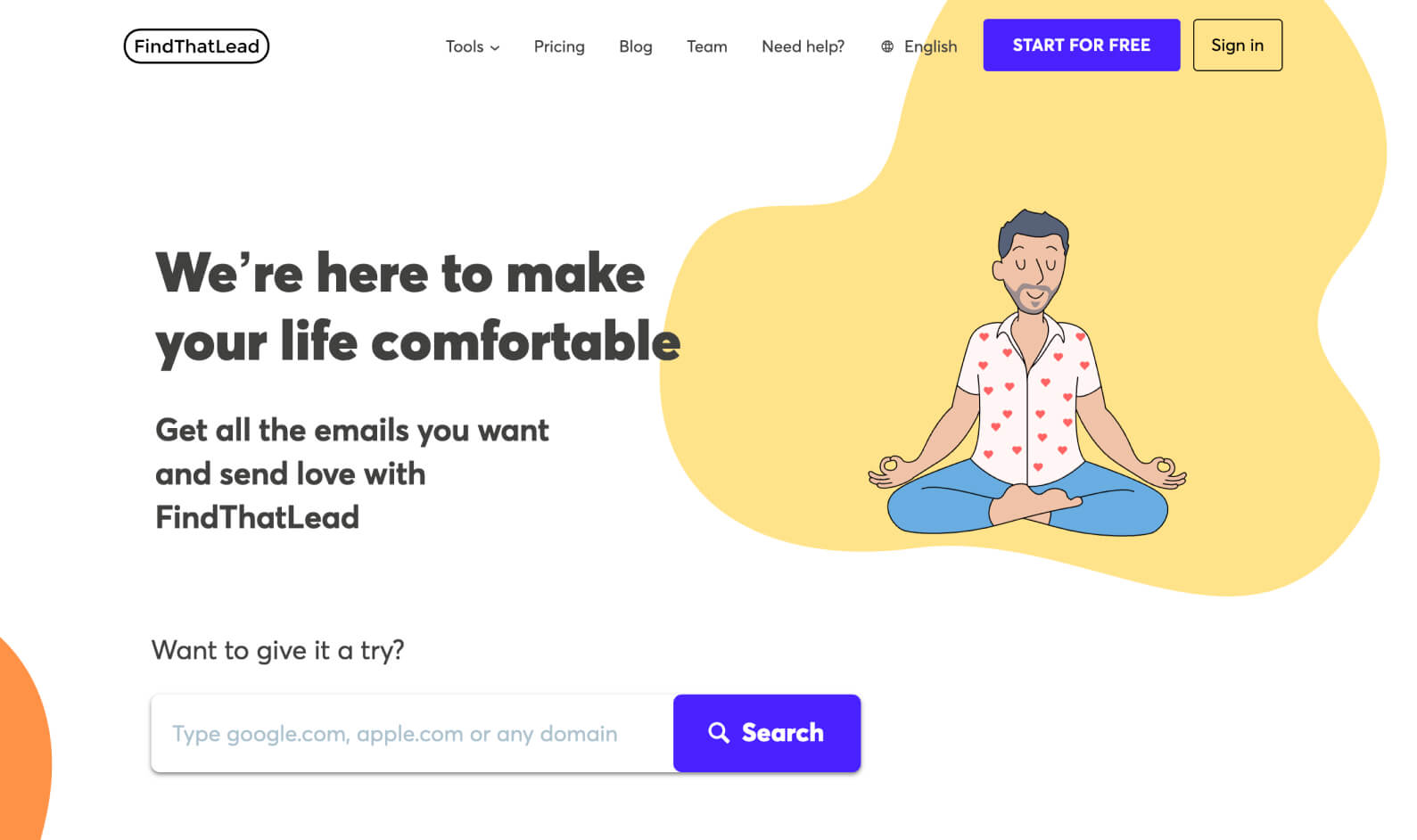 FindThatLead allows users to search its business database to find email addresses through any company URL. Users can then import all leads to a spreadsheet through its Chrome extension.
The platform verifies downloaded emails right before the user downloads them to ensure deliverability. Users may also use its email-sending platform to contact leads right after finding their information in FindThatLead's business database.
However, the platform is fairly expensive, and at this point, it lacks CRM integrations.
Free Trial Policy: Free account with up to 300 credits per month.
12. Skrapp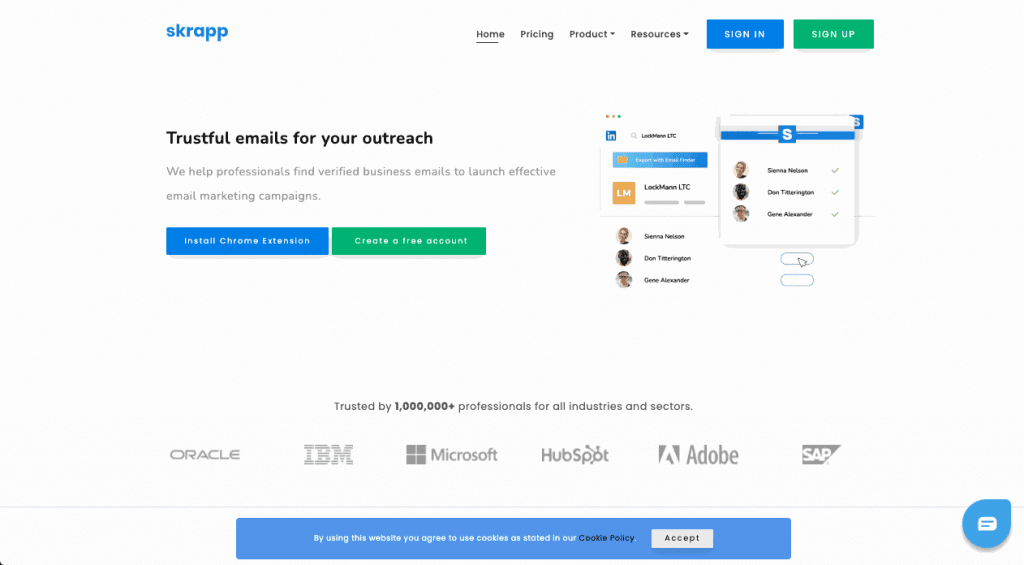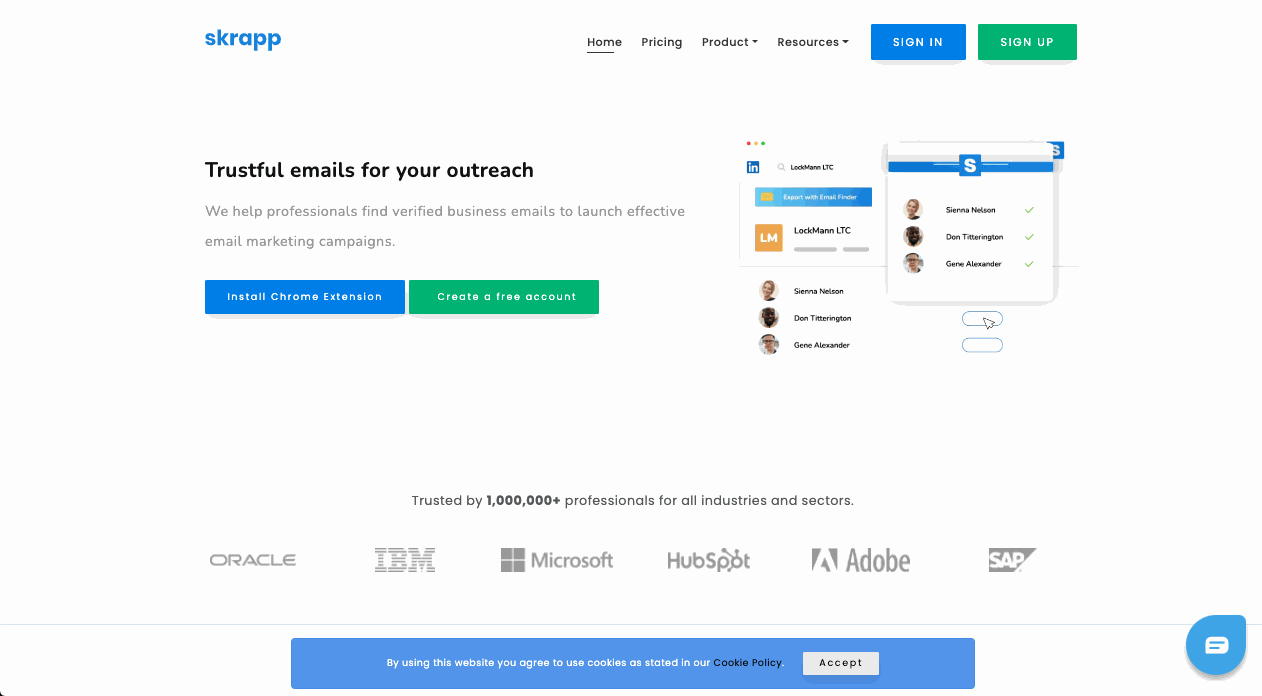 Skrapp's business database was created to work with the platform to allow users to find someone's LinkedIn email address.
Users interact with the business database as they browse LinkedIn profiles, using the tool's Chrome Extension to find and store lead email addresses for them. The platform also has an API to connect with the tools their clients are already using.
Users may also browse the database directly by searching in bulk and finding results based on domain, name, and company name.
Once the user has selected the leads' information they want to use, they can verify the emails right before downloading them.
Free Trial Policy: Free 150 emails per month.
13. RocketReach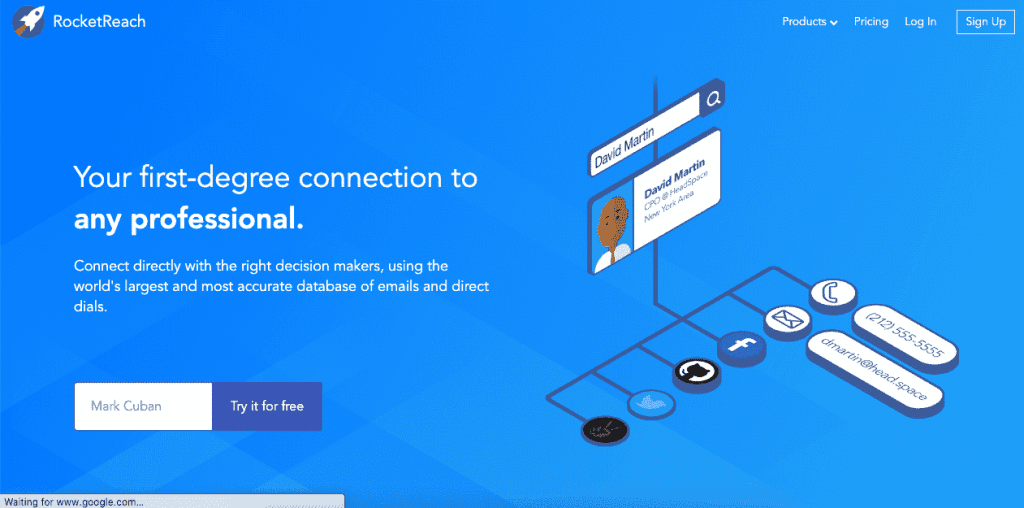 RocketReach offers its users access to a database of over 430 million contacts with both personal and professional email addresses.
Users may search through the database directly with advanced searches and bulk lookups or through its Chrome extension to find leads' contact information as they browse the web. The platform features many good integrations, an API, and an email verifier to help with deliverability once the user has downloaded contact information through its large database.
However, the platform may charge for outdated or non-existing email addresses if they can pass its verification test.
Free Trial Policy: Unlimited free trial that allows only 3 searches per month.
14. Datanyze Insider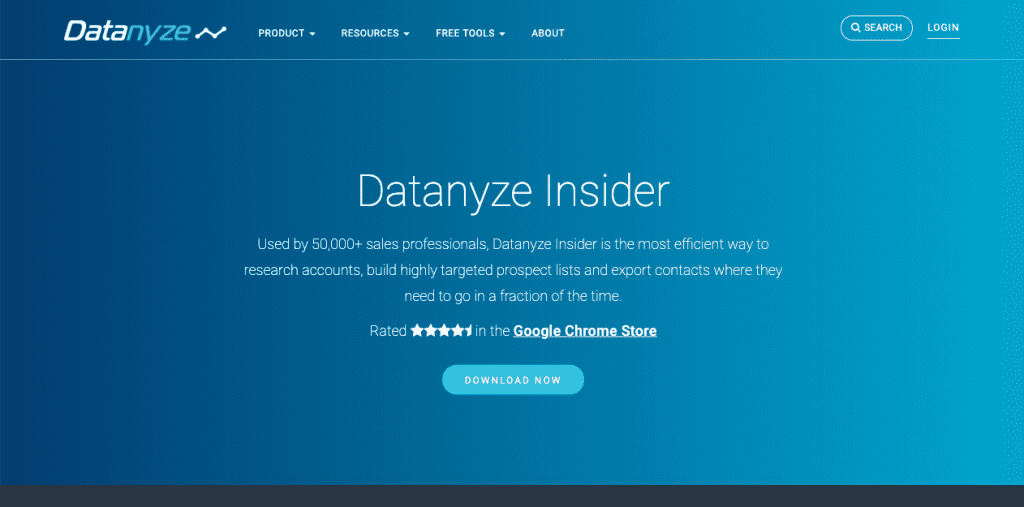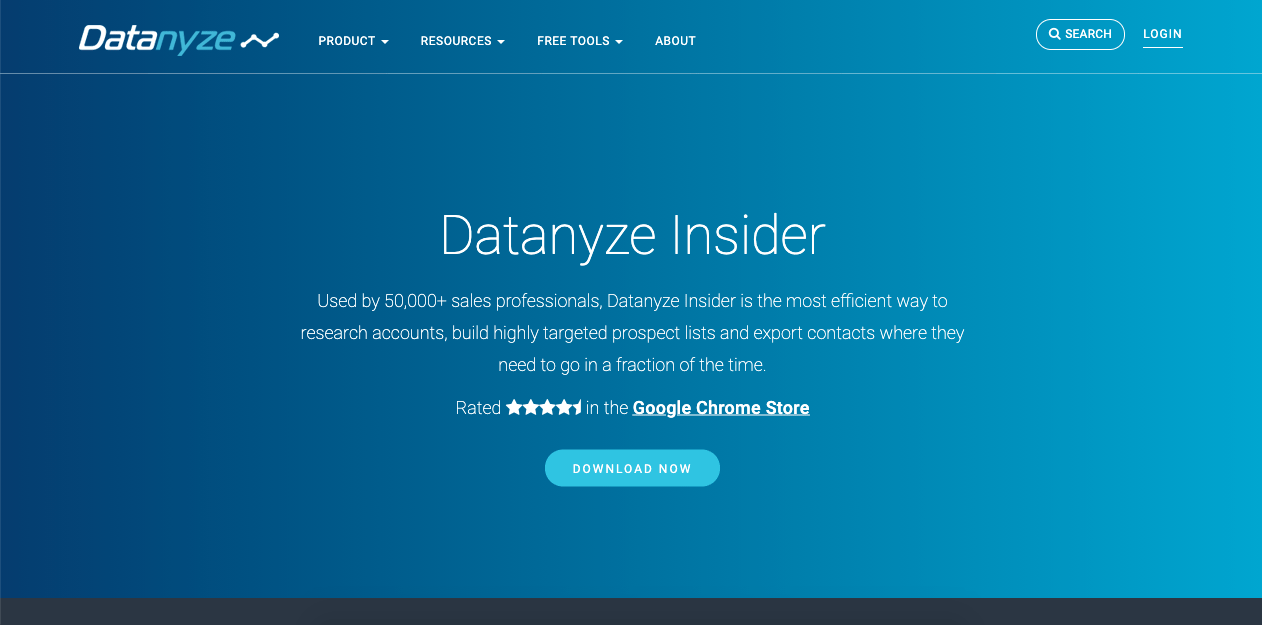 Datanyze offers a browser plugin to allow users to find email addresses when they highlight someone's name online. The platform uses the web as a business database, searching and returning email addresses that most likely belong to the highlighted user.
Although the tool is very straightforward and easy to use, it's not a great primary source of leads, performing better as a supplement to lead generation for users that don't mind paying extra for it.
Free Trial Policy: 10 credits per month for free.
15. LeadGibbon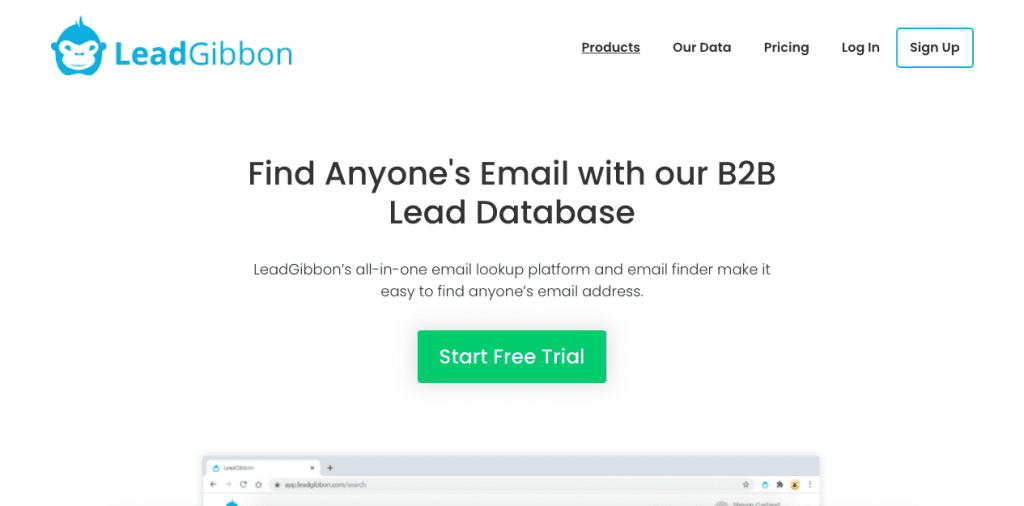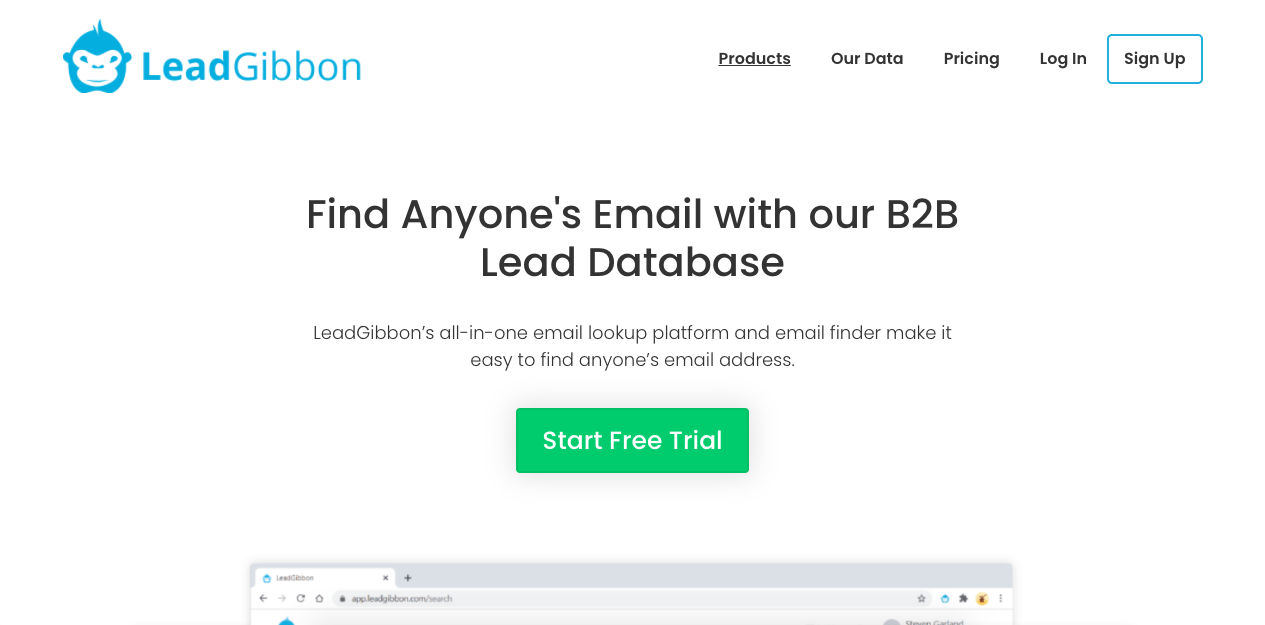 LeadGibbon allows B2B companies to find their leads' email addresses and profile information by using its extensive business database.
With LeadGibbon, users can find relevant lead information, like names, titles, industry, location, and more, along with their contact information. The platform also claims to have a 99% match accuracy, placing it above the industry's average.
Free Trial Policy: Free trial with 5 credits.
Business Databases FAQs
Here are the answers to users' most frequently asked questions regarding business databases:
What are business databases in the context of lead generation?
Business databases are tools that allow users to find leads along with their business information and contact information so they can place them in their sales pipelines.
Can I use business databases as a small business?
Yes, many business databases allow for free limited searches. Other tools, like UpLead, allow users to find affordable, reliable leads.
Are business database services expensive?
Not necessarily. Business database services can usually be used for free for a short time. And when they guarantee data accuracy, they ensure you don't pay for useless information.
Conclusion
Business databases are a great way to ensure your business gets reliable leads at the right time. With business database platforms, lead generation is made easy by allowing users to look up their client personas, find prospects that fit within them, and download their information to segment and contact them.
The best way to use business databases is with a tool like UpLead, which guarantees data accuracy, shows lead information through vibrant profiles, and can be used while browsing the web.
Start Your 7-Day Free UpLead Trial
Lead generation doesn't have to be all that painful. With UpLead, you can easily connect with high-quality prospects and leads to grow your company.