If you want to increase your B2B sales, you need a lot of company data. And, since you can't research businesses individually, you can find the company data you need by using company research tools.
Company research tools allow you to obtain contact info and get all the data you need from any company. This will help you better understand the company and its needs and allows you to segment your audiences accordingly.
After all, the better you can tailor your pitch to a company's needs, the faster you'll make a sale.
That's why we've compiled some of the best market research tools. By the end of the article, you'll know exactly which company research tool to use.
Let's get started.
Quick Links:
UpLead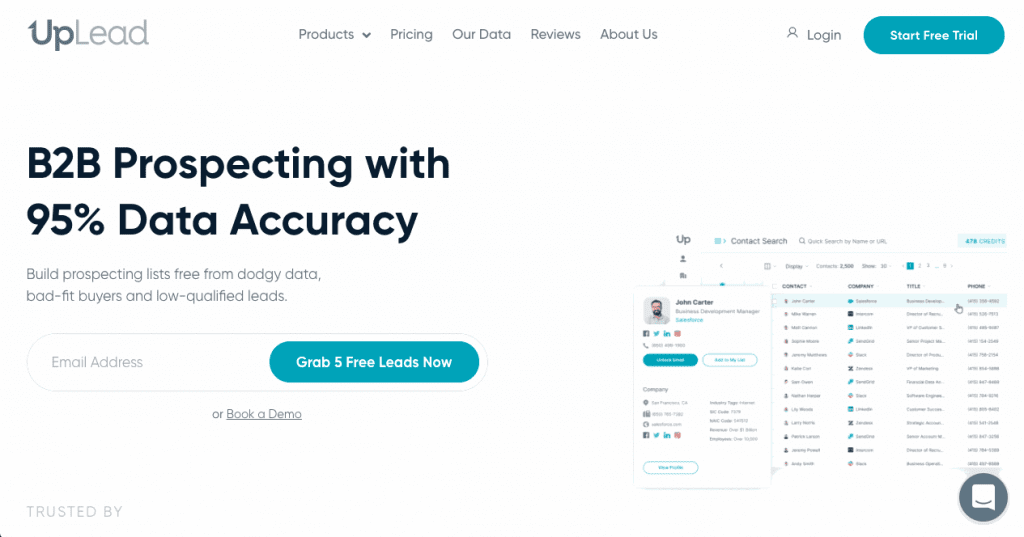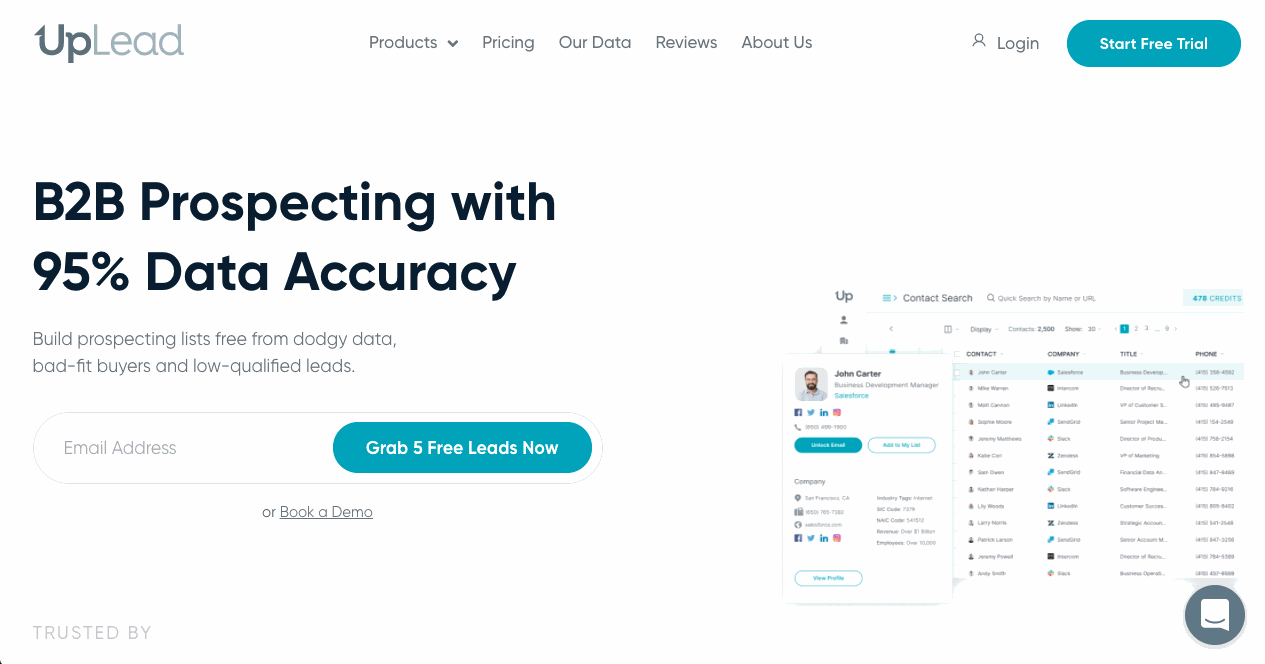 UpLead
is top of the line when it comes to market research.
With a carefully curated collection of over 140 million contacts, UpLead helps you find the leads you need by scouring multiple data points. Once you're ready to download your lead list, UpLead validates every email address in real time.
Plus, UpLead offers you a 95 percent accuracy guarantee , making it an obvious choice when it comes to company research.
And UpLead doesn't just generate company data for you. It helps you learn from it too. Salespeople can instantly get to know a user and learn more about their business career through vibrant profiles, which also display links to their social media pages and profile photo.
This helps your salespeople learn from your marketing research instead of looking at each individual as simply the next lead.
What makes it stand out as a company research tool
Here are a few features that make UpLead stand out:
95% data accuracy guarantee
Large, accurate database
LinkedIn Lead Gen with a Chrome Extension
Vibrant profiles to flesh out your leads
UpLead has many competitors, but it is a solid option for a reason.
Start Your 7-Day Free UpLead Trial
Lead generation doesn't have to be all that painful. With UpLead, you can easily connect with high-quality prospects and leads to grow your company.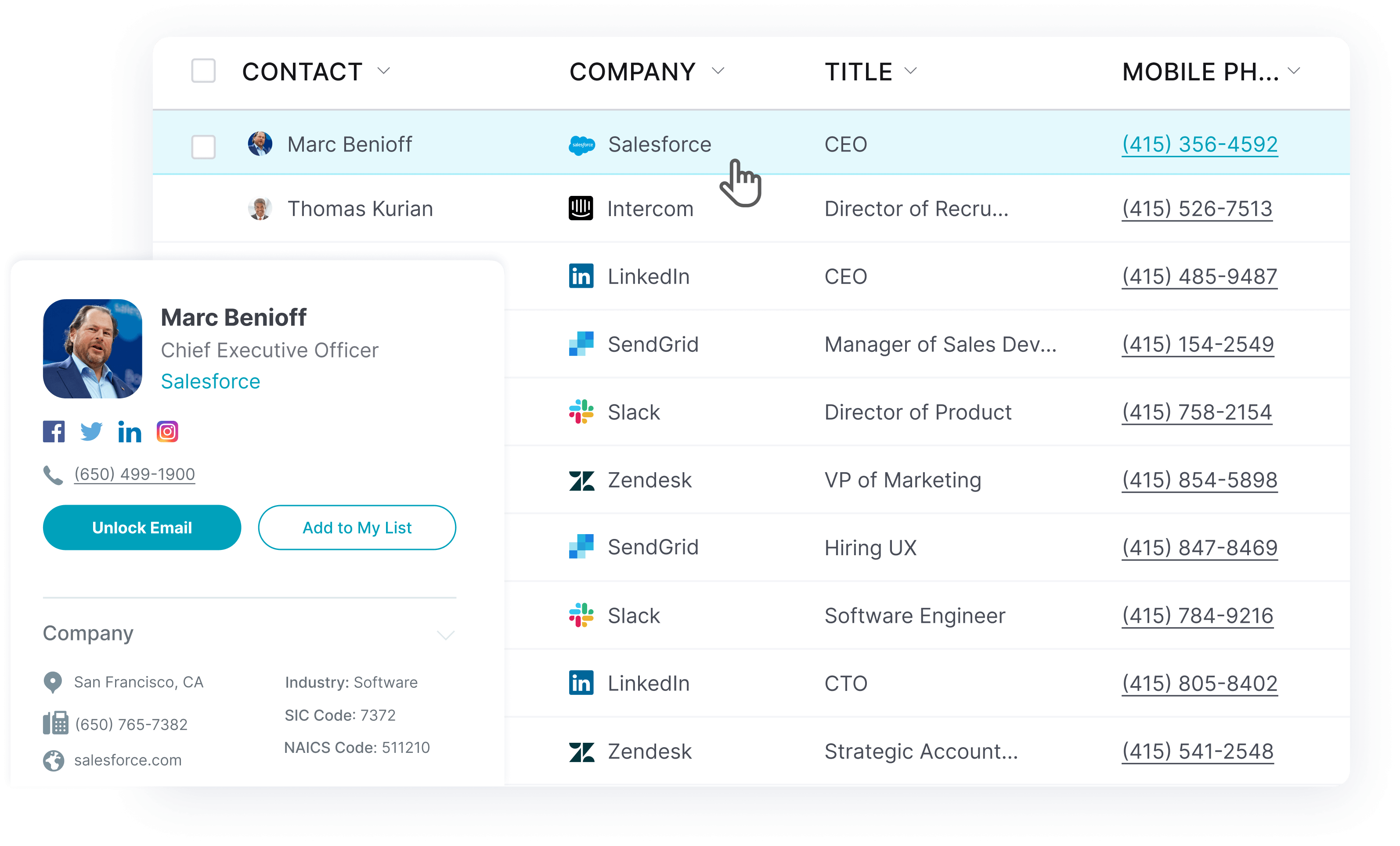 Seamless.ai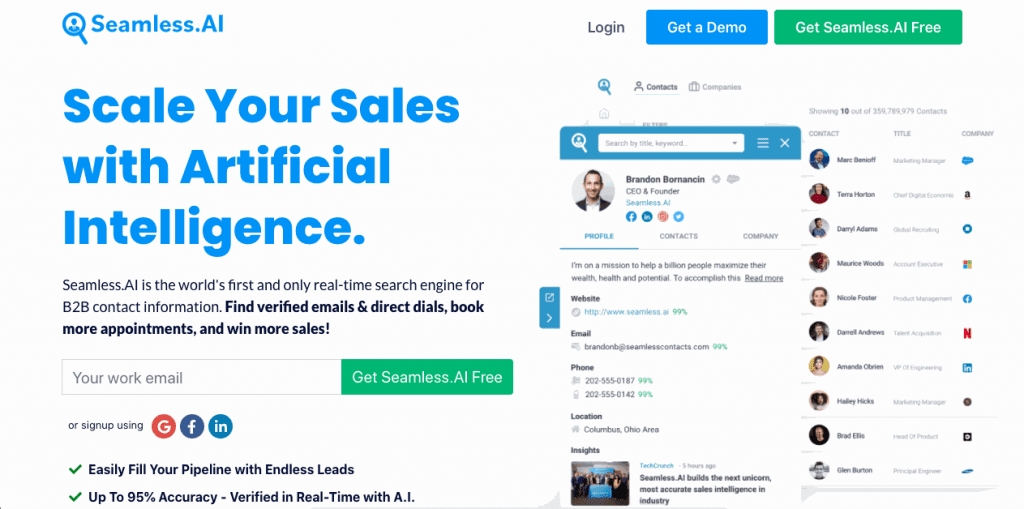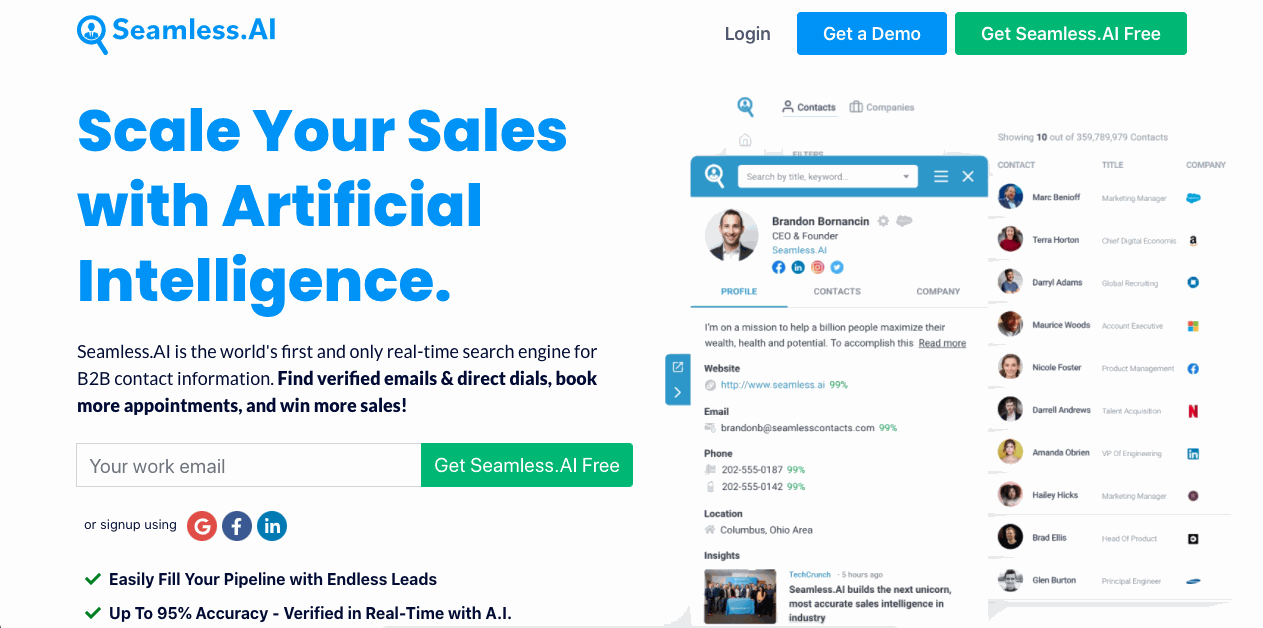 Seamless.ai is a real-time search engine that allows users to research companies and find data through a simple web search.
The platform doesn't offer users a database. Instead, it lets users browse online to find the information they're looking for through a lead's search engine.
The platform also allows users to verify the data they find in real-time with an AI engine. This verifies both emails and direct dials, which is good for users looking to populate their cold emailing and cold calling campaigns.
However, the pricing is higher than the industry average, especially for what ends up being a search engine dependent on what's online at the moment. Give us a try if you're looking for a Seamless AI alternative.
What makes it stand out as a company research tool
Here are a few points that stand out from Seamless.ai:
Unique lead search engine
Validates email addresses and direct dials
Claims an up to 95% accuracy
RocketReach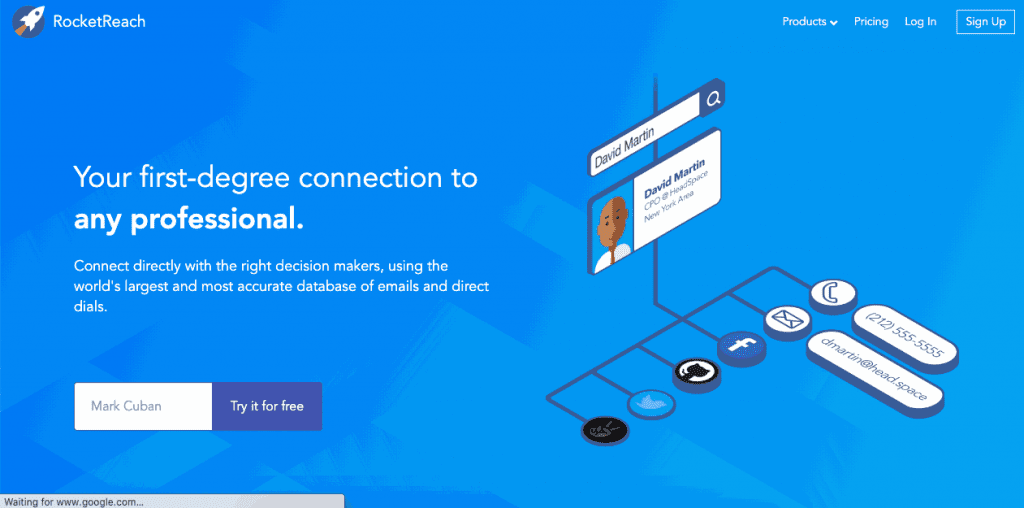 RocketReach is a company research platform based on a user database, with over 430 million contacts with both personal and company email addresses.
The platform allows users to search its database using advanced search tools and bulk lookups. It also has a Chrome extension that can be used to find leads' contact information as they need it when browsing the web.
What makes it stand out as a company research tool
Here are a few reasons why RocketReach stands out:
Large database
Multiple integrations
Limited free account
Here's a list of RocketReach alternatives.
SalesIntel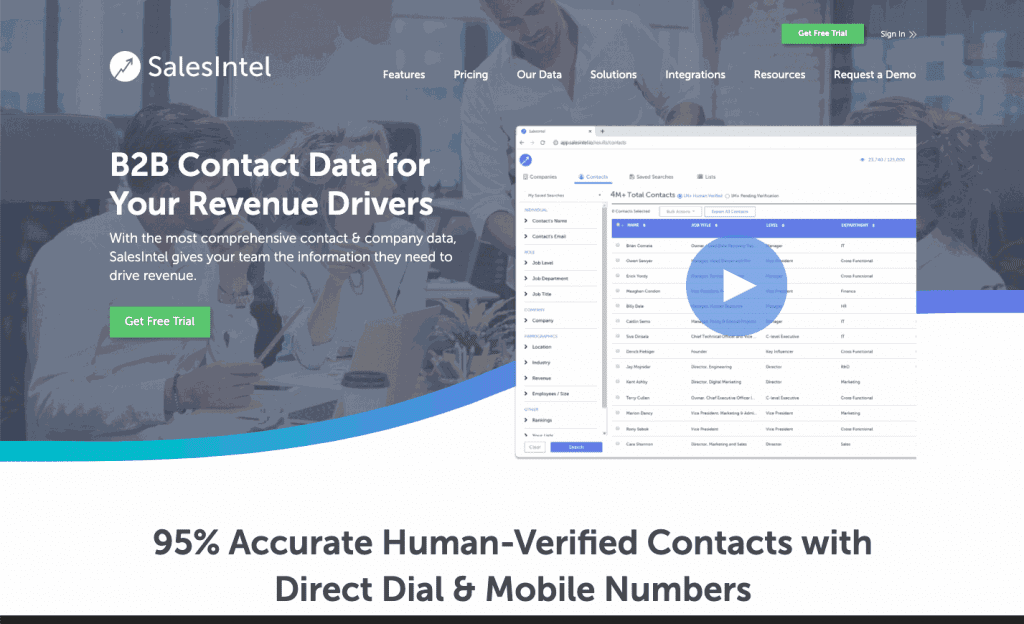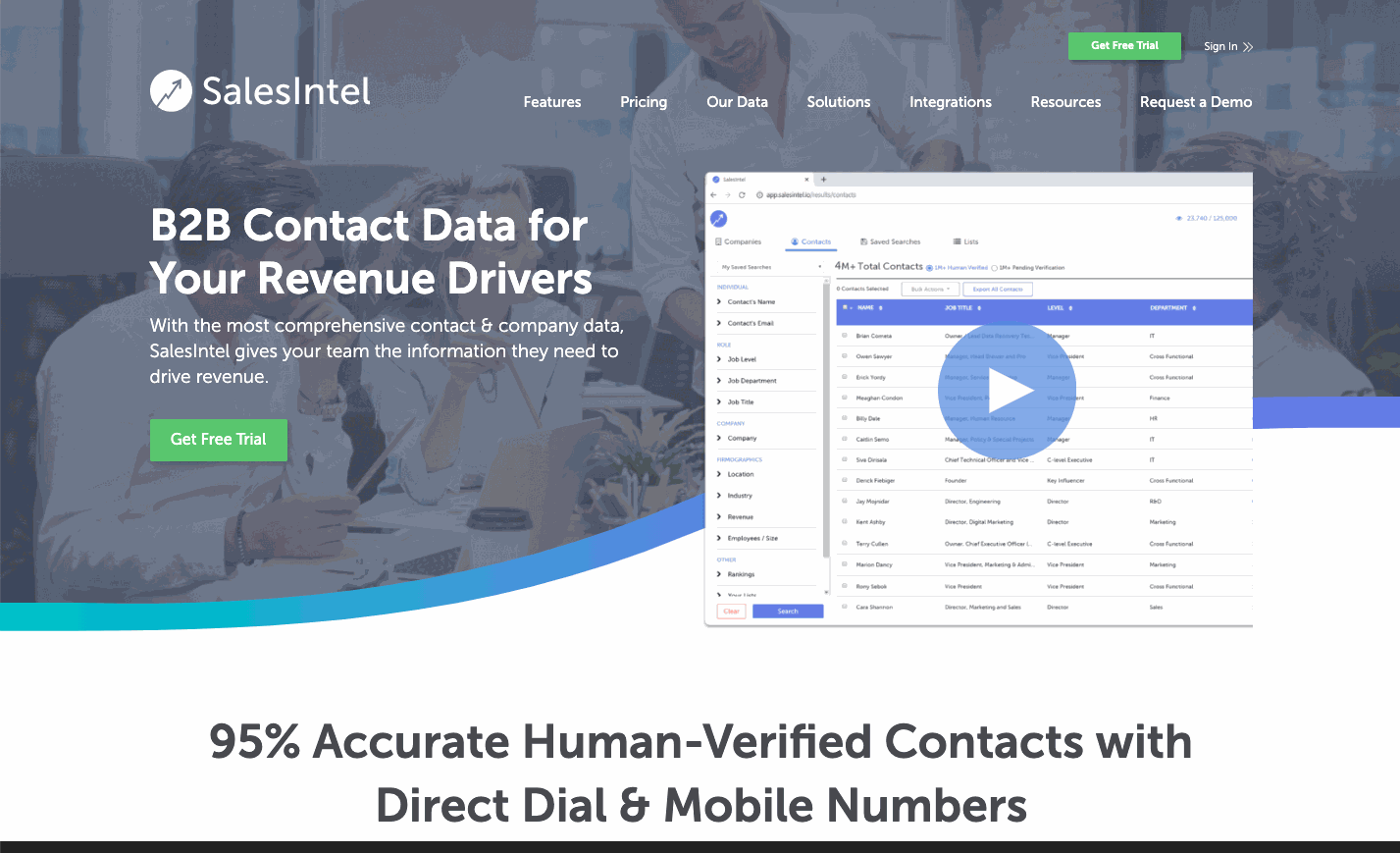 SalesIntel is another company research tool that allows you to retrieve the data users may need from other companies.
Besides its database, SalesIntel also offers users 95% accurate data, a large number of direct dial numbers, and data verified within the previous 90 days.
Its research on demand allows users to request specific information about any company, which gives users another chance to find information, albeit at an extra expense.
What makes it stand out as a company research tool
Here are a few reasons why SalesIntel stands out:
Research on demand to request specific missing information
Claims to have 95% data accuracy
Large phone number database
PureB2B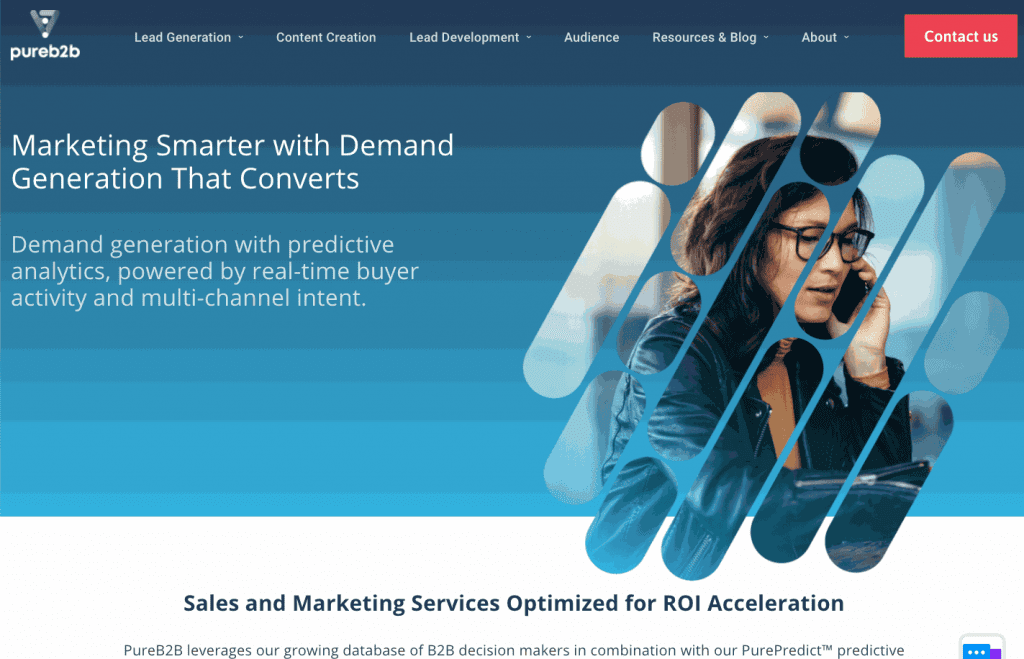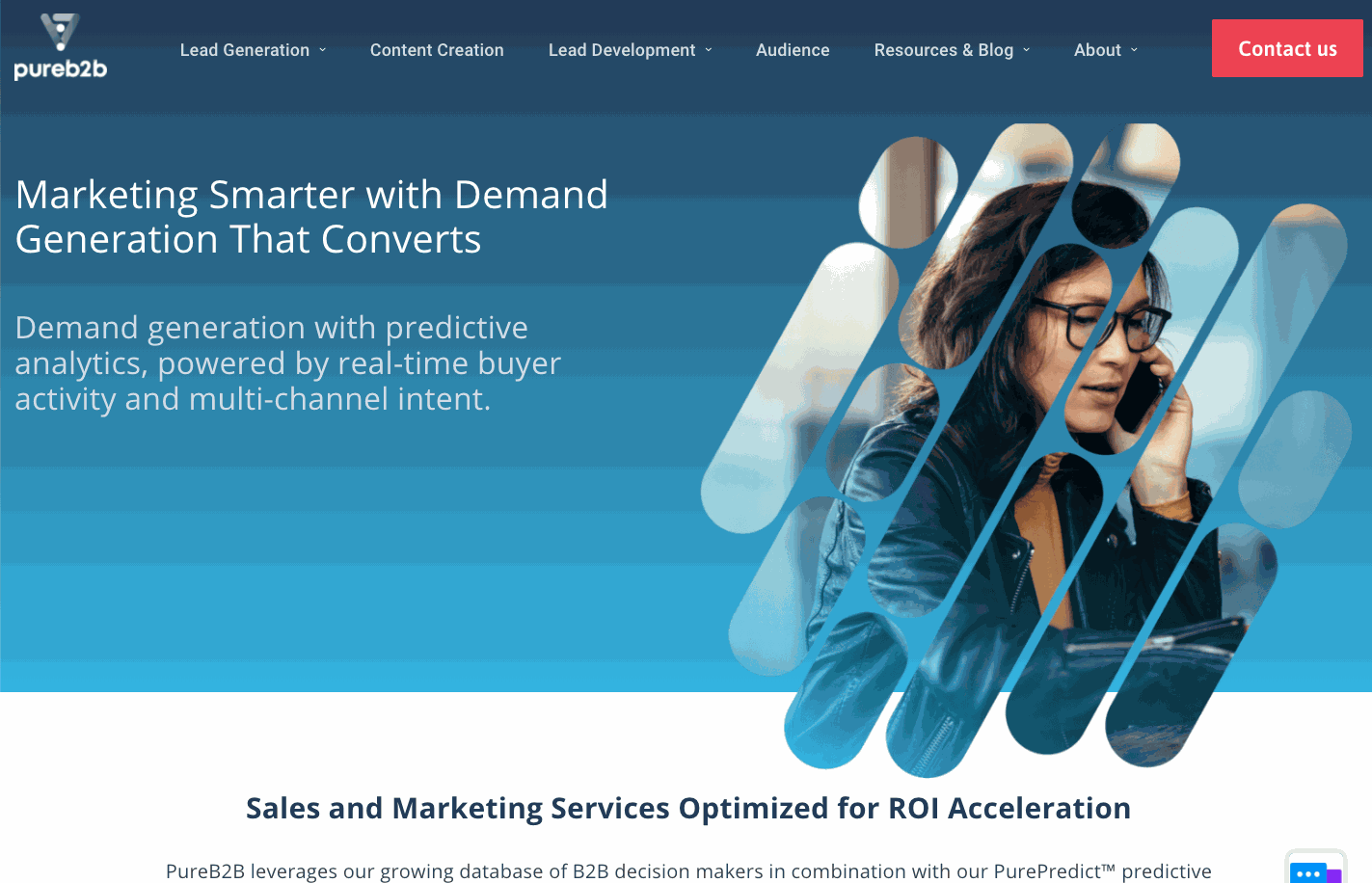 PureB2B offers users sales and marketing services, including lead generation.
Its lead generation services allow its users to access predictive technology to suggest new data points and help with lead generation based on their needs. The platform can also be used to increase buyer engagement through account-based marketing.
What makes it stand out as a company research tool
Here are a few details that make PureB2B stand out:
Capable of account-based marketing
Predictive technology for lead generation
Can integrate with the rest of its sales and marketing platform
DiscoverOrg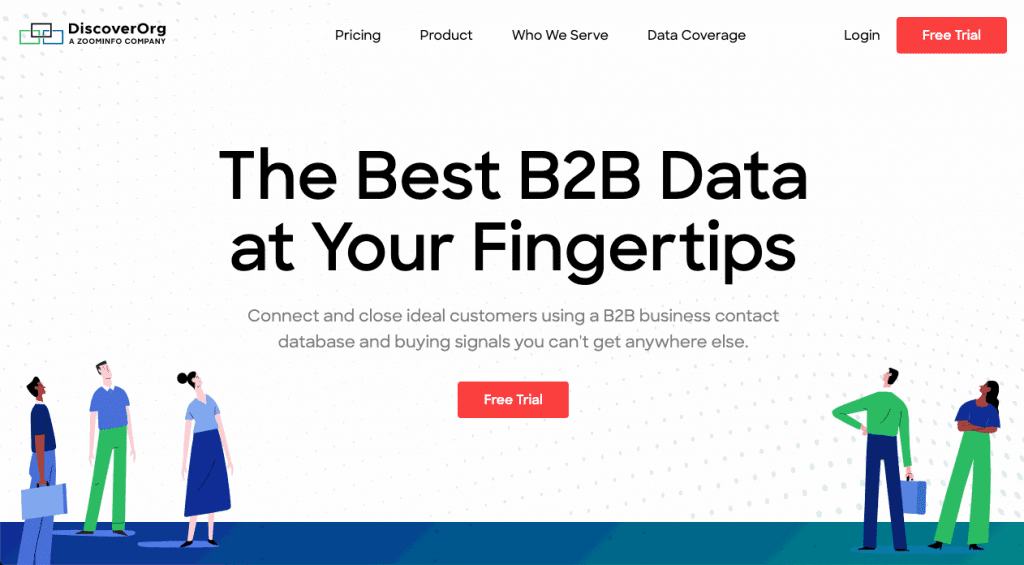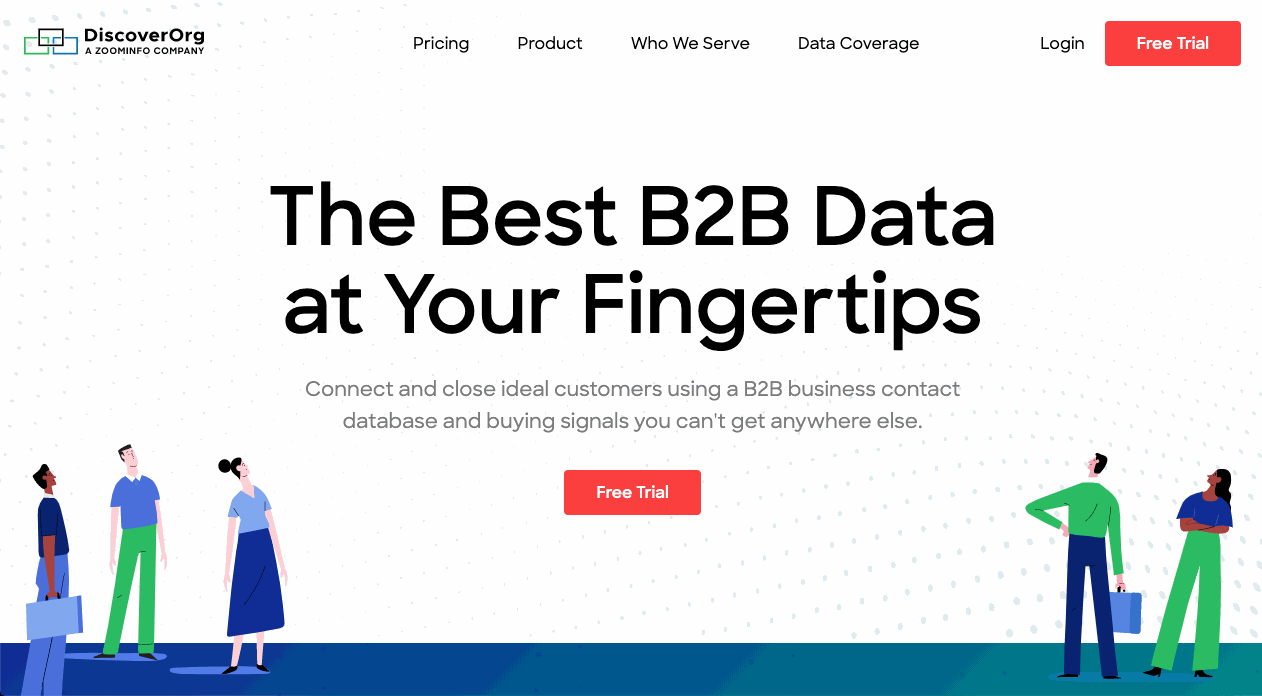 DiscoverOrg is a company research web app built to help users find and import companies and their data into their lead generation process.
The platform features multiple analytic and visualization tools that aim to help users multiply their information. The platform is effective and easy to use, but its prices seem to start at $20,000 per year, so it may not be accessible for smaller businesses.
What makes it stand out as a company research tool
Here are a few of DiscoverOrg's features that stand out:
Effective lead generation
Easier to use than other data generation platforms
Produces reliable data
Check out some Discover.org alternatives here.
ZoomInfo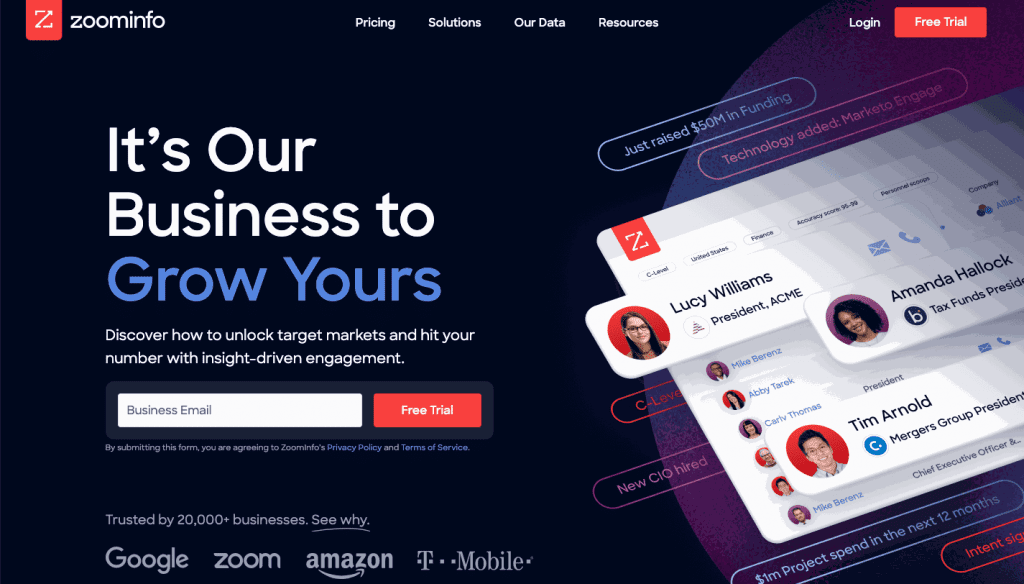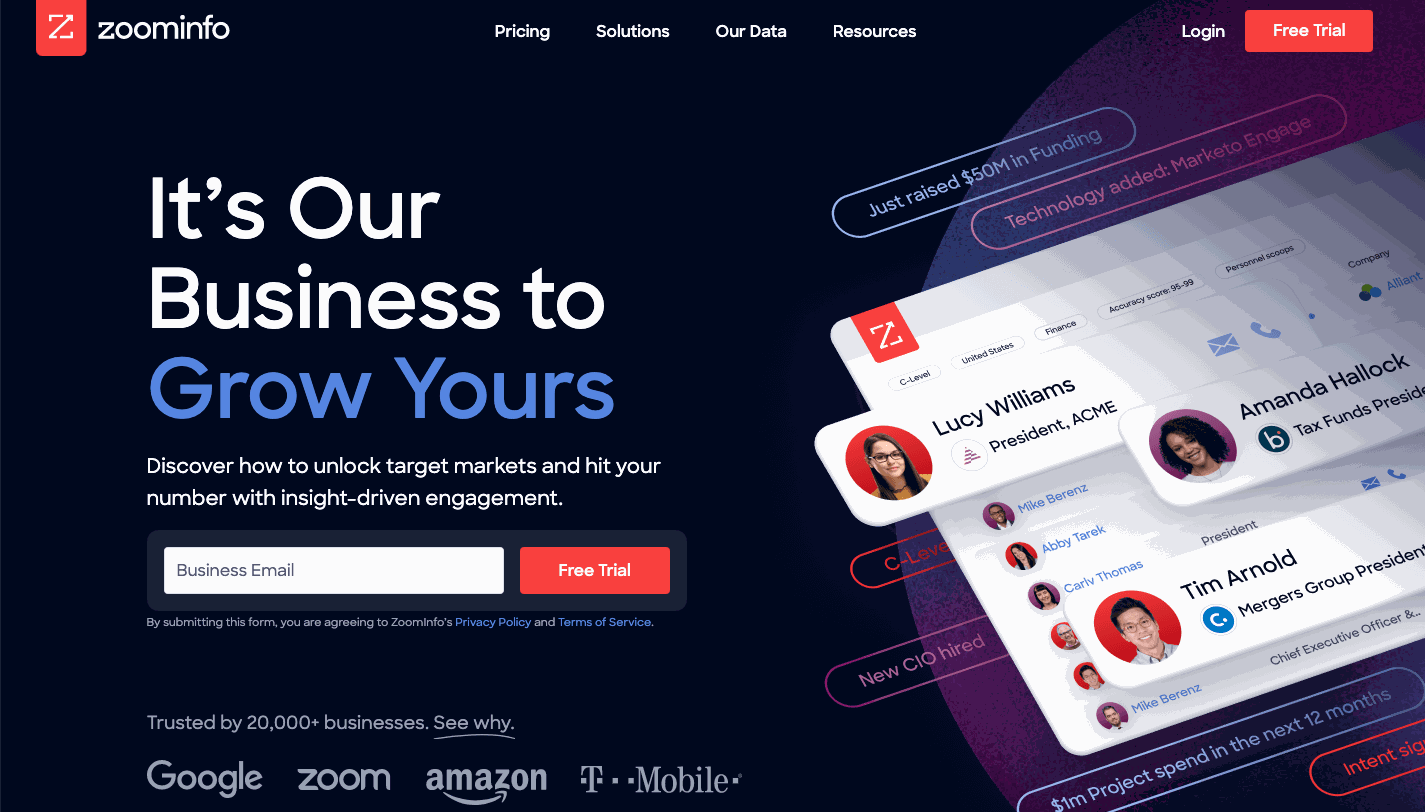 ZoomInfo is another business database that users can extract company data from. The database is built through AI crawling the web and filing company data, and it features over 14 million companies.
Customers can use over 200 data points to research companies and find relevant data. However, with reports placing ZoomInfo's starting prices at $10,000 per year, it may not be ideal for smaller businesses.
What makes it stand out as a company research tool
Here are a few of ZoomInfo's best features:
Can enrich existing databases
Quality sales automation features
Multiple integrations
If you want an affordable Zoominfo alternative, give us a try.
Prospect.io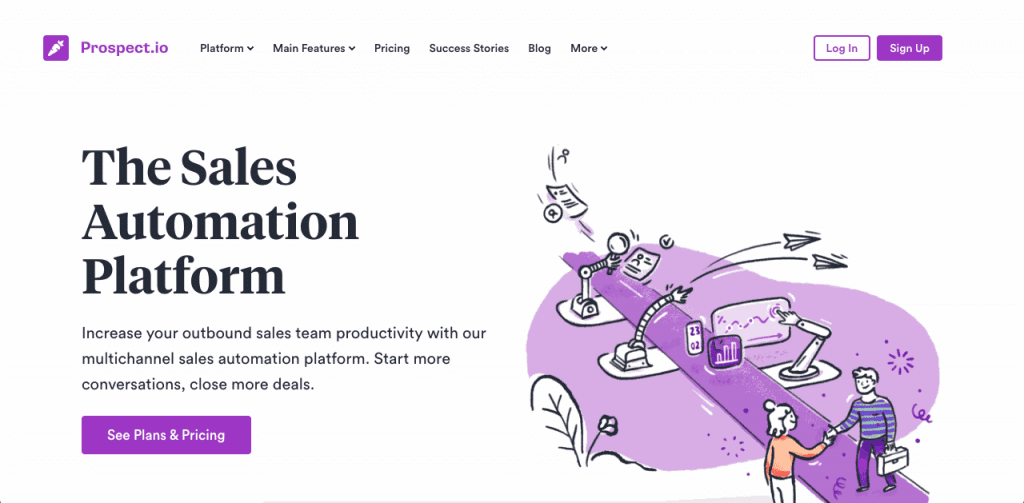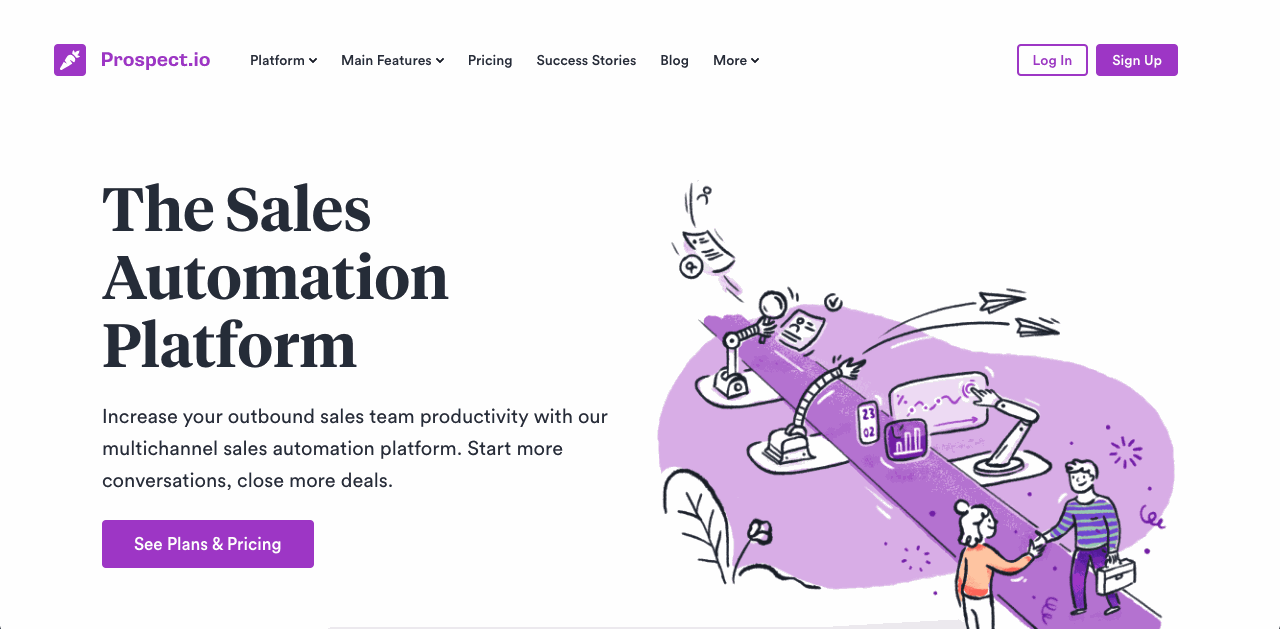 Prospect.io's email finder allows users to find company emails online. As a part of a sales automation platform, users can quickly transform those email lists into email marketing campaigns.
The platform allows for both individual and bulk searches and features an email verifier to validate emails as they're found.
What makes it stand out as a company research tool
Here are a few of Prospect.io's best features:
Email search API for personalized email generation
Chrome extension for lead generation online
Multiple sales automations
Datanyze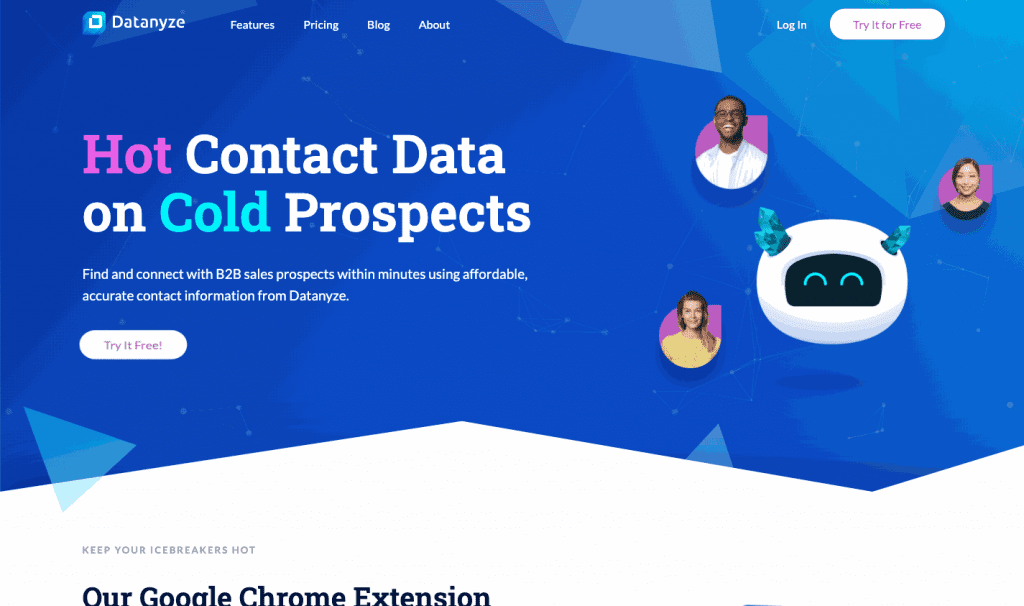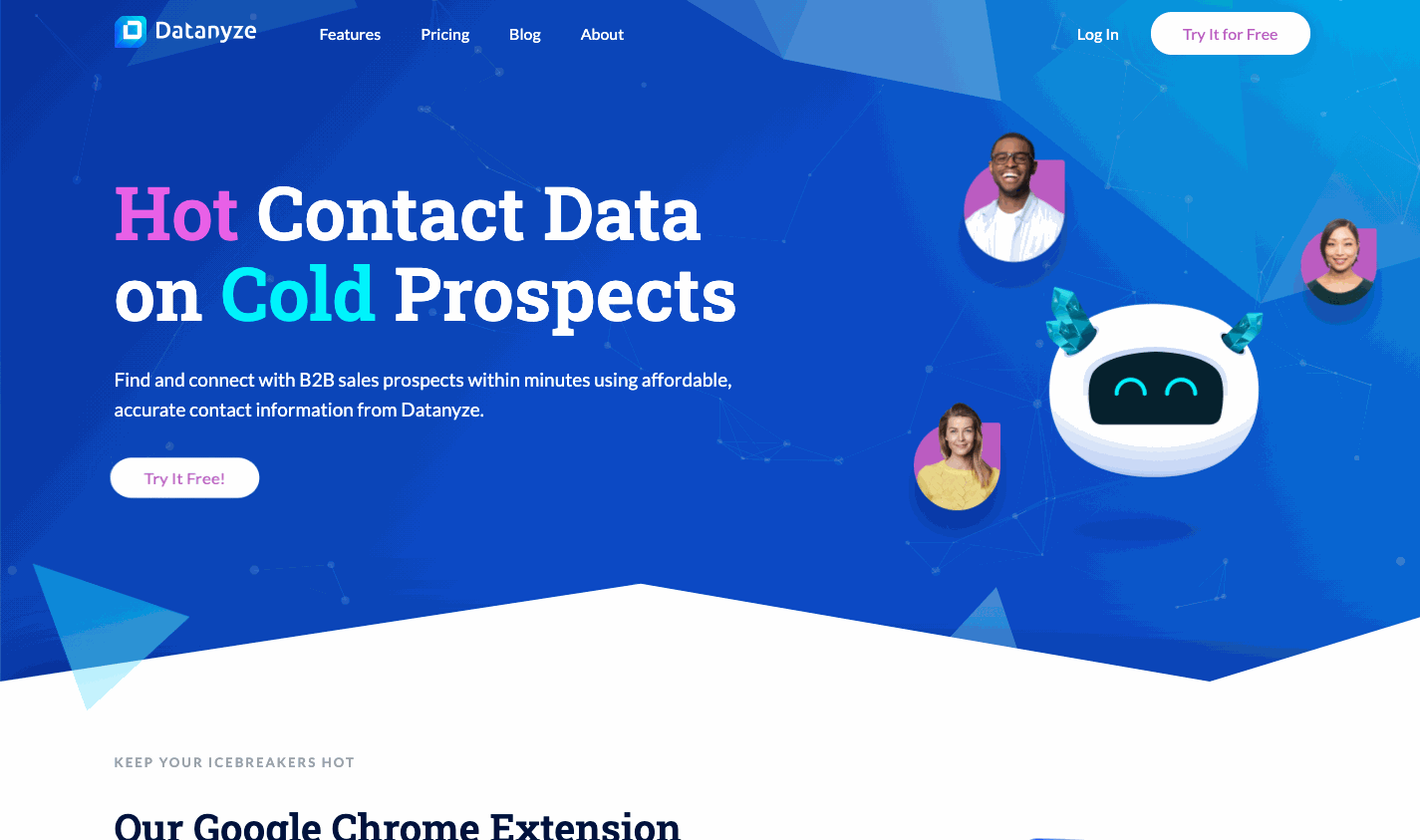 Datanyze offers users a browser plugin for conducting market research by looking up email addresses when users highlight a name online.
The platform also has over 120 million user profiles, and they claim that all have been collected ethically. Although it's a very simple tool, it's priced accordingly so that it may be useful as a backup or complementary tool.
What makes it stand out as a company research tool
This is what makes Datanyze stand out:
Free limited account
Simple Chrome extension
Easy to use
Lusha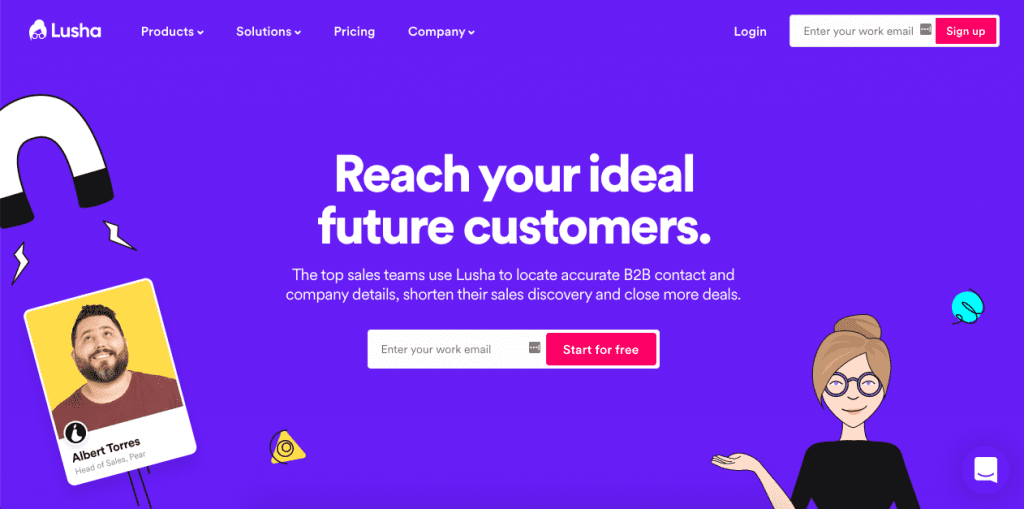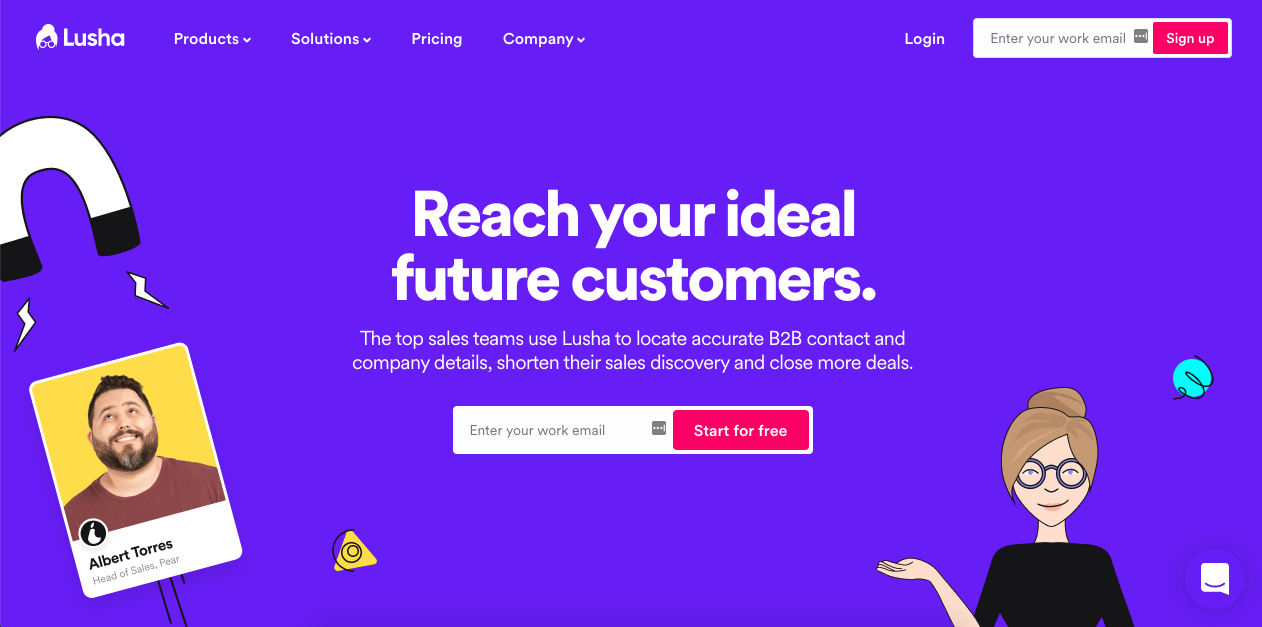 Lusha is another business database that allows users to find company data, like email addresses and phone numbers, through an eye-catching UI.
The platform integrates with Salesforce, LinkedIn, and Twitter and has an API to integrate with other tools manually.
Users may find both company emails and personal email addresses on the platform. Lusha has many competitors but brings a unique UI to the market.
What makes it stand out as a company research tool
Here are a few of Lusha's standout features:
Limited free account
Simple UI
Can find personal data
LeadIQ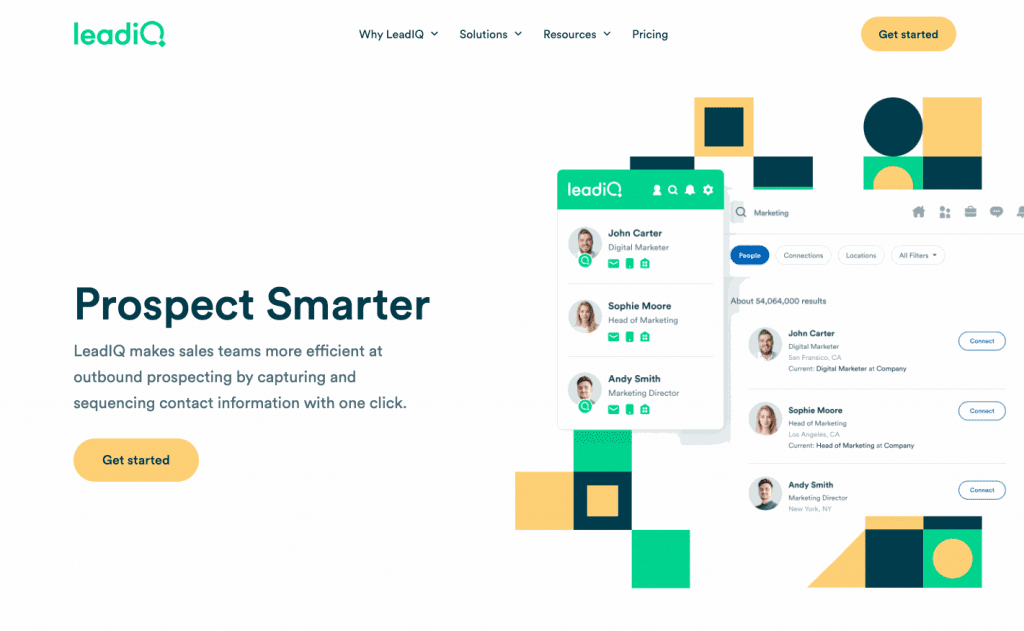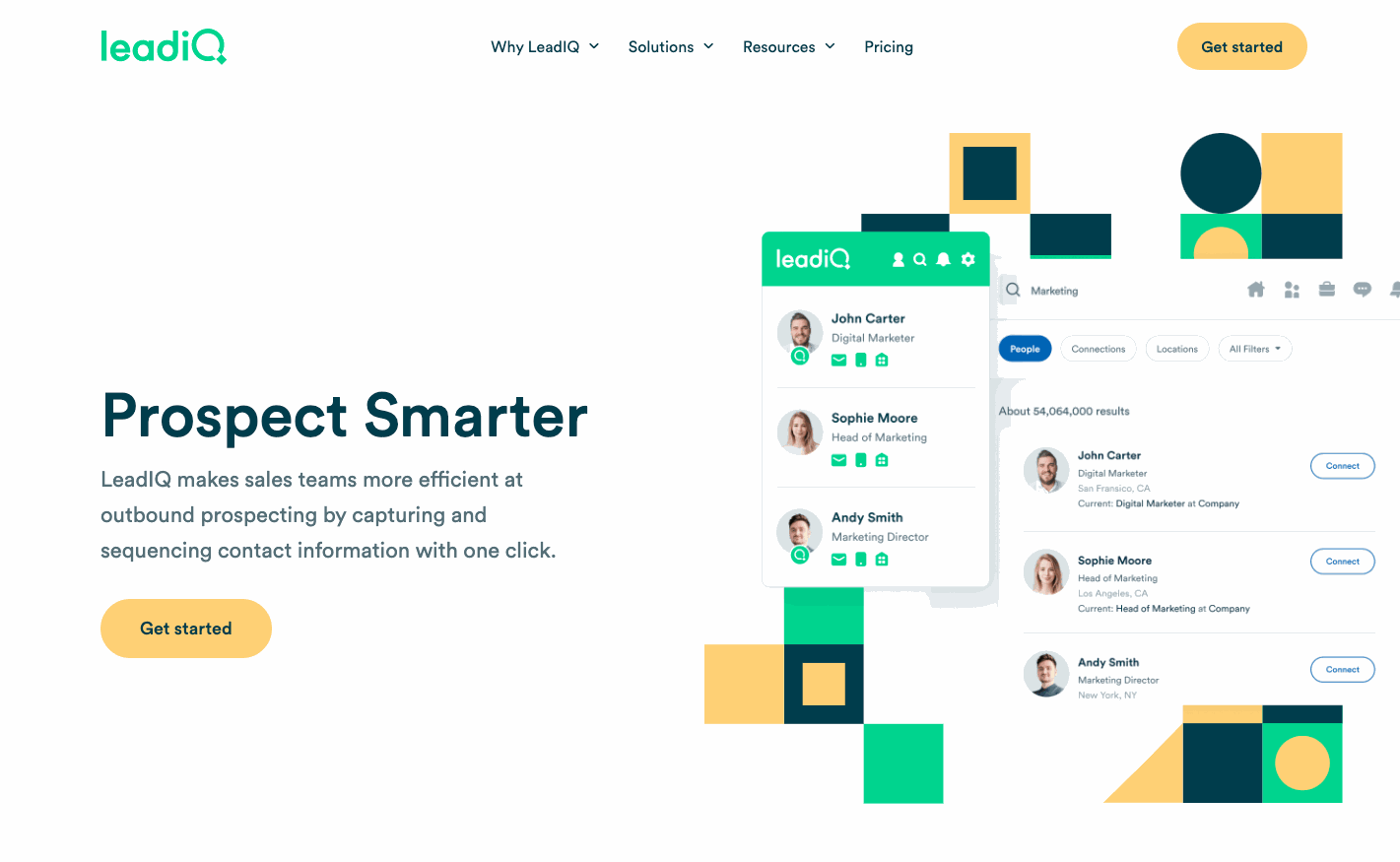 LeadIQ is a company research tool that offers users access to a platform with over 100 million contacts and verified emails.
The platform also has prospecting workflows to help users find the company data they're looking for and uses visually attractive analytics to express the data.
With LeadIQ, users can identify companies, narrow them down using LinkedIn's filters, and route the contacts as users find them.
What makes it stand out as a company research tool
Here are a few of LeadIQ's best features:
Visual analytics
Job change notifications
Data enrichment capabilities
Data Axle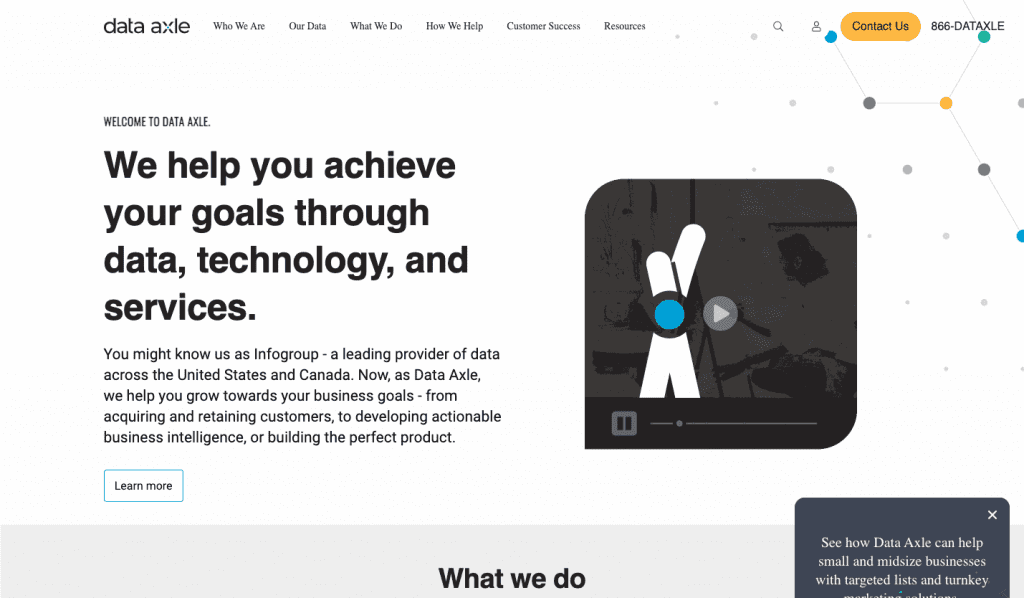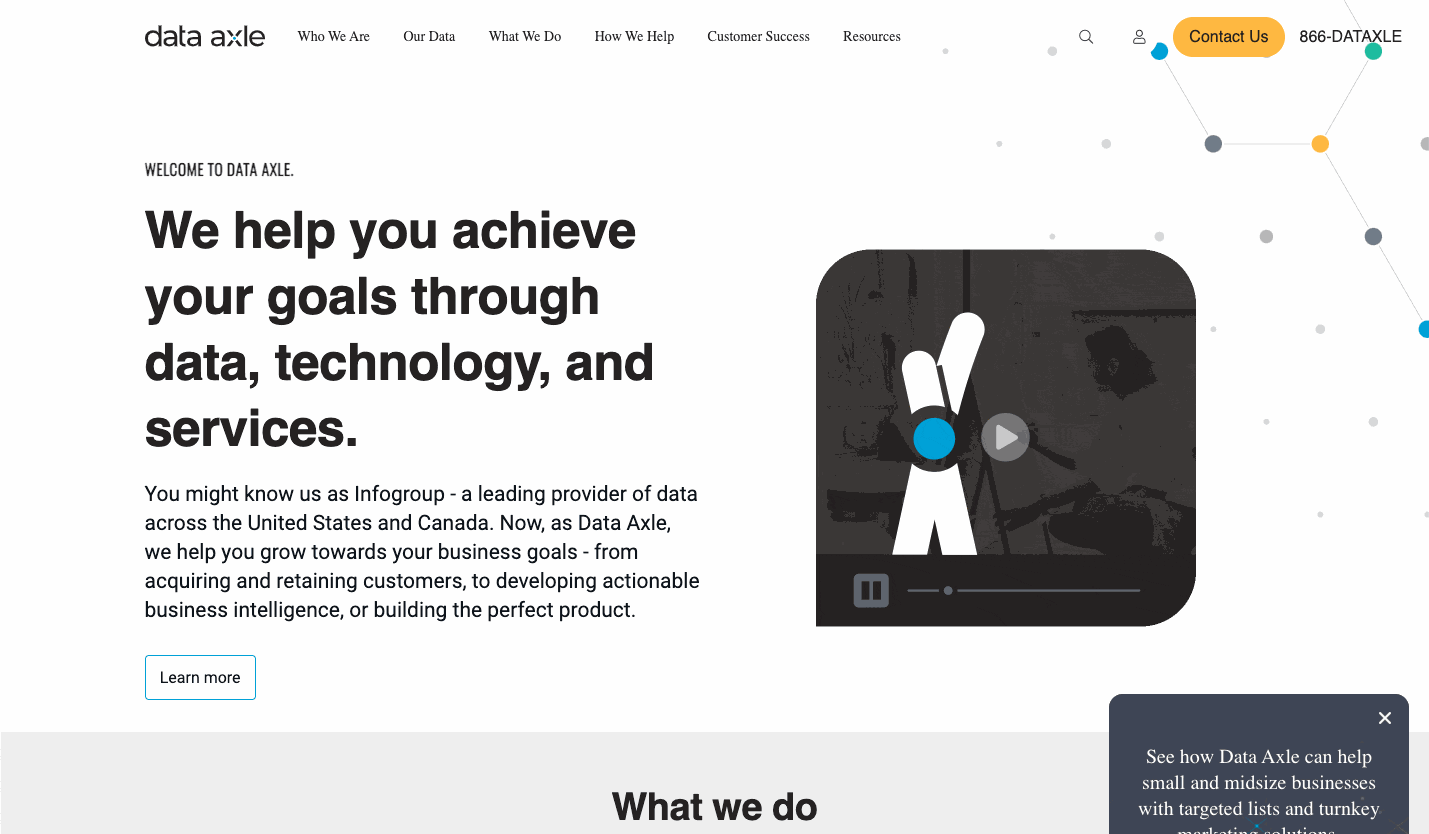 Data Axle has a business data service that lets users access over 75 million B2B contacts and filter them using over 275 business attributes. These attributes can be used to narrow the search for business data into what is most relevant for the business.
The platform claims to have a complete view of almost every business in the USA and Canada, including details such as their physical address, online presence, and more useful data points.
What makes it stand out as a company research tool
Here are a few of Data Axle's top features:
Large USA and Canada database
Multiple data points
Offers data validation and enrichment features
Exact Data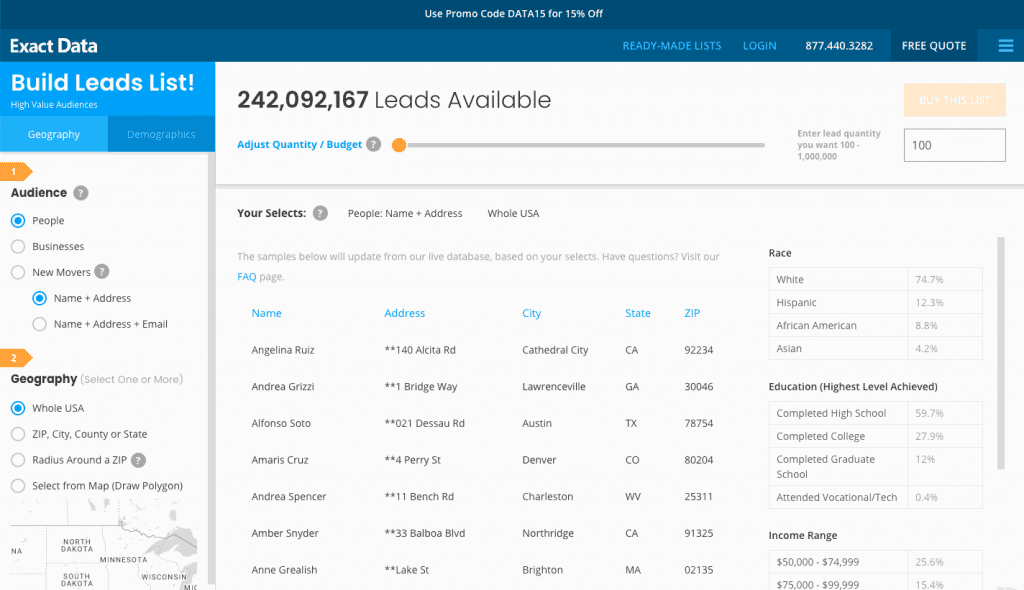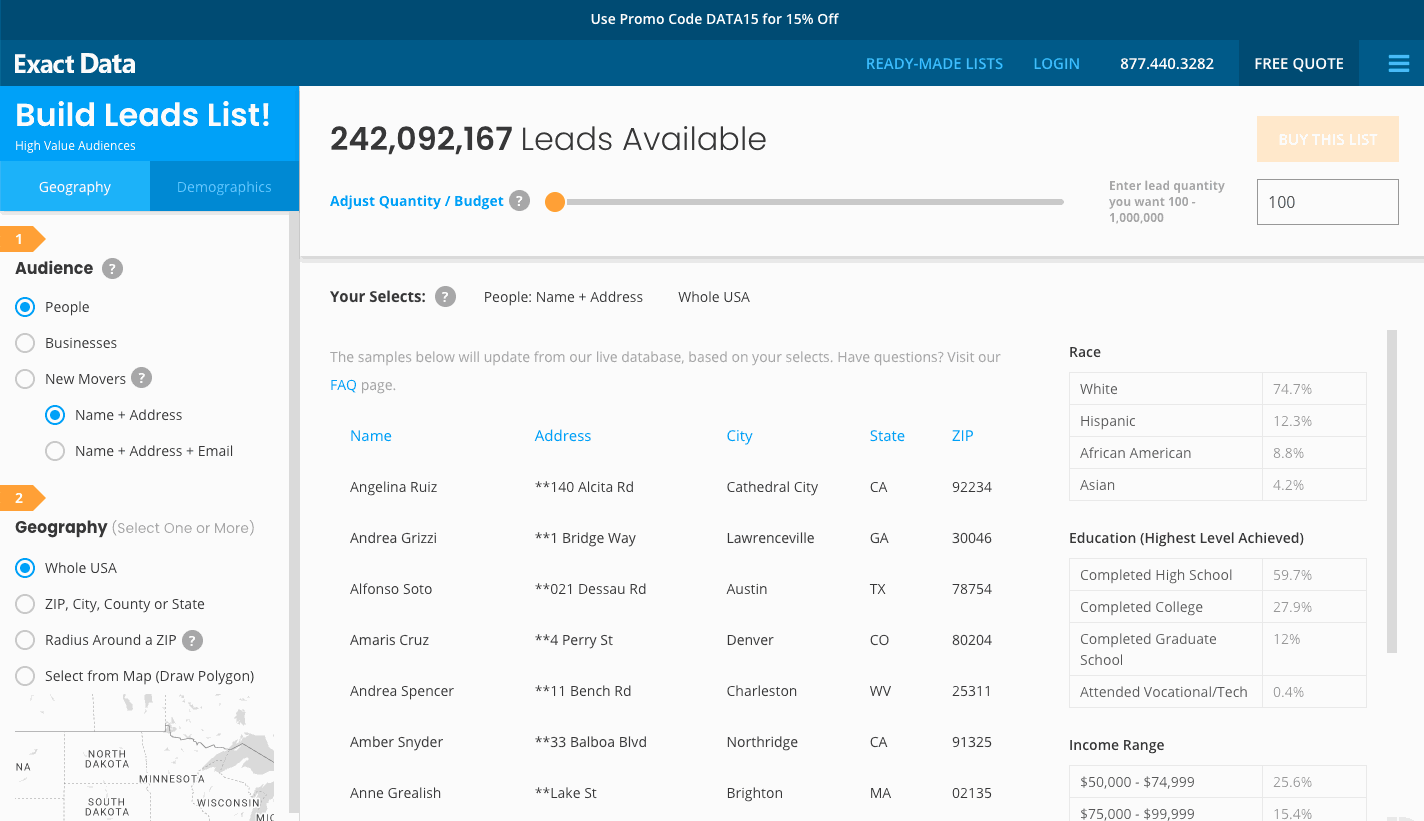 Started in 1999, Exact Data claims to offer users hundreds of millions of consumer and business data points for marketing purposes.
It's one of the few platforms listed here that offers data on individuals as well as B2B data. The platform also claims to continuously cycle its information through a series of filters to keep it fresh and up to date, although it doesn't seem to indicate just how often it does this.
What makes it stand out as a company research tool
Here are a few stand-out features from Exact Data:
Data enrichment capabilities
Offers both B2B and B2C information
Claims to have a large database
Apollo.io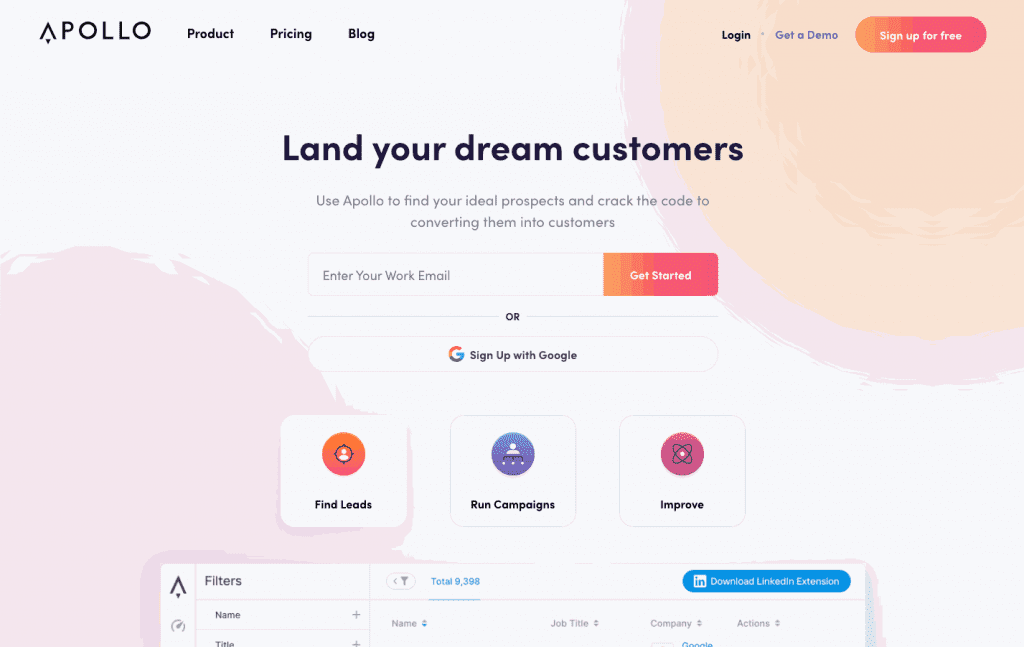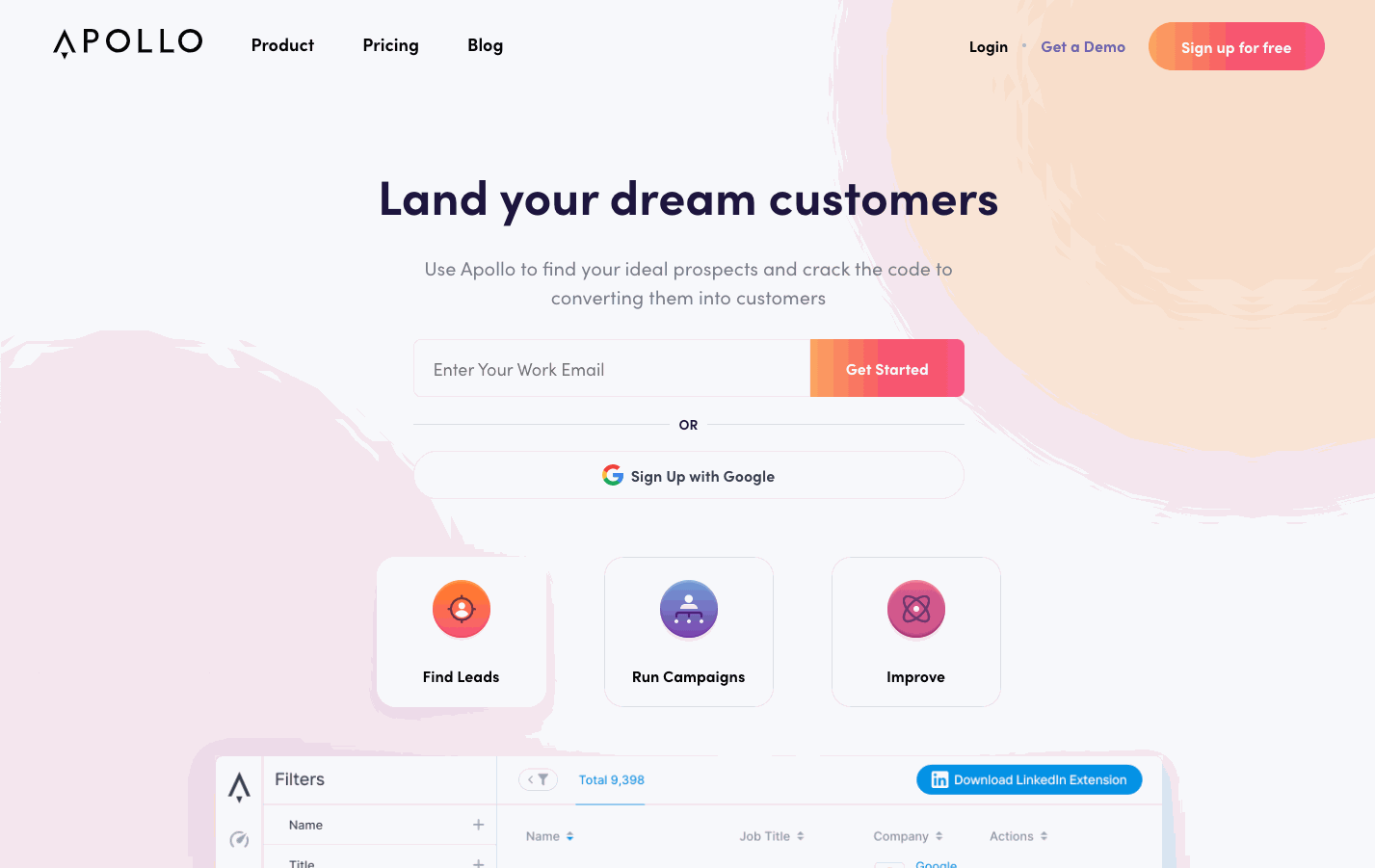 Apollo.io offers users to access its database and filter its data through over 200 data points.
The platform also helps users find information as they browse LinkedIn through its Chrome extension, which connects to its database and automatically searches for LinkedIn users' information.
It also features an AI that scans the database to suggest contacts deemed likely to complete a purchase proactively. Check us out if you want a solid Apollo alternative.
What makes it stand out as a company research tool
Here are a few stand-out features from Apollo.io:
LinkedIn Lead Generation through Chrome Extension
Proactive data suggestions
Sales automation capabilities
Hunter.io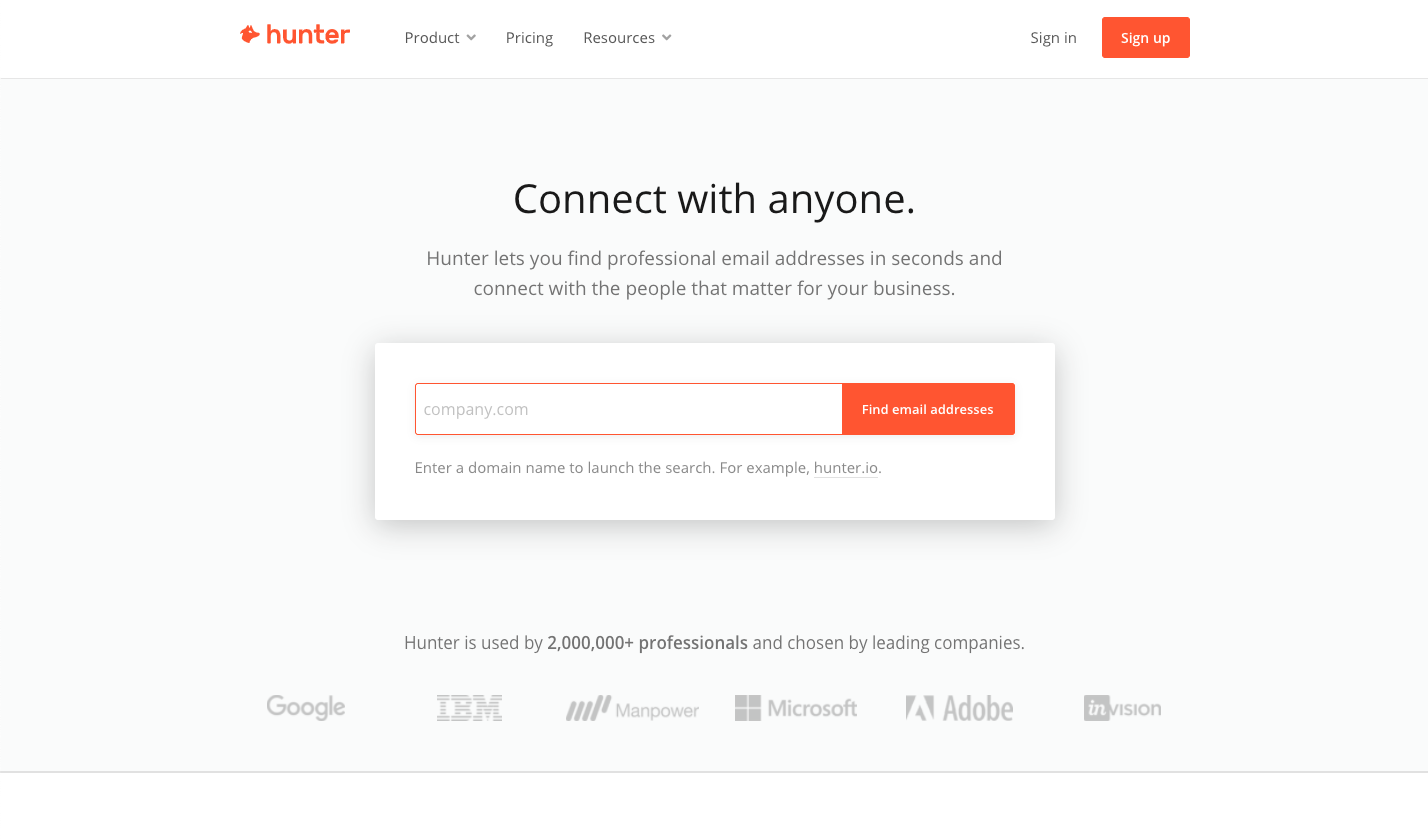 Hunter is another company research tool with a high-quality business database that helps users find relevant B2B data.
The platform can also be used to verify data and update contact info with verified email addresses and professional information.
However, it doesn't seem to offer any data accuracy guarantee besides email verification. Instead, it sells users bulk emails with a "confidence score," rating the quality of the email.
What makes it stand out as a company research tool
Here are a few of Hunter's features that stand out:
Multiple lead generation techniques
Email verification
UpLead is a great and very affordable Hunter io alternative.
Company Research Tools' FAQs
What does company research consist of?
Company research consists of looking for relevant business data from potential leads from your target market. You can use market research tools to research your target audience to aid your efforts.
What is a company research software?
A company research software helps users conduct market research to find valuable data such as job titles and technographic information or a company's industry and contact information.
What should you look for when researching a company?
The most important data is the relevant decision-makers name and contact information. That's why market search tools are extremely helpful. They narrow down the data so you can easily find potential customers through their basic information and validate them through further company data.
How can you research private companies?
The easiest way to research private companies and small businesses is to aid your efforts with a market research tool. Market research tools like UpLead help you find relevant, high-quality data for your lead generation purposes.
How much does a company research tool cost?
Although some market research tools can cost thousands of dollars annually, UpLead allows you to find company data at just $99 per month.
Can I research a company for free?
Yes, some market research tools allow you to find company information with a few limited searches per month. You can also use free tools like Google Trends to identify market trends or search social media to find users' contact information.
Company Research Tools: Conclusion
Company researching tools allow you to streamline your research efforts, making it easy to find the B2B data needed for your sales and marketing efforts. With a good market research tool, you can find validated, accurate data, so you know you're not spending money on old data and leads that go nowhere.
Take advantage of UpLead's affordable pricing and high-quality data, and start your company research efforts with UpLead.