An email marketing campaign can be 40 times more effective than a social media campaign. To successfully run an email marketing campaign, you need a targeted email list that helps in usable lead generation and increases sales.
In this comprehensive guide, we will tell you how to build and buy a targeted email list for new customer acquisition.
Quick Links:
What Is a Targeted Email List?
Email marketing is a great way to send your new customers important information about your business, upcoming sales and launches, etc.
A targeted email list is an email database that includes the personal information of your target audience. This could include potential customers who are interested in what you offer, or returning customers. It is like getting the business cards of new customers who are guaranteed to buy from your business.
But in a hyper-competitive world, it is no longer enough to build or buy email lists. You can shoot off emails to random email addresses to increase sales, but they will not be very effective.
You need a targeted email list that helps you reach your exact audience. That way, you can get targeted sales and not end up in the spam folder of potential customers.
Where to Buy (and Build) Targeted Email Lists
The rising need to quickly reach your targeted audience has led to many email list providers who promise to give you targeted email marketing lists that will help you reach new clients.
Here we give you a selection of reliable email list providers to build and buy targeted email lists that you can use to improve your conversion rate and reach new audiences.
UpLead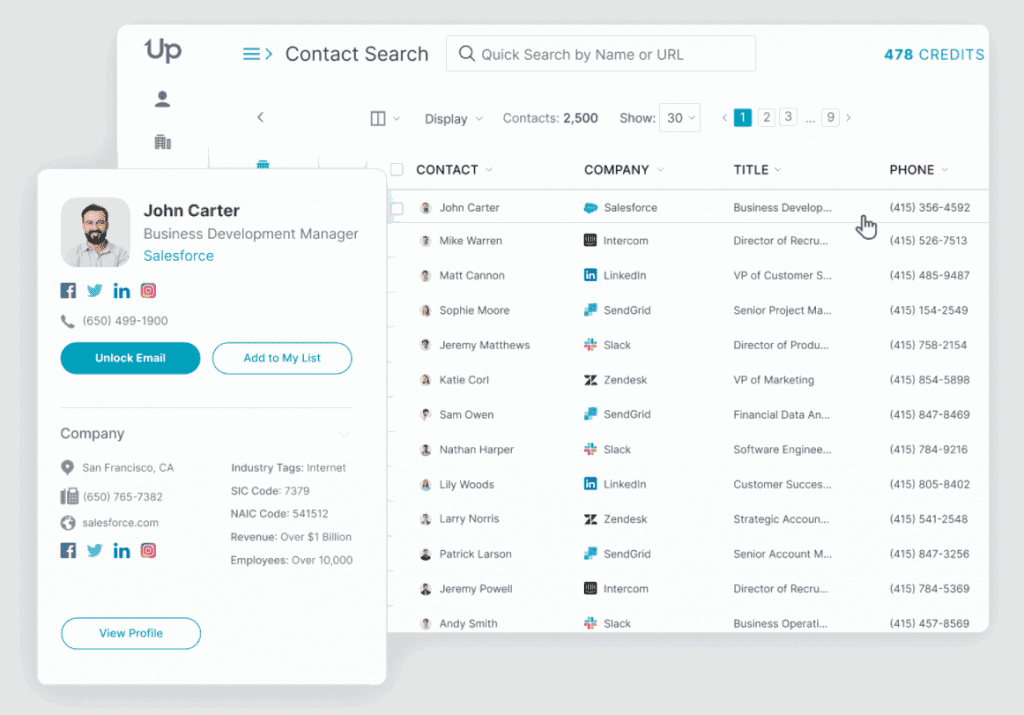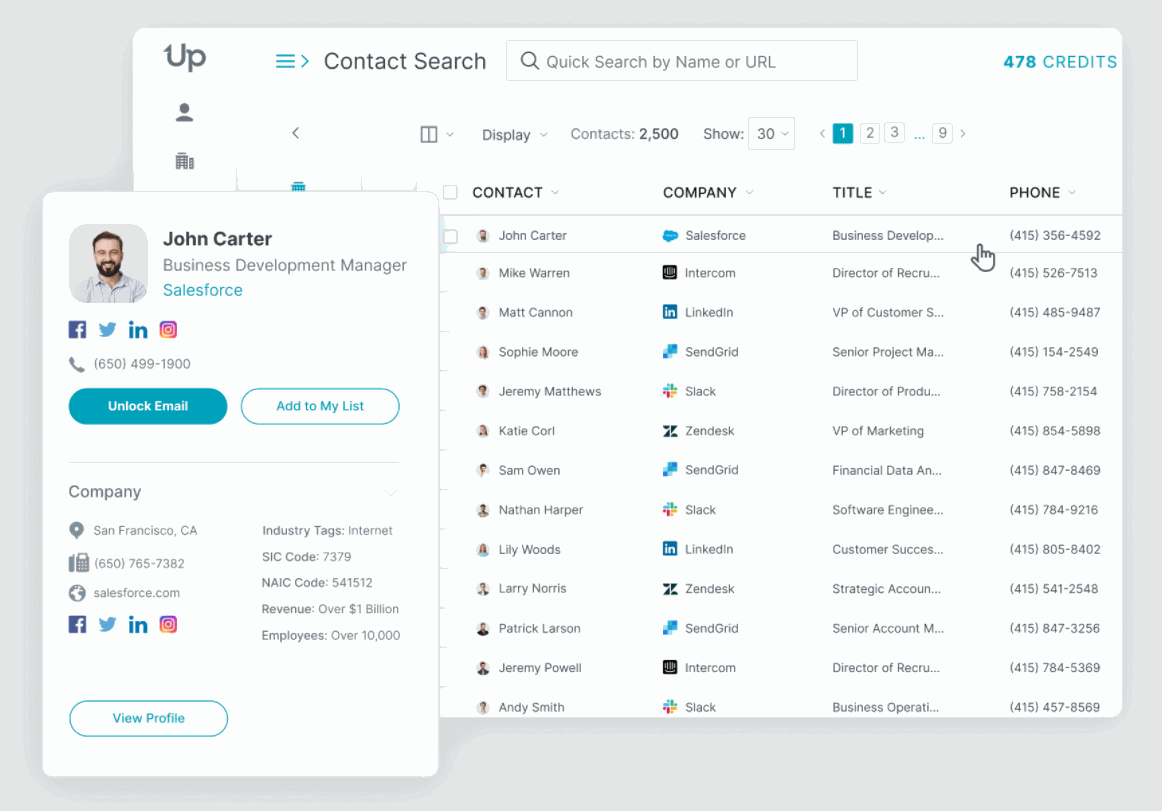 UpLead is a powerful email list provider that gives you access to high-quality, accurate data that is personalized and up-to-date at affordable prices. You can get over 62 million B2B qualified contacts and their verified email addresses (including, for example, those of realtors) and more than 14 million company profiles to whom you can send targeted emails.
Here's how to build a B2B list with UpLead: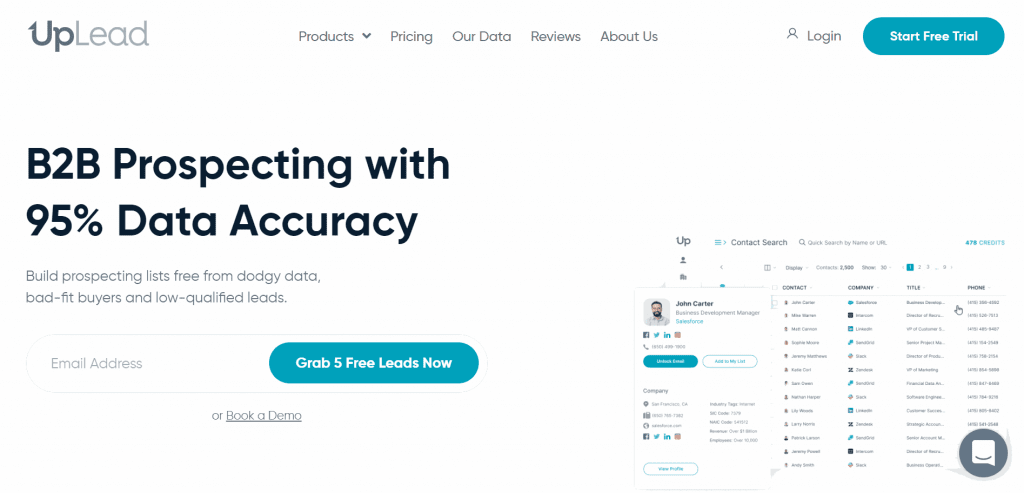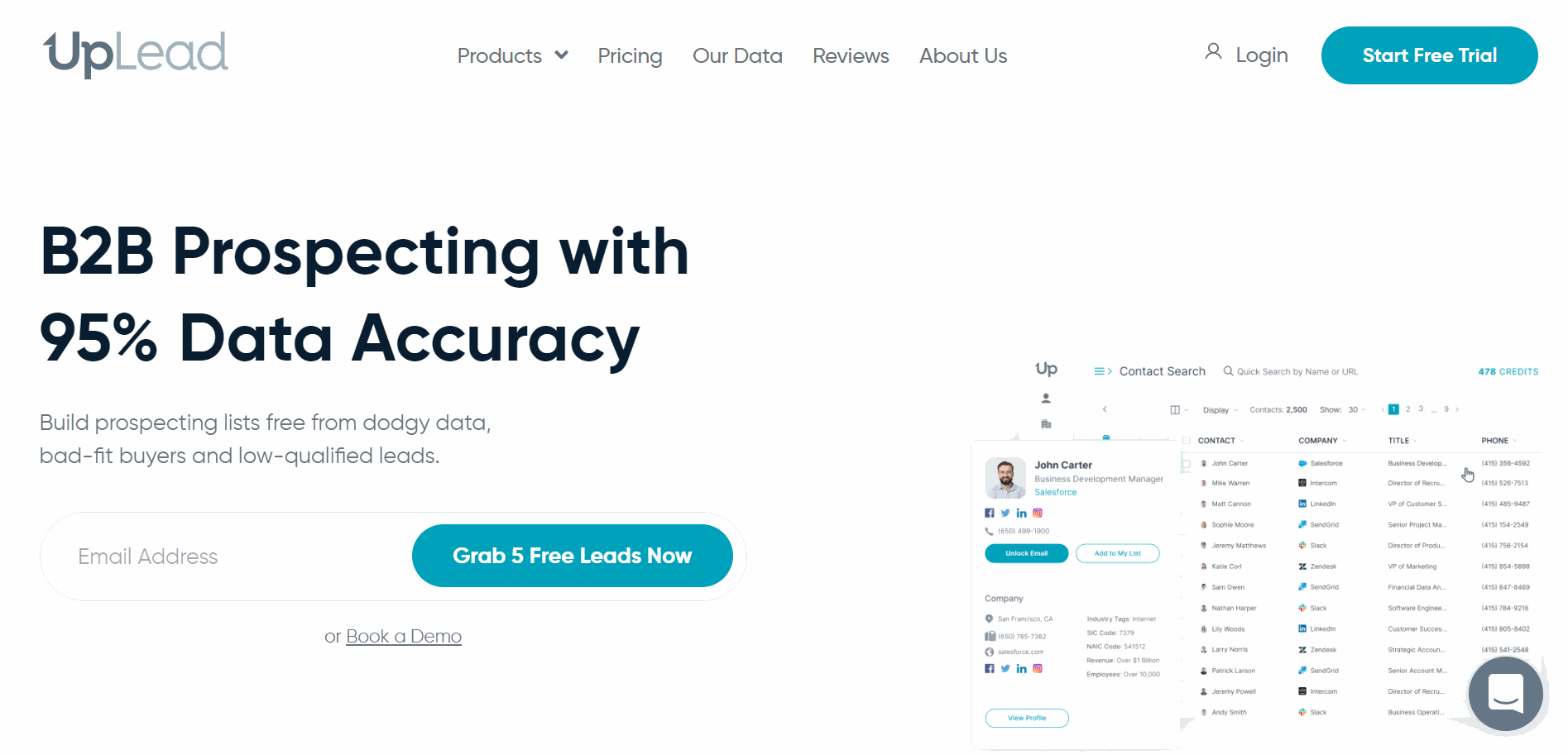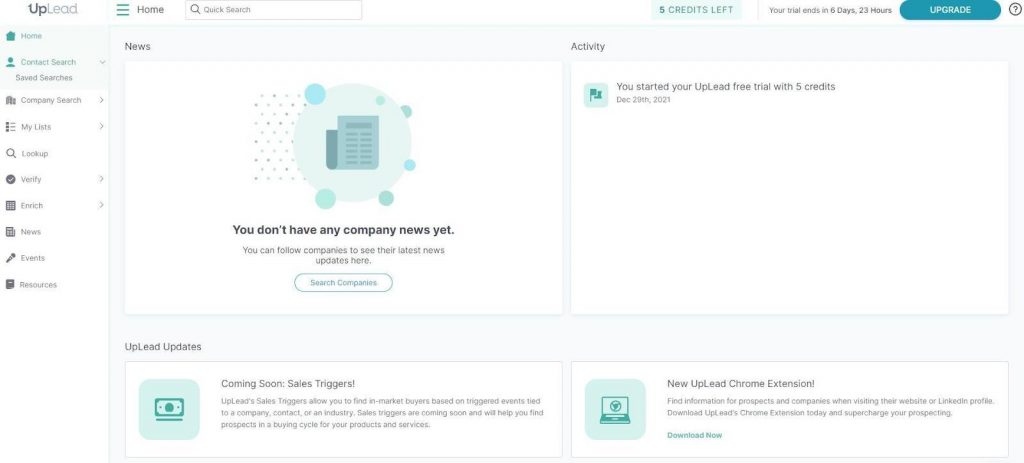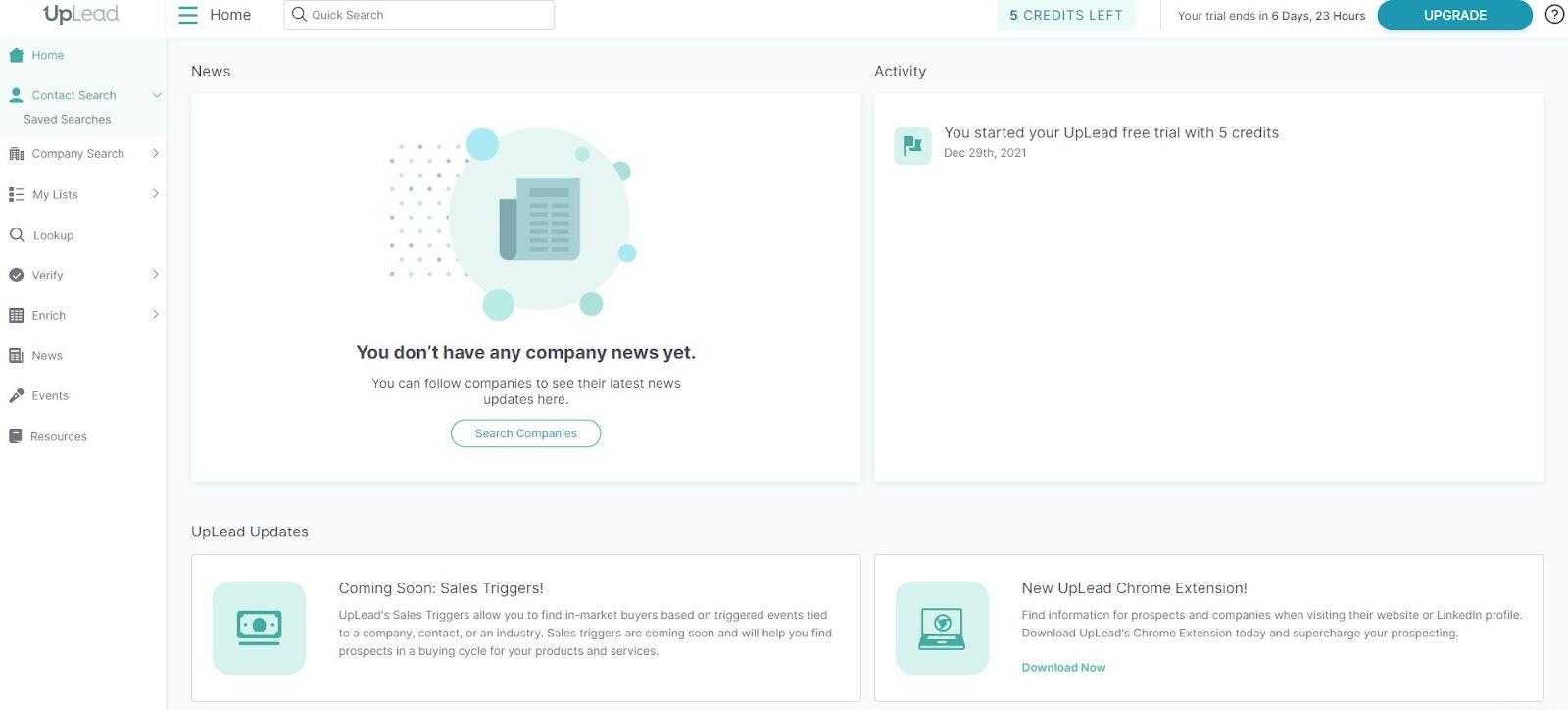 Enter your search terms using the left-hand panel.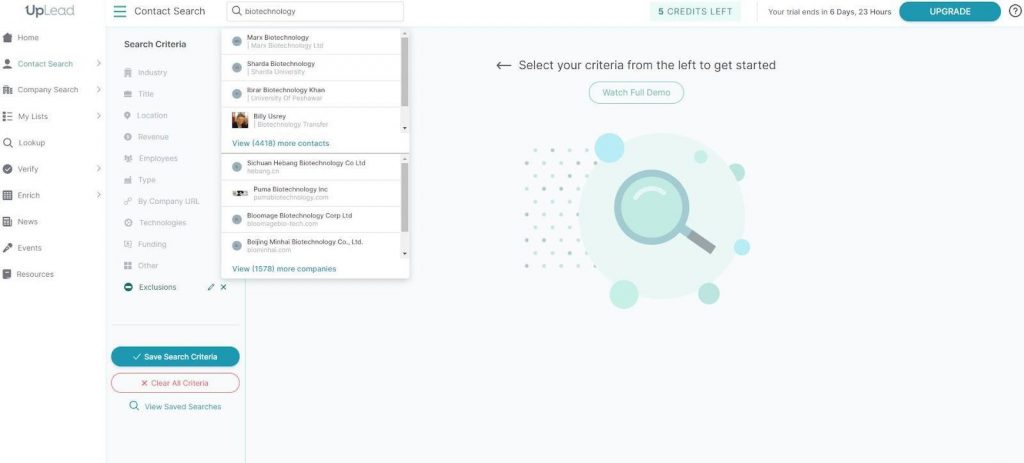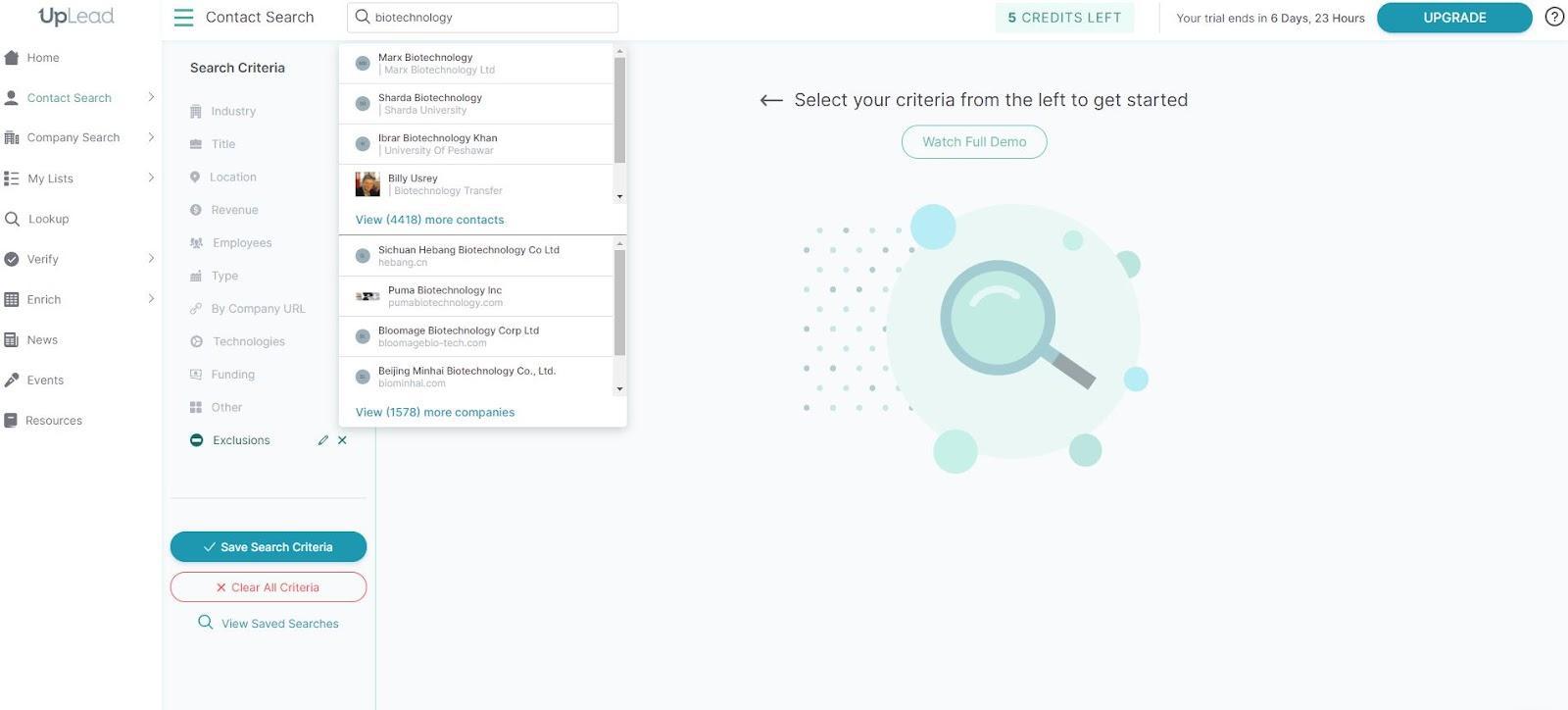 Filter the list of leads using other criteria that are relevant to your targeted audience.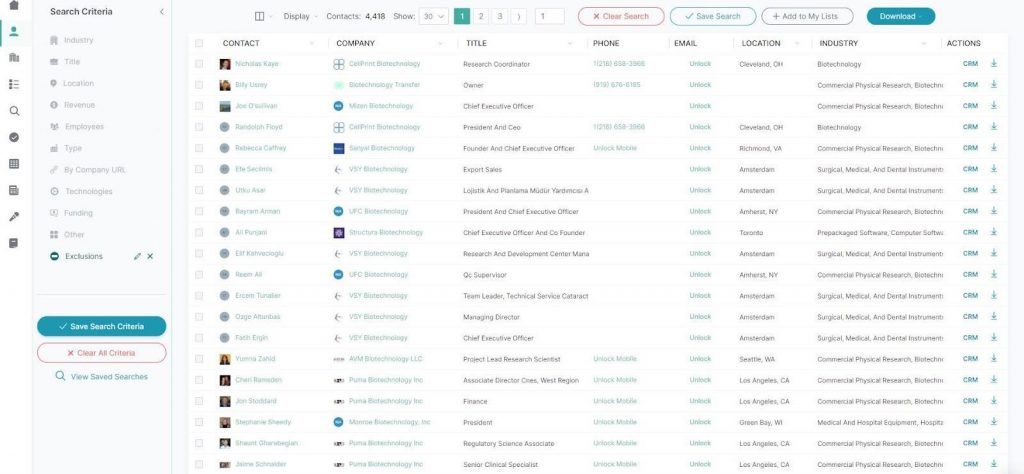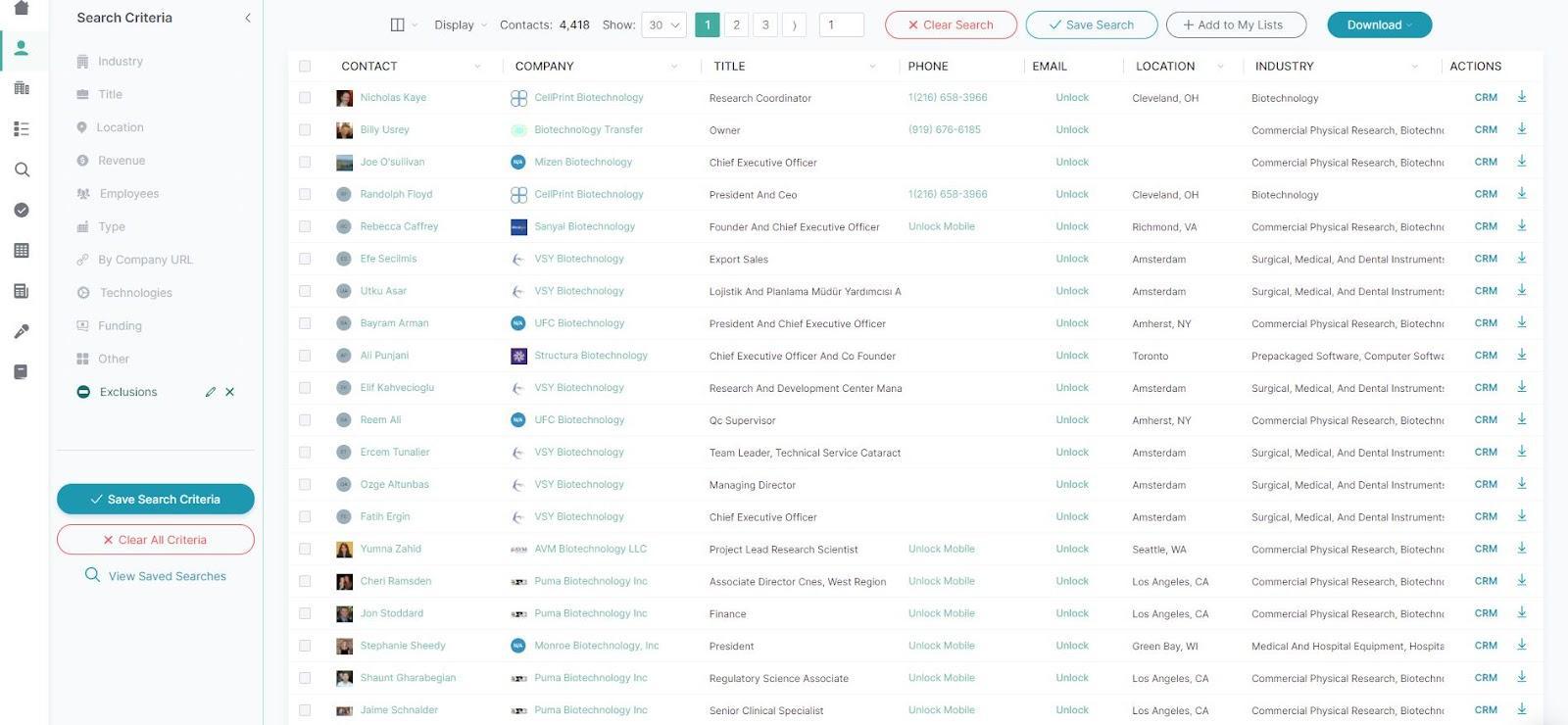 Organize the list using the "Edit Columns" and "Display" drop-down menus.

Click on individual leads to contact them via phone or email. To email them, you'll need to click on "Unlock."
You can also click on the download icon next to the "Unlock" button and export the lead's contact details to your CRM system or get CRM-ready files to download as an Excel file.
Pros
Cons
Does not have a mobile app version
Start Your 7-Day Free UpLead Trial
Lead generation doesn't have to be all that painful. With UpLead, you can easily connect with high-quality prospects and leads to grow your company.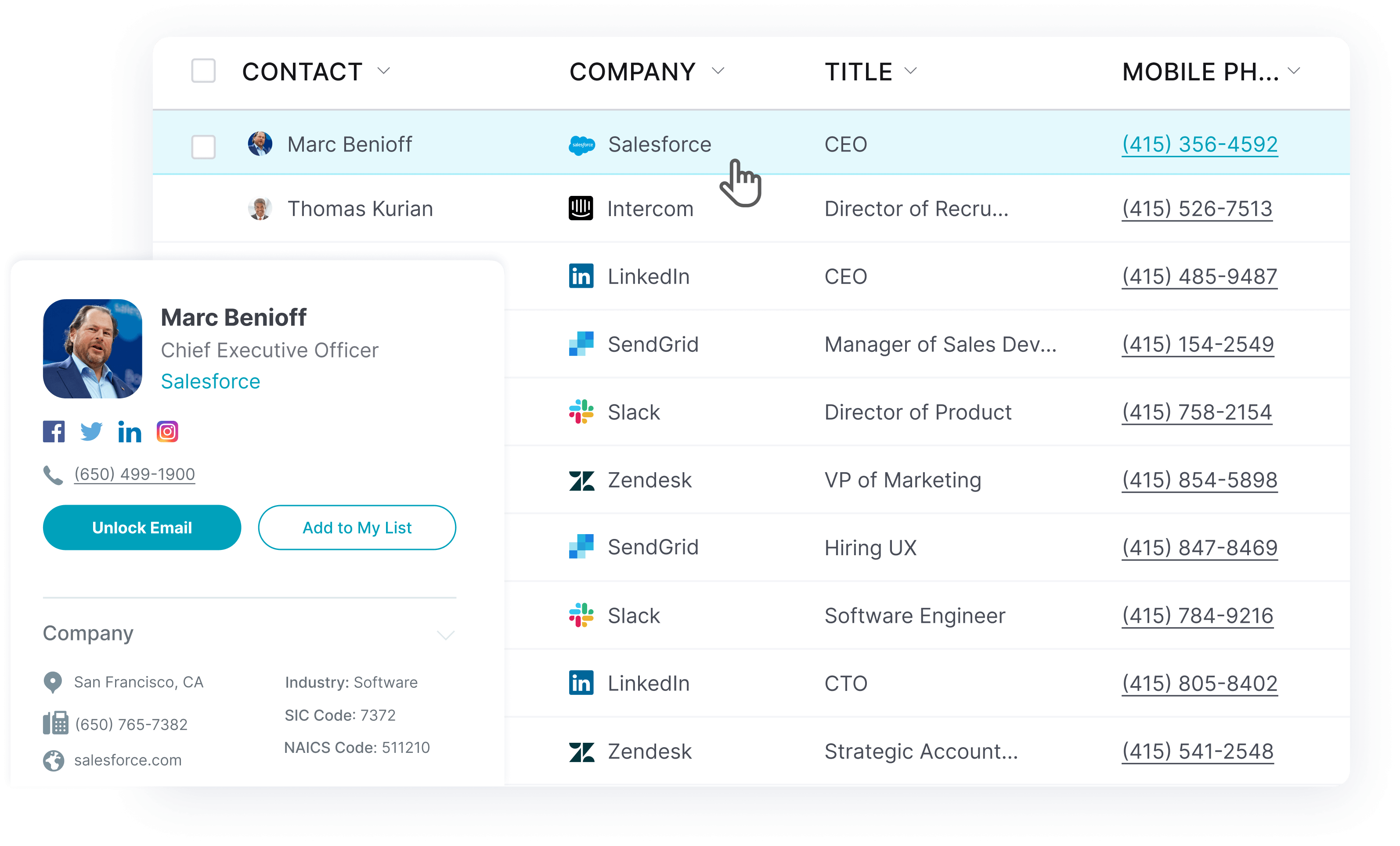 DataCaptive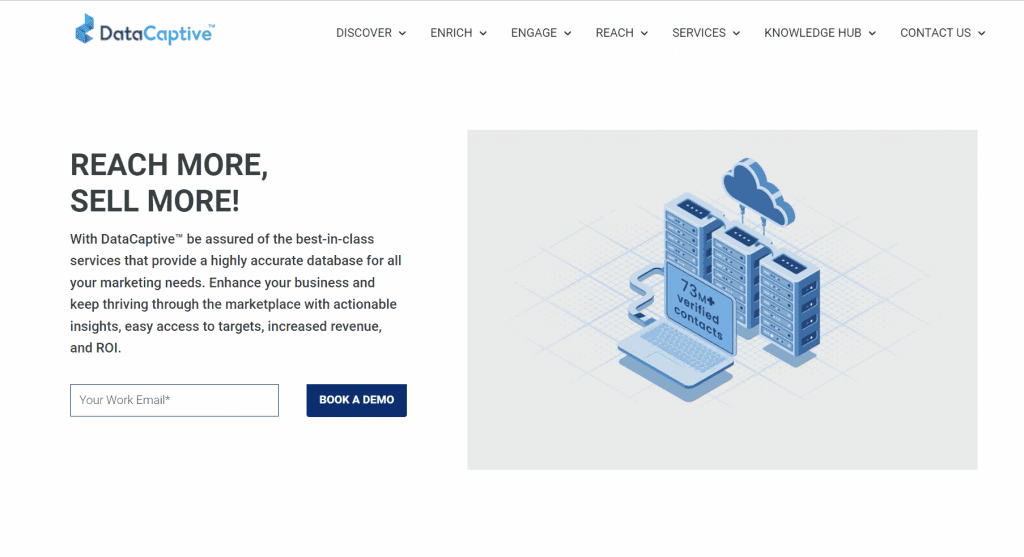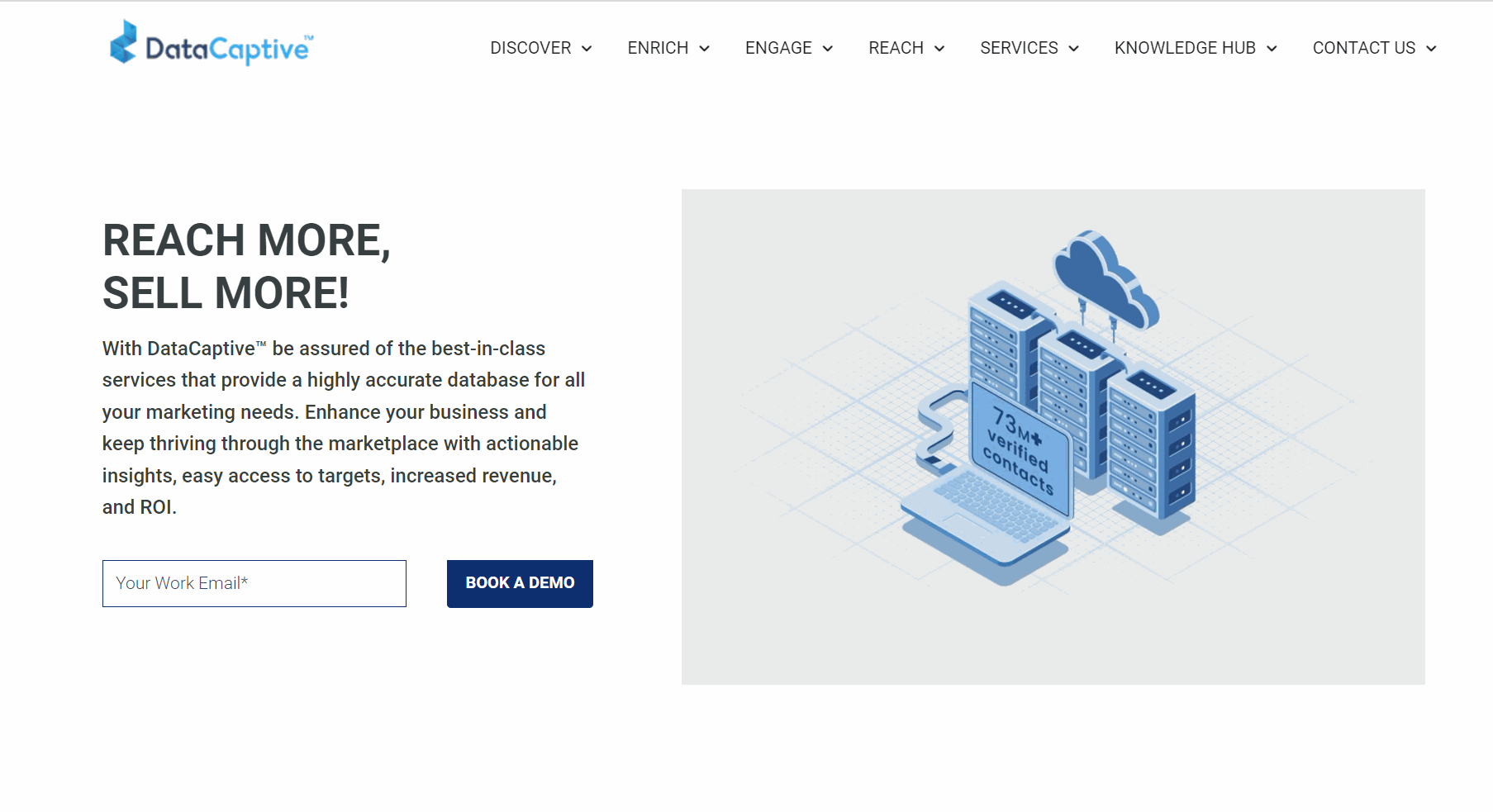 DataCaptive provides a customizable business email database that helps you find customers geographically. You can filter potential customers from over 170 countries and 50 industries. You also get access to over 12 million company profiles.
You can choose from various data fields, such as names, company names, websites, and social media handles. You can also get your contacts' postal addresses, fax numbers, and so on.
To create targeted email marketing lists using DataCaptive, follow the steps below:
Contact DataCaptive's sales representative for a targeted email database.
Once you provide the representative with your customer profile and other requirements, you will receive the list of qualified contacts within 3 to 5 business days.
Select leads from the business email database and contact them to execute your email marketing campaigns.
Pros
Provides a relevant email database
Tailored approach
CRM-ready files
Cons
Bookyourdata.com


Bookyourdata.com lets you buy pre-checked email lists. You can use these lists to launch and execute cold email campaigns. You can select from Bookyourdata.com's ready-made email lists or use its list-builder tool to create a customized mailing list.
Here are the steps to build a targeted mailing list with this tool:
Sign up to create an account with Bookyourdata.com.
Choose your search filters from the left menu.
Check your filtered search results.
Click on the contacts to access their information.
Buy and download the mailing list.
Pros
Verified contacts
CRM-ready data
Cons
Not cost-effective for small businesses
Infoclutch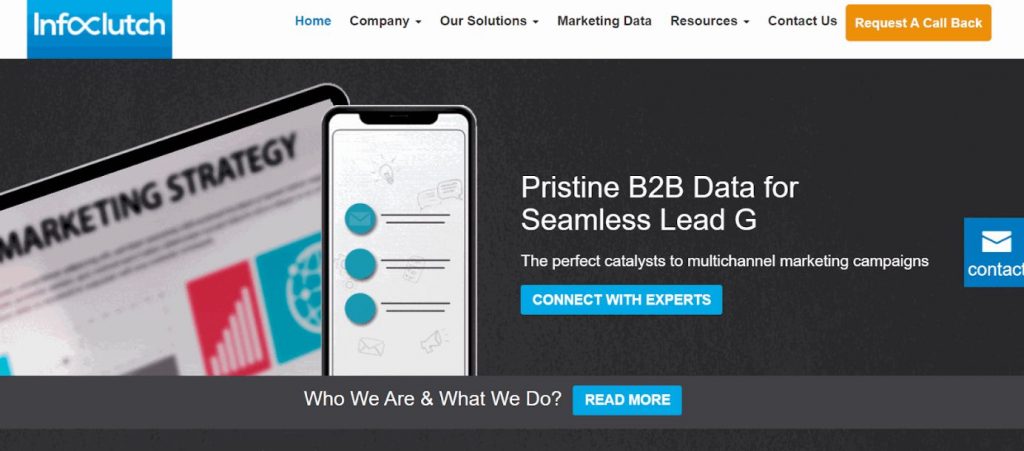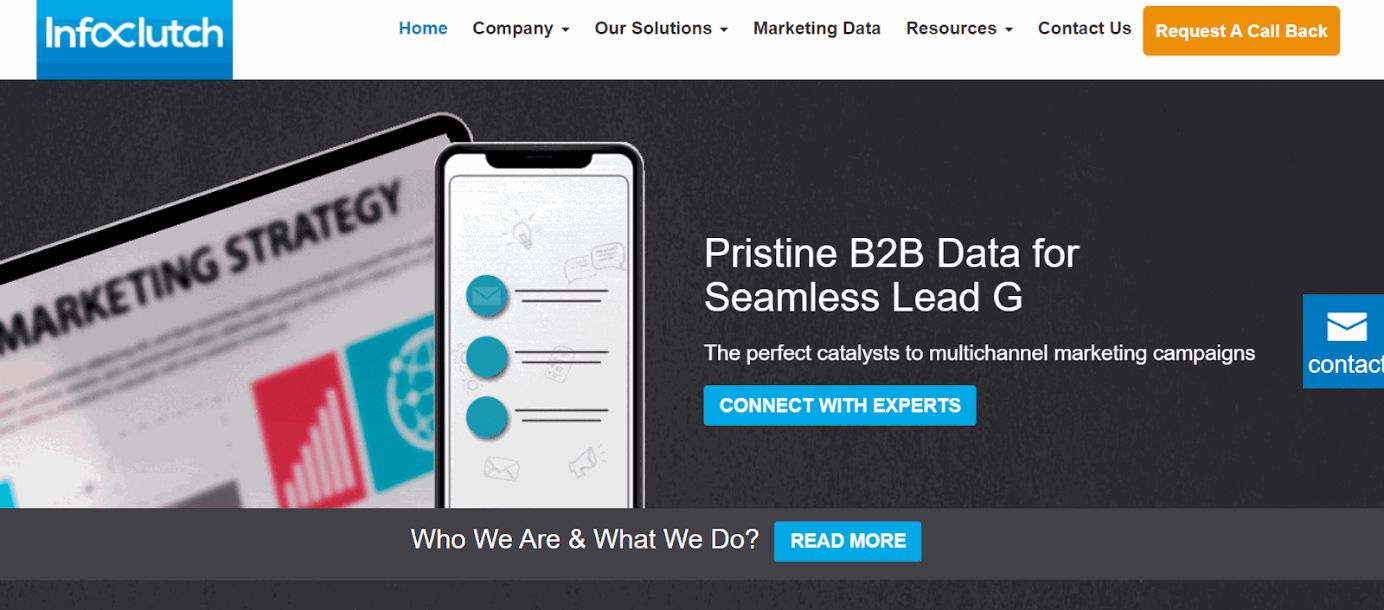 Infoclutch provides up-to-date and optimized contact lists from various sources for increased accuracy and reliability. It has a decent number of contacts you can choose from to launch your direct mail marketing campaigns.
To start building your email list with Infoclutch, follow the steps below:
Enter your search filters based on region, industry sector, job title, and function.
Check your search results.
Buy and download the mailing list.
Pros
Validated and verified contacts
Segmented mailing lists
Cons
Contact database lesser than other top lead generation tools
Limited search filters
LISTGIANT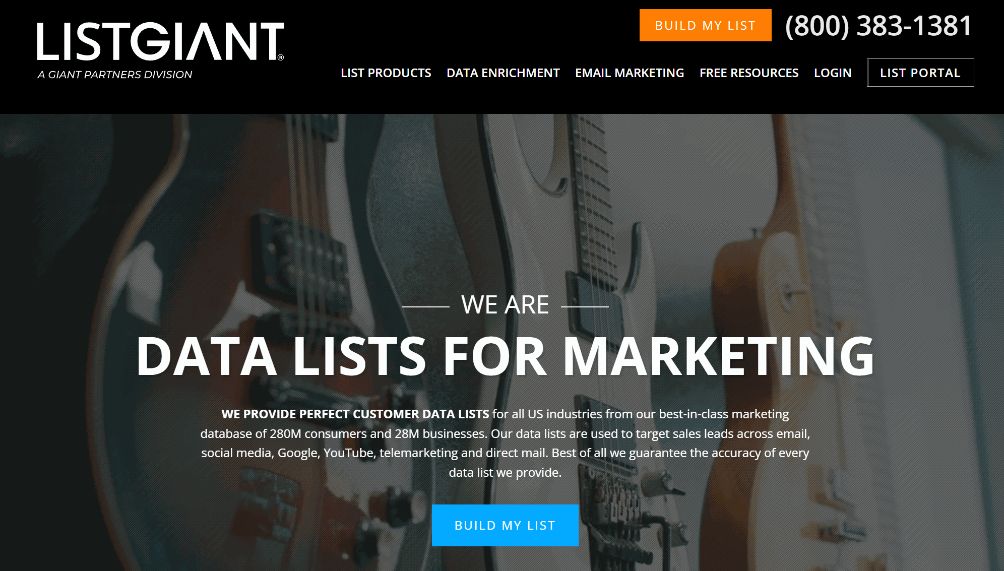 LISTGIANT is an email list provider that boasts a database of over 280 million consumers in the U.S. and 28 million businesses. It provides targeted email lists that can be appended based on industry, employee size, a company's legal status, social media profiles, and other factors.
To build your personalized email list, here's what you need to do:
Click on the "Build My List" button on the top right of the homepage.
Once the chat box opens, submit your requirements to the data expert. You can also submit your details and message in the free quote form here.
Next, you will receive your free quote.
Once you pay for your customized email list and get it, contact the sales leads on the email list, and run your email marketing campaigns.
Pros
95% accuracy guarantee
Extensive email database
Easy to use
Cons
Expensive for small businesses
3 Ways to Get Free Targeted Email Lists
If you're not yet ready to pay for email lists for your email marketing campaigns, you can always try the free options out there.
UpLead's Free Trial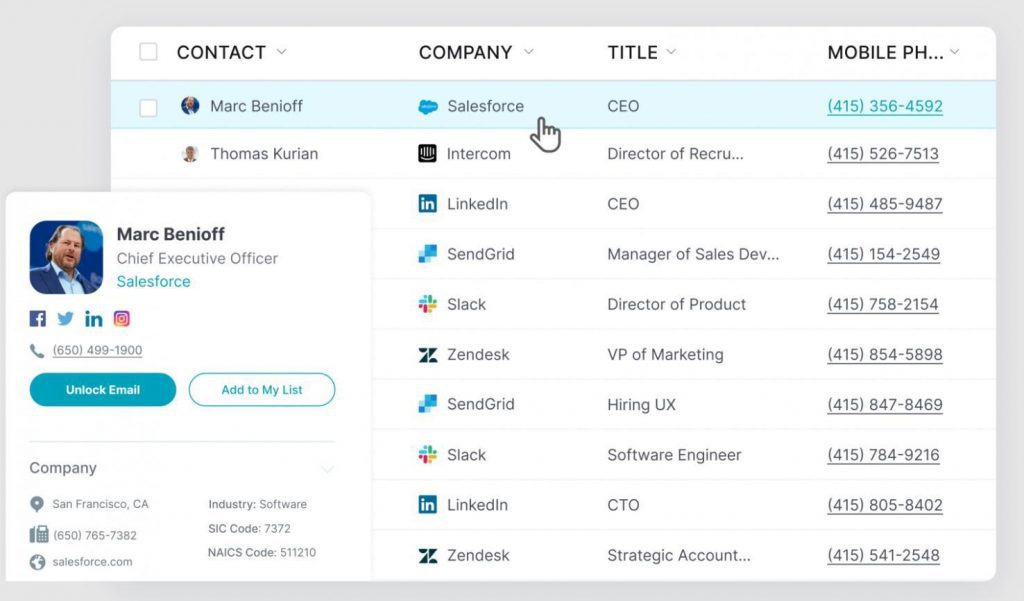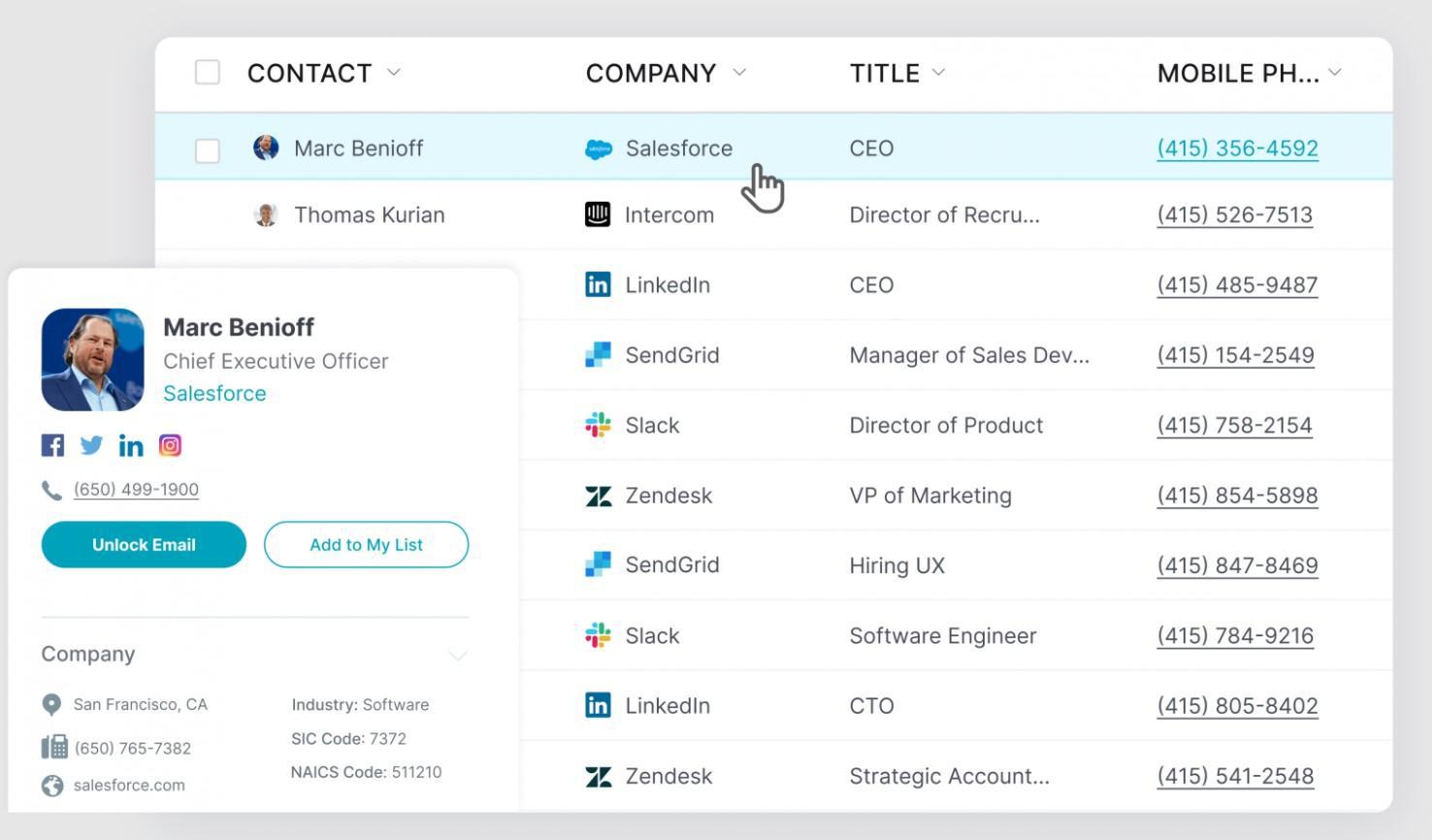 UpLead offers a 7-day trial offer you can use to capture email addresses for your business' online marketing campaign. All you have to do is submit your email address. You'll get five free credits that you can use to buy five sales leads for free.
You can also integrate the technographic data with your CRM system.
Start Your 7-Day Free UpLead Trial
Lead generation doesn't have to be all that painful. With UpLead, you can easily connect with high-quality prospects and leads to grow your company.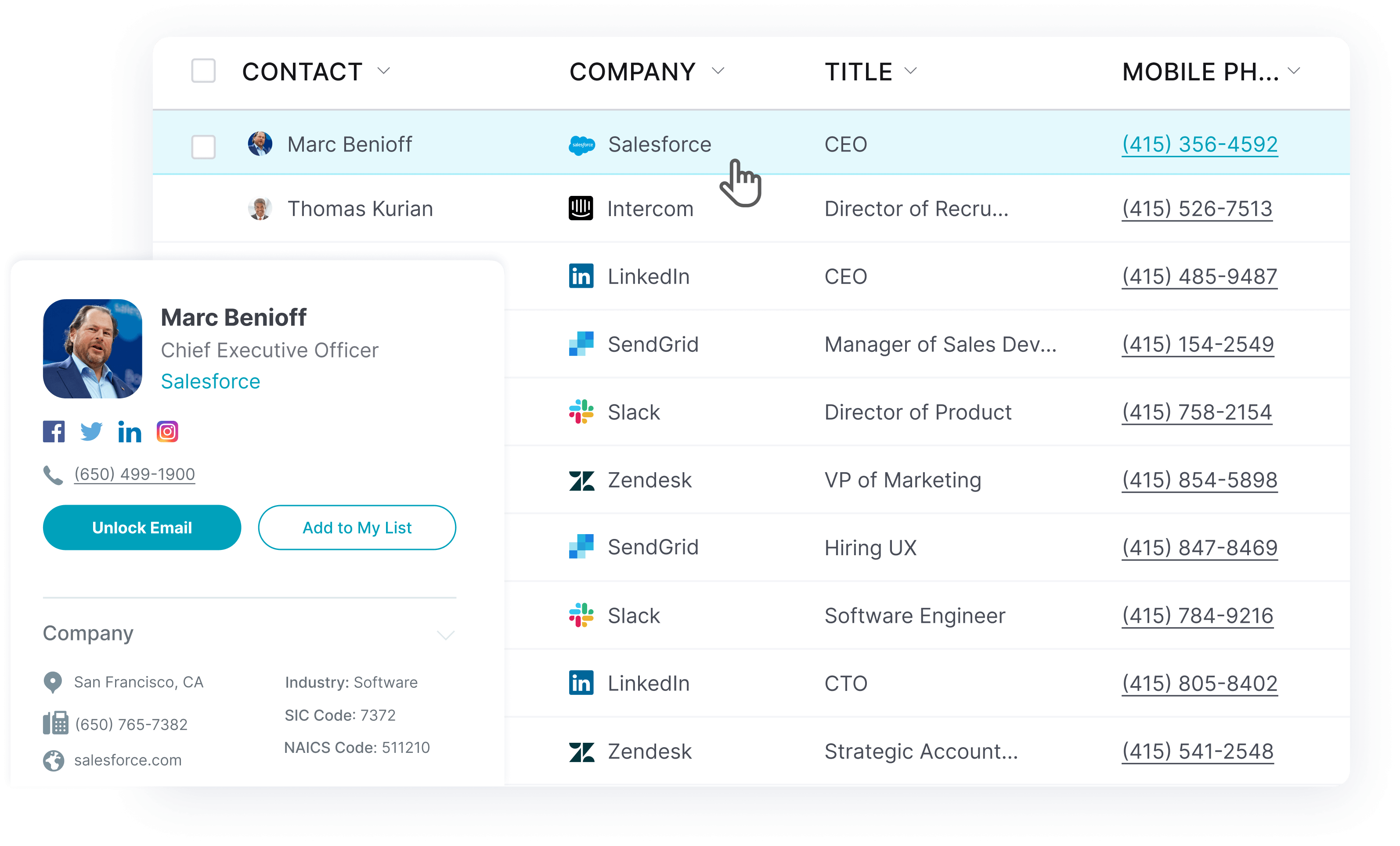 Use Officially Available Data
If you already have a customer base, chances are you also have a contact database you didn't know existed. You may already have a list of your customers' email accounts, residential addresses, contact numbers, and other personal details. Most submit it on your website as delivery information while checking out.
Your website visitors, social media followers, store customers, and event attendees are great sources of contact details. You can use it to build your email lists for free. Most email marketers use this technique to build mailing lists without having to buy from an email list provider, so you can't go wrong with this tip.
You can also consider sourcing your email list from free-to-use customer data platforms.
Leverage LinkedIn with Chrome Extensions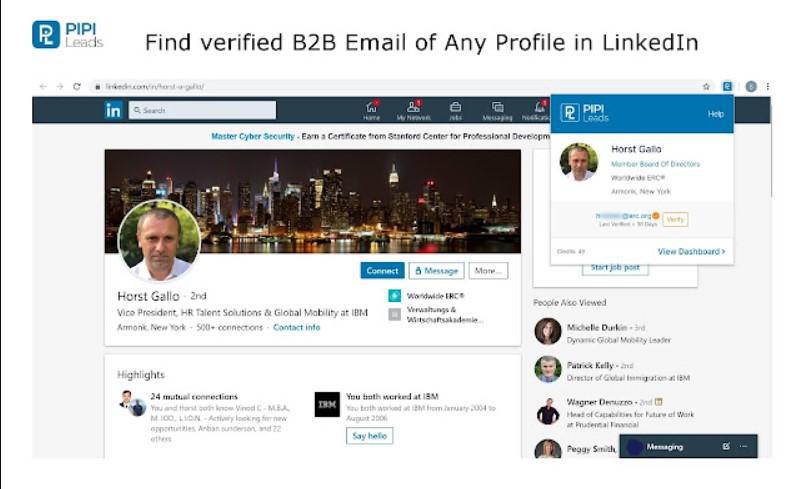 Just as you can use UpLead's Chrome Extension to generate email leads on websites, you can also use LinkedIn's Email Finder tool as a Chrome Extension. It helps you find verified B2B emails on any page on LinkedIn, making it a handy tool for building email lists.
Here's What You Need to Know Before Purchasing a Targeted Email List
Before buying a targeted email list, you need to understand certain technical specifications. It'll help you arrive at the right decision when choosing an email list provider. Here they are:
Opt-in
To ensure that you comply with the rules and regulations of the General Data Protection Regulation (GDPR), which is the new European data privacy act, you need to ensure that your email lists are made of customers who have opted in for email marketing. You cannot randomly collect contact lists.
But, there's the ePrivacy Directive which allows countries to choose whether they want their customers to opt in or opt out. Check out your region's rules and regulations before selecting a targeted email list provider.
List Size
While buying an email list, you need to ensure that you're getting a large, exhaustive list size from the email list provider. You need to get value for your money.
UpLead offers affordable pricing, so you get an extensive list size at a lesser rate than you would with other providers.
Segmentation
Your email list provider should offer segmented lists. Segmentation helps you filter your audience based on several factors. The better you know your audience, the more relevant your emails will be. Needless to say, it improves your chances of conversion.
Data Uniqueness
The email lists you buy or build must be clean. They must not have duplicate, fake, or spammy email addresses. Otherwise, you will not derive the full benefits from your investment. Your precious emails will end up in your potential customers' spam folders.
Contact Information Data Points
Contact information includes data points such as names, email addresses, residential or office addresses, contact numbers, and any other contact detail you can use to connect with your email clients.
This information is crucial to choosing a service provider and selecting a logistics partner to deliver your products and services.
Data Accuracy
The data you collect through email lists must be reliable, accurate, and updated regularly by the provider. This ensures that you don't send emails to incorrect or outdated email addresses.
UpLead guarantees 95% data accuracy. So if more than 5% of your emails bounce back, you can get your used credits back.
Here's Everything Else You Need to Know About Targeted Email Lists
Whether you're building a targeted email list from scratch or buying one, check out these commonly asked questions to ensure you're on the right track.
What Is a Targeted Email List?
Targeted email lists are email databases that can help you get targeted sales leads, run effective campaigns, reach new customers, and build customer loyalty. Mailing your potential customers regularly using these lists is a great way to channel them into your sales and marketing funnels. Branded emails also help improve brand awareness and customer retention.
How Do I Get My Targeted Email List?
To get a targeted email database, you can check out the above email list providers, or email your business's existing customers. You can also get Chrome extensions such as those from LinkedIn or UpLead to find email addresses online.
What Do You Need to Consider Before Buying a Targeted Email List?
You need to ensure that you comply with the rules of the GDPR and allow all your email subscribers to opt-in and opt-out of email lists. You also need to ensure that you craft email content that entices your customers and fits in with their interests, or your emails will end up in spam folders, and your investment in the email database will be for naught.
You can do this by creating a thoughtful, well-researched blog post with relevant content that aligns with your readers' favorite topics or by creating a lead magnet that will encourage them to stay tuned to your newsletters.
Expertly written email messages are key to ensuring email deliverability. While it helps in building brand awareness and customer loyalty, it is imperative in reaching out to your prospects. It also helps you enrich your business email database and get measurable results. Targeted emails improve your click-through rates or response rates.
Conclusion
Email marketing has become a key enabler for a company's marketability and success. To reach the right email clients, you need to have the right email list.
Such a mailing list will ensure that you rise above the competition, deliver content that boosts customer loyalty and improve sales in a sustainable way.