Email addresses are crucial when it comes to establishing a proper channel of communication and establishing a professional relationship.
However, with bots constantly scouring the web for victims to scam, the process of finding someone's email address may not be as easy as it sounds.
In this article, we'll outline several methods you may use to find someone's email address and we'll provide you with the pros and cons of each option.
By the end of this article, you will be equipped to locate the email address you're searching for, and also have a variety of tools to use should you need to find more.
Let's get started.
How to Find Someone's Email Address
Here are a few ways to find email addresses:
#1 Guess the email address
The easiest way to find someone's email address is by trying to guess the correct one. Guessing someone's email address may be easier than you think, especially if you have a system.
Begin by using the most common email addresses patterns. Most companies have a specific way of setting up their emails, so you can infer the email address of the person you wish to contact based on other email addresses from the same company.
Search their company website for one email address to start. If, for example, you find that the email address of Adam Johnson is "[email protected]", you'll know that the company uses the first letter of an employee's first name, followed by a dot and their last name.
Based on this information, if the person you want to contact is named Jennifer Smith, you can surmise that she will likely have the email address "[email protected]".
Here's how this system would look based on other email variations:
Pros:
Simple: It just takes a little bit of digging before you can discover your contact's email address.
Free: There are no costs incurred by guessing.
Timesaving: Guessing should be your starting point before opting to use any other method.
Cons:
May not be accurate: There's no guarantee that all email addresses within a company will be set up in exactly the same manner.
#2 Leverage email lookup tools
If you're looking for a professional email address, one of the easiest and most accurate ways to find it is through an email lookup service.
Email lookup tools are paid services that harness thousands of users' email addresses and other professional information. You can find someone's email address by filtering by name or by company.
Introducing UpLead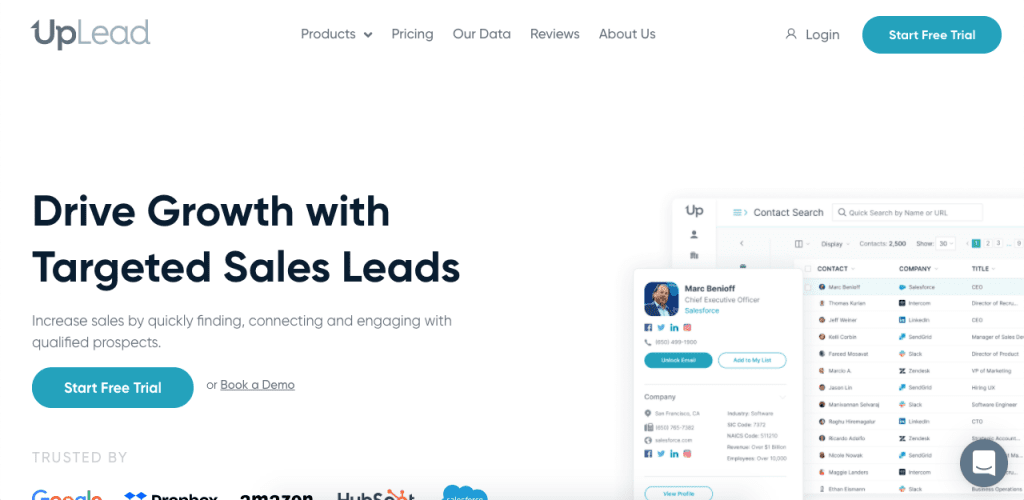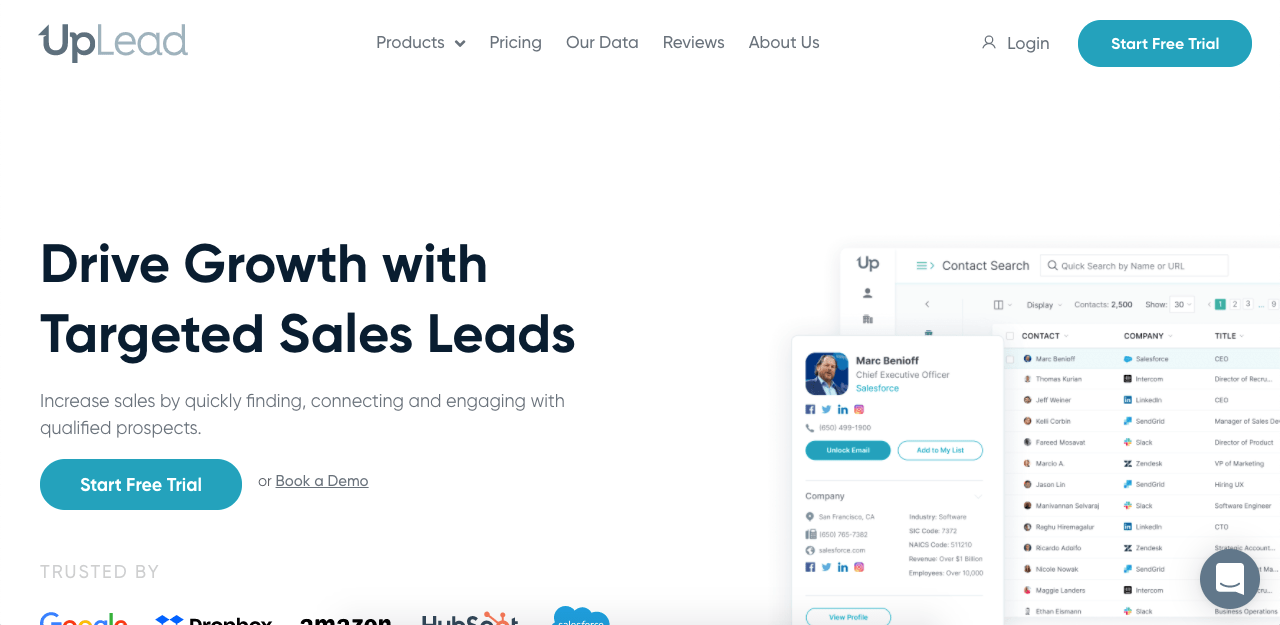 Trusted by clients like HubSpot, Google, Amazon, and Dropbox, UpLead is an online B2B sales intelligence platform that can take your prospecting efforts to the next level.
Data accuracy guaranteed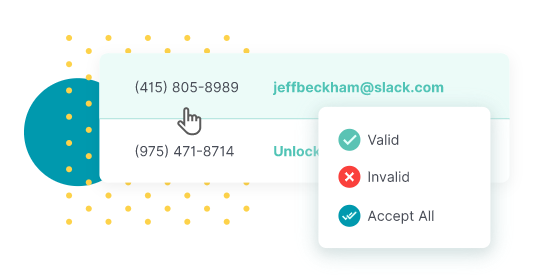 We have over 135 million B2B contacts with email addresses, 21 million of those in the United States alone. And since we know your data is only as effective as its accuracy, we go to great lengths to ensure your data is accurate and up-to-date. 
Similar tools to UpLead aren't willing to disclose their accuracy rates because they're too low to mention or they can't guarantee them. 
We, however, are so confident in the quality of our service that we guarantee a 95% accuracy rate on your data .
Easy process of finding people's email addresses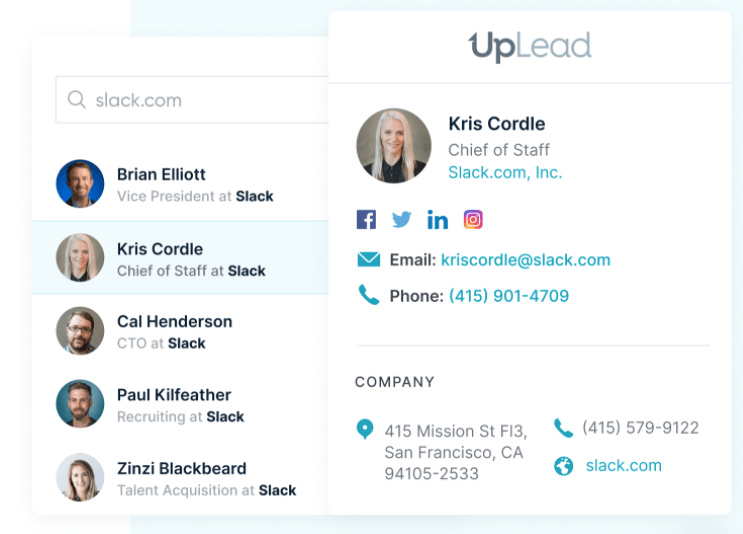 Finding a contact's email address using Uplead is easy; we even have our Email Finder.
Enter the contact name and company name or URL on the system. The system will return your lead's valid email in seconds.
The email addresses you locate will be verified right before you download them. This way, although you may download all of them, you'll only pay for the addresses that are validated and keep the rest.
Rich profiles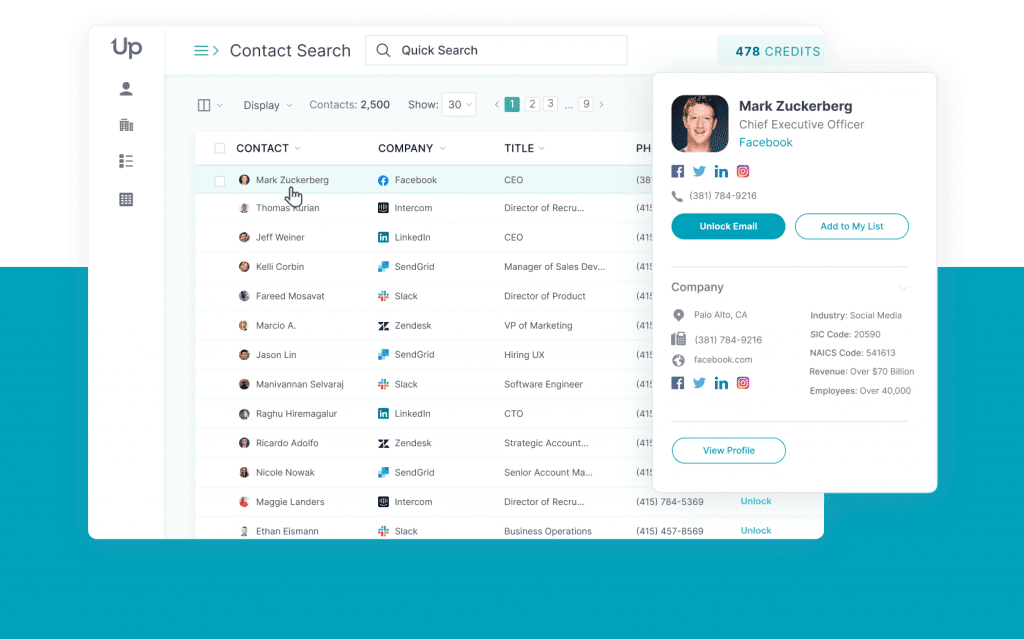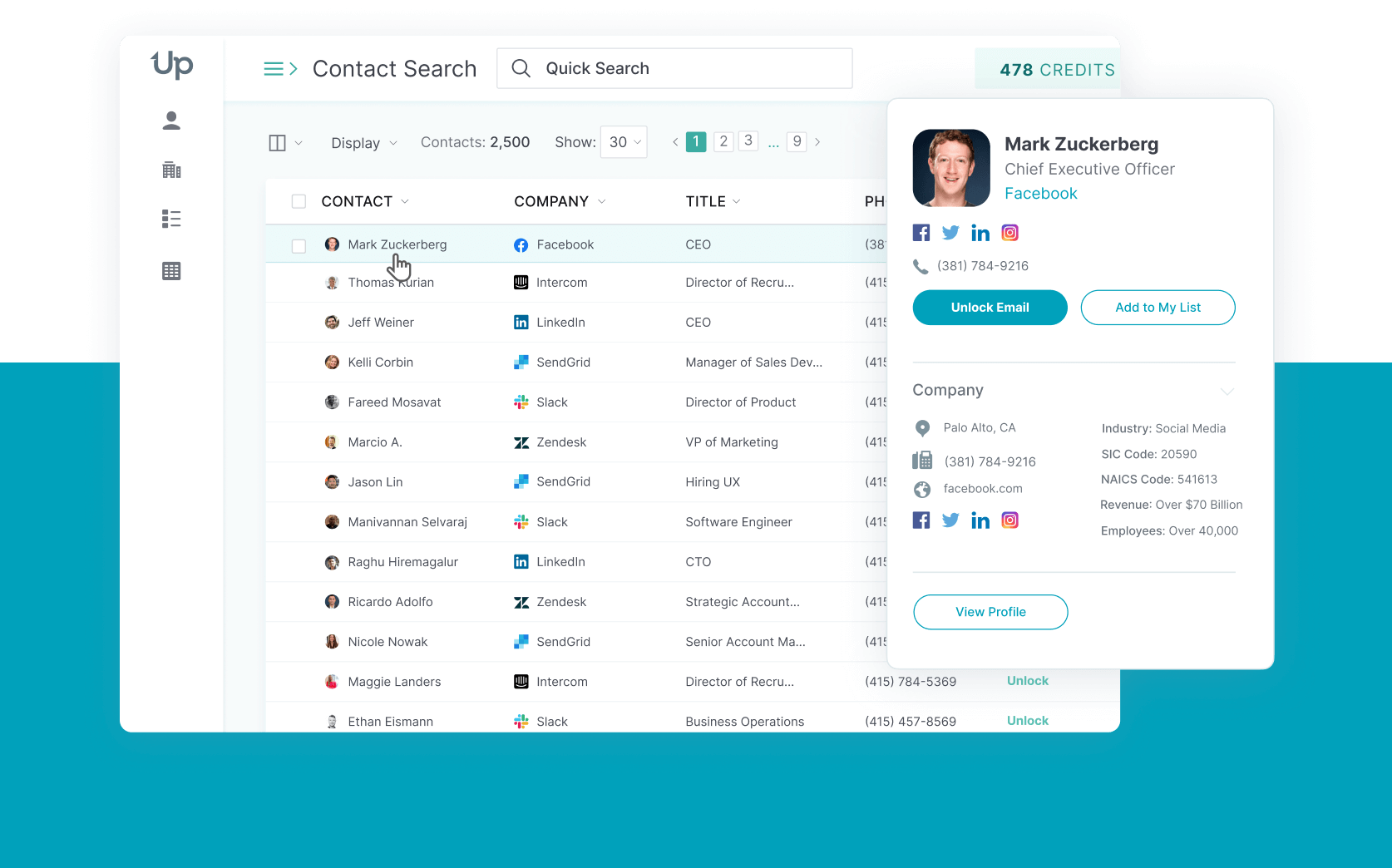 Help your sales staff learn more about your company's email contacts through rich profiles .
With UpLead, you won't just receive a person's email address. You also receive their entire professional profile. With it, you can learn more about the person you will be emailing and discover more ways of contacting them.
Pros of email lookup tools:
Fast solution: Email lookup tools are easy to use and get you the email addresses you're looking for with a simple search.
Bulk searching capabilities: Look up as many email addresses as you need by filtering through qualifying criteria and downloading the addresses in bulk.
A great method of generating leads: With millions of profiles, you can easily create a sustainable lead-generation process.
Cons of email lookup tools:
Expensive when looking up multiple email addresses: The more email addresses you look for, the more the service costs.
Limited by their database: We couldn't find any data accuracy guarantee on any of the tools listed above, and if the data isn't accurate, you're just wasting the money you paid for the service.
Start Your 7-Day Free UpLead Trial
Lead generation doesn't have to be all that painful. With UpLead, you can easily connect with high-quality prospects and leads to grow your company.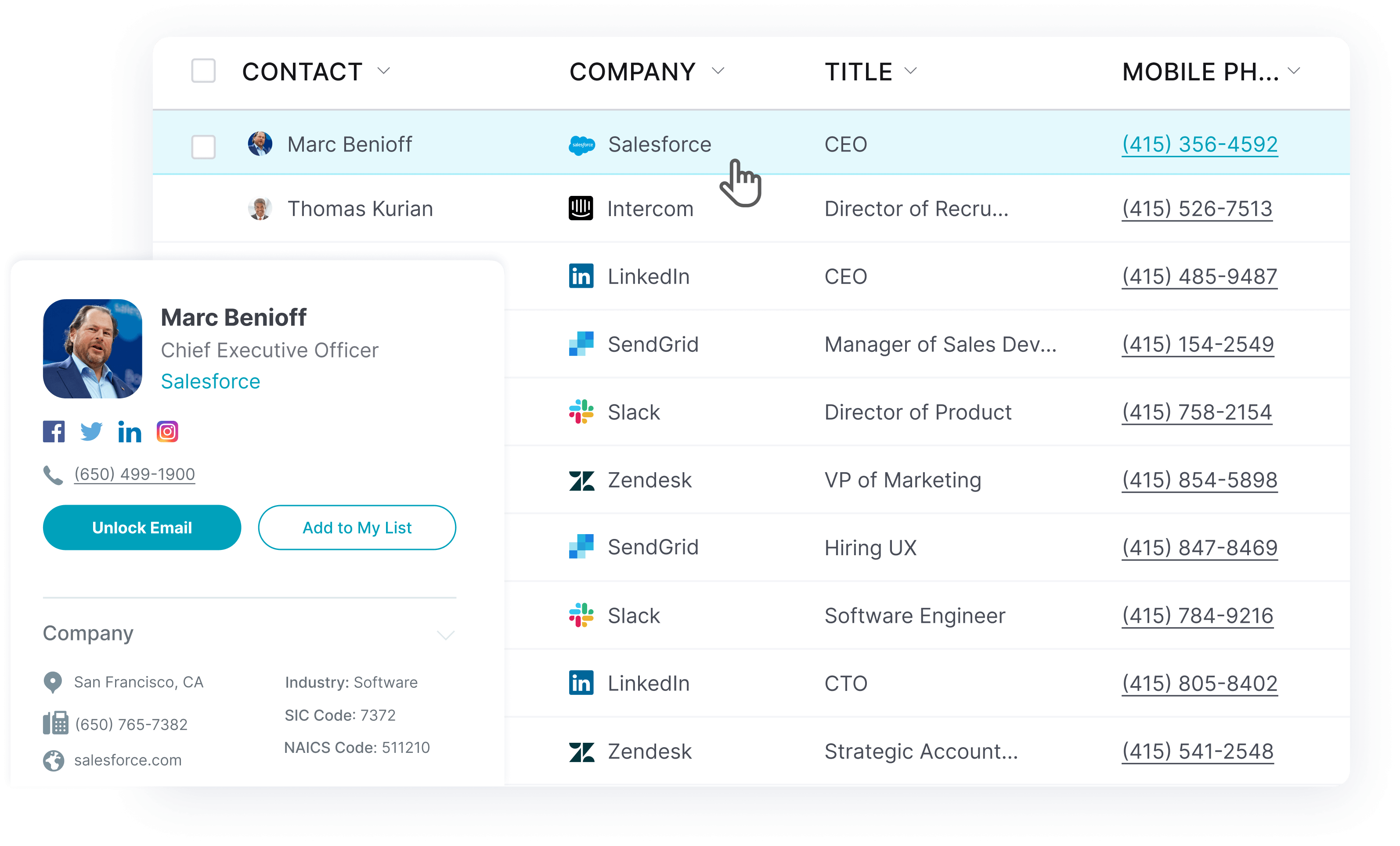 #3 Find it on the company website
You can often find contact information for department managers directly on a company's website.
Start with the "About Us" page. It usually contains brief bios about the company's most important employees along with their contact information.
If the email addresses aren't found there, they may be on the "Contact Us" page, where companies sometimes post the contact information of individual team members who can help you with your requests. The Public Relations page may also have an email address you can use to guess your lead's contact information.
Finally, take a look at company blogs. You'll often be able to click on the article's author to see their author page. This page will usually include a small professional bio followed by contact information.
Pros:
Free: No extra cost for scouting the website.
Highly accurate: If it's on the website, it'll have the best chance of being accurate.
It may help you learn more from them: The email will likely be listed with a short bio and a photograph.
Cons
Time-consuming: You may spend several minutes combing the company website to find email addresses.
It may not lead to the right email addresses: You may discover a contact address, but it may not be for the person you're searching for.
Twitter advanced search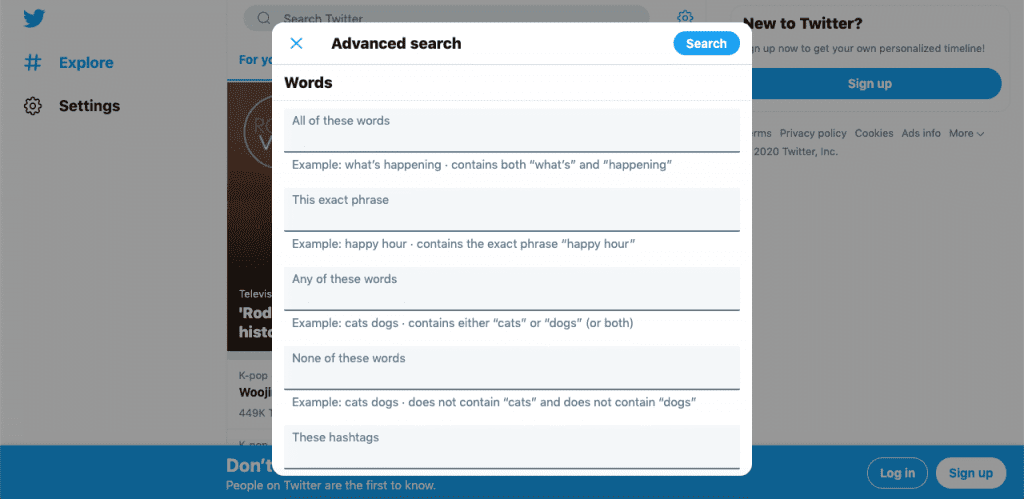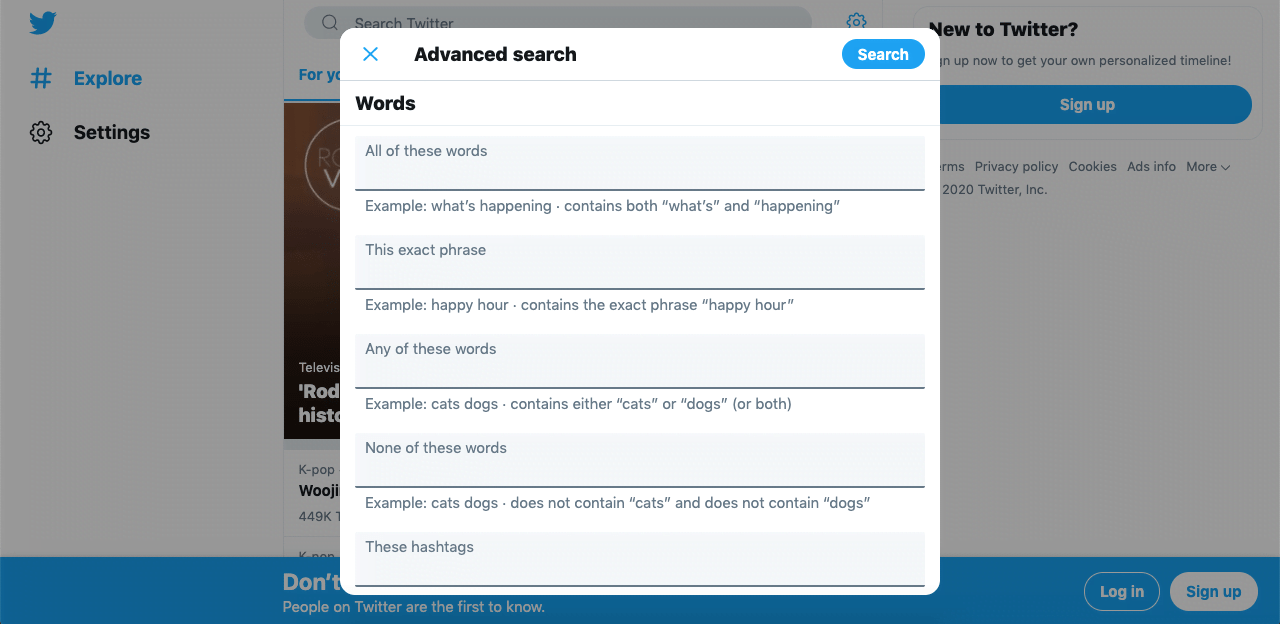 If your contact has ever tweeted their email address, you may be able to find that tweet through the Advanced Twitter Search.
To do this, open the Advanced Twitter Search toolbar, search for the keyword "email", identify your lead's Twitter handle, and click"Search".
Remember that some people try to hide their personal information from bots by replacing "@" with "at" and "." with "dot", so try those variations as well when using this option.
Pros:
Simple: As simple as performing a search query.
Free: Anyone can find an email address for free through Twitter's Advanced Search.
Accurate: You'll quickly determine the email's accuracy based on the context.
Cons:
Time-consuming: The more email addresses you're looking for, the more time you'll spend searching.
May not prove effective: This process may help you discover a few, but likely not all, the email addresses you are searching for.
#4 Use a Chrome extension to find email addresses through LinkedIn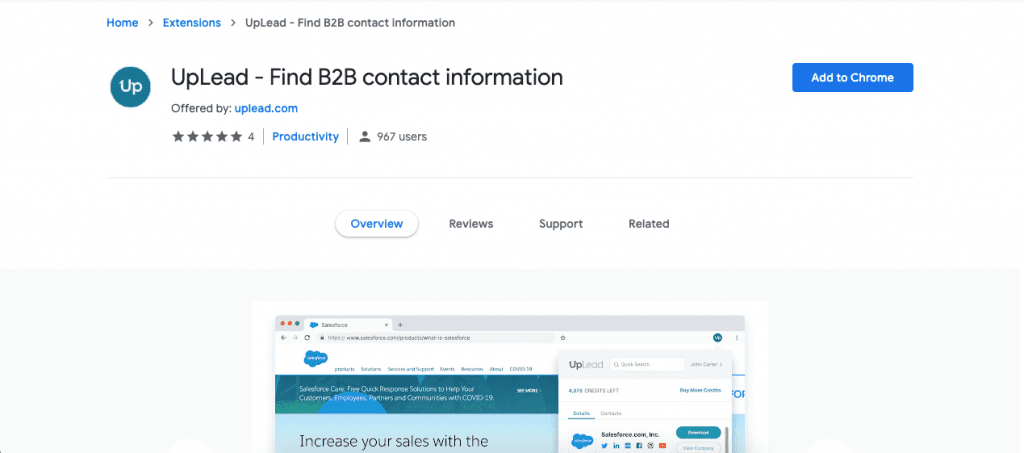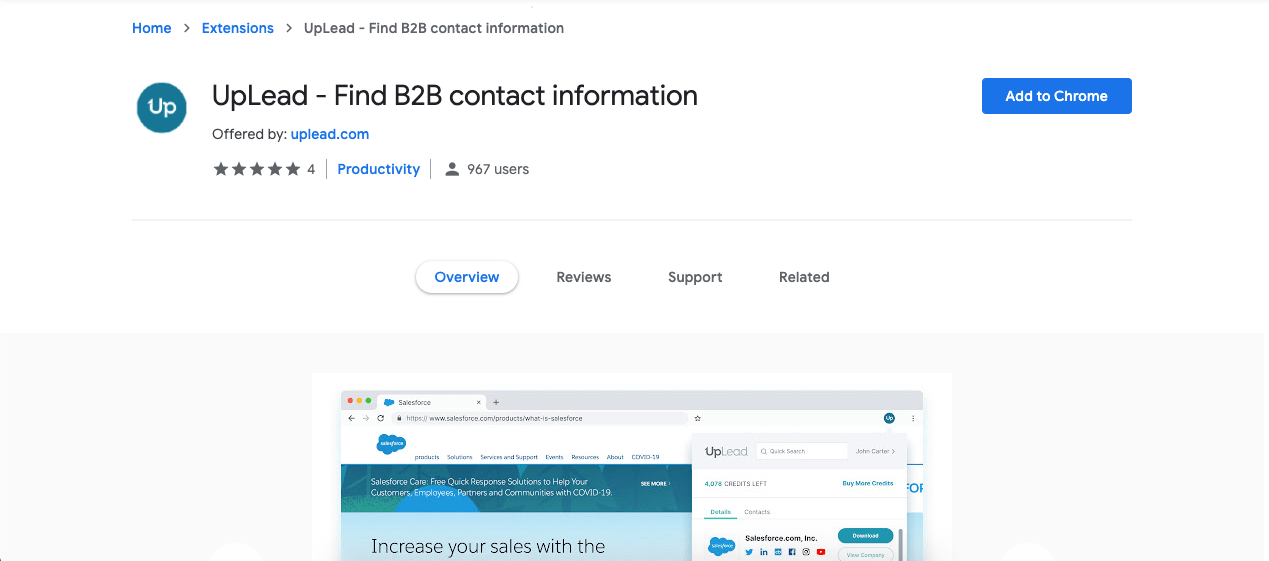 Using an email lookup Chrome extension to browse LinkedIn is a great method of finding the email address leads you're searching for.
Using UpLead's Chrome extension is very simple. Just download and install the extension on Chrome. As you browse the LinkedIn website, the Chrome extension will provide you with the B2B contact information of the profiles you're looking at, such as email addresses and phone numbers. You can also use the Chrome extension to find email addresses related to other social networks and company websites. That way, you know the email addresses you're looking for are just a click away.
UpLead's Chrome extension gives you access to over 50 million B2B contacts in over 200 countries. UpLead is rated as the #1 B2B Sales Prospecting Tool for Ease of Use by G2 and works with company websites as well. 
Download it here.
#5 Hire a virtual assistant/data mining expert on Upwork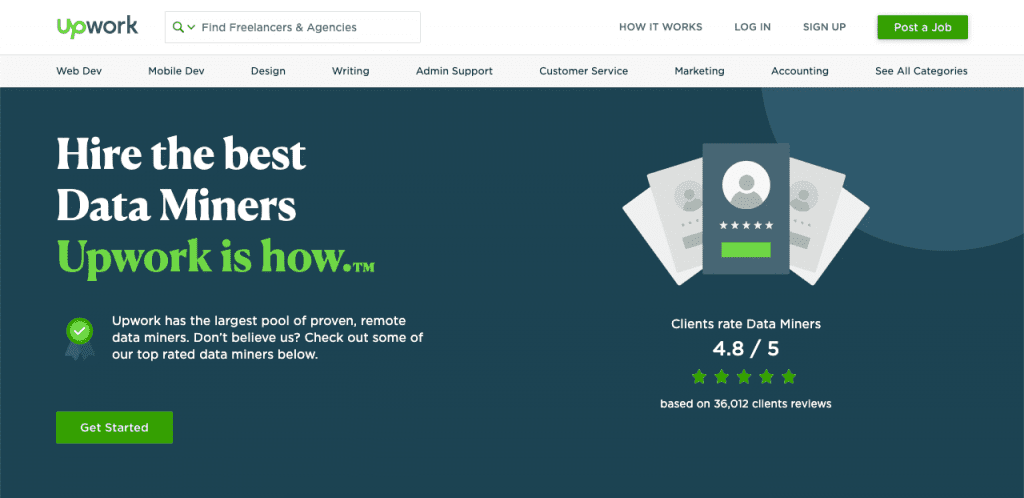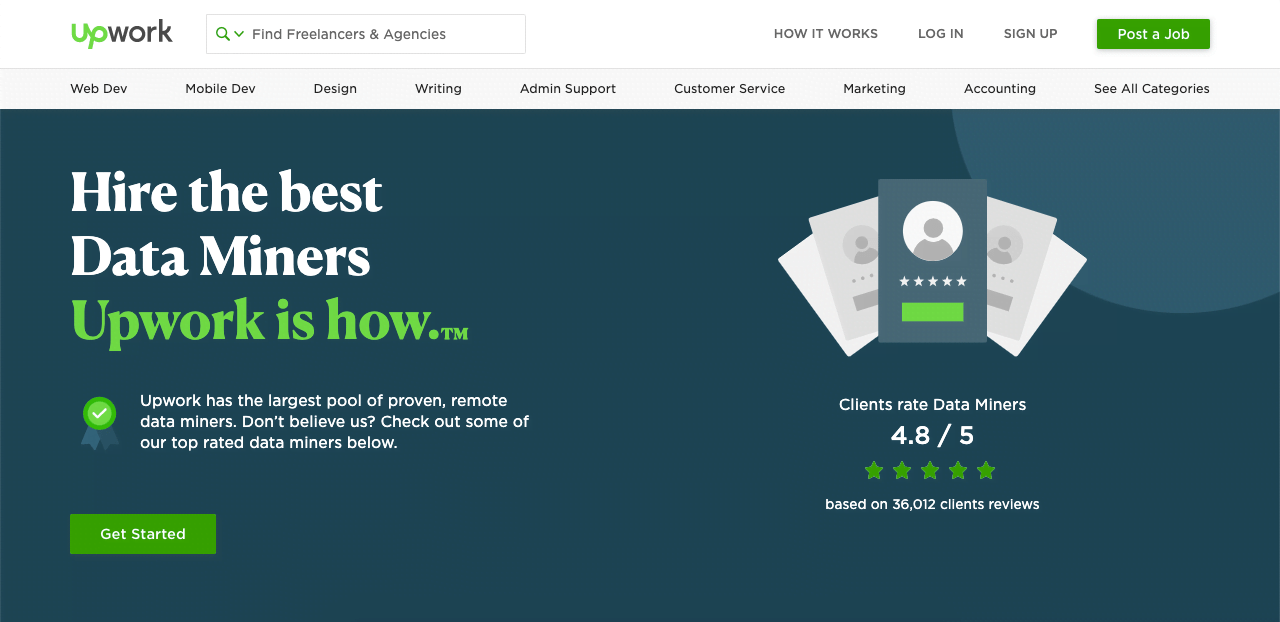 UpWork is a platform where you can hire affordable freelancers from around the world. On Upwork, you can search for data miners, who can analyze data from multiple websites, and find the relevant contact information, essentially speeding up your process.
When searching for a data miner on UpWork, pay close attention to their body of work, their prices, and the technology they use. Chat with them before agreeing to hire to ensure they can do what you expect them to do.
Pros:
Effective work: Get the data you need without spending any of your own time searching.
Completely customized to your needs: As you're hiring someone, you may directly request the specific data you're looking for.
Can manage a large amount of data: Data mining is a great way to receive a lot of data.
Cons:
Expensive: Good data miners won't be cheap.
It may be time-consuming to find the right miner: You'll likely need to search among a few different miners until you get one that fits your needs.
#6 Google search (using operators)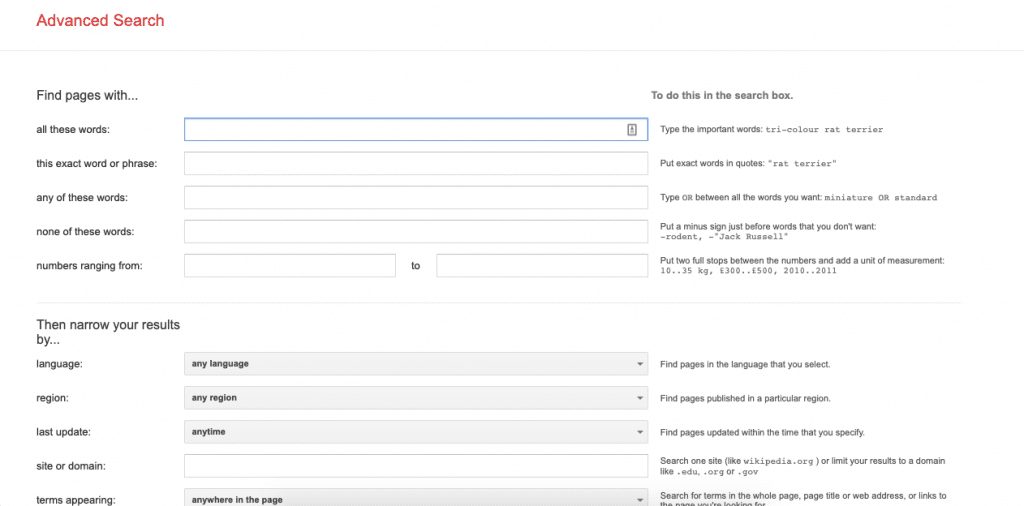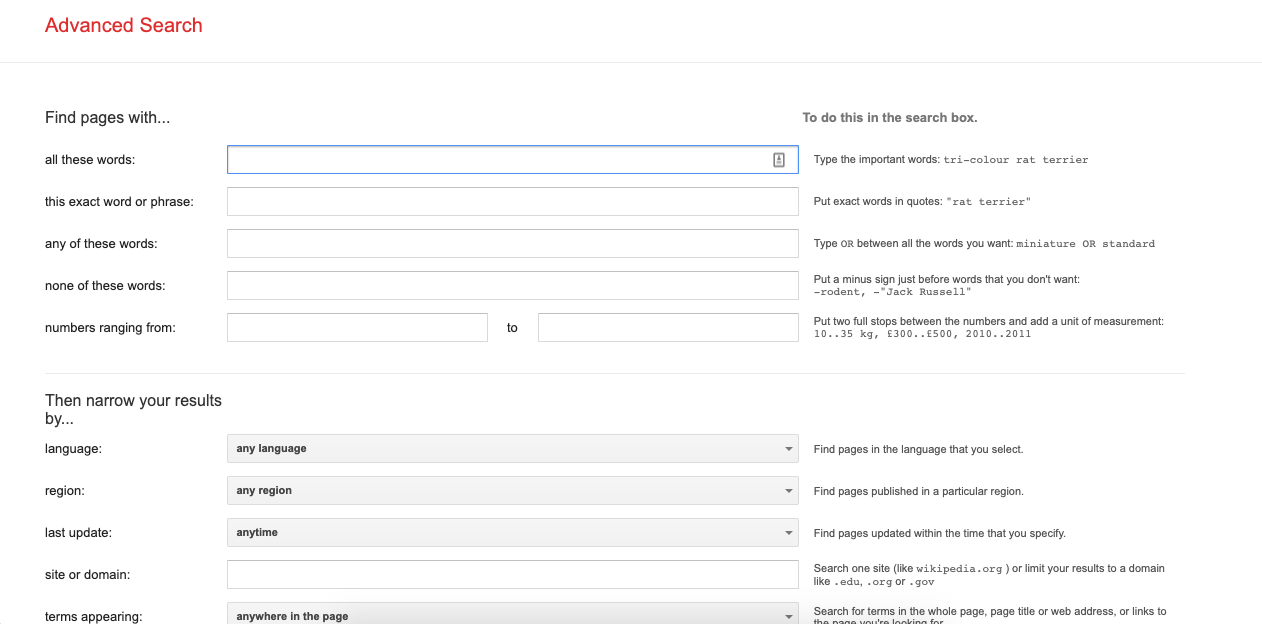 Google is probably the best source of online information, email addresses included. All that is required is the knowledge of how to search.
You can use the Advanced Google Search to search and validate email addresses you may think are correct. When searching through Google, make sure to place the email in quotations to ensure the query is being done using the whole email address.
You can also search Google for the name of your lead followed by "email", and experiment by adding their company, their position, and other relevant professional information.
Finally, you can use Google to search for an individual website. All you need is to type "site:" followed by the website you want to search. If, for instance, you want to search for Luke Robinson's email, you can type "site:samplecompany.com luke robinson email," and Google will perform a direct search on that website for you.
Pros:
Free: All you need is to google the information you're looking for.
Easy: Only slightly more difficult than conducting a regular Google search.
Instant results: You'll find out instantly if the search has been successful.
Cons:
Limited capabilities: It'll be harder to scale this process up.
Limited success chances: People don't always post their email addresses online in order to avoid bots and spammers.
#7 Search @domainname.com on DuckDuckGo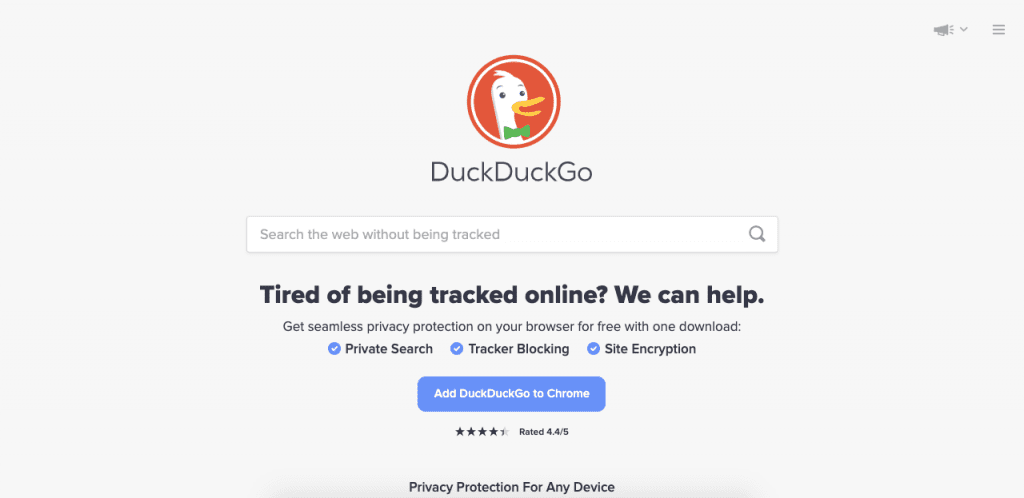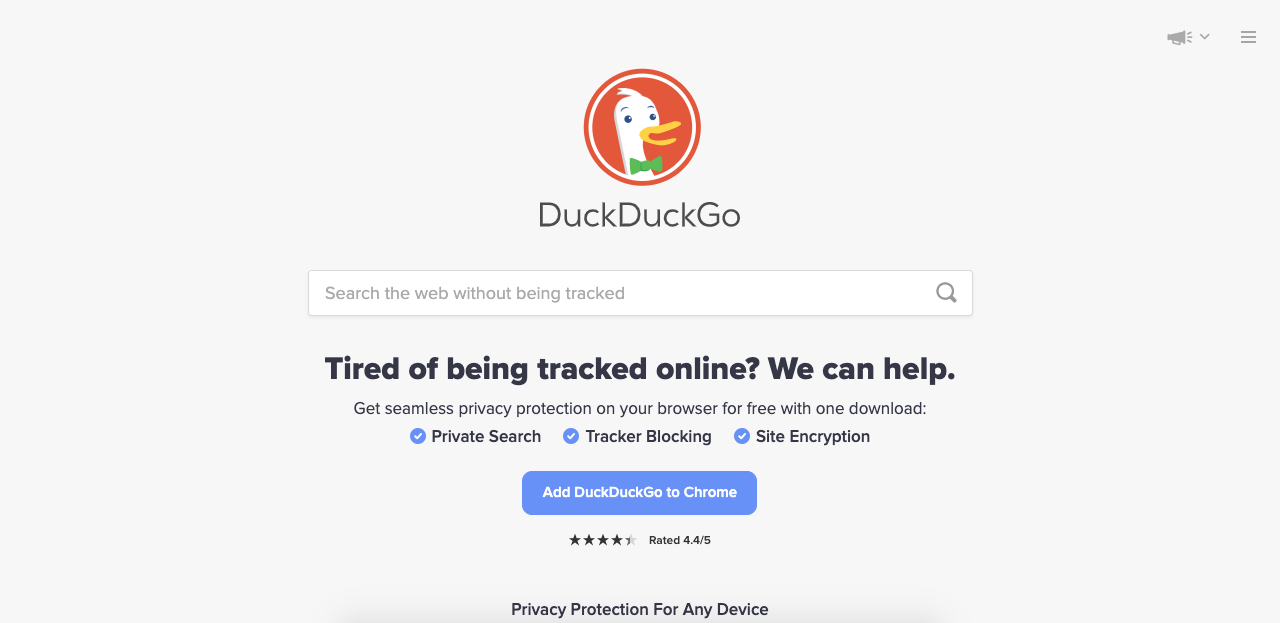 Not many people know about DuckDuckGo, which is a free email finder with a decent success rate.
All you need to do is to search for "@companywebsite.com", and DuckDuckGo will display all public results matching that domain.
You can complete a more advanced search by including the name of your lead or leave it open to find out the company's email formula creation.
Pros:
Free: Like Google, DuckDuckGo is free to use to find the email address you need.
Instant results: Find out if your query is successful instantly.
Can help you find other email addresses: It is Great to find email addresses from the same company to find their email formula.
Cons:
Limited success: Like Google, DuckDuckGo relies only on public information.
Limited capabilities: Searching for multiple email addresses will be very time-consuming.
#8 Use the contact form
Most websites either include a "Contact Us" form or provide a generic info@ email address for general inquiries.
While these are likely manned by admin staff, you can try using them to ask how to get in touch with your ideal prospect.
Keep it brief with a message like:
Hi!
Could you tell me who's in charge of the customer service department and how I can connect with them?
Thank you in advance,
Will Cannon
Pros:
Direct: By reaching out directly and being careful of what you say, you are more likely to receive a better response.
Highly effective: People are likely to reply to your message if you draft it carefully and offer only the information they need to know.
Highly accurate: Since you're talking to an actual employee, you'll likely get highly-accurate information on your leads.
Cons:
Not scalable: Even when copying and pasting a template, you won't be able to scale it up to thousands of messages.
Only as good as your message: If you don't draft the right message―if it comes across as a sales pitch―the reader may decide not to reply.
#9 Get in touch via live chat (and ask for a reply via email)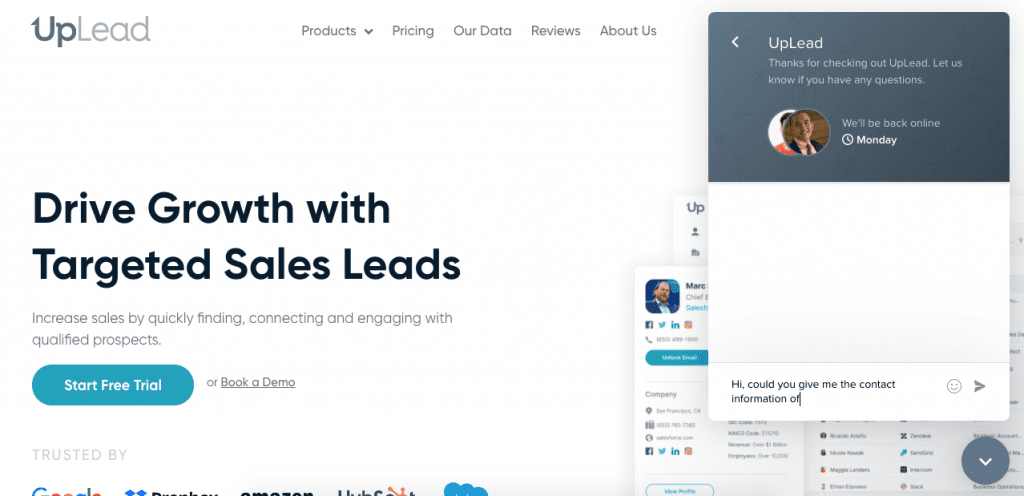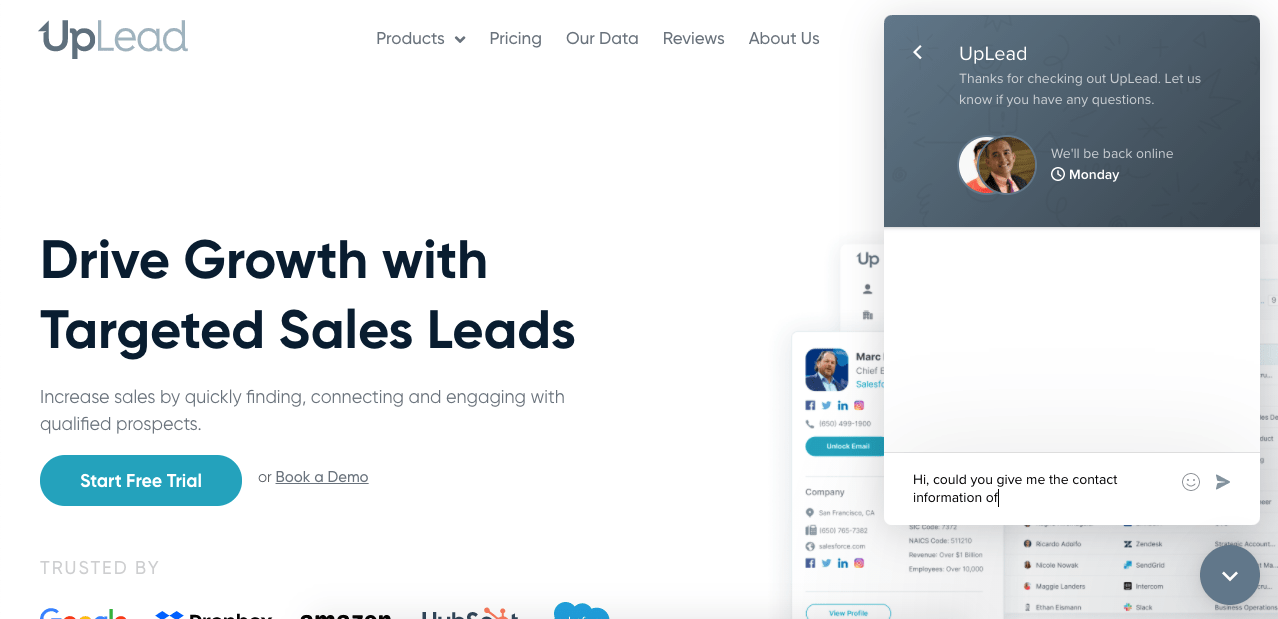 Many people avoid posting their email addresses online because they're worried about spam, not because they don't want you to find it.
If their email isn't listed anywhere, you can always fill up a contact form or contact the company via live chat to ask for it. You can ask for a customer services manager to get a better chance of receiving a quick and positive response. You can also introduce yourself and, if you're filling out a contact form, let them know why you want to contact them.
Pros:
Free: Just send one message.
Very accurate: The information you receive will likely be exactly the information you need.
Cons:
Very time-consuming: You'll need to find the form on the website or the customer service email address, and write an individual message to them.
Not scalable: Too time-consuming to search multiple leads.
#10 Sign up for your prospect's newsletter (or download a lead magnet)
Most companies create newsletters to keep users informed. Subscribing to a newsletter is usually a great way of getting in touch with the person who creates it, as newsletters are generally sent from an employee's email address.
Simply find the newsletter form to subscribe, then check your inbox to find the welcome email or opt-in confirmation.


Unless the address is a "no-reply" email address, you can usually click "reply" and open the communication channel.
Using this unorthodox method is a great way of receiving replies, even when sending cold emails.
Pros:
Fairly accurate: If the newsletter isn't posted using a "no-reply" address, it'll most likely be attached to an actual person's email account.
Free: Free way to find email addresses by just finding a newsletter.
High response chances: Since this is a method that not a lot of people use, you're more likely to get a response.
Cons:
Time-consuming: You'll need to find a website with a newsletter, subscribe, wait for an email, write an email, and wait for a reply.
Not scalable: Too time-consuming to do multiple email addresses at once.
Not guaranteed: The email may not be read, or you may not receive a response.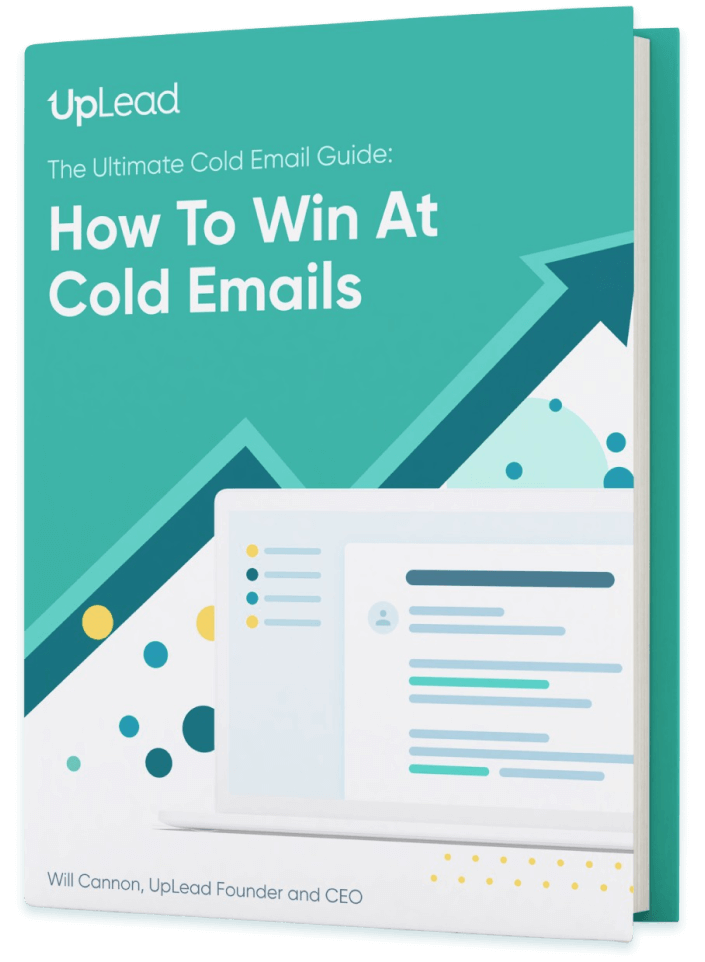 Download our free eBook full of valuable insights and take your cold emailing strategy to the next level.
I agree to receive emails from UpLead, and can unsubscribe at any time.
#11 Find someone's email address on Facebook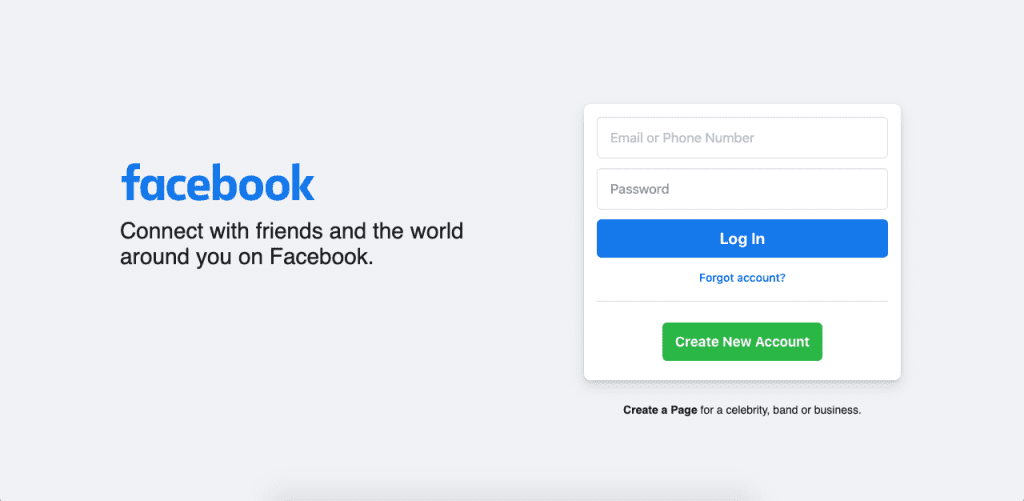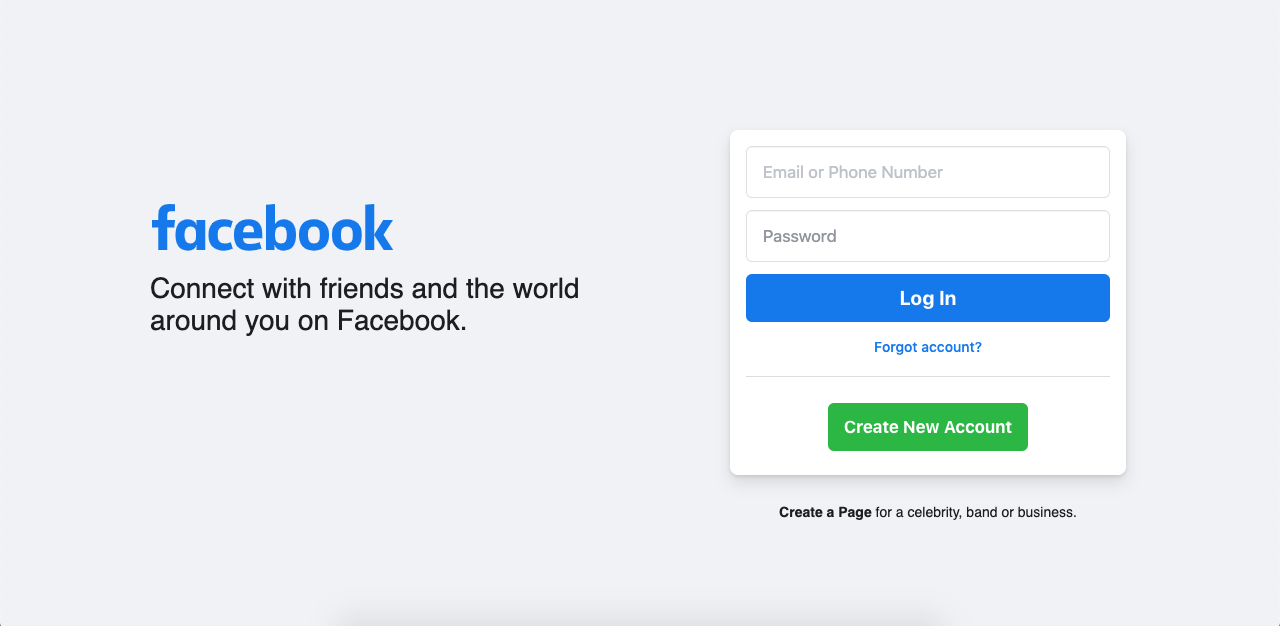 If you already have someone's social media information, like their Facebook page address, you may be able to find their email address through it.
Start by looking at the "About" section on your lead's Facebook page. Most users, especially those with public pages, will have their contact information posted there.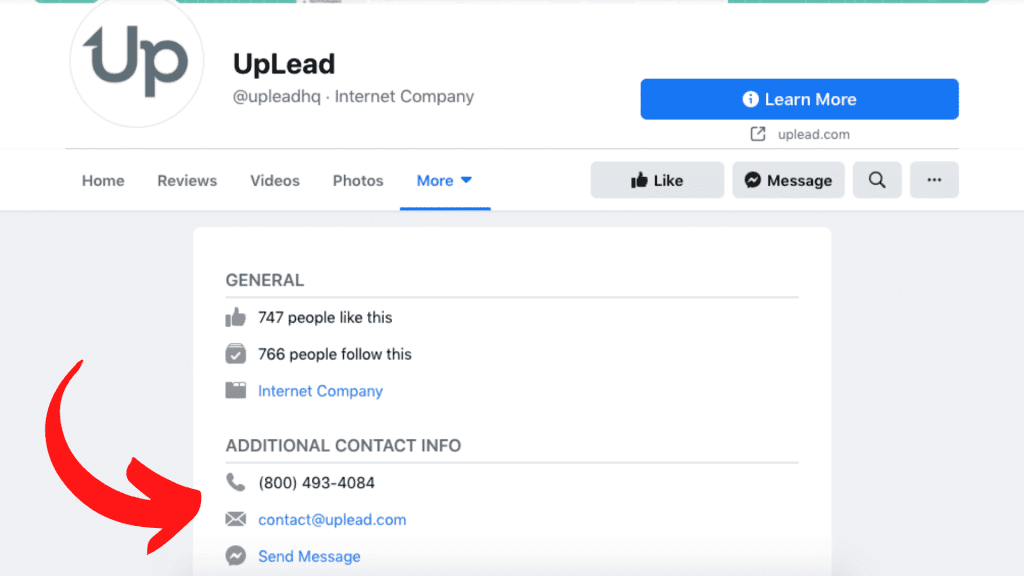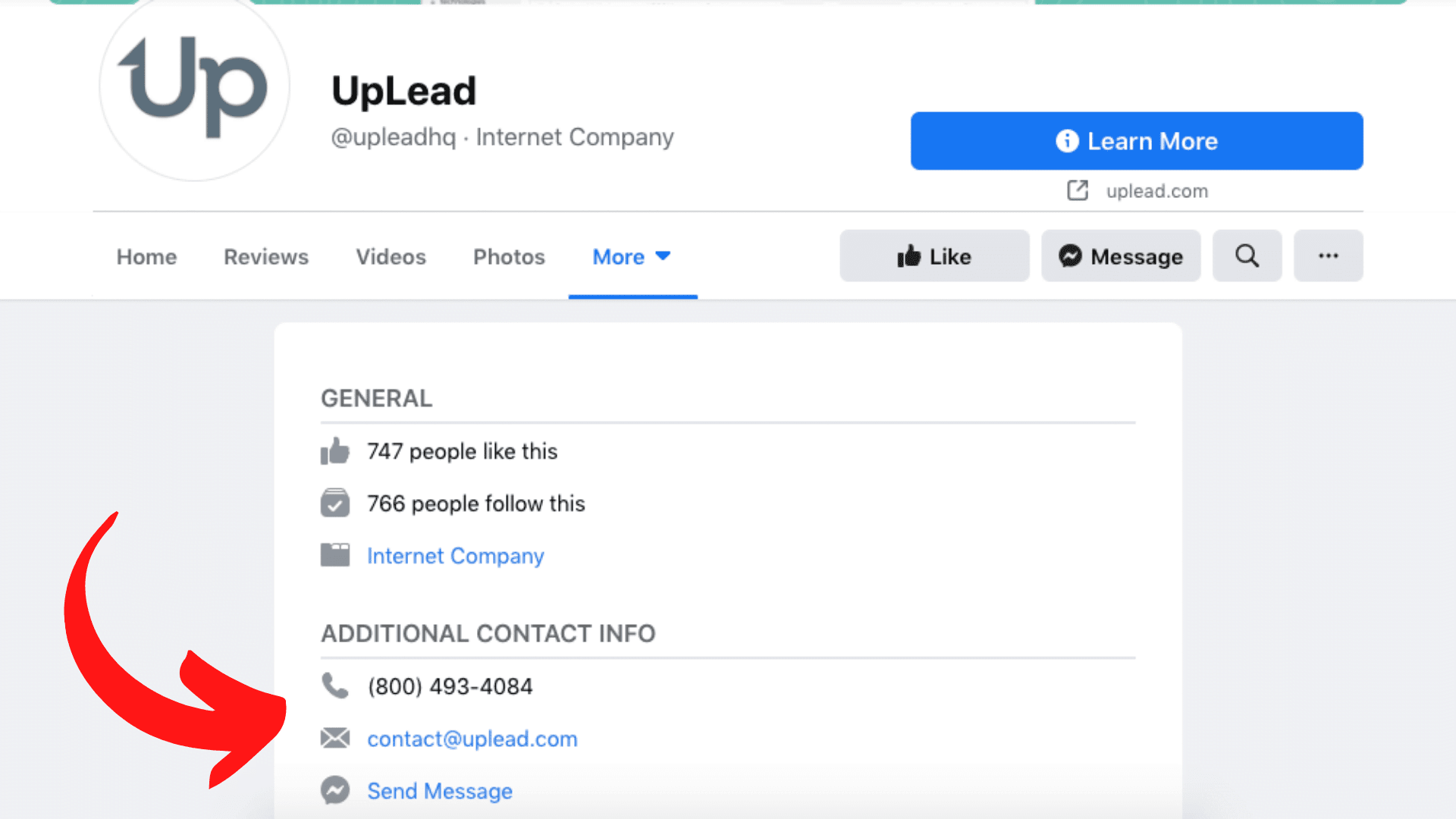 You can also make an educated guess by looking at their Facebook address. Look at the text after "facebook.com/". For example, if their page address is "facebook.com/dan.smith1998", their email may be "[email protected]".
You may also use this technique to reverse search and find someone by email for free.
Pros:
Free: You just need a Facebook account.
Highly targeted: You'll likely get the right email.
Cons:
Not guaranteed: The chances of finding an email address using this method are slim.
Not scalable: Too time-consuming to use for multiple email addresses.
#12 Find an email address by phone number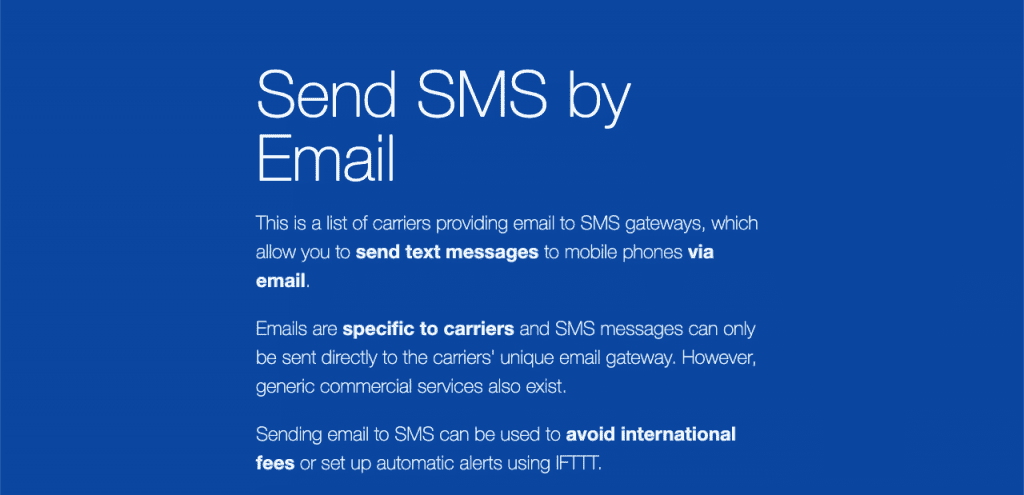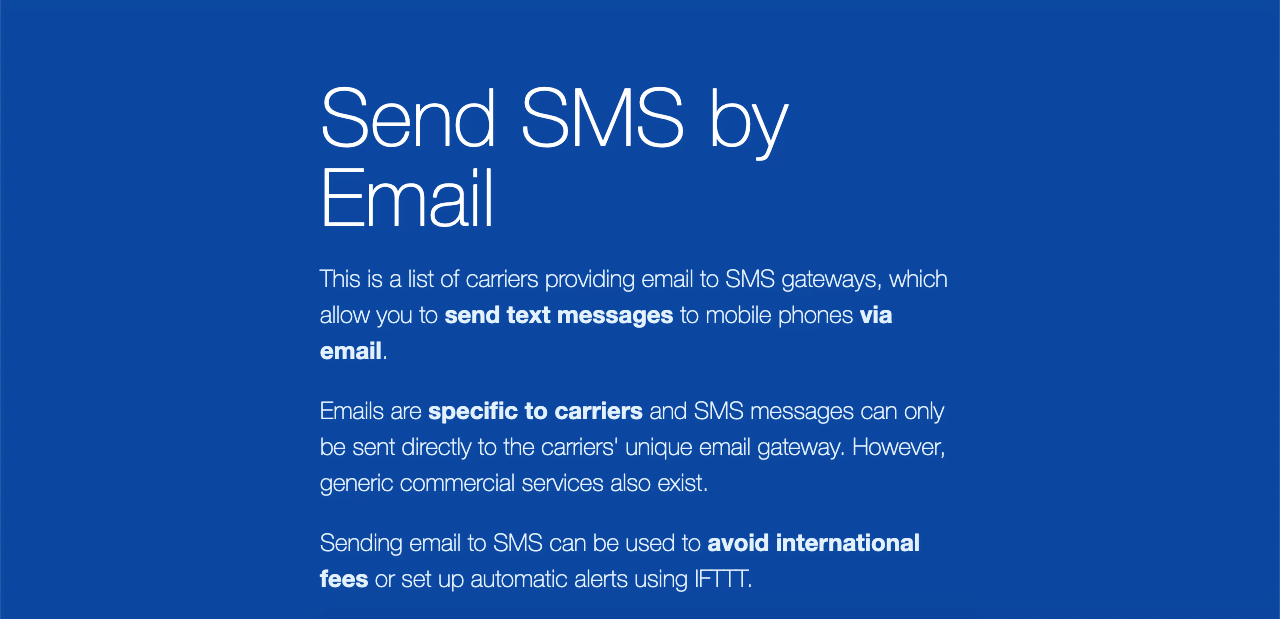 Depending on the country and phone carrier used, you can sometimes send an email to a mobile phone number and the person will receive it as a text message.
All you need to do is write an email and send it to the address of the phone number and the carrier. For example, for the phone number (415) 555-2312 from Verizon, the email address would be [email protected].
You can use platforms like email2sms.info to download a list of carriers in various countries who will allow you to use this method. If you don't know the mobile carrier of the contact you're searching for, you can try variations of all of the carriers in the contact's country.
You can also use their phone number to find their email address. Start by searching for their phone number on Google. You may find a contact page with their profile and their email address. Look up that phone number on social media, like Facebook, to see if any profiles are associated with it.
Remember to separate the area code from the rest of the phone numbers when performing searches and try different variations without it or with the country's code.
Start by dividing your full phone number like this: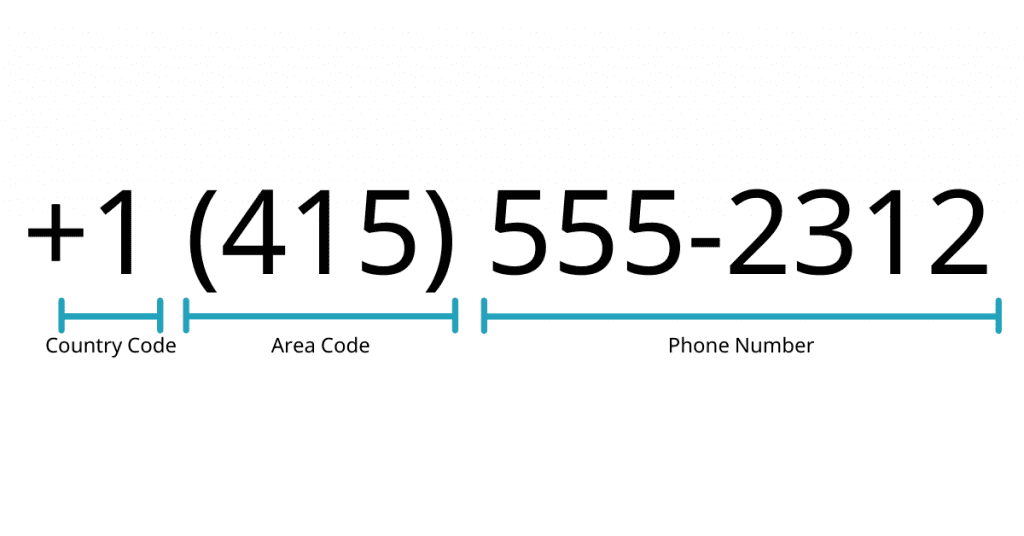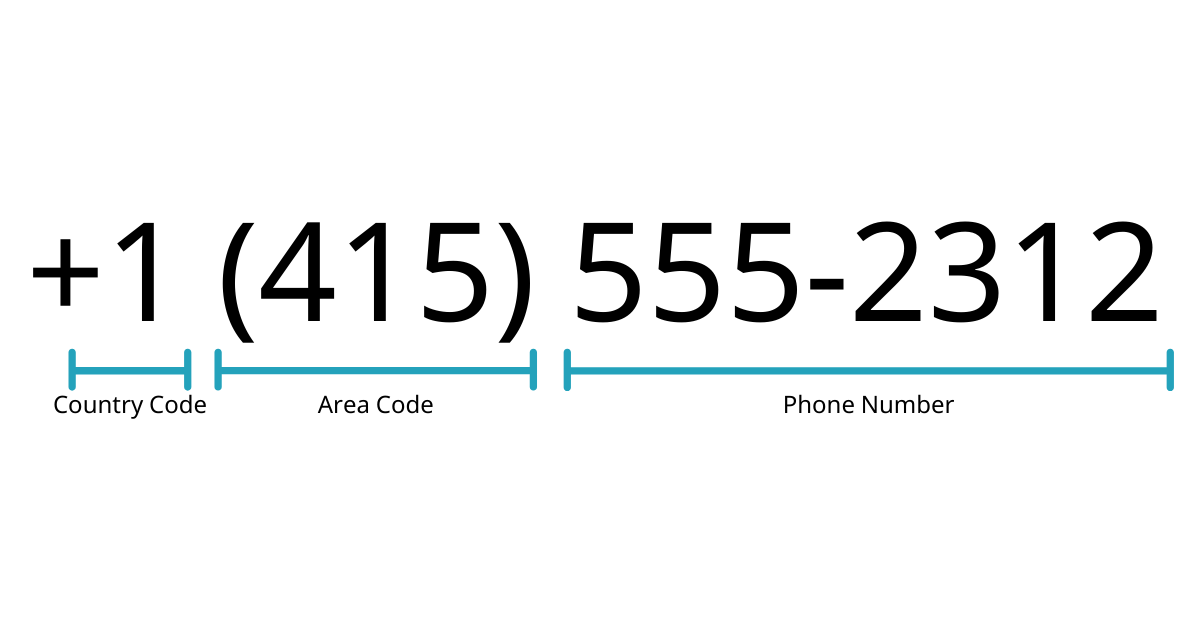 If you're looking to receive more information from it, look up the country code and area code, which, in this case, belongs to the USA's greater San Francisco Bay area.
With that information, you can try queries like these:
415 555-2312
555-2312
555-2312 san francisco
555-2312 united states
Finally, if you have a phone number for your contact, you can always call them and ask for their email address. Alternatively, you can contact them via WhatsApp or SMS.
Pros:
Free: All you need is access to Google.
Highly accurate: The information you receive will likely be very accurate.
Cons:
Not scalable: The process will take too long to try with any more than a couple of dozen phone numbers.
Not guaranteed: There's no guarantee that the phone number will be available online.
Conclusion
There are many ways to locate someone's email address. If you're looking for a solution that can handle as many email addresses as you need and guarantees its results, try UpLead.
With UpLead, you will receive a 95% accuracy guarantee and can validate your email addresses as you download them, so you know you're paying for accurate information.
Learn more about how you can use UpLead to find email addresses here.