While exploring your business's ideal sales intelligence tool, you might have encountered Cognism. This all-inclusive article will explore Cognism's capabilities, primary features, and pricing model. In addition, we'll compare Cognism with other alternatives in the market, like UpLead, to assist you in making a well-informed decision that aligns with your sales objectives.
Quick Links:
What is Cognism?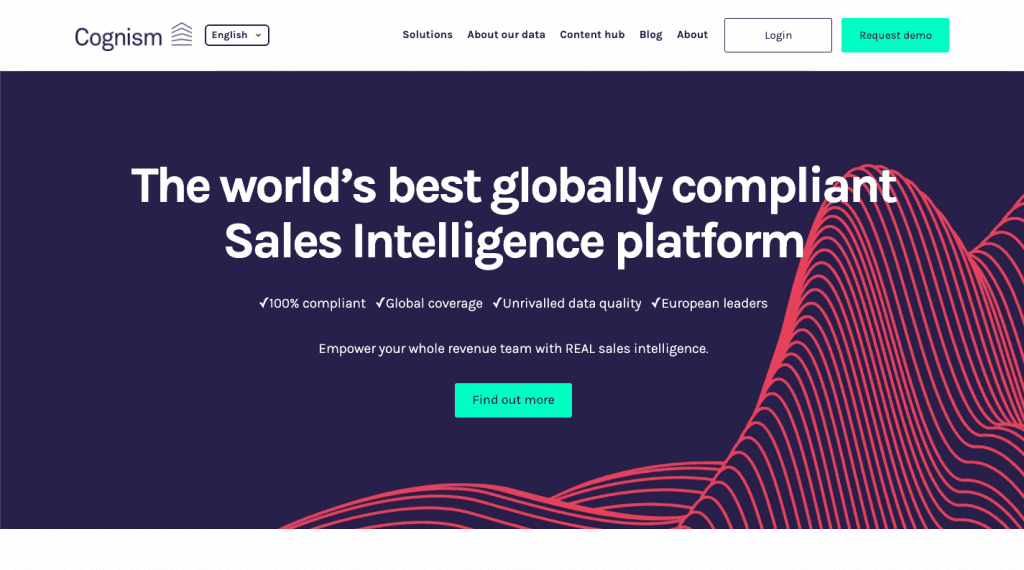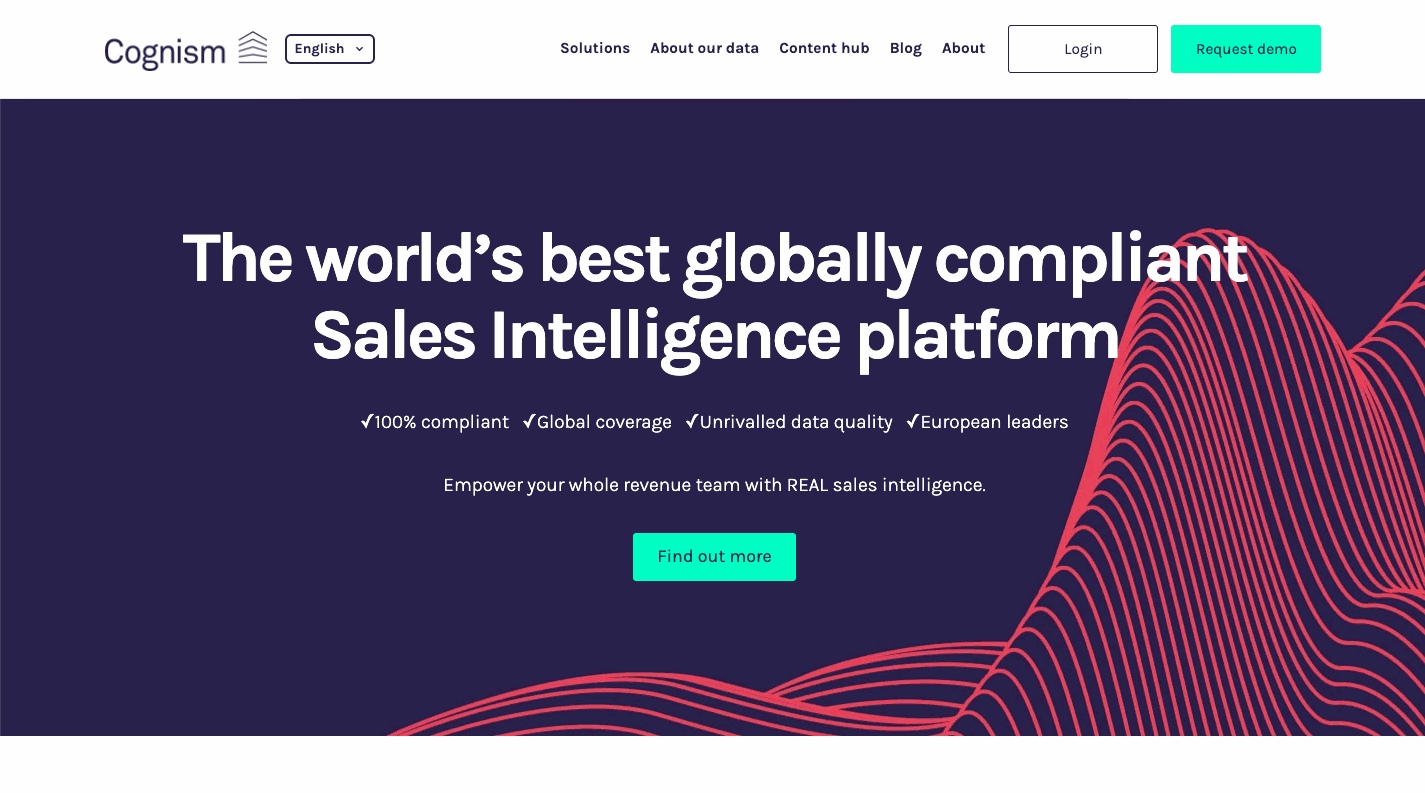 Cognism is a B2B global sales intelligence platform that helps businesses find and connect with their ideal customers. It provides accurate contact information, including email addresses, mobile phone numbers, and intent data based on contextual data. Cognism helps revenue teams ensure GDPR compliance by offering Do Not Call (DNC) cleaned numbers. It's similar to email finders like UpLead, providing high-quality B2B lead data and unrivaled global data coverage.
Cognism Database
Cognism's database is robust and versatile, combining first and third-party sources, community-based data, and publicly available information. The platform's proprietary machine learning models cross-reference company data with job postings to provide insights into which specific companies use technologies. Cognism boasts strategic partnerships with premier data providers like Bombora and offers a complete dataset called Diamond Data®, with a 98% accuracy rate.
Cognism Key Features
Cognism is a comprehensive B2B data and sales acceleration platform providing businesses with accurate and unrivaled global data coverage. It enables sales and marketing teams to identify and engage with potential customers more effectively. By utilizing advanced artificial intelligence (AI) and machine learning algorithms, Cognism supports sales teams to optimize their lead generation to find ideal fit accounts.
Some of Cognism's key features include:
Unlimited views and unrestricted individual and page-level exports: Cognism offers users unlimited access to view and export intent data, allowing for better decision-making and streamlined workflows in your sales and marketing efforts.
Access to Chrome extension for exporting: The Cognism Chrome extension enables users to easily export data and contacts directly from their browser, saving time and improving efficiency.
Insights into contact, company, technographic, and intent data: Cognism's extensive database provides valuable insights into contact and company information, technographic data, and sales trigger events. These insights help your sales team better understand and target new business opportunities faster, ultimately improving their overall sales and marketing strategies.
Cognism Pricing
While Cognism does not disclose specific pricing information on its website, understanding pricing factors can help potential customers understand the costs involved.
Flat platform fee: The primary component of Cognism pricing is a flat platform fee. This fee provides users access to the web application and Chrome extension. In addition, Cognism integrates with popular sales tools such as Salesforce and HubSpot. This fee ensures users can leverage the platform's powerful features and integrations to maximize their sales and marketing efforts.
Unrestricted access to data: Cognism's platform offers a wealth of data to help businesses identify and engage with potential leads. As part of the pricing structure, users can enjoy unrestricted access to this data, which includes the ability to export the information for use in other applications or tools. This access lets you fully capitalize on the platform's powerful data capabilities to identify high-quality leads and develop targeted marketing campaigns.
Flexible workflows: Recognizing that every business has unique needs, the Cognism pricing structure considers the flexibility required to create custom workflows. This feature allows you to tailor the platform to your requirements, building workflows that better qualify leads and streamline the sales process. 
Understanding the factors influencing Cognism's pricing can help potential customers gauge the costs involved. With its flat platform fee, unrestricted data access, and flexible workflows, Cognism pricing is designed to cater to the unique needs of each business and provide maximum value for its users.
Start Your 7-Day Free UpLead Trial
Lead generation doesn't have to be all that painful. With UpLead, you can easily connect with high-quality prospects and leads to grow your company.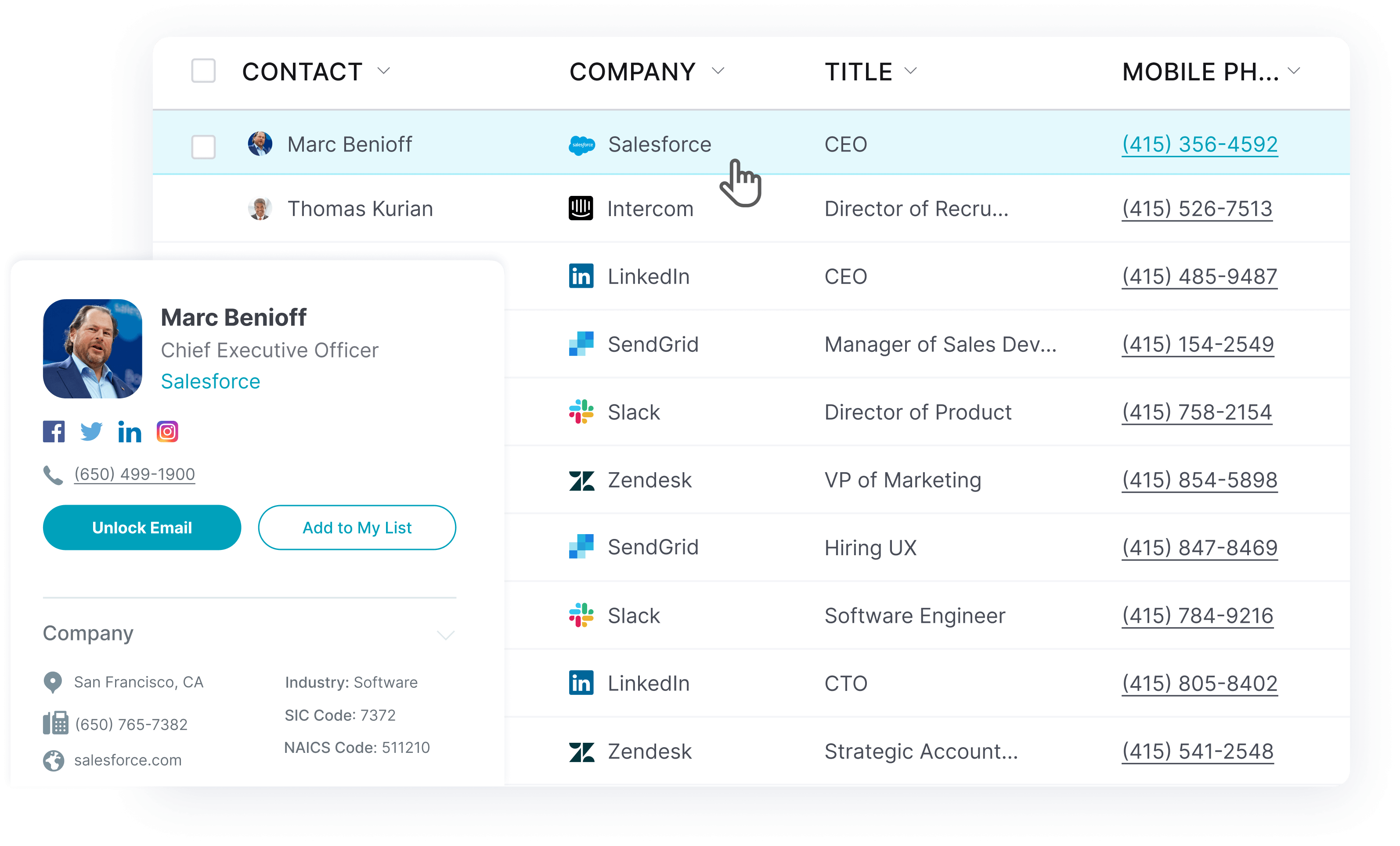 Cognism Integrations
Cognism can be integrated with various CRM and sales tools, allowing you to create new records, update existing data, and map advanced data points like technographics for an enriched experience. In addition, Cognism helps you get the most out of LinkedIn Sales Navigator to improve your lead lists. 
Cognism integrates with the following applications:
Salesforce
Hubspot
Microsoft Dynamics
Pipedrive
Outreach
Zapier
UpLead is the Best Cognism Alternative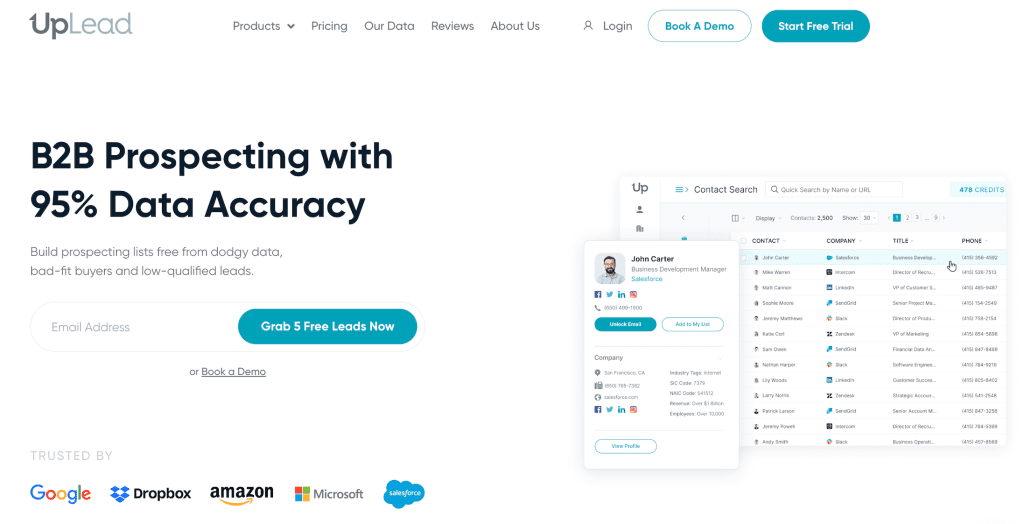 UpLead is the best alternative to Cognism, offering high-quality B2B data access with a 95% data accuracy rate. UpLead's database features over 135 million B2B contacts and email addresses, with 16K technologies tracked. The platform ensures data accuracy through machine learning, human data validation, and real-time email verification at the point of download. Unlike Cognism, UpLead ensures 95% data accuracy, meaning you only pay for quality leads. 
Key Features
UpLead's key features include the following:
Ease of use: simple workflows for finding qualified prospects
High-quality sales intelligence, including intent data
Access to over 108 million companies in over 200 countries
Account-based marketing to help zero in on key organizations
Pricing
UpLead offers a 7-day free trial with CRM integration, technographic info, and Chrome extension. The Cognism cost breakdown is as follows:
Essentials: At $74/month (billed annually), you'll receive 2,040 credits per year, mobile direct dials, and the Chrome extension. This plan is suitable for individuals or small teams.
Plus: For $149/month (billed annually), you get 4,800 credits annually and access to enrichment API and email pattern intelligence. This plan is built for scaling teams.
Professional: Priced at $299/month (billed annually), this plan provides 12,000 credits per year and includes features such as prospector pro API and advanced search, making it an ideal choice for large teams with complex lead generation goals.
Experience UpLead's high-quality lead generation capabilities with a free trial.
Explore More Alternatives to Cognism
In addition to UpLead, other alternatives to Cognism offer a range of features and capabilities for businesses in search of high-quality lead-generation tools. Below are brief overviews of two popular options: ZoomInfo and Lusha.
ZoomInfo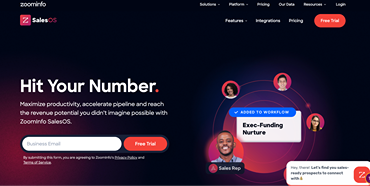 ZoomInfo is a global sales intelligence platform that offers various features to help businesses with lead generation, sales management, and revenue tracking. 
Key Features:
Some of ZoomInfo's key features include:
B2B sales intelligence and customized workflows
Real-time intent data about contacts and companies
Embedded chat and conversation intelligence
Pricing:
ZoomInfo does not display pricing on its website. The company offers products such as SalesOS, MarketingOS, and TalentOS for differing use cases.
Lusha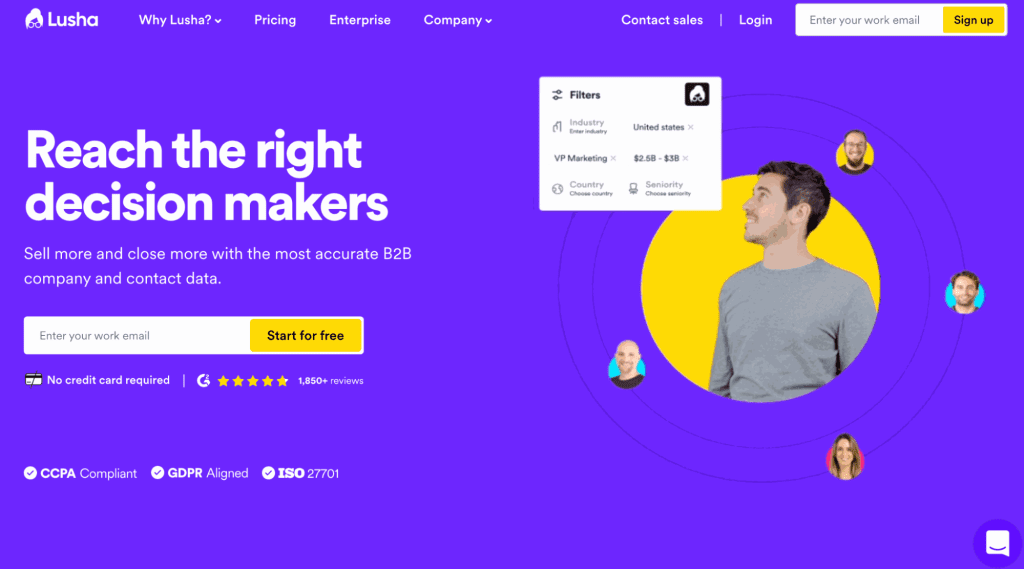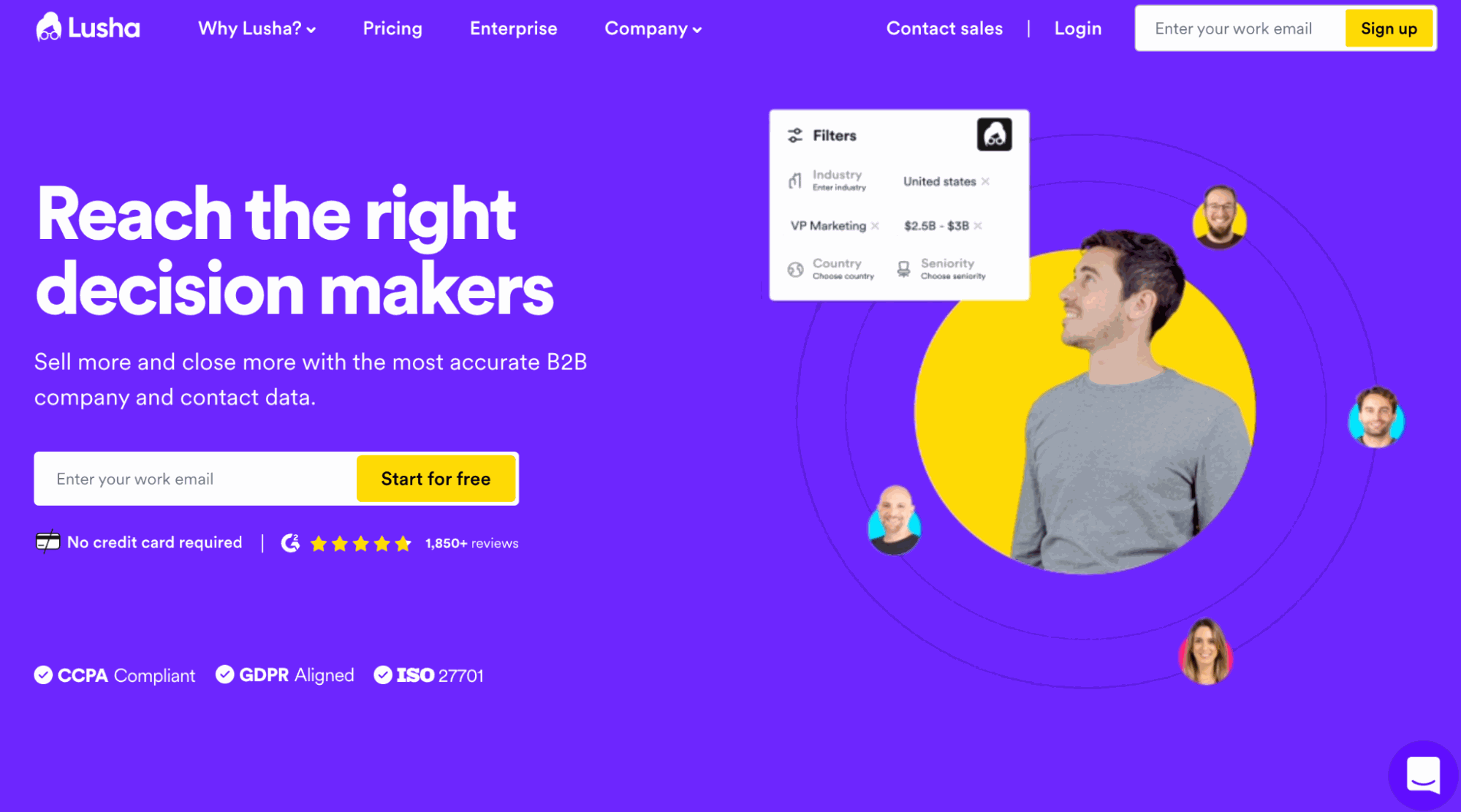 Lusha helps you pinpoint your ideal customer, providing similar features as UpLead. It offers a free trial with up to 5 credits, but UpLead provides more CRM integration at this level.
Key Features:
Lusha offers the following key features:
Access to buyer intent data
Advanced filters for email lists
Usage analytics
Technographic information
Pricing:
Lusha offers four different pricing tiers:
Free: 5 credits per user
Pro: $29 per user per month
Premium: $51 per user per month
Scale: custom pricing
FAQs
The following are a few of the most frequently asked questions about Cognism pricing.
How does Cognism work?
Cognism uses a programmatic approach to data collection, which involves an in-house team of data researchers and analysts working alongside an artificial intelligence team to collect, analyze, and validate data and build technical data collection tools from public sources. Cognism helps revenue teams connect with their dream sales prospects by providing premium contact, company, and event information, including firmographics, technographics, sales trigger events, intent data, verified business emails, and phone-verified mobile numbers.
Is Cognism legit?
Yes. Cognism is a legitimate global sales intelligence platform that provides fresh, relevant, and accurate company and contact-level data, including business emails and mobile numbers for EMEA, the US, and APAC decision-makers.
What are the benefits of Cognism?
Cognism offers several benefits to revenue teams, including finding and connecting with people they want to do business with and providing fresh, relevant, and accurate company and contact-level data. The platform helps salespeople find mobile numbers and emails and identify decision-makers in companies they want to do business with. Marketers can build lead lists on demand and supercharge their outbound marketing campaigns.
What is the accuracy of Cognism?
Cognism's B2B data has phone-verified contacts that generate 7X more leads and a 95-98% deliverability rate for email campaigns. OneUp Sales, a UK-based sales productivity software, uses Cognism's B2B data to obtain an 89% accuracy with mobile numbers.
What You Need to Remember About Cognism Pricing
Cognism is a robust B2B sales intelligence platform offering unrivaled global data coverage, allowing businesses to optimize their lead generation, prospecting, and sales processes. While specific Cognism cost details are not disclosed on its website, Cognism pricing revolves around a flat platform fee, unrestricted data access, and flexible workflows to cater to each business's unique needs. 
Alternatives like UpLead also provide various features and capabilities for businesses seeking high-quality lead generation tools– often at a lower price. By understanding these platforms' offerings, key features, and pricing structures, you can make a well-informed decision that aligns with your sales objectives and enables your business to connect with ideal customers more effectively.