If you're on a budget or simply looking for a cheaper lead generation technique, you may want to try free email lists. Multiple free email marketing services allow you to generate email lists filled with leads.
However, not every free email marketing tool will give you reliable mailing lists. And using unreliable addresses for your email campaigns can be highly detrimental to all your email marketing efforts.
In this article, we'll show you ten email list providers that allow you to get free, reliable mailing lists, and we'll even explain how to create your own list.
By the end of the article, you'll know where to get virtually unlimited emails through the right free email marketing tools.
Let's get started!
Quick Links:
1. UpLead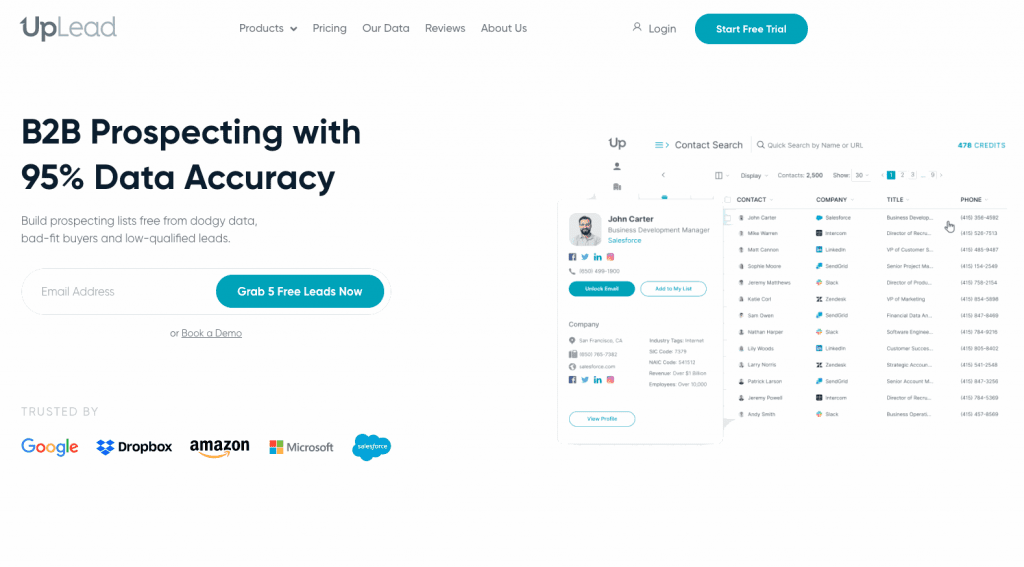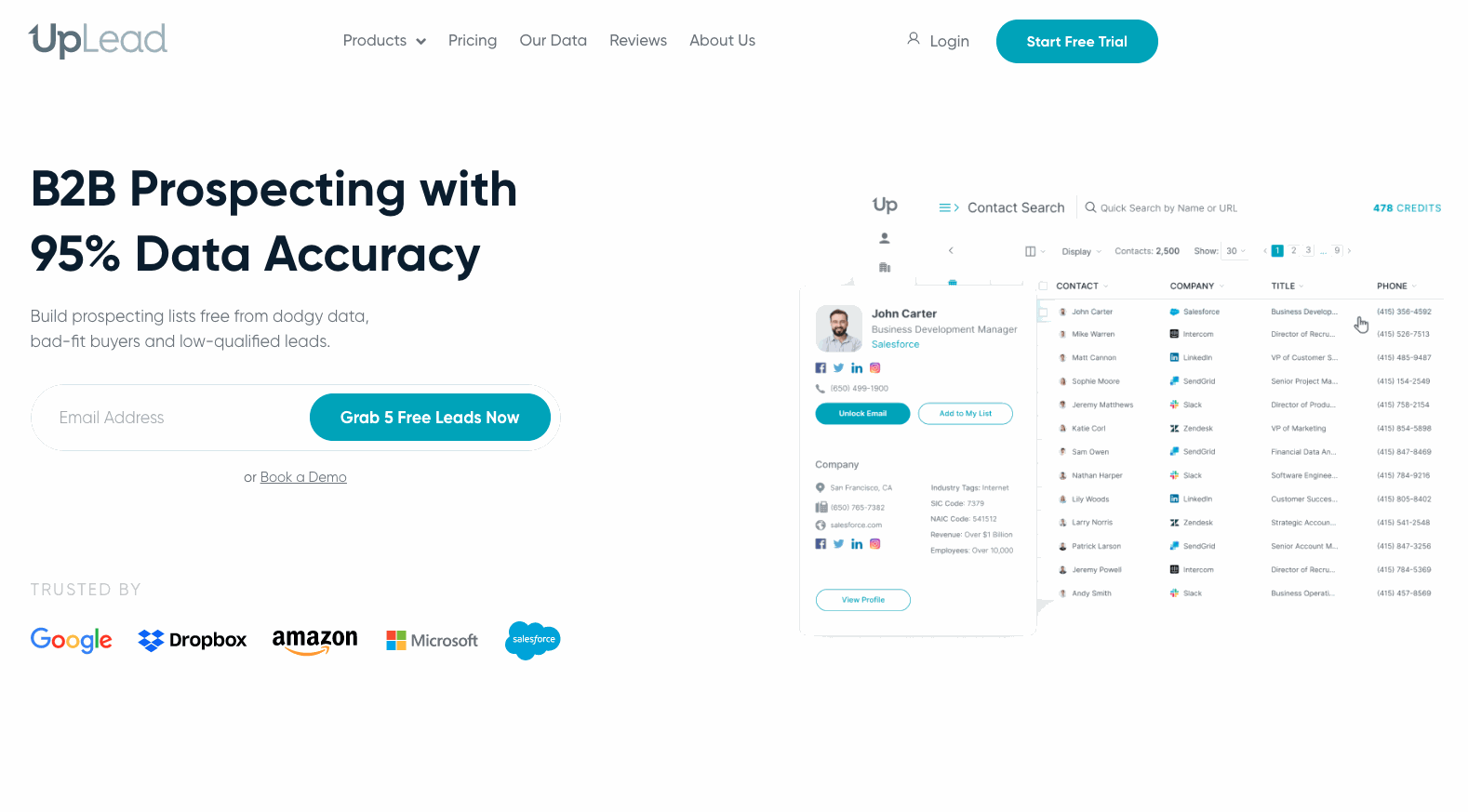 UpLead is a B2B lead generation tool that allows you to generate as many verified contacts as you need for all your email marketing campaigns.
This powerful tool helps you quickly find emails through its business database of 140+ million contacts. This massive database is constantly crafted and updated from public and private sources and goes through lengthy testing and validation to ensure you only get the most accurate data.
Once you're done collecting leads for your email campaigns, all emails are validated in real-time right before you download your list to ensure deliverability.
UpLead is one of the few email marketing tools that guarantee 95% data accuracy, allowing you to trust your data for your email marketing efforts fully.
With UpLead, you not only get email addresses, but you also get mobile direct dials, complete lead profiles, and social links for easy outreach.
You can even download new leads and enrich your data with lead details such as technographic information, industry, demographics, intent data, and much more.
This enables you to easily segment your mailing lists to ensure the right leads are in the right email marketing campaigns.
How to get free email lists with UpLead
UpLead allows you to try out the platform with its free trial. This includes 5 credits for you to test all features and data, allowing you to get technographic data and integrate it with your CRM.
Try UpLead today and see if it's a good fit for you.
Start Your 7-Day Free UpLead Trial
Lead generation doesn't have to be all that painful. With UpLead, you can easily connect with high-quality prospects and leads to grow your company.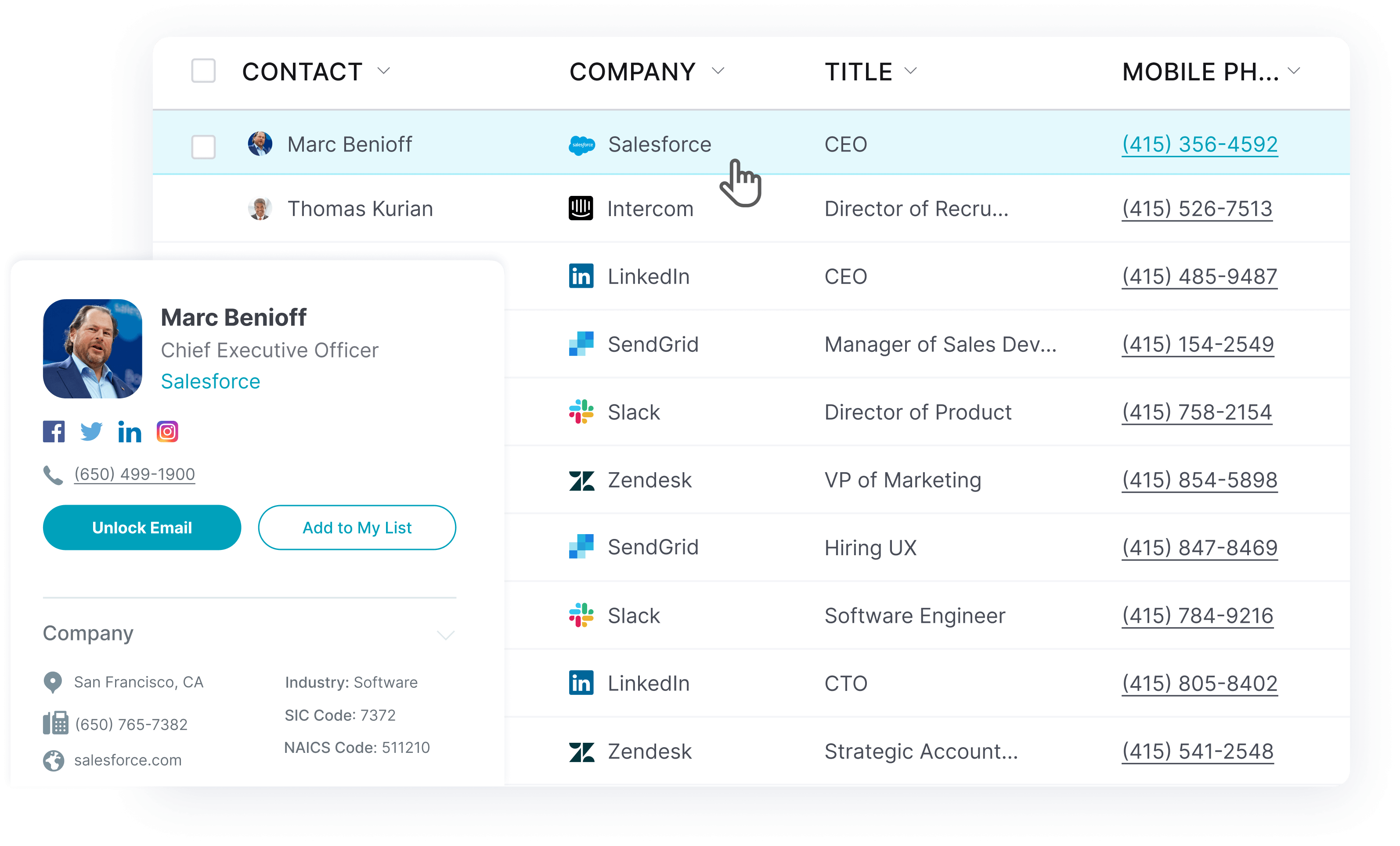 If you're still looking, you may also try some UpLead alternatives as well.
2. Spokeo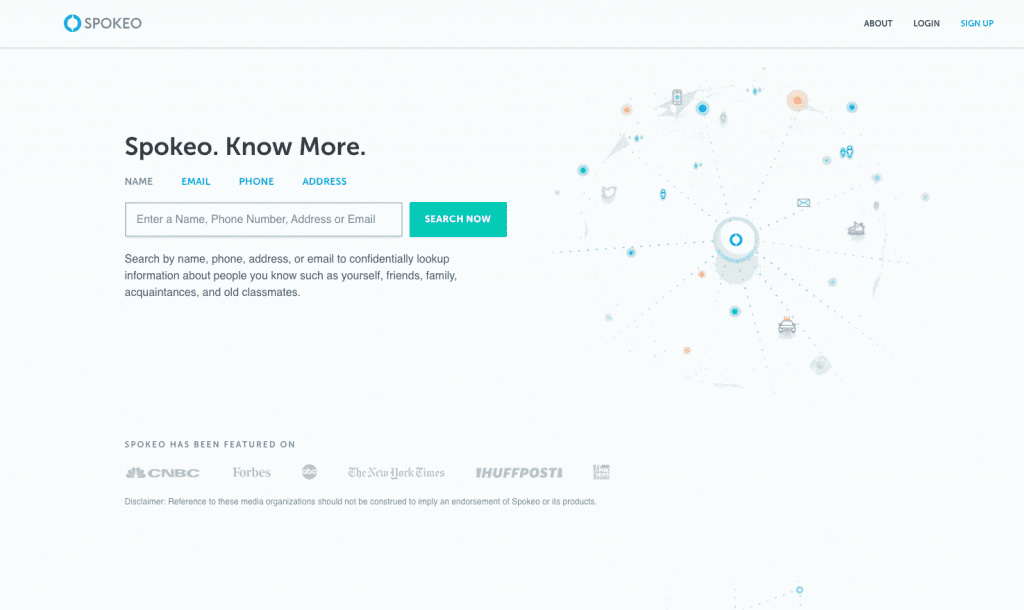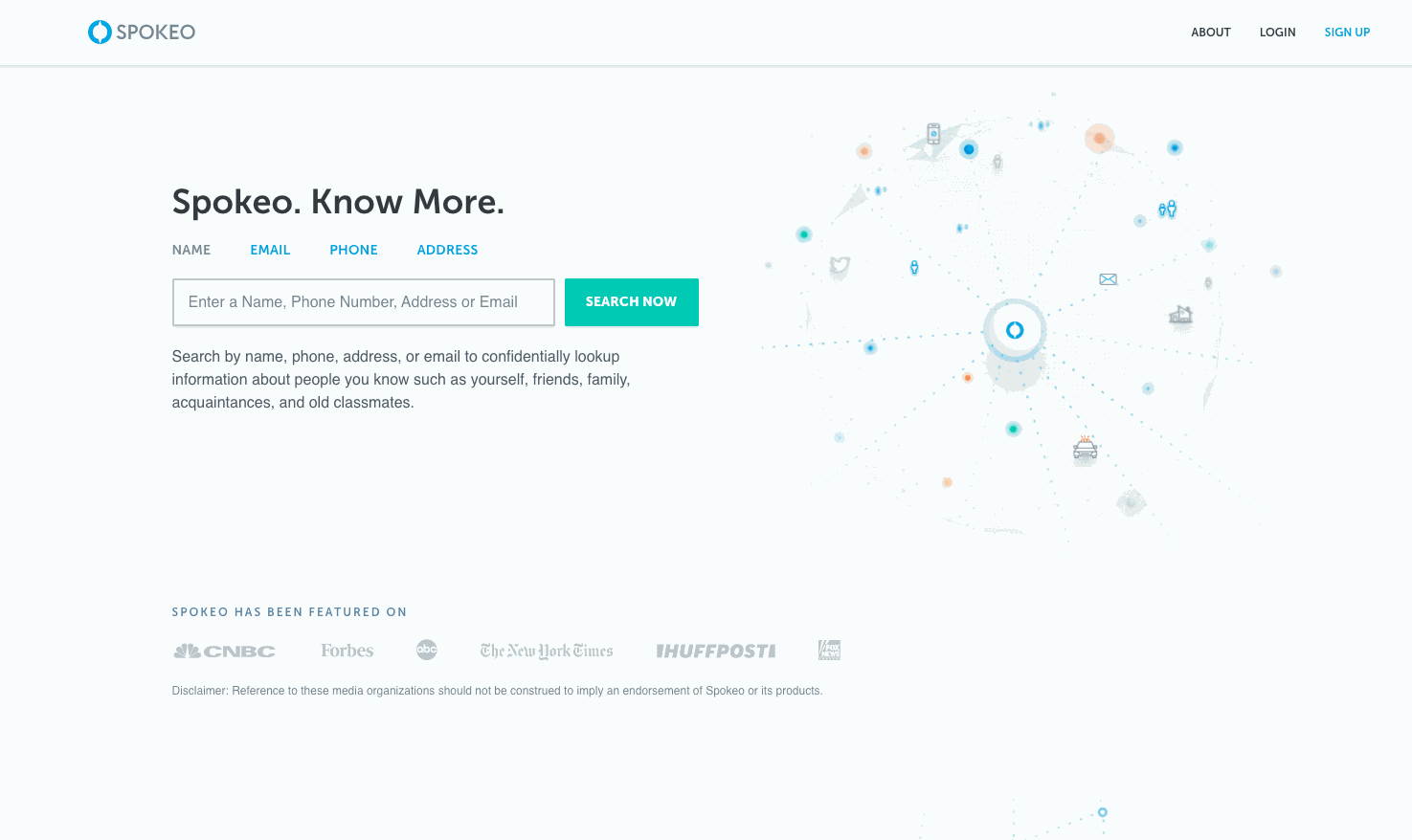 Spokeo is another tool that can be used to generate leads for your email campaigns. With it, users can find leads for email marketing campaigns according to addresses, names, or contact information.
The platform claims to have billions of records. However, not all records are related to email campaigns. Instead, the platform hosts court records and social networks, which users may find useful when looking into someone's background or finding lost friends.
Although the platform has multiple bad reviews, it may still be helpful for people looking for records of leads and users.
How to get free email lists with Spokeo
Spokeo offers users free basic results, which may include their location, age, and other data. Aside from this limited free tool, the platform may not offer users free trials.
3. Hunter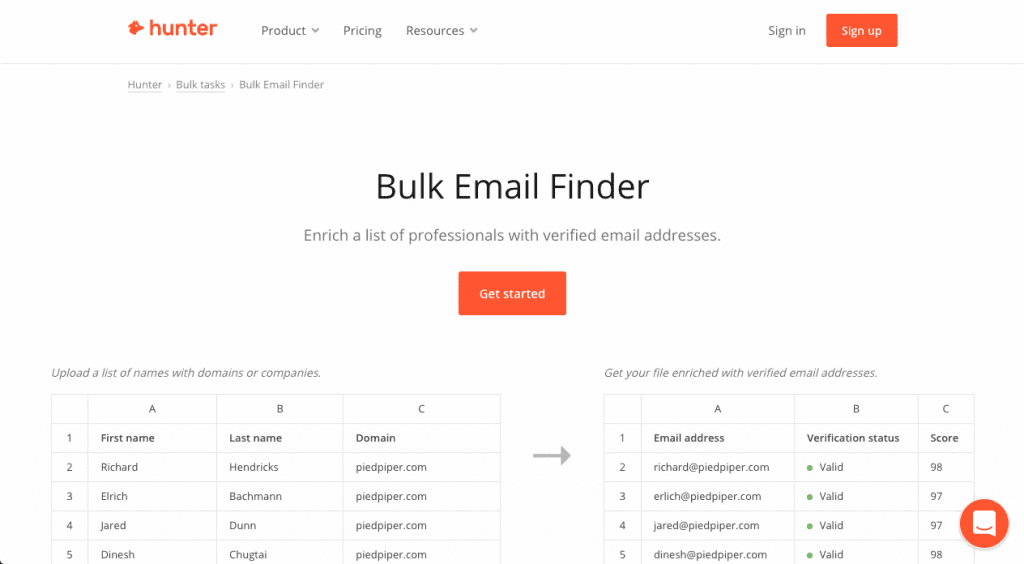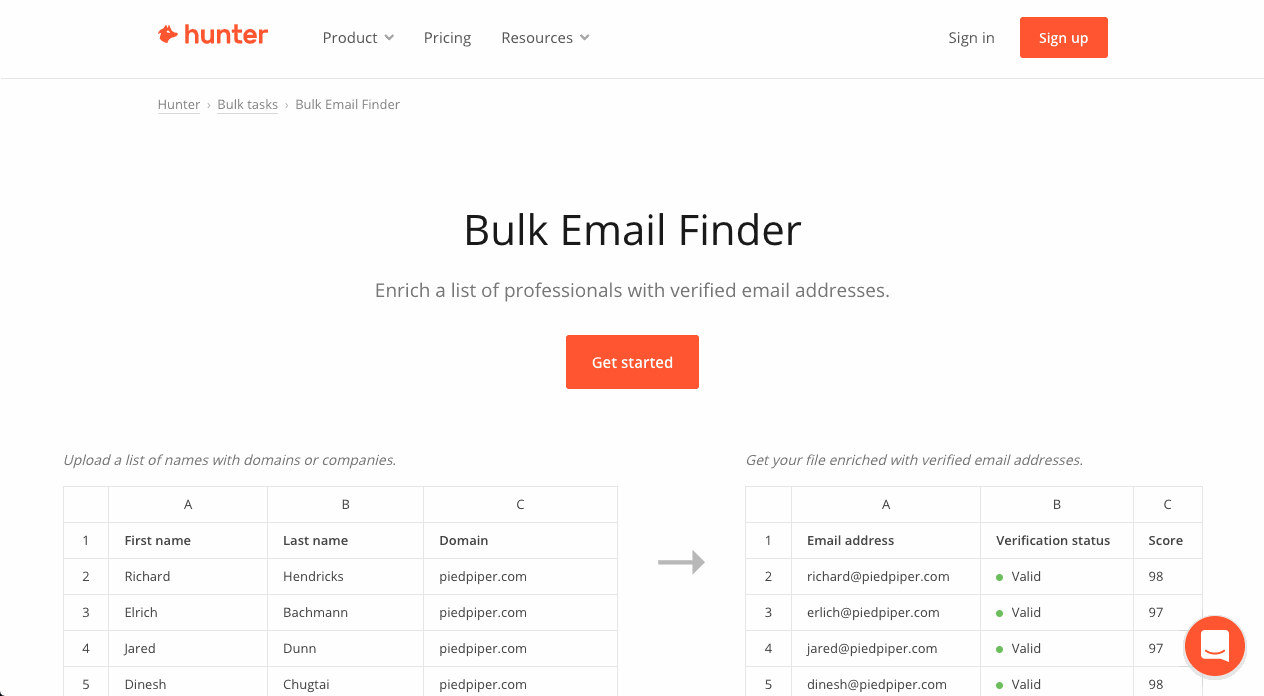 Another one of our free email marketing tools is Hunter, an email address finder with a large business database.
Hunter's email finder can populate users' email campaigns with leads who fit specific data points. The platform also offers data enrichment to help users learn from their data and segment their leads.
However, the lack of any data guarantee means many users will have to get a different email marketing service to validate their emails before they include them in any campaign. If you're looking for a solid Hunter.io alternative, give us a try.
How to get free email lists with Hunter
Hunter offers a limited free plan that includes 25 searches per month and 50 verifications per month. However, Hunter will give you a "confidence score" and doesn't seem to guarantee its data.
Paid plans include advanced campaign capabilities, priority support, and other features.
4. Lusha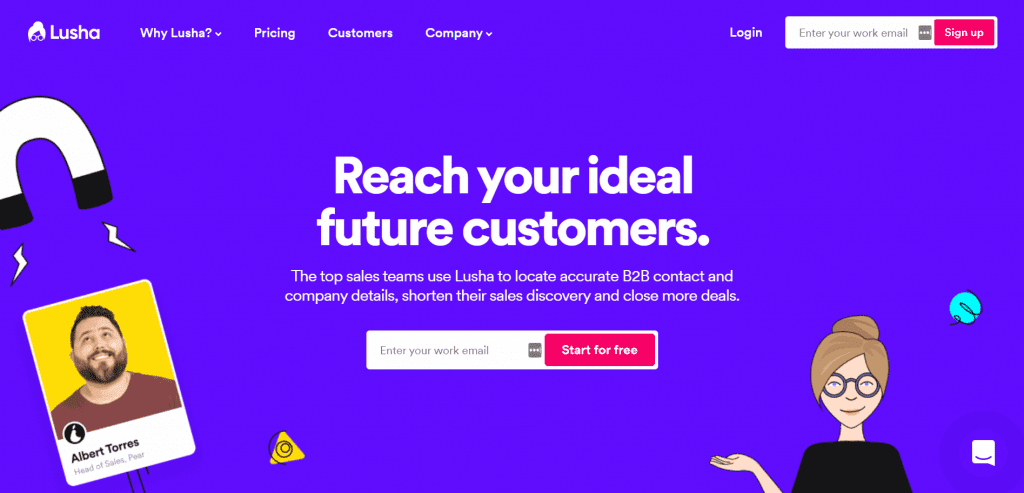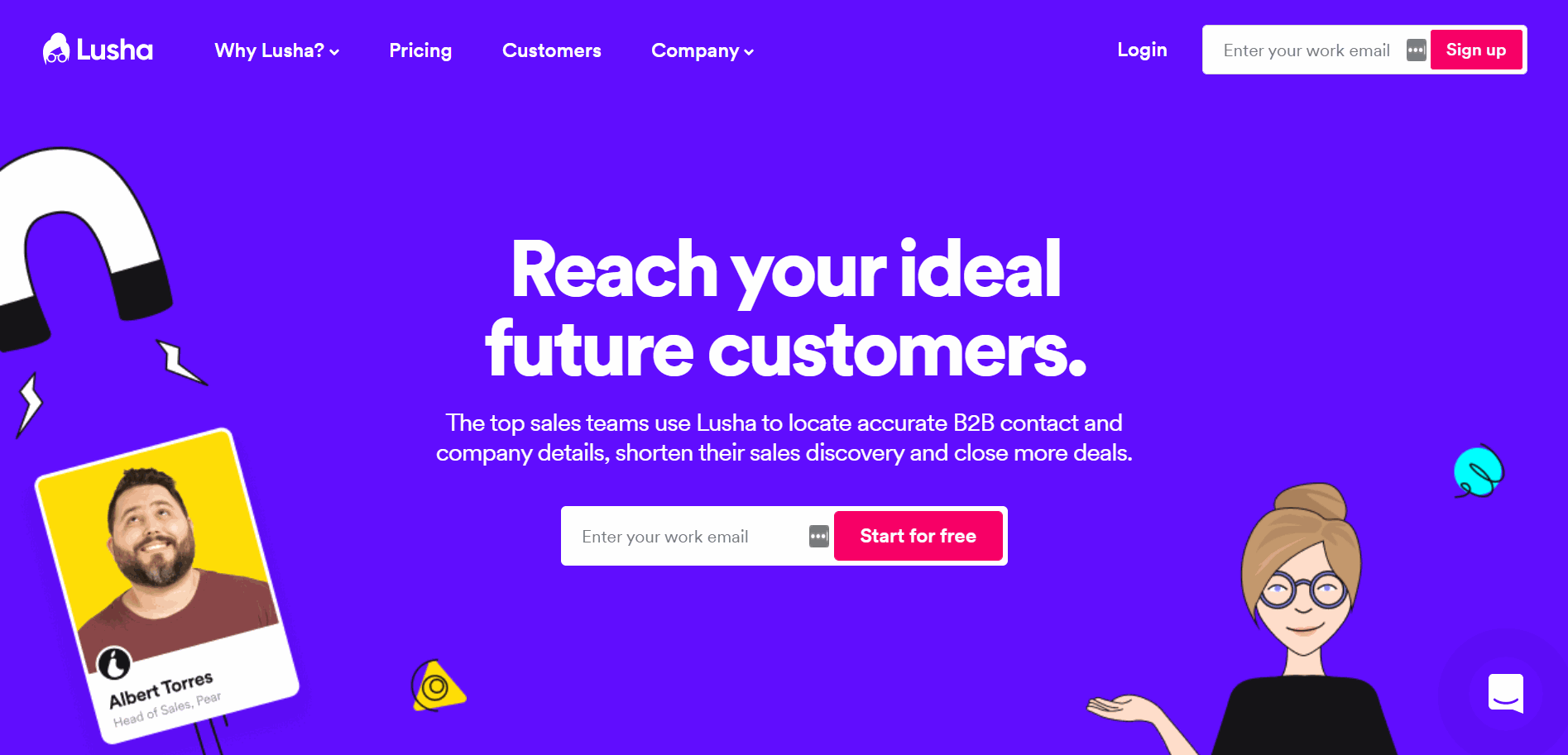 Lusha is another free email marketing tool that offers a limited free plan so users can test its business database.
With it, users can find multiple email addresses and phone numbers. This eye-catching platform integrates with Salesforce, LinkedIn, and Twitter, offering users an API to develop more integrations.
Besides professional company data, the platform also provides personal email addresses, which may be useful when sending personalized email messages.
How to get free email lists with Lusha
Lusha's free plan offers five monthly credits, which users may redeem for email addresses and phone numbers. After that, pricing starts at $99 per month for up to two users to export contacts and get prospecting features. Here are some Lusha alternatives in case you're looking for something else.
5. Seamless.AI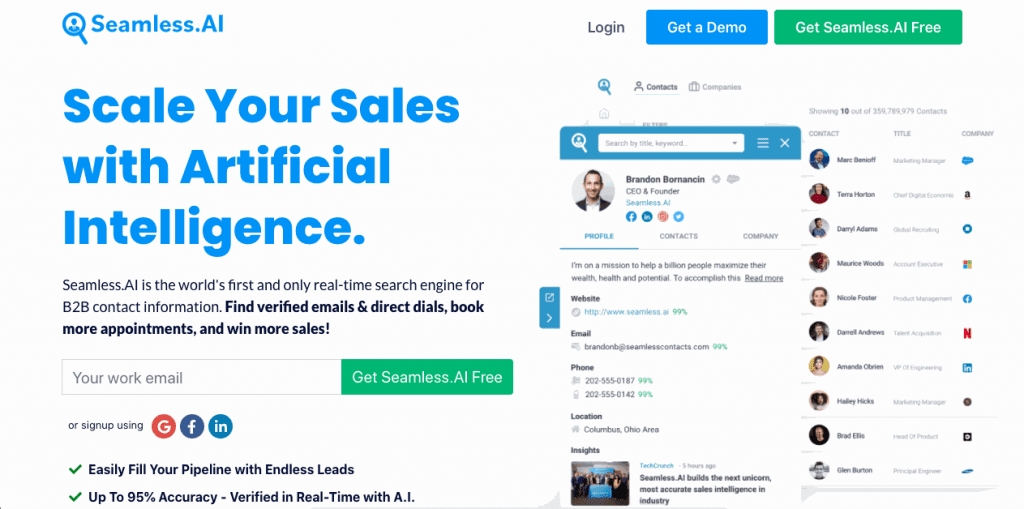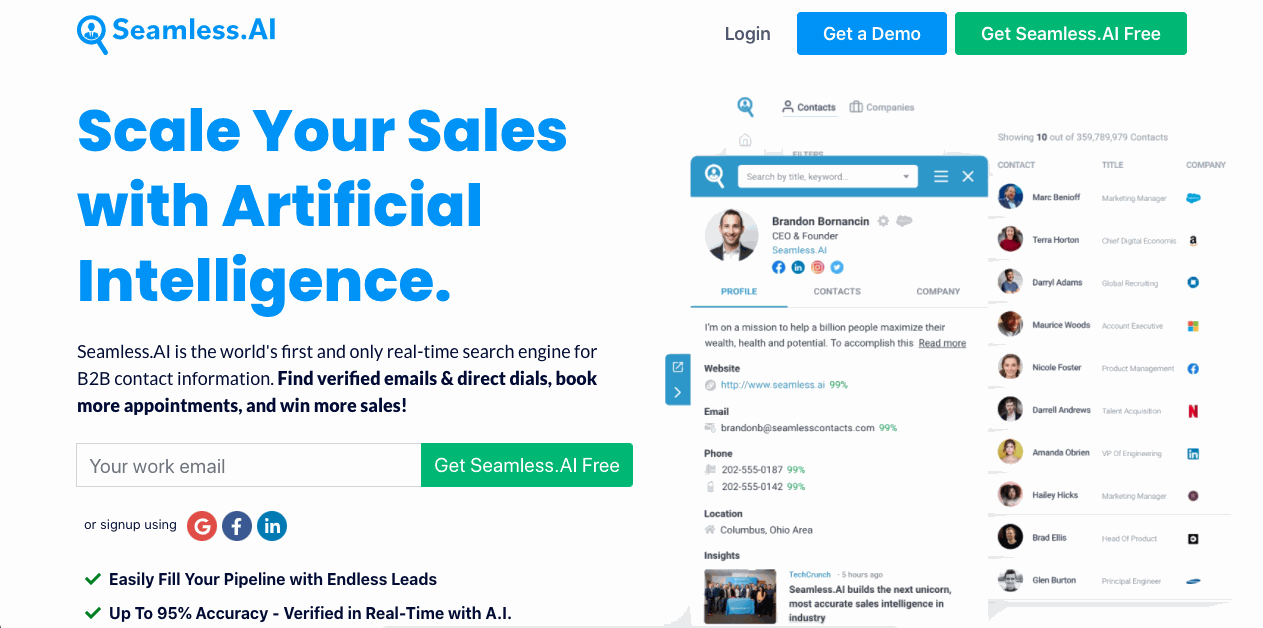 Seamless.ai is a lead search engine for users to research companies and find email addresses through a simple web search.
Instead of offering users a curated and validated database, the platform browses online to find professional information, just as one would do with any other search engine. Seamless.ai also offers users email verification features through an AI engine.
However, its pricing for the paid version is not very attractive, especially when the tool may only find what's online at the moment and lacks any historical information or data collected from opt-in forms and offline contact lists.
How to get free email lists with Seamless
Seamless.ai doesn't offer a free plan. Instead, the platform offers users a free trial of their platform. Unlimited emails and phone numbers start at $94.70 per month. UpLead is a solid Seamless.ai competitor.
6. LeadIQ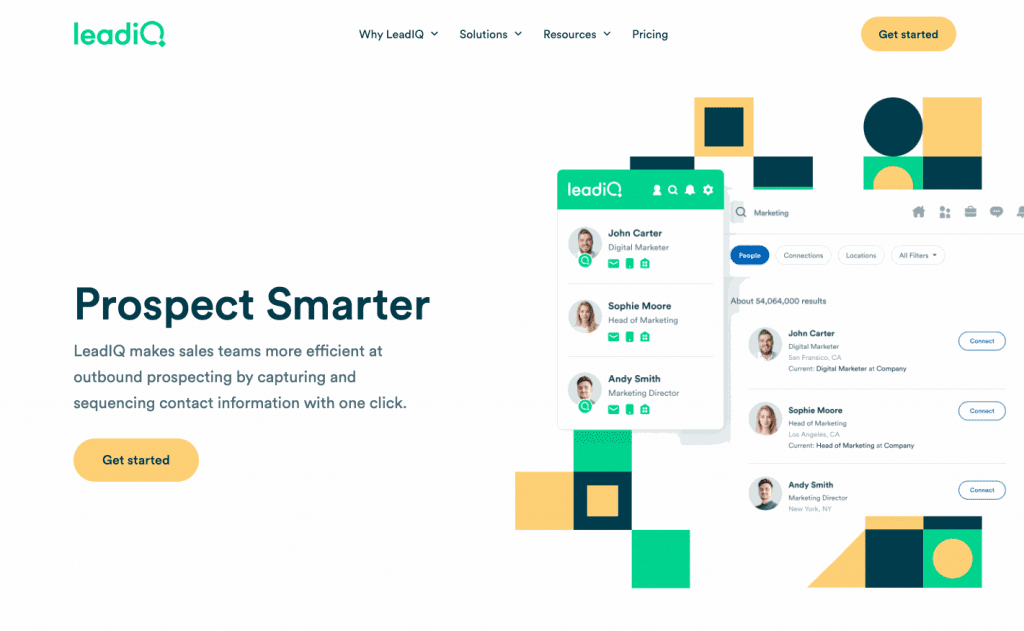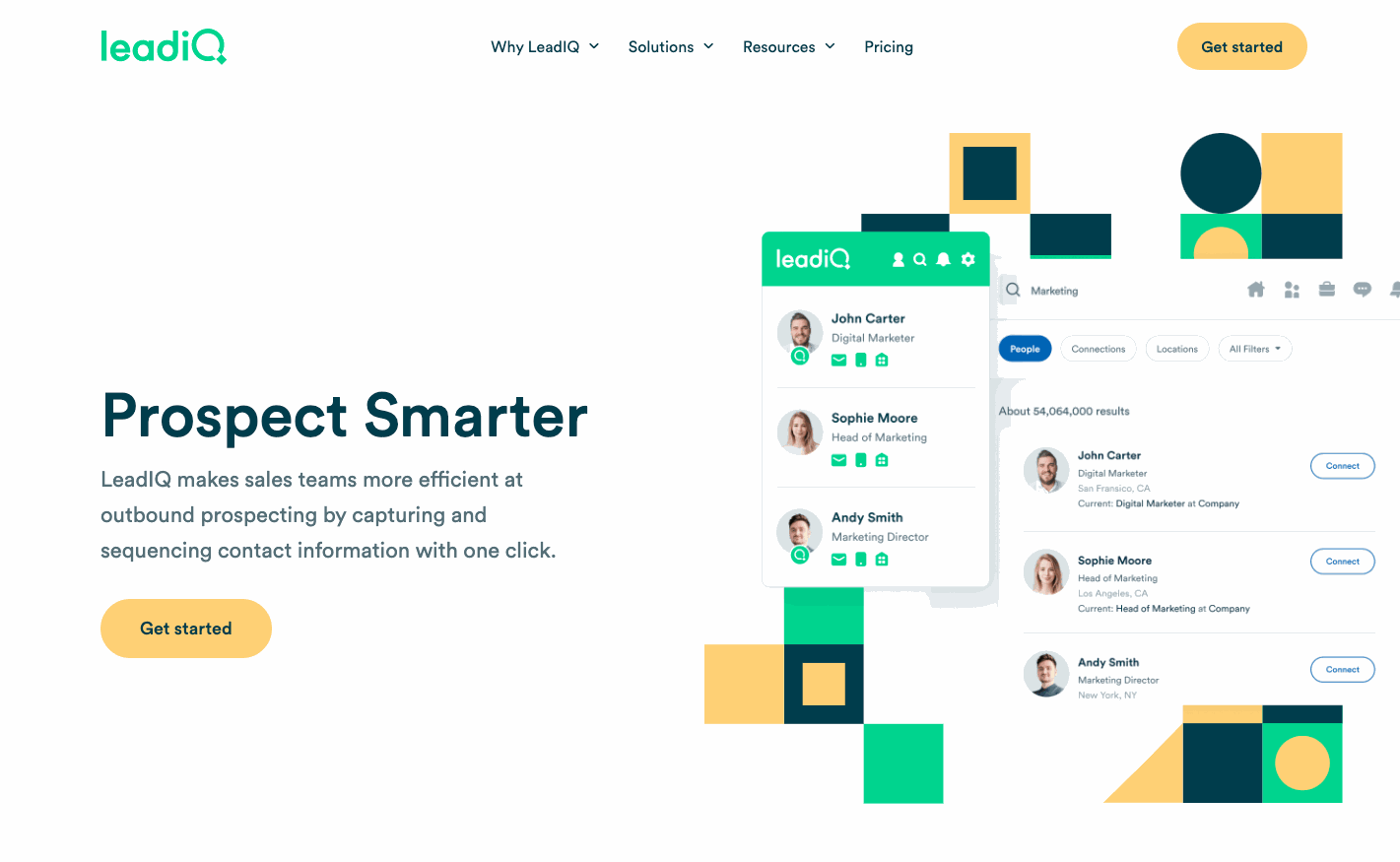 LeadIQ is another email marketing tool that allows users to build their contact lists by browsing through 100 million contacts and downloading verified emails.
The platform also has visual analytics to help users understand their data better and job change notifications to keep up with users' careers. It includes prospecting workflows and other features that make LeadIQ a more comprehensive email marketing service.
How to get free email lists with LeadIQ
LeadIQ offers users a 30-day free trial, with prices starting at $60 for 250 verified work emails and 25 mobile phone numbers.
The platform also offers more advanced email marketing and prospecting features through its Enterprise tier, starting at $135 per user per month for a minimum of 20 users.
7. Data Axle USA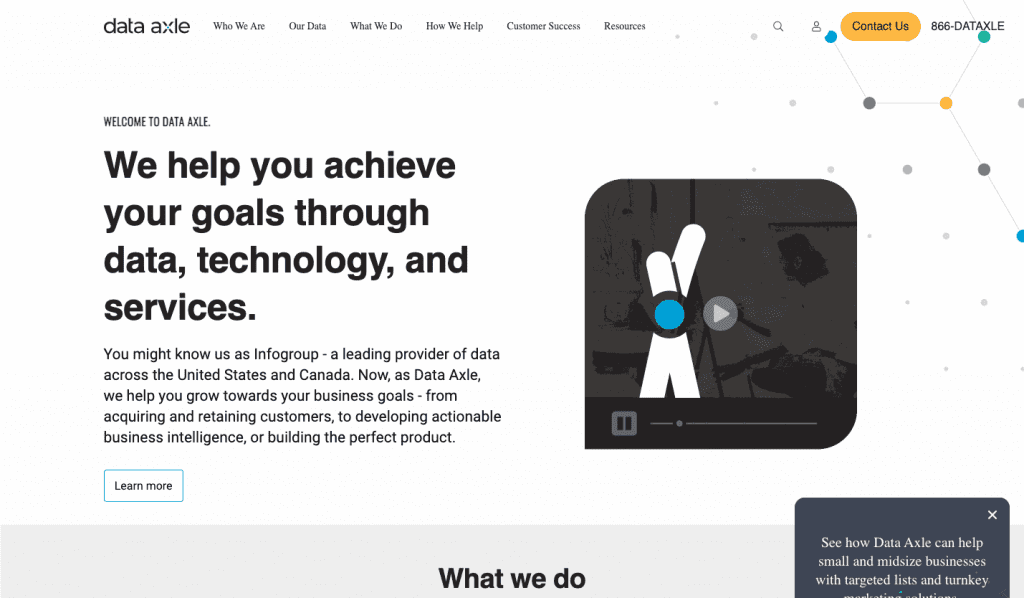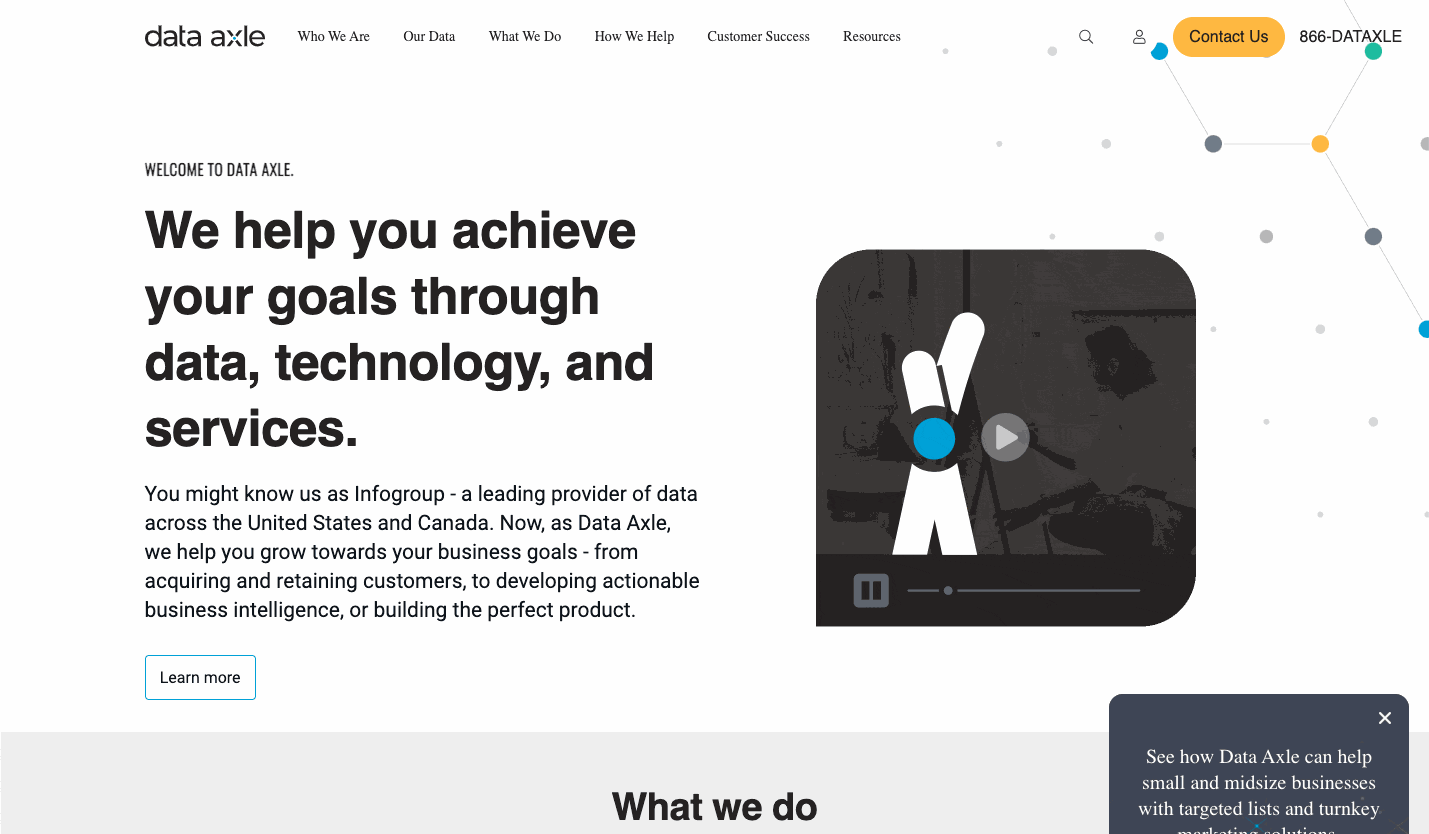 Data Axle USA is a large email marketing software offering users access to over 75 million B2B contacts, narrowing them with over 275 business attributes.
Claiming to have a complete view of almost every business in the USA and Canada, Data Axle USA offers users the ability to create business and consumer mailing lists, direct mail campaigns, digital marketing, and email campaigns.
It also offers data validation and enrichment features, making it attractive for users looking for an all-encompassing email marketing software, although at higher prices.
How to get free email lists with Data Axle USA
Data Axle USA offers users a free trial, free access to the professional package with all three-day features, and 150 free email leads.
Paid plans start at $79 per month for its cheapest tier, and it does not offer any free-forever accounts.
8. Datanyze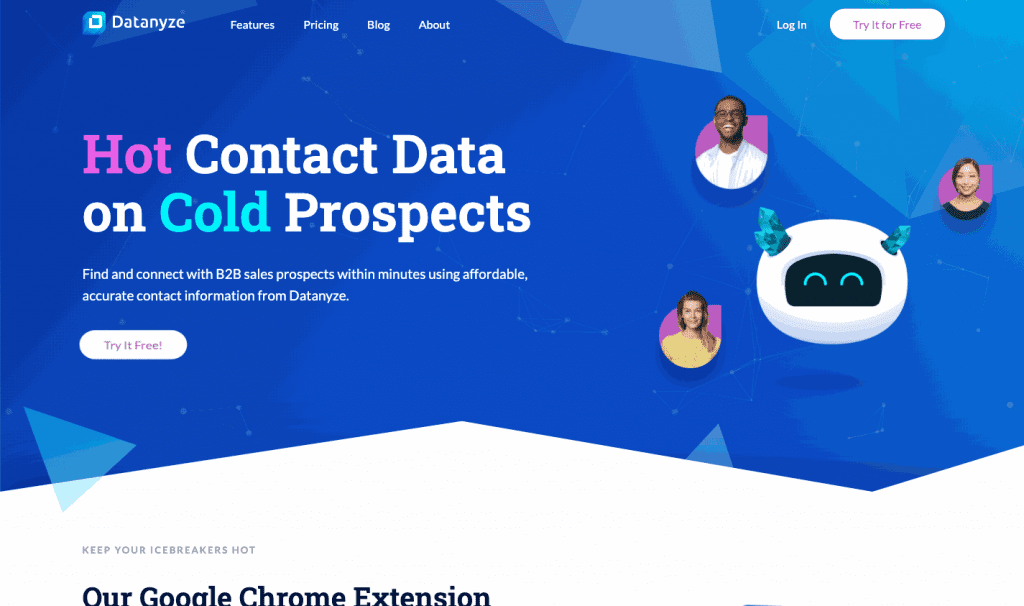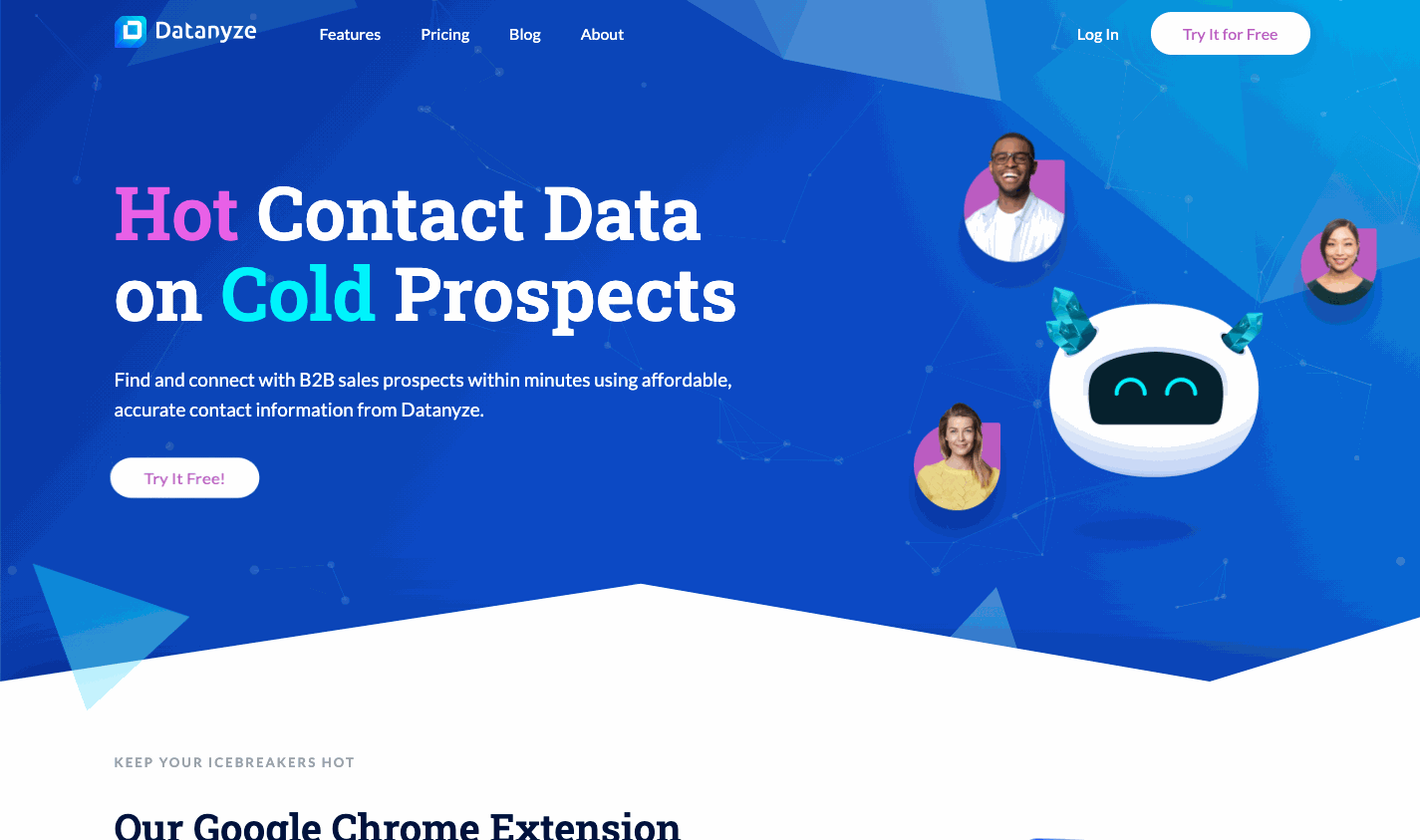 Datanyze allows users to find email leads and research companies using its database of over 120 million user profiles, which are all claimed to be ethically collected.
The platform can also be used to perform company research with the help of its browser plugin, which allows users to find someone's email when highlighting their name.
Although very simple, this tool may be a useful email marketing tool to complement other tools or when using it as a backup. It offers users a streamlined, albeit limited, experience.
How to get free email lists with Datanyze
Getting free emails with Datanyze is easy, thanks to its free plan. This plan gives users 10 credits per month in a 90-day free trial.
After the free trial has ended, pricing starts at $39 per month for 1,080 credits per year and includes early access to other features and the availability of additional credits.
9. Callbox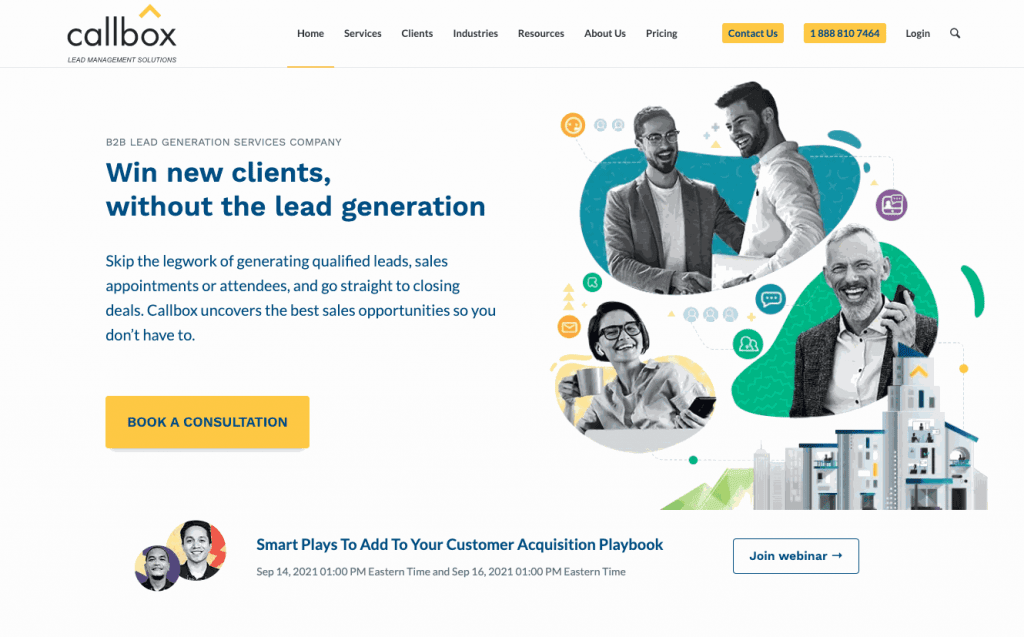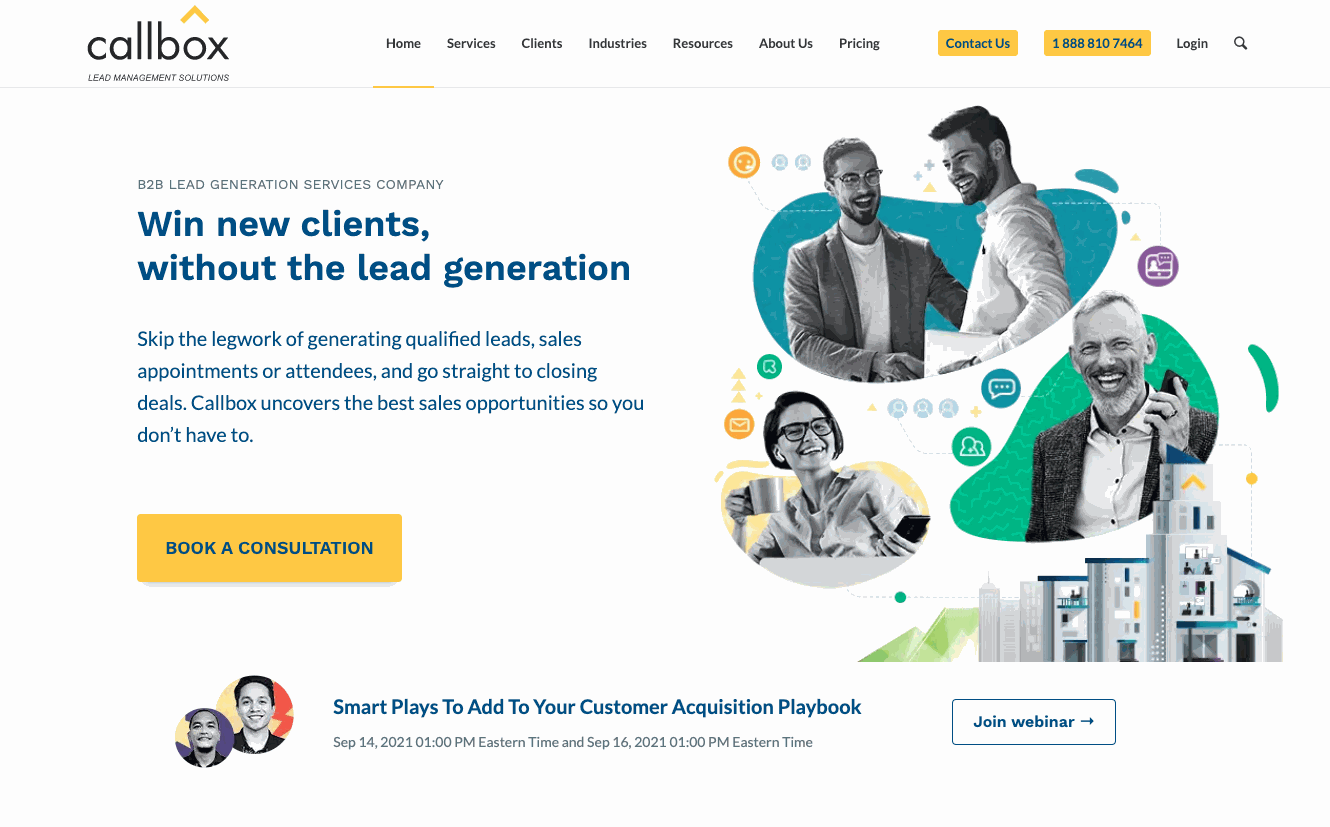 Claiming to be the largest B2B lead generation and sales support services company, Callbox is used by businesses in the USA, Canada, Australia, and other areas as a remote email marketing tool.
The platform offers data mostly focused on users in healthcare, IT, advertising, and other industries to find promising leads. It also allows users to initiate conversations with leads through voice, email, chat, website, mobile, and social media.
How to get free email lists with Callbox
Callbox doesn't list its pricing and does not offer a free account. However, it does offer a limited free demo upon request.
10. Snov.io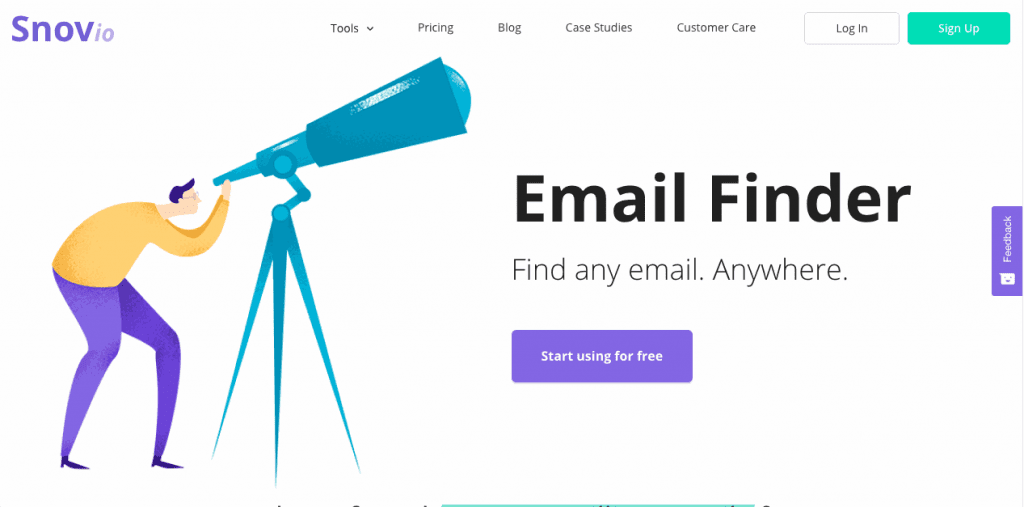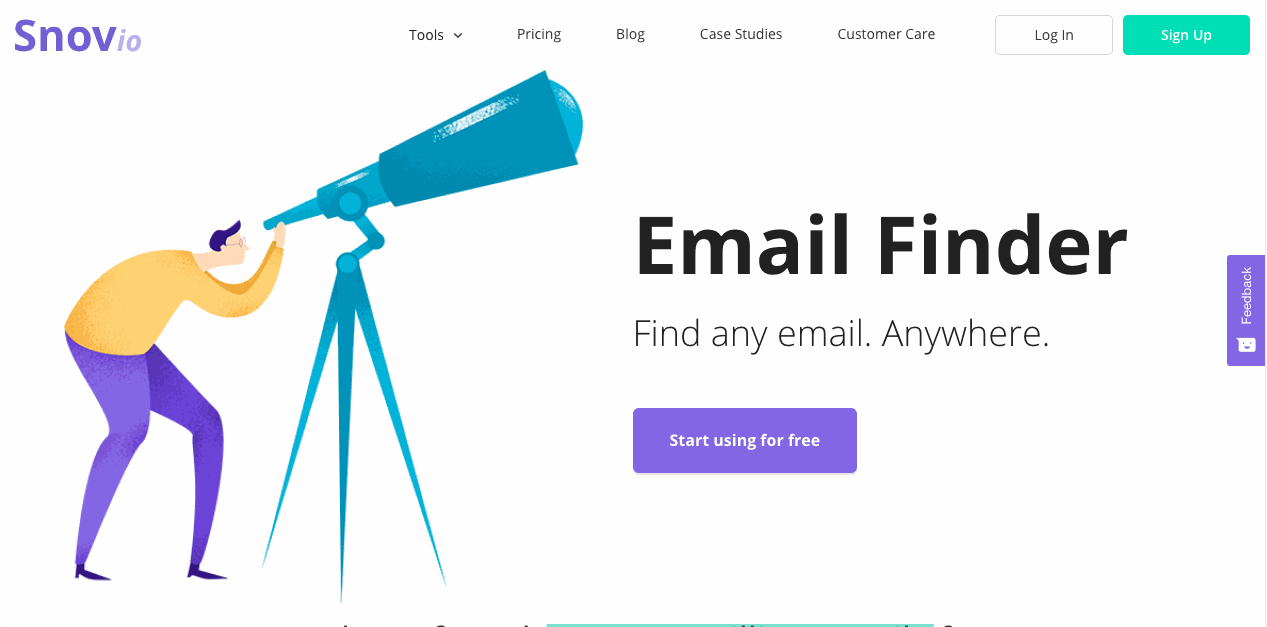 Finally, Snov.io allows users to browse its business database to find potential prospects and their emails.
The platform isn't just to generate leads; it's a fully-fledged CRM toolbox made to fill each stage of the sales funnel and ensure the quality of the data obtained by users through a 7-tier verification process.
This, along with its capability to find multiple email addresses associated with a profile, can help users with deliverability and improve the chances of a connection being made.
How to get free email lists with Snov.io
Snov.io offers users a freemium account for drip campaigns with 50 monthly credits and 100 recipients.
Paid plans start at $33 per month with up to 1,000 credits, 5,000 unique recipients, and unlimited users. UpLead is a well-known Snov.io alternative.
Free Email Marketing Tools FAQ
What is an email list?
An email list is a list of users and addresses that can be used for email marketing. Email lists are typically built with the help of lead magnets, Facebook ads, signup forms, and other tools where users offer their information.
Why is it important to build an email list for my business?
Email lists allow you to take advantage of email marketing efforts, which tend to be extremely cost-effective. Email marketing campaigns from small businesses to multinational companies are built around email lists, allowing them to keep their audiences informed through email blasts and long-term campaigns. Buying email lists usually helps users generate their lead list quickly and can quickly add new subscribers to the right marketing efforts.
Can I build an email list for free?
You can use multiple email marketing software options to build an email list for free. However, these options will likely be for limited lead creation, and you may also need to use email validation tools to ensure email delivery.
How do I build an email list for free using my own site?
You can build email lists for free with the use of optimized landing pages, pop-ups, and lead magnets. You can also use a free email marketing service, like a free lead generator and a free landing page builder. Use welcome emails to engage with your users as soon as possible and increase email delivery in the long run.
How can I build a free email list with social media?
Multiple social media platforms allow users to post their ads for free for a limited time. Although time-consuming, you can also generate leads with social media by creating a community around your target audience and transforming social media user data into transactional emails through the right marketing campaigns.
Are free email lists trustworthy?
The quality of any email marketing service will likely depend on the platform and not just its pricing. Although free email lists will never generate an unlimited number of leads, they can be of help to any small business looking to expand its mailing reach. When in doubt, always use the help of an email verifier to ensure email deliverability.
Is there a quick way to build a free email list?
You can build a free email list by signing up for multiple forever-free accounts and free trials to quickly generate a small email list. However, if you want to keep that list intact and add to it, you'll need to spend enough time creating it, using the right email editor, and attracting leads through eye-catching subject lines and irresistible landing pages. 
Build free email lists with caution
There are more than a few ways to generate free email lists. These may help you start building a mailing list and generate your first few customers.

While free email lists can be a tempting option for building your email marketing efforts, it's crucial to approach them with caution. Consider the limitations in terms of quality, targeting, and deliverability that often come with these lists. Thoroughly research and evaluate providers to ensure their lists align with your target audience and business goals.
Building high-quality, engaged email lists requires time, effort, and strategic planning. Supplement your efforts with organic list building methods and invest in reputable list-building tools like UpLead for quick wins and long-term success.
Try UpLead for free today to see if it's the right email list generator for you.
Start Your 7-Day Free UpLead Trial
Lead generation doesn't have to be all that painful. With UpLead, you can easily connect with high-quality prospects and leads to grow your company.