The market for sales intelligence is proliferating. More and more businesses realize the value of data-driven insights to help them win new customers and grow their businesses. DiscoverOrg is one of the leading sales intelligence tools in this crowded market. But what are its top alternatives? And what are some good alternatives if you're unhappy with DiscoverOrg's offerings? This article covers some of the top DiscoverOrg competitors so you can determine which sales intelligence platform is best for your business. 
Quick Links:
10 Top DiscoverOrg Competitors & Alternatives for Your Business
It's essential to evaluate all available options when considering a sales intelligence tool for your company. DiscoverOrg is a leading provider, but many other companies offer similar products and services. By comparing and contrasting different options, you can be sure you're choosing the right sales intelligence solution for your needs. Some factors you should consider include features, pricing, and customer support. You can be confident that you're making the best decision if you consider each of these aspects. 
1. UpLead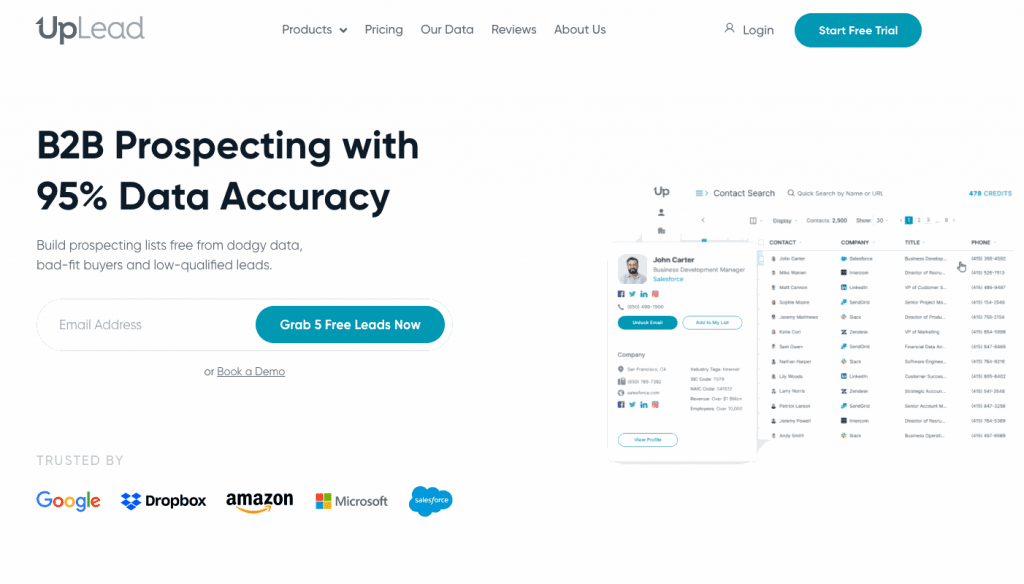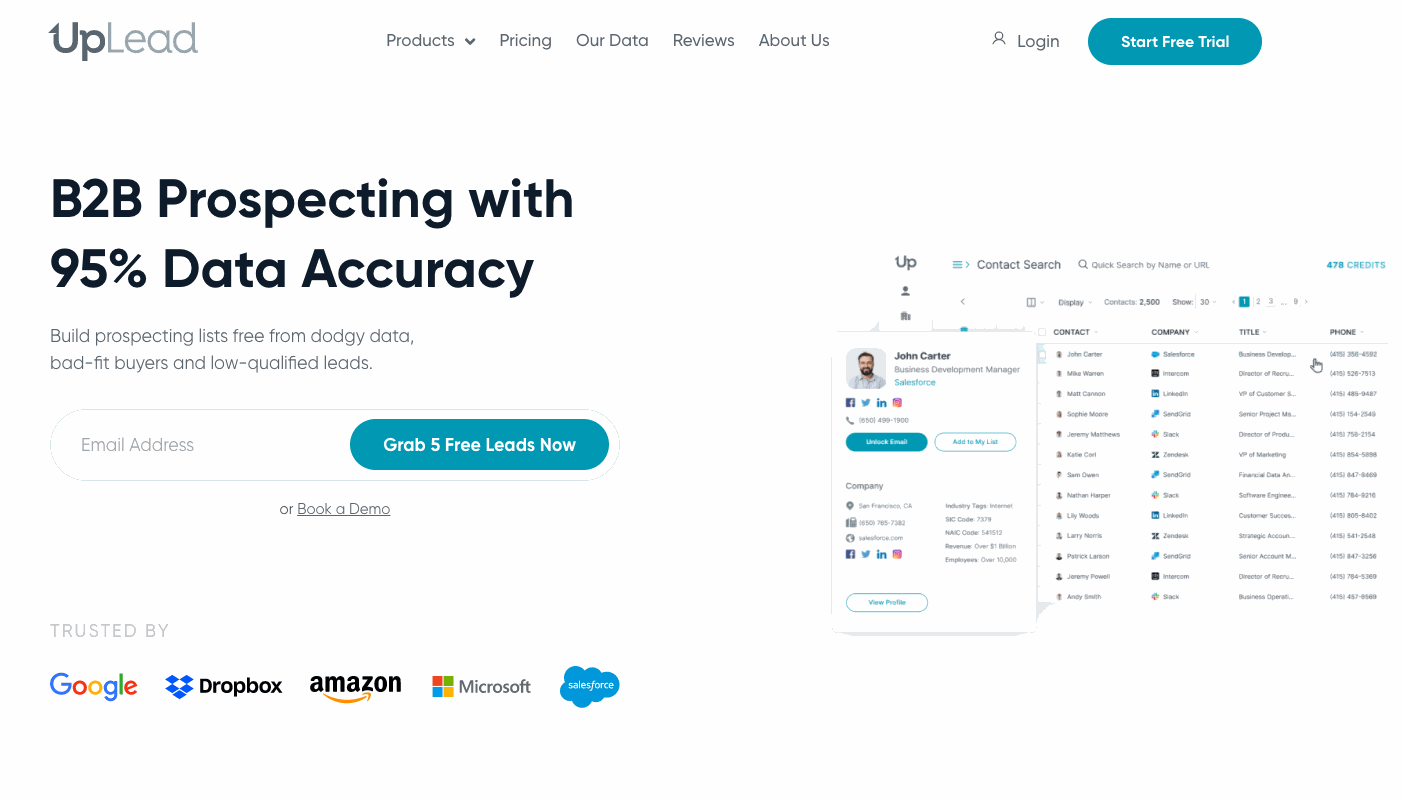 UpLead is a state-of-the-art sales intelligence platform that provides accurate and reliable data to help businesses close more deals. With over 140 million B2B contacts in its database, UpLead is committed to providing quality data verified with machine learning. Its detailed company profiles for 14 million businesses give you the information you need to identify the best leads with the highest likelihood of conversion. UpLead commits to quality and accuracy, making it the ideal sales automation software for businesses of all sizes.
Regarding data size, DiscoverOrg may have the upper hand; it benefits from its long history in the business intelligence space. However, UpLead's commitment to data accuracy is unparalleled. The platform provides real-time email verification, so your sales and marketing teams only get the highest-quality data. UpLead also provides visibility of verification status, giving you a clear view of your prospect's information. In addition, UpLead is built with ease of use in mind, whereas DiscoverOrg can have a steep learning curve. 
Uplead's pricing model offers a free trial and various price tiers. It includes their Essentials package, which starts at $74 per month (billed annually), with 2,040 credits annually and company news. This plan is followed by the Plus plan at $149 per month (billed annually), with 4,800 credits annually, 100% verified emails, CRM integration, and competitor intelligence. The Professional plan at $299 per month (billed annually) offers 12,000 credits per year, API access, and data enhancement. UpLead's flexible pricing plan makes it easy for businesses of all types to adopt the platform.
Start Your 7-Day Free UpLead Trial
Lead generation doesn't have to be all that painful. With UpLead, you can easily connect with high-quality prospects and leads to grow your company.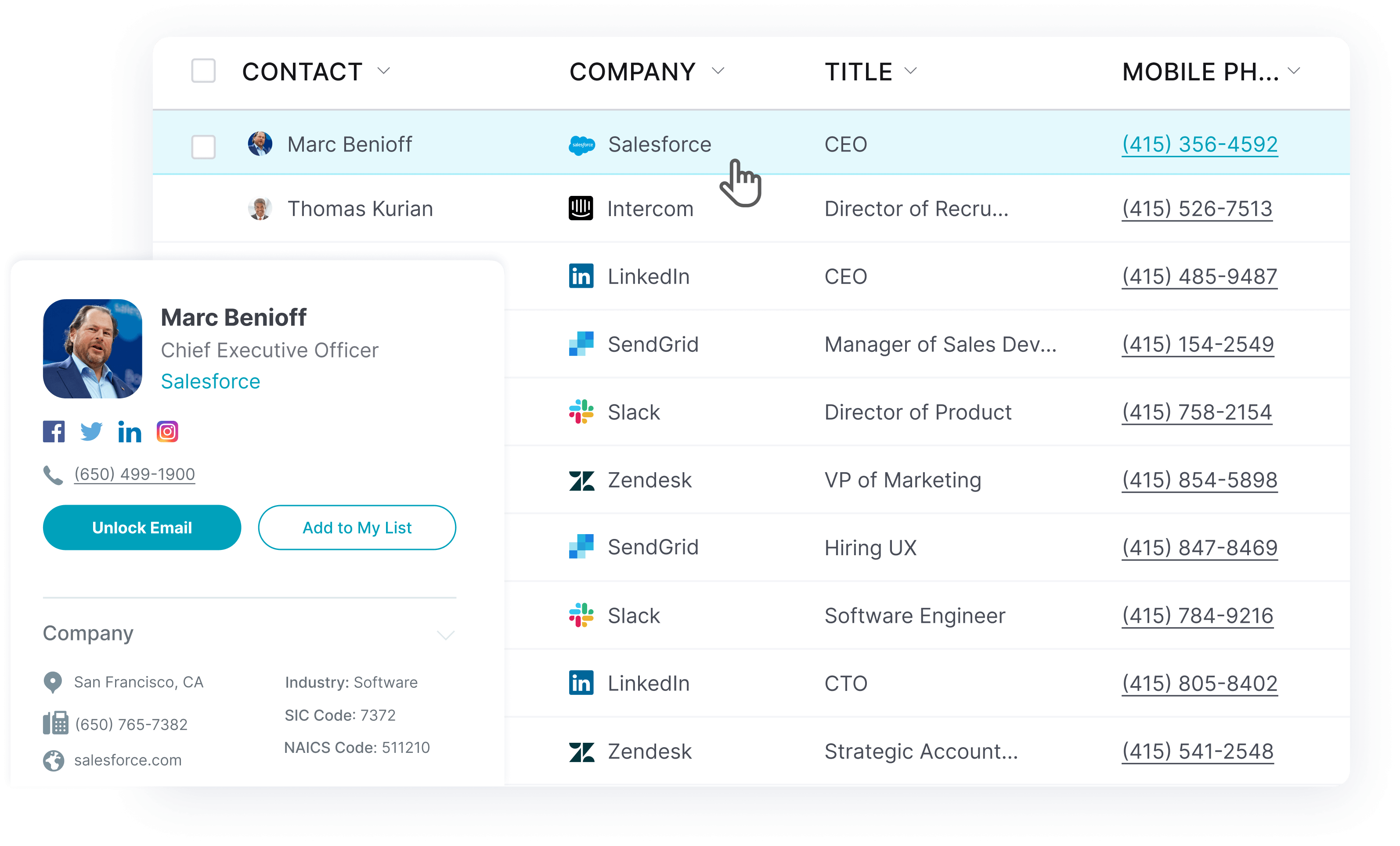 2. ZoomInfo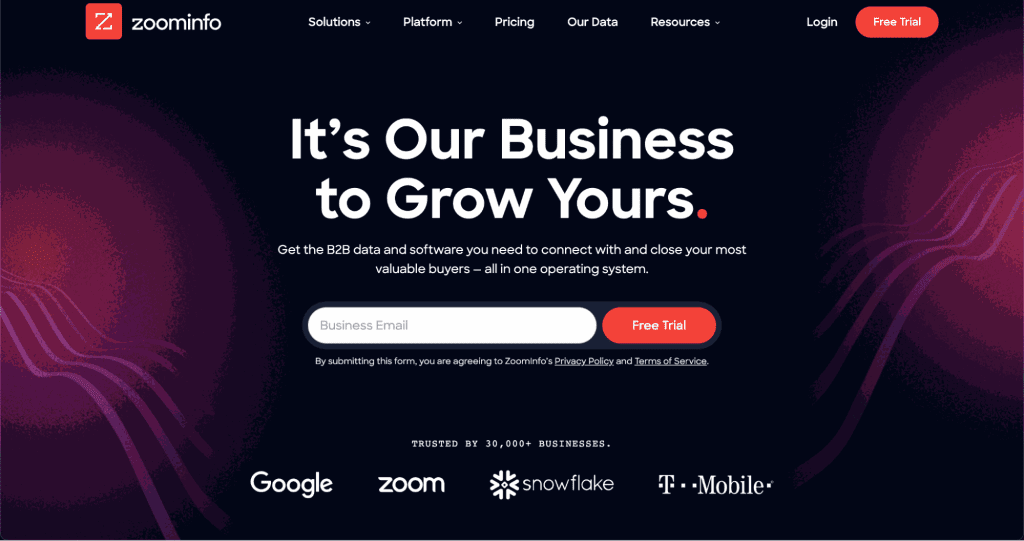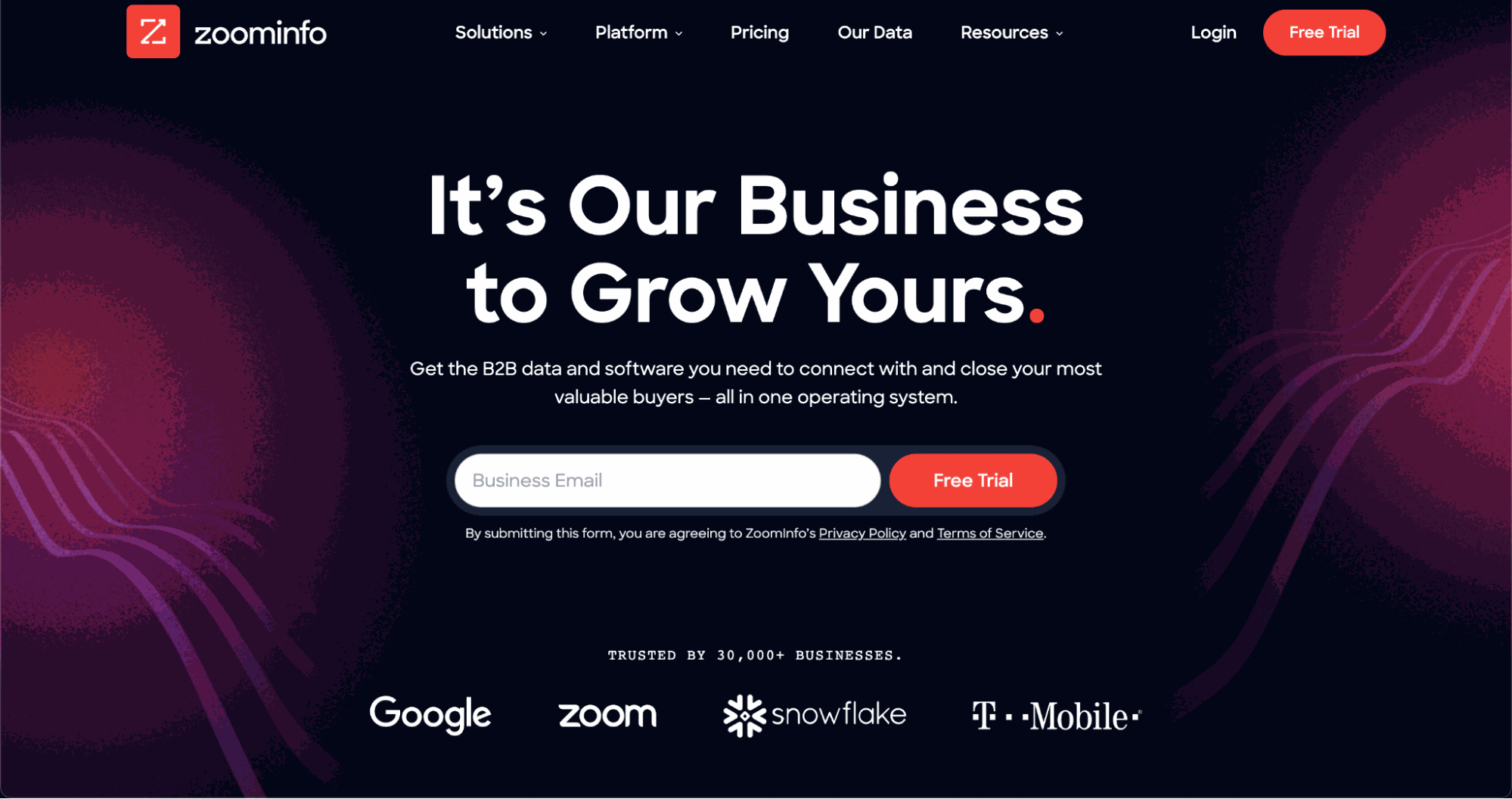 ZoomInfo allows you to access a network of over 300,000 publisher domains and receive real-time B2B intent data. This information can help you identify your key decision-makers, build automated workflows, and view insights on prospects interested in topics related to your solution. With its Streaming Intent feature, you can make your marketing campaigns smarter by understanding which content prospects engage with in real-time. This will help you divert your sales efforts to the most promising enterprise and small business leads and convert them into customers. ZoomInfo can optimize your sales processes and increase your chances of success.
As of 2019, ZoomInfo and DiscoverOrg are the same product. The new product, ZoomInfo powered by DiscoverOrg, offers robust contact and firmographic data on potential leads.
ZoomInfo's SalesOS has three tiers: Professional+, Advanced+, and Elite+. Pricing for the platform is not displayed on the website; you have to contact their sales team for a quote. The Professional+ plan offers company profiles, direct phone numbers, and personalized prospect lists. UpLead is one of the best ZoomInfo alternatives available.
3. D&B Hoovers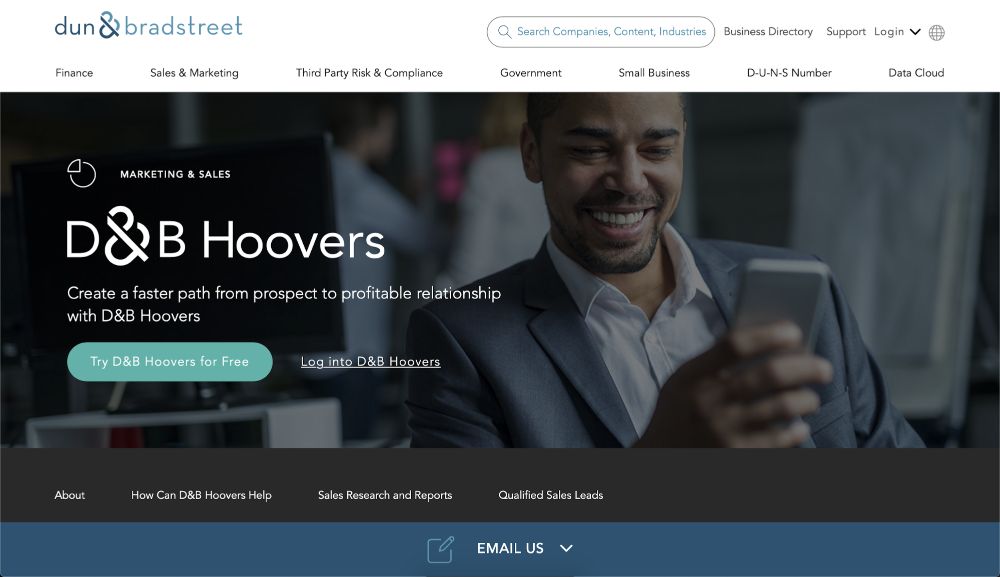 D&B Hoovers is a business intelligence platform that gives you access to millions of business records. With D&B Hoovers, you can use advanced insights and AI to improve customer communications. Its patented methodology of gathering buyer intent makes it easy to find the right leads and close more deals. D&B Hoovers offers a free trial, so you can try the platform before you commit to a subscription. Similar to DiscoverOrg, pricing is available upon request.
D&B Hoovers boasts a long history and has amassed a business database with over 400 million business contacts and 54 million C-Suite executives—all backed by the robust Dun & Bradstreet Data Cloud. D&B Hoovers edges out DiscoverOrg when it comes to usability. While DiscoverOrg focuses on providing integrations with Hubspot, Marketo, Salesforce, and Pipedrive, D&B Hoovers provides integrations through tray.io instead of natively. For other Dun and Bradstreet alternatives, check this article.
4. Clearbit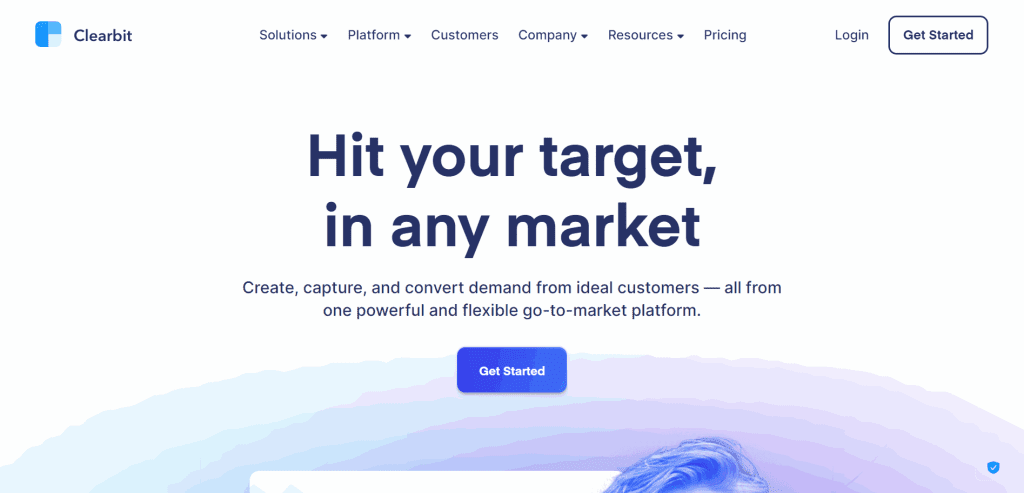 Clearbit's email finder platform is powerful for sales and marketing teams. It quickly and easily finds contact information for leads, customers, and partners. The platform also includes several features that improve the software's accuracy and usability over time. For example, it can automatically refresh contact information as changes are detected. Clearbit also allows you to add more than 100 demographic and technographic dimensions to your B2B contacts.
In addition, the platform's machine learning-powered recommendations become more accurate as more business data is collected. Clearbit integrates with popular platforms like HubSpot, Salesforce, and Zapier— allowing your marketing teams to quickly and easily share contact information across your favorite marketing automation tools. Clearbit is a powerful B2B data tool that helps sales and marketing teams work more efficiently.
DiscoverOrg offers more robust support than Clearbit, but Clearbit ranks higher in the lead qualification process. Both platforms don't offer much visibility into their pricing—they prefer that clients call for a quote.
5. Lusha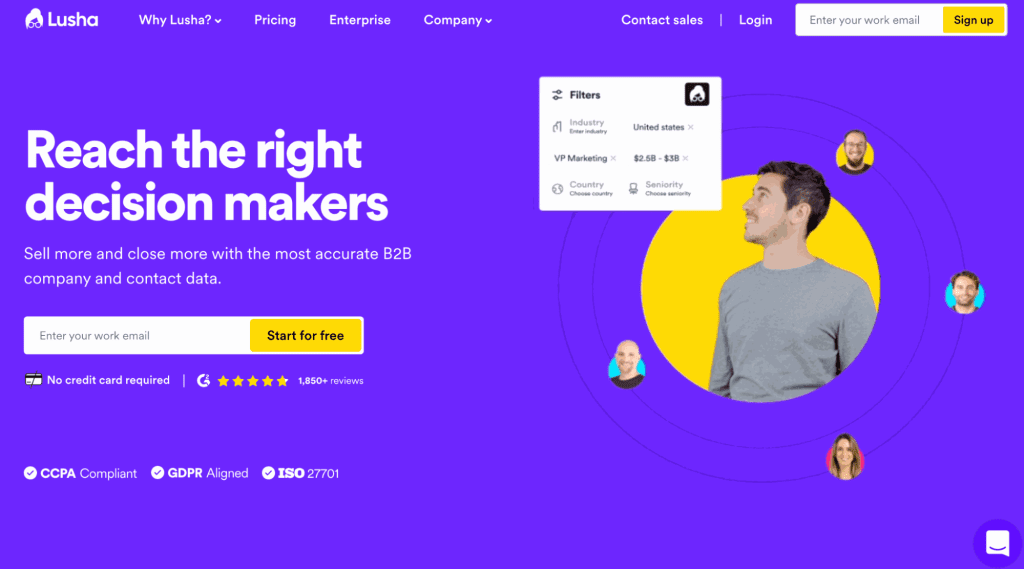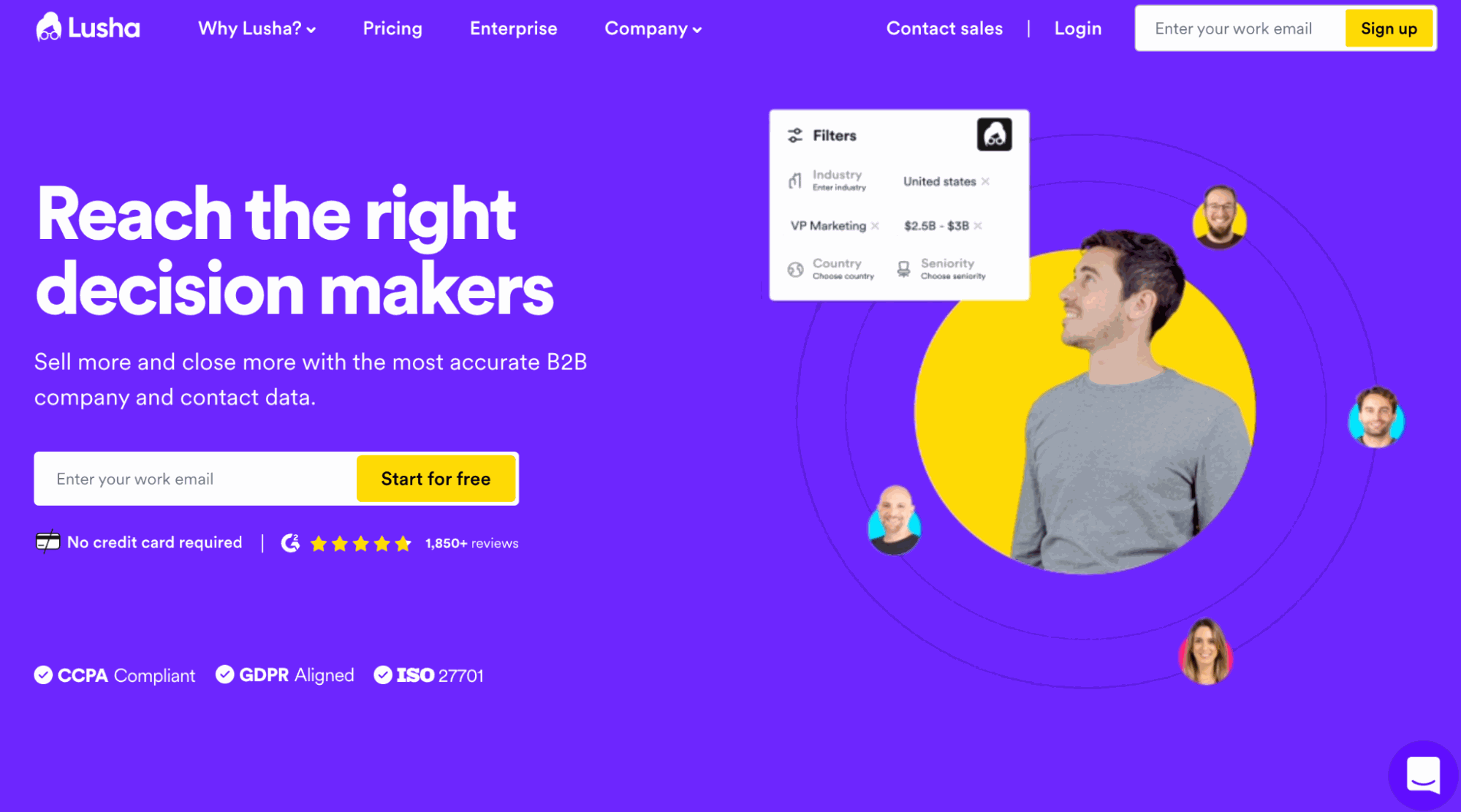 Sales intelligence software like Lusha provides users with marketing data from public records and business directories. This data can be extremely valuable for your sales and marketing teams, as it can help you identify potential leads and customers. Lusha is easy to use and offers several features designed to help you turn your leads into customers, such as lead enrichment and real-time alerts. Additionally, Lusha is GDPR compliant and offers integrations with Hubspot, Zoho, Pipedrive, and Bullhorn. These features make Lusha an effective tool for sales teams who want to close more deals.
Compared to DiscoverOrg, Lusha offers more robust support and overall ease of use by providing comprehensive documentation and more access to help. Both platforms offer B2B intent data and enhanced data enrichment tools that make your sales process easier.
Lusha offers a free plan and paid plans starting at $29 per user per month (billed annually) in their Pro tier. This plan includes list management and team management but doesn't come with integrations. The Premium plan at $51 per user per month offers access to integrations like Hubspot and Zoho. You'll have to upgrade to the custom Scale plan for Salesforce integration.
6. Voila Norbert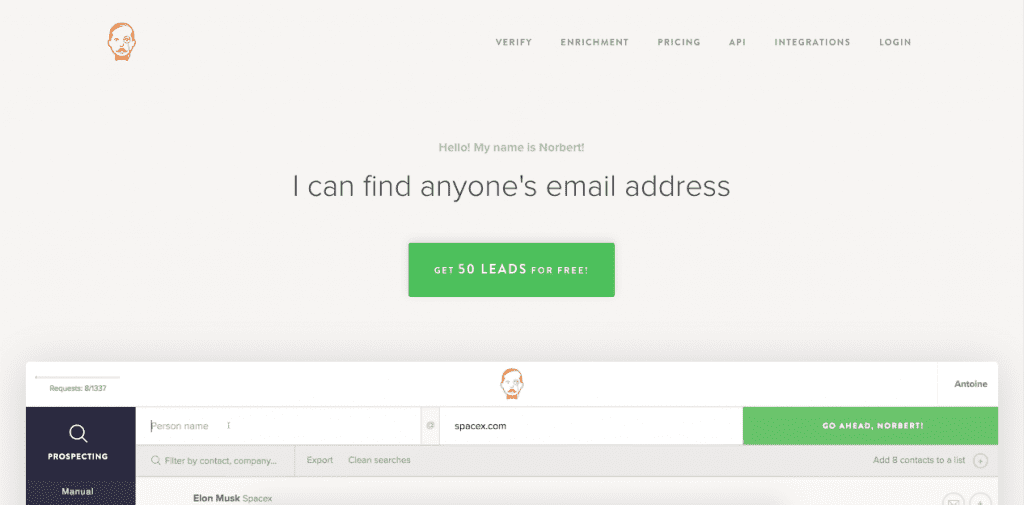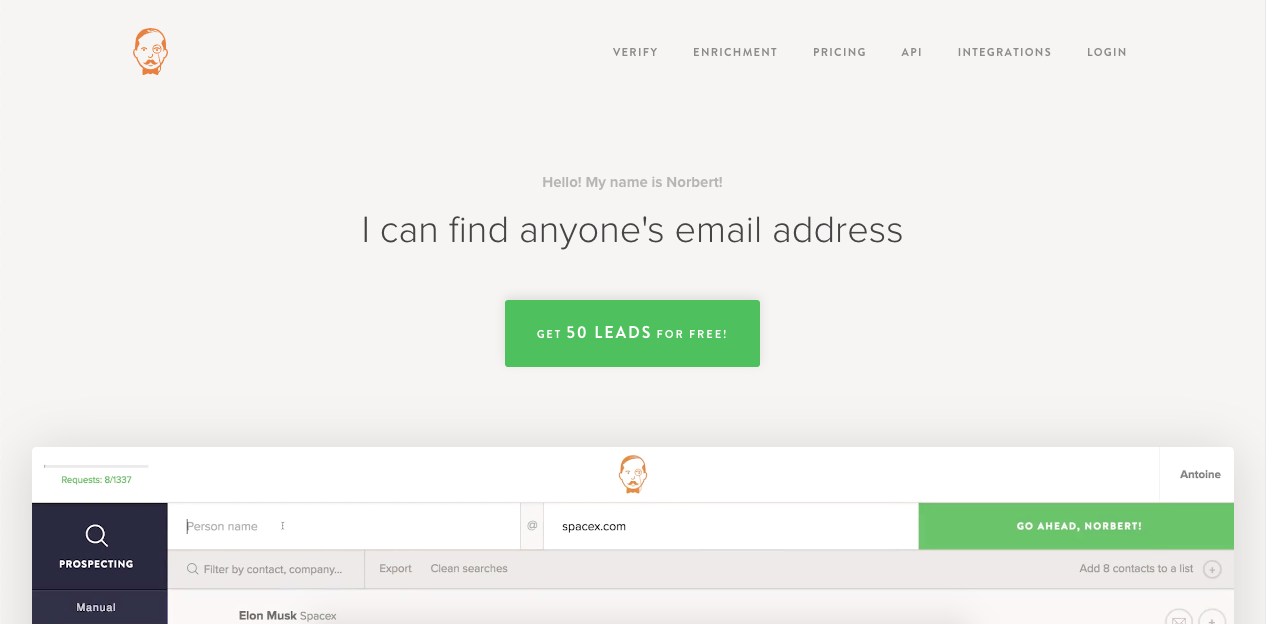 VoilaNorbert is a powerful lead generation platform that offers an email deliverability rate of 98%. You can use the software's Chrome extension or access the API using PHP, Python, Ruby, or .Net. With VoilaNorbert, you can quickly and easily find the email addresses of your target leads, and you can be confident that your messages will be delivered. In addition to its high deliverability rate, VoilaNorbert offers several features that make it an effective tool for your sales and marketing team, such as email data enrichment.
Unlike DiscoverOrg, VoilaNorbert is transparent about its pricing, and all of VoilaNorbert's plans include a free trial. The plans include the Valet tier at $49 per month with up to 1,000 leads per month, unlimited team members, and API. The Counselor plan comes in at $499 per month and includes up to 50,000 leads per month.
7. ContactOut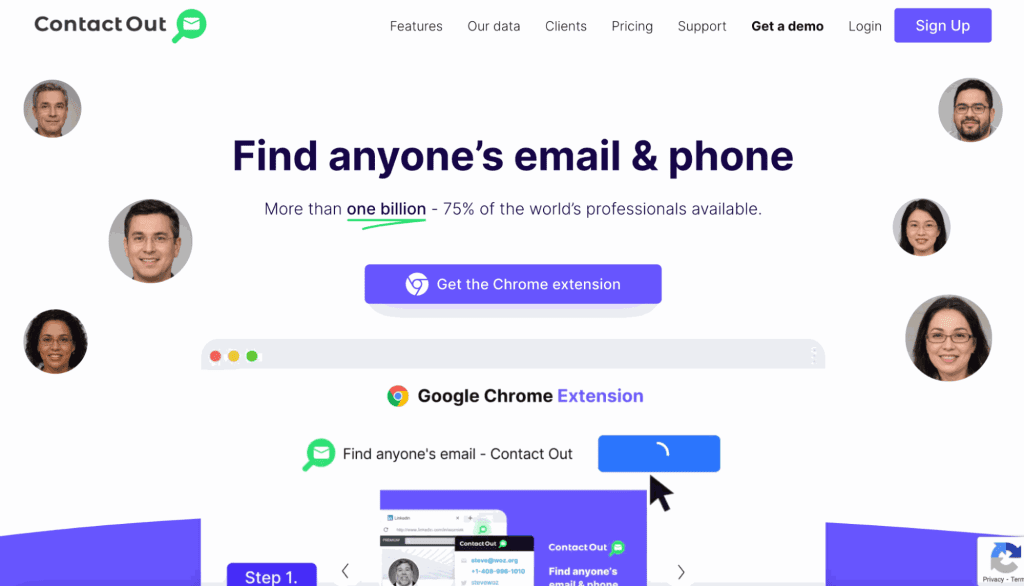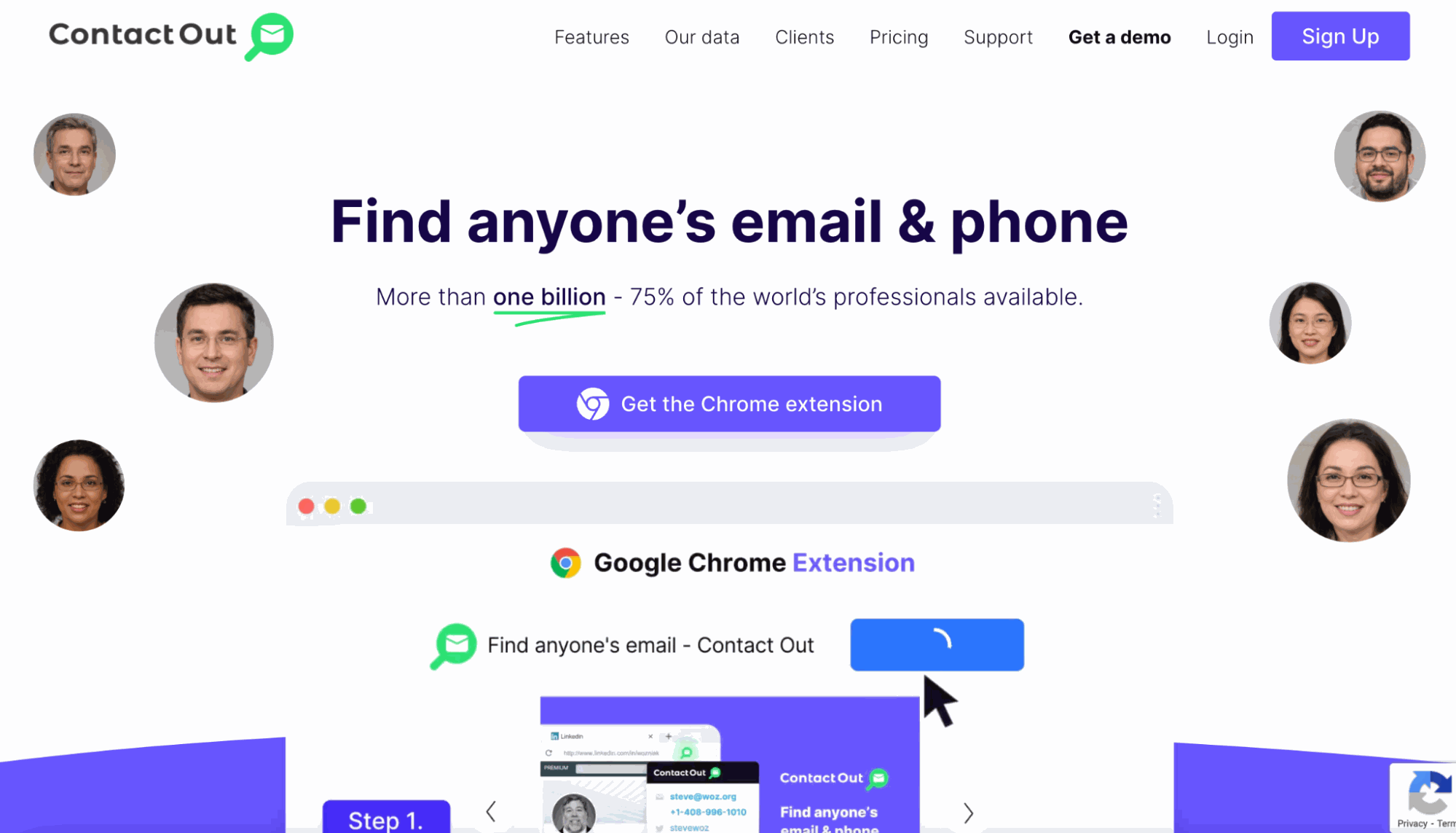 ContactOut is a powerful database with over 200 million work emails, 250 million professional profiles, and 30 million company profiles. You can easily find and reach out to your leads with this trove of valuable information. The AI-compose feature makes it easy to create personalized messages, and you can use the ATS tools to integrate with popular email clients like Outlook and Gmail. With ContactOut, you'll have a powerful tool to convert your leads into customers. 
DiscoverOrg and ContactOut offer a Chrome extension for easy accessibility and generally cater to mid-size companies. ContactOut beats out DiscoverOrg in its ease of use, which may make it easier for your sales teams to implement.
Unlike DiscoverOrg, ContactOut displays its pricing and includes five tiers. It has a free trial and plans starting at $29 per month. Most plans support up to one user and varying degrees of email and phone number limits per year. 
8. RocketReach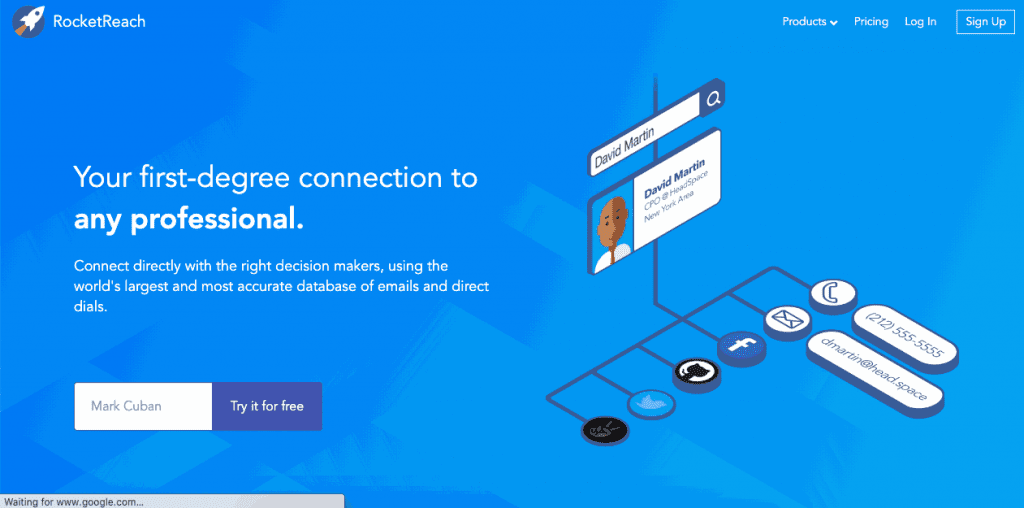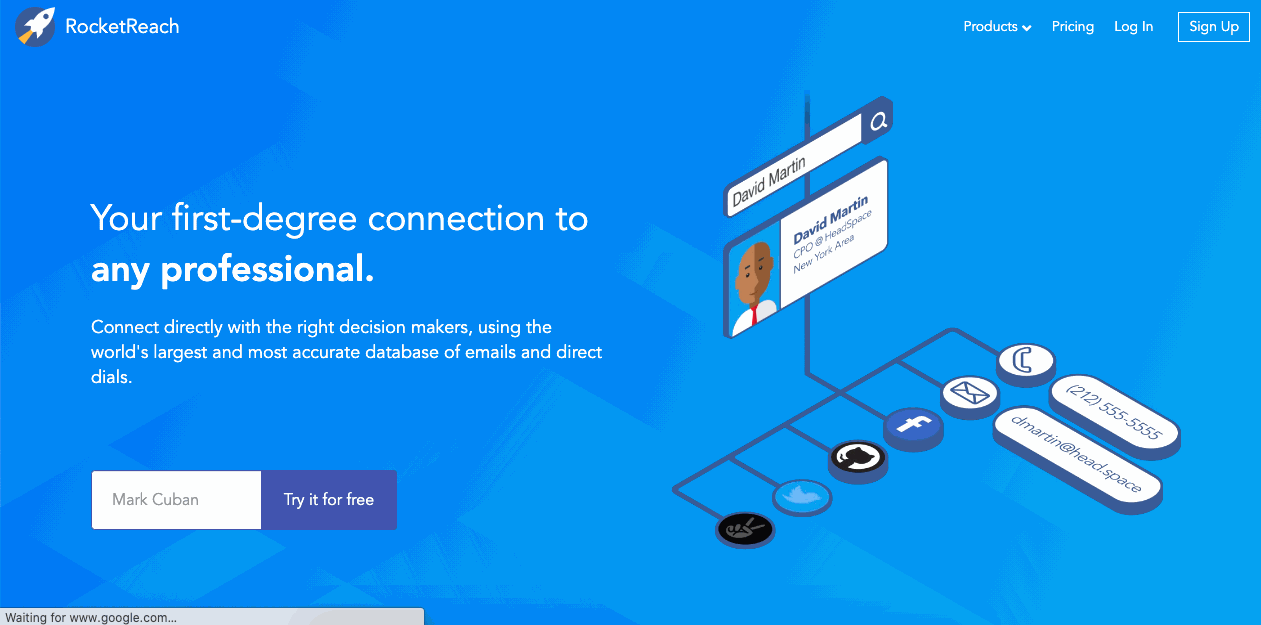 RocketReach is a sales intelligence tool that provides users with bulk lookup, API, and integrations into ATS, CRMs, and more. This sales intelligence platform has a database of over 700 million professionals and 35 million companies worldwide. RocketReach offers real-time verified contact data and data accuracy of 85%. DiscoverOrg, on the other hand, provides a higher data accuracy rate of 95%.
Some notable features of RocketReach include finding individuals and companies' phone numbers, email addresses, and social media profiles. Users can also search for specific keywords, names, or job titles to narrow their email search results. In comparison, DiscoverOrg emphasizes unlimited contact data and intent prioritization tools in its feature set. 
RocketReach offers three tiers: Individual, Team, and Enterprise. These plans differ in access to certain features like integrations and CRM enrichment. The individual Essentials plan starts at $39 per month and includes email search and access to the browser extension. Team Ultimate plans include 10,000 annual lookups per user, API access, and up to five users—all at a price point of $207 per user per month (billed annually). Here are other RocketReach competitors and alternatives.
9. Lead411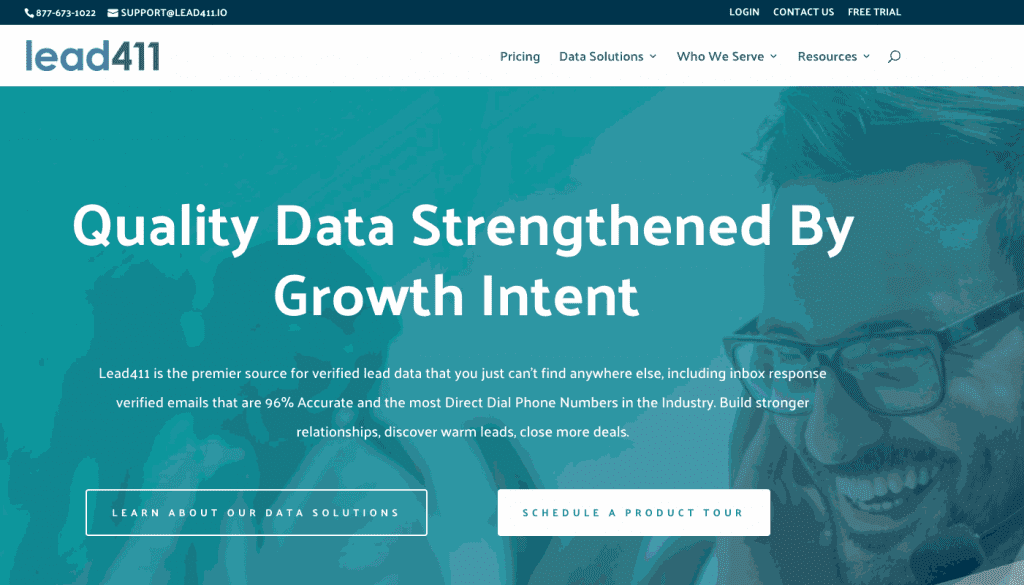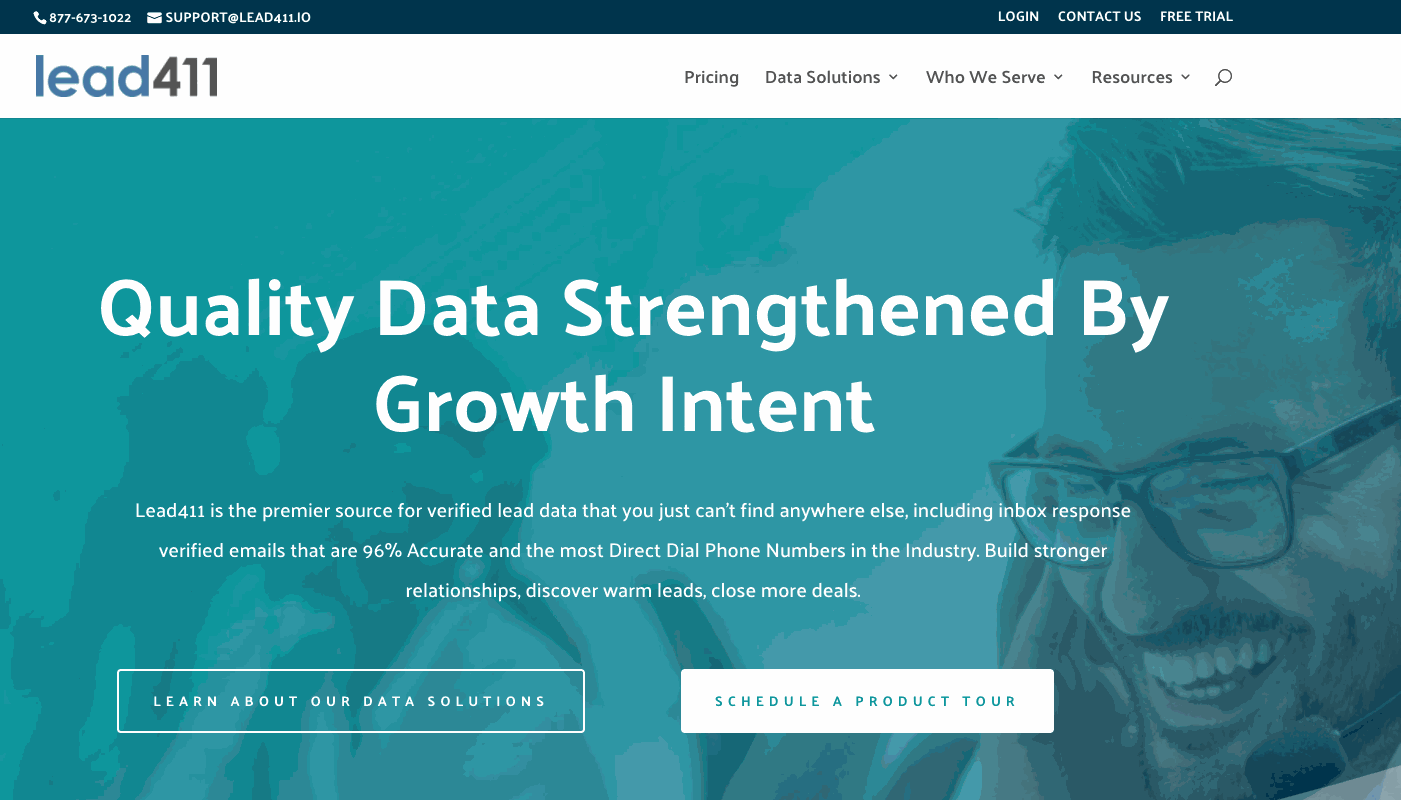 Lead411 is a business intelligence and data platform that provides users with quality intent data, including information on companies and contacts. The platform also tracks key company events that may trigger spending, such as mergers and acquisitions, new funding, or changes in executive leadership. Lead411's advanced email lookup features allow you to quickly find the information you need, while the centralized dashboard provides an overview of all activity. The platform also features a Chrome extension, customized email lists, an RSS news feed, automated task management, and API integrations.
Lead411 and DiscoverOrg offer a SaaS deployment model that sales and business development teams use. However, Lead411 offers more robust training and support, making it easier to implement across your organization.
Lead411 offers a 7-day free trial. The basic plan starts at $900 per user per year, billed annually ($75 per month). This plan includes 2,400 contacts per year, direct phone numbers, and access to over 25 CRM integrations.
10. Apollo.io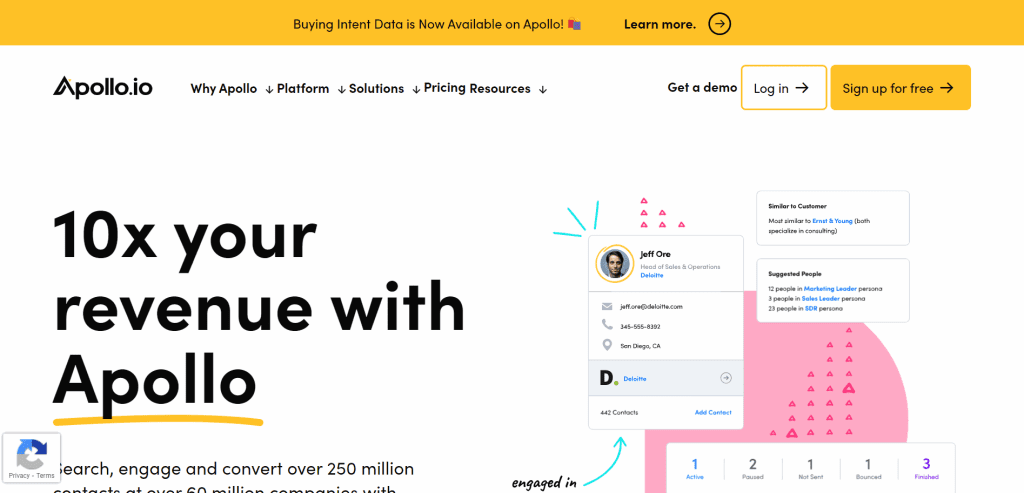 Apollo.io provides you with access to over 220 million contacts and 30 million companies. The data enrichment for contacts feature allows you to add missing data points to your existing contact lists. The platform also uses over 500,000 contributors to strengthen its database. Apollo.io's 5-step email verification process ensures that all email addresses are valid. As part of this confirmation of data accuracy, Apollo.io includes a guaranteed refund for every bounced email. It's a great choice for those who need to clean up their contact lists.
Both platforms offer real-time updates when prospects change jobs and information regarding company events and layoffs. Apollo.io emphasizes customizable attributes with over 200 filters to choose from. On the other hand, DiscoverOrg's platform focuses on helping you identify your ideal buyer persona using advanced insights generated from the platform.
Apollo.io boasts a free plan with 50 email credits and five phone numbers per month. Its most popular plan, the Professional plan, is priced at $39 per user per month (billed annually). It includes 1,000 email credits and 50 phone numbers per month, in addition to unlimited sequencing and A/B testing.
How to Choose the Best DiscoverOrg Alternative For Your Business
With so many people finder platforms on the market, it can be hard to know which one is the best fit for your business. When choosing an email finder tool, there are a few key considerations to keep in mind, such as reliability, ease of use, and plans & pricing. Let's break down each of these factors in detail.
Reliable Database
One of the most important considerations when choosing a DiscoverOrg alternative is whether or not the tool has a reliable database. A robust sales intelligence tool should have a regularly updated database of accurate contact information for potential leads. This will save your team a lot of frustration—you won't waste time and energy chasing leads using erroneous contact data.
Ease of Use
The best email finders will be easy to use, even for those who aren't tech-savvy. A good lead generation tool will have an intuitive interface that's easy to navigate. It should also come with helpful tutorials and robust support if you encounter any problems. The last thing you want to do is spend hours figuring out how to use the tool or invest unnecessary time and energy training your team to use the platform.
Plans & Pricing
When it comes to plans and pricing, it's important to find an email finder that offers a variety of options so you can choose the one that best fits your needs and budget. Some email finders offer pay-as-you-go plans, while others require a monthly subscription. A number of platforms also offer a free trial or plan. Choose the plan that makes the most sense for your budget.
DiscoverOrg Competitors: FAQs
Below are a few frequently asked questions about DiscoverOrg's competitors.
Who are DiscoverOrg's biggest competitors?
DiscoverOrg is a data and sales intelligence software solution that provides sales and marketing intelligence to help organizations accelerate growth. Some of the platform's biggest competitors are UpLead, D&B Hoovers, and Clearbit, all of which provide verified contact information, lead generation, and business research data. 

While Discover Org might be a good fit for some businesses, your company may require more robust features to generate and manage leads effectively in your sales operations. One of the platform's top competitors, UpLead, offers a range of features that make it easier to manage your sales data and find potential customers. With UpLead, you can segment your leads using industry, company size, and location criteria. 
Is DiscoverOrg the same as ZoomInfo?
After DiscoverOrg acquired ZoomInfo in 2019, DiscoverOrg and ZoomInfo are now one single B2B intelligence platform. The companies joined forces to provide a more comprehensive sales intelligence solution for sales and marketing teams. Combining the best of both programs, ZoomInfo powered by DiscoverOrg can offer their customers a more powerful and complete toolkit for generating leads and driving sales.
What You Need to Remember About DiscoverOrg Competitors
Sales intelligence tools are essential for today's sales teams. They help provide data-driven insights that can guide sales strategies and improve conversion rates. However, with so many options on the market, it can be difficult to know which tool is right for your team. We've compared the top DiscoverOrg alternatives, including features, pricing, and more. By evaluating your options, you can be sure you're choosing the best tool for your team's needs. With the right sales intelligence tool in place, you can take your sales game to the next level.