Looking for some Dun and Bradstreet alternatives?
Although "Dun and Bradstreet" remains a popular choice, more and more users are looking for a sales intelligence platform that better suits their needs. In this article, we'll go through their main competitors, show you the best alternatives, and help you find a sales intelligence tool that fits your needs.
Let's dive right in.
Quick Links:
Who is Dun & Bradstreet
The Dun & Bradstreet Corporation provides sales data and insight for businesses online in the United States.
Dun and Bradstreet founded a robust platform with a global database of over 400 million business records. According to them, their database contains Fortune 500 companies and many more professional profiles of companies of all sizes.
As one of the leading providers of business credit reports, D&B is a great option for users prospecting clients based on credit.
Top Dun and Bradstreet Competitors and Best Alternatives
Here are some of the top alternatives to D&B:
UpLead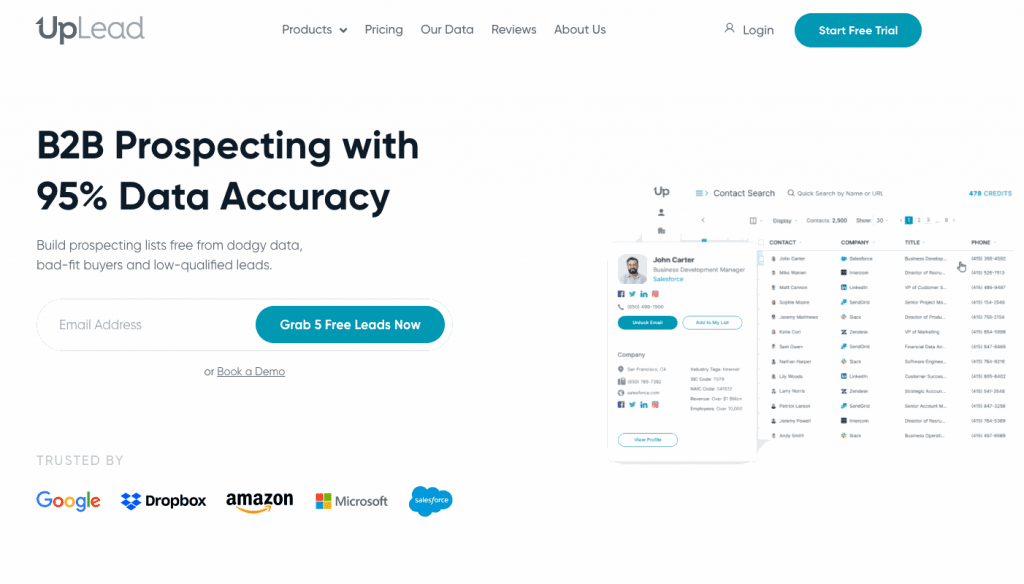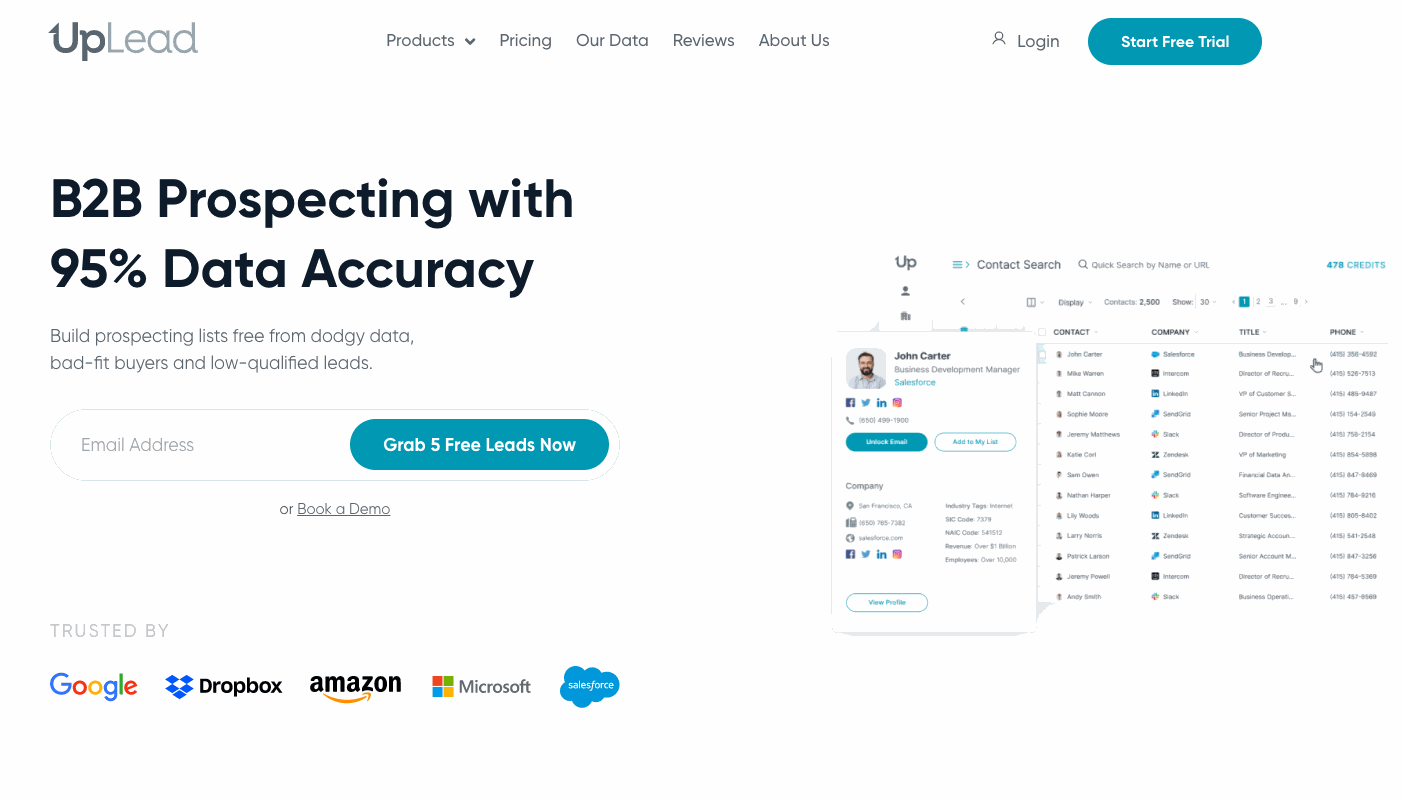 One of the best lead generation tools out there, UpLead gives you access to millions of professional business profiles worldwide.
Made to generate leads, UpLead allows you to input the information of your target customer and instantly generate a list of leads that fit your criteria and who are ready to be contacted by you. As you download your leads, their emails are validated in real-time to ensure the leads you're getting are fresh and valid.
Unlike most lead generation tools, UpLead is so trusting of its data that it offers a 95% data accuracy guarantee.
Already got a list of leads? Use UpLead to enrich your lists with fresh and validated contact information and expand your knowledge on the lead so you can easily and properly segment them.
Try UpLead today and see if it's a good fit for you.
Start Your 7-Day Free UpLead Trial
Lead generation doesn't have to be all that painful. With UpLead, you can easily connect with high-quality prospects and leads to grow your company.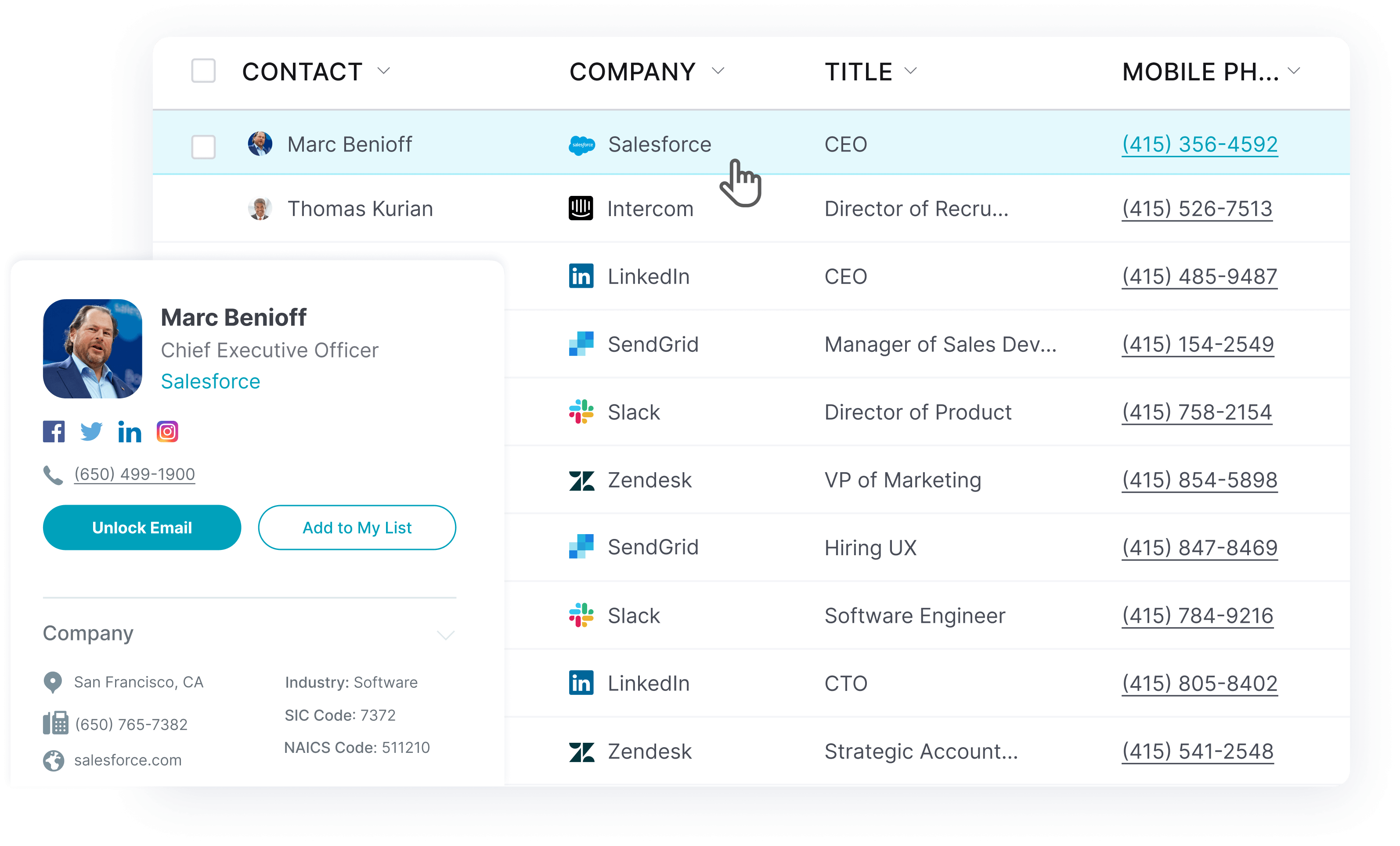 Pros: Data accuracy guarantee, streamlined UI, affordable.
Cons: No mobile app
ZoomInfo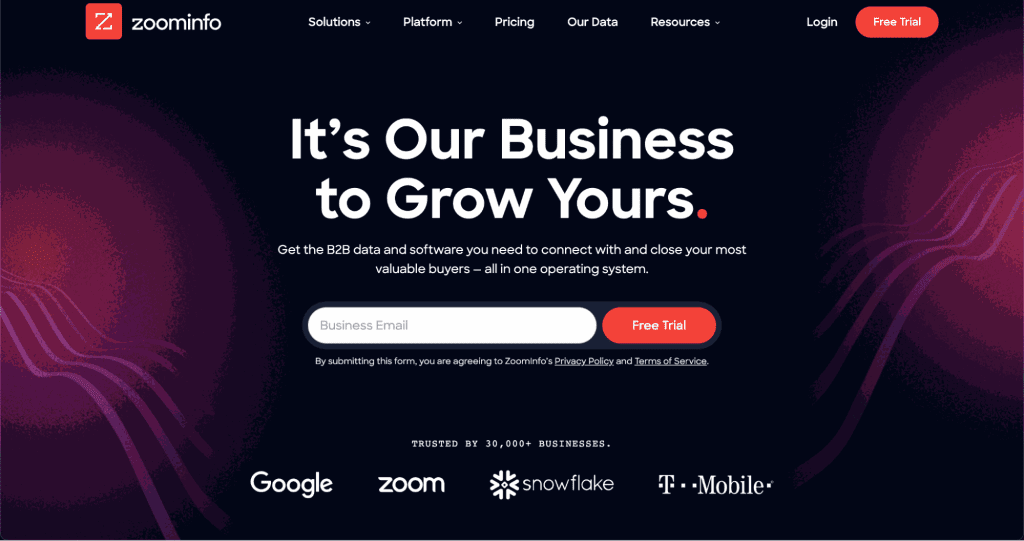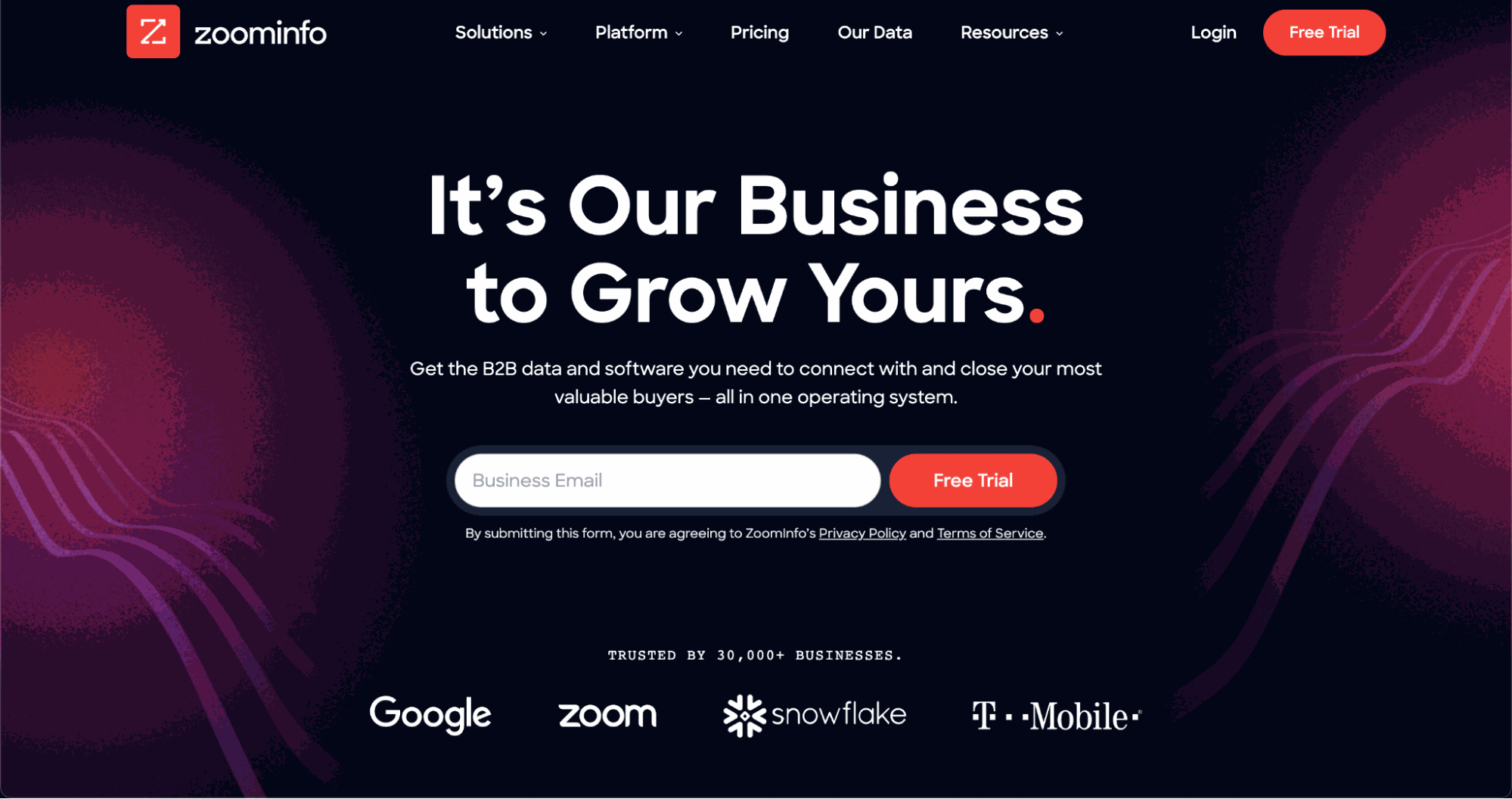 Zoominfo is a lead generation tool with an enviable client list. Offering a streamlined UI and fast response times, Zoominfo is another D&B competitor aimed at larger companies that can afford their services.
With prices starting at $10,000 per year, it's safe to say Zoominfo isn't one of the cheapest options on the list. Although its pricing system doesn't offer as much flexibility, Zoominfo remains popular among large companies looking for an all-in-one lead generation tool. ZoomInfo is one of the best UpLead alternatives.
Pros: Great UI, trusted and responsive platform.
Cons: Expensive option, not flexible for smaller companies.
Cognism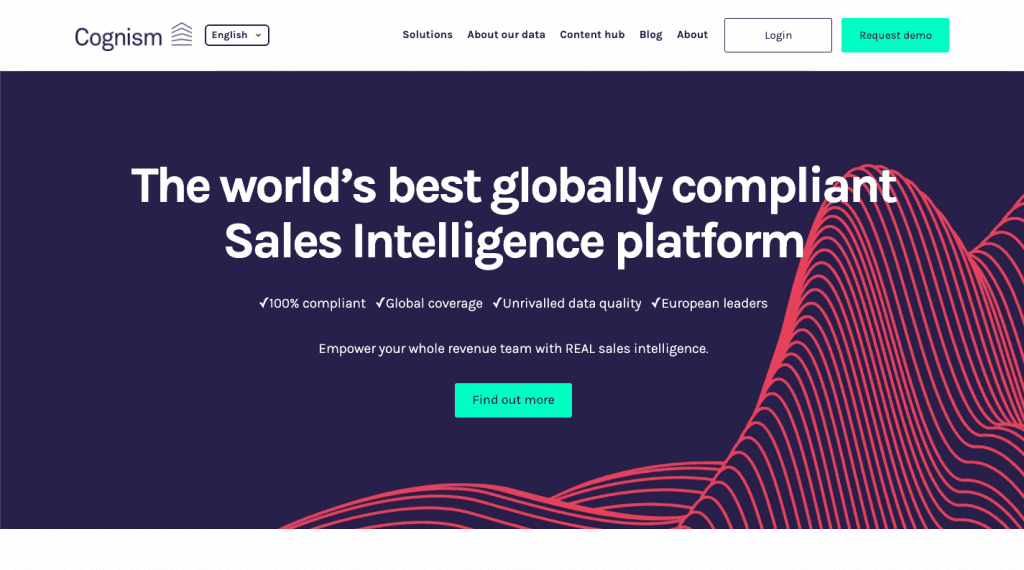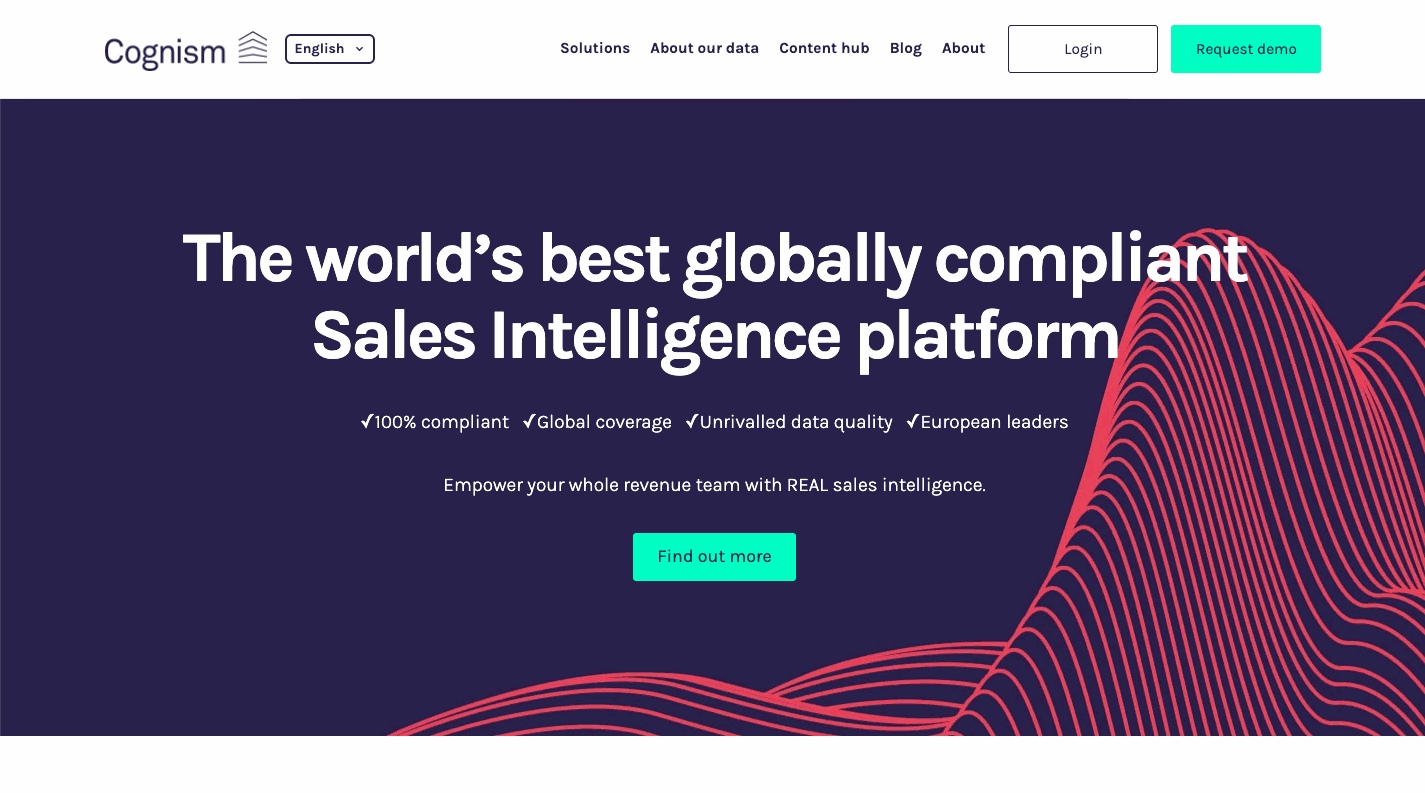 Cognism is another D&B alternative effective for finding B2B leads. With a 400 million profile database, Cognisism can generate lead lists and lead information by surfing the web with Cognism's Chrome extension.
However, the company seems to lack any guarantees for its data other than the built-in email verification tool.
Pros: The email verification tool included a large database and a wide array of sales tools.
Cons: No data accuracy guarantee, fairly pricey.
UpLead is considered a solid Cognism alternative.
Clearbit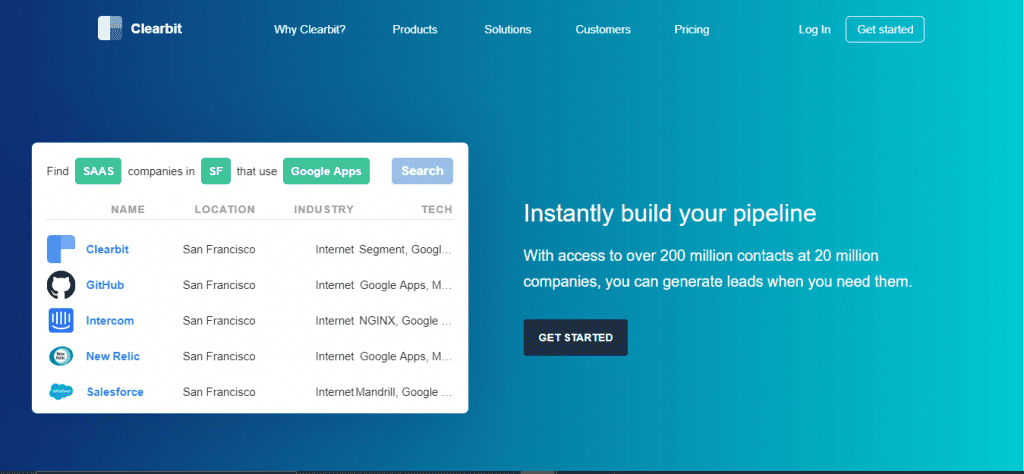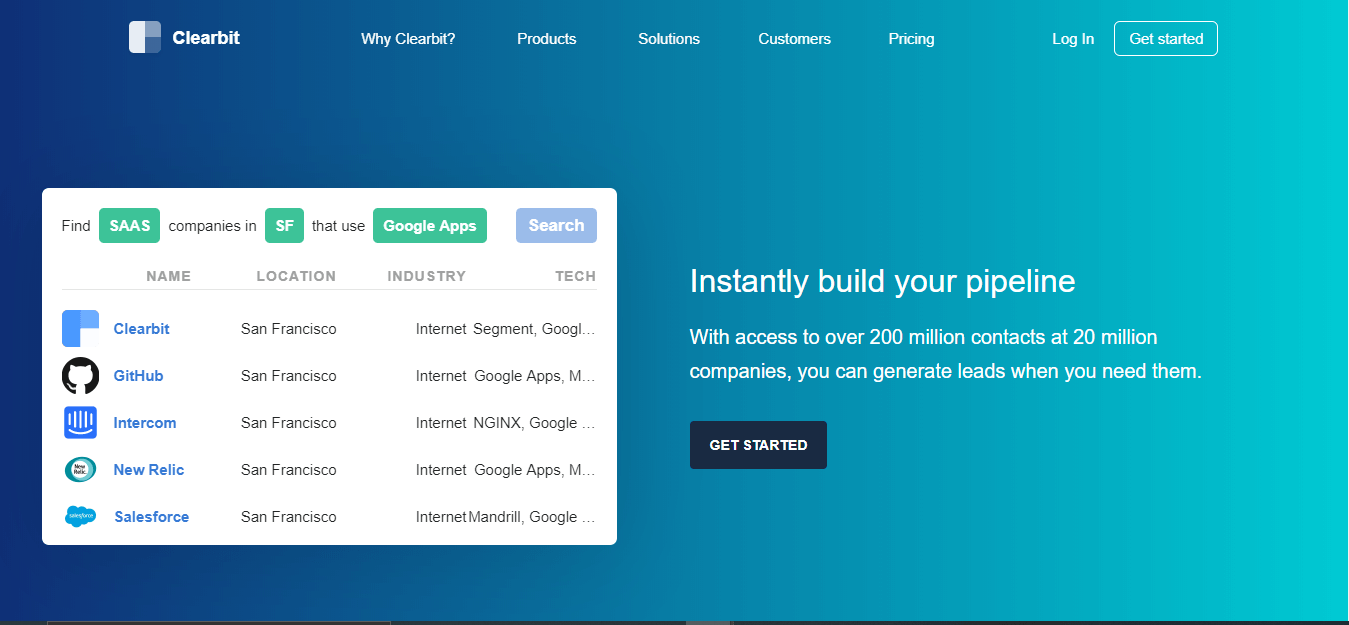 Clearbit is another lead intelligence platform offering user access to the contact data of over 200 million user profiles from 20 million companies.
Although not exactly one of Dun and Bradstreet's top competitors, Clearbit offers a few special sales and email features for those who can afford its expensive price tag.
Pros: Large database, access to multiple tools, good sales suite.
Cons: Expensive, not great when used only for lead generation.
Here are other Clearbit alternatives.
GetProspect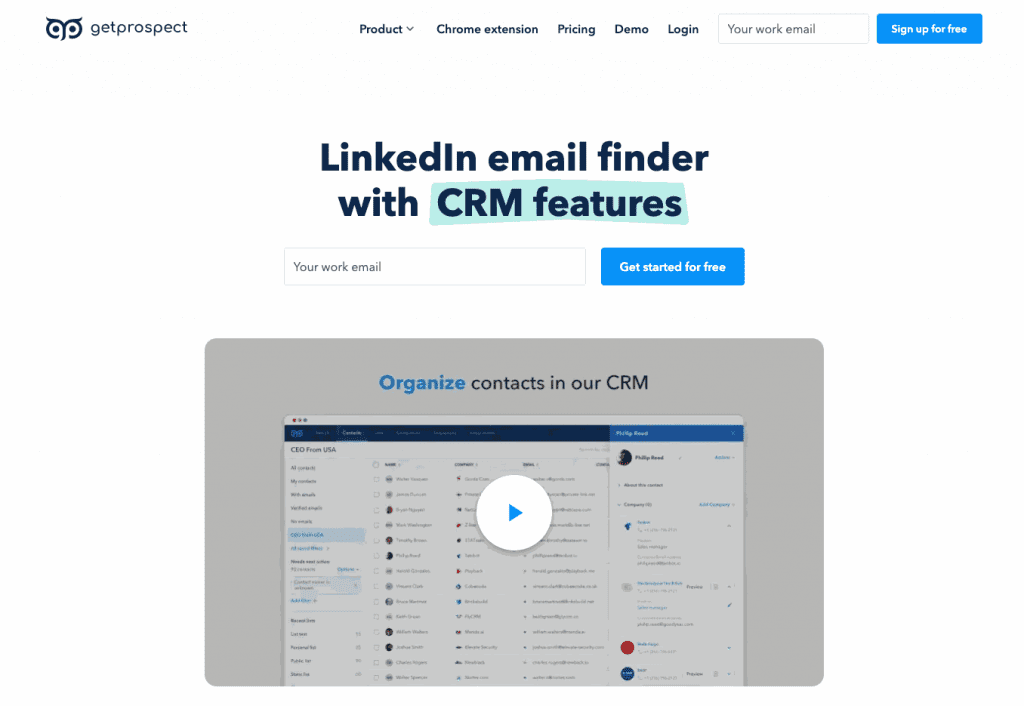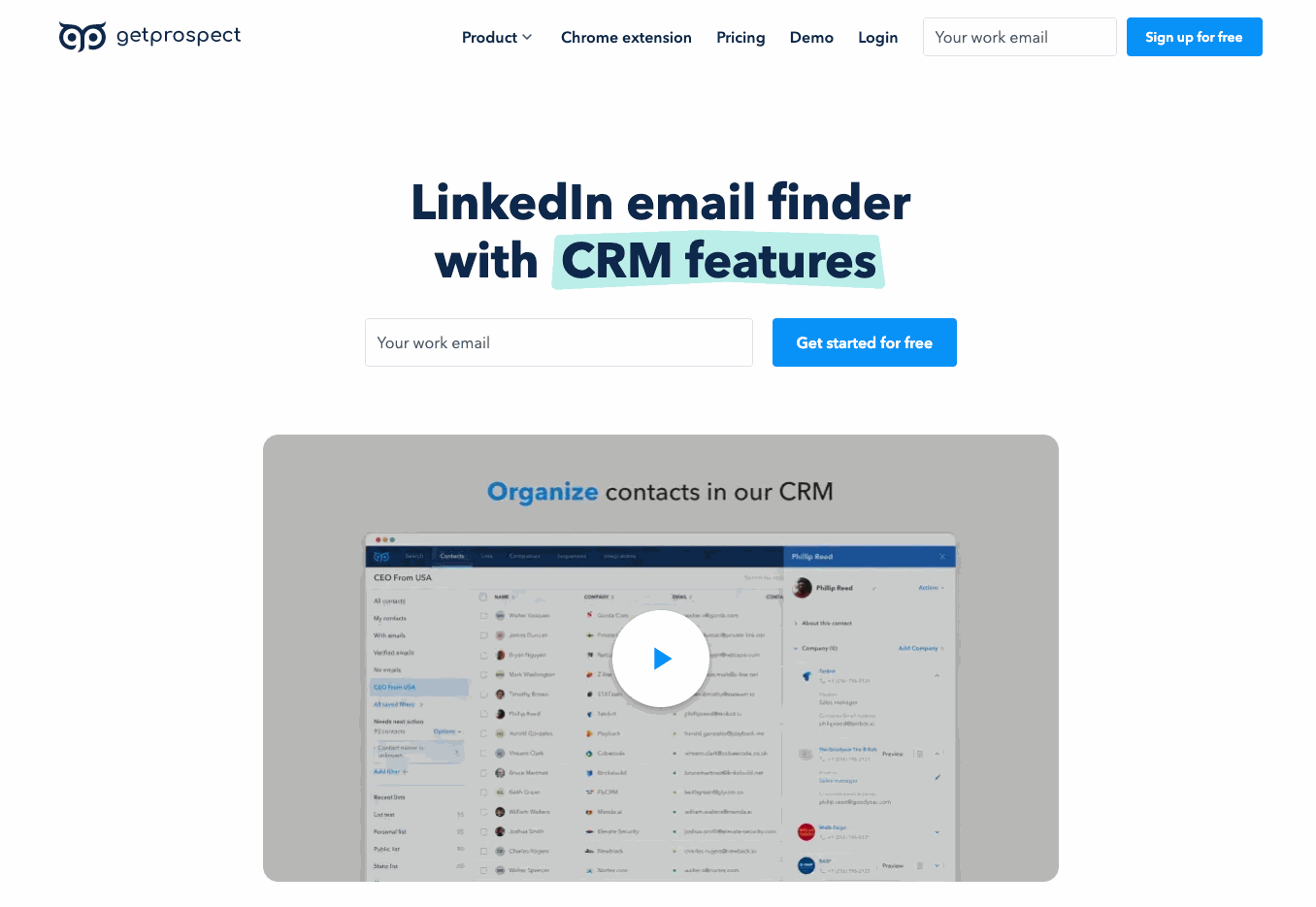 As a self-proclaimed LinkedIn email finder, GetProspect comes with multiple tools to get emails from LinkedIn users and companies worldwide.
With a Chrome extension and an in-app CRM, GetProspect is good for budget companies needing more than just lead generation.
Pros: Affordable, built-in CRM, flexible pricing.
Cons: Does not back up data with an accuracy guarantee, and lacks advanced sales features.
DemandScience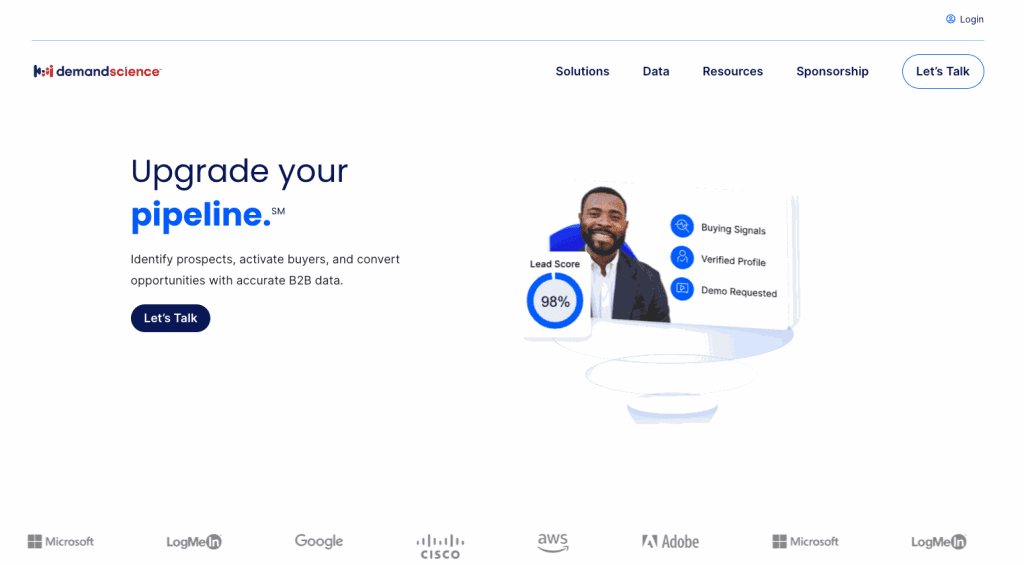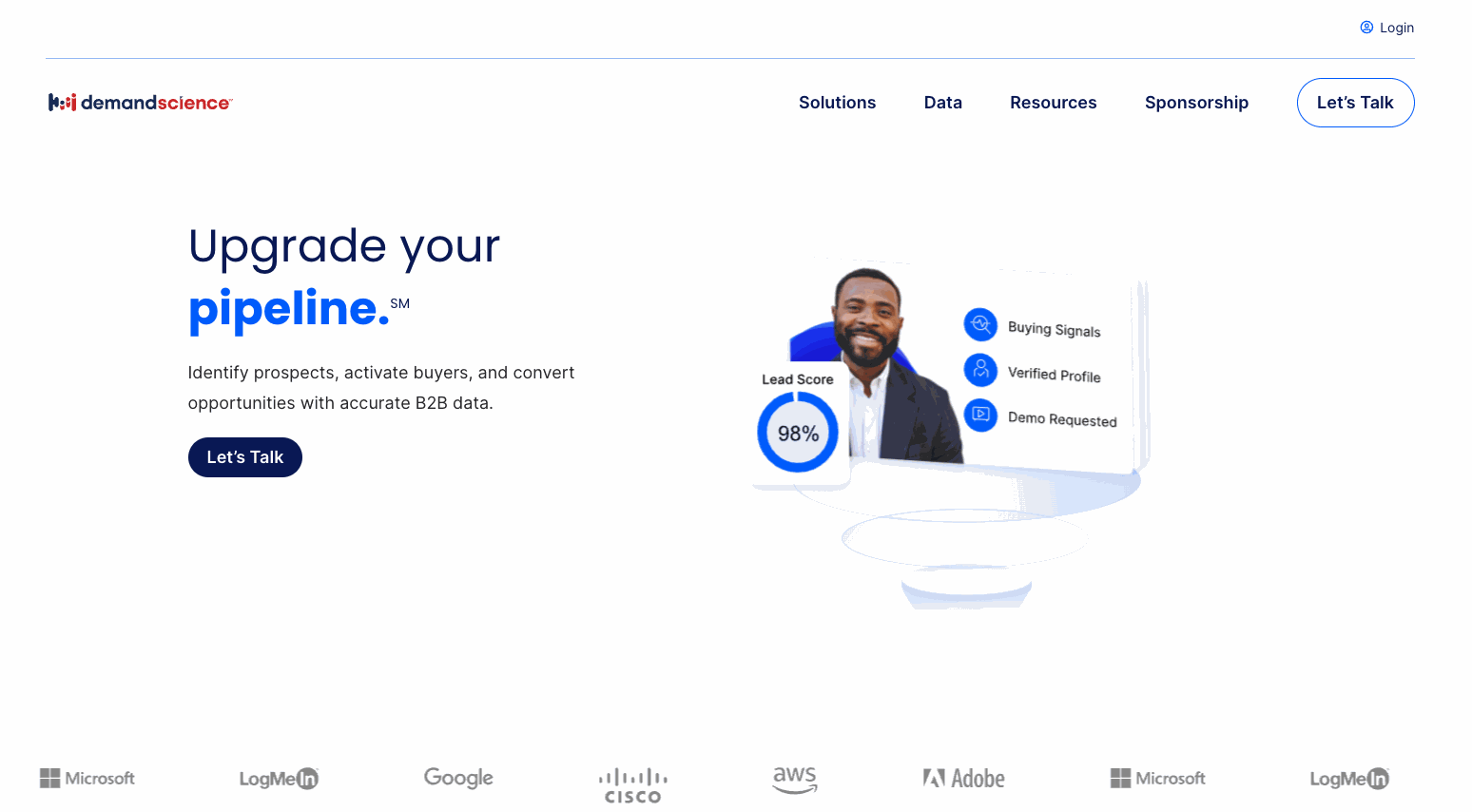 DemandScience Intelligence is another B2B sales intelligence tool made to find leads and get more customers.
With a database of over 60 million contacts, the platform can give full professional profiles instead of just emails and phone numbers. The tool can also be linked to other sales data tools to find and act on buying signals.
Pros: Easy to use, multiple integrations.
Cons: Reportedly low-quality data, no data accuracy guarantee.
Findthat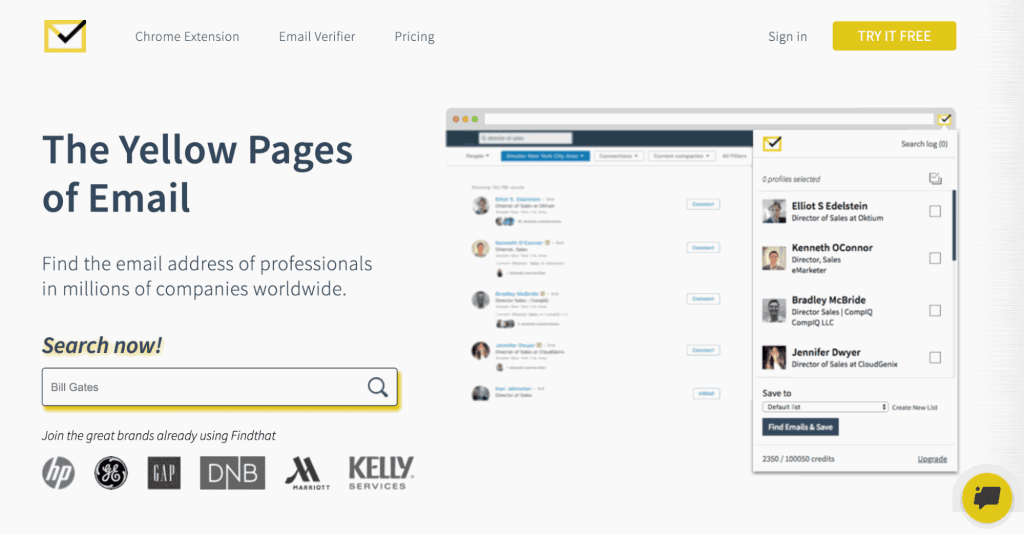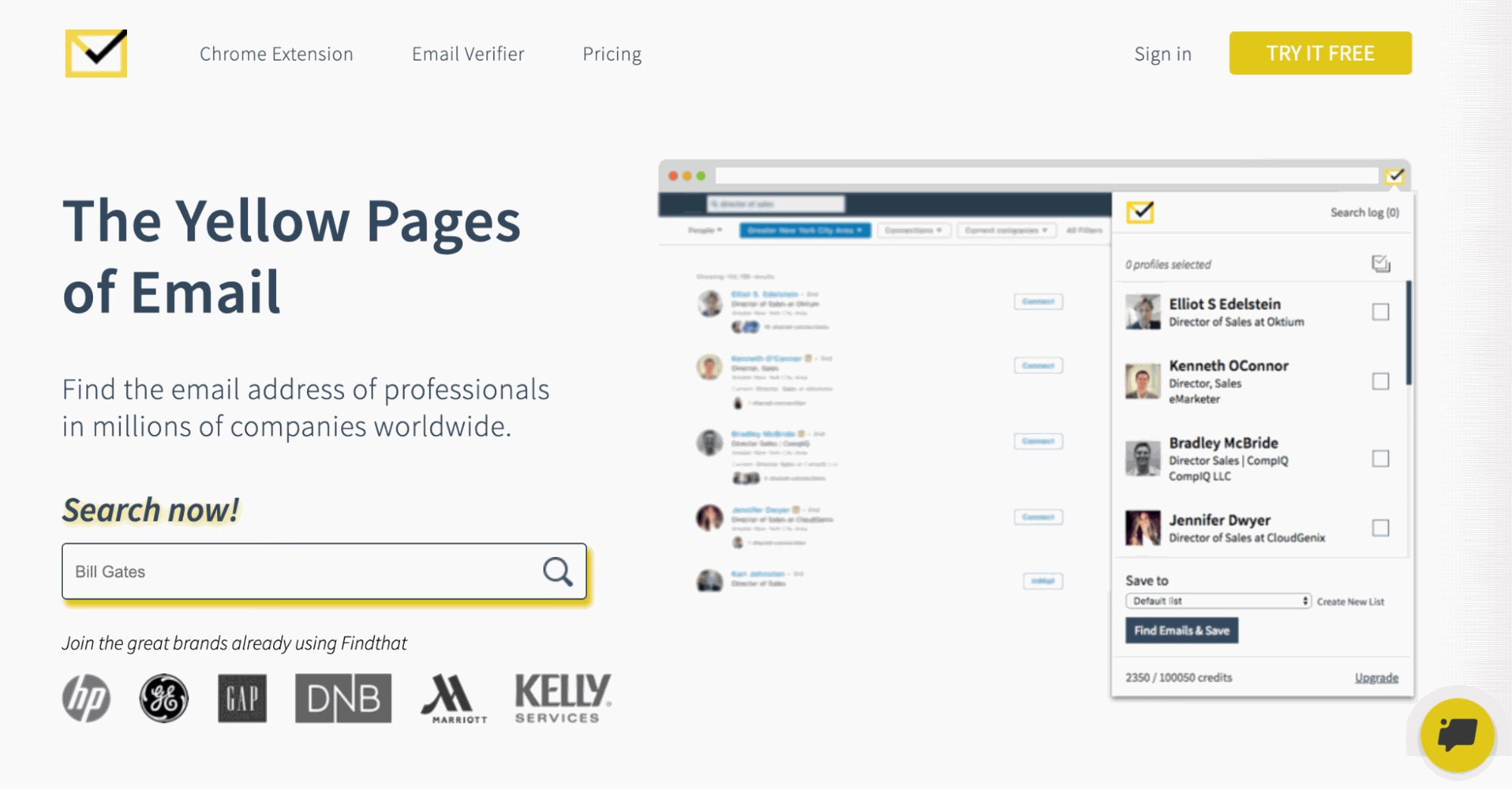 As "the Yellow Pages Of Email", Findthat is a simple intelligence tool that allows users to look up names and phone numbers to find all publicly available information.
Using a "Confidence" score, the tool lists the most likely accurate results on top and comes with free 50 credits plan, making it perfect for a casual prospector. However, the information you find may not be accurate, so you'd have to pair it with an email validator.
Pros: Free limited capabilities, simple tool, integrates to multiple tools.
Cons: No data accuracy guarantee, somewhat confusing UI and scoring system.
eGrabber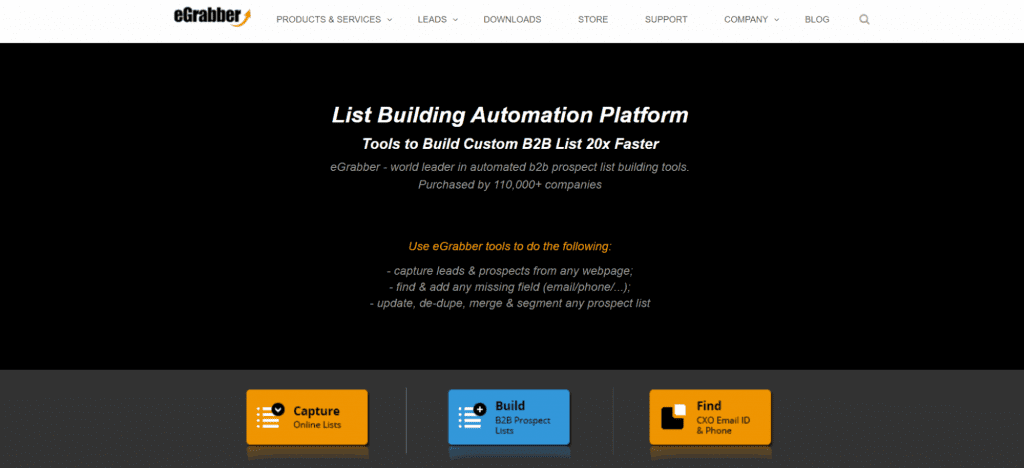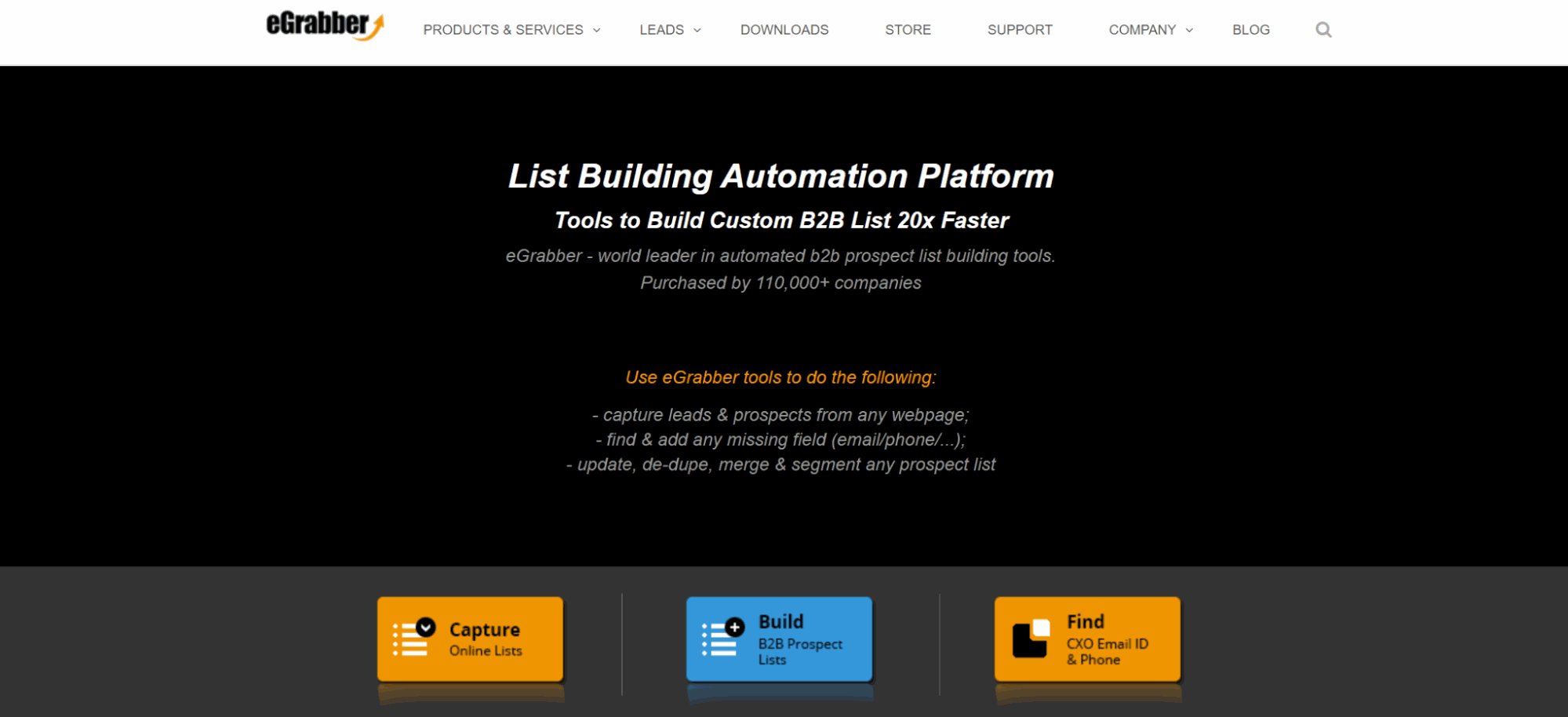 Made to make it easier for users to target specific small audiences, eGrabber is another lead generation tool. With it, users can find active and fast-growing USA-based companies, find how many employees they have, and even get alerts when they're hiring and expanding.
This lets users get some active data on specific niches for targeted marketing campaigns.
Pros: Good for targeting niches, can access specific business directories.
Cons: There is no data accuracy guarantee, a somewhat clunky UI, and a confusing pricing system.
FullContact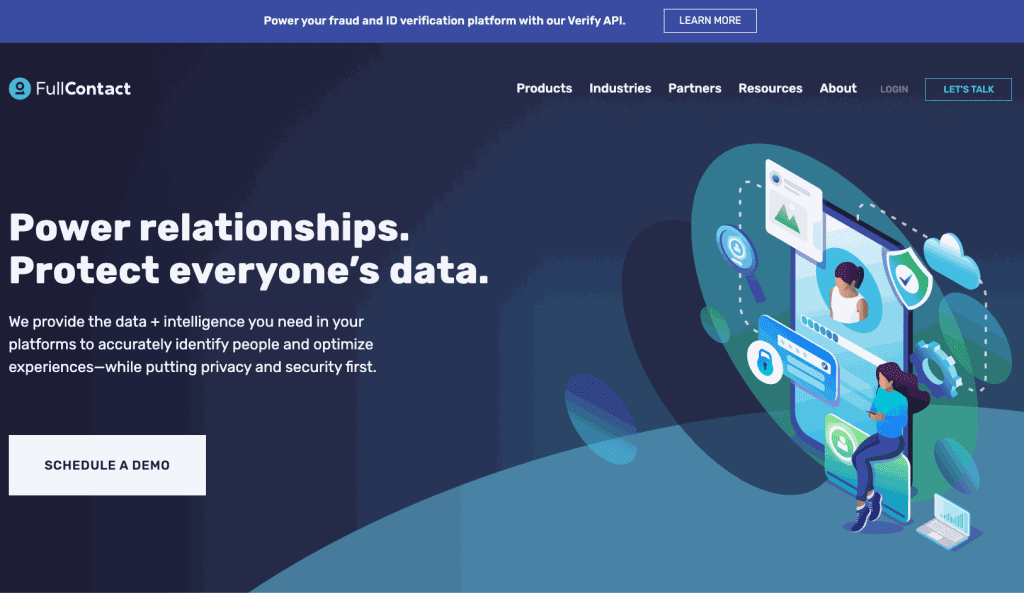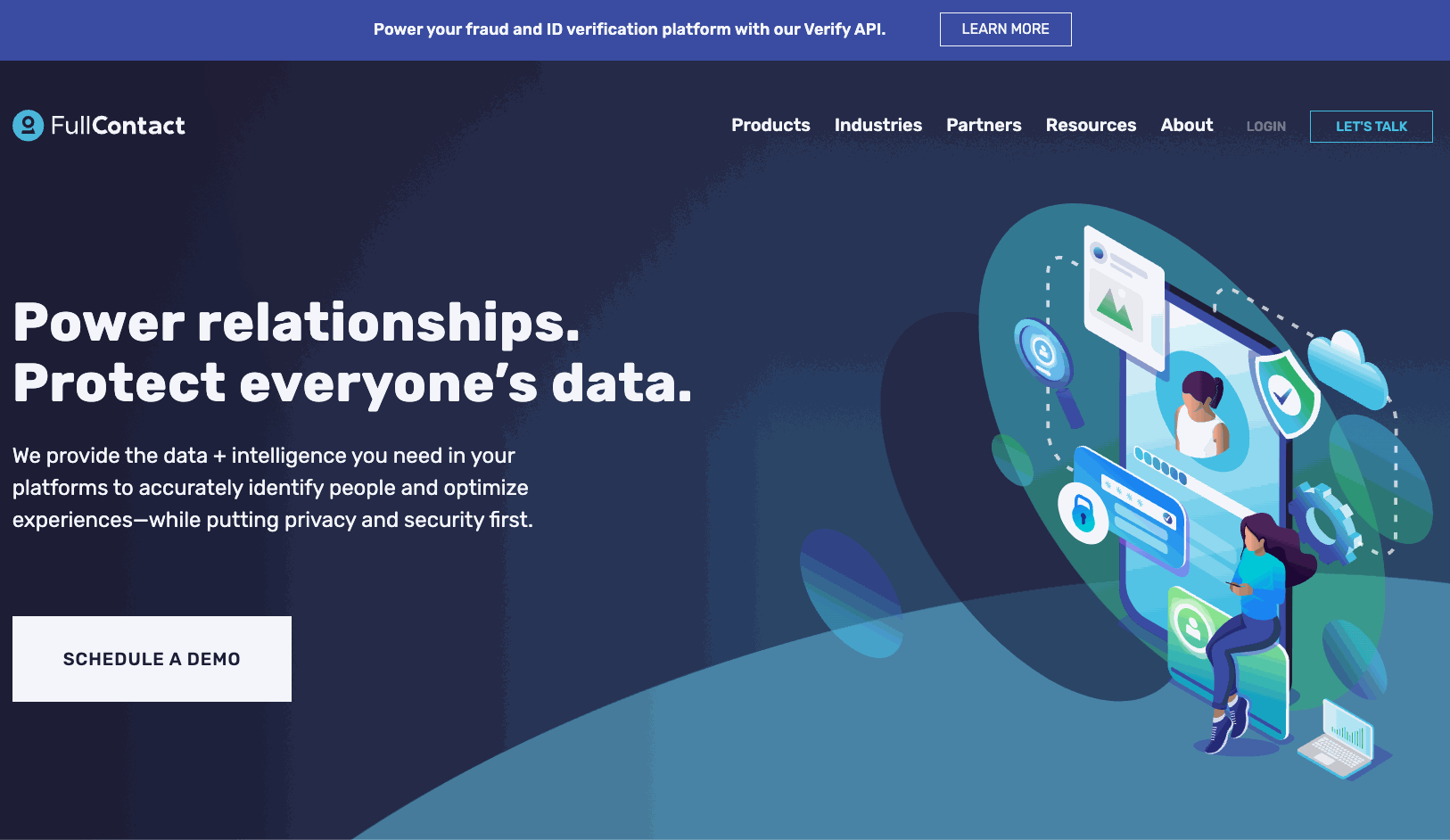 FullContact is another intelligence tool used by sales representative teams around the world. The tool uses an "Identity Graph" to help users find the right individuals in its large database.
The tool seamlessly integrates with other tools and connects to your iPhone to synch up all information, making it easy to keep everything updated. However, the platform depends on the other tools that work with it, leaving it exposed to situations like Facebook and other platforms preventing it from getting information from it, limiting its use.
Pros: Fairly easy to use, good for extracting information from some websites.
Cons: Not very responsive extension, reportedly tends to duplicate data, buggy mobile platforms.
LinkedIn Sales Navigator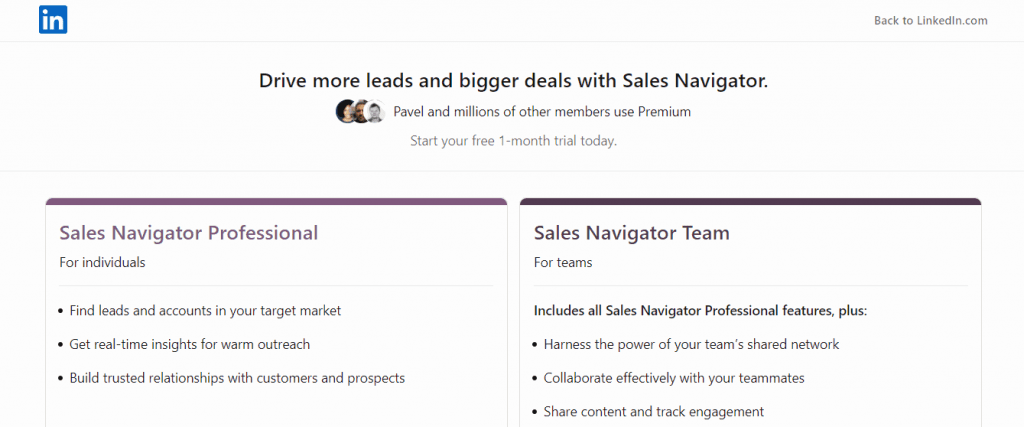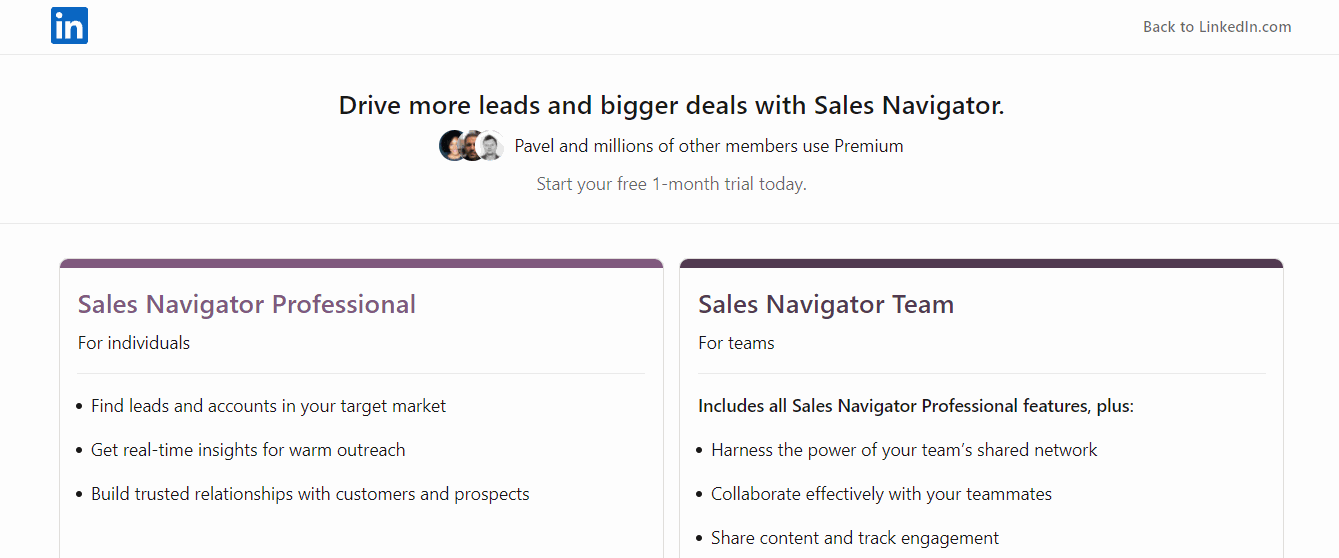 Made by LinkedIn itself, the LinkedIn Sales Navigator allows users to perform detailed lookups within the vast LinkedIn database. Although the tool can't generate as much data as other alternatives, it's still useful for users simply looking for someone's name and employer and nothing more.
If you want to use the LinkedIn Sales Navigator to its fullest, you'll likely have to use LinkedIn tools with it to automate the process and get better, more expansive results.
Pros: Large and trustworthy database, easy to use.
Cons: Very limited data generating capabilities, limited only to users active on LinkedIn.
Owler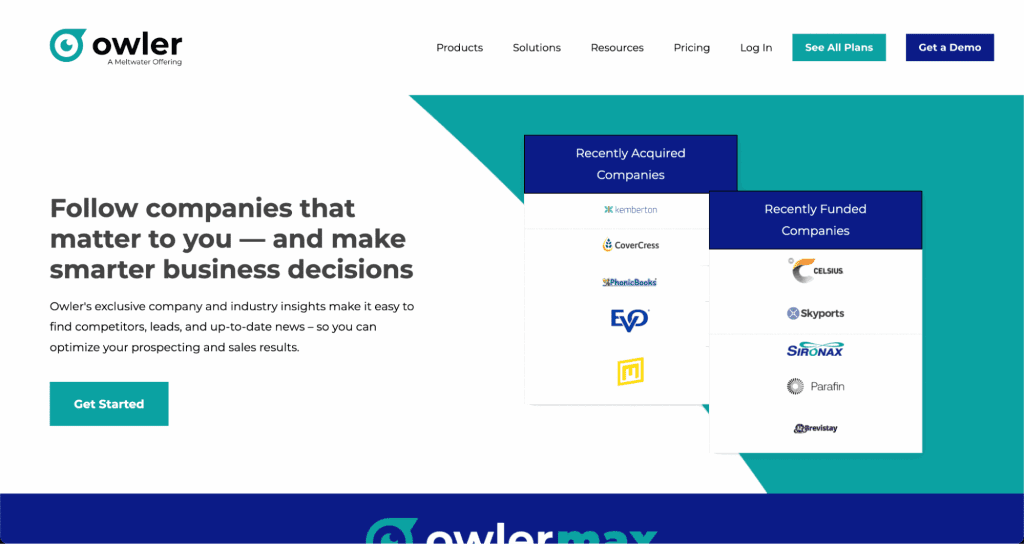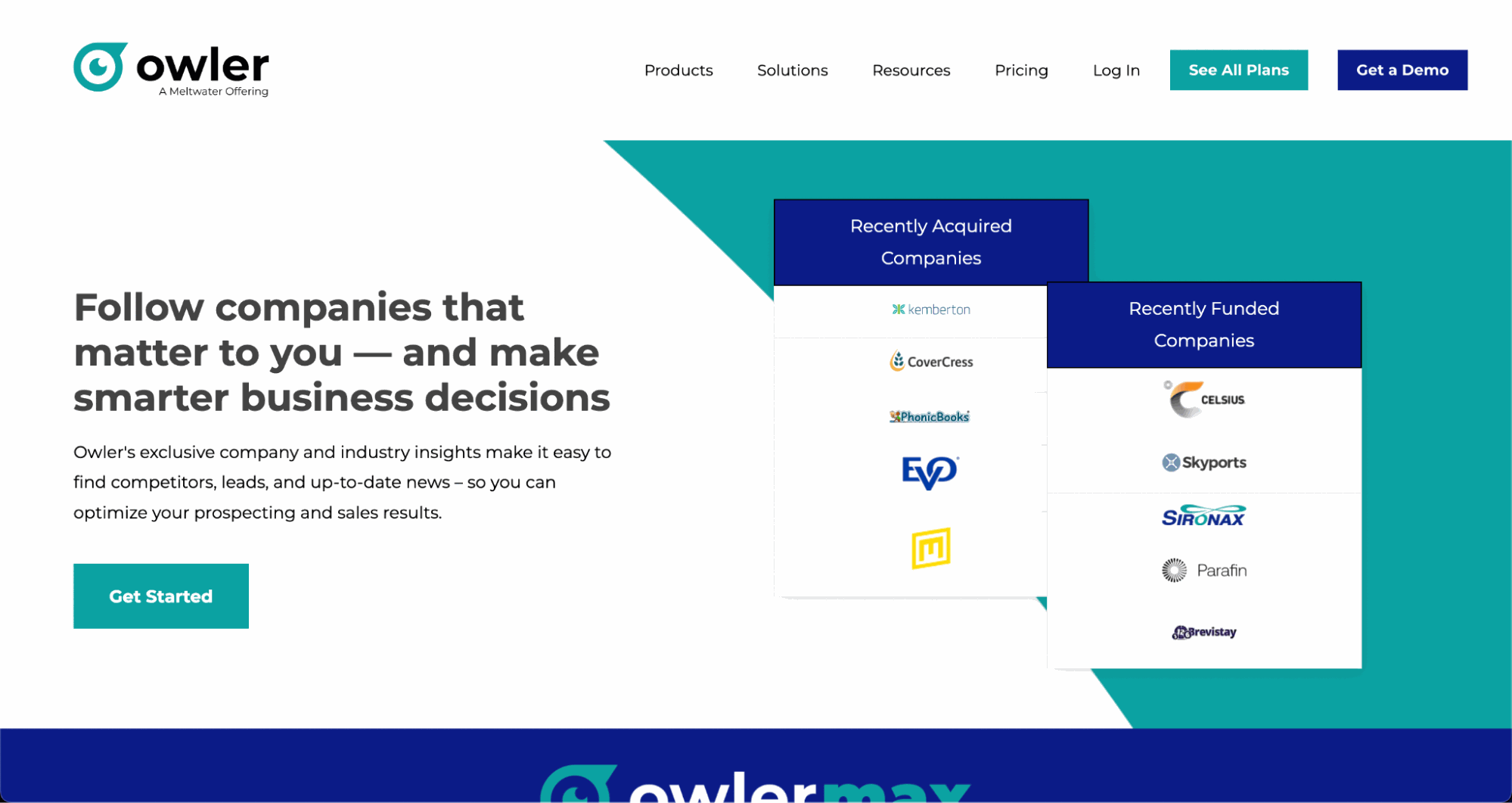 After a recent makeover, Owler is a business information and intelligence tool capable of providing real-time insight into your leads.
Owler max allows users to get sales data, follow interested companies, find more leads, and get curated lists of updates. However, its database doesn't seem to be updated, with some reviewers complaining about old data on the system.
Pros: Personalized daily reports and real-time lead data.
Cons: No data accuracy guarantee, apparently lack proper data cleanup processes.
FAQs About Dun and Bradstreet Competitors/Alternatives
Here are the answers to some common questions on how Dun & Bradstreet compares to the competition:
What is the best Dun & Bradstreet alternative?
The best alternative will depend on your sales team and their needs. Some tools, although expensive, offer features like advanced account management, built-in CRMs, and mobile apps. Other tools offer more streamlined lead generation services and great integrations to work with the rest of your tools.
What industry is Dun and Bradstreet in?
Dun & Bradstreet is in the intelligence industry, acting as a credit and sales intelligence platform with information on millions of companies around the world. Its global database includes credit history data and detailed company data like when they're hiring and how many employees the company has.
Is Dun and Bradstreet still relevant?
Yes. The Dun & Bradstreet Rating is one of the industry standards for credit appraisal, and the company has helped private and public companies around the world with their data.
What does Dun and Bradstreet do?
Dun & Bradstreet helps customers in multiple industries find data-driven ways to improve their business performance. The tool can provide detailed credit information, like a company's creditworthiness and finances, which salespeople can use to qualify their leads better.
What You Need to Remember About Dun and Bradstreet Competitors
Although Dun & Bradstreet is a responsive and useful tool, its competitors can help you get similar data at better prices.
If you're looking for detailed professional data, you can find all of it with UpLead. Search among millions of professional contacts and see their data expressed in intuitive profile cards that allow you to know their industry and business better and connect with them on social media.
🔥 Try UpLead, grab 5 free leads, and see if it's a good fit for you.
Start Your 7-Day Free UpLead Trial
Lead generation doesn't have to be all that painful. With UpLead, you can easily connect with high-quality prospects and leads to grow your company.