Sometimes you just need to find a company email address. Whether for work, generating leads, or simply sending a quick message, email is a powerful tool if used wisely. We've compiled six ways to find a company email address, from a few hard options to some of the easiest, most effective ones.
By the end of the article, you'll know exactly how to find a company email address and keep generating emails from quality sources.
Let's get started.
Quick Links:
1. Use a Professional Email Lookup Tool
The easiest, fastest way to find a company email address is with an email lookup tool.
Email lookup tools compile and update large databases from multiple sources. All you need to do is find the data you're looking for.
But you need to ensure your data is coming from the right places and that the data you receive is reliable. That's why it's best to use an email lookup tool that guarantees its data.
UpLead gives you access to 135+ million business profiles, guarantees data accuracy, and verifies the email addresses you find.
Here's how to use it:
How to find a company email address with UpLead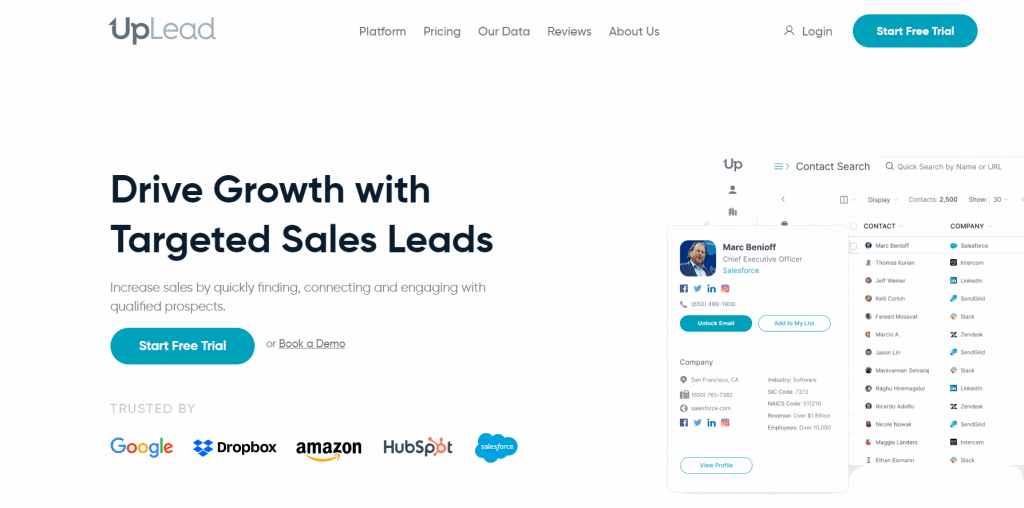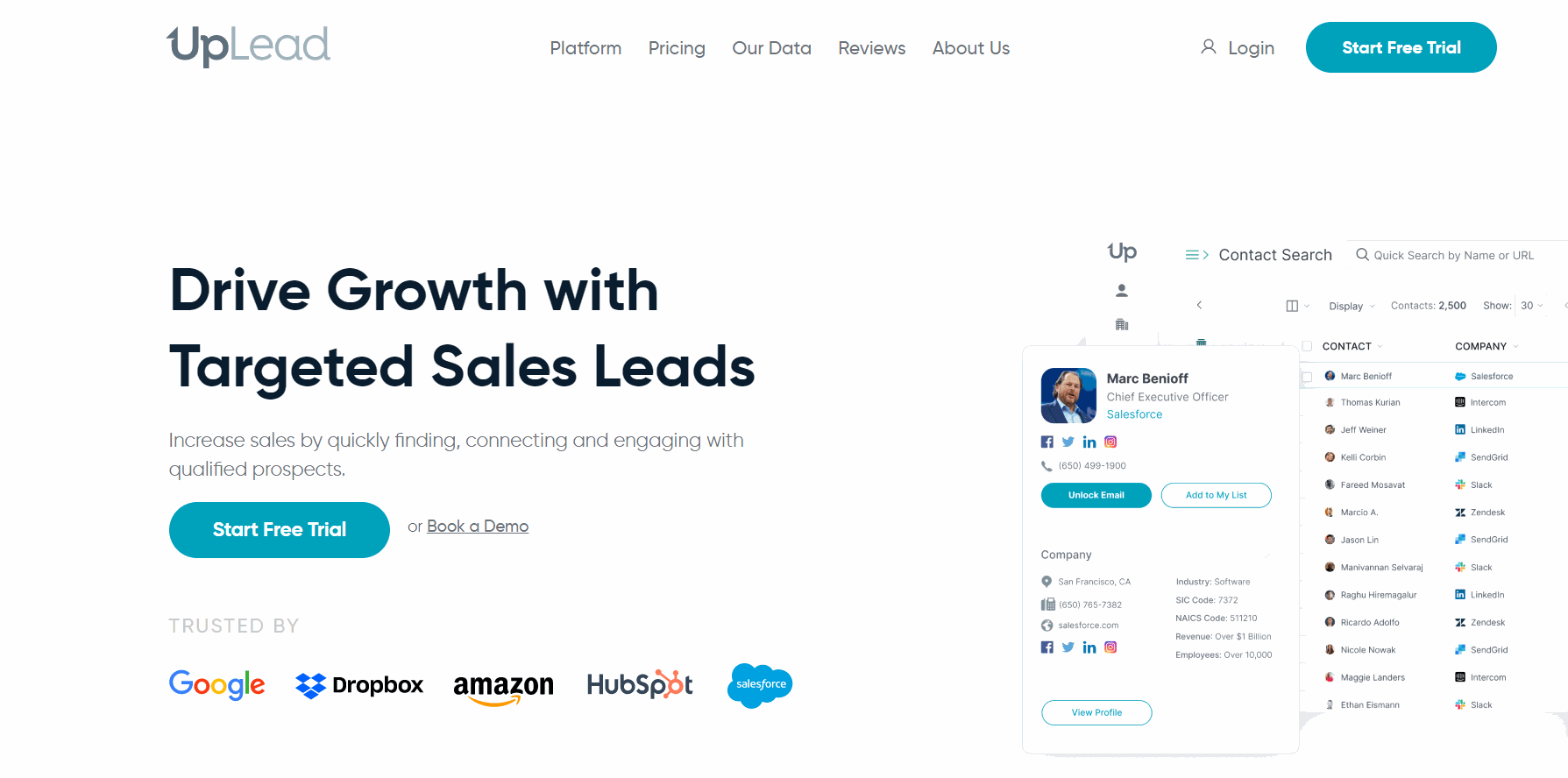 UpLead
is an email lookup tool that's very easy to use. Plus, UpLead offers a
95% data accuracy guarantee
, so you know you're not wasting time and resources sending emails that go nowhere. Right before you download the emails you've found, they get verified in real-time. If there's an email that cannot be verified, you can download it for free.
Here are the ways you can use UpLead to find email addresses:
Using Contact Search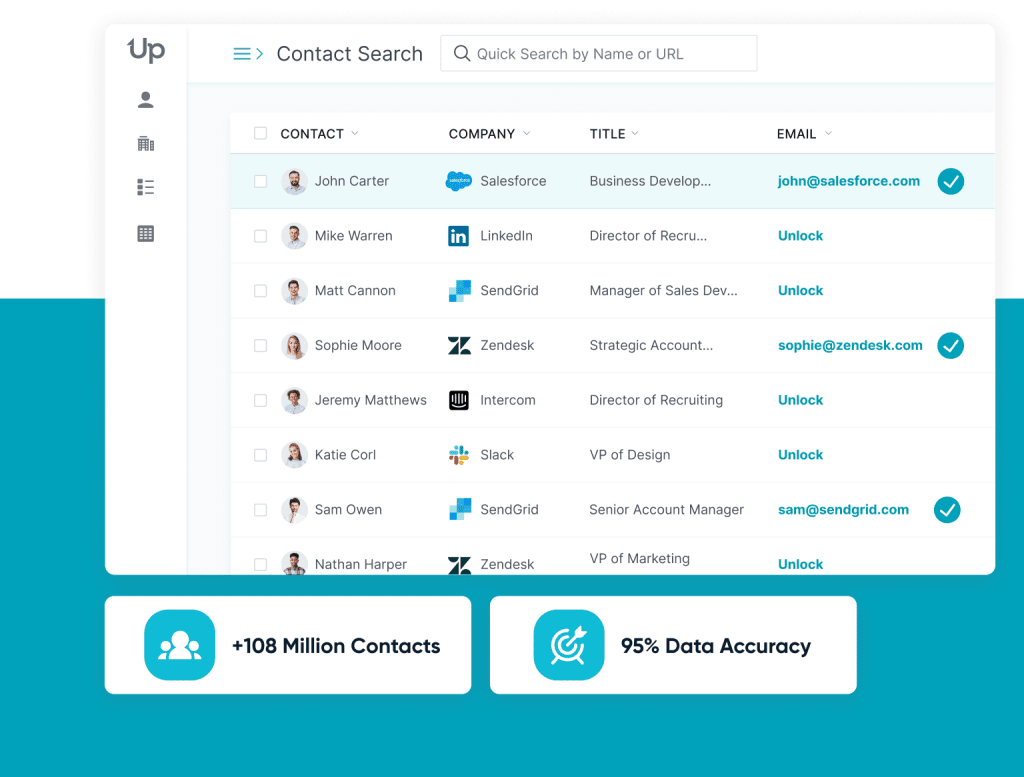 With UpLead, finding the right emails is easy. Just browse UpLead's 108 million business contacts worldwide. To narrow the search, you can use over 50 criteria (such as job title, industry, and location) to find the email addresses you're looking for.
Once you're done, download your list, verify your emails, and start contacting them.

The moment you click to get an email, we verify it in real-time to guarantee its accuracy. This is our secret to delivering emails that don't bounce.
Looking Up Contacts
Looking for someone's company email address? Just use UpLead's Contacts Lookup function to find all your lead's contact information.
With Contacts Lookup, you can use the information you have to search for a particular lead. Then, all you need to do is to download their company email address and add it to your cold email efforts.
Using the Chrome Extension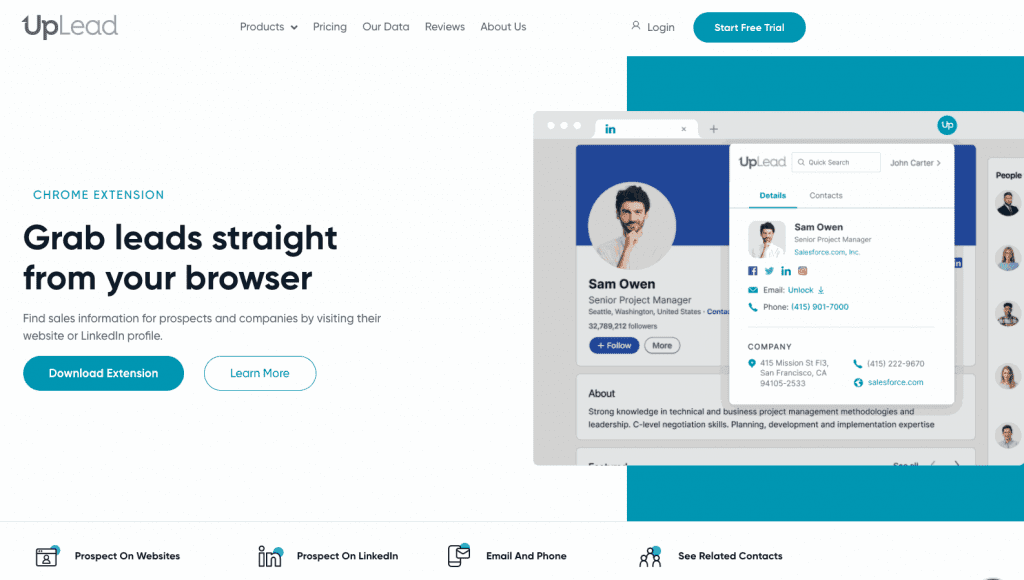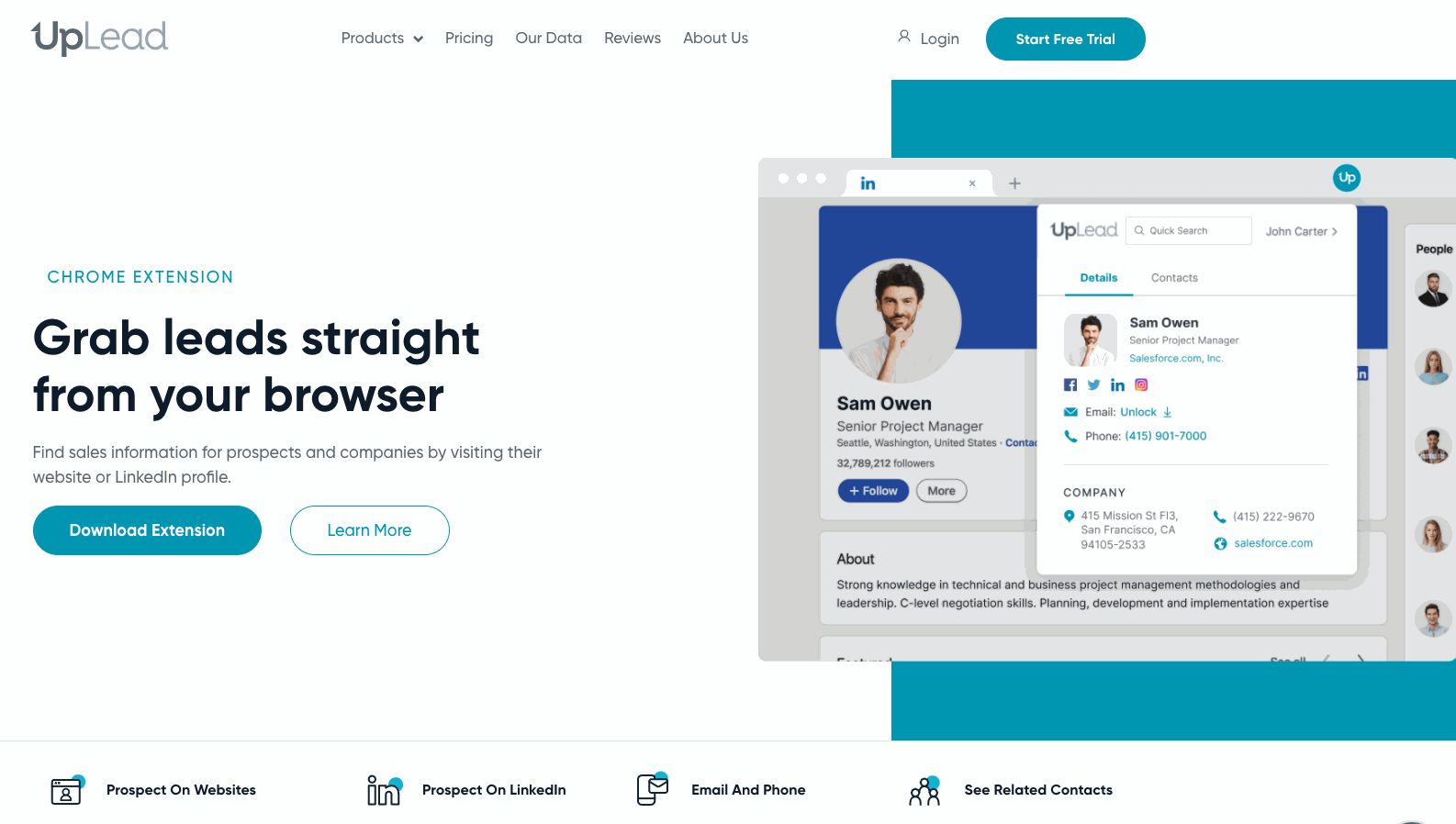 You can also grab emails straight from your browser while looking at a prospect's website or LinkedIn profile. See everything you need to know about them without opening a new tab using UpLead's Chrome extension.
Pros
Very fast: All you need to do is conduct a simple search to find all information on the lead.
Great for bulk email searching needs: Simply search for companies that fit your desired characteristics.
Great for generating leads: You can generate as many leads as you need.
Very easy to use: Search for your company.
Fairly priced: Priced below average.
Guaranteed data accuracy: 95% data accuracy to ensure you get the data you need for your sales efforts.
Finds all user data, not just email addresses: Find information like social media pages, company data, and more.
Cons
You'll need to introduce yourself: Since UpLead generates information for you, you'll need to introduce yourself through your cold email efforts.
No mobile app: App is still being developed.
Start Your 7-Day Free UpLead Trial
Lead generation doesn't have to be all that painful. With UpLead, you can easily connect with high-quality prospects and leads to grow your company.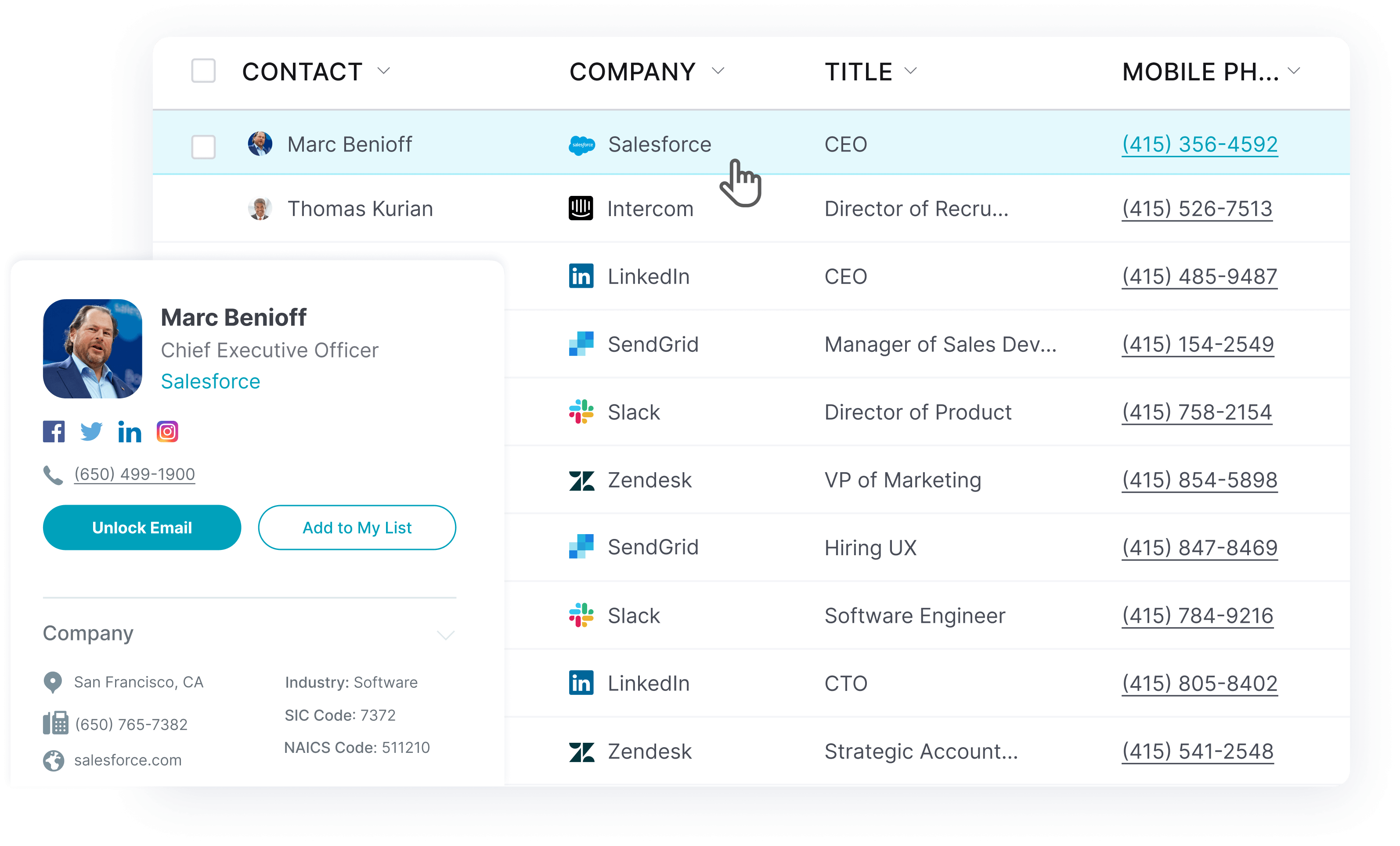 2. Search the Company Website
The first and most obvious step when finding a company email address is to check the company's website directly.
Start with the "About Us" page. You'll often find contact information next to each person's name and title, which is useful for gathering information.
If you can't find any email addresses, you can usually find the company's customer service team's email on the "Contact Us" page. The Public Relations page may also list an email address for the media department or the CEO's office if the company is small.
Finally, check any company blogs. Often the authors of articles will have a link to their profile, a small professional bio, and their company email address.
Pros:
Free and easy to do: Search for your company's website and browse it.
Extremely accurate information: Since the data comes directly from the company, the information is likely to be very reliable.
May help you learn more about them: By browsing a website, you can learn more about a company and the people behind it.
Gives you contextualized information: You may quickly see the company's pain points as you browse its website.
Cons
Very time-consuming: Since it requires time and effort, scaling up will be hard.
Not very effective: It may not help you to find all the company email addresses you need.
3. Try Google Search
The next step when looking for a company's email address is to try a quick Google search. You must search for the email by looking up the company's name and the keyword "email."
If the company has a Google profile, Google will show you their contact information or company profile. And even if it doesn't, it may still show you the company's email on the meta descriptions listed, as you can see above.
If that doesn't work, you can try an advanced search on a company's website by searching "email" and then adding "site:" to list the company's site, as seen below: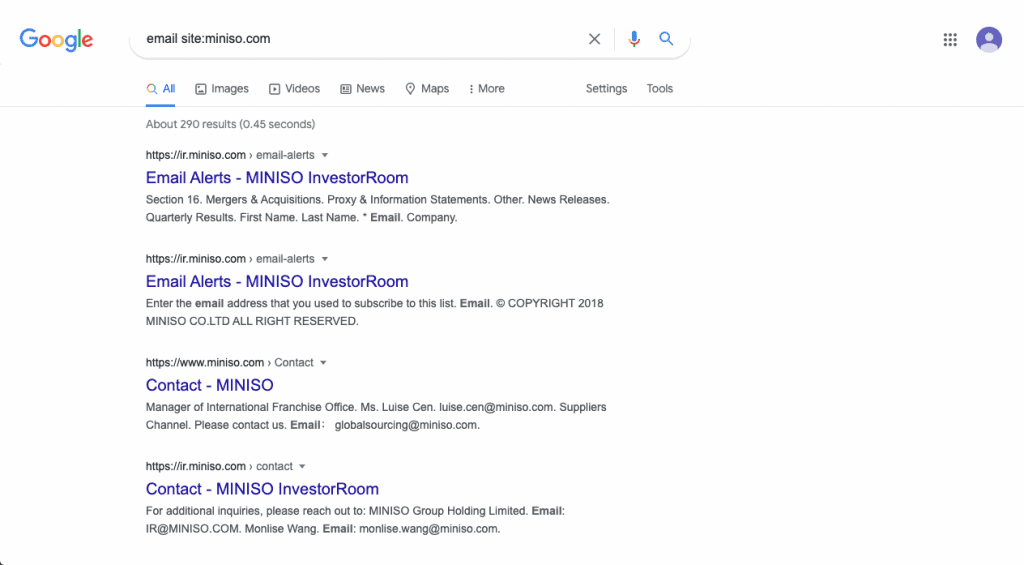 This will do a Google search for the keyword "email," but only on the website you're specifying. That way, instead of looking for someone's email address on every page of their website, you can let Google do the job for you.
Although this is a free service, it will only work if your lead is listed on Google and if they've listed company emails on their website before.
Pros:
Free and easy to use: Do a quick Google search.
Very accurate information: You can easily see whether or not the information is relevant or accurate.
Contextualizes your lead: You can learn much more about the company from your Google results.
Cons:
Too slow to scale up: Not great if you're looking to generate as many emails as possible.
No options for automated searches: No automation, so you'll have to search everything manually.
Not an effective way of finding all emails you need: You may not be able to find a company's email address just by doing this.
4. Search the Company Page on Social Networks like LinkedIn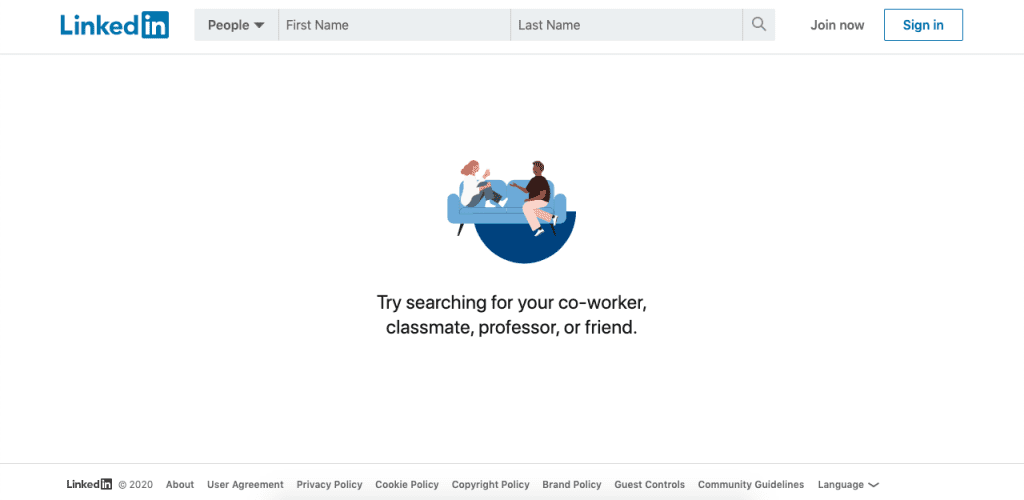 LinkedIn is another great source for finding company emails. All you need to do is to locate your leads and see if they've listed their contact information.
However, this will only work if your leads have decided to list their emails publicly. You can also try to find their email address on other social media, like Twitter or Facebook.
Pros:
Free method: Just sign in to your LinkedIn account.
Great for finding professional contact information: LinkedIn is a social media website for professionals; you'll only find professional contact information.
Good for generating lead information: You can easily learn from your leads by searching for their email addresses.
Cons:
Hard to find emails: Not every LinkedIn user will list their emails or will make them public.
Very time-consuming: It takes too long to search in bulk.
5. Use an Email Finder Chrome Extension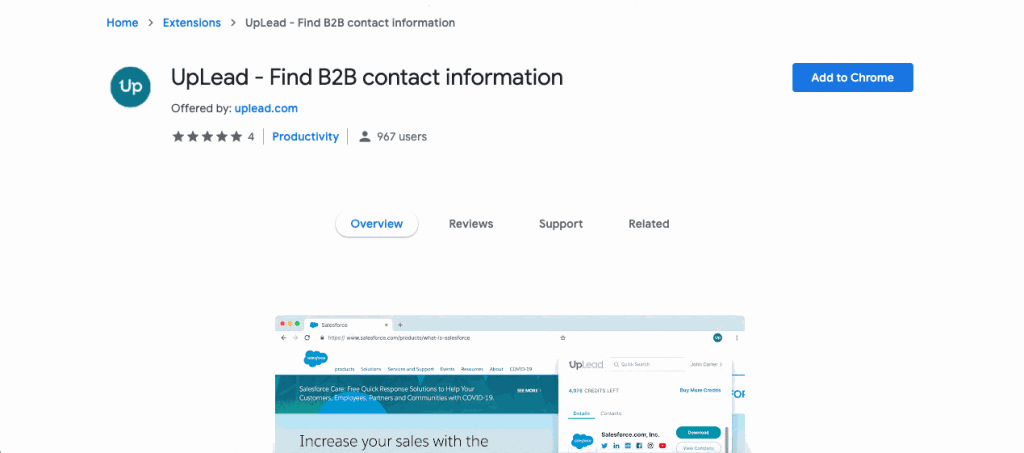 If you want to find emails as you browse online, there's nothing better than using an email lookup Chrome extension like UpLead's.
Using UpLead's Chrome extension is very simple. Start by downloading and installing the Chrome extension. Then you can browse a company's website or someone's LinkedIn profile. If they haven't added their company email or chosen to make it public, you can "ask" Uplead to generate them. 
When you're done looking for emails, you can download the ones you've found, and they'll be verified in real time to ensure they're valid.
UpLead's Chrome extension gives you access to over 135 million B2B contacts in over 200 countries. You can generate emails instead of waiting to see if your company decides to list them. If you can't find their emails online, ask UpLead for them.
Download it here.
Pros
Very easy to do: Use the Chrome extension to find the emails as you browse the site.
Extremely accurate information: The information generated with UpLead's Chrome extension has a 95% data accuracy guarantee.
Generates more than just emails: Find all of their professional information and learn from it through vibrant user profiles.
Improves your lead generation system: Allows you to search for information with a higher result rate.
Cons
Only available for Chrome: Chrome is the only browser where UpLead is available.
6. Ask for the Company Email Address via Support Chat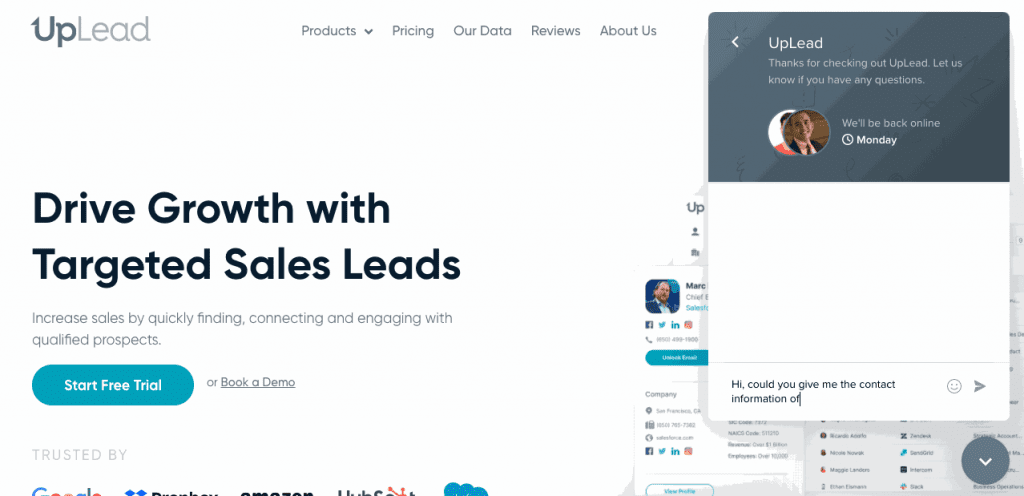 Finally, if you can't find a company email address, you can just ask for it from customer support.
Many companies avoid posting their email addresses online to keep their inboxes clear of spam. If you can't find their emails anywhere, look for their chat widget and start a conversation. Ask the customer service rep for the company email address you need to get. This will work better if you do a little digging, figure out your lead's name and job title, and ask for their email address directly.
You can also ask the customer service manager to improve your chances of getting an effective and positive response. Ensure you properly introduce yourself and only give enough information to get the email address you need.
If there isn't a chat widget, you can always fill out a contact form to create a ticket or send an email. Often, you'll be able to reply to an email and establish a conversation with someone in the company.
Pros:
Free lead generation method: Just ask a question.
Very accurate results: Since the results are given directly by company employees, they'll likely be accurate.
Cons
Very time-consuming: You'll usually need to establish a conversation.
Not scalable: Not a great way to generate multiple emails.
Finding a company email address is easier than you think
There are many ways to find a company email address. If you're looking for a way to find as many company email addresses as you need, with guaranteed, validated results, try UpLead.
With UpLead, you get a 95% data accuracy guarantee and validate all emails you generate in real-time to ensure you're paying for accurate information.