Nowadays, you're more likely to meet new people online than in person. That's why you need to know the best way to introduce yourself in an email. Every email introduction will play a key role in how you interact with the other person. You have to make it count.
This article will show you the best practices when introducing yourself, offer a few examples, and provide a few templates to get you started.
🔥 Hot tip: Want to find hot leads searching for a service like yours? Now they're the ones worth reaching out to. Use the intent data of UpLead. Try it free here.
Quick Links
Here are the most important best practices you should follow when writing an email introduction:
1. Connect through people
You may not be able to use your connections all the time. Sometimes you'll have no way to introduce yourself without referrals. But, if you have connections, make sure you use them.
When mentioning you know people in common, you'll introduce yourself with a deeper level of mutual connection. After all, if they know someone, and that someone knows you, you can't be that much of a stranger.
Before writing the email, find out if you have someone in common on LinkedIn or if you know someone in their company, even if that person isn't introducing you.
2. Write an irresistible email subject line
Leading with the right subject line is extremely important. According to some statistics, up to 69% of people will report an email as spam based on the email subject line alone.
To avoid this, your subject line must be perfectly written. You should pique their curiosity to get them to open the email. Make the subject line personal and approachable without sounding like a salesman.
Instead of writing "email introduction" or "nice to meet you," let your creativity inspire you to create a compelling email subject line. Use lines like "Lunch on me?", "How's life at [their company]" and "Hi from [your company]".
You can also use your connections on the subject line or add something personal, such as how you found them or what you can do for them.
3. Nail the opener
If you have already succeeded at getting your lead to click on your subject line, you need to get them to engage with you. Your first line is crucial if you want them to read the whole email.
Avoid openers like "Hello" or "Greetings". After all, why would they read an email if the sender couldn't bother to use an interesting opener?
Instead, tailor the opening line to the reader. If you're emailing someone in a formal industry, address them by name in the first line, such as "Dear Mr. [their name]", making sure you're using the right job title. In a less formal setting, you can get away with skipping the job title and replacing "Dear" with "Hello" or "Hi" and then using their first name only.
Personalize the opener so the receiver understands that you know who they are and that you want them to read the email.
The opener is equally important. If you use something like "I'm X, and I'm reaching you via email because…" or "I know you don't know me but…" they may not even continue reading.
Instead, continue with who they are. Tell them something like, "I noticed you [perform this specific task at your company] or "Have you ever thought about [solving the problem your product solves]?"
Personalize everything and make it about them. These strategies will ensure they keep reading.
4. Explain why you are reaching out
As soon as introductions are out of the way, get to why you're writing the email. Let them know how you got their contact information and why you're reaching out. You should explain these issues using as few words as possible.
Make your explanation as relevant to the reader as possible. You want your reader to feel like you're reaching out to them and to them alone, not like they're part of this massive effort, even if they are.
5. Include a CTA
Finally, end with a call to action for the reader. Make it as brief and specific as possible. It can be a request for a time to give them a call or the best time to get together for a meeting.
Cold emailing tip: Try to make your CTA about two lines long, and use the
old sales tactic
of making them choose between two options (instead of coming up with one) to get a reply.
How to Introduce Yourself in an Email: 7+ Great Examples
Here are some examples of amazing email introductions and what you can learn from them:
1. How to introduce yourself to clients you don't know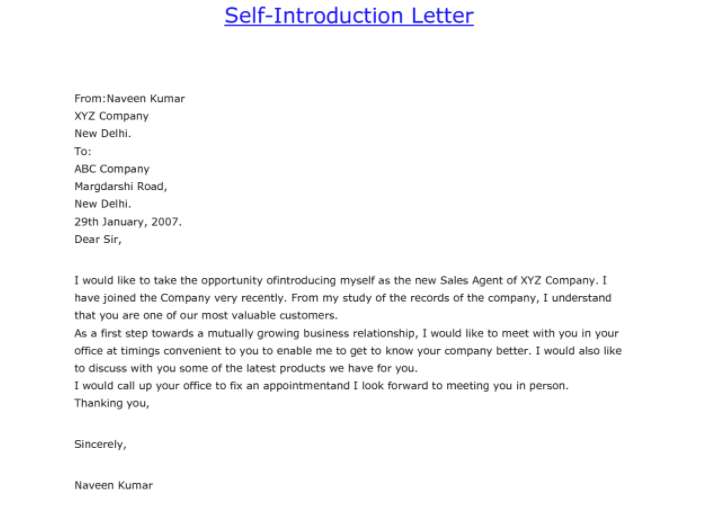 This is a perfect example of how to introduce yourself in an email to a client you don't know. Notice how the writer introduces himself in two lines. He makes the reader feel special in the third line and dedicates the second paragraph to the CTA, which asks to meet in person.
Learn from it:
This email is simple and gets to the point. There's no fluff or long introductions. Instead, it dedicates half of the content to the most important thing: the call to action.
Make sure you're using your words carefully and that each section is as long as it is important.
Don't waste time talking about yourself. There'll be enough time to do so once you get a reply. Instead, spend that time personalizing the letter and getting the reader to follow through.
2. How to introduce yourself to new clients

This example by Terminus is perfect at introducing a new client to the person who will be in charge of them.
Notice the casual and warm tone that makes the introduction more personal and friendly. The writer addresses the client by name and treats her like she's part of "our family".
This is a great way to start a relationship with a client.
Learn from it:
Once the client has made their purchase, the first email they receive will set the tone for all future interactions. The first email needs to let the client know who their point of contact is and how they'll be treated. It needs to reaffirm its purchase.
When writing this email, set the right expectations. Make sure it reflects your company's values. Add some personality to it. This is the start of your relationship with your new client. So make it count.
3. How to introduce yourself to solve an issue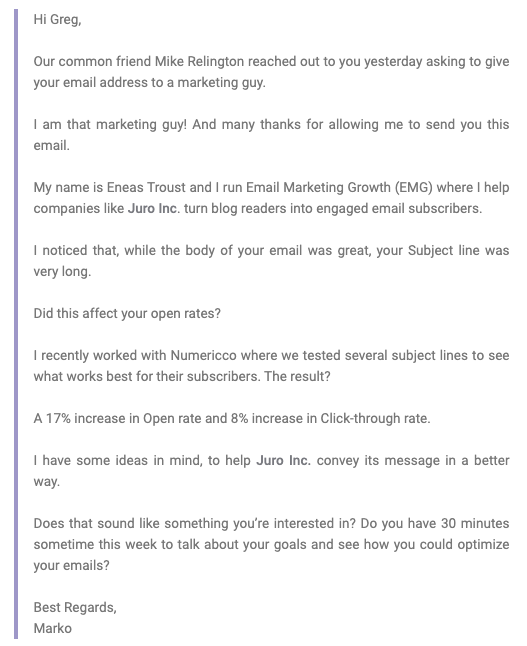 This email by Mailgen is a great example of how you should introduce yourself when you need to resolve an issue. As you can see, this example is longer than the previous one. The bulk of the content is needed to establish a friendly tone and give more information about how to fix an issue.
To ensure the email is easy to read, the writer broke the text up into very small paragraphs of one or two sentences.
Learn from it:
If a client already has an issue and is already looking for a way to solve it, you can get away with writing more information. However, remember that the extra text should be as valuable to the reader as possible. Keep it brief and focused on solving their problem. Be sure to identify yourself as the right person to solve it.
4. How to write a new sales rep introduction email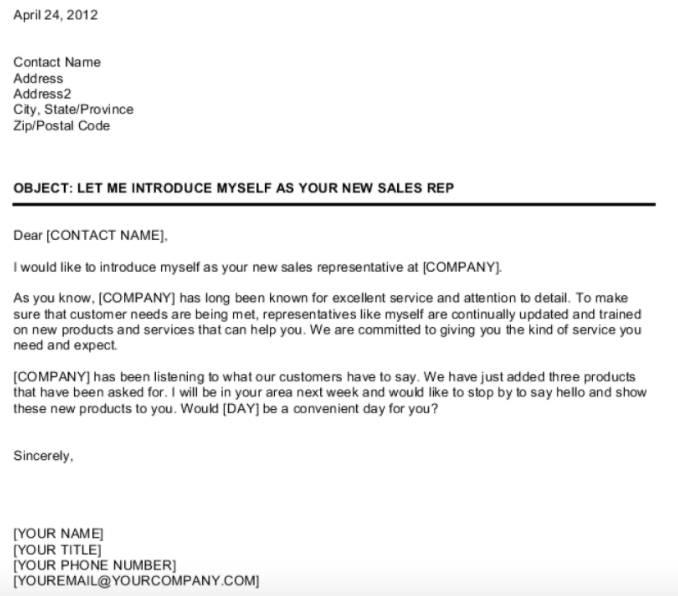 This Business in a Box template is a great example of introducing a new sales rep to an existing customer. In one email, the new sales rep frames the takeover as a positive thing (representatives like myself are continuously updated and trained), plugs a few new products, and sets up a meeting.
Learn from it:
When introducing a new sales rep, you're changing the dynamic your client expects.
People don't usually like change, so you'll need to make the change as smoothly as possible. Start with straightforward subject lines and let your clients know why they'll be dealing with a new sales rep, and focus on the benefits that this will provide.
5. How to introduce yourself to a new team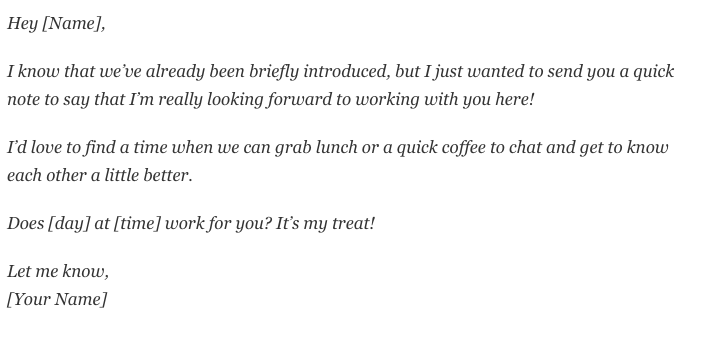 This introductory email to a new team by The Muse shows you a perfect example of how to introduce yourself to the team you'll be working with. It's short and friendly and sets up a CTA to get to know each other.
Learn from it:
Chances are you'll be spending most of your day with the people you work with, so you need to start on the right foot. Send them an email introducing yourself (even if you've already been briefly introduced), and show them you want to get to know them.
They'll be excited to meet you if you want to meet them too.
6. How to introduce a team to a new employee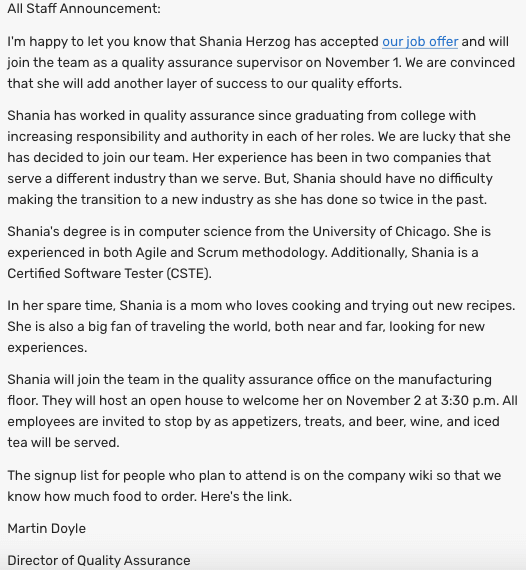 Introducing a team to a new employee is equally important, especially when you're the one in charge of that team. A great welcome email for the new employee can bridge the gap between both parties and kick-start employee engagement. This email by The Balance Careers is a great example of what you should remember.
The email spends most of the text letting people know who Shania is. The email uses the company to frame the introduction, starting with reminding employees of how successful the company is, and finishing with the company's open house.
This is a great example of how to introduce a new member to the team, even in a busy and professional environment.
Learn from it:
Unlike most other examples, the amount of text and tone aren't nearly as important. You don't need to convince the readers to click and read the whole email. It's part of their day-to-day routine.
Use this to your advantage by packing as much information about the new member as they need. Focus on the positives and use the chance to remind them of other daily activities.
7. How to sell yourself in an email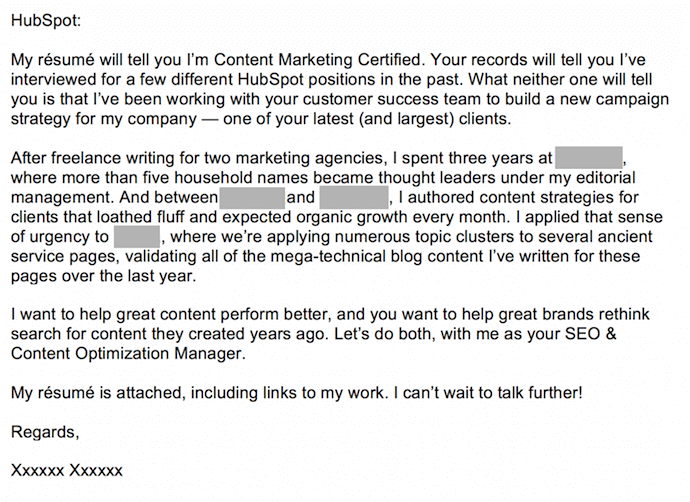 This introductory email is so good, Hubspot not only hired the author, but they use it as an example of what an amazing cover letter should look like.
The email grabs the reader's attention by implying it has information that can't be found anywhere else. It quickly establishes a connection by highlighting all the facts that make the sender and the company a perfect match.
Lastly, it shows off all the relevant data without appearing pretentious. The author achieves this by stating the facts and letting them speak for themselves. There is no, "I'm the BEST at X" or "This is why you NEED me". It simply states facts and charmingly ends with affirming the aim of helping the company achieve its goals.
Learn from it:
In the digital age, learning how to sell yourself in a job application is even more important than selling yourself in person.
Once you've crafted the best subject lines, grab the reader's attention with a charming tone, and let them know that what they're about to read can't be found anywhere else. This can add considerable interest. Then, finish with a simple call to action to get a better chance at a reply.
Avoid sounding braggish and pretentious by stating facts, like what you've done and the success rate of your work. Instead, focus on how to help the person you're writing to.
8. Cold email introduction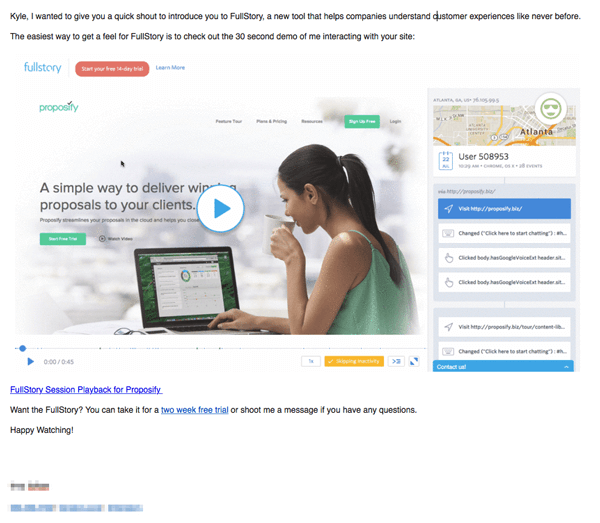 This content-rich cold email featured in Proposify successfully introduced a solution the client didn't even know they needed.
As you can see, the email shows a new look for Proposify that's simply better. It doesn't say what the writer can do for the reader. Instead, it shows him.
The email doesn't propose vague, "good" results or simply "more" revenue. Rather, it focuses on very tangible improvements.
By showcasing a new design made exclusively for the potential client, the writer shows that they care enough about the company to make a demo. It showcases potential benefits.
All without a word.
Learn from it:
When it comes to sales, like in showbusiness, you should "show, not tell". Invest time in finding out how to solve your lead's problems, and then show them that solution.
If you lead with the benefits, your leads will want to know how to get them.
Writing personalized cold emails can take time, so ensure you verify them before you start writing them. Lastly, send your cold emails at the right moment to improve your chances of a reply.
Here are some great cold email templates that get your recipient a response.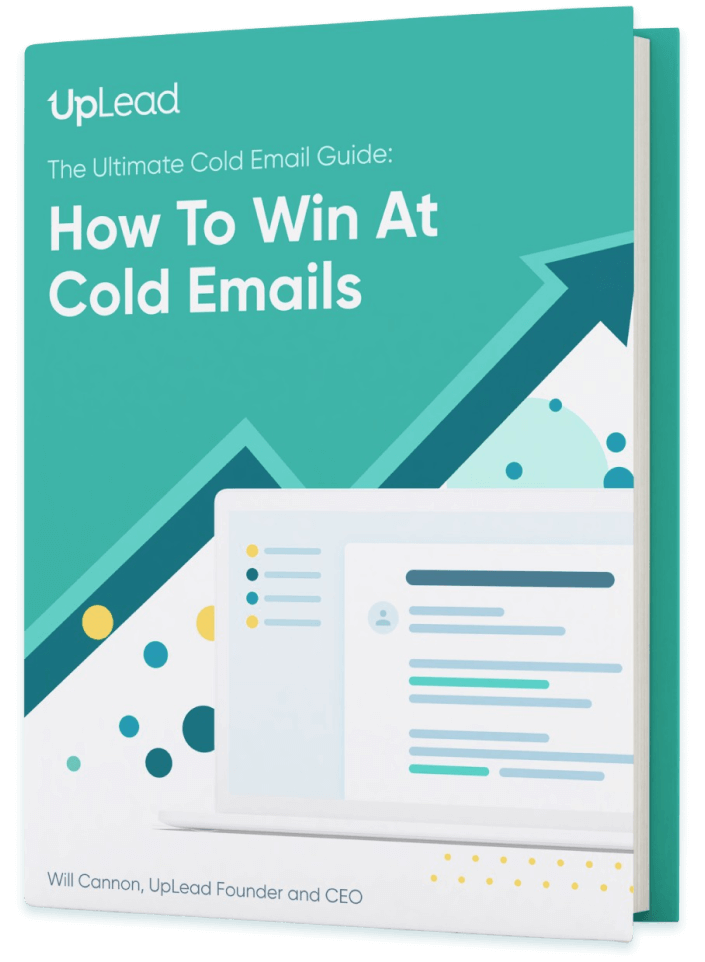 Download our free eBook full of valuable insights and take your cold emailing strategy to the next level.
I agree to receive emails from UpLead, and can unsubscribe at any time.
5 Introduction Email Templates You Can Use for Free
Here are five free email introduction templates to get you started:
1. Basic introduction template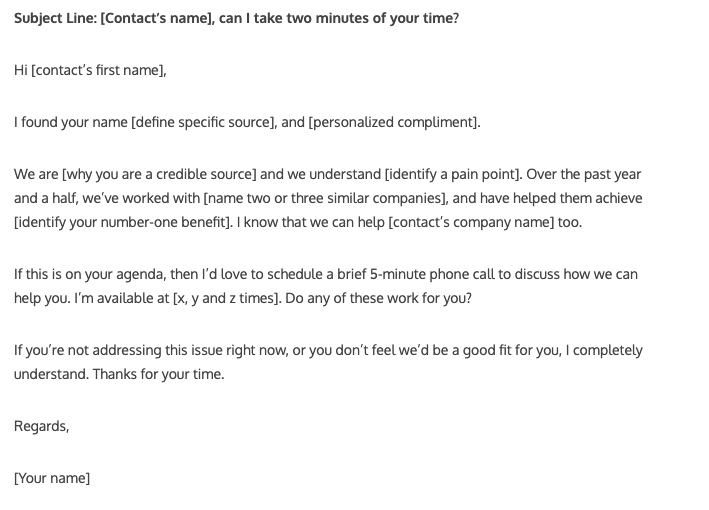 This template by Right Inbox achieves a very simple goal: introducing you to someone who knows nothing about you.
It's great when you want to get straight to the point, and it focuses on solving a client's problem to get them to reply.
And, whether or not they reply, don't forget to nail the follow-up email too.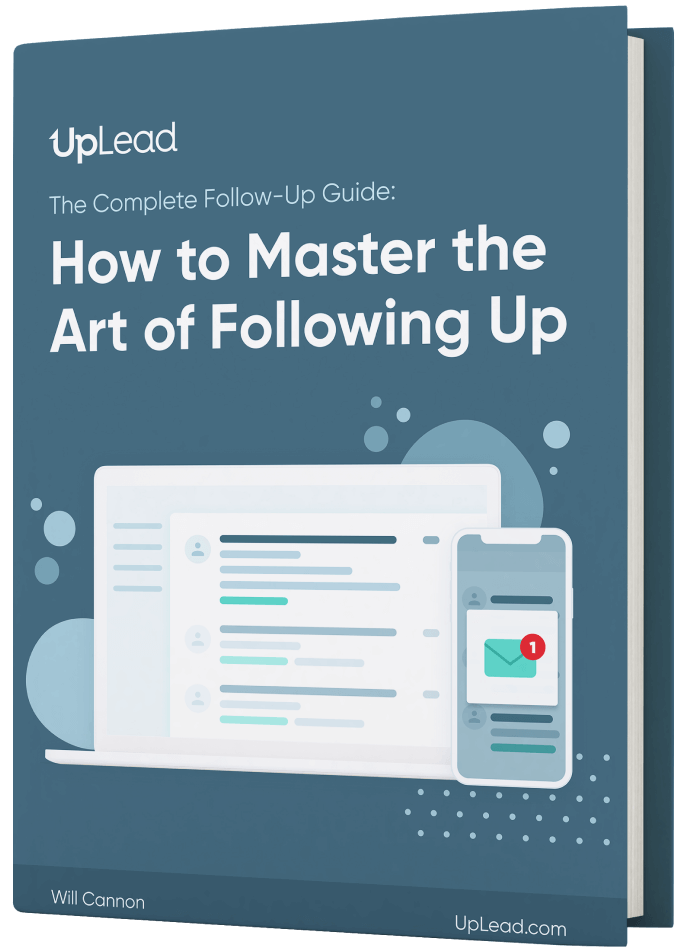 Learn why reaching out once is not enough and how to master the art of following up.
I agree to receive emails from UpLead, and can unsubscribe at any time.
2. Introducing two people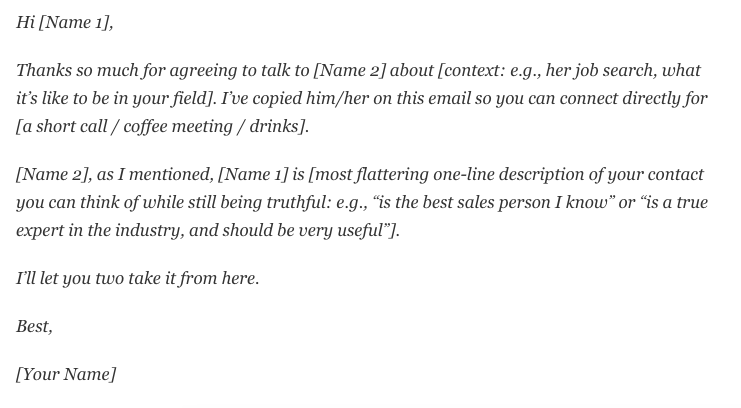 Introducing two people can be tricky.
You need to give two people enough information about the other in as little time as possible. When you're introducing someone, you're talking about something you're not as knowledgeable to talk about as the person you're introducing.
This template by The Muse does a great job of getting a conversation started, so both parties can get to know each other.
3. Introducing someone to a new point of contact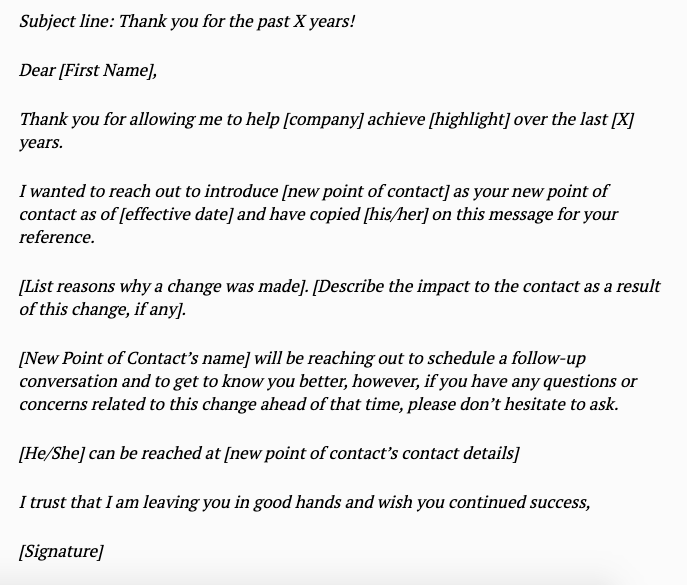 This introduction email template from an existing point of contact by Fit Small Business is a great way to let clients know who they'll be dealing with in the future.
As we've mentioned before, clients don't like change. Using this template will help them get up to speed about why the change is happening and who will take care of them from then on.
4. Company Introduction Email Template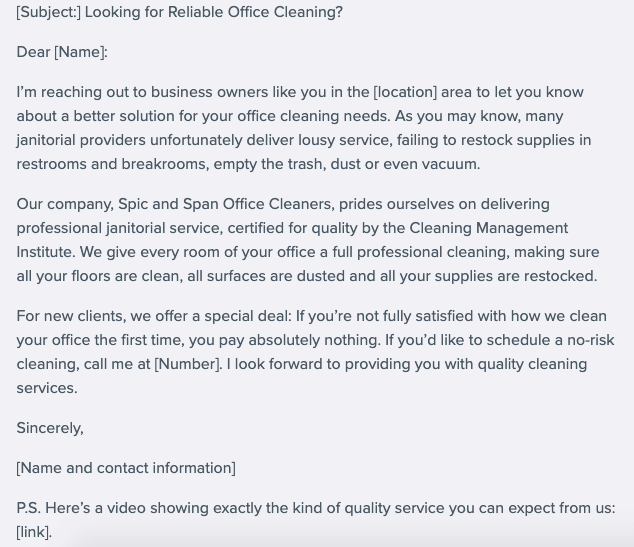 If you're looking for a cold email introduction, this template by Fast Capital has everything you need.
With it, you can focus on the pain points you can solve for a customer. It even ends up with a limited offer to get the lead to reply. Remember to use the right cold email tools and add as much visual content as needed.
To avoid wasting your time writing cold emails, focus on finding the right leads from the start.
Write intros that get deals
The right introduction can distinguish between a great relationship and a non-existent one. Don't forget to check the best professional ways to end an email.
Use these email introductions to present yourself online. Don't forget to make your introductions more about them than about you. Include a CTA as a next step, and write an irresistible cold email subject line.
If you follow these guidelines, your email introductions will be as effective as they can be.
Want to find hot leads searching for a service like yours. Now they're the ones worth reaching out to. Use the intent data of UpLead. Try it free here.