If you're a business owner, the question about attracting and retaining new customers is very relevant to you. Marketing products and services is a demanding and tedious task in today's overly saturated market. Especially if you're in a B2B lead generation business.
As a business owner or part of the sales team, you really need to dive deep into understanding what strategies work best and how to appeal to your customers most efficiently.
Lead generation is something you need to master, and understanding different types of leads will help you sell your product or services and scale your business faster. That's why we're explaining what warm leads are and how you can easily turn them into paying customers.
Quick Links:
What Are Warm Leads?
Warm leads are individuals or companies who have already expressed an interest in what you have to offer.
They are the people who are already following you on social media, the ones who have signed up for your newsletter, or those who have filled out some forms you sent.
Warm leads are likely to convert to paying customers if they're given an extra push.
However, we shouldn't confuse warm leads with hot ones as they're different. Hot leads are people who came intentionally to your website, asking for your services specifically, and need just a small push to make a financial decision. 
Cold Leads vs. Warm Leads: The Comparison
Let's discuss the difference between warm leads and cold leads to help you understand the topic better.
Differences between cold leads and warm leads
Before explaining the difference between cold and warm leads, we need to explain what cold leads are.
Cold leads are people who have never expressed any interest in your product or service and are usually put off by your efforts to contact them. Usually, cold prospects take more time to convert into hot leads, and you need to nurture them carefully.
The most significant difference between a hot lead and a cold lead is that hot leads are highly interested in what you have to offer, while cold leads aren't.
Unlike hot leads, cold leads usually won't answer your outreach efforts, nor will they interact with your company in any way (such as commenting on social media or sending inquiries).
Unlike hot leads, they are unlikely to make a purchase and can never be classified as qualified leads. 
Cold leads aren't aware of their need for your product or service, but hot leads know exactly how you can help them.
Cold prospects need much more time than hot leads before making a purchase. You need to watch and nurture them more carefully and slowly encourage them to make a purchase. They still need to discover the reasons they need your products or services.
Similarities between cold leads and warm leads
The greatest similarity between cold and warm leads is that many warm leads began as cold and later converted. 
Not all cold leads should be written off. Many of them need more time and effort to be aware of their need for your product or service. 
Furthermore, the similarity between the two is that both types of leads still require work. They need a push to make the final step and make a purchase, unlike hot leads, who are ready to do so right away.
Why Are Warm Introductions More Effective Than Cold Leads?
Warm leads are more effective simply because they're more ready to make a purchase. They've already been through the process of recognizing the problem and determining their need for your service or product. Therefore, they don't need as much time and effort as cold leads to make a purchase. The bottom line is they're interested and want what you're offering, but you need to assure them you're the right provider for their needs.
Should You Build Lists of Cold Leads Too?
If you find yourself asking whether you should build lists of cold leads if they aren't as effective as warm leads, the answer is yes.
Just because they seem disinterested in what you have to offer doesn't mean they won't be aware of their need for your product or service in the end.
Remember, some cold leads do convert to warm leads, and building the list of those leads is an effective way to bring your business to another level.
These are some of the ways you can build a list of qualified leads:
Use dedicated software.
Getting leads is much easier today than it was ten years ago. The reason? Technology. Today, we can choose between dozens of software for generating leads to make our lives much easier and allow us to dedicate our time and effort to things that matter the most.
UpLead is one of the best lead generating tools that use AI to find the most accurate and reliable sales leads in the market. What's more, G2 describes it as the highest-rated intelligence software.
Buy a list from trusted providers.
You can always buy a list of qualified leads from companies that specialize in making such lists. We covered this topic in this article if you're interested in finding the best lead providers.
However, not every cold lead is equal, and this doesn't mean you shouldn't be selective when it comes to choosing the best cold list provider. Some companies will resell their lists to multiple clients, which can decrease your chances of closing the sale.
UpLead offers the possibility of finding reliable and high-quality business contacts. Its easy-to-use interface allows users to find quality prospects by simply filling out a short survey describing their needs. Users have the opportunity to get high-quality data with an email verification system that ensures your prospects get your emails. What's more, you don't have to spend a dime to test this platform out — sign up for a free trial period.
Find them on LinkedIn.
LinkedIn is a great place for generating leads. However, if you don't use a dedicated plugin or software, gathering all the data might take some time. You need to type desired keywords and browse among plenty of companies (or individuals) that might be interested in what you have to offer.
How to Generate Warm Leads
Now that we've explained what warm leads are and why you should still acquire cold leads, let's learn some ways to generate warm leads.
Send Email campaigns
Another great way to attract warm qualified leads is by using email campaigns. You can use a platform such as UpLead to gather high-quality business contacts, then send out emails via Mailshake or other email marketing tools.
However, you shouldn't only be focusing on making a sale.
Instead, be sure to provide your leads with information they can use to scale their business. You can send out newsletters with your recent articles, infographics, and statistics to help your customers improve their marketing efforts.
After you build a relationship with your leads, you can use emails to create a sense of urgent need in your customers by sending one-time offers that will push them to take the extra step and buy your product or service.
Here's an example of how Trello's team builds relationships with their leads by sharing tips and tricks about productivity.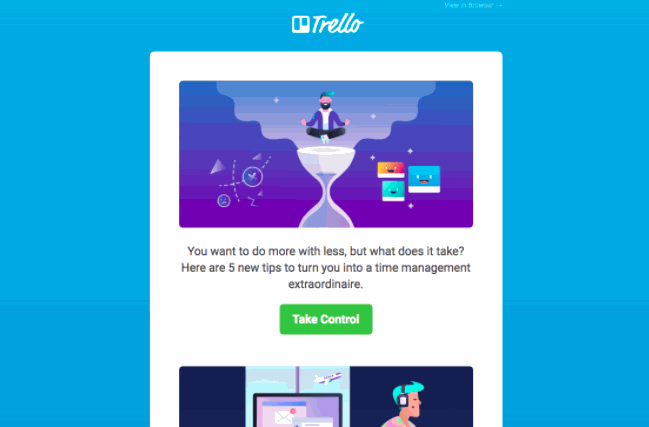 (Source: Trello)
Engage on LinkedIn, Facebook, and Twitter
Social networks can prove to be a valuable asset for lead nurturing. You can provide value by sharing useful content, commenting on other people's posts, building yourself as an authority in your field, and building brand awareness.
Plus, engaging on social media adds a personal touch compared to email since people see the person or the organization behind it in real light and even follow them on these networks. Lastly, social media presence is generally successful because it's not "in your face" as other selling methods are since they don't come across as a sale but rather as a constructive dialogue.
Neil Patel is one such person who successfully uses social media to acquire leads. He frequently posts and comments on relevant and niche-specific topics, which has helped him build his authority over the years.
His key is posting regularly, choosing relevant and up-to-date posts, and using different formats (video, polls, long-form articles) to attract his audience's attention. The result? The ability to call himself the leader in his niche.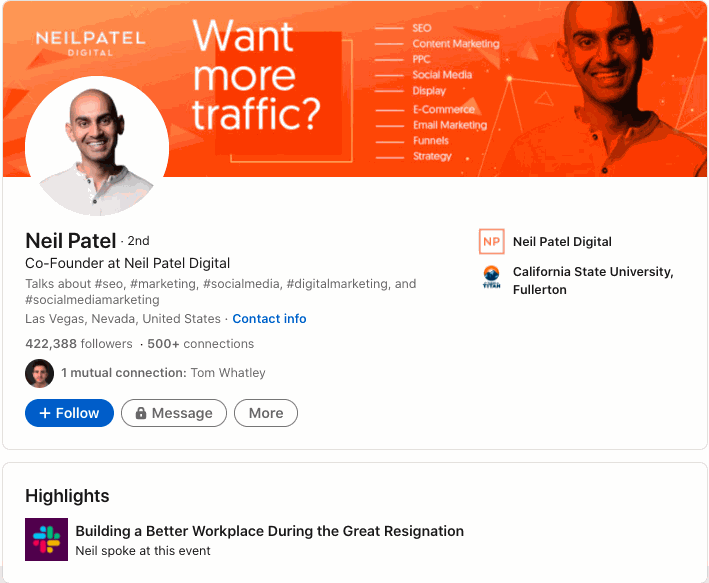 (Source: LinkedIn)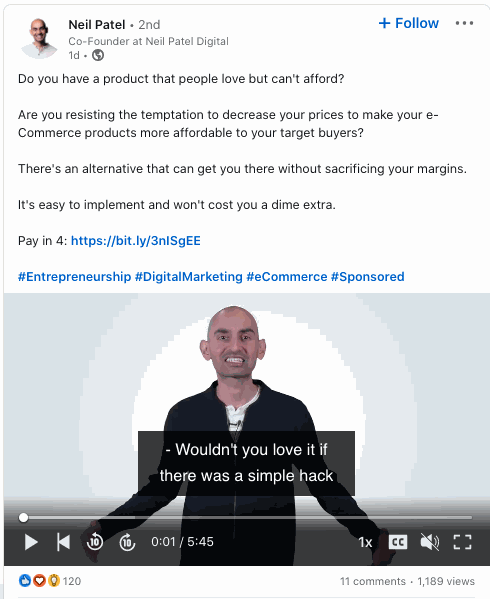 Another example of a company that uses social media and user-generated content to boost the number of users of its product is Adobe. They repost their users' visual solutions, spreading the word about their product.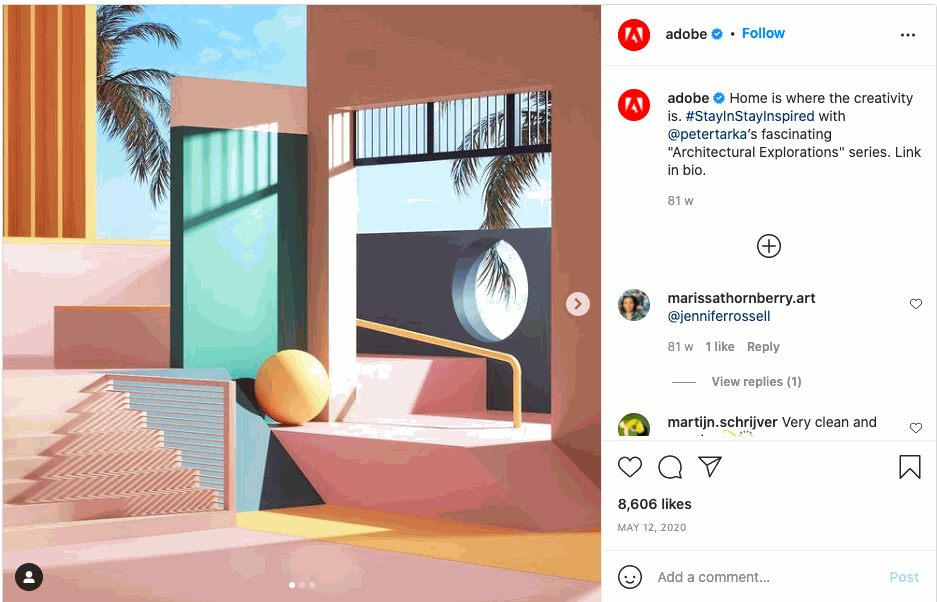 (Source: linkedin.com)
Referrals
Word of mouth is, by far, one of the best ways to attract prospects. If you pride yourself on delivering the best service or making the best product possible and you have impeccable customer service, then your loyal customers and previous clients might be the best lead generators your sales team can find.
One of the reasons your existing customers are the best sources of warm leads is that they already know how you do business, how you deal with customers, and what you can and cannot provide. 
They are the ones who can share first-hand experience, and they are the best "sellers" you can find. Some statistics show that millennials, the people who hold the biggest purchasing power today, rely more on reviews and experience than traditional forms of advertising. 
So it's important to nurture good relationships and keep your service impeccable after you close the deal since this is the way of scaling your business much faster and easier. As a company, you can always initiate referral programs and incentivize your existing customers to recommend your business to their friends and business partners.
Dropbox, for instance, nurtures a high-performing referral program. Users who make a referral can expect a bonus of 500 MB of free storage space.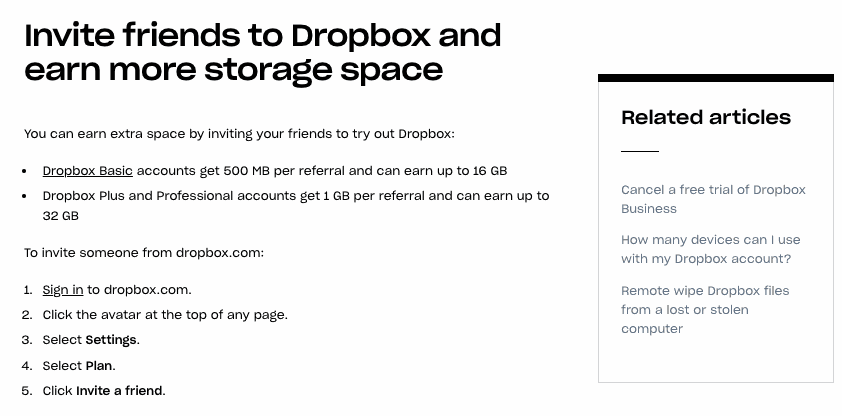 (source: dropbox.com)
Set up webinars
Another great way of generating warm leads that come for free is to organize webinars. The reason behind this is simple. First, you'll create something valuable to help others solve their problems or educate themselves on a topic. The key is to choose the topic carefully, as you need to attract people who will likely come to you later on. Through webinars, you can offer valuable content, either in the form of an e-book, cheatsheet, video lessons, or other free resources that will help you collect valuable data to reach potential customers.
Below, you can see how Tailwind used webinars to gather emails they can later use for lead generation purposes. To watch the live webinar they hosted, users need to fill out the short form.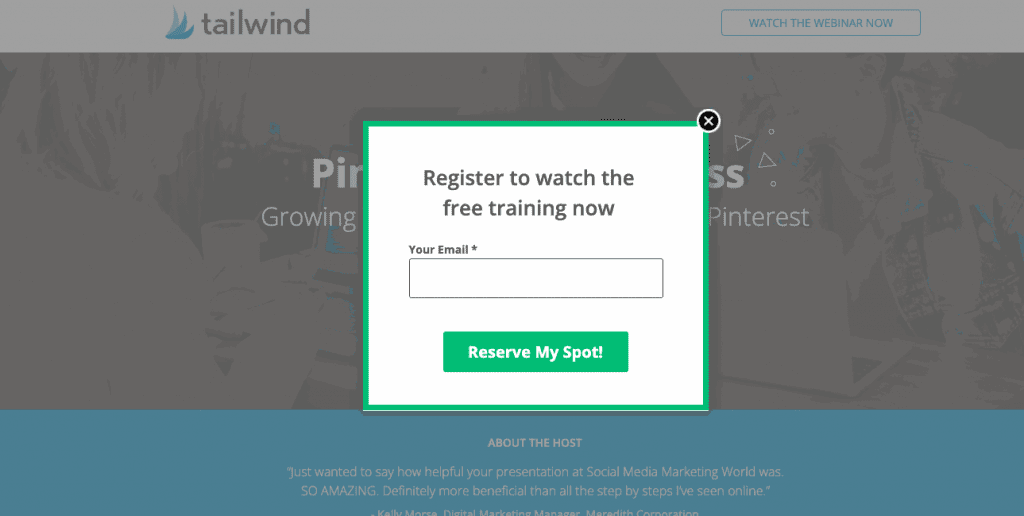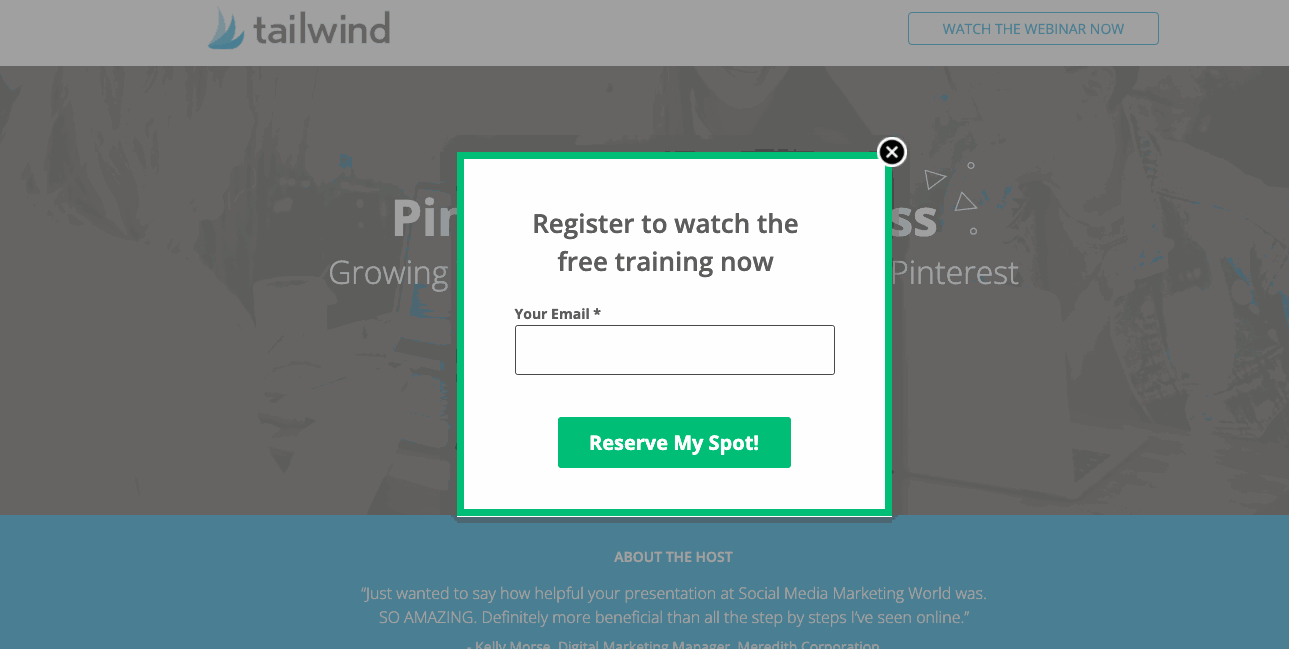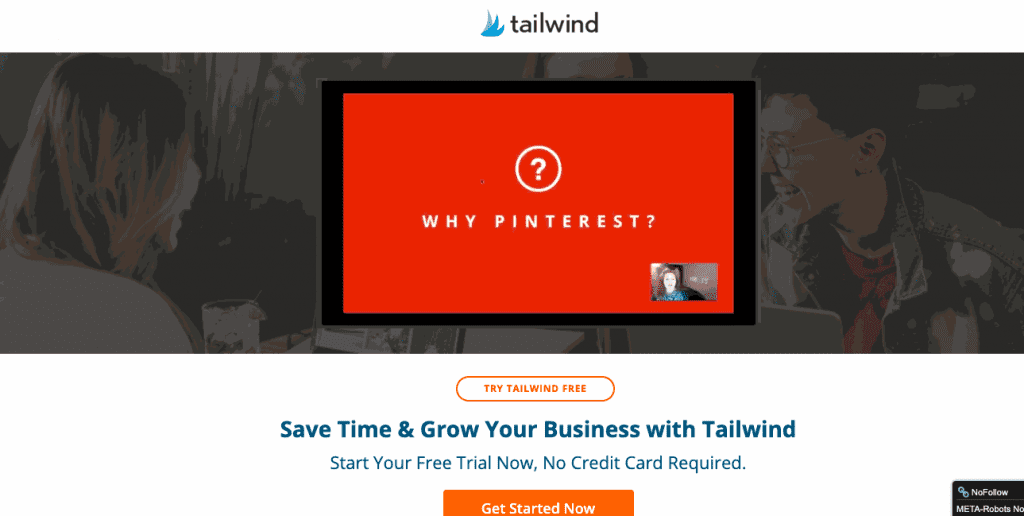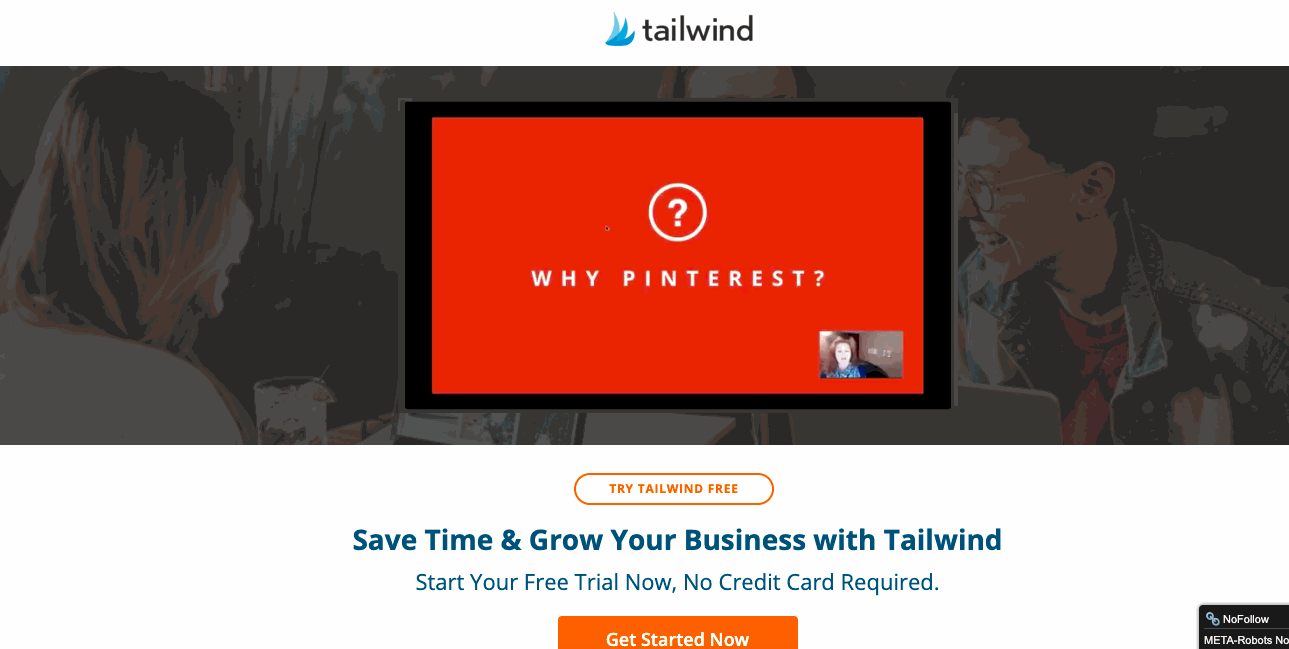 (Source: tailwind.com)
Use PPC Ads
Using pay-per-click ads (PPC) to generate internet leads is yet another great strategy. PPC ads can help you be where your audience is and track them through UTM codes or DNI, or you can use conversion tracking for those purposes.
Furthermore, since you can control who will see your PPC ads, you can target your audience based on their buying patterns, geographical location, industry, or even competitors.
You should create engaging and compelling landing pages to secure higher conversion rates. A landing page is what customers will see first and will form their opinion of the brand. Lastly, by using PPC to generate prospects, you can insert forms into ads that potential customers can fill in, giving you the chance to contact them with an offer.
For instance, if you run a car insurance service, you can use PPC ads to offer a free quote to potential customers and generate insurance leads. The form for a free appraisal should contain a field for their email address, which your sales team can later use to improve their sales efforts.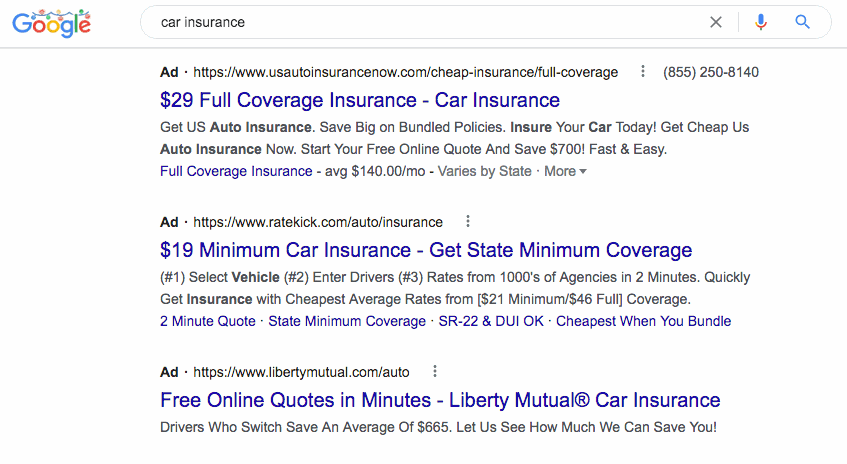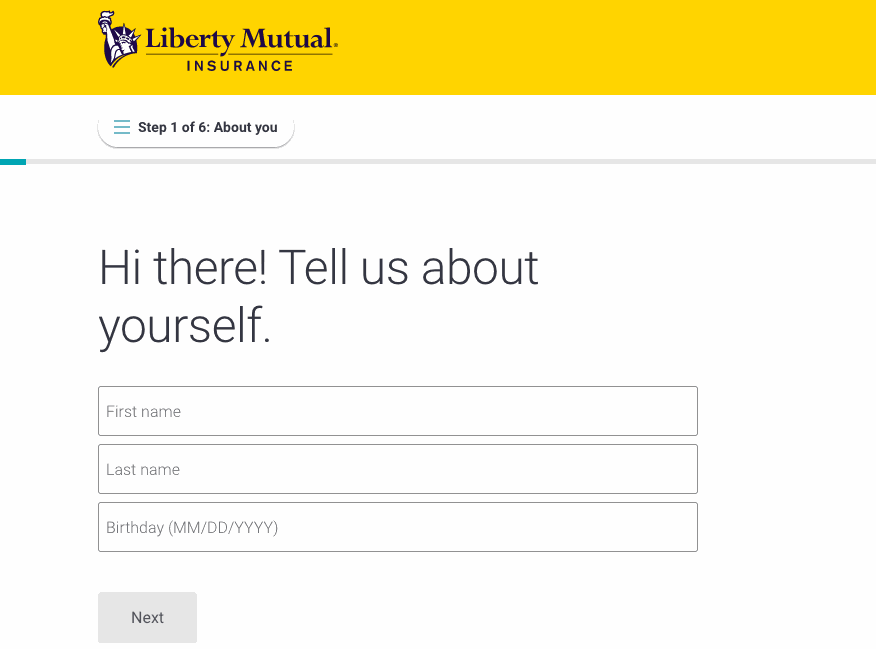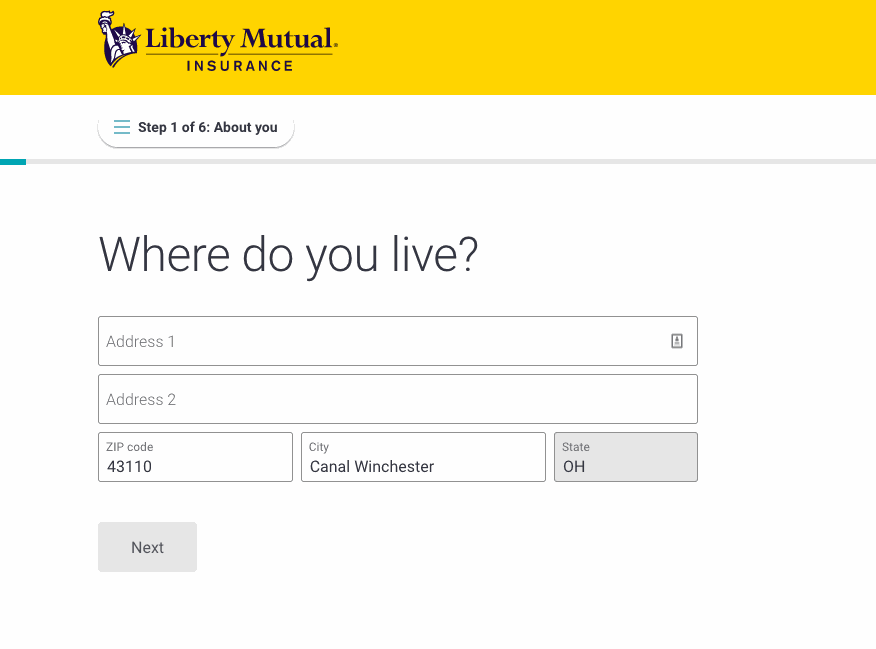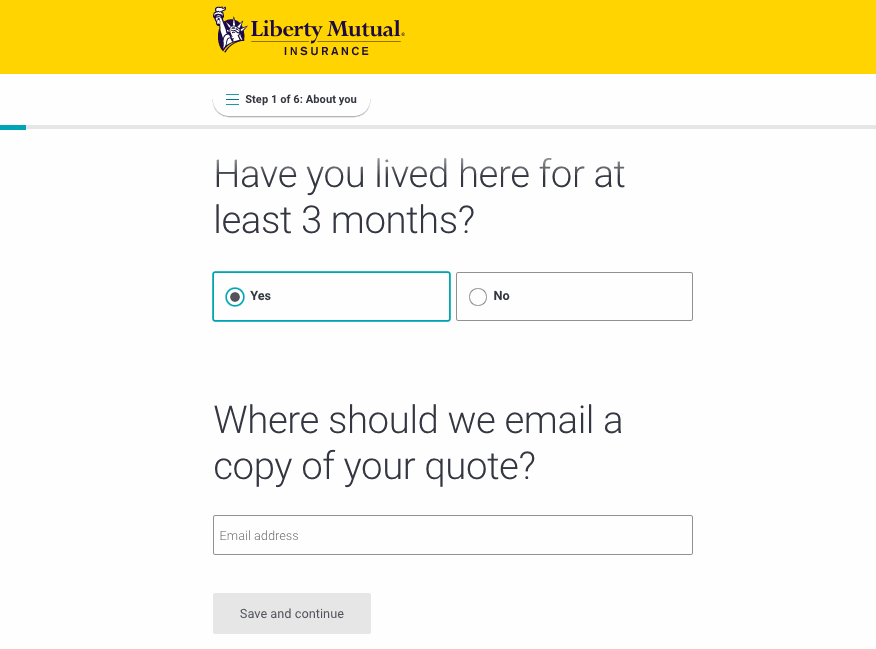 (Source: libertymutual.com)
Leverage your live chat
Live chat options are another tactic you can use to gather interested prospects. You can utilize this tactic in several ways, including contacting customers while they're visiting your website or having them complete post-chat surveys.
Let's say someone visited your website and spent some time on it. You can contact your first-time visitors with a popup chat with a personalized greeting to keep the conversation going and keep them on your website longer.
Furthermore, you can utilize this chat to get insights into their needs and wants and collect their information for follow-up tactics. Some studies show that users who are invited to chat are more than six times more likely to convert to customers than those who aren't.
Pre-chat surveys can help you collect valuable information and improve your customer service at the same time. Customers may spend time on your website and become interested in your services. However, they might have additional questions they wish to chat about. You can use pre-chat surveys to collect their information so you can contact them later.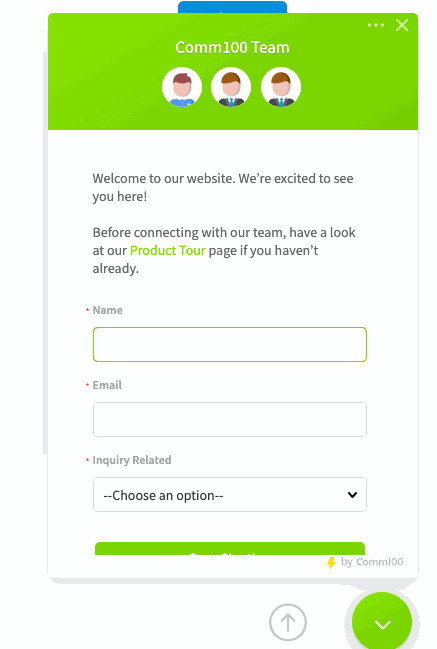 (Source: comm100.com)
Start a blog
Creating quality content is one of the best ways to generate quality leads. By sharing relevant, accurate, and informative content, you can educate your audience, provide some expert insight, and build a reputation in the niche. You can attach downloadable material such as cheat sheets or pre-made forms that will help you collect information about future leads.
Active Collab is a project-management software many working professionals endorse. The company invests in its blog to acquire new leads. On their blog, users can find downloadable material in abundance that they can access in exchange for an email address the company can later use for marketing purposes.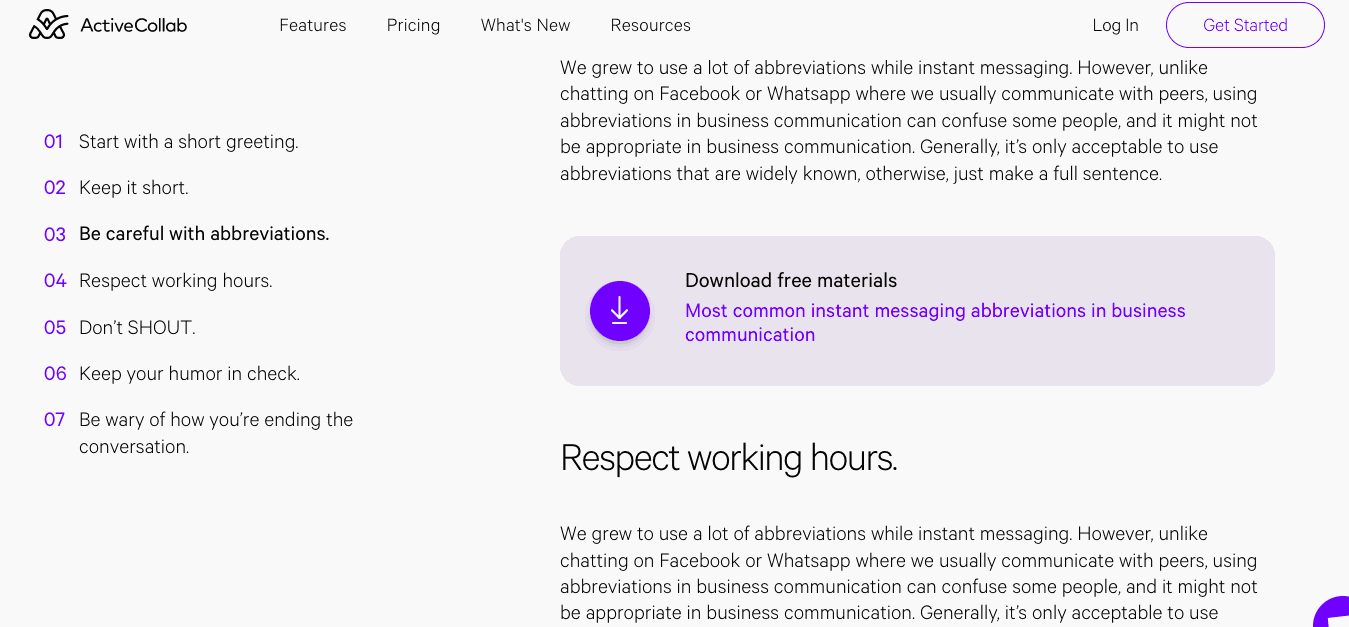 (Source: activecollab.com)
FAQ on Warm Leads
Now that we've explained what warm prospects are and how you can acquire them, we'll answer the most frequently asked questions about them.
What is warm lead generation?
Warm lead generation (or inbound lead generation) is a type of lead generation that focuses on attracting people who have already expressed interest in a product or service. Generally speaking, warm lead generation is different from other types of lead generation because it uses different channels and tactics for converting prospects.

For instance, some of the warm lead generation tactics include offering incentives, signing up for a newsletter, boosting content strategy and communication with the audience, etc.

How do you turn a cold lead into a warm lead?
Companies use a wide array of tactics to turn cold leads into warm leads, including offering discounts that help in turning those who can't afford the initial price. Secondly, some companies highlight the benefits of their products compared to their competition so potential customers can see the value of their product or service over others.

Creating a sense of urgency is yet another important tactic you can use to your advantage. You can do this by creating a specific time frame for a valid deal, instilling a sense of urgency in a customer.

Lastly, a good way to turn less-interested prospects into warm leads is to maximize contact forms on your website. Reassess how many times your landing page or website asks users for their email addresses, and increase the number of times those requests are made. By installing additional plugins you can find online, you'll make the process of getting leads through the sales funnel much faster and more efficient.
How do you engage cold leads?
​​These are some of the ways you can warm leads:
Send relevant messages.
By sending custom messages to your leads, you'll show them you're paying close attention to their company and that you took time and effort to understand their needs and problems. Of course, this tactic requires time and patience, but it usually pays off.
Be cautious about timing.
Timing does matter. Regardless of whether you send your emails automatically or manually, you'll need to try different strategies when it comes to when you're sending them. Emails sent on a Monday have a higher chance of remaining unopened because prospects are too busy with work that piled up over the weekend. Thursday mornings prove to be the optimal time to send messages.
Change the medium.
If you find that your prospects aren't replying via email, you might try to reach them somewhere else. Make sure to make the most out of your social media platforms, targeted ads, etc., so you can specifically target your audience and promote your service or product.
Conclusion
Not all leads are created equal. Warm and qualified leads are generally the leads you should strive toward. However, to get there, your sales team needs to nurture leads throughout the sales cycle and boost their sales efforts to achieve success.