If your sales prospecting techniques aren't quite cutting it, it might be time for an upgrade.
With new sales prospecting methods and technologies emerging by the minute, there are many resources your sales and marketing team can employ to enhance engagement and accelerate the sales process. This article outlines best practices in B2B prospecting to elevate your team's sales results.
Hot tip: In a hurry? Find hot leads searching for a service like yours right now. Use the intent data of UpLead. 🔥 Try it free here.
Quick Links:
What is B2B Prospecting?
B2B prospecting is essential for any sales team looking to find, identify, and develop relationships with prospective customers. By proactively reaching out to potential customers, your business can keep its sales pipeline healthy and reach the right people through the proper channels. When carried out properly, these sales prospecting techniques promise to accelerate the sales process significantly by tapping into research-backed strategies like forecasting and creating targeted leads. In addition, comprehensive data tracking lets you gain valuable insights about prospective customers to enhance your communication efforts and close more deals.
Types of B2B Prospects
Navigating the B2B landscape is no trivial matter, as it requires knowing how to effectively target and engage different types of prospects in the marketplace. Your sales and marketing team must understand buyers who fall into B2B sales and B2B marketing categories to develop sales prospecting methods. Whether it's end-users, influencers, decision-makers, or other stakeholders, correctly identifying the various types of people involved in a B2B purchasing decision can make all the difference in securing a sale or losing one.
B2B Sales Prospects
B2B sales prospects represent a unique opportunity for your businesses to increase your customer base. By understanding these prospects' critical pain points and goals, your sales team can customize its outreach to provide targeted solutions to convert prospects into customers. Skilled professionals understand that meaningful relationships should be established by empathizing with prospects' goals and providing effective responses explicitly designed for them. This type of strategic relationship building not only serves to enhance your sales process but also strengthens customer loyalty over time.
B2B Marketing Prospects
Unlike traditional sales prospects, B2B sales prospecting relies more on increasing brand recognition and keeping your offering at the fore of your target audience's attention. By expanding your marketing reach, these prospects can help generate a heightened level of interest in your product or service. This allows your marketing team to start conversations with their target market and build long-term relationships that can ultimately funnel into the sales pipeline.
Why High-Quality Data is Crucial for B2B Prospecting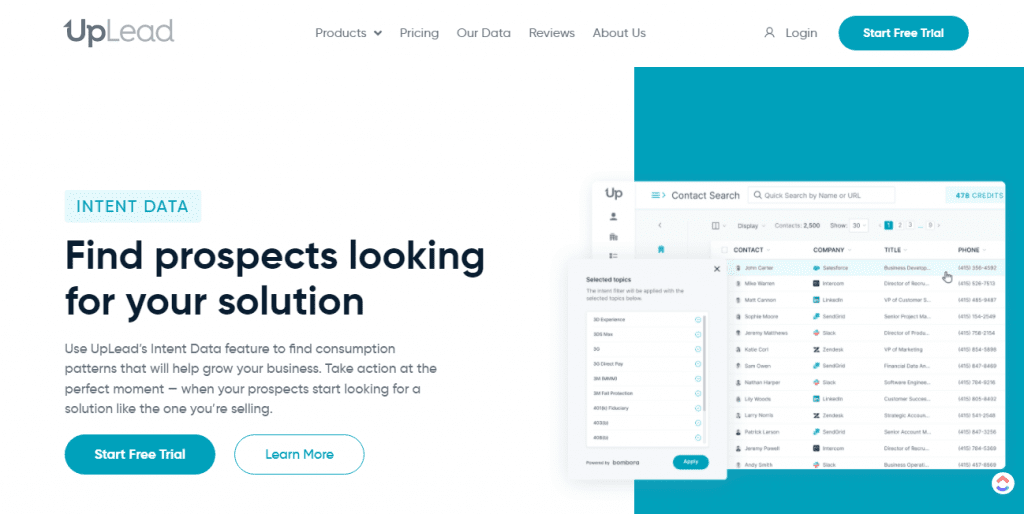 High-quality data is pivotal when it comes to effective B2B sales prospecting. With a reliable database of buyers, you can zero in on whom you need to contact, enabling your team to build campaigns and ultimately help increase conversions confidently. Good data allows you to craft a list of prospects that otherwise may have gotten lost in the crowd by enabling you to target their demographic and technographic information precisely. This detailed approach allows for a much more tailored outreach strategy, and your database's accuracy can determine your campaigns' success or failure. To ensure those campaigns perform as expected, take time to gather high-quality data, analyze it, validate it, and weave it into the pipeline.
Any sales team knows that quality leads are worth their weight in gold. To make this valuable resource more accessible, UpLead is here to help your sales team with their lead capture needs. UpLead has become an invaluable asset to sales teams, providing robust B2B company data. With over 140 million B2B contacts and more than 16,000 technographic data points, your sales team has access to accurate, up-to-date information to give you a step ahead of your competition. In addition, with a 95% accuracy guarantee, you can trust that you're receiving the most reliable information. UpLead gives businesses the confidence they need when searching for potential leads and customers.
Start Your 7-Day Free UpLead Trial
Lead generation doesn't have to be all that painful. With UpLead, you can easily connect with high-quality prospects and leads to grow your company.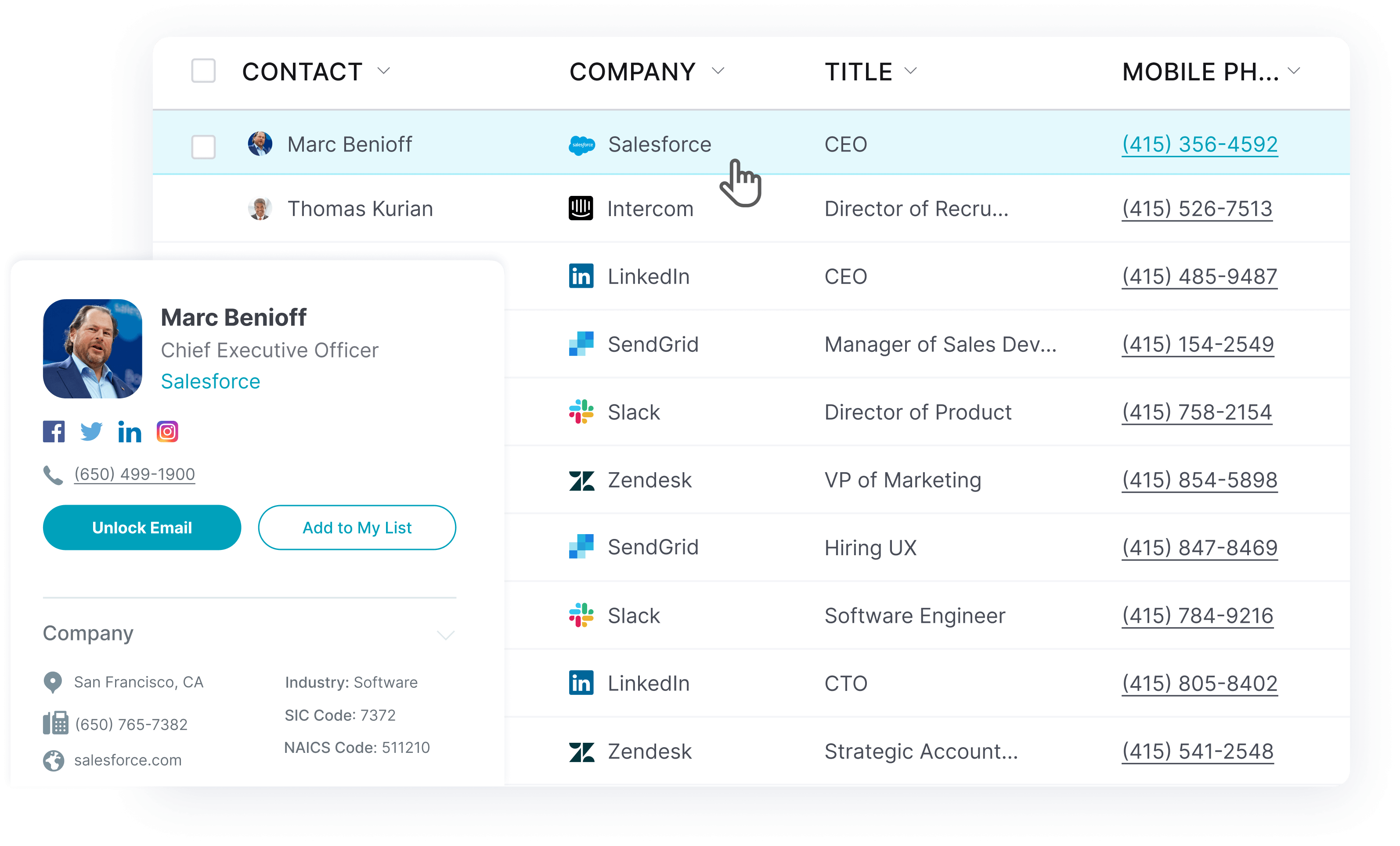 How to Prepare for B2B Prospecting
With the right preparation tactics, you can make your sales prospecting efforts more efficient and effective, leading to better results and higher returns on investment. Below are best practices for preparing for B2B prospecting opportunities to increase your success rate and ensure maximum returns from each campaign.
Determine Your Ideal Client Profile & Buyer Personas
Preparing for fruitful B2B sales prospecting starts with clearly defining the ideal client profile and buyer persona you want to reach. An ideal client profile comprises the characteristics of the best-case-scenario business or customer organization you wish to sell or promote your products or services. It's an aspirational view. Meanwhile, buyer personas are less about a company and more about their employees or decision-makers who could benefit from your offering. Knowing who they are and what motivates them will help you create tailored content that resonates with your target market and make your B2B prospecting efforts more effective.
Ideal Client Profile (ICP)
Crafting an Ideal Client Profile (ICP) can help you focus sales efforts on the accounts most likely to yield successful outcomes for the organization. An ICP should include a set of characteristics that identify the perfect customer you aspire to serve with your product or service. Additionally, account-based marketing activities can be tailored and targeted toward each potential prospect account to build strong relationships. By defining your ICP, your sales team can improve opportunities for accurate targeting of prospects, acquire more efficient data, and achieve desired results.
Buyer Personas
Developing a buyer persona involves researching an individual's preferences and motivations behind purchasing a product or service to tailor the marketing messages for maximum impact. By creating more than one persona, you can address multiple needs and appeal to different audiences. It's beneficial to recognize pain points that motivate your personas since understanding their point of view can help determine necessary features. It's also helpful for defining which channels are best for enhancing your demand generation efforts.
Build & Segment a B2B Prospecting List
When building and segmenting a list of potential prospects, it's vital to consider the target companies' industry, size, and location to ensure the right messages are sent at the right time. In addition, organizing the data around the company's needs will produce a more practical approach when introducing products or services. Carefully researching a company before sending any messages can prove invaluable for generating qualified prospects.
Establishing rapport with existing customers and ensuring buyers have relevant information will significantly increase your chances of success. UpLead does all the legwork of giving you essential company data upfront, so you can focus on creating and segmenting robust B2B prospect lists.
Go Above and Beyond With Research
Investing in research is critical for any successful outreach strategy. Without knowing your prospects, you won't be able to connect with them. Before making contact, try to smooth out the process by researching potential clients and their specific needs in advance. By having a well-rounded understanding of their industry, challenges, goals, a timeline for action, and other pertinent information, you can enable your sales team to develop a plan that meets your customers' unique needs. This extra effort will give you confidence in your knowledge and strengthen rapport with prospects upfront. Moreover, your preparedness will also showcase your expertise and dedication – two qualities prospects look for in business partners.
Invest in the Right Tools
Securing the right tools for B2B prospecting can make or break your sales strategy allowing you to effectively carry out popular sales prospecting techniques such as cold calling, content marketing, and paid advertising initiatives. With over 95% accuracy on lead data, UpLead lets you target your prospects more quickly while dramatically cutting down on time wasted chasing wrong leads.
8 Key Strategies for B2B Prospecting
Finding and connecting with prospective buyers is critical to any successful B2B sales and marketing strategy. To get ahead in today's competitive market, modern marketing and sales teams must master the art of sales prospecting by leveraging a combination of traditional tactics alongside more cutting-edge approaches. Below are eight key strategies for effective B2B sales prospecting to help you engage potential buyers proactively and build strong pipeline foundations.
Outbound Prospecting for B2B Sales
Outbound sales prospecting involves proactively contacting prospective customers to find those interested in your company's product or services. When it comes to B2B sales, there are a few time-tested outbound prospecting strategies, including cold calling, cold emailing, engaging on social media, and attending or hosting in-person events.
1. Cold Calling
Cold calling can be a valuable strategy for B2B sales prospecting, but it's important to approach it in the right way. When attempting cold calling, you should always be professional and knowledgeable while keeping the conversation centered on the customer's unique needs and wants. Following a carefully crafted script is critical. Keep track of customer responses and adjust your cold calls based on their feedback. Cold calling can be useful when establishing a list of prospects cost-effectively and at scale.
2. Cold Emailing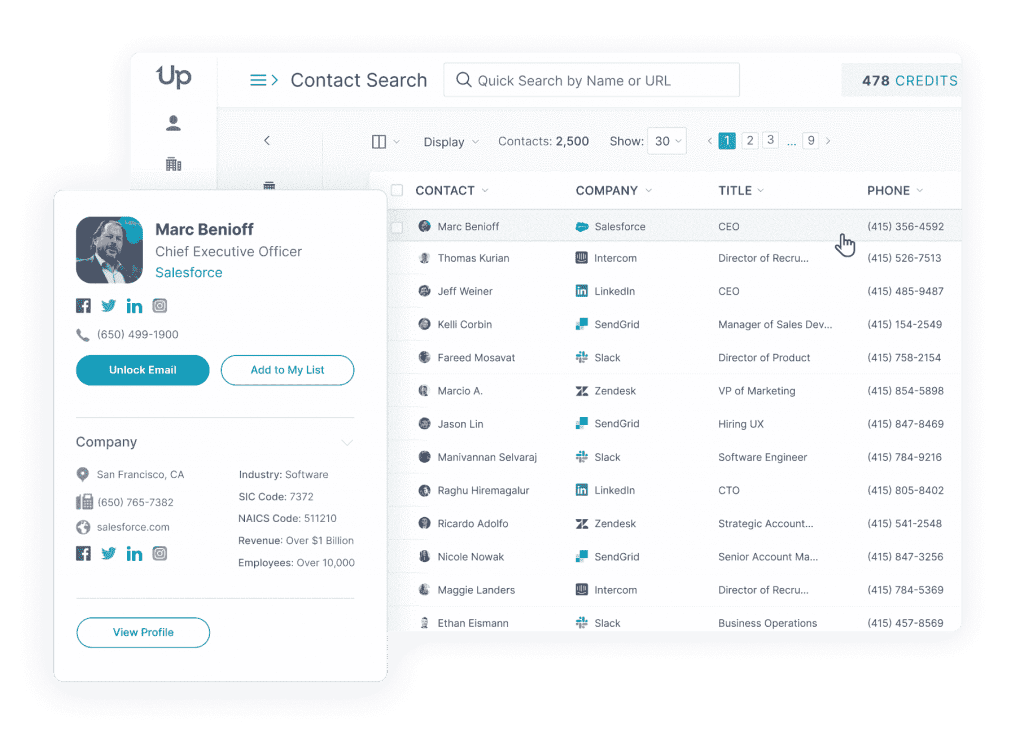 Cold emailing offers a cost-effective way to connect with decision-makers, engage with potential customers right where they are, and stay on their radar without being overly pushy. For the best results, it's crucial to craft emails that are friendly yet professional, informative but concise, and action-oriented while avoiding long intros or premature requests. Moreover, ensuring high delivery rates using reliable ESPs and spam testing before sending can enhance clickthrough rates. Personalizing each message as much as possible shows prospects that you sincerely care about them, which can help increase conversion rates exponentially.
3. Engage on Social Media
Engaging with prospects on social media includes following relevant accounts, contributing to conversations, and sharing helpful content on platforms like LinkedIn. This social selling lead generation strategy includes researching your target audience and delivering valuable content to benefit them at their customer journey stage. It can also help join relevant conversations that leverage industry topics, trends, and news while staying true to your brand identity. This helps potential sales leads situate your brand amongst other options as they consider a solution to their pain points. Another important factor in enhancing social media engagement is timing posts around when your target customer will most likely be online and active.
4. In-Person Events
Attending industry events and conferences can enhance your B2B sales prospecting volume and lead to quality connections. Meeting prospects in person paves the way for an elevated sense of trust and potential conversion down the line. It's also a great way to interact with peers within the same industry and broaden your network. Developing concrete goals for in-person events will help focus your efforts, ensuring you maximize your time on this key B2B sales prospecting strategy.
Inbound Marketing for B2B Prospecting
When used with B2B sales prospecting, the power of inbound marketing is undeniable. With the right strategy, your organization can build relationships with prospects over time, paving the way for entry into the sales funnel. To get started, a few key strategies comprise inbound marketing.
5. Content Marketing
Content marketing drives potential customers to seek out your website for informative content that provides value to them— whether a blog post or an e-book. As customers read more content, this builds credibility and increases their trust in your products or services. A good way to use content marketing for prospecting is by creating high-quality educational blog posts, videos, and other forms of content to draw prospects in. These marketing devices also position you as an authority within your industry.
6. Paid Advertising
Paid advertising on social media platforms offers several advantages, such as creating detailed targeting options for greater personalization of your messaging. Paid advertising tools also help track engagement in real-time to assess your sales prospecting technique's effectiveness. In addition, paid ad tools help spread awareness about your product or service by targeting users browsing various online destinations– enhancing your social selling efforts.
7. Email Marketing
Email marketing gives your marketing team the tools to effectively target prospects, deliver timely and relevant messages, and measure campaign ROI. Your sales development representatives should focus on crafting personalized emails tailored to each prospect's interests for the best results. In addition, using segmented lists based on data-driven insights can help maximize response rates by tailoring your messaging to speak to a different segment with distinct interests.
At the same time, using A/B testing with the same audience allows you to optimize your emails for higher click-through rates and conversions continuously. Email marketing is best employed with automation sequencing and robust analytics to scale your sales pipeline-building.
8. Ask for Referrals
Asking for referrals is a highly-effective inbound sales prospecting method for businesses, giving them the opportunity to tap into the contacts of their current customers. Referrals work best when customers are satisfied with their experience and can vouch for your product or service. This can help increase the trustworthiness of your brand, particularly if customers have been given incentives in exchange for providing referrals.
By asking existing clients to recommend good leads, potential buyers already have a connection to your business before contact is made, making for a more efficient sales workflow. Referral strategies can be highly effective in creating and maintaining relationships while growing your customer base when used correctly.
More Tips for Effective B2B Prospecting
Below are a few more tips for fine-tuning your B2B sales prospecting strategy.
Align Your Sales and Marketing Teams
One of the key ingredients of B2B prospecting success is aligning the sales and marketing teams. Quality communication and coordination between departments can create targeted and cohesive messaging. Once both teams collaborate and agree on a brand direction, your marketing team can craft more persuasive campaigns targeting defined buyer personas. Simultaneously, sales reps focus on personalizing those messages to build relationships with prospects and gain insights into their needs.
Always Strive to Add Value
When employing new sales prospecting techniques, your goal should always be the same: add value. Instead of merely focusing on sales, consider how you can lead with a solution that helps your prospects reach their goals. Whether this means introducing helpful resources or advising on how they can avoid common mistakes, demonstrating a genuine interest in assisting your target accounts to get results will make all the difference in whether your prospects listen to you or not. Pay attention to their unique challenges, and be proactive about feeding them with ideas tailored specifically for them— while also driving awareness and interest in your solution.
Personalize Outreach Efforts
To stand out from the large influx of sales messages your leads get every day, it's essential to craft compelling messages explicitly tailored to your prospects' unique needs or interests. Consider timing through algorithms that gauge the best time to reach out for methods such as emails, phone calls, or social media messages. When interacting with prospects, ask questions to understand their preferences and prioritize their demands.
Aim for a Direct Contact
Securing direct contact information for your B2B prospects is critical to a successful outreach strategy. Prospecting with general office numbers leads to missed opportunities due to higher chances of rejection because company numbers might lead to several hoops to reach your decision-maker.
To tackle these odds and maximize engagement potential, build up your contact list with verified leads from UpLead. Not only does this give you access to direct dials, but it also removes the need for a time-consuming search process.
B2B Prospecting Case Studies
Below are a few examples of B2B prospecting techniques companies use to achieve sales growth.
Salesforce Leverages Content Marketing
Salesforce used content marketing to boost its growth in the UK. The enterprise CRM platform invested in creating videos, slides, and a customer success story to draw customers into their solution. As a result of their content marketing efforts, Salesforce saw more than an 80% increase in web traffic and close to 7,000 email newsletter signups.
JMF International Engages Prospects on LinkedIn
JMF International Group, a consulting firm specializing in merchandising and distribution, invested in a robust B2B prospecting strategy. The marketing team at JMF joined over 50 LinkedIn groups in their niche and consistently engaged with their audience to create a sales pipeline. As a result of their prospecting efforts, JMF achieved more than $5 million in incremental revenue from LinkedIn marketing.
UpLead is the Ultimate B2B Prospecting Tool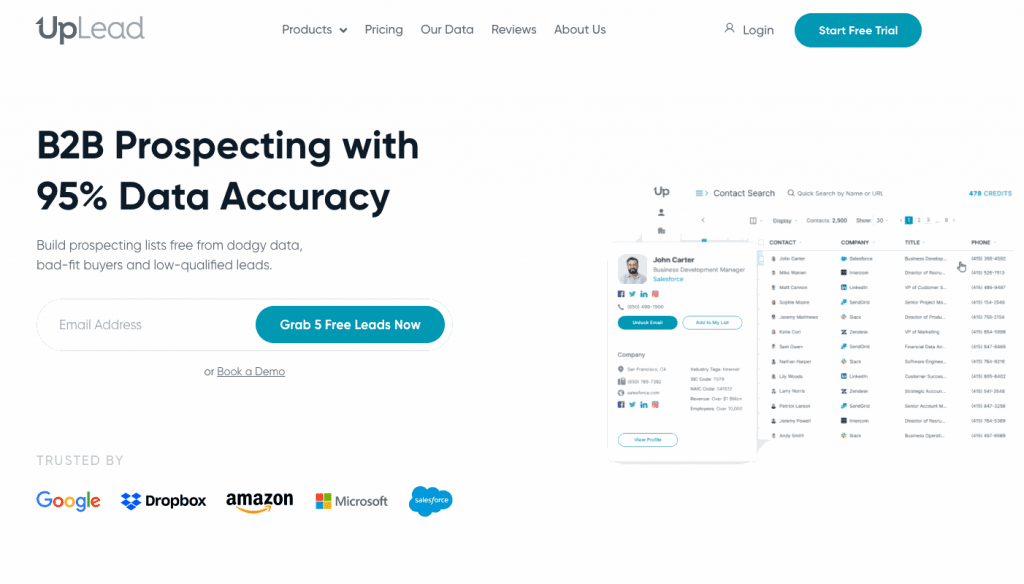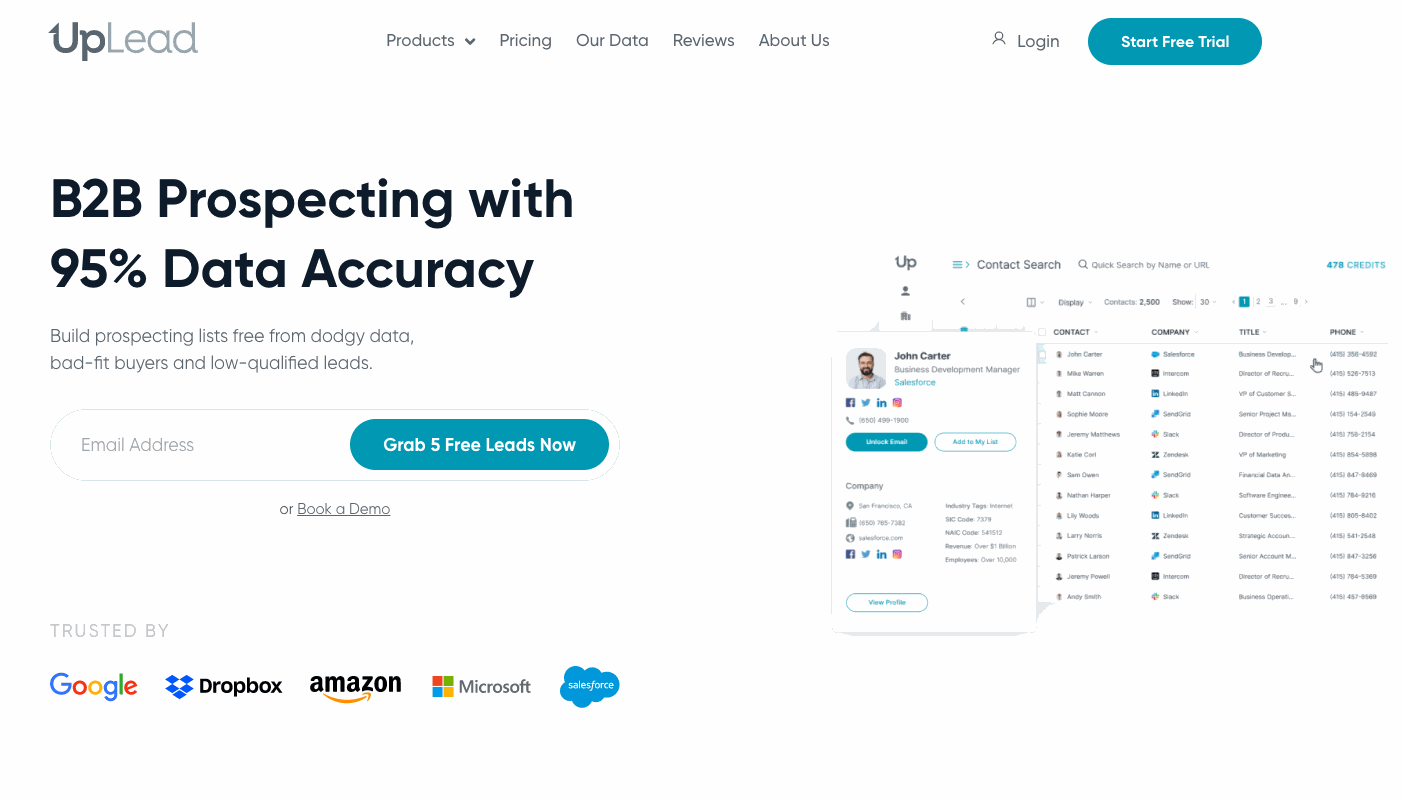 UpLead enables your sales representatives to search through hundreds of millions of contacts using powerful filters and criteria to find 95% data accuracy leads. With an immense variety of sales-qualified leads and robust lead data, UpLead can take your sales prospecting process from hours to minutes. You'll be able to enhance your team's effectiveness by leveraging the expansive contact database in UpLead and its automated solution – saving time and energy on tedious tasks. In addition, enjoy easy access to enriched contact data about customers, consumers, partners, or any other type of contact with advanced search capabilities.
Implementing UpLead in your B2B lead generation process comes with a wide range of benefits, including:
Robust data verification process so you can get the most accurate prospect data
Filter by technographic data points to find which tech stack your prospects use
Access to over 140 million contacts and 14 million companies worldwide
Try UpLead today to refine your B2B prospecting strategy and capture leads you know you can convert.
B2B prospecting FAQs
Below are a few of the most frequently asked questions about B2B prospecting.
How do I find prospects for B2B sales?
There are a few ways to generate qualified prospects for B2B sales. Cold emailing is one option. Good-quality data and a well-crafted message can effectively reach your prospects via email. Sales intelligence tools like UpLead can also help you quickly filter through potential customers and pinpoint high-value leads.
What are the main sources of B2B prospects?
Customer referrals have been a reliable source of business opportunities for companies in all industries, with clients referring other similarly situated clients as ideal prospects. Email marketing drives leads directly to the organization. Moreover, internet searches are a significant source of B2B leads, including via Google and LinkedIn.
Stop doing B2B prospecting blindly
When it comes to B2B prospecting, it's important to remember the key differences between sales and marketing prospects. Sales prospects consist of people with whom you have initiated the sales process, while marketing prospects have expressed interest in your product or service. If B2B prospecting success is your primary goal, follow some valuable tips, such as reaching out to decision-makers directly, following up quickly when they show interest, having concise but informative messages prepared in advance, and understanding their business challenges.
To make your efforts even more effective, consider leveraging a quality data provider like UpLead, which has millions of verified B2B leads from different industries worldwide. This will help you shorten your sales process and boost your prospecting efforts.
Find hot leads searching for a service like yours right now. Use the intent data of UpLead. 🔥 Try it free here.