If you plan to grow your business, tracking your B2B conversion rate on an ongoing basis is essential. How do your leads convert compared to other companies in your industry? Are you meeting your industry's conversion rate benchmarks? Are the goods and services you produce being marketed properly?
To obtain a high conversion rate, start by looking at your competition. After all, conversion rate benchmarks are a comparison between multiple companies in similar industries. Knowing where you stand compared to the industry standard will give you a starting point and help you set realistic goals.
Quick Links:
What is a B2B Conversion Rate?
B2B conversion rates reveal exactly how many leads turn into actual opportunities. For instance, a company might consider the conversion between form-filling and actual meetings with potential clients.
If you want to improve your sales cycles, it's important to analyze conversion rates and see whether they are up to par with your industry's conversion rate benchmarks. When you meet the industry average, you'll know that your strategies are working and that you're not behind your direct competitors. If the data shows you're lagging behind, you can set clear goals and work to achieve them.
What is a Good Conversion Rate for B2B?
An acceptable average conversion rate should be somewhere between 2%-5%. The ideal conversion rate for some industries could be around 10% or more. 
Conversion rates vary based on your industry and which product or service your company is selling. Other factors within your company's operations can also be analyzed, such as which landing pages and traffic sources are being used. Whatever your industry, lead management also plays a vital role.
Average Conversion Rates by Industry
The average conversion rate across all industries has been 3.6% in recent years. However, as mentioned above, benchmarks vary by industry. This is due to several factors, including which products and services are being offered and which marketing channels are used.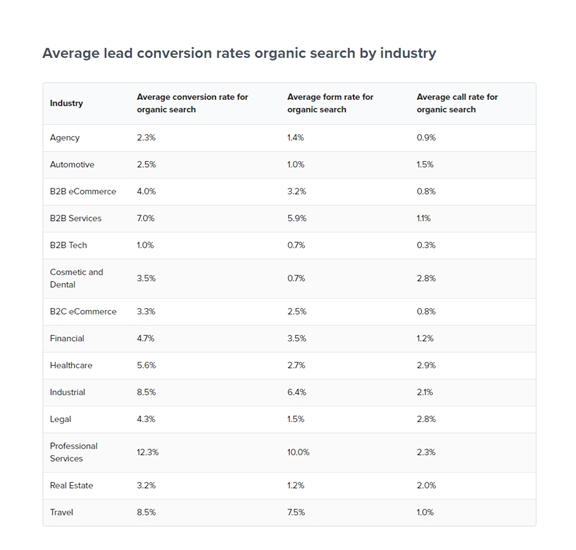 Image Source: https://www.ruleranalytics.com/blog/insight/conversion-rate-by-industry/
At 12.3%, the highest conversion rate is found in professional services, whereas B2B tech has the lowest rate at 1.%. However, B2B eCommerce has an average conversion rate for organic searches of 4.0%, whereas B2B services average 7.0%.
Average conversion rates will depend on the data used to make the analysis. For instance, the conversion rate for paid searches may differ significantly from that of organic searches.
Industries that offer expensive products and services often have lower conversion rates, as buyers are more careful with their purchases. Customers often prefer to speak to a representative and do extensive research to ensure they make the right decision.
It's important to recognize that some potential clients may come to a standstill at different points in the sales cycle. Some may lose interest or change their minds at the last minute. It's just as important to track this data as it is to focus on sales prospecting.
B2B Conversion Rate Benchmarks
Each category found in the B2B industry will have different conversion rates and benchmarks. The numbers will depend on factors such as the degree of competition, production process, target audience, and more. Here are the most common conversion rate benchmarks per category.
[explain what a conversion rate for each of the following categories means] [determine the average b2b conversion rate for the following categories and how this stacks up against other industries] [for each of the following sections, you
must
include:
a reliable data source
and
an image/screenshot of the data displayed
]
B2B Conversion Rate for Websites
The average conversion rate for B2B sales for websites is 2.23%.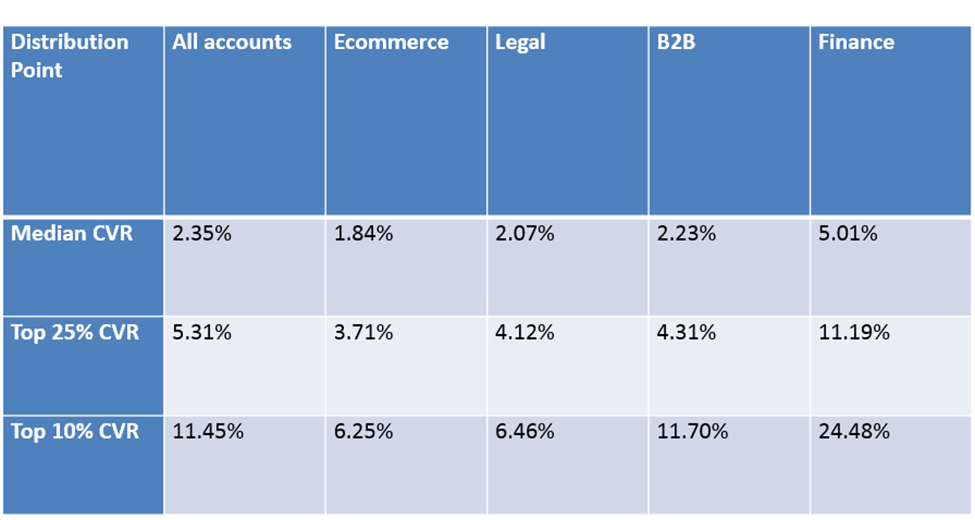 Image Source: https://www.wordstream.com/blog/ws/2014/03/17/what-is-a-good-conversion-rate
Still, 25% of B2B websites hit a 4.31% conversion rate. Around 10% of B2B websites have a conversion rate that is 5 times over the average, at 11.7%. These websites are often called "unicorns," as they are rare.
On the other hand, if you have a conversion rate under 2%, you likely have a problem with your sales cycle. Perhaps you need to make modifications to your landing pages. Maybe you are not using the right lead generation strategies or need to optimize your marketing automation.
The right inbound and outbound marketing techniques can bring your website from unremarkable to a B2B unicorn.
B2B Conversion Rate for Mobile
Mobile conversion rates are much lower, averaging 1.53%. There are a few reasons why.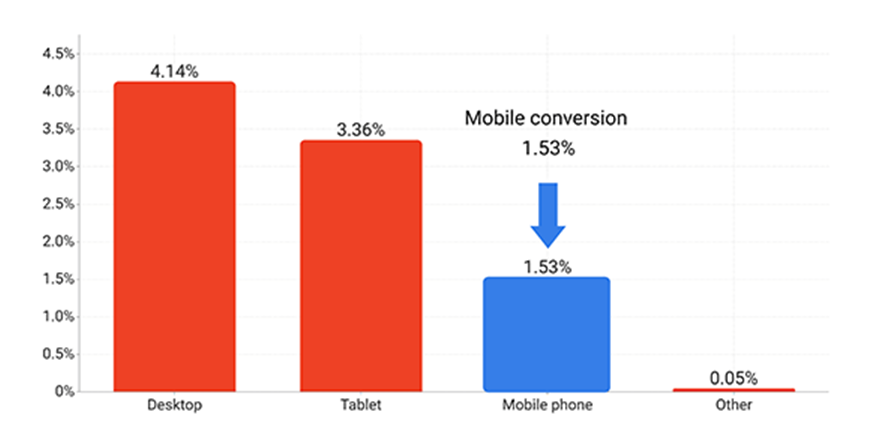 Image source: https://startupbonsai.com/conversion-rate-optimization-statistics/
Statistics source: https://www.statista.com/statistics/234884/us-online-shopper-conversion-rate-by-device/
For instance, much product research is done on mobile phones. Potential customers browse the Internet for products and information while commuting, waiting in line, or lying in bed. Once they've decided which product to buy, they'll use a computer to go to the company's website to make the final purchase.
That being said, some people find using a phone more convenient and faster. This is especially true when it comes to apps. If a business re-sells goods it purchases from your company (e.g., a restaurant purchasing salt to prepare its meals), sending the order from the mobile version is more efficient. Many business owners use a variety of apps and platforms that remember previous orders. This reduces the need to reach a computer and lose precious time since the entire action can be completed with just a few taps. This is usually the case for business owners who regularly make the same orders.
B2B Conversion Rate for Organic Searches
On average, the B2B conversion rate for organic searches varies between 0.7% and 5.9%, depending on the industry. B2B Tech has an average conversion rate of 1.0%, B2B eCommerce has recently reached 4.0%, whereas B2B services have a conversion average of 7.0%.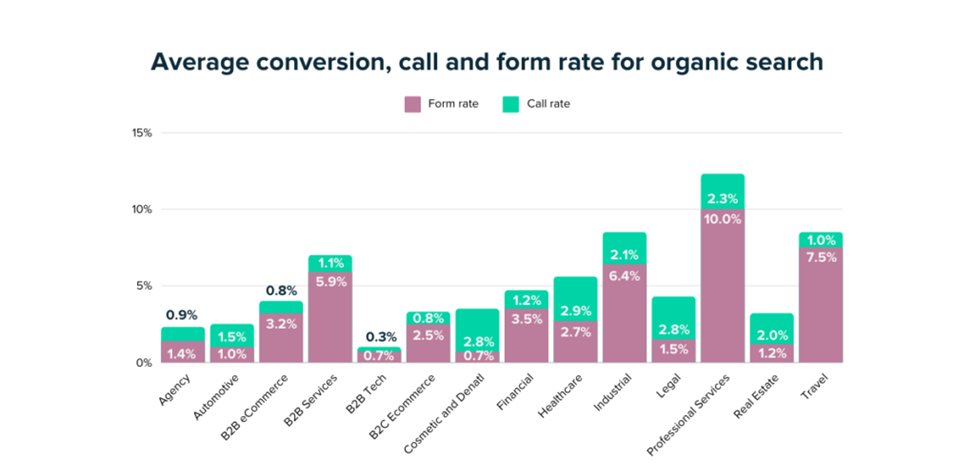 Image Source: https://www.ruleranalytics.com/blog/insight/conversion-rate-by-industry/
It's challenging to convert leads from organic searches. The chance that your website will be placed at the top of a Google search where potential customers will find you are fairly low. It requires a heavy focus on SEO, including a significant number of backlinks. New companies also have a disadvantage compared to companies that have been around for a long time; search engines favor long-established websites over recently created ones.
B2B Conversion Rate for Social Media
On average, the B2B conversion rate for social media is between 1% and 2.1%, depending on the B2B category. B2B Tech has the lowest average at 1.0%, with B2B eCommerce following at 2.0%.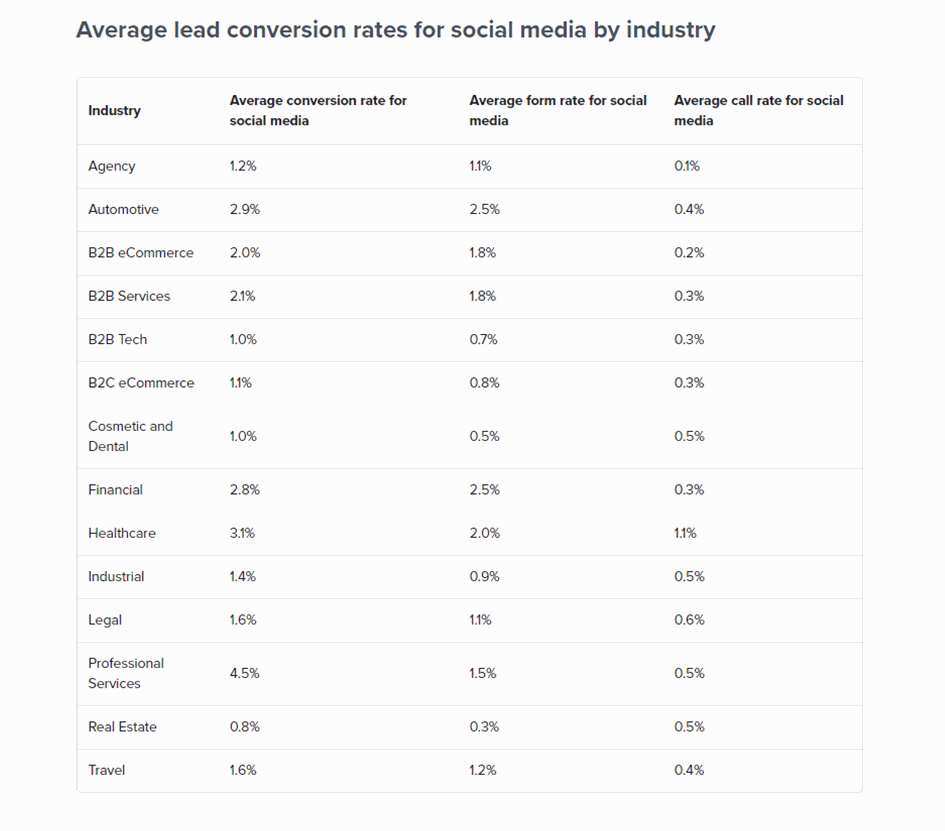 Image Source: https://www.ruleranalytics.com/blog/insight/conversion-rate-by-industry/
Social media has become a powerful tool over the past couple of years, with a high potential for increasing qualified leads and sales. That being said, many people are skeptical of what they find on social media, which can affect conversion rates.
The good part is that 90% of the buyers will first read Internet reviews before they visit a website. Many people will use organic search to find reviews (i.e., blog posts), but the content can also be shared on social media, increasing visibility. So, a good lead generation strategy involving sharing social media content can boost conversions.
B2B Conversion Rate for Paid Ads
For paid search, the average conversion rate is around 3.6%, depending on the B2B area that is being analyzed. B2B eCommerce has reached an average lead conversion of 1.7%, B2B Tech is at 2.5% (a 0.8% increase since last year), and B2B Services has an average of 5.0% (an increase from 4.2%).
Image Source: https://www.ruleranalytics.com/blog/insight/conversion-rate-by-industry/
Paid ads allow companies to capture the attention of internet users. This can include advertisements on Google or social media platforms like Facebook and Instagram.
Paid ads are tied to keyword searches, so they can help increase the number of qualified leads. According to an Alex Birkett interview, content promotion can hugely impact your business's success.
How Can I Increase My B2B Conversion Rate?
To increase your B2B conversion rate, you'll need to focus on the details of your website. Many online tools can help. Here are a few tips:
Run Tests
The more tests you run, the better you can understand your customers' experience. Don't just check your landing page (i.e., the homepage). Instead, check around ten pages on your website. See how they perform, the bounce rate, and how many leads they generate.
If you see some pages underperforming, you may want to step up your marketing efforts or make changes to the page design or functionality. Your sales and marketing team should also keep an eye on your competitors' sites as well. It will help give your team an idea of what they're up against and can inspire fresh ideas for your pages.
Modify Your UI/UX
If you are not meeting the conversion rate benchmarks for your industry, there is a good chance that your potential customers don't have a great experience on your site. This is where (UI/UX) comes into play. You may want to reorder the content on your website or optimize your landing page. If your site is more accessible, your sales statistics will improve.
Remarket Your Content
If you fail to generate leads, your sales targeting strategy may be aimed at the wrong people. Do some market research and determine exactly who could benefit from your product (instead of who you want to sell your product to). 
Establish Authority Online
Your sales strategy should make use of SEO to build brand awareness. The more effective SEO techniques you use, the more Google will recognize you as a reliable, authoritative source of information. This makes it more likely that you'll be ranked at the top of your target audience's search results.
FAQs About B2B Conversion Rate
You may still have a few questions about the B2B conversion rate. Here are answers to some common questions on the topic:
What is the sales conversion rate in a B2B business?
A sales conversion rate is a metric that tracks outbound sales, lead numbers, subscriptions, site visitors, and more. Sales conversion will analyze exactly how many of your purchases were finalized after going through the sales funnel.
What is a good conversion rate for inbound leads?
This depends on your company, but most digital marketing experts would suggest that a good conversion rate for inbound leads is between 1% and 3%. For instance, if you have 300 visitors a month on your website, three closed deals are seen as acceptable.
What You Need to Remember About B2B Conversion Rates
Conversion rates can reveal a lot about your company and sales process. You'll know you're keeping up with the competition by meeting conversion rate benchmarks. 
When you're looking to boost conversion rates, optimizing your lead-sourcing methods based on their previous performance is important. If you're not meeting average conversion rates for your industry, you should analyze your current sales and marketing processes and set clear goals for future success.