Sales prospecting lists help you and your sales team reach the leads who are most likely to buy from you. That's why developing an accurate sale prospecting list can make the difference between meeting your sales goals and falling short. A good prospecting list should not only include basic information on ideal prospects; it should help sales reps contact leads the right way, with the right information.
We'll go through everything you need to know about building great sales prospecting lists. We'll show you the best way to prospect, the best tools to get you started and take you to step by step through the process. By the end of this article, you'll know exactly how to develop a good prospecting list.
Let's dive right in.
Quick Links:
What Is a Prospecting List?
Prospecting lists are lists of potential customers, usually in the form of datasheets, used to establish the first customer contact and guide each lead through the qualification process.
These lists are used to establish a solid client base, actively reach out to potential customers, and look for ways to develop a professional relationships. Once sales reps establish contact with prospects, they're then qualified and turned into leads.
Good quality data is vital for prospecting lists since it can help prioritize prospects and ensure the lead and contact data are valid and up to date. This ensures sales teams are only reaching out to active prospects.
You can generate data to help your sales team find leads and make sales by building and maintaining good prospecting lists.
What Are the Best Prospecting Methods?
Let's take a look at the best-prospecting methods for your sales team:
Email
Email is a great way to reach your target audience. You can use emails to nurture and educate your ideal prospects, foster better relationships, and keep prospects updated on your company.
Since email is practically free, it's also a cost-effective way to reach out to a large prospecting list, allowing your sales team to interact with responding leads immediately.
However, since it's free and easy, it's also used by most other companies—your competitors included. Break through the noise by tailoring campaigns to a highly-targeted prospecting list. This will help keep the content relevant and make it click-through more enticing.
LinkedIn
LinkedIn is a great platform to connect with other professionals and reach prospects. Since professional social media is so popular, practically all B2B users will have an active LinkedIn profile.
However, LinkedIn has its limitations. It often excludes additional contact information, forcing users to message in-app instead. You can solve this issue by taking advantage of LinkedIn Chrome extensions. They'll help you find contact details as you browse LinkedIn profiles and generate leads as you find them.
LinkedIn groups are another great way to use LinkedIn for prospecting. These groups allow you to establish your brand as an industry expert, increase brand awareness, and reach out to more prospects.
Find LinkedIn groups that are relevant to your brand's niche to find communities you can interact with. Then, focus on providing valuable answers to inquiries related to your field. Ask insightful questions to contribute to the community.
Cold Calling
Although cold calling is decreasing in popularity, it certainly isn't decreasing in effectiveness. 82% of buyers will accept meetings when a sales professional contacts them, making it clear that cold calling is alive and well.
Unlike many other prospecting methods, cold calling places you in a one-on-one conversation with a potential customer and allows you to pitch directly to them. However, the effectiveness of your cold-calling efforts will only be as good as your data.
Make sure you're reaching the right decision-makers by using lead generation and data enrichment platforms with accurate and validated information. Then, develop a good and flexible script for your sales team to follow.
If you focus on building connections rather than reading scripts, you can get a lot out of cold calls.
Warm Calling
You can improve your chances of success by warming up your prospect list before you start making calls.
Try contacting potential customers through email or social media to schedule a time to chat. This will help familiarize your prospects with your brand and solutions before you call. Your prospects then have a chance to plan questions ahead of time and are more likely to make a purchase.
There are other ways to find warm calling opportunities: Follow up with prospecting leads from automated processes and with users who post comments and interact with your brand online.
Referrals
Referrals are one of the best lead-generation sources you can get. Referrals increase the likelihood of conversion by allowing an existing customer to open up the sale for you. Then, all your sales reps need to do is reach out to potential prospects and convert them.
Getting referrals can be as easy as asking existing customers. Start by focusing on your most satisfied customers., Ask if they happen to know anyone else in the market for your solutions.
For solutions with a wider reach, you can develop more complex and automated referral systems. This could involve rewarding or paying your existing customer base for every lead they generate that ends up converting.
Strategic Partnerships
Strategic partnerships are great for sales professionals to generate a prospecting list filled with valuable information.
Develop partnerships by locating non-competing companies that share your user base. Target companies that are relevant to your audience and reach out to their marketing team to include them in your sales efforts.
From simple guest posting to co-hosting large events and strategies, the right partnership can be mutually beneficial—increasing leads for you and your partner.
How to Build a Sales Prospecting List
Here's how to build a sales prospecting list, step by step:
Step 1: Define your audience
If you're looking for prospects, you first need to determine who those prospects are. Start your sales process by defining your client personas. Use your current data to understand better who your prospects are, their interests, and their pain points.
By establishing the right target market, you can improve the success of the whole sales process.
Step 2: Use your existing customers
Start your lead generation process with your existing customers. Since your customers already benefit from your solutions, they're more likely to make another purchase.
Start with customers who appear likely to spend more than they're currently spending. Use this information to tailor your message, making it as relevant to them as possible.
Finally, factor in data from your current customers to learn more about the kind of companies you'll be prospecting.
Step 3: ​​Find the right decision-makers
Once you've identified the right companies, it's vital to reach the right decision-makers within those companies.
You can research company websites and LinkedIn profiles to find senior members and other potential decision-makers. You can also use lead-generation Chrome extensions to aid your research, allowing you to find the right contacts as you browse company websites and profiles.
Step 4: Generate contact information
Now that you've identified your leads, it's time to find out how to reach them.
If you're doing a manual search, you can look up the person's name on LinkedIn and their company's website to find an email address or other contact information. You can also continue using Chrome extensions to generate contact details, placing new leads into your prospecting list automatically.
However, a lead generation tool is the easiest way to generate lead contact details. Lead generation tools help you generate leads and their contact information to find qualified leads for your prospecting efforts quickly.
If you're going to buy leads, make sure it's from a platform that has a guarantee on its data or from a platform that includes a tool to validate data before it's purchased.
What Information Should You Include in a Prospecting List
So, what kind of data should be included on your prospecting list? Let's look at the essential data and the data that's optional but nice to have.
Essential prospecting data
Essential prospecting data includes basic information about your business contacts. This data includes prospects' names, phone numbers, and/or email addresses.
Depending on the solution you're prospecting for, essential prospecting data can also include a company name, a buyer persona, the way the prospect was captured, and other data points.
Essential prospecting data is vital for sales professionals to succeed in their prospecting efforts.
Nice-to-have prospecting data
While not essential, several data points can make it easier for your sales reps to perform well with their prospect lists.
These data points can include the prospect's company details, such as their company's size and technographic information. They could also include the lead's social media accounts, location, and other information that helps sales professionals better understand their prospects.
Sales Prospecting Tools to Build a Prospect List
Here are the best sales prospecting tools to set up your sales prospect list:
UpLead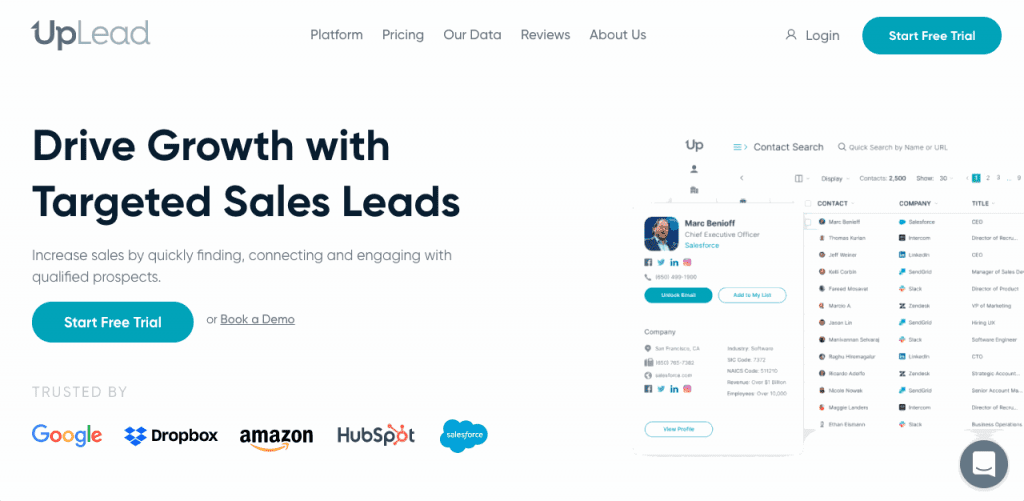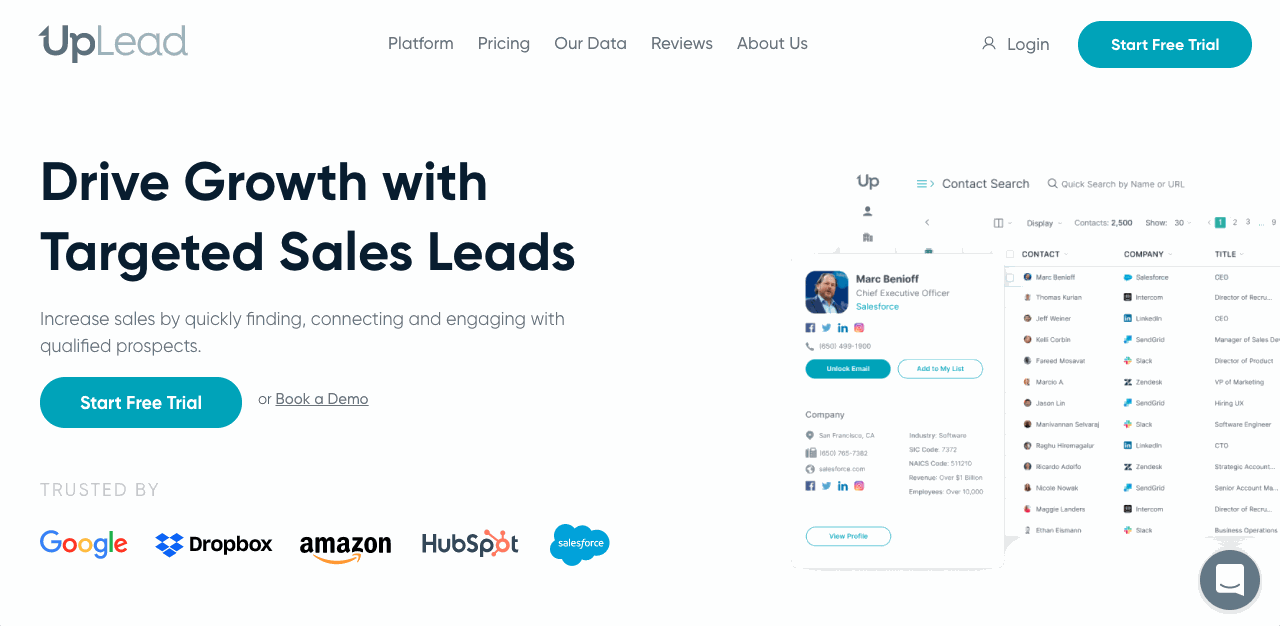 UpLead is a powerful lead generation platform that allows you to generate prospecting lists almost on command.
With a huge and accurate database, UpLead makes it easy to find your ideal customers. Using over 50 search criteria, you can filter through millions of business contacts to find prospects that fit your ideal customer profile. Once you're ready to download your sales prospect list, UpLead verifies all email addresses in real-time to ensure deliverability.
UpLead doesn't just show raw data on boring spreadsheets. Instead, the platform features vibrant profiles to help sales reps quickly learn what they need to know before contacting the prospect.
Try UpLead for free today and see if it's the right fit for your company.
Start Your 7-Day Free UpLead Trial
Lead generation doesn't have to be all that painful. With UpLead, you can easily connect with high-quality prospects and leads to grow your company.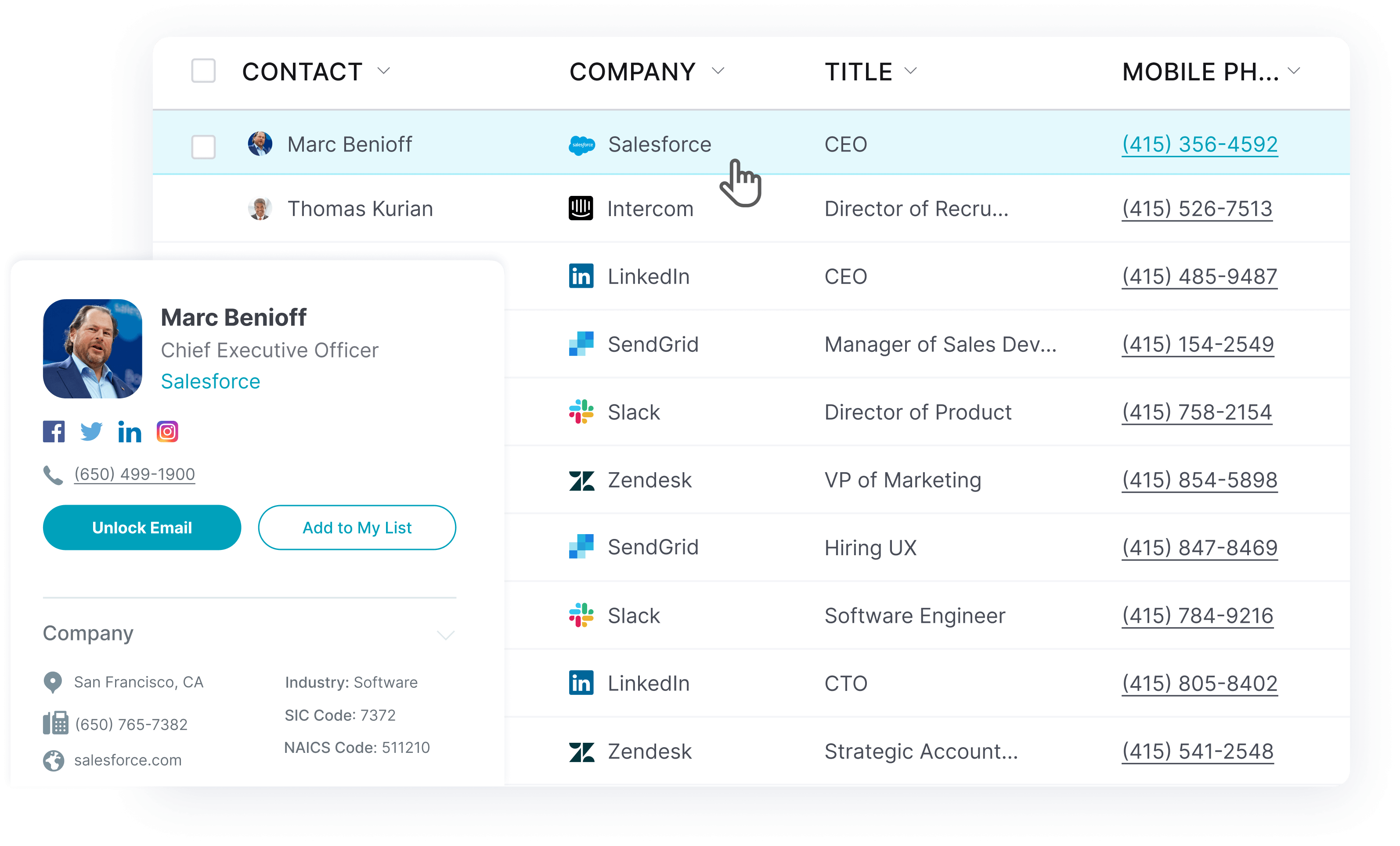 MatterMark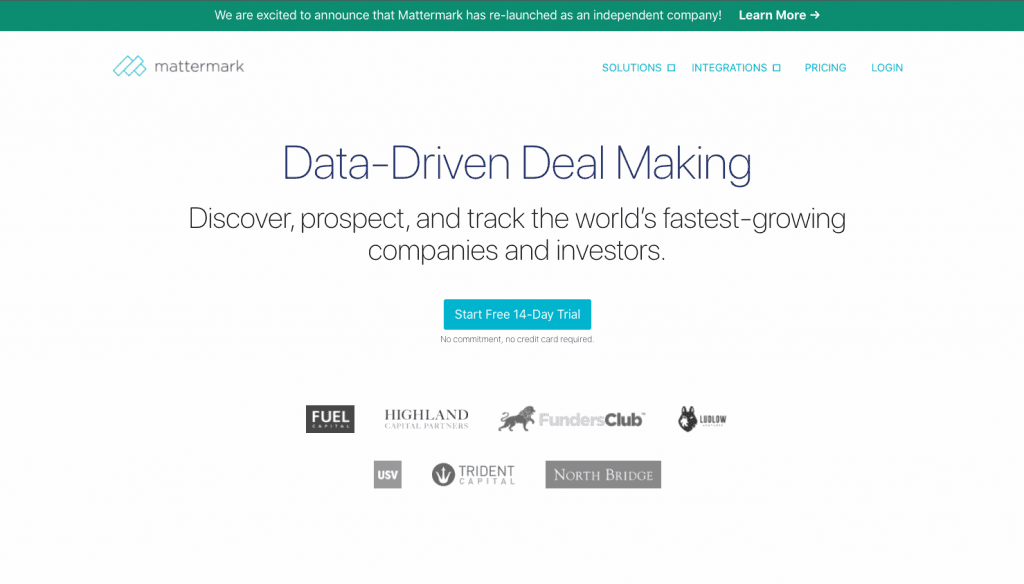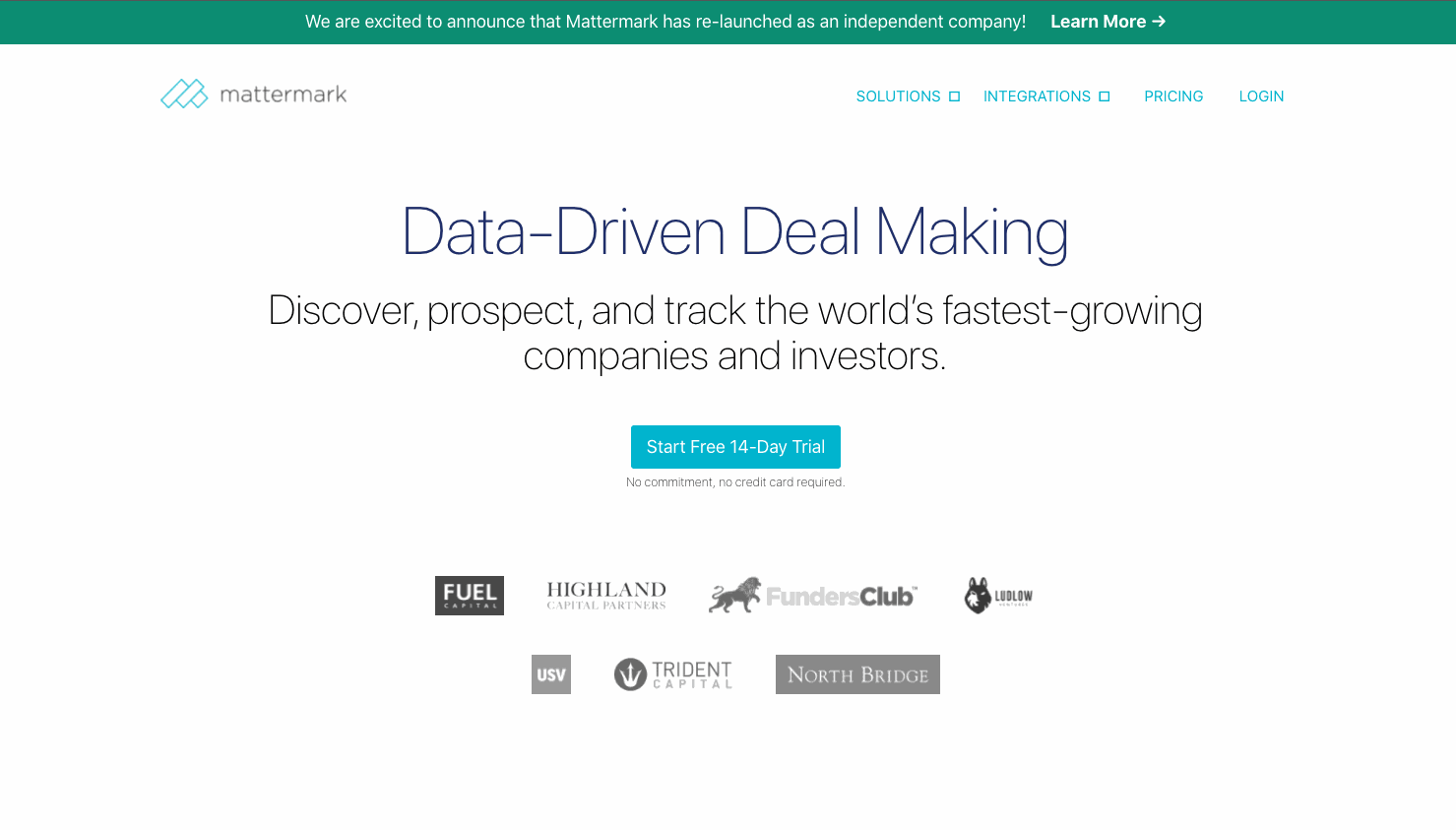 Mattermark is a lead generation platform created to help companies generate leads for their outbound sales.
This platform allows users to collect industry news, monitor brand mentions, and view other data points that can be relevant to your sales team. It also integrates with multiple third-party apps, including Microsoft Excel and Google Sheets.
Pricing starts at $49 per user per month but can quickly become far more expensive if users want to access the app's more advanced and interesting features.
Salesfully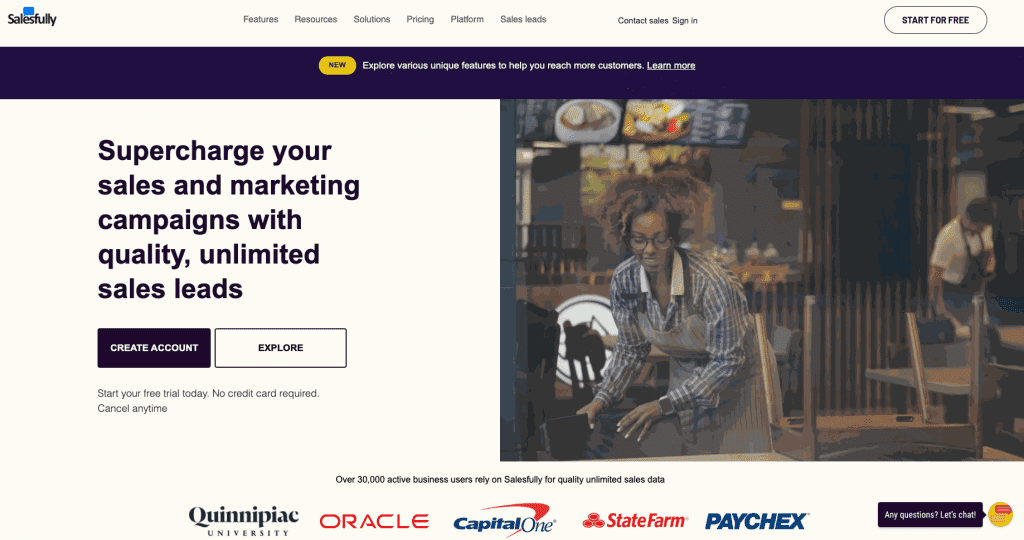 Salesfully is a subscription lead generation tool that allows users to generate leads by browsing a large profile database.
This platform includes B2B and B2C contacts, making it a bit more versatile than other lead generation tools. Prospecting lists can be exported to excel sheets or printed from the platform and include contact locations on Google Maps.
However, since Salesfully can only export up to 2000 contacts at a time, it can be time-consuming to generate prospects in bulk.
LinkedIn Sales Navigator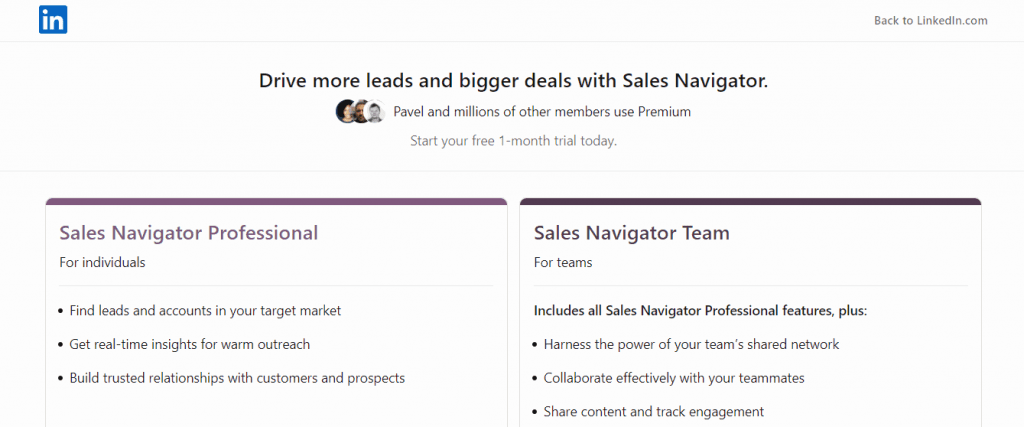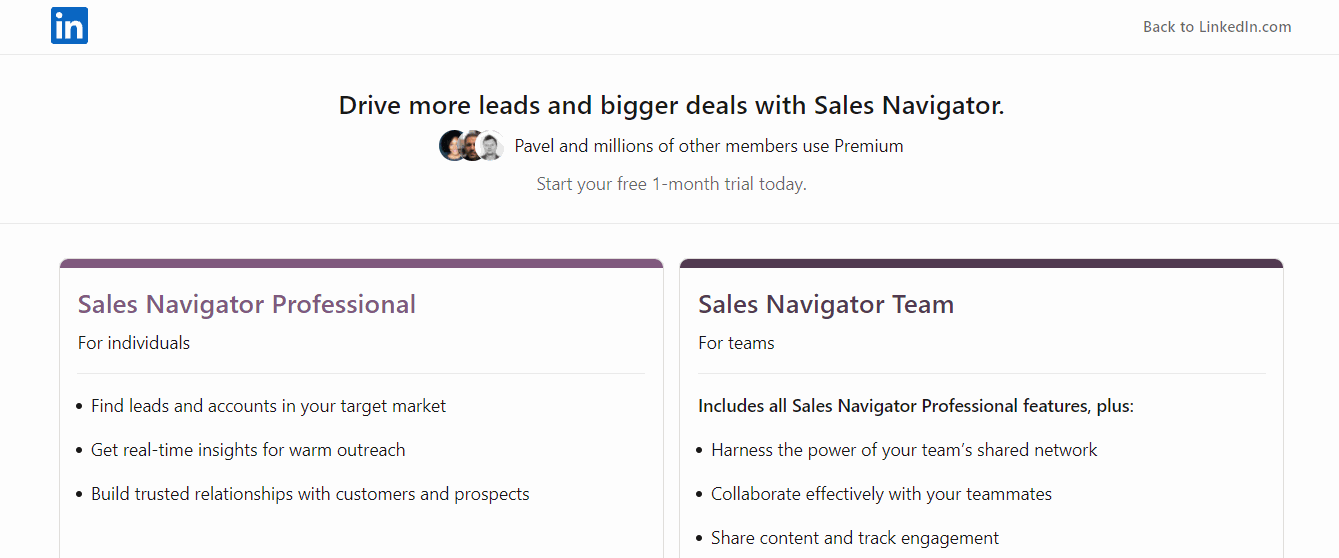 LinkedIn Sales Navigator is a LinkedIn-made tool that allows users to perform detailed and targeted searches. This tool uses LinkedIn's large database of business profiles, giving users access to profile data from users they aren't connected with.
However, the platform also has noticeable limitations. Search results only feature the person's full name and the name of the company they work for. As a result, many users prefer to generate their LinkedIn leads with Google extensions, which include more advanced lead generation features. UpLead is another great sales navigator competitor.
BuiltWith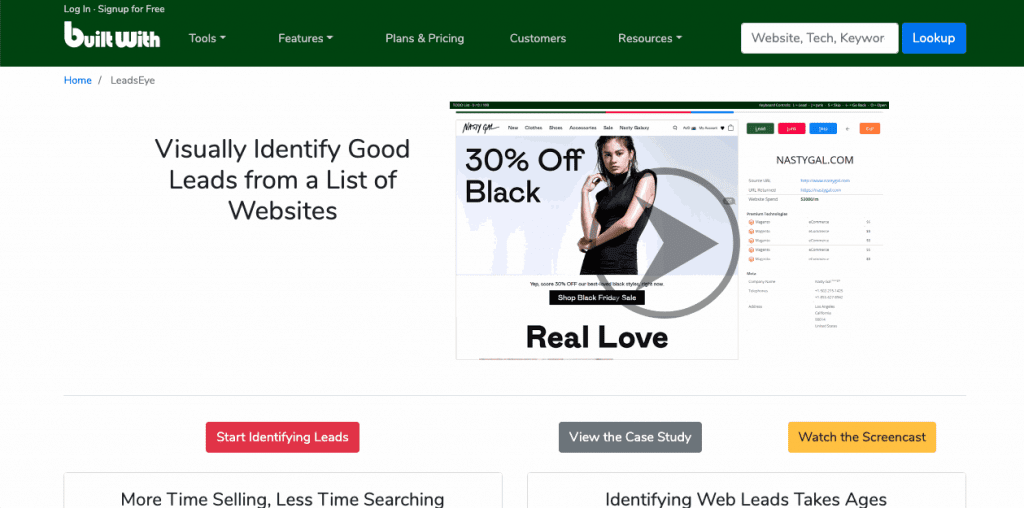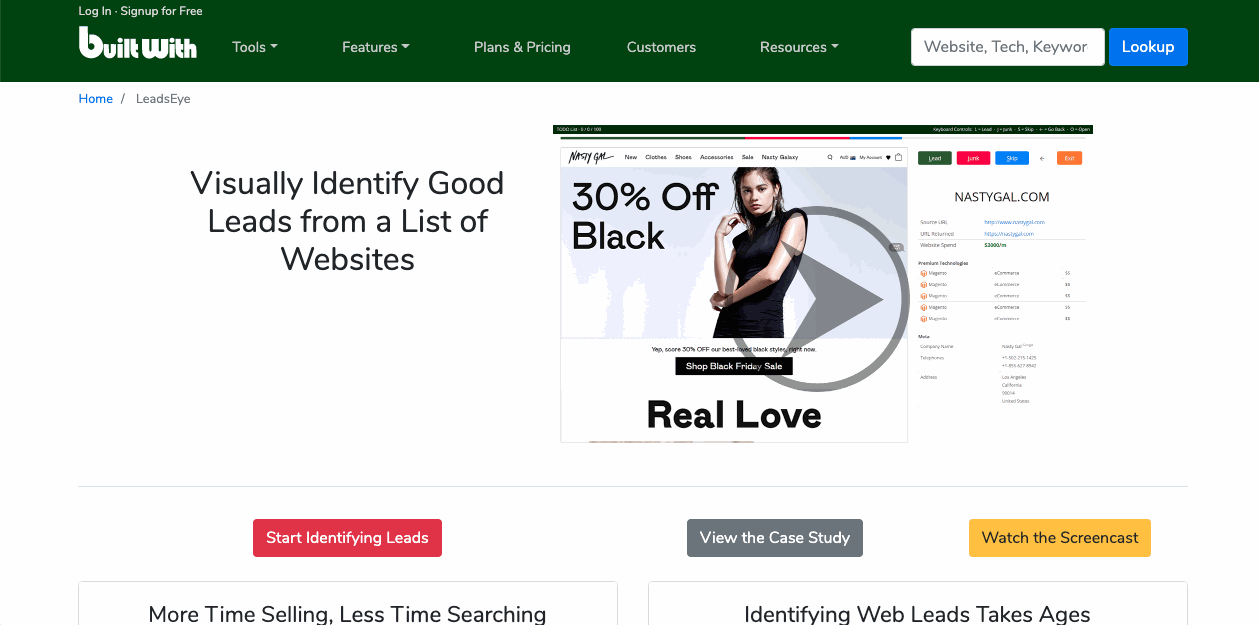 BuiltWith is another lead generation tool used to build prospecting lists. This platform gives users access to over 600 million websites and 58 thousand of web technologies, providing users with valuable website information.
Users also access other advanced features, like alternative data, report filtering, and multiple integrations.
However, BuiltWith's pricing may be unaffordable for many users.
D&B Lead Builder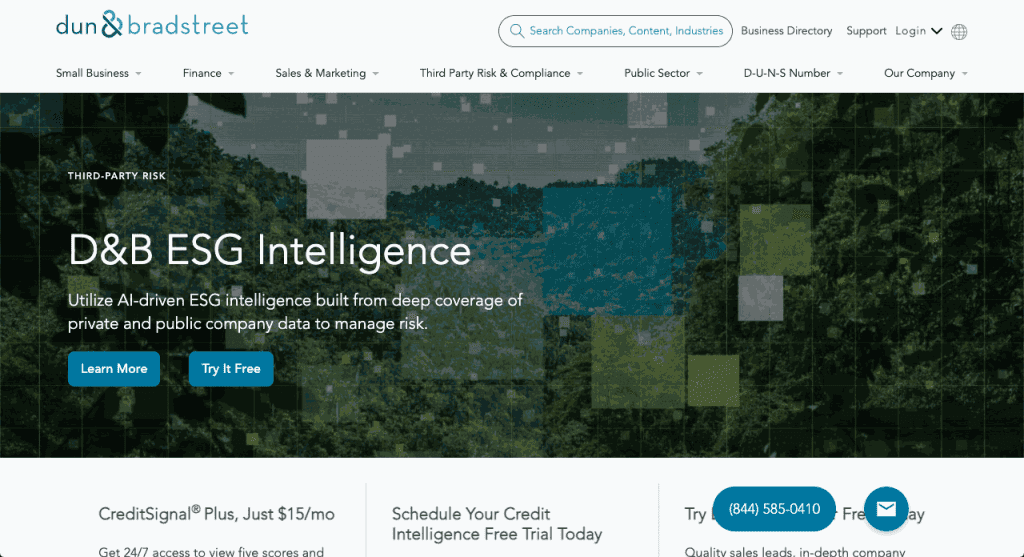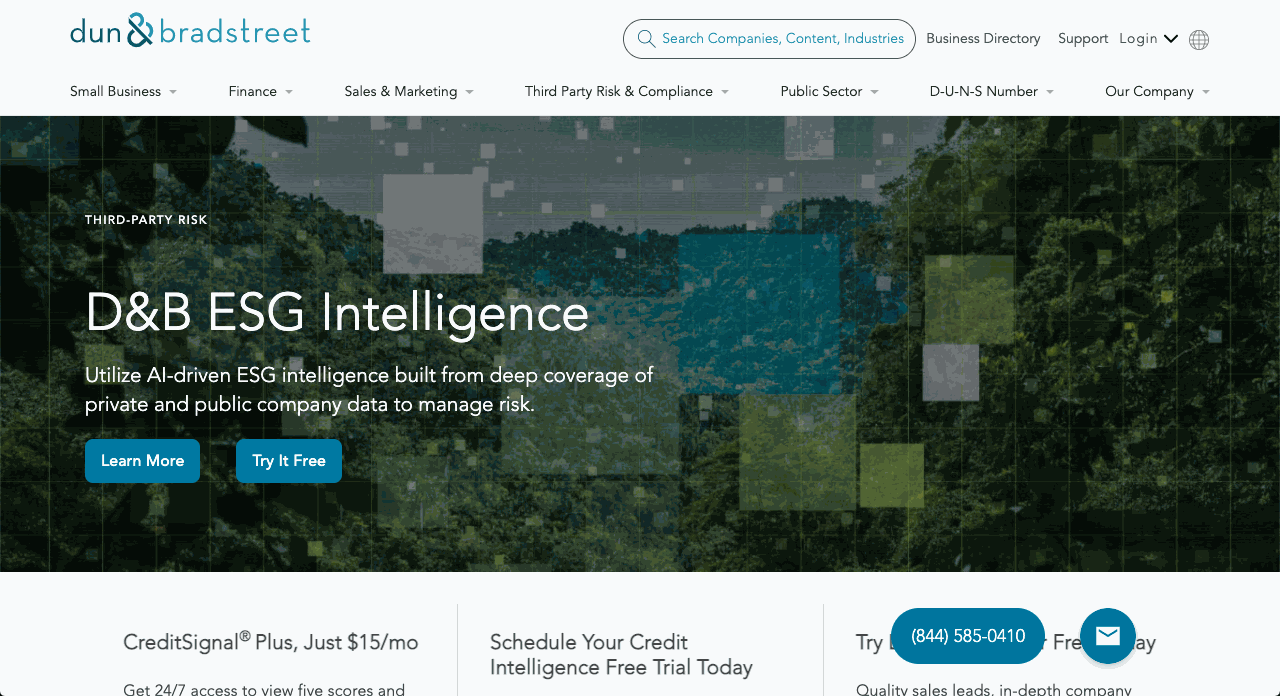 Dun & Bradstreet allows users to generate leads from a database with over 170 million business records.
Users can find lead information and access marketing and sales features to process the prospects they generate. This platform also features multiple native integrations, making it more versatile than some of its competitors.
Although the platform doesn't offer any data accuracy guarantee, it may appeal to users looking for a large, all-in-one solution.
Leadfeeder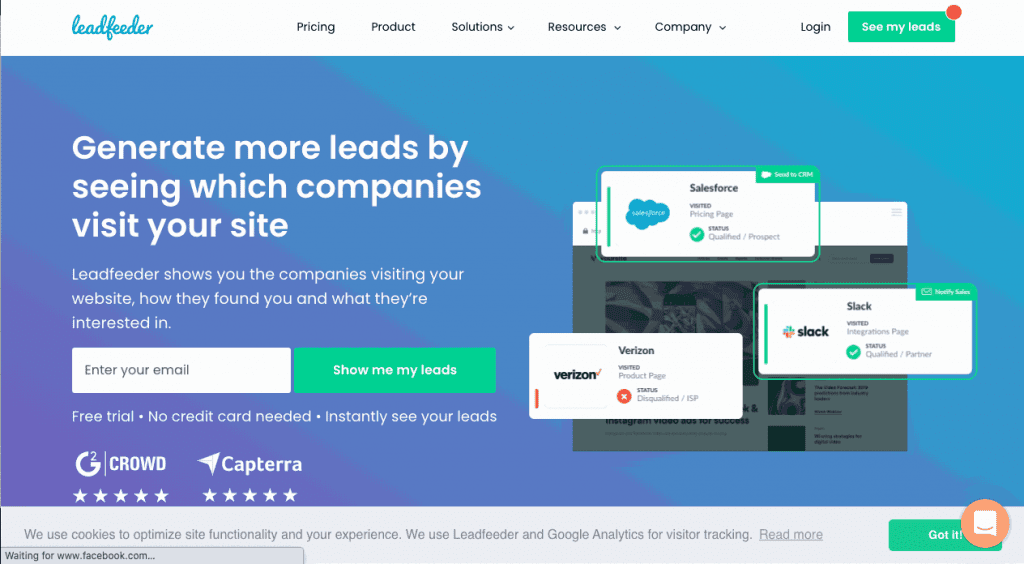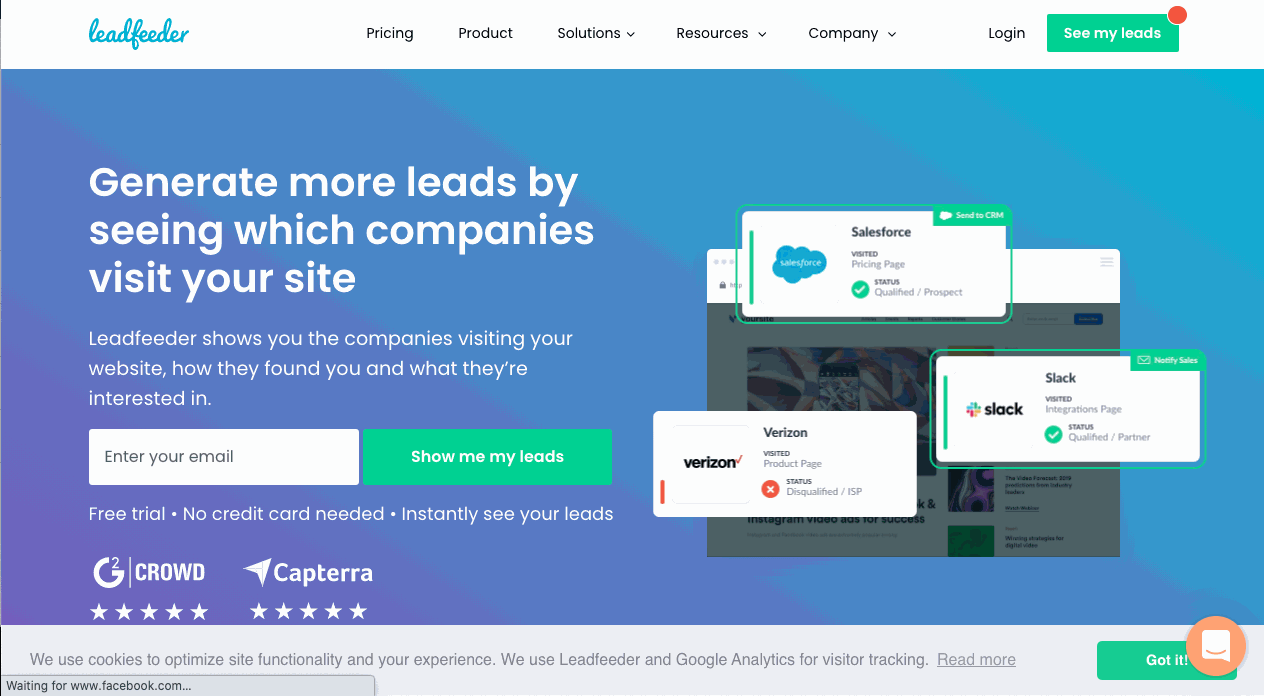 Leadfeeder is a different kind of lead generation platform that offers a limited but complementary way to generate leads.
Users can find out which companies are visiting their websites, find those companies' prospecting information, and send it to be integrated into the sales funnel. While it's a good and novel way of generating leads through visitors to your site, the platform doesn't feature any data accuracy guarantee and has clear prospecting limitations.
Prospecting List Templates
Here are a few prospecting list templates to get you started:
Sales Prospecting Sheet from Sampletemplates.com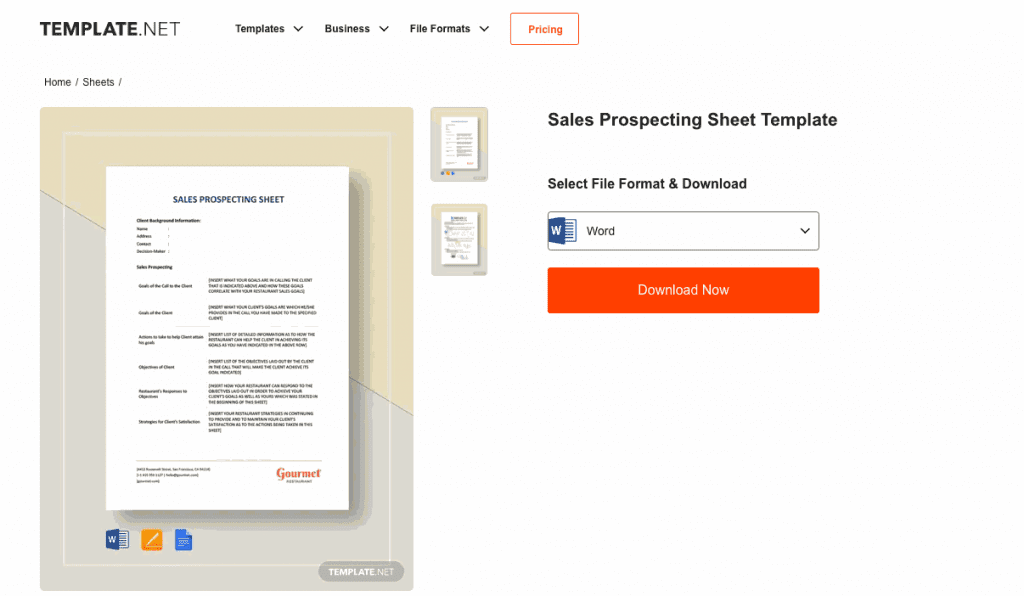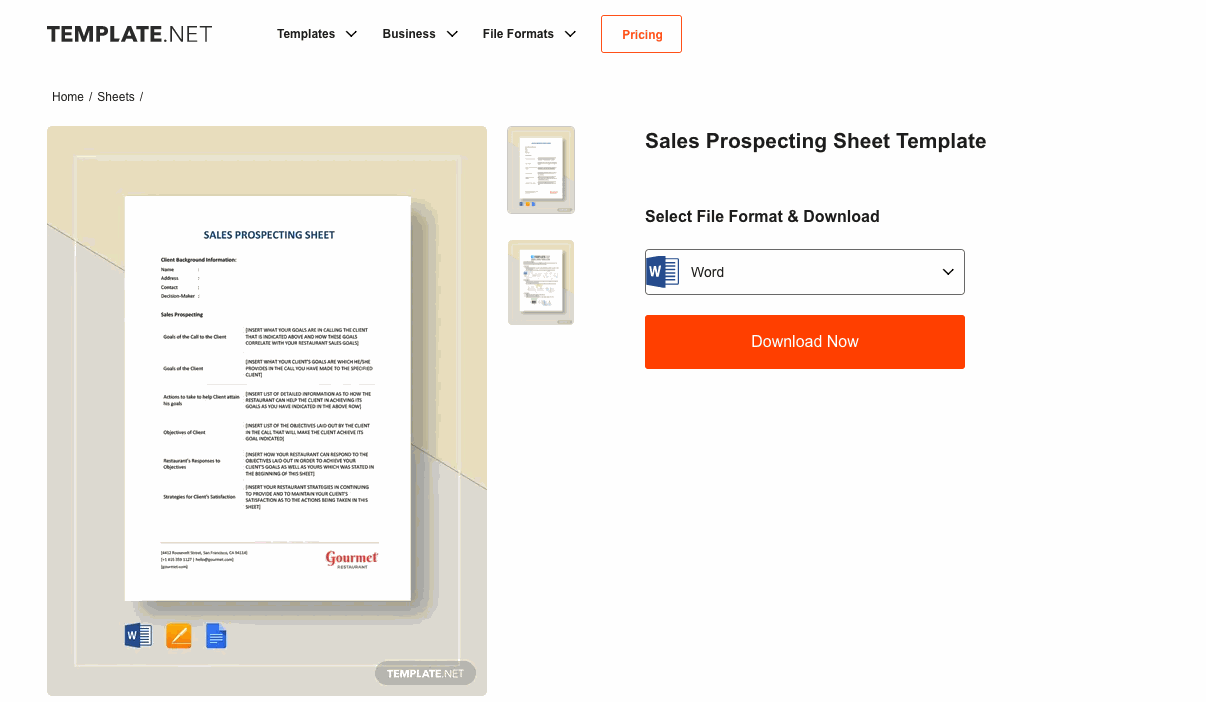 This sales prospecting sheet from Sample Templates is useful for sales teams and reps.
You can record all inbound or outbound calls and emails using this sheet. Progress can be documented, allowing anyone to check where each prospect is in the buying process instantly.
The template is free and easy to edit.
Prospect List Template from Quickmail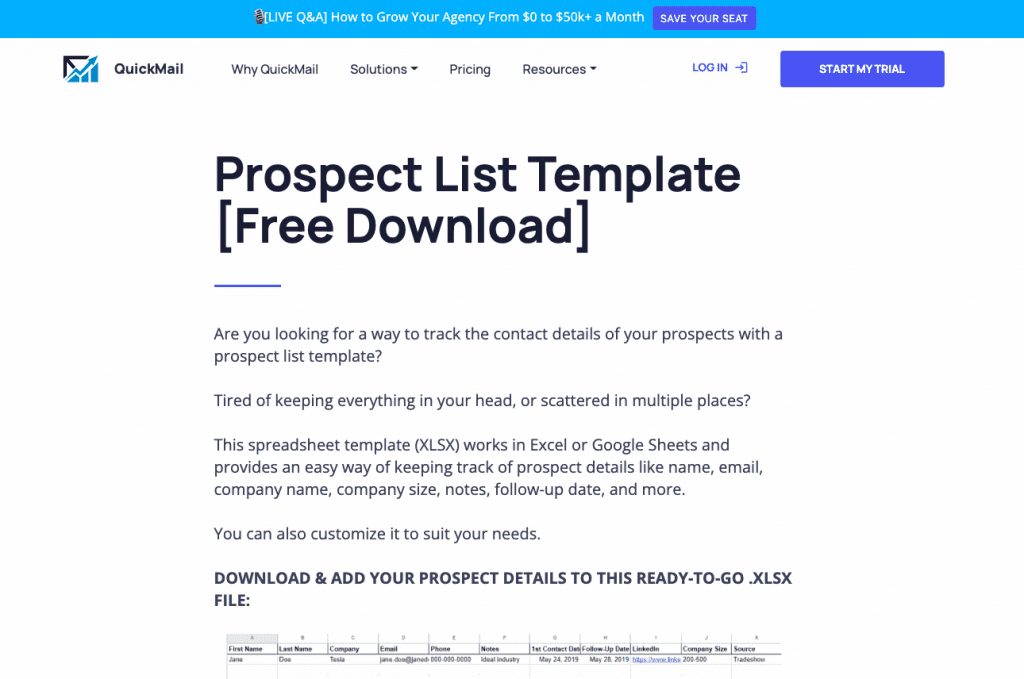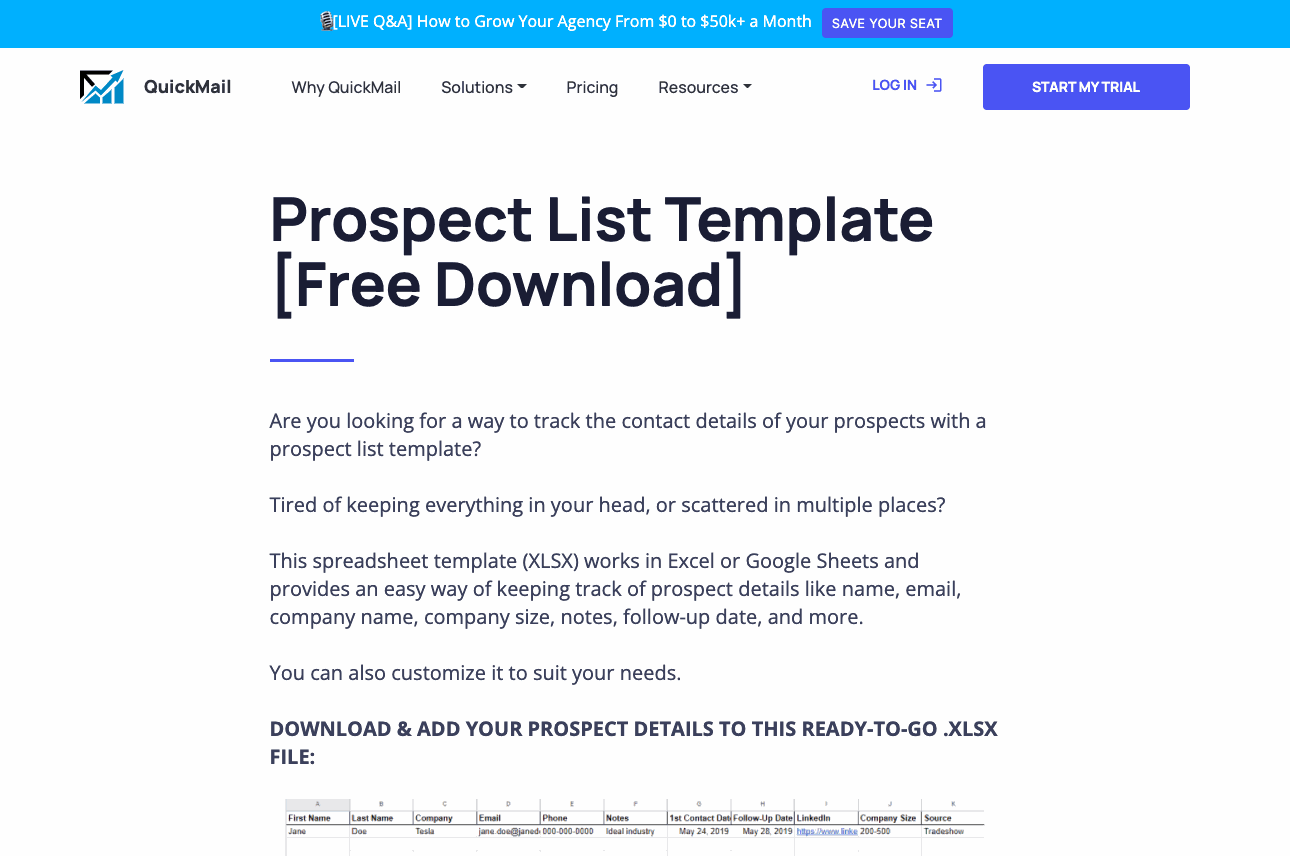 This large prospect list template by Quickmail is useful for populating prospect information.
This platform comes in the form of a simple but detailed spreadsheet. It includes multiple data points for your prospects and can easily be edited to fit your prospecting needs. It's a free, simple, and useful spreadsheet you can use to develop prospecting lists.
Slideteam's Sales Prospecting Templates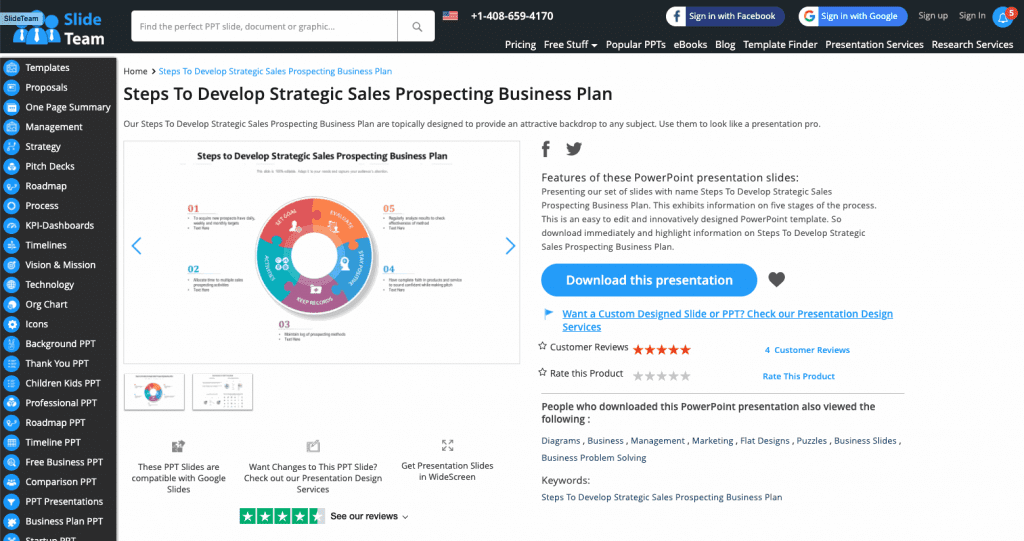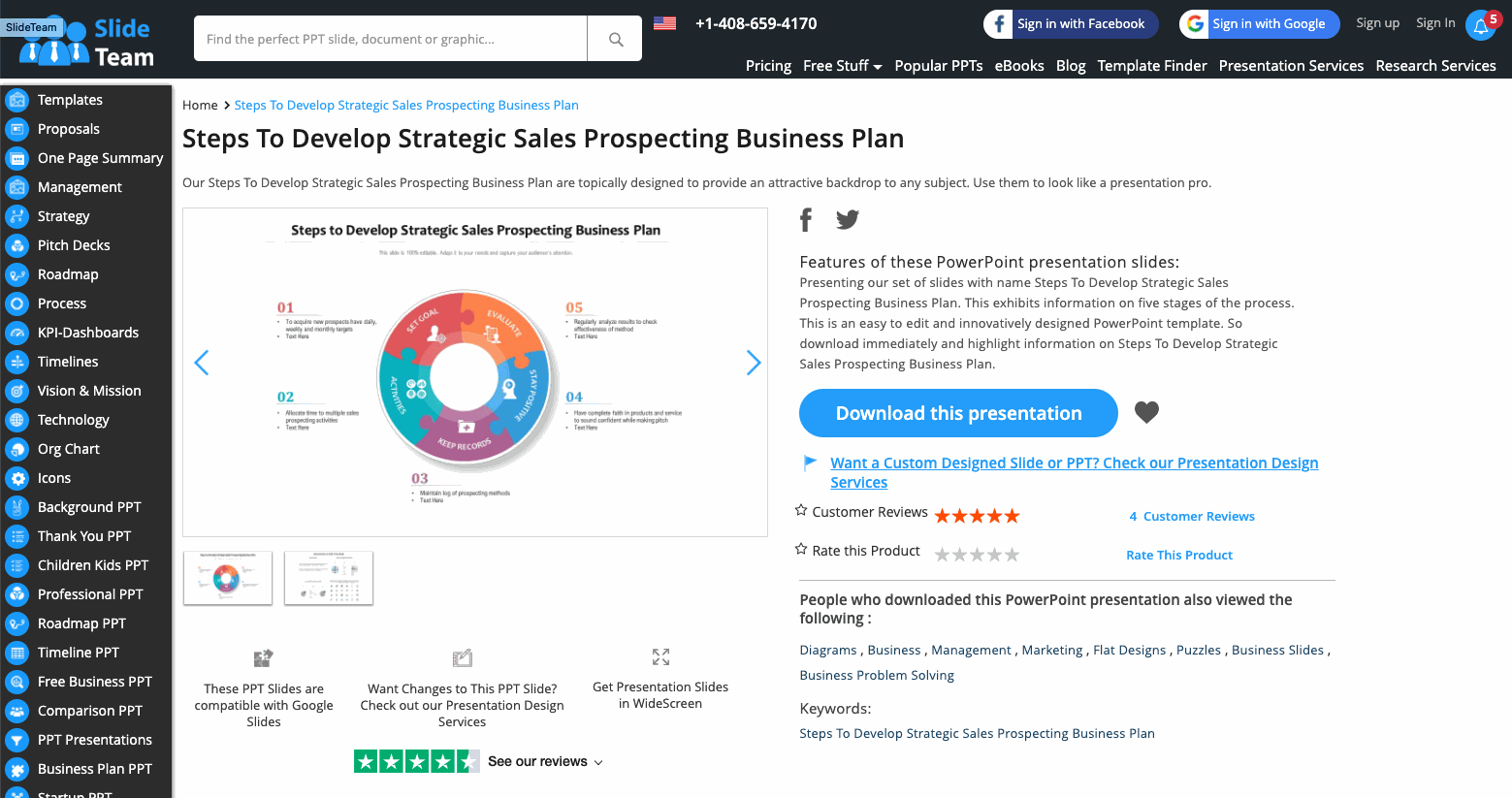 Ready to set your prospecting plan in motion? This template allows you to present an actionable prospecting business plan. It shows how to engage prospects step by step and guides you through the rest of your prospecting strategy.
The template is free to download and easy to customize, allowing you to develop and flesh out your brand-new prospecting plan fully.
FAQ on Prospecting Lists
Here are some answers to common questions on prospecting lists:
How do you merge two prospecting lists?
Merging two prospecting lists is easier if you use the right prospecting tools. These tools usually come with data management capabilities, allowing you to easily merge two or more prospecting lists and manage your data as needed. This can save you a lot of time you would otherwise spend manually sorting and arranging data.
How do you get prospects from social media?
Connect with users that encounter your social media profiles to get the best prospects from social media. You can join social media groups to tap into niche communities and join the conversation. Develop strong social media content aimed at your ideal customer profile.
Prospecting List: Conclusion
Prospecting lists are vital for lead generation. With the right prospecting lists, you can find potential customers who will likely buy your solution and develop outreach campaigns to convert those leads into sales.
If you want to generate prospects with a data quality guarantee, use UpLead. Their platform helps you generate prospects on command and populate your prospecting lists in minutes.
Try UpLead for free today and see if it's the right fit for your company.
Start Your 7-Day Free UpLead Trial
Lead generation doesn't have to be all that painful. With UpLead, you can easily connect with high-quality prospects and leads to grow your company.