For any business to thrive, it's important to have a robust sales strategy. Lead generation remains one of the more difficult challenges for most agencies. But before you start selling, you need to find out who you're selling your products and services to. Start by defining your ideal client profile.
If you don't define your client profile, you may end up directing your marketing efforts to the wrong target audience and wasting precious time and resources. In this article, we'll go over eight effective steps to defining your ideal client profiles so you can find leads that convert.
Quick Links:
How to Define (and Reach) Your Ideal Client Profile
A client profile is created on the basis of the clients you already have. For a client profile, you closely look at the demographics, pain points, and purchasing behaviors of your current clients with the goal of reaching a similar client base through your paid ad campaigns.
Here are eight steps to defining your ideal client profile:
Step 1 – Define the Problems You Are Trying To Solve
Everything in life — including business — is contextual. So, if you're defining your ideal client profile, there should be a clear motivation behind it.
For instance, you could be running a startup and attempting to solve an existing problem by using a niche product or service. But before that, you need to find out if there's substantial demand for it.
Or your intention behind defining your client profile could be to boost the sales process through new client acquisition and bring in more revenue so your organization can expand and grow.
Similarly, your motivation could be to improve your company's image and bring in new clients.
Defining the problem you're trying to solve will bring clarity and ensure that you and your team are on the same page. By analyzing the problem using statistical data, you'll be one step closer to solving it.
Step 2 – Determine How Defining Your Ideal Clients Can Help You Solve Those Problems
An ideal client is a person who is actively seeking your organization's product or service to meet their distinct needs (pain points) and solve their problems. By targeting the right person, you're making it easier for them to find your product or service.
Knowing whom to target and whom to exclude can help you hone your marketing message even more precisely. The messaging in your marketing materials will vary depending on the audience and target market.
However, if you end up directing your digital campaigns to the wrong target audience, you'll be losing out on resources.
For instance, if you're a company like Wild Willies, selling beard care products, your messaging should be centered around creating a shift in perception – men taking interest in self-care activities. With the help of social media, you can build a community of clients interested in creating a routine around facial care by using language and marketing trends that deeply resonate with your target audience.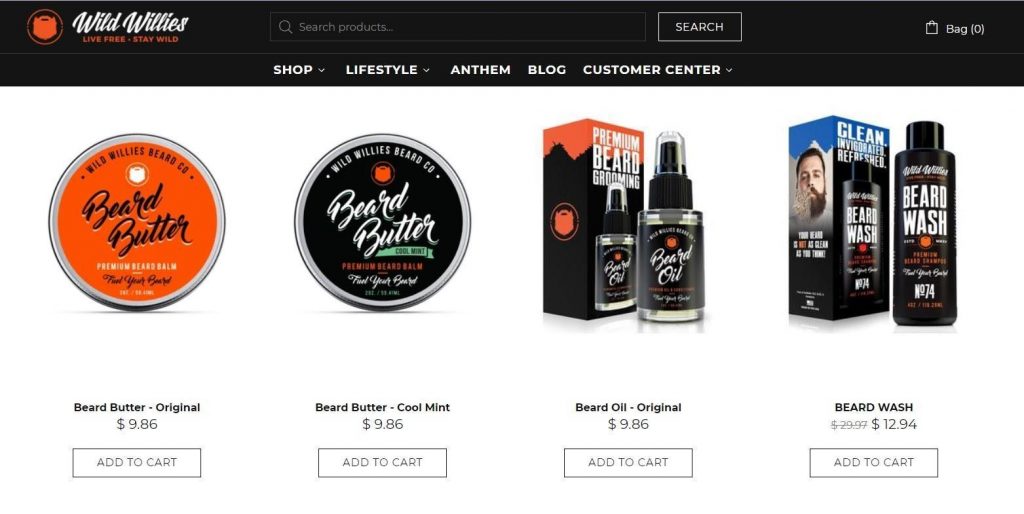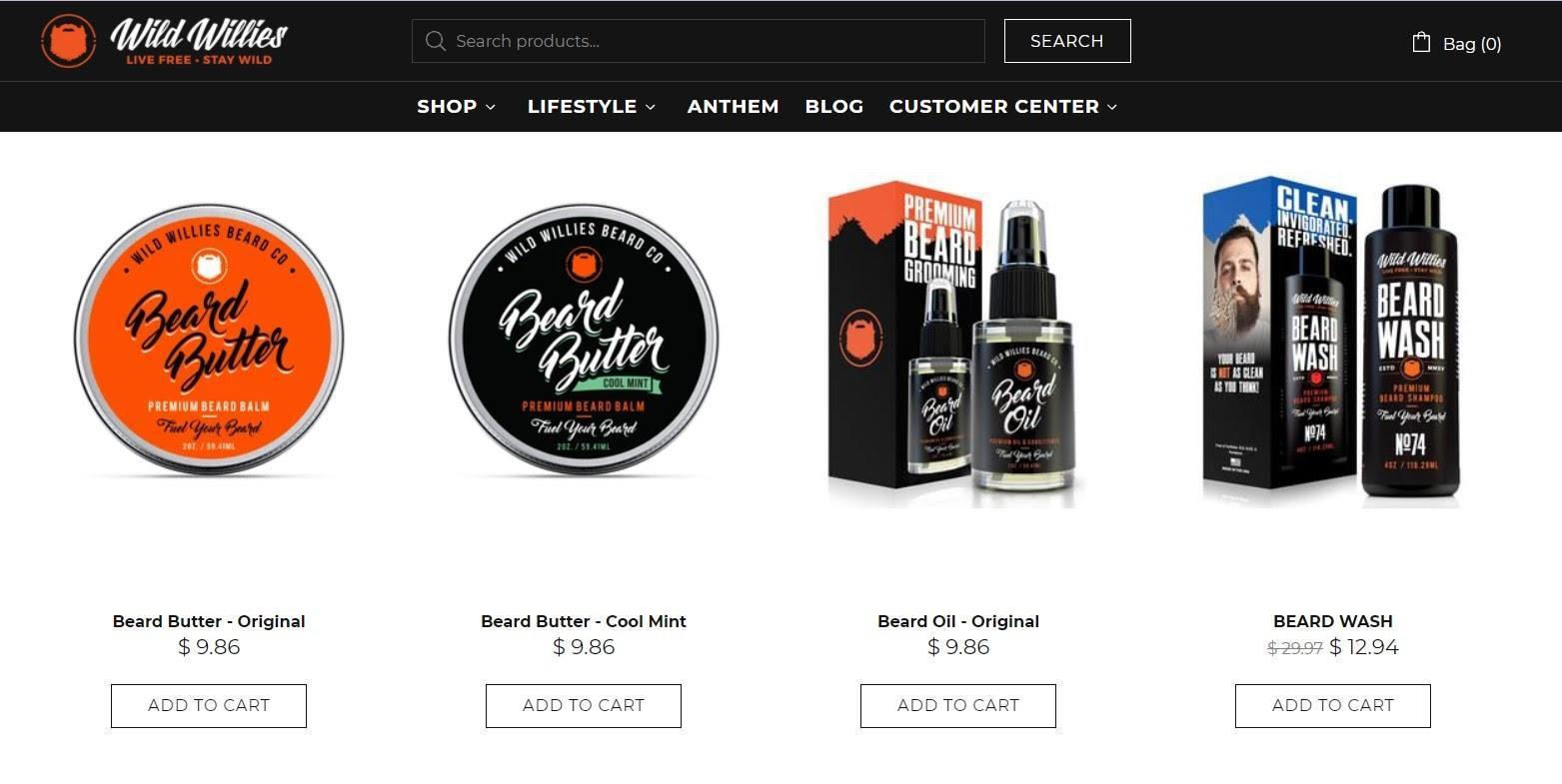 Source: https://wild-willies.com/collections/all
By defining your ideal clients and understanding their background story, you're stepping into their shoes and attempting to think and feel the way they do about specific problems that your products or services can solve. This practice can also help you develop new solutions that directly address their pain points and needs.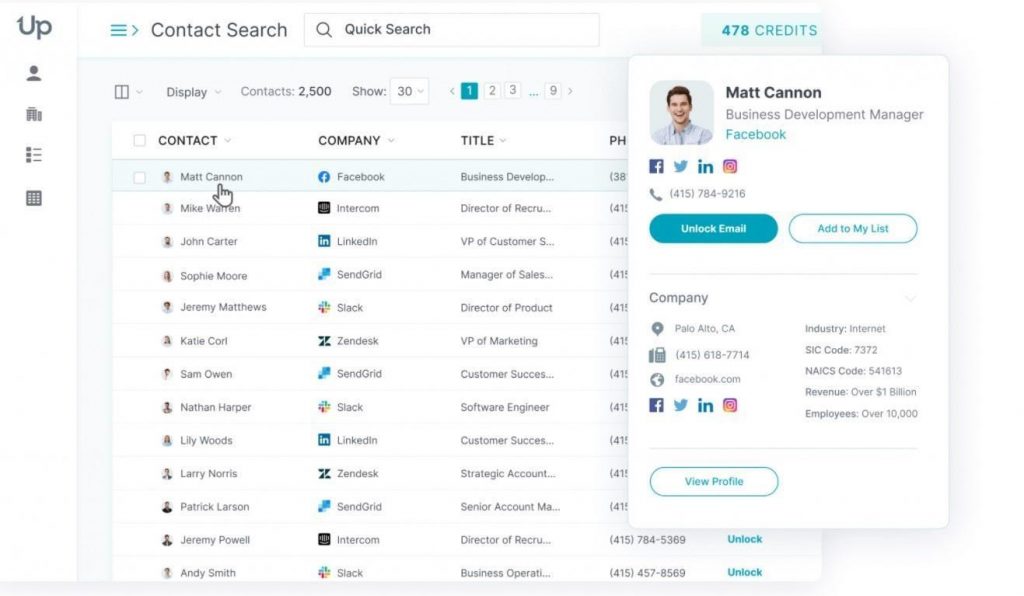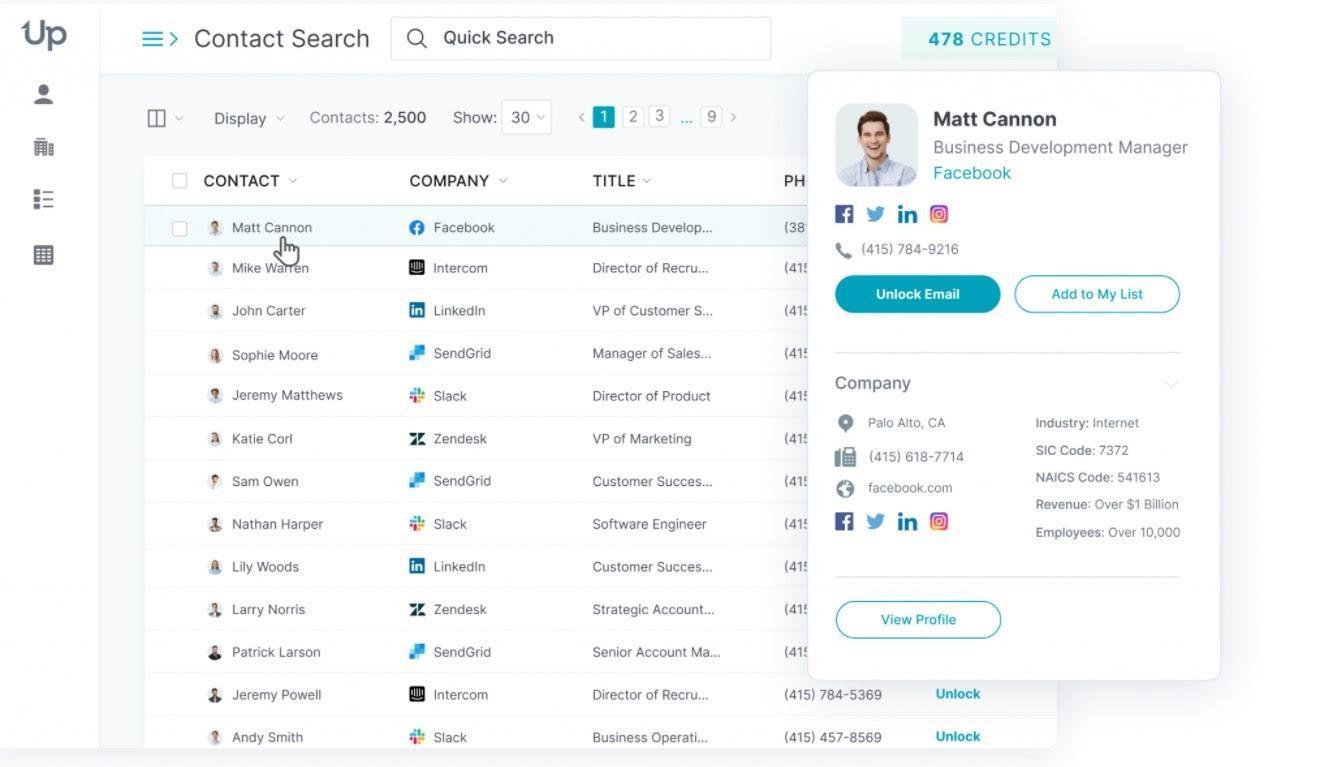 Source: https://www.uplead.com/
Start Your 7-Day Free UpLead Trial
Lead generation doesn't have to be all that painful. With UpLead, you can easily connect with high-quality prospects and leads to grow your company.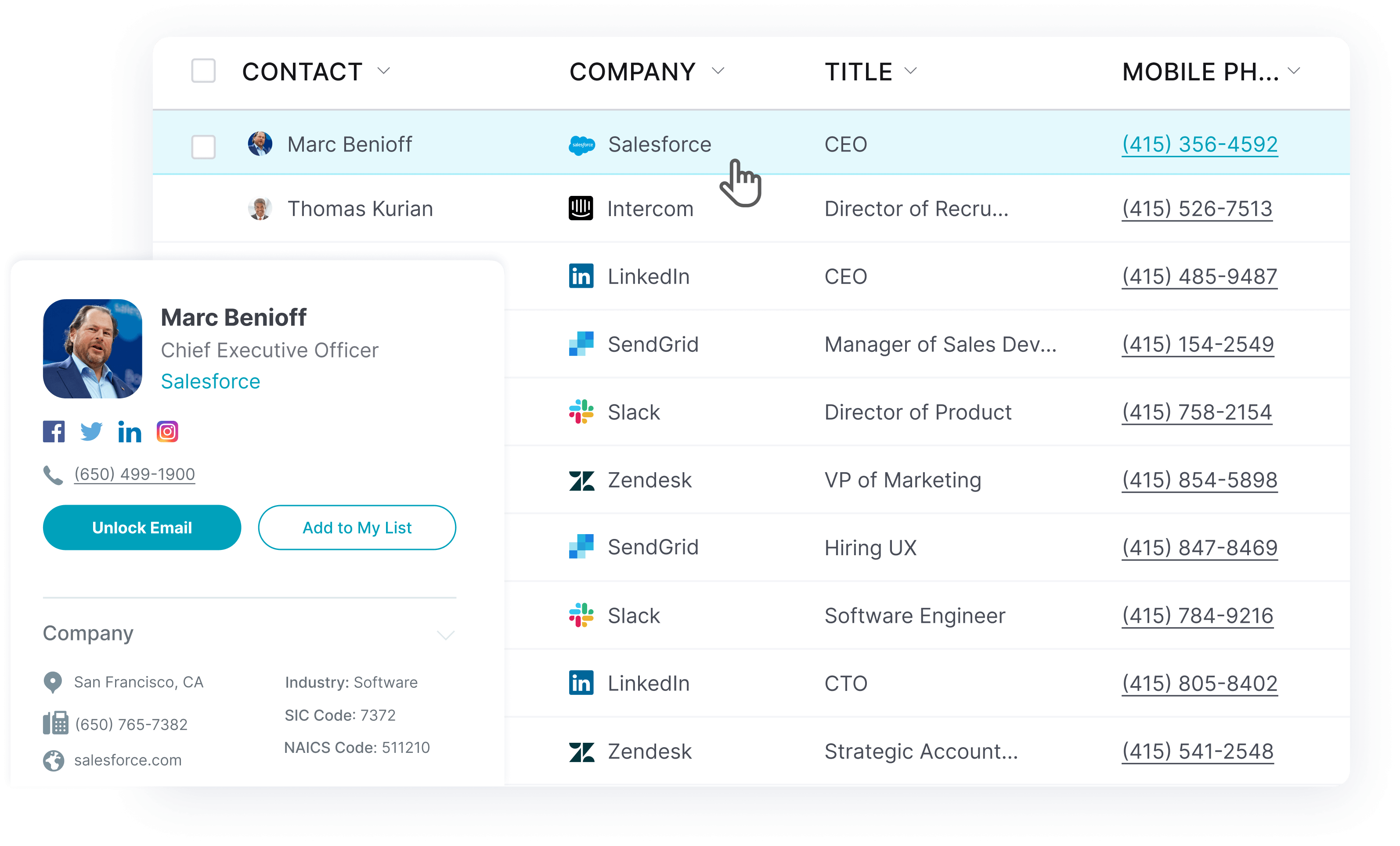 Step 3 – Interview Potential Clients to Understand Their Needs
As a business, if your number one problem is revenue through sales, then defining your ideal client profile can help you overcome that problem. One way of doing that is by meeting clients and interviewing them to understand their particular needs.
During the interview, you can lead the conversation with the following questions:
Please tell me a little bit about yourself and your background. (Ask relevant follow-up questions about their background.)
What do you like about the current product?
What do you dislike about the product?
Will this product effectively address your pain points?
Is there anything you'd like us to change about this product to make it suit your needs better?
Would you recommend it to your friends and family?
When you understand their requirements, you'll be able to align your services with their goals in the sales process. Having a clear idea of your ideal clients helps sharpen your marketing messages.
This is particularly important because you can create a fictionalized ideal client persona based on demographic data, buying habits, and the physiological behavior of potential customers.
However, this approach may not be 100% successful in getting you a clear picture of who your ideal clients are and exactly what they're looking for in a product or service.
It's almost as if you're aiming in the dark and hoping to land prospective clients. This trial and error method is both time-consuming and expensive. But you can overcome the problem by working with accurate and efficient data of potential clients that will lead to new customer acquisition.
By approaching dedicated data accuracy service providers such as UpLead, you can get quality leads that convert. Some of the key features of UpLead are:
Account-Based Marketing
Account-Based Marketing (ABM) is a marketing tool for B2B marketers who do not want to reach out to a wide audience. They instead cast the net on a small segment of the audience, aim to convert them into leads, and move these leads down a sales funnel.
Building B2B Lists
Building B2B lists involves creating a list of potential leads you can reach out to on the phone or over email, eventually leading to conversions. UpLead helps with creating a list that's extremely accurate and targeted, with clients who will be the perfect fit for your product or service.
Real-Time Email Verification
Many marketers and marketing agencies worry about A/B testing and optimizing emails. But they forget a critical step, which is email verification, to know if an email address is active and valid. UpLead can help you build a high-quality and accurate emails database.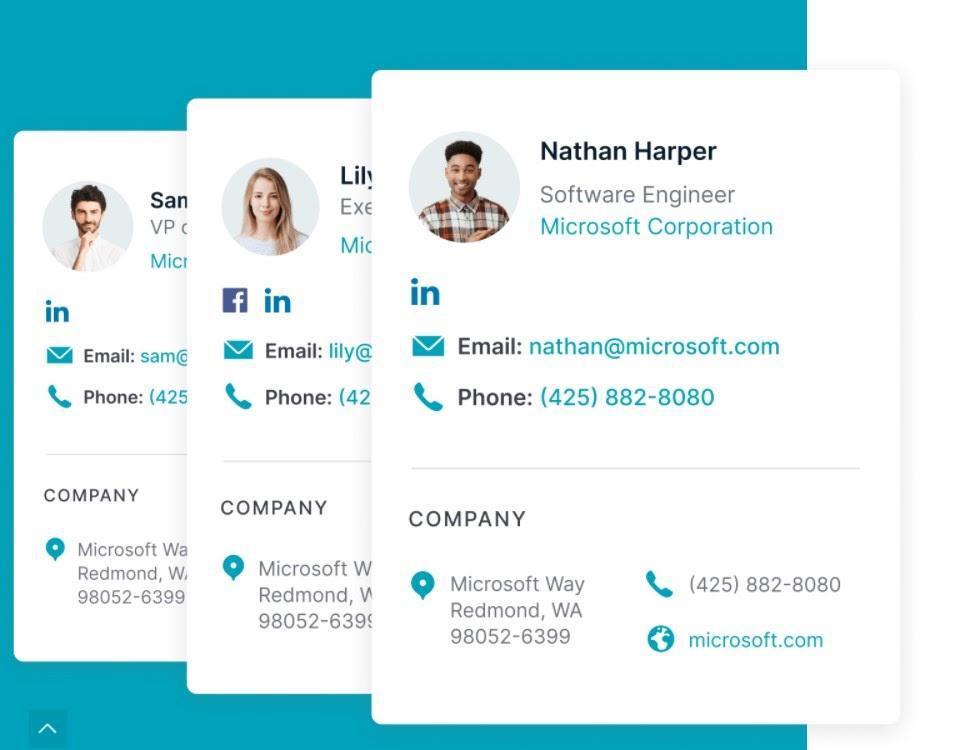 Source: https://www.uplead.com/data-enhancement/
Start Your 7-Day Free UpLead Trial
Lead generation doesn't have to be all that painful. With UpLead, you can easily connect with high-quality prospects and leads to grow your company.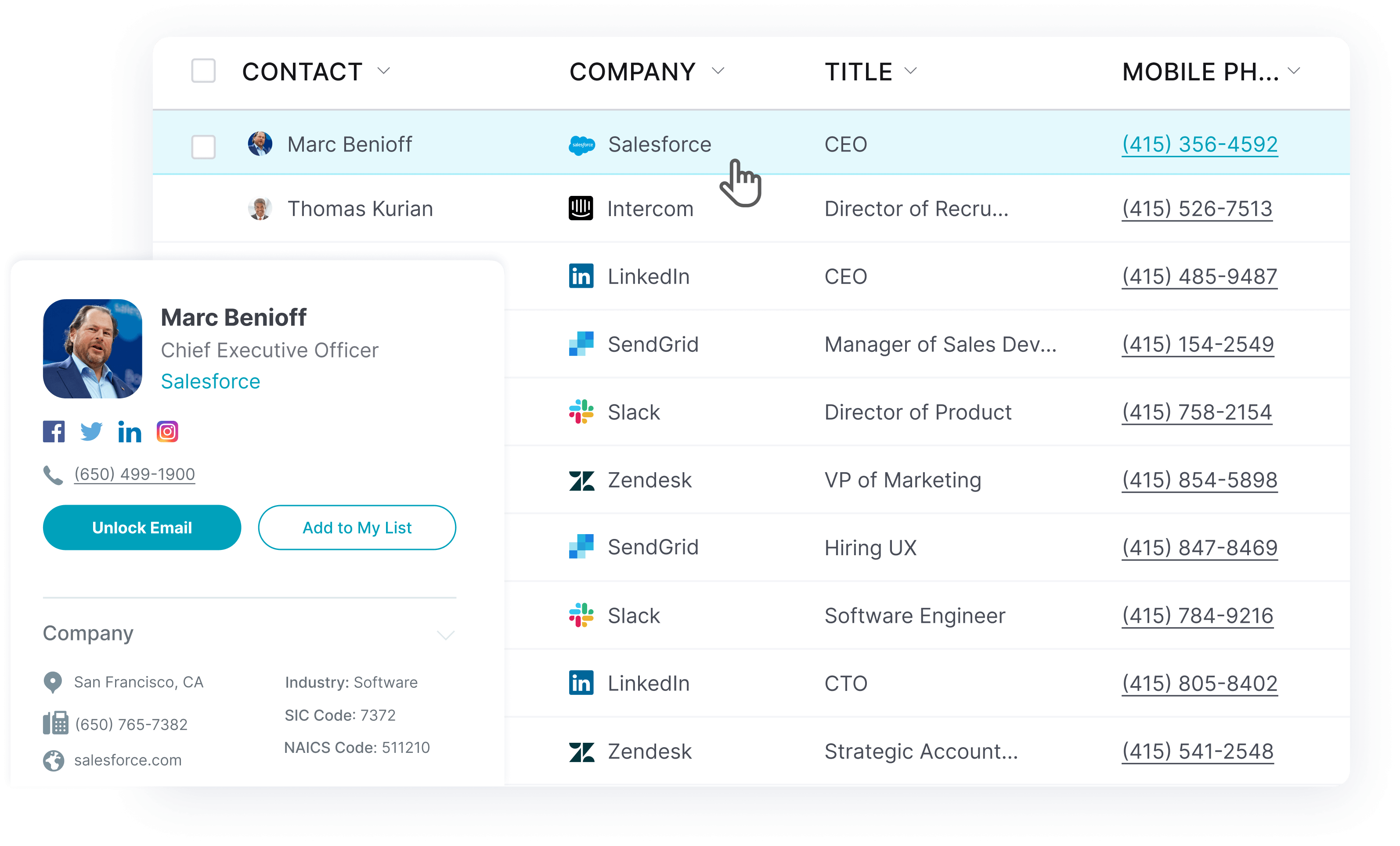 Step 4 – Create Detailed Personas for These Clients
Any business can create detailed client personas of its customers based on analytics data. Look closely at their age, gender, hobbies, specific pain points that need addressing, and create a buyer persona based on the in-depth knowledge you garner.
If you're starting a new company, visualize client personas with certain attributes, values, and beliefs that are specific to your potential clients. Visualizing client personas in detail will help create an ideal profile and make your potential clients seem more tangible.
The purpose of creating a detailed client persona is to acquire new clients and keep your current clients engaged by learning about their interests and hobbies and tailoring content accordingly to improve their lifetime value. Gaining a deep understanding of exactly who your perfect client is makes marketing campaigns more effective and closing sales much easier for the sales team.
Key things to keep in mind are:
Gender
Age
Marital status
Occupation
Education
Income
Location
Interests
Marketing strategies/ tools to successfully reach them
Shopping behavior (Do they shop online? How much would they pay for your product or service?)
Let's go back to the example of Wild Willies (beard care products) and create a buyer persona for this particular brand. Let's call the buyer persona Matt. Now, let's give Matt certain representative traits:
Matt is 37 years old
He has three children, aged 6, 4, and 2
He lives in Portland, Oregon
He runs a Zero Waste Store
He enjoys camping and likes to brew his own beer
He likes to call himself an "urban beardsman"
And so on.
Step 5 – Create and Apply a Tailored Strategy to Reach and Satisfy the Needs of Each Persona
Now that you've successfully created client personas, it's time to apply a tailored strategy to see if you've zeroed in on an ideal client profile. Instead of bombarding your target audience with the same type of content, creating marketing campaigns with unique and personalized content will help you connect better with your clients and make a valuable impact. It increases the effectiveness of your sales and marketing efforts, which reduces marketing costs.
Once you're viewed as a valuable and relevant company, your client base will start to grow organically. On the basis of the buyer personas, you can personalize your internal marketing data for emails, social media posts, blog posts, and product websites, all of which will improve client engagement and position you as an authority in the field.
Step 6 – Measure the Effectiveness of Your Strategy in Solving Your Business Problems
Testing is an important part of finalizing your ideal client profile and building a marketing strategy around it. While there are methods and tools that help us understand client behavior, it's critical to remember that we are dealing with real people with real feelings and emotions.
Therefore, it is valuable to dig deep when identifying their challenges and brainstorm a list of traits and characteristics specific to your ideal client profile. Once you know your ideal client profiles, you can create content that will engage those prospects and clients.
Step 7 – If the Strategy Worked as Expected
This means you were able to successfully define your ideal client profile and reach them.
In other words, you created a successful client profile that positively impacted your client engagement. At the same time, your personalized marketing strategy also helped boost sales.
The insights you've gathered about your clients have helped you understand their motivations and pain points and enabled you to clearly define your products and services to help your client base.
This in-depth understanding will help you create future products and improve customer participation and loyalty. It will also help you reduce acquisition and opportunity costs. Simply put, you've understood what your client is looking for, their wishes and interests, and you've provided them with a product and service that is unique and distinctive.
Step 8 – If the Strategy Didn't Work as Expected
Repeat any of the steps until your ideal client profile is defined and your business problems are solved.
If you haven't been able to create an ideal client profile, it means that there has been no significant impact on your sales cycle or engagement. This is when you can start again and redefine your definition of the ideal client profile.
This is also the time to relook at all the steps listed above and identify the problems with your ideal client profile selection.
Some of the questions that can help you achieve that are:
What is your client's pain point? What are some of their worries and problems?
How are you trying to solve that problem?
Is there a way you can tweak your product's design or service to cater to your client's specific needs?
What are your competitors doing to engage with their customers, and what can you learn from that?
Great Client Profile Examples & Templates to Get Started With
Before you start creating digital campaigns for clients, it's important to understand your target audience by creating a document with details such as interests, trends, demographics, buying patterns, and their purchase history.
By creating an ideal client profile, you can not only retain current clients by keeping them engaged and building customer loyalty, but you can also convert new leads more easily. After all, it's easy to get new clients when you know what they're looking for, and that knowledge gives you a competitive advantage.
An ideal client profile template can include the following questions:
What is their gender?
What is their level of education?
What is their occupation?
What is their household income?
What are some of their favorite television shows?
What are their main interests?
How much would they spend on a similar product you're creating?
What would encourage them to recommend your product to their friends and family?
What kind of engagement activities would they be interested in?
Which social media platforms do they use?
Some of the templates you can use to create a client profile include:
Smartsheet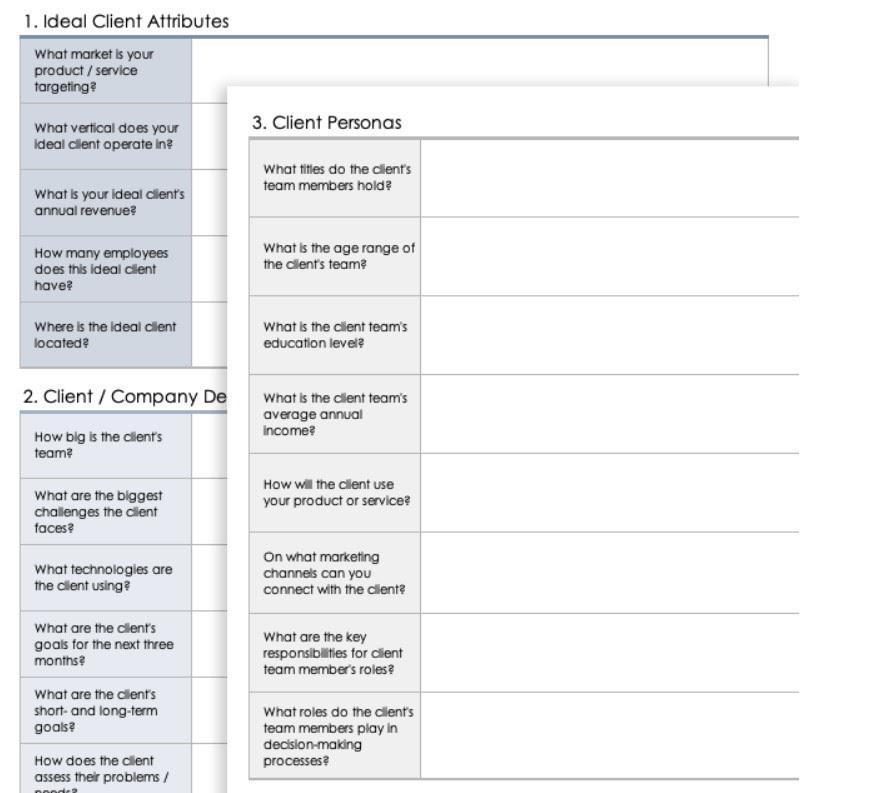 This ideal client profile template will help you understand your target audience better so you can improve your products and services to cater to their specific needs.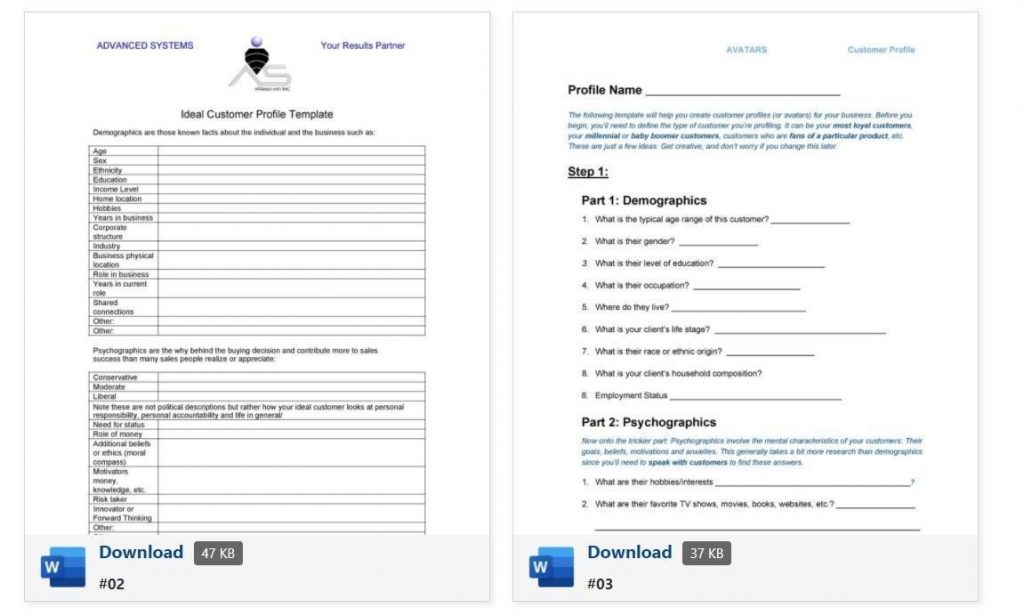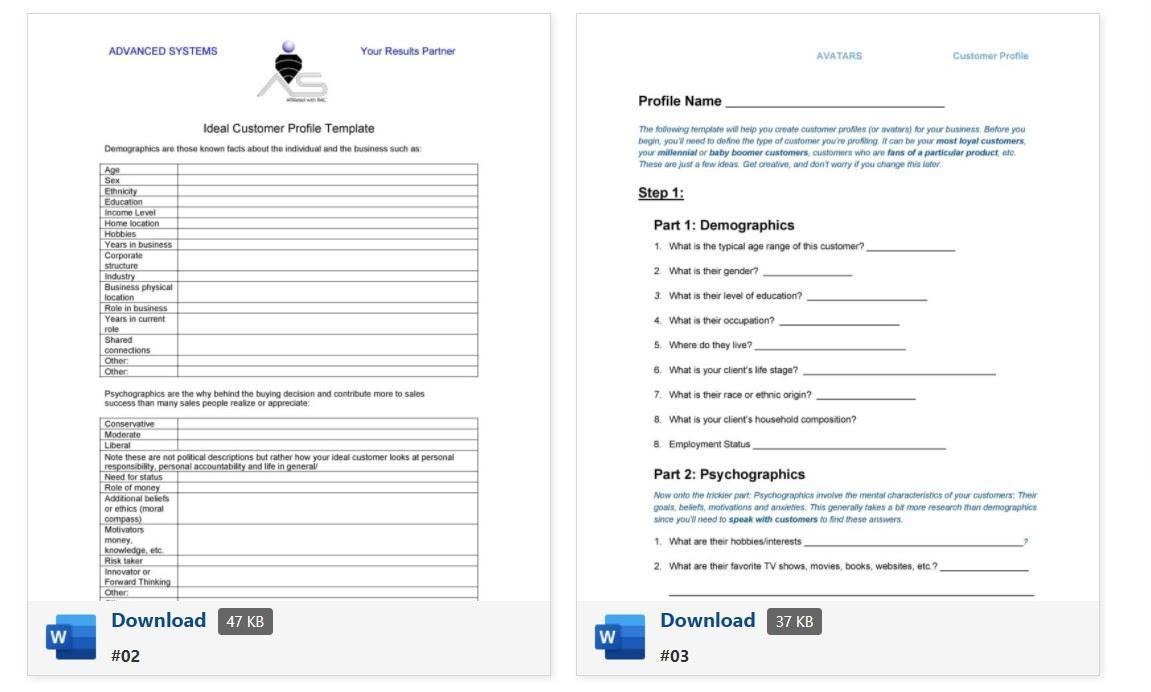 TemplateLAB
Looking for a detailed template so you can dig deep and build an ideal client profile? This template is a great choice.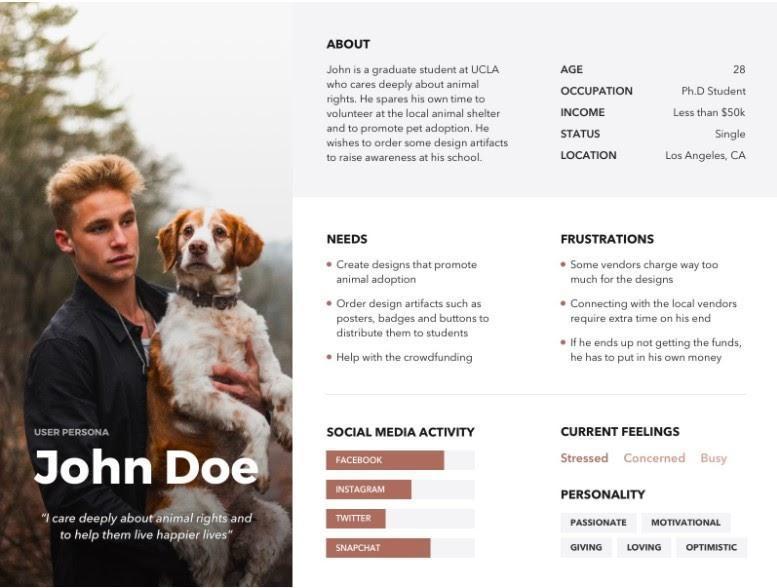 Opentracker
Are you looking for client profile templates for B2B and B2C? The Opentracker template with its clean design is a perfect match.
Frequently Asked Questions
We've answered some frequently asked questions about client profiles to help you understand the process further.
What is a Client Profile?
An ideal client profile is all about creating an avatar (or two) of loyal clients who will be interested in purchasing (and repurchasing) your products and services. It's a way to make your ideal clients seem more tangible and real by giving them certain attributes, beliefs, and values.
The ideal client profiles are something you can arrive at by looking at demographics, buying patterns, and psychographics of clients and by analyzing and understanding these traits. This practice is especially useful when you want to direct your marketing campaigns to the right target audience.
What are Client Profiles Used For?
Client profiles are used for designing marketing campaigns that will help organizations find new leads and keep existing clients engaged.
By the time you're done creating your ideal client profiles, you should be distinctly aware of who your ideal clients are, what their pain points are, and how your product or service can align with their goals to help achieve them.
For instance, for a pet food company, the persona is that of someone interested in pet ownership. The pain point would be a lack of companionship.
What Does an Ideal Client Profile Mean?
An ideal client profile is the ideal image of the individual who will be buying your product or service. Ideal client profiles help you understand the overall profile of a prospective buyer, their specific needs, and their buying behavior, so you can alter your messaging and marketing campaigns according to this data.
Why is Defining an Ideal Client Profile Important?
Defining ideal client profiles is critical because without this information, you'll end up wasting a lot of time going after leads that may not convert. You can create a client profile using examples and templates available online.
Do I Need Software to Create a Client Profile?
Not necessarily, but client profiling software can help your marketing team collect important information about your target audience and present it in a concise, easy-to-understand manner.
Conclusion
Once you create an ideal client profile, it's time to use it by directing your marketing campaigns to your target audience. It will also give you insight into your client's pain points and how your product or service can help provide a sustainable solution to their problems.
One other advantage of creating an ideal client profile is prospecting. This will help you gain more information about prospective clients so you can tailor solutions while keeping them in mind.
Start Your 7-Day Free UpLead Trial
Lead generation doesn't have to be all that painful. With UpLead, you can easily connect with high-quality prospects and leads to grow your company.