The insurance industry is in a state of flux, and to remain competitive, insurance companies must embrace digital technologies and modern marketing techniques. Insurance lead generation has become essential for businesses that want to stay ahead of their competition and make the most of their potential customer base. This article explores some proven tactics, tools, and tips that your marketing team should keep in mind regarding insurance lead generation in 2023. Find out how to use the latest methods to attract more insurance leads, reach the right people with targeted campaigns, innovative insurance lead generation ideas, and more. 
Why You Need a Lead Generation Strategy for an Insurance Business
Lead generation is an integral part of any marketing strategy, but it can be especially beneficial for insurance companies. Insurers must reach potential customers quickly and efficiently to increase their customer base. Lead generation helps insurers do that by providing them with potential customers who are already interested in their product or service. Instead of targeting people who may not be interested or even need what they offer, insurers can focus on those looking for their services. 
Lead generation also helps insurers build relationships with existing customers and prospects by providing relevant content, such as educational materials and personalized offers. This helps keep customers engaged and encourages them to purchase more policies down the line. Additionally, insurers can use lead generation strategies to increase brand awareness by providing valuable information about their product or service through various channels such as email campaigns and social media posts. 
There are many ways that insurance companies can use lead-generation strategies to grow their insurance agency. For example:
Allstate: uses social media campaigns to target potential customers who are looking for advice on how to choose an insurer. They also use email campaigns to promote discounts on car insurance policies and other special offers like free home inspections if they buy a policy from Allstate.
Geico: has implemented a comprehensive digital marketing campaign that includes SEO-optimized insurance lead generation website content and targeted Google Ads that allow them to reach potential customers searching for different types of coverage online.
Progressive: has a unique "Name Your Price" tool that allows prospective customers to enter the amount they would like to pay each month for auto insurance coverage and then shows them which plans match that budget best based on their profile information.
Start Your 7-Day Free UpLead Trial
Lead generation doesn't have to be all that painful. With UpLead, you can easily connect with high-quality prospects and leads to grow your company.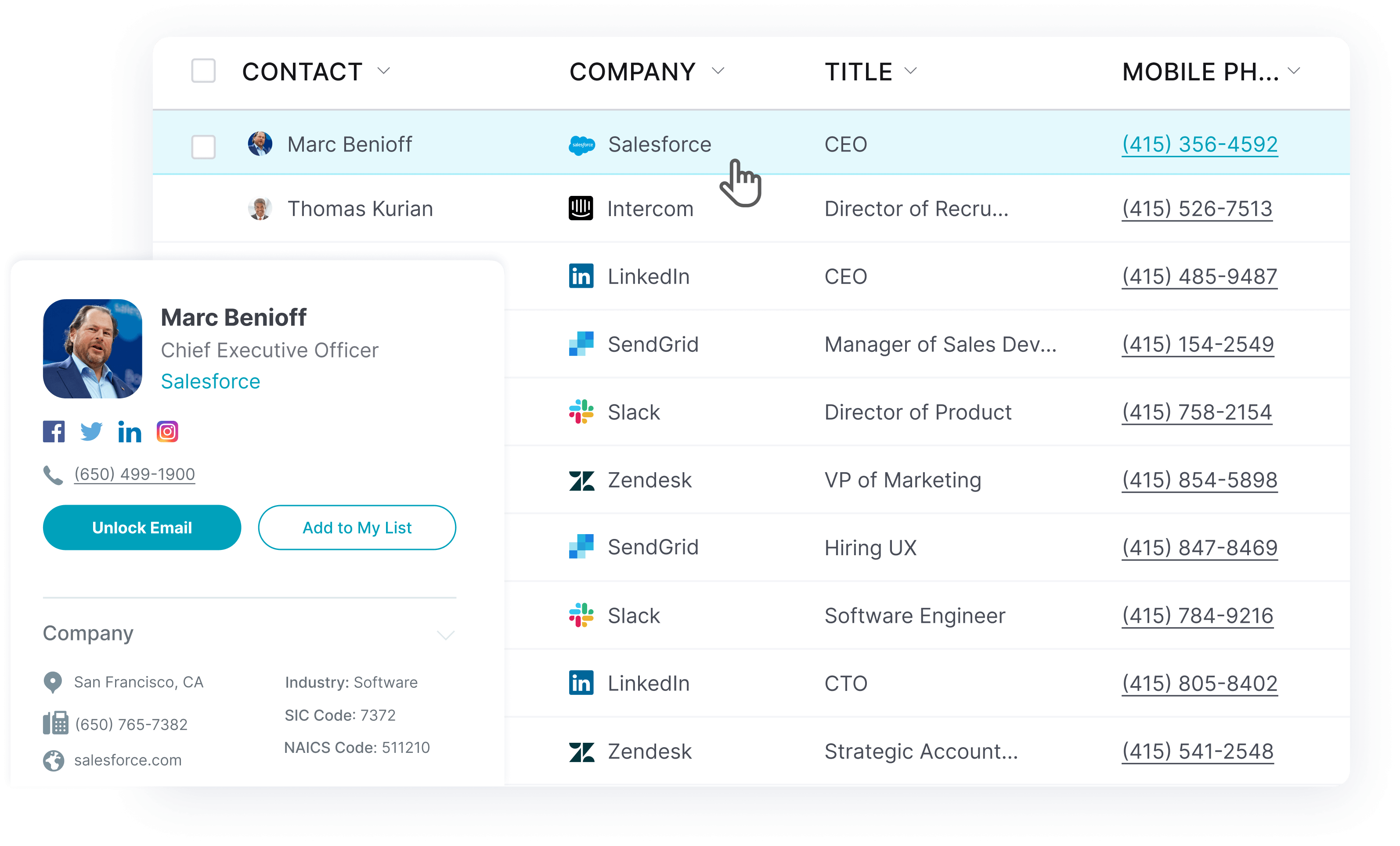 Insurance Lead Generation Tactics for 2023
In the ever-changing world of digital marketing, insurance lead generation tactics are constantly adapting. As insurance agents look to find leads interested in your insurance products, staying on top of the latest trends and technologies is important. 
Below are a few key insurance lead generation ideas you can adopt to reach and convert more potential clients in 2023.
1. SEO Web Content
We all know how powerful SEO is for any online business, and the same holds for sales and marketing teams looking to increase their insurance leads. Adding relevant keywords, phrases, and content optimized for search engines can boost your website visibility, leading to more traffic and qualified leads.  Creating SEO-friendly web content is essential to ranking higher in search engine results. This means utilizing relevant keywords throughout your web content to provide valuable information that answers customers' questions and meets their needs. Using SEO best practices will help you stand out from the competition and attract more potential customers. 
2. Strategic Email Marketing
Email marketing is a critical component of an effective lead-generation strategy. By sending out targeted emails to potential customers, you can provide them with relevant information about your services and products in a timely manner. To ensure success with email marketing, it is essential to segment your audience according to interests, demographics, and other factors to create personalized messages that speak directly to each recipient. Additionally, A/B testing helps you determine which emails are most successful with potential leads so you can optimize future campaigns accordingly.
These tactics are tried and true— and have proven results. You can use strategic email campaigns as an effective way to reach out to potential insurance customers who are already interested in what you have to offer. Be sure to craft highly targeted, personalized, and timely emails so they resonate with your audience. Whether car or commercial insurance, providing relevant industry expertise to your valuable leads can enhance your marketing efforts. 
3. Useful Landing Pages
Landing pages often get overlooked for insurance lead generation for insurance companies, but they are one of the most powerful tools at your disposal. They can be used to capture and manage leads through web forms or chatbots and provide helpful information about your product or service that potential customers may need before making a purchasing decision.
When creating landing pages, keep them focused on one theme or topic related to your business so visitors know precisely what they're getting when they click through a link or advertisement they saw online. In addition, ensure that all forms on these landing pages are short so visitors won't get overwhelmed by too many questions or requests for information at once.
4. Social Media Marketing
Social media has become a potent tool for insurance lead generation in recent years, with platforms like LinkedIn providing many opportunities for businesses to connect with potential customers. With its ability to reach highly targeted audiences quickly and efficiently, social media is a great way for insurance marketers to reach out to their target customers. Insurance marketers can quickly identify key influencers within their industry and build relationships with them on social media using analytics tools such as Sprout Social or Hootsuite. These relationships will help them build trust and credibility with their target customer base, which is essential when marketing products like insurance policies. 
5. Cold Outreach
Cold outreach is another effective tactic that can be used by insurance businesses looking to scale insurance lead generation. By utilizing email databases such as UpLead, insurance agents can quickly source a list of contacts that fit their criteria and send out cold emails or make cold calls introducing themselves and their services. When done correctly, outbound insurance lead generation can effectively communicate your message to potential customers who may not have otherwise been exposed to your brand or offerings. Cold outreach is one of the most effective ways of converting cold and warm leads to high-quality insurance leads and moving them along the sales pipeline. 
6. Paid Media and Advertising
Finally, paid media, such as Google Ads or Facebook Ads, offer an additional avenue for generating leads in the insurance industry. Paid campaigns allow insurance companies to reach their target audience concisely by targeting specific audiences based on age group, location, interests, and more, making it easier for insurers to connect with potential customers online. Additionally, these campaigns provide detailed analytics that enables insurers to track the performance of their campaigns and optimize them accordingly over time—ensuring they are reaching the right people at the right time with the right message. 
Tips for Generating Insurance Leads
For any insurance agency, generating leads is essential to success. The more leads you attract, the more potential customers you have, and the more potential sales you can close. But how do you generate leads effectively? Here are a few tips to boost your insurance lead generation and enhance leads successfully.
Run an A/B Test to Discover What Works
A/B testing is a great way to determine what kind of content impacts your target audience and allows you to get insights into what kind of messaging is most effective in driving conversions and sales. By running A/B tests, you can identify which content resonates with your audience and use that as a platform for future lead-generation initiatives.
Develop a Holistic Strategy
When it comes to lead generation, it's important to utilize multiple tactics that work together to drive results. For example, email marketing, organic social media posts, targeted social media ads, and SEO optimization, all working together in harmony, can have a more significant effect than any single tactic alone. A comprehensive strategy is essential for successful insurance lead generation.
Be Consistent
One key element many insurance businesses overlook when generating leads is consistency—staying persistent with your efforts over time will significantly increase the chances of success. This should include the frequency of posting or sending emails and consistency across channels and platforms. Suppose someone sees your message on one channel. In that case, they should expect to see something similar to another so that familiarity builds up over time and eventually becomes trust from prospective customers. At a high level, you should be following up with your leads and providing them with value along their customer journey. Whether that means creating resources or offering discounts, consistency in your touchpoints can help get a wide range of leads across the finish line.
Focus on High-Quality Leads
High-quality leads are essential for generating successful insurance sales. When looking for potential prospects, focusing on those genuinely interested in your product or service is crucial. That means researching their current policies, understanding their needs and goals, and tailoring your approach accordingly.
UpLead is a reliable contact data finder tool that helps identify high-quality leads by providing accurate information about potential customers' policies, preferences, and demographic details. With a robust vetting process, UpLead guarantees premier contact validation for your lead discovery. From AI and machine learning algorithms to a human contact validation process, insurance agents using the platform can rely on UpLead's insurance lead data. As a result, insurance agencies can enhance their insurance lead generation process.
Track Important Metrics
Once you've identified potential prospects, it's imperative to track how they interact with your website or emails so that you can better understand their needs and interests. This information will help tailor your approach accordingly and increase your chances of success in the long run. Some metrics worth tracking include website visits, click-through rates, open rates, response rates, conversion rates, and customer satisfaction ratings. These insights can help guide your strategy through the ups and downs of any regular sales cycle. As a result, you can enhance your insurance lead generation.
Tools to Generate Insurance Leads
Insurance lead generation must be a priority for any company wanting to thrive in the modern market. Generating leads is an integral part of success for any business, particularly for those businesses whose services depend on spreading their message and attracting customers. Luckily, some useful lead-generation tools are available to help generate leads efficiently and effectively.
UpLead: For High-Quality Leads
UpLead is the ideal choice when looking for high-quality leads. The platform guarantees a best-in-class 95% data accuracy and has a robust vetting process to ensure you always get the right insurance leads. The high quality of the leads means you can achieve higher accuracy in your email outreach and precisely target your ads. UpLead takes all the hard work out of growing your insurance business and works hard to ensure you're using your valuable time finding B2B leads effectively.
OptinMonster: For Collecting Contact Details
OptinMonster is an essential addition to monetizing website traffic and growing your list quickly. With its wide range of form submission methods, visitors are attracted to opt-in with visually appealing offers that they can't refuse. From lightbox popups and scroll boxes to gamified wheels, OptinMonster makes it easier to collect contact details effortlessly so you can kickstart your list-building and propel your insurance lead generation forward.  
ConvertKit: For Email Marketing
Using its visually stunning images, you can make your email advertising even more enticing with ConvertKit. Additionally, the platform provides easy-to-use templates to help craft email content that is engaging and tailored to each reader's insurance buying journey. Personalization is key to any digital insurance marketing strategy, and with ConvertKit, you can create content that resonates with each recipient, no matter their progress in the sales cycle.
WPForms: For Creating Online Forms
WPForms offers a powerful and user-friendly drag-and-drop form creator, allowing you to easily create efficient contact forms, surveys, payment, and subscription forms. Furthermore, your forms will be optimized for all device types and sizes with advanced mobile responsive tools and features. WPForms is reliable for generating forms in particular areas, such as insurance leads – collecting subscribers' data quickly and efficiently. Overall, it is a reliable tool for creating engaging forms that look great on any device. As a result, you can boost your insurance lead generation efforts and help your insurance agent team drive sales.
FAQs
Below are some of the most frequently asked questions about insurance lead generation.
What is a lead generator in insurance?
A lead generator in insurance is used to help agents and brokers acquire meaningful information from prospects. It can be online or integrated into an agency's website, allowing visitors to submit contact information and answer questions about the products they are interested in. Insurers can use this data to qualify leads, prioritize outreach strategies, and allocate resources to get the most out of their insurance lead generation efforts. 
Where do insurance leads come from?
Insurance leads are generated with the help of highly effective marketing techniques such as PPC campaigns, SEO optimization, social media, email campaigns, and even cold calling. Additionally, insurance leads are often derived from referrals since every satisfied customer will likely suggest a product or service they believe will benefit others. 
What You Need to Remember About Insurance Lead Generation
Insurance lead generation can be a powerful tool for businesses looking to increase their client base. Being successful in the practice requires understanding the different methods used to acquire leads and the necessary technologies for tracking and optimizing lead performance. To ensure success, you should adopt best practices such as creating targeted landing pages, developing tailored campaigns to attract potential customers, and segmenting audiences based on their needs and preferences.
As your insurance company evolves, you can optimize and scale the insurance lead generation process with the right tool. You can generate new leads and grow your insurance products more efficiently using these innovative insurance lead generation ideas.