Email warm-up is an essential technique for sales teams. It builds trust in your business's email account to maximize engagement with your contacts. Email warm-up tools help ensure your messages make it into the receivers' inboxes. From dedicated services that regularly engage with your emails to tools included in a more comprehensive sales automation program, many options are available for sales teams in 2023. We'll explore 11 effective email warm up tools to help supercharge your deliverability and kickstart meaningful communication with prospects!
Quick Links:
How Your Business Can Benefit From Email Warm-Up Tools
Email warm-up tools are invaluable for businesses looking to enhance their sales processes. Whether you're running a small business or large corporation, these tools can help your business get more leads, close more deals, and build relationships with customers. Let's take a look at the benefits of using an email warm-up tool and how it can enhance your sales funnel.
Types of Warm-Up Tools
Email warm-up tools help businesses establish a reputation with email providers, which in turn increases the likelihood of emails being delivered to the intended recipients' inboxes. Warm-up tools come in two primary formats: as part of a comprehensive program that automates sales outreach and cold email campaigns, or as a very basic email warm-up service that's designed with the sole purpose of improving deliverability. Ensure that whichever tool you choose lines up with your business' specific needs.
Comprehensive sales automation programs: This multifaceted software is designed to automate sales outreach and cold email campaigns. Many of these programs offer an email warm-up tool as part of a wide range of features, which include the ability to send mass emails directly to leads, track open rates, click-throughs, bounces, and unsubscribes, and integrate with other third-party services. This type of software can scale and automate your marketing strategy in a more holistic way.
Simple warm-up services: These programs exist solely to increase email deliverability. Here's how they work: The service will automatically send emails from your company's email address to their designated email addresses. Once received, the service will interact with your emails meaningfully. This signals to email providers that your emails should not be directed to spam. These platforms don't send emails to actual leads or track any metrics related to an email campaign. They are used to increase deliverability rates.
The Benefits of Using an Email Warm-Up Tool
An email warm-up tool is a great way to optimize your email campaigns. These programs make reaching out to new customers and staying in touch with warm leads easier. If you use a comprehensive sales automation program, you can also regularly send emails that are tailored to your customer's needs. It can help you track open rates, click-through rates, and other metrics related to the success of your campaign. This data can be used to refine future campaigns and ensure they're performing as well as you expected.
When To Consider Using an Email Warm-Up Tool
Email warm-up tools make sense for any business that wants to automate its sales process by building customer relationships via email. If you want to establish yourself as a trusted source in your industry, then an email warm-up tool is a great resource. If you regularly send newsletters or other types of emails, having an email warm-up tool working in the background can ensure that your messages aren't being directed to spam. So, after segmenting the high-quality leads you've sourced, your next step is implementing a robust email warm-up strategy.
Start Your 7-Day Free UpLead Trial
Lead generation doesn't have to be all that painful. With UpLead, you can easily connect with high-quality prospects and leads to grow your company.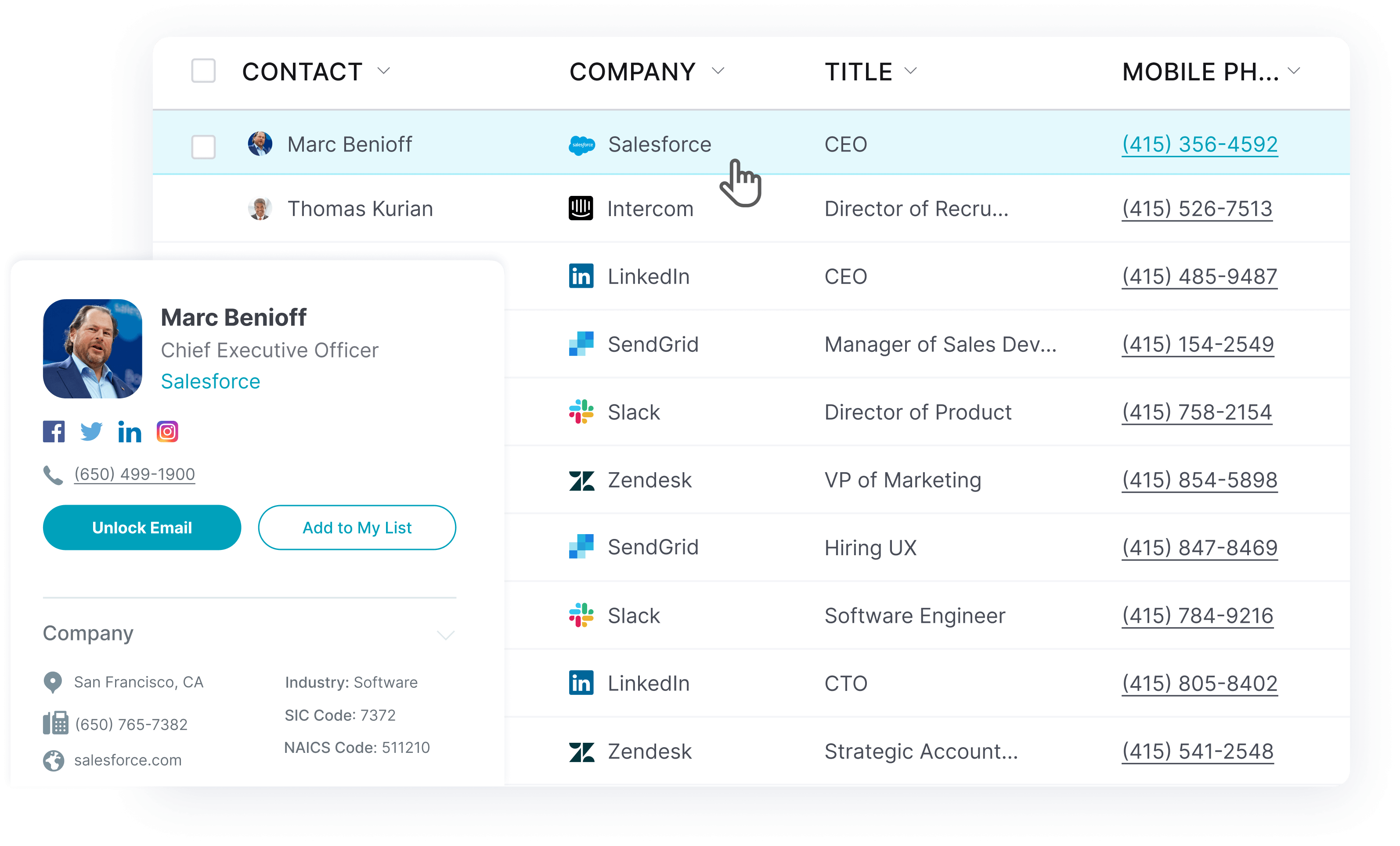 11 Best Email Warm-Up Tools in 2023
Warming up your emails is no easy feat. It requires research and personalization which can be tedious and time-consuming. Fortunately, there are several tech tools on the market that allow companies to automate the necessary steps. This makes it easy for a business to ensure that it's recognized as a trusted email sender. Below are some of the best email warm-up tools of 2023, so you can start engaging with customers more effectively.
1. WarmUp Inbox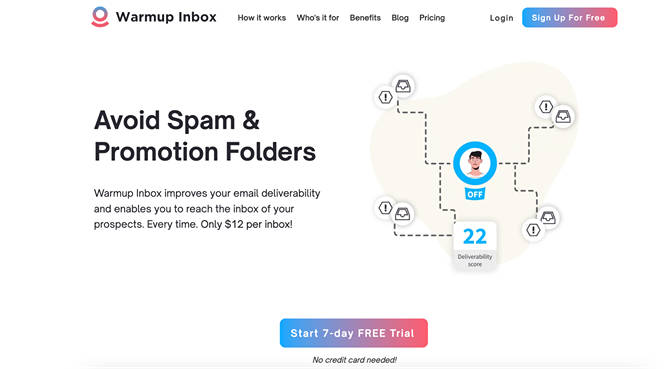 Craft the ideal email campaign with WarmUp Inbox to help marketing and sales teams, recruiters, and other professionals maximize their cold email outreach performance. This simple warm-up software can improve email deliverability and guarantees placement in your recipients' inboxes (as opposed to their spam folders or promotions tabs). WarmUp Inbox includes advanced features ranging from real-time analytics to automated personalized sequencing, all for an unbeatable price. One hundred and fifty credits cost just $39 per month. Streamline your communication processes with WarmUp Inbox today.
Best for: Sales teams looking for a robust solution
Key Features:
Calculates sender reputation scores and offers competitor comparisons
Reputation health checking and spam monitoring
Robust customer support
Integrates With:
2. QuickMail Autowarmer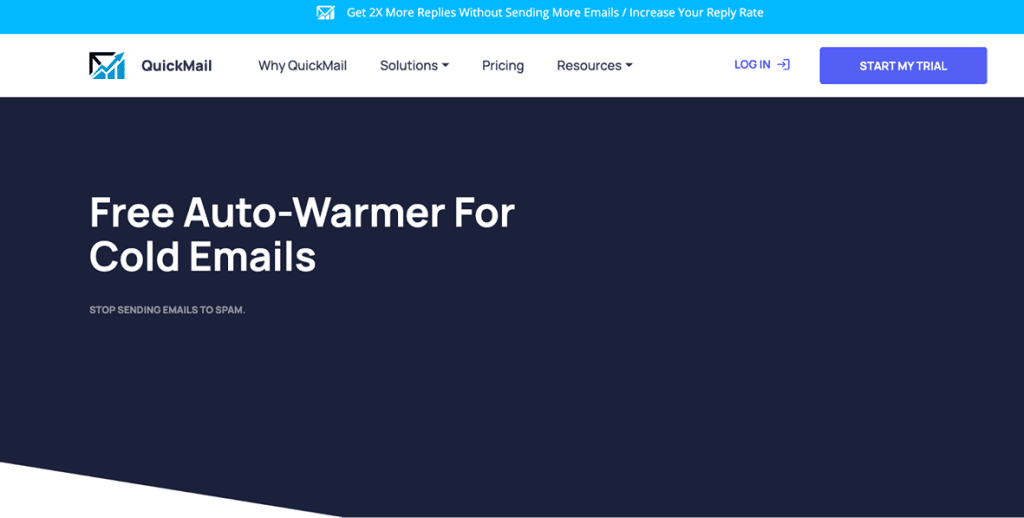 QuickMail Autowarmer is an ideal warm-up solution for anyone working to improve their sender reputation. This tool enables enhanced deliverability in a fraction of the time that's typically needed; you can see results in 1 to 2 weeks as opposed to the usual 3 to 4! In addition, its basic plan offers up to 50 inboxes free of charge. Advanced plans allow up to 500 emails to be sent per inbox per day for just $59/month. If your goal is improved deliverability in record time, look no further than QuickMail Autowarmer.
Best for: Teams prioritizing speed in their email warm-up strategy
Key Features:
Auto warmer report with a breakdown of deliverability
Auto reply
Bounce detection
A/B Testing
Integrates With:
Zapier
Twilio
Webhook & API
3. MailWarm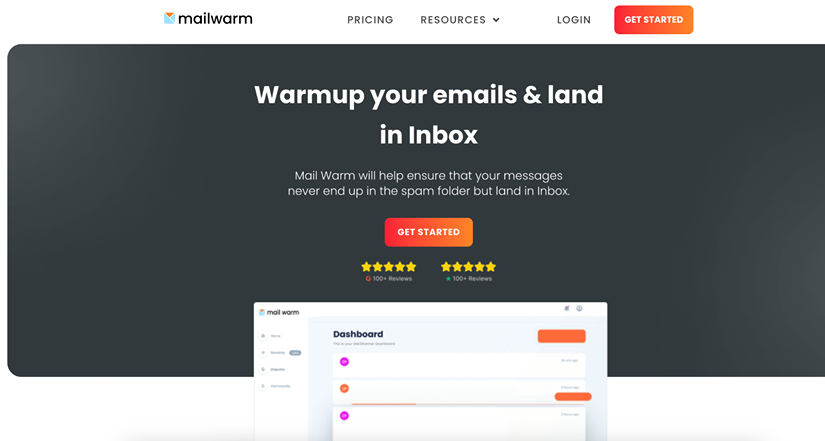 MailWarm is a simple warm-up platform built to boost your reputation as an email sender and increase the likelihood of positive interaction. The platform can help you build a more dependable sender status and ensure that the emails you send are being received properly. MailWarm has plans allowing up to 200 warm-up emails sent daily for a low price of $159 per month. This makes it easy to deliver reliable, high-quality communications while eliminating trust issues related to your sender status.
Best for: Teams looking for a simple solution
Key Features:
Dashboard monitoring of emails
Easy to set up
Chat support
Integrates With:
4. WarmBox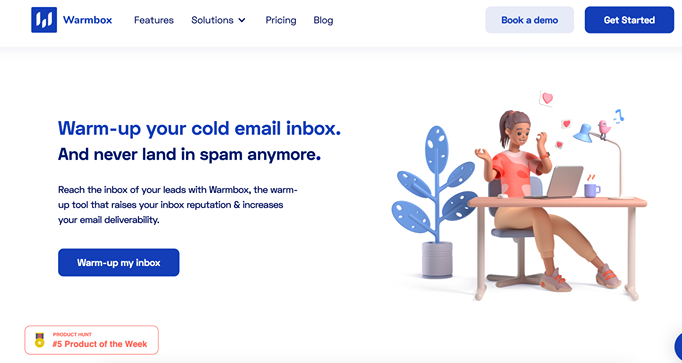 WarmBox is a simple warm-up platform for busy professionals who need to manage their emails more efficiently. The software comes with up to 250 warm-up emails daily for just $69 per month. This allows small to mid-sized businesses to easily manage their inboxes without exceeding their quotas.
WarmBox offers a wide range of integrations, including Gmail, Yahoo, and Zoho Inbox, so users can seamlessly sync all of their email accounts. The tool automatically sends responses to emails, ensuring that email providers see positive interactions with your messages. The platform's reports and easy-to-use dashboard provide an excellent performance overview so users can track how well their campaigns are doing. Altogether, WarmBox offers an ideal solution for efficient email warm-ups.
Best for: Startups looking to scale email deliverability
Key Features:
Auto-reply to emails
Comprehensive warm-up customization
Spam folder score monitoring
Integrates With:
Gmail
Mailchimp
Salesforce
Zoho
AWS
5. GMass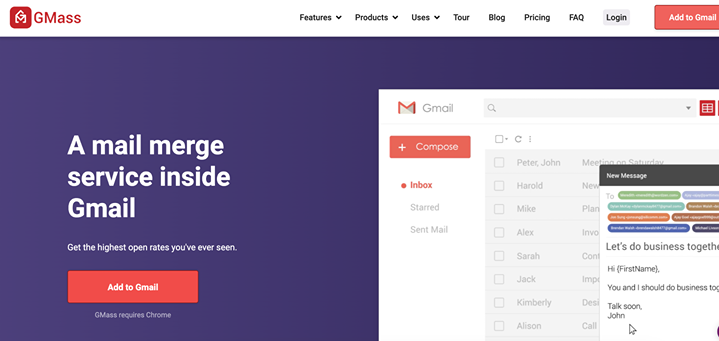 GMass is a comprehensive sales automation and cold email platform that includes an email warm-up tool. Operated by Gmail, it brings simple solutions to complex marketing challenges. GMass integrates with Google Sheets, which can streamline your email campaigns by offering reliable customer contact info all in one place. Its low-cost Enterprise Plan is priced at just $49.95/month, making it a real bargain for any business. Overall, GMass is ideal for professional marketers who need an effective yet affordable way to reach their customers in Gmail.
Best for: Higher education institutions scaling their outbound strategy
Key Features:
Schedule emails within Gmail
Email account tracking reports to assess clicks and views
Email personalization
Integrates With:
Gmail
Google Sheets
API
Zapier
6. Warm Up Your Email (Mailshake)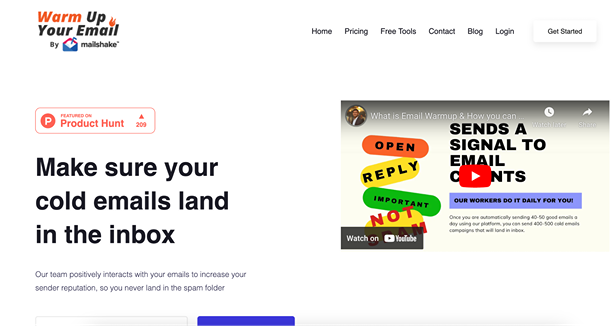 Mailshake has recently expanded its services by acquiring Warm Up Your Email, a platform dedicated to helping users maintain and improve their email account deliverability. To keep things simple, this service is priced per engagement. The most expensive tier is the Agency plan at $99/month for up to 100 positive engagements, which include opening an email, replying to one, and removing an email from spam. This simple warm-up tool, powered by AI-driven technology, makes it simpler and more accessible than ever for businesses to track, acquire and retain customers.
Best for: Agencies aiming to increase engagement
Key Features:
Plans are priced per engagement (opening, replying, or removing an email from the spam folder)
Spam pattern insights
24/7 support
Integrates With:
Gmail
Outlook
Sendgrid
Mailgun
Amazon SES
7. Folderly
Folderly is an AI-based platform designed to take your email account performance to the next level. This simple warm-up tool detects any deliverability issues and employs automated AI tools to maintain your domain's and technical infrastructures' health. Folderly analyzes each campaign and provides evaluation metrics to help email marketers optimize their strategies based on consumer feedback. With Folderly, you can increase engagement and improve the overall quality of your email marketing campaigns.
Best for: Technical assessment of email outreach
Key Features:
Email account authentication and DNS settings
Ability to download custom HTML templates for spam folder triggers
Email placement test for email deliverability
Integrates With:
Google Workspace
Amazon
Outlook
Sendgrid
Intercom
8. InboxWarm (Outreach Bin)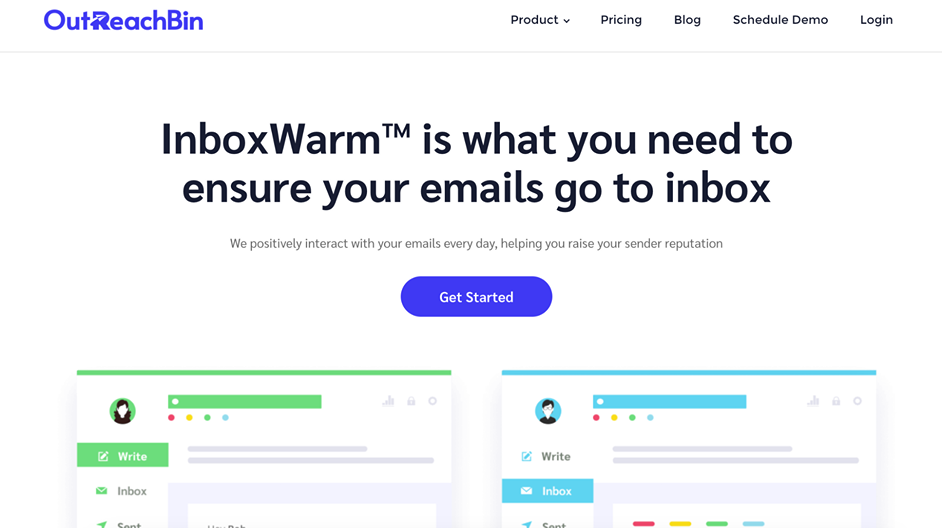 InboxWarm, now part of OutReach Bin, offers a simple-to-use tool to help businesses increase their sender reputation. Utilizing a peer-to-peer network of users, InboxWarm ensures humanlike email activity that helps companies ensure their warm-up emails are not considered "spam." With its flexible pricing plan, OutReach Bin provides an affordable way for businesses to manage their online reputation and ensure all messages reach their intended recipients. OutReach Bin is a simple email warm-up tool, as opposed to a full-suite marketing automation platform.
Best for: Marketers looking for flexible plans
Key Features:
Email personalization
A/B Testing
Advanced email analytics
Integrates With:
Google Suite
iCloud
Sendgrid
Outlook
Zoho
9. Lemwarm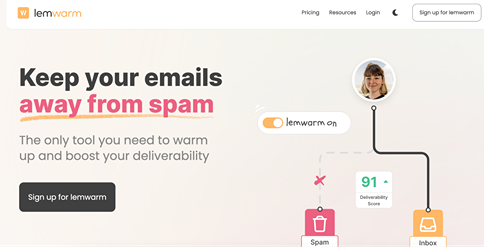 Lemwarm is hard to beat when it comes to simple solutions to help with email deliverability. It's easy to set up and provides automated follow-up emails that simulate the email communication process. Its robust LinkedIn workflow and DNS check promote effective emailing methods. Lemwarm is a must-have tool for businesses looking to manage their sender reputations. The platform is a simple warm-up tool that focuses on deliverability; it's not a comprehensive tool for managing marketing campaigns.
Best for: Mid to large-sized teams that are scaling quickly
Key Features:
Smart cluster warm-up emails according to your audience's demographics
Smart ramp-up to help guide your email strategy
Smart content and personalized warm-up emails
Integrates With:
10. Klenty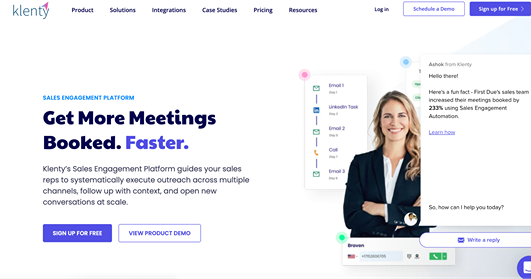 Klenty is an all-in-one sales engagement platform designed to streamline sales processes across multiple channels. It also includes an email warm-up tool. Through Klenty, users can easily engage with their contacts and access advanced automation of crucial CRM activities. Furthermore, the platform includes real-time sales coaching functionalities, which can provide valuable insights when engaging prospects and can help guide your outreach strategy. This comprehensive technology offers unparalleled flexibility for organizations looking to optimize their sales process.
Best for: Teams looking for process optimization
Key Features:
LinkedIn plugin
Video and image personalization
Custom domain tracking
Integrates With:
Pipedrive
Hubspot
Zoho
Salesforce
Slack
11. Reply.io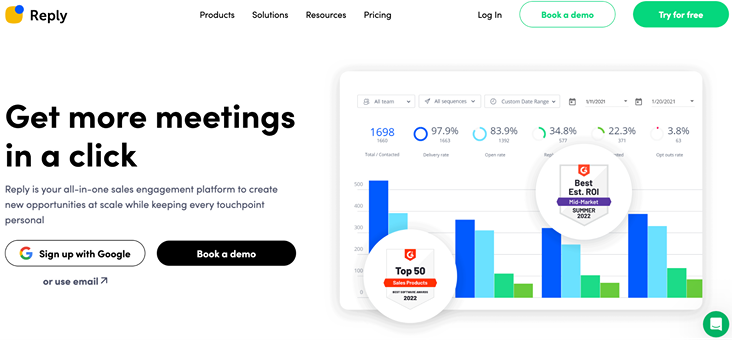 Reply.io is an innovative, full-cycle sales engagement platform that helps businesses automate their cold outreach. Email warm-up is one of the many tools available in its suite of features. This software maximizes efficiency for email campaigns and aggregates data on email performance. Beyond ensuring email deliverability, Reply.io allows users to track the open and click-through rates of emails sent, giving valuable insights into email campaigns. It also provides advanced reports for evaluating email performance. This helps businesses stay on top of their prospecting activities and quickly identify potential email leads. All in all, Reply.io is an effective solution to warm up your email account and maximize your outreach efforts.
Best for: Sales leaders looking for a comprehensive sales engagement platform
Key Features:
Multi-channel sequences
AI email account assistant
Custom fields in warm-up email design
Integrates With:
Salesforce
Hubspot
Outlook
Gmail
How to Choose the Best Email Warm Up Tool for Your Business
A reliable email warm-up tool is essential for businesses that want to ensure smooth and successful email marketing campaigns. An email warm-up tool helps boost your reputation as an email sender, so it's essential to choose one that meets your company's needs. Here are some points to consider when selecting an email warm-up tool for your business.
Does it Work With Your Email Provider?
The first thing you want to consider when choosing an email warm-up tool is whether or not it works with your specific email account provider. Different email warm-up tools integrate with different providers, so read through the list of compatible email services before making any decisions. It would be a waste of time and energy if you invested in a tool that doesn't integrate well with the program you're using. For example, some email warm-up tools are designed specifically for Gmail, so if your organization runs on Outlook, you should think twice before making a purchase.
Sending Limits
Another essential factor to consider when selecting an email warm-up tool is the sending limits. Choose a tool that allows you to send enough emails to be effective without violating any rules or regulations set by your provider. Many tools have various limits depending on the size of your list and other factors, so make sure that you understand these limits before making any commitments. It's essential to understand the scale of your outreach efforts and how they will shift over time.
Add-on or Stand Alone Tool?
One of the most important factors to consider when picking an email warm-up tool is whether it's an add-on or a stand-alone tool. An add-on tool is an excellent choice if you already have a suite of tools that work well together and just need a little help warming up emails. However, if you don't already have a suite of tools, it might make more sense to go with a stand-alone tool that can both warm up your emails and enhance your entire sales process, all in one place.
Plans & Pricing
It's crucial to find a tool that both fits within your budget and offers features that meet your needs. Many tools offer a free trial, so you can test them out before committing to a plan. Some tools also offer discounts for annual vs. monthly billing, which could help save money in the long run.
Use UpLead to Find High-Quality Leads for Cold Emails
UpLead's database includes over 108 million B2B contact email addresses and over 16 thousand tracked technologies. This ensures you can target the exact audience you have in mind when managing your cold email campaign. UpLead's data accuracy rate is 95%, so you can trust in the quality of the data you're paying for. UpLead has a vigorous vetting process to ensure every email contact you download is verified. The process includes AI and proprietary algorithms, as well as manual review by their team. The platform helps scale your lead generation efforts without the risk of sending messages to incorrect or old email addresses.
UpLead understands that it's not just about having an extensive database of email addresses; it's about having accurate and up-to-date contact details. Their advanced search engine allows you to narrow down your search results based on job title, location, industry, and more. This helps you tailor your list of contacts, optimize your email lead generation efforts, and support your email warm-up process.
FAQs
Below are a few frequently asked questions about email warm-up tools.
What is an email warm-up tool?
An email warm-up tool is a great way to get your emails into your recipients' inboxes rather than their spam folders. The tool works by gradually warming up your email address with internet service providers (ISPs). By sending increasing amounts of emails from your email address and interacting with them positively, email warm-up tools tell ISPs that you're for real. When it comes time to email your leads, your messages have an increased chance of being delivered. It's a smart way to ensure that all the work you put into crafting effective marketing emails doesn't go to waste.
How do you warm-up your emails?
Email warm-up involves setting up all the necessary aspects of your email address to be viewed as established and trustworthy by email providers. If you don't warm up your emails correctly, you risk sending them straight to the spam folder, or worse—your messages might not even get delivered. With the help of an email warm-up tool, you can simplify the process significantly. These tools come in the form of basic email warm-up programs but are also offered in some comprehensive cold email software. No matter which tool you choose, it can help automate many of the tedious steps involved in warming up your emails and ensuring the delivery of your content.
How do I manually warm-up my email domain?
Manually warming up an email domain requires an organized, diligent approach. It's essential to set realistic expectations for the process: it will take a few weeks or even months of dedicated effort. Start by incrementally increasing the volume of emails you send while closely monitoring delivery rates and spam complaints. Keep in mind that each email provider has unique thresholds and their spam detectors can be triggered by different behaviors. As you observe patterns, adjust your strategy accordingly. You can maintain a good sender reputation by focusing on engagement metrics such as open rates. You can also send emails to friends, family, and acquaintances and ask them to reply to your emails and remove them from the spam folder if necessary.
What is the fastest way to warm-up an email domain?
Email domain warming is an effective strategy to ensure reliable email delivery. It can help improve trust and engagement with recipients. However, the standard process of manual warm-up can take considerable time and effort. The fastest way to warm up an email domain is to use a reputable email warm-up tool. These warm-up tools enable businesses to quickly reach higher email-sending limits and improve delivery rates—without putting your sender reputation at risk. As a result, these warm-up tools are becoming increasingly useful for email senders striving to leverage email to communicate with their customers.
What You Need to Remember About Email Warm-Up Tools
Email warm-up is critical to any outreach marketing or mass mailing campaign. By using an email warm-up tool and following best practices, you can ensure your emails get through to inboxes and in front of potential customers. No matter which tool you choose to warm up your email, make sure it has the essential features you need to improve deliverability while integrating well with your existing workflows.