There's no faster way to get a prospect's attention than outreach. How do you make great cold email templates that grab attention and generate a response?
This guide will teach you everything you need to know to create great cold email templates. We cover best practices, attention-grabbing subject lines, and copy that will compel your prospects to respond.
If you're looking for a way to create appointment-generating cold emails, then this guide is for you.
📌 Reminder: No matter how strategic your cold message is, you'll need accurate contact info of high quality prospects to generate opportunities. Get 95% contact data accuracy with UpLead. Grab 5 free leads today.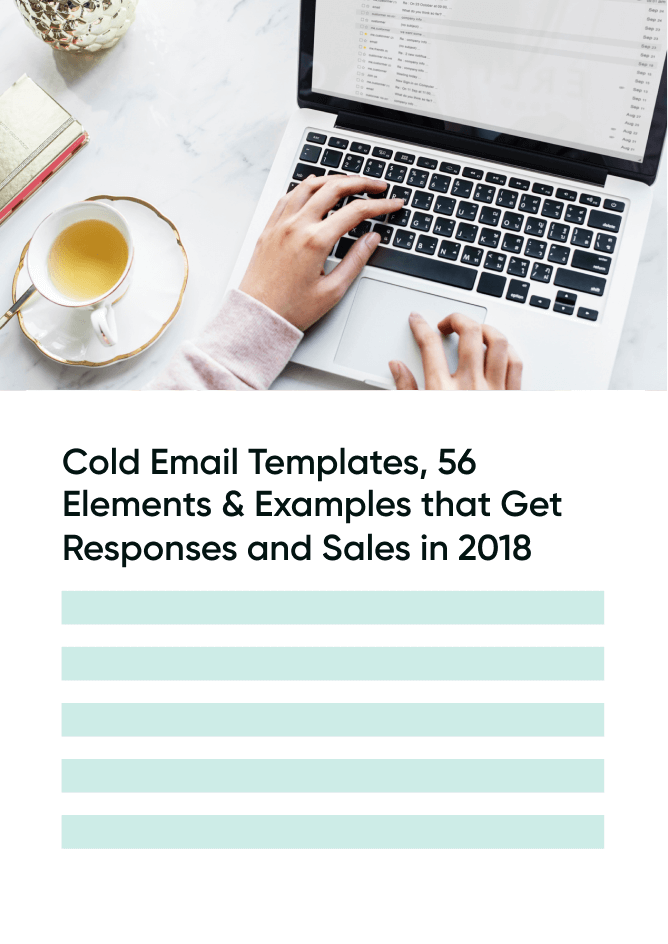 Tired of scrolling? Download a PDF version for easier offline reading and sharing with coworkers.
First Things First: Cold Email Best Practices
Getting attention through cold email can seem like a scientific practice.
Luckily, there are proven elements to make your cold email more likely to succeed.
But before digging into the elements that make great cold email templates, you must first understand these outreach best practices.
Knowing these foundational principles will help you understand each technique we teach you in this guide.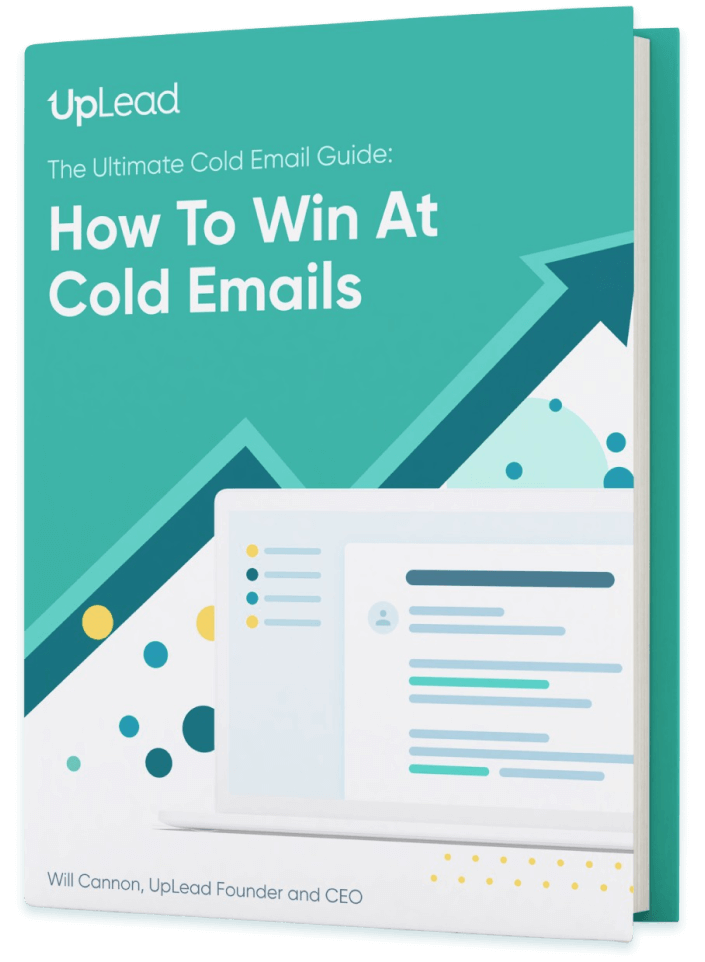 Download our free eBook full of valuable insights and take your cold emailing strategy to the next level.
I agree to receive emails from UpLead, and can unsubscribe at any time.
Furthermore, it will empower you to build your own cold email templates to generate healthy response rates in the future.
#1 Short-but-sweet Subject Lines
Your subject line has one goal:
Get the email opened.
You will compete with hundreds (if not thousands) of other emails in your recipient's inbox. To get past the noise, you need a simple and clear subject line.
If you force prospects to work hard and think about what your email is about, it's likely they'll hit the "trash" button. Therefore, you must use the subject to a) get to the crux of the email and b) entice them to open it.
At UpLead, we keep subject lines simple. As a result, we've seen open rates of 78% and beyond with two-word subject lines.
Ben Sardella, Chief Revenue Officer at Datanyze, puts it:
"Now keep in mind, whatever the rest of your email includes, it won't matter if no one actually opens your email, so the subject line is critical. Ask yourself: What would it take to make you open a cold email and read the first couple of lines?"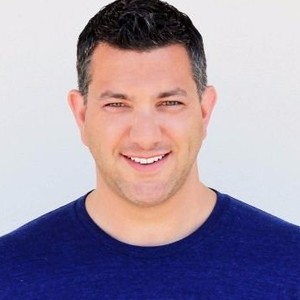 – Ben Sardella, Chief Revenue Officer at OutboundWorks.
Keep your subject line simple and to the point. Outline the pain you're trying to alleviate or personalize in a simple manner.
Strategic & Tactical Sales Advice: Straight to Your Inbox.
Join 20,000 sales leaders receiving practical & in-depth content. No fluff, just the best sales how-to guides.
#2 Get to the Point Quickly
Many salespeople (and marketers alike) still begin their emails by talking about themselves.
The problem is that your prospects don't know you yet… and don't care. Details about who you are should be saved for your signature.
Nowadays, most email clients preview the first line of the email within the inbox tray, which looks something like this:

Use this "inbox real estate" by getting straight to the point. Talk about them, not your product, brand or credentials.
You can do this by saying how you found them, e.g., "I was checking out your LinkedIn profile and thought this could be of value to you."
If you can't do this, focus on the problem that your value proposition solves.
#3 Be Prepared
Do as much research on your recipient as possible. This is the digital equivalent of doing your homework before showing up to a meeting.
Look into each company you're reaching out to and make it clear how your solution can solve their pains.
Even better, look at the digital footprint of each prospect. Are they creating content, or have they recently been featured in the news? Mention this in your outreach to add relevant personalization.
You can scale this by segmenting different companies by their pains. Create a different cold email template for different company challenges/job titles etc. (or use a cold email template from below).
#4 Keep it Brief
Long emails can be a turn-off to many executives.
Yes, some may appreciate having lots of information to help them make a decision. But in most cases, shorter is better.
Use a maximum of five sentences. Any more, and you may begin to see your response rates drop.
As you'll soon see, you can maintain brevity by using a framework to guide your copy. For example:
Sentence 1: How we found them, and that we think we can give them some value
Sentence 2: A little about who we are and what makes us unique
Sentence 3: Closing CTA (schedule a quick call or demo etc.)
Get to the point and make it easy for the recipient to respond.
#5 Show Some Credibility
Just because you shouldn't open with your credentials doesn't mean you should forget about them altogether.
What can you do to make your recipients trust you? Have you worked with businesses just like theirs? Or perhaps you've been featured in well-known industry publications?
Name-dropping might seem like a humble-brag. But writing cold email templates shows you have a track record in your industry.
#6 Warm Up Your Cold Leads
Your cold email doesn't need to be completely ice-cold. You can warm up leads before you even send the first email.
This can even work for blogger outreach. As Adam Grunwerg says, even a simple retweet goes a long way:
"Retweet [the influencers'] articles or compliment their work before tweeting them from your personal (not brand!) account. Provide a teaser for your content, and ask them permission to send them an email. They will appreciate the courtesy."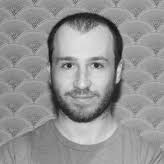 – Adam Grunwerg, Partner at Investoo Group.
Find out where they "hang out" online and engage with them there. Follow them on social media, comment on their content, and join conversations within the communities they're a part of.
When your email lands in their inbox, they'll recognize your name as someone who got involved with what they're doing. Not some random sender. They'll then be more open to considering your solution as a tool to solve their pain point.
#7 Add Personalization
This is a huge topic in the sales space. Iris Shoor, CEO of Oribi, puts it best:
"One of the most basic tips when it comes to blogger outreach is to personalize your email. Not only is there a better chance you'll hit what they're looking for but you're also communicating that you're interested in their blog and not sending the same email to 50 different bloggers."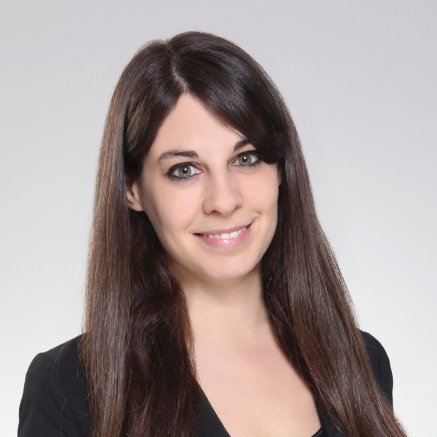 – Iris Shoor, CEO at Oribi.
While personalization has quickly become standard best practice, right now, it provides a competitive advantage.
In the past, personalization meant adding "first name" and "company" variables. It can be defined as "customizing your message as close to the challenges and desires of your prospect as possible."
Some people do this one-by-one, writing tailored introductions for each recipient. While this works, you'll receive an equally lucrative response rate by scaling the process.
Put your prospects into different categories and tailor the message to each group. Create several cold emails for each group instead of writing to each recipient one-by-one.
This provides a scalable outreach approach while maintaining an element of personalization.
#8 Include a Simple Call-to-Action
Many salespeople like to get specific with their calls-to-action.
It looks something like this:
Are you free for a 30-minute quick call next Tuesday (30th May) at 10 AM ET?

This is risky, as it invites the recipient to say "no."
Instead, first, find out if there's interest, get the response and then figure out a time. From here you can figure out logistics.
Try "Is this of interest?" or "Would you like to learn more?" as a softer way of gauging interest.
#9 All Contact Info in Signature
Having your full business address in your signature shows credibility. It's also a legal requirement.
Include your first name, job title, full address, and even a phone number to build more trust. This also takes care of the challenge of not talking about yourself in the introduction.
#10 Second Chance P.S.
Some people may skim your email all the way to the bottom.
This is an opportunity to get their attention with another call-to-action or to summarize the contents of your email.
You could even include a P.P.S. with links to secondary information (or content higher up the funnel).
#11 Always Follow Up
This one is simple: if you don't get a response, follow up.
Many salespeople think that the recipient isn't interested because they don't get a response. In reality, they might be too busy to respond right now.
But if you bring it back to their attention, you have a second chance to get their attention.
I recommend no more than three to four follow-ups. Any more and you risk coming across as a pestering salesperson.
Be liberal with timing between each follow-up. Here's how we space our own follow-up sequences:
Follow up #1: three days after the previous email
Follow up #2: five days after the previous email
Follow up #3: seven days after the previous email
Final follow up: 12 days after the previous email
As you can see, the pause gets longer as the sequence progresses. Give your recipients a chance to respond while respecting that they're busy, or even out of the office.
#12 Always Be A/B Testing
You're not always going to hit a home run on the first try.
If you have thousands of contacts to reach out to, you may want to test your cold emails on a small scale before rolling them out to your entire list.
Test out different pain points in your message. See which challenges resonate the most with your target audience.
And be sure to always test in the long term. Small tweaks to the subject line, call-to-action, and email copy length can yield big results.
#13 Watch Your Stats
The old saying "what gets measured gets managed" is a cliche for a reason:
You can't improve, optimize, and report back on something when you don't know if it's working.
Keep an eye on all relevant statistics, including open rates, click-throughs, responses, and opportunities won and lost. This will help your business direct every stage of your cold email campaigns – from targeting to calls-to-action.
Now that you know what makes a great cold email, it's time to look at different elements and techniques to incorporate into your campaigns.
21 Killer Cold Email Subject Lines
The first job your cold email must succeed with is getting opened.
Without a good subject line, this won't happen!
Subject lines are the first building blocks we'll look at. You can implement and test these frameworks and cold email templates for your own campaigns.
1."Quick question"
As mentioned earlier, short subject lines work incredibly well.
The "Quick question" subject line gets attention and piques interest. But don't use it if you don't intend to ask a question. Remember, misleading subject lines are not only unethical but lead to the trash without hesitation.
2."Hi [First Name]"
Another short, simple, and effective subject line. If you're wondering whether or not it works, take it from Ben:
"Although there is much debate about adding names in the subject line, I find that if my name is in the subject line, I'm going to open it. For example, I received an email with this subject line: Ben, loved your tweet yesterday. I'm going to open this, because I am now wondering which tweet they are talking about."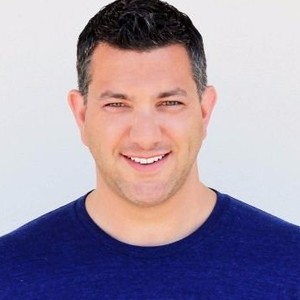 – Ben Sardella, Chief Revenue Officer at OutboundWorks.
If you don't have anything compelling to put in the subject, then lead with a salutation.
Then, get straight to your introduction within the body of the email.
3."Any interest?"
Perfect for follow up emails. If you don't get a response to your second email, try this.
It's short enough to grab attention if they haven't opened your cold email already. And if they recognize your first name, it means getting straight to the point.
4."Do not open this email"
When someone tells me not to do something, I want to do it even more.
5."Try to avoid [thing]"
This cold email talks about a pain to avoid. Maybe they're already aware of the problem, or perhaps it's something they're not yet aware of.
Either way, it'll pique their attention enough to open your cold email.
6."So, you do [skill]?"
Get personalized and mention something your prospect is good at. Simply head over to their LinkedIn page to grab a skill they've listed out.
Even better, take a theme or topic covered in the content they create.
7."Might be off-track here, but…"
This shows empathy while pulling at the curiosity strings. They'll never learn what the cold email was about just by looking at it.
"Calling yourself out" is a great cold email technique and one we'll cover later in this guide.
8.e.e. cummings
Use a subject line without any upper-case letters. It stands out in an inbox full of "Capitalized Subject Lines That Look Like This."
Why "e.e. cummings?" Because the great poet himself often wrote his name all in lowercase characters.
9."Who is in charge of [role] at [company name]?"
If you're not sure who to reach out to, find out using your subject line. Approaching prospects as if you're a curious student, rather than an "expert," has been proven to boost engagement.
10."[Person] recommended I get in touch"
Word-of-mouth marketing is the most powerful growth lever around. The same principle goes for cold email.
If someone has recommended you, then use this name-drop in the subject line. If the recipient trusts the referrer, they're likely to open the cold email fast.
11."Congratulations on [achievement]"
Like the "skill" subject line, this one requires a little digging. But everybody loves to be flattered, so it's well worth it.
This is especially effective on follow-up cold email templates. Use this subject line to keep prospects warm whenever you come across news about them or their company on social media and in digital news.
12."The problem with [thing]"
This one elicits curiosity while getting to the point at the same time. Make sure you use a problem that's relevant to your value proposition, like how you can address their biggest pain point.
13."Hoping to help"
Forget about pushing your agenda on to prospects. Focus on adding value instead. This subject line gets to the point in your intentions of helping them through a pain point.
The next step is to use the email copy itself to remove doubts and ease skeptical minds.
14."[First name], do you have five minutes?"
Asking for the meeting before the recipient has even opened is a gutsy move. But some people prefer directness.
This subject line sets the intention right away, but beware: it only works if the email itself is well researched and doesn't come across as spam.
Make sure you're choosing between using their last or first name, and address a pain point they have in your cold email template. This is better done with accurate lead qualification, ensuring you're talking to the right person with your cold email outreach.
15."I'll cut to the chase"
A meta-subject line, as it gets to the point about getting to the point. This removes the unsettling nature of uncertainty while building curiosity.
16."How was [event]?"
Looking at building connections on the expo and conference circuit? Follow-up with them right after the event using this relevant subject line.
Your email copy itself must be personalized to the context of how you met. Call-back to the conversations you had, the challenges they expressed, and how you think you might be able to help.
17."Will you be at [event]?"
Use this subject line before an event if you suspect a target prospect will be attending.
Even if they don't respond, they'll recognize your name on the speaker/exhibitors list. Then it's just a matter of letting their curiosity lead them to you.
18."10 mins, [date]"
This is a simple, short-but-sweet take on the meeting request subject line from earlier. Remember, you must get straight to the point in the email copy itself.
19."A new [approach] for [company name]"
Blend the benefits of your value proposition with personalization to quickly answer the question "what's in it for me?" Speak directly to their pain-points from the start to get your email opened.
20."Your [metric] target"
Whoever your prospect is, they're held accountable by one form of pressing KPI or another. Use this by talking about the challenge of achieving this goal in the email itself.
21."Hey"
At UpLead, we love short subject lines in a cold email template.
Replace "Hey" with the recipient's first name, a keyword relevant to your offering (e.g. "cold email"), or the benefit you're hoping to provide them with (e.g. "10x leads").
Strategic & Tactical Sales Advice: Straight to Your Inbox.
Join 20,000 sales leaders receiving practical & in-depth content. No fluff, just the best sales how-to guides.
19 Elements For Cold Email Templates
So, you have a killer subject line.
And you're confident that your email will get opened.
Now comes the hard part: getting your prospects to respond.
And that's where your cold email template comes in. By using compelling, relevant, and personalized copy in your cold email template, you're more likely to get the attention of your prospects.
Each element addresses one (or more) sentences that we covered earlier:
Sentence 1: How we found them, and that we think we can give them some value
Sentence 2: A little about who we are and what makes us unique
Sentence 3: Closing CTA (schedule a quick call or demo etc.)
Here are some killer B2B cold email template elements you can swipe right away:
1. The LinkedIn Opener
Include a reason why you're emailing in the first part of your cold email template. It doesn't matter how innocuous that excuse is as long as it's there.
The LinkedIn opener is one of the simplest:
Hi [first name],
I was checking out your LinkedIn profile and thought this could be of value to you…

You can replace LinkedIn with "Twitter," "Facebook Group," or even "AngelList."
2. Talk About Your Product
Or, you could write your cold email template to cut right to the chase.
Busy people don't want to waste their time and would rather quickly know if something interests them. You can use a one-sentence pitch in your sales email to tell them why you're the right person with the right solution.
At UpLead, this is how we do it:
We built a tool called UpLead which is like ZoomInfo but with built-in real time email verification and we're much more affordable. You can check it out and start a free trial here: UpLead.com

3. State Why You're Better
In the cold email template from above, we say what we do in a one-sentence pitch and compare our solution to a competitor's.
Be specific about why you're better. Only use a comparative benefit/feature that the prospect will truly care about.
4. The No-Brainer CTA
Earlier, I mentioned why including a "soft" call-to-action in your email templates is key when generating a response. This works even better when you take away some of the friction while you do it.
Adding a no-brainer incentive, as Sasha Galkin agrees, will lead to more clicks of the "reply" button from your recipients:
"Dish out a whopper incentive. Give them a reason to pay attention to the rest of your email."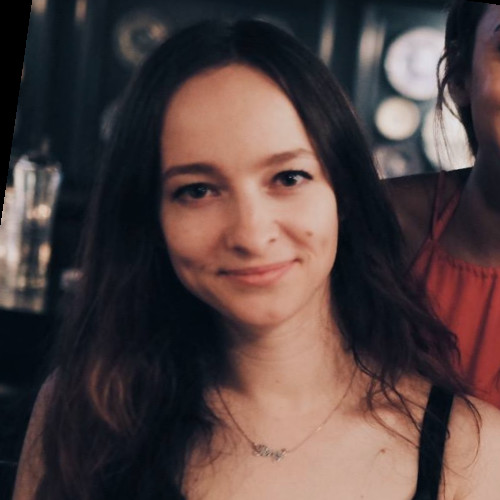 – Sasha Galkin, Copywriter at MRM//McCann.
"Dish out a whopper incentive. Give them a reason to pay attention to the rest of your email."
This is how we word it:
Are you open to trying it out at no cost?

Not only am I simply asking if they're interested, but I'm also stating there's no risk to them. This and the three elements above are why we enjoy a 24% response rate.
5. Finding Contact-Challenge-Fit
This email template should be used with the "Who is in charge of [role] at [company name]?" subject line mentioned earlier. In this case, [role] may be replaced by [challenge].
Before getting into the meat of your email, start with an introduction like this:
I'm hoping to find the right person to talk to about [challenge].
Is this a challenge [company name] is looking to overcome?

Here, you set your intention (reaching the right person) while including relevance (stating the challenge you wish to talk about).
6. Personalized Congratulations
When using a subject line congratulating your prospect, ensure every part of that email is relevant to the news.
For example, if they've recently secured a round of funding, you could follow-up email template like so:
Congratulations on recently securing your Series A funding. You're going to shake up the CRM space in a huge way.
I can't wait to see how you'll use these new resources to reach your goals even faster.

It's simple flattery. But it works wonders as a follow-up strategy. To drive home the importance of personalization (no matter how specific), Matt Gratt, Head of Growth and Wikibuy, puts it best:
"Good outreach emails are personalized. And I don't just mean 'successfully got the name and website right' – those are table stakes to get taken seriously. When I say pitches should be personalized, I mean they should be read by the recipient, and the words 'form letter' should never cross their mind."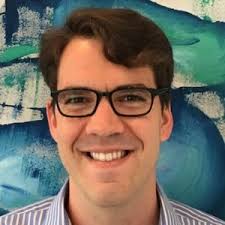 – Matt Gratt, Head of Growth at Wikibuy.
7. The Persona Opener
Great cold email templates meet at the point between personalization and scale.
Yes, creating a good cold email template is important. But you should always find ways to personalize them.
In the case of the "Persona Opener", you'll address their role and the challenges that come with it. For example:
Being the VP of Marketing, you're likely more than aware of the challenges that come with scaling content. Not to mention generating an ROI.

Us, sales and marketing folks are savvy, and we know a trick when we see one. But we appreciate the extra mile. This is a simple way of going there.
8. Post-Event Opener
If your first touch-point was face-to-face at an event, use this:
I hope you learned a lot at [event]! Did you end up visiting [keynote, session, or afterparty]?
As I mentioned over coffee, at UpLead, we take care of…

9. Pre-Event Opener
If you're on the event circuit to generate leads, it's wise to warm up leads in your target accounts before you approach them. Try this opener:
I noticed [company name] is heading to [event] this year – me too! Are you going to check out [thought leader]'s keynote?
I thought I'd reach out beforehand because…

10. Praise Your Prospects
With LinkedIn becoming the popular hotspot for B2B executives everywhere, your prospect is likely creating content themselves.
If you like what they're putting out, tell them in your initial B2B cold email:
I just wanted to say thanks for putting out your sales wisdom to the world.
I was recently figuring out how to overcome [challenge], and your LinkedIn video on [topic] helped me figure a few things out.

11. Content Compliments
Give praise for the content your target company publishes – regardless of who within the organization.
I recently read a blog post by your CEO, where he talks about the importance of [topic]. I had a quick look on LinkedIn, and I can imagine you're working behind the scenes to make it happen.

12. Show Them The Value
Don't just tell your prospects the benefit of what you offer. Take a statistic directly from a case study.
Even better, make it a company that's just like theirs:
"We recently helped [company name] to boost the response rates of their cold email by 78%, simply by changing the way they targeted their prospects.
Would you be interested in learning more about how we did it?

13. Casual Competitor Swipe
So, you've identified a competitor client you want to sign up.
But there's a right way and a wrong way to "swipe" them.
Here, it's important to maintain a casual tone. You don't know anything about the client other than they're doing business with a competitor.
I know that, as the [job title] of [company name], you likely get hundreds of these emails every week.
The reason I'm reaching out is…

14. Humor Ignition
We've all been there. We thought a prospect was certain to close, and then…
Static.
But fear not; there are ways to re-ignite these stale leads.
One of the best ways is to add a little humor. Specifically, calling back to something you talked about during your initial conversations.
Did you manage to get over your [KPI] hurdle? I hope [the office dog] didn't distract you too much!

15. Share (The Right) Content
Trying to find a relevant way to stay in touch can be tricky. If your company creates relevant, persona-driven content, half the work is already done.
Even better, if your marketing teams regularly write for reputable publications, then you can piggyback on this credibility.
I thought this blog post our CEO recently wrote on Forbes would be interesting.
It shows how to [topic] to overcome [challenge]. You can check it out here: [link]

16. Make Them the Guru
We're often ready to offer our advice when sending cold emails.
But people love talking about what they're good at.
Follow this simple formula:
Find them on LinkedIn
Look at their content/skills
Find something relevant to your value proposition
Reach out for their advice
Here's an example in action:
I noticed that you publish a lot of content around personal branding on LinkedIn.
I'm trying to build my own by publishing videos and other content. But I'm struggling to find my voice.
I've been doing a bit of research on the top performers on LinkedIn. Would you be happy to provide some feedback if I shared the trends I found?

This is a great first step to building a mutually-beneficial relationship.
17. Social Media Call-Back
One of the best practices I mentioned earlier was turning a cold lead into a warm one.
But there's a right way and a wrong way to execute this. It's not good enough to comment on their content and then reference it in your email.
To cut through the noise, you need a two-way conversation.
This takes patience but is well worth it:
It was great chatting about the latest CX stats published by Gartner in the LinkedIn comments. I'm glad you agreed with me on [commonality]!

Doesn't that sound more familiar? As Elise Musumano says:
"The quickest way to win someone over is to show how much you have in common."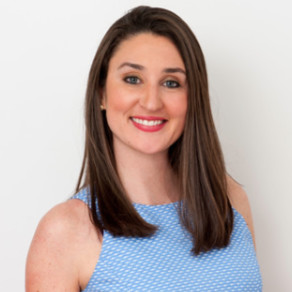 – Elise Musumano, Product Marketing Manager at SEVENROOMS.
18. The Soft CTA
Many salespeople ask for an exact date and time when looking to make an appointment. It's likely they're not free "at 11 AM on 16th June EST."
And by doing this, they're already saying "no" in their mind.
Instead, hook them in gently and take it from there. "Inside sales" is common practice these days, and they know you want to set up a quick call.
Do this instead:
Is this something you would be interested in?

This question is much easier to say "yes" to.
19. Ask for Preferred Communication
"Soft" calls-to-action are always better than suggesting an exact date and time.
But that doesn't mean you can't be assumptive in some way:
If you're interested, would a phone call or Zoom meeting work best for you?

And remember to close your email in a professional way.
4 Awesome Cold Email Examples
You now have everything you need to create a response-generating cold email template.
To wrap up this guide, let's look at some examples from the field.
These are from brands who have nailed the execution of their cold emails and generated great response rates.
Don't copy them word-for-word. Use the elements provided here to lead you. You're more likely to see success and create an email that best fits your voice.
1. The "24% Response Rate" UpLead Email
This is the exact cold email template we use to generate a 24% response rate from our own B2B cold email efforts (including follow-up) and got us an increase of free trial signups.
We like to keep things simple and to the point:
Subject: Hi [first name]
Hi Bill,
I was checking out your LinkedIn profile and thought this could be of value to you.
We built a tool called UpLead, which is like ZoomInfo but with built-in real-time email verification, and we're much more affordable. You can check it out here: UpLead.com
Are you open to trying it out at no cost?
Best,
[Signature]

The simple call-to-actions works. It gets to the point and generates responses like this:

2. VideoFruit's $3,000 Contract
Bryan Harris, the founder of VideoFruit, used this script to generate a $3k monthly deal:
"Hi [first name],
I love [company name] (been a customer for several months), and I'm also a big fan of your blog.
I work with companies like KISSmetrics and make weekly videos for their blog. Here is one that was published earlier this week on their site 4 Critical Facebook Reports.
Just wanted to email you and see if [company name] might be interested in a similar series.
I made a demo for you based on a previous post by [another company name] to show you what it might look like: [link]
Is this something you guys would be interested in?
– Bryan"

There's so much going on here. First, Bryan personalizes by mentioning the fact he's a client. Then, he name-drops someone everybody knows in the business (KISSmetrics).
Then, he provides proof with an example, making it super easy for the prospect to check out his work. Not only that, but he adds value upfront by showing an example tailored to the prospect's company.
Finally, he wraps it all up with that "soft call-to-action." You can't get much more personalized than this.
3. Securing Appointments with Takipi
Selling Takipi's value proposition can be tough, as it requires installation on live servers. This is a fact that causes friction among developers.
But despite this, they still managed to generate five appointments from their initial cold email efforts. Here's the script they used:

This works so well because it gets to the point on what they do, why the recipient should care, and why it's relevant to their company.
And they've done their homework — they know the company runs on Scala and sent them to a relevant landing page.
Finally, to drive the personalization home, they dropped a mention of the prospect company's GitHub projects. This shows they've paid attention while using a scalable, to-the-point approach.
4.FullStory's Animated Email
Sometimes, it's much easier to show a prospect what you can do for them instead of telling them. This next example is from a brand that took this concept literally.
Kyle Racki from Proposify received this next example from FullStory.
In it, they didn't just talk about their platform and its features. They showed how it would look in action as if it were on the Proposify home page.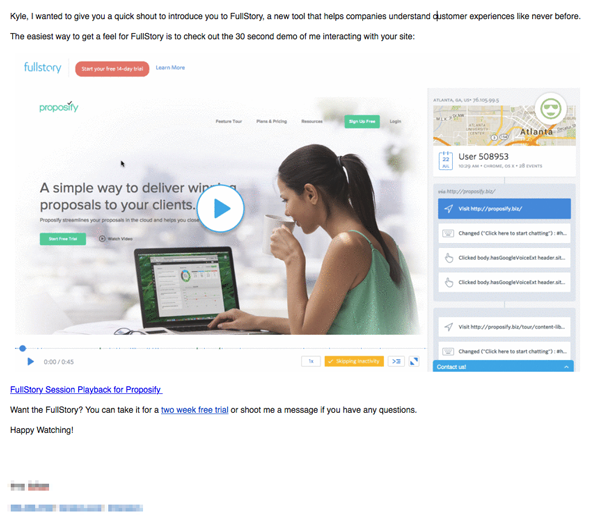 The image itself was an animated GIF, which immediately grabbed attention. The copy itself was brief, but it included a link to see the full video, including commentary.
This is a great example of creativity overcoming objections and quickly grabbing attention. Figure out different ways you can use visual content to communicate your benefits.
It doesn't need to be animated but must be relevant to the prospect.
FAQ: Cold Email Templates
Here are answers to the most common questions about cold email templates:
How do you write a good cold email?
Good cold emails are all about tackling your lead's pain points. It should use empathy to fully understand what the user needs, making them feel like you know their challenges and can help overcome them. They should therefore be highly personalized with customer information, tailoring it to their biggest pain point.

Good cold emails give just enough information to motivate the lead to reply, focusing more on their needs and less on making a sale immediately.
How do cold emails sell products?
A cold email sells products by letting potential buyers know how you can address their biggest pain point and what they need to do in order to get your product or service. It then motivates the lead to contact the sales rep, who makes the final sale.
Is cold emailing effective?
Yes, cold emailing is effective as long as you reach the appropriate person with the right product/service. Although it has a high rejection rate, its cost efficiency makes it 90% of marketers' primary lead generation channel.

Cold emailing is highly affordable, easy to scale, and, when done right, very effective, making it ideal for both small and large companies.
Is it legal to send cold emails?
Cold emailing is legal in the United States and other countries as long as you follow certain rules like:

– Clearly identifying yourself
– Give clear and relevant information
– Provide a business address
– Refraining from list harvesting
– Making it clear how to unsubscribe

These rules may vary, but they're fairly similar worldwide.
How do you introduce yourself in a cold email?
You should briefly introduce yourself in cold emails as possible, sometimes making your identity clear with your signature alone. Since cold emails are all about what the other person wants and getting their attention as quickly as possible, you should spend as little as you can introducing yourself, giving just enough information to let your lead know how to contact you and what to call you.

Instead, your email templates should be more interested in getting the appropriate person to engage and respond to the email.
How do you write an email to a CEO?
If you want to write an email to a CEO that actually gets a reply, start by writing an irresistible subject line. Keep your email short and professional, making sure you're personalizing as much as possible. Lastly, include very clear ways on how you can help them and a clear CTA.
Cold Email Templates: Your turn!
In this guide, you've learned about cold email best practices and the building blocks to create your own super-effective outreach emails.
Now it's your turn:
What breakthroughs have you made when reaching out to prospects? Tell us about your experiences in the comments below.

And always remember, no matter how strategic your cold message is, you'll need accurate contact info of high quality prospects to generate opportunities. Get 95% contact data accuracy with UpLead. Grab 5 free leads today.