Sending mass emails can be an effective, budget-friendly strategy. That's why, in this article, we'll go through four best practices to follow for sending mass emails. We'll give you a few tips and tricks and show you the right tools to get the most out of your mass email campaigns.
By the end of the article, you'll be ready to grow an audience and start effective mailing campaigns.
Let's get started.
Quick Links:
1. Use a mass email service provider
Whenever possible, you should use a mass email service provider.
Mass or bulk email providers are tools used to send emails to a large number of people. These tools will typically offer templates for mass email and help users build email lists and send emails without any need for coding or legal checks.
Why this is important
Mass email senders like MailChimp and Constant Contact are built to send bulk emails legally. That means that these services will help you ensure GDPR compliance, which will result in a high deliverability rate.
Mass email service providers also allow you to handle large databases easily and automate opt-out processes and other tasks.
What's more, most mass email tools will give you access to performance analytics to quickly discover how your campaigns are doing and where you can improve.
Using UpLead to find someone's email address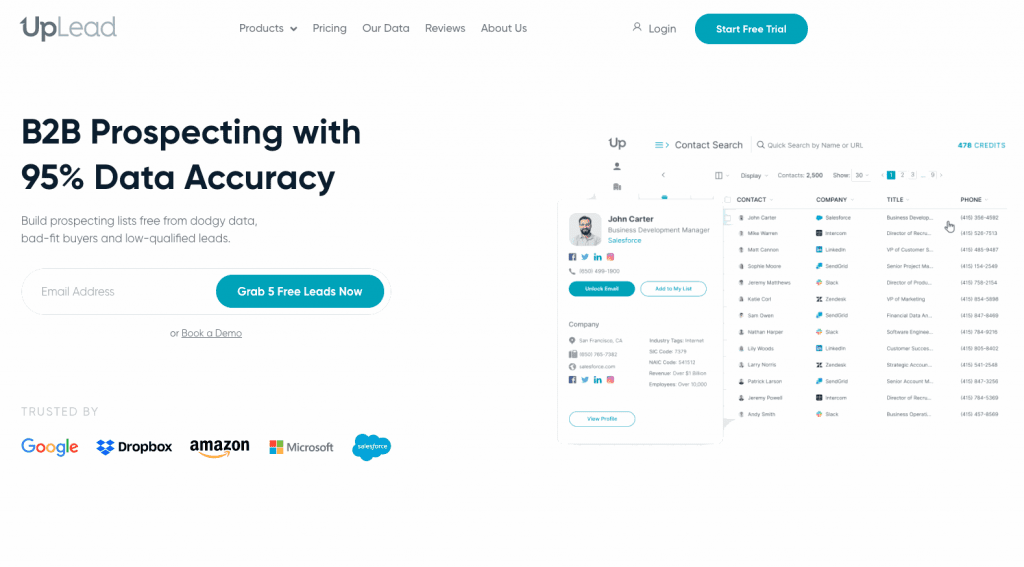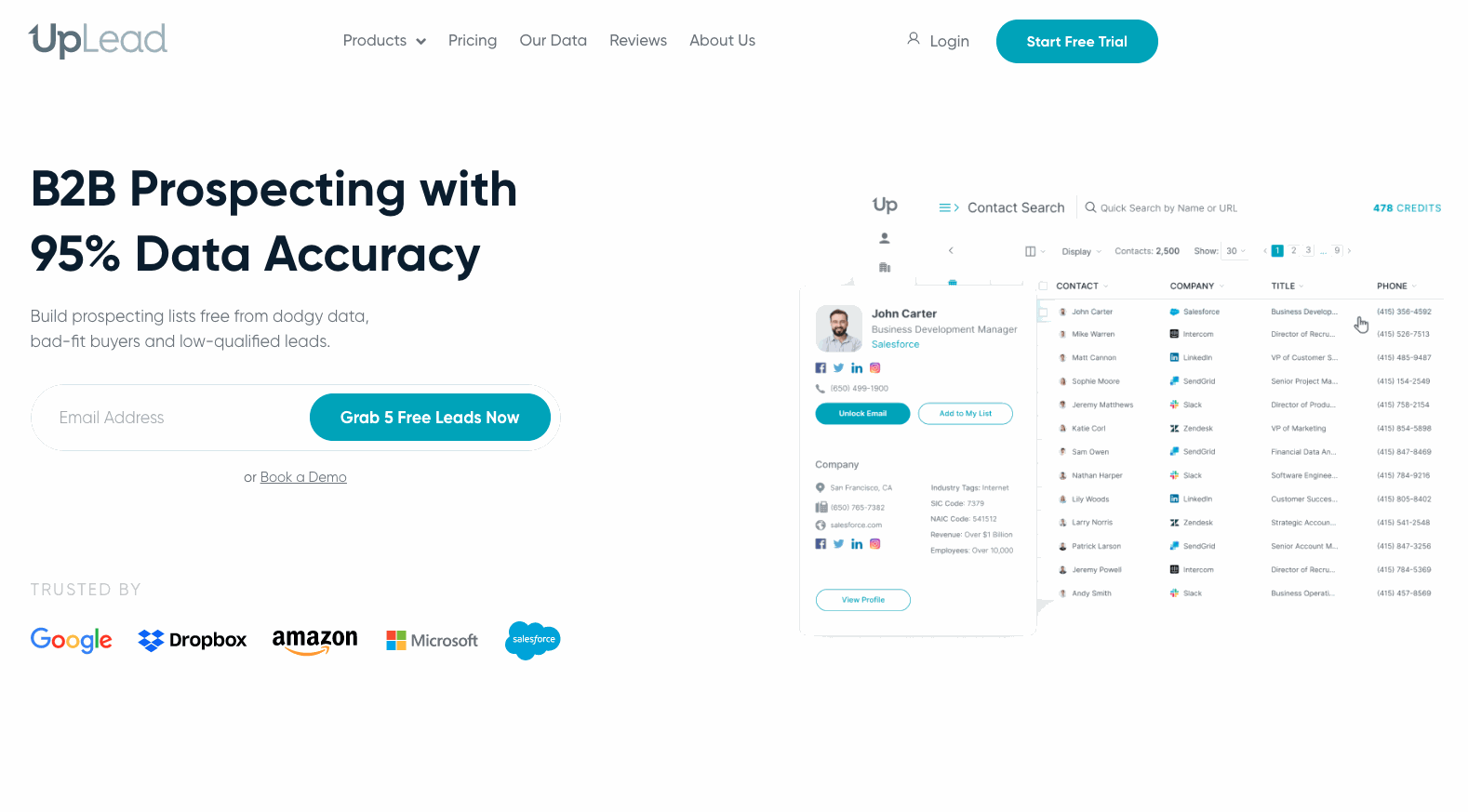 Whereas mass email tools help you manage your email lists, lead generation tools like UpLead help you build them.
With UpLead, you can quickly create a new mailing list or grow the one you have with fresh leads. Once you've selected them, UpLead verifies all emails in real time to help you ensure deliverability. If an email doesn't pass the verification process, you get the full profile for free.
UpLead also allows you to enrich your current mail database with business information to segment your audience easily. That way, it's easy to ensure each contact can receive emails that are relevant to them.
UpLead also gives you the flexibility you need for your sales process. There are no contracts or annual deals; just pick your best plan, and pay as you go.
Try UpLead for free today, and see if it's a good fit for you.
Start Your 7-Day Free UpLead Trial
Lead generation doesn't have to be all that painful. With UpLead, you can easily connect with high-quality prospects and leads to grow your company.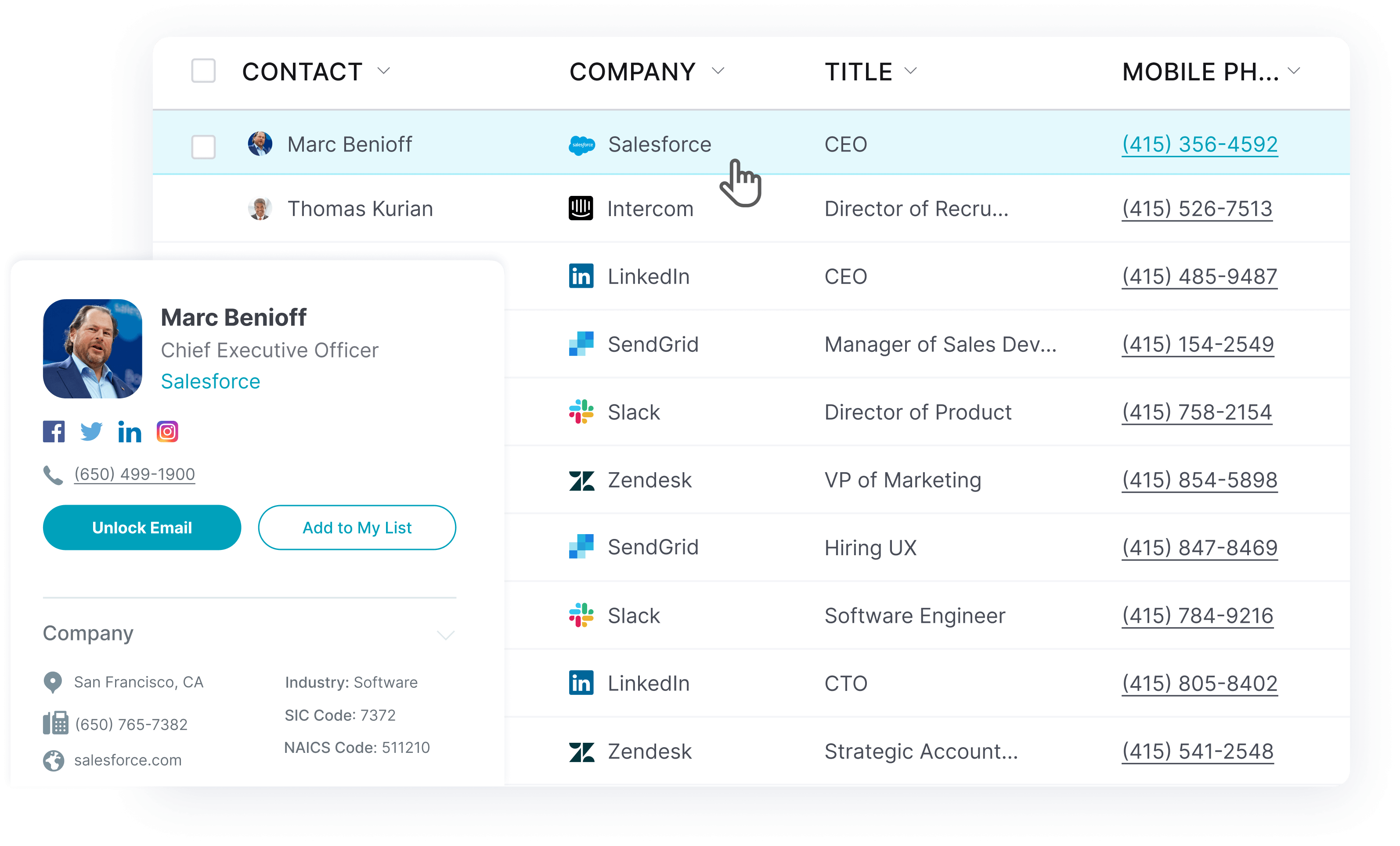 Examples of tools for mass email
Most mass email tools can be categorized into cold email outreach tools or marketing automation tools.
Cold Email Outreach Tools
Cold email outreach tools are made to send emails to cold prospects. They will usually have built-in features optimized with sales in mind. Advanced tools may offer unlimited contact storage and allow quick email blasts while avoiding spam filters.
Here are the best ones:
Lemlist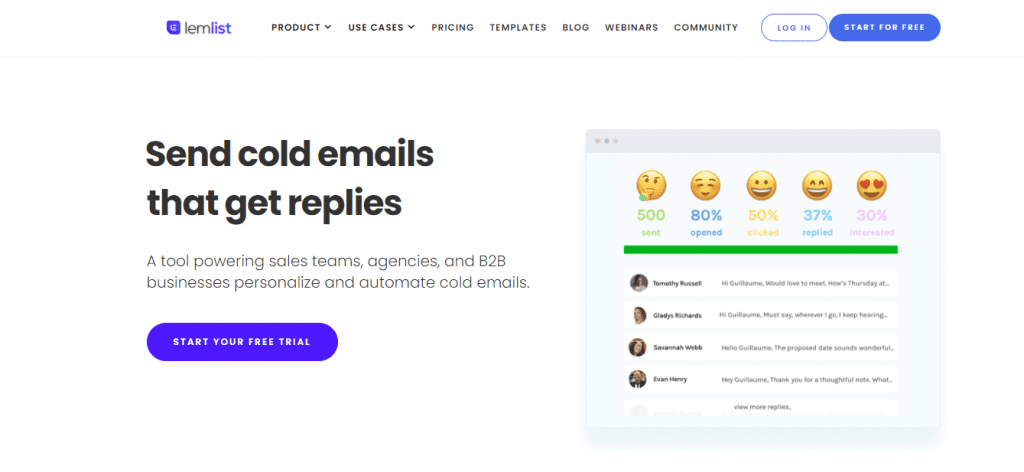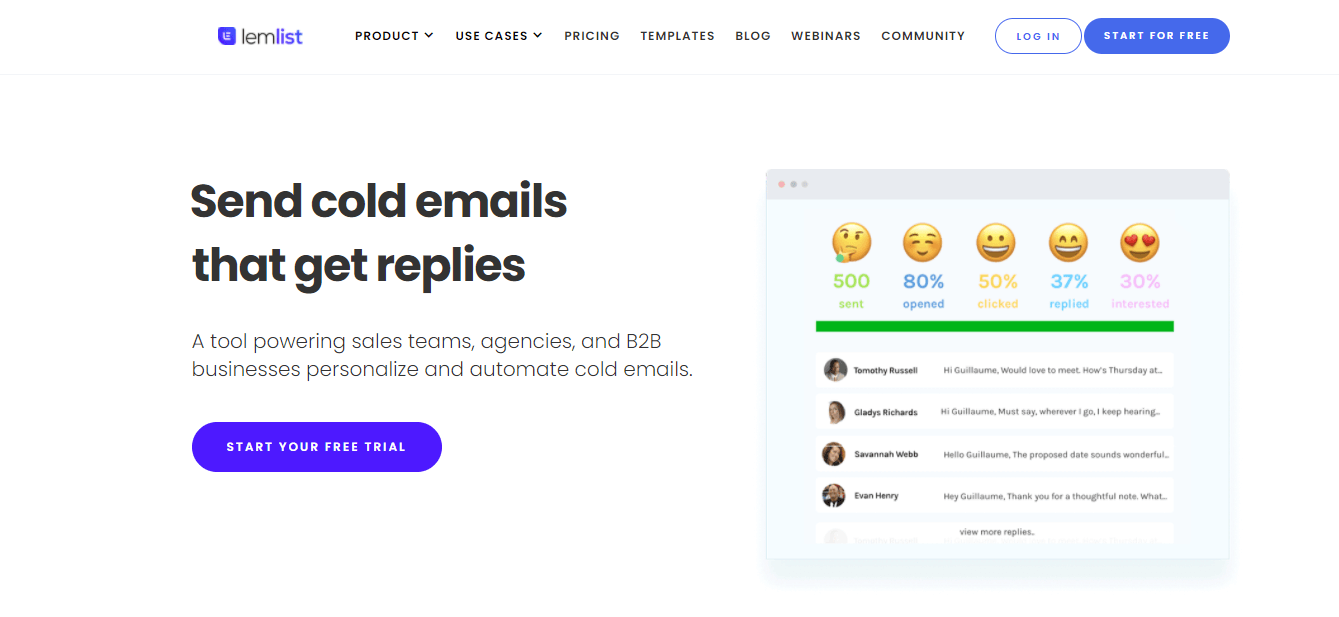 Lemlist is a popular cold email outreach tool focusing on highly personalized cold emails to encourage a response.
With Lemlist, users can build cold email campaigns with goal-oriented templates and get access to valuable automation. The platform also has multiple CRM integrations and a support group.
This is a good tool for anyone looking to develop a highly personalized email campaign instead of newsletters or regular email blasts.
Prospect.io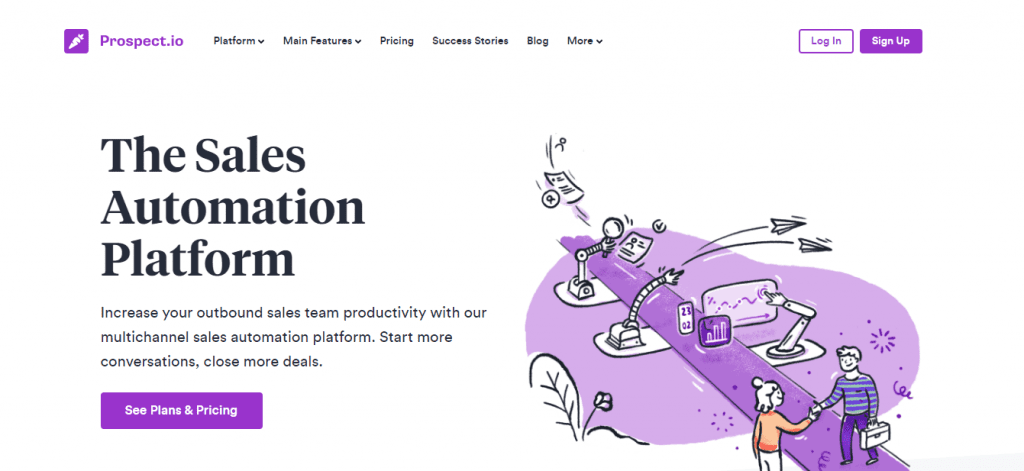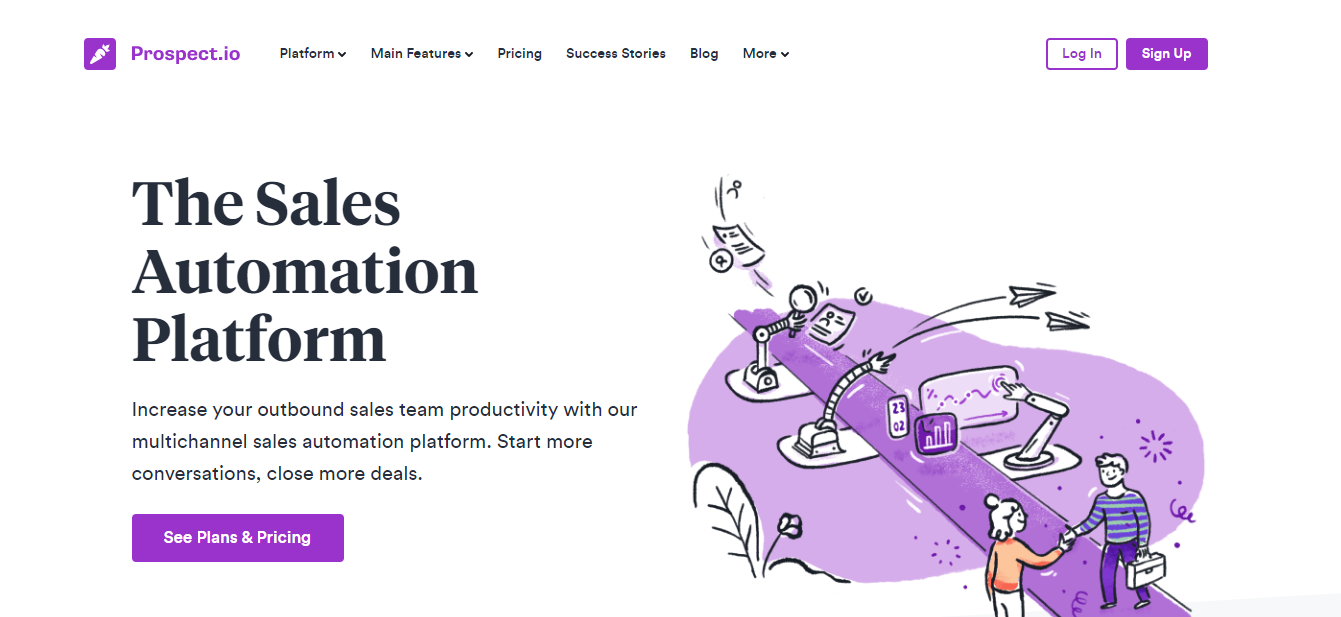 Prospect.io helps users create multi-touch drip campaigns to automate their sales process based on how people respond.
The platform features a simple drag-and-drop builder and templates to help you build responsive and personalized emails. Its email verification tool is useful to verify emails before bulk email blasts are sent, increasing deliverability and preventing emails from being flagged as spam.
Although its data is mainly focused on Western countries, Prospect.io's cold emailing tool is great for email marketing.
Mailshake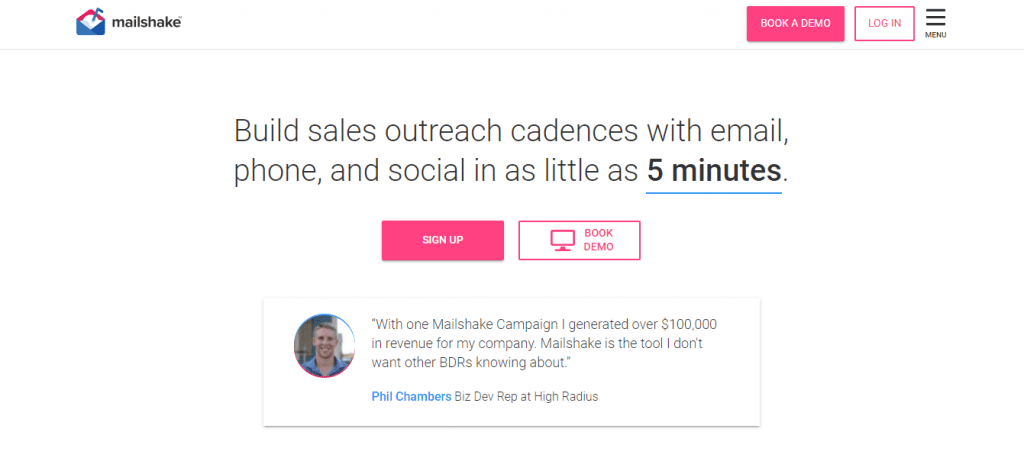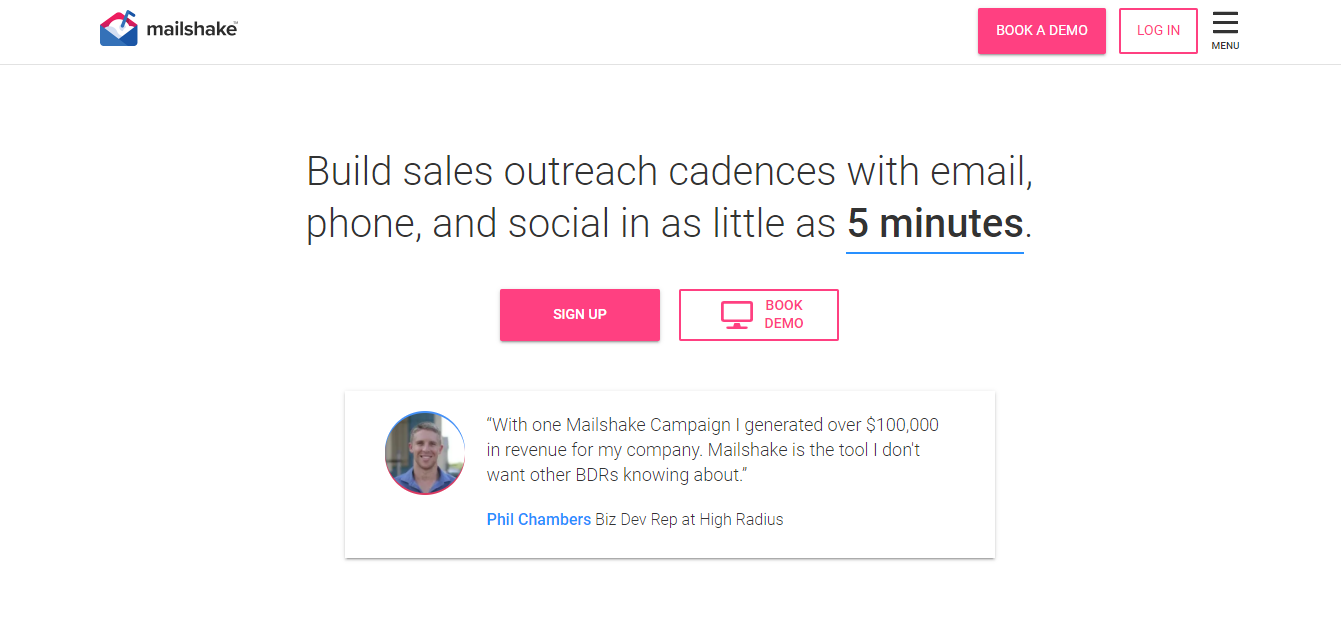 Mailshake is another email platform that helps users build cold email campaigns from start to finish. The platform can connect to the user's Gmail account and social media and even make phone calls in-app. This process makes it handy for users looking for a simple platform to follow up with their leads.
The platform also features multiple integrations and free webinars, and education tools.
Yesware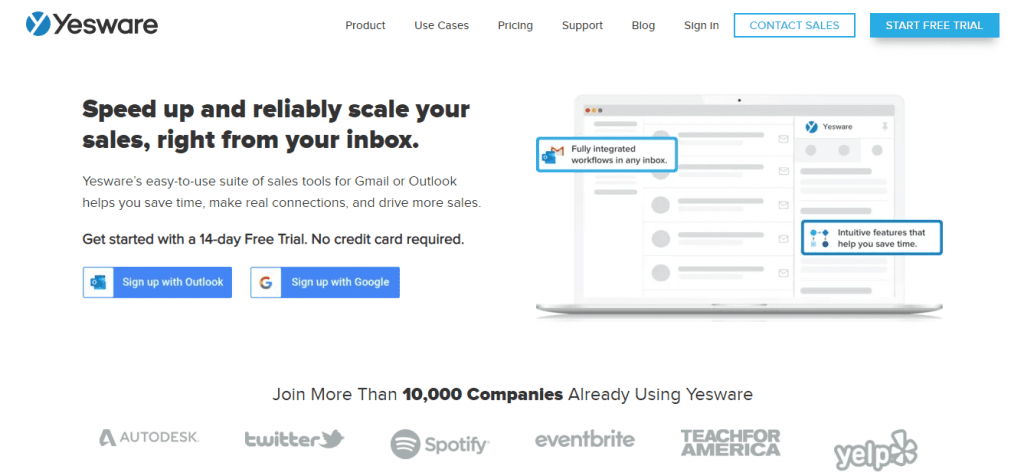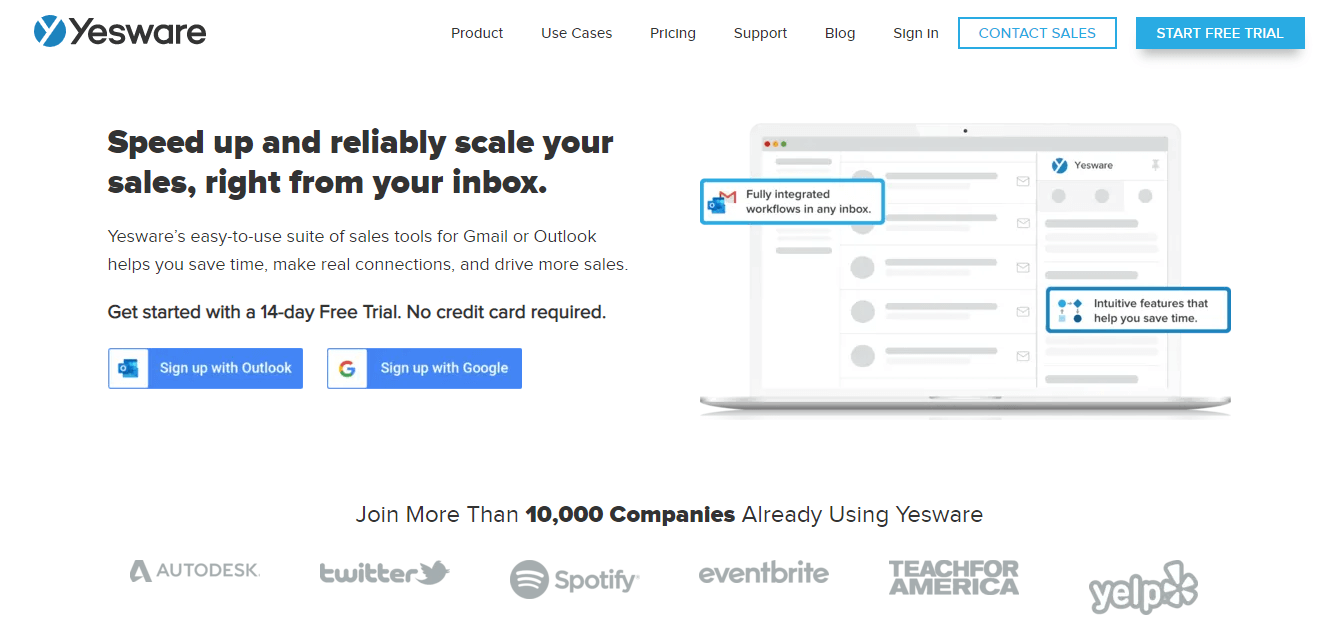 Yesware is a fully-fledged sales software with powerful cold emailing options. With Yesware, users can contact leads, keep track of their progress, gather data, and even handle scheduling.
Yesware is a great tool for larger companies that can take advantage of the full platform for all their marketing needs or smaller companies looking for cold emailing services.
Mixmax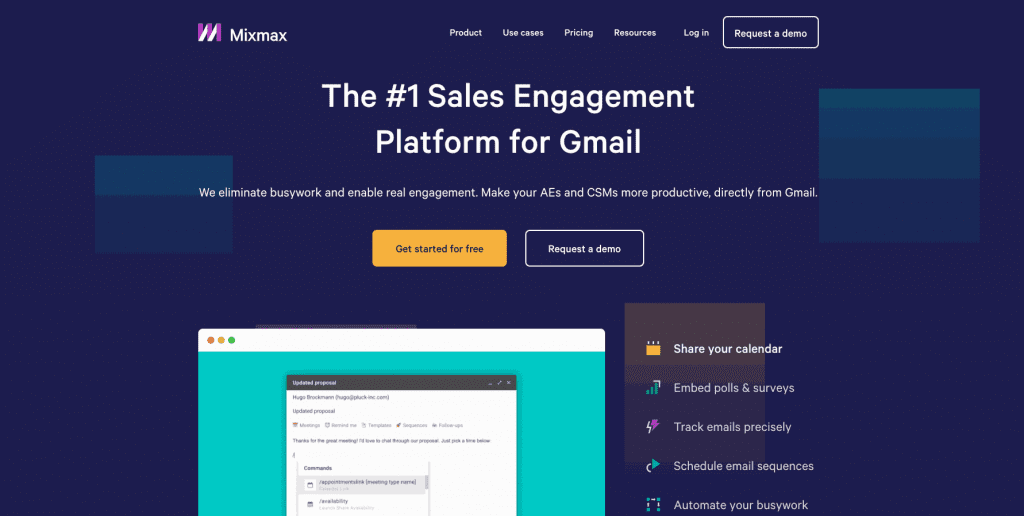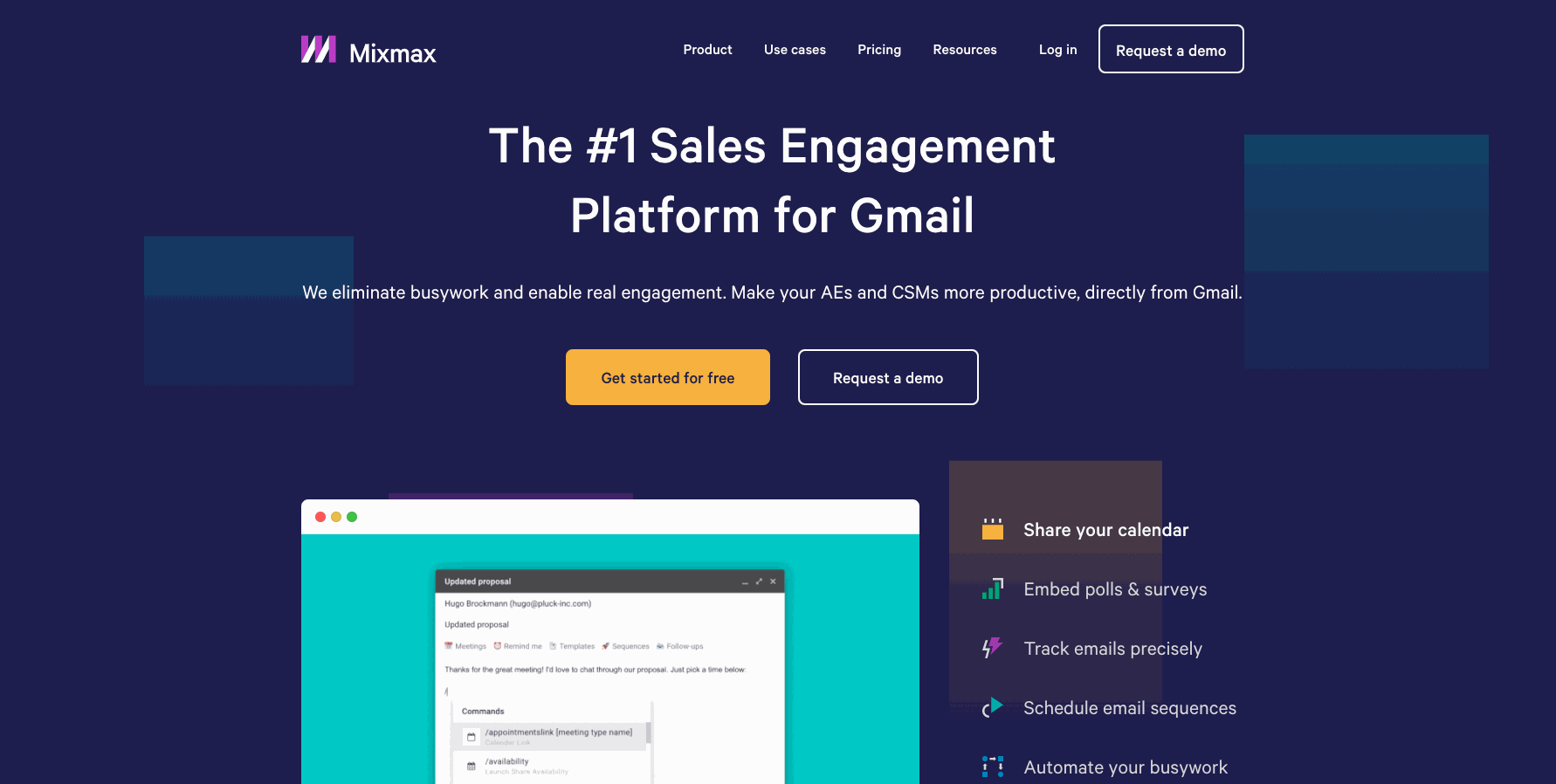 Mixmax is an email automation tool that aims to streamline its users' sales process.
The tool uses a Chrome extension to integrate with the user's Gmail account. It allows them to handle scheduling, keep track of emails, and automate some time-consuming processes.
This is a great tool for users looking to improve their email communication with their leads.
Salesloft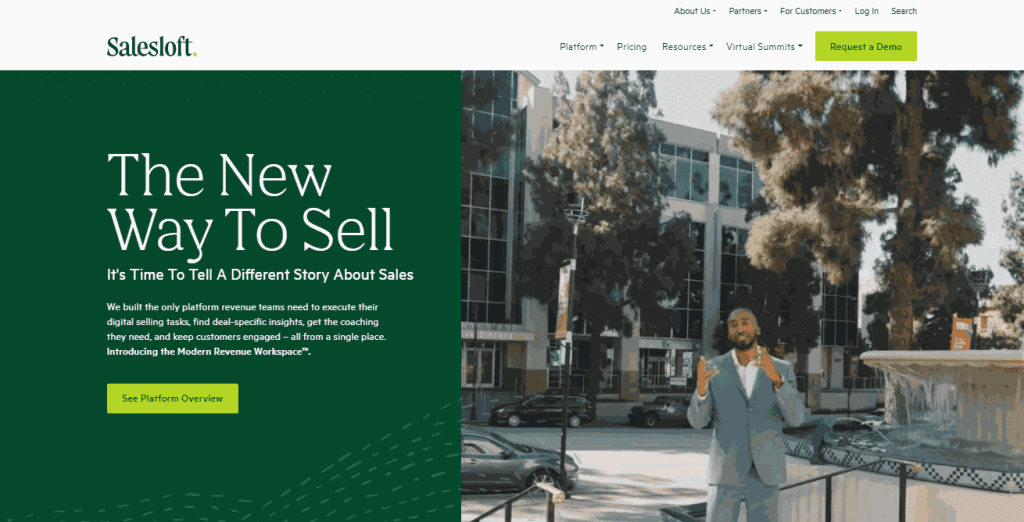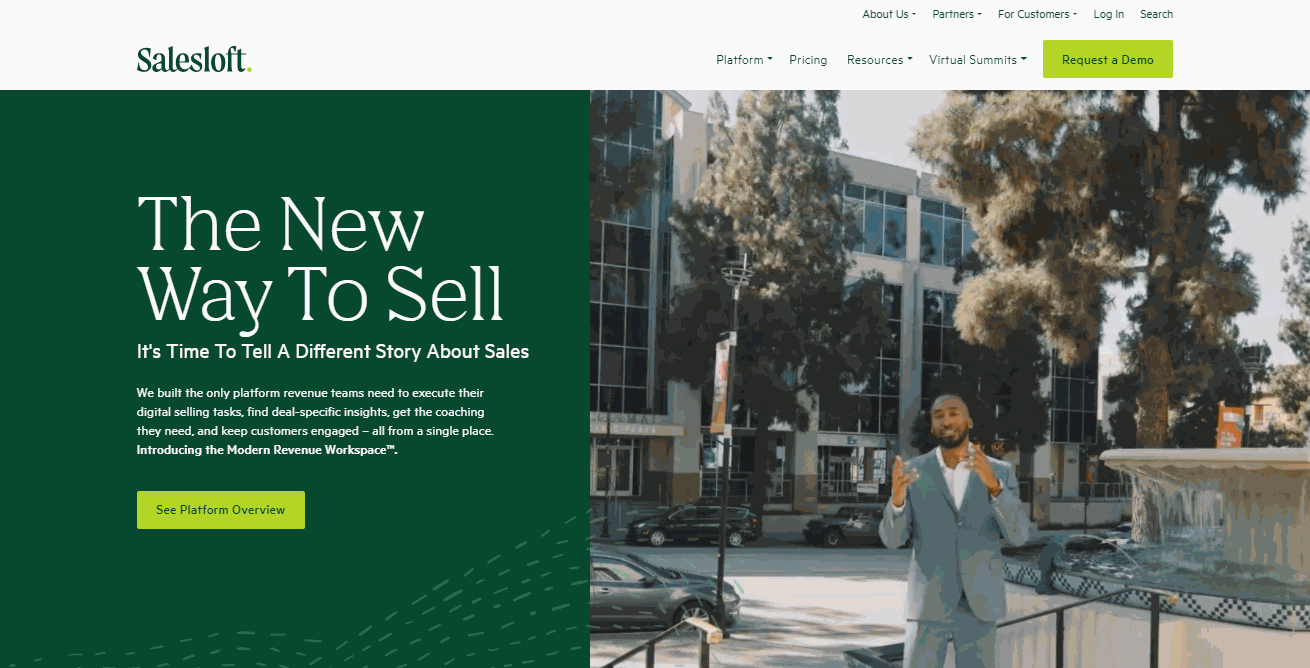 Salesloft claims to be the number one sales engagement platform and helps users improve their sales process, providing everything from automation to coaching.
The platform offers packages focused on generating leads, allowing users to scale up their emailing efforts with an all-in-one tool.
SalesHandy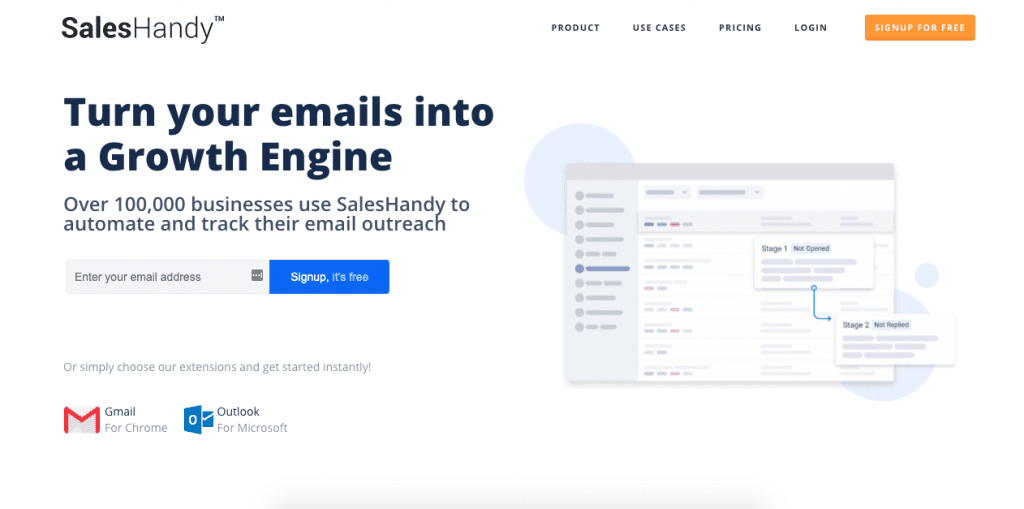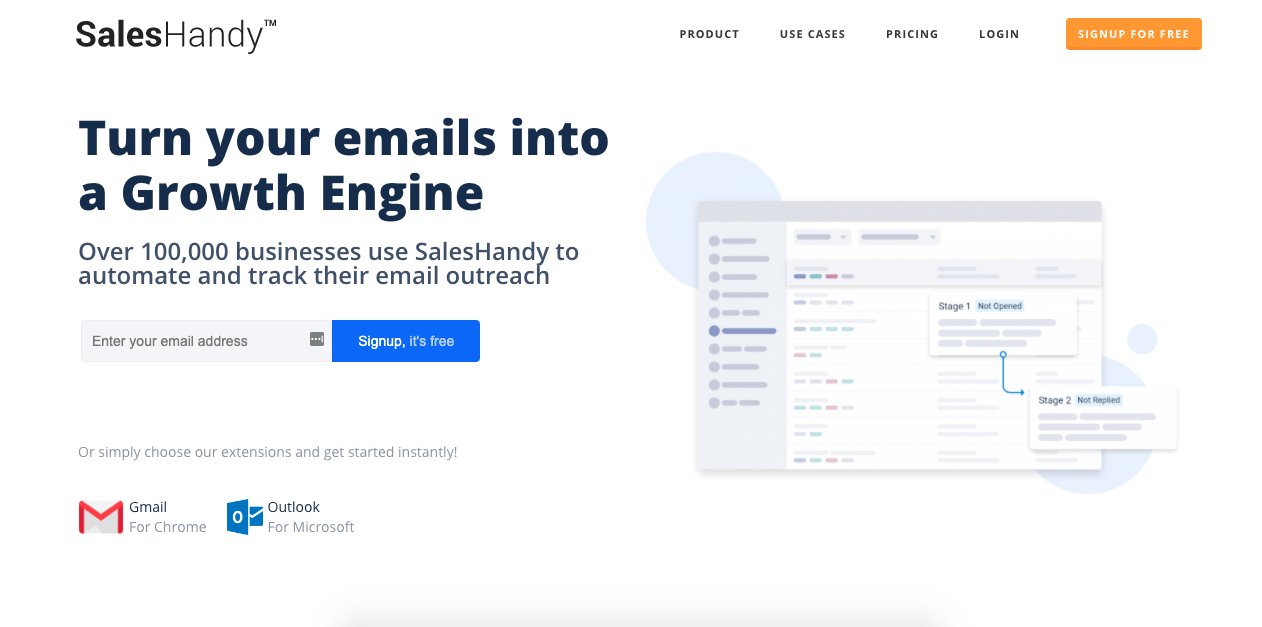 SalesHandy is a simple tool that allows salespeople and marketers to write and send daily cold emails to as many as 5,000 contacts.
The platform offers a few simple automation tools to help users keep track of their leads when they're interacting with them. It also provides detailed reporting and analytics so users can continue to improve their sales process.
Marketing Automation Tools
Marketing automation tools send email blasts to defined contact lists. Here are the best ones:
ActiveCampaign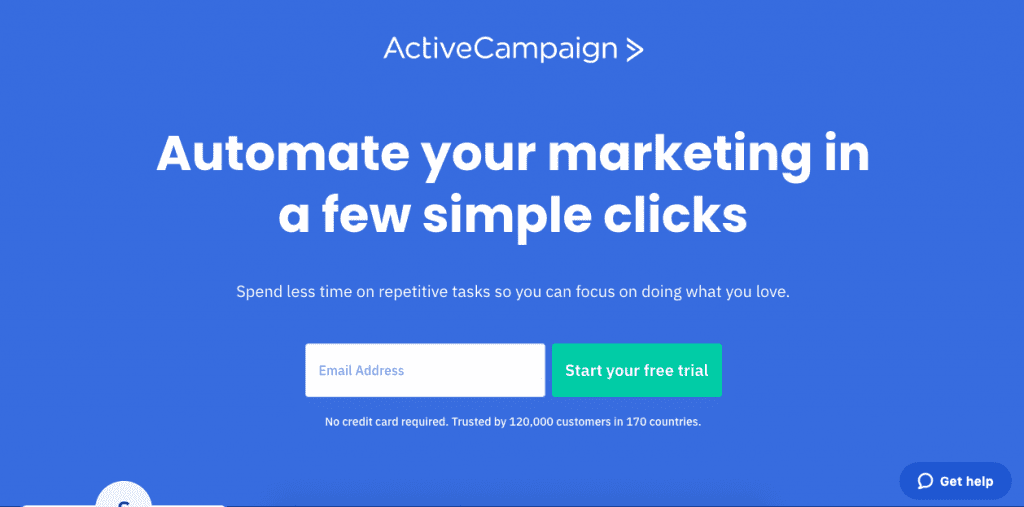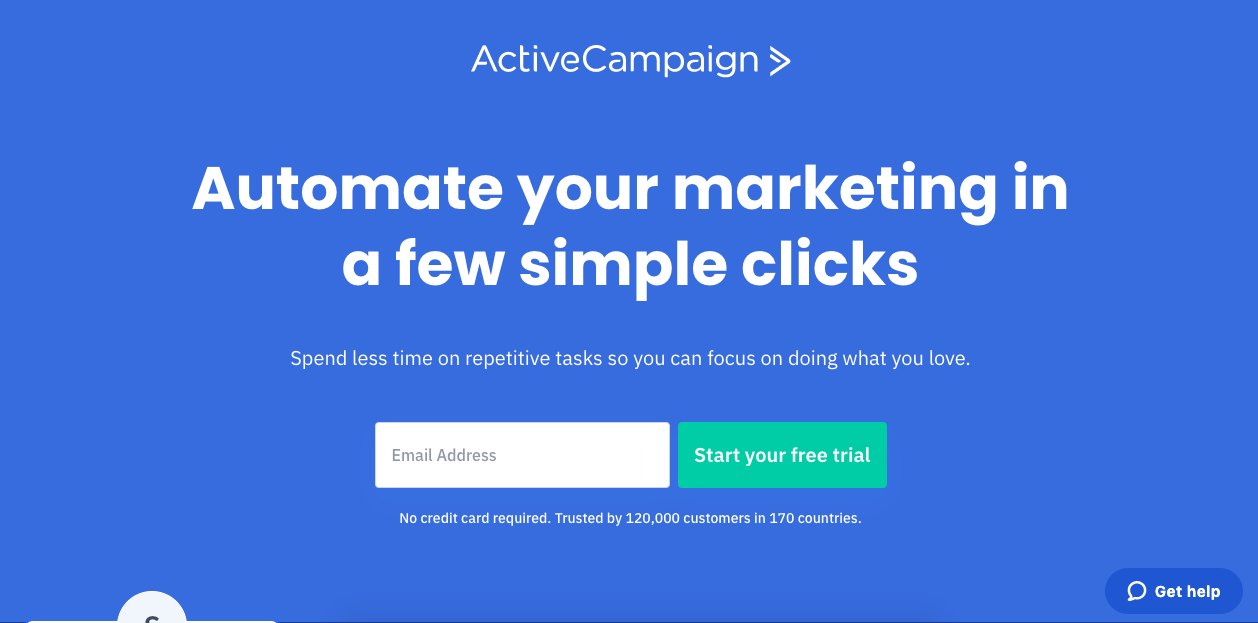 ActiveCampaign is a popular email marketing tool with multiple automation capabilities at affordable prices.
The platform allows users to develop newsletters quickly and build upon them with powerful automation sequences. It also features a very basic CRM, which may make it more appealing to smaller businesses looking for a budget-friendly option.
Sendinblue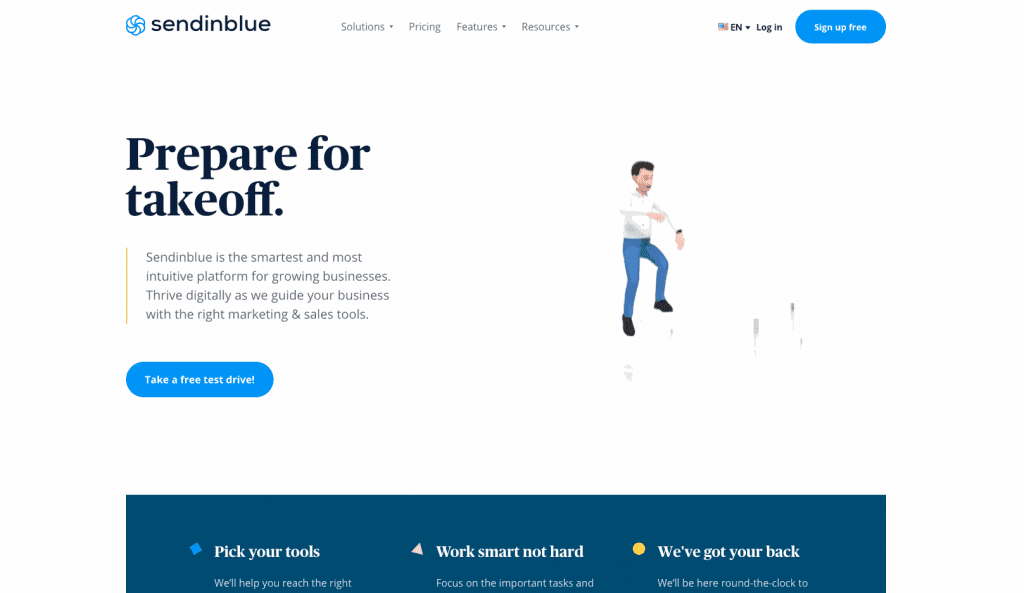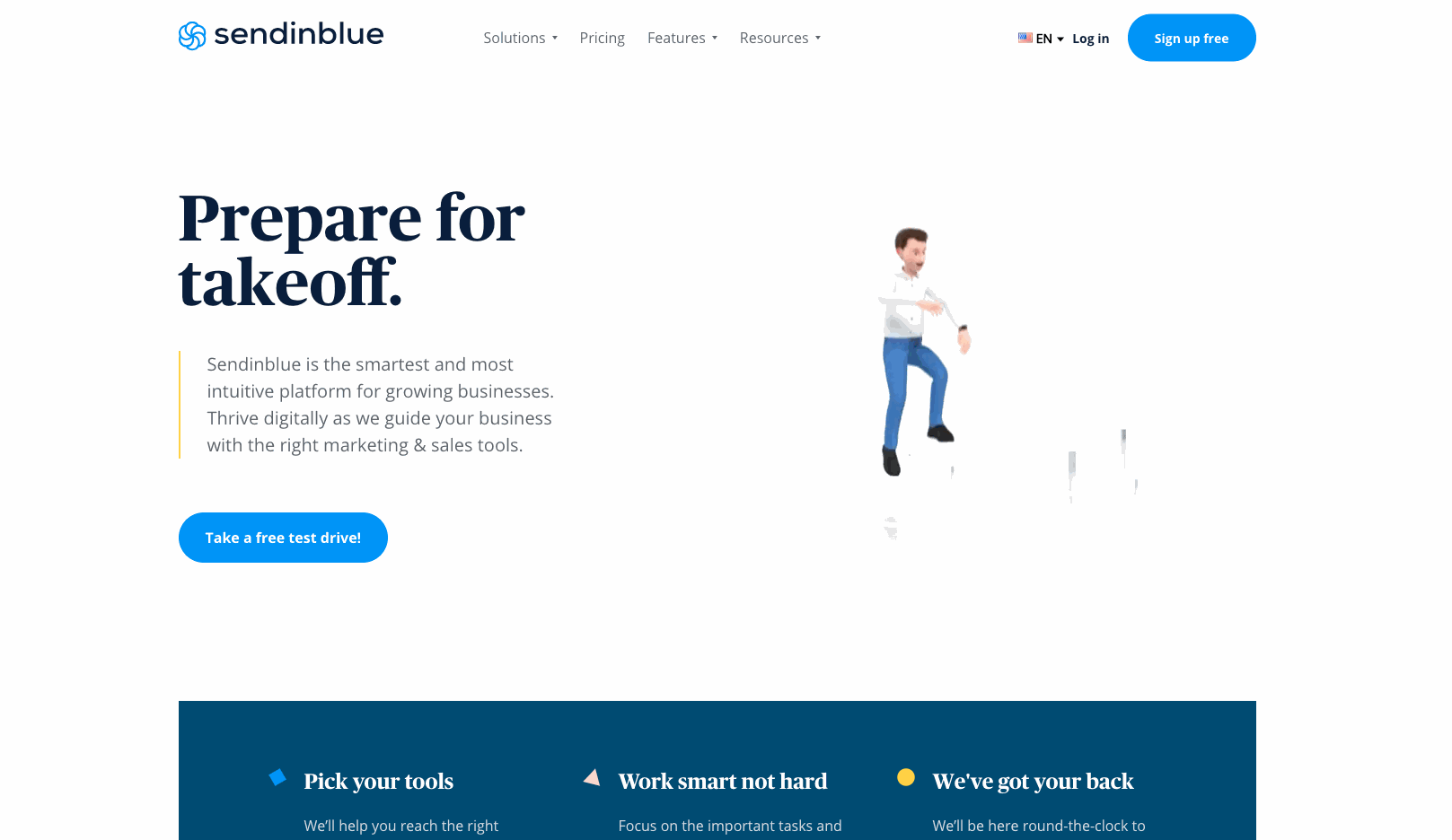 Sendinblue has quickly grown into a comprehensive marketing tool with powerful email automation capabilities. With it, users can finetune automation controls and even handle their SMS marketing.
The platform also offers a built-in CRM to track leads and is constantly upgrading its features and capabilities.
ConvertKit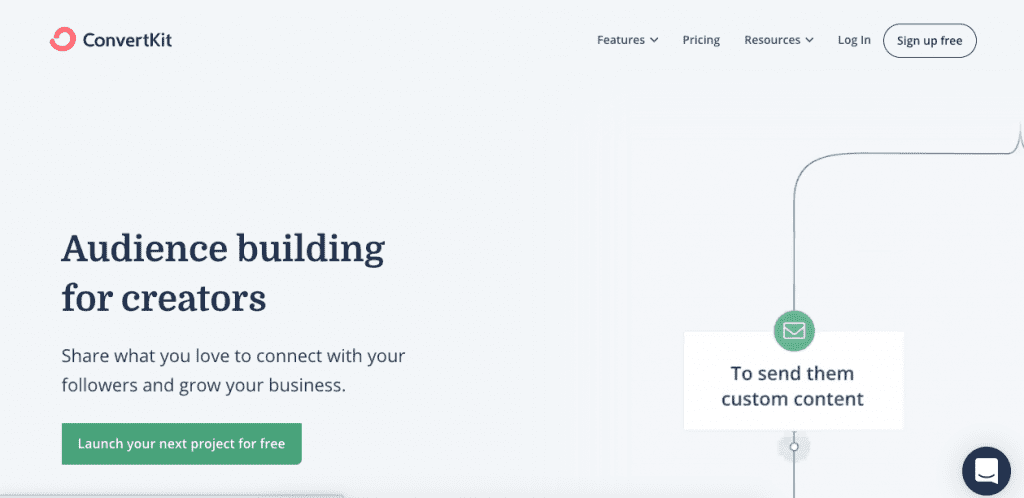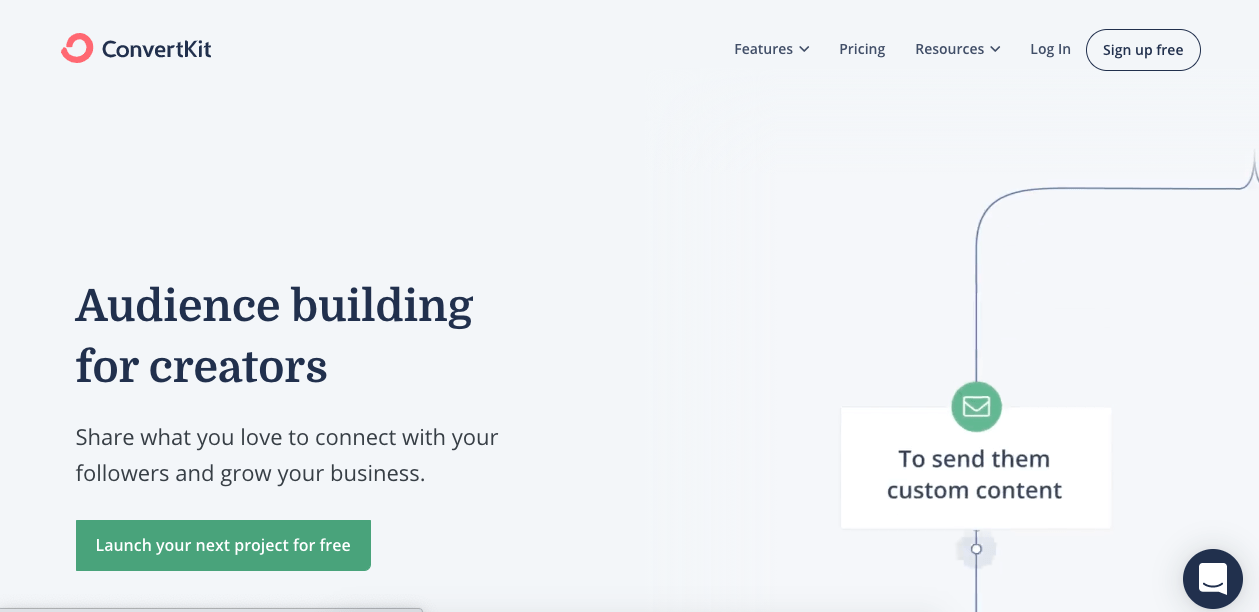 ConvertKit is an email marketing platform filled with features to create and improve email marketing strategies.
The platform allows users to segment their audiences and set up auto-responders to send drip emails. Although it started as a niche platform, its powerful capabilities have been slowly growing its user base.
SendGrid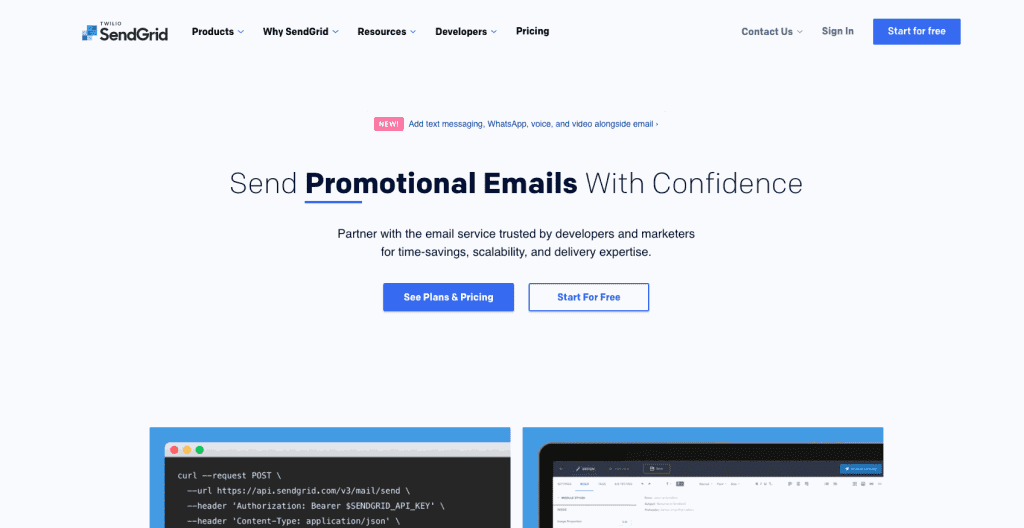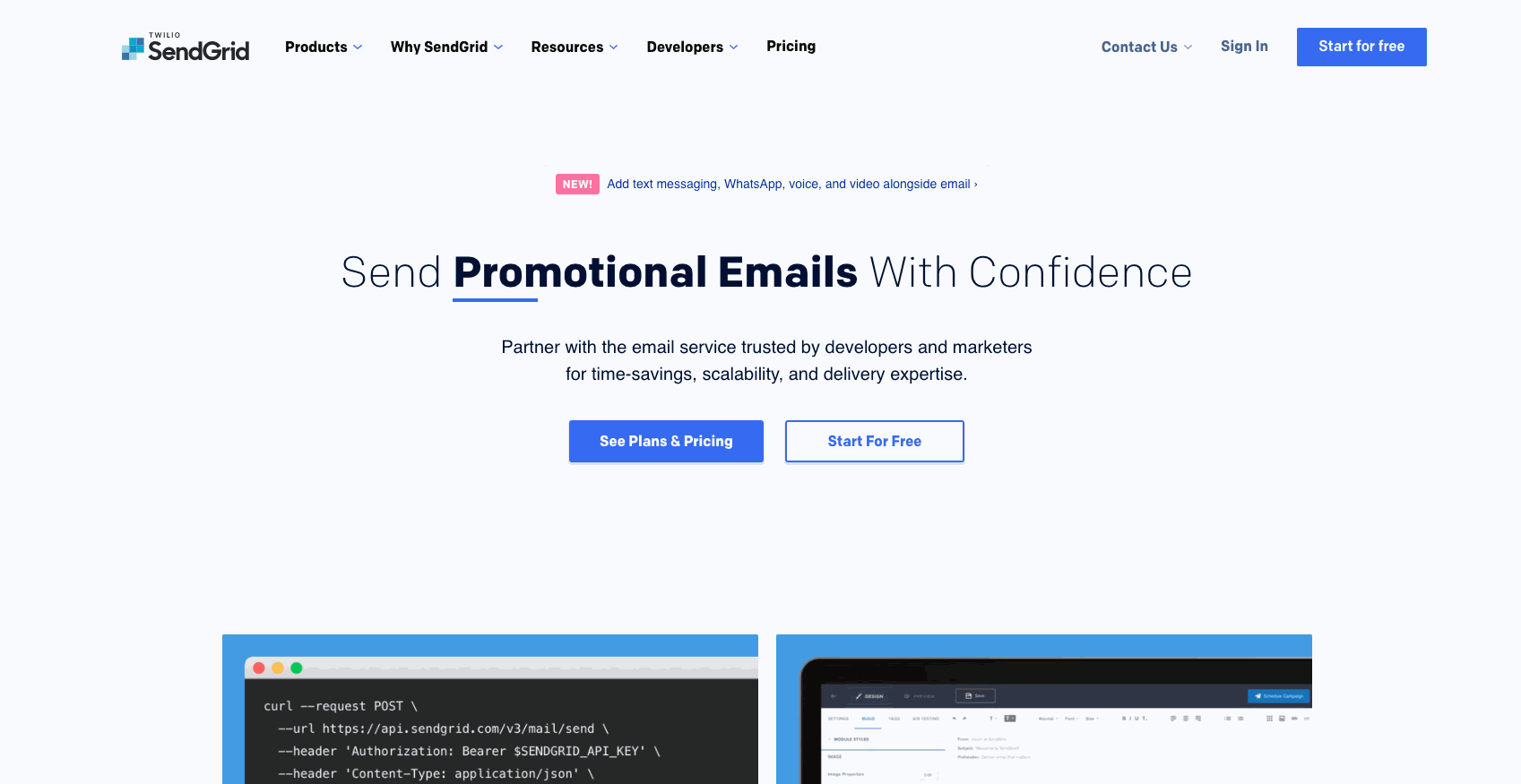 Owned by Twilio, SendGrid is an email marketing tool that focuses on deliverability, helping users ensure their audience receives their emails.
The tool helps email marketers avoid having their campaigns fall into the spam folder by using email validation and information on improving sender reputation. The drag-and-drop editor also helps users build emails or modify templates to quickly set up email marketing campaigns.
Mailchimp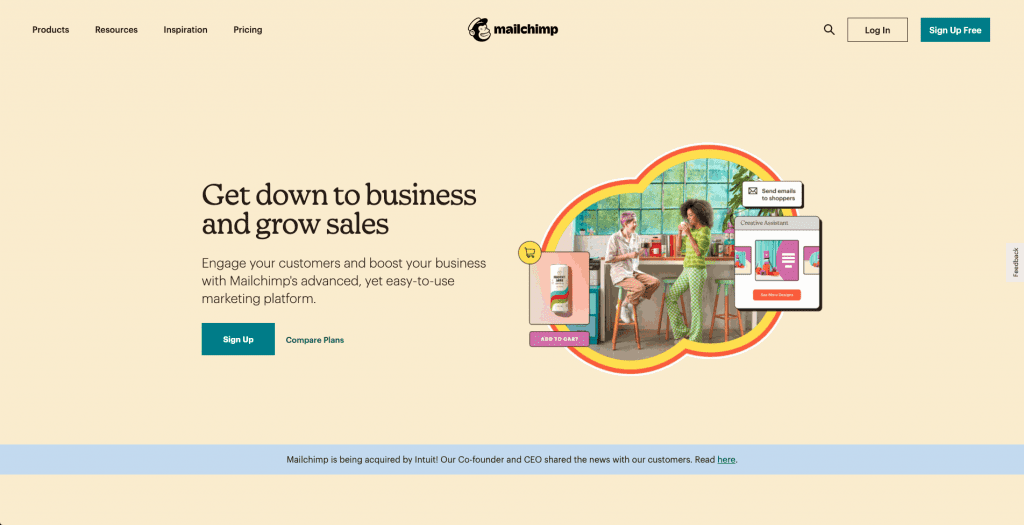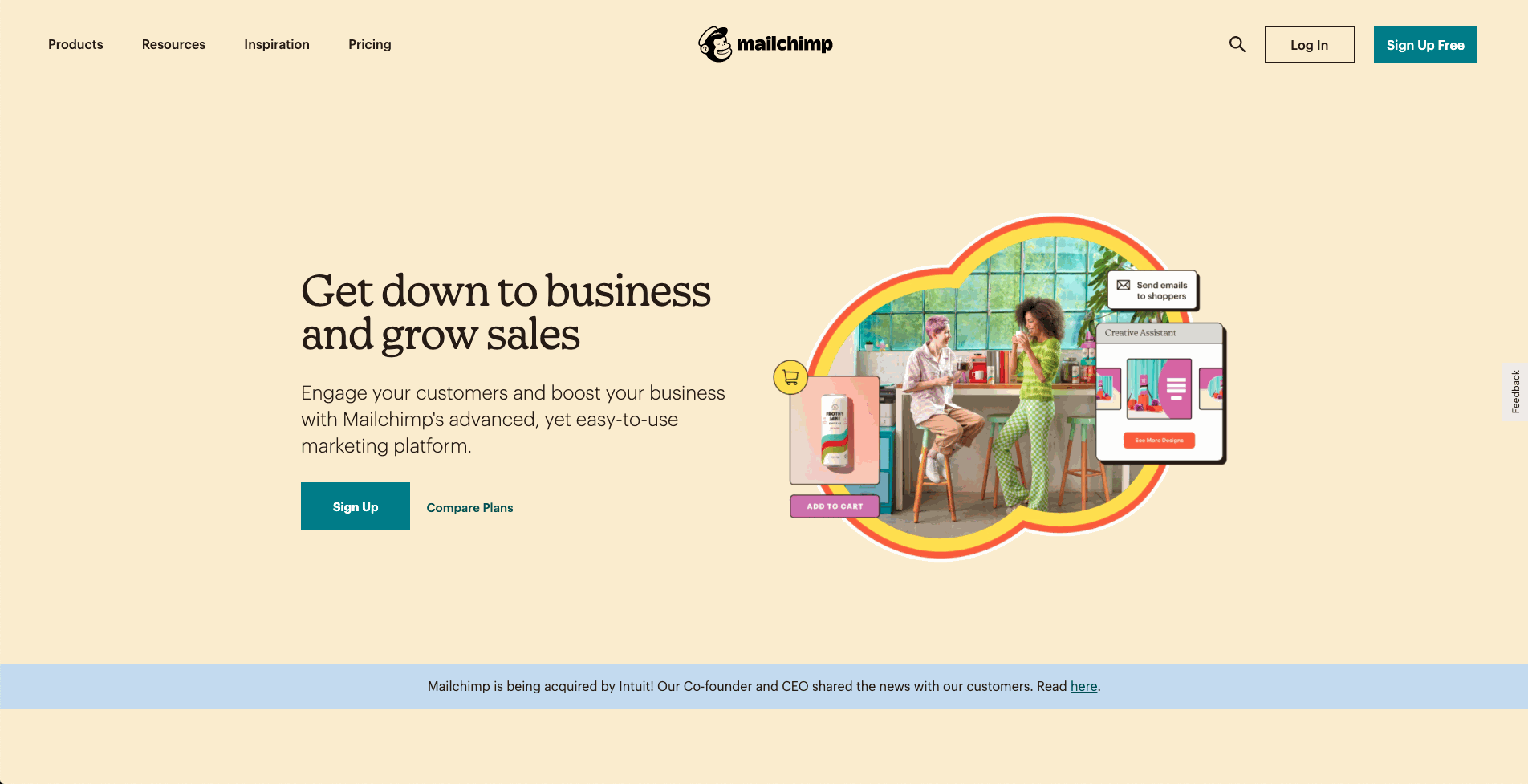 One of the most popular email marketing tools, MailChimp is a full marketing hub with excellent emailing capabilities.
The platform offers accessible pricing tiers and allows users to ensure a decent deliverability rate through a stable platform.
Although email templates aren't as versatile or easy to modify, MailChimp continues to dominate the email marketing sphere thanks to its capabilities and simplicity.
Mailgun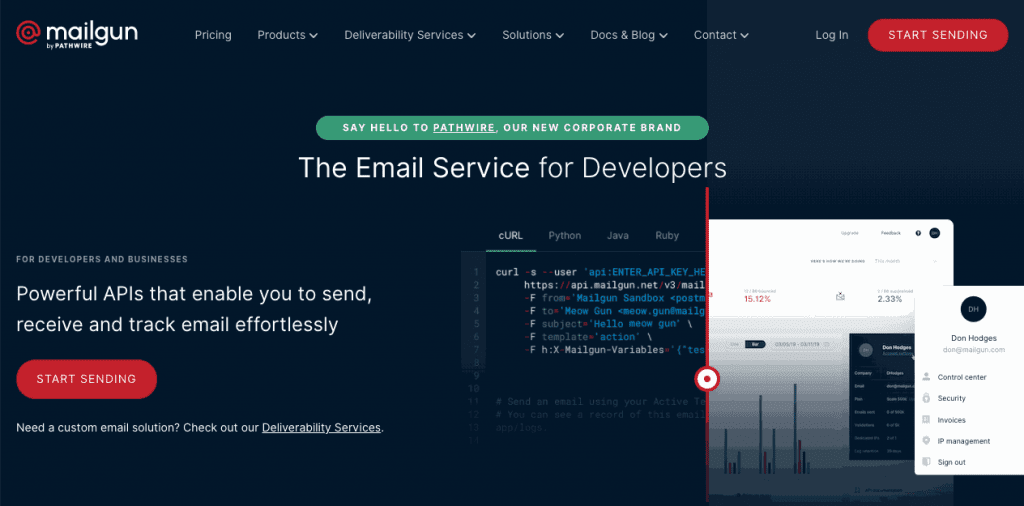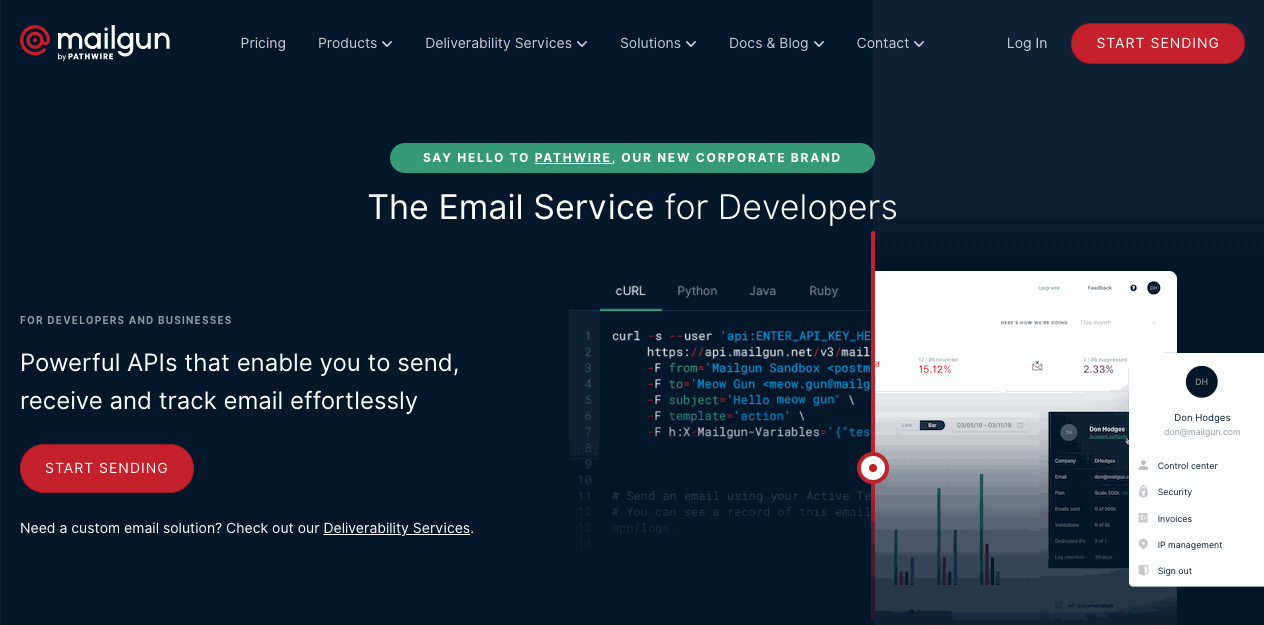 Self-described as the "email service for developers," Mailgun allows for powerful email marketing campaigns and bulk email validation.
Although it's not very user-friendly for non-developers, developers will get access to powerful analytics and a powerful API with effective email verification capabilities.
SparkPost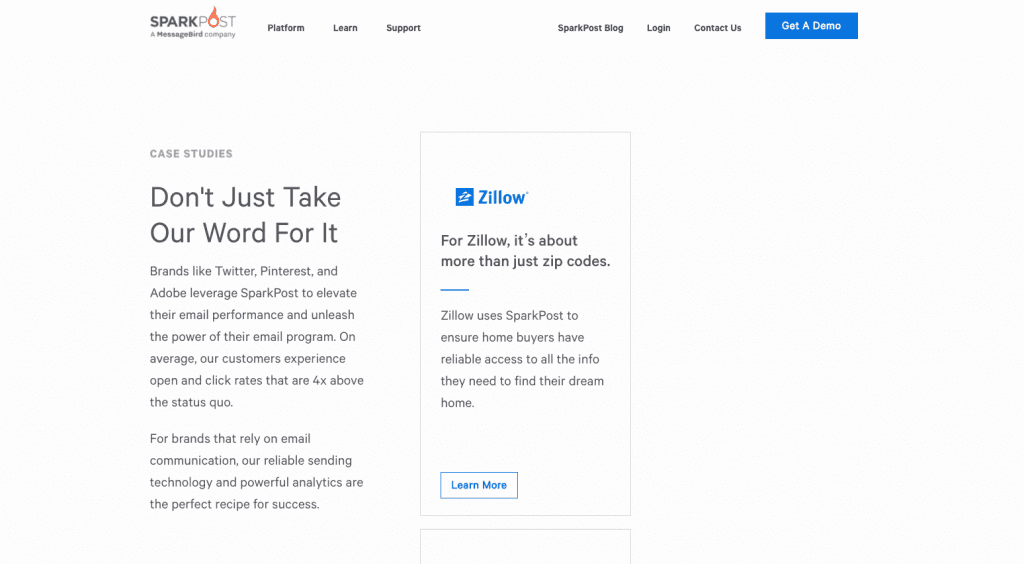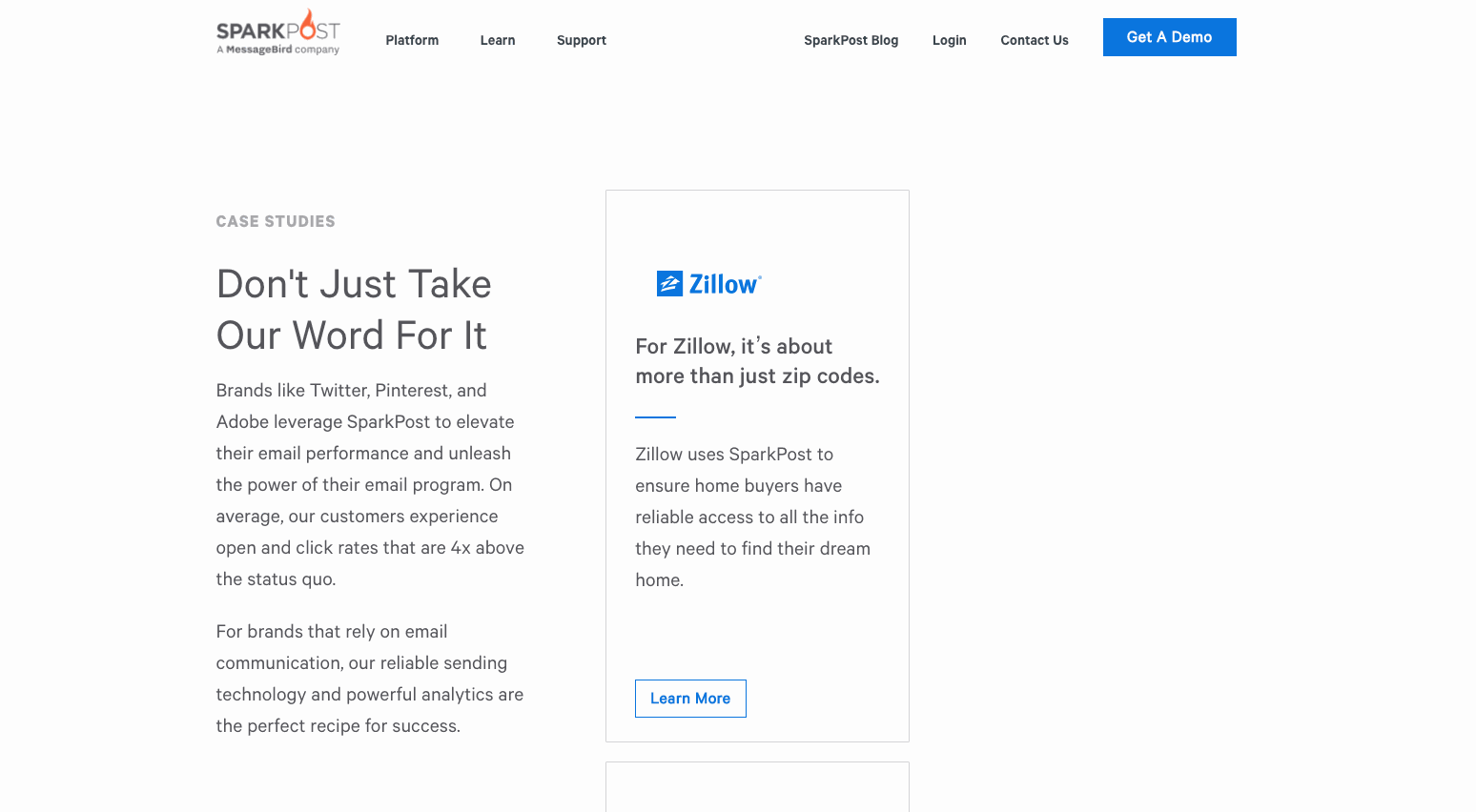 SparkPost takes care of all marketing and transactional emails through powerful software with advanced capabilities.
The platform offers high-quality features meant to engage with new leads and retain current customers. Users can take advantage of dynamic templates and robust analytics to improve their marketing efforts.
2. Make sure to provide content that is highly relevant to your audience
When it comes to content development, relevancy is key for your audience. Think about it. People would rather read a poorly-written article about a topic they care about than an excellently-written article about something they don't care about.
However, with so much competition for your audience, relevancy will only get you so far. After all, larger competitors with larger budgets may also be trying to develop content for your audience.
That's why developing high relevance and quality content is vital for successful content writing.
Why this is important
Your target audience consumes content every day. By developing content relevant to them, you can get your target audience to choose your content over the competition. To ensure your audience engages with your content, you need first to find out what content your audience is looking for.
Typically, SEO content will be popular since it can yield long-lasting results. However, other kinds of inbound content, guest articles, and help guides can also give your audience what they're looking for.
Content does more than generate leads through traffic. By developing high-quality content, you can also build your brand's reputation as a topic authority, increasing recognition.
Examples of relevant content for different audiences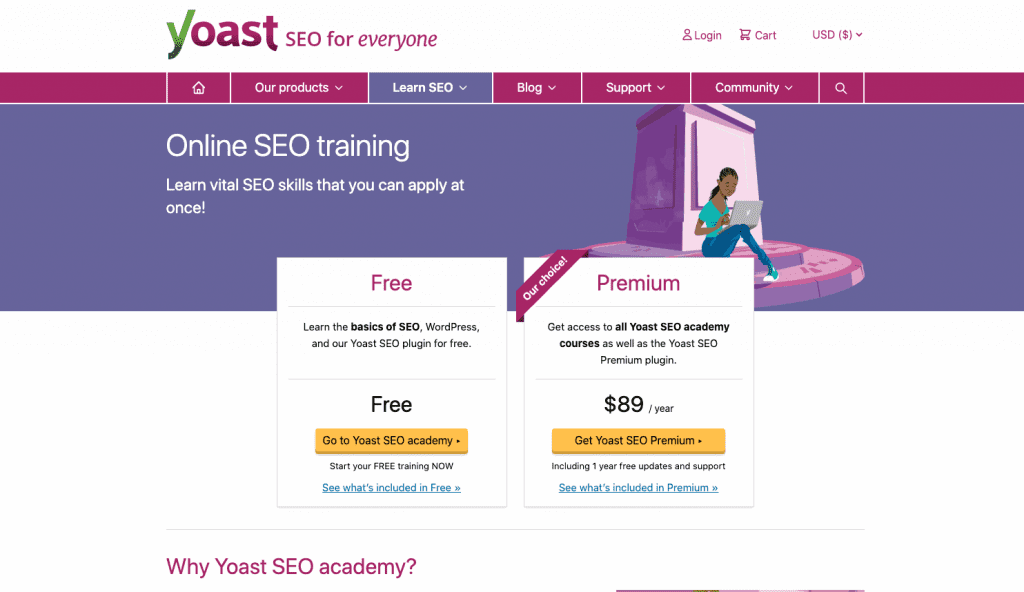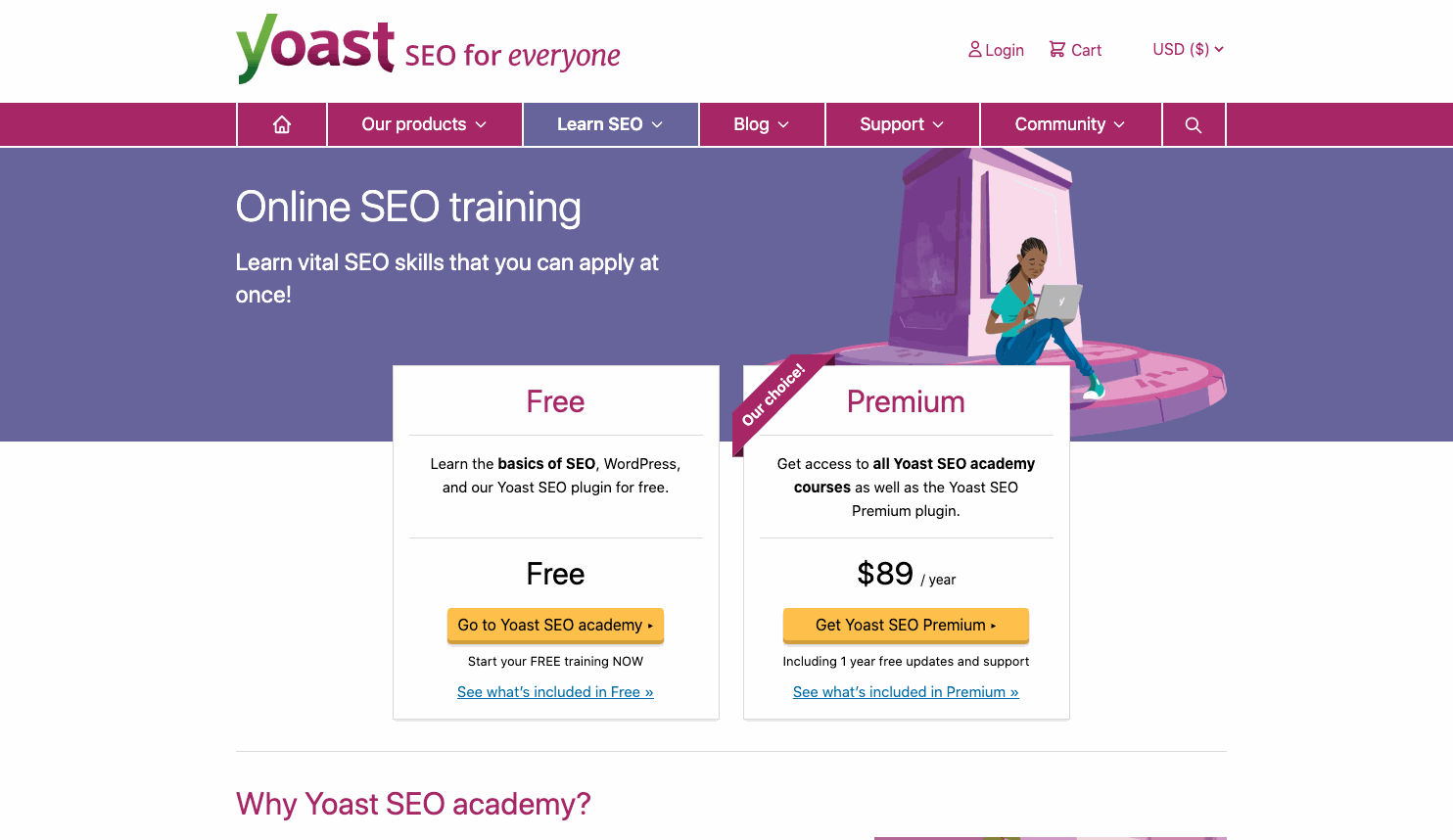 SEO content aims to answer your audience's Google queries to educate them. This allows you to tap into long-tail keywords from highly engaged users to place your content and your company right in front of them.
Lead magnets can also be powered by highly valuable content for your audience. Yoast, for example, is a company made to help you easily develop SEO-friendly content. They offer a free SEO course for anyone who wants to get started with the basics, offering valuable information while nurturing the right leads among users.
At the end of the day, the right content will be directly tied to your audience and the content they're looking for.
3. Include an unsubscribe link to avoid customer frustration and comply with anti-spam laws
An unsubscribe link is a hyperlink that's usually located at the bottom of an email. It allows the user to opt out of a mailing list.
Why this is important
Unsubscribe links are vital for email deliverability. It is also a requirement for complying with the CAN-SPAM Act and many other anti-spam laws around the world.
Not including an unsubscribe link (or one that doesn't work) will not only provide a bad customer experience but can negatively affect your deliverability.
When used correctly, you can get valuable data from unsubscribing trends and use that data to limit future unsubscribe requests.
Examples of unsubscribe links that work well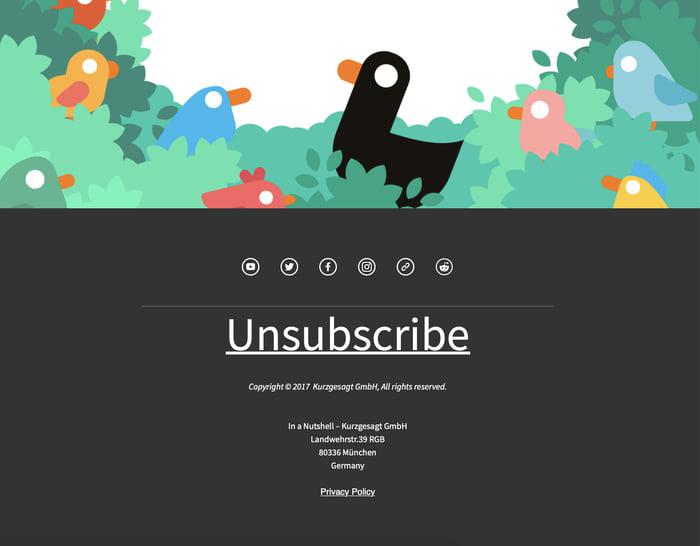 Kurzgesagt is a popular educational YouTube channel with a newsletter. Instead of hiding or fading the unsubscribe button, they enlarged it and made it extremely visible.
The result?
The link ended up drawing a lot of attention, getting picked up by multiple subreddits, and growing Kurzgesagt's following and reputation for free.
If it's easy to get rid of your content, your audience may be less prone to want to get rid of it.
4. Segment your audience and personalize your email marketing content accordingly
Audience segmentation is the process of dividing your current user base into subgroups of similar users. These subgroups are then funneled into the marketing strategies they're more likely to engage with.
Why this is important
Audience segmentation is a simple way of ensuring your audience is only getting email content that's relevant to them.
With audience segmentation, you can subdivide your audience into common user personas and engage them with the right campaign according to where they are in their customer journey.
Proper audience segmentation ensures you're nurturing the right leads with the right marketing campaigns while letting your sales team contact any leads that are ready to convert.
Examples of audience segmentation done right
Source: ioTechnologies
With Amazon's massive reach, it's no surprise they need to segment its audience well. However, Amazon keeps segmentation simple, as we can see in the image above.
Segmentation can be done too broadly or too cautiously. Finding the right balance is key to successful audience segmentation.
How to Send Mass Emails in Gmail
Here's how to send a mass email using Gmail:
Step 1: Log in to your Gmail account.
Step 2: Compose a new email.
Step 3: Use the BCC option to add your contacts.
Step 4: Send your email.
Keep in mind that Gmail will limit the number of emails you can send and receive to only 500 every 24 hours, so don't try to send too many emails, especially if you're expecting a response.
Do's and Don'ts
Here are a few do's and don'ts when using Gmail to send mass emails:
Don't use it for large mass email needs. Choose a bulk email marketing tool if you need to send or follow up on over 500 emails every day.
Don't CC your email list. Use BCC to protect people's email addresses and privacy.
Do use Gmail's Google Group feature. It will allow you to segment your audience for mass emailing quickly.
Do wait a full 24 hours between bulk email blasts. The system will count down the hours from when you sent your emails instead of resetting at midnight or at a different time.
How to Send Bulk Email in Outlook
Here's how to send a mass email using Outlook:
Step 1: Craft your email with Word.
Step 2: Upon completion, go to the Mailings ribbon.
Step 3: Go to the Start Mail Merge menu and select E-mail Messages.
Step 4: Add your recipients from a new or existing list or import them from Outlook Contacts.
Step 5: Select Finish & Merge, then write a subject line and send your email.
Outlook's limit is 300 sent emails per day, so consider its limitations before using it.
Do's and Don'ts
Here are a few do's and dont's when using Outlook to send mass emails:
Do use Outlook and Word whenever possible. Since there's no drag-and-drop builder or dynamic templates, Word can help you appeal good email messages.
Don't use Outlook if you need to send constant bulk email blasts. Its limitations will quickly become apparent.
Don't use it for cold emailing. Email messages sent from an ISP like Outlook will often be flagged as spam when they're not used for personal use.
Do use an email validation tool to ensure deliverability.
Mass Emails FAQ
Here are some answers to frequently asked questions about how to send mass emails and bulk email tools.
What is mass email?
A mass email or bulk email can be defined as an email blast sent to a large audience. This is typically an affordable part of a larger marketing strategy since bulk email blasts can be extremely cost-effective.
Is mass email legal?
Yes, mass email is legal as long as you comply with spam laws. These laws usually ask users to add an opt-out feature and not to sell data collected from mass email sending.
When should I send mass emails?
Mass email sending is best to use when you're looking for a cost-effective way of reaching multiple users simultaneously. Through newsletters, email blasts, and quick messages, users can keep their contacts well-informed without having to spend a lot of money.
What is the mass email response rate?
It will likely depend on your audience, industry, and many other factors. However, 10% is generally thought of as a reasonable response rate.
Is there a limit to sending bulk emails in Gmail?
Yes, Gmail only allows users to send or receive 500 emails every 24 hours. Bulk emails sent through Gmail will also be more likely to fall into spam folders and lack basic sales and marketing features.
Is there a limit to sending bulk emails in Outlook?
Users can only send up to 300 emails daily, so it's better to use a short email blast than to send emails to a large list. Users who send bulk emails in Outlook are more likely to be filtered out as spam since Outlook and most platforms like it are intended for personal emailing needs.
Is it possible to send mass emails for free?
Yes, you can email a small audience through free tools like Gmail or Outlook. You can also use free tiers of paid email marketing tools to send mass emails to your audience.
Is it really possible to send email blasts without spamming?
Yes. However, it will involve having to personalize emails enough to ensure you're sending content that is relevant to your audience and will land in their inbox.
Finally, it's also important to comply with and follow anti-spam laws to ensure your email blast is expected instead of being labeled as spam.
Mass Emails: Conclusion
Nowadays, sending emails to the right users is easier than ever, especially when using the right tools.
Try tools like UpLead to develop your mailing list and send mass email blasts to the best leads today.
Start Your 7-Day Free UpLead Trial
Lead generation doesn't have to be all that painful. With UpLead, you can easily connect with high-quality prospects and leads to grow your company.