Outbound prospecting strategies can empower your sales reps to go out and look for customers and ensure a good balance of marketing efforts.
That's why we put together the 8 best outbound prospecting strategies to improve your results. We'll cover multiple effective strategies and give you the tools you need to get started.
Let's dive right in.
Quick Links:
Inbound vs. Outbound Prospecting
Both inbound and outbound prospecting efforts focus on generating leads. While inbound strategies are built around slow and organic lead generation, outbound efforts focus on proactively finding leads for a cold outreach effort.
Let's take a closer look:
What is Inbound Prospecting?
Inbound prospecting aims to attract potential customers through creating content that can easily be found and engaged with. The strategy aims to organically place your company's solution in front of those who may be interested in your product or service.
Some examples of inbound prospecting efforts are:
Warm e-mailing
Social selling
Lead magnets
Content marketing
SEO
What is Outbound Prospecting?
Outbound prospecting aims to proactively find and contact potential customers, allowing your sales team to start reaching out to leads right away. This technique focuses on finding leads and establishing contact through well-researched user personas and personalized content.
Some examples of outbound prospecting efforts are:
Outdoor advertising
Social media advertising
How Do Outbound Prospecting Strategies Drive Sales?
Outbound strategies can help you improve your sales efforts, offering fast results perfect for your short term goals. Sales development representatives can focus on finding the phone numbers and email addresses needed for your campaign and use them for your outbound sales methods.
When leads are proactively generated, your company can add them to the pipeline much faster and more reliably than with most other methods. When done right, outbound prospecting strategies can effectively pierce through the noise of more ubiquitous marketing techniques and prime leads for future follow-up and nurturing from your sales team.
Outbound sales strategies can also be used to explore new markets quickly, helping to create accurate customer personas and discover the approaches that work for them. This can make outbound sales prospecting a precursor to inbound marketing by generating the data needed for future lead magnets and content marketing efforts.
8 Best Outbound Prospecting Strategies to Boost Your Sales
Here are 8 of the best outbound prospecting tips and strategies to improve your sales process:
1. Gather Quality Leads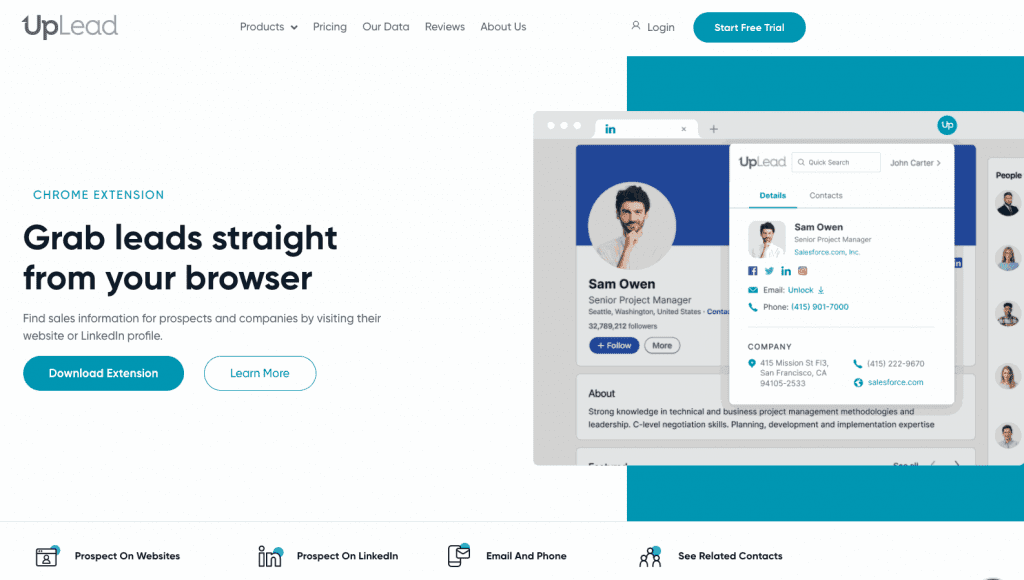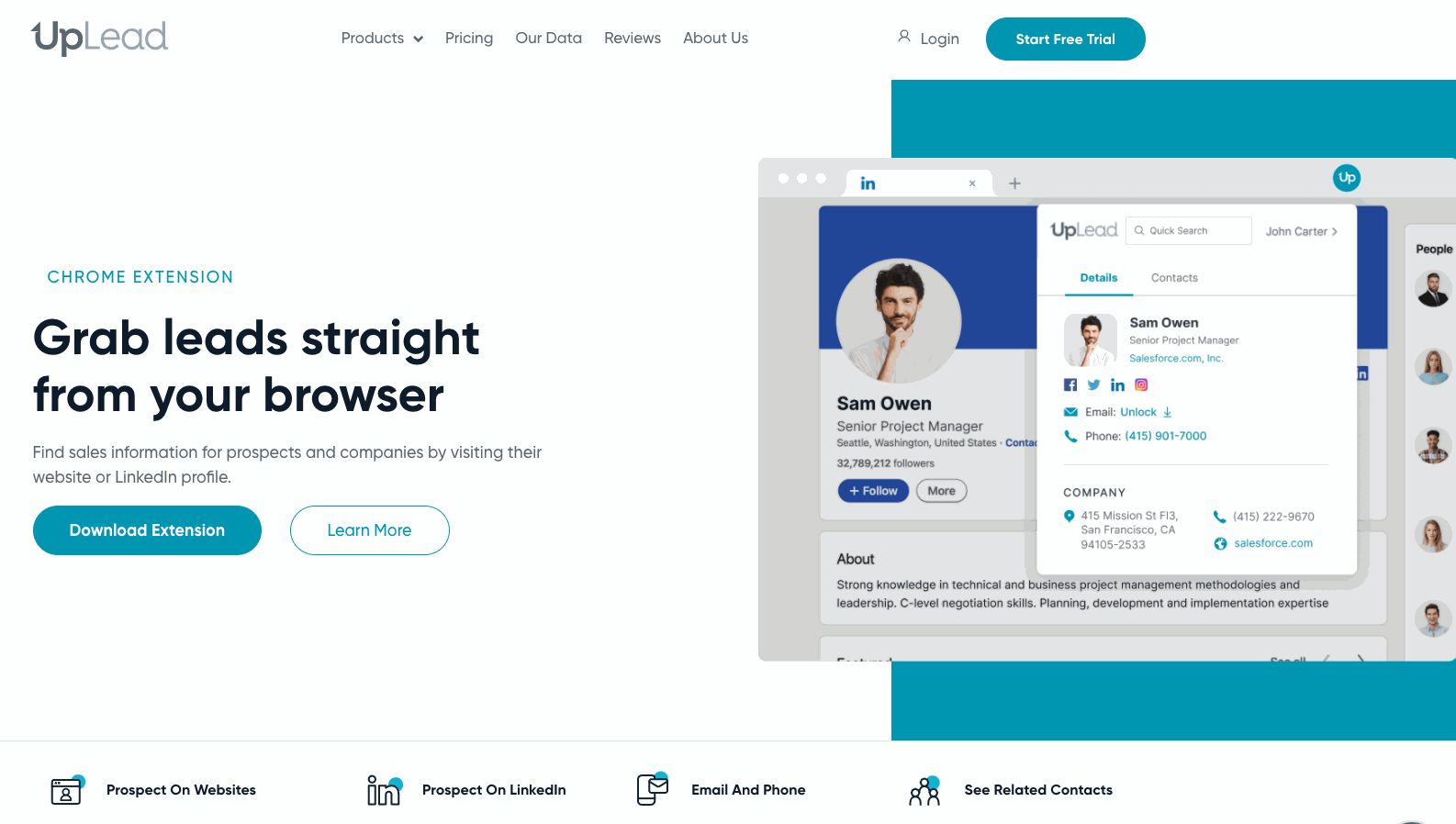 If you want to excel at outbound prospecting, you must not only find leads—but also the updated and valid information to contact them.
Start by understanding your target market enough to create accurate and detailed customer personas. These customer personas will help guide your sales prospecting efforts, allowing your sales team to identify leads and determine where to find them.
Pro tip: Allow your sales team to instantly generate lead contact information as they browse LinkedIn profiles and company websites by using UpLead's Chrome Extension. With this tool, you can highlight a lead found online and instantly generate a validated profile with updated contact information for your outbound strategies.
2. Qualify Your Leads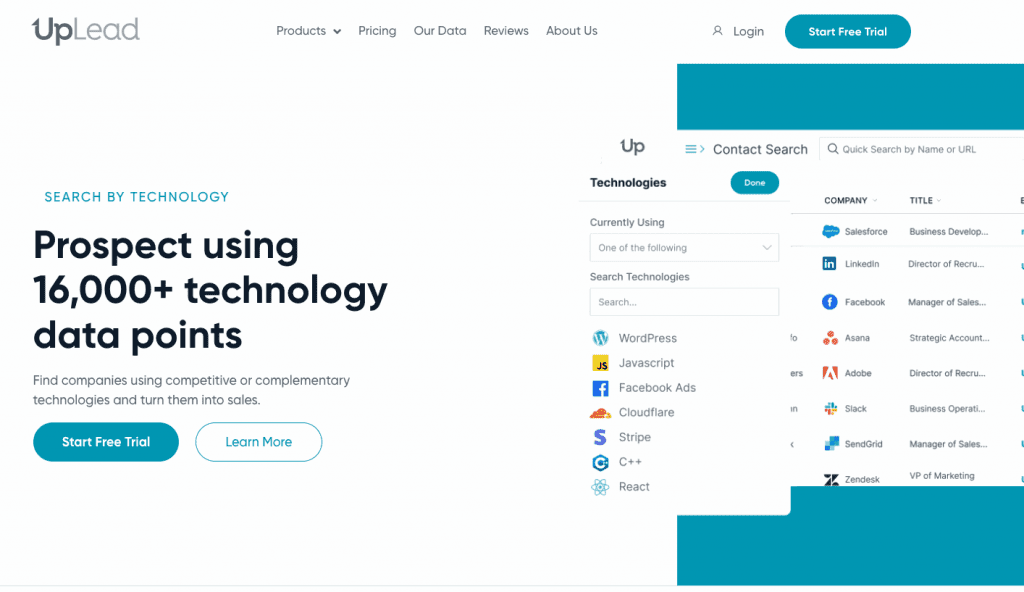 Lead qualification is the process of determining which potential customers are most likely to make a purchase, and it plays a vital role in your outbound prospecting strategy. By qualifying leads, your outbound sales teams can ensure only the best leads are engaged in your campaign. Qualifying your leads can help ensure that valuable time and money is spent only on leads who are ready to be contacted.
To qualify your leads, make sure your sales teams have systems in place to review information about the potential customers and determine how to best approach them. This will help your team collect all relevant qualification data as quickly as possible.
Pro tip: Generate qualified leads using UpLead's technographics, which helps your team qualify leads according to the technologies they use.
3. Draw Your Prospect's Attention
Once you've established contact, it's important for your team to make a good impression within the first few seconds. Since leads are often inundated with cold emailing and cold calling efforts, making a good first impression can be hard.
Your subject lines and openers have to be on point. A good subject line makes the difference between someone opening the email or deleting it without a thought. If you want to stand out, you'll need to create an outbound sales strategy that's irresistible to your leads.
Pro tip: Use data-driven decisions to define the best ways to establish contact with each target audience. Make sure to gather as much information as possible by A/B testing subject lines and utilize your user personas to target your leads' most important pain points.
4. Personalization: The Key to All Outbound Prospecting Strategies
No one wants to feel like just a number on a list. Through personalization, you can show your target audience you care about their specific situations and pain points. According to Hubspot, personalized CTAs convert 202% better, with Smart CTAs (which personalize the CTAs even further) performing the best.
If you want to improve your conversions, make sure you're using personalization. It will ensure that the right person gets the right personalized content at the right time.
Pro tip: Use tools like UpLead's Data Enrichment feature to populate your current lead lists with detailed lead data and updated contact information. That way, you can easily segment your leads and engage them with the right marketing campaign.
5. Use Testimonials and Referrals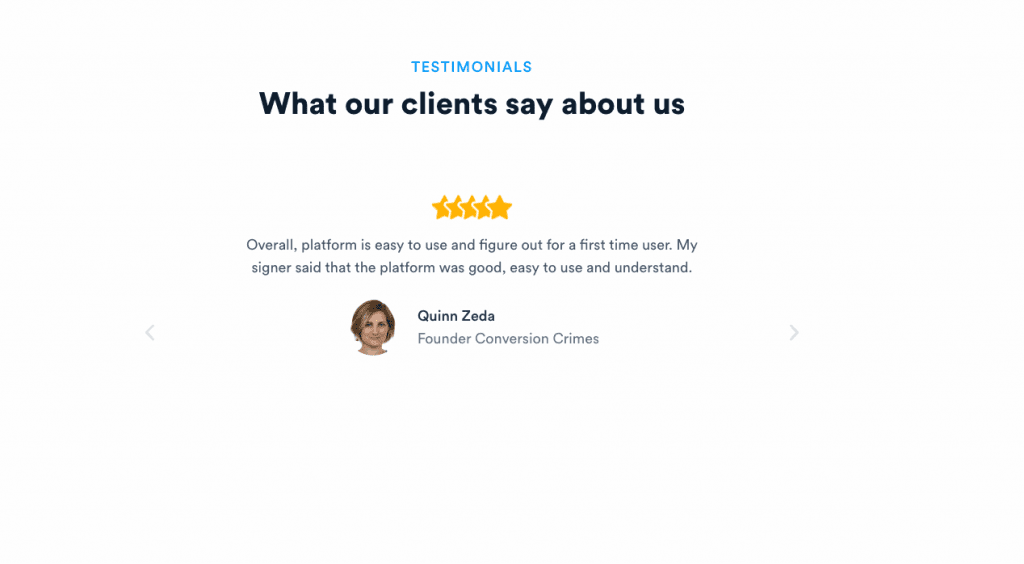 Using social proof, like testimonials and referrals from existing clients, can be a great way to validate your brand and build trust with potential customers.
Testimonials play a key role in establishing credibility for your company and allow prospects to visualize themselves solving their pain points in the same way as your existing customers. Referrals generate some of the best leads you can get since the recommendations come from people who are already close to your potential customers.
Through testimonials and referrals, you can capitalize on your best customers and transform their positive experiences into more leads.
Pro tip: Keep your best customers close and happy. By studying and getting familiar with your most loyal customers, you can develop strategies to transform them into brand ambassadors. Don't be afraid to ask for referrals after a positive customer interaction, and make it as easy as possible for them to make the referrals.
6. Optimize Your Call to Action (CTA)
Your CTAs are one of the most important components of your outbound efforts. Good CTAs, as we've previously mentioned, can vastly outperform mediocre ones. They should give your potential customers a very clear direction on what they're to do next.
That's why CTAs are one of the most frequently tested parts of any outbound and inbound sales strategy. Marketers often spend more time crafting the perfect CTA than on any other part of the copy.
So, if you're not actively improving your CTAs, you're missing out on valuable sales opportunities.
Pro tip: There are no solid guidelines on how to best design and place CTAs. The copy, colors, placement, and all other aspects of a CTA will be defined by your target audience. Use data on your target audience to develop a successful CTA, and read up on CTA best practices to optimize them.
7. Insight Selling Instead of Selling Products
Insight selling is a technique used by sales professionals that focuses on the not-yet-uncovered needs of their potential customers. This method involves finding and targeting their audience's blind spots and creating relevant strategies around them.
With insight selling, the salesperson focuses on asking the right questions to get to the topics and issues that are most relevant to their audience.
Pro tip: Instead of drilling the lead with questions, train your sales team to identify and target key aspects of the target audience's pain point and make sure they know how to connect the lead's pain point to your solution. You can use UpLead's rich profiles to help your sales team instantly get familiar with their target audience.
8. Set Key Performance Indicators (KPIs), Track Them, and Be Persistent
Successful outbound sales require a great deal of effort and persistence. According to Hubspot, only 16% of marketers believe outbound sales are their highest quality lead source. If you want to be successful on cold sales, you need to invest the time necessary to get it right.
Pro tip: Start by having a clear definition of what you want to achieve from your outbound strategy, and identify the KPIs you need to keep track of. Once your campaign is up and running, keep an eye on your KPIs to measure and improve its efficiency. Lastly, don't forget to use your KPIs to find ways to optimize your next campaign
Conclusion
Outbound prospecting strategies require a concerted effort from your sales and prospecting team, but can be a great way to quickly generate leads.
Start your outbound prospecting strategy by designing and downloading your custom lead list from UpLead. Simply input the information of your ideal customer, select the leads you need, and let UpLead verify them to ensure deliverability. You'll be ready to move forward with confidence knowing you have the accurate data necessary for a successful campaign.
Try UpLead for free, today.
Start Your 7-Day Free UpLead Trial
Lead generation doesn't have to be all that painful. With UpLead, you can easily connect with high-quality prospects and leads to grow your company.