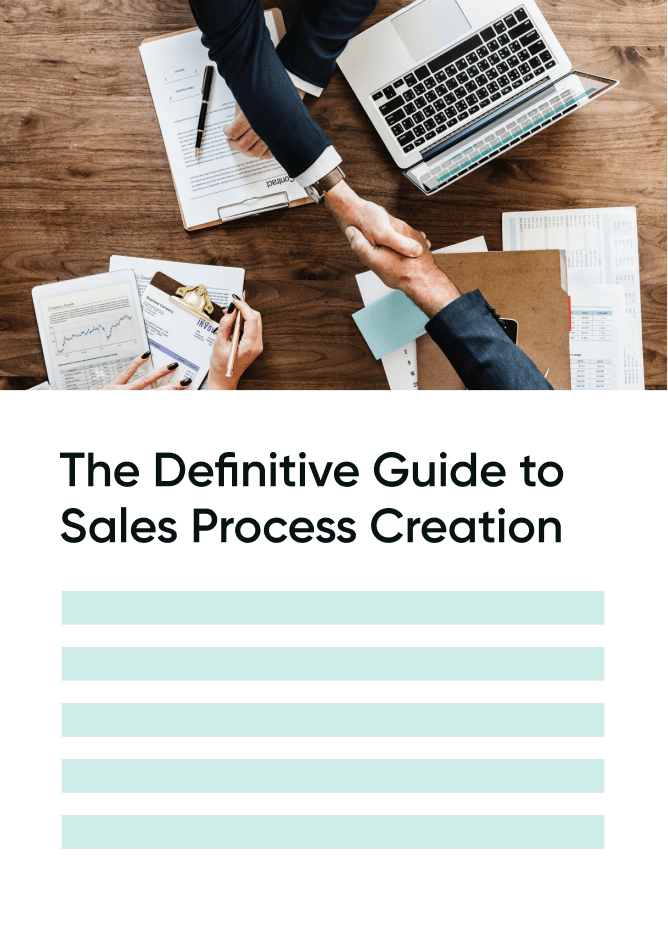 Tired of scrolling? Download a PDF version for easier offline reading and sharing with coworkers.
In this definitive guide, you'll learn everything you need to know to create a deal-closing sales process.
If you're new to the world of sales management, you'll learn exactly how to build a process to help your reps be more effective to follow from scratch.
What if you're a sales veteran? I'll reveal advanced tips, techniques and strategies that you can use to motivate sales reps and close more sales opportunities.
If you're looking to get more out of your sales process, you're going to love this guide.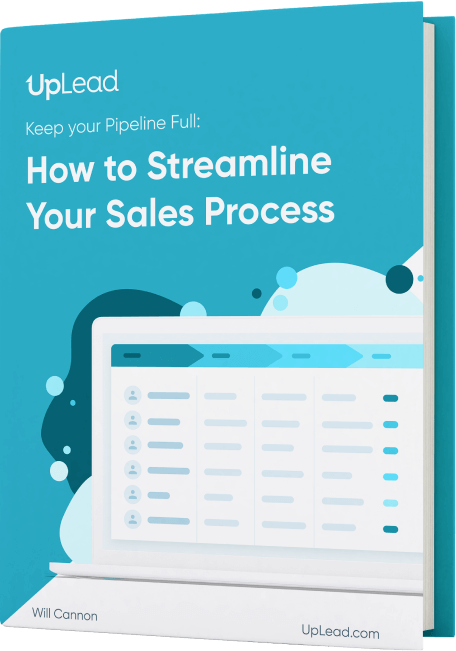 Establish a Solid Sales Process!
Learn how to build an efficient, scalable and high-converting sales process for your sales team.
I agree to receive emails from UpLead, and can unsubscribe at any time.
Chapter 1: Research & Preparation
Having a knowledgeable sales team is the first step to an effective sales process.
If your salespeople don't understand what your solution does, how do you expect your prospects to do the same?
Nowadays, salespeople should be subject matter experts on the challenge your offering solves. This positions them as a trusted authority.
Here's how to do it.
Step 1:
Check-in on Your Competitors
The first step to a fully prepared sales process is understanding how your competitors are positioning themselves against you.
First, check out their marketing collateral at the bottom of the funnel. You can do this by searching for a product-based keyword, such as "marketing automation software:"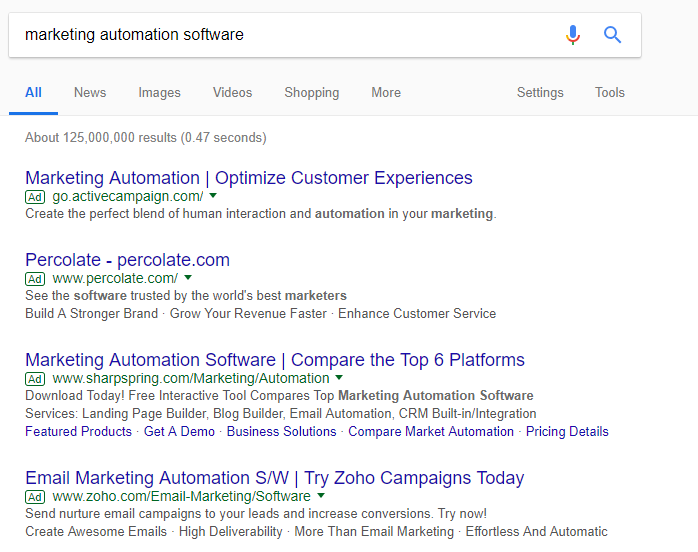 Click on the top paid results and dissect their landing pages. You want to understand:
Their core benefits
Their value propositions
Who their clients are
The action they want users to take
For example, on this ActiveCampaign landing page, they're asking users to sign up for a free trial of their platform: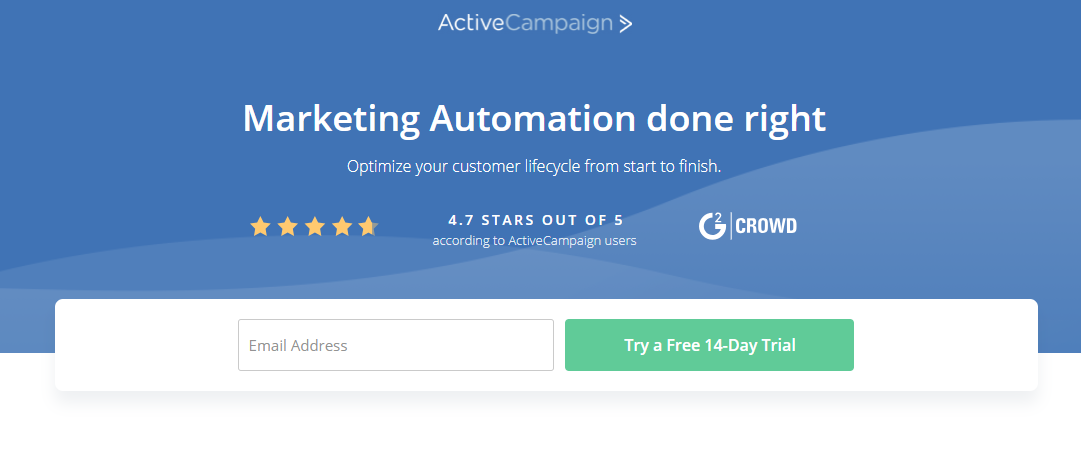 Scrolling down the page, we can then see which benefits they're focusing on: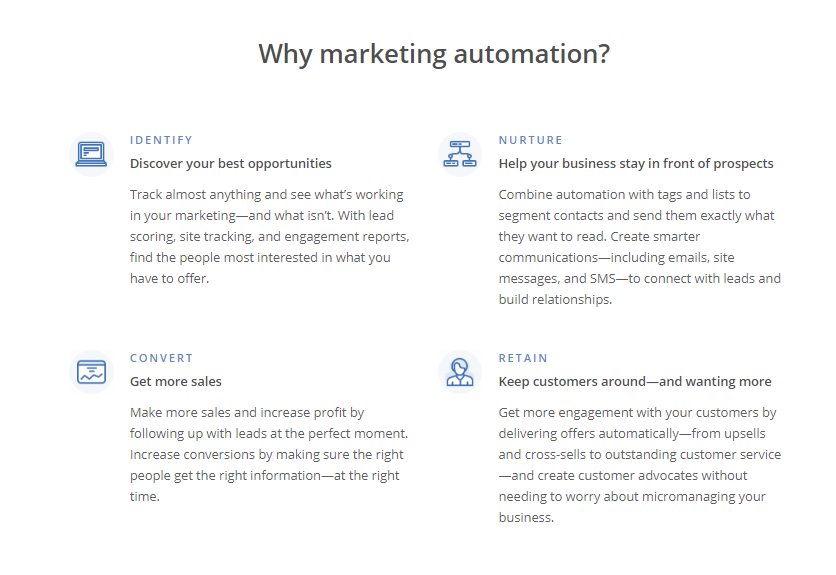 These benefits include:
Finding sales opportunities
Generating more sales
Retaining customers
Nurturing prospects
You can also see which companies and job roles they work with: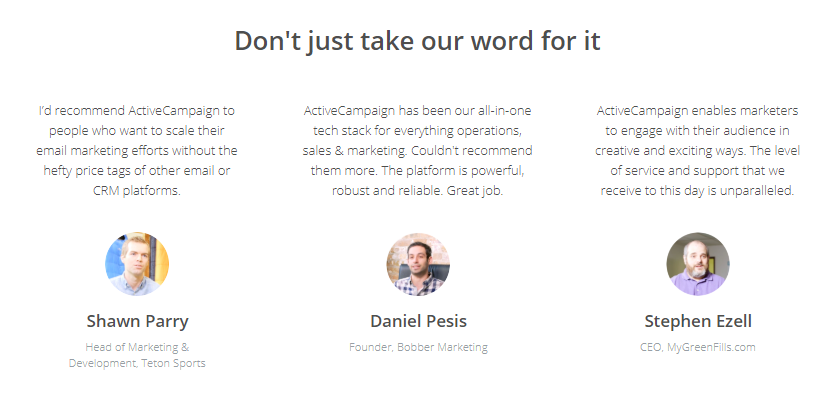 Do this for all the competitors in your space. Create a "Competitor Matrix" to keep track of each element: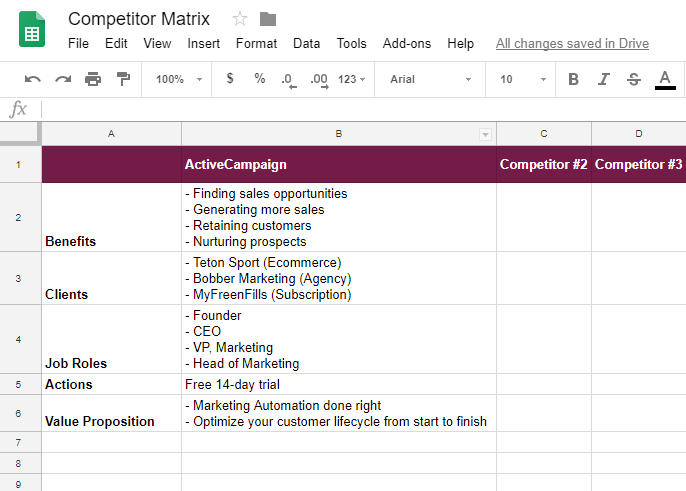 Once you've analyzed their marketing message, keep going through the sales process as a prospect. This could mean signing up for a demo, free trial, or consultation.
In other words, position yourself as a potential customer.
Strategic & Tactical Sales Advice: Straight to Your Inbox.
Join 20,000 sales leaders receiving practical & in-depth content. No fluff, just the best sales how-to guides.
When speaking to competitor sale reps, aim to uncover this information:
What they think makes them different from their competitors (including you)
The structure of the conversation (do they ask you about your challenges or go straight into the demo?)
How they handle objections
Use the same objections you get from your prospects. This insight will provide new ideas and show how you to do better.
Understanding your competitor's position in the market will show you your own strengths and gaps to fill in the market. This will be invaluable when crafting your sales pitch and handling objections.
Step 2:
Understand Your Customers
Generating customer insight straight from the source can be hard.
The good news?
You're in the BEST position to get it.
Prospect and customer conversations are part of your job. You talk to your audience on a daily basis. Use this opportunity to figure out what their pains are and how your solution overcomes them.
Create a centralized knowledgebase for your reps to refer to. A good knowledgebase should contain the following:
Common objections
Biggest product-related challenges
Why they buy from you (deals won)
Why they choose competitors (deals lost)
How they found you
To yield this insight, ask your prospects "interview style" questions during your day-to-day conversations. As Arun Agrahi said in a recent Medium article, it's about framing these questions in the right way:
"The key to doing effective customer interviews is to ask the right questions and avoid leading questions. For example, "Would you use this product" or "How much would you pay for it" are actually not that important."
Next, beef up your social selling chops by using media listening tools like Mention: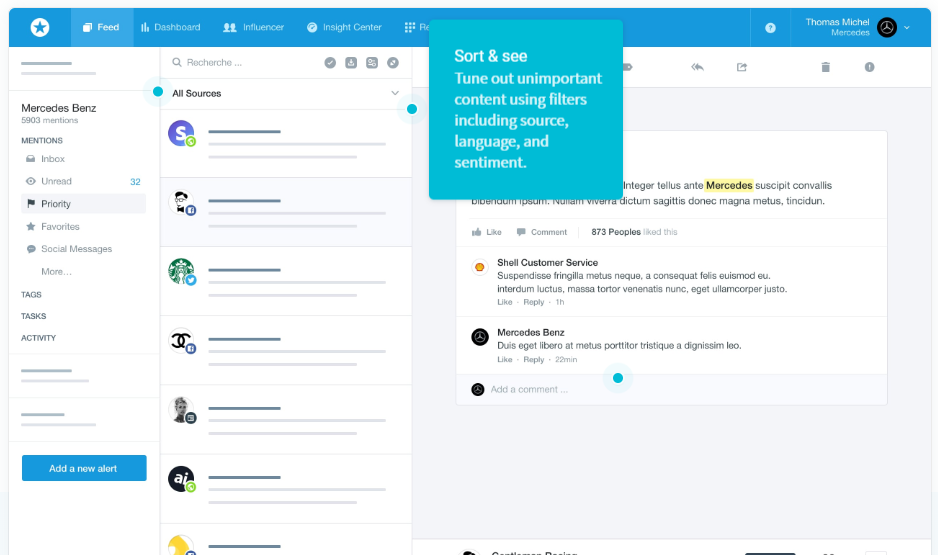 With these tools, you can listen out for mentions of your brand and relevant topics online. Using this insight, you can capture customer details (such as challenges and complaints) within the conversations they're already having.
Step 3:
Build Buyer Personas
Now you have insight into your prospects. It's time to document that information in one place.
Enter: buyer personas.
Buyer personas are shared documents that keep sales and marketing teams aligned with messaging, customer challenges, and content. They look something like this: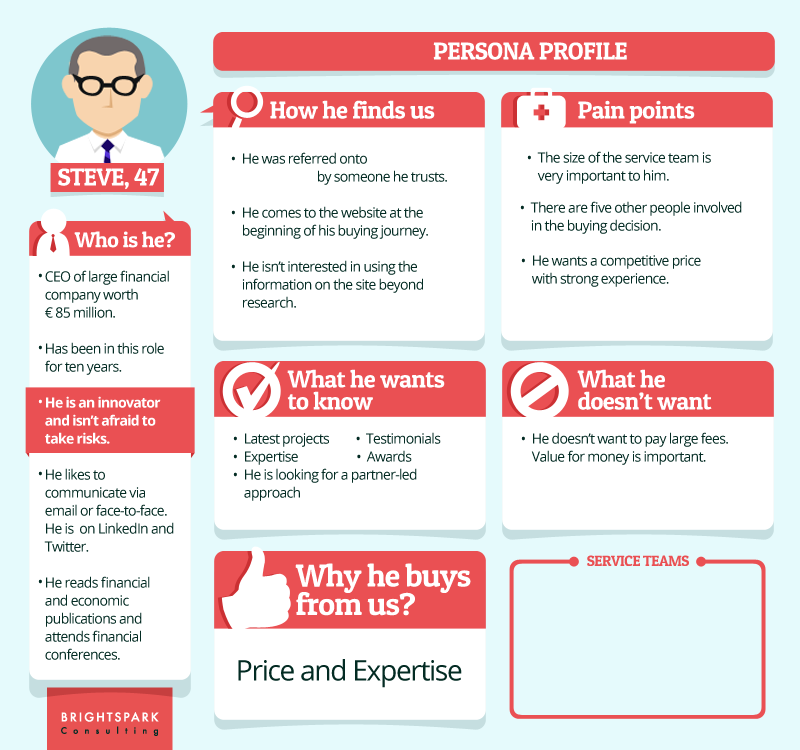 Your buyer personas should include the following details:
Demographics & Personality Traits: Remember, you're selling to people. Include basic info such as gender and age range, as well as their education level, the methods of communication they prefer, and their values.
Position: What are their job titles and responsibilities? Who do they report to and who reports to them? Record as much information about their job role as possible.
Goals & Challenges: Here, you'll include what motivates them. What do they find hard about their job and which metrics as they measured against?
Media & Content: Where do they get their information? What format of content do they prefer? Include as much insight into their content habits as possible. This should include non-product related topics.
Firmographic: Important for ABM efforts. This includes the industry they're in, how many employees their organization has, and their annual revenue.
Persona documents should be laid out in a format like the example above. This design makes it easier for teams to digest vs. a spreadsheet like this:

Chapter 2: Prospecting Your Ideal Customers
You know who your ideal customer is. Now it's time to go and find them.
In this chapter, you'll learn a proven sales prospecting process to begin testing right away. You can implement these quickly to start filling your sales pipeline with qualified leads, fast.
Step 1:
Find the Right Contacts & Map Their Challenges
Understanding your customers is one thing. But not all clients are made equal.
Which is why you must create a target company criteria. This criteria will act as a checklist when prospecting for new customers.
A good company criteria much include at least the following:
Industry
Company size
Years in business
Number of employees
Avg. annual revenue
Total amount of funding
It can also include other indicators, such as marketing activity, department sizes etc.
Next, it's time to uncover the right contacts from those ideal companies. The first (and most obvious) method is to use LinkedIn. If you're not using Sales Navigator, you can do a basic search like so: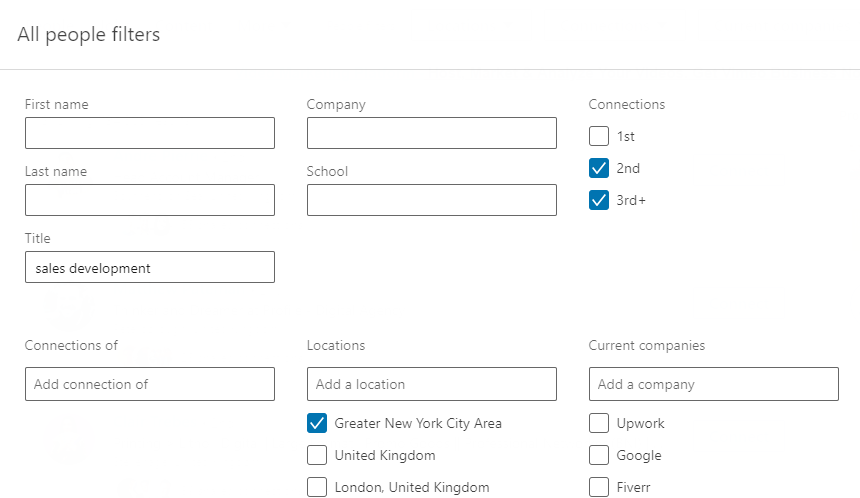 However, if your organization has the budget, Sales Navigator can be invaluable. It provides more advanced search parameters to hone-in on your ideal prospects: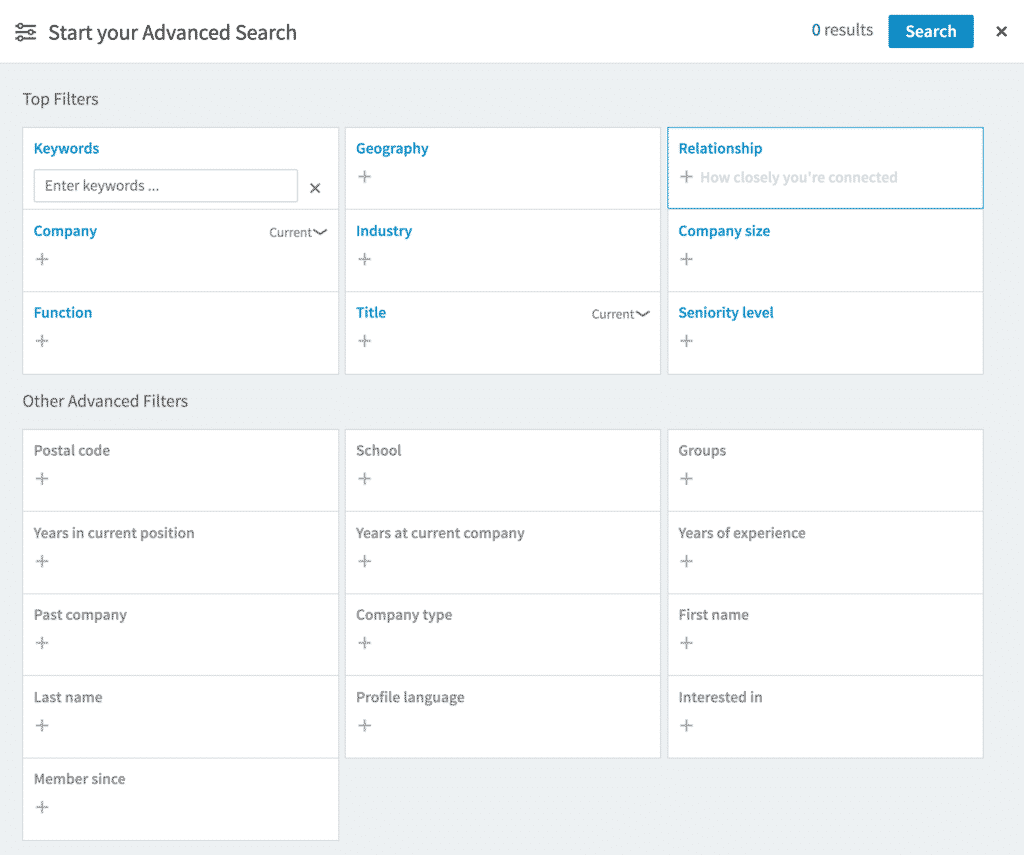 Here are some other Sales Navigator hacks to try:
Message Without Using InMails: Use the advanced search to find people with "Open Profiles." These are people who want to be contacted and won't use up any of your InMails.
TeamLink: Use the TeamLink feature to see who you know is connected to people at your target accounts.
Tagging: Keep track of prospects by tagging them with relevant keywords. This helps your sales reps keep track of who is involved in the buying process.
Build intimate relationships with "Shared Experiences:" The Shared Experiences filter shows prospects who have something in common with you e.g. city you lived in, the school you went to etc.
AngelList is another useful tool for uncovering organizations within a certain industry. For example, a search for "Fintech" yields the following list of over 3,000 companies: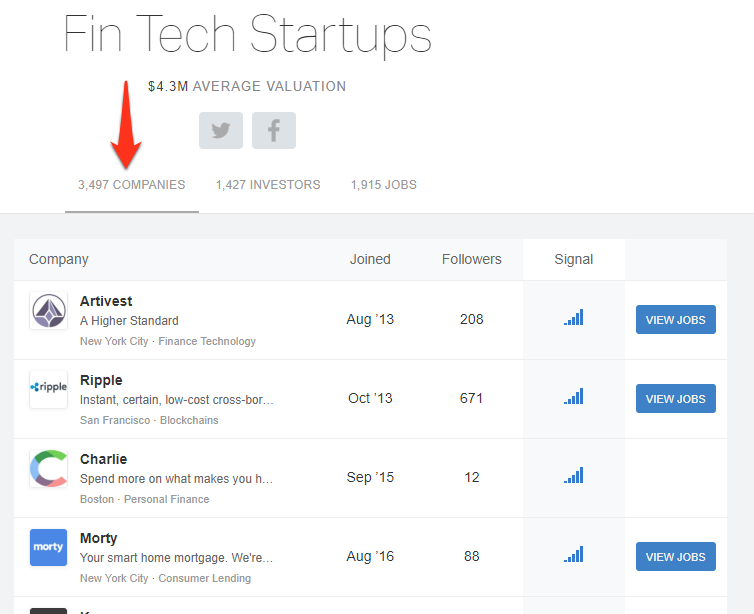 Each company profile includes founder details, open jobs and, most importantly, funding:
At present, there's no easy way to filter the list of companies by specific variables so some manual work will be required.
You can browse the full list of companies by market here.
Does this manual process sound laborious? It is, which is why we built UpLead. Using UpLead, you can find, connect and engage with qualified prospects quickly and easily.
Sign up for a free 7-day trial here.
Step 2:
Create Value-Driven Sales Enablement Content
Great content works. The fact you're reading this is a testament to this.
But the practice of creating value-driven content has long been neglected by salespeople. Marketers are constantly creating practical content to attract top-of-funnel leads.
The question is, how can salespeople use content for their own use? The answer is sales enablement.
In other words, creating and curating content to empower prospects, build trust and position you as an authority in your marketplace.
First, organize and curate your organization's existing content by persona. In other words, what content will each prospect find useful?
For example, c-suite executives will find case studies and high-level strategic content most valuable. While manager- and executive-level contacts may find more value in how-to content that shows them how to solve their pains.
Here's an example of a case study by Hiten Shah framed as a value-driven blog post. It breaks down elements of Slack's fast-growth with strategy, top-level insights:
This next example from SpotRight, however, breaks down step-by-step how marketers can tap into the power of micro-influencer marketing to expand their audience: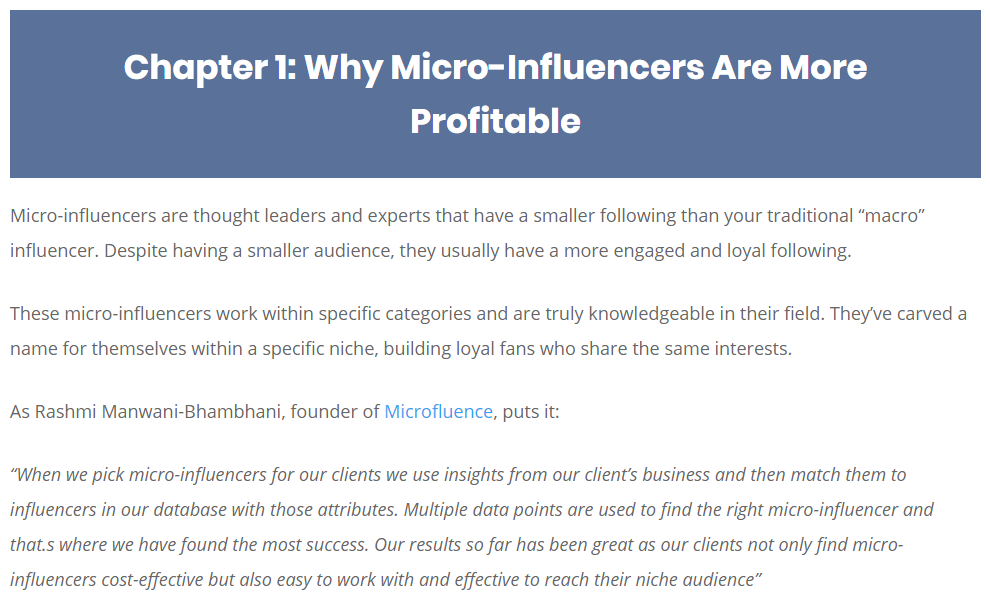 Both have value, but appeal to two completely different personas.
Curate existing content that aligns with the customer challenges you uncovered in chapter 1.
Next, if no content exists for a specific challenge or objection, it's time to create it. Now, I'm aware it isn't the salesperson's job to create content.
So, now is a good time to bridge the gap between sales and marketing and work together.
This is a win-win situation. By handing the pains and topics that interest your customers to marketing, they can create content that drives more of your ideal leads. Their KPIs look good, and you get content that makes your job easier.
Sales enablement content formats include:
Blog posts: As mentioned, create engaging how-to content that teaches personas, step-by-step, how to solve a specific challenge they're facing. Remember, this doesn't have to be relevant to your product value proposition.
Case studies: Show strategic decision makers how a similar client of yours solved a problem using your approaches, methodologies and products.
Whitepapers: This long-form content format can go in-depth on a specific topic. Great to share at the beginning of the sales process to boost authority as a subject-matter expert.
Product Sheets: These should show the prospect who the product is for, what it does, and how it solves their problems. Create separate product sheets for each type of buyer persona.
Comparisons: How do you fare against the competition? What makes you different? Include these as part of your sales collateral, but always keep it on-hand to address common objections.
Sales scripts, outreach emails, and sales decks are other examples of sales enablement content that we'll cover later. For now, the formats above will help you add more value to your prospects.
Step 3:
Expert Positioning
The above content will assist you when going through the buying process.
But it will also help position you and your reps as expert way before a conversation happens.
LinkedIn, for example, has become a melting pot for professionals of all seniorities. Posts like the following generate a huge amount of engagement and position the poster as an authority in their field:
It's time to empower your salespeople to become subject matter experts. Teach them to use LinkedIn not only as a platform for prospecting, but to enhance their careers and become an authority on their subject.
To do this, take the challenges, interests and goals of your prospects and create unique content around them. You can repurpose the content found in the previous step to fuel this.
Text-based posts (like the example above) is the fastest way to do this. Here's a simple framework to follow:
Outline the situation. What is the current state of the world, and how does it affect your audience?
Why does it matter? Tell them what's at stake if they don't overcome this challenge.
Pose a question. This should bridge the gap between the challenge above and the "answer" you're about to share, e.g. "so, how do we create sales processes that keep reps productive while adding value to our prospects?"
Add value. Show them how to overcome this challenge. Include stats and give some step-by-step instructions.
Tell a story. Even better, frame the how-to information by telling your audience how someone else overcome that challenge. Even better, tag them in the post to extend the reach of your content. Case study content can fuel these story-based posts.
Call-to-action. What do you want them to do next? As a rep, engagement is invaluable, so a good call-to-action is to ask them to share their experiences by commenting on your post.
Video is also making a big splash on LinkedIn right now. For example, Quentin Allums uses video to share stories and share his perspective on topics that he's passionate about:
Video doesn't have to be fancy. Simply stand in front of an iPhone and hit record; then use a free online video editor like Fastreel for best results.. Use Fiverr and hire someone to add subtitles for those who have their mobile devices on mute and voila, you have an engaging LinkedIn video.
You're probably thinking: "Will, this is all great, but how can I get my reps to take action on this?"
The answer: activity-based metrics.
Measure your team's performance by their inputs, not outputs. Create a process for creating native LinkedIn content. Test on a small scale, measure the results, and then decide if it's worth rolling out to the entire sales organization.
Step 4:
Create Engaging Outreach
Now you know who you're targeting, it's time to reach out.
Your email outreach scripts technically fall under "sales enablement." But you shouldn't just copy and paste scripts word for word.
Here's a checklist of elements your outreach should include when contacting a prospect for the first time:
Relevancy: Make sure you're reaching out to the right person and that they have the problem that your solution will alleviate.
Personalization: Tailor your scripts for each recipient. Reference that you have something in common, some content you've both engaged with or the fact they 're mentioned in the news (e.g. secured a new round of funding).
Personality: Keep a casual tone, but make sure you get to the point. While nobody likes to feel they're talking to a robot, don't come across overfamiliar right away.
Add value: Why should they care about your offer? How can you reduce the risk? Find ways to give value up front. Failing that, find ways to pique their interest and get their attention.
We've created an in-depth guide to creating cold email templates to help you create effective outreach. You can read it here: Cold Email Templates: 56 Elements & Examples for Success in 2018.
Chapter 3: Qualifying for Efficiency
If there's one thing to keep in mind through the sales process, it's this:
Not all prospects are made equal.
Which is why qualifying your prospects is so important.
Sales qualification is simply asking prospects the right questions. Do this early in the conversation to ensure nobody wastes their time. You'll have a more efficient sales process as a result.
There are dozens of questions you can use to qualify (or disqualify) your leads. Here, I'll list out seven key questions your qualification process must include.
Strategic & Tactical Sales Advice: Straight to Your Inbox.
Join 20,000 sales leaders receiving practical & in-depth content. No fluff, just the best sales how-to guides.
1.
What is the nature of the problem you're aiming to fix?
Companies don't tend to solve problems for fun. If they're coming to you, it means the problem (or goal) has become too urgent to ignore.
You need to find out how deep the problem is. The urgency of the problem will indicate how willing they will be to buy.
2.
Why is now the time to fix it?
It's likely something has triggered the buying process. This could be a change of leadership, a legal issue, or a technical fault that's caused damage to the company's bottom line.
If it's foreshadowing, then it could be that the need comes from proactive measures. These prospects are usually driven by strategic initiatives.
3.
What will happen if you don't fix this problem?
Find out how bad things will be if they don't act. If there are no consequences, then there's no urgent need to make a purchasing decision.
Your reps have two choices: a) use sales enablement content to educate how big the problem can become, or b) disqualify and move on.
4.
Do you have budget put aside to solve this problem?
This isn't a huge deal, but having budget already put aside is a huge indicator of how serious they are to move ahead with a solution like yours.
Don't get hung up on the specifics. As long as their budget is in the ball-park of your pricing, it's all good.
5.
Who are the decision makers for this process?
This is key for mapping out the decision-making process. It's important to get these execs involved sooner rather than later.
6.
How does the decision-making process work?
This is simply a way of finding out who you're talking to. Is it the decision maker for the project, or a point-of-contact for the project?
It's important to know who has authority over each element of the process. While you may be speaking to the person who has the power to sign off, they may not be the financial decision maker.
7.
How much are you currently spending on this problem?
If the prospect is already using a competitor, you can use this question to figure out how much they're comfortable with spending on a solution like yours. With this number at hand, your reps can uncover if the prospect is willing to go higher.
The Three Levels of Qualification
Qualification is part of the "discovery" phase. But that's not where these questions end. You must be continuously qualifying to uncover more insights.
With that in mind, there are three levels of qualification:
Organization-level: This indicates whether or not you should research the prospect in more depth. At this stage, you must ensure the prospect fits your company criteria and personas.
Opportunity-level: Uncover if the prospect needs what you're offering. This is where budget-related questions come into play, as well as questions around their goals and motivations for seeking a solution.
Stakeholder-level: Is the contact you're communicating with the key decision maker? Do they pull the purse strings? Figure this out by asking who else is involved in the process and who defines the decision-making process.
Don't be afraid to use these questions to disqualify certain prospects. This will save you time and help your reps focus on the sales opportunities that are likely to cross the line.
Chapter 4: The Perfect Sales Pitch
Assuming you've effectively qualified your leads, it's time to pitch.
The sales pitch is where you understand more about the customer's needs, tell your story, display benefits, and share customer case studies.
Here's how you craft one.
Facts are key, as you'll soon learn.
But you must learn to tell a compelling story as part of your pitch.
In an article for The Mission, Andy Raskin dissected the sales narrative of Zuora as "the best sales pitch he ever saw." The structure looks like this:
The big change: Name what's at stake and why it's urgent for your prospect. This is better than beginning with the problem, as that often puts prospects on the back foot. Instead, this shift affects everyone. There are opportunities as well as risks for not taking action:
Winners & losers: Show how this change will make winners and losers, depending on what course of action they take. Demonstrate that taking action will be positive for their future, while doing nothing will lead to negative consequences.
The Promised Land: Don't jump into your product just yet. Instead, show them what "the promised land" looks like. This is what the future will look like for them if they choose the right course of action.
Features as "Magic Gifts:" Position your product features as the magic trick that will lead your prospects to the promised land teased in the previous step.
Show them proof: It's time to put skeptical minds at ease. Present evidence that reaching the "promised land" is possible by showing that others have already done it. Success stories are most effective here.
According to Raskin, this narrative was more effective at engaging Zuora's target audience (CFOs) than their previous approach, and lead to the biggest deal in the company's history.
When outlining the problem (or change in the world), use data to back-up stories.
Finding third-party data is simple. First, run a Google search for "your industry" + statistics. For example, here's a list of compiled stats when searching for "sales process statistics:"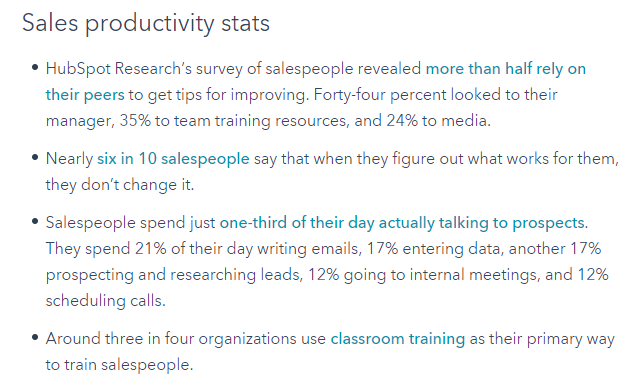 Record all relevant stats in a spreadsheet for future reference. This will become a great resource for your reps at all stages of the sales process.
Sales pitch templates are useful. But you should tailor certain elements based on the research conducted on your prospect.
Closing the sale means understanding the customer. In fact, it's reported that 82% of salespeople are out of sync with the needs of their buyers.
Outperform your competitors by being in the other 18%. Do this by making your pitch different for every prospect you deliver it to. Refer to your buyer personas to get this right.
Ask the right questions during the qualification phase to understand their needs. Then adjust the challenges and outcomes of your pitch accordingly.
Face it: you don't know everything. It's important to make sure you hear what your prospect is saying as they express concerns, ideas, and questions throughout the pitch.
During the pitch, check-in with your prospect. Pose follow-up questions that dig deep into the motivations behind any objections they may pose.
When the pitch is over, don't just dust your palms and wrap things up.
Every pitch should end with a tailored call-to-action that works towards a mutually beneficial goal. Your prospect may not be ready to buy yet, so what's the next logical step? A trial, audit, or consultation?
Whatever it is, ensure you're continuing the buyer journey. Don't let things fall flat.
Chapter 5: Extinguishing Common Objections
Of course, it's rare for a pitch to run smoothly without any objections.
As you tell the story around your product and share product benefits, you'll likely come across many objections.
Here, I've compiled a list of the most common forms you'll face and how to tackle them. Use this as a cheat-sheet for when you face tough objections for the hardest prospects.
1.
Budget-Related Objections
You're going to come up with objections related to price and budget time and time again. These objections include:
The price is too high
We have no budget
The budget is needed elsewhere
We can't afford it at this time
Be careful, as these objections can position you as a transactional contact rather than a trusted advisor. If the prospect simply doesn't have the budget, keep tabs on them and reconnect when they've grown to a point where your solution is a no-brainer.
Often, the person you're talking to doesn't have the authority to buy or is getting push-back from a senior decision maker.
These objections take shape as:
I have no authority to sign-off
Person A isn't convinced
Our attention is elsewhere right now
I can't get internal buy-in
Usually, this is a matter of asking for the right person to talk to. From here, you'll likely need to go through the process again.
If they don't have the capacity to follow-through the deal, then make a note to follow-up at a later date.
3.
Pesky Competitor Objections
Now and then, you'll find a prospect who is evaluating other options, or worse — already working with a competitor.
If they're locked into contracts, you can come up with discounts to help them break free of the trap your competitor has caged them in.
But make sure to understand if they're truly happy or not before pursuing this.
They may believe a competitor is cheaper. Here, they'll either be playing you against your competitor, or they believe this competitor can do everything they need.
When this happens, state how much you can truly discount your offering and outline exactly why your product is superior.
Sometimes, the prospect simply doesn't believe they need you. Or perhaps they don't trust you yet.
No problem – simply provide more information, share the narrative created as part of your pitch, and focus on building trust.
If they don't believe the problem is urgent enough, get them to open up for the true reason behind this.
If they're choosing inaction over solving the problem, remind them of the state of the world and how losers will become losers.
Sometimes, prospects will try and fob you off with an excuse disguised as an objection.
This can be as reasonable as them saying they're not interested, or a harsh and cold hang-up on the phone.
It's important to know when to set reminders for your follow-up and when to let go.
If a prospect isn't interested, it might be because they're about to move on to another organization. Keep track of this account and monitor any new hires.
If they're simply not interested, just let it go.
Strategic & Tactical Sales Advice: Straight to Your Inbox.
Join 20,000 sales leaders receiving practical & in-depth content. No fluff, just the best sales how-to guides.
Chapter 6: Creating a Killer Follow-up Sequence
It's rare for someone to sign the contract or decide to buy after the first conversation.
Which is why follow-up is a non-negotiable part of selling.
In fact, several high-growth organizations say that it takes an average of 16 touch-points per prospect to make a sale.
Here, I'll explain what your follow-up sequences must include and the philosophy they must abide by to skyrocket your sales results.
1.
The Three Follow-up Elements
The best follow-up processes combine the following three elements:
Repetition
Education
Variety
Repetition: Indeed, it's proven that facts take a while to sink in. The best follow-up processes keep going until reps get a hard "yes" or "no."
You may know the ins-and-outs of your value proposition and benefits. But your prospects may not always understand the first time you communicate with them.
Don't assume that they understood you the first time around. Repeat your core benefits as often as possible.
Education: This is the difference between pestering a prospect and assisting them. Every stage of your follow-up sequence must add value in some way.
Without a value-driven approach, you'll soon transform from a welcome guest to annoying pest. Earn trust over-time by providing them with information and adding value whenever possible.
It's time to put the phrase "touch base" into the trash.
Variety: Test a variety of approaches and channels when following-up. Email is a staple, but don't forget about phone and voicemail.
Direct mail is also making a comeback, not to mention the wonders of social selling. In an article for Sales Hacker, Gabe Larsen makes a good case for why direct mail is effective:
"A full 65% percent of leaders said they are likely to respond to direct mail, and its perceived response rate is higher than that of email. These days, I feel like every other sales rep is in love with email. I don't discount its powerful ability to drive business; however, email is not the only way to enchant your prospects."
Test new forms of content to see which have the most impact on deal closing.
2.
Segment Your Prospects
Not all prospects are made equal. Prioritize and tailor your follow-up based on these three categories:
Hot leads: Ready to act and buy right away
Warm leads: Not quite there, but will be ready to buy soon
Cold leads: May never be ready or indicate no interest
Cherry-picking is a natural tendency among reps. It's easy to go for the low-hanging fruit, and commission-based selling incentivizes this behavior.
The problem here is your warm leads get neglected. Yes, they may not be ready to buy now, but it's likely they will sometime in the near or distant future.
How do you get around this problem? Activity-based goals.
By measuring your sales reps on their inputs rather than outcomes, you can incentivize them to make a certain number of follow-up actions each day.
This way, those warm leads won't go unnoticed, and you're likely to convert more sales opportunities.
3.
Ask for Preferred Channels
It's easy to assume email is the preferred method of communication. But what if your prospect is constantly on the road?
Ask them exactly how they'd prefer you contact them. In the scenario above, someone who travels a lot might prefer to be contacted over the phone and be left with a voicemail.
After every touch-point, you must clearly define the next steps.
This next step should be set in stone. Or in our case, the calendar.
Getting prospects to commit to the next meeting is far easier to do at the end of the one you're already on. If the conversation went well, they'll be excited to get things moving and will look through their schedule right away.
If you need to send sales or marketing collateral, don't settle for a "we'll get back to you." Put time in the calendar to review any material or proposals you send over.
5.
Get Marketing Involved
Marketing's job doesn't end once a lead has been handed over.
Yes, it's their job to generate leads. But while you're busy closing them, who is focusing on nurturing them?
This is a job that both sales and marketing must contribute to.
Earlier, we talked about sales enablement content. Here's how to apply that to the follow-up sequence:
Send value-driven content that addresses the challenges expressed during initial conversations.
Log every interaction in a centralized database. This means CRM activity must include marketing touch-points.
Remember, maintain constant communication with your marketing teams.
Provide them with the objections you hear on a daily basis, as well as any relevant challenges that can be solved with content.
Chapter 7: 3 Effective Sales Methodologies
Every chapter in this sales process guide is leading you to one thing:
Closing. The. Deal.
Deal closing is the last step of the sales process. You've targeted the right contact, presented the perfect pitch, overcome objections, and followed-up 'til the cows come home.
You're either going to win or lose the deal.
To wrap up this guide, I'm going to touch upon several sales methodologies you can inject into the entire sales process.
Sales methodologies essentially help salespeople tackle each step of the process by providing frameworks and tactics to guide them through it.
Let's get stuck in!
SNAP Selling is a methodology created by sales consultant and author Jill Konrath. It was designed to keep up with and tailor the sales process to the modern buyer.
SNAP stands for:
Keep it Simple: There's simply no time for complexity in today's workplace. Therefore, salespeople need to make the buying process seamless.
Be iNvaluable: Be an advisor, not someone who's trying to get more than they give.
Always Align: Today, people care about why you do what you do. This means aligning core beliefs with business objectives.
Raise Priorities: Your reps must focus on what the prospect considers a priority.
In other words, it's about creating a no-brainer sales process that aligns your story and product benefits with the prospects core beliefs.
Created by author Neil Rackham, SPIN selling is a fact-finding framework that positions questions around these four principles:
Situation
Problem
Implication
Need-payoff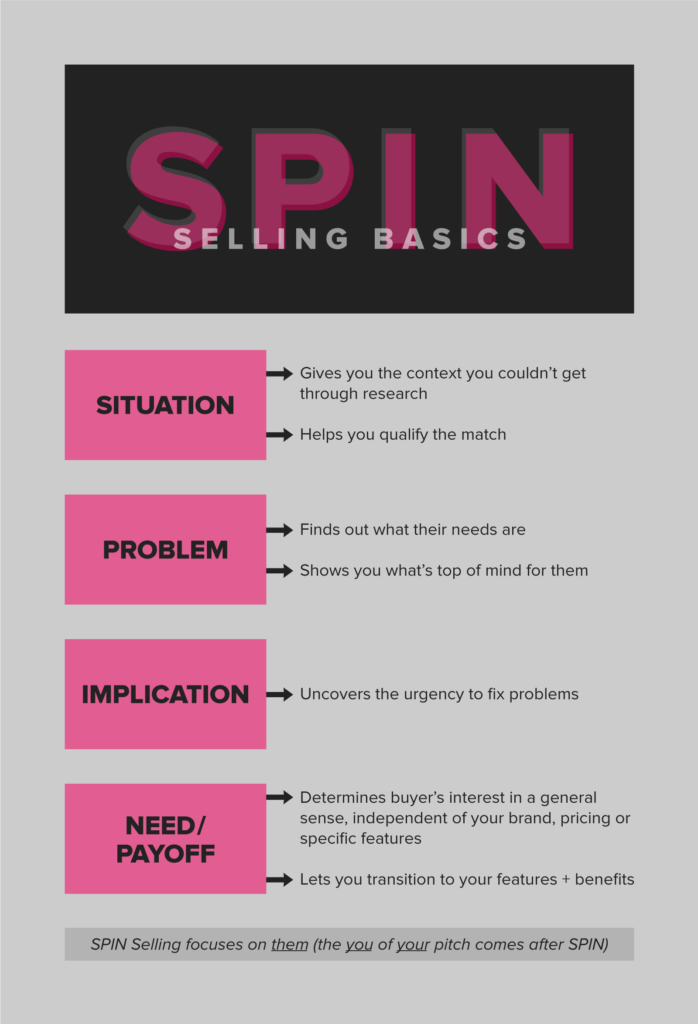 Situational questions uncover the needs of the prospect and what their current situation is. This requires in-depth research before and during the initial conversation.
Problem questions uncover the challenges the prospect faces and brings to light any they may not be aware of.
Implication questions lead the prospect to the impact the problem has if they don't fix it.
Need-payoff questions lead the prospect to understand how valuable a solution to this problem is.
The Challenger Sale is a book by Brent Adamson and Mathew Dixon, and often considered one of the largest sales studies ever conducted.
The study revealed that there are five profiles that every sales rep falls into:
The Hard Worker: Highly motivated and won't give up easily.
The Lone Wolf: Difficult to manage, but delivers results.
The Relationship Builder: Consultative in nature (see below), focuses on relationships
The Problem Solver: High attention to detail
The Challenger: Has a different view on the world and loves to debate with customers



According to the author, anyone can learn to be a Challenger sales rep. The model works because it aims to teach prospects and tailor the sales process in response to their needs.
Over to you…
There it is, everything you need to create a process for closing sales from scratch.
Now, I'd love to hear from you.
How are you going to use these strategies to supercharge your sales performance? Leave a comment below and let me know.