If you want to succeed at your cold email marketing campaign, you need good cold email software.
Through cold email, you can access new potential clients and develop connections with your audience. However, many platforms out there will not deliver your emails directly to the recipient. Or they're hard to use.
Here, we list the best cold email software any marketer should use, as well as its pros and cons and the reasons why you should use it.
Let's get started!
Best Cold Email Software
Here are the best cold email tools available to you:
Contact List Building and Lead Generation Software
The first step in cold emailing is finding and gathering leads. Here are a few platforms that will help you accomplish this goal.
UpLead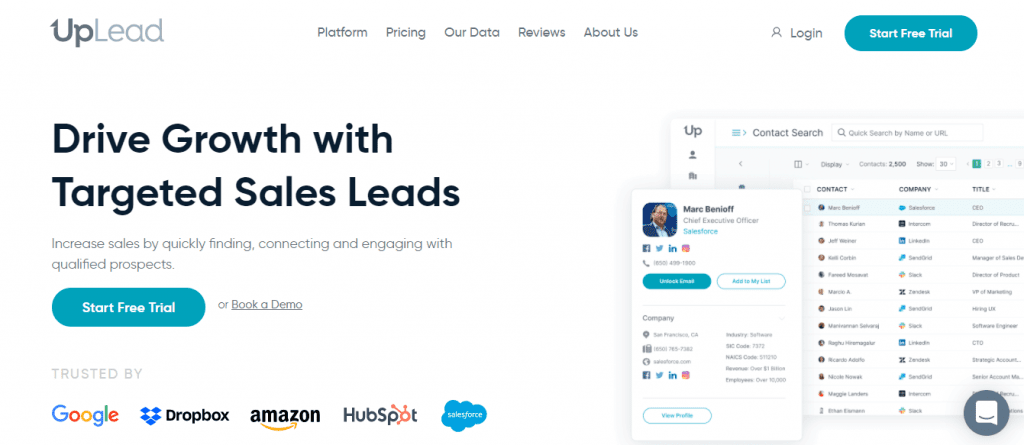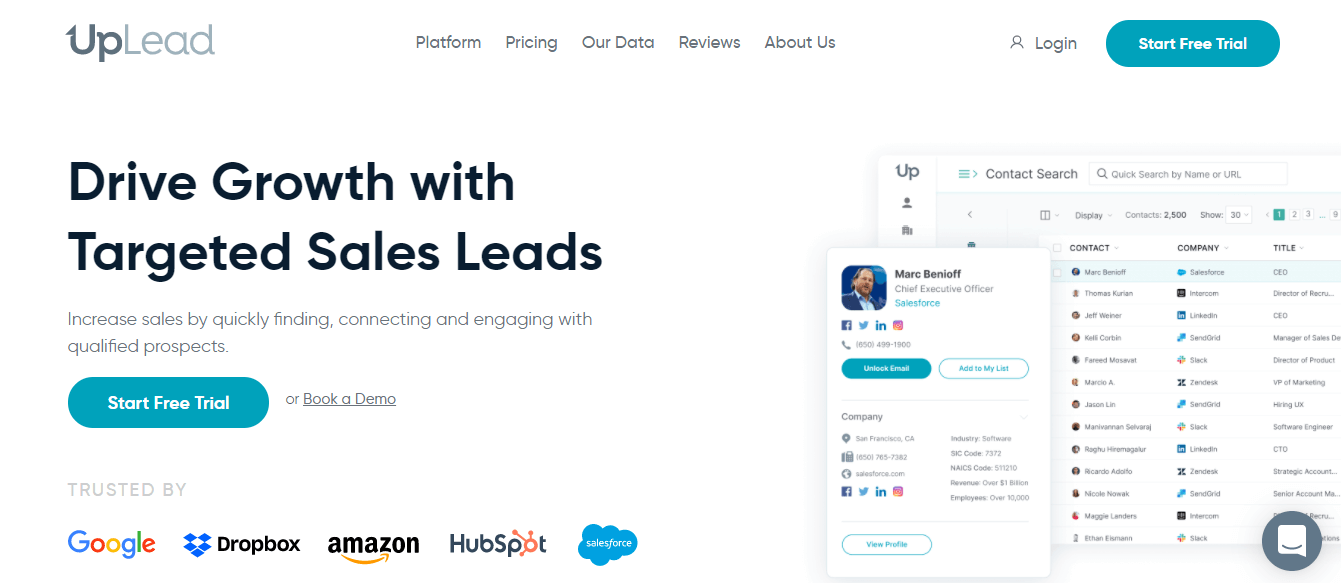 UpLead
is a Lead Generation Platform. Its purpose is simple: to connect you with the right contacts.
Unlike several other options you'll see listed here, UpLead offers a 95% data accuracy guarantee . When you're downloading your emails, they get verified in real-time. That way, you know you won't get any bounces from them when you include them in your email campaigns.
Finding the right leads is very easy. Simply browse UpLead's 108 million business contacts worldwide. Use over 50 criteria (such as job title, industry, and location) to narrow down your ideal leads.
Once you have your list, download it and add it to your email outreach efforts!
With UpLead, you get both the right emails and the right information to accompany them. Through vibrant profiles, you can learn about the people you're contacting as you look them up. So once you get a reply, you'll know exactly who they are, what they need, and how to write your emails and follow-ups.
Start your free UpLead trial today.
Start Your 7-Day Free UpLead Trial
Lead generation doesn't have to be all that painful. With UpLead, you can easily connect with high-quality prospects and leads to grow your company.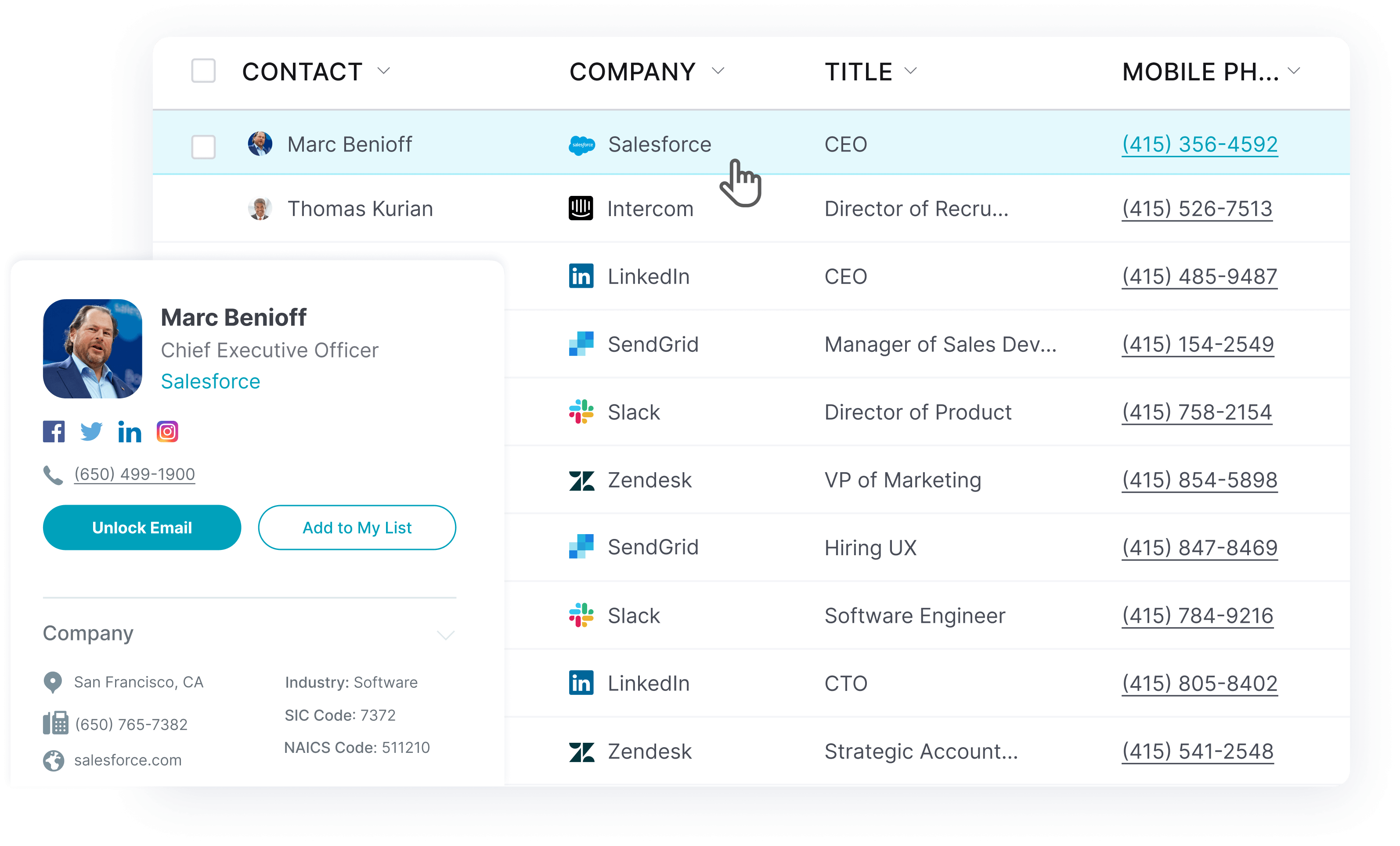 Clearbit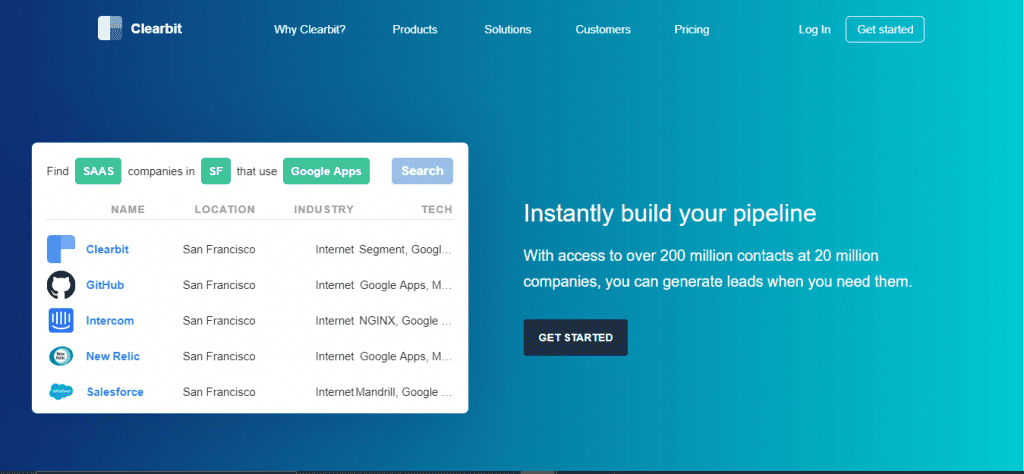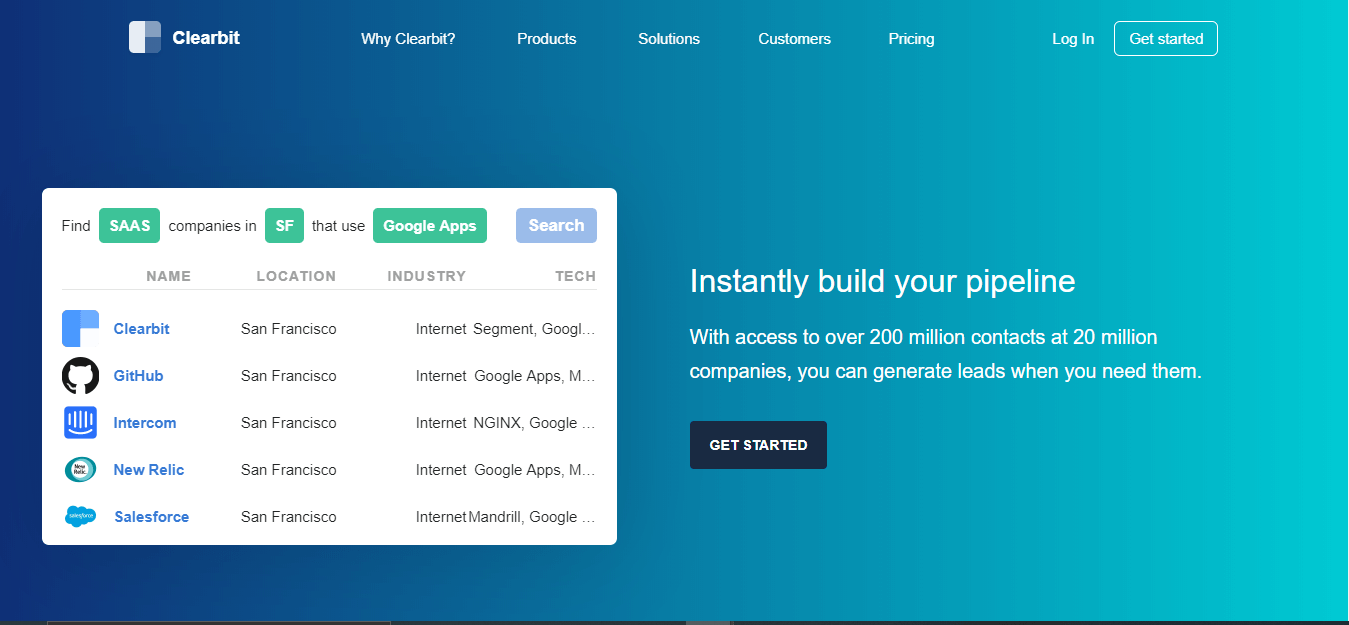 Clearbit has a database of over 200 million contacts from 20 million companies. To use it, you fill out the details of your user persona, and it'll return the profiles that match it.
Clearbit also has good integrations. It integrates with Salesforce, Marketo, and Segment.
Clearbit sources its data from over 250 public and private sources. They verify their details. And according to them, you can expect an email deliverability rate of over 94%
Pros:
Large database: Although they don't guarantee their data, it is extensive.
Good support team: A lot of reviewers seem very pleased with the support they've received.
Easy to use: Just input your data and get the leads you need.
Cons:
Inaccurate data: Some users complain that they need to validate the data themselves before they can use it.
Lack of deep insight: The platform gives you very little information on their leads.
Expensive: This platform can become expensive for small companies, yet it can be insufficient for larger ones.
If you're looking for the best Clearbit alternative, give us a try.
Lead411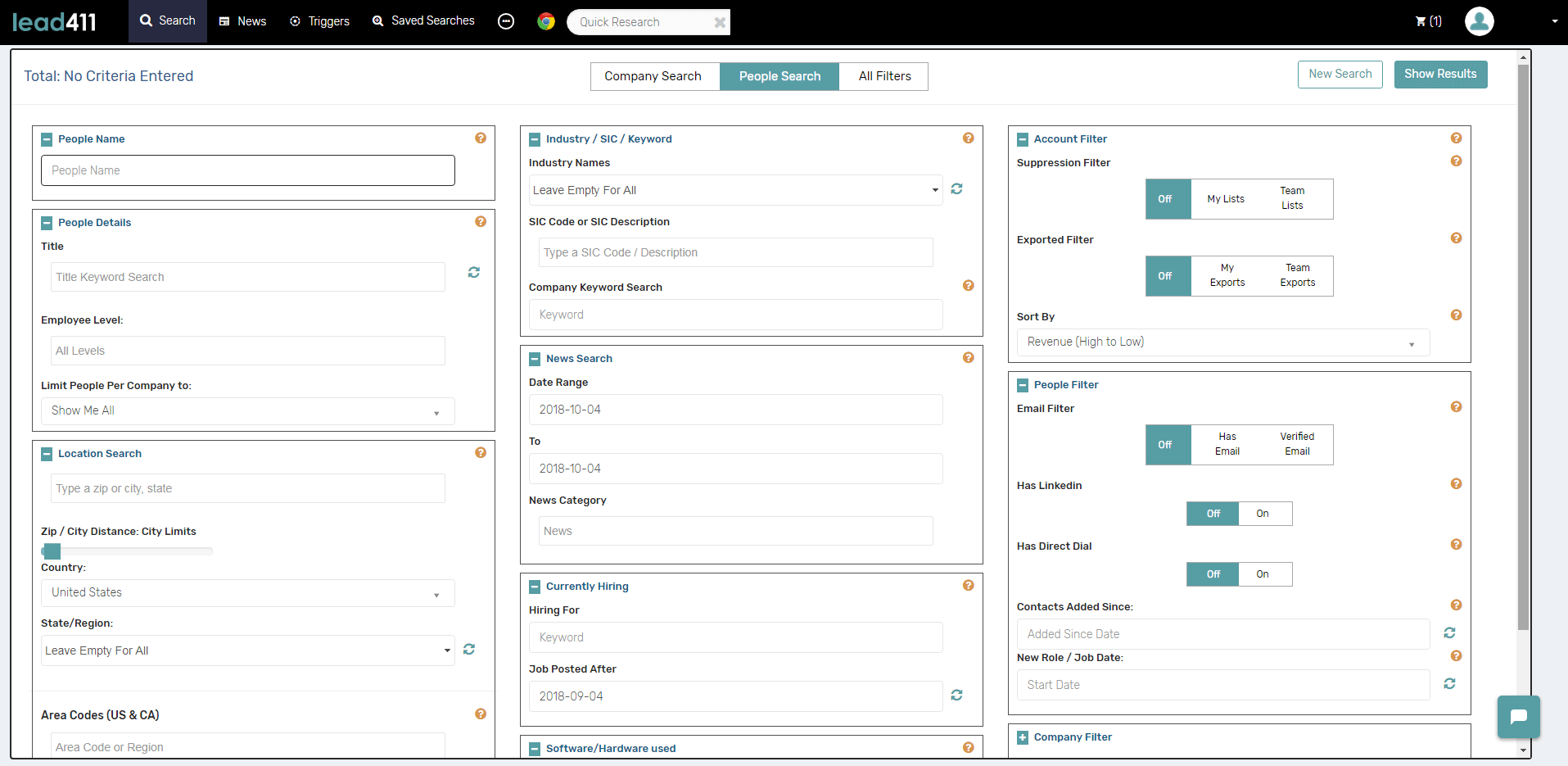 Lead411 is another lead-generation tool to buy leads. You can filter their leads through their professional background, and find and download your data in bulk.
The platform is easy to use. And although they don't seem to offer any guarantee on the accuracy of their information, they do allow emails to be sent directly on the platform.
Pros:
Easy to use: The platform has a very intuitive design.
Great for business leads: The data is great when targeting B2B leads.
Direct emailing: Use the platform to email your leads as you find them.
Cons:
Outdated info: The accuracy isn't guaranteed, and users have complained about outdated information.
North-America focused: There's little data about non-English speaking leads.
No integrations: Lead411 will probably not be able to integrate with your CRM.
Email Verification Software
If you're not using UpLead, you'll need email verification software to ensure email deliverability. Here are the best options:
Zerobounce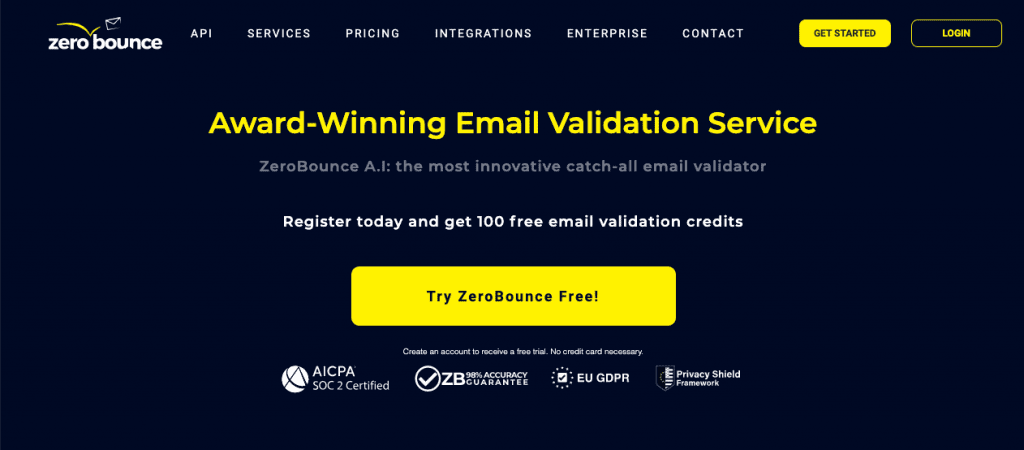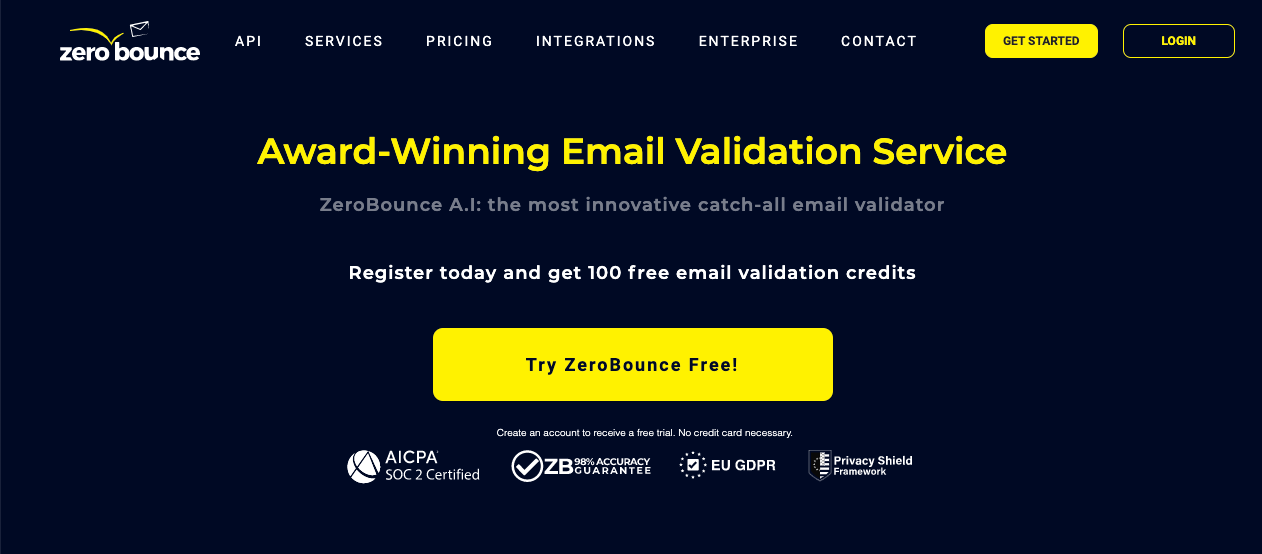 With Zerobounce, you can increase your delivery rate by ensuring you're sending emails to valid addresses.
Use it to comb through your database and remove invalid email addresses and spam traps. So you can increase your delivery rate and decrease expenses by keeping emails that won't lead anywhere.
Pros:
Straightforward tool: Zerobounce does exactly what it advertises, and it's really good at it.
Good integrations: A CRM integration for every tool.
Works for small and large emails: You can validate emails individually or in bulk.
Cons:
Can be expensive: The more emails you need to validate, the more you'll have to pay.
NeverBounce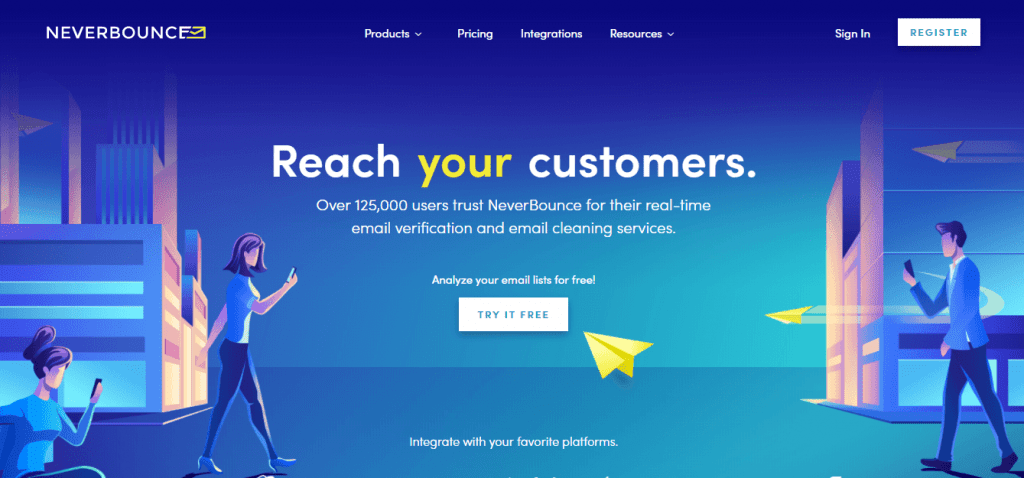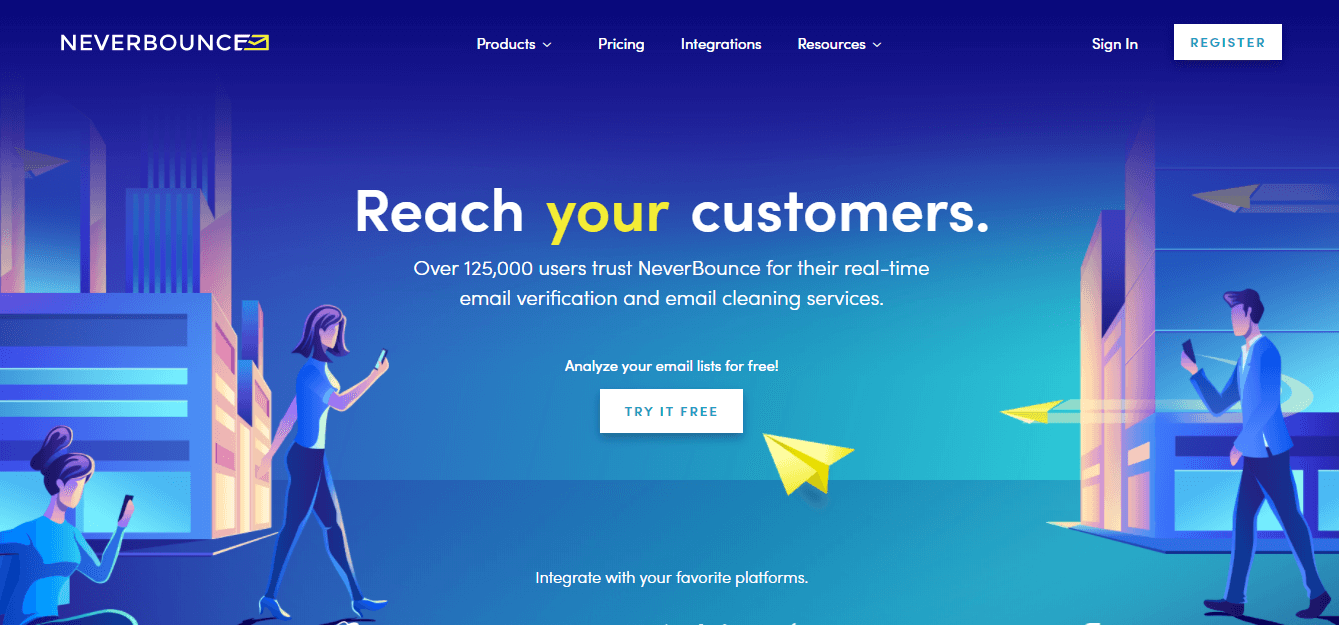 With well over 130,000 users, NeverBounce is a platform that verifies emails in real time and cleans your lists.
NeverBounce validates emails against a database of 6 billion emails. It then removes invalid or outdated ones, in order to improve your deliverability.
Pros:
Quick and easy: Most users find the platform to be very fast and easy to use.
Powerful integrations: It integrates well with multiple CRMs and emailing platforms, in order to make the process even faster.
Cons:
Lack of information: NeverBounce doesn't tell you the reasons why an email gets flagged, which doesn't give you much control over your database.
Effectivity complaints: Some users have complained about a high post-validation bouncing percentage.
Bouncer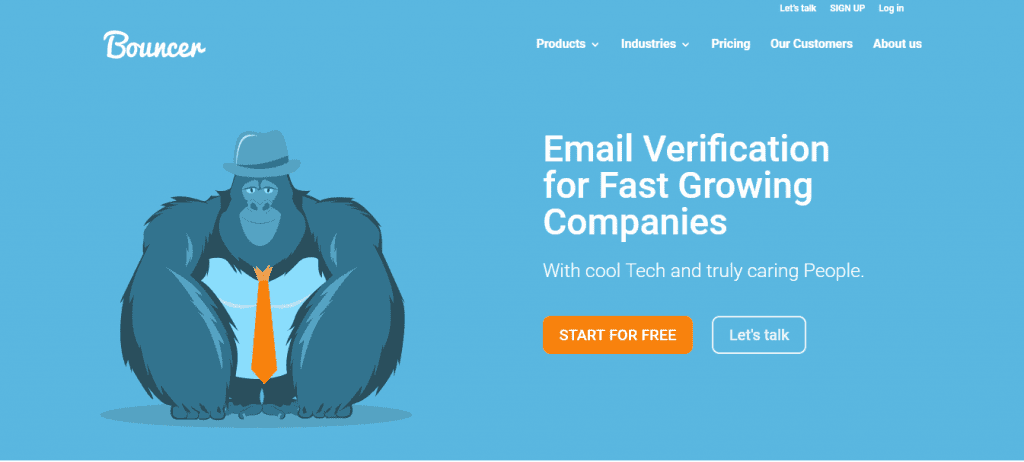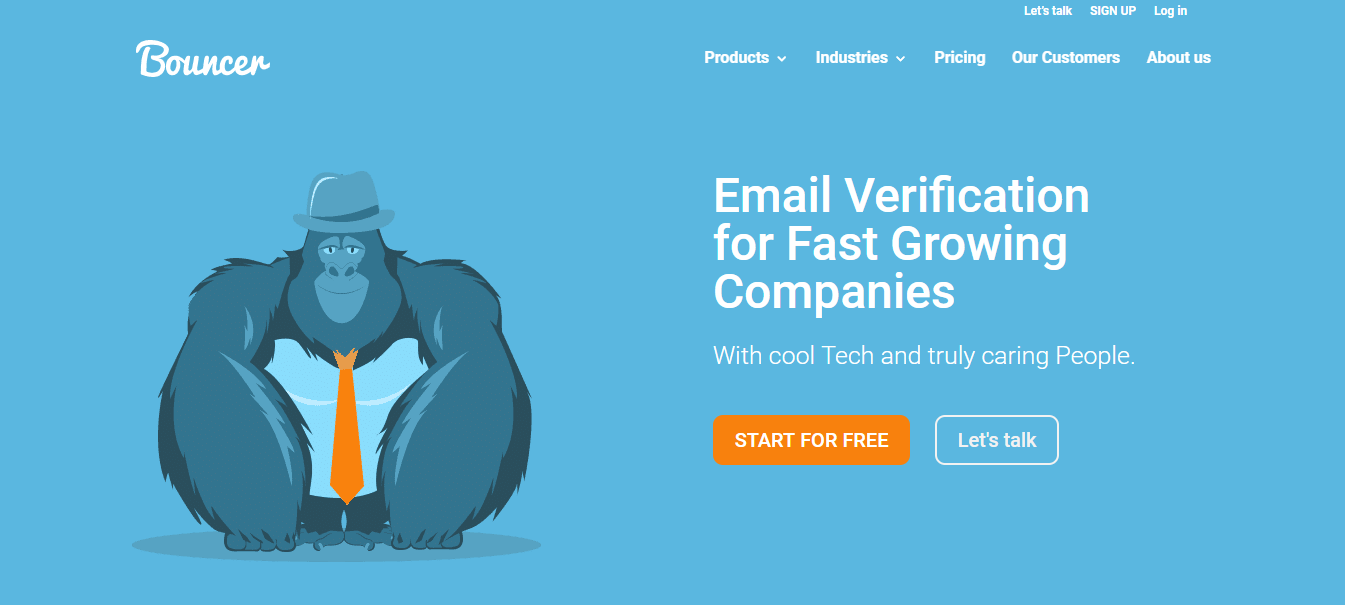 Bouncer is another email verification platform that promises to decrease your bounce rate and improve your deliverability.
Bouncer not only verifies your emails, but also catches typos, in order to prevent you from losing a contact because of a mistyped address.
The interface is very streamlined and easy to use.
Pros:
Inexpensive: Depending on your package, each verification costs from $0.0025 to $0.00075 (literally fractions of pennies).
Great support: Users praise Bouncer's support staff.
Good integrations: Integrates with the most popular emailing tools.
Cons:
UI issues: Customers complain about its out-of-date design.
Slow: Verifying in bulk can take a while.
BreadCrumbs


Data hygiene is the foundation of every high-performing email campaign. For this reason, it's important to maximize email efficiency by keeping in your lists only the contacts you know are right.
BreadCrumbs.io is a free email verification tool that helps you do exactly that–verify leads! Insert the email address of the contact you want verified to get an instant lead score.
Pros:
Simple UI: Breadcrumb.io has an intuitive UI that allows you to quickly verify emails
Free to use: Unlike other email testers, Breadcrumb.io is free-to-use making it an attractive option for many.
Cons:
Restricted verifications: For now, Breadcrumbs.io is limited to checking up to 10,000 emails which can make it an issue for large email campaigns.
Limited integrations: Unlike other paid options, you'll find that Breadcrumbs.io only links to HubSpot (but other integration coming soon: MailChimp)
Cold Email Outreach Software
Here are the best cold email outreach platforms for you to build cold email campaigns, send follow ups, and handle all your email outreach.
SalesHandy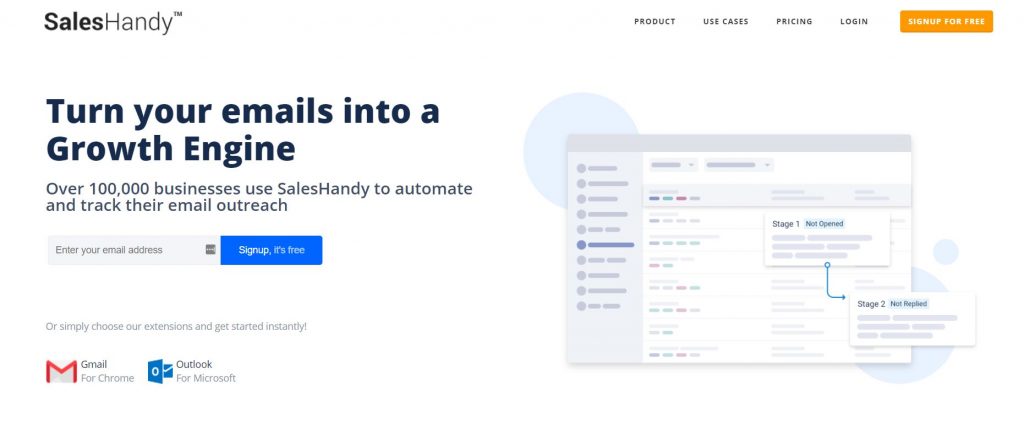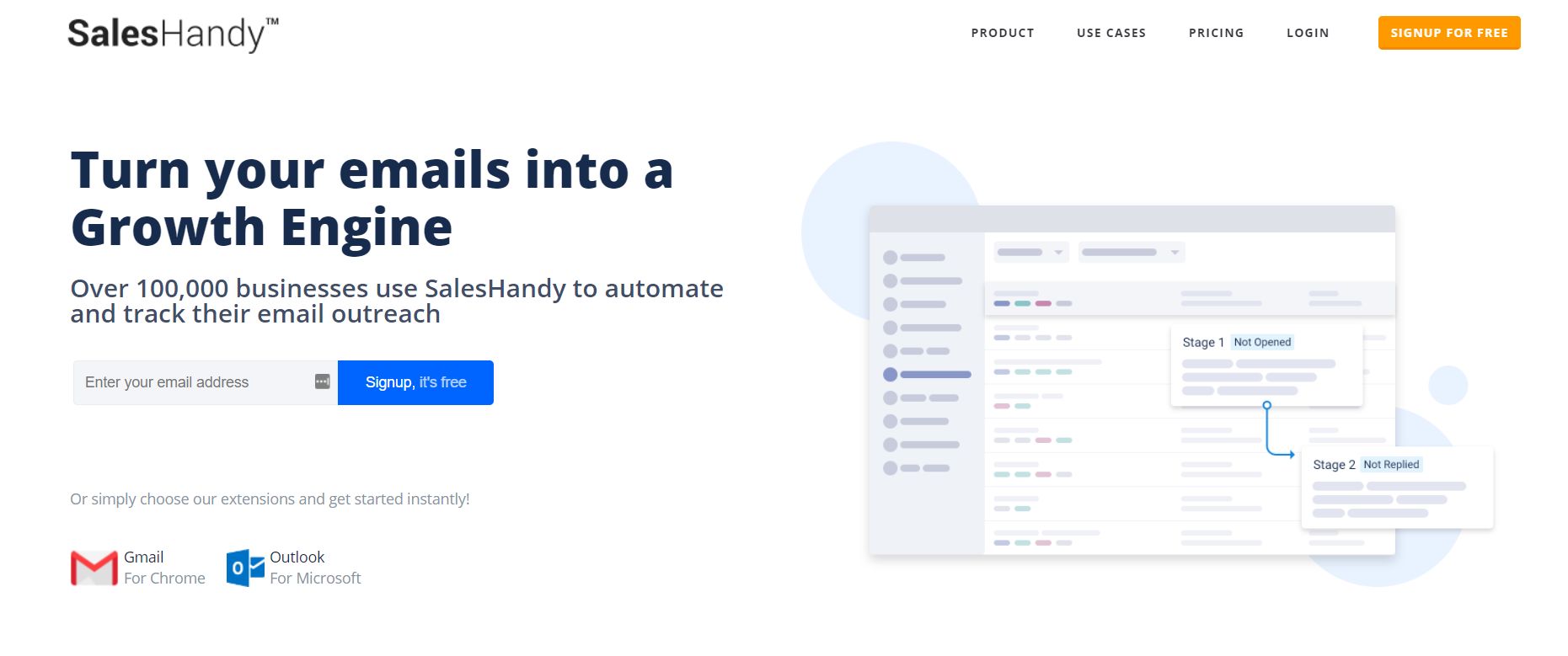 SalesHandy is a sales outreach platform that allows you to send personalized cold emails to your prospects and write follow-ups. It uses mail merge tags within your emails to add customized fields for every recipient and makes every email unique. Apart from that, to increase your conversion rate, you can schedule automated email follow-ups upto 9 stages.
The follow-up emails get triggered based on the recipient behavior — emails "not opened", "not replied" and "been sent" conditions. To better succeed with your email outreach, you can schedule cold email campaigns as per your recipient's timezone.
SalesHandy connects and sends emails using your existing email accounts on Gmail, Outlook, and other email services. This also makes your email land straight in the recipient's primary inbox.
You can integrate SalesHandy with Zapier to automate and connect with other applications and CRMs that you already use.
Pros:
Unlimited free email tracking: Track email opens and clicks using salesHandy's free chrome extension using push notifications on your PC.
Connect any existing email account: SalesHandy has a 1-click connection to Gmail and Outlook, and all other services can be connected using SMTP.
Cons:
Web-app only : Campaigns can only be sent from SalesHandy's web application.
Notifications only on PC: Push notifications only work on Chrome browsers and Outlook plugin, no way to get notified on smartphones.
Mailshake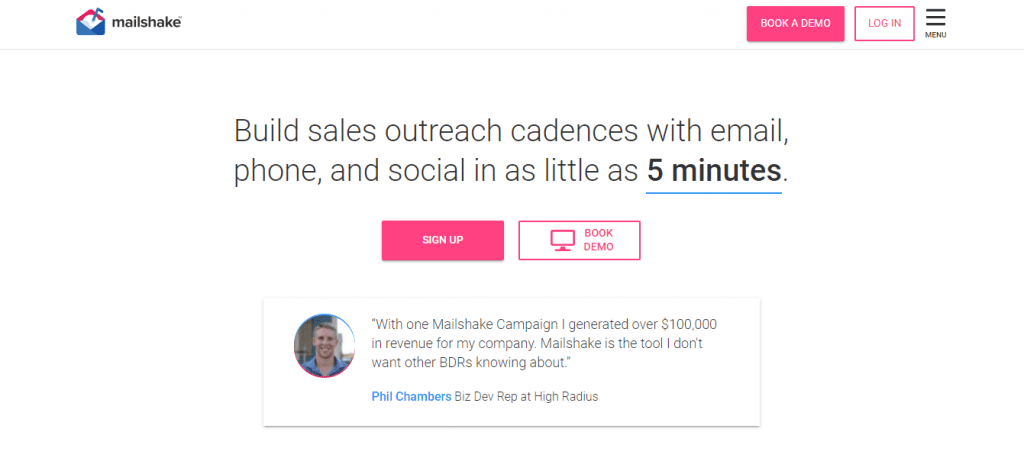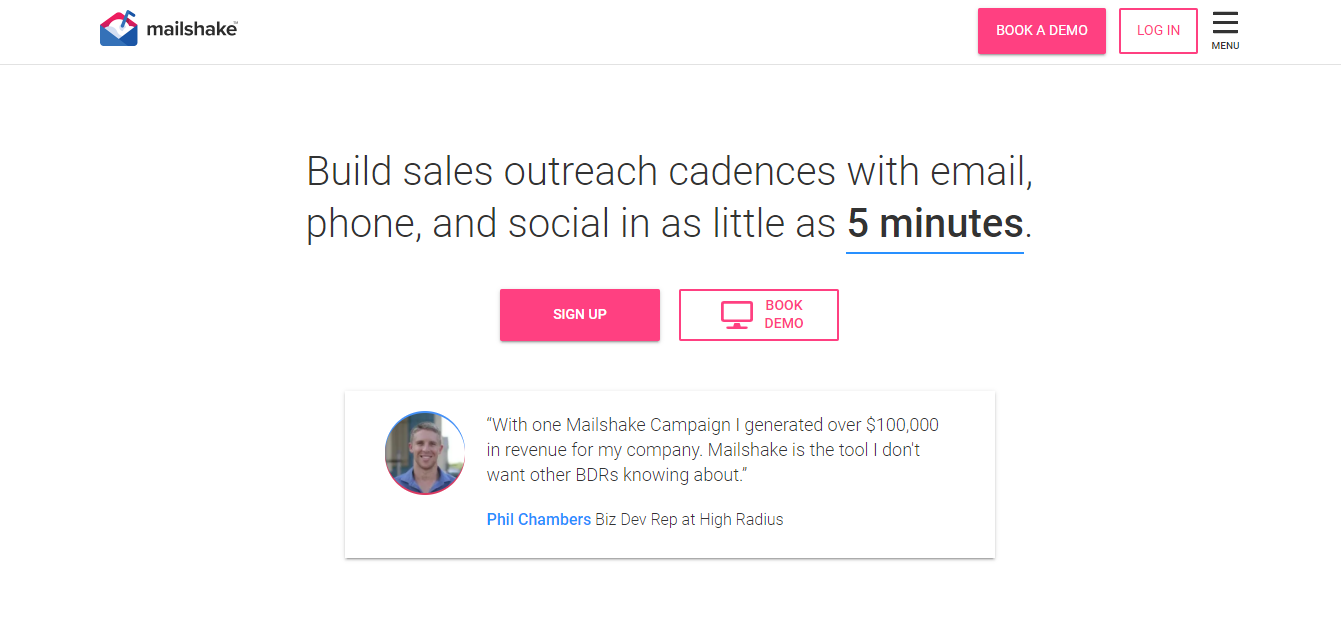 Mailshake is an emailing platform that allows you to build cold email campaigns from start to finish. Unlike other options, you can connect Milkshake to your Gmail account, which makes it easy to connect with and follow up on promising leads.
You can also call up leads through the platform and connect with leads from social media.
Mailshake also integrates with multiple tools, such as Zapier, Google Sheets, HubSpot CRM, and Pipedrive.
Pros:
Easy to use: Users find the platform to be intuitive and straightforward.
Educational: You can access free webinars and other educational tools, in order to improve your sales knowledge.
Cons:
No detailed analytics: The platform gives you very limited reporting options.
Only links to Gmail: Since Gmail only allows you to send up to 500 emails per day, you'll have this limitation when you connect to a private provider.
Prospect.io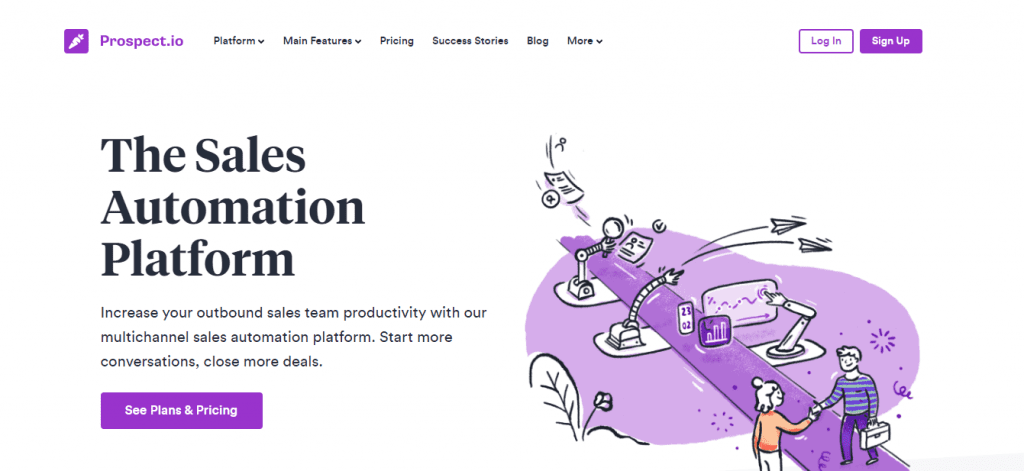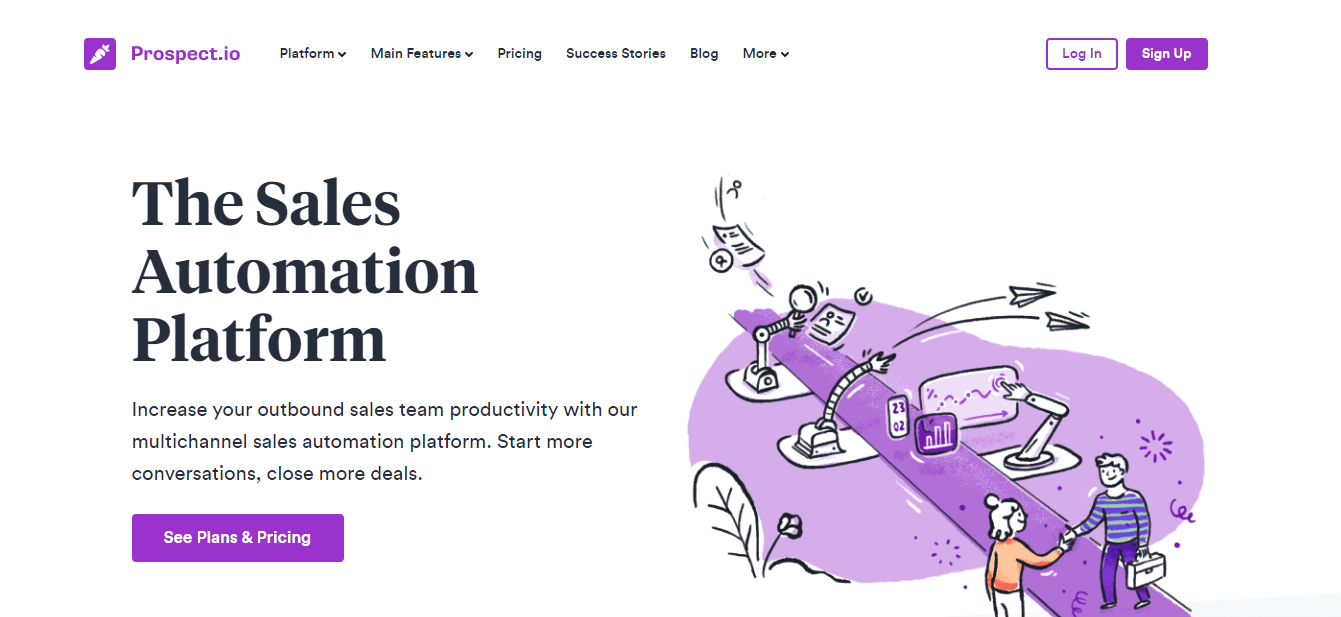 Prospect.io goes a step further in cold emails. It allows you to create multi-touch drip campaigns, which allow you to automate your work based on your clients' responses through highly customizable templates.
You can also use the platform to find and verify emails before you launch your campaign. Prospect.io has powerful integrations and great features for any cold email campaign.
Pros:
Linkedin integration: You can use Prospect.io with the Linkedin Sales Navigator, in order to collect lead information and build prospect lists.
Multiple features: This platform isn't just an email platform. It also has several attractive features for anyone looking to increase and manage sales.
Cons:
Lack of worldwide data: Typically, the data in the platform is focused on western countries.
High bounce rates: Users report higher bounce rates than on other platforms.
Yesware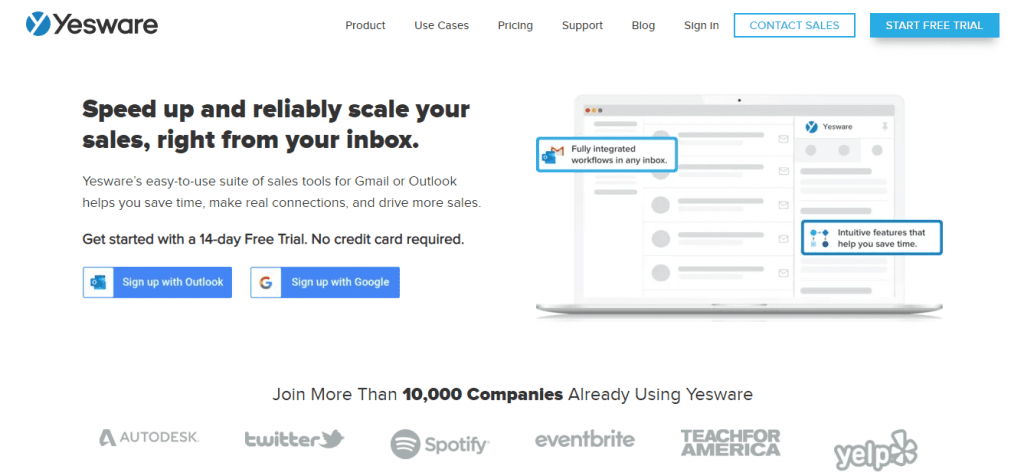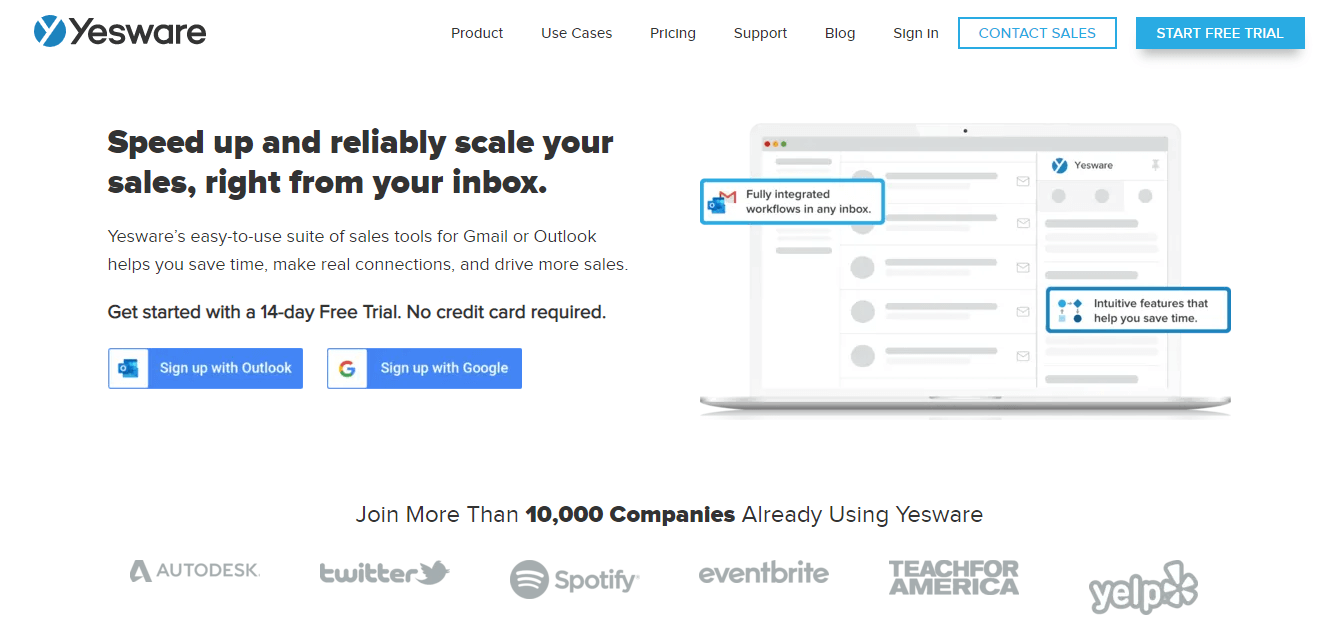 Yesware is a very complete sales software with powerful cold emailing options. It allows you to both contact leads and track your progress with them, regardless of how many you have.
With Yesware, you can schedule meetings and demos, track meetings, and gather all the data you have to see what works and what doesn't. You can also integrate it with LinkedIn, in order to build connections faster and more effectively.
Pros:
All-in-one experience: With a multitude of options, Yesware can seamlessly integrate with almost every step of your sales process.
Great for multiple leads: Yesware makes it easy to keep track of multiple leads and their locations in the sales funnel.
Cons:
Not great for small companies: You can only build campaigns in their middle tier. The most attractive options are only in the upper-level tier, which makes it expensive to fully take advantage of the platform.
Intrusive, only-PC platform: There's no mobile version, and users report that all the extra Yesware buttons in their inboxes may look somewhat intrusive.
Lemlist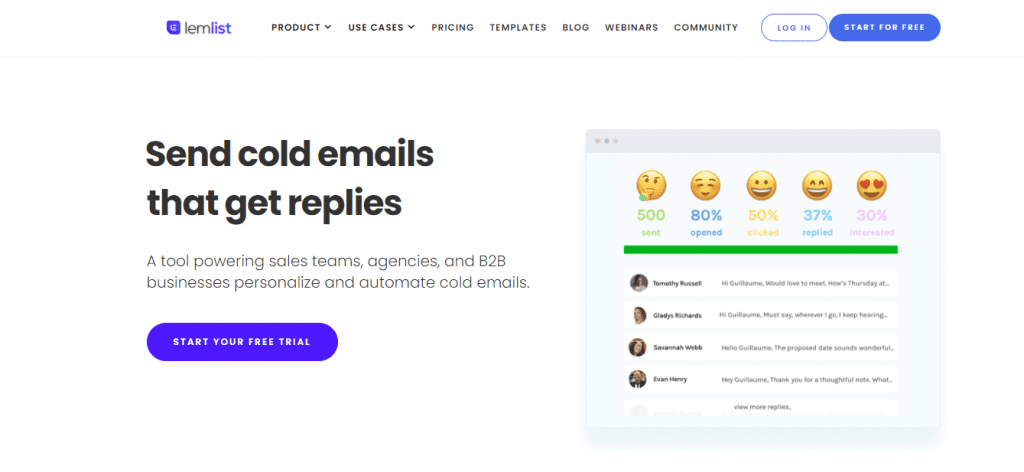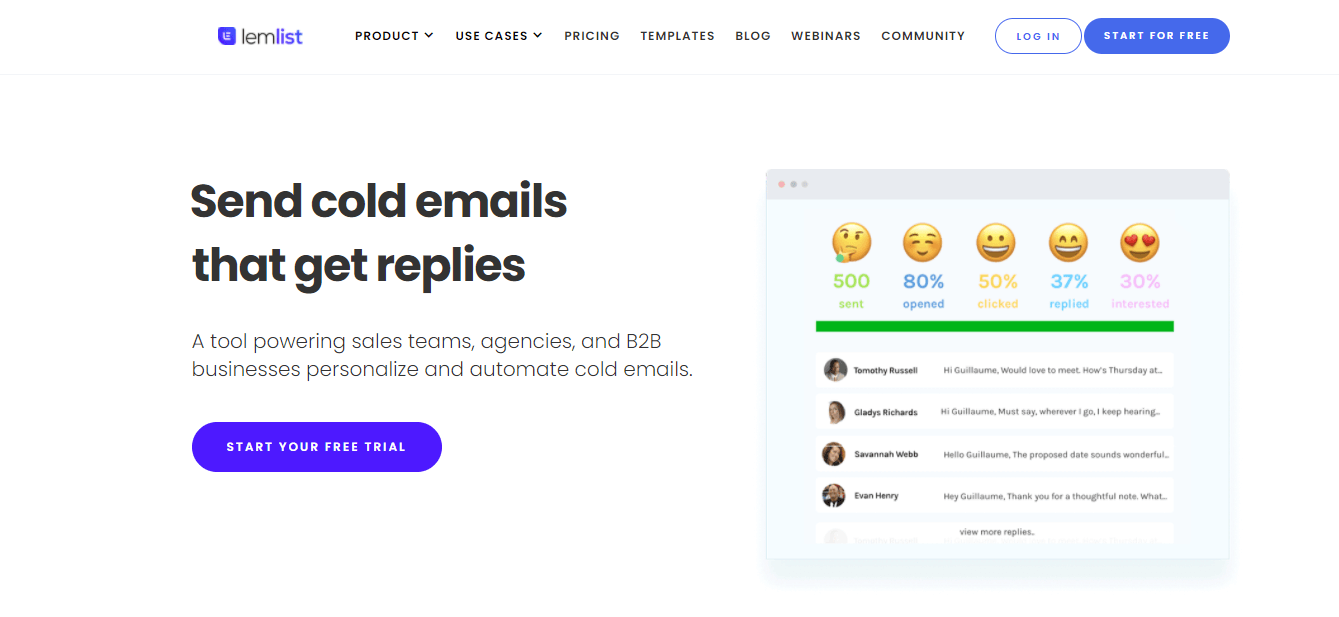 Lemlist focuses on cold email success. It connects to multiple email accounts (such as Gmail, Office 365, and Exchange), and it focuses on highly personalized cold emails, in order to improve response rates.
With Lemlist, you can build email campaigns through goal-oriented templates, automate email processes, and keep track of your progress with powerful integrations.
Pros:
Multiple integrations: Lemlist integrates with multiple CRMs and email platforms.
Great support group: Users love its support group because it lacks upselling and focuses on problem-solving.
Cons:
No bulk emailing: Since Lemlist is focused on highly-personalized emailing, there's no option for newsletters or other bulk email options.
Templates hard to customize: Since personalization only goes one way, the user will have a hard time customizing templates.
Reply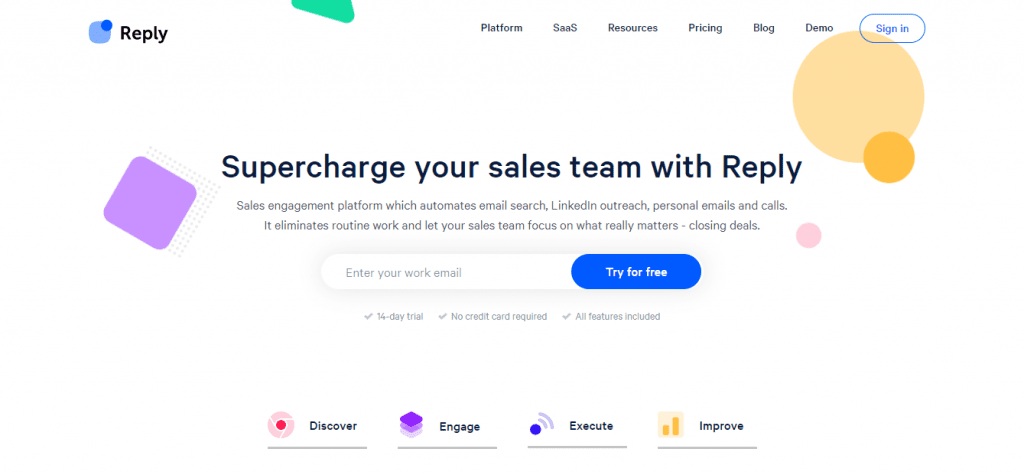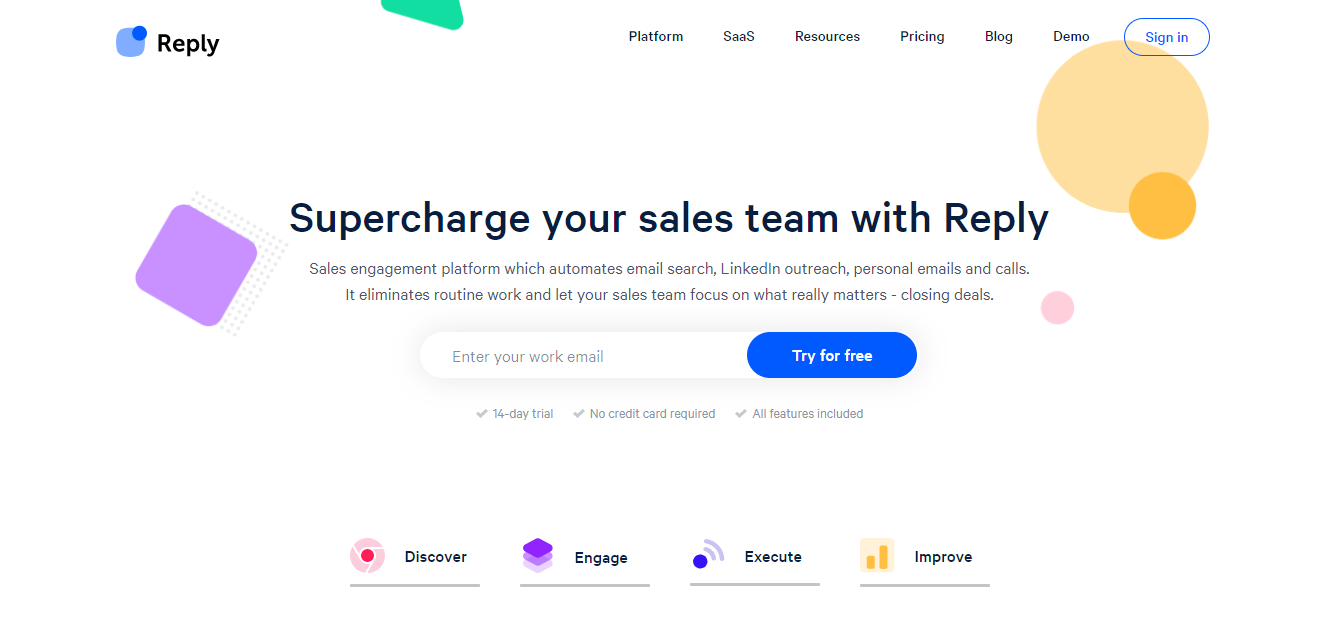 Reply is an engagement platform that focuses on helping you get both email and call sales leads. It's highly adaptable to teams or individuals, and it gives you access to in-depth campaign data, which allows you to A/B test your approach and find out what works.
It also has native CRM integrations and an AI-backed email sorting feature.
Pros:
Easy to use: Users praise its friendly design.
LinkedIn extension: Find contact info while navigating LinkedIn.
Cons:
Expensive for small companies: Since the lower tier pricing is above the industry's standard, it may not be affordable for small operations.
Limited customer support: Users complain about an overwhelmed customer chat support, which has no phone support for quick fixes.
Gmass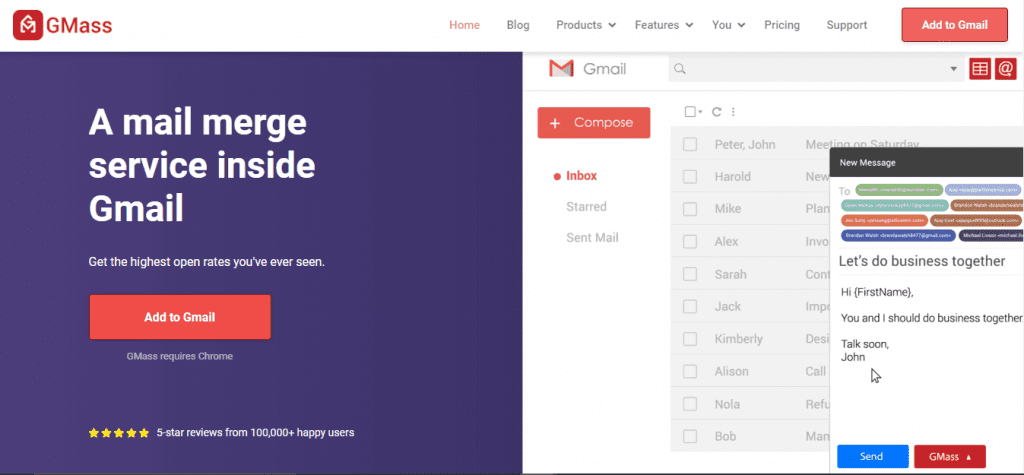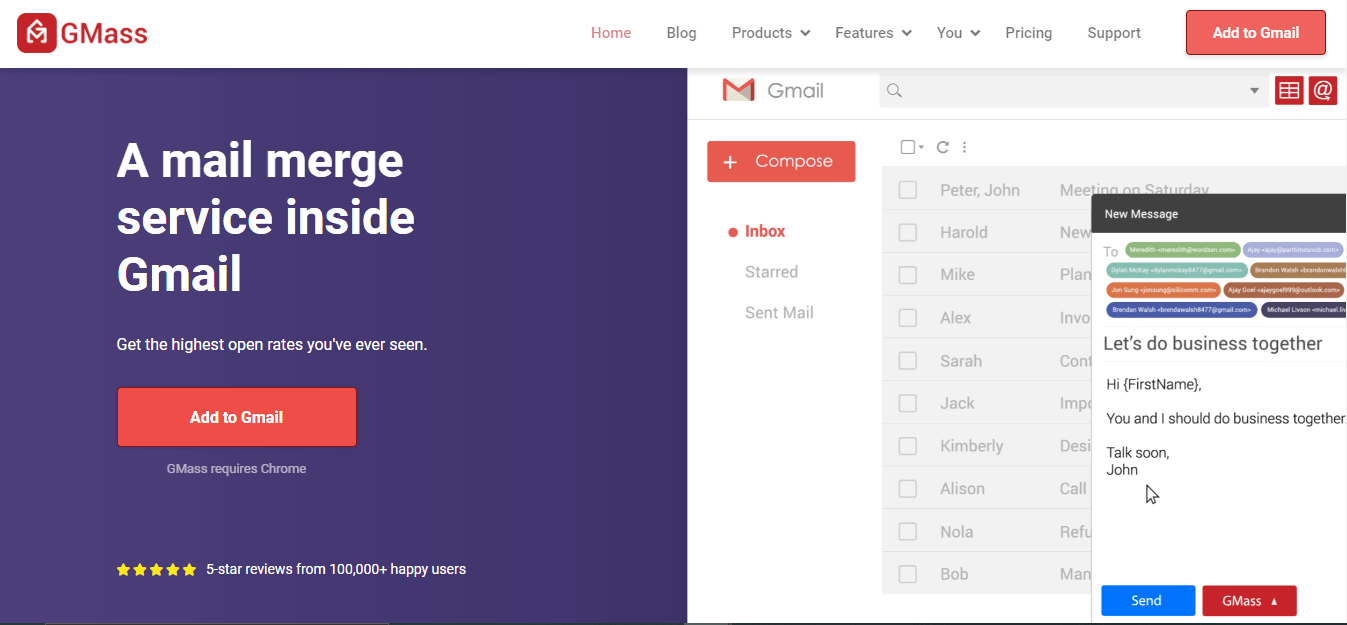 Gmass is an email marketing tool for Gmail. Unlike other platforms, Gmass only focuses on Gmail, which allows you to do both cold emailing and general email marketing.
You can use it to send automatic follow-ups, connect it to Google Sheets, and use their algorithm to find someone's name (with just their email address). Their laser-focused approach to Gmail quickly translates into getting as much out of it as you can.
Pros:
Very easy to use: Using it is almost as easy as using Gmail. It has a very small learning curve, which allows more people to fully take advantage of it.
Great deliverability: By using Gmail, your emails will most likely be delivered to your audience.
Cons:
Limited approach: Since it uses Gmail, you'll have its limitations (such as its limit of 500 emails per 24-hour period.
No dashboards or data on the platform: Since it does everything via Gmail, the only way to see data is to export it to a spreadsheet.
Snov.io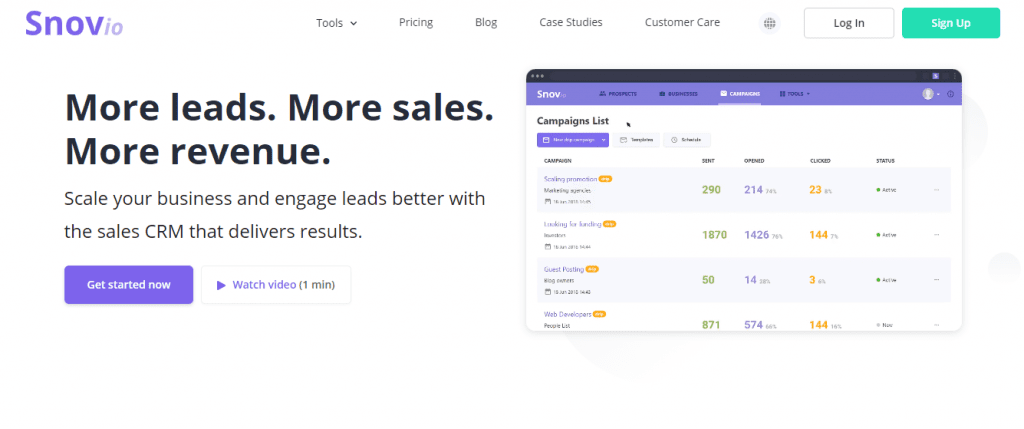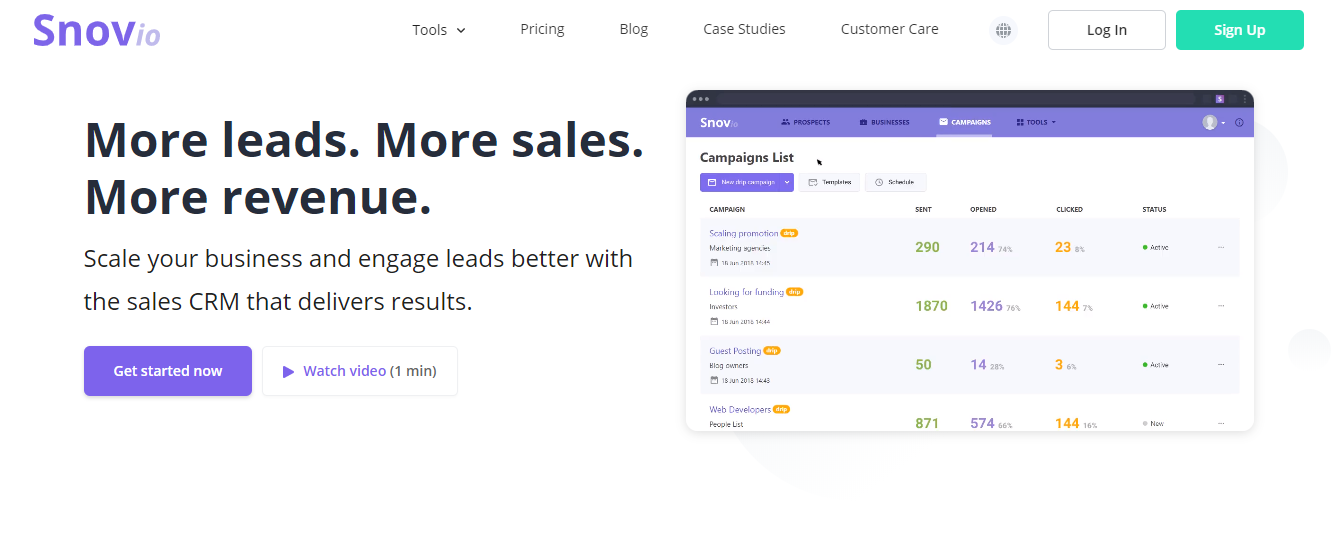 Snov.io is a CRM with great contact management and cold outreach capabilities. It can handle your cold emails, track your lead's progress, and send automatic responses to motivate conversion.
You can also use its database to search for leads' emails according to their domain, name, or company profile.
Pros:
Comprehensive CRM: This powerful platform goes beyond emailing and allows you to find leads, contact them, and keep track of their progress until they convert.
Chrome extension: Its Chrome extension allows you to find your lead's information as you browse their profiles.
Cons:
Limited lead generation: Users report that the emails they find with this tool aren't always accurate. And phone numbers aren't shown in their profiles.
No A/B testing: Snov.io doesn't offer testing for cold reaching approaches.
We are a strong Snov competitor if you're looking for an affordable alternative.
Woodpecker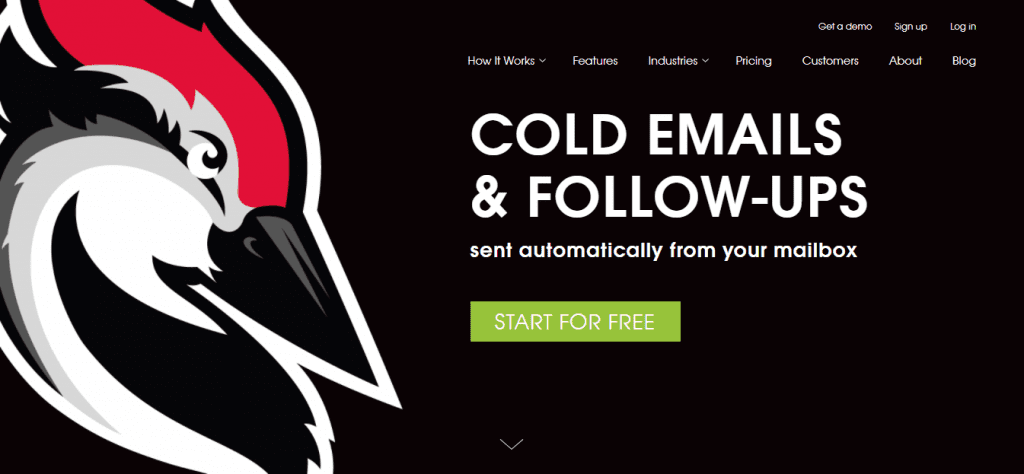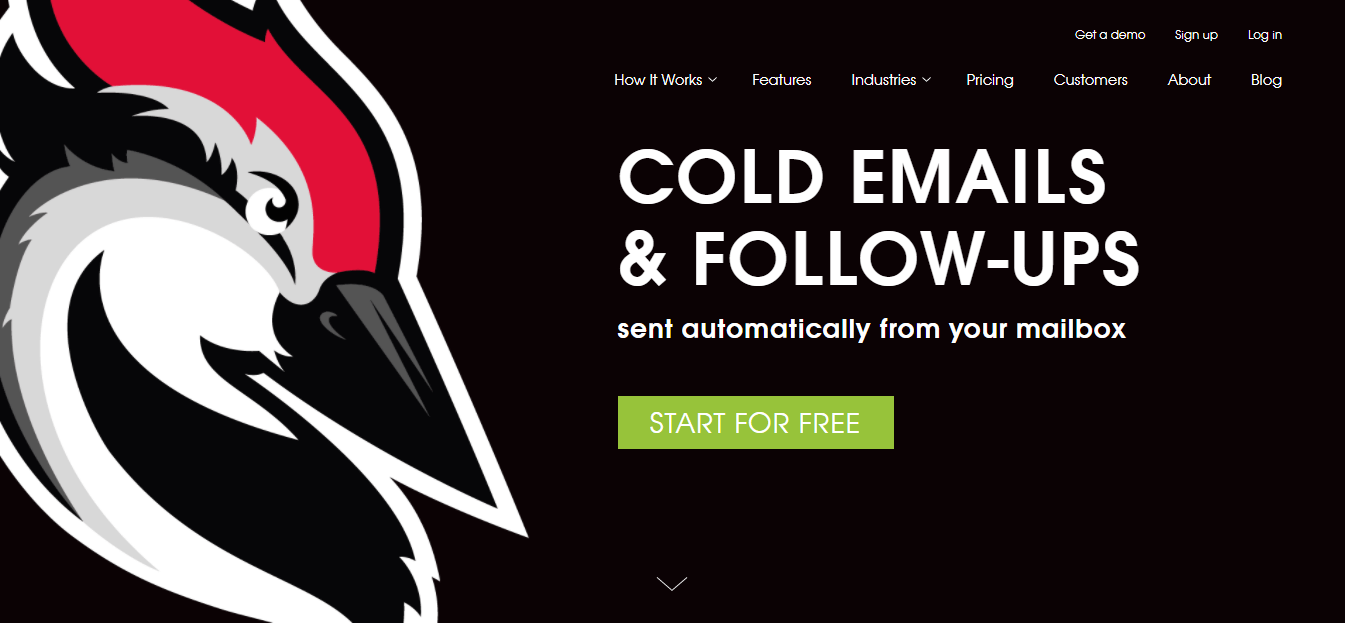 Woodpecker is a B2B tool that focuses on helping you navigate cold emailing via the automation of personalized emails. This platform is built around cold emailing, and you can use it with Gmail, Office 365, or Exchange accounts.
You can also integrate it with Zapier and Salesforce, in order to more effectively keep track of your data and your approaches. The platform claims to be the most secure one for automated campaigns, and it has great capabilities for team efforts.
Pros:
Affordable: Woodpecker is priced below the industry standard.
Quick and easy to use: You can set up and run an email campaign within five minutes.
Cons:
No A/B testing: This absence is a big miss if you're looking to optimize your campaigns.
No support in American time zones: You'll have to contact them early if you need customer support in the USA.
Klenty


Klenty is a platform built around sales engagement. You can use it to send personalized cold emails and keep track of your leads. It has powerful automation tools, which comes in handy when you're looking to spend more time selling and less time doing repetitive tasks.
The platform integrates great capabilities with popular CRMs, such as Salesforce, Soho, Hubspot, and Pipedrive. To quickly get started, you can import your sales prospects from your CRM or use Google sheets
Pros:
Powerful features: With Klenty, you get great automation, drip campaigns, A/B testing, a delivery window, and many other useful features.
Great data reporting: You can easily keep track of your campaign's health through your dashboard, as well as its detailed campaign metrics and team reports.
Cons:
Limited capabilities: You can only send up to 700 daily emails, which may not be ideal for large cold outreach efforts.
Minor bugs: Users report some small bugs in their integrations and UI.
Gmelius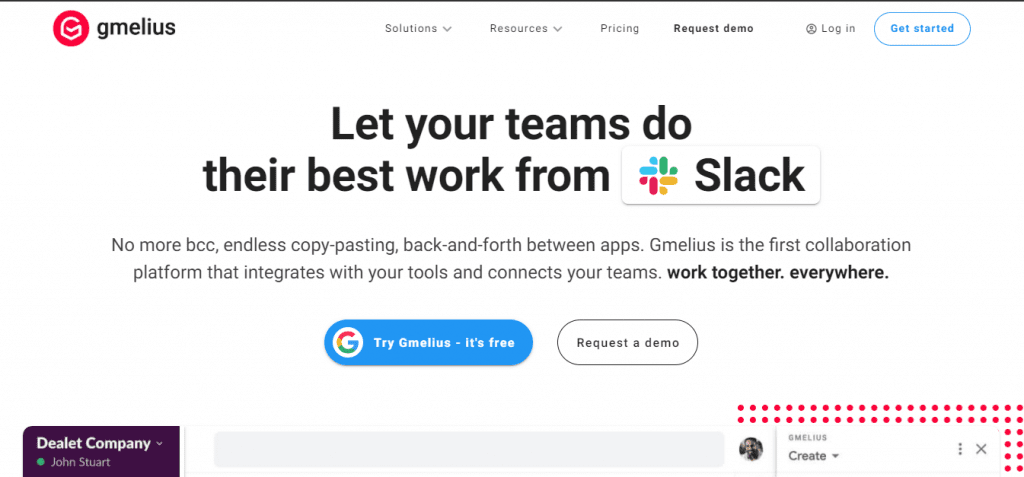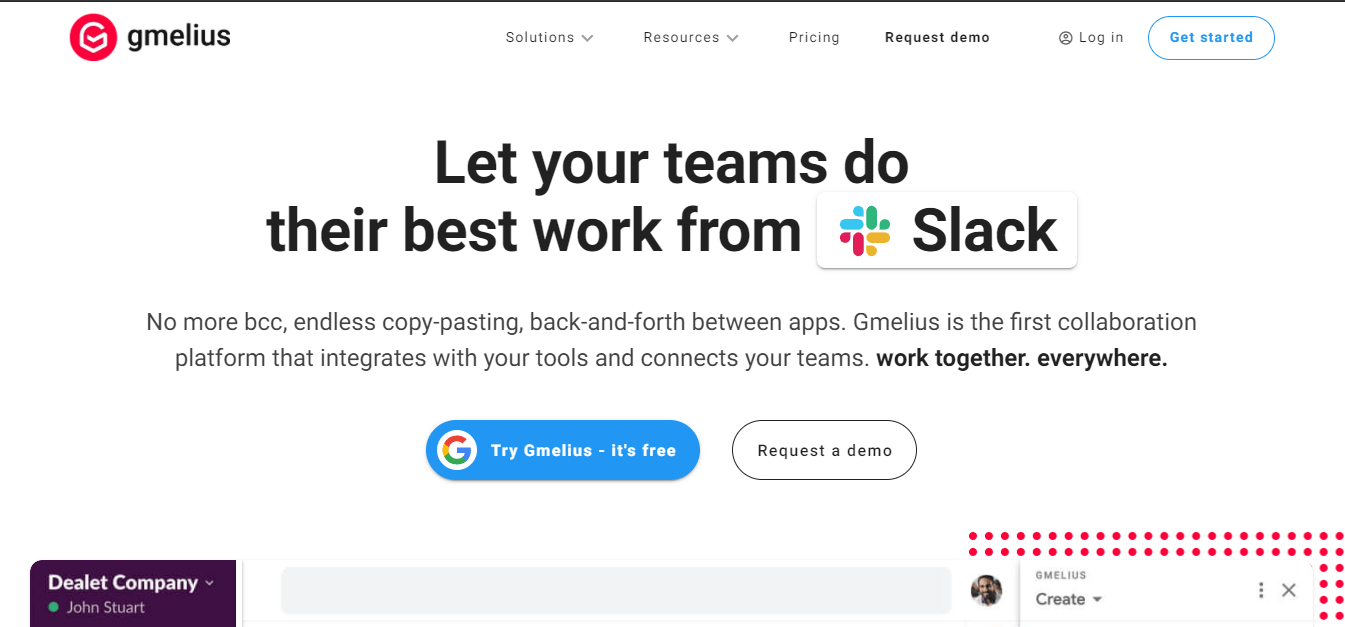 Gmelius is a great platform for anyone looking to improve their team efforts. It integrates with multiple online tools (such as Slack and Trello), in order to allow your team to work together, regardless of where they are.
This approach allows your sales team to have shared inboxes, where they can send their cold emails and easily keep track of their sales efforts. You also get great automation options and reports on your sales pipelines and team activity.
Pros:
Perfect for online teams: Gmelius adapts to your company by integrating with the tools you're already using with your online team.
Intuitive interface: Its user-friendly interface is very intuitive and easy to use.
Cons:
Limited capabilities in lower tiers: Since these tiers offer very little compared to the cost, small operations may get more out of their budget with other tools.
Minor bugs: Users have reported minor bugs with the interface and some of the integrations.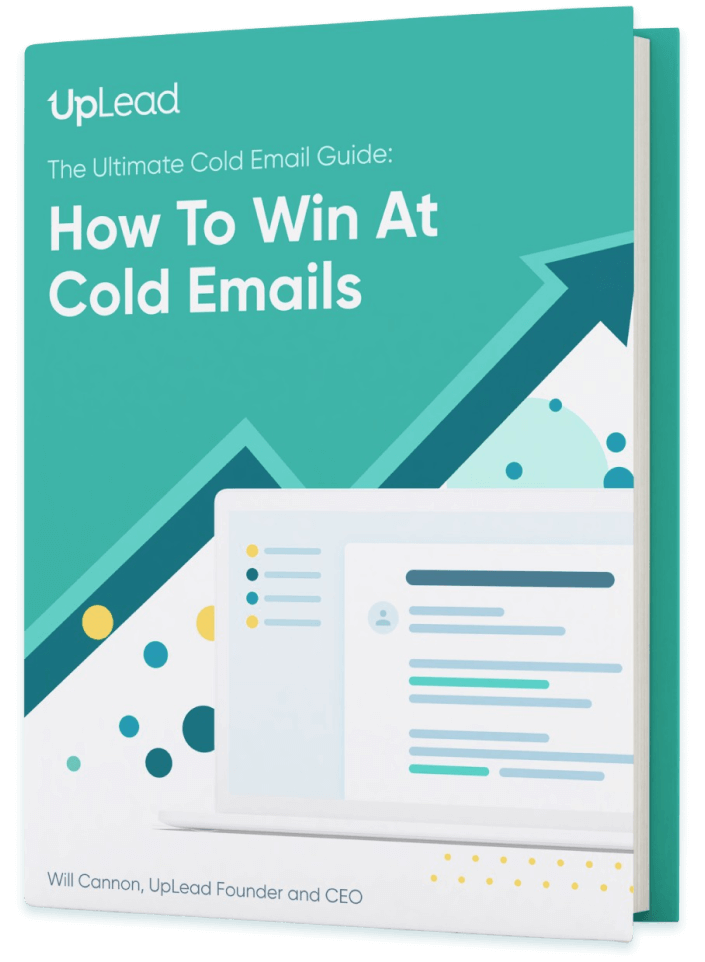 Download our free eBook full of valuable insights and take your cold emailing strategy to the next level.
I agree to receive emails from UpLead, and can unsubscribe at any time.
Everything About Cold Emails:
What Is Cold Emailing?
Cold emailing involves any email sent to a sales lead without any prior communication. This outbound sales strategy allows you to get in direct contact with potential customers.
Sending cold emails isn't necessarily considered spam. As long as you target leads who are truly interested in what you're selling, cold email is a legal and powerful way to get in touch with potential buyers.
Cold emails are usually more effective when you send them to the right people at the right time. Also, cold email tools come in handy when the cold emailing process gets repetitive.
What Is Cold Email Software?
A cold email tool refers to an emailing platform that allows you to send emails in bulk. They may be focused on newsletters or cold emailing, and they usually have useful features, such as email templates, dashboards, and integrated reporting. You can also use it to keep track of your follow-ups and fully manage your email campaigns.
You need a cold email tool whenever you're looking to automate your approach and contact a large amount of people at once.
What Are Relevant Features of Cold Email Software?
There are many different cold email software options with many different features. However, the main features you should look for in a cold email tool are personalization features, deliverability guarantees, and email customization.
A few nice-to-haves are good data analysis, automation options, email tracking, A/B testing, and CRM integrations.
Conclusion
Choosing the right cold email software is vital for your email outreach. You need to find the tool that gives you all the needed features. It should be easy to learn and fit within your budget, and allow you to manage all email campaigns, follow ups, and the rest of your email outreach.
However, you should remember that no cold email tool will ever beat a well-written, compelling cold email subject line.
If you've already perfected your cold email techniques, try out some of the options above via their free trials before you commit to any platform. Then listen to your team's feedback. Once you pick the right technique, you'll get tons of leads in no time.