As marketers, staying informed of the latest industry trends is essential to building an enhanced understanding of your target market. Cold calling is no exception. The sales process continues to play an important role in modern-day marketing tactics and shows no signs of slowing down anytime soon. Understanding how to build and maintain a good cold calling list that will yield positive results is more important than ever, especially with evolving market conditions.
This article provides insight into developing a high-quality cold call list in 2023, including ways to identify your target audience, best practices for maintaining accurate B2B data sources, and tips on using online tools to build your outbound sales strategy. Read on and equip yourself with the cold calling knowledge to get started!
Why Your Business Needs a Cold Calling List
Cold calling is essential for any business looking to scale its lead pipeline. A cold call list can help streamline connecting with potential customers and building valuable professional relationships. An effective list provides a reliable source of high-quality contacts for businesses, dramatically increasing their chances of acquiring new customers.
In addition, leveraging a cold call list saves time and money; fewer marketing campaigns are needed to reach your target market when you have direct access to them through your contact list. A comprehensive cold call list helps your sales team grow its customer base, build trust with prospects, and increase revenue.
Elements Cold Calling Lists Should Contain
A key element of successful cold calling is having a well-cared-for and up-to-date contact list. With a high-quality contact list, your sales team can ensure they reach the right people at the right time with their message. They can continue offering services in demand to achieve an optimal ROI on cold calling efforts.
Cold call lists are integral to any successful outreach effort and must contain all the necessary information. Your cold call list should include the person's name, job title, company name, contact information (phone number and email address), industry, and city. This data type helps ensure you have accurate contacts likely interested in your message.
Furthermore, segmenting contacts by location targets geographically specific campaigns or offerings. Using first-hand data as much as possible when creating cold call lists is vital. When outdated or inaccurate information slips through the cracks, it can derail campaigns and hurt your target market outreach strategy.
Below is a breakdown of elements you should include as you build out your cold calling lists:
Name
Job title
Organization
Email address
Phone
Industry
Company size
Location
By capturing these components in your leads' information, you can ensure you're up to date on the latest from your contacts and provide the most relevant information throughout their customer journey. More importantly, this part of the sales strategy helps ensure you can still reach your target market where they're at.
How to Build a Cold Call List: 2 Methods
Building a cold calling list is the first step in reaching potential clients or customers through phone calls, so knowing the right procedures is essential. Below are two methods for building an effective cold calling list, highlighting how automating your cold-call list building can significantly boost you. 
Method 1: Use UpLead to Build a Custom Cold Call List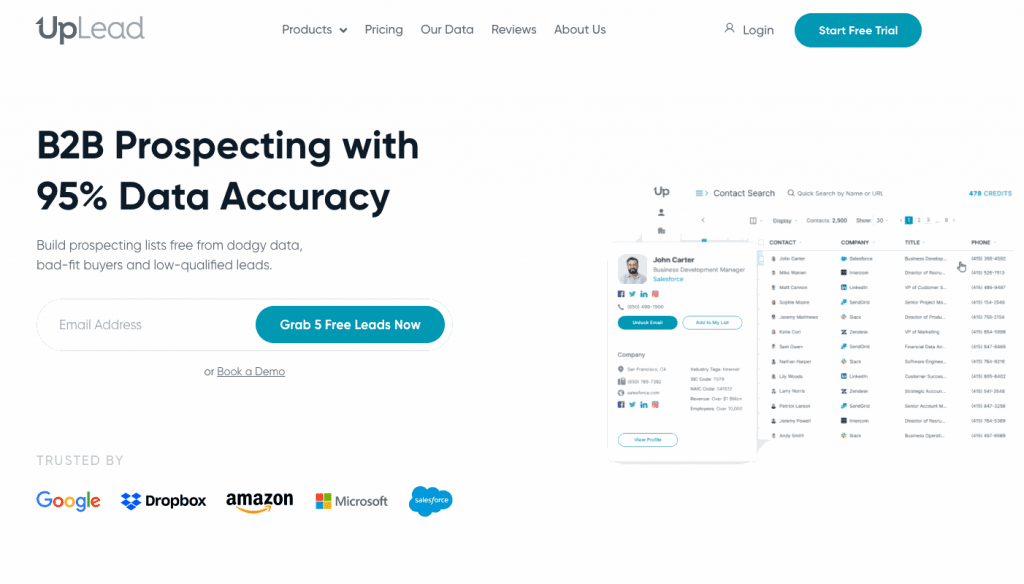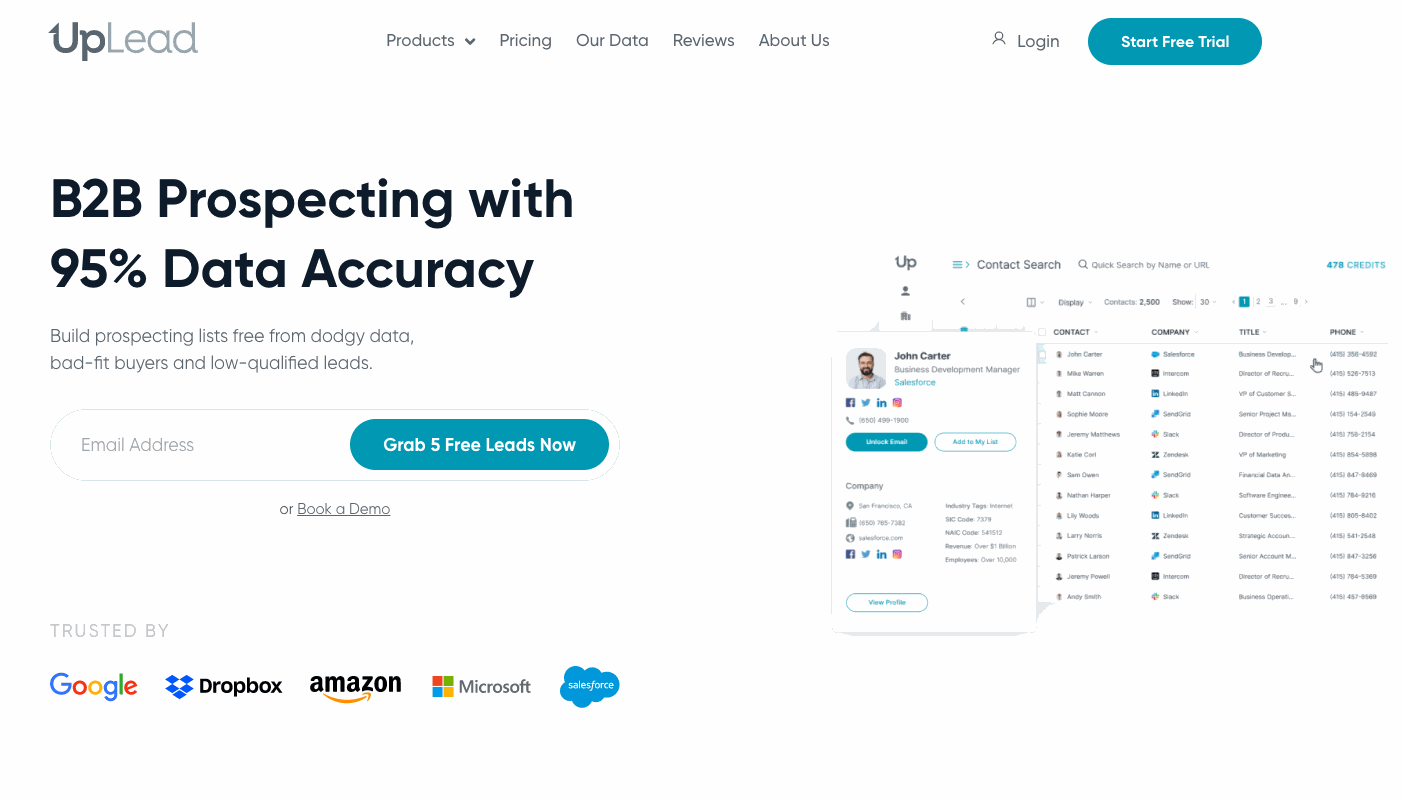 Building a cold call list by hand can be tedious, time-consuming, and not consistently accurate. Fortunately, there is an easier way to quickly and accurately make lists with UpLead. With 95% accuracy in their data, the platform allows your sales team to search for millions of potential leads at your fingertips. You can also customize your cold call list according to your preferred criteria.
UpLead is an efficient, scalable prospecting tool for organizing your lead list for cold calls. It's fast, easy to use, and reliable so that you can focus on other aspects of your business, knowing that your contacts are ready and accurate.
Below is a guide to the simple process of building custom cold calling lists with UpLead.
In your UpLead account, navigate to 'Contact Search.'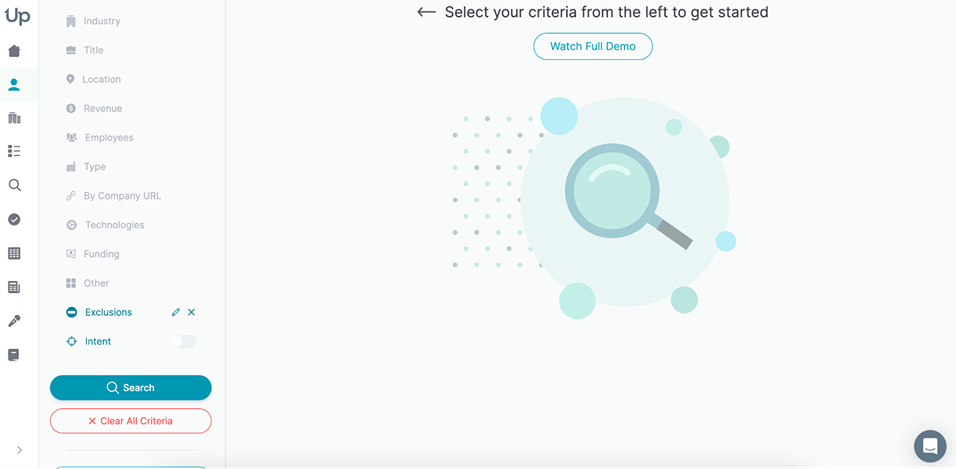 Refine your search criteria, such as industry, location, or funding status.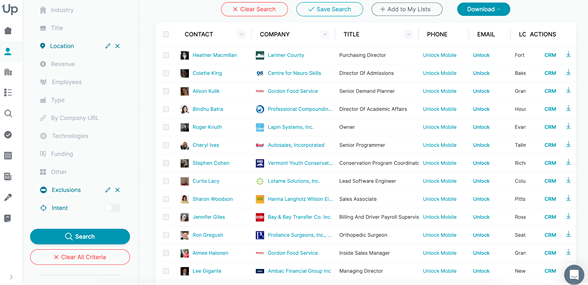 Select any contact or multiple contacts you'd like to save from the search results.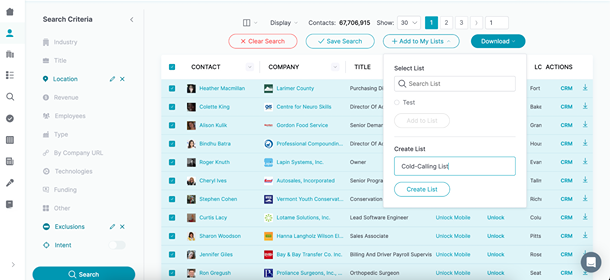 Select "Add to Lists" and create your new list.
To find your cold calling list, navigate to 'Contact Lists.'
Start Your 7-Day Free UpLead Trial
Lead generation doesn't have to be all that painful. With UpLead, you can easily connect with high-quality prospects and leads to grow your company.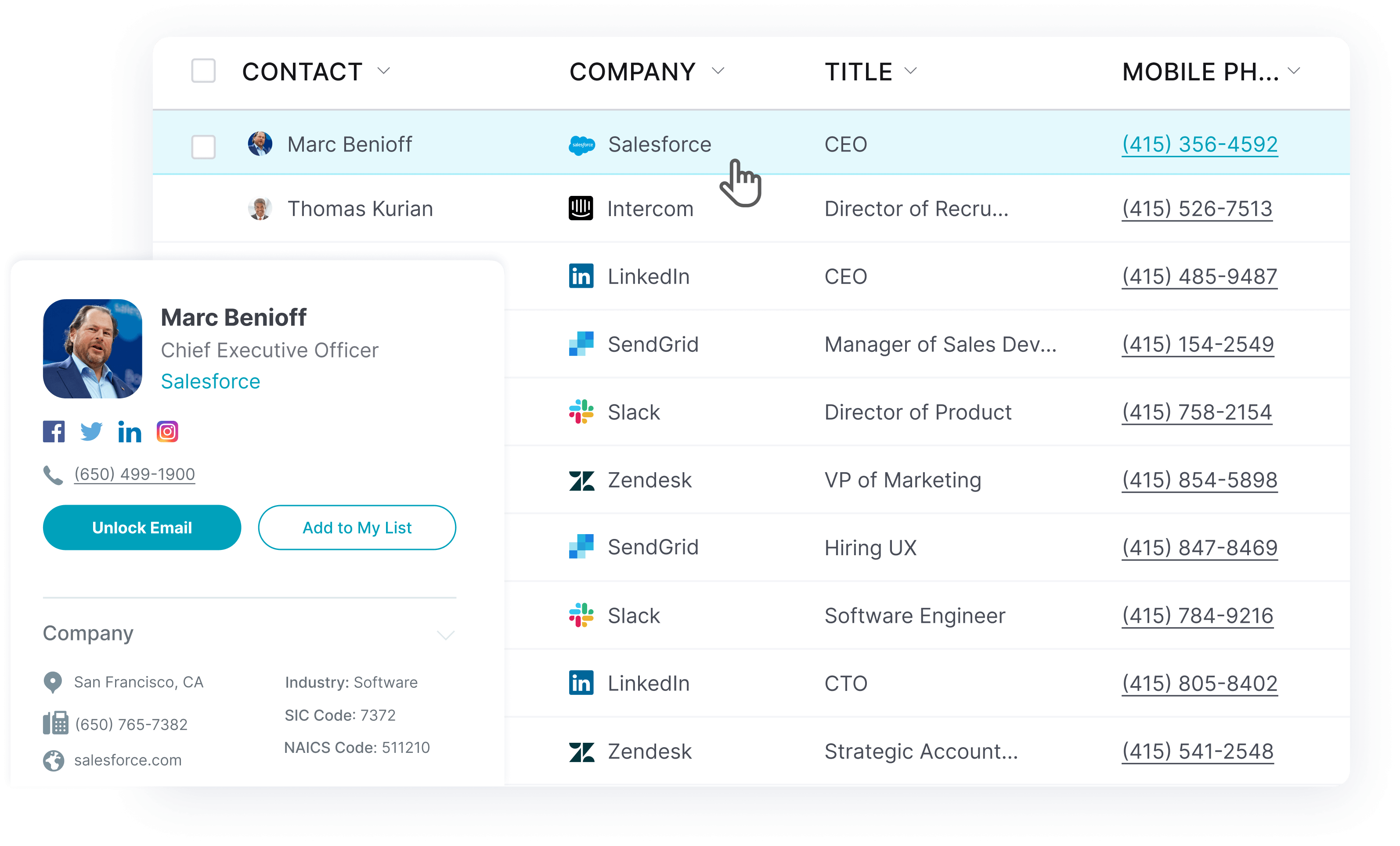 Method 2: Manually Build a Cold Call List
You can use services such as LinkedIn or Google Search if you don't have access to a robust sales intelligence platform. However, this part of the sales process is incredibly time-consuming and error-prone, which makes it difficult to ensure accuracy when so much data needs to be inputted and reviewed. The manual method involves sifting through individual sales leads and cross-checking lead data with multiple sources to get the correct contact information. Investing in a tool like UpLead expedites this process and generates highly reliable results for your cold outreach efforts.
4 Tips for Building a Cold Calling List
Cold calling is an integral part of many sales and marketing strategies. It's a well-developed method to gain leads, spread interest in your product or service, and increase conversions. Unfortunately, sourcing cold call lists can often be time-consuming and tricky— which can delay creating one of the most powerful components of successful outreach campaigns. To help streamline the process and get your team out there faster, below are four tips for building a solid cold calling list that will yield maximum results with minimal effort.
1. Create a Clear Customer Profile
When developing your customer profile for cold call lists, consider your ideal customers' characteristics to ensure success. Start by researching your existing target markets to determine the age range, location, and everyday needs of those who have already bought from you. Then start thinking about the benefits and solutions they want to build a comprehensive profile.
As part of this process, consider any potential obstacles or objections that may arise during a sales call and anticipate how you will address them in the most personable and effective way. A clear customer profile upfront lays the groundwork for successful lead-generation efforts through cold calls.
2. Invest in High-Quality Leads
When building cold calling lists, investing in quality sales leads is fundamental to business development. Not only does purchasing low-quality data lead to reputation risks, but you'll also likely spend more time sifting through invalid or redundant contact information. UpLead ensures your lists are 95% accurate, so when you invest in their leads, you know your hard work has a greater probability of getting results. The platform also pulls from over 14 million company profiles to ensure you're not missing out on potential phone numbers or emails. 
As a bonus, UpLead's innovative search features let you browse leads by demographic and technographic information — saving hours of searching for that perfect customer fit. Investing in high-quality sales leads from UpLead will ensure your sales outreach efforts are efficient and fruitful.
3. Look for Direct Dials
As any salesperson knows, time is money, and cold call lists are crucial in increasing sales efficiency. Finding direct dials is critical to having a successful cold calling strategy, as it allows you to make more efficient contact with potential leads. Having direct access to the decision-makers of an organization means less time spent connecting with secretaries or other team members to get to your decision-makers.
It also helps you avoid getting stuck in any bureaucracy and allows you to move quickly when acting on an opportunity. Look for direct dials when building your cold call lists to ensure you don't waste valuable time trying to reach your intended targets.
4. Update Your Cold Call List Frequently
Building accurate and up-to-date cold calling lists is critical for successful lead generation. Outdated lists can be a significant waste of time as information quickly becomes obsolete, and some prospects your sales team has engaged with might not be valid leads anymore.
By updating your cold call lists, you can ensure you're continuously working with the most relevant data, achieving better performance and higher yields from your campaigns. Regularly updating cold call lists allows you to find new leads and track who is worth contacting in the industry. Regular updates help give you an edge over the competition, putting marketing teams well above those who rely on static and out-of-date contact datasets. 
With UpLead's painstaking data validation process, you can expect data from your target audience to be reliable and up-to-date– without manually updating the information. The platform uses a team of human researchers to verify your data before you can access phone numbers and emails.
How to Use a Cold Call List Effectively
Cold calling is an effective way to contact potential customers even when they haven't started investigating your product yet, but it comes with its unique challenges. To maximize the effectiveness of your cold calls, you need more than leads– you need a solid strategy for utilizing a cold call list.
Below are tips for effectively using a cold call list so that each call you make has the greatest chance for success.
Use Cold Call Scripts
Cold calling scripts provide essential guidance and structure when conducting outreach. With robust cold call templates, new sales team members can easily adjust to the job roles with a more effective transition period. Cold calling scripts also ensure team alignment and streamline operations as members work together to reach common goals.
Moreover, by using cold call scripts, sales teams can efficiently test messaging and the sales pitch of their campaigns to gauge how customers will likely respond. It's also important to consider the best times for cold calling when executing your scripts. You don't want to be cold calling people at peak business hours or on weekends. 
Become a Master Objection Handler
Becoming a master objection handler is essential for any sales team member who needs to make cold calls. Rejection and apathy are standard answers when conducting outbound calling. However, handling objections effectively can help control the conversation flow and keep the potential customer engaged in the sales process.
Learning to gracefully move past the "not interested" phase and phrasing questions differently can be the difference between gaining a lead or wasting time chasing a lead. Solid objection-handling skills can fundamentally change your sales and marketing team's success rate during cold calling outreach.
Remember to Follow Up
Cold calling is essential for cultivating professional connections. However, it's also important to remember that rapport building and lead nurturing are critical components of successful cold calling outreach. Following up with your prospects establishes trust and puts your leads in a warm place, influential to the success of your sales efforts.
A 2020 study found it takes an average of 8 cold calls before you actually reach a prospect. Remembering to follow up with each potential prospect can prove invaluable when trying to reach them and create a long-lasting business relationship through cold calling. 
Refine and Automate Your Process
Refining and automating your process as your sales team conducts a cold call outreach is critical to measuring success and maximizing lead prospects. Having a set messaging structure and using tools to automate CRM, lead finding, and prospecting allows for more efficient operation, with less human effort required.
By taking the time to assess what works and what does not work in any given outreach process, it is possible to fine-tune the strategy to increase the overall success rate. Automation adds scalability to your outreach efforts — an essential feature for a rapidly growing business with a proven product or service-market fit. 
FAQs
Below are a few of the most frequently asked questions about cold calling lists.
What is an example of cold calling?
An example of cold calling could be a sales representative introducing their product or service and listening and asking questions about their prospects' needs and how their offering might help the prospect. For example, one script that could be used is: 'Hello, my name is Name, and I wanted to take a few moments of your time to tell you more about our company and services. Can I ask you a few questions to better understand your business needs?' 
How many cold calls a day is typical?
While this varies, a successful sales representative makes around 52 calls per day. B2B technology sales teams may make fewer daily calls due to the time spent researching each account they contact. However, these teams typically still make an average of 35 calls per day. Ultimately, it's important to understand that there is no magic number of cold calls a day that guarantees success- it is vital to craft an individualized strategy based on research and industry standards. 
How many cold calls do you need to get a listing?
Cold calling is a critical skill for real estate agents who want to increase their listings. Although it can be time-consuming, a study found that sales reps must make an average of 208 calls to secure an appointment or referral. This works out to around 12 hours of cold calling, highlighting the importance of persistence and dedication while seeking potential leads. Having the right attitude and comprehensive knowledge of your offer can help make the effort worthwhile and close more listings.
What You Need to Remember About Cold Calling Lists
Cold calling has long been a cornerstone of sales and marketing outreach for businesses, small and large, but without the right cold call list, it can be a fruitless exercise. Building robust cold call lists manually is time-intensive, but if done correctly, you can significantly increase your chances of success.
Fortunately, platforms like UpLead make the list-building process more efficient and cost-effective through automation. In short, if you're serious about taking your business to the next level, you should consider investing in quality cold calling lists automatically generated by a trustworthy platform.